So This Is My Why | Issue 12
Hey STIMYers!
Welcome to Issue 12 of the STIMY Newsletter featuring the duo behind The Woke Salaryman: He Ruiming & Wei Choon Goh!
But before that, if you're here for the first time or would like to have this weekly newsletter delivered straight to you, click the Subscribe Now button below!
Before getting into the meat of things, here's a quick heads up to you active Clubhouse users/club founders: Clubhouse is getting serious on helping its creators monetise their content & have opened applications for anyone to join their 3-month Clubhouse Creator First accelerator program.
The short of it is if you get in, you'll be one of 20 creators to get access to:
brand sponsors (if one can't be found, Clubhouse guarantees a basic income of $5,000/month during the 3 months)

feedback from Clubhouse on how to prove your show & tips on making it grow

help with designing promotional materials outside Clubhouse
​Paul Davinson (one of the Clubhouse founders) even said that Clubhouse will provide its creators with whatever gear they need to get started, FOC! 🤯
Applications close on 31 March 2021 – you can apply here.​
Now onto this week's episode!
Mini celebration for launching STIMY's 40th episode!! 🥳
With STIMY's very first session featuring not one, but two very special guests: the copywriter/illustrator duo behind The Woke Salaryman – Wei Choon & Ruiming.
The Woke Salaryman?
The Woke Salaryman is essentially a page where they talk about personal finance in comic form. And since launching in 2019, they've garnered a 400+k strong following across Instagram/Facebook, with a podcast and more to come soon!
​Here's how it all began: Ruiming (the copywriter) wrote a Medium article about saving $100k before he turned 30. It went viral, and Wei Choon (illustrator) was roped in to create the comics. Its subsequent release saw the post gain even greater virality and the duo decided to keep at it!
Within 5 months, they had secured their first sponsor, CPF, and the Woke Salaryman has been doing so well that they're now working on it full time & even expanding their team!
What I loved about this episode was how Wei Choon & Ruiming were willing to be completely candid about their journey. From how they first met at poly to being "woke" about their personal finances, and the challenges they face in running a content creation page – where people plagiarise/monetise their content (😡), how they negotiate with clients, turning away sponsors to stay close to their values & what drives them – 💰💰💰💰💰
Highlights:
4:39: The impact that the 1997 economic crisis had on Ruiming

5:53: How Ruiming was blogging & writing gossipy columns in school

7:44: How Wei Choon & Ruiming met at Ngee Ann Polytechnic

12:23: Not letting anything sully his art

13:57: Wei Choon's wake up moment when he graduated with a $25k debt

21:23: The meaning behind creating "impact"

25:27: The "secret" to creating viral content

26:14: Where virality was attached to their sense of self-worth

31:52: How Wei Choon got into personal finance

33:03: What "being rich" means to Wei Choon

34:10: Writing the viral article on saving $100,000 before turning 30

37:48: The start of the Woke Salaryman

42:40: How they stayed consistent in publishing regular content

46:56: Discovering that financial planners were stealing the Woke Salaryman content

53:38: Planning to go full-time on the Woke Salaryman

56:34: The "secret" behind the virality of the Woke Salaryman, which is now over 204k strong on Instagram!

57:18: Building a passionate community

59:35: Getting their first sponsored post from CPF

1:01:49: Staying true to their values & turning away opportunities

1:07:25: Expanding the team for the Woke Salaryman

1:15:45: Biggest highlights to date

1:17:31: What drives Wei Choon & Ruiming

1:21:32: Tangible steps for people to begin their personal finance journey

1:25:27: Advice for content creators

1:28:32: What Clubhouse means to them
​You can listen to Ruiming/Wei Choon's episode in full on: STIMY Website, Spotify, Apple Podcast, Stitcher, Listen Notes​
Looking for past STIMY guests in the content creation world? Check out:
STIMY Episode 27 features Freda Liu – one of Malaysia's top business radio host at BFM 89.9
Favourite Finds of the Week
Crowdfunding Experiment: Gumroad raises $5 million in one day?!
What is Gumroad?
Gumroad is an online platform that lets creators sell products straight to its customers. It can be anything from physical products to ebooks, subscriptions and even access to exclusive videos.​
What happened with Gumroad?
While roaming the hallway of Clubhouse earlier this week, I found Sahil Lavingia, founder of Gumroad, hosting a room talking about equity fundraising for Gumroad.​
Curious, I hopped in & discovered that they were looking to raise up to $5 million from crowdfunding through the use of Republic.
Within 30 minutes, I heard Sahil mention how they had raised over $500k and were expecting to hit their limit very soon. And plenty of those in the room were also jumping on stage sharing how excited they were with the opportunity to become first-time angel investors in Gumroad.
What is Republic?
A platform that lets everyone become a VC investor in a company listed on Repulic, which is a big deal.
​When Sahil was asked why he chose to go with Republic, he mentioned finding it to be the best platform around & how he thought it'd be fun to try something new. It certainly seems to have paid off – within a day, Gumroad hit their $5 million ceiling, having raised from 8637 investors!
Don't worry if you missed out on this round: Sahil said if this goes well, Gumroad will continue raising via crowdfunding annually until it goes public. 😮​
Changing VC Landscape
I'm personally really interested in seeing where this will go; Republic currently has a VC (Backstage Capital) looking to raise funds to invest in POC, women & LGBTQ+ founders! See here.
With more capital than ever going around, it looks like VCs are going to have to step up to stand out (would love to see how that happens).
​But in the meanwhile, check out Republic!
HBR Article: Where Brands Are Reaching Gen Z
Came across an interesting Harvard Business Review article today on "digital fireplaces": where Gen Zs are flocking to gather online.
Here were the places highlighted:
Fortnite: A massive gaming platform with 350 million accounts, that saw 15.3 million concurrent players at its December 2020 season end event to fight back Galactus (an additional 2.4 million watching on YouTube/Twitch)
Roblox: 37 million daily active users that has a ton of creation tools that lets creators, including kids, invite their friends to play their own games & even sell merchandise
Discord: 140 million monthly active users where people gather around specific servers to chat about their mutual interests. There's also a live chat function that mimics Clubhouse
Twitch: Started off as a place for gamers to live stream their game play but it has quite evolved to a place where people stream all kinds of things. AOC is one of its top, most influential users.
Tik Tok: Need I say more?
1st Major NFT Art Exhibition by the UCCA Center for Contemporary Art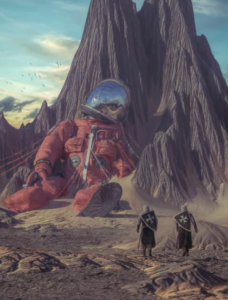 Everyone it seems is talking about NFTs, most recently about the $69.3 million sell of Beeple's digital piece. Justin Kan (co-founder of Twitch) has also minted his YouTube videos as NFTs, so that fans can have their own, verified "Certified Justin Kan Stories"! 🤯
Then there is this Coindesk article on the rise of digital real estate: seen as a combination of NFT art & domain names.
And then there is contemporary artist Krista Kim, who recently sold an NFT-minted digital house, Mars House, for 288 ether (i.e. over $500,000). To quote:​
The new owner of Mars House, she said, will be able to upload the file into various metaverses – 3D immersive worlds – and experience the digital real estate there.
​Is this truly the future? Or just a passing fad?
Person: Clubhouse Stereotypes by @themingthing
Thought I'd pop something fun for #4: a fun 4 minute skit where Ming mimcs the different types of people you'll meet in Clubhouse.
​He's pretty spot on. 😅
Upcoming STIMY Guests​
Wai Ken: Country Manager of StashAway (Malaysia) – Malaysia's first & largest robo-advisory investing platform
Azran Osman-Rani: Co-Founder of Naluri; former CEO of iFlix Malaysia & AirAsia X
Also, do you know anyone with an interesting/inspiring story? Or someone whose backstory you'd love to hear?
Feel free to hit me up @ sothisismywhy(at)gmail.com 😊
Until next week!
Ling Yah
P/S: If someone forwarded this newsletter to you, you can sign up here.