Welcome to Episode 32!
Our guest for STIMY Episode 32 Darrion Nguyen aka Lab Shenanigans aka the Asian Millennial Tik Tok version of Bill Nye the Science Guy!
Darrion Nguyen is currently a lab research technician at Baylor College of Medicine & the face behind "Lab Shenanigans": a social media brand that makes fun, easily digestible science content that has garnered over 600,000 followers to date (½ million on Tik Tok!)!
But who is Darrion? 
What led him down this path towards marrying his twin loves of theatre & science? 
And how can others do the same?!
We unpack all that and more in this STIMY Episode. 
PS:
Want to learn about new guests & more fun and inspirational figures/initiatives happening around the world?
Then use the form below to sign up for STIMY's weekly newsletter!
You don't want to miss out!!
Who is Darrion Nguyen?
Darrion Nguyen is the second son of Vietnamese immigrants who escaped the Vietnam War to go to the US in the 1980s, meeting in Houston, Texas. Growing up in a frugal and resourceful household, Darrion recalls days spent avidly consuming science content like Bill Nye the Science Guy and The Magic School Bus. 
But sadly in 2005, when Darrion was just 10 years old, his family's convenience store was robbed and his father was fatally injured.
3:18: Incident at Darrion's family's convenience store 
Darrion talks about how that incident shaped him, as well as:
5:40: The moment he discovered a talent (and love!!) of improvisation

9:07: Watching Bill Nye at his grandma's tailor shop

10:21: Realising he was gay & coming out to his friends and family (except his mum?!

😅🤣)

13:46: Why Darrion ended up pursuing science when he also loved theatre

18:13: His love of organic chemistry & biochemistry in high school
Getting onto Social Media
One thing that becomes immediately obvious if you spend any time on Lab Shenanigans is that Darrion is not afraid to be silly while having tons of fun! He also does incredible voice accents!
21:57: Getting into voice acting & coming to terms with his higher-pitched voice as part of his identity

24:14: Creating fun videos that went viral on Facebook meme pages

25:48: Creating Lab Shenanigans

27:43: Why Darrion decided to take a gap year rather than immediately doing his PhD

31:09: His work as a research technician

32:13: The ecosystem of a lab & their stereotypes (as seen in his Lab Shenanigan videos!)

34:00: What is the "mfing tea"?!

37:35: How Darrion first ended up on Tik Tok (P/S: As a joke!)
I am gay myself and I hate my voice sometimes, but you just have to remember that that's who you are, that's your identity.
We dive deep into the realities of being a content creator & Darrion talks about:
42:30: Suffering burnout 

43:58: Creating 10-15 second Tik Tok videos anywhere between 5-10 minutes to 3 hours, and why it takes so long!

46:00: How Darrion's PI (aka his boss) reacted when she first learned about his lab shenanigans late at night in the lab!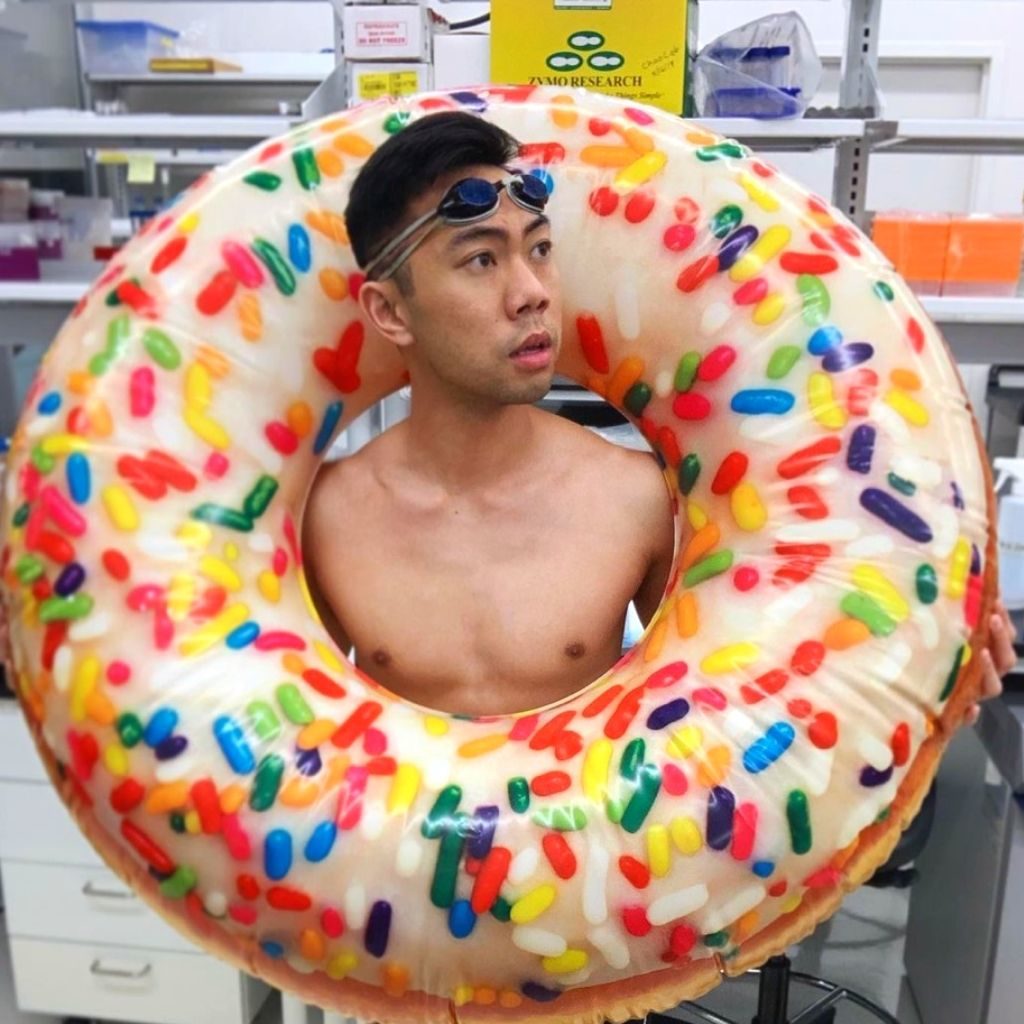 49:16: Collabs with other fun science content creators like Chris Sutherland, Raven & Nick Uhas

50:08: How Darrion builds his passionate online community

51:51: Facing keyboard warriors as an Asian gay man

53:36: Advice for those wanting to venture into the world of Tik Tok

57:13: Splitting his time between his work as a scientist (yes, he

does

do real work!) and a content creator

1:00:14: Advice on monetization for content creators 

1:01:11: Launching his Lab Shenanigans merchandise store 
I Ain't Ever Seen Two Pretty Best Friends
Remember how Darrion ended the interview by saying "I ain't ever seen two pretty best friends"?
Well, here's the full line that's gone viral on Tik Tok: "I ain't ever seen two pretty best friends. It's always one of them gotta be ugly."
😳😱
The iconic lines were first shared by 24-year-old Jordan Scott of South Carolina and when asked about it, he jokingly said, "I mean, have you ever seen two pretty best friends?"
This Insider article talks about it more.
If you're looking for more inspirational stories of people in the creative industry, check out:
If you enjoyed this episode with Darrion Nguyen, you can: 
Leave a Review
If you enjoy listening to the podcast, we'd love for you to leave a review on iTunes / Apple Podcasts. The link works even if you aren't on an iPhone. 😉
Send an Audio Message
I'd love to include more listener comments & thoughts into future STIMY episodes! If you have any thoughts to share, a person you'd like me to invite, or a question you'd like answered, send an audio file / voice note to [email protected]
External Links
Some of the things we talked about in this STIMY Episode can be found below:
Ep 32: Darrion Nguyen (Lab Shenanigans aka Asian Millennial Tik Tok version of Bill Nye the Science Guy)
Darrion Nguyen: College was a perfect experience for me because it allowed me to get out of my shell.
It gave me so much confidence, everything about college professors, friends, peers, a lot of the courses that I took, I learned a lot about myself.
That Beyonce contest, it was my senior year. That's when I was at the peak and I just felt very confident in myself.
I was like, why not? I think I have all the appropriate costumes to replicate one of beyoncé's outfits. And so I was trying to replicate her Superbowl outfit. I quickly did my makeup, wore this bomber jacket, and then I wore fishnets and some black high heels. And I rushed over to the tower where they were filming.
But it was just so crowded. And so I don't think I actually got to be a part of the contest, but there were a lot of news reporters and journalists who were interested in the whole event.
Ling Yah: Hey everyone!
Welcome to episode 32 of the So This Is My Why podcast. I'm your host and producer, Ling Yah, and today's guest is Darrion Nguyen. Aka Lab Shenanigans, aka the Asian Millennial Tik Tok version of Bill Nye the Science Guy with over 600,000 subscribers!
Darrion was such a fun guest to have and we talked about everything from his love of science and theater to how that transitioned to him making viral memes and eventually opening his own Facebook page, getting his videos picked up by the likes of UNILAD, and eventually building an incredible community across all social media platforms, particularly on Tik Tok!
But before we begin, if you're enjoying this show and you want an easy way to support it, please leave a review on iTunes.
It's probably the best way to help others find the show. And I would really appreciate it.
And now, are you ready to meet Darrion?
Let's go.
Darrion Nguyen: Growing up I mean, if it isn't obvious I'm gay. So, so growing up, I was a very gay flamboyant child. And on top of that, I think I've always liked science. So I've always been curious, curious with my homosexuality, but also like quite curious with things that run the world.
And so I watched a lot of science shows, like Bill Nye the Science Guy. And I loved, loved, loved the Magic School Bus. In fact the channel PBS, I feel like I spent a lot of my childhood watching shows on PBS.
My parents were both immigrants from Vietnam. They escaped the Vietnam War and they came to the US in the 80s. They actually immigrated separately. And they met in Houston, Texas.
And they had my older brother, Darrius. And then they had me, Darrion, and we're seven years apart.
I won't say that we were poor growing up, but we were very frugal. and very resourceful. So definitely I learned to not waste money at a young age.
And my parents own a convenience store. We would always play with the cardboard boxes that we had and just create things out of them. I spent most of my childhood maintaining the store, restocking items, cleaning up the windows and just cleaning up the store in general.
Unfortunately, the store was located in a not so good area and one day, 2005, this is when I was actually 10 years old, we actually got robbed. And I remember sitting down eating my McDonald's. I was eating a pancake and I heard noise behind me. And this is behind the counter.
I heard a noise behind me and I turned around and I saw someone that I didn't recognize holding my mom with a gun. And immediately I sprinted out.
And our store was located in a plaza, so we had some neighboring stores. And I ran across the street where there was a mechanic shop and I just remember yelling help. And then they came up to me and asked you know Darrion, what's wrong? And I just told them, we're getting robbed right now.
And right when I told them that the two robbers ran out of the store into the car and drove off.
And then one of the mechanics got into their car, drove off, chased them down while the other two mechanics escorted me inside the store. And I remember hearing my mom crying and I was terrified trying to find my dad. And we found him in the very back of the store laying down in a pool of blood.
And at that moment, I just already knew like my dad is not going to survive. It was a lot of blood. And so I lost my dad at the age of 10.
Honestly, I don't think that really held me back from anything. I was just entering middle school. I have a very fixated mindset of always trying to prepare for the future.
I think at the time I didn't really allow myself to process the emotions, but over time I just kind of let that subside and really focused on my studies.
And I tried not to let that hold me down. If anything, I try to use that to my advantage, to be positive. And so that definitely was a motivator for me to really do well in life. That life is short. So just really have fun because at any moment you can pass away and I kind of stuck by that for my entire life.
So I've always been fascinated with science. And so my long-term goal was okay, I'm going to become a doctor.
But then one day I had to take communications and speech. I remember for one of the assignments the teacher asked us to prepare a speech. And on the day that we had to present the speech to the class, I realized, Oh my gosh, I completely messed up this assignment. Oh, and this is embarrassing.
I have two more people before I actually give my speech. Okay, let me just improvise.
So I remember getting up to the classroom. Holding my speech that I wrote up, but I'm not going to read it. I am going to completely improvise and I improvised it and surprisingly, it went very well.
And the speech teacher, I think she noticed that I improvised it. And so she pulled me aside after class and asked Darrion like, can I look at your paper?
So she looked at it, she said, you didn't read this, did you?
I said, no, because I completely misunderstood the assignment and I just didn't want to make a fool out of myself.
So I just improvised on the spot and she said, wow, that's very impressive. Well, I'm just letting you know that I am the director for the drama club. And I think you would enjoy the drama club if you joined it.
I was thinking I'm not going to attend Drama Club. I don't have time. I want to pursue a career in science and I just don't have time for, or feed or whatever. And. I don't know what it was, but I thought, well, drama club, let's just check it out, , I love entertaining others and maybe I can use it to my advantage and try to entertain others in Drama Club.
So I attended the first meeting. Loved it. And then ever since I went to that meeting, I just started attending other meetings and I attended all these competitions.
And for my very first competition, I won eighth place out of like a hundred students on I think it was delivering the humorous skit and that really just persisted throughout high school, where I did a lot of science, AP courses, and then I never took any theater classes in high school, but I, was involved with drama club and participated in the plays and the musicals.
And then on top of that, I was also involved with swimming, orchestra, I think I like to really keep myself busy. I started playing the Viola in the fifth grade. So when I was 10 years old and then I stopped playing during my Sophomore year in college.
Ling Yah: Were you in this musical, the 25th Annual Putnam...
Darrion Nguyen: Yeah. Yes. I was in the 25th annual Putnam County spelling bee, where I played Vice Principal Paunch. And I loved this role so much because I do all the roles in this musical. My character required a lot of improv.
And I love improv because this is a very interactive musical where we invite three audience members on the stage. And the whole musical is based around a group of children literally involved in a spelling bee.
We asked them beforehand if they want to be a part of the show and they're actually on stage in the very beginning. And then I actually called them up to the stand and ask them to spell a word. And it's all real. Like none of this is scripted. I will ask them to spell a word, or I'll tell them the definition of the word and the origin of the word.
And if they get it right. Then they actually get to go and sit back down and if they get the word wrong, we break out into song and we sing goodbye. And we have someone escort them off stage.
I had a list of all these words that I can give them with the definition and the language of origin and it's use in a sentence and it just was so fun on my part.
Ling Yah: You were saying that you were a hyper child. What were you up to? I mean, you were spending time with your grandma's tailor shop as well, right? Watching Bill Nye the Science Guy.
Darrion Nguyen: Oh my God. You really did your homework. Yes. So early, early on when my parents purchased the store, I spent a lot of time at my grandma's tailor shop where I would sit at my grandma's tailor shop and really just watch channel eight or PDs. I vividly remember before waiting for Bill Nye to get on, I would watch this show about yoga.
And I remember waiting and staring at the clock until Bill Nye's show came on because I was super excited. I-
There's something so magical about his show that made me love it as a kid. And I think, yeah, it's how I think his energy as a child, seeing an adult, his energy match mine as a child. I think that made him seem so relatable and not only was his character relatable to me, but he was just conveying science in such an interesting manner that made me love science even more.
Ling Yah: And you said as well, you were really curious about everything, including your sexuality. So at what point did that come up and you realize that you're actually gay. And was it something that was difficult for your family to come to terms with?
Darrion Nguyen: I think as a kid, I never really understood who I liked just because hormones haven't kicked in. At such a young age, you don't really understand what it feels like to love someone or to like find attraction in anyone, in my opinion. So I think growing up, I did crush on some guys and some girls, but when I look back at those moments, I don't think I really like them.
I think I just like the idea of pretending to like someone, if that makes sense.
Once I entered middle school, maybe like eighth grade, that's when it's kicked in and I really started crushing on a lot of my classmates.
And I remember laying in bed one day realizing, Oh my gosh, I think I'm gay. And I started crying. Because I felt like no one was going to accept me and , I'm a planner, so I planned everything out and I said, it's okay like, I can just suppress this and pretend to like girls. I'll marry a woman.
I'll have a wife, I'll have kids and no one will know it's okay. it's my own secret.
But I think entering high school, freshman year, My feelings for guys was so strong that I came out to my close group of friends that I grew up with. And they were just so, so supportive and that meant the world to me.
And slowly throughout the next four years, I just came out to all my friends. And by the end of my senior year in high school, the whole school knew everyone. Was so accepting and I'm definitely lucky to be surrounded in that environment. And I think my peak was when I entered UT Austin, it's like gay central of Texas.
That's where I completely felt like myself. When I came back home for the holidays, my freshmen and sophomore year actually I came out to my, my older brother and my cousins. And they were all super accepting. My brother was surprised and I'm thinking like what? Yeah. Like, why are you surprised?
But he doesn't have a good gaydar, he's very oblivious. I think at one moment he was like, Oh, that might explain some things. Like, yeah, that explains everything. But I haven't officially come out to my mom or like the other adult relatives, but let's be honest.
I'm sure they know.
It's something that we haven't really sat down and had like an official talk. I feel like it's kind of unnecessary. I'm sure my mom knows. In fact, a couple months ago, she kind of brought it up herself and asked Darrion, so are you dating anyone?
Are you dating any girls? And I'm like, no, any guys. And I said, no, and I'm being brutally honest, I don't know, it just made me a little bit uncomfortable. So I switched topics and I shouldn't have, and I think in that moment, it was such a good opportunity for me to officially come out to her, but I didn't, and I should have.
Ling Yah: I mean, it's a big moment. Huge, huge moment.
Darrion Nguyen: Yeah.
But the thing is like my mom is like my number one supporter on all my videos. She's seen every single one of my videos that I put on Facebook. On Instagram and she's super supportive. And I know that she knows, but I just don't want to have that conversation with her. Cause I know, I'm going to, be awkward and that's something that I just have to, do and just rip off the bandaid and just do it.
But I don't know, there's something that's a part of me I can't explain That makes me a little nervous. Maybe it's the fact that there is some like Asian traditional value of, you just don't come out to your parents, so you just don't come out in general. I don't know. I really don't know.
Ling Yah: In Kline Forest High, you loved entertaining so much. Did you not feel as though that might be something you wanted to pursue full-time?
Darrion Nguyen: For the longest time, I was very narrow-minded in that every subject stayed in its own lane. For me, if I wanted to become a doctor, then I just got to go all out and only science.
Yeah. I'm pursuing theater, but it's just for fun. Like, I have no desire to do anything with it, but my main focus is going to be science.
And it's funny that you mentioned that because one of the theater directors came up to me, I think a couple of days before graduation and pulled me aside in the hallway and told me, Darrion, I know you said you want to become a doctor, but I just know that you still want to pursue something in theater.
You don't have to do medicine. You don't have to do science at all cause I know how passionate you are in theater. And I told him, yeah, I'm very passionate in theater, but my end goal is to become a doctor. I don't think pursuing a career in theater, doing anything theater related, will help even propel me to get to my goal.
I was kind of lying to myself and I said that I have no desire to do anything in theater and I will never forget that conversation. it's always replaying in my head because. He read me like a book and he was right.
I entered college only wanting to study biochemistry, but in the back of my mind, I just wished that I could still be involved with theater.
I thought about it during my freshman and sophomore year. And then finally, I went up to my biochemistry advisor and asked, is it okay if I add theater as my second major? And he said, it's doable. It's not uncommon. You could definitely do it. Definitely you have to apply for the theater and dance department.
So, the theater majors and the dance majors, they're all under the same department. I have a degree in theater and dance. But that's a huge misconception. I actually don't dance at all. it's all theater, it's all theater baby. And so, and so I signed up to be a part of the theater and dance department and I requested to have theater as my second major.
But I think at the time I had already racked up too many hours. And so when I spoke with a theater and dance advisor, he actually said, no, like you cannot join because our school has a very strict policy on graduating within four years. And so they thought, well, if you're already this deep into your major how are you going to feasibly take all four years of theater classes and squeeze that into the next remainder semesters?
And I said, oh, like, I can do it. It's gonna be tough. I'm going to rack up a lot of hours for every semester, but I think I can do it. And note that I was still pre-med at this time. So not only am I taking class for my degree, but I'm also taking a lot of prerequisite classes for medical school. The advisor just told me like, no, I'm sorry. We can't let you.
So then I had to petition. To get into the department and petition. And I finally got in, so then my junior year, my third year in college, that was gonna be my first semester of taking any theater courses ever. I had to squeeze four years' worth of theater classes in those two years.
And it was, I wouldn't say tough. It was fun. it, it was fun. It was a lot of work. I don't regret it at all. My first semester, junior year, I took 19 hours and then the next semester I took 22 hours and then the following semester, 19. And then the very last semester in college, I took 23 hours and oh boy, that was so, so much fun.
And I still at the time separated the two subjects, the two entities. Science would stay in its own lane. Theater would stay in its own lane. I'm so focused on wanting to get to research and medical school. And theater was just for funsies because I never took any formal classes in middle and high school.
And I thought this is a perfect opportunity for me to take classes in college, because if you're a full-time student, then you have a flat tuition rate. So I thought, well, why not add theater as my second major with no extra costs? And that's what I did.
After I graduated, I think that's when I really had to take a step back and think, do I really want to go to medical school?
Ling Yah: What was it about medicine that drew you in? Do you think it was related in some way to your dad and wanting to be a doctor to save people?
Darrion Nguyen: I think subconsciously that was one of the reasons.
But I think I've always been fascinated with just surgery in general.
Ling Yah: And you really liked organic chemistry and biochem in high school?
Darrion Nguyen: Yeah. Yes. Yeah. So, okay. With those two subjects, especially organic chemistry, I love problem solving. And organic chemistry is the perfect subject.
Because you have to memorize a lot of what are called mechanisms. And the analogy that I like to give to other students about organic chemistry is that well, a lot of the concepts will ask, how do you get from Point A to point B?
How do you make a hamburger bun, a meat patty, chopped lettuce, tomatoes into a perfectly cooked hamburger?
Well, the first mechanism is to cut the bread. The second mechanism is to cut the tomatoes. The third mechanism is to cut the lettuce, cook the meat.
And then the next mechanism is to assemble a hamburger. And so you have each individual steps or components or mechanisms to get from point a to point B. That's what I love the most about that class, trying to solve those types of problems.
And biochemistry is kind of like that too, where we are trying to understand some diseases and some of these don't have answers yet. And I think that's what makes research so exciting, where we have all these answers and we have a fundamental knowledge of biochemistry and how things work. But I guess there's a specific disease that no one no one knows about or no one really understands.
And that's a part of research that really drives me, that really fascinates me. And I think that's why I was having a tough time trying to decide, do I want to do medical school or do I want to go into research?
Actually after I graduated, I decided to take a gap year apply and work as a research technician to really figure things out.
Ling Yah: You mentioned theater while you were at university of Texas, you had this special deal where you got to watch all the Broadway shows that came to town.
Darrion Nguyen: Oh my, yeah. So On campus. We had a venue where a lot of Broadway shows that were touring, that's where they performed. And the theater department had this deal where he paid, I think $60 a semester, you can purchase these Broadway shows for only $10. Paying $60, you and your friend can buy $10 tickets. And so my friend and I did that, and so we split the costs and so she paid 30, I paid 30, and then we also paid our $10 for those tickets. and, Oh my gosh, I wish I had known about this sooner.
I didn't know about this until I think my second semester. During sophomore year. And I saw so many shows that I loved Kinky Boots, Cinderella, Mo Town, Annie Newsies, Cabaret, the Carole King musical.
And I think that that made me love theater even more. I'm actually surprised that I, let myself at the time to even go see musicals. Cause I know how fixated I was on focusing on science and not letting anything else get in the way.
Ling Yah: And your roommate from freshmen orientation, he's in the touring group of Hamilton.
Darrion Nguyen: Yes. Oh, wait. Okay. Where did you, so I'm very impressed. Yes. Trey, he's in a touring cast of Hamilton I've been so supportive of. Everything he's done. And he's been so supportive of everything that I've been doing more recently.
it's so crazy. And when we roomed together, He was very, very humble and I didn't know how talented he was until I got into the theater department. When I saw him perform. in the Heights, which was also written by a mineral Lin Miranda. He was the main character. He was so amazing and so talented. And I'm honestly not surprised that he got a role in Hamilton. He's very, very talented,
Ling Yah: But you're talented too. I mean, you just did one on video improv and I am blown away by just the different accents that you've been able to do so well. I think you even had a voice acting agent while you were there at university, right?
Darrion Nguyen: I didn't get a voice acting agent until after I graduated. My very last semester I had to take a couple of upper division theater course design.
I didn't know what to take. Voice acting? I guess I'll take it. Cause it fits in my schedule. All these classes that I wanted to take did not fit my schedule. So remember I'm taking 23 hours and so I only had a number of classes that I can only take. All right, voiceover, I'll take that.
Let's see where that goes. Voiceover and narration loved the class so much. It was a very small class. I think. There were about 12 students. And so most theater classes were small, but this was a tiny class. And so we had a lot of one-on-one mentoring with our professor.
I looked up to my professor a lot because I remember the very first day of class. Our professor asks us all right, guys who here love their voice. Looked around the room, no one raised their hand and we all had to go around the room and state what we hated or what we loved and what we hated about our voice.
I told the class, well, one thing that I really hate about my voice is that it's very high pitched. I mean, I could like talk down here, but it just requires a lot of effort. Like naturally I just talk up here. And I think my voice it's a little flamboyant and I think that can turn some people off.
It took me a long time to really love myself after that class. my professor, he played a huge role and helping me love myself, my professor, who is openly gay and he's one, so many voiceover narration awards.
And he said, Darrion, I understand where you're coming from. I am gay myself and I hate my voice sometimes, but you just have to remember that that's who you are, that's your identity.
And what's so amazing about voices that we're able to change it and adapt. And so if you're willing to get into the voiceover industry, this class is to help you learn how to use your voice and make it very versatile. Don't let your natural voice hinder you from getting to this industry.
He said a lot of great things that helped me love myself and my voice. because of him, I became very comfortable in my own skin. Like he gave me a lot of the confidence that I have now.
After that I had a really good repertoire of voices that he helped mold and I recorded everything, had a demo put together, sent it to a couple of agencies. Most of them reached out to me And then I found an agency that I love and I've been with them for the past three years.
Ling Yah: Let's jump back a bit. Your brother actually gave you a camera when you were young and that's when you started doing all these videos.
And then you continued on even at university and you were posting on meme pages?
Darrion Nguyen: I think getting my first camera. I took a lot of pictures, made a lot of videos and I would post them on my personal Facebook page. And then eventually Instagram came around, but they didn't have the video feature yet, so I posted a lot of silly photos on Instagram.
Snapchat came around during my senior year in high school. That's when I really made a lot of short, silly videos and it was to entertain my friends and I just kept doing that And I got my own laptop with my own webcam. I started making more short videos and I just made a lot of them throughout college.
And when I look back, I'm kind of embarrassed by some of the videos. So there's still my Facebook, but I private it like almost all of them, but I made a lot of silly, silly, silly videos with my roommates. And I just kept doing it throughout college and I would post them in meme pages.
And meme pages weren't really popular at the time. I think after I graduated college that's when meme pages became more relevant, especially with UC Berkeley, they were probably one of the first schools that had the biggest meme page. And then all the other schools across the nation just kind of followed.
And that's when I started posting a lot of my specifically science videos in those meme pages and that blew up.
Ling Yah: So eventually you transitioned to starting your own Facebook Page, which was your name, which eventually turned into Lab Shenanigans.
Darrion Nguyen: Right. So I made all these short videos. I found myself working late in the lab.
I just want to remind you that I'm a research technician. And so I found myself working really late in the lab. Before I would leave the lab, I'm just going to spend the next 10 minutes making this short video and post it on my Instagram. At this point, Instagram already had the video feature and Instagram copied Snapchat and had the story feature.
And so I would make all these short videos and posted on my personal Instagram story. And I'm getting messages from my friends like, oh my gosh, this is so funny. I thought, okay, well let me just post these videos in these meme pages on Facebook.
And the very first video that I posted in a meme page was the one where I'm holding up a pipette and I'm pretending to review it like a makeup product. And I think overnight, it just gained about like 6, 7,000 likes and eventually gained, like 15,000 likes over the next period of weeks.
And that prompted me to make my own Facebook page where I just really dumped all of my silly videos that I made late in the lab. And I couldn't think of a name at the time, so I just thought, okay, let me just name this Facebook page Darrion. So I named it Darrion and within the first week, oh my gosh. I gained 10,000 followers on his Facebook page I realized, oh my gosh, I think I'm onto something like people like myself.
Okay. Wow. I'll keep doing this. And I kept saying late in the lab, and I just kept producing these videos and people really liked them. And then slowly I transitioned to Instagram and then on Tik Tok.
Ling Yah: I wanted to ask more about your actual work before we deep dived into that part. You mentioned previously that you were thinking of doing a PhD straight, but you decided to take a gap year.
And I wonder why that was so, because you mentioned that you didn't feel that you were ready for a PhD? But then you were doing so well.
Darrion Nguyen: Despite being confident in certain fields like my sexuality, I think I didn't feel confident academically. I think sometimes that can be so hard on myself, despite working in a lab in undergrad for three years and having a lot of research experience.
I still felt unqualified to even apply for grad school. In the same vein, I was still trying to figure out, am I passionate about medicine? And if I am, then I'll pursue an MD PhD. I was very lucky to work under an MD PhD. A mentor. She gave me a lot of really good advice.
She explained that medical school, it's very straightforward. Where you have everything structured. All you have to do is just pass your exams and get into residency and you're bam. You're a doctor.
But with grad school, think of it as if you're in the middle of a swamp, you're on a boat that's sinking.
You only have half a map and you're trying to navigate through and find land. That's what grad school was like. You are lost. You're trying to figure everything out.
And that was a really good analogy because I love problem solving. And so I thought it's reassuring that if I go to medical school, everything is already laid out for me, but there is some excitement of not knowing what holds ahead of me.
And I think that's why I decided to ultimately pursue a PhD. I didn't realize that until a year after I started working as a research tech and I applied for neuroscience programs and I received an offer from the neuroscience program at Baylor college of medicine and I accepted their offer.
At this time when I accepted their offer, this is when my social media started to really, really pick up all these opportunities have been coming my way. And I really wanted to do all these opportunities at the same time, go to grad school. But I was very hesitant in doing both, because I know that if I tried doing both, I wouldn't put all of my attention in school and I'm always afraid of failing.
So I ask the program directors, if it's okay for me to defer for a year and if COVID wasn't happening, the plan was to take upon this job offer. Where I would become a host for this YouTube series, these videos for a Singapore scientist.
To move to Singapore, to live in Singapore for a year do all of that and come back and do my PhD. But because of this pandemic, things have been dragging out, but I think a lot of other good opportunities have come out of this pandemic. a lot of student organizations at various universities, holding a lot of online virtual meetings, and they want some keynote speakers or guest speakers.
And so they'll reach out to me. And so it's been amazing. Every week, I've been giving a talk at different schools mostly in Canada. I recently just gave a talk at a STEAM symposium.
So we're familiar with STEM, but there's this other acronym, steam. Science technology, engineering arts and mathematics.
And they invited me to be a keynote speaker because they thought that my background in both biochemistry and theater made me very well suited for this event and loved it.
The symposium consisted of teachers in Cali. it's held by the California department of education. So I gave that talk at that symposium and then gave other talks across other schools in the US and I gave a talk at a school in Mexico. And then I think in the next coming months, I'll give a talk to a school in Australia.
Ling Yah: So you're doing all that while you are still a research technician and you are studying a neurological disease called HATS, is that right?
Darrion Nguyen: Yes. So hats is an acronym which stands for the hypotonia attacks and delayed development syndrome. It's a very weird neurodevelopmental disorder where the muscles and these children stiffen and they have trouble walking. This disease isn't very well studied.
And so my project is to study the syndrome in mice. And so I've been characterizing these mice for the past two and a half years, and we're actually reaching towards the end of this project and I'm wrapping it up and I'm putting this paper together and this will be my first author publication. So I'm very excited.
Ling Yah: Wow. And this is what I learned from watching your Tik Tok videos.
There are a lot of different people in the lab. And I would love for you to share because there are like undergrad, grad, research tech, post-doc, lab managers, PI, how do they all come together? What are their different roles?
And it seems like there is a certain stereotype for each of them.
Darrion Nguyen: Yeah. I like to see the lab like an ecosystem.
Everyone works under the principal investigator, the PI. They're the ones who own the lab. They are like the big boss. And I always stereotype them as being very serious and they never smile. And so in all my videos, I always portrayed the PI as very serious.
I can promise you in all my videos, you will never see the PI smile.
And the lab managers are kind of like the backbone of the lab, where they supply all the equipment, all the stuff that we need to run our experiments.
And the undergrads, and I'm just stereotyping this isn't true for every undergrad grad, but I see them as the slacker. They're always on their phone. They're just there just to say that they have research experience. They just want to put this on the resume or their CV.
Postdocs are very serious with their experiments. Grad students they're focused on their experiments, but they're also very laid back. They were like the cool people in the lab.
And then the research techs, this is based on my personal experience, are very insecure and they are always afraid of messing up and they're very sensitive. I love playing on that because when people think of a research lab, they just think of, oh, everyone in the lab is a researcher.
No, there are different roles in the lab and we all have different jobs to maintain and help the lab to keep running.
With all my videos, I either try to educate my followers or try to make content that's relatable or show them. Science is accessible to them. And that what they see on TV about research is not entirely true.
And I want to break down this facade and show them no, like research labs are actually like this. Like we're human beings and we have different roles. We do different things. Not everyone is the same.
Ling Yah: And what I love is that you definitely do show that. And you also love to ask people who are also doing that, what their experience is like. And you tend to ask on your Instastories, what is mfing tea?
What does that mean? Because I was so confused.
Darrion Nguyen: So I've started the series on my Instagram story where I asked my followers, what is the M f-ing. Mother F-ing tea.
And in gay lingo, Tea is kind of like, what's the drama, like spill the drama, like what's the drama in your lab, in your life, in your field.
And I hear really crazy stories like, oh my gosh. My colleague just broke up with his girlfriend and started sabotaging her experiments or, oh my gosh, this PI is sleeping with this student and it's just,, you hear all these shocking stories. And I run the series for two reasons.
One. To show, I feel like we're just all interested in drama in every form.
And so I do for the entertaining aspect, but the second aspect is I want it to be educational and to show others that aren't familiar with the search or not science oriented to show them that behind this door, we have drama too. Like we're human beings, we have conflicts and we don't all just get along, but there is drama. And so that's why I run that.
It's very fun. And it's also educational to some degree. And I think that's kind of the running theme with all of my videos. where I really try to reel in the viewers, by making my videos, my content entertaining. And then as a by-product I want them to come out of it, learning something like, Oh, I think I just learned something like, oh, whoa, like researchers actually do that.
Wait, he just explained this concept in a very digestible way that I understand. I will never forget this. Wow. Or I will never forget this for my next exam. And that is the running theme for all of my content. First part, entertaining, by-product, educational.
Ling Yah: Did you feel that there was no such content prior to you entering this space and doing this sort of thing?
Or maybe not your particular brand of humor?
Darrion Nguyen: Honestly, I don't think I created anything new. I think I'm just lucky enough that someone happened to share it and it happened to spread like wildfire and people just began to notice me more. That's the way that I see it.
I'm just having fun and. In the very beginning, the way how everything turned out, I don't think I saw my Lab Shenanigans brand going in this direction. When I first started out, it was just to really create fun, entertaining videos.
And that's why I came up with the name lab shenanigans, but then there reached a point where I noticed that I have a large online platform. I need to do something good with this platform. I can keep creating. entertaining content, but I want to make a change.
And my way of making a change is okay. Well, I really like using my theater background and making these videos. I think to some extent I am. Well, let me really embrace my background training in theater. And really use it in my videos. And so I think Tik Tok was a perfect platform for it.
If you're not familiar with Tik Tok, it's a social media platform where we make 30 to one minute videos. There are different trends, a lot of dance trends, but one of the more popular trends is to use pop culture, audio, and to lip sync to the audio. And create a relatable situation or scenario to the lyrics of that audio.
Ling Yah: How'd you first get onto the Tik Tok platform?
Darrion Nguyen: I joined as a joke. I had no intentions on taking it seriously. When I joined, which was probably July, 2019. That's when Tik Tok just rebranded itself, it used to be Musically. And I don't know if you remember, but Musically was very cringy. And so when I joined it still had that cringe Musically residual. And I just did not want to take that seriously.
But when I joined, I think people started to like Tik Tok. And I started to understand and really relate to the humor that was in the app. And I noticed that, like there wasn't a lot of science content.
So this was the perfect time for me to experiment and change my content up a bit. I can keep my videos entertaining, but I want to make a difference. Let me try to make them also educational. People are listening to these audios and applying them to relatable situations. Well, what if I tried doing something different where I try using those lyrics, those audios and applying them to a biology, biochemistry, or chemistry concept and make it in a way where it's digestible so that the viewers can understand it, or at least learn something from it, something small.
Or at least prompt them to search up, oh, what does this mean? What he did was interesting. I want to learn more about it and that was my goal with Tik Tok.
And I think it went very well with my very first science concept video that I made, which dealt with mitosis.
I was using an audio clip from the show, dance moms. The words were just so perfect to this one specific process in mitosis and it just worked out so perfectly and overnight, I was not expecting anything big from it. It was just honestly me to have fun and me just to create entertaining content, but overnight, Oh my gosh, I gained 19,000 followers overnight.
That blew my mind and that's when I realized, okay, I think I'm definitely onto something. Let me continue doing this. And I continued doing it and over the past year or so, I racked up about 500 K followers and I started sharing those videos on my other social media platforms on Facebook, on Instagram, Twitter.
And people just ate it up. People liked it. And so I love this type of content I'm doing, but I know later on, I'm going to keep continuing to change the content because trends are evolving. We just have to keep up with the times. So I am still wanting to keep the entertaining and educational factors in all of my content.
Ling Yah: I think at one point UNILAD also picked up your video. And they showed the one where you use one lab coat for seven different looks.
Darrion Nguyen: Yeah. So that was still early on before I used Tik Tok. And this was when I was just doing random lab shenanigans, but also just having fun in the lab to show that we researchers spend a lot of time in the lab but we have fun too, and this is my way of having fun. This is my way to express myself.
And that's actually one of the videos that I'd made in college, where I would turn one object and I would make several outfits out of them. with all my friends. They know that this type of material is nothing new.
But it's one of the first content that I made on my Facebook page that was kind of brand new. And I was surprised when people liked that.
It's such a crazy experience. And I think all my videos that I've made on Facebook, I think that's the most like video.
With I think 37,000 likes about and that got a lot of media coverage from all these different media companies in different countries. So that was mind blowing to me. But I was just so shocked even though like, I am confident in my sexuality, I know that there's going to be a group of haters who are just homophobic and who just don't like any gay people, gay material.
So to see that video picked up to me meant that, okay, like, wow, it's 2020. Like people are actually moving on. Like people aren't as close minded and people found this video funny. Wow.
So that was very impressive to me. And I think that kind of just reassured me that if you're having fun and you're just being yourself, then people are gonna love you with the way that you are and that you shouldn't change yourself for anyone.
And I think I've always tried to keep that in the back of my mind with all the content that I make, that when I make something, I need to make it for myself. And not for my audience for my followers.
And I think a lot of content creators tend to kind of lose themselves in that where they want to create content specifically for the followers to cater their followers interests.
But I think if you just have fun in all your videos and you do what you want to do and what you love, then I think that will organically attract more followers and people will love you for being you.
Ling Yah: Was this a realization that you came to gradually, because I think there was a point where you also ran yourself into burnout. And you had to recover from that.
Darrion Nguyen: Right. So, oh man. You're so spot on. Yeah. So I'd probably say like a year in working as a research technician, that's when I began experiencing burnout, I stayed really late in the lab. Before that, I had a very naive mindset when I was young and I can just stay up late and I don't have to pay the consequences.
Like my body can handle it.
No, my body eventually gave up. And while I was experiencing burnout, that's when I also realized with my content that I wanted to change things up. I need to add some flare. So it just all happened together where I was a little kind of unsatisfied with how I was treating my body and unsatisfied with the type of content that I was producing online.
Like, yeah. It's entertaining. It's fun, but I just felt like I wasn't making a difference at all. And so I think once I began to read love myself and allowed myself to treat myself better going home at a reasonable time. And started exercising more-
Ling Yah: You were going home at 2, 3:00 AM and back in the lab by 7:00 AM.
That's insane.
Darrion Nguyen: If you notice all of my videos early on were posted around that time around like 2:00 AM, 1:00 AM. And it's because after I was done working in the lab, I would make a quick video and post it.
Ling Yah: When you say quick video, it was a couple of hours, just for a couple seconds video.
Darrion Nguyen: It depended. It depended.
Some videos were not even 5 to 10 minutes, other videos especially the ones on Tik Tok, those required more time. I think the longest video or the video that it spent the longest time on was the video where I am using a clip from a scary movie too. And I'm running down the hallway screaming.
Well not really screaming, but like mouthing, screaming and that video, it was an infected cell getting chased by a killer T-cell. That video took about, I think, two and a half hours to film because I'm very meticulous when it comes to having like the right facial expressions and the right emotions when I'm filming.
That's where my theater degree comes in. That's where the actor comes out. And also because it was late at night, the janitors were in the background a lot. And before that video, I had already gotten in trouble for making a video where there was a janitor in the back. And so for all of my subsequent videos, I have to be very careful to not include anyone else.
But the janitors just kept coming.
They're trying to do their job. And then here it's like the little boy trying to make a video. And so I kept having to reshoot certain scenes because either I didn't have the right expression or emotion or because a janitor was in the back and yeah, so that video specifically took two and a half hours.
But on average, my Tik Tok videos. Can take up to like 30 minutes to make, but with my early, early early content on Facebook, those took probably 5, 10 minutes to make.
Ling Yah: And then you mentioned janitor being there, so I imagine no one else was in the lab with you. How did, for instance, your PI react when she first found out about what you were doing?
Because you weren't just using your time in the lab. You were using equipment as well. Like the test tubes to make high heels or like the beakers to make boots.
Darrion Nguyen: Okay. So. One thing that I love about my PI is that from day one, she's been super supportive of everything I've done because I think out of everyone in the lab, she knows me the best. And despite what everyone sees online, I am actually very hardworking and I take my job very seriously. So she knows how hard I work in the lab.
And we kind of made a deal where as long as you're doing what you're doing, like in the lab still, you can have fun after, as long as it's PG it's appropriate and you don't set the lab on fire, then you're fine. And that was kind of our deal early on. And I remember when she first found one of my viral videos, it was actually me reviewing the pipette.
I was so embarrassed. I thought, Oh my gosh, like, In the lab. I'm very quiet. I just focus on my experiments. So for my PI to see this, this different side of me, Oh my gosh, he's going to think that I just slack around that she probably thinks that I don't take my job seriously. But when she saw the video, she came up to me, she was like, Oh my God, Darrion, that video was so funny.
And I was in defense mode. When she brought that up and I said, , I actually don't fool around after you leave. I still do all my experiments. I make these videos right before I leave. And she said, no, like, I trust you. I know you, we work very hard and keep making them.
I think what you're doing is funny and, Oh my gosh, I was just mind blown and I continued to do that. And she has been super supportive with all the type of content I may.
But eventually our institution found out and I kind of got in trouble with them. They had a very strict policy on not including the school logos in my videos.
Totally understandable.
That just meant that okay. I have to be aware that one, no janitor or no one is in the background of my videos. Two, that I don't include the logos of my institution in the videos. And also the third rule, which is also kind of common sense, is to not include any live animals.
So those are kind of like the 3 main rules that I abided by with all of my subsequent videos.
Ling Yah: And in terms of being a content creator, one of the things we always have to do is to be consistent, consistent, and there's always that issue of how do you find more ideas to create more videos?
So how do you deal with those?
Darrion Nguyen: I think I'm at a good point where I have a lot of ideas and sometimes I will just shower and randomly think of an idea and that's what I will grab my phone and just type it in my notes app. And I would just have a list of all these ideas and when it comes to a point where I'm like, all right, what should my next video be?
I don't know. I'll just pull up the list and spend a lot of time in the lab. Especially with the experiments that I do, I am just there alone with my thoughts during my experiments. And I think that gives me a lot of time to brainstorm my content or sometimes when a funny situation happens.
I always try to find the humor and awkward situations and I will just come up with something. If I see something that is worthy of making content for us. So I will write that in my notes app and later on, make a video on it. But I know eventually I'm going to run out of ideas, but I think I'm at a good point where I'm going to keep brainstorming and keep producing until I run out.
Ling Yah: Do you think you'll eventually collaborate with some of the big scientists who are also on social media. So like, Chris Sutherland or Nick Uhas, Raven Baxter?
Darrion Nguyen: Oh, okay. Okay. Okay. Uh, So Chris Sutherland. Oh my gosh, we are wanting to collaborate together. I definitely want to visit him once this pandemic's over. I want to visit him in Cali in LA.
Raven, I want to collaborate with her too. And recently I was on her YouTube series STEMassy. That was fun. And I will collaborate with her.
Nick Uhas. Oh my gosh. It would be a dream to collaborate with him. I reached out to him one time. But I think he's just crazy super busy, but give me a couple more months, Nick. Hopefully he'll notice me.
Ling Yah: Get your followers to just spam his comments.
Darrion Nguyen: That's what they need to do. I need to ask them to do that.
Ling Yah: How do you build that kind of community with all your followers? Cause I noticed that people who comment, they love what you're doing.
They're constantly tagging people and going, I get it. I get it. I love it. I resonate so much. So how do you build that relationship with people that you probably might not meet in person ever?
Darrion Nguyen: I think some content creators, they kind of see themselves as too high of a figure where they just do not talk to their followers at all, do not comment.
And I think I'm not like that. Like, I really try to go out of my way to talk to people. And so that's also why I do the Mfing tea where I invite my followers to submit stuff. And I want this to be kind of like a conversation and to showcase that, hey, I want to talk to you guys.
And I try to do that with a lot of my videos too, where I try to make it very relatable so that they can understand it and think like, Oh my gosh, like I understand, or I go through that too. Or I think that too, or, oh my gosh, this is wonderful. I will never forget this video.
And I try to comment on most of the comments or reply to the comments. And I think by doing that, that creates a sense of community and really just like brings me and my followers closer together.
Because I want to show them that, like, I think a lot of them really idolize me.
And don't want them to do that because I make mistakes too. I'm human and I'm no one. Like, I'm not worth it, you shouldn't idolize me. I'm just like, I'm like, I'm a human being. I make mistakes. I'm not this perfect person image that you're thinking of. I'm just human.
And so I really want to show them, this all goes back to tearing down this facade that I am this great, super smart person. I'm like, no, sometimes I do dumb stuff all the time.
Ling Yah: Do you face keyboard warriors as well? I mean, you mentioned homophobia and then you're Asian as well. And as I understand, Asians are not treated that great in the science community.
Darrion Nguyen: Ooh, that's tough because I'm kinda weird where I'm an unconfident in some areas. And then I'm very self-conscious and not as confident in other areas.
And I think I'm more so hard on myself where like, sometimes I think I'm not good enough but I think when other people think that about me, I'm like, Okay. I don't care. Or like sometimes I'll get like hate comments, like, Oh my God, you're gay, you're a faggot.
And I'm just thinking, okay. Yeah. Why is that a bad thing?
And with those comments, they don't phase me at all because Iam gay. So that's like saying, Oh my gosh, look at you. You wearing a black shirt? Like. I don't get, how, why is that a bad thing?
And when it comes to academia, I know that the intention behind everything is to better you as a scientist.
So I never take it personally, or sometimes when I'm presenting at a lab meeting, more updating the lab with my data and I get ripped apart. I know that it's not to hurt my feelings. It's not To really downgrade me, but there are ways for me to improve my data or to quantify certain things.
And so when it comes to academia, like I don't take anything personally and I mean, I haven't experienced it yet like racism in STEM, but when that happens, I think I would be confident enough to face it. And. Call whoever out on it. Yeah.
Ling Yah: I imagine a lot of people look up to you because they want to do what you're doing.
So if they want to venture into the world of Tik Tok, what would your advice be?
Darrion Nguyen: This sounds very cliche and you're probably gonna hate me because you're gonna be like, oh my God, Darrion, like, we need a better answer, but really like post the stuff that you like to do that you want to do and posts the type of content that makes you happy because when your followers see that you're having fun in your content, then they'll have fun watching it too.
And that's why I think a lot of videos that are humorous. I think the reason why they're funny is because whoever's recording, they're laughing along with the joke, or at least that's what the videos are on my free page. But I think that's why, like a lot of people find that type of conduct humorous because it's like, we're all in on the joke.
We're all laughing. And I think with my content, I have a lot of fun. Filming my videos. And I have a lot of fun expressing, showing the fun and in science. And I think the message is very well perceived by a lot of my followers and they, can tell it too that I'm having fun. And I think that's why they like my content.
So for any like content creators out there really sounds cliche, just be yourself and produce a type of content that makes you happy because. You're not going to make everyone happy similarly to how not everyone's going to make you happy.
Ling Yah: And do you feel that the content is slightly different for each platform as well?
Because the people, they are different.
Darrion Nguyen: Every platform has its own different ecosystem that I'm noticing that you kind of have to feed.
You also have to be aware of the type of audiences for each platform. So I think on Facebook most of my followers are generally older, so they're not going to relate to the Gen Z humor that I have on my Tik Tok.
On Twitter, in my opinion, people are way, way more serious on Twitter and oftentimes, will take things out of context. And I think with a lot of large content creators, they will try to cancel you in every single way. So I have to be very, very, very cognizant with what I post on Twitter.
I have to really think about what's okay to pose on Twitter and what's not okay. Cause sometimes or most of the time, things can be taken out of context and people will look at all these things that might be problematic with their video and really just try to tear you down.
Tik Tok, I think they're very open-minded and you can post whatever you want to tick talk. And right now, Tik Tok is booming. And I think for anyone who's wanting to become big with content creation, Tik Tok is the perfect place to go because everyone has an equal opportunity to make a big.
Instagram is tricky because Instagram, when they see other social media platforms do something and it's big, then Instagram will try to copy that. And so Instagram is a good combination of all the social media platforms.
And so I say, hop on Instagram, Tik Tok, if you want to make it big, big.
Ling Yah: What'd you think is the common misconception that people have about what you are doing?
Darrion Nguyen: I guess conception is that, are you even like a scientist? Do you even work in the lab? What do you even do?
And I'm generally unphased by hate comments, but sometimes these comments do bother me and I feel like. Sometimes I have something to prove, but then I also have to take a step back and think no, like I don't have to prove anything to them.
They don't need to know once I have this paper published, then they'll understand how much work I can do in the lab and how I'm able to manage my time and also have fun. But I want to, I guess, like to clear that up, I do joke around. But also I do take my work seriously. I take science and academia very, very seriously.
Ling Yah: How do you manage your time? Because managing all these different platforms, the fact that they're such different ecosystems takes so much time, but you do it so effortlessly while doing this job in the lab. I mean, some of my friends are in less The first. And the only question I have is where does he find the time?
Because you live in the lab? My friends are saying all of my Christmases are spent in the lab. I don't know how he does it.
Darrion Nguyen: I think everyone has hobbies where if you're not spending time in the lab, you're spending time with friends or you're riding your bike, or you're reading a book. My hobby is social media.
And so it may look like, how am I able to do it? No, it's really not that bad. When I'm taking a break, I'll be on my phone. I'll quickly make this post. That's that. It's more learning how to manage your time.
And during my breaks, I'll quickly post something and I will sometimes cross post. Like I'll create a video on Tik Tok, and then just post on every social media platform.
Ling Yah: Do you have a specific schedule? Like, okay. Monday at this time I'm going to do this. I'm going to batch all these things.
Darrion Nguyen: Here's the thing. I should because Facebook, Instagram and Tik Tok, they have really good tools to look at your analytics to see when your followers are most active. And my management team is telling me, well, you need to take advantage of that. You need to see when they're most active and post at that time. But sometimes I get so impatient and I'm like, well, I just spend so hard working on this video and I want to post it now.
So sometimes or possibly, I will just post a video randomly. And sometimes it bites me in the butt because the video won't do well, or maybe the video itself is just not good.
But a good advice for all my soon to be content creators, definitely take advantage of the analytics tool and post during the times when your audiences are most active.
Ling Yah: And then you mentioned a management team. So are you expanding the kind of team that's helping you to do what you're doing?
Darrion Nguyen: Yeah. Her official title is a YouTube consultant, but she's been doing a lot of amazing things for me and her team. They've been just giving me good advice on how to expand pretty much my YouTube platform and giving advice on how to negotiate and accept brand deals and collaborations.
And really before I used to, when I was getting all these like sponsorships and collaboration deals, I didn't really know my self worth and I would allow myself to get low-balled by all these companies.
I just felt stingy asking for more money. Like I know you're going to pay me a hundred dollars, not even a hundred, like you're gonna pay me $50 for this, but like, can we bump it up to a hundred?
And my team is just like, no, like. A hundred. It's not even that much. You need like $3,000 and I'm like, what?
And they have been so amazing and supporting me. And like I said, really showing me like my own self-worth. And so they're just amazing people. And they also have helped me grow as a content creator learning how to negotiate and how to accept or decline brand deals.
Ling Yah: What's the advice for those who are trying to monetize? Because that is the big question, right? How much am I worth? And there is no number that you can actually land on and say, this is exactly what I'm worth.
Darrion Nguyen: Early on before I had my team, I discussed with other content creators who are very well established and I wish I had listened to them because their advice was also similar To my management team. but I just thought, Oh, well, it's because they're big. And so they can accept all that money, but I'm such a small content creator. So maybe I don't deserve as much. No, like don't be shy to ask other content creators, especially large concert creators to ask them for advice.
I know there are also other algorithms on Google that you can just like search up. I have this many followers or this is my engagement, how much should I charge? And there are good calculators on Google that will tell you all of that.
Ling Yah: And one of the big things that you've done is you launch a merchandise store beginning of this year.
Darrion Nguyen: Oh my gosh. Yeah. So. I created this store because a lot of the other science stores that I saw online, one didn't cater to my interests. I guess my aesthetic is like very retro, very eighties, very nineties.
And I just didn't see that online. So I created my merchandise store for that reason.
But also there was just not a lot of representation of different types of researchers on other online merchandise stores.
And so I created my store for those two reasons.
And honestly, I didn't think too much of it. It was just more like, all right. Here's a store. If you guys like my aesthetic, which I didn't think anyone would like, because I don't know. sometimes I'm like maybe my merchandise items are a little too childish or kiddish, but it's something that I like.
So whatever, I don't care, I'm going to still post it. So it really surprised me to see how well the store is doing. It's good, passive income.
And so I was just genuinely shocked and surprised to hear that a lot of people like the items in my store and that people say that I'm making a difference and I'm like, I don't know, am I making a difference?
I'm just doing me. I'm just having fun. I'm just doing what I want to do. And I think that really does. Re-emphasize the fact that if you just have fun and do what you want to do, People will see your passion and they'll begin to love you for that reason,
Ling Yah: Any exciting new items coming up that we can learn about?
Darrion Nguyen: Definitely I want to create enamel pins on my store because I love pins so much. So I'm trying to ask my vendors to sell enamel pins and other opportunities. I can't really say. But definitely a lot of TV opportunities are coming my way.
Which is surprising because I never thought that an opportunity like that would even come my way at all. Like I always saw myself just being stuck in the lab and not really doing anything TV production.
That's so surprising to me, but definitely honored. And who knows, like maybe this is my way of meeting Bill Nye the science guy or Chris Sutherland, or even the seismic.
Ling Yah: And for parents who are trying to introduce their kids to love science more, what do you think are the best resources for them to direct the kids?
Darrion Nguyen: I'm a nineties girl, so I want to stick to the classics. Bill Nye the science guy. Magic School Bus.
And there's a show that no one really knows about that it's called Beakman's world. And it's very similar to bill Nye. And I also grew up watching that show. So I say those free shows and YouTube has become so popular and there's a lot of great science, YouTube content. So I think, definitely those four resources.
Ling Yah: And I think it's very clear for anyone, this thing that you have so much joy and so excited and for me, that's so incredible because of what you experienced when you were young.
So I wonder if there's any advice for those who have experienced tragedy, how do they find that joy and continue living life to the fullest?
Darrion Nguyen: I just watched the movie, Soul, so it's still fresh in my mind, but really stop and smell the roses and appreciate every moment of life and appreciate everything and pursue something that you truly truly love. It took me the longest time to realize that I don't want to do medicine and I wish I had followed my gut instinct early on and expedited the entire process by realizing that early on.
But I think there was a sense of doubt. And so I didn't follow my gut instinct. I didn't follow my passion all the way through. And so that was kind of a detour. But I mean, Hey, that's life. In life, everything isn't so straightforward.
But my biggest advice is to really follow the stuff that you're passionate about and always try to remain positive and always try to see the bright side of things.
Ling Yah: I mean, you're only 25 and you've done so much already. Looking back, why do you think your dad would say about everything that you have achieved?
Darrion Nguyen: My dad is very traditional, but despite him being very traditional, I know for sure that he would be so, so proud of everything I've done.
Ling Yah: And you are an open book, you share so much. So can you tell us the one thing that we don't already know about you?
Darrion Nguyen: Oh! Well you probably might know, because if you saw my Instagram story recently, then. You probably already know this, but I used to be a drag queen.
Senior year and then the summer after my senior year in college, after I graduated, my drag name was Ms. Margaret Moon.
Ling Yah: Oh, is that the character that always appears in all of your different clips?
Darrion Nguyen: Yes. Yes. So my Margaret, the lab manager. The early version of her was Ms. Margaret Moon, my drag persona.
I don't know. For some reason I was like, I want this character to be like the Asian Aunty that everyone kind of loves because she's just so truthful and honest, but kind of hates because she's too truthful and honest and just sometimes negative.
Hmm. What is like an older Asian lady sounding name? Margaret. Margaret.
And I'm into drag names that are alliteration. And so I thought, Miss Margaret, but I thought, Hmm, Ms. Margaret, that's too simple. What's an Asian last name? And then I thought of the Korean last name moon. So Ms. Margaret Moon. So that's how she was born in 2017.
Ling Yah: So thank you so much, Darren, for your time. I normally end my interviews with this question. So first one is, do you feel that you have found your why?
Darrion Nguyen: I want to say no, it's still an ongoing process. I probably won't be able to definitively answer this question until literally the day that I die. So, no, I haven't
Ling Yah: What kind of legacy do you want to leave behind?
Darrion Nguyen: I want to show people that science is fun and I want to show people how passionate I am in science and how much I love it.
I want them to be passionate too. And so I want to be able to show, or I always ignite this passion in them to love science.
Ling Yah: And what do you think are the most important qualities a successful person should have?
Darrion Nguyen: I just realized this and it's easier said than being done.
Being financially stable is nice, but I would rather trade that off, for something that I truly love. And I think if you truly love something and you go for it, you will make it happen and you will become successful no matter what.
Ling Yah: And where can people go to find out about what you're doing, connect with you, support?
Darrion Nguyen: If you want to find me go to Instagram, Twitter, Facebook, YouTube and Tik tok at lab_shenanigans.com.net. Oh my gosh, not dot com. Lab_shenanigans.
And if you want to visit my merchandise store and support me it is labshenanigansmerch.com.
Ling Yah: And is there anything else that you'd like to share that we haven't covered yet?
Darrion Nguyen: I don't know if you know this trend on Tik Tok. And if you don't, you're probably going to be like, what is he talking about?
Well, one thing I do want to share is that I ain't ever seen two pretty best friends.
That's it. That's it. That's it. That's it.
Ling Yah: And that was the end of episode 32.
If you want to know what he meant by "ain't never seen two pretty best friends", well, here's a hint. It's part of a recent Tik Tok trend.
And you can also head to the show notes to learn what it means, which can be found at www.sothisismywhy.com/32
IF you also want to be updated on the latest episodes, as well as other fascinating and inspiring things I read and learn over the course of the week, make sure you also sign up for the weekly newsletter. The signup form can also be found at the show notes link, which is www.sothisismywht.com/32
And stay tuned for next Sunday, because we will be meeting a software engineer turned sourdough baker and blogger of the highly successful and very well-known blog, The Perfect Loaf.
Learning how he balances his love of baking with being the co-founder of a popular astronomy app that allows everyone to see the constellations and planets regardless of where they are in the world.
So see you next Sunday!