Welcome to Episode 31!
Our guest for STIMY Episode 31 is Kenji Chai Vui Yung. 
Kenji Chai Vui Yung is a popular Malaysian graffiti artist most known for his alter ego, Chaigo the Stray. A dog that, if you've ever been to Kuala Lumpur, you'll have probably seen spray-painted all over!
But more than that, Kenji Chai has done plenty of mural art and collaborations with companies such as Tiger Beer, Netflix, Volkswagen, Uniqlo, and CIMB. His drawing of a giant cockerel on the side of Nando's building at Jalan Tun Tan Cheng Lock even made it into the Lonely Planet Pocket Kuala Lumpur guidebook and Lonely Planet Malaysia, SG & Brunei guidebook. 
But how did it all begin?
PS:
Want to learn about new guests & more fun and inspirational figures/initiatives happening around the world?
Then use the form below to sign up for STIMY's weekly newsletter!
You don't want to miss out!!
Who is Kenji Chai Vui Yong?
Born in Sandakan, Kenji grew up loving art and would often draw his favourite cartoon characters (Ninja Turtles & Street Fighters) in exercise books. 
1:46: Coming from a broken home

2:41: Childhood love of comics, cartoons & storybooks like Ninja Turtles

4:05: Changing his name to Kenji at the age of 15

4:57: Why Kenji thought all his dreams could be fulfilled in Kuala Lumpur
He eventually moved to Kuala Lumpur to pursue his dreams, beginning by undertaking a graphic design course at the now-defunct Central Academy of Arts. But life wasn't easy.
5:46: The incident where his bike was stolen
Working as a Graphic Designer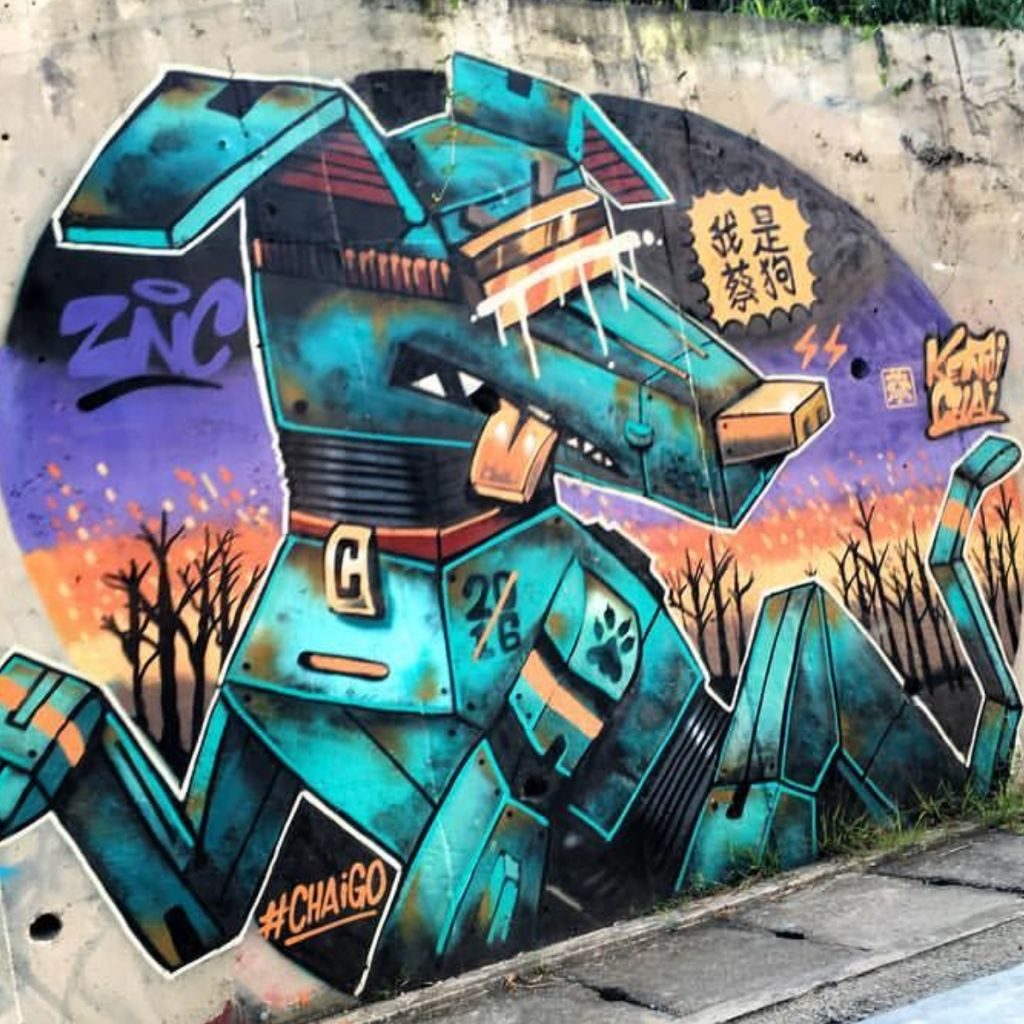 After graduation, Kenji undertook a number of jobs including being a graphic designer at Gempak Starz but found that something was missing. 
And that was what kick-started his journey into the world of graffiti art. 
10:31: His former street name, Black Fryday

14:35: Getting a job at Sakai Sushi

19:40: Doing free work to get his name out

20:18: Winning the Character Licensing eSport Asia 2010 Thailand's Custom Toy Design Contest
I feel this is the life that I want. I want to paint my whole life.
24:57: Being hired to draw a giant cockerel for Nandos (his first building mural artwork commission)

30:31: How Kenji got his numerous commissions while just starting out

31:35: How "Chaigo", his alter ego, was formed

34:07: The first time he (illegally) drew Chaigo at Kampung Attap

36:33: The rules of street art to avoid getting caught!

37:42: Why does Kenji keep doing street art when it can land you in jail?!

38:26: Why Kenji doesn't always sign off on his art & how people can trace it back to him
Some of Kenji's most renowned work includes an epic 25-storey mural art that won the Malaysian Book of Records for the Tallest Mural in Malaysia in 2018.
39:51: Working on 25-storey RED by Sirocco mural art over 21 days

46:04: Being filmed for art projects

49:13: How Kenji's collaborations with other artists like @wilsonnws7 come about

51:06: Working with international artists like Gus Eagleton (@instaguss)

52:19: Life transforming experience painting in Mongolia

54:26: How street artists like @Kaws make it big on the international stage

58:31: What up & coming artists should do to build their careers

1:00:43: Don't waste time on haters

1:01:48: The importance of social media
If you're looking for more inspirational stories of people in the F&B industry, check out:
If you enjoyed this episode with Kenji Chai Vui Yong, you can: 
Leave a Review
If you enjoy listening to the podcast, we'd love for you to leave a review on iTunes / Apple Podcasts. The link works even if you aren't on an iPhone. 😉
Send an Audio Message
I'd love to include more listener comments & thoughts into future STIMY episodes! If you have any thoughts to share, a person you'd like me to invite, or a question you'd like answered, send an audio file / voice note to [email protected]
External Links
Some of the things we talked about in this STIMY Episode can be found below: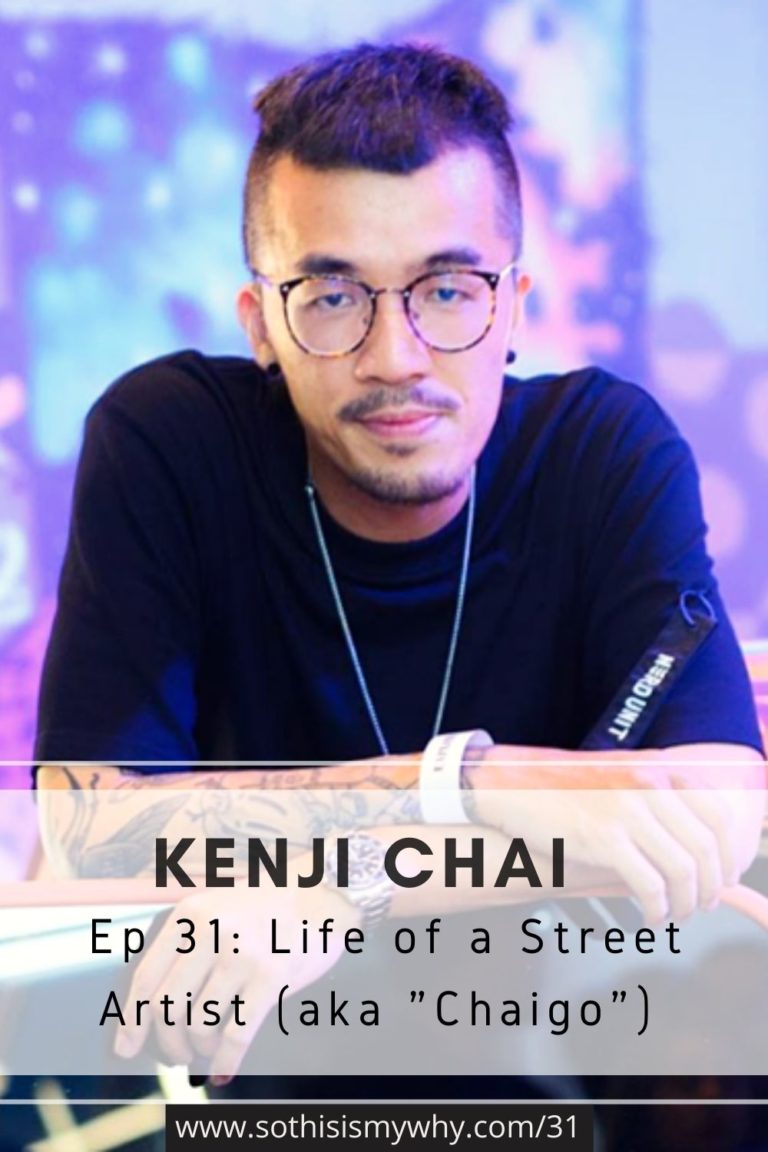 Ep 31: Kenji Chai Vui Yung - Malaysian Graffiti Artist
Ling Yah: Hey everyone!
Welcome to episode 31 of the So This Is My Why's podcast. I'm your host and producer, Ling Yah, and today's guest is Kenji Chai. One of Malaysia's most well-known street artists who also goes by the alter ego Chaigo.
Now, if you live in Kuala Lumpur, chances are that you have seen Chaigo running around - a dog that's spray painted by Kenji all over town and also in other countries like the UK, Mongolia, even Kazakhstan. And sometimes you might even find Chaigo in rather elaborate outfits and scenarios.
But how does one become a street artist? Because mind you, street art - it's not exactly legal. They're paintings done on walls without permission.
As opposed to mural art, which is commissioned and also what Kenji does.
In this episode, we dive deep into the world of art. How Kenji first got started and built his career from the ground up to the point where he now collaborates with the likes of Netflix, Uniqlo, Tiger Beer and even Volkswagen. In addition, he also won the Malaysia Book of Records for the tallest Mural in Malaysia in 2018.
So are you ready to learn more and be inspired?
Let's go.
You had a bit of a difficult time growing up because when you were 12, your parents divorced. And could you share how that impacted you?
Kenji Chai: I still remember that day my mom leave us. The first day when we are having dinner, I need to get ready for the cutleries. I just prepare for three sets. That's mean I'm missing something in my life.
But then we keep in touch in phone, like my mom call once in a while and been supporting us for our living also for my study, pursuing in the art.
When I was Form 3, right, when I looked out the window in my school, I know I'm going to pursue my dream in KL.
Cause most of the thing that I'm looking for I can get it in KL. So I always been like a weird person in how I aware and how I have my hairstyle. People always look at me like an alien, they feel that I'm different.
Ling Yah: When you were growing up, you loved comics, cartoons and storybooks, right? Ninja Turtles, and street fighters were your favorites?
Kenji Chai: When I was Standard 3, when we are having school in a class, right. When a teacher is giving lecture, is like quite boring. I feel like I want to sleep.
I try to draw those cartoons in my textbooks whereby it created a universe. Time is frozen. I was in that zone, in that moment. It really give me a lot of enjoyment.
The feeling is like very passionate in doing something whereby the time passed so fast, and I'm so focused in it.
Even though the drawing is very sucks is not really good, but at the time, I enjoy it a lot I can feel it. It comes natural. It comes in my mind. I tried to portrayed it out, even though it's ugly in the textbook, I always attracted to that one because I grew up in the eighties.
So I see a lot of good memory in watching cartoons, like Thunder Cats and Ninja Turtles, Street Fighter and Dragon Ball. So I'm very drawn to those things.
Ling Yah: I think you would also buy the figurines, right from Ninja Turtles, but you could only buy one.
Kenji Chai: Yes. Yes. That's what it's like. My mom promised me to buy one.
And then when I asked my father, my father always scolded me and then never buy me anything. But my mom just like, okay, I can buy you one, but if you want to collect figure, right, you want to collect it all.
So I try to collect them all when I grow up and I can afford it.
So it's a childhood memory for me.
Ling Yah: And at the age of 15, you decided to change your name to Kenji. How did that happen?
Kenji Chai: I was always watching movies.
So in the movie, right, there was a guy that I looked up to and his name is Kenji. So I was thinking my name is not that good in Chinese.
Because in Chinese, right, my name is Chai Vu Yong. In Chinese, Chai Wei Yong. Means brave and kind of overpower already. It's too much. I mean, maybe you can use just brave or something cool. But not two together. Too much, too much. Overpowered.
So might be, have some name that sound quite different from maybe like Robert or whatever. People always like the standard name, like Michael, Robert, David. And maybe I can name myself as Kenji since got "ken" and Kenji like, become kind of Japan is fusion kind of name.
I think it was not bad. So I use it since I was I think Form 4.
Ling Yah: You mentioned earlier that you felt as though all your dreams were going to be in KL, you could achieve it there. Why do you think so?
Kenji Chai: Because I always looking into magazine. And then I was so poor. Then my friend always bought some magazine from overseas. The magazine always introduced the trend in the big city. So I feel what I want, right, couldn't be here. Because that time, even I want to study graphic design, the signboard in Sandakan, in my hometown is hand-drawn. Is not even computerized.
So I feel maybe I couldn't get any work here. I might want to study in KL so I can presume a dream there. Find some jobs. That really related to what I really want to do.
Here, I really grew a lot. Really, really a lot. Maybe 80% growth. Bzz. Like being cheated, some of the friend of my housemate or roommate broke into the house and steal everything.
Ling Yah: I think you had your motorbike stolen as well.
Kenji Chai: Yes. So I, okay. Okay. The story is this.
I was always taking a bus to work, then LRT and then walk to my working place. So then I feel like it's time to get my bike. And then after three or four months, I get my money and I invest into this motorbike. And then after one or two months it being stolen.
So I feel speechless. I need to restart the whole thing again and going to buses the feeling of Oh my gosh. I just don't want to speak to anyone. Then I bought the second hand motorbike and then it broke down all the time.
Shit. It's like, Ugh. Once I started the motorbike right, I never know how far I can go. Then it broke down again.
Then after that I sold it and I rebuy the first model I have. But I locked all the time. Even I just 50 meters away from the bike. Always.
It teach me a very strong lesson and I'm more aware.
Ling Yah: Yeah, because even the police can't help you, right?
Kenji Chai: I go to the police station and asked, hey, can you help me to find my motorbike? Then the police reply me, even mine is being stolen. It's quite funny. Yup.
Ling Yah: So if he has stolen, you have no chance.
Kenji Chai: No chance.
On top of that, right, my wallet being stolen. My phone being robbed.
I still remember the time I was using Motorola and that I was guiding my friend on the road side whereby my friend want to come and join me. And then suddenly right. I didn't hear any sound from the back. And then there was a motorbike suddenly moving near me and then just snatched my phone.
All this lesson make me learn a lot and try to be more alert, more aware of what happening around. The opportunity is happening here. That's why everyone is here. Only the strong can survive. You have to be the best among the best only can be survive.
Also one thing I really learn in my school time is once I come to KL, right? When I study graphic design, I always missing out in class because it's my first time in KL. I always go out and have fun, chill with my friend.
So team project, right, they always hate me because I'm not always there. Until the 3rd year, right, whereby my last year of the College time. I feel kind of boring of all the malls or something. I really want to go and play; it's the same again and again. So I tried to focus on my study.
So that time I got number three, I'm quite happy. Whereby the people who got number one, he always number one, once he in foundation, right. All the way until the end. All the way ah, I can tell you. All the way.
He's the most bright future of him.
I remember I feel like oh, okay. No matter how hard I try, I just got number three in a class after I finished my study, I come out and I worked in Gempak. I feel like working is boring because we are in a box.
It's like the system has been built. We need to follow the system. We can't change many, many things, even though we become art director. You just have to be in that box to art direct within.
So I feel that is kind of boring. Maybe I can try to do something that'd been directed by me. So I started my own clothing line, just for fun. I want to direct, I want to do something, I want to sell the clothes.
And then right suddenly, one day, the guy who was first in my class, he texted me in Facebook. He said, I'm happy for you. I feel proud of you, blah, blah, blah. So I asked him, what do you do now? Oh, I quit. art. I'm doing retail selling, selling coats.
Okay, so you are more talented than me, but then it's because you give up and you don't believe in your dream in the halfway.
Then I finally realized it's like a race in a rabbit and turtle. I'm not as talented as a rabbit. I admit it. But I can move like a turtle, slow and steady that we've never give up. cause turtle always know that they don't have much talent. What they can do is just keep on moving even slow progress or any progress have to be, keep on moving and never stop.
So this made me realize a lot I have to be more keen on what I'm doing.
The clothing it's failed at last. I realized that I want to create not selling product.
I lost money. And then, because we need to consign people shop right. Then the worker in the shop takes all the money and then the shop closed down for two months, three months or maybe half year because they never paid a rent for half a year.
And then my stock was stuck inside. And my money that they sold is 2000 being stolen as well. I got nothing. So at least, I get some of my stock and that's it.
Ling Yah: So after that you decided, okay. I want to be creative. Was that when you decided that you wanted to try graffiti? I think a friend told you about it.
Kenji Chai: Yeah. Before this, my brand called Black Fryday. Then I dropped my brand. I go back to my name. Kenji Chai.
So I just use my name because a belief in whatever you call is not really important is whatever you do is the most important. So from there on, right, not yet to the graffiti, I was doing some illustration and I shared a following.
Ling Yah: BlackFyiday was the name you used before. It's the combination of your favorite color and favorite day.
Kenji Chai: So the fry right Friday, right? I put it into F R Y, Friday. This is not a combination, but I think that time I feel is quite cool. That name.
After a few years that evolved, I become myself and then I do some illustration and then some of the other brand find me, U Mobile. Then they hired me to do some, some graphic works to them and then they put it on the street that they put it in their advertisement.
So I think kind of cool. Yeah. Maybe I can work on this part on the digital side.
After a while, I found that it's quite boring. I can't touch my work because it's in the computer. So I want to have a breakthrough. So I asked my friend then she teach me how to paint on a wall.
The feeling when I was Standard 3 come back. And make me realize a lot of thing. I feel this is the life that I want. I want to paint my whole life.
Of course it doesn't work at first. Maybe we go out and paint with my friend.
So it's illegal. And then we try to brainstorm some ideas and we paint on a wall and I'm happy because I can art direct my stuff. Is freedom. Freedom that make me a lot of creative juice in the mind. I can try to direct something myself. I train it by that way.
So doing for fun then suddenly, my friend gave me 200 bucks four material. The paint is very ugly at first because I need to sharpen my skill.
Ling Yah: You were learning graffiti from scratch, right. And you had to learn the different materials, how to deal with the weather, how fast you paint.
So how did you learn all that from scratch? What were you drawing at the time? Was it I go not yet, right?
Kenji Chai: Not yet. Basically, basically they adopt from the illustration I did. Before this on Friday and in between Kenji Chai. So I used that kind of illustration style and put it on the wall, just blow it up.
Ling Yah: You used to draw a bit of sex related stuff, right.
Kenji Chai: That one is in the t-shirt. So it's point is between the line. So I want to have some consent for my art then. But it's really hard for people to promote my art because that time, people feel like oh, okay, nudity sex is like, cannot be shown It's like politics, something like that. So it's in that categorize. Quite sensitive.
So I moved on and I paint, I paint and I paint. Still not making any much money because it's for fun.
So I leave my job as well in Gempak. I go into bank site. We help people to balance funds for the money in a gray area in agency whereby I need to cold call on customers.
The time is I need to call 50 customer.
Can you imagine 50. Out of 50, like 30 of them is trying to screw you. Hey, how you get my number? Don't call me. Always that words.
And then right, a bunch of friends that I know at that time, right. They are quite solid. How to say rational people. Okay. Talking about earning money, buying house, genuine cars, buying nice watches.
All of them is very materialistic. Okay. Whereby I feel interesting. It's because oh, yeah. I need to be like this point only I can earn money. Okay. But their lack of soul in them.
But whereby my friend in Gempak right. They always talked about feeling, music, movies, inspiration.
So I feel okay. Here is too much of rational. There was too much of like dreaming kind of thing. I need to live in between. I need to earn money and I need to be creative. You have to in-between this line, right. You need to have a balance. Then I quit my job because I earn, at the time is around 8,000 is quite a lot for me for one month. So maybe less also about 5,000.
But I feel if I keep on doing this job in this queue, calling people after five years away, I don't have any achievements. So I feel like maybe I can just quit it and do back to my art stuff. I try to like sell some customized cap and it doesn't make a living much because one cap you can earn maybe 100 bucks.
I need to draw a lot.
So I maximum that time, I only got seven, eight, so it's the 800. not really can survive much.
So one day right, I was starving. My friend called me of nowhere. It's like hey, hey, erm Sakai Sushi is trying to hype people. So would you interested to join our company as the in-house designer?
I say, okay, I'm in the middle of sea, and I saw a big ship, right, crossing by trying to help me. Okay. I get it. So I go and try and perform right for my friend to see what I can do. And then right, he said, okay, now not bad, but I need to go through my manager. Then once the manager come in, right, and look at it.
Mmm not that good.
Okay. Give me time. Give me time. I need this job. Okay. Then I was taking maybe 20 minutes. Zzzzzzzz Change. Okay then he said hmm, okay. That's good. That's good. Okay. That can try it on company.
So from that day on, right. I learned a lot. Cause we are in the marketing department.
So the department is about how to market and attract customer to eat your food , the promotion leaflet or something they draw, right, have to be okay, we want the customer to see this part first. So we need to blow up this part. RM 1.
Or the terms and conditions, right. Write small beside the- it's kind of like how they attract people.
You can enjoy 1 Ringgit with the purchase of, write very small, 20 put very small. so I feel , ah, quite interesting, quite fun.
And then right, one day, right, there was people who want to deal with my manager then they called my manager.
Hey, hello, June and blah, blah, blah. Okay. I will talk with the team and we have a meeting with the team and then we'll come back to you.
And once she hang up the phone, she looked at the colleague actually got three collague one. So they are blah, blah, blah, whatever. Okay. After 20 minutes. Right. And then June call her back.
Hello. We come to a conclusion. We can make this deal and then hang up.
So from that on I said, oh yeah, you're right. If you want to portray to people, right. We no need to show the whole picture, like when they are like meeting, right. They're not really meeting in the room. They just. Casually talking SME thing, but the whole thing package, right, make it looks professional. Okay.
So after certain period I was drawing right then. Okay. I understand. I need to set a value for myself. Okay. At first, how much? Like, okay. My benchmark 1,500 for one wall. Okay. I'm so scared because it's my first time.
So once there was a people call me actually, I want to do this now. Okay. My charge is like this.
They say, okay, Kenji, can you check for me the date? On blah, blah, blah. Maybe a five June. Do you have any time? Okay. Okay. Give me a second. I need to look through my schedule when I open up my schedule, right?
It's blank. Blank. But I act like, okay, okay.
Okay. June this date hmm. Ok on that day, I'm free. Okay. So I jot down. Make me grow a lot. Really work.
Training because you need to have that kind of attitude. Of course, this is the first part, not the whole picture, but the whole picture. What I really learned, right. is not money, but reputation. The reputation that people buy and they willing to pay for the reputation, because they can always get someone cheaper than me. Always.
But they couldn't get the promise. The other person couldn't get that thing done perfectly or safely and they will not be as good. And this is what they pay for the value. That is what I really learned. So I appreciate because I've been so poor, so broke for so many years.
Every step I have my life. I appreciate. I cherish. I thanks for the people who giving me chances. I make sure myself and that were never, ever screw up.
So it would become an attitude. So also before this, right. My duty is okay, if I lose in something like this, if I don't get this. Oh, it's okay. It's okay.
It's okay. I don't really putting much effort, but now no. I feel like once I say yes to something like I need to put my 100%, 200%. Because always people always asking me, Kenji, do feel like this is maybe a secure job. This will bring you security for the future. I'm not really sure, but I should at ease.
I give my 200% in this present for this project. It might create a next project for me. This is what I can control. I will need to focus on never less than other people. Expectations never treat it as a job. I treat it all as my last job. This is the way I've got to be.
Ling Yah: You were experimenting with your styles as well, right. Learning how to do different things.
Kenji Chai: I'm sorry to say that, right. When people give me money, right. It's about my experiment. It's about the battle in between myself.
It's like okay. I want to make it like how to be better. Of course I'm slow and not that talented. So I need to learn and improve a little bit, a little bit here and a little bit there. Right? So you can see the progress from the start to now, right? The inspiration, the way I draw is quite different because it's like a slow step bit by bit onto that point.
Ling Yah: You were also doing free work as well. I think to get your name out, right?
Kenji Chai: Yep. Before this is a of free work.
So now sometimes let's say I go to Penang. I would love to talk to my friend then my friend is quite okay around that area. And then they were asking for walls on the street whereby I can access to.
And then I can maybe have like a collaboration or crossover or talk to the owner. We can draw something based on what I want to do. And then the creativity part right. Is really up to me because it's free. Right? You need me a free work, but not always on that point, mostly of it is a commercial job, but out of it, right. yeah. I want to put more walls on the street because some of the commercial walls were indoor. So not much people can appreciate.
Ling Yah: I think you were also joining a lot of competitions as well. You won the Character Licensing eSport Asia, 2010 Thailand's Custom Toy Design Contest.
Kenji Chai: Yeah. So that was a very interesting story.
So it's like this. The whole competition, right, there was many people joining. So they gone to filter it and make it top hundred. And then top hundred, right? And then they filter up. They make it like top 10.
So the top 10, right. Five person is from Thailand. And 5 artists is from oversea whereby there was Malaysia and then Brazil, Argentina. And if I'm not mistaken, is Australia or USA, And the last one I forget is from where, but basically from very very far. So I'm the first one who get to that place because so near right, this few hours, right.
We need to work with Thailand artists in order to fight and then to win for the game. So I study my partner. He's a very crazy person but unfortunately he pass away. He's a very great. He's named go with mama fucka, but then his name is Tom. So he's very crazy. He's very hardworking person, party person.
He got all the connection, right?
I still remember. I told him that okay. To win the other guy, right, we need to work harder. We need to get closely. We need to understand each other strength and when to give it out, because I'm not a very, a professional in doing custom toys. but other is really crazy.
I saw their work in internet, right? Super crazy.
So I was there few days earlier then what do we do? We go party because he liked to party. He bring me to see fashion show. I still remember, it's a bicycle fashion show inside a mall. Wow. So crazy. you bring me the club, right?
And that right. He took 10 minutes to go inside the club because he'd been greeting friend from the entrance. A lot of friends, he know mostly the whole club. I think so crazy. But the people he know right, is quite something. Is media artists, something that give really serious in doing something for Thailand.
So that day we get drunk. I still remember right the last day when we have the final to fight, right? We overslept cause we party, we partied too hot.
And I told him, told Tom, right? I said, Hey Tom, you know what? We need to win this competition in order for me to get the money. One person got 5,000.
I need this money. I told him because I use all my money once I was here. All of it. Okay. Then I'm happy at the end, right when they announced: oh, winner is from Malaysia. Yay.
Okay. So I tell you why do we win.
At first, we really connected. we can communicate well whereby the other competitors.
They are good. But they are not connected in the work. We are doing two figures and we wanted to win badly, right?
Then we do a packaging. He's good at packaging. So we created a designer packaging, right. And then when the judges look at the work rate, they feel like they are together in one set.
Whereby, I'm not sure about the artists from overseas like Argentina or USA, right. I'm not sure they are too ego, or they don't want to communicate basically the work created by the talent artists and the artists, right. Is disconnected. Is not really like pair. It's not gel together. Is not bond. So they are good in individuals, but not in a team.
Three days before the competition, the guy asked me, where are you from? I say, I'm from Malaysia. And then he told me, where the hell Malaysia is in the map?
So after I won a competition, right, then I look at his eyes. I feel my heart say: now you know, where's Malaysia.
Ling Yah: So after you won that competition, do you feel there was immediate interest in your work? Like more people wanted to come and commission you?
Kenji Chai: Not really. I was still okay. But just the move of turtle. Not really that much. Yeah. But I'm happy because I got a 5,000 I can leave more ready. I can stay alive for maybe one month or two months. Yeah.
But by the turning point would be after I learned everything in Sakai Sushi, right, I apply into myself. I see the changes, the growth on myself.
It's like playing chess. It's fun. It's like, we need to have a mind game at first. It's Kenji Chai, how much do you charge?
I would told them 1,500. I will not chase them because once you chase, right, means you losing some moves. You need to wait. You need to give them a room to think through about it. If they do want you, they will hire you.
So from there, after like 2013, whereby is the year that the born of Chaigo, then I get a big project from Nando's.
So I draw a big fighting cockerel for them. Before this, I always did a small job for Nandos before this. So they remember me with the repetition. Then maybe said hey Kenji, we now have a big project if you're interested.
A week before this happened, right. I was dreaming about drawing a building.
I have a thought, like, I want to achieve this.
Ling Yah: You'd never done a building?
Kenji Chai: Never never, never. So once the offering, I say yes, without any experience I just wanted, to do this. I'm going to make it happen. No matter costs. I don't know how to do it. Okay. Yes.
So I feel once you want something, right? You said, install something in your mind, right. Then your mind will try to make it happen step-by-step. How are you gonna transfer this project into your eyes, your mouth, your ear, your hand, your body.
Then works towards that thing to solve this puzzle and get it done. I learned how to calculate because, I was thinking, how can I sketch this big thing? And then, okay. Then suddenly I have come in my mind is they have a lot of ledges, windows.
So I just calculate from the windows. Okay. I map it. I map my sketch into the building whereby I take a picture and put it in the computer and I can count. Okay. This one, this line is formed with the three one, two, three. Okay. The lines here. So it's a grid for me, the ledges and the window become a grid for me .
Ling Yah: Were you projecting?
Kenji Chai: No no no no
Ling Yah: Oh, just freehand.
Kenji Chai: Freehand by counting. The starting point is at the 3rd window and the end point is at the second ledges. Okay. Okay. Agak, agak, cause we have four floors, right? It's all been grid. So it's quite fun.
And that is the day where I quit my job. I have thoughts I want to quit because I always wanted them to be stable. Cause I've been floating outside for so long. So I was thinking , okay, my, dream was very normal, easy. I have a job. I have permanent job. I have some extra money. I'm happy person, but something you can't really control. Whereby the time I have always met my client, my lunchtime.
I sacrifice my lunch time because you can't meet your client at night. It's not that good, right? No people want to meet you at night. People want to meet you at working time.
So I take my pay, leave unpaid, leave, emergency, leave, sick, leave, whatever leave I have, right. All hobbies Finished. I've tried all my best to get leave to meet my client.
and then right. The worst is I have did the sketch on my company whereby some of the colleague discover and then tell my manager. And then my manager asking me, go into the room and then try to lecture me and give me some advice. This is very important because a turning point advice.
So I told her I would try to go solo, if I can make it, I die. I come back. I become a slave. Okay.
So once I blink my eyes, right, it's been 5 years, 6 years, 7 years. Cause you know why I do it in my company? I've started realize my capability, the money I earned. My capability is stronger than what I have imagined because in company, right, you always want people to agree with you.
Give you a credit told you that you can do it that only you can do it. But once I detached from all the shit, right? I can be anything. I can be square. I can be round. There's no more boundaries. There's no more guidelines. This normal square. I was break out of the box.
There's no more Sundays. I'm not looking forward for weekends anymore. Every day become the same.
So I try not to die, to survive. What I've trained myself is the most important point is what I earn. I break it down into one year. I tried to break it out.
Now let's say I earn 6,000, right. I broke it into three months. Then I can have 2000, 2000, 2000 for a month.
So for that particular big wall, Nandos, it can last me for 10 months. If after 10 months I got no job. I'm reading that bat but luckily in between there was some small jobs whereby I can add onto this big portion, money and separate into maybe one year and then one and a half year, and then slowly growing two years by not always spending every money each month.
Ling Yah: How were you getting all these little jobs? Because you were working everywhere. Like cybercafes, hair stylists, bars like Quattro, even Multimedia University, right?
So how did all these random little things come your way?
Kenji Chai: Okay. I would love to thank for one particular client who had been supporting me for years and years. That was Tiger Beer.
It becoming a, my big boss is , like a yearly job whereby they've been trusting me in my art and wherever I got the creativity part quite strong, even though some of the parts still need to be on them, but I'm blessed with the money or the job they gave me that can last me for some time.
So with a big client, right, and then some small little jobs, It can definitely survive longer and longer. And the amount rate I can tell you is I never imagined I just tell myself, okay, give the best for what I can do.
You can't predict, but you can give more, more and more. And then when something come back is better and better, bigger and bigger.
Ling Yah: Was that surprising for you, that the money was rather good? Because at the time when you first start to, especially at graffiti art wasn't really well known. It wasn't a popular thing.
But people were willing to commission.
Kenji Chai: It started at the bicycle in Penang. Georgetown Festival. The whole Georgetown Festival helped a lot of people, art field, and also bring up the scene. And the guy from Dunia Ernest is one, my friend, before he drew the bicycle , a brother and sister, actually he's quite broke as well.
He's just traveling. And then in Malaysia, he just trying to , get something to do. He doesn't know that it becomes so big, really, really big. Until he feel he want to based in Penang. So it's quite crazy.
So before this, right? I was a bit, not envy, but why do you give chances to always see people, but not the local. Then I come to realize, not people want to give you and choices, but have you shown them what you can do? Have you really give before you ask for what you want to take? , if I really give you everything, but you cannot make it right.
You still can't make it. You're gonna have to prove to people that you really passionate and doing something, not blame people not giving you. Yeah. It doesn't work this way.
Ling Yah: And as you mentioned earlier in 2013, that's when Chaigo was born and it was because you were inspired by the stray dogs that you saw on the road.
Was there a particular incident that struck you and made you go, okay. this is going to be my alter ego. A dog.
Kenji Chai: Yep. So I was driving every time. Going back from work. I saw many stray dogs.
There was one scene, I think it's a mother bringing 4 puppies.
So the second day right, I saw the same puppies but become like three. So maybe one is in an accident and after two days, right, it left two. So I feel like, okay, people bang them down and people don't really care about their life.
So come back to myself. When I'm doing art, no people really care.
They just laugh at you. They just feel that this is a very bad job or there's too much failure in art. But for me, I want to be successful. I don't want to listen to the story of feeling nothing for me to inspire and nothing for me to learn.
it triggered me a lot what I'm doing. Do people really support besides my mom and my sister or my family is okay, but the cousin, they always look down on me at first. Of course now they're oh, Oh, I'm proud of my nephew, share on Facebook. Okay.
S o the time when I stepped into KL, right, I need to find shelter myself. I've been moving places to places and a place I live is ridiculous. It's dirty. But I have no choice. I need to survive. I need to be strong. I need to learn. the food I eat, right. I have to be blessed with food.
No matter is a good or bad food, because this is how you're going to survive it first. To live in the worst than only you can grow up.
So on that point, right? I already told myself now in the mud, okay. People look down on me, step on my face. What if I can make it to the top? If I can't make it in the top right at last, I going back to the mud is okay.
I come from this. Okay. I can play in the mud.
So this trigger me that, okay. I am born in the dog year. This is the life of St that we face life with positive vibes. That's why I find this alter ego and I try to spread this energy to every people. So always share his story. So I hope they can relate.
Because mostly of the lower, class people, right. I mean, life is hard really, but how we look at life and how we overcome our fear or our problem, this is most important and successful or something good. Left for the people who are strong enough to get it.
You don't want to give anything and you hope for the best you can get, this will never happen. It's not the way.
Ling Yah: So once you create this illustration of Chaigo, what was the plan? Do you remember the first time you drew Chaigo?
Yeah.
It was at Kampung Attap, right?
Yeah.
Why did you choose that place?
Kenji Chai: Because my friend lived there, he can look out for me, any police or any people like-.
Kampung Attap is the streetLing Yah: art place, right? Lots of street artists go there.
Kenji Chai: Before, no. Before it's foreigner? Place where no people care until Zhongsan come in, right. It become a hype place.
Before, no. So before that I'm happy because I asked some drawing that my friend leave behind Zhongshan, right. It's in a hype place. Wow. So it was crazy. He's been helping me a lot, when I was very low and then I stay in his place. Yeah. He'd been seeing me a lot. So It's a blessing.
So I started there then.
What was the experience the first time?
Scared? The first time is scared.
Before Chaigo, right. When I first start, graffiti is 90% of the time I'm looking out for people who really discovering me. Only 10% of the time I'm drawing because I can't concentrate, but this one helped me a lot with concentration.
you need only have one chance. You go out, you concentrate, you make it nicely. And chao. It's really, really good for training purposes.
And you're quite particular in making sure that when you draw, it's not a bad drawing, You take your time. How long were you taking?
Maybe five minutes. Three to five minutes for a Chaigo.
Of course, I have the space already right, I appreciate every wall. I don't it to be ugly. when people pass by, right, there'll be impressed by what being called street art or graffiti. It can be done nicely. Not just go in and scratch people wall and make people pissed off.
Mostly it started from there, but now we evolve. We have different kind of style. Of course, graffiti remain graffiti. Now I call myself street art or something like mural.
Ling Yah: I think it's important to distinguish as well, there is street art, which is illegal and mural at, which is commissioned and you have permission.
So for the one that is illegal, how do you pick your place? How do you know where to go and where not to go? Because certain areas are more high-risk and certain places.
Kenji Chai: For me, visibility is very important for the public. That is the place where when people pass by, they will see it because it's very high risk, right.
Whereby we give a lot our heart to do it right. Better to choose a place where everyone can see it. The hot spot will be a like, our aim.
Ling Yah: So what are the rules that you have to follow to make sure it's a successful thing in terms of you're planning, what you're wearing when to go, what's the thought process?
Kenji Chai: So I think the best time to go is at afternoon or morning time. It's better to skip night because at night patrol. Actually you thought don't want other people to see, but they will be more obvious because it's like on the street only you at that place. So in a busy, busy morning or busy noon, that would be the best timing.
And then wearing like those worker jacket will help. What you see people who've been fixing the road, doing the half fly over. So with that attire thing, we'll be cool and safe.
Ling Yah: You have to make sure you wear proper shoes and everything, right?
Kenji Chai: Yeah. You can run. In case anything happens, run.
Ling Yah: So has anything ever happened before?
Kenji Chai: Of course we being stopped, but then basically is better not do it at night. At night is very dangerous, always being stopped and they never let go and they would try to go back for it then after some advice and they let us go.
Other than that is, ok like, they appreciate that. Some of it.
Ling Yah: So I suppose a lot of people who don't do this would than be asking, why do it in the first place? Why do you go out? What drives you?
Kenji Chai: Okay. Okay. First it's more like self-expression and then also advertisement for yourself. You know, how, expensive is to advertise your product on some billboard or somewhere around the town? It might cost cheapest maybe 10,000 for a month.
If I can get it done there. And no people would go and kacau, people see it. Then I survive for one month of the advertisement. People can see this dog and then it's quite good. So I try my best.
So they can stay for five months. I'm blessed. I'm super blessed.
Ling Yah: When you say, stay for five months, because someone else might burn it and draw over it.
Kenji Chai: Yes. Basically they can do it because the street is open to everyone. Right.
Ling Yah: Before I started tonight, some people this space, I will look at all the street art and go, I have no idea who drew this. Who does it belong to?
So how can you look at street art and be like, okay. This belongs to say Kenji or to Cloak or to Drewfunk?
Kenji Chai: Depends on, do you want to write your name, but for me, I want to, have a treasure hunt.
I want people to be curious. I don't want them to know it's me until they discover it's done by me.
Ling Yah: How would they discover you though?
Kenji Chai: Yeah. It was a fan been discovering this dog quite long until they saw me sign off in Bangsar. I'd write my name below the dog because one something in time, I have some peace. Have more time to build it.
They saw me and they messaged, oh, it's you. I'm so happy I found you, blah, blah, blah, blah, blah. So the feeling is finally I find someone.
If you really want to known, then you can write your name, Cloak or maybe Drewfunk. They can write their name below so people can find them easily.
Because for me, this is not my first priority is , I already have something that people know I'm doing. So this is like secondary, but I still having fun.
Ling Yah: And what about the street art community in Malaysia? What is it like? Are there many people in it?
Kenji Chai: Actually they are quite a lot, but the active one, maybe not more than 10. Can consider a top 10. The strongest we have the top five.
Basically if for graffiti and street art, actually consider like maybe not more than 50. Maybe 50 people is doing
Ling Yah: There's the other side, which is the legal side. And you've done a lot of amazing commissions, with Netflix, with Volkswagen, Uniqlo.
And then you held a Malaysian book of records for the tallest mural for something you painted in 2018, which is RED by Sirocco.
How did that come about?
Kenji Chai: Basically, I never looked for my projects. They always come and look for me. one day there was the boss is looking for a street artists and then he come to my page and ask me, coming to meeting. Then I told them the price. Then she told me, we still have a few artists for pitching this job.
And then, okay. I don't really mind because I look at the building. Right. I feel that's not exciting. I think it's extremely dangerous. It's too tall.
25-storeys, right?
Yeah. It's like commit suicide project. It's like, no, maybe I don't want this. I just get the high price then it's okay. I don't really care if you give me that.
Okay. Don't give me and I don't really want it.
Then suddenly he called me after a week. You have been chosen. What the heck? I was like no.
Can you imagine the other artists is lower than the price 50%. And one is lower than my price, 70%. And they insist they want me. I said, Oh, okay. You have guts. Okay. Let's do it.
The first day I was on that gondola. Once I showed up to the 25th floor, I asked myself, why do I want to get this job is too crazy.
When it looked down over the gondola, right? The car is smaller than hot wheel car. It's like shit.
And then the whole gondola is waving. It's like a paper. It's like, Oh my gosh, I'm going to paint on this thing.
And then there's three granola because the wall is too big, right? The one gondola can only support for 20 feet So there was two helper. So the two helper was coming up in the other gondola. Then I asked them, hey, how can I get into the other gondola?
She told me that very easy. You just park together and then climb over. I was like, Oh my gosh. Then I asked him, are you sure? Of course. And then I say, how come you're so sure? Because I paint a whole building.
So before this, right, he helped me to coated the whole building. So he has the experience to climb over. So I try for the first time I was like, oh my God, I think I'm going to be sick tomorrow. I'm not gonna. And we're not going to work.
So after a few days where I feel it getting more used to it because I start from 25th floor, right. Then I slowly maybe one or two days, 24, 23, I'm coming down and I'm more focused because when I'm focused in front of me, I kind of forget that I'm not on the ground. This helped me a lot.
And then the whole, whole month, right? I'm working nine to five is like back to office job. I need to work wake up early morning. And I finished at three the most because always raining at that time is August.
And I remember the second day I was on the top, right. And then it's raining. Okay la. Let's do a bit more because I, start late maybe 11 or 12. This is Ali, right? The cloud coming right? The ring Dreezy, on my face, then we shut down, right. Suddenly one of the wires it's mixed up and then we tried to take it off and then Iike suddenly it got sparks. Psh.
Then the whole thing stopped at 10th floor.
And we are wet all the way waiting for help. And then upon the storm and then the most right gondola being blown by the wind and bang on the wall. Bing bang bing bang bing bang.
We waited for five to 10 minutes only people come and save. Have to on the electric city again, than only we can come down. All wet.
So okay from that day, right I told myself, we need to be on time. 8 or 8:30 after finish breakfast, shoot up. Paint until two or three. Then we come down. after sometimes, right. I found that is good to arrange something like, let's see, I draw this particular line then I shoot up to other floor while other people who helped me to fill up the color.
So I try to organize the whole project. I'm getting into that picture more and more and easier for me day by day. So it's very good experience until almost one month.
I think it's three weeks, half there. I finished the job. So it was at last, I come down the floor. Oh yeah.
Ling Yah: How did you execute and maintain that space and sense of how large your head should be. Cause it's going to be larger than you, right?
Umm ya and then it's distorted.
Kenji Chai: So, yeah. So at first, right, I was thinking , maybe I can use projector to get the proportion, but we can't because we don't have other buildings taller than this for me to project. So I need to scale it into three gondola, maybe . Eight big square. the grid is very big.
So once I got into the gondola, right. Everything distorted. Oh gosh. I only have the line, right, that I created onto it, right. Okay. So what do I do?
I sketch it at the first day when I finished my job, when I come down from the gondola and I zoom out. On the other side to check the proportion. So it's like eyes is up and now, and I'm trying to remember which site this site, this site, and then tune it up the other day, then I mark down this place.
And this day I need to fix your fix there. So it's been changing part by part a lot, , because I don't like the pattern. The pattern looks very ugly from far. So I redo it. I try to use the roller to have a guideline pop by pop, make sure they are same size.
Only one time can be amend. Because I can't go up and down because it took forever, go up 15 minutes, come down 15 minutes. So it'll be half an hour wasted.
I try to minimalize the error by make sure every time when I look at it, I memorize basically not the perfect job, but, you try to solve every problem every inch to make sure it doesn't look that bad.
After that, did you think, oh, I neverLing Yah: want to do such a large scaled building project?
Kenji Chai: Not really, but anything lower than 25th floor. It doesn't mean you trigger me more.
And then right. I come to a job only 10th floor in Sabah and the crane cannot reach to a certain point. So I need crane and then we need to have the scaffolding. Oh shit. And it was climbing scaffolding again.
Ahhh
10 floor scaffolding. Crazy. Everyday is training.
You imagine, right. When your can is spraying, right, suddenly the can drop. Di da da da da some is broken. Boom. Pshhh.
Another challenge.
Ling Yah: And another thing that you do as well whenever you're drawing is that you also get filmed a lot and that's quite important part for your work, right?
I think the first one was with the boy who dream, what was the experience-?
Yeah, that was 2017 .Kenji Chai: So it's a first time of acting. So they asked me, Hey, I want to do a commercial.
Can do it. Of course draw. Yes. Can act. Okay. I try. everything that contributes to my dream. I need to learn and do it. I cannot say, no, I have to grow. You need to learn, need to be true. So I think this challenge whereby it's like, ah, I need to look at the sketch done by the child.
And then I need to smile at it. That was NG 10 times.
I asked the director, what do you want? Kenji, can you smell it from your heart. Smile from your heart and give some feeling? I say, I'm smiling from my heart, what do you say?
But the successful of that radio is like a inspiration for young people and also maybe the people who same batch as me, to make them realize that they have a dream.
Ling Yah: So there was a big, positive reaction after it was released?
Kenji Chai: Yes. A lot. Quite big. It's my first commercial video that been shown to the public, I think.
Ling Yah: I suppose one of the things I didn't realize was that when you do these kind of films, even though it's a one minute, actually it takes a really, really long time and you work with certain videographers, like Kern Wei, a lot. They're amazing in fitting it all together.
What's the role of all these films?
Kenji Chai: Okay. Okay. , I put my benchmark very high on the video. I want something to be cool because it's a record of what you have done. You have to be good how do I know Conway is from 2016, whereby I was painting for a coworking space. I know him from that.
Then in 2018, right? Once I started the RED hotel, then they hired someone who doing a time lapse. Then when I checked the video, it's really bad. It sucks. They even can misalign the time-lapse. Means it's senget on the time-lapse.
I said, what the shit is this?
Then I called Kern Wei, I said eh, maybe you guys can help me to execute something for this video because I really, feel disappointed 100% for what they have hired. So he come into the picture.
Then he started to have his own idea whereby the time I think Kern Wei is lost because he'd been doing his video and then join the company and then the company maybe brainwash a bit. So he kind of lost his soul in what he's good in doing.
So I said, okay, I don't care. No matter how you just help me do a kickass kind of video.
Because of the time, he couldn't get much of the footage, so he bought some of it and then he tried to mix it up and then wah it's good. Is really good.
I give maybe 75% to 80% for that video. So he got a good feedback. People share it, people like it.
And because his skill is to bring out what I want to present in the painting. It's not just okay, shooting Kenji painting. Cool. Cool action. Cool. Shake the camp. Isn't very normal for this.
He's trying to figure out the content that I have shown in the painting. And he tried to align the full page with the content. So it brings up a good result.
And of course that's not the last video and I'm looking forward to work with him more because I want to grow with him.
Ling Yah: And you also collaborate quite a lot with other artists while doing your work, right? Like Wilson for instance. So how do these collabs tend to happen?
Kenji Chai: Oh, because I'm quite particular in my projects. So I know Wilson through Hong Yi.
So Wilson is like potential kind of person whereby I go through his IG. I like how he was so particular with his work. Cleaness or the proportion. Proportion is very important.
People, when they look at your work, right, do they feel comfortable or they feel like, wow. People definitely can feel it.
The first project he has helped me to finish it is the Sabah one. So you never know it's so dangerous because you need to climb everyday. You need to climb the scaffolding.
Because you want to learn, right? This is the point you want to learn. You have to be brief. You need to overcome your fear. If not, you can't achieve anything. So there's the first one. Then after that he'd been helping me a lot on different kinds of projects. I like his work and he is quite serious about what he's doing.
He's quite responsible, and then video now will be if normal one will not be Kern Wey, but some big project will be him. I tried to convince him to join the team. He's more willing to, because he had a hundred percent freedom to really portray what really want to show in, the video.
Of course I'll put input, but input have to be based on his idea, how to enhance it.
Ling Yah: And what's amazing is that he's really talented, but he's never been to art school before.
Kenji Chai: No, you need passion and need sense. It's not about what you're studying in school.
And now it's more easier because we have YouTube. YouTube can be your best teacher in the world. You can search anything, you can learn any particular thing you want based on. Do you want to do it? for me it doesn't matter where do you study? Because the, place where I study, where they close down.
It's good because if you don't study right, then that means he has the possibility of creating different kind of thing. Because if you study in a school, maybe teach you this right this is wrong. People always want to do this. I don't know why. Creativity is about breaking rules.
Ling Yah: You also do a lot of international collaborations, like Chaigo can be found in Hong Kong, Tokyo Madrid, Mongolia, Kazakhstan.
And I noticed you have worked with Gus Eagleton quite a lot. In Bali in 2017 and Brisbane 2018. How did that happen?
Kenji Chai: Yes okay. Actually that wall is quite memorable because beside him, right. There was a two artists that is really international. First of course, Gus is from Brisbane. Boogie is from I think is from Germany.
Another one is called Evok. Evok is from the state and he worked for Reebok and he's the artists that we look up to before we joined graffiti. He is from the team of MSK. Mad Society King. That was a very meaningful wall for us because it's a very big collaboration.
I told Gus, we have to make our mom proud because we are drawing with those crazy and great.
Artists below us together for this big project. So give our heart, we pushed to the max and once we done right, when I look at the work, I told Gus, you can call your mum now. She would be proud?
Ling Yah: I think one of the turning points for you was going to Mongolia and painting there. Can you share that experience?
Kenji Chai: So I have no idea why it's Mongolia before this. Then I was invited in 2016 with Cloak. I'm happy because I met one of the idol we've been praising for long, before this is 10 years ago. His name is Attam Joe and I used to become my good friend. He's from Korea. I tell myself, I want to be like then to have a career in this art thing and then to be doing it all my life.
And then I met him at Mongolia with another street artist called Royal Doc. Now he's very big living in California. Now been drawing portraits of Travis Scott, some black people, but wearing Korean dress. So it's a mixture culture. So he's getting so big in the state.
And then we met there and we have fun.
We go around, we drink goat milk from Mongolia, and then the alcohol is so strong. They drink from afternoon to night. It's crazy and we lived in the tent.
So I feel they are very poor, not develop country, but they're really strong spirit. In respecting the sky tree, mother earth water.
If they have the water naturally going out from there, right, they will say, protect this. We need to protect this. They also believe in shaman.
Before I landed to Mongolia, right. I saw a lot of wavy bumpy kind of mountain cover with grass. The feeling is amazing. I see the shadow of the cloud moving forward from the wave is wow, amazing.
Then I come to a place where they bring us to the hill top. And then when I stand on a hill top, I look around and I see those windows XP kind of wallpaper. It's like totally live. Wow. Amazing.
I want to be cool. I want to be strong. I want to do a colorful thing. I can draw the Eagle with leaves because I feel like animal and crown and forest, they are joined together and then you can see the leave is fading out.
Because of the human being trying to destroy the nature. So I want to remind people of this because now the kids right they're on their computers. They're not outdoor much. once I come back to Malaysia, I try to implement this peaceful pieces into different office or maybe hotel, or maybe different kinds of coffee. I want people to feel peaceful when they look at my piece.
Ling Yah: And you mentioned before, there are certain people who become very, very big. Kaws for instance is very, very huge. How do people make it that big?
Kenji Chai: I'm not sure but first, he also same like us. Graffiti artists, and then right, suddenly he wanted to do street art and in the nineties, he broke into the bus station poster there was like Calvin Klein, Giorgio Armani.
And then he took the poster and go and draw something and put it back. And then he changed the lock, only he can access to the lock. And then come to a certain point, maybe one year or one year half, people trying to break those glasses and steal the artwork.
So it gets the attention from the the brand whereby they are doing the advertisement on that bus stop. And then what he imagined become reality and become a real collapse.
And this had to be happened in the state because as you realize, everything successful mostly have to happen in the state. Not all of it, but I can see 70%.
The friend he know at that time, right. Beating 8. So in Japan he noticed guy.
Since slowly, he moved into this particular brand, not that big at that time, have a crossover with the bidding aid. And now, do you know why he did Uniqlo because Nico is inside the guy who run beating aid.
It's about connection. So he got all the connection. He has to go into the mass market and people break into Uniqlo because of the KAWS tee in China is like zombies, in waiting the whole Uniqlo and grab all the stocks too crazy.
Ling Yah: Do you ever want to be that big, like move to the States and try and make it global?
Kenji Chai: Yeah, of course. I'm connecting with them now, because I visited my mom in the state because I was there. I don't want to waste my time. I want to do something. I want to connect with people. I want to try to create something.
So I come to a person. His name is Aaron. He has a toy shop And then he gave me a few chance, customizing few of the toys and blessing is sold in U S D. the price.
If I put it in Malaysia, it would be ridiculous for the collector to buy it. But. If you put it in the state, the price too affordable.
Ling Yah: Is there anyone that you're looking towards that you think, Oh, it would be good inspiration for where I want to bring Chaigo?
Kaws Kenji Chai: and also you know that guy drawing flower? Quite big. He's Japanese, but he made it big in the state. And then he'd been collab with LV a lot. Most of the brands. Crazy guy.
Ling Yah: He has a huge team helping him as well.
Kenji Chai: Can you imagine, right. If one year, he needed to be opening so many shows in the state, how can he get it done by himself for all the shows?
Of course he supervising. Of course he is in final touching all the smaller details, but he has too many things going on.
Like now, I need someone to help, even though I'm not that big. So small, but I still need helpers to really execute it because we're getting old exhausted, but our mind still moving, right.
So in order to make it big, team is a thing that we really need. We can't escape from it.
Ling Yah: You've talked about 2021, the future plans, before that, how has COVID impacted you? Because even though everyone's on lock down, it seems you were creating lots of art that kept being released.
Kenji Chai: Okay. So. we are not being stopped. We are not paralyzed. Of course we are hibernating. I can't go out and be inspired, but I can do whatever I can in the time when I was in KL.
We still can create something. We still can talk with people about a project that I want to do. Look for creative people, book something else.
You just can't blame anything, and not doing anything. We still have a room of space that we can do it. So what I've done is I prepare or a project I want to do in 2021. Coming this middle of the next or January or February coming out.
We've got one watch collaboration whereby I have talked to him starting off the year is February 2020.
So plan for a year going to launch soon, and the brand is called a Boulder. You can have a look. It's a first collab for Chaigo in 2020. Launching then following got fashion and then got toys and some other unconfirmed project.
Ling Yah: Upcoming artists, I'm sure there'll be a lot of people saying, Oh, give me free work. Give me free work. what kind of amplifies what you have for them? Because there's a balance, right? Getting yourself out there, building a portfolio, but also don't sell yourself short.
Of course, first you need toKenji Chai: have a permanent job Then treat this as your side job. And at first you would need to get trust. All of course, you need to set some value for your art, but it's not a permanent one.
Let's say at first you sell your artwork for maybe 500, it's not the ending value. The ending really you can be 50,000. The ending value can be 500,000.
The fun and the best thing about art is no value. No valuation, you can be 1 million. You can be 500. It depends on what you want to do. People who selling their art like 1 million, right. I need to study them. Understand the way they do their work.
I need to implement to myself because I want to be that one of them. It's like Bruce Lee, even though he died, but his legacy, his mindset the way he sees something, right. Is still there based on the quotes he has been giving out.
I don't scared the people that have 1000 skills. I just scared the people that learn one skills 1000 times. It's to sharpen what you have done.
Ling Yah: So what drives you nowadays?
Kenji Chai: Young people. The people around my age, right, they're like want their families. Of course, we all have families, but they don't believe in dreams anymore because they're too rational.
Whereby young people is different. They're energetic. Their ideas is fresh. They are passionate. They have hope for the future.
This is the person that inspired me. And I want to work with them. I want to be inspired again.
Ling Yah: Are there any particular young, local artists that you think people should look into and support?
Kenji Chai: Yeah. Yeah. Yeah. So for us a guy who customize shoes, Edmond Looi. He has been customizing a lot of shoe for the state. He customized already, right.
Then people bought it from a state and then he sent it to the state he's quite creative and he's young, passionate. We've been cooking something. So hopefully it can be revealed this year
Besides that, now I'm working for the next project is called boot times, three person in the brand and creating outdoor wear. Their products is sold in Malaysia and Taiwan.
Ling Yah: Is there any common misconception that people normally have about what you do
Kenji Chai: Hmm, not really. Because people hate, you always hate you. I don't have to waste time on that. I just want to have more time to appreciate And be serious with what I'm doing.
No point you explained to them because they hate you, they hate you.
What do you think make people take their time in commenting into what you had done. People is too busy, they just swipe and swipe up and up. They stop at your page, and then they take time and then they think through the comment and they type for you.
No matter is good comment or bad comment at least have noise. The noise helping a lot. of course. Sometimes you need to maybe explain a bit. You want to explain, you explain, don't want to explain, don't, but your people, your fans will help you to try to talk to them.
So it's very easy now.
If you hate me, there's a button on the top, just press unfollow. That's it. Or unlike. You have a choice. No people put bullet or put a gun on your hate and force you to look at, their work. Right, You hate it. It's okay. The channel is not for you. And my channel is for everyone.
People they can come in. They can unfollow, unsubscribe me. That's it.
Ling Yah: Do you feel that social media is very important for what you're doing?
Kenji Chai: Very important because it's like a platform. Before this, right, we always looking for platform. Oh, I need a platform to show my work. Oh, because no people give me chance for a platform.
Now you have no more reason. No more excuse. Excuse is you are too lazy. You are uninspired. You just don't want to eat, but you want to enjoy this successful. No way. Now you just need to keep on trying if let's say you have 10 ideas right, you blast it out. Must have some ideas that we capture people.
You can't, right, then you keep on going until you make it. You need to have a good content to attract people, to listen to you, to watch you.
Content is the most important now. Creativity also the most important. Not the place, not the props to impress people. It's the content that impress people.
Ling Yah: Well, I've really enjoyed this conversation Kenji and I normally, and all of my interviews with these questions. So for the first one is, do you feel that you have found your, why?
Kenji Chai: Actually it has been found when I was Standard 3. But I kind of forget it because I assume that I need to be upgraded.
Let's say I feel that I do art is the most happiest thing in the world. The time freeze, but I thought that maybe the world keep on upgrading, right. I need to go into computers to really survive. Then I forget my dream actually just to draw. Then suddenly the feeling kick in. When the toughest time I paint on the wall. Remind me again after so many years, 12 years now, kicking again.
Then I realized one thing, the art in value doesn't really go down from the time of DaVinci, Maya, Angelo. It kept going up. It never depreciates.
So I feel what I really want to do is the branding and what I'm doing, I need to keep on doing to build up the value.
Ling Yah: And what kind of legacy do you want to leave behind?
Kenji Chai: Basically Chaigo. I think hopefully like some other company, Adidas or Nike, I think the people who started this, they have gone, but the company still run on.
If my daughter smart enough, I think maybe we can take over hopefully.
But I don't want to force her. I want her to be a happy person to really discover who she was when she grew up and encourage her to pursue that dream.
Ling Yah: And what does success mean to you and what makes a successful artists?
Kenji Chai: For me, I'm not sure yet because my aim is not there yet. What I've learned for success is nothing is forever. You can't stop at the success moment. There's no success moment. It's like a work in progress. It's a keep going on progress. It's a perseverance.
For me once I have achieved these, right, I not staying in this zone. I've been planning few things ahead. Once my product outright, I'm thinking the other one I want to achieve it's in front, I'm looking forward.
So success for me is I can't really explain yet. But maybe in some of people, I'm a success, I'm not sure, maybe, but that is an ongoing progress.
Ling Yah: And where can people go to connect with you? Support what you're doing?
Kenji Chai: Basically can check my Ig @Mr_Kenjichai or my Chaigo. I just restarted, I want to keep it all for Chaigo. So @Chaigo_the_stray or maybe you can type Chaigo the stray and then you can find it on IG and Facebook, Kenji Chai.
Or maybe you can see my old videos. I keep it for myself for client view on YouTube. Kenji Chai. So from there, can check all my previous videos.
Ling Yah: And is there anything else that you'd like to share that we haven't covered yet?
Kenji Chai: Basically for the youngster now, right? I just want to share: theory, you guys have a lot, but important is practical. Practical and practical. Practical, get new experience. Practical, maybe you fail in doing something, but you learn more than you fail.
You discover, then you try to upgrade, realize your mistake and you redo it and make it better and better. Theory is good, but it can't bring you anywhere.
Ling Yah: And that was the end of episode 31.
The show notes, transcripts, and links to everything and everyone we've just talked about can be found at www.sothisismywhy.com/31
If you want to be updated on the latest episodes, as well as learn about other fascinating and inspiring things that I've read and come across over the course of the week, make sure you also sign up for the weekly newsletter. The sign up form can be found at the same show notes link, which is www.sothisismywhy.com/ 31
And stay tuned for next Sunday, because we will be meeting the Asian millennial Tik Tok version of Bill Nye the science guy who managed to gain over 600,000 subscribers in just over two years and is also beginning to transition into television work!
We talked about his childhood, his love of stand up and how he uses one of the most popular social media platforms out there to share his love of science with people from all over the world.
So don't forget to subscribe and see you next Sunday.