So This Is My Why | Issue 10
Hey STIMYers!
Welcome to Issue 10 of the STIMY Newsletter featuring Shawn Chong – one of Malaysia's top mixologists & founder of Omakase + Appreciate!
But before that, if you're here for the first time or would like to have this weekly newsletter delivered straight to you, click the Subscribe Now button below!
In case you haven't heard, there's a very hot audio-based app that's just starting to spread through Asia called Clubhouse.
A place where users can tune in to "rooms" where all sorts of people gather to chat without the pain of looking presentable on video. It grew its cult-like following first in Silicon Valley (Oprah Winfrey is famously one of its first users) and while there are lots of spammy, self-promo type rooms, there is also a lot of gold.
The biggest news this week was when the hosts of Good Times (by far my most favourite room) landed their most popular guest to date – Elon Musk.
An appearance that nearly broke the internet (not even kidding, it was even streamed on YouTube), created many spillover rooms (each Clubhouse room can only take up to 5k users & I must've been booted out at least 10 times due to server overload), with some rooms lasting for… 3 days!​
It wasn't uncommon to enter a room & hear someone suddenly go, "So, did anyone listen to that Elon Musk talk? Remember when Elon was asked, what encouraging words do you have for entrepreneurs? He said:
Doing a startup is like eating glass and staring into the abyss for a long time. If you need encouraging words, then don't do a startup. – Elon
In case you missed the Elon chat, never fear. Techcrunch did a really comprehensive write-up that you can read here.
China Version
It was only inevitable that because of the virality that Clubhouse has found, China has come up with its version. Launched on 3 February 2021 (yes, that recent!!), its founder is Chinese cryptocurrency entrepreneur Justin Sun, who made the headlines in 2019 after scoring a $4.57 million lunch date with Warren Buffett.​
The app in question? Audio-only live streaming platform, TWO.
Watch this space.
​Fun Fact
Today's Good Times guests featured two top officials from Facebook. One of them, Andrew Bosworth (VP of Augmented & VR at Facebook) thought it'd be fun to bring on Mark Zuckerberg for a couple of minutes and sure enough, he did!
And promptly broke Clubhouse lol.​
Maybe next week, Sriram & Aarthi can get Jeff Bezos? 🤔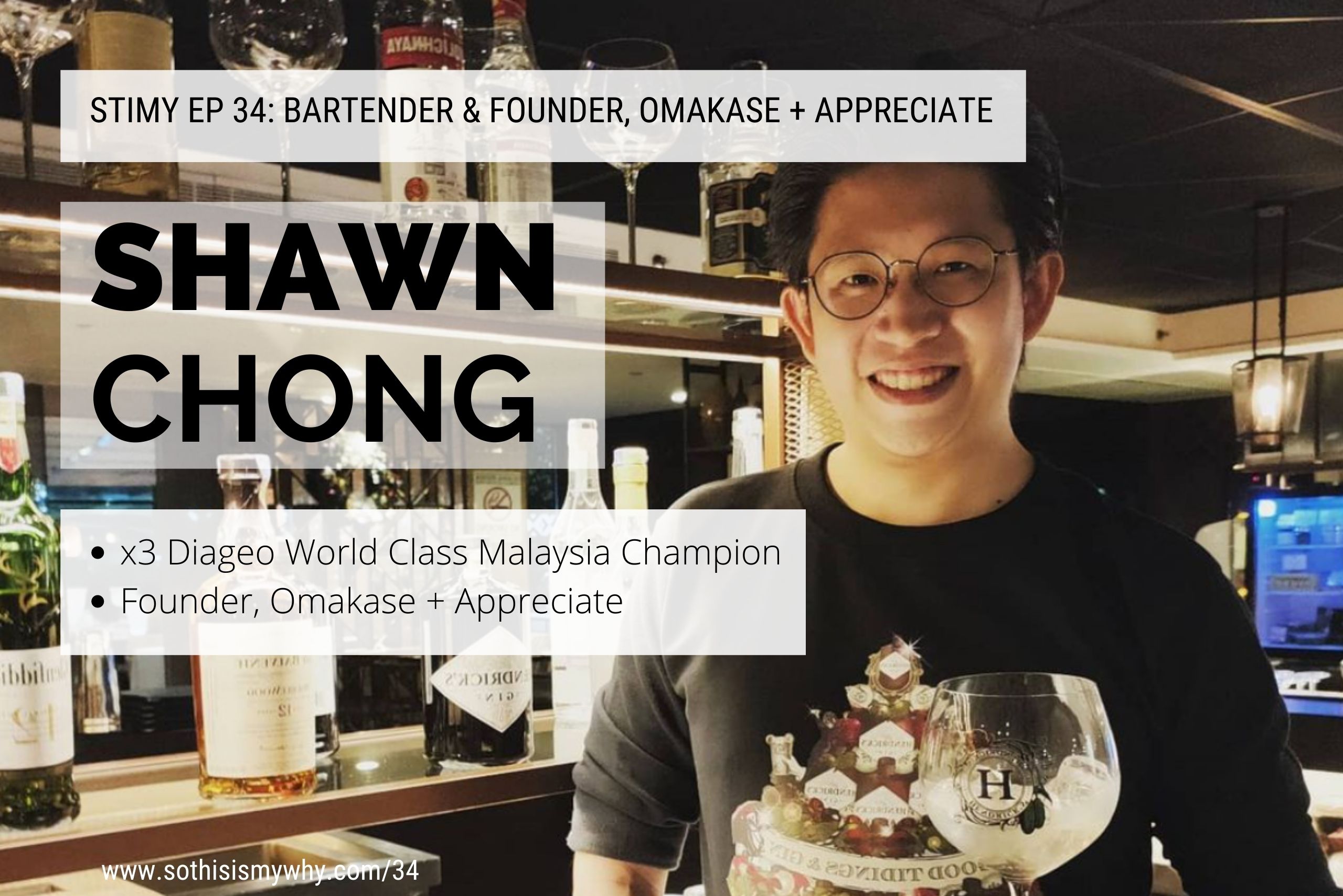 This week's STIMY guest is Shawn Chong.
​One of Malaysia's top mixologists, a three-time Diageo World Class Malaysia champion, once listed as the No. 25 Bartender in the world, and co-founder of Kuala Lumpur's pioneering speakeasy, Omakase + Appreciate. A speakeasy that was listed in the Top 10 of Asia's 50 Best Bars Award 2016. He is also the founder of Bar Class Academy Asia.
​Highlights:
3:03: Having his first sip of alcohol at age… 5!

3:53: Moving back to Kuala Lumpur from France

11:50: How Shawn entered his first bartending competition

20:31: Opening Omakase + Appreciate – Kuala Lumpur's very first omakase bar

22:57: Being inspired by the 1920s Prohibition Era in America

25:13: Coming up with the omakase concept, and mixing their Japanese/Western approaches

26:14: Changing the drinks menu every 6-8 weeks

28:05: The unique marketing tactics used by Omakase + Appreciate

29:02: Inviting big-name guest bartenders

30:57: Mise en place

33:13: Reaching the global finals for the Diageo World Champion competition for the second time

33:13: Winning the 10th spot of Asia's 50 Best Bars in 2016

37:30: Finances

40:02: Deciding to close Omakase + Appreciate in December 2019

42:23: Why Shawn's endeavour in PJ failed

47:33: Best way to enter the bartending industry
​You can listen to Shawn's episode in full on: STIMY Website, Spotify, Apple Podcast, Stitcher, Listen Notes​
Looking for past STIMY guests in the F&B world? Check out:
STIMY Episode 27 features Freda Liu – one of Malaysia's top business radio host at BFM 89.9
Favourite Finds of the Week
Article: Making an Amazing Email Introduction
John Exley, VC at CASSIUS Family, is known for making fantastic email introductions and the author of this article, Eric Friedman, shares an example of how he does it.
​As well as breaking it down to show the purpose behind each section of that intro email:
the email introduction

an in-depth introduction of the people he's introducing to each other (how Eric met each of them, and relevant links to their social media accounts & news articles!);

Why this email introduction is happening for the first time.
​Maybe it'll change the way you do your own virtual introductions? It's certainly changed mine!
What Makes Work Meaningful - or Meaningless - MIT Sloan Management Review
Even in the direst circumstances, people seek out their purpose in life. – Victor Frankl
​MIT Sloan Management Review published an article on what makes work meaningful or meaningless – the result of interviews with 135 people in 10 very different occupations dealing with the basic question of, "What's the point of doing this job?".
Main Takeaways
It's a long article but here are some main takeaways:
"Meaningfulness" tends to be intensely personal & individual, relating back to personal memories with their family. When "meaningfulness" happens at work, they tend to be serendipitous & unexpected.

It's easier for employers to discover the sense of meaningfulness, whereas the cultivation of meaningfulness is akin to carefully nurturing a delicate flower.

The 5 features of Meaningful Work:

Self-transcendent: Where the work mattered more to others, than to themselves. E.g. a garbage collector found his work meaningful when collected waste was sent to recycling, thus contributing to.a cleaner environment for his grandchildren.
Poignant, not euphoric: Meaningfulness isn't always a positive experience. And people tend to find work meaningful when it's linked with mixed/uncomfortable/painful thoughts, rather than joy/happiness. E.g. A nurse easing the passing of a patient.
Episodic, not sustained: An awareness that work is meaningful tends to have peak times & weren't forced. E.g. A sales assistant helped a customer when she passed out in the store.
Reflective: When people can see their completed work & connected that work with a wider sense of life meaning. E.g. An academic, whose 20-year result (that seemed meaningless at the time) resulted in touch-screen technology.
Personal: The meaningfulness of work is understood in the context of work and personal life experiences. E.g. A priest shared her own life experiences to support her congregant through a time of personal tragedy.

The 7 Factors that Create Meaninglessness

Disconnect people from their values, e.g. lawyers who have to focus on profit, rather than helping clients
Take your employees for granted, e.g. lawyers who are criticised for not working fast enough despite pulling long hours
Give people pointless work to do, e.g. having to do bureaucratic tasks or poorly planned projects
Treat people unfairly, e.g. not giving pay raises where due, bullying or lack of career progression
Override people's better judgment, e.g. lawyers having to cut corners to finish cases quickly
Disconnect people from supportive relationships
Pur people at risk of physical or emotional harm
Twitter: Mini Modern House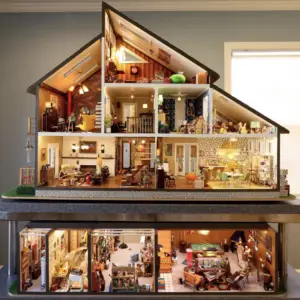 We all have different ways of coping with the global lockdown. And recently, a particular Tweet thread went viral.
​The author? Scott T. Miller – who shared how his mother & step-dad had spent their quarantine building an incredibly intricate & well-thought-out "Mini Modern House" with, get this, functioning electricity (the lights work, the garage door opens & shuts, and the 4 fireplaces have glowing logs!!)
​The Mini House consists of a man cave, game room, living room, master bedroom & 2 kids' bedrooms, garage, boiler room & laundry room. And here are some of the gems you will find in the MMH:
actual teak wood used for all the outdoor decks & pergola

mini rugs that were all knitted by hand

a tiny stuffed dog in the corner

a mousetrap at the base of the water heater…
​Consider me blown away.
Oscar-Contending Animation: Umbrella
If you love Pixar & recall how the first 10 minutes of UP made you cry, well…
​Get ready for Umbrella.
​Umbrella is a 7.55 minutes Oscar-contending animation inspired by true events and features Joseph: A boy living in an orphanage & his relationship with a yellow umbrella.
​I've always been blown away by storytellers that can move me without saying a single word and Umbrella hits hard.
I won't say more so that you can experience the magic yourself, so go watch! Link below.
Upcoming STIMY Guests​
Kai Yuan: Co-Founder of Our Grandfather Story – a Singapore-based company whose mission is to bring timeless & often overlooked stories across Southeast Asia. Stories include the last giant joss stick maker in Singapore, horticulturalists working at Changi, crab hunters at Pulau Ubin & more! Fun fact: Our Grandfather Story started when Kai Yuan created a viral video at film school and together with his college friends, decided to build on that to create their own Gen-Z savvy media company!
Also, do you know anyone with an interesting/inspiring story? Or someone whose backstory you'd love to hear?
Feel free to hit me up @ sothisismywhy(at)gmail.com 😊
Until next week!
Ling Yah
P/S: If someone forwarded this newsletter to you, you can sign up here.