Welcome to Episode 33!
Our guest for STIMY Episode 33 Maurizio Leo: a software engineer-turned-baker from Albuquerque, Mexico whose blog, The Perfect Loaf, remains one of the most authoritative sources when it comes to all things sourdough! 
To date, The Perfect Loaf is a two-time Saveur Magazine Blog Award winner. In 2016 The Perfect Loaf won both Editors' and Readers' Choice Awards in The Food Obsessive category and the 2018 Readers' Choice Award for Best Special Interest Blog. In addition, The Perfect Loaf was a 2019 Webby Award nominee.
Maurizio is a regular contributor to the King Arthur Baking blog and is the Resident Bread Baker at Food52. Maurizio has written articles on bread baking for Edible Magazine, the Bread Baker's Guild of America, and Bread Magazine.
But how did it all begin?
PS:
Want to learn about new guests & more fun and inspirational figures/initiatives happening around the world?
Then use the form below to sign up for STIMY's weekly newsletter!
You don't want to miss out!!
Who is Maurizio Leo?
Coming from a food-loving Italian family, Maurizio shares what it was like growing up surrounded by a family who would make Italian food from scratch and playing around the flour sacks of his father's restaurant. 
We also touched on what it was like living in Albuquerque – a place that has been noted to cause altitude sickness to travelers because of its high altitude! – and how that same high altitude and dryness would have an impact on his baking. 
Highlights include: 
3:21: Growing up with Italian cooking

6:27: Latching onto things obsessively

8:07: Entering the world of computers & software

11:41: Founding Terminal Eleven & creating the stargazing app, Skyview

17:02: Seeing Skyview go viral (it's achieved over 10 million downloads!)
Entering the Sourdough Making World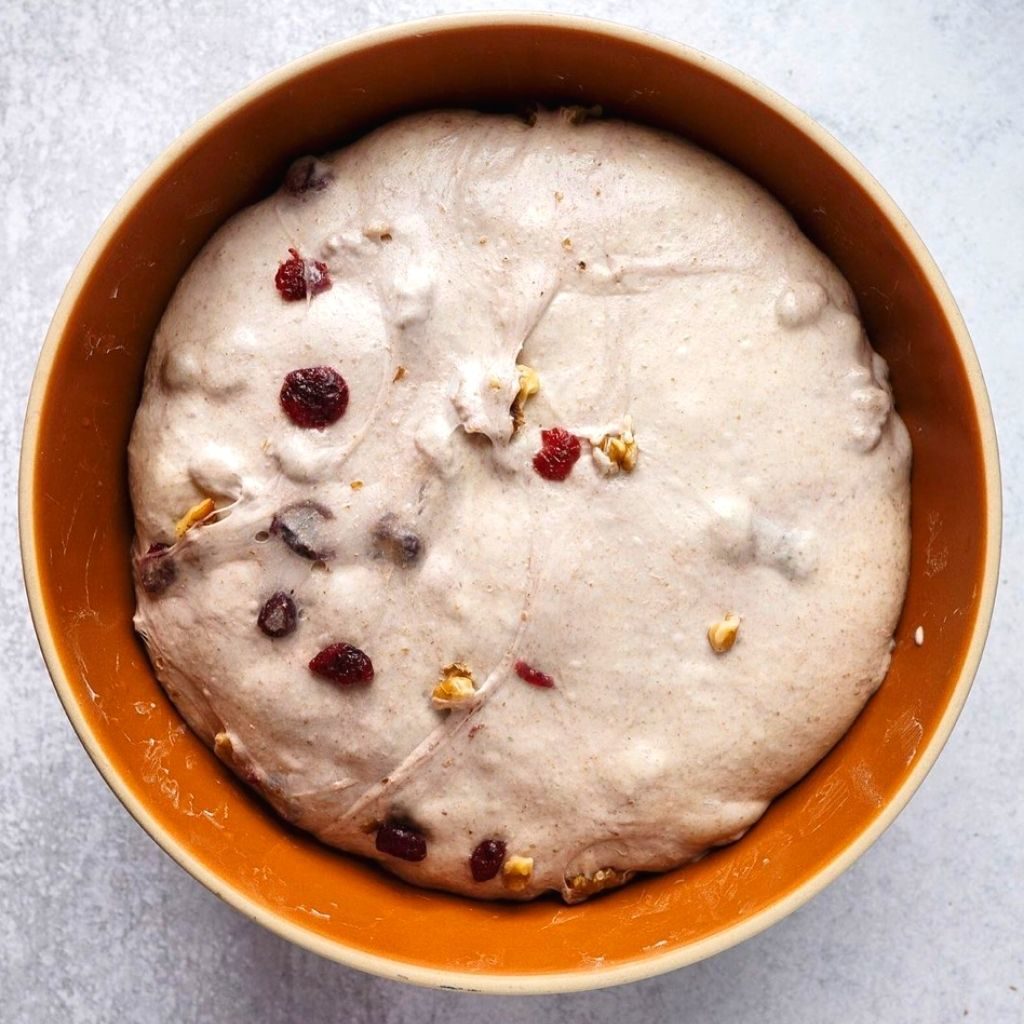 While knee-deep in the software development world, Maurizio was given a book that opened him to the world of sourdough making. 
Here, he shares how that happened and sourdough intrigued him so much:
18:21: How Maurizio first got into the sourdough making world through the book, the Tartine Bread by Chad Robinson (@tartinebaker)

20:37: Meticulously planning for his first sourdough bake (and how it turned out)

23:25: Using the same starter from 10 years ago
I think sourdough just encapsulates all of my interests and all of my passions into one topic and it was like the perfect embodiment of my personality.
In 2012, Maurizio started a blog known as The Perfect Loaf. A blog that over time has become one of the most authoritative voices in the global sourdough making community. But how did it all begin?
25:14: How The Perfect Loaf blog started 

29:06: The biggest challenges Maurizio faced from a baking & business perspective 

34:46: How Maurizio experiments to create the perfect sourdough recipes
Miscellaneous
Maurizio provides some technical advice to all sourdough-baking lovers!
36:01: Impact of baking at high altitude in Albuquerque 

37:27: Why Maurizio mills his own flour

39:14: Learning from Jeffrey Handelman 

40:19: Being known in the sourdough community 

46:04: Best places to find & get plugged into sourdough communities 

50:04: Maurizio's favourite baking techniques 

51:17: Whether he uses high hydration to achieve open crumb

52:08: A recipe that Maurizio makes over and over again

53:40: Impact of COVID-19 on sourdough making

55:23: Why Maurizio uses so much rye flour in his baking

59:10: The best investment Maurizio made in his baking journey
If you're looking for more inspirational stories of people in the F&B industry, check out:
If you enjoyed this episode with Maurizio Leo, you can: 
Leave a Review
If you enjoy listening to the podcast, we'd love for you to leave a review on iTunes / Apple Podcasts. The link works even if you aren't on an iPhone. 😉
Send an Audio Message
I'd love to include more listener comments & thoughts into future STIMY episodes! If you have any thoughts to share, a person you'd like me to invite, or a question you'd like answered, send an audio file / voice note to [email protected]
External Links
Some of the things we talked about in this STIMY Episode can be found below: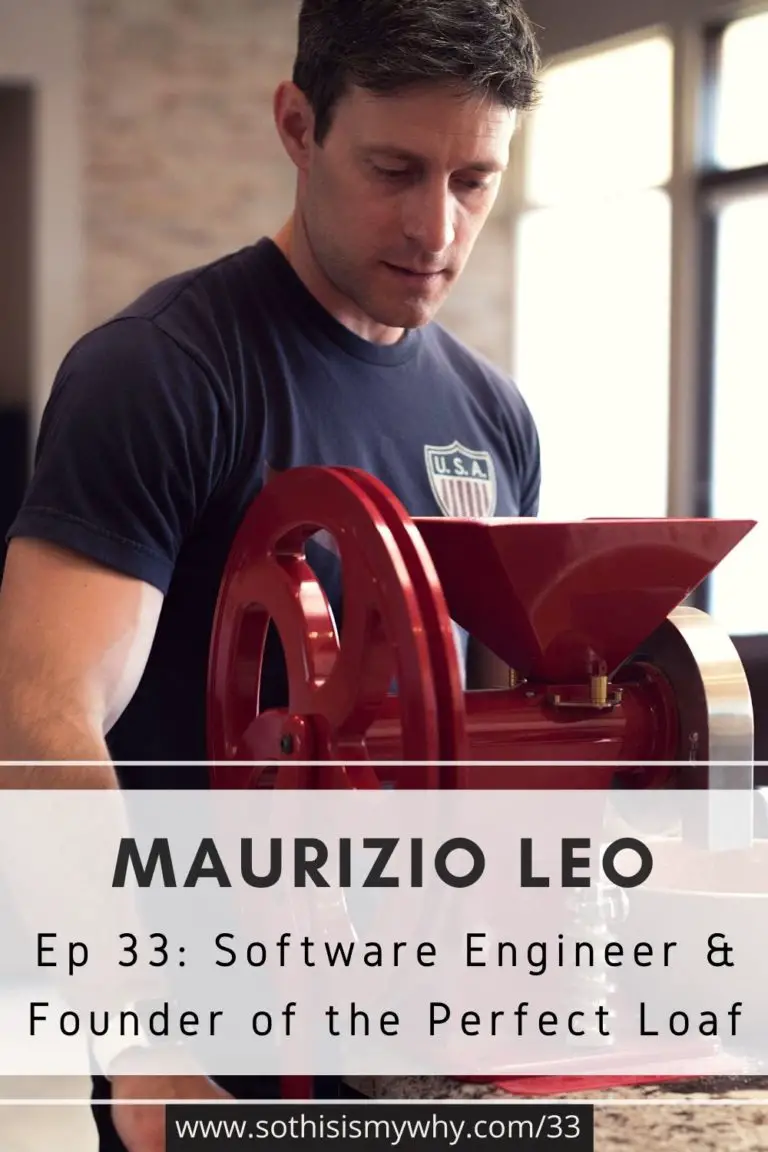 STIMY 33: Maurizio Leo - Founder of the Perfect Loaf, Sourdough Baker & Writer, Resident Bread Baker at Food52 & Co-Founder of Terminal Eleven (Skyview mobile app)
Maurizio Leo: By the time I got to that first loaf of bread, I wasn't really expecting anything to come out of it because I know it's your first time. And even though the bread was super sour and the crust was strange looking and it was definitely not shaped great.
It was amazing. It was such a transformative process and I hadn't really any experience with fermentation before that. And so aside from the pizza dough, like at my dad's restaurant.
But this just felt somehow different, like this ancient process where I was like, how is this natural fermentation happening and how did I get it from this mixture that I've been feeding every day to this amazing loaf of bread.
So that whole pipeline or that timeline of things was super captivating for me.
Ling Yah: Hey everyone, welcome to episode 33 of the So This Is My Why podcast.
I'm your host and producer Ling Yah and today's guest is Maurizio Leo. Co-founder of terminal 11, An award-winning software company specializing in mobile app development, including Skyview - an augmented-reality stargazing app that has been downloaded over 10 million times.
But moreover, best known for being the founder of The Perfect Loaf blog.
An extremely popular sourdough blog that among things, won the Editors and Readers Choice Awards in the Food Obsessive Category in 2016, the 2018 Readers' Choice Awards for the best special interest blog.
And is a two-time winner at the Saveur magazine blog award. He's also the resident bread baker Baker for Food52.
In this episode, we talked about what it was like growing up in the food-loving Italian family in Albuquerque New Mexico, Maurizio's drive to obtain mastery over the things that interest him, how he went from working in defense contracting to a stargazing app, and finally, how one book sparked his obsession and a lifelong love for all things sourdough.
But before we begin, if you've enjoyed the show and you want an easy way to support it, please leave a review on iTunes. It's probably the best way to help others find the show. And I would really appreciate it.
Now, are you ready?
Let's go.
I did a little research into your background and I found that you grew up in Albuquerque, which is very, very different from Malaysia. It's quite a high altitude desert-like place. So could you share a little bit about what it was like growing up there and what you were like as a child?
Maurizio Leo: Yeah, so I grew up here in Albuquerque. My dad is actually from Italy, so he came here. My brother and I, grew up here like you said, in that high altitude kind of desert.
And it's actually nice here in the fact that the weather is pretty much sunny every day. I'd say maybe 350 days out of the year. It's sunny. And it's quite dry and that poses problems that I'm sure we'll get into later with baking. But otherwise, here in Albuquerque, it's a nice low key city.
And there's not a lot of rush and it gives you time to do more things outside and just enjoy nature in a way.
Ling Yah: I imagine being from an Italian family, that food must have been very central to your life and your mom and your noona were making lots of things from scratch, right. That must have really impacted your childhood.
Maurizio Leo: Yeah. Yeah, that's right. My mom, she's Italian also, but she grew up here in the States and her mom. So my mom's grandmother she's Italian and she came over from Italy.
As a child, we would always be cooking in the kitchen with my mom, my dad, somewhat because he started an Italian restaurant here when he was in his twenties. So it was mostly my mom and my grandmother.
And my grandmother would come and stay with us for months at a time. She would be watching us but food is such a central thing in Italian culture. The time when I was a kid was something I didn't really appreciate because I've always had homemade pasta or homemade focaccia or whatever it was at home. And I didn't give a second thought to it.
But now and especially around the time when I started baking bread, which was about 10 years ago or so I really started to realize how important it was for me personally, in food and how much of a part of my childhood that was.
Ling Yah: Was it something that was expected? That the kids will have to be involved to help with the cooking?
Maurizio Leo: I don't think it was anything that was really expected. I never felt like there was this nagging call, I guess, to come into the kitchen, like, hey, you gotta blend these tomatoes or whatever. I mean, it was, hey, come help make the pasta or come prepare this. And as kids, we didn't always help.
I can remember my parents and my grandparents were like, hey, come set the table or get the cheese ready or whatever it may be. I think it's just an innate thing with at least how my family was.
Especially since my dad was running a restaurant and we always had the food that he was cooking at the restaurant that he'd bring home. And so it was just part of life, I guess.
Ling Yah: And your dad's restaurant, which has been running for, I think almost 40 years, it was quite a prominent feature in your life, too, right? You would be playing around the back with the flour sacks and mixers.
Maurizio Leo: Yeah, he would always bring us to the restaurant and I think, mostly out of necessity. There was sometimes when my grandmother wasn't able to come and watch us and run a restaurant. I didn't realize it as a kid, but I do now, it's not an easy thing. It's an all consuming profession.
I think to be able to run a restaurant for 40 years, you have to really give it. Everything that you have. And I think, , my dad definitely did do that and I think it was bittersweet in a way because he was working a lot but those days when we would go there and stay with him, my brother and I.
It was actually really fun because we got to see my dad work and we were able to play in the flour sacks and we'd be playing around the restaurant, we got to talk to the waiters and waitresses. Sometimes we would be a test group for the food that he was making, which is funny because I do that now with my kids. They're the best testers.
I think it really impressed upon me from a young age, how important it was even more so for food to be good and to be made, , by hand he did everything from scratch before that was even a thing, it was just how the food was made.
Our childhood, we spent a lot of summers, especially when we were at a school hanging out there at the restaurant and helping my dad when I got older, I worked there.
It was a pretty prominent fixture in my childhood.
Ling Yah: And would you say, even as a child, I think you have described yourself as being obsessive over certain things, wanting to master it. Would you say that was a trait that you had as a child?
Maurizio Leo: I've always had that streak where I latch onto something and I really go deep on it.
As a kid, food, like I said, was always just there. It almost wasn't even an option for me to go into food as a kid because my dad, I think he realized, coming from Italy and having a professional culinary background and running the restaurant, he realized just how hard of a lifestyle it is to do that thing.
So he always in a really subtle way pushed us away from the food industry. He always wanted us to go into something else.
And I think maybe as a product of my personality is I took to engineering. That methodical process and following algorithms or those kinds of things.
I think that all ties into this personality I have, where I really tend to get obsessive about something. And especially if it's something that can really hold my interest over time, then I really kind of go deep on it.
Ling Yah: Do you remember the first time you really obsessed over something and you really wanted to master it?
Maurizio Leo: As a kid, I was really into sport, so I played soccer and that was a big thing that was in my dad's life as well. Coming from Italy, he was a professional player in Italy before he moved here and I think I really got into soccer. I was six until the end of college.
And even after that, and it was one game a day, I was doing practices twice a day in a game and watching soccer or studying it. So, I mean, before getting into engineering and food, Soccer was a huge, huge part of, especially my, younger years. So that was, definitely something that I was pretty obsessed with.
Ling Yah: So how did engineering come into the picture? When were you drawn into the world of computers and softwares?
Maurizio Leo: I often think back on it because it feels like such a deviation from my childhood. And it was, I believe around high school time. So I was probably 15 or 16 or so. And I remember, that was the time when having a computer in your home was not a very common thing. It was like in the early, early days of home computing.
Actually, now that I think about it, we had a computer class in elementary school, so I was much younger and I remember loving the programs that we used on those Macs back in the day.
So it was like, Logo. There were some drawing applications. It was games like Oregon trail. So those early games. And I remember being really captivated with, not necessarily the playing of it, but more of how are these things being displayed on the screen? What is generating the pictures that are showing up on the screen?
And then in high school, one of my teachers had a computer in their classroom. It definitely had DOS running, but it also had an early version of Windows. When I saw him using that computer, I was like, wow, this is like a whole other thing.
It wasn't something as ubiquitous as you see now. And especially on a cell phone, but I think that class was what really got me so interested that I would go after school to use the computer and try to figure out how to get on to this thing called the internet.
So it was really, really early days, especially for a young kid to see something cool and new like that.
Ling Yah: So you ended up doing computer science at New Mexico Institute of mining technology. And while you were there, you were also working as a software engineer in Light Solutions, I think at Albuquerque. So there was a one hour journey in between both, right? Was it everything that you thought it would be?
Maurizio Leo: I was really excited to go to engineering school. So that school here in New Mexico it's a really good school for mining technology engineering. They do a bunch of other scientific things.
And I was really excited to go there because I wanted to. Learn more about the inner workings of computers. So not just, how we interface with them from a user standpoint, but how people are creating them for users. And so I was excited to go there and when I started taking classes there I actually got an internship with a medical company and.
The reason I got that is because my mom is actually a nurse here in the hospital and she knew some people that were looking for engineers to help them with working on their computer systems. So I was taking classes full time student, and then I would drive back here and work a little bit.
And then in the summers, I was working also at the medical company too. So it wa, everything I had wanted. I was figuring out not only how to use computers better generally, but how to actually create software for the scientists and other users. , I was more of a developer than just a user, so it was great.
Ling Yah: It must've been quite a shift to be working in life sciences, then going to the Honeywell and working on like unmanned air vehicles and in the proposals for the U S Marines.
Maurizio Leo: Right, right. Yeah, that was a shift. So I was working on medical equipment. And then when I graduated, I got a job at a defense contractor. So we did software for the government and military and stuff. And yes, that was a big change.
There were some similarities in that the work I was doing at the medical company was regarding simulation and helping the doctors do their work. And then at Honeywell, I did a lot of simulation work that helped either military professionals or other developers create their software better. I was there for six years and it was incredible working experience there.
Ling Yah: I believe it was there that you met your eventual co-founders for Terminal 11, Colin and Joe. So how did that all come about?
Because you were doing defense contract work and suddenly, you're doing this thing that has to do with astronomy, which is very, very different.
Maurizio Leo: Yeah. So Colin, one of our co-founders. He actually went to college with me. So he was down at New Mexico tech and the third guy in our company, Joe.
He was just working at Honeywell and Colin and I were really good friends. We've been friends now for, I don't know, 20 years or so. We've always been interested in everything technology, whether it's the first iPhone that came out or one of the first Samsung phones that came out that had keys and were just always interested in whatever was coming out.
There was a developer challenge set out by Google to develop one of the first Android phones that came out, that you were able to run third-party applications on. We decided we wanted to try to write something for this, competition on the side.
We looked at the developer challenge and what they were asking. our goal is really just a win so that we could maybe make some money and start a company doing something. We had no idea what. And so we looked at the. list and what they were judging, the apps that were submitted on and what the criteria were for winning.
And a couple of other criteria were to utilize the hardware as much as possible. And so we looked at the hardware and the phone and we said, okay, well, there's a. gyroscope. There's an accelerometer on the phone. So we looked at all the hardware components and we said, what can we make that can use all of these sensors that are on the phone.
And this tied in a little bit to the work we were doing at Honeywell, because we were working with unmanned air vehicles. This was before you could buy a drone online. This was like way before any of that. So we knew we wanted to tie in that somehow and our knowledge in there and Joe, our third coworker, he's a pilot.
And so he knows a lot about aeronautics and the math involved there. And so we leveraged his knowledge there and we've put it all together and. We did a very simple application that just tracked the sun and the moon across the sky. And I think we maybe had a couple planets in there, but yeah.
So the genesis of sky view really back in the day, it was really just an application to utilize the phone hardware as much as we could. We all had some interest in astronomy, I mean, who isn't really interested in astronomy in some way.
Ling Yah: And so I believe he got third in that competition.
Maurizio Leo: Yeah, it was actually the second developer conference they had and we did place third in that one. And so we got a little bit of funding to bootstrap a company.
And that's really what we did is so we took that money and we didn't quit our jobs at Honeywell. We're still working there because it was too risky to just leave. This was before the app store on Apple or anything like that.
Ling Yah: So at what point did you decide you wanted to actually launch a company? Because as you said, the app store, I think it launched a year before you quit.
Colin quit at the same time as you. And then Joe followed soon after. So how did that all happen?
Maurizio Leo: I think being engineers were like to at least maybe it's just me, but I'm too methodical or I required too much planning to do anything too spontaneous.
So. we got a little bit of funding from the competition, and then we decided, okay, , the app store on iOS devices is here. We need to port our app to the iPhone, released it and see what happens. And so we did that. I mean, it took us months to do that and we didn't know how it was going to do where it was going to go from there.
And so we put it on the app store and there was really no traction in the beginning, but at that time is way different. It was at the very beginning of the app store. I mean, there were so few apps there weren't really that many. It's almost like at that time, if you put something out that was good, you were going to get noticed.
And we did get noticed. Apple featured our app. And so when that happened, our downloads went through the roof and at that point, Colin and I were able to say, okay, we can leave our jobs at Honeywell and we can work at this company. We created it called terminal 11. We were able to work that full-time.
Joe wasn't able to leave because his lifestyle didn't support it. He had a larger family and he needed to support them. And it was just too risky at the time. So, Colin and I left once the app started doing well year after year. Well, it wasn't that long. I think it was maybe a year after we quit that he decided to quit also.
Once that happened, then we were all three able to work full-time.
Ling Yah: And it wasn't challenging to be at that app because I used the app and I was really impressed. I didn't realize you could use it indoors night and day. And I could see ISS, Libra, Mars. How did you put all this information inside?
Maurizio Leo: Yeah, I mean, it's a super complicated application and we were developing it before the time when a lot of the development tools are in place that they are now. So it's a lot easier now I think to pick up writing, let's say, , anything on iOS and there's a lot of toolkits that are already in place and there's a lot of hardware integration that's been done.
Back then, I mean, it was like we put something out, Apple would release an update and just completely break our app and this would happen all the time. We were working day and night just around the clock, keeping things running, making sure that everything runs smoothly and releasing new features and also overcoming the fact that the amount of mathematics and graphical rendering that we're doing in the app was just really pushing the phone to its limit at that point.
Now, I mean, with every hardware update we get on our phone, it's incredible how smooth the display is, how colorful everything is. So back then, yeah, it was extremely challenging to keep things running and we were paving new ways with augmented reality is really what our application is.
And so those were early, early days for that.
Ling Yah: It must have been exciting to see people using it. I think you had students in Lebanon using it for the astronomy classes. each of them pointing to the sky, right?
Maurizio Leo: Yeah, it's a funny thing actually when you make something like that and you put it out there, especially when it's something that kids can use in the classroom. You don't realize the impact that you're going to have until you actually see.
I can distinctly remember early when we started Terminal 11, I remember traveling on a plane and.
Looking across the aisle to somebody's phone. I just happened to catch their phone and I saw Skyview installed on their phone. And I was like, wow, that's amazing. That's my application.
So it's extremely gratifying, especially when students are using it or now my three and five year old children are taking my app and going outside and using Skyview.
And so, it's amazing to see that.
Ling Yah: So 2011 and 2012 must have been really big years for you because that's when you won multiple awards, like Best of App Store New York Times Techcrunch .
Did you see an immediate impact on the business because you were getting all this recognition?
Maurizio Leo: Yeah, absolutely.
I mean, I can't remember our download numbers at that time, but since it was still early on any recognition would boost your visibility and number of downloads. I mean, just dramatically. It doesn't happen so much anymore just in general in the app store because there's just so many apps. But those were huge years.
I mean, they were the best time, because it was so exciting because we were developing so intensely and we were getting a lot of recognition.
Ling Yah: So was your mindset at the time that you were going to focus on this for the long-term view? Because that was also the year that you were given a book, I think Tartine bread, which kickstarted your whole baking journey. So how did that all happen?
Maurizio Leo: Yes. I mean, we definitely planned on just creating apps.
I mean, we created another application after Skyview, which was along the same lines. It's a satellite exploration app. We were each working independently. We all lived here in Albuquerque. And we were all each in our own homes. I wasn't married at the time.
I was just working at my house. It was a hard adjustment at first, I think, because when you're used to working in an office with coworkers, people you're interacting with all the time and you miss that daily banter that you have, I guess, or working together in a way.
So just by chance that Christmas I was given the Tartine baking book. My aunt gave it to me just as a gift. And I started reading it and I was like, this is such an amazing book. Like I want to get started on this.
Tartine is a really wonderful book.
And it's more about the story. I think about how Chad Robinson, the Baker became this Baker after going to France and studying and going through all these mentorships. And I think that really struck a chord with me because I just really related to his obsessive way of studying bread in a deep way.
And it's what I had done with technology and it aligns with my personality. And I had never baked really any bread before that. I mean, anything fermented, it was only done at my dad's restaurant, just following the steps basically. And I think reading about it and studying about fermentation a little bit.
I think that piqued my scientific side. And so the craft of bread baking, and then the science of bread baking, really just gripped me after I read through that book the first time.
I should say because I was home all the time, writing software, I had no co-workers to interact with, I was kinda missing getting up from my computer and doing something a little bit different than just writing code all day. And so it was like this perfect storm of getting me into something that I could do while doing my software job. But also something where I could really get into with the science and the craft of it.
Ling Yah: So you're quite a planner, so I imagine you must have really read that book.
You mentioned that, you highlighted passages, you bookmarked it, you had scheduled everything you wanted to, when to do it.
So did you have that all planned out before you get your first bake?
Maurizio Leo: Yeah, I did. I got a notebook and I remember going through and because the book is written in a way where it's like a story almost.
And so I'm used to software where it's like step one, step two, step three. So I read the book, highlighted the book, dogeared pages, and then I distilled everything down into. Just, , step one, step two, step three. And actually it's what you see at my website.
Nowadays, my process for baking a loaf of bread is, , mix, , each step laid out and I had that notebook and I went through it and I was just, the first step was to make the sourdough starter, which took me a while to get.
All those steps down to figure out what worked, what was the best flour, what was the best container? And so, yeah, I started attacking it as a problem to solve a way to figure out how to do the best way to get the solution that I want. So I definitely had those plans, and things in place.
Ling Yah: Do you remember that first bake? I think in one of your posts, you said that that sourdough loaf ended up being as sour as candies and your wife said it wasn't that great. Do you have memories of that first time?
Maurizio Leo: Yeah, I do remember that and it was extremely sour. Most of the problem was that I put in too much of the levain in the beginning.
I basically just baked a massive sourdough starter in a way. So it was just a lot, , to go into the oven, but I remember putting that in. And I had to create my starter to get to that stage.
One of the cool things I think about sourdough baking is that it's not so easy to get into because you have to have that sourdough starter before you can start baking anything. It's a way that you have to get into the process.
And so you have to learn all those steps beforehand and you have to invest that time. All of the ingredients that go into that before. And so I think once you get to that point baking that first loaf of bread, you're already bought in on it.
Like you're already in.
And so by the time I got to that first loaf of bread, I wasn't really expecting anything to come out of it because I know it's your first time. And even though the bread was super sour and the crust was strange looking and it was definitely not shaped great.
It was amazing. It was such a transformative process and I hadn't really had any experience with fermentation before that. And so aside from the pizza dough, like at my dad's restaurant.
But this just felt somehow different, like this ancient process where I was like, how is this natural fermentation happening and how did I get it from this mixture that I've been feeding every day to this amazing loaf of bread.
So that whole pipeline, or that timeline of things was super captivating for me.
Ling Yah: Yeah. Because the whole thing is alive. And you've described your starter as like a rebellious child that you have to look after.
Maurizio Leo: Yeah, it totally is because especially in the beginning, if you don't learn to read its signs or give it some time when it needs time and give it food when it needs food, then it, yeah, it's not going to listen. So you have to play by its rules. And I learned to adapt.
Ling Yah: Are you still using the same starter from that time?
Maurizio Leo: It is really, which is crazy to think about because I refresh it twice a day and I've been doing that for nine years now, which is, I mean, that's a long time if I think back on it.
But at this point, it's like brushing my teeth or something, right. I don't even think about it. I just do it. It's just part of the routine. And it's part of my life, really. It's like a pet that I've adopted and is not going anywhere.
So after you made that first, Brett, I think you kept on baking once a month, and you gradually increased that.
So how did that happen?
Yeah, I was learning how to fit it in with my working schedule. So I'd be writing software during the day in the morning, I'd make a levain. And then I would go through the process during the day. And it was super nice because it gave me a chance to get up from my computer where I can usually get lost in writing.
And all of a sudden eight hours have gone by. It was a way for me to get up, take a break, engage my hands and do something that's super tactile and more involved. And it gave me a way to just get a break and clear my head a little bit and do something else.
It started out slow. I started out just like anybody does on a hobby. You do it occasionally. I would do it once a month or once every couple of weeks. Learning how everything was going and from that point until now, I mean, it's been just, I don't want to say it's been a linear progression because I think at some point there, I like really started getting into it.
I mean, I can clearly remember my wife telling me, are you seriously mixing that thing every morning and every night you're mixing up your starter. And I was like, yeah, yeah, I would explain it. And to me now it's like, there's not even a question like I'm going to be doing that.
It's gotten so bad at this point now. I mean, I literally bake every single day. There's always flour out and about my shaping boards are here and there. So it's gotten to the point where I might as well be running a bakery in my kitchen.
Ling Yah: But before the bakery, you started a blog in 2012. So how did that happen? What led to the decision to not just do it as a hobby, but you wanted to put it out to the world?
Maurizio Leo: It's a good question. Cause I started out with really no intention of getting a lot of visitors or a lot of readers.
I really just started it because. I, myself was trying to figure out every facet of sourdough baking. And there just wasn't a lot of information out there at the time. back in 2012, there were, , less than a handful of blogs out there, or even websites that would help specifically with sourdough.
I mean, there were bread websites and books for sure. But there just wasn't a lot out there. So I thought, well, if I'm in this situation, maybe I can help other people learn alongside me on a whim one day, I just was like, yeah, I had some experience in web development, cause I've been creating websites since my class in high school where my teacher had that computer.
I was making a website on geo cities or whatever. And so I was like well, I have these skills. I can bring it back from the way it used to be. And so I thought I'll just create a journal of what I'm baking and maybe some other people will find this helpful. Because at least back then there seemed to be a lot of mysticism with sourdough baking and a lot of cultural aspects, which are great. A lot of routines and a lot of things that are done, but not really explained why.
And so I wanted to delve into each of those topics and figure out, okay, well, what's the best way to do this, or what's the best way to do that. And so I started that.
I started a simple website and I was learning all of that because things had changed since high school, when I was developing websites.
And so I just started journaling every bake that I would do something I would learn. People started commenting on posts. And it was great to see a few people here and there talking about it. And yeah, that's really how it started.
Ling Yah: I mean, your website is really beautiful. I was really, really impressed with it.
And you just won the Elementor Design Award, So you said that you were journaling all the things that you are baking and you have written that so many times in all of your blogs that you actually baked the same recipe many, many times to finalize it.
So what was that process of coming out with a post where you always like that, making sure you had gone through many iterations, before coming to that perfect piece to put it to the world?
Maurizio Leo: Yeah, I think early on it wasn't so much that way. if you go all the way back and look at some of my really early posts, What's your, a little embarrassing at this point.
Cause I think you evolve as a writer and as a photographer and as a baker. But back then, I think because I was still learning. I definitely didn't write a post about every bake I would do because I only posted back then like once a month or so. There was still a lot of trial and error that was going into it. Reading, trying to bake, reading again, trying to bake, that iterative process that I have always been accustomed to.
And I think as I started posting more and more, and my baking skills increased more and more, I started to realize how important it is to put a recipe out there that has been very thoroughly tested and vetted in the kitchen before publishing anything.
Not only because I want to put my best foot forward in that way, but also because I think if somebody is coming to your website to read a recipe, they're taking the time to look at your recipe, but also to put some trust in what they're reading and they're going to try.
And so I don't want to put anything out. Yeah. There that will not be the best bake that they could do in their kitchen and baking, especially sourdough. There are so many moving parts to it. I think even with having to quote and quote the perfect recipe, which I don't know if that exists, but even having that out there, there's so many places for deviation that I think it's already challenging enough for a home baker to follow a recipe.
Not because it's hard to follow, but because there's so many variables in the process. So all that is to say, I iterate so much on a recipe because I want to make sure that the people that are trying the recipe are starting out at the right place.
Ling Yah: What were the biggest challenges that you've found yourself facing as you're going along this journey
Maurizio Leo: From the baking side, I think there's always recipes that come up that are hard to tackle.
One of the big things I like to do is bake with fresh flour. So flour that I mill here in my kitchen. I have this tendency to dive in on the hardest topic possible , I remember somebody asking me years ago, they're like, how did you start baking? And I told them, and they said, well, why didn't you start like with commercial yeast and bread? So you get a feel for the bread and you can go from there and then go into sourdough, which some considered to be more difficult.
And that's just not the way I do it. I tend to go in on the hard way and figure it out that way. So I think there's always a recipe that is going to be challenging.
Doing the first mill of the flour is difficult. 100%, whole wheat breads can be hard and especially. Once I started getting really comfortable and confident in my bread baking when I transitioned to doing a lot of pastry and enriched those with butter and sugar and eggs, that's another facet of baking. So that gets difficult too.
So I think there's always going to be challenges and honestly, I think that's why I keep baking is because there's just a never ending stream of challenges, which in the end make us better bakers.
Ling Yah: What about the challenges in terms of the business?
Maurizio Leo: I started my own software business with my co-founders, so I already had an introduction to creating a business, getting a trademark and doing all of the things that come with any business of any kind. When I started my website, I didn't do any of that.
So when I started the perfect loaf, I didn't even have an LLC or an incorporation. I didn't have trademarks. I didn't have a restricted symbol on any of this stuff on my website. I just have learned all that stuff as I've gone along. Even the stuff that any small business owner has to realize, which is I've got to do accounting.
If I have contractors working on things, I have to figure out the tax implications there. So there's been all of that stuff that has evolved in tandem with the site and my baking skills. So I've just always been trying to keep everything going together.
And I've learned a lot of good business lessons from. That past 10 years or so from that. And then from the past, I don't know, 15 to 20 years of having of starting businesses, I guess.
Ling Yah: But at what point do you realize that you had transitioned from being a hobby to let's incorporate an LLC? Looking back, at what point do we need to think about these things?
Maurizio Leo: I think there is a pivotal point there where you realize, okay, I'm gonna treat this more like a business than as a side thing that I'm just writing a journal online.
And I don't know that that point is always clearly defined. If you've been at it for long enough, you can decide that okay, now I think I should invest money first off that. I mean, that's an important thing, right? Now you have to pay a yearly registration fee.
If you need a lawyer to look at tax documents or incorporation documents or whatever, and maybe for some people, it makes sense to do it early on if they have that desire and the drive, and they're saying, okay, I'm going to treat this as a business from day one. So I better get everything in place, right, when I start.
For me, I can't even remember. It was pretty far into the website. So I mean, it wasn't early on that I decided to do that, or even knew about having to do that for a website. I just thought, oh, anybody can publish a website and put anything online.
And so once I did that stuff, then I started to tell myself, okay, maybe I need to have a budget for this business and set aside funds for this and that.
And so, I don't know that there's a set time. I think it depends on the mentality that you're taking into it. And whether you want to treat it like a legitimate business or just a hobby.
Ling Yah: What was your family's reaction to that? I mean, your dad, you mentioned previously he wanted to push you away from the food industry, but you were jumping into it.
Maurizio Leo: Yeah, is pretty funny. I think as a kid, him, my mom, my grandma, even my grandfather, they're of an era or generation where schooling for sure is a hundred percent gotta be number one in your priorities as a kid. That's what I'm doing for my kids as well.
The way my dad was brought up, which was, he was brought up in a really poor household. And there were eight kids in the family and it was like work from a young age until indefinitely because there's no choice, right. You have to work.
So I think education was instilled in my brother and I, and so I went and got my bachelor's degree and then I got a master's degree in computer science.
I don't think he was worried about it because I had another job, I didn't leave my engineering field and just abandon it and go into something completely different.
And I always had my education to fall back on if I needed to go and get a software job, I could always do that. Like I said earlier, I don't think he ever really wanted me to go into the food industry.
It's not that he was trying to really push me away.
I'd say, I think it was more of just a, you need to make sure you have other options if you need them, because the restaurant industry is extremely competitive. The chances that you're going to succeed or be around for 40 years, like his restaurant has, I mean, it's like 1%. It's gotta be something super small.
And so I don't know that he was completely enthused, that I was going circling back into food. But at the same time he was eating the bread that I was making. I think he was like, okay, well I think maybe you do have something here, cause this is, pretty good bread. I think his tone would have been a little different if I would've said, okay, I'm quitting software, I'm quitting engineering and I'm going to start a restaurant.
I think he would probably have tried really hard to not let me do that. So.
Ling Yah: So you were making all this bread all this time, giving it to your family to try. How were you deciding what to experiment? Cause there's so many little things to try out right, like temperature, how long you proof it.
So how were you going through and deciding on what to experiment with if you will. So that those who are just starting their sourdough journey could tap into your thoughts and figure out how they can experiment with their baking journey.
Maurizio Leo: Yeah, I just totally wandered through baking because like you said, there's so many different facets of baking. You can get lost and you can go down one path and get stuck there. And it's the old question of whether it's better to do breadth first or depth first. And I definitely did a breadth first approach and I think I recommend to the bakers.
Now I always say, pick one recipe and bake that one recipe, at least 10 times, at least just so you can gain the feel for that one recipe. And then you can start to change. And I wish I would have done that. I definitely did not do that. I started with the Tartine formulas and their book, and I've just went all over the place.
And then I started really quickly creating my own formulas from that. For me, I think it was probably a good approach to go all over the place because I got a really wide view of the whole process. And then I was able to later hone in on a specific topic, like temperature and dig in deep there and realize how that piece affects the rest of the process.
Cause I had a knowledge of the rest of the process. But yeah, for first time or early bakers, I think it's best to really stick to one thing, take notes, see how it's evolving and then start to change slowly after that.
Ling Yah: I think it must've been an interesting journey for you as well since you're in Albuquerque.
So high altitude does affect what you're baking. Like you need to bake at like 25 degrees higher you have to adjust the humidity, the hydration. Can you share a bit about how that impacts what you're baking?
Maurizio Leo: Yeah. When people ask me about baking out too, I always tell them about my grandmother who came from Italy because she was at sea level and she came here and she would be making food all the time and she'd be like, my focaccia, my bread, even the pasta just is not the same here in Albuquerque. She would always try to convince us to move back to Italy because she's like, you can't get the quality here.
It is an adjustment, but since I grew up here, I haven't had this innate understanding for altitude. But I have to say since I released recipes online, I've come to realize what adjustments I have to make for bakers that don't live at such an extreme altitude.
There's my testing that I do here. And then there's a slight filtering that I do before I publish something to bring it to normalize it in a way for people that aren't at 5 or 6,000 feet altitude. But definitely temperature changes usually here, you have to bake hotter and because it's dry.
Usually my dos have a lot more water than what most people would mix with. And so there's a little bit of adjustment that I do there to compensate for Albuquerque.
Ling Yah: And you mentioned previously that you were making your own fresh flour with your own mill. At what point do you decide once you make your own and why was that?
Maurizio Leo: I think back then, it really wasn't a thing either. It was actually pretty hard. We take it for granted now that we can get especially here in the US, incredible flour from small millers from; there are so many farmers and millers across the country now that are even here in New Mexico.
There's talks of creating small farms here and there to grow more flour. But back then, I want to say that I was first exposed to, it might've been about I can't remember now maybe four years into my baking or so, but I remember reading a post about Dave Miller.
Who's a Baker in California who would mill his own flour. And that opened my eyes to like, Whoa, I do this for my coffee. I grind my own coffee beans for coffee that I drink. Maybe I should try it with flour. I think that's what started it.
And then there were several really influential bakers that I was interacting with on Instagram. This was back in the early days. There wasn't a lot of bread and stuff on Instagram at all back then.
And so in talking with them, I bought a mill and I started doing it myself and I think that's really how it started.
Ling Yah: Did you see a big difference when you started making your own flour?
Maurizio Leo: Yeah. It's a totally different game. I think it's the flavor and the aroma's different. I mean, the fermentation schedule changes the pre-fermented flour percentage. You need changes. I mean, all the variables get changed a little bit.
I wouldn't say that I bake with fresh flour every time that I do nowadays, because it's hard for a lot of bakers, I think, to have access to fresh flour. Not every baker has a meal at home.
So, I try to do a good blend of recipes that use some fresh flour and some that use, H flour and, especially since nowadays, we're so lucky to have so many amazing farmers here that Can sometimes be the next city over more people are having access to fresh flour, even if they're not milling it themselves.
Ling Yah: And I think you've also taken classes with Jeffrey Handelman. So what were the big takeaways that you got from learning from him?
Maurizio Leo: I've only taken a few classes, but they've been incredible. Even if it was a short class period, I was able to get a hands on learning from especially from Jeffrey Handelman who's ever since I started baking, he was like this mentor from afar. I guess I would always read his book bread, which is one book that I always recommend to bakers to pick up and taking a class from him.
I think was like when you listen to somebody to music for a long time, and then you get to meet the musician, you're just like, wow.
It's like awestruck in a way. Cause I think there's only so much that can be conveyed by reading a book or even watching a video online. It's like when you get to actually see somebody handling dough or even get the opportunity to, shape or mix the dough next to them especially for a home Baker who doesn't get that experience.
There's a lot of absorption, I guess you could say, when you're in their presence, you can just learn at 10 X the rate than you would on your own. It was a surreal experience really, but it was one that I think back on quite often.
Ling Yah: Do you get the opposite experience? I mean like people know you pretty much in the sourdough community, so there must be a lot of people who see you and go, Oh my gosh, you are Marizio.
Maurizio Leo: Yeah, it's true. Which is really, really strange for me because my personality, especially maybe this is why I went into engineering and I dunno, maybe it's this self-fulfilling cycle, but I have a reserved personality.
I'm really not super outgoing, super outspoken. I'm really reserved. So it's a strange thing when people do that and especially when I'm out, like when I was out at those classes, people were like, Oh, we know your site. Wow. that's, I love that site.
But it's also really gratifying because back when I started the website, that was the reason why I wanted to do it was because I wanted to help other people. It's taken 10 years from when I started the site, I guess, for me to feel that gratification.
But I remember Jeffrey Himmelman telling me that when I was in his class. He said thank you for everything you do for the bread community.
That was really heartfelt. It meant a lot. So.
Ling Yah: So I imagine anyone who's doing something online would love to know how you built that community, because I can see every single post that you have. There are so many comments that are being made And you take the time to respond to all of them, which is. Incredible for me.
Maurizio Leo: Yeah. I didn't really set out that way. It was just because I put it out there and I was trying to help people and it's my passion. I think it's something that I can't ever get around. I can't not be baking and I, can't not be thinking about what I'm going to bake today or tomorrow.
And when somebody leaves a comment. I immediately go and answer it because I want to engage with people about baking and help them get over a hurdle maybe that they have, or maybe somebody who comments is helping me figure out something in the recipe, which has happened plenty of times. It's almost an equal relationship here at this point, where I put something out and people help me in return.
And I think it has just evolved organically and when I created the site, I would get one comment and I'd be super excited and I'd go and talk to the person. I still get that way when people leave a comment, because I love hearing whether something worked well or it didn't work well because of X, Y, or Z.
How I could update the recipe. And so I think, yeah, I didn't set out to build a community. I think it just evolved because people were interested in baking and so was I, and I think we just met online.
Ling Yah: Is there a best piece of advice that you got from interacting with their community?
Maurizio Leo: I think over the years, I've gotten enough feedback where people say something like this dough is way too wet or you're baking it too hot. And so that goes back to the altitude.
And I think over the years, as a home Baker and somebody who publishes something online, I think you can easily get yourself into a bubble where you're thinking everybody is in your same situation. Everybody has your same oven, uses your same flour.
It's not the case. Everybody has different tools. And I think that advice has been some of my best advice is because it's helped me grow in a way as a writer.
Ling Yah: Do you have a favorite story that came out of interacting with them?
Maurizio Leo: There's been a couple of times where I've met up with people in real life from talking with them online.
One that happened recently was I was actually traveling in Japan with my brother and this lady Baker that I met with on a previous trip to Japan, I met up with her and she was telling me, Hey, you need to go meet this Baker. He's a little bit outside of Tokyo, but I think you all enjoy the bakery.
And so my brother and I spent an hour there with him and he was taking us around his bakery and it was a really small place, but it was in what you would.
Think of it as a Japanese bakery, somehow it was like a wooden building everything was very neat and it was amazing. It was great to just talk to him about baking to find out that, my website was one of the reasons why, or one of the resources that had helped him get started baking.
Years ago. So there's been a couple stories like that, where I've met up with people and like a more tangible result of, what I've done online. So yeah, things like that are always amazing to hear.
Ling Yah: Was there a particular point where you realized that The Perfect Loaf was a pretty big deal?
Maurizio Leo: My, my modest side is shying away from the word. I'm just trying to put her at a resort. Okay. There we go. I like that. I like that. Yeah, actually and it happened not that long ago. So when I was at a baking class with Jeffrey Hammerman several years back.
We were all going around the class and introducing ourselves and what we did. It was a professional baking class. So everybody in the class was like, my name is such and such. And I work in a bakery and I do this and then we get to meet you.
And I'm like, my name is Maurizio. I'm a home Baker and everybody's like, Oh, home Baker. And then I said, Oh, and, I run the site The Perfect Loaf. And I was just going to continue speaking. And everybody was like, what really? Everybody was saying, we know that site. Oh yeah, I love it. That's great. I use the recipes.
So I think at that point, I really did sit back and I was like, Whoa, wait a minute. , despite the comments that I get on my site, you don't actually relate to the people that are leaving these comments aside from what they're saying, but when you meet somebody who actually has used my site for baking.
It means a lot. It carries with it a lot of gravity. So that was definitely the moment that that happened for me.
Ling Yah: Do you feel that that community is getting closer because you now run a discord channel and they can live interact with you all the time?
Maurizio Leo: Yeah, that's something I just started recently. The comments system that I have at my site and for like a select few of people and open up this more live discourse where we can talk, in the moment. But I also wanted to give a place for people to share photos and things of things that they've baked cause I want to see that too.
And I'm trying to figure out a way to get a more instantaneous communication, you know channel going. And so I'm hoping to grow that a little more, to get more people involved with that. Cause I think that'll be the next step of me being able to help where I can and other people to talk about what they're doing and maybe help others. That's what I'm hoping for there.
Ling Yah: So what is the best place? If for instance, I want to start my sourdough journey, what is the best platform for me to find that community of people?
Maurizio Leo: I think there's a really big community on Instagram.
And I've been on there. I mean, I created an Instagram account as an app developer. I knew about it when it came out. So I created an account right when it came out.
And I think there's a pretty big community there that you can tap into. And I'm trying to create one at my site in a way.
There's also some forums online like The Fresh Loaf, which is a really great site that's been around for ages. Oh, the Bread Baker's Guild, of course, here in the United States. It's a large community of bakers here that it might be international. I'm sure it is actually, I'm sure it's international.
Yeah, that's another great place where we can connect. That's more of a professional side of things. So if you're a professional Baker and you run a bakery but there's a lot of great discussions on there and there's some, I mean, even Jeffrey Handelman comments in the forums there occasionally, and it's a great place.
Ling Yah: Given that you speak to so many people, what do you think are the most common questions that you always get?
Maurizio Leo: Yeah, most common question probably has to do with the sourdough starter. So like why isn't my sourdough starter doing X and then you can insert anything in there.
Why is it smell weird or why isn't it fermenting or why is it this? It looked dead. Those questions. Absolutely. When you get into the actual baking, usually it's something like, why is my loaf gummy in the end? Why is the interior really dense and gummy?
Ling Yah: You should not cut it too early, right? You should just leave it to set.
Maurizio Leo: Yeah. Yeah. Usually when somebody asks that question, I try to gauge how experienced they are with baking because. There can be many reasons why that's the case. One of them is if you cut it too early, it's definitely going to be really gummy. Another reason is the loaf could be under proofed.
it might just need more time to fully ferment. You're probably making it too soon in it. It just doesn't have the volume and the rise that you need. And the interior is just not as well fermented as it should be.
And then, I mean, another reason I usually say is that the hydration, if you push it too high, then the interior is more soft and gummy. Usually they'll say custardy, but if you go too far, then I think it just deteriorates and ruins the texture. Yeah. So those questions are usually the first ones to be asked.
Ling Yah: Given that you tweaked so much, are there any discoveries that surprised you along your journey?
Maurizio Leo: Yeah, there are some cases early on when, and I think a lot of beginning bakers take this approach too. They think oh, well, I want my bread to rise more. I want it to be nice and light and airy, so I need to strengthen the dome more. So I need to give it more stretch and folds, or I need to mix it for longer in the mixer, or I need to need it for longer.
And I definitely fell into that trap really early on. And I thought okay, well, I better give it 10 sets of stretch unfolds during the bulk fermentation to give it a lot more strength. And after doing that, several times I realized, well, if you strengthen the dough too much, then it's going to be like a really tight, rubber band.
It's not going to relax out the way you want it to. And that ties into something that I always touch on in baking. And there's never really an extreme that you want to go to in baking. It's always the middle ground. Like there's always a balancing point that you're trying to find with every aspect, hydration, dough strength, fermentation time. There's always this sweet spot that you're trying to find.
And that's why I always advocate for an iterative baking process because honing in on that balance point is difficult in a lot of cases. And especially with things like dough strength. You can tend to go too far or you can go under and have a sticky dough, which is hard to handle.
And so by iterating on that, you can make small adjustments and get closer to that sweet spot without overshooting or undershooting. I mean, there's lessons like that in every facet of, baking hydration, fermentation, the amount of salt you use, the flour you're using. So I'd say it all distills down into the principle of balance with all things in baking.
Ling Yah: So speaking of stretch and fold, one of the questions I got from the Reddit community to us, there are many different techniques, benchmark elimination, like for gluten development. Do you have a preferred technique?
Maurizio Leo: I actually just posted a guide on this at my site cause I do get so many questions about, cause it's a complicated time for baking and not only is it hard to determine when the bread is or when the dough is strong enough, but it's also hard to determine when to end bulk fermentation.
But in terms of stretch and folds, I typically like to do a really strong and vigorous set the first set of stretch and unfolds, and then assess the dough on the next one, which is typically like, , 20 to 40 minutes later.
And so what I'll do is for that first set, I'll grab the dough and stretch it up really high, folded over, rotate the bowl, do another one, rotate it, 90 degrees.
Do another one and then do a last fold. After that first set, the next set, I tend to do a more gentle set. So instead of doing a strong fold up and over I'll instead pick the dough up and let it fold under itself and do it that way. And those are the two types of folding that I've always done.
And it just depends on the dough how it looks, how it feels and whether it needs a strong fold or a gentle fold.
Ling Yah: Do you still stand by the use of high hydration to achieve open crumb?
Maurizio Leo: I don't think it's absolutely necessary to have a high hydration cause I've done plenty of bread.
That's moderate hydration that is nice and open. I think increasing the water can help get you there quickly, but. , on the flip side, it's also a challenge, right? I mean, if you put more water into the dough. It's stickier, it's harder, harder to handle. So I don't think it's absolutely mandatory.
I think you can get an open crumb if that's what you're after, by going at moderate hydration or higher hydration. In my experience lower hydration breads. So for me, it's in the mid sixties percent. Water content to flour. At that point I started to have trouble opening up the interior.
When I go that low, I usually have a bread that's more tighter crumb, which might be what I'm after in that case.
Ling Yah: And normally when you post something new, you would say, Oh, this is your new favorite. This is my new favorite. So do you have one that you normally make over and over again?
Maurizio Leo: Yeah. That's the problem with baking is that when you bake something new and you just get so excited about it, right. You're like, Oh, this is it. I'm going to bake this for the rest of my life until a month later when you change something and you're like, Nope, this is it.
I tend to return to different Throughout my years of baking, I have had various recipes that have been like a constant chord, I guess, that I've always baked. And then I have experimented with stuff around that.
The one recipe I have my website that I called, my best sourdough recipe. That's one. That's a basic bread, but it's one that I often return to because it's higher hydration and it's minimal meeting, no machine mixing. And it's one that I think I always have in my back pocket and something I always always make, but it's a recipe.
That's mostly white flour. So I have. One recipe that I've been baking now for the past, I don't know, two, three years. That's a mixture of spelt whole spelt type 85 flour, whole wheat flour, and then some white flour. And that's one, I think I've baked more often these days, I think because my palette has changed for bread and I think.
I've come to appreciate, in that recipe, I usually use freshly milled flour in some capacity. I think I've come to really enjoy the flavors of whole grains more and more as I have baked more and more. I think those two recipes are probably my most baked that I do.
Ling Yah: Because we are in COVID now, did you see, and what'd you think of the surge up quarantine, sourdough makers?
Maurizio Leo: I think it's awesome. I love it. My own baking has increased, which is hard to do, but somehow I've done it. Maybe not everybody who is baking during this time is going to stick with it for the rest of their life.
But I think it's a great exposure for a lot of people to realize that, Hey, I can do this in my kitchen, a topic that was for me, especially when I first started confusing. And it's hard to wrap your head around some of the topics. I think a lot of the people are realizing that, Hey, I can make a really amazing loaf of bread with not.
That much time investment and not a lot of practice. And I can do that easily in my kitchen. So I think it's been a great thing and I'm hoping a lot of these people really stick with it over time because it's just satisfying to make healthy bread from three ingredients.
Ling Yah: Do you have any advice? I mean, like I have a starter that I haven't touched in half a year. So should I use it again? Or should I make a new starter?
Maurizio Leo: And it's in the fridge.
Ling Yah: It's in the fridge.
Maurizio Leo: Okay. Well, first off, this is your opportunity.
Now's your time to get back into it. So It's possible. It's fine. I would take it out and try it. I would try to give it a couple of refreshments. And if you can get some rice flour, I always advocate for using that in getting it started again. If it doesn't come back or if you notice some mold or something on there, then yeah.
Definitely create a new one, which I've done it many times, even though I still have my same starter, I do it from time to time to either write a post or help someone out. It doesn't take too much, , seven days to get a new one going and you're good to go, especially if it's warm where you are.
It should take hold pretty quick. yeah. I would try, I would try to feed it and get it going.
Ling Yah: I've noticed that you use rye a lot. Is there a reason why you always adjustment, right?
Maurizio Leo: Yeah. I like rye flour. I think growing up in an Italian household, at least in my family, it was not a flour that we use for anything.
I can't even remember a single time I ever had rye bread as a kid. It just wasn't something we ate and it was only later in life that I had some really good rye bread that I realized how incredible that rye bread can be. That's definitely an area that I'm going to be digging into more here in the future.
Cause it's especially with like German baking there's I mean, this huge lineage of rye breads that to me are still quite mysterious because it's a different way of baking. But with respect to the flour, I think. Just the grain itself has so many amazing qualities to it.
Not only does it increase the fermentation that you see in your starter and in your dough, but it also through just experimentation, I've found that even using. Like two to 5% rye flour, whole grain rye flour. In my recipes and I get better color in my bread, in the crust. It seems to bring a lot more flavor to the bread because you get a lot a little bit more acidity, a little bit more sourness in the end.
And I think that is always a welcome thing. when used in balance and I always have a whole grain rye flour here, in some capacity. So I love it in baking.
Ling Yah: So obviously you've done this for such a long time. You're such an expert in it now while doing sky view, do you have plans for the future?
Maurizio Leo: I don't know if I'd say I'm an expert. I'd say here's the modesty with baking, I think it's one of those crafts, like probably many woodworking or, I mean, who knows, music where I think it's always good to approach it with the mindset that you're always capable of learning something.
So even though I've dug into so many different areas of baking, I think there's just so many more places for me to learn. I think that's the exciting thing about baking and the reason why I've kept with it for 10 years now, even though it's not what I've trained. So I just wanted to say that because I think it's important.
I think almost every Baker I've met has been humbled in that way, because it's just something that I think you learn to appreciate with any craft that you do. So yeah, I think with that preface, I want to say, I think, there's so many more places for me to go with pastry that I want to dig into especially things like croissants and I've been playing a lot with panettone, which is a really important bread in my culture. And I grew up eating it every Christmas and Easter.
So I could probably dedicate as much time as I have to baking bread to just panettone on its own. It's so deep in such a complex topic. So that's something I want to go into, , maybe next year or next Christmas. We'll see. There's always been a motivation for me to maybe start like a subscription baking thing here in my city to where I can bake and sell bread to the community.
So I've been toying with that idea. And then there's my website that I'm always going to maintain and I kinda want to keep helping people that way and keep growing the community and seeing how much knowledge I can spread there too. So those different areas, that's where I'm going.
Ling Yah: So for those listening, what's the best way for them to support what you're doing?
Maurizio Leo: Just come check out the website and participate there. If you have questions, if you want to leave some comments there, I have my email on there too. So any .
Communication or interaction, really a support that's what's kept me going for all these years and that'll be well it will keep me going for the next 10.
Ling Yah: And they're also donations that they can make to you as well to support what you're doing.
Maurizio Leo: Yeah. Yeah. I have a spot on the site where people can go and support me there.
Baking this last year there's been a huge influx of people visiting the site. There's maintenance to be done. And so I'm using the support that I get there to funnel back into the website and make it a little better.
I'm trying to make the user experience better. And so there's a spot there for that too.
Ling Yah: Do you feel like there is a particular thing that was your best investment in your baking journey?
Maurizio Leo: Thermometer. Once I realized how important temperature was, I think that really transformed my baking. And this was a long time ago. This was early on, but it was something that as an early Baker, I didn't realize just how important temperature was once I did, then my baking just absolutely transformed into something that was more.
Manageable and just better in the end. So yeah, definitely, definitely that thermometer.
Ling Yah: Can you share a bit why temperature is so important?
Maurizio Leo: Well, temperature in terms of fermentation, it really sets the stage for the metabolic activity, bacteria and yeast that are in our sourdough starter.
As you increase temperature, you can expect fermentation activity to increase and being here in Albuquerque, especially if you try to start baking sourdough in the winter, which is when I tried to start you realize nothing's going to happen if it's too cold.
And so I had my fledgling starter that I was trying to create on a window sill and it was probably 50 degrees Fahrenheit, nothing was happening. So that was one of my first exposures is like why temperature is important.
It is actually quite a deep topic because. Not only does it just increase the overall activity that you see in terms of fermentation, but it also has a way of dictating the flavor that you get in your final bread. , whether you're placing emphasis on yeast production versus bacterial production.
And so. it's one of the strongest or biggest levers that you have for effecting your bread in the end. And it's only through that precise control of temperature that you can get to the end bread. I think that you're really looking for, it's one of those things where it's like, if you don't realize it early on, but then you do realize it.
You can make little tweaks to make things better, and then you might just use those same tweaks for years. And then later you might realize, Oh, wait a minute. I can use this even further. So it's like a tool for mastery.
Ling Yah: So thank you so much for sharing all of that knowledge. I normally like to end all of my interviews with these questions. So for the first one is, do you feel that you have found your, why.
Maurizio Leo: Yeah, I think, I've gone in a lot of different paths. I think because I was taken so dramatically, let's say with baking sourdough, I think it uncovered that passion that I've always had.
And I still have a passion for just food in general and software engineering and that kind of thing. But I think sourdough just encapsulates all of my interests and all of my passions into one topic and it was like the perfect embodiment of my personality. So yeah, I think.
Ling Yah: So this sounds likely you're going to be doing both for awhile.
Maurizio Leo: Yeah. Yeah. I still love to engage the engineering side of my brain. And I think I'm always going to have that there. , with that said, my end goal, I think is to just bake every day. if I can bake every day for the rest of my life, then I think I'll be happy.
Ling Yah: And what kind of legacy do you want to leave behind?
Maurizio Leo: That's a good question. I think about that from time to time, I think with my kids, what do they want to, even though they're still really young. Like, what do they want to remember me by or what were they seeing me as? I think something that is important for anyone is I think to give back to Whether it's your immediate, community or a larger community online.
It's satisfying to be able to say, , I created something that helps someone eat better, , solve a problem that they're after or. Whether it's going outside and spending some time with their kids, looking at the stars. And I think that's something that's always been a driving factor for me.
And that's one of the reasons why I started the perfect loaf I hope my legacy is that I've somehow contributed to the greater compendium of knowledge with, sourdough baking and, taking people who maybe, who didn't think that they could bake a loaf of sourdough bread to, , baking weekly or twice a month, even in their own kitchen.
Ling Yah: And what'd you think are the most important qualities a successful person should have?
Maurizio Leo: I think I always see two things. I think the first thing I think is a desire to continuously learn something new, whether it's a completely new field or whether it's a new area in your field.
I think that's always important. I think it's easy to get. Complacent and be content with what, and where you're at and maybe the skills that you have. I think always if you stretch a little bit, even if it's just a little bit each day in one area, I think that is an important quality to have because it not only can you learn more that way, but I think.
It will uncover new things for you in your life that you may not have seen before, because it's a new area for you to discover or something new to learn. That's the first thing.
The second thing I think, and maybe it's related. I think it's always important to approach things with a student first mentality. So always go into something, even if it's something you think you know everything, I think it helps to go in with fresh eyes and look at something from a new angle or maybe it's something that you thought you knew that you really didn't know as deeply as you thought you did.
And to tie that into something concrete, that's the mentality that I try to take when I write the posts at my website. And it's something I learned when I was playing soccer as a kid. And I can remember my dad , he was a really good soccer player. And I remember him trying to teach me certain things on the soccer field.
I remember him always saying like, this is how you do this move, can't you understand this the way your legs move or whatever. And I think it's always important to go in with the mindset that you to put yourself in the student's mindset. So I write my posts in that way, like, okay, it's easy to not think about what they might be thinking, but what you want to do is you want to go into, to writing something or teaching something.
As if you were touching that dough for the first time.
The important thing about stuff online is to be personal. Like you need to relate to the person who's writing it. And if you go somewhere and you read something in it, it feels driven based on metrics or corporate speak or something that's shallow, I think people are just going to skip down to the recipe and you can get a recipe for anything online. Right. You can find a recipe for anything.
So I think tying it in and, and, , talking about why I'm doing the things that I do in there. And even if half the people skip that information, at least, , the other half find some value in it and see that it's not just something I'm throwing together, , on a Saturday night and then publishing it on Monday.
It's like, I only publish once or twice a month is because the rest of that time, I'm actually spending, developing that formula or working on that recipe or working on that guidepost or thinking about it and writing and drawing diagrams or whatever it might be.
Ling Yah: What's the best way for people to connect with you and support what you're doing?
Maurizio Leo: Go to the site. There's an about page on there. You can go and I've got my email address on there. you can email me directly if you leave a comment. Like we talked about earlier, I reply to, I'd say 99% of the comments.
I'm also on Instagram at Maurizio.
I can't DM everybody that sends me messages on there, but I try cause that's another place where I like to communicate with people and I try to comment on the comments on my posts too.
Ling Yah: And he says anything else that you'd like to share that we haven't covered yet?
Maurizio Leo: Maybe I'd just like to say, if you're listening to this and you haven't baked sourdough bread, then I think. If you're interested in making something by hand at home, something healthy and nourishing for you and your family then should give it a try. I think a lot of people are afraid when they hear yeast or they hear fermentation.
And I don't think that people should be, cause I think it's an easy thing that you can do. You can get into it. Doesn't have to be super complicated and it's something that you can work into a busy work week and bake a loaf of bread. I guarantee you will make you happy if you pull it out of the oven.
Ling Yah: And that was the end of episode 33.
The show notes, transcripts and links to everything we've just talked about can be found at www.sothisismywhy.com/33
if you wanted to get updates on the latest episodes, as well as other fascinating and interesting things I read and learn about over the course of the week, you can also sign up for the weekly newsletter at the show notes link, which is, www.sothis ismywhy.com/33
And stay tuned for next Sunday because we'll be meeting a multi award-winning Malaysian bartender who ranks as one of the very best in the region.
On how he got started in the hospitality region where he was competing multiple times and winning at the highest level and being a pioneer in the bartending industry in Malaysia.
So see you next Sunday!