Welcome to Episode 34!
Our guest for STIMY Episode 34 is Shawn Chong.
Shawn Chong is one of Malaysia's top mixologists, a three-time Diageo World Class Malaysia champion, once listed as the No. 25 Bartender in the world, and co-founder of Kuala Lumpur's pioneering speakeasy, Omakase + Appreciate. A speakeasy that was listed in the Top 10 of Asia's 50 Best Bars Award 2016. He is also the founder of Bar Class Academy Asia. 
PS:
Want to learn about new guests & more fun and inspirational figures/initiatives happening around the world?
Then use the form below to sign up for STIMY's weekly newsletter!
You don't want to miss out!!
Who is Shawn Chong?
Shawn Chong shares his childhood in France and his difficult transition into the Malaysian education system, as well as how he ended up choosing to enter the hospitality industry.
A decision that placed him straight on the path to finding his calling as a bartender!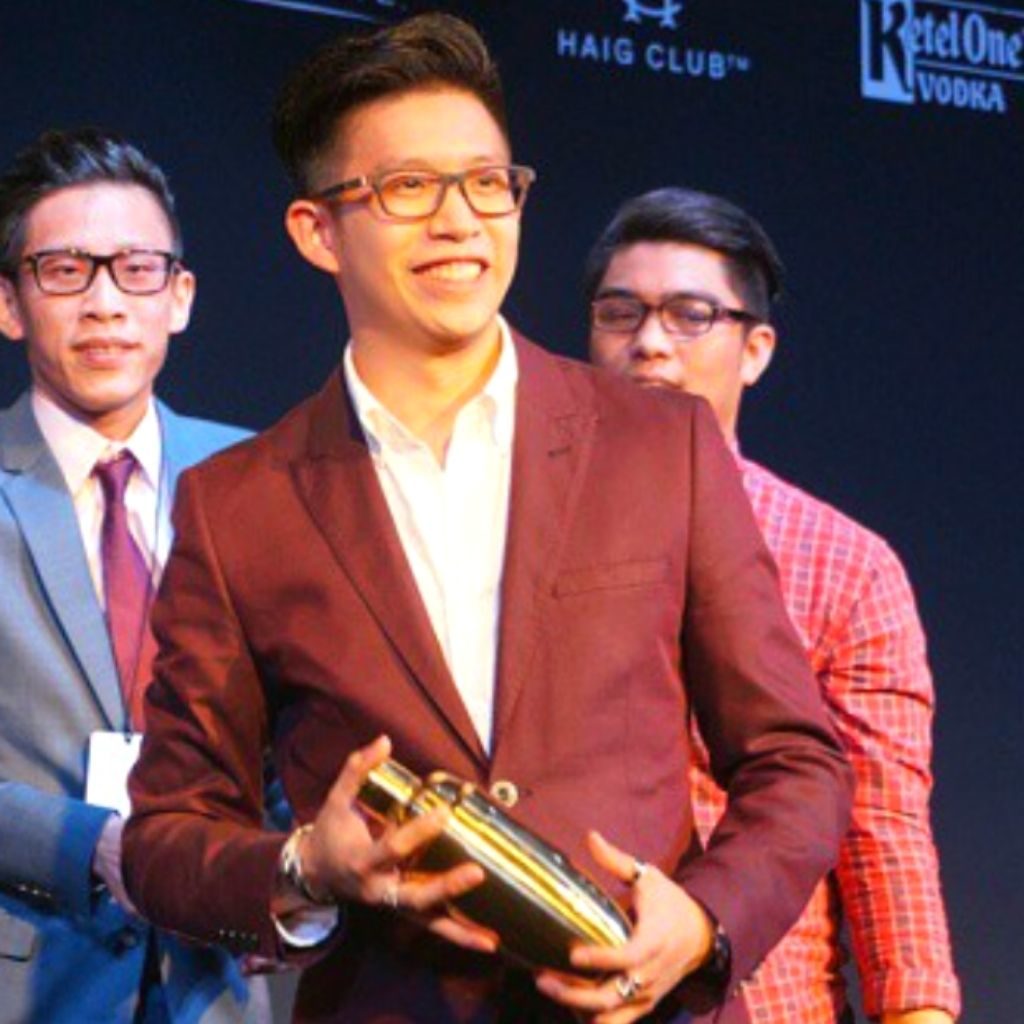 Highlights:
3:03: Having his first sip of alcohol at age… 5!

3:53: Moving back to Kuala Lumpur from France

5:07: When Shawn decided he wanted to enter the F&B industry

8:30: Working in the fine dining restaurant at Hilton Kuala Lumpur

11:50: How Shawn entered his first bartending competition

18:16: Why Shawn left Hilton KL for an independent restaurant

20:31: Opening Omakase + Appreciate – Kuala Lumpur's very first omakase bar

22:57: Being inspired by the 1920s Prohibition Era in America

25:13: Coming up with the omakase concept, and mixing their Japanese/Western approaches

26:14: Changing the drinks menu every 6-8 weeks

28:05: The unique marketing tactics used by Omakase + Appreciate

29:02: Inviting big-name guest bartenders

30:57: Mise en place

33:13: Reaching the global finals for the Diageo World Champion competition for the second time

33:13: Winning the 10th spot of Asia's 50 Best Bars in 2016

37:30: Finances

40:02: Deciding to close Omakase + Appreciate in December 2019

41:43: Starting Bar Class Academy Asia

42:23: Why Shawn's endeavour in PJ failed

47:33: Best way to enter the bartending industry
I don't have to be the best. I would like if someone could be better than me, anyone younger who strive to be better than me, but at least from my standpoint is someone who's trying to push boundaries as someone who's still maintaining standards, they're still someone who really loves the bartending craft.
If you're looking for more inspirational stories of people in the F&B industry, check out:
If you enjoyed this episode with Shawn Chong, you can: 
Leave a Review
If you enjoy listening to the podcast, we'd love for you to leave a review on iTunes / Apple Podcasts. The link works even if you aren't on an iPhone. 😉
Send an Audio Message
I'd love to include more listener comments & thoughts into future STIMY episodes! If you have any thoughts to share, a person you'd like me to invite, or a question you'd like answered, send an audio file / voice note to [email protected]
External Links
Some of the things we talked about in this STIMY Episode can be found below: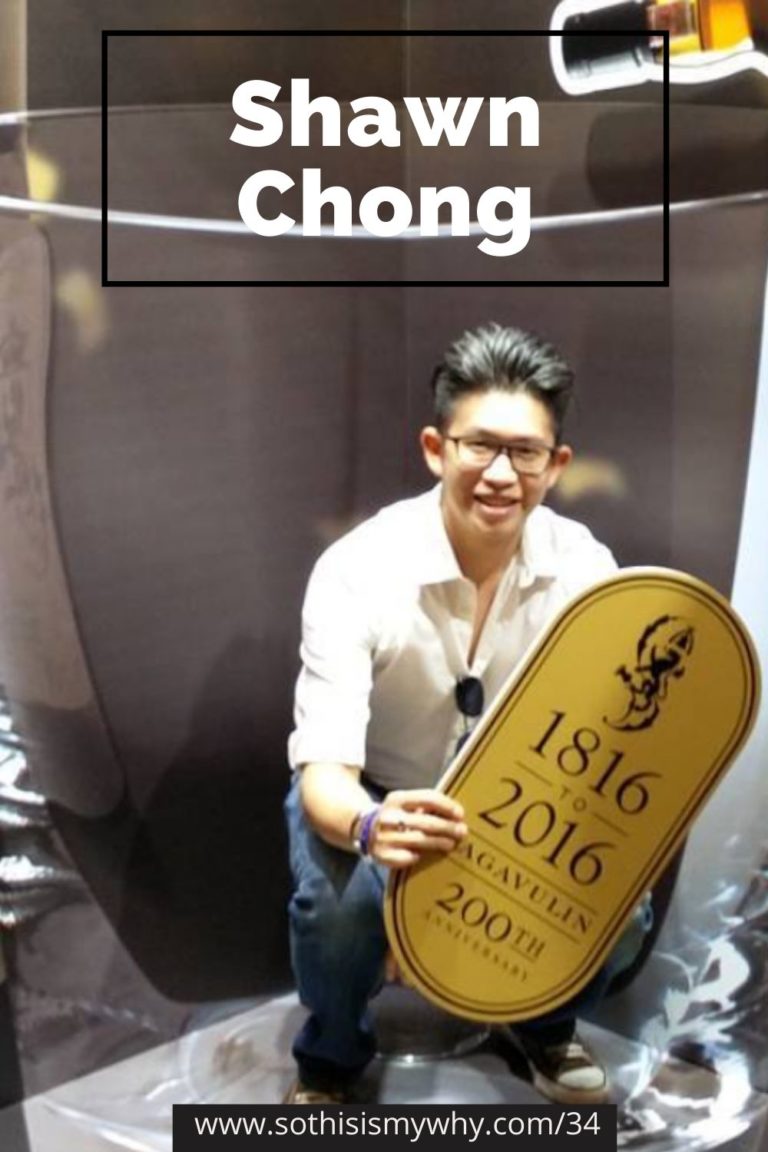 Ep 34: Shawn Chong - x3 Diageo World Class Malaysia Champion, Mixologist & Co-Founder of Omakase + Appreciate
Ling Yah: Hey everyone!
Welcome to episode 34 of the So This Is My Why podcast. I'm your host and producer, Ling Yah, and today's guest is Shawn Chong. The three time Diageo world-class Malaysia champion, and renowned mixologist most known for founding Omakase + Appreciation and Bar Class Academy Asia.
But what does it take to be a bartender? And a multi award-winning bartender at that?
Because in case you didn't already know, the Diageo is a highly prestigious competition that brings together the very best mixologist in the world. And moreover, what does it take to run an omakase bar? In fact, the only bar that was running in KL for three years. And now what Shawn planned for the future? We deal with all this and more in today's episode.
But before we begin, if you've been enjoying this show and would like an easy way to support it, please leave a review on iTunes. It's the best way to help others find the show. And I'd really appreciate it.
Now, are you ready?
Let's go.
Shawn Chong: So you're going back to 1986.
I grew up in Malaysia for the first five years. And then the next five years is what I guess, shaped my life and changed it a bit different than your conventional Malaysian boy story because my dad was working for the Malaysian industrial development authority. MIDA. And he got a posting to France. And so he decided to bring the whole family because it was a long posting.
What was supposed to be three years, became five years .
I went to international and British school, so it wasn't too foreign, but of course I picked up French fluently at that time.
But the thing that I will take away the most is every summer holiday, my dad is an avid traveler. So he will say, since we have these six, seven weeks of your summer holiday, we'll go somewhere He would actually drive.
He would drive from Paris all the way to the South of France who drive from Paris all the way to Spain. On one occasion. I think the furthest we've been by car is. From Paris all the way to Austria.
All these trips allow me as a child to see all these things. I was already exposed like what Venice looked like, what Switzerland look like, what the Alps look like. So I guess this eventually allowed me to be more open-minded, especially when it comes to bartending, which I always say is a bodiless profession.
People would drink everywhere in the world. People travel and they go to bars.
The bartending as well. We travel the world to meet other bartenders or to visit other bars or to do care shifts. So yeah, I think The five years in France has actually benefited me many, many years after
Ling Yah: I read that your dad allowed you to taste alcohol when you were young. So was this back in France or was it much later?
Shawn Chong: It was in France. Because in France, you can actually get cider. Like 1, 2%. You can literally get it off the shelf. My first taste was five years old. I think my younger brother was even younger.
He was like two.
Ling Yah: Wow.
Shawn Chong: Yeah, so it wasn't drinking. Was just tasting, but still the first taste was very, very young.
When we came back to Malaysia my dad was quite open with alcohol sometimes when we meet with his friends, for family gatherings and they would end with. A whiskey or a Bailey's, you know, as a digestive and he will allow us to try it like babies or whatever.
And that was maybe what, 10, 11 years old?
Ling Yah: You went to SMK Bukit Bintang. Was that a shock to the system?
Shawn Chong: A very big shock. My school days were not easy, especially for the first two years So I came back in mid 1996. So I went to private school but still generally the school system is pretty much the same. in France, I was in the central school of Paris, but that was an American system.
So it was a bit more open. It's a bit more casual, I guess, but it was still a big shock to coming back.
The culture are hopefully different like in terms of the children, in terms of the teachers, Standard 4, Standard 5, I was in Seri Enao. Those were tough years because I had to deal with students who didn't understand why you didn't speak Chinese. I had to deal with teachers that had a totally different attitude. Kena marah, kena rotan, that kind of thing. So that was something I had to get used to.
Break time. Rehat time, you know, you're with all the other students, whereas in Europe, it's very controlled. You have your break time, you actually eat together and everything.
Having said that I'm happy that I was allowed to Malaysianise again. And just to prove to my parents that this is not a mistake for doing this and this and this. So I worked hard and I actually got like two A's and three B's in UPSR.
Ling Yah: So at what point did you decide that you wanted to enter into the F&B industry, which led you to going to Taylors?
Shawn Chong: I will say this is circa form three. 2001.
By then, I had already kind of an idea of what I wanted to do because my mom was the first one to teach me cooking, even back in France.
So I guess I found an interest in that and I always asked her if she could teach me. And then when you go to school, they always have the Hari Kerjaya and you talk to counselors, what do you want to be? Because they want to stream you right when you're Form 4 and Form 5.
And at that point I had already had an idea what I wanted to be, so I could easily fill out the form. Like, what do you want to be? And one of them would be chef. I don't know whether it's something that was instilled by ancestors or whatever, but I guess I was money minded.
So I would ask my parents what profession can make me rich in the future. And my parents being parents, they're like, Oh, you could either be a businessman or, a hotel manager So I'm going to track back a little bit. where I am today also stems from traveling in Europe.
because we were traveling, my dad would actually have to book hotels and my dad is a rogue Booker. So it doesn't make any reservations. He would just walk up and say, we have a place to stay tonight. He's that kind of person. So actually drive from hotel to hotel, if they didn't have a room where to drive to somewhere else, and occasionally my dad would have to book a four star hotel.
So I guess from the experiences of checking into hotels and sleeping in the room, I liked the environment that it really translated to the future. I said, okay, I think I could do hotel management. I like hotels when we were staying in France.
About the time when I went into college. Taylors had really, really systemized the way you learn. The first year is all general. You learn everything about hotel management. So from the rooms to kitchen, to restaurants, and then in your second year, you get to specialize. So which sector of the hotel do you want to improve your skills on?
You could choose between three. So it's the room divisions with either front office or housekeeping, or F&B service or kitchen. So I chose seven weeks.
Ling Yah: You were participating in college drinks, competition as well. You were making drinks as a hobby on the side. Am I right?
Shawn Chong: Yes. for some reason I hadn't really been very. Drawn to the bot, even at that college level. What I liked about Taylor's was we did proper restaurant service every week, and you get to take turns to be the bartender.
So you get to create a couple of drinks, to sell and just generally operate the bar.
Everyone wanted to be in a bar, but I think it was more so for the guys and they were more so for me. So I was like if there would be someone absent, I was like, I'll take over the bar. No problem.
And there were small competitions within the college.
So it started off with a very internal one, very novice understanding of mixing drinks. after that even the lectures kind of saw that maybe I had a gift because I was doing very well in studies because I guess I was focused. I knew what I wanted to do.
I became the top student all the way from the start until I finished my degree, I guess this just comes from being very focused on what you want to achieve. And I guess I had an ambition that I just worked really hard. Maybe ego played a pot because I know my classmates looked up to me.
Okay. This guy knows what he's doing. He's performing really well. So a few of them tag along with me. So they were like my core group. Which one or two of them also managed to obtain honors in the degree. So that was nice.
Ling Yah: So you end up going to Hilton KL. And then you were working as team member in Census restaurant, which I understand it's a fine dining restaurant. What was that transition like suddenly working in a professional, fine dining atmosphere?
Shawn Chong: because I had already done my internship with Hilton, so when it was time to actually go into the workforce, my parents said if you could get into an international chain as an employee, then maybe your future ambition will be fulfilled, which was I wanted to travel.
So if you can get postings to other properties, a global brand would help you. Okay. I'll try getting into Hilton. Luckily the managers who saw me as an intern remembered me, and said yeah. Yeah. we'll see if we can hire you.
So this is quite a profound story for me. When I was an intern, I think this was 2015 in Hilton.
I was stationed at the coffee hours. And when you're an intern, you normally deal with the preparation. Polishing glasses, polishing forks, spoons, folding napkins. One day I was folding napkins and this manager comes up to me. He tapped me on the shoulder and said boy, this is not your job.
I'm like, what do you mean? This is not my job. My supervisor gave me this task. It's my job. No, no, no. This is not your job.
And she brought me to the bar and he asked the supervisor there, okay, this boy, you just teach him whether it's just a squeezed juice or whatever, you know, just teach this boy.
So I'm like I'm an intern. Why is this happening? I guess as a manager, he saw something in me. He learns fast. He can work So, I guess that's where he decided, okay. Maybe we can try to see where his skills can take him.
Fast forward when I applied for a job,
I went back to this manager. And he kind of helped start my career. So his name was Bobby Shanker. My first job was in boardwalk. Boardwalk was the Poolside outlet. So it had food and we have the bar. I wanted to start from the bottom. So I was glad that I had to work in a poolside first before going down to fine dining.
That's my goal is to be a general manager one day. So I guess again, I proved my mettle and the managers, like after three months we are structuring the FMB and we need stronger people in finite. Would you like to go to fine dining?
It was a bit intimidating at first because I didn't know what to expect. At that point, fine dining was quite a big thing in KL. And if you worked in fine dining, basically there's a lot of expectations But I guess again, maybe it's really a calling. I just had a natural flair for service. It wasn't too difficult. I'm glad that was transferred there because that really gave me a strong foundation for the years after in terms of the dining process, how you treat guests how to understand the food and flavors.
Because I worked closely with the chef to understand the dishes.
Ling Yah: You mean you have to understand the dish you're serving in case anyone asks you the different ingredients and what they compliment.
Shawn Chong: Yeah. So at that time we went really in depth. How is this sauce cooked? Just in case there are ingredients or elements that go in that actually allergens to people. So from there I learned to break down flavors. I learned what goes together in the dish.
It even shows through now when I apply to making cocktails. Why does it go in? And I will explain to you like, what goes inside. So yeah, census gave me a very strong foundation but at census, there wasn't really mixed drinks because that was a lobby bar.
So one of my mentors at the time was actually of course the chef, but also Roderick Wong. Roderick Wong was the founder of Somali Association of Malaysia. And he guided me as well in terms of wines and understanding of the basics.
Ling Yah: So soon after Diago world class Bartender Of The Year launched and there was an internal competition in Hilton, which you joined. Can you share a bit about how that all transpired?
Shawn Chong: The first competition that I did was called Finlandia, which funnily enough is almost exactly 12 years ago.
And what the hotel does normally when they want to send representatives from the hotel, they do an internal first. So they say, okay, every outlet you get sent to participants to try out then we'll select four from there to represent the hotel.
So at that time I had nothing to lose. I was like, I'm going to just show whatever I know that Hopefully it gets me a spot in this competition.
Before I left college, we did a special dinner in Taylors. where Chef Patrick Siaw, now the world pastry champion captain, he was on to molecular stuff at the time. And he wanted to do a molecular gastronomy dinner, and I did the drinks.
And I have learned a few things from doing the dinner, like esterification. basically making like a jelly, but not jelly, which it can burst in your mouth kind of thing.
Fast forward to Hilton. Fortunately, the Census was using these kinds of ingredients. I can use this certification technique in my drink in Hilton. and I guess that impressed the judges because the judges were the hotel managers.
They were like, okay, this boy is fresh out of college. And he seems to know more than our bartenders. And that competition that kind of sparked everything else. So it started with about 20 to 34 participants from all around KL.
That competition was intimidating. I'm up against people who are much more experienced than me. Now, two years, four years, six years, They all seem to look the part I'm still like a student fresh out of college. Long story short, I came in runner up.
So I'm like, okay, maybe it's a look or something. So the Diageo competition basically because I had done very well in the Finlandia one, the managers were already like, you seem like a good candidate because you really one run up will automatically enter it for you for the next one.
So Diago was a very big competition. At that point in time, I had no idea what it was most of a competition that really tests you as a bartender. from your product knowledge to cocktail making, to your technique, to product knowledge to communication
Ling Yah: I think it was quite a simple competition. So right now it's like six months long, but before it was a lot simpler.
Shawn Chong: Yes. Yes. It was simpler in a sense, like you just need to come up with your signature cocktail presented and that's about it. So that happened in 2009.
I remember that drink was called Sexy Señorita and inspired by all-time white coffee, hazelnut flavor. So that was one of my favorite coffees at a time. So I said, can I transform this into a drink? So, yeah. We'll put not so much in the actual flavor of the drink, but how to present it and how to apply the overall experience in terms of printing for competition.
Ling Yah: How was that process like of creating this one drink?
Shawn Chong: So that drink was creamy. So it went from trying to, I use full cream. Do I use just, Nope.
Do I use cream milk? Do I use normal hazelnuts? Do I roast the hazelnuts? Which liquor as a sweetener do I use honey? Do I use agave syrup because I was using tequila?
At the time it was simplified because I had just like, okay, I want this hazelnut drink to transform into alcohol.
What alcohol do I put in? So we searched on cocktails that had similar structure. And then for some reason I chose tequila. and they worked.
Ling Yah: So what was it like after you won? I think you seriously considered bartending as a career, right? And they soon shifted you to Vintage Bank.
Shawn Chong: Yes, I seriously considered it, but I guess that's where main managers really play a role that's also translated into me being a business owner now and how I manage the team is to find people's talents and see how to grow it.
The Diago competition was also a very profound moment. It was held on home ground in Hilton, Kuala Lumpur. There were about 14 competitors. some competitors I'd never met before. six years in the industry, eight years. So I said, okay, maybe I won't win.
This is just for the experience. Well, I guess my manager had already trained me to do practice rounds and everything. So I was a bit more confident doing it.
So that competition was kind of fake it episode for me. Because I wasn't working in the bar. So it came in the restaurant. I don't have the skills to back me up, but I could perform that one thing really, really well that coupled with the fact that I was fresh out of college information was easy for me to absorb.
There was a written examination for that competition. So I did quite well for that. And then coupled with the presentation that boasted up my points .
It was tough. all their competitors, they presented their drinks and they will ask questions.
Like why is your cocktail like this? And they'll ask product knowledge. Why I use it cattle one. Where does it come from? What vodka is it?
Came to mine and then it was the same. So I had a story to tell. And then when they asked questions, like, what is this tequila made from? Where does it come from?
All other competitors, they could answer me one question and then they can't answer the next one, but I answered all my questions. after my round, the host of the competition. He declared me the winner on the spot. I'm like, this is a dream or something? I don't think this should happen. I used to wait for the announcement.
That was profound. It was like, okay, let me see. I might have something here.
So yeah, was the champion for Malaysia 2009, top three from Malaysia, went down to Singapore that was also very intimidating, because Singapore already in a way, established themselves as a place to drink.
So they'll bring us around and then you go to the competition venue, which at that point was at the St. Regis. We were going up against six other Singaporeans, who were already bar managers, and established bartenders. I came runner up.
I said, okay, I could do this, but at the same time, as I said, I'm not a bartender because the second round was the speed round. It's six drinks. Here's a Mojito, an old-fashioned, blah, blah, blah, make it in eight minutes. So I had no experience to back me up.
I never made a Mojito way in my life up to that point. I know of the recipes I know of what it is, but I never made it. So I had no idea. And then I rightfully lost that year for the world class competition, because I would have shamed Singapore, Malaysia if I had gone to globals.
So after that, managers were like, okay, you're doing really well in the bar. So no more fine dining for you, we're transferring you down to the bar. So that's when I transferred them to British bank.
I was transferred down as a team member first and promoter at the same time. So really they say they're going down to the bar and you're now a team. It was a challenge because I had no bar experience. And now coupled with the fact that I need to, in a way. supervise the team that was very new.
2010, I tried entering the competition again, but I didn't do so well because I concentrated my energy on building my career.
Ling Yah: So, what was the reason behind you leaving Hilton? Because you then went to be manager of Hoof restaurant while doing consultancy and organized gigs.
Shawn Chong: Correct. Partially it was the hotel was not giving me what I wanted. I wanted to move up the ranks. Couldn't get an assistant manager position. And when I resigned so it doesn't really come to offer. So I was like okay, I'm taking a job.
And I guess I just wanted to open my mind. I like to see a lot of different angles because people always tell me, you work in the hotel is different. You work in an independent restaurant is different. So I just wanted to see what it is actually like to work in independent restaurants.
Ling Yah: So what were the differences?
Shawn Chong: Big difference. First of all, the hierarchy. Hotels, you have a hierarchy. You have a system. You have your manager, you have your other departments that report to. You have your GM.
Independent business has none of that. Your manager and everybody else, your direct report is the owner. In that sense there's no filter good or bad for people to debate. But there's no filter in terms of independence, like, Oh no, one's this, you execute it for hotel. There's at least a filter.
They will decide whether they should go and then there's a discussion process and then we implement it. After hoof, I left the company to pursue competition. In 2011, I went to the Diageo World Class again, won and represented Malaysia in India. I came back to Malaysia and then I had no job. So I went to Sunway university. I was still doing consultancy at that point, I guess it was still in a way on good terms.
Ling Yah: And you mentioned before that when you had the Diago, you learned a lot of lessons just from talking to these people.
What were some of the major lessons that you felt you learned?
Shawn Chong: You need to know your stuff. Like when I went to the global finals in 2011, although I was Malaysian champion, but because I was not working in a dedicated cocktail bar, I could not really carry out a conversation about our profession.
Like how you make an old fashion, what is the Negroni? I can not have this conversation because the experience was not behind me because I was working in a restaurant that needed to make foodie style cocktails that appeal to girls and whatnot. Although I'm a Malaysian champion, but I'm really, really lacking in terms of the basics as a bartender.
I don't have the foundations of the cocktail recipes and all this in my fingertips. That was the biggest lesson overall. I'm not the complete bartender at that point. So that's what pushed me to open my own bar.
Ling Yah: Eventually you opened Omakase + Appreciate in April 2013 with your partner Karl Too, who I understand you met at Tate? How did that happen?
Shawn Chong: So yeah, we met at the competition but we never really kept in contact.
When Karl was at Tate, somehow he reached out to me maybe because I was freelancing. I had a lot of free time. I would visit two to four times a week or just go and hang out, you know?
Then we got to know each other a little bit. And eventually we led to opening Omakase.
At that point we had a similar vision.
He was quite into cocktails.
For me, I wanted to improve myself. And at that point there was no bar or hotel that would hire me to allow me to improve because you're a constraint to the systems. So yeah, I said I had to open my bar if I really wanted to learn how to make a dry martini. All these classic cocktails.
Ling Yah: When did that urge to open your own bar start?
Shawn Chong: I think it was 2011, 2012, because one Chinese new year one of my aunties were like, Oh, my daughter has a cafe in Lebuh Ampang. She needs a bit of help. She's not an FMB person, but you seem to be doing well in drinks. Can you go and help her?
So I said, yes. Okay. I will go and help and see what, how I can help. And from meeting her, I met the owner of the building, which is the owner of Ming Annex.
And just out of the blue, they were like, hey, we have a space downstairs. You might know what to do with it. It's been vacant for years.
We don't know what to do with it. And at that point I had already traveled to Singapore and there were already kind of specialty bars. I said, okay, this will be perfect for a speakeasy. But at that point of time, I was supposed to be posted to Jakarta for a job under Diago.
But the economy was not doing well in the region.
So they cut the position. And I was left with no job. Then I was like, okay I need to do something now So then I said, okay, let's see if we can open the bar.
Ling Yah: Were you a bit concerned because if I understand the first three years that you were open, you were the only speakeasy in town. So it was brand new in this country at least. But you were convinced.
Shawn Chong: I was not convinced.
I was convinced with my talent. I was convinced with what I can do with drinks and the exposure I have. I was not confident whether the business would take off.
Ling Yah: It was unusual. It was just pure word of mouth. People can't even find the door if they don't know what they're looking for.
Shawn Chong: Yeah. it was really a big risk. It was probably set up for failure, But yeah, I think the stars will align and things were working for us yeah. Seven years.
Ling Yah: Yeah. And you were inspired by the 1920s prohibition era in America for the whole set up.
Shawn Chong: Well, at that point of time, when you're into the global button scene and I met people from around the world you kind of get a little bit of Intel from all these people. And at the time, the cities that people will look to for bartending would either be London or New York.
These are like very established cocktail markets. And one of the bars that were really there was making ways in the world at that point in time was the backup PDT. Please don't tell in New York.
So they were one of the first speakeasies to really globalize the brand. But it really got out there. Everyone knew PDT the new speakeasy of the world and a lot of bars fell through.
So we just wanted to jump in on this trend. It seems cool. It's a no brainer. 1920s prohibition, speakeasy. It already says cocktails.
Ling Yah: But it was something of a high-risk business right. You had trouble even getting a loan from banks just to get it off the ground.
Shawn Chong: At that point I was what, 26 years old, I guess I had a nothing to lose kind of mentality, I'm young. So if I fail at this, I have a chance.
So we were going around and trying to see how to make it work. It was from possibly joint venturing from the management team of the building. There were not confident in our idea because there's no one else in KL doing it.
The next step was trying to get other people involved with the business like investors. But even investors were like We don't know if it's going to work. So, no. And then luckily one year I set up the courage to ask my uncle, he was present for Chinese new year. I was like, I want to open a bar.
What? You helped me do the best. I knew that he was one of them. So I was like, okay, let's just try it.
I don't know if he believed in the idea yet, but I guess he believed in me as a nephew. Okay. I think this is something worth investing in to help you build your future. And yeah, he lent me 100,000 and I managed to see what I can do with 100,000.
Ling Yah: It must have been stressed though. Although it all worked out because you managed to repay in a year.
Shawn Chong: 18 months, 18 months, I think we made it back by.
Yeah, it was stressful. It was stressful because there's a new business owner all of this credit terms And there's always that part when age is not on your side at that point, Luckily, people knew who I was from my competition, everything. So that helped by let's say I was totally new. you need to prove your records.
Ling Yah: So how do you guys come up with the Omakase concept and to blend your two styles? Because you're quite a Japanese approach, right? Whereas Carl is more of a Westernised approach. So how do you blend all that together? Since it was such a bartender centric, speakeasy.
Shawn Chong: Well, first of all, we went with the Omakase because we had no idea how the Malaysian market would respond.
And if we did all Omakase, we have a chance to at least guide your experience. At that point, really, unless you are from the U S or the UK, most Malaysians didn't know what a dry martini was, what the proper cosmopolitan was. So at least with the omakase style you can tell us, oh, you want something vodka that's a big fruity and we'll make your Cosmo, we had a chance to guide your experience and also guide your education in terms of learning cocktails.
We blended that with our styles just to offer something different. and 2012 let's do something that no one's ever done before, which was firstly, an L shape bar inverted.
Most of the time, it will be our bartenders on this side and customers on the other side. So this was an inverted L and we just wanted to say most bars have standard stations. There's no difference in style, but I'm Japanese style and your Western style. Can we do two different stations? So we said, okay, let's try it.
So yeah, that actually worked because we actually managed to display different styles of bartending, different ways of making cocktails. In the sense like my approach is different from Karls, the same drink and et cetera, taste different depending on your foundations.
Ling Yah: And you guys were changing menus all the time? I think once a month to like once every six to eight weeks.
Shawn Chong: It was getting stressful towards the end of two and a half to three years. And the first two years it was still fine. We were changing menus every month.
So why did we change every month was one, just offer something different to customers every month.
Secondly was to accelerate our learning. So I built Omakase to actually train myself. I want to be the best at making classical cocktails. I want to know all the 70 to 200 cocktails that's in the international classic cocktails. So then we would change the menu to put it on a menu that if someone orders it, at least we've made that drink once.
Even if it gets ordered once, at least we made it once. That was the idea. So that's why we changed it.
We were doing 2 special things. So our own creations and three classics. So we'd have a menu of 10 every month. We did that for one and two years every month. It was then starting to take a toll on our inspiration for flavors was like a bit harder to draw inspiration and to make things.
So we stretched it out to every six to eight weeks. We changed the menu.
We were like in the deep end on Friday, Saturdays, cause we were the only speakeasy in town for three years and we were busy after six months. So it was full on like Friday, Saturday.
So it was packed, packed, packed, packed for four months. So it came to a point where we were afraid of our own business, just so busy, okay. Just to prepare for it. And let's prepare for war kind of thing.
Ling Yah: How did it even grow to such a huge extent when you weren't even marketing yourself?
Shawn Chong: I guess that really validates the true marketing tool of word of a mouth. People were just like, this is new speakeasy in town, it's really cool. we want to show you what it is and they do really good drinks. So I guess that was really the pull factor. We were really consistent in our drinks.
It was like, this is the best in KL So there was no one to fight us at the time. No hotel. No pub could come close to us. So we were the place to go for cocktails.
And I guess it helped that we went into the city center. So in the city center, we also cater to tourists. So a lot of tourists came and expats, they're living in the city or work in the city.
They also managed to come and find this that helped because expats and international guests, they actually do drink classic cocktails. So they will actually come in for the whiskey sour, a daiquiri, a margarita, these kinds of things. But yeah, we really took off after three months.
Ling Yah: And you were also securing, rather big names like guests button, the succumb in like Reme Savage to guest.
And they would sign your menus and you were framing it up on the wall.
Shawn Chong: Yeah. Yeah. So that has always been part of the plan because I started as a guest in 2011. So you go to other venues, you go to other countries to part-time. So we figured that will be a good promotional effort.
And that was the only kind of promotion effort we did for the bar, which is to bring in these high profile partners to showcase different styles of drinks.
So people were just like coming in throngs. I remember the craziest one was actually Nico the Soto. So Nico the Soto is actually the owner of Mason, New York and Banico in Paris. He came over and he's a global name.
He could only come on Chinese new year.
So we actually opened on the second day of Chinese new year. But it was packed to the brim, like packed to the brim. The more recent one that we brought in wasHiroyasuKayasama. He's a bar maverick in Tokyo, also a global name because he did something on YouTube. So everyone knows him that one as well.
It was so packed. It was a good, kind of package.
Ling Yah: Was it hard to secure these big names?
Shawn Chong: Not entirely, because usually a lot of bartenders like to do it out of goodwill. Like, Oh yeah, sure. I've never been to Malaysia. Let's see if we can make this work.
The only difficult part is to sort out the logistics. Who will pay for post flight, so that is when we will get alcohol suppliers to kind of help for the bill. Then we'll use their brands. But otherwise it wasn't too difficult because I had already been in the scene since 2009 through Diageo.
So that already helped to propel me as the prominent bartender in Malaysia. At the same time, Karl he's very big on social media networking. So he was already building the network overseas without even knowing them or meeting them in person. He would like chat with them and say I'm from Malaysia. So he had quite a bit to do with the guest bartenders coming in. And also again, being the only bar for three years, brands who wanted to bring people in this is the only bar they could feature.
Ling Yah: Obviously you were running this to learn how to run a bar properly. And the mise en place is the most important parts, All the work you do before you open.
Shawn Chong: So my staff come in at least one hour before to start prepping. So in the first year was us coming one hour earlier before to start prepping. Sometimes even earlier.
But just an idea would be to press lemon, lime juice, fresh every day. We do our own homemade syrups. Maybe that will have to do once every week. Cleaning. A lot of cleanings are done before the bar opens.
Apart from that, we didn't do too much actually, because we weren't very big on advanced techniques to make cocktails. For example, using sous vide machines and all this happening that we were very simplified that way.
But yes, mise en plus, and the preparation beforehand is super crucial.
Our Fridays, Saturdays were very busy. If we did not prep enough lemon-lime just for those two days, we'll be deep shit. And when it comes to the, in the middle of the night, cause if we ran out, we just have to squeeze things on spot and that takes time. So yeah. Preparation before operations always, et cetera.
Ling Yah: And certain things I read are very, very crucial to what you do. Like lemon, sugar, ice. There are like different types of ice and even the lemon. Malaysian lime is more sour than other limes elsewhere.
Shawn Chong: Correct. Correct. We tasted the lime and lemon juice everyday. So we get an idea in our minds, even the same species of lime have different sweetness and sourness every day.
So then we need to adjust our recipes. You know, this should have served that we choose, influenced texture. ice is super important. how cold your ice is, the size and all this. It matters. There's so many things that go on behind the scenes. just like a kitchen so much preparation that goes into making a dish. It's not as time consuming as making a dish, but a similar process happens for drinks.
Every element, like making sure there's enough stock. What gin do we choose for the drink? What sugar do we use? Do we use Brown? Do we use white lemon juice? Do we get lemons from Turkey or do we get lemons from, I don't know somewhere else.
Do we use Thai limes, do we use Malaysian limes? Do we use calamansi? Or the ice, do we use block ice? Do we use cube ice, do we use crushed ice? So there are still many elements that we still need to decide on for the appropriate cocktail. It's not as time consuming as behind the kitchen, but there's similar process and similar identifications of things that you need to do.
Ling Yah: So within two years, you decided that you wanted to give another shot at the Diego competition to see how you had grown.
And you went to the global finals again for the second time.
Shawn Chong: That year was a highlight with my career because Omakase opened 2013. So basically about two years for me to practice bartending and improving my technique. And also understanding of flavors since we're changing menus every month, understanding how to fuse flavors together
So in 2014, they announced that the global finals are going to be in Cape town. I'm like, I want to go to Cape town. So that was kind of a driving force. So 2015 was a highlight because not only did I win Malaysia again, that year, the competition itself had already expanded, like it's much longer process it's a full on thing for basically almost 10 months of the year.
So basically I won Malaysia, and then we progressed to the regionals. So the regionals was held in Bangkok every year and we were competing against all the Southeast Asian countries. So Indonesia, Philippines Singapore, Thailand, Vietnam with the guest country that year was Hong Kong,
Ling Yah: You had a speed challenge competition in Bangkok, right. And then you made like nine drinks instead of eight drinks in eight minutes.
Shawn Chong: Yeah. That was like, it wasn't the plan. I was like I had eight drinks. I completed it in seven and a half minutes.
I had 30 seconds. So I just poured a whiskey soda and one of my mentors was there. He loves whiskey soda, so this is for you. So yes, technically I complete that nine drinks in eight minutes.
Ling Yah: I understand that there's a difference between a classic cocktail and the competition style cocktail.
Shawn Chong: Yes. So classic cocktails, those are basically your basic recipes. So if you are a chef, he will learn your basic recipes for your sauces. But you have a cream sauce. You have a tomato sauce, you know, you have your basics. So similar for bar, we have our basic recipes which are like dry martinis, which is just gin and remove.
So then a competition style would usually be something of a riff on the classic or vermouth. Totally original. So this way you interject your original personality to drink.
After regional, going to Cape town, it felt really nice because I felt like I was a full bartender and I could carry out a conversation with you about drinks. I could discuss to you about technique or ice. I wouldn't say I was the best. There were still bartenders who were way more experienced than I was. But at that point I felt I was much, much more complete than the past two Diago competitions.
And at that point yes, I have much more room to go, but I think this will set tone for the next, you know, how many years.
Ling Yah: Because you came back and then soon after won the 10 spot of Asia's 50 best bars, right. In 2016. That must've had a huge impact on you guys.
Shawn Chong: Eh, it did. It did, but not as much as we thought. So 2016, cause I was doing competitions throughout my whole career after the point.
That the marketing for Omakase + Appreciate it was just always there. I guess also doing very well in the competition helped boost the bar's name.
Just to give you an idea. So 2015, out of about 60 bartenders, I was ranked 25th in the world. That's a big deal. So I guess that translated into the bar doing very well .
Then in 2016, yes, we were announced the 10 best bars in Asia.
We appeared in local publications and then people were starting to come. This must be the best bar in Malaysia. So we'll all go.
And when we say we all go, we started getting families like mom, dad, sister, brother, without coming to the bar because they thought it was a restaurant.
Globally, of course it propelled us onto a global scene a little bit more. We got more guest bartenders who wanted to come to guest shifts.
But I wouldn't say that after we got the 10 best bars in Asia 2016, I won't say that the business grew exponentially.
It was kind of about the same.
Ling Yah: Do you think it's because it was also the start of the cocktail bar boom. And everyone was opening a bar. I think there was also the 2015 Singapore cocktail festival. Everyone's coming in and taking a slice of that pie.
Shawn Chong: I think you're absolutely.
Right. So 2016 is the time when a lot of bars in KL started to open. People were looking for something new since they were already at Omakase for three years. So yeah, we saw customers less cause they will actually bar hopping and trying all the other bats.
Cause that was our goal actually with Omakase, which was to open up the industry. It took three years to do it. But yeah, we have bars to go to now. We have bars that are trying to do good cocktail programs. So it's encouraging to see,
Ling Yah: And I think finances is something you've mentioned before.
That was something you struggled with. I think, especially when the GST, then the SST hit
Shawn Chong: Yeah, as a new business owner, I would say even three years into it, I was still a young entrepreneur, so there's still many things that I did not understand.
And I did not have a team that could help the learning process as a team. Like I didn't have a full time accountant. I didn't have a full-time like management team. It was just like me and Karl managing the whole thing.
But yeah, as a young entrepreneurial, we dealt with the punches and one of them was to try to keep the business afloat with maintaining the cash flow.
But what I never anticipated was there are more costs on the outside of the business that actually eats into your profits.
We can make a certain amount of money. You have revenue tax. I knew that was revenue tax for the business, but I did not know how much. So every day of the year, like we had our profits, but you all go to pay tax.
So there's nothing to push forward for the following year. The business would have been all right, if we were not gung-ho young entrepreneurs, because we tried opening a new outlet in 2015. Spiral. So that greatly affected our cash flow because our money went there.
2013. The stars are not aligned in terms of what business cause while opening spiral I got a contractor who stole money and ran away, so that also left a big bend to now cashflow. And then yeah, then GST and SST, because I was not an accountant. I did not have know how to actually properly navigate it.
So that was eating into the profits a little bit, a little bit here, a little bit there, they just compounded over the years. And when I said we're just dealing in the punches that it comes, so it's just like trying to get help at a time, Can you help me, do you think he gets on my accounts or you should refer to a new accountant, but she's too expensive or shit.
Okay. What do I do? So we tried to still make it work, but yeah, it was really a struggle since 2015, to be honest.
Ling Yah: So what would have been the biggest lesson for you looking back? What will you do differently?
Shawn Chong: Well differently is get someone who can advise you on the finances because that's ultimately what you're in it for businesses. To make money.
Yes, the romantic side is to build a bar and the concept and a great place to go to. But ultimately the bottom line is money.
I was not willing to invest more money in someone who can manage the money. I was like trying to get by with the cheapest possible option, which was getting you the basics like bookkeeping and that's about it, which was not enough if we wanted to pull along a business.
So that is what I'm doing for my current brand is getting someone who actually knows about finances and can advise you whether this is a good position and not a good position, what you need to do next or you know how to work around it.
Ling Yah: In November, 2019, you actually had a conversation with Karl. Could you share a bit about how you came to the decision to close in December?
Shawn Chong: Well, it came down to money.
Is this still a feasible thing to keep on? Just plodding on and trying to recover, but it's not actually recovering Cause we were just able to pay off our stocks month and month. I was actually running to retail shops to buy only cash delivery basis because our accounts were basically being blacklisted.
So it's a constant struggle. I don't want it to sound morbid, but it's like when you reach that point in your life, you have so debt that people decide to commit suicide.
So it's like, if we can't continue this business healthy, I think we should stop it, so that we can do other things to recover back this cost, and set it straight.
Ling Yah: So what was the plan when you decided to close the bar down? I mean, there must have been lots of things that you had to start shutting down.
Shawn Chong: Yes and no. Yes and no. Because while already deciding to shut down the business Previously, I already signed the new tenancy agreement because I thought it would follow through, but then things just compounded. And of 2019, I was like, okay, just call it quits.
So I had already a plan to take over 100% and do something new.
There was not much to do in terms of closing down because I already signed a new agreement. It's just a matter of whether I could renovate or not. I was already downsizing my inventory listings. So like I was not buying a lot of stock in the last few months of operation.
I didn't have many staff. I have one staff member with us, so that was not difficult to manage. I mean, the brand was shutting down, but bar I was still going to continue it so I could hang on to the equipment.
I could hang on to whatever existing spot that was still there. It was just a matter of time when I could continue running in that space.
Ling Yah: After that you were at Los sombreros and also you started the bar class Academy Asia?
Shawn Chong: Yes. So I guess 2016 to 2019, I was still young.
Just try whatever, you know, people were asking me to do this to the, okay. Let's see what partnerships work and what don't. I'm paying the price right now, but I guess I'd rather learn it before then now. Whether the partnerships work, how much goes into building a new brand.
Lost sombreros, I guess stemmed from my itchy hands. because Sparrow failed. There's something in me as a PJ boy that I said, maybe I could still do something in PJ and PJ people, but it was very, very difficult. It was an uphill battle for the full two years that we were operating.
Ling Yah: Why do you think so?
Shawn Chong: Different market, different demographics, different location. So like in the city center you have more variety of customers. You have locals, you have expats, you have tourists, everyone's in a city basically. And you have urban professionals, whereas in PJ You get more of the neighborhood crowd.
So the neighborhood crowd is looking for value. They're looking for happy hour. They are looking for experiences, but I guess we were a bit, no experience in that sense, because my drinks were very simple. We weren't doing the Instagram thing or very fancy garnish or whatever. I did try it. It did help.
Like I was doing something out of my comfort zone while at Los Sombreros, like having umbrellas in my cocktails It helped. But yeah, it was just very different demographics, very different mindset. We didn't have enough food options.
It was an expensive lesson, but I also learned a lot from doing that business.
Bar Class Academy on the other hand we started actually in 2016 under rad impressions. So I started off quite well because there was no one else doing education at the time, even now, for bartender education, we're still the only one. We started with the industry in mind trying to offer them skills and knowledge because people, customers will come to us and say, you know, XYZ bar doesn't make good drinks. Then we're like, this is a big problem.
Come to KL, you can never get good drinks, et cetera at my bar. So that was an issue I try to fix with education.
We catered to the industry a little bit, but then we found a lot more consumers signing up for our courses. And again, it was still back to the bottom line. We need to make money. And so we catered our courses more to consumers because they were paying this.
And then it took a couple of years and then we've rebranded to Bar Class Academy Asia. We have new partners, alcohol suppliers, basically So then we started to try to cater back to the industry, but at the same time also maintaining the consumer base.
So now it's a bit of a 50 50, but now we have to replan everything again because of COVID.
Ling Yah: So speaking of COVID, how has that impacted you and your industry?
Shawn Chong: Really, really difficult. And really really good.
Really, really difficult in the sense of not having the proper job for nine months. So not having salaries and closing down the business that are causing costs that you need to recover.
Full disclosure. There have been a couple of months where my wallet was close to zero. There's nothing in the bank. So that was worrying, very worrying.
But good in a sense that now there are people who have given me opportunities that luckily I took, if it wasn't for me taking them, I would have been stupid.
So like when chef Takashi of Cilantro reached out to me and said, would you like to sell cocktails? And that led to the owner of Mikasa liking what I did saying, Hey, would you like to help us with the revamp of the restaurant? You can do your own brand in Casa. I said, yeah, I just need a space to work.
So yeah, 2019 has been worse for the better, even mentally, I went to the lowest, low, almost depression.
Coz like, what do I do in my life? the country's going crazy, not allowing alcohol, drink driving, everything. But in hindsight it made me realize what I really love doing, which is bartending. There's nothing else that trumps it. So how do I make it work? Fortunately, doors have opened and I get to do it again.
I guess when you go to the lowest low, you just need to open up. So previously to this year, I guess I was still very hard- minded. I was already running Omakase + Appreciate. Yes. There were years that were in a way of. Failing, but I think I know how to recuperate from this. I was building a new business concept but I still wasn't exactly reaching out to people. I was like, I can still do this on my own, but then this year I was like, okay, I don't think I can do all this on my own.
So I started reaching out to people or talking to people, and I guess that really helped build a better understanding. Like some people will just ask questions that make you question whether it's the right way to do this or not Like what's the best way forward.
Do we do one bar? Do we move back? When do we execute? It made my mind a bit more open this year, willing to accept more advice or ideas and opinions.
So music, Cami is now my new bar collective So muzukami means mizu in Japanese means water. Kami in Japanese means God and kami in our language means us. So I tried to build like a community.
I was putting on a membership program like floor with water, go with the punches for two nights, I can not sleep. How do I make this work? So I was thinking of it how, and it came to a collective. so rather than have two bars, different concepts, they call it sister bars. like Callie and fine. similar management, but different concepts, different So I would just want the one brand to kind of feature throughout. So then I said, can I do this and do sub concepts? So this one in Mi Casa is Mizukami Highball.
Mizukami Highball Is basically a reference from the izakaya concept because it's in the restaurant called shiso, which is casual Japanese. I figured, okay then no, that kind of clientele and that kind of concept would do well with whiskey highballs, which is within soda, basic gin and tonics. Classic cocktails.
Of course, that's never going to run away from wherever I'm on bill menus. And we're also doing zero proof. So no alcohol So yeah, Mizukami is now a collective, highball is that mean? Mi Casa. Now you can find me there six days a week. Mizukami cocktail.
That's the one that's going to be in the mechanic space that is slated for Q2 next year. as a collective, I'm trying as well to see if we can work with different venue partners to feature our menu so that you can even potentially.
Eventually we do like the mizukami bar hop. Can have different drinks in different locations.
Ling Yah: What's the best way to put your foot into the industry?
Shawn Chong: Find a bar, get a job.
And try to stay there for a while, like six months or one year, even if it's not a good bar at least you get to learn why that bar didn't work, and when you progress to another place, that's a bit more professional and you get to identify, oh, why despite as much by them in this bar, rather than if you'd go in for two, three months, and then basically you say, Oh, it's not sitting my working style.
So I quit. you still haven't obtained the grasp of that business or what you can do.
To give you an example. When I took the management job, the owners were just like you just creating cocktails that cater to the customers here. And that is a challenge that you should fulfill.
As a bartender, it doesn't matter that you can't learn what you want to learn eventually, but at least try to make the best. If you have pushed that envelope to the limits, then you can say, okay, this place isn't working for me anymore.
Try to stick to a place unless it's really, really shitty and you can try to find a better boss, but ultimately it's really what you make out of it. You negotiate with your owners or your managers to help you put something on the menu is proactiveness.
If you think the bar is going to give you a career, I'm sorry. I don't think it's that way. It's the other way around. So I personally worked hard at every venue that I had. Like, what can I do, should I do this? I talked to my owners, can I implement this menu? Can I buy these products? Of course, there's going to be a negotiation.
Yes and no. But have you done it? If you've not done it, you're pampered. You're waiting for something to happen, but you're not making it happen. If you want to be a bartender, you've got to do what it takes.
Ling Yah: Well, thank you so much, Shawn, for all of your time. I normally end with all these questions. So the first one is, do you feel like you have found your way?
Shawn Chong: Yes. I have definitely found my why in terms of being a pioneer of the Malaysian bar industry. So be that example to be that leader, I don't have to be the best. I would like if someone could be better than me, anyone younger who strives to be better than me, but at least from my standpoint is someone who's trying to push boundaries as someone who's still maintaining standards, they're still someone who really loves the bartending craft.
That's why I'm still working six days a week, I love mixing drinks
Ling Yah: And what kind of legacy do you want to leave behind?
Shawn Chong: I think I've already left the legacy, but now it's enforcing that legacy. I opened Omakase + Appreciate, and everyone validates it and that was the start of the cocktail scene.
Although we were not the first speakeasy, but we were the first bar to do cocktails, 100% .
That I guess the legacy I want to leave is 30 years down the line, 50 years down the line that my name will appear in some Malaysian cocktail book where I helped to build the scene. That's it.
Ling Yah: And what do you think are the most important qualities of a successful bartender
Shawn Chong: One responsible, responsible for your job, responsible for what you do.
Second quality is to be humble and no matter where you've achieved, there's always someone better than you. There's always something you don't know. That's why I like talking to guests because there's something I don't know.
So, especially in international, where'd you come from? What's good in your city. These are knowledge that's invaluable cause you never know. You'll be talking to somebody from the same place or similar location next week.
Many years ago in Sunway, my chef, a colleague, said he went to Turkey and he brought back a bottle of mineral water bottles. So Shawn is, I think you should like this since you're into alcohol everything. What is it?
Pelinka.
Pelinka is an Eastern European branding. So I had never heard of it. Okay. This Palinka.
So he gave it to me. He said it's ok, you can have. I've already had a lot in Turkey. many years later I kept that bottle with me. And there was this one night that a couple of Caucasians came into the bar. One was an American and one was a Romanian. So we were just chit chatting. Well, and I would occasionally ask, what do you normally drink?
Or what is the alcohol that's from where you are? And then I have known that Romania also has Pelinka. So then I was just like we were just chatting, I can't remember the exact point, but I said, I have something for you. So I went back to my office and got this bottle of Pelinka and they poured him a shot.
And then he drank it. It's like, what is this? It's like Pelinka. But how do you know Pelinka? Yeah, because my friend went to Turkey and everything and they were like, how do you have Pelinka? Like this is not available in this part of the world. Like, yeah, my chef ran and I kept waiting until today. So your lucky day today, you actually have Pelinka.
So it's these instances that you never know will happen? And it's your in a way, I guess the satisfaction and part of the job as a bartender. I love connecting with people and that level. So yeah, it's a hard job. It's a physical job. but if you really want to be in this then you'll make it work.
Ling Yah: And where can people go to connect with you and support your work in front of what you're doing?
Shawn Chong: At the moment you can come to Mikasa hotel. We are in shiso dining and there six days a week. Usually often Sunday. So other days you can find me Q2 lecture, I'll be more based in Mizukami Cocktail that we will act as our HQ.
If that happens, hopefully Q2. But yes, currently highball.
Ling Yah: And that was the end of episode 34. The show notes and transcript for this episode can be found at www. sothisismywhy.com/ 34.
If you want to get updates on the latest episodes, as well as other fascinating things I learned over the course of the week, you can sign up for the weekly newsletter at the show notes link too.
And stay tuned for next Sunday because we will be meeting the former CEO of IBM Malaysia, who also happens to be its very first female CEO.
We talked about her life journey, transitioning from a technical to marketing division, why she took two sabbaticals at the peak of her career, and how she has managed to stay relevant and thrive in her role as CEO.
See you next Sunday!