Welcome to Episode 9!
Our guest for STIMY Episode 9 is Rabi Chandra Malla.
Rabi Chandra Malla is the founder of KOLPA – a social enterprise based in Kathmandu, Nepal that aims to promote sustainable & exclusive handmade goods produced by various indigenous communities from across the country (including the nomadic Raute tribe!).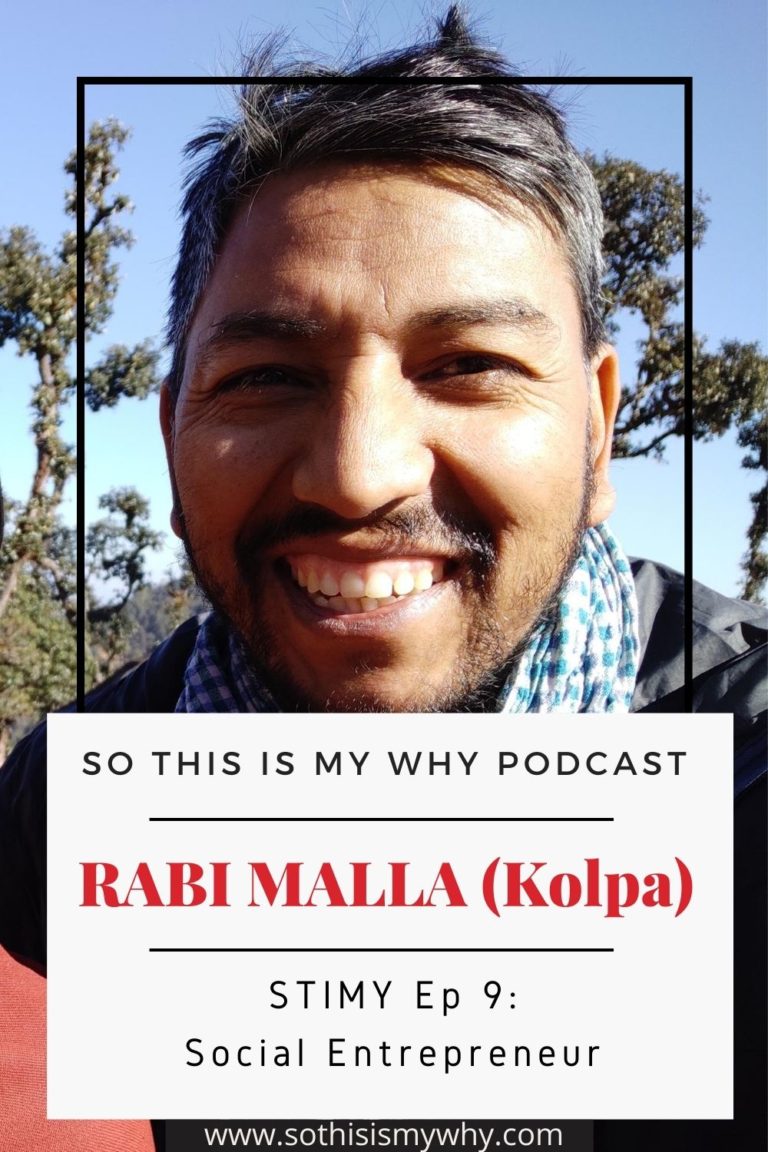 Who is Rabi Chandra Malla?
Rabi was born in Bhaktapur and grew up in Kathmandu, Nepal. 
Having spent his formative years in a boarding school for the children of ex-police officers, Rabi became aware of the growing mental health issues in Nepal. With that in mind, he applied to study psychology in the US in 1998. 
Living in the USA

 
In the 12-13 years he spent in the US, Rabi would read news about Nepal being an underdeveloped country and felt that Nepal needed to have its own self-sustainable economy or they would always be dependent on foreign countries and donations. 
It was 1998. The time of Yahoo, Netscape, and Lycos with Alta Vista as a search engine. Google was in its primitive form and no one had heard of Amazon. 
Due to the influences of other Nepalis in his university, he switched to the field of IT and ended up with a Bachelors's in IT. 
Returning to Nepal
The first time he returned to Nepal, there was political turmoil in the country where businesses were ordered to be shut.
Nepal was going through a lot of difficulties then. We used to have 16 hours of blackout every day. The average was 12 hours. Imagine running a business with 12 hours blackout every day.
He, therefore, returned to the USA to pursue a Masters in IT and returned again to Nepal in 2011 with his wife and two daughters. 
For the next 3 years, he would look after his daughters at home while his wife pursued her career. But during that time, he did an extensive amount of research. Met local craftsmen and attended fairs, understanding the local artisan landscape. 
Starting KOLPA
The beginnings of KOLPA were difficult. People didn't know him and he had to build trust with each and every person from the ground up. 
And in STIMY Episode 8, we dig deep into how Rabi faced & overcame each of these challenges. From working in his basement to moving to his first physical store at Lazimpat (and why that was important!) and how he ended up in his current location at Jhamsikhel.
If you want to do something that you want, then entrepreneurship is the way to go.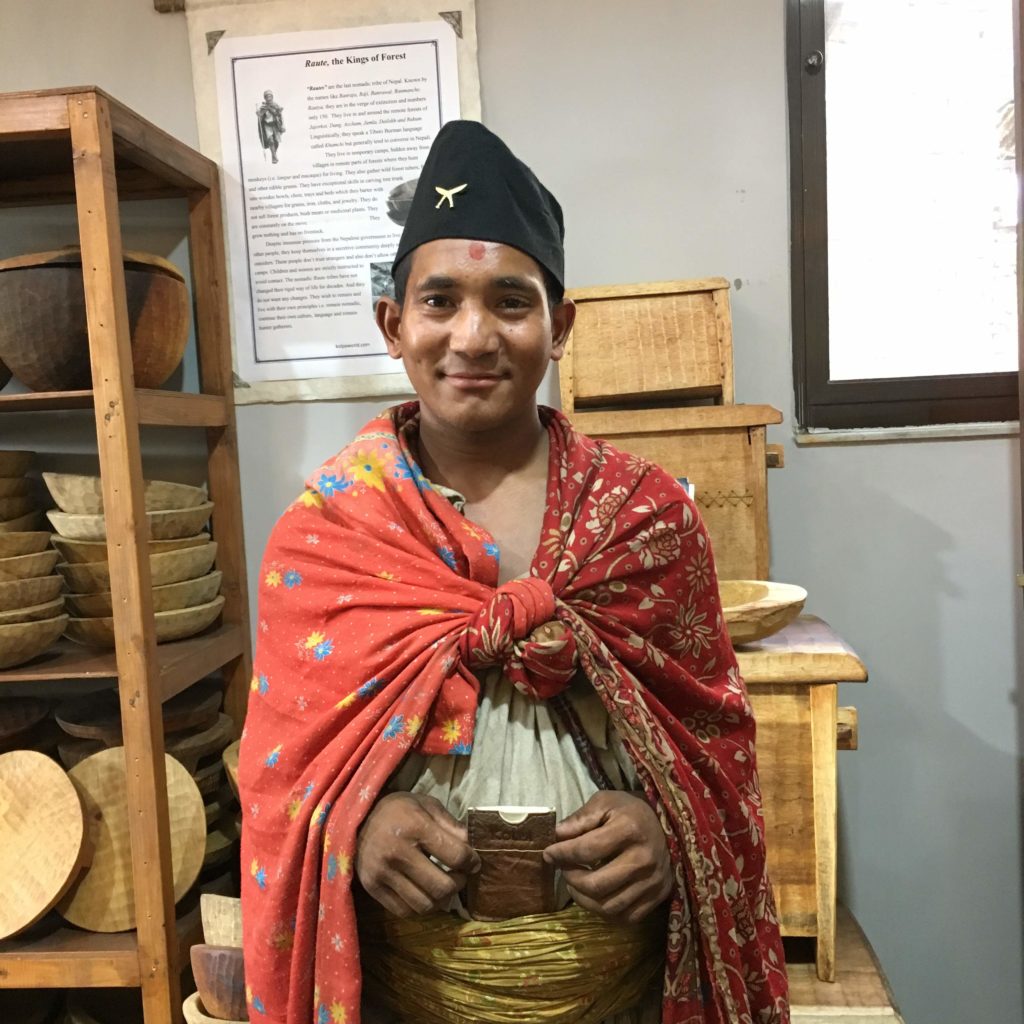 Other things we talked about:
The lives of the various indigenous tribes scattered across Nepal;

how he first gained the trust of the communities;

How he gained attention from prospective buyers both locally and internationally; 

The challenges of running his business (hint: transporting local products on the backs of humans through some of the world's highest mountainous regions down to Kathmandu!);

How he determined a fair price for producers and customers alike; 

The changes that have been introduced to the communities;

How COVID-19 has impacted KOLPA & the local communities; and

KOLPA's future.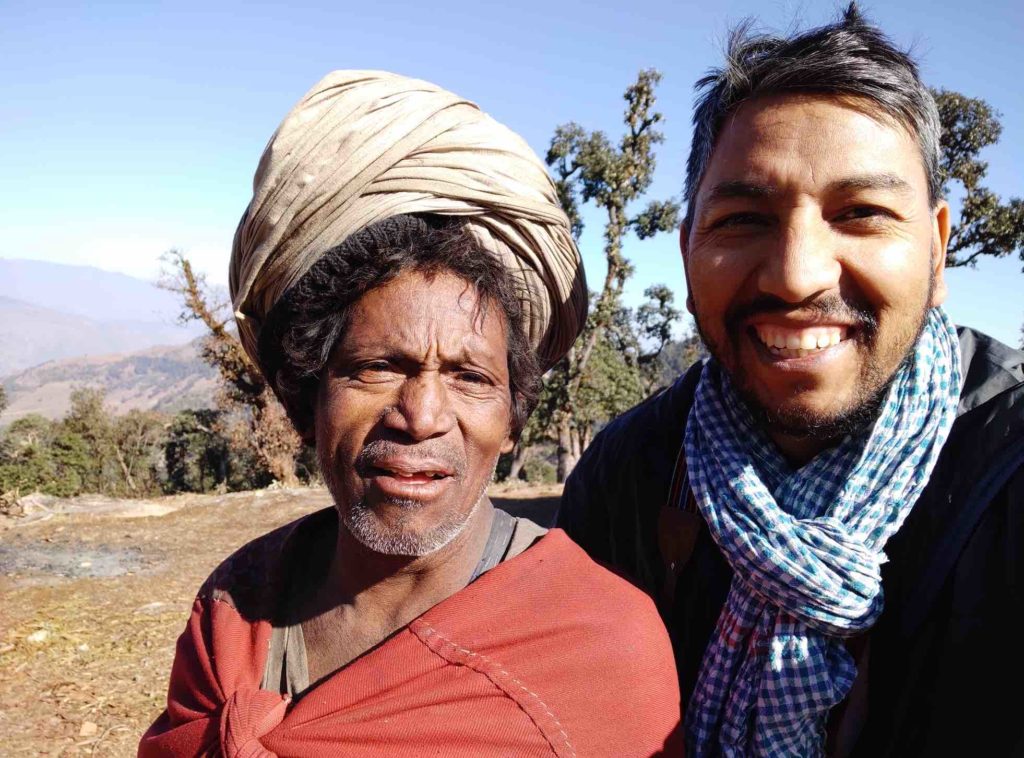 Bonus: Show-and-Tell Videos
As a special edition, we also did a series of show-and-tell videos where Rabi selects some of his favourite products in KOLPA, tells us the origins of each item and why the people made them are so special!
If you're looking for more inspirational stories, check out:
Austen Allred

: Co-Founder & CEO of Lambda School – a coding school that lets you attend for FREE using the Income Sharing Agreement (ISA) scheme, where you have to pay back only after earning above $50k/year. Graduates of this Y Combinator backed startup have gone on to work in Fortune 500 companies like Facebook, Google & IBM

Rahul Chaudhary

: Managing Director of Chaudhary Group – a 140-year-old family business empire that is currently headed by his father, Binod Chaudhary (Nepal's 1st & only Forbes billionaire)
Lincoln Lee:

 Founder, RICE Inc – which won the prestigious USD $1 million HULT Prize award for social enterprises (organised by the UN & former President Bill Clinton)

Guy Kawasaki

: Chief Evangelist of Canva & Apple
Malek Ali – Malaysian serial entrepreneur most known for founding Malaysia's top business radio channel, BFM 89.9 & Fi Life
If you enjoyed this episode, you can: 
Leave a Review
If you enjoy listening to the podcast, we'd love for you to leave a review on iTunes / Apple Podcasts. The link works even if you aren't on an iPhone. 😉
Send an Audio Message
I'd love to include more listener comments & thoughts into future STIMY episodes! If you have any thoughts to share, a person you'd like me to invite, or a question you'd like answered, send an audio file / voice note to [email protected]
Inspired? Want to Learn More About How to Support KOLPA?
KOLPA Address: Jhamsikhel-3, Jhamsikhel Marg, Lalitpur Kathmandu, Nepal

Email:

[email protected]

 

Phone number: +9779851162725

Subscribe to the STIMY Podcast for alerts on future episodes at Spotify, Apple Podcasts, Stitcher & RadioPublic  
Leave a review on what you thought of this episode HERE or the comment section of this post below.
PS:
If you want to get an alert about upcoming episodes & be the first to know about freshly booked guests, subscribe to the newsletter below!
I'm constantly sending out information about guests & also asking for questions from my subscribers. 
You don't want to miss out!!
Ep 9: Rabi Malla [KOLPA]
Ling Yah: Hey everyone.
Welcome to episode 9 of the So This Is My Why podcast.
I'm your host and producer, Ling Yah, and today's guest is Rabi Chandra Mala, the founder of a social enterprise called KOLPA , which is based in Kathmandu, Nepal.
Now I first came to know and meet Rabi when I was in Kathmandu earlier this year, just before the country went into lockdown, due to COVID-19 .
Rabi operates a social enterprise and in Rabi's own words, that is: Rabi: A social enterprise is a business in the sense that you have to sustain yourself as well, but not putting the money first. It's not only about the KOLPA that's growing every day. It's also the life of the people you're working with. They should also grow along with you and also without giving a negative impact to society and the environment.
Ling Yah: KOLPA sells some of the most beautiful handicraft I have ever come across .Works of art made by indigenous communities all across Nepal from the highest mountainous regions accessible only by foot down to the lush Southern hilltops where straw mats and wild nettles originate.
This is Rabi's story of why he chose to start a social enterprise, the processes and challenges he faced in the early days to be where they are today, the impact that KOLPA has made on the various Nepali communities and his advice for others seeking to do the same.
But before we begin, I'd love if you could head over to Apple podcasts to leave a review, I love hearing back from my listeners and knowing how I can improve and who knows, I might give you a shout out in the next episode.
But until then, this is episode nine of the So This Is My Why podcast with Rabi Malla.
Are you ready?
Let's go.
So for people who have never been to the country before, can you give us an idea of what your childhood was like?
Rabi: My father is an ex police officer and I went to police school, which is established for the children of an ex police officer.
When I was 10 years old, I went to that police school for eight years, I just stayed in a hostel.
And finished my Grade 10 that schooling period was more of being disciplined and, everything was about the routine. Being yourself, responsible cause there's no parents. Even if you are 8 years old, 10 years old, 12 years old, you have to do everything on your own.
Early childhood days. I always wanted to be a medical doctor.
And so finishing my 10th grade, I went to a college. I studied science there and finishing that, I realized in Nepal, there were some other mental, healthy issues.
In 1996, I joined my bachelor of science and at the same time, I was doing my psychology classes as well.
Cause I realized the mental health issue has been a big problem and I wanted to push you farther in that. So I moved out to US for the study in psychology in 1998 .
Ling Yah: And so was there any desire to be an entrepreneur or do you know anyone that influenced you to want to do that?
Rabi: I was in us, for almost 12, 13 years.
Information technology was my major subject but every time I read the news about Nepal, there was always about Nepal being an underdeveloped country, not being able to support themselves, not having enough human resources and always relying on foreign funds.
And I was kind of like is it because of the education system that we have in Nepal or we just, because we don't have enough people who could think of having enough knowledge to produce something within Nepal, you know. Is it always about like getting something in the form of cash or donations or any kind of thing?
So I was like, okay, you know, what if Nepal needs some development , it has to produce its own thing.
Then I realized after coming back from the US: no, we need to have a self-sustainable economy otherwise we will be fully dependent on foreign countries like foreign donations for INGOs foreign organizations. That's not how the country should run. So I think entrepreneurship is the one that would lead to that place.
Ling Yah: You wanted to go and do clinical psychology, but you ended up graduating with a Bachelors in IT. So what happened there?
Rabi: That was in 1998. Yahoo and Netscape were there, Lycos, Alta Vista was a search engine.
You know, those kinds of things. Google was in a very primitive form. We haven't even heard about Amazon. You know that period. And even when you learn about the word, like, how to do things in the world or an axle, like, even if you know how to write documents in a nice format, you'd get a job right away.
That was the time.
When I went there a lot of Nepali students , some of my seniors were doing their Masters. They were kind of surprised to hear me saying that I was there for clinical psychology.
Like, what makes you think that you could get a job in psychology?
It's pretty hard and you have to finish your master's. That's like another few more years. So you have to struggle for seven long years until you finish your masters, how are you going to support yourself financially?
And then I was like, actually, he was right. They have already had the experience. They have already done their Bachelors and they are going through the Masters. So they have the experience .
And then I was like, okay, I don't know what to do. I have a science background, I was good at math and physics. And I was like, you know, because of the time and situation then, so I switched to IT.
Ling Yah: So you graduated, so you finish your bachelor's in 2005. And then you decided to come back. Did you have any clear plans on what you were going to do when you came back?
Rabi: E-commerce wasn't in Nepal. So I was thinking of starting my own IT company here in Nepal. That was my thoughts. We didn't even have cable.
There used to be a DSL. Verizon was providing the high speed internet service through the telephone line.
At that period most of them had the landline connection. So we're thinking of providing an internet service through that. And that was my intention actually but, it didn't work out that well .
Ling Yah: And how did you pivot into the first iteration of KOLPA, which was KOLPA Traders?
Rabi: Right after 2005, I thought, I have to do something for Nepal.
I thought of promoting some Nepali products abroad and I have a bit of a background in web designing and graphic designing and stuff and you know I used to do things on my own.
Even when I was in New York, I had that passion with me. There were a lot of Nepali communities there and whoever I met in New York, especially Americans, they always appreciated the way our culture is and their arts and crafts. And so I was like, maybe it has some market there.
So then I registered KOLPA Traders as an exporting company for handicrafts. And that's how I started the KOLPA Traders.
Ling Yah: Is there a reason behind the name KOLPA?
Rabi: Yes, actually, cause the place where I was born is Kolpakot It's a historic place and that place got a new name called Jhaukhel. But if somebody asks me where I'm from, I always use to say Kolpakot cause Jhaukhel used to be very difficult for me to say .
When I came back from us and then I realized , I don't want that name to be forgotten.
I just took the last "kot" out and then bring KOLPA as a brand. And also the thing that I work with kind of relates with the name. Cause just like a name , I don't want that to be forgotten.
There are so many traditions here in Nepal which is slowly disappearing. The artisans aren't encouraged and they don't see any market in it. They're doing this just as a hobby or if they need it, they will do it.
To those artisans and the craftspersons. I have to go and encourage and inspire them not let that skills die.
It's kind of related with KOLPA. So I don't want those skills and traditions to be forgotten, that culture to be forgotten. There's a name and work I do relate to each other.
So that's the philosophy behind it.
Ling Yah: So I wanted to know in those early days, was it difficult for you to run your business and what led to you eventually leaving Nepal again, to go back to the States?
Rabi: I was a freshly graduated IT student, and I've seen a lot of scope that are in the U S and I wanted to do the same thing here in Nepal.
There was a civil war happening and, there was a mistrust, even among Nepalese here.
We have never had a moment in history where the Nepalese fought with Nepalese to get the rights. That time everybody was in a very scary situation. Nobody trusts one another. The business environment wasn't good. There were lots of strikes happening here.
And there was like a vehicle strike there. That's what we call the Nepal wander. Everything would be shut down by political parties, no one is allowed to run the business.
So it was a very fragile environment for me to start a business and it was difficult just to get one liter of petrol, I have to go almost like 30 hours of riding.
It was very difficult then.
Ling Yah: And then you eventually moved back in 2011 with your wife and two daughters. Was that a difficult transition for you guys?
Rabi: Yeah, it was actually, especially for me, cause I stayed in the US for so many years.
Nepal was going through a lot of difficulties then .
We used to have 16 hours of blackout every day.
The average was 12 hours . Imagine running a business with 12 hours blackout every day.
It was a tough time, me and my wife, we decided if I had to work 12 hours here in the US, why can't we give the same time and effort in Nepal, at least in the US, they will be someone to replace me. They have lots of people looking for a job, but in the context of Nepal, if that position is vacant, it's very hard, to replace that place here in Nepal.
So what we thought is , okay, let's go back to Nepal and see what we can do.
If we're going to give that much effort and time here in Nepal, at least something will come out of it. Something productive, something positive will come out of it. It was a difficult situation, but we did it.
And there's no regret.
Ling Yah: So you moved back. Do you know exactly what you were going to do?
Rabi: That time actually, I didn't know.
I know that I'm going to do something for the community but I don't know how, I don't know which path I'm going to take.
At that time, my youngest daughter was just one years old, and someone had to take care of her.
Both of us staying home shouldn't be our plan. And so we thought up, like someone needs to work. Someone has to start, doing a job.
So my wife She's very passionate about the environment. She's like an activist. I asked her to just go for a job and I would just wait for a few more months or years to decide my profession or what I'm planning to do.
So when she started working, I stayed home with my daughters,
I started brainstorming things and I started meeting people. I started seeing Nepal, from a very different way. I haven't seen it before.
The work I'm doing right now is the result of the first few years of staying home with my kids.
And learning about Nepal.
Ling Yah: Before we go into that business side, I mean that you were staying at home. Is that something that is normal in the Nepali society? Because from what I read, normally the men would go out and work and the women would stay at home. So was that a difficult thing socially, culturally?
Rabi: When you have children, it's a responsibility for both parents to give more time to the children.
And being a partner, you have to support them. My wife really wanted to work, especially in the environment field.
She was really into it. I need to work. If I don't do it now, it's going to be too late. Then I said, okay, go ahead.
That was the right decision that we made. And for me, at first, people kind of like : Only you will see women taking care of kids. I mean, that's our traditional society, but nobody dared to question it at that time.
Cause I always tell them , I have two daughters and they still question me like, Hey, you don't have a son? It's still a male dominated society.
And I said, no, look here, two daughters are my two sons. That's what I said, you know? I mean, there's nothing my daughters can't do. That's what I tell them now, whatever your son can do, my daughter can do the same thing. Maybe better than that. People question me sometimes, but I don't take that seriously.
When you have kids, it's responsible for both parents to take care and give them your full time and support.
Ling Yah: Yeah. And I think people don't realize that looking up the kids is a full time job, sometimes harder than having the actual job. So during that time you're looking after your kids, you mentioned it briefly, you were spending your year's research reaching out to people, creating that foundation for what KOLPA is today.
And I was wondering , how did you even begin to do your research, to understand and reach out and talk to these people while handling your kids at the same time?
Rabi: When my little one got 18 months, she started going to a nursery, just spending time with the other kids.
When both of my kids were in school, I used to roam around Kathmandu. Like whenever there is an exhibition happening or any fears that's going on, I used to go there and participate.
I used to talk to them. I asked them different questions, their life, the works and stuff. So that was the moment that I started doing a bit more research on it.
I used to go to producers who are doing those things, meeting them, seeing them working.
So that was all in the morning the time before the kids come back from school
Ling Yah: And what was your main takeaway during all those visits?
Rabi: What I realized is Nepal is very rich in natural resources and we have such a wonderful skill for people here in Nepal.
Not only in Kathmandu Valley, not in the cities. Only most of them actually are living in a remote region of Nepal. That's what I found. Many people who are doing these things have been doing this for like, decades. And the thing is the result that they were expecting, wasn't up to the need actually.
The people especially don't appreciate the craft. They were taking everything for granted and the people think the natural resources just come for free and those skills , it's just a part time thing.
They're just making these things just to kill their time, that's how they were taking these things. And I was like, that's not how we should go.
Nepalis have exceptional skills here if those skills can be modified or give them a bit more value to it or, teach the artisans to make things that can be marketable, we can at least, somehow uplift their financial situations. That's what I realized.
Another thing is, Nepal is not the market that we need to sell those things here.
People here like bargains a lot. Even in handmade products. People bargain in the same way as the imported product that's made by machines. And for me, that shouldn't be the case. And what I thought is like, okay, if I push it farther, or if I start my business, whenever I work with communities, products that I'm going to make, I'm not going to sell it here in Nepal.
I'm going to sell it abroad where it would be appreciated.
Ling Yah: So at what point do you decide that you are ready to take all that research and bring it into the physical?
Rabi: I talked to many artists and many producers and, I feel them like very hopeless. And then I was like, someone needs to step in and needs to act.
I shouldn't wait anymore. So what I thought is , okay, I need to develop my website first. I need to reflect their work to the people abroad .
And another thing is in 2014 , kids have already grown up . I'm getting a bit more relaxed from that side as well.
My wife has already gotten used to life here. Then I realized I need to lift this off.
Ling Yah: So you started with your website and what was the reaction?
Rabi: I did everything on my own, taking photographs, writing contents and, fixing everything that the web needs
At first, I was also quite active in social media and many people started recognizing and like, you know, Hey, who's this like out of nowhere, there's a brand KOLPA and it's selling Nepali products.
And they also have very fine looking websites. And there have been a bit of conversations happening around. I didn't realize it was already happening behind me. People have already started, noticing us.
And most of the people, they don't even think those things are made here in Nepal. They were thinking like we import materials from abroad and do things here. But that is not the case.
For me, I'll take that as a compliment because we have never produced that fine product here in Nepal so it was very positive feedback that we received.
Ling Yah: You managed to get the interest overseas with amazing looking products as well.
So what kind of products were you selling then? Who were the first community you worked with
Rabi: we started with cotton bags, I'm not a business person. I don't know much , I can take no risk , in investment and stuff.
So just to be on the safe side, I started making cotton bags so that I could understand the business environment here in Nepal. The production, the process and everything like the exporting and all those things, you know? Cause I didn't have any friends or a family or doing this, who could, guide me through the process,
So I started with cotton bags with very different designs. It was very modern and contemporary designs that I had on.
What I wanted was all the other things that I needed to be made in Nepal here. It has to use the raw materials and the skills, everything should be Nepali, but the product should satisfy the global customers. It has to be appealing to the mass. It shouldn't be to a certain community or it shouldn't have a limitation.
That's how I was feeling. So even having a cotton bag made in Nepal and made with a very contemporary design and trendy looking Print on it and wanting to satisfy the people from all walks of life .
That was my goal.
But you know, the internet isn't easy to sell yourself and this huge and huge marketplace here. what I thought is like, I'm just a drop in the ocean. That's how I felt. In the beginning and my customers, my client, it was not restricted or not limited to a certain boundaries or group or a community.
It was more for the world.
Ling Yah: And which was the first community you ended up working with?
Rabi: I first went to organizations supporting deaf people there. I asked them to make me a sample of it. But they have their own limitations and I couldn't get the result. So I moved to, financially and challenged people, especially women.
I went there to a few co-operatives and there were some others from the outskirts of Kathmandu . I went there, they know how to stitch. They know how to do things. They have the sewing machine. And, I tried to work with them, but it didn't work out as well, you know, and then I went to a one community in Kirtipur, it's a family run business.
And then I went and I approached them and the product was fantastic. It was beyond my expectations and those are all those cotton tote bags that we have made in the first few years are made by that community. It's a newer community.
Ling Yah: And was it hard to communicate with them and gain your trust?
Rabi: Yes, actually, cause being a startup, I can't invest much in it as well.
I was a startup, not many people know about it. And I can't guarantee like how many pieces I would be able to sell .
So, they were nice. They were very cooperative. It was a bit difficult, but they didn't mind when they saw my website. And then I realized it's not only about today. It's not only about a month or so.
KOLPA is not about certain goal oriented business.
It's more about the long term one.
Ling Yah: And I remember when we talked the last time you mentioned there was this Tharu community in Terai?
And they are the ones who produced the straw mats. Could you tell us the story of how you got to know them, create that bond and trust?
Rabi: Yeah. You know, during my research days, like when I was taking care of my kids, those are from 2011 to 2014.
That was the time actually I met one of the ladies from Terai and she was a Tharu lady. Her name is Santi . And there was one fair happening here.
The last day I went there , I saw her floor mat and asked her the price of it. She was so desperate to sell those mats cause she's from afar South.
If she couldn't sell those mats, she had to take it back home.
And not being able to sell , it's almost like a failure, cause you have promised people from that village that I'll bring cash with me when I come back.
But the thing is like, she hasn't been able to sell that.
She was selling it for NPR 2000 in the beginning of the first day. And now she's ready to use the price to NPR 1200.
Ling Yah: Which is around like $12 for 1.
Rabi: Yeah. $12 for it. It will take at least like four days. And I was surprised, when I break down the selling price with the number of days, they are not even like the lowest of the lowest of wages.
And I was like, Oh, this is not gonna work.
I bought some of them. And I asked her to leave those mats at one of her relatives' places and they know I'm going to contact you later.
And then, I took her number and then I started communicating. That's how it'd gone, you know?
Ling Yah: Yeah. And you ended up meeting them in their village as well, and getting to know them.
Rabi: Exactly
I went there twice already, we have a very good relationship now.
That time she was 17 or 18 years old, she could read and write and she would communicate what the other weavers who we used to weave those grass mats, they were much older and, they couldn't read and write, so it was difficult for others to come up to the city and communicate with customers.
But she had just passed her high school and she was a bit more energetic and she was the chosen one let's say to come to Kathmandu.
It was a pretty interesting meeting with everyone. We even took a small training to that community.
I stayed there for more than a week .
I communicate with everybody.
The second time I went there, I talked to Santi.
She coordinates everything cause she can use Facebook, you can send me text messages and everything.
We need someone like her from that community. I told her I'll be coming this time of the year. And if anyone is interested to learn something new, please let them know. She said, okay. I'll talk to my people.
And then she goes okay people are interested, but what are we going to get besides learning something new, what are we going to get? Are there any incentives that we're going to get? Are we going to get money from it?
Here in Nepal, because of NGOs and INGOs, what they used to do is like, if you are a part of a training, it's not only about the learning thing, they will give you extra money for it. The reason is they want the number.
They want to see the group of people. They want to have people that could fit in their camera lens, you know? So the more the people, what they think is that the successful is a training. It's not about what the people learned. It was more about the number of people they are already used to this kind of thing.
And then she was asking , if they're going to get any money out of it, and I said, no, someone is coming all the way from the Netherlands. To share the skills and try to, teach you something. You guys are the one who needs to pay her.
And then she came to me and said, yeah, if you are interested, what I felt is like, she couldn't say no to me. That's how I felt. And she must have told her very closed ones to come and be a part of the training that how I felt.
We went to the community. When we went there, so many women started joining. The room was full, it was like 25 of 26 people there.
I think it was July. And it's quite hot in here. We just couldn't handle, it was warm. And especially the lady from the Netherlands, she was sweating. It was quite difficult for everyone but nobody was complaining, everybody was like, wow.
I told them what to expect from this training. And what are our objectives?
What are the products that we're going to come up with and what will happen after that training?
They must have realized, they have made a good decision coming to that training.
Ling Yah: So I want to pick up something that you said that was very interesting. You said when you asked her to find someone who's interested in this training, she felt like she couldn't say no.
Why did she feel that way?
Rabi: that's how we are taught. I think it's a part of the culture, they will just stay quiet, but they just can't say no. They would always agree on things that they can't do.
And I always tell them, please don't do that. Do not agree to things that you won't be able to.
Ling Yah: And do you face that kind of issue when you were asking them to produce things for you?
Like they will say yes, we can produce X amount of goods, but the thing that comes to your doorstep is different?
Rabi: But not now, this thing hasn't happened now.
First I always do a bit more research before I approach them.
You have to listen to them, you have to be in their footsteps.
And then when you approach them, then it's going to come up good.
Sometimes I even tell them to be in the market, you have to add some innovations to your things . if you add a bit more twists to it, people will appreciate that. People love having new things, they just wanted to see some change. That's what I tell them.
We have a new design but they haven't done it before, they've been doing the same traditional ones, for many years and they don't want it to change.
And what I tell them, what if there's no demand for it? But we have something new that we're coming up with and you can do it.
I try to convince them. and they will listen. And when the things are finished, they're completed, they will be surprised to themselves as well. And I even tell them the feedback of the customers. Look here, these people have praised your work , they have appreciated your weaving and it's very strong and they love it.
They love to hear that and they feel very appreciated.
Ling Yah: And one of the things I noticed when I was in Nepal, that's very unique to you is that it's very diverse depending where you are. You have the mountains, you have the lower lands. Can you give those who are listening, who've never been to Nepal of what it's like just in Nepal and how it's spread out in communities around the country.
Rabi: We have the highest mountain on earth, Mount Everest, to the very low lands where it's like very hot in summer.
Geographical regions have their own speciality and it has its own climate.
It's weather conditions are very different and the people who live in those regions have to survive somehow. We are landlocked. We don't have easy transportation.
Most of the things have to come through land from India. And if something happens, we have to suffer. And so it's a bit difficult.
The people in Nepal somehow managed to survive, even in mountains, the people are more into using woolen items and the hat, the jacket, the blankets, and those all are made from yak wool. Cheap or mountain goat.
They have somehow managed to make something that could fight in those rough conditions. And when you come to the mid Hills between a mountain Terai is a very warm and plain area.
And in between mountains we have hills and it's mostly covered by forest. People living in that region use forest products they have learned to make fiber out of like stinging nettle like hemp.
Or tree bark of trees and those kinds of things and so they have made clothes out of it. They have made shoes out of it and, they have made household goods out of it.
In the Southern part of Nepal. That's the plan. Most of the food grows spatially, the rice and corn and wheat grow because there's an abundance of water there.
The river flows from the high Hills to the plane and there's a lot of irrigation and all these things. And so, that's where the Tharu community lives. And because of the river , there are wetland grasses that grow in that part.
People know how to use those and come up with very nice baskets or maybe floor mats, or to cover their houses, using those roofs , those kinds of things.
So we are very fortunate and we have identified the strengths. So we're trying to use those traditional skins, local materials and come up with something that satisfied the needs of the global people.
Ling Yah: And I saw some of the things that you mentioned, like the corn husk, the stinging nettles, bags that you'd be making as well I saw all those different things.
Would it be fair to say that the lives they're leading now is similar to what their ancestors were living like hundreds of years ago?
Rabi: I'll give an example of a stinging nettle. It grows in the forest here in Nepal . It's almost like two to three meters tall. Just like hemp.
It grows in the forest. every part of the nettle plant has been used. And many people have realized that even the leaf of the nettle. Now, you can find it in the market as a nettle tea, or you can use that as a soup and the bark of it. You can use this to make, make it a yarn and we've been clear everything out of it.
And the root of the nettle plant. People with diabetic use it.
Those people who are living especially in the remote region, they could find tons of nettle.
It's very hard for them to come to the market but also they don't have money to buy it. They don't depend on anyone. They're self-reliant people. They have their own field, they go to the forest and collect timbers and they go to the forest and harvest the nettle and make their own fabric, wear them.
And they have their field, they have the cows and goats and everything that gives them milk and that gives them manure.
They have been doing this for years and years, they don't have to wait for someone to come and give them money. Everything is within their reason and tradition.
so we're trying to keep that tradition still alive.
Ling Yah: And one thing you mentioned just now was the accessibility of getting things from one place to the other. Could you explain that for you? Cause I imagine it must be quite hard to bring those things down from the communities to the city itself just to sell it.
Rabi: Exactly. Exactly. You know, the first thing is, identifying the product that people make is the one part. And maybe just one person from that community knows how to weave that.
When you identify that product is coming from that community, maybe we can transfer the skills from one person to another. And market that product, bring it here.
Bringing it is the difficult part, as you said.
Cause the thing is it takes seven to eight hours of a trek from the nearest highway bus stations to get to that place.
When you start walking at seven in the morning, then you reach there by five in the evening. That's how far it is.
but the people over there mix up very nice drugs. Even after they make those things, it's very difficult for them to carry it and bring it to the nearest bus stations. People from that reason, don't know much about how logistics works. Some of the people haven't even gone to the city.
They haven't even seen the city, some of them didn't even have a ride on the bus. it's very difficult and also the decision will make a big difference like during monsoon time, there's always landslides happening and the things that are already made, we can't get them because the roads , there's a flood happening there and everything will be stopped.
In winter season, we're working with a community from Dopa, a region behind Himalayas
So you have to go through very difficult mountain passes to get to that place. And during winter time, we can't get anything from Dopa. We have to wait for another six to eight months.
Ling Yah: So when you say going through the mounting, you mean that the humans are actually carrying all this from the village all the way down.
Rabi: Exactly human or they use a mule or a horse or a yak. So those are the only transportations to bring those things. We don't have the other way of bringing those things.
Even if those things are made, we can't guarantee that we'll be able to receive that. Cause it takes a few days to get to the nearest bus stations.
And you don't know what will happen in between.
Ling Yah: So, how do you do your business then? How do you arrange with say a customer who wants 10 of these bowls, but you don't know if the bowls would even make it?
Rabi: I think our customers know who we are and how we work. I always tell them how difficult it is to receive things.
And I always tell them , we can't commit to your order, but WE always work hard to bring them here, but we can't guarantee them.
Sometimes , they would send me a bowl.
If somebody orders 10 bowls, they'll send me 20 bowls, let's say. but when I received them, those bowls might not be in the same conditions as they were made. They might come crack. They might have broken. Because they have to go through a very rough time. people carry them on the bus and some people just don't care.
Cause it's all in a rice sack. Tightly done. They don't pay much attention. They will just take that as an object that they need to take you to Kathmandu. So they don't care about how frigidity is. it may get broken. They don't care about it.
So, we have those things on our hands. We can't commit to our customers, but we tell them that though.
They cooperate and they understand our difficulties. And I think that's what the KOLPA is all about.
Ling Yah: When you receive these bowls and they're cracked, what do you do? Do you just throw them away?
Rabi: No no. I will never throw these things away. They're very precious. It's not only about the broken balls, I always see something so meaningful in it. Those balls are made by people.
We're in very difficult conditions and they must have made this in a very difficult situation. it's not easy. It's not like they have a very nice house. They are not made in a well-made room or something. It has something that has some story in it.
Sometimes I stitch them together, sometimes I glue them together , I will somehow make some user fit and try to sell them. Sometimes the broken balls will also be a piece of art as well.
Ling Yah: How do you even begin to learn how to put these different objects together?
Rabi: reusing things, recycling, materials, and, those are the words that I always follow.
I do a lot of free shirts From around the world and Japanese technique, it has been a very inspiration to me. I have seen a lot of, Japanese art. They don't throw things that are broken, they somehow come up with some ideas and put them together. Those are the things that I do.
What I also learned is when I go to a remote part of Nepal to a new place, I see them using the same thing for years and years.
I see them stitching them together. I see them like fixing somehow, and I was like, wow. just because it's broken, it doesn't mean that it has to be thrown away. And so I learned from them as well. Cause you know, living in the remote part, they don't have money or maybe they don't get the same thing that maybe the person who makes it has already passed away, or maybe that product will have some connection to it. They don't want to throw it away. So what they do is they try to reuse it and make it functional. That's how I learned. and I asked them , how do they do it and who made it?
And what did you do? When it's destroyed or damaged. I see the way they work and try to learn from them as well.
Ling Yah: And I was wondering , apart from meeting with someone like you, who was seldom in the city or elsewhere, do the community manage to supplement their income with any other source?
Rabi: The people also have their own field.
This is not their full time job, some of them have a Buffalo, they sell milk and some of them have a rice field during harvesting time.
They go out in the field and we don't pressure anyone. We always tell them, after doing all your household stuff, don't stay idle, make good use of it. So that you can keep your skills, running and also you will have something for yourself and your family.
You can have some emergency fund on a side whenever you need it. So that's what I tell them.
Ling Yah: I mean, we understand now the communities that you're working with, the challenges that you face working with them, I was wondering for you yourself and KOLPA, what was it like when you first started?
Did you already have a store somewhere? How did you start going out?
Rabi: Actually I started from my basement. I didn't have a store . There was my computer and me and I used to bring fabric and I caught it by myself.
I designed everything there. And then, I take it to my partner's from Kirtipur. I used to take it to him and he used to stitch and he gave it to me.
I didn't have any stores,
The first time we went to the public was on February 14th of 2015.
We developed a website and there was a bit more buzz going around the city. Somebody approached us, that was a Nepali Young Entrepreneurs Forum. They offered to showcase our products in that February 14th fair. It was more of a Made In Nepal fair.
We agreed and that was the first time that we went in public. And when everybody started asking us where our stories were, and where we sold them?
I don't know what to say then. Because I didn't have any stores. I haven't given it to any other stores as well to sell my product. So everything was done online. Everything was in my apartment.
And after that I realized, okay, I think I should have, Some store where people could come and buy things and at least come and see it in person.
Maybe after a few months we started our first store in Lazimpat in Kathmandu.
Ling Yah: And what other products were you selling at the time?
Rabi: I had only 10 different bags .The store looks kinda empty.
It was quite difficult for me. And then I started keeping things, I started working, Nepali looked at paper.
And then there was the grass straw mats. And there were some woolen items as well.
And it wasn't my design. I just wanted to fill the space so that when people come to this story, if they are not interested in the bag, they might find some other stuff they can take.
Ling Yah: What was the reception light? Were the products flying off the shelves?
Rabi: Not really, actually, to be honest with you the first few years, it was very tough for me.
I had to even pay my rent from my own pocket.
It wasn't self-sustaining, maybe it's because of the location as well. Cause we're on the first floor that time. That area was under construction. The roads were dusty and, they were widening the streets there was always constructions happening
The first few years were a bit tough. Yeah.
Ling Yah: So how do you manage in terms of finances? Because you still need to feed yourself while pursuing this.
Rabi: Yes. That's where my other half comes in. We're living a very simple life. The only thing we want is a good sleep. That's what we all want.
We want our kids to have a good education. That's our main goal. The rest is whether we can survive. During those hard days, my wife was supporting my family as well from the earnings that she made.
My parents helped me a little. First few years were more of learning. Those difficult days are now my strength. COVID-19 or whatever. I don't see it that tough either. Everybody thinks it's a tough time, but I think I've gone through that already.
Ling Yah: Did you ever feel during those periods that maybe you wanted to give up and not pursue this line? Just get a job that pays.
Rabi: Yeah, actually, when you have a lot of expenses, then your earnings.
and then when you look back and sometimes I regret coming to Nepal, that period, if I was a business graduate and maybe I could have some ideas, maybe I could go on and look for investors that are trying to write a project, the business plan, and look for a business loan and those kinds of things.
But I wasn't good at anything. I was just doing something that is coming out of my heart, I wasn't thinking of going bigger,
My only goal at that time was how to survive.
I used to tell my wife, I think we made a bad decision coming to Nepal.
I think we should go back to us, but she said, no, I mean, come on. whatever you're doing is doing something good. Maybe not today, maybe after a few weeks, maybe a month or so. She used to cause me to look to the brightest side. Even in those difficult times, I have seen so many people coming to our store.
And sharing me kind & good words people used to appreciate the things that we make. And those few words were holding me tight.
But yeah, sometimes it used to come to me, like, why did I step into the business? Maybe I should have just gone and done some nine to five jobs.
I think it happens to everyone once in a while. So basically when you were, doing something new, something different.
Ling Yah: And I'm wondering, what point did all the fortunes turn and you feel that okay. You can make it.
Rabi: Yeah, even in those difficult times, I have a few customers, they're very elite people They have a very high social status.
And some people were from abroad as well. And when they come to me and when they see me, when they see our products, they used to take everything from us. There was a time, my store was almost empty, just like one customer stepped in, when she was there, she took almost everything.
and then I was like, what am I going to sell afterwards? what I felt is like, there's something in this, the thing I'm doing must have something. Otherwise why would she comment and take it everything? What I had?
There was another time like someone from Korea came in and at that time I was just starting making backpacks, making metal and handmade leather.
And then I just started making samples actually. I just made like one or two, I didn't have money to make 10 backpacks so I used to only make two or three pieces. If I sell those, then I'm just going to go and make another one.
the guy came in and he was asking, even for the samples, like, look here, I'm going to take this to South Korea and I'm going to sell this. And he took almost everything. He was a social media influencer.
And, he sees the markets there.
So those few people, because of them, I felt like there must be something in it. I should keep going.
Ling Yah: At what point did you feel that you were out of the difficult patch?
Rabi: Yeah. Like when I started, we moved from Lazimpat to Jhamsikel, the place where we are right now.
And used to be holiday fairs every Saturday, in different parts in Kathmandu.
I used to take part in almost every market fair then, cause I just need our wares to be out there. I would just want people to see, like we exist.
People started telling us how good our product is. Oh, I'm sending this to someone who is looking for this kind of thing for so many years and those kinds of things.
And when he started getting a very good dress, especially in the fair market and we realized , okay, We have gone through those difficult times and when we moved back to here and when we came t o Jhamsikel, it's not like walking and running.
We actually started jumping. That was 2017.
Ling Yah: And since 2017, how has it been so far?
Rabi: So far? It's such a blessing. We feel we are getting a lot of inquiry from around the world. people were environmentally aware who wanted to buy things from a business like us.
Impacting. Giving some positive change to society. And those are the people where we are getting more inquiry from. It's not only about Nepal. It's also from around the globe that KOLPA is getting buzz.
Ling Yah: And how do people tend to find out about KOLPA?
Rabi: I think mostly from the websites and also from social media. And also from word of mouth, the people who buy things from here, they go back home. And maybe the corporate products might be a conversation starter and that's how people find them from websites and also from social media.
Ling Yah: Do you have a particular community that has especially touched you?
Rabi: Yes, actually Raute community. The one who made the wooden balls.
They're the last nomads of Nepal and they're Hunter gatherers.
They don't have a home. They move from place to place.
Only skills they have is making wooden bowls and wooden chests. They have been doing this for hundreds of years, there are only 145 to 150 of them left. And only thing that could survive is by making these bowls and trading them, grains and the clothings and stuff like this.
They don't ask for anything beyond the food. They don't have high hopes. They don't have ambitions. what I felt is if we don't encourage them to keep doing what they're doing, those crafts will be lost and even the whole community will be extinct.
Ling Yah: And I'm wondering, you mentioned these people who are very dependent on the climate , so how has COVID 19 impacted as a community and KOLPA itself?
Rabi: Before COVID-19 visit Nepal 2020 was about to run, right?
I stocked a lot of items, cause we knew that many people would come and visit us.
Before COVID-19 we had a lot of things from the Tharu community, from the Raute community, even from the inmates.
Things are coming back to normal now.
Whatever we have stock in those days, pre COVID-19, we're selling them out quite fast, which is good for us, but to the community who are working with, they're having hard time sending those goods to us, cause the transportation is not allowed to run from one district or another. So whatever happens, happens only within a certain part of that district.
Not from the other reasons of Nepal. So we still have the furniture made by the prisoners, from the Lake from Krona region.
We haven't been able to receive that. they have made that like three months ago.
Same with the Tharu community, during lunch down, they have nothing to do, so they just stay home and we have ordered and the same with the stools, it's still sitting there and haven't been able to send us here.
I'm kind of worried about the production of the product.
But if they need money, we have been sending them. Because I know those three months have been very difficult, so without any question or anything, even I ask them, if they are doing okay with the amount they have, they're having difficulties supporting their family.
If you are, just let me know. And I even support them without any clause around it and without any conditions. Cause I know them, we are partners so difficult at times we have to help each other out. That's what we think.
But the thing is people from other parts of the world when they visit us, they wanted to take a piece of Nepal.
And now, because of COVID-19, the tourism business has completely gone down . The floor has been less, but we are kind of thinking of going online though.
Let's see how it goes. Things are kind of slow, but I still don't have a complaint about it, cause many businesses are having a much tougher time than us. So thinking about them we're okay. We're okay.
But hopefully even in the coming days, we'll have the same thing. But let's hope for the better times.
Ling Yah: So at this point in time, what do you think is the future for KOLPA?
Rabi: Extending the market of KOLPA is one thing. And another is we have to work on a business model here within Nepal. We wanted to have a network of our partners from different reasons in Nepal so that they can share the skills and information among one another.
That is one of our goals.
And make the production process more efficient. Bring those products to the global audience. That is another part. we're hoping to collaborate with some other store from outside Nepal.
Because these products - there's a demand everywhere. These are purely natural, organic handmade and don't harm the earth and environment. And it's very social and we're being very responsible in making it.
It has a whole lot of story behind it. And, the people whoever buys our product will always feel good about it. It's not only about how they spend money on a certain product.
And then we're trying to go for an online store here in Nepal as well. It's not only for outside, even within Nepal, because Nepali has been importing a lot of goods from other countries and we have to make aware the people here in Nepal to use something that is produced and made here.
Ling Yah: When people buy something, what happens with that money? Like how do you portion what goes to the community?
Rabi: To the people who make it ,like almost 50% of our money, money goes to the community.
Let's say to the Raute people. When they make things they will send it here through one organization and that organization will put the price of the product.
We pay the amount that they have asked for, and that organization will buy things for them. So that's the case and we do a bit more finishing to the product and put a price on it.
After selling their products, we put aside a certain amount of money so that whenever they have difficulty when they have to move from one place to another .
And also during winter time, they will have difficulty having warm clothes. So during those times after selling their product, we will give back to their community as well.
And the same with the Tharu community, There's a scheme. if a certain Weaver we've let's say a 200 square feet of floor mats, besides getting her the money for her woven mat , we ask them the need in their household, like, okay, what do you need? Something that could make their life easy.
Since we're working with the community, sometimes they need a rice cooker, a solar light. a transistor or a fan . Maybe they might need a heater.
So we asked them what the need is. And then, we give them
When another person sees them receiving those, just weaving the floor mats. That will encourage other people. Maybe I should be a bit more serious as well.
So that's what we do as well. So, more than 50% sometimes goes back to the community.
Ling Yah: For those who are looking to be a social entrepreneur themselves, do you have any big piece of advice for them?
Rabi: Never put your interest first.
Always put your feet on their shoes and then do the backwards calculations in such a way that both persons will have mutual benefits, so that both partners will grow together.
That's what I would tell everyone, there's a business, but do a business in such a way so that wherever you are working with will grow the same ratio or in the same way that you are growing.
Ling Yah: Thank you so much for your time. I normally end with three quick questions, which is, do you feel that you have found your, why?
Rabi: I'm not sure about this cause, I don't know why I did it, but there's still a long way to go.
I would say that I haven't found out my why on it. even though there are five or six communities that I'm working with, that's not enough for me.
What I'm doing is just the gut feeling that I have, the feeling to serve people.
That's the only thing I'm doing right now, but I still have a long way to go to find that.
Ling Yah: And what kind of legacy would you like to leave behind
Rabi: I wanted to leave a space where no one can fill out.
Ling Yah: What are the most important qualities of someone who wants to do what you're doing?
Rabi: Patience, politeness and thinking beyond self.
Ling Yah: And if anyone wants to connect with you and know what is up with KOLPA, what's the best way for them to reach?
Rabi: We have a Facebook page and Instagram: @kolpaworld
Or they could even email me through my websites. They can contact me through WhatsApp as well.
Ling Yah: So I'll put all those links in the show notes so people can reach out to you. Is there anything else that you feel we haven't covered but people should know?
Rabi: When you want to do something good for the society or when you want to start a social business, you should always have a patient's cause especially when you're working with a community, you have to be who they are.
It's more about building relationships and gaining trust. And, once you have that the product will automatically be created. It's not a big deal. It's not about the product. It's more about the relationship. That's what I would tell everyone.
Ling Yah: Amazing. Rabi, thank you so much for your time.
Rabi: Thank you, Ling. Thank you.
Ling Yah: And that was the end of episode 9.
The show notes can be found at www.sothisismywhy.com/9 including the transcript and links to everything we just talked about.
And don't forget to head over to Apple podcasts to leave your thoughts.
Or to Instagram under the handle @sothisismywhy, because I'll be posting many videos of Rabi explaining the various products he has in KOLPA, including the foldable treasure chest and bowls made by the nomadic Raute tribe.
And stay tuned for episode 10, which drops next Sunday, because we will be meeting a Canadian artist whose mom is from Kuching, my hometown, yay!
And deep dive into his incredible journey from being an engineer to having his heart broken by a girl, buying his first rubbish $100 Walmart camera that began a trajectory that has seen him create some of the most breathtaking photos, creating a passionate fan base and generating over 100 million organic views to date.
We will be talking about the how-tos of creating viral content, his thought processes behind the extraordinary projects he has undertaken as well as the question of impact.
What is impact?
How is he creating impact and meaning?
Here's a small hint: it all began with storm chasing.
All that, and more in episode 10.
So stay tuned and see you next Sunday!