So This Is My Why | Issue 16
Hey STIMYers!
Welcome to Issue 16 of the STIMY Newsletter featuring Lincoln Lee – co-founder of RICE Inc, a social enterprise that arose out of their participation (and subsequent win) at the $1 million HULT Prize organised by the UN & former President Bill Clinton. 
But before that, if you're here for the first time or would like to have this weekly newsletter delivered straight to you, click the Subscribe Now button below!
Hey STIMYers,
Some quick updates on what past STIMY guests have been up to:
Episode 40: The Woke Salaryman
Back in Episode 40, we spoke to The Woke Salaryman – an awesome personal finance/comic duo based in Singapore who left their respective jobs as a copywriter/illustrationist & managed to garner a 200+k following in 2 years.
They've since launched a podcast and starting tomorrow, will be releasing the first episode of their animated series, which looks amazing. You can watch here.
I'm always a big fan of creators who are constantly innovating & pushing themselves, and The Woke Salaryman are definitely great examples to look up to.
Episode 10: Benjamin Von Wong
Original photo by @vonwong
If you're in Vancouver, Benjamin Won Wong (Episode 10), Canadian social artivist/photographer whose highly complex & gorgeous art works have generated over 100 million organic views, is back at it again with another project. This time, he has partnered with the Canadian Embassy in Paris to create a giant "levitating" plastic tap vomiting 30 feet of plastic! You can find out more here (including how to participate) or track the progress through Von's Instagram here.
Von is a real pro when it comes to pulling off large-scale, audacious projects with the help of hundreds of volunteers (who'd often fly in from other parts of the world at a moment's notice on their own dime!), so it's really fascinating seeing all this come together.
And before we move on, here's a copy of the research notes I used for Lincoln's interview: [see original newsletter]
Hope you find it useful. Let me know if I should continue adding them to this newsletter!
Now onto STIMY's latest episode!
STIMY Ep 47: Lincoln Lee (Co-Founder, Rice Inc & Winner of $1 million HULT Prize)
Lincoln Lee Ming is a Malaysian social entrepreneur, biomedical science graduate from University College London, UK & founder of a social enterprise called Rice Inc., which seeks to combat the 26 million tons of rice wasted during production every year & help smallholder rice farmers break through the convoluted supply chain.
​In this STIMY episode, we cover how Lincoln's entrepreneurial streak first came up in his childhood (beginning at the age of 13!) and how he tried to organise a Pokemon Walkathon just before leaving for his university studies.
​Highlights:
8:10: Running a past year paper printing startup (by pretending to still be students!)

12:17: Organising a Pokemon Walkathon

19:04: Learning about the $1 million HULT Prize

33:29: Introducing big changes after UCL & regional HULT Prize rounds

34:54: Raising $20,000 in funds to visit Myanmar & run a pilot program

53:38: Attending the HULT Prize accelerator at Henry VII's former residence

55:46: Working & playing (too) hard

59:59: Building connections with high-ranking people

1:03:16: How a UN security guard helped Sunrice / Rice Inc win the HULT Prize competition in New York

1:13:21: Getting stuck inside the UN building at midnight

1:17:33: Balancing winning the HULT Prize with getting a 1st class at UCL

1:20:33: What to do with an investment of $1 million at age 19

1:22:34: Impact of Brexit on Rice Inc's operation

1:24:02: Getting into the top 5 caterer distribution services & meeting with the Board

1:28:47: What keeps Lincoln going

1:30:07: When Lincoln knew that there was nothing else he would rather be doing than this (Rice Inc)
Looking for past STIMY guests in the startup/VC world? Check out:
Snippet from STIMY Episode 31 with Kenji Chai Vui Yung: one of Malaysia's most well-known street artist, who also goes by the alter ego, Chaigo. On how he painted a 25-storey building in Kuala Lumpur, which was entered the Malaysian Book of Records for highest mural ever done!
Favourite Finds of the Week
Article: Selling Google Spreadsheets by Ali Tamaseb
Ali Tamaseb, a partner at Data Collective ("DCVC") – a Silicon Valley early-stage VC & entrepreneur, wrote an interesting Medium article summarising his findings on the difference between unicorn & non-unicorn startups, which included interviews with the founders of Zoom, GitHub & Cloudflare.​
Some of his findings include:
It's most common to have 2-3 co-founders

Over 1/2 the CEOs are over 35-years-old

50% have 10+ years of work experience

Directly relevant industry experience doesn't matter, but this is different for healthcare & biotech

Almost 60% are repeat entrepreneurs

Almost 70% of repeat entrepreneurs previously founded a successful company (i.e. at least 1 real exit over $50m or generated $10m+ ARR)

Bachelors & MBAs are most common degrees among founding CEOs

Previous work experience in other startups not founded by themselves doesn't matter
Article: 7 Emails You Should Send Every Week to Get Ahead in Your Career
An interesting article on the 7 kinds of emails you can do to connect with people & find opportunities:
"Thank You" email: to appreciate the help that someone else has done for you
Email to someone you admire: Let them know how they helped you, e.g. "Thanks to your work doing X, I've been able to accomplish Y."
Email that lifts someone up
Email to someone you just met
Email to an old co-worker
Thursday afternoon email to your boss
Friday afternoon email to yourself: With a run-down of the week including your wins, things learned & idea that made your week a successful one – I thought this was quite an interesting idea!
YouTuber: The Breakfasteur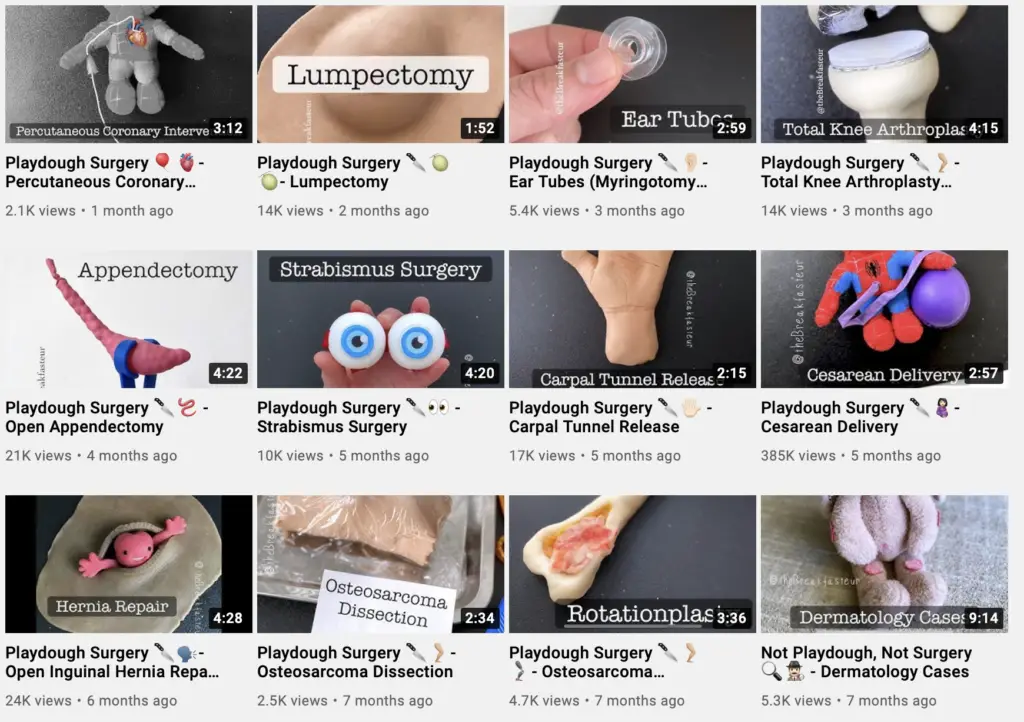 I came across this amazing doctor/mum YouTuber recently who goes by the handle The Breakfasteur.
​The person behind it is Jessica So, who is a California-based mother & board-certified dermatologist who recreates anatomically accurate body parts using play dough, so that her preschooler can assist her in mock surgical procedures.
​The first video I came across was of her recreation of the torso of a pregnant woman, and how he could perform a C-section (it's gone viral) – you can watch here.
​Other videos she's done include the whipple procedure (this is giving me Grey's Anatomy nostalgia), colectomy, cleft lip repair, cataract surgery and total hip replacment.​
It is so impressive!
Nieman Lab Article: How to Label AI Content
Nieman Lab (journalism arm of Harvard University) recently wrote about AI content that reached a point where the deepfake creations are shockingly realitic. Which begs the question, how should such deepfake content be labelled so that we know what is real & what isn't?!
​Suggestions:
Promo tags

Filter tags

Platform & non-platform warnings (e.g. tags by Twitter)

Metadata – e.g. in the title, caption, profile & byline

Within the media itself, e.g. pre-roll, end roll, interstitial

Annotation

Typography used
Upcoming STIMY Guests​
Nigel Stanislaus: Celebrity makeup artist who's worked with the likes of Michael Buble, Mel B & Olivia Newton John, been the judge for Miss Universe Australia & Australia's Next Top Model, and done editorials for the likes of Harpers Bazaar, Elle & GQ. He's currently on tour with Tina Allen in Australia
Also, do you know anyone with an interesting/inspiring story? Or someone whose backstory you'd love to hear?
Feel free to hit me up @ sothisismywhy(at)gmail.com 😊
Until next week!
Ling Yah
P/S: If someone forwarded this newsletter to you, you can sign up here.