Welcome to Episode 23!
Our guest for STIMY Episode 23 is Sarah Chen.
Sarah Chen is many things but she is above all. a powerful advocate & role model for women empowerment. She is the co-founder of Lean In Malaysia, which boasts over 5,000 women within the network, bringing women back into the workforce, accelerating women into leadership positions. And also sits on multiple boards including 131 & counting, which is a bipartisan effort to fete the unprecedented number of women serving in the House and Senate, to encourage more women to run for office in the United States.
Sarah is also a global investment professional. She previously worked in the corporate venture capital unit of Sime Darby, a $13 billion Asian conglomerate investing in late-stage biotech stageups, and is now the co-founder and managing partner of The Billion Dollar Fund for Women: a global consortium of venture capital funds that have now pledged beyond US$1Bn to be invested into women-founded companies; now known as Beyond The Billion. Specifically, she works with limited partner investors to diversify their portfolio through venture as a returns strategy.
In addition, Sarah was named World Economic Forum Young Global Leader and Forbes 30 Under 30, and has also been featured amongst others on Der Spiegel, the Wall Street Journal and Forbes.
But what is her story?
PS:
Want to learn about new guests & more fun and inspirational figures/initiatives happening around the world?
Then use the form below to sign up for STIMY's weekly newsletter!
You don't want to miss out!!
Who is Sarah Chen?
Sarah Chen was born & raised in Kuala Lumpur and since young, her parents always treated both her and her older brother as equal. 
We explored her childhood and something of the more unique things she got up to including:
4:27: Her parent's parenting style of "dream big, aim high";

5:43: Becoming a national child TV host for the Golden Kids Club on TV2 RTM (a Malaysian channel) at the age of 9;

8:49: How Sarah's dad gave her the push she needed to audition for the Golden Kids Club;

10:42: Family dinner conversations that included listening to her dad advise her mom on her career; and

14:17: The ping pong competition story.
"You're Too Ambitious As a Girl"
When Sarah was 17 and had just completed her SPM (the Malaysian equivalent of a high school exam), she applied to some 20 scholarships and was rejected by all of them despite her sterling results.
She reapplied a year later with 4As from her A-Levels, where one senior personnel at a company said:
I was told (during my scholarship interview) verbatim, hey, as a girl, I think you're a bit too ambitious. You shouldn't say these things. Which is what I aspire to be. What I think about the world. And I want to be the CEO or I want to get the scholarship.
And how did Sarah handle that?
18:54: How Sarah was told, "Hey as a girl, I think you're too ambitious"; and

21:11: Why Sarah did law at King's College London.
Working in Malaysia
After graduation, Sarah wanted to work overseas but had to return because her father was sadly diagnosed with cancer. Thus at the age of 21, she became the interim director of MRI Network: an executive search franchise office in Malaysia, within a global network of over 800 offices.
26:27: Why Sarah ended up being the interim director of MRI Network at the age of 21
Soon after, Sarah moved on to work at Sime Darby & also appeared on a reality TV show! During this time, she also co-founded Lean in Malaysia:
30:25: How Sarah ended up working in the corporate venture capital unit of Sime Darby (p/s: by taking initiative & asking for a coffee chat!);

35:41: Appearing on the reality TV Show, The Apartment, with her brother (Chef Brian Cheng);

39:40: Becoming aware of women doing the work, but not getting the recognition for it;

40:40: Of how no matter how good a woman is at her job, "she was not good enough unless she had a ring on her finger".
Moving to the USA & Co-Founding The Billion Dollar Fund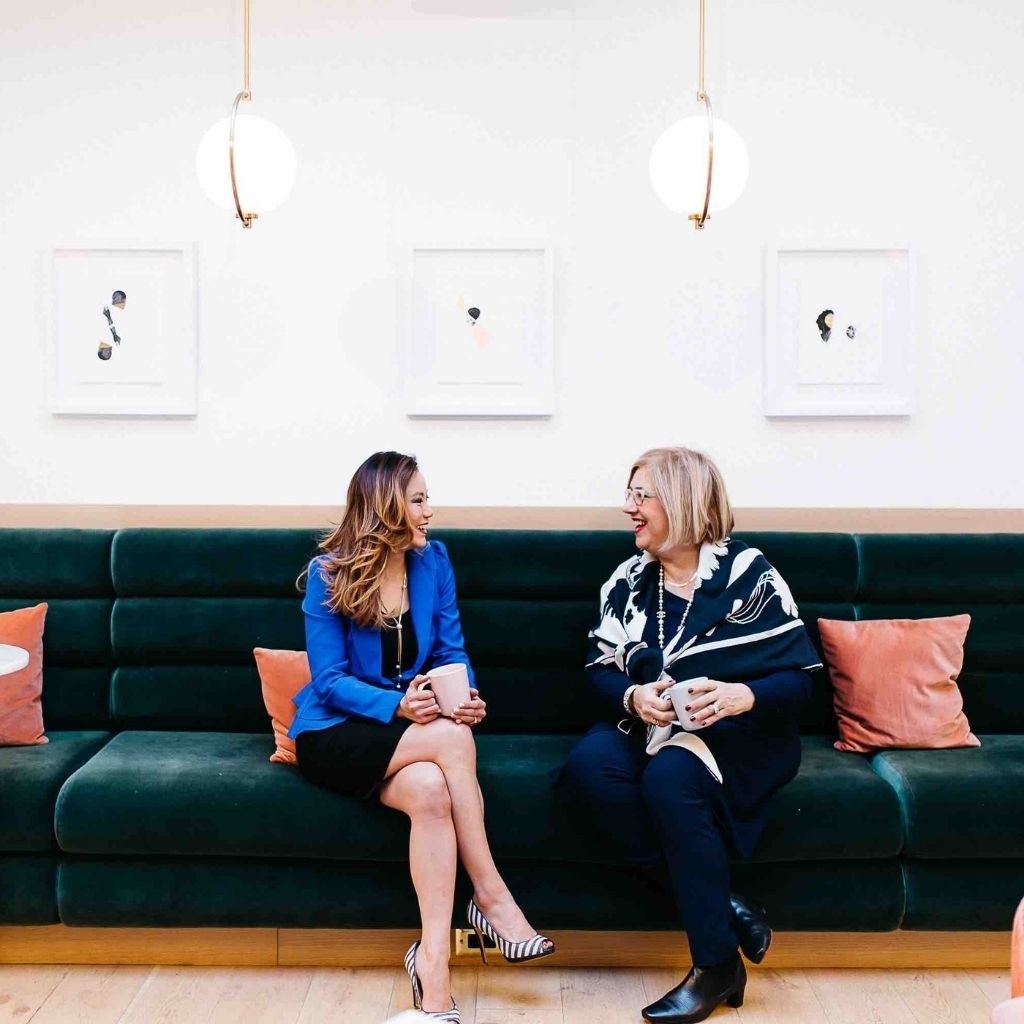 After her marriage, Sarah made the big decision to move to Washington D.C. Finding her purpose and building her network from scratch:  
50:03: How Sarah met Shelly Porges, who became her co-founder of the Billion Dollar Fund;

52:05: The state of the VC industry in 2017;

1:03:02: The reception they got at the World Bank when the Billion Dollar Fund was launched in October 2018;

1:04:23: Key misconceptions people have about gender diversification in investments;

1:07:58: How they gained public attention on the Billion Dollar Fund's mission;

1:10:08: The role of Billion Dollar Breakfast events & how the Billion Dollar Fund helps female entrepreneurs;

1:14:12: The difference between an LP (Limited Partner) and a GP (General Partner); and

1:17:49: Impact of COVID-19 on the venture capital space.
Isn't Sarah an inspiration?
If you're looking for more inspirational female stories, check out:
If you enjoyed this episode with Sarah, you can: 
Leave a Review
If you enjoy listening to the podcast, we'd love for you to leave a review on iTunes / Apple Podcasts. The link works even if you aren't on an iPhone. 😉
Send an Audio Message
I'd love to include more listener comments & thoughts into future STIMY episodes! If you have any thoughts to share, a person you'd like me to invite, or a question you'd like answered, send an audio file / voice note to [email protected]
External Links
Some of the things we talked about in this STIMY Episode can be found below:
Ep 23: Sarah Chen - Co-Founder of Lean in Malaysia & Beyond the Billion
Sarah Chen: When I was told verbatim, hey, as a girl, I think you're a bit too ambitious or you shouldn't say these things. So I was basically told during my scholarship interview that I shouldn't say the things that I say, which is what I aspire to be. What I think about the world.
And I want to be the CEO or like I want to get the scholarship. And I'm gonna work hard.
And this is what I believe I bring to the company. And I think I want to aspire to be in senior leadership. And that may come off a bit too strong for certain people.
So if I interview a young woman now, I help with all of these things. Looking at the potential beyond goals and all that.
And if I hear a woman who wants to go through an accelerator program and who wants to aspire to senior leadership, I love it. Because it shows you have vision. It's very different to what I grew up with. And that's what I wanted to change. Because I never wanted any girl or any young woman to feel how I felt that day, which is I went back, I was in tears and I told my dad and my mom, I was like, should I not be who I am?
Ling Yah: Hey everyone.
Welcome to episode 23 of the So This Is My Why podcast. I'm your host and producer Ling Yah, and today's guest is Sarah Chen, a Malaysian global investment professional., World Economic Forum young global leader, Forbes 30 under 30, and co-founder of Beyond the Billion. A global consortium of over 80 venture funds who have pledged over $1 billion in investment in female founded companies.
Now, while, So This Is My Why doesn't tend to get political, I thought the release of Sarah's episode couldn't have been more perfectly timed because today is also the day that the world wakes up to the news that Kamala Harris just broke one of the highest glass ceilings in the US and dare I say, the world, in becoming the vice president elect in the United States. The first black South Asian woman to have achieved such an honor.
Kamala's sister, Maya Harris, tweeted, quote, "mommy taught us we could be and do anything."
And that's as a sentiment that our guest for today, Sarah, has embraced her entire life and dedicated her whole life mission to.
Right from her childhood, Sarah was ambitious. Something both her parents actively encouraged in her. At the age of nine at her dad's prompting, she became a national TV host. She was a captain of her house sports team and a prefect and her mom once tell her, "You'd better aim high because nine to five, you're going to be in the office.
What do you want to be doing? What sort of legacy? What thing do you want to bring to the table?"
But things were never that easy. At the age of 17 after completing her SPM, which is the Malaysian high school exam before college, Sarah applied to some 20 scholarships and was rejected. She was told that she was not a fit.
And when she applied a year later with four As at A levels, the senior leader of a company said, "As a girl you're too ambitious." A comment that left her crying, and asking her late dad, "daddy shall not be who I am?"
But it was also a pivotal moment for Sarah, as she realized she never wanted any other young woman to feel the way she did back then.
And since then she has achieved so much.
She was the interim head of MRI network, a position that came about because her dad was sadly diagnosed with cancer and she had to keep the family legacy going. Eventually her dad asked her, what is it that you want for your life?
Sarah decided to work in Sime Darby's venture capital department - a position that arose because she was always pushing to go for more and was never afraid to ask for help from her seniors.
And now she is a co-founder of Beyond the Billion, where she seeks to break down the lack of gender diversification that has and continues to plague the VC industry from her base in Washington, DC.
Sarah is a truly, truly inspirational person and the perfect role model for female empowerment.
So are you ready to be inspired?
Let's go.
Sarah Chen: My story, I think is very much a typical, Malaysian girl's story where I grew up in KL, so Kuala Lumpur is my home. Grew up with traditional Chinese parents, but that were liberal in certain ways as well. The parenting style that my parents took on was Dream big aim high. Very goal-driven.
And there was never a differentiation between my brother and myself. So I have an elder brother. And if you were a typical Chinese family, you still remember that it is the boy who gets to be the CEO who will inherit the family business, who will do all these things. And the girl maybe she becomes a CFO but she's not the main character in the show.
But with my parents, I'm very much a daddy's girl. He always taught me to go for what I believe in. And there's really no limits. And he would be the guiding anchor.
I remember joining coloring competitions back in the day. And he would always say, do your very best. And sometimes I would take longer because I'm a perfectionist, even as a child. So I would take a little bit longer to color within the lines and create the quality that I want.
And sometimes it's literally to the end of the timeframe of the competition, but he would still sit there and say, keep going, keep going and finish what you set out to do. and that's become a lot of what I've taken on in my life now.
At the age of nine, I became a child TV host for the Golden Kids Club on TV2 RTM back in the day when RTM was still something that you watched. There wasn't Netflix and all that competition, but I was on the Sunday channel in-between the Sunday cartoons when children were having breakfast and all these things with their family.
And we had an edutainment show. I was nine years old. I interviewed ministers, interviewed a general manager for a couple of companies. I interviewed an archeologist. So there were different segments and I had different opportunities and exposure to also go places, report on things. I was sent to Brazil, by the time I was 15.
Uncle Sabri, who is my godfather and N ati Wati, who started the production house that grew this children's TV program actually had envisioned it to become a leadership program in some way where we had all these children TV hosts, right?
So there were probably 12 of us that were working, while we were having school. And there was, definitely also a discipline to it because you had to maintain your grades to be able to continue it, to be a TV host on this.
Ling Yah: So it was like straight As.
Sarah Chen: Yeah. So they really took it upon themselves.
Like even though we were working as children, we had to maintain some discipline and that school was first and all these things. But they had envisioned from the very beginning: Hey, we have all these high potential children. We need to expose them to things. There needs to be more than just filming and what they do on the weekend, which is for the show, but it is to develop them as the next generation.
And I think that actually frankly shaped me so much . I realize now what a privilege it was to see all these things to go to these events. We were even working with the prime minister's office at that time with his children programs like, volunteering on Deepavali, we have programming in Putrajaya and all of that.
So a lot of fun and a lot of learning, but yeah, I had a very loving, supportive family. Even to today I'm still reviewing my brother's documents even though I'm in the US but family values I think it's the most important to me and that's guided me throughout life.
Ling Yah: When you were doing those golden kids club, you were doing this for seven years. Did you ever feel as though you were intimidated? I mean that you were nine years old interviewing CEOs, that's very, very different from what you would say, a normal 9 year old would do, right?
Sarah Chen: Yeah. So I think we were on screen for maybe - I want to say for myself four to five years. But then we continued on it, as I said with Uncle Sabri and Auntie Wattie wanting to develop the talent and we built relationships from there. So we continued to do different sorts of programs.
But in the beginning I remember myself not being as confident, but we did go through training. So public speaking, I think the rigor of just production. You just have to show up. And even as a kid, you can be scared, but If you want to get the episode, you have to memorize your script, you have to do your job.
So I think from a very young age, I also had that competitive fire in me and I wanted to make sure I was on the episode and things like that. So as much as I was scared and even till today, I have fear of public speaking sometimes. Although you don't see it, but I do it despite it, right. And that's what I think is true for a lot of people.
I don't believe in fearlessness. Fear is in there and it's a human quality that helps protect this, but it's what we do with it, right. And how we can fuel ourselves forward with it.
I just pushed myself and my parents were always there to support me. Even this story of me getting this audition to join the golden kids club, it was my father who really pushed me because they were in my school. Sekolah Kebangsaan Seafield in Subang Jaya. I remember they came around to my school and on a week day to say, Hey, we have these auditions for children TV host.
And I saw it and I was hesitant, right, because I was not as confident in myself. And then I told my dad, as he picked me up from school and he said what, you didn't put your name forward? You have to go! And I was like, I think I'm too late, daddy. I think I'm too late.
And he literally turned around, the car and this was after work and they were just wrapping up and he spoke to the producer, Aunty Intan at that time and said, hey, can you give my daughter a chance? I think she can really do it. And lo and behold, I got through and they love me. And that's the story, but this part and parcel of that is your parents pushing you right?
To say, you can do it. Girl, you can do it.
Ling Yah: I read that your mom was also very encouraging and she once told you, think about the fact that you're working nine to five. Do you want to be the secretary or the CEO? So she was also encouraging you to think and aim highest.
Sarah Chen: My family is like a walking motivational book.
So my mom, she's from Batu Pahat and actually she didn't even go to university. Her biggest dream was to become a secretary right back in the day. It's like, oh, yeah, you're taking the notes and this is such an important job and yeah, it is important.
But then she soon met my father and continued to also dream big. She told herself back then when she moved from Batu Pahat to KL, she didn't speak English as well, but she learned it and she continued on her path of okay, what's next? What's next? After becoming secretary, she had an opportunity to go into marketing.
So she took a marketing course. And then, my father also encouraged her and said , what's next? So, I think in many ways we all encourage each other. We feed off each other and, like, again, a typical Chinese family where we talk about work. This is not good as a habit as I think it should be.
But we would talk about work at the end of the day, over the dinner table. And it's a very particular habit that we have, which is to discuss things, whatever that needs to be solved, can be solved at the dinner table together. That's how we were.
I personally heard firsthand my dad and my mom working through her career together as well. So that was really a treat and I think has shaped me today a lot. and yeah, she exactly told me that.
I grew closer to my mom. I think as I grow older into a woman because you see, you appreciate what she's been through. And she told me that I think in university, as I was thinking about what next, and she said, well you'd better aim big because nine to five, you're going to be in the office. What do you want to be doing? This is all the time that you're spending. What sort of legacy? What thing do you want to bring to the table?
Ling Yah: So from all these conversations and also being able to hang out with, all these high flying, young people, did they influence what you thought you wanted to do in the future. I think you want it to be Oprah at one point?
Sarah Chen: Yeah , I want to be an astronaut and then I wanted to become Prime Minister, and then I wanted to become Oprah.
Sky's the limit or beyond, right? So yeah, I think everything influenced me to be what I wanted to aspire to be.
I think, as I grew older, I didn't see a lot of people necessarily directly around me that I aspired to be. So when you're looking around and seeing some unhappy people, some people that are doing things that you think, Hey, is this going to be my life?
And I thought not. So, definitely everything around me influenced me to think, what next and where I want to be. But definitely I think, my family most influenced me to think that even if you don't see it right, you can be a trailblazer. Because my mom did that, right.
There was nobody who she would follow back in the day. We didn't have social media. We didn't have all these positive stories back in the day. but she just decided, okay, this is what I'm going to do. And as every opportunity surfaced, she took that opportunity, took the risk and moved forward.
And I think that's very true to what I did in my life too.
Ling Yah: And I found that we actually have a mutual friend, Nikki Ho, I don't know if you remember. And she said, even when you were back in school, you were very, very driven. You were in like the sports club, the prefects club,
You were everywhere, doing all these things.
Sarah Chen: Oh my god. This is the problem with working in KL.
Cause everyone knows everyone. So they know all the pipe stories, right? Yeah. I mean, so, so Nikki and I think we were in Cempaka together and I got into Cempaka, which is an amazing private school when Cempaka Cheras was just getting started.
So this was a scholarship that I also got through Golden Kids Club because Datuk Frieda was starting a new school in Cheras and they wanted really high performing students.
So there we were, the Golden Kids Club children, and we were given scholarships and we had to maintain our grades and so on and so forth. But therefore I was also given a very unique platform. A lot of people, especially in the States I hear today that high school is a bit of a nightmare.
But for me, I had an amazing high school experience because when I started in Form one, my class was, I don't know, 13 people.
Ling Yah: Oh so small.
Sarah Chen: Yeah, because it was a new school. So we were just getting started. So there was no such thing as bullying. I mean, we would play around with each other and all that, but I think at the end of the day, a lot of us, I'm still friends with them today.
Many have gone on to do very successful things and we got up to good trouble together and naughty mischief and things like that. I had the opportunity as well as the school continued to grow, to take up leadership positions and those sorts of things, those activities fueled my drive.
I think we were Harimau. I was the captain of the red sports team. So you notice red is my favorite color. But yeah, I mean, I just wanted to make sure we all win as much as possible.
One of the stories that my brothers shared at my wedding was about me and ping-pong. So this was primary school, but I had this competitive drive since I was young.
And in primary school, I didn't know how to play ping pong at all. But I was again, captain of my sports team in Seafield and we needed the points, or you get participation points. Even if you get number three and number four, you get participation points, but at least you show up. So what I did was no one in my sports house wanted to join.
And I said, sod it, I will do it. And this was literally my character. Sod it, I'll do it. And I called my dad at the office. This is me, 12 years old. Hey daddy, can you come back early today? I want to practice ping pong.
He's like what? Ping pong? Since when do you play this game? I said, well, today. Today.
And before that, we have to go and buy the bats. And he said, okay, fine. And he practiced ping pong with me that day and the next day. I think we got at least number three or something. So I do whatever that is necessary, that makes sense to win and to get points. And, Oh my goodness.
Ling Yah: I like that your dad was just so present in your life and so encouraging.
That's wonderful. And I read that that drive that you have mentioned was always with you. That didn't always rub off well with people, right.
They pushed back and said, you're too ambitious as a girl. Was that something you faced when you were in school or is it much later?
Sarah Chen: There's this book that I'm going through right now, that's by Glennon Doyle on untamed.
And there's a concept that she shared in that book and in fact, I was listening to her interview today as well. She said at about 10 years old, we are socialized to fit into society's expectations. If I think back at mychildhood growing up as well, when I was 10, 11, 12 into high school realized that, Oh, wow, she's really competitive.
This doesn't fit into the mold of what society expects of a woman, again if you layer on the traditional Asian cultures back in the day, which is still prevalent in certain ways, right? So although we're seeing great Chinese women, for example, rise, the expectation is still that she is not as successful if she's not married.
And if she's too loud. You're too independent, that's why you can't find a husband. Those sort of things are still said today. And I've heard that many times. So, if I just unpack that question, which is a big question is I think I've been told I was too, too much since I was young, really, maybe 11, 12 in different ways .
In certain opportunities, that I knew that I was the best IN, like I got top grades, things like that. Actually scholarships. I was always trying to alleviate the burden of the cost of education, which I always think is ridiculous. especially in Malaysia where our currency is still very small, so to study abroad and things like that, it's a huge burden.
So I was always looking for scholarships.
And I remember at 17 after my SPM, I got, I dunno, 13 A1s or something of that sort. But basically, I've always been like the valedictorian, , getting all the A's and all these things. And I remember in those interviews that I got rejected, I was basically up against other folks that perhaps fit into the mold that the companies that sponsor would have wanted.
I did a couple of interviews with oil and gas companies, with plantation companies and all that. And I think they were worried about the fact that I would be the outlier in the company.
And that's fair right. At the end of day as you're looking to sponsor students, that will be your future workforce because you want someone that fits into your culture somewhat. it makes sense, but I disagree with it, right. So I believe in diversity because that's how we look at our blind spots.
But even in the boys that would like me, but I didn't like them and all these things. It's funny, but it's also messaging to what the Malaysian boys are brought up to expect from their women.
I believe in finding a partner, a life partner is such an important choice, right? It's one of your most important career decisions that you'll make as a woman. And if you have a partner who's been socialized as a young boy to expect the woman not to aspire for more.
What's that going to mean for your life? You're always going to be boxed in.
And it's not okay. Both for men and women. Let me also make that clear. I believe in feminism because you're removing stereotypes empowers all of us. What if the men just generally doesn't want to take up that leadership position?
Leadership is not for everyone. And what if it makes more sense for the woman to do what she wants to do?
Ling Yah: Like Ruth Gainsburg.
Sarah Chen: Exactly. You want to have that choice and not feel pressured because it puts a little pressure on the men as well. And that's not fair.
It's about individuality and celebrating that and I'm all for that.
Ling Yah: So at that young point, before you went to university and you were already facing this pushback, did you ever feel that you wanted to almost diminish who you were and fit into the mold? So that you could have to the opportunity to go outside of the country?
Sarah Chen: Oh, definitely I questioned myself. So when I was told verbatim, Hey, , as a girl, I think you're a bit too ambitious or you shouldn't say these things. So I was basically told during my scholarship interview that I shouldn't say the things that I say, which is what I aspire to be, what I think about the world and
I want to be the CEO or like I want to get the scholarship. And I'm gonna work hard.
And this is what I believe I bring to the company. And I think I want to aspire to be in senior leadership. And that may come off a bit too strong, for certain people. So if I interview a young woman now, like, I mean, I I help with all of these things looking at the potential beyond goals and all that.
And if I hear a woman who wants to go through an accelerator program and who wants to aspire to senior leadership, I love it. Because it shows you have vision. It's very different, to what I grew up with. And that's what I wanted to change because I never wanted any girl or any young woman to feel how I felt that day, which is I went back, I was in tears and I told my dad and my mom, I was like, should I not be who I am?
Am I wrong? I don't know any other way to be. So yeah, it was hard, but I figured out how to be. I understood that. I learned along the way as well. There are different strokes for different folks. You have to adapt to different cultures. You have to be very careful with what you say.
My mom says, words said cannot be taken back. But I always had from there the drive within myself that I said, I never want any other girl, any young woman to feel how I felt. And it's about being your authentic self. And it's not about, because I don't think I was wrong.
I wasn't rude. I was just dreaming big, And if you're rude, that's a different thing. So there is a fine balance, of course, but I think definitely taught me to think differently. It's become a fuel to my fire in everything that the world throws me as a bad thing.
I get angry and I keep it and it fuels my fire and, everyday, and until today, it shows up in different ways because, this is the stereotypes that exist for women even in funding, right?
So, while I questioned myself and I wanted to make myself smaller and I did in certain jobs, I had to be. But I had to take that in my stride and grow from it.
Ling Yah: So you end up going to King's College London from 2008 to 2011 doing law. And what was your thinking about? How did you end up deciding to do law?
Because I understand you were also the founding team of the business club there. So you were very much entrepreneurial, right?
Sarah Chen: Yeah. So when I was in high school, I used to do pidato. So like sajak and all that. Berpantun and all these things.
Like I was very much a linguist in some way. and I love communication. I still have a lot to improve in that, but it's something that I love that came naturally to me. So I was argumentative. I was good at putting forward arguments and I was doing public speaking. I was on TV and all these things.
And my dad said to me one day, so girl . He always calls me Ah girl. Girl, what do you want to do, ah? What do you want to study now? What's a good foundation and we discussed it and I didn't necessarily want to do the sciences at that point in time. Although I already did what was necessary in SPM like biology and all these things, but I didn't see myself as a doctor.
I saw myself as Oprah. As a mogul, right. As a tycoon in some way. And we discussed it and I thought law was a good foundation. And perhaps going through that process of learning was always going to be helpful as well. So again, there's some part of influencing there as I reflect on it, but my brother did accounting and finance.
I did law so within the family in house, we have all of the spots that's necessary. So this was very strategic on my family's part . And then we still apply it today, right. I went and did law because I thought that was the right foundation as well. And my family agreed.
At the same time, I didn't want to pigeonhole myself into just being that legal girl. Actually in King's, I didn't necessarily gel well with all the folks that did law. They were highly competitive. So when I thought, I was the valedictorian, Oh, drop in the ocean. In Kings, it's so competitive. Everyone else is valedictorian.
And I was in fact told by my lecturer because I was getting upper class. I wasn't getting first class. In my essays, I asked my professor what's wrong with me? What's wrong with my essay? And he said, Sarah, this is great.
But it's all stuff I've heard before. Where's the critical thinking? And if you think about the Malaysian education system, I was rewarded for regurgitation. So I don't necessarily hold all the good stuff that I should from my education and in high school and primary. And before because I was good at memorizing and I regurgitated it and I was rewarded for it.
But then when I went to university, I realized, oh, this is not good enough. This is not adding value, right, to the argument. How do you think critically? So it was definitely a turning point in my life, to think really hard about how should I be thinking, how do I look at an issue? And think deeply and come up with my own thoughts, my own opinions.
I also wanted a little bit of a break from the competition within the legal school.
In the business club , I found people that I could really connect with because they thought differently, right. I had room for some creativity in business and in creating programs and things like that.
I had a couple of guys that were older than me, but they were grooming me to eventually become president. They really guided me and through my experience and Kings actually, that taught me that I should be who I am.
And that there was really no limit. I can be who I am , I don't have to diminish myself necessarily to fit into certain cultures that just can't accept me.
And that's something that I think has resulted in me being where I am today.
Ling Yah: And what were your plans after graduation?
Sarah Chen: So being competitive and Kings and you probably remember this. By second year, you gotta have your internships and training placement offer and all these things and get on the pot.
I was on the international vacation placement with Baker & McKenzie. They placed me in Chicago and in London. throughout the summer. I think they split 50 50. That actually opened my eyes a lot and they put us up in a nice suite.
I was looking over the millennium park but it was through that experience, especially in Chicago, where I shadowed a national partner for M&A And I thought, okay, this is maybe the guy that I want to be, right.
But as I continued to work with him and I found myself inspired because I would be the intern shadowing him and following him for meetings, taking notes and all that. I found myself drawn to the meeting with the entrepreneur that we were serving.
And not so much by the legal paperwork that we had to do, which is so important, but I was so drawn in by the entrepreneur's vision and all these things, And by the end of my internship, I decided, I don't think the partner of a huge corporate firm is what I want to do.
I want to be the business person making the decisions and then working with lawyers that will advise me, but I want to drive the business. I want to drive the strategy and I want to create things rather than review and enable.
And then when I graduated, unfortunately by then my father was already very ill with cancer. Although I wanted to have an international career, he called me. I was still in London at that time, trying to extend my time away from Malaysia in London, as I know many of us do, right. Try to be abroad for a little longer.
And, he called me and said, girl, come home. And I went home. And, helped him with his business because that was his ask of me. And that's how I got started in business and learned a lot. I mean I was what, 21, 22, just fresh off graduation, with a bit of an awkward accent because I don't know, British Malaysian, even now my accent is all confused.
But, yeah, I went home and that's how I got started in business and it's helped me tremendously.
Ling Yah: You spend like you're on two years being the interim director for MRI network, which is what your father was doing. Right. Part of a global network of 800 offices. That must've been really hard though.
I mean, like at age 22. What was it like stepping into your father's shoes, fresh off your law degree?
Sarah Chen: It's hard. I mean, a lot of us who are lucky enough to have family businesses to go into, some of us want to be in it, some of us don't. But to the extent that I think, it's also family responsibility, which I felt for myself.
I didn't realize how unique leadership is, especially within a construct of where everyone is older than you, more experienced than you and you come in as your father's daughter, right? There's also some element of, oh Lord, she's here. She doesn't deserve to be here.
She didn't earn it. It was because of the father. But I think I was able to do what I did in that time. because I was also mentored by one of my father's best friends, who actually ran the franchise in Singapore. So he was the CEO of the Singapore office manager and he's my personal mentor till today.
But he was literally on the call with me and saying, okay, this is how you close the deal. And I would say, Leonard, this is the situation. What do I say? Like, how do I close this deal? And he would walk me through the script and the power of the franchise is also that there are systems, processes and support in place to help you through that.
Samantha Collins, who was in charge of all the franchisees of MRI and especially the Asian office. So she would come in, from MRI and help us build the business.
And she was so helpful to me as well. She would sit with me, sit with my consultants and just work through, okay, this is how you close the deal. How has your CRM looking and things like that?
I didn't do it alone. I had a lot of help. In the beginning, what I learned was I have to eat a bit of the humble pie. So you come in and you learn from everyone because the truth is they are way way more experienced than you. But what you bring to the table is your ability to see things differently.
And you have to slowly prove yourself, right? So I was closing deals. I put a lot of pressure on myself. I think I grew a little bit of a white hair in that time. I had to prove myself that I could do it before I asked anyone else to do it.
It was hard. I took every resignation super personally.
Ling Yah: They happened like in the first few months, right. There were quite a few.
Sarah Chen: Yeah, yeah of course. Obviously people knew that my dad was unwell.
We're transparent about that. But I was trying to be this interim CEO. And then at home, my dad was not well, so I had to go back and that shift, it was very hard.
Ling Yah: So eventually you decided to leave MRI. Could you explain a bit about how that happened? I understand that your father was the main reason who encouraged you to pursue your dreams?
Sarah Chen: Ah yes. So I told you about the white hair. Like I was putting a lot of pressure on myself. I was working super late nights and business is hard.
Something my dad says is if it was easy, everyone would do it, right. And everyone would be a multimillionaire and everyone would be Oprah or whatever.
So by then two years, it was 23 and I was not really seeing my friends.
I was working super hard. And at that same time as well, because I took the scholarship from Sime Darby. I had to do my time within the company as well and they called me and I had this discussion with my father and he said, well, what is it that you want for your life? Business at the end day, this business that we have, you can come back to it any time.
It's up to you, but life is more important. I didn't want to kill myself in the process and so we decided to take that opportunity for me to go into corporate and I think this is a Hakka saying, but it's taste more salt. Taste more salt and get more experienced.
So that's how the end up that chapter happened.
Ling Yah: And what were the biggest lessons that you derived from your time at Sime Darby?
I think you were in venture capital and you also worked on a deal that Obama signs off, which is like USD 30 million, right?
It must have been huge!
Sarah Chen: Yeah. So people ask me, how did I get into venture capital?
And entrepreneurship was definitely on my list. But I didn't think about venture capital as much. It's not as much of a big deal as it is today, I think.
What happened was, I was actually a young executive. So when you get started, I had to do the same thing of doing my time, right. It had the rotation program.
So I was actually auditing. I was in corporate assurance. What the company wanted was for every executive to learn from the ground up. How has operations in the plantation? How does this work throughout the company? What are the potential risks here?
And I was looking around me and Sime Darby is a really huge company. I think there is what a hundred thousand people or something like that. It's easy to get lost in a big company like that. And I had big aspirations for myself. And I said, ah, I can't be an auditor the rest of my life. I mean, this is not the life. You know, I was seeing all this much older, more senior people in leadership that didn't look like me.
And I said, there must be someone who has figured this out. Like at least someone younger, right? Not 60 years old, who is the SVP of something. There must be someone.
And I started talking to my friends and asking around, being nosy, who do you think is a top VP? Like an emerging VP? And that emerging VP was Azli Razali, who eventually became my boss.
My intention at that time was just to have coffee with him to hear his story, to see how he did it. I wanted to get the secret key. How did you figure out, how do you become a VP?
That meeting over coffee in his office turned into an interview because he was starting out this unit, which is a corporate venture capital unit, which was to build strategic investments, for Sime Darby as a company. To look at entrepreneurial endeavors and to think about how do we bring innovation within rather than going through the usual M&A stuff that we used to do.
But can we incubate? Can we also grow them? At what state should we work with them to create some exponential growth and unlock value that is throughout the supply chain of our business that's not being looked at.
And what happened was he literally asked me, it's such a consultant question, Sarah, can you tell me if I have a Boeing 747? How many ping pong balls can I fit into this Boeing 701?
So this ping pong ball story follows me throughout my life. then I answered it. And he was so impressed and also he liked the fact that I had a law degree because he needed someone to help with the documents. So if you think about transactions, the deals that we would do, there's a lot of legal review and negotiation and things like that, and there's an element of even stakeholder management.
Through my father's business, I had to learn to work with people, manage up. So they were all older than me. So stakeholder management I think is one of my top skill sets and that helped me. So then I got into the first corporate venture capital unit, and learned a lot from even just how do you build a corporate venture capital unit?
When I started with just a strategy paper. By the end of it, we had a budget. We had about 150 million to deploy. We were analyzing companies.
My first deal was a 30 million deal.
Actually the CFO that we invested in has now become my mentor actually. And my peer. What happened there was, this was before Zoom. So we would do a conference call and negotiate and they were in the US so we were looking at late stage biotech companies and I would do the negotiation.
Honestly, one thing that I learned is for people that aspire to leadership and if you see your younger staff that have the potential, give them the opportunity. And honestly, really gave me a long leash. I think some of the other executives around him, like, our head of different departments around him frowned upon it a little bit.
Like why is Azli sending Sarah, this young girl?
But he did that. He really did that. And I so appreciate it because then I had to own it. Because he said, oh, okay, Sarah, go and handle this discussion. So I was doing a lot of the negotiations.
We were signing off the deal and the company came over to Malaysia. His name is Brian Conan. Brian said, Oh my gosh, what? Wait? Have I been negotiating with you all this while? This 60 year old guy was negotiating with a 24, 25 year old and thinking, Holy, this lady knows her stuff and she negotiated so well.
And I respect that. I respect the work ethic and all these things. So I learned actually to Go beyond the transaction as well. That's very important, which is I built a relationship with him and with all our investee companies. Actually a lot of the senior management, I call upon them now, even the other CEO that I work with, that we invested in, even now that I'm away from the company, I can call upon them because I developed that relationship.
So I took my work very seriously, but I also took those relationships very seriously. And I think that's an important point because early on in my career, I was very strict with myself. Because remember my history of, oh, not many people can accept me for who I am. So that's why I had to shield that and compartmentalize.
So who I was at work, may be a different person from who I was at home because I couldn't be too much at work. And what that resulted in was also, I missed out on a lot of peer relationships. So while I was lucky and I decided I'm taking a chance with a couple. I also miss a couple of chances with a few of my peers, because I thought, let's create a line, right?
Because I want to make sure I'm a professional and I'm viewed in this perfect lens, but the truth is people appreciate a lot of honesty. People appreciate your authenticness and it's a bit of an art and a science of being who you are, but creating it in an environment that makes sense where I've run even in the professional construct.
It was an intense time. It was hard because not everyone believed in what we wanted to do. Everyone doubted us in the beginning, Azli as well, he was an emerging VP, but he was a young VP, right? Like, so again, he didn't fit into a lot of people's molds of ideas of who he should be.
And I was part of that team with him. So we were sort of you know, the rebels of the group, try to do this thing. Was it going to work out? Yet to be determined.
Ling Yah: And so after that whole time in Sime Darby, during that time, actually, you went on this reality show, The Apartment.
Get your share like the whole experience with your brother?
Sarah Chen: I would do anything for my family because I just love them so much. And it's family first, all the way. And my brother, Brian Cheng, so he was actually also helping me peripherally in my father's business, but he knew he was not his passion.
So he was going through something, cause he was cooking for my father who was ill to make sure that there was not too much salt, blah blah blah. And he decided to join masterchef. So that was his first reality show.
Ling Yah: He was a finalist.
Sarah Chen: Yeah, he did really, really well. And he just basically through that time And I think when your parents pass on it's also very soul searching and it inspires you to search within your soul for what you want to spend time on and things like that. So he went through that as I did. But he went through it differently.
So he found his true passion, which was in the kitchen in cooking. And he's an amazing chef. and he's become accredited and all that. He's in Cordon Bleu and all these things, but essentially he was starting his career in media, with cooking. He was merging the culinary arts with the media and he was creating a brand for himself.
And he called me one day. He said Sarah, there's this audition for some reality show. Do you want to join me? And I said, okay, whatever, I didn't even blink because it's my brother. I would do anything for him.
And I wanted to support him as well, because a part of the story, which I didn't tell my brother was my father actually and my mom, like she didn't support him in the beginning.
So this is a bit of a confusion, when I say traditional Chinese upbringing, this is where the part comes in, right. Because cooking and media, it's not as serious for a boy. My dad bought him a mom blank pen to be the CFO or the CEO of a company. And that's not what he wanted. So there's some element of that, within my family. So not completely liberal. That's why I said it's part liberal pot, like traditional Chinese.
So. Although my parents didn't support it for me as a younger sister. Like I love my brother so much. I would do it. I said, daddy, you have to support Koko. How can you not? This is what he wants to try it. This is a time that you try.
So this was actually after my father passed. And he was continuing to build his bread. and I said, okay, I'll help you. We did that auditing and we got it. This is me, right. Joining random auditions, and then getting in. So we were on the cast of this reality show, our phones were taken away and we had to design apartments.
So both of us, one is like, accounting and finance major that decided he wants to start cooking and be in the media. One is a lawyer that is into business now. None of us have design experience, so we decided, okay, let's do this. It was quite, quite funny actually, but we were working so hard to just redesign the apartments. So we had different rooms and then we had to bring in furniture, we had to do fixture.
We did not win unfortunately, but for the first time in my life, I planted grass with my bare hands because we had to design the garden.
It was a fun time in my life because when am I ever again going to work with my brother in that capacity on a reality show where we're working our asses off 14 hours or something like that because it was time bound. We had to rebuild it and try to bring this vision to life and all of these things.
I think I last saw it was on Netflix. My husband got to see you was like, oh my goodness. But yeah.
Ling Yah: So you were doing all that amazing things. And then you started at Lean in Malaysia, Can you share with us how that happened?
I think it was through conversation with Abir, right? One of your co-founders.
Sarah Chen: Yeah. This was during my time when I was already working with Azli in the venture capital unit, and I was the only woman on the deals team.
So we had other women who were scientists, engineers that were helping us with the technical diligence and I depended on them. So I'm the deals person. I would bring it together, but I'm not necessarily the one that can tell you, okay, can this molecule work the way it's supposed to work?
Does this bacteria consume the chemicals as it's supposed to. How do I diligence that? So I depended on these women who were scientists, engineers, and this was a time where my dad had also passed on. And I looked around me and I was of course looking for purpose. So my brother found himself through cooking.
I was just looking for more purpose, right beyond the work life that I had, which was to do deals and to get it done, which I love. But then I would go for all these meetings and I can still remember one of the ladies, she's older than me, but she's an introvert.
And she said, Sarah, you speak so well. Why don't you just present the findings for us? I don't have to speak. And I just thought to myself, no, this is ridiculous. You did the work you need to speak, but she's an introvert. She doesn't like this, but it became very clear that if you didn't speak up and you're not seen for the work that you're doing, you're not going to have the corner office.
And not saying that it's something that everyone wants, but at least have it as an option if you've done the work. I realized the fact that a lot of the women were also rushing back very quickly sharp at six, because they had to go back and cook for their children.
And all these married men were still there with me until I said, what's going on? Don't you have to cook as well, like get ready for your family. And obviously their wives were cooking. And I realized. Huh, this is not fair. And this creates a ripple effect.
If you put in the hours, if you're seen, and you're a leader dah dah dah, dah, I mean, especially in investment banking, there is face time, there's all of these sort of things, it matters. And that occurred to me that there must be more to be done here. And we looked around ourselves as well.
So Abir and I came together for coffee and I shared this part of my story and she shared another part of her story, which is she's a Muslim woman that's wearing a hijab. And she would always be asked, first and foremost, hey, dah kahwin atau belum? Are you married yet?
So despite her being as good as she is in her job, she was not good enough unless she had a ring on her finger and we thought to ourselves, man, it must be something else. Are we not getting this right here?
Is this the reality that we live in? And also we then tried to look around us at other women to aspire to be that, Oh, if there are women at the top of Malaysia, they must have figured it out. And let's talk to them.
We literally scoured and started getting into, okay, what's the landscape at that time? The number of CEOs was what, four or 5%, in Malaysia that were women.
And many of which didn't necessarily also look like us or they went through a different route. So we wanted to see what's out there. And can we at least have a bit of a road mapping session of how did they get there without friends?
So we decided literally over coffee.
Okay. Let's do this via Lean In. It was a book that she read with Sheryl Sandbag. And I said, okay, let me help you. And we literally posted on our Facebook to our friends to attend this dinner with Datuk Zuraidah Atan at that time, who was the Director of Bursa Malaysia, and who was a contact of Abir's.
And we posted on Facebook and we thought it would be like a dinner, right? So Datuk Zuraidah was saying to us, oh, it will be a simple dinner . Come to the Malaysian Petroleum Club, I'll host you all. And she was expecting, I think, 10 people. But when we posted on Facebook, there were 80 people that signed up.
Ling Yah: Wow.
Sarah Chen: At that time, Abir and I were still young and on a corporate salary and we said, Oh, okay. I think we should definitely pay for the food and not get Datuk Zuraidah to pay for it. We will top up.
So we went into our corporate salaries, got the food, whatever. And I called my old contacts at the media actually, I think we forked RM500 each to bring a cameraman to film this.
And it just went viral.
So then what we realized was how we were onto something. There were ambitious young women and men that were interested in this, because again, like I said, gender stereotypes, once you remove it, empowers all of us to pursue what we really want for ourselves and not what society expects of us.
And we were inspired to then say, okay, let's go big or go home. Let's surround ourselves with a couple of other people. So we brought some other strong women , some were in later stages and they're curious, but all focused on how do I fulfill my full potential. And we built Lean In Malaysia essentially through that.
So what started as a coffee session into an event, then became our first conference at the end of that year, which ended up bringing a thousand people to attend that summit. And yeah, this was an entity that we can run and has meaning. And we did our homework and basically build a feminist movement in Malaysia that continues to today.
I mean, I'm just on the board now, but it's sustaining , we still are working with the different organizations and doing important work, which I care about.
Ling Yah: And did you find it difficult to reach out to all these people like the CEO's to come and give like an hour of their time just to share about their life.
Sarah Chen: So this is something that I learned as well, to be strategic and building movements and building companies and building teams. You don't have to be the best and the smartest person. And I never think that I am, if I am I'm in the wrong room.
So I want to build myself such that I have people around me that I can rely on, that I can trust their opinions as well. And what we did was when we built that first committee of women, right? So the core team of Lean In Malaysia, we put thought into who would help us open the doors and who would also care about us enough to put their reputational capital and their relationship capital on the line for us.
That's how we got our sponsors. These women were the people signing the checks, so that was helpful. Even though it's a startup effort, I care so much about the detail, about the packaging and especially for an issue that's so important to me, you cannot afford to say the wrong thing. You have to position it correctly.
We're also bringing in an American concept into Malaysia, which requires a lot of localization. The tip there was in reaching out to people that we wanted for all events. So not being afraid to ask for help, but making sure that we're asking the right people for help, that had some influence on these other people.
And of course there must always be what's in it for them. We were able to get a thousand people, as I said to the conference that were aspiring women and men actually, in the audience that were important for perhaps certain politicians, that was important for certain corporates because it's part of the agenda, right.
From the angle of. giving back to society, number one. But number two is also branding and marketing for the companies that work with this, for the CEOs that spend time with us, number three, it's also talent recruitment, right? So, one of the important things that I think we worked on in Lean In Malaysia and continue to do is also working with career breakers.
So women who drop out, after having children and unfortunately, the workforce does not view them equally. When you have a gap in your CV for five years compared to a man, obviously you're at a disadvantage, unfortunately. And it's how do we make sure they get back to the workforce? And these initiatives were important to people like TalentCorp.
So we worked with Talent Corp, and who's going to hire them. They will be different companies around Malaysia and that's what we did. So I think just having a strategic mind, even in whatever you do, right. Just be smart about it. And I think that's helped us a lot.
Ling Yah: And for those who are listening, because most of them are Malaysians. This is actually open to females and males, right. If they want to connect with other people as well, then this is definitely an option. And so then you took a leap of faith and I understand you moved to Washington in 2018.
What was the thought behind that process?
Sarah Chen: Oh my Lord. There was a lot of thought, but this was not career thought. Choosing your right partner is a career decision as well. So that was me taking a risk for my personal life. Along the way, when I was investing in the US and I was traveling, I met my husband.
And within nine months actually, he proposed to me and he was living in DC. I was living in Malaysia. It's a 24 hour flight and we were doing the back and forth, which was not good for our house or our careers. And we had to make a decision of what would be better for our future.
And we decided that the United States is the best for us, both. And although it will take a lot of hustle on my end, to figure it out because I had no base other than my husband's side of the family, and a couple of investments, but they were in the West coast, so I'm now on the East coast.
My non-negotiable was to have a partner that was supportive of my career. That will be my engine. And be my equal partner and appreciate me for who I am.
So this is going a bit personal, but I've been in a lot of relationships and this goes back to the stereotype where they expected me as the woman to be more submissive, to not be too much and all of these things, which I was tired of.
So the moment I met my husband, who in fact pushes me to be more than I think I should be sometimes, which is a positive thing. And we argue about it. Sometimes we get so heated because he cares about it so much, as much as I do, I decided this just makes sense.
Even though a lot of people around me didn't think it made sense. You don't even have family that knows what's going to happen. And what if, what if, what if whatever, but I just said, I have to make this decision and this is why I'm going to do it makes sense for me, I'll figure everything else out.
And I think by that time, only two years ago, but I built myself so much to the point that I realized that I can go through anything. And I trust in myself to figure it out, even though I don't have the answers, I might not see it. I just trusted myself enough to figure it out. And if not, I have, also Michael, my husband to support me and who will help me figure it out.
Ling Yah: So how did you go about figuring out, because I understand you ended up being a fellow at the US Department of State, then the Board Member of Beacon. So how do you begin to establish yourself in a completely different country?
Sarah Chen: Oh, it was a lot of hard work. I, frankly, don't wish this upon anyone because it was very hard and there are certain dark times in your life. And that was, I think, part of mine as well, because I was unsure, right. I didn't know the people, I didn't have contacts.
I was always looking for opportunities and the state department program. It's called the international visitors leadership program, where they select outstanding leaders from around the world to essentially have a tour of the United States and have an introduction. And I thought, wow, this is a great way to introduce myself to this new world and the United States and to learn and things like that.
And-
Ling Yah: Margaret Thatcher was on this program too, right?
Sarah Chen: Yeah. So, I mean, when, when we talk about world leaders they were like, real world leaders, heavy heaters, like Margaret Thatcher. So this is a diplomacy program for the United States, right? It's also creating relationships with different countries.
So I did that but also, along the way, I was waiting for my green card so I couldn't work for quite some time. But I was anxious, knowing who I am with my competitive spirit, I can just sit at home and do nothing.
So I was thinking about what else can I be doing? Who can I network with. I guess I started with just the mindset that I have to put myself out there. And figure it out.
I would attend events that I thought would interest me, that would have people that would interest me.
And I was also guided by my passion in some way. So I believed very much in women in leadership, and that was something that I wanted to continue to see, especially from the American context, which is very different to the Malaysian context.
So I came into it with a learning attitude. I'm here just to listen, to understand the dynamics so and so forth. And I got introduced to a couple of people. A couple of people introduced me to other people, and I asked the same thing that you did, which is okay after a coffee. Who else do you think I should meet for example. Who else do you think I should speak to?
I think I want to continue in venture capital because I've done all this and my work is not done.
I want to continue in this space and I want to be continuing my work in women, in leadership as well. Who should I speak to? And, there was a board opening for an initiative between Google and the mayor's office of Washington DC. And I got nominated to be a board member and that's how I got started in minority entrepreneurship and women entrepreneurship in the US.
And then actually, that's how I got introduced as well to Shelly, who is my co-founder now at the Billion Dollar Fund for women because I was on the board and she was an advisor and we attended some law events together and she was seated next to me.
When I asked her, what are you working on? She said, oh, I'm thinking about this idea. , I'm going to call it the billion dollar fund for women. And my eyes lit up. I said, what. Can you repeat that again? What is this? Coz she's a marketer, she's a-
Ling Yah: She used to work for Hillary Clinton.
Sarah Chen: Right, senior adviser for Hillary Clinton. And serial entrepreneur, investor.
And she was also working with Bank of America as I think the head of marketing at a time of a historic turnaround in the seventies. So she's definitely a different generation than I am, but I think we make a great team.
But I met her from that when she told me this idea and I said, let me help you.
I have some time on my hands. And the skill set that I bring to the table is again stakeholder management. It's also about packaging, bringing an idea and scaling it and actually executing upon it.
So we brought the idea together, fleshing it all a little bit more. And then a couple of months in, it was October 2018 that we launched the Billion Dollar Fund for women at the World Bank meetings.
And the concept is to solve the gender venture investment gap. So my eyes definitely lit up because she said the key words in my life, which is women in leadership. And venture capital. And this is the merger of the two things that I sincerely believe in. And I think it's my life's mission to this point, and yeah, it was serendipitous, but also I worked my way to get there, right.
To get to that place that I could have met Shelly as a board member.
Ling Yah: And I wonder is there anything that was equivalent to the billion-dollar fund at the time, and how is it similar to funds like the Voulez Capital, which is Europe's first VC fund focused on investing females as well, right?
Sarah Chen: Yeah, and we actually work with Voulez as well.
So at that time in 2018, there weren't as many initiatives as there are now, I think in the space for getting more women in VC, for getting more funding for women founders as well. But the concept that we approached that with was very different.
This is where my legal background also came into place because I knew working for a VC at that time that getting certain signatures was going to be very difficult and I had to make sure I structure it in a certain way.
So starting from the end goal, if the end goal is to mobilize, and we chose a billion dollars, because back then 2017 was 2.2% that was going into female founded companies. So of the hundred or so billion every other year in the United States, only 2.2% is going to women founded companies. And if you include gender diverse teams. I.e. Where there's at least one female founder in a team, that was what, 10 to 12 cents a dollar?
So you talk about the gender pay gap, which is 50 to 80 cents a dollar. Man, the venture investment cap is so much more. And what's important about this sector is why I care so much about using venture capital as a vehicle to spur women's ambition and power and influence.
I mean, how we're connecting today is technology driven.
It's venture backed. And it will be all in the future. And if we don't participate in that, it will be a world that will not fit us. That will not include us. And we must address that.
So yeah, the end goal was how do we mobilize at least half of that. And actually our initial goal was the next decade. If we can get an extra billion dollars into the hands of women founded companies, wouldn't that be a noble goal?
And we agreed and we set out on this task and we said, rather than just start a small fund and never be heard from again. How can we create a wider effect of working with the entire global VC ecosystem? And therefore, I came up with this idea together with Shelly and we thought of the pledge campaign.
So I looked at different models that have worked in the past and what it is, is getting other VCs to partner with us to say, okay, and this is not necessarily, gender lens funds only. And this was important to what I believe in which is investing in women must be a. Number one or return strategy, but it must be something that both men and women want to do. Because if men are controlling the 88% of capital and actually in the US, women and minorities only control 1.4% of all assets under management.
You're going to be playing from a small pool if you don't include men. And this must be one that we all believe in too, to really move forward, a shared goal.
So the idea was how can we get VCs around the world to commit to this goal, which is to declare and commit a dollar amount that they would invest into women founded companies.
And back then we created a time-bound campaign, which was 2018 to the end of 2020. So we're coming up to that timeframe now. But within this time, how much can they commit? And can we get that in aggregate to be a billion dollars? And we did that in actually under nine months.
So by then we had over 70 funds or so across the globe that had said yes, this makes sense. Some we had to convince a little bit, some we had to work with to see, okay, if I'm going to make this pledge, I need to change the system through which I evaluate and that's what we want. Right. Because then there's an awareness. And then there's action from the awareness, which is, oh, our pipeline is not robust enough.
How can we ensure that we are sourcing enough high quality women founded companies to get the returns that we want it. And this is important to me because this is not a concessionary return strategy. This is about making money and making money because women are just innovating across all sectors and they're doing good jobs.
And we want to back them and we want to back the innovation. We want to see products that serve women and men through the lens of, of women. Right? So that's the beauty of it. I really sincerely believe even I see this in the work that we do. That women are innovating in different sectors and they are bringing so much value to the table because they have a different lens to things.
One of my friends said this to me recently and she's working from the point of risk and governance. She said, if you don't have a diverse team, I will not invest in a non diverse diversity because I know that is a real risk because there are so many blind spots that if you and I look at the problem, the same way, you're not going to catch the important stuff. And that's the core of our work.
Ling Yah: I think it's important to explain to people why investments is so, so crucial because it's not as though there is a lack of female talent, right? It's the fact that the investment isn't going to the talent.
And I wonder when was it that you became aware of this issue? The reality of it. Is there like a particular person or company who was facing this problem that you felt was worthy of an investment, but just wasn't getting it because of her gender?
Sarah Chen: This agenda and how it struck me has appeared in different ways.
So even just seeing in Malaysia, women not stepping up to leadership and trying to conform that gave me an idea about, okay. This is why we don't have many women leaders and we should. Even as I was reflecting on my work in venture capital, I was a young executive then where I could have had more influence later on in my career, which I regret, but we never viewed it from a lens of gender.
There was never a consideration of that. And look at all investments, unfortunately a lot of them were very majority male teams. If that was happening in my world. What about the rest of the world?
In the work that we continue to do today, we're seeing great entrepreneurs that are just being expected to be a certain way.
So even you think about the pitch. And this was a study that one of our partners published in Harvard business review. And they examined the pitch process. And the fact that when a woman pitches and a man pitches, the reaction is different. That the reality is that when a woman pitches and actually raises capital, she gets above a million dollars less.
There's a huge level of unconscious bias, which is you want to invest in people and characters that look like you, that are familiar to you. Thinking about the statistics, right? The lack of women in leadership, the lack of women branded with your image of success.
The patterns show that if I want to continue to reap the returns, maybe I should bet on this other person that is not a woman. Which is very much a reality, right. But the unfortunate thing is pattern matching, can be a mask for unconscious bias. And we need to really unpack that.
Why Shelly's motivated is because when she was President of the North American jury of Cartier Cartier is women's initiative awards, which is a grad program where women are recognized and they get what, a hundred thousand dollars grant money and that's a lot.
And she was the longest serving jury member. And for the longest time she would see all these great women innovating, whether that's creating STEM cell regenerative organs to different agriculture type related innovation. And these women were getting the grant grade, but they will not then getting the big funding that would help them scale.
And eventually they die down. And they die a natural death, which is unfortunate because then it results in the statistics that we see today, which is, actually back in the day, the percentage of funding going to women founded companies was 7%.
So a couple of years before 2017, when we went out to 2% and what happened was the funding pool continues to increase. So usually it's about a hundred billion a year in the US in venture capital, but women were not proceeding to the later stages.
So therefore the check sizes were getting smaller and smaller because they were in the seed, pre-seed, early stage and they were not getting to the point of growth, which then they can command a larger point of capital.
So we've seen it in different ways. Even as today, we continue to work with different entrepreneurs. Even though they have the track record, they have the traction, they have all these things. Fundraising, number one, it's hard for everyone, but it's getting better because there are more funds that are aware and more funds that are built to also invest in women founded companies.
But many others are not seeing this as an opportunity. And may see something that they can't relate to, right? So if the majority of the VCs writing the check are not you and I, or do not look like you and I, and they don't recognize the market that you and I might see, they're not going to write that check.
One of my partners, I talked about, they remove the pitch process completely, and what they do is they invest an initial small sum and track the progress. So they don't make the entrepreneurs pitch because and this is shown in a study where, men tend to be very big in their projections and they tend to be asked promotion questions.
So like, how big is your growth? What's your trajectory? Whereas women, when they pitch in person, or physically where you can actually see them visually, even on zoom whatever, they get asked risk oriented questions. So like, what is the market risk of this? What are you going to do with that.
I have a partner as well, that was fundraising when she was pregnant and she was asked things that are illegal, to be asked at that time, but, she did so well, and I don't think necessarily the fault of men. But it's how we have been socialized.
If you expect women to not be so outspoken, she's not gonna tell you the magnificent large projection necessarily that you want to hear, but if you think all her life she's been socialized to not be too much. And then suddenly in this venture capital space, she has to be too much. How would you reconcile the two?
Ling Yah: What is the percentage of startups with females or 100% female led companies who actually actively seek that funding? Do you feel like there are also women who feel as though they're online to get findings, so they don't put themselves out there for these opportunities.
Sarah Chen: Yeah. So that's a great question, but it's a number that's hard to really tell, right? Because you are basically asking me to quantify intention and I can't tell you how many intend to raise, but don't, I can tell you how many you start businesses. But whether those are scalable businesses, I won't know.
In the U S for example, black women are one of the fastest growing classes that are growing businesses every day, but they're getting a small fraction of the funding. So that just tells you that, like you said, talent is universal, but the opportunity to access to capital and all these things, it's not.
So I think there are some elements of, yeah, hesitation. Also, there are women and men who tend to want to grow businesses that are not necessarily going to be suitable venture capital. So that's a given, but it all suddenly comes into play where for them maybe if VC is such a hard route, I'm not gonna waste my time because raising capital is a full-time job in itself.
It's like finding a job while you're in another job, you have to raise all this capital it is a lot. So for some of them yeah, they decide then let me just bootstrap. But that's not such a bad thing, venture capital it's a tool, right? It's a vehicle for you to get to where you want to be, but it's not the best tool for everyone.
And it's not a measure of your success. The fact that you raised a lot of money, I mean, look at Uber, they raised so much money. It's a mess. Palentier, right. They recently gone onto the market but there's a lot of, the in-between of is this really a good business?
So, being out there and having the shiny, yeah. We raised a lot of funding and, we're being valued at ABC, but if that's not backed by the fundamentals, that's not a business that I want to invest.
Ling Yah: And when you launched this whole Billion Dollar Fund in October, 2018 the world bank, were you expecting the kind of reception you were getting?
I was listening to Shelly in another interview and she said that she wanted to give big bold projections and you were saying, I'm not sure what if we get zero?
Sarah Chen: Yeah. So we're in a good team, where we were like each other's check and balance and, yeah. To present at the world bank meetings, number one, to negotiate for that place to talk about your initiative. It has to be big and bold.
So at that time I was fresh off the boat, quote unquote into DC.
I had my network in Asia and that's what I could bring to the table, but I didn't know if we could reach that huge number that we had promised, which is we will come to the table with at least a hundred million dollars.
I reached out to people that I knew from my past career, that I built relationships with and they were able to get me through the door and get the agreement through, literally within record time, because it was two and a half months that we had, when from the time I met Shelly and I said, yes, I'm helping and let's do this.
And then, okay. The deadline for us to present is October 10 to 11 in 2018. So we arrived with $160 million pledged to women-founded companies. So that was definitely us playing it big and then just going for it.
Shelly likes to joke , if we didn't reach that amount, we'll just hide and say, we were not well, or something like that. Of course we wouldn't do that.
And this is something I've done for myself is if I'm so scared of that goal, I will tell someone else. And I will put it out there so that other people hold me accountable and I have to do it. And because of how I'm wired, I just have to do it.
I just show up.
Ling Yah: Did you feel that there were some key misconceptions that people had about what you were presenting or like backlash towards your vision?
Sarah Chen: We had easy conversations, okay conversations, and we also had very difficult conversations.
So we had the usual, oh, but there are not enough women. I don't see them in my pipeline. So how can you ask me to do this thing? And these are large firms. I wouldn't even names, these are all closed or discussions with the managing partners of the firms.
Then I look at their team. And it's not diverse at all. And you wonder why you're not seeing women founded companies. And the truth is I'm not saying that, only women can find women deals. It is just by nature of our networks.
And I like how one of our partners, lo Tony from Flexo Capital, presented this argument, which is, women and people of color just by nature, have a very differentiated and unique lens and network. And therefore that's what you're leveraging. And that's why it's important for you when you're hiring.
So the number one thing when we approach a fund is we'll say, okay.
Do they have at least women on their team? Do they have people of color in the team? What does this mean, right? And are they in a position where they can bring in the deal, plus have an influence. And that's important. I don't want just an investor relations person who may not be able to influence, okay are we going to write that check or not?
I want to have someone in a position of power where she feels empowered to say, this is a deal I want to back. And I want to make sure that our firm does this. So of course, a lot of backlash from the point of view of oh, but there's not enough talent.
Number one, not in my sector. So they'll quote things like, oh, in AI and machine learning, there's not enough women. But hey, we found funds, WXR is a fund that specifically looks for women in AI, women in machine learning. And I recently talked to one of the CEOs of a company that they've invested in.
Carrie, she runs Embodied Labs and she's using essentially VR to help with senior care. So how do you step into the place of someone who's going through a difficult time, like Alzheimer's or whatever experience they're going through and how do you step into that place to really understand them and therefore care for them.
Like, this is such a unique way of looking at things that she had because of her experiences. Because her mom went through something and she learned from that experience. And then she decided to book a solution for the problem that she went through. It's not going to help just women. It's going to help men and women and uplift us all.
As part of the game, that will be naysayers. Everything that I've done in my past, I've made rejection my friend.
I mean, I just accept as part of the process and I will be for some people, not for everyone. And I accept that. I want to change certain things, and I want to change certain people's outlook. But I have to work with them. But generally we've had actually quite a positive response. I have to say as a whole.
Shelly and I always say it exceeded our expectations because I think back in the day we were talking like, okay, this is the morally right thing to do.
Now, people are actually seeing the real returns like oh, yeah , when I invest in a woman founded company, she's delivering like, Two X three X the revenue.
So Gobi partners, they evaluated their portfolio and found that gender diverse teams in their portfolio were delivering two X or three X revenues. Number one. And importantly the retention rate within the team is a lot higher.
Ie they are keeping their staff and so the cost of turnover It's being minimized. So all these things matter for business. I think of myself as an investment professional.
But just like you're looking at B2B as your business line, I'm looking at women as a strategy. And I think that this is the future.
Ling Yah: And I would love to go a little bit back to how you guys built this whole Billion Dollar Fund because I'm sure people would love to know. From the world bank, you clearly had that visibility and a lot of people were getting to know about it.
And I understand you also worked with PR companies and generated almost like 200 million impressions. How did that work and how did you create that momentum for your fund?
Sarah Chen: I think I always have a strategic approach to things, and I'm all for branding.
You can have the best product in the world, but if no one's going to pick it up, it's not going to be worth it.
First of all, I made sure that I tested it with people around me. Shelly did the same, that's how we got the traction that we did.
And remember, I'm also all about relationships and being genuine. So when I was in my CVC career, I was always very quick to be helpful to journalists or whatever people in the media and I actually developed a relationship with the founder of Red Hill, who eventually became our PR firm in Asia and helped us also across the globe.
And because we were launching in Asia, I thought they were the best people that I should reach out to. I just called Jacob. And I said, hey, we're going to do this thing and it has to make the headlines, right. Because I'm not going to do something that is, just another woman's thing, which I really genuinely hated. Ticks me off so much because it needs to be big. It needs to be bold. It needs to be substantial and need to create change.
And because we're in this world where unfortunately, or fortunately, your impressions are important, we picked that as part of our strategy. So we partnered with them and made sure that in the next few months that we were launching it, that we had a few things lined up.
But frankly, because of the agenda itself, it sold itself. If you think about your womenfolk in that they're only getting 2 cents a dollar, wouldn't you be upset?
I'm so upset. So this whole energy behind it is what helped us fuel us forward. We actually had both male and female journalists pick the story up and that opened up a lot because it's not just about me.
It's about featuring the funds that we partner with. So Voulez Capital, someone you talked about, WXR, Gobi Partners. And Gobi Partners is big in Asia and they never really had women as a strategy until they worked with us. And now they're thinking, how do we go bigger?
And how do we do more? And Tom Sao and his team are all for this because they're seeing the returns and all these things. But it was through the partnership that was led by my good friend, Shannon Kalyana Mitt and myself. I think being strategic again, putting people around you that will help you and never being afraid to ask for help.
And that's what helped us a lot.
Ling Yah: And speaking of people and relationships, there's also this billion-dollar breakfast event that you guys were running, like how important that was to the whole.
Sarah Chen: Yeah. So this unpacks the issue a little bit. So we don't work directly with the female founders to get investment from venture capital funds.
Our first strategy was let's get a whole consortium of GPS. So the general partners, i.e. the VC fund managers, that will then say, okay, if you're a female founder, I have the welcome mat open for you. So, if you go onto our website, if you're a female founder or you're looking for funding, that's a starting point for you.
There's a filter function based on stage. I'm not going to invest in every woman founder, because you still have to meet the basic criteria. And I believe there are a lot of women that will, but you have to build yourself to that point.
But at least that's a starting point for you, rather than starting from zero. Okay. Who's actually going to invest in me.
And there are people out there like this they're full of jerks. That's not going to see your market potential and begging for their money.
You don't want their money. These days getting a good deal is so important to a VC that you have actually a lot more bargaining position than you think. So that's my number one advice.
But number two, our strategy as we look at why isn't that enough funding to women founded companies? Should we talk about that?
Unconscious bias, but it's also the fact that the funds that were investing into women already were not getting the funding. So women were coming out and spending out of larger funds, but they were raising smaller amounts.
You're limited by your cheque size based on how much you raised. When you raise a smaller fund, you don't qualify for the larger cheques from what we call the limited partner investors.
Who are the people that are investing into the VC funds? Which are the pension funds, endowments, foundations, high net worth individuals, family offices, that are looking at this as an alternative asset strategy.
So looking at venture capital as a class. But for the more institutional groups, they can't do a cheque that is smaller than 100 million dollars. And if your fund is smaller than that, you're not going to get it to begin with.
But there are so many elements to this that I can unpack it all. But part of the problem is the questions that they asked to make that cheque to the VC fund is what is your track record? And if you think about women not being in positions of leadership, how are they going to get that track record?
It's like asking an intern before getting the internship. What's your job experience? So how am I going to even get through the door? And that's what we're trying to solve.
And therefore, actually our focus now is through programs like the billion dollar breakfast, and so many others. We are connecting the limited partner investors with the general partners to think about number one, venture capital as an asset class.
For many of them, they are already investors. But to think about, instead of just investing in the Sequoia and the Andreesen Horwitz's of the world, can I invest into these other fund managers?
And by the way, a lot of the women fund managers are outperforming by heaps imbalance. I had a chat with one of our limited partner investors recently, and she's based in LA.
Emerging manager program, 40% of the women are in the top quartile of performance. 40%. So you would think like, oh, with women and men that get through, maybe they'll be spread out across. But if the majority of women that are managing this funds are outperforming, what does it tell you?
That they've worked so hard to get to where they are, that by the time you get through to them, you're getting the creme de la creme. And beyond that women also have a different style of investing that you want as a diversification point.
So that is what we do in the breakfast was about bringing the different limited partner investors and the general partners together to have an investment discussion on, if I invest in you, what does this look like?
What is the value proposition here? How can we continue to support fund managers that may not look like a Sequoia? But may look like a Sequoia back in the day.
Remember the first time five managers actually outperform as well. So emerging managers are people that come to the market, not being sort of even like the Sequoias that are on fund X, Y, Z by now, but in their fund one fund to fund three.
So these are the emerging managers that are actually going to be working them hard and sure to outperform the market in many ways. And actually a lot of larger institutions that are invested into alternative assets, especially in this time actually, because of how markets are, venture capital is one that's increasingly attractive as a class for them to be invested in.
So very exciting.
Ling Yah: Yeah, it's really exciting. And I wonder for those listening who are not in this whole VC world, could you explain a little bit what the difference is between like an LP and a general partner?
Sarah Chen: So a general partner is essentially, we use it interchangeably to describe the owner and manager of the venture capital fund.
So like in Asia I want to say Golden Gate Ventures in Singapore, like Gobi partners, Malaysia, Singapore, and across China.
The general partners are the people who are within the fund. Operationalizing it. That have the position or authority within that fund itself. So that can be associates.
The general partner is in the simplest term, the boss of that fund. The limited partner investors are those that invest into these funds. So like I mentioned, the pension funds, the family offices, it can be even high net worth individuals that invest into funds and put capital essentially.
So remember VCs are not always rich, because they are actually money managers of other people's capital. For some GP structures, there's what we call a GP commit, which is X amount of capital that you have to put in yourself. But most of the time, it also originates from somewhere and that is the name of the game.
Ling Yah: Did you have big learnings from organizing these events and connecting those with the money, with those who are actually investing in different startups?
Sarah Chen: The LPs, the asset allocators. The markets have been built in a way that doesn't necessarily always support high risk capital through VC.
It's not that they don't want to invest into great managers that they see, but it's just that the systems and structures that hold them in place do not allow them.
So they have sort of mandates, I mean, even like pension funds, for example, is basically retirement money, right.
So there's a Virginia pension fund scheme where they are basically managing money for the retirees from the police department from different walks of life. And there is a certain level of fiduciary duty and returns that they have to meet.
But what's interesting is what we're seeing is for a lot of even pension funds that are more conservative, they're actually pushing themselves to go into venture and enter new markets because they can't meet their returns requirement otherwise.
Because in sense of the high growth profiles that they want in their portfolio construction. it's different. So I think what I learned is that there's a reason this problem exists. It will take a lot more time to solve. So it's not going to be in, in under two months as we did in the first beginning.
But we've been building some deep relationships with LPs and we have a couple of other programming, that's my day-to-day, that's just helping the funds do well that are invested into women. And the conversations start with, how do we reexamine the systems and structures that we hold in place? The patterns and beliefs that we hold.
And there are things that are being done actually within the different institutions as well that we work with that are working to change this. So I'm optimistic.
I'm learning a lot just in terms of, okay, what does the spend date say? What does this mean? What are our priorities and how do we adapt that to enable the change that we want to see whilst also ensuring they meet whatever requirements.
So there's a bit of a system to crack here, but yeah, we're working through it and we're positive because I mean, I'm now part of the campaign.
And Beyond the Billion, as we transition to that, is getting actually the limited partner investors to also commit capital, to be invested into women at the end, as a beneficiary, but to funds that invest in women as well.
And some of our LPs have continued to invest in funds led by women and funds that invest in women. And this is like the third and fourth time that they're investing because they've seen the returns.
Ling Yah: And one of the problems right now, since we're recording in 2020 is COVID. And I wonder if you could share how COVID is transforming your space and how you're going to be working in the future.
Sarah Chen: Hmm. Actually Mok, one of our partners from Gobi, the way he explained it is, in black Swan events, which is what we're going through now, which is unexpected, entrepreneurs do very well. Because they by nature are supposed to be nimble.
If they've been built well, they should be able to work through this crisis. Some have died a natural death. A good thing. We're not built up for resilience anyway, but those that have been built well are thriving.
I have case studies of so many entrepreneurs that are really not just thriving through the crisis, but actually being front and center of helping the crisis.
So even like Thornhill Medical in Canada, led by Lesley Gouldie, they're creating mobile ICU. So it's a mobile grade ventilator that actually provides the level of oxygen that if anyone's struggling with COVID need. And they've just been declared a couple of months back, when COVID was peaking, as it was breaking out, just introduced a clad that this is the company we're going to walk with, with mobile green ventilators.
And of course our investors love that because they're quintupling their production and returns are great. And they're solving an important problem that we're going through now.
So I think it's very revealing to see how female founders are facing. What's happening though, is the funding that is going into starting early stage companies, where again, unfortunately, there's still a heavy focus right now in pre-seed and seed and getting them through the leader stage where we are, which I believe they will be.
But what that means is for some of them it's new investment relationships.
So a lot of VCs are not making new, new, new investments. When I say new, new, new, it means new relationships that I don't know you. They are doubling down on their current portfolio to make sure that their portfolio is doing well to begin with.
So that means that it's closing up certain options for capital, for the women that don't have these existing relationships. So there's a little bit of nuance there in their results in terms of what we're seeing. The deal numbers are going up in this quarter. So it's actually better than expected when it first broke out.
Whatever was going to happen has been accelerated in this time, which is unfortunate. And fortunate.
We are working hard to make sure that the new relationships are still continuing to be built. We're doing one next week where GPs are meeting LPs virtually. And hopefully that becomes a bridge to these relationships that gets them started on their fundraising journey.
Ling Yah: So, thank you so much for your time here today. I normally like to wrap up these interviews with these questions. So the first one is, do you feel that you've found your why?
Sarah Chen: I think my why for now has been found, to this point. I think your why changes as you evolve as an individual as well, but my why for this decade of my life is my empire building time, is to really fuel women's ambition, power and influence.
To do that via venture capital. To merge women and leadership with venture capital and ensure that we continue to see amazing leaders shine, and not only just shine, but are funded, invested, and scaled because we need to see these innovations in the world. And that is my why for now.
Ling Yah: And what kind of legacy do you want to leave behind?
Sarah Chen: So my legacy that I want to leave behind, I think going back to my initial spiel about how I never want a young girl or a young woman to feel how I felt when I was told I was too much.
I may not be able to change the entire world, but I want it to be my legacy to at least there's a big enough part of this world that women can continue to thrive. And I'm hopeful that it will be normalized that women can be who they want to be in fulfilled ambitions. And that it's no longer a 2.2 per cent that is going to women founded companies, or even 12 cents that is going to gender diverse teams, but for the world to really see that talent is universal and that we will continue to invest in them because we need this for the world.
We need to solve the big problems and we can only do it with everyone as part of the team. We can't exclude the 50% of the population in solving the big problems that we as humanity will continue.
So I think my legacy will be, building a big part of the world, that will not only just support by saying, Oh, I support you, but actually fueling women to do what they want to do and to create great change, but also to normalize, women in leadership,. Women, investors, women, entrepreneurs, and innovators.
Ling Yah: And what do you think are the most important qualities a person has to be as successful as you?
Sarah Chen: Huh. So I don't think I'm there yet. And maybe that's a quality that I think is important for anyone to achieve some sort of success. That is to not be complacent, to always think bigger. so I mean, I'm always thinking what's next, right?
So I have achieved one part of this, but what's next year. And I think what's important is also to push yourself to think bigger.
In the words of my mom as well, I have nine to five. You're going to be working. Do you want to be the CEO or the secretary?
And I chose to be the latter . I choose to be solving bigger problems that sometimes frustrate me a lot because it's hard, but if I'm going to be spending my time and my energy and all these things, I want to be solving a big problem. I want to be creating a bigger impact and doing meaningful things.
Ling Yah: And where can people go to connect with you and find out more about what you are doing?
Sarah Chen: Oh, so I am on social media. SarahChanglobal is my handle personally. You can go to my personal website, which is Sarah-chen.com, to find out more about my work. For my professional work with Beyond the Billion, it is beyondthebillon.com and we're on beyond the billion for all the channels as well.
Ling Yah: Is there anything else that you would like to close off that we haven't covered yet?
Sarah Chen: Maybe the last thing that I will just say is, there will be once in a lifetime opportunities that you need to grab. And it might seem scary at first, but those opportunities, you need to leverage them fully. Don't underestimate them because our time is limited on this earth and if those big opportunities come to you, you must take it.
And I know leadership and authority doesn't necessarily fit into everyone's dreams for themselves, but sometimes authority, sometimes leadership, sometimes opportunity, chooses you, and there's a reason for it. And you must step up to it. Because that's how we become better. And, sometimes there's a reason beyond yourself.
Ling Yah: Well, thank you so much, Sarah, for your time. I've really loved this conversation.
Sarah Chen: Thank you, Ling Yah. I really appreciate it.
Ling Yah: And that was the end of episode 23.
The show notes can be found at sothisismywhy.com/ 23 with a transcript and links to everything we just talked about.
We also have a private Facebook group where past guests pop up every now and then to answer any of your burning questions. Just head over to Facebook and look for "So This Is My Why".
And finally, So This Is My Why now has a newsletter! Released at the start of every week, I'll be highlighting our latest podcast episodes, some behind the scenes, as well as my favorite finds of the week, ranging from tech developments to inspirational figures, initiatives, and so much more. If you want to sign up, just head over to the show notes: sothismywhy.com/ 23 and look for the link to sign up to the newsletter.
As for next Sunday, we will be meeting an amazing Malaysian serial entrepreneur with a Harvard MBA whose first startup crashed and landed him RM 300,000 in debt. Who was fired from four different jobs! But persevered and went on to found BFM 89.9 - Malaysia's premium business radio channel.
He is a true inspiration. And I can't wait to share his story with you next Sunday.