Welcome to Episode 27!
Our guest for STIMY Episode 27 is Freda Liu.
Freda Liu is one of Malaysia's most prominent radio-television hosts, having worked at BFM 89.9 – Malaysia's only business radio station, for over 12 years. She has conducted over 5000 interviews and some prominent names include Martin Cooper, author Stephen Covey, motivational speaker Nick Vujicic, former GE CEO Jack Welch, the Duke of York HRH Prince Andrew to Wikileaks founder Julian Assange.
At BFM, her show Enterprise provides the tools to help businesses succeed covering topics with the startup scene, personal development, technology to organizational development. While HerVantage talks about women of leadership and influence to showcase women representation in all strata of society from sports, the arts & sciences to entrepreneurship. Freda has authored 5 books called "PR Yourself" and "Shake & Spear Your Business: The Romeo & Juliet Way, " and "Everybody Loves Ray" (biography) "Bursting Fixed Mindsets" and her latest "In Your Skin".
She also contributes to The Star, one of the leading English newspapers. She was recently awarded the ASEAN Rice Bowl Awards for Malaysia Startup Journalist Of The Year and a nominee for MaGIC's Social Enterprise journalist. Freda is a member of the National Association of Women Entrepreneurs Malaysia (NAWEM) and the Malaysian Association of Professional Speakers (MAS). She started her Lean In Circle called Think and the Malaysian chapter and has over 100 members in her group.
PS:
Want to learn about new guests & more fun and inspirational figures/initiatives happening around the world?
Then use the form below to sign up for STIMY's weekly newsletter!
You don't want to miss out!!
Who is Freda Liu?
Freda was born & raised in a small town called Seria in Brunei. An idyllic, small-town life that ended when, upon her father's retirement, they moved to Kuching, Sarawak (another small town!).
In this STIMY interview, Freda talked about:
3:05: Growing up in Seria, Brunei & swimming in the open sea

4:55: Listening to the British Forces Broadcasting Services (radio) as a child

6:30: Moving from Brunei to Kuching, Sarawak at the age of 14

9:47: Returning to Kuching after graduation to look after her father
Working Life
Faith is an important part of Freda's life and she talked about how God closed certain doors in her life (i.e. finding a job in Australia after completing her marketing degree), and opened other doors (a unique opportunity to appear in RTM's telecast, which launched her news reading career).
She has never been one to rest on her laurels. Leading a frantic #duakerja and sometimes #tigakerja (i.e. having 3 jobs at the same time) life!
10:21: Having the opportunity to appear on RTM's live telecast, which launched her career in news reading 

12:51: Working in PR at Edelman in Kuala Lumpur

14:00: Leading the #duakerja life (i.e. working 2 jobs at the same time)

16:41: Being headhunted to work at IBM

19:24: The Gideon test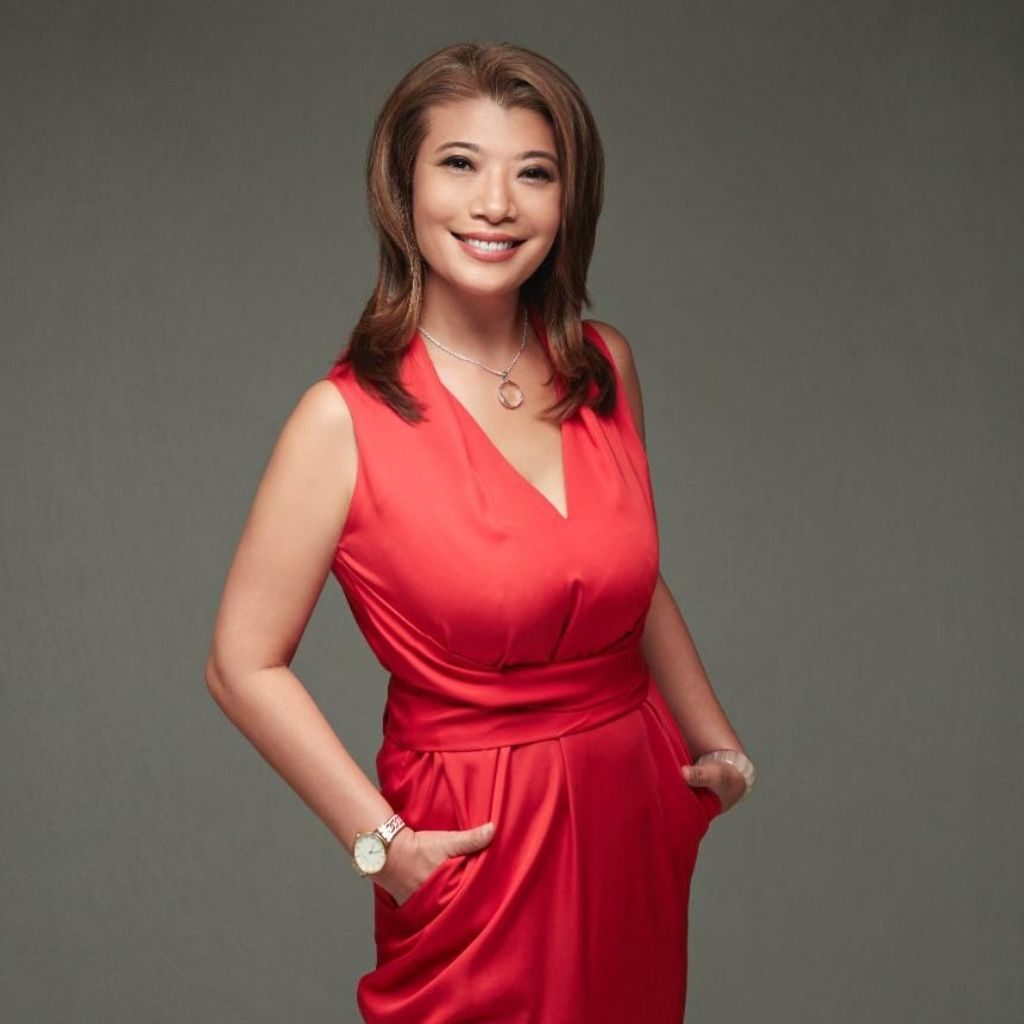 Joining BFM 89.9
Freda is now most known for her role as a radio presenter at BFM 89.9 – Malaysia's only business radio channel. And she shares how her jump into this relatively unknown startup came about also because God had opened the doors for her. 
And went deep into what it was like in those early days when BFM 89.9 had to craft their own culture, and what her life as a radio presenter is like. 
20:57: The early days of working at a startup called BFM 89.9

22:22: Crafting BFM 89.9's working culture of Educate, Entertain, Enlighten

24:57: A typical day as a BFM 89.9 radio host

26:29: Whether Freda's interview process has changed after conducting over 5,000 interviews (which includes Julian Assange & HRH Prince Andrew!)

27:56: How Freda finds the unique guests she brings onto her show

28:30: Interviews she has felt she couldn't air

29:13: How Freda got Nick Vujicic to appear on her show
Book Writing 
Freda is a prolific writer as well and has published 5 books, with a 6th coming in February 2021! 
But how did it all happen?
31:31: Getting into book writing

33:58: Writing her book, Everybody Loves Raymond, on the life of Raymond Chew

36:04: Writing her 6th book during COVID-19
We are not just one entity. I am a mother, I am a daughter, I am a sister. I am all these things.
Miscellaneous
Other things we covered:
38:25: Being better, not bitter

41:43: How COVID-19 has impacted Freda

42:58: The importance of goal setting & putting it down in writing

43:57: What Freda would tell her 21-year-old self

47:30: A new story about Freda that isn't already covered in the media!
If you're looking for more inspirational stories of people on STIMY, check out:
If you enjoyed this episode with Cesar, you can: 
Leave a Review
If you enjoy listening to the podcast, we'd love for you to leave a review on iTunes / Apple Podcasts. The link works even if you aren't on an iPhone. 😉
Send an Audio Message
I'd love to include more listener comments & thoughts into future STIMY episodes! If you have any thoughts to share, a person you'd like me to invite, or a question you'd like answered, send an audio file / voice note to [email protected]
External Links
Some of the things we talked about in this STIMY Episode can be found below: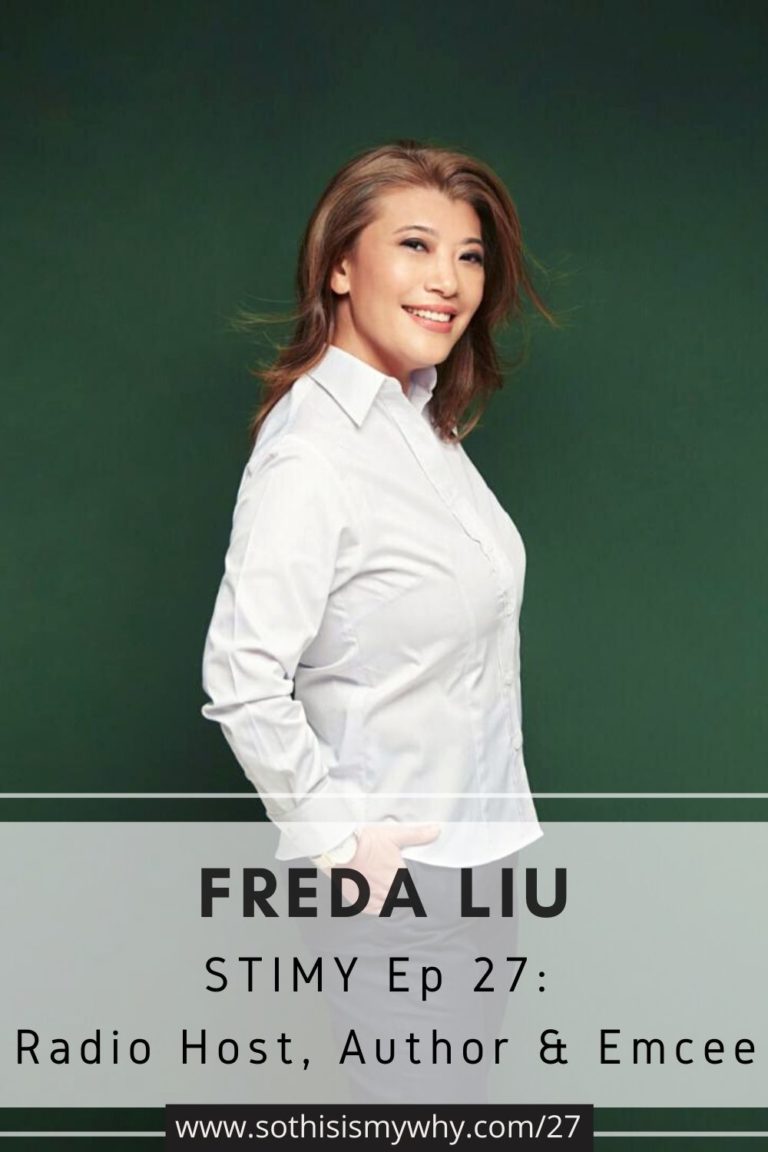 STIMY Ep 26: Freda Liu - BFM 89.9 Business Radio Presenter, Book Author, Emcee & Moderator
Ling Yah: Hey everyone. Welcome to episode 27 of the So This Is My Why podcast. I'm your host and producer, Ling Yah. And before we begin, I just want to share that this podcast now has its own weekly newsletter, which you can find at www.sothisismywhy.com/27, which features further details about this episode, as well as the wide variety of inspiration of figures.
And today's episode features Freda Liu. A sought after business radio host of BFM 89.9 - Malaysia's top business radio station, where she's interviewed the likes of Julian Assange, Nick Vuijcic, and Prince Andrew. Is a five time book author, MC moderator and speaker.
In this interview, Freda shares what her childhood was like growing up in Seria, Brunei until the age of 14. Before moving to Kuching, Sarawak and how her return to Kuching opened the doors for her to begin a life of news reading. An experience that when coupled with her exposure in the PR and marketing world, placed her perfectly to take up a position in a brand new startup, known as BFM 89.9.
Freda is such an inspirational character, not least because of her desire to constantly challenge and improve herself. Leading to hashtag dua kerja and even hashtag tiga kerja. For those who don't speak Malay, that means holding two or three jobs at the same time.
If you want to know how Freda built live, gaining the many skills that has allowed her to truly understand and share the business stories of Malaysia, then this is the episode for you.
Are you ready?
Let's go.
You were born in Seria, Brunei because your parents who are both Sarawakians, had met in Brunei and you stayed there until the age of 14.
So I'm wondering what were the big influences in your life growing up in that small town, the youngest of four siblings.
Freda Liu: I would highly recommend people grow in small towns. And this is like before the internet so you find entertainment in everything. In the garden. The backyard . And TV was at the time probably one channel, two channels growing up in Brunei.
So I think that was the simplicity of life. So you're not caught up in the hustle and bustle, and I'm really grateful cause my dad working in Brunei. He was working for Shell, as I think like three quarters of the population was.
He would go to work at seven o'clock. And he would finish work at 4:15. And it's a very small town, so he's home in 5 minutes. You've got lots of time and dad liked spending time with the family, just raking the leaves in the garden.
I think this is sort of gone in the city. I wish I could impart a little bit more of that with my son. I find that you're more imaginative because there really is nothing else to do.
Ling Yah: You were swimming in the sea when you were a child as well.
Freda Liu: So you think about it, my goodness. So like I lived behind a recreation club. So it's like a five minute walk. So you walk there and I'd swim in the pool and I must've been about nine or 10. The sun's about to set. So this is the time to go home.
And then you just go out swimming in the sea. The sea is calm. And then you come back. And no lifeguard. None of these things. You're by yourself. You don't feel unsafe. No way would I let 9, 10 year old now to do that. Like I said it was very simple.
I think one of the things that I really love from growing up is appreciating nature. My son, who is afraid of bugs, who is afraid of lizards. Even dead roach in the house. I said it's dead. He's terrified of roaches.
So I don't know where he gets that from him. Like grandma used to just pick it up on the wall and take off the head. So this is my mom.
So I'd have to say it as well. Like my mother was very encouraging, right. I said, mom, I'm going to pick up the keyboard. All good. I wanted to do Chinese. I want to do this. I want to do that. She never stopped us from doing all these things. Never scolded us for stopping. So very encouraging that sense. I have to say right growing up. Never had this whether I'm a boy or girl. Just letting a child be, right. And regardless of gender.
So I'm very grateful that she was, progressive not realizing she was progressive.
Ling Yah: Is it right to say that the community was quite diverse as well? I think you went to a missionary school and your classmates like Gurkhas and Brits and Australians.
Freda Liu: Yes. So it was because it's a good school and it's not an international school. I think like those who didn't have to take Malay just didn't take Malay, that kind of thing and that was great, I saw diversity at a very young age, not knowing that.
And I've always been in a co-ed school. So you see boys and girls of different races and different ones. And I always make this joke. Whether you like a person or don't like a person is on pure merit. You can dislike a person on pure merit, and it's not because of your race or religion.
So that was very interesting.
Ling Yah: When you were in Brunei, you were already listening to the radio. There was this British forces broadcasting service. What was that like?
Freda Liu: Okay. So this was such a small station, right? But you can only hear it in my town. We're not even in the capital city cause Brunei was a British protectorate until 1984. So the army had their own radio station.
So then you listen to British music and hear the way radio was done. And again, that was entertainment. So I've always loved radio because it can take you on a journey and you feel like it's a company to life, right?
You come back, you get in the car, you listen to it. And there was a physical radio and so the radio will be at home and the radio will be turned on all the time. So it made such an impact all my life.
So I've always loved radio. I mean, I've done TV. Obviously I'm doing radio but I find that there was more magic and radio, as in it's more challenging to try to tell a story without visuals. So if you're able to capture that, that's quite unique.
Ling Yah: And even though you were born in Brunei, I understand you couldn't become a citizen?
Freda Liu: Okay. So it's a bit like Malaysia, where you could be born in a country and you're not necessarily a citizen. So the strange thing is like everybody in my family, permanent residence. My parents are permanent residents and my three older siblings are permanent residence.
For some strange reason, I didn't get a permanent residence. No reason why. No reason why, how three of my siblings got it and I didn't get it. And you look back in life right now. You said, okay, I get it. God, I get it. God, you've just completely closed that door.
And you understand why the door's closed too.
But at that point, this is my life. This is all I've known. And when you're 14, that's all of your life.
And you're like, what I have to leave this place. This is my home. So it was quite, quite sad.
And I still have a sister there and my brother was working there for the longest time as well. So the oldest siblings stayed on, and one brother's in Kuching and this is me out in KL.
Ling Yah: And was it a huge culture shock to come from Brunei into Kuching?
Freda Liu: Not really, cause I would go back every year.
I'll always go back every year. I went back to Bau because my grandmother was still alive then.
So every year at Christmas time, you just go back, spend a month in another small town. But I loved it.
Again, everything was exciting. The rivers, the lakes, the streams, whatever that was exciting. And the Blue Lake. Tasik Biru.
But the culture shock was you've grown up in a Brunei shell environment. Nice cushy home. Hot and cold water, fully air conditioned house. People come by and do the garden for you twice a week. culture shock in that sense.
That you mean when you go back to Kuching, you have to pay your own electricity bills. You mean you have to pay your water bill. So that was the culture shock. I mean, of course your parents tell you these things, right?
So just culture shock in that sense. I didn't have a miserable life. It was just a contrast to the life that I was used to.
Ling Yah: So you were in Kuching for around four years.
And I understand you were working at Kuching Hilton as well, while you were figuring out what to do.
Freda Liu: Yes. Well, I went to Sunny Hill School. So I did my O Levels and A Levels at the same time cause they gave you liberty to do that. I just wanted to get out of school.
Then I took a year off while figuring out what I wanted to do. I mean, I got some other certifications along as well. That's when I worked at Kuching Hilton.
So when it first opened, I was there. I was one of the pioneer staff. I checked in the first guest in Kuching Hilton when it opened over 30 years ago. While I was figuring out what I wanted, I realized that I didn't want to do hotel management.
And during that time I decided to do a marketing degree. Cause I said, if I really like the hotel, a marketing degree can be used in any industry. and I really am so glad I took that cause I really enjoyed it. I've learned so much. I feel that I'm still applying the principles of marketing to my life.
So that was my gap year lah. And my gap year was spent looking lah and I'm glad I worked .
And opened my eyes to things as well.
Ling Yah: Were there any big moments that influenced you or has left a Mark on you from that time?
Freda Liu: I was studying at HELP. So HELP, I did two years in Malaysia and I did my final in Australia.
I mean, I'm so glad I had the opportunity to spend a year in Australia and the friends that I met so many years ago, they're still friends right now.
The mark for me was don't go with the same bunch of people staying in the same house, the same kind of thing. So I stayed in a private dorm.
So you meet with all kinds of people and that's why you go to Australia. You want to meet new people. And a lot of what we studied was also projects and teamwork.
I found it was a very useful course because you got to work with people. And you got to start learning how to work with people the moment you come out. You got to learn all these things. It's not just the education academic perspective. It's also the practical perspectives.
So I really enjoyed my time. I went to a very small town in Queensland. And you get to know people and a lot of people from when I was studying there. They're also from small towns in Queensland and they have no idea where Malaysia is.
But like I said, I've got about a handful of them, about four or five of them. And we are still good friends. If they come, they'll stay with me. If I go over and in just that one year, you can develop such great bonds with people.
What was interesting was in Australia, like they're so politically correct. You talk about the weather, you talk about sports, you talk about these things. So like every time you look at somebody you know to say, hey, so what race are you? I like to ask the question. Not out of anything. Cause I get asked that lot.
Are you sure you're Chinese? I thought you're Sarawakian and blah, blah, blah. So I realized that that was not a nice thing to ask in Australia.
Nice words to say wish I learned to be politically correct. Tell me about your cultural heritage.
Not where are you from? Where are you from? But what's your cultural heritage? But I just find it so fascinating. Because even like the different kinds of Chinese, the Baba Nyonya.
Yeah. The different kinds of people here, just where they came from, how their thinking is. It's just out of curiosity, not out of judgment.
Ling Yah: Were you never tempted to stay back after that one year in Australia?
Freda Liu: I was, I was tempted to stay back. I think it was tough at the time to get jobs. They always go through cycles. Sometimes it's so easy.
So that time was a very tough year to get a job and just as well that I didn't get to stay because my dad was very ill. So I had to come back anyway to take care of my dad. So when I came back to take care of my dad, this was when I got into TV. And if I had stayed on, the circumstances wouldn't have happened.
Because after I took care of my dad and after my dad passed away, I stayed on in Kuching for a couple of months just working out what to do. And then a friend called me say, hey, something is happening with RTM Kuching. The story behind it was that my friend asked me to audition for something. I said, I can't do this. I'm taking care of my dad.
So then my dad passed me a couple of months later. My friend said, so are you going to go audition? So this would have been four, five minutes.
What is it? That's so long. You all haven't sorted out what it is. And so I said, yeah, night, my mom said, yeah, what the heck?
I went to meet the producer of the show. not realizing he's a producer. It was just conversation, just talking and everything there we say, Hey, you've got the role of what I didn't even know. The rules for what?
I was thinking like what small show in Kuching that they needed someone. so every two years, RTM and what is now known as media co-op. Back then it was known as Singapore broadcasting station.
They would get together every two years as part of government relations. So once in Singapore, then after two years in Malaysia, but because RTM is all over the country, decided to have this variety show in Kuching. And so, the right place, right time.
I don't know. So I was there and they were looking for a male host and a female host. And the male host was this gentleman called Datuk Ahmad Tamimis Rega. And he was speaking Malay. So they were looking for a female host who spoke English and RTM insisted that the female host had to be a Sarawakian.
I didn't realize it was a live show that was telecasted in Malaysia and in Singapore. And what happened was that the people in the audience, because it was government relations with the heads of both. SBC and RTM and they saw me. And that led to my getting into news here in KL when I decided to come over.
So you never know.
And if I had stayed on in Australia, this wouldn't have happened.
Ling Yah: Was it a difficult thing for you initially to suddenly be in front of TV for the first time?
Freda Liu: Yeah, of course.
I was more worried about how I would pronounce things and how I would present and all that. So there was a couple of months of training. And then after that, I got to go on air.
So I was doing RTM for wow, 16 years as a part-timer. Radio and TV. it was really enjoyable. I think it's a whole new experience. So that was part time. Of course I had my full-time job at the same time. So when things happened, I never lost the skill in broadcasting.
So I was always doing that part-time while holding a full-time job. So very, very fortunate.
Ling Yah: And I think the director general at RTM was also someone who was very instrumental in your career
Freda Liu: Yes. Yes. He passed away a few years ago. And I saw an article that his daughter was there and I just dropped the daughter an email.
I just said, I just want to let you know that your father was very instrumental in getting me. That he was a kind and lovely gentleman. And now she works with one of the universities and she said that really made my day.
I'm going to tell my mom about that. Sometimes, people that come into your life and just help you.
So I'm very grateful for all those people that have helped me without them realizing they've helped me. Yeah.
Ling Yah: That's wonderful. So how do you transition from that to being in Edelman in KL?
Freda Liu: My intention after graduating was always to go into PR, because it was a fairly new industry at that time.
So I was very good at advertising. And PR was an accidental subject that I took. What I liked about PR and I still like about PR is that when you're in advertising, you're either a copywriter, you're a creative, you're account servicing.
You're either one of these things. And I found that I would enjoy something in all these areas. So PR allowed me to meet with the client, take the brief from the client, write the proposal for the client pitch to the client. Write the news release and execute on the plan. So you get to do the whole gamut.
Yeah. It doesn't pay as well as advertising. But it was just something that I thought was more up my alley to try it out. And I'm really glad I did.
Ling Yah: I think you had another inspiring boss,as well. Julius Evanson.
Freda Liu: Julius was a sweet boss. He's with a particular bank at the moment. He is with OCBC, he's been there forever.
We would have these long journeys and get caught in traffic so we'll talk about life and then sometimes we'd have to go out for events and all that. And he drives so slowly that didn't when he talks and he drives us early is perfect. Just to sleep.
Ling Yah: So the hours must have been, I mean, every time it took someone, Pete, I was always really, really long, but I think you were balancing that with your Dua Kerja life, which you've always had.
Freda Liu: Yeah. okay. So because the news was late at night. So then you can go there late at night and I did mostly weekends. Which isn't actually not very good because on the weekends, you can't have a proper dinner and then you out there reading your news, right. So this is the sacrifice you make.
These are the sacrifices that you make right now. And you don't know the fruit of your labor very early on, so most of the time I was reading news on the weekend. Most people didn't like reading on the weekend. I didn't mind that kind of thing and it was late at night, so it was fine.
I know PR is okay. I think there are days where their projects are going to be long, but then you still are able to finish it because I mean, a typical day, it could be 7, 8:00 PM. Cause you're out meeting clients, you actually starting work at five o'clock when you come back after meeting all the clients.
That's the price you paid. So no one died. You learn. I enjoyed consultancy because I was exposed to different industries from construction to pharmaceutical to technology.
So you're learning a lot. And I think that's one of the things that always drives me, you know. Learning .
Ling Yah: Do you ever feel as though you wanted to keep pause on this dua kerja life at some point, because it really is quite relentless and there's no end in sight.
Freda Liu: Like for me, I'm doing Okay, so you've got to love it. You've got to love it. I don't look at it as work but don't believe in being a one trick pony. I learned new skills doing other things. I speak, I do MC I do this sort of thing it's fine.
So I MC yes. It's another job. During those periods as well I'm learning and I always feel that when I get fulfillment in other areas that fulfillment comes back to work as well in my job as a radio presenter.
Always try to be doing something. There's one time it was hashed. I think there's one time I was tiga kerja. I was news reading, my full-time job and I was a part-time lecturer as well. So that was like one time I say, when you're younger, you have the energy to do all that. Of course. Not married. No, no kid at a time. So it's like, if not now when right.
And all of these are experiences. And then you do one thing is okay. Lecturing, not for me but I'm glad I did it.
I'll tell you something that's happened so recently. Very interestingly. So one of my students, this was 20 plus years ago, but my students were only three years younger than me.
Three months ago, I had lunch and then this guy, everybody wearing a mask. . And she, I was just like, hello, smiling, smiling. I don't know who the person is, how are you Frieda? I said, yeah, you're my lecturer. You're one of my favorite lecturers.
Her name is Joanne. She gives me her card and a number says, can we meet for lunch next week? I said sure let's meet for lunch. I'll tell you what I'm up to.
So she's into design, right? Very interesting design and all that. And she actually does a lot of work for magazines, styling, and magazines and all that.
So we're sitting down having lunch and she said, let me do the styling of your book cover for you as a gift. How blessed am I? I mean, it's just like, huh? I said, sure. So my next book cover she did the styling for me.
Ling Yah: That's amazing. What I find really interesting as I was doing the research is that you were doing this news reading and you said you loved it. You loved it so much that when you were headhunted, you actually turned down a more lucrative offer for IBM, right?
Freda Liu: Oh, okay. Two different stories. So news reading was always part time.
So when I was working at Edelman then I got headhunted for two jobs. I won't mention the other company. It was the bank. And then there was IBM.
So the bank was going to offer me a lot more money . I think almost double what I was going to be paid.
And at that time, decisions that you make right. You also understand your value.
They said, okay, you gotta be paid X amount of money. and I have a signed contract yet. I said, you know I'm a new reader, right? I mean, you can't hide about that, it's not exactly something you moonlight.
And then I said, is that going to be an issue? And the bank, yes, it's going to be an issue.
I said, why? I mean, it's non- conflicting at all. And the logic of me having to quit did not jive with me. And the person said well, if you work for us, people will know that you work for us and that we're not paying you enough.
Okay. I'll say, okay. and then when, IBM approached me not, paid as much. I said, I'm a news reader dah, dah, dah. And I said, is that going to you? She said, no, no issue at all. So you also decide what is it that is important to you?
Can you imagine this company that's dictating your life before you signed the contract? What more after you signed the contract, right? Because I said, I'm going to read the news over the weekend, so it will not conflict with work. And your logic of people thinking that I'm not paid enough I just didn't resonate with that, right.
And then, working at IBM. They've always been a very family oriented company. And it was a lot closer to home, which is very important to me locations. Very important to me. And I'm so glad I made the decision. I stayed with them for 11 years. There's still an organization that I still connect with, with the people that are still there. So I'm really glad I made that decision.
Ling Yah: But I think towards the end, you were starting to feel like you were stuck in a corner and you're looking for something else.
Freda Liu: Yes. Okay. So what happens with organizations like that?
Does your role always change? So I mean, I was there for 11 years, you roll with changes. . And so happened that there was a particular role that I filled in, which is not PR for a year. It wasn't doing PR, it was a marketing role. and it wasn't really marketing.
The role was such that I didn't get to do any marketing.
It was just more like making sure that everybody got paid. It was taking care of business partners wasn't hard. the people weren't horrible. It was just not my thing. And if I wasn't pushed to that corner, I would not have considered BFM. It was just like pushing the corner.
and if something suitable will come, maybe another two years from that job two years from then I was like, I can't take it now. What is so sweet about IBM was that they gave me a 2 yea we a sabbatical.
So when I got the job at BFM, I was technically still employed by IBM. And the idea was that if BFM didn't work out, I still had a job at IBM and they knew that I was working for a radio station.
So even though they weren't paying me, they were still paying for my medical and dental. if it didn't work out, I would have a job back at the organization. So I'm so glad I made that decision . over a decade ago.
Ling Yah: And I think that offer you took it as a sign from God as well. If not for that, you wouldn't have gone for BFM.
Freda Liu: Yes. That was me testing God. I don't know if you know the Bible, the Gideon test days. Like this tomorrow's like this. And then he said, okay, okay. Okay.
And the thing is where I'm living right now, IBM is one traffic light away. BFM office has moved from Bandar Utama to Taman Tun, but technically it's still two traffic lights away.
And that was the first thing I asked, not money, not anything. So you see like if you believe in God, the door's just like here at your doorstep, sometimes when I say it's divine, it is divine. Sometimes it just can't be so magical.
And so I was there from the beginning and it was early stages. No one has ever heard of this station. Dunno can tahan, dunno can make money or no. That kind of thing. . But it was just something that resonated so much with me because it was a business station and it was talk radio. And, if that didn't work out, I could still go back to corporate.
The experience there in a business station was still relevant. So I connected with it even though there was a 30% pay cut from IBM, but I just felt that it was like a change I needed. I think also every decade something happens, my son was in school ngam ngam primary one.
Cause my last few years in IBM, I was working from home and could spend time with my son. Which company gives you that? And this was before we were forced to like a pandemic. This was a benefit that you could actually work from home.
So my son was going to primary one anyway, you've been more settled in life. It's like, okay, I think I want to do something different now.
Ling Yah: when you first joined BFM, did you ever think whether you was the right decision? Because and this is the funny thing that I learned when I was interviewing Malek, every time he starts a new business, he gets hit by a financial crisis.
So when he started BFM, Lehman Brothers collapsed soon after that. So it's like, wow. Okay.
Freda Liu: So yeah. I don't know why I'm still with him. Okay. no, I never think of these things. I know it all happened because I knew that I had my two years sabbatical. If it didn't work out, I can still go back to IBM. So I was like, yeah. Okay. It's all right. Just ride through it. Just ride through it and see what happens, right?
And I remember one and a half years with BFM, IBM called me by saying, hey, you want to come back? And there is this particular role. I said I don't wanna, but it was very sweet. Kenneth was the HR manager.
Then I left after two years.
And what was it like in those early days?
Because it was the first time in Malaysia where you had a business radio channel. So the people who were there were ready to present us business journalists, they didn't have that specific skill set.
Yeah. So there was a lot of the coming form. And then after that, there were cultural clashes, right? Cause you have two different kinds of people. Those who are radio presenters, but there is no business station. So they may have the skills.
Then they were people who are business and they were mostly print journalists. So coming on and it not only has different skills but different cultures.
I think it took us about six months, a year to find a rhythm. And coming up with a culture that was relevant to us and also had an impact. What does BFM mean to us? When we talk about building first world mindsets, what we want to change.
So having been from corporate and having worked in broadcast as well.
I could look at things both ways and just like, this must be what it's like in a startup and put it down to experience loh.
Ling Yah: Could you share a little bit more in terms of how BFM came up with their culture and I understand you came up with the phrase, educate, entertain, and enlighten?
Freda Liu: Yeah. Yes, yes. So what is our thinking right at the end of the day? Is it the need to educate? But you can entertain and entertain doesn't have to be ha ha entertain.
You are entertaining even though you're learning . A good documentary that's entertaining , right? And if you listen to us, are you enlightened?
And for me, when I do my interviews, do these three things come out Do I try to bring that out in an interview? Was the interview educational?
Did I try to make it entertaining? Was anybody enlightened from it? If I'm enlightened from it, I'm assuming the listener will be enlightened by it. So that was the early catchphrase that we had.
And of course Malek has his building first world mindsets and we have to decide as well, what is building first world mindsets? What is "first world", what is not?
First of all, your level of first world is different from my first world, right? I think we went on a little bit further in the early days to say that they were able to discuss things in an intellectual manner and are moving to that point where we can discuss things intellectually and agree to disagree.
And learn from each other, but to have those conversations. And you look at how, like, in certain places where you can have banter and still disagree and have intellectual debate without resorting to name calling and swearing and that sort of thing.
So that was the early. Yeah.
And were you part of the decision-making in terms of deciding who to interview,
The first interview that we did was in the morning run, that was with the late, Nasreen Hassan from cradle. That was our first interview. There are different belts in the show. So like in the morning, it's the morning run. Where capital markets have very sort of serious businessy stuff, stock market things. So the show is called enterprise and enterprise talking to SMEs. then you look at it. Businesses, you look at startups, you look at personal development, you look at technology, you look at how organizations are run.
How did Enterprise and HerVantage, your other show, come about?
Oh, Enterprise was there from the get-go. So it started with a morning run. And then we were slowly filling up the morning run. We know that that's what we call drive time. But that was the most important thing. The breakfast grill.
And then enterprise is like, let's look at the SME space, maybe business owners who don't have to be in the office by nine. Because they're opening a shop, that kind of thing.
And then also we did the evening show. It's gone through different names now it's called evening edition. I can't remember what it was called in the early days. I can't remember. Now already coming to 12 years.
Then after that, then we had the afternoon show. So it's like taking lessons on the journey. So you're in the morning. You'll want to know what's happening in the market then maybe you're driving around and you hear about personal development. You hear about other smaller businesses. Afternoon, you talk about arts.
You talk about health, that sort of thing. Then evening sort of like you're on your journey home. You capture what happened today, what was discussed today, but maybe not as intense because you're really winding down, right? So that was how we came about. Then of course, a weekend shows. So slowly it opens to the different belts.
So we call it a different belt.
Ling Yah: Can you take us a bit deeper into your life and say like a typical day, what it will look like? I imagine you must go in, you must read all the news and come up with the script and then somehow slide in and do the production and release it.
Freda Liu: So my typical day, try to get in at 8.30. Even now like 8 to 9. Than I try to do some pre recorded interviews, especially if they're overseas. Then I try to do these interviews in the morning.
And then the show comes on at 10 to two, so we had different shows. And it's gone through different directions as well. So 10, sometimes it's prerecorded, sometimes it's live. I'll tell you about the early days lah where every hour there was a live guest coming in.
Before the team grew so large, so in the morning, I'll be talking to 10 o'clock, new business. 11 o'clock, I have to turn on my head and do personal development. 12 o'clock, I have to talk technology. One o'clock I have to talk about, what are the latest marketing campaigns, everything. So that was your typical day in terms of the scripting and all that. And now I've got interns and all that, but I still like writing my own script.
So I'll prepare that the week earlier. I don't do it then and there.
We are current. We know what's sort of going on right now, but we're not as intense as the morning run.
Now the pandemic era, this week I'm in the studio. Next week, I'm not in the studio. So when I'm not in the studio, I'm prepping for next week. . And we try to do things behind the scenes, helping the team. how they do the show.
So this week we're fortunate. So there's only me and my colleague, Audrey. We're on this team. And then there are about three people behind the scenes preparing notes for us. Cause there's the live show at 12 o'clock called Enterprise Biz Bites. So we cover three or four snippets of things. We take people through the poll, we do a poll, and then we talk about that.
We get people to participate in the poll. So the live show is not 12 o'clock. Things are pre recorded now because of the pandemic. I was just looking at my name cards eh, name cards still there. The box usually goes off quickly, but it's been the same two name boxes there. A lot of interviews that are done over the phone.
We're not encouraging visitors as much as possible.
Ling Yah: And do you find that your interview prep process has changed after conducting over 5,000 interviews?
Freda Liu: I was just listening to an old interview yesterday. so scripted. I interviewed this guy called Ralph Bayer, the inventor of video games. He's passed away. But when I spoke to him, he was 80 years old and was like, still so energetic. Atari, Atari, that's the first computer game that came out. So he invented video games. And I guess you get better, you get smoother in that sense.
But one thing that remains the same is I'm so curious. I don't get jaded. I don't get jaded. trying to find a new angle. I don't wanna get jaded about things . I mean, I feel like that's what keeps me going right. That I'm going to be learning something new. Tomorrow I'll be talking to this person who's from Johor making Tiffin carriers. They're making different carriers in supporting used women. And so it's a social enterprise.
There's always something exciting happening in Malaysia with what people are doing, right? You just have to be curious about it.
I saw this girl. I bought the soy sauce. I have yet to interview her. The soy sauce is using non GMO soybean. Like, wow.
And it's called Little Artisan Soy Sauce.
And they were sold through a social enterprise called Langit , which is from Sarawak. They have Bario rice and they have black pepper, white pepper. and so they were selling the soy sauce through them. And then when I went to that particular website, this girl, She is the third generation.
She left the corporate job to start the soya business. Taking the skills from the family business that has been around since 1957, making soy sauce.
And so her soya sauce is with gula melaka one. One of which is like the original soy sauce and not too salty, like wow.
So I've tried it and I was like, Who is this young girl that's doing this.
Ling Yah: How do you find people like these to come onto the show?
Freda Liu: sometimes people write in. and I like to be curious last, like just for example, like ordering from Langit. And I want to support the social enterprise because they're supporting the people in Sarawak.
And then after that, you just look, hey, what is this soy sauce that they're selling? And then you just dig a little deeper. Everything's online. You just do a Google search. I think if you want to be a journalist, always be a curious person. There's stories everywhere if you're looking out for it.
To be childlike and to be curious. Every story is interesting. Everybody you learn something from. And that's the attitude I want to have. I don't know everything.
Ling Yah: Have there ever been interviews that you've had where you felt that oh, I can't air this?
Freda Liu: I think when they sound too scripted. . So I don't have a habit of giving them questions advanced because they will start preparing the answers and reading the script. Then I will purposely change the things around. ,
It's not about good English. Your enthusiasm is your passion coming through. . And people can tell when you're reading cause we're not actors.
The other thing is when you get too salely. Every other sentence talks about how wonderful your company is, your product, is everything, have there been any tough times? This is no, there've been no tough times in the business and that kind of thing, then you're like, Hmm, no. So there's a time and place for that when you want to get Sally's called advertising.
when it's an interview, we want to hear what has been. , challenging for you.
Ling Yah: And then what about the most inspiring interviews that you've done? I think Nick Vuijcic was one of those that you had. Yeah. And he asked for you.
Freda Liu: Oh, okay. That's another interesting story. It's again, not divine, divine.
So everybody I meet I've learned something from right. And he was just inspiring the sense that, it was after the interview, he said, Freda, can I pray for you?
And then when he prayed for me and that was recorded and it came out in the video, if you, if you do a search in big boy Church Malaysia, Indonesia, there's a video that says his church ministry video.
But he captured that moment where he prayed for him. So every time I watch it, I still cry. but it's like just how he prayed for me. But then when you look at him and listen to him as well. . , whenever you think you can't do anything . And he's like, no arms, no legs.
You think you've got your tough life and yet you're able to come out with that. So, I mean, it just visually you just feel like, what do I have to be miserable when I've got my arms and my legs? So in that sense, he was very inspiring. The warmth of what he exuded.
Again, no favorite. But most touching after the interview.
So what happened was that that year he came to Malaysia twice a year.
He actually told me after that, he said, I'll be taking time off from speaking, traveling because he's now got 4 kids. So spending time with the kids. By the time his wife was pregnant with the second child. He was like, and if I'm doing any work, he said it'll be ministry. Won't be so much as a motivational speaker in that sense.
So he came to Malaysia twice a year. That first time I think he was brought in by, I can't remember. I think it was Sunbeam corporation. So everybody was saying, who wants to interview him. Of course everybody wants to interview him.
And it's three people from BFM want to interview him, you know? So how can? It's most relevant on my show. But anyway, nobody at BFM got to interview him.
So then he came for a second trip. And how he came for the second trip was, the guy that brought him in was not supposed to get the deal, but somebody who was supposed to bring him in didn't work out.
So he got the deal. And here's the agreement for this second trip, was that you will only do one interview. He will only do one interview and the thing is they pitch it to a TV station that said, no.
And then after that I get this Facebook message from my friend that says, there's this guy, you know, it's 3 weeks from now. Are you agreeable to an interview? I said, who's the guy?
Then he'd go to me, Nick Vuijcic. Of course, I'm agreeable. What are you talking about?
And the thing is, they should choose me. My show. To be interviewed. And then the TV station subsequently said they wanted him. They said, sorry, he could only do one interview. And now because you said no earlier on and BFM has agreed. We can't do the interview.
Again, the things that happen in your life sometimes. Amazing. Is divine.
one of the things that you were doing as well was writing books, you have written five and a six, one is coming out next year.
Ling Yah: And I felt like for the first one, which came out in September, 2013, you got started writing because of Biresh Vrajlal. What was the story behind that?
Freda Liu: Oh, so I was sitting down with this friend of mine over dinner and I gave him credit and Biresh and he said, write a book about PR.
I say, actually it was, it was the worst that can happen? So the motivation to write that book was coz at the time I've interviewed a lot of Malaysian companies. They were always very shy.
Not publicizing our story, right? Malaysian companies that have done well. Then the Americans do it so well and it's like, we actually have great stories here. Actually the title of the book PR yourself. It's like seriously you've got to promote yourself. So that was the premise of that book.
Then subsequently you get the courage to do more and to write more. And Malik supported me in that endeavor as well. So it was self published. second book I co-wrote with Kris Tan.
Third book, I was asked to write this book by this guy called Raymond shoe. from this marketing company And the fourth and fifth, I worked with MPH. The fourth book was also about interviewing women in business. I was thinking like, I read another book called million dollar woman, an American book.
And you look at it. It's like, wow, the issues that hold women back are the same, whether you're in America or in Malaysia. Globally, only 30% of businesses are owned by women. In Malaysia, only 20% of businesses are owned by women. And from that figure, maybe from that 10% of that are earning in revenues in excess of 500,000 ringgit at that time.
Why is it that women aren't able to build larger businesses? So rather than dwell on why can't you, I wanted to talk to the women who did And what was their thinking. I didn't want to say, was it funding? I believe a lot of it is how you think, ?
So that was the inspiration for busting fixed mindset. And the last book I wrote was called in your skin. I wantED to celebrate people who are successful. Again, success is very different for different people. Not everyone's going to be on the radio and it looks very glamorous. But we are all like people.
I featured Heidi quah, who's successful because of the work that she does for refugees. Justin Lee, who does work at the pitstop community. And does these things for the homeless that are successful.
We're all called to do different things, and if you can celebrate that. The worst thing that can happen is when we start comparing what success is, right? Because we're all called to do different things. I held back from doing TV radio full-time because I didn't feel comfortable.
I never saw this as something full-time. I always had a day job to keep me sane. To say, okay, this is it. And sometimes doors will shut and God will lead you in certain directions. So that's a direction like it or not. You try to push it back. He will still move you in a certain direction.
Ling Yah: Let's talk about, for instance, the book you wrote about Raymond Chu. I thought that was really fascinating because you interviewed, I think, around 40 people throughout his life just to put it all together.
So what was the process like?
Freda Liu: I co-wrote it with the daughters. And it was like from suppliers to clients, to people who worked with him. And it was very consistent what they said about him is, it's very funny, and that's the beauty. Cause he was consistent.
It didn't matter whether they were clients, suppliers or employees. The message was consistent about him. And about how he lived his life and he was successful.
Of course he was blessed financially, but that is just an element. What is legacy? That people sing the same tune about you regardless. . So that was quite a journey. Yeah.
Ling Yah: And what about Bursting Fixed Mindsets? Was it difficult to find these 15 women?
Freda Liu: No, because I've interviewed them and they become friends. A lot of them have become friends. What was interesting for me was Amy Coz Blair. She was one social enterprise featured there. And to me, I thought that was a great success story because social enterprise is not a lot of them.
They love this whole thing like NGO and they are not profitable. So to see a social enterprise successful, that's great because the more successful you are, the more lives you're impacting. . And I think that it's such an important sustainability in business and you can make money and do good at the same time.
So I love the concept of social enterprises, whatever cause that like the girls from Picha Eats helping refugees. Christmas Eve or whatever, I would cater it from them. have great products. And I know that, if I'm teaching from them, I'm also helping a refugee family.
I love to give my money to businesses like that that's doing something good and good la. I want you to make money in the process Yeah.
Ling Yah: And there's like Dignity for Children to cut your hair, to buy bread. So do you see that there's a transformation in a social enterprise, seeing more and more people are aware and supporting them?
Freda Liu: I think so. I'm very passionate about social enterprises. The 17 sustainable development goals.
Whether it's gender equality, whether it's no poverty. So social enterprises to me play a pivotal role in changing these goals in achieving these schools.
So when we talk about gender equality. The Batik boutique people are actually helping a large number of women.
They do employ both men and women, but more women who live in the, you know, the PKR flats. They're the B40s. So you're helping them.
So that's giving them gender equality. Refugees, one of the other SDGs as well. And when you do like one thing like that, it spills over into other things as well.
You teach them to fish and not give them fish. .
Ling Yah: And tell us more about your sixth book that's coming up next year.
Freda Liu: The sixth book was written during COVID Someone asked me to write this book and there was no urgency to write the book, but then COVID happened and MCO happened and I had nowhere to go.
And so I was like, okay. So the book is called life stage. It's a play on words because I've been on the stage. But actually it's about understanding life stages. And I believe that you can have everything you want in life, just not at the same time. Some things have to give.
And I sort of split it into zero to 10. Like my life from zero to 10. And that was the wonder years when I was growing up. And then the confused years within my teenage years. And then after that it was establishing years, my twenties, thirties establishing myself.
And I think we go through these life stages and I think, my thirties or forties was what we call the cocoons where I was working. But it was working from home. My priority at the time was very much my son, but I knew the importance of still having a job and having my own income.
But during the periods of taking care of my son doing my work, I was taking up coaching. I was doing other things. And it was during that period that I got into BFM. And that was a growth for me because I also know that my son, he needs me zero to six. Like now he's 18. I don't know where he is.
A very wise man called Basil Harris told me children are temporary guests in your household. And if you understand that you love them and he needs to see that mom's independent. That mom's doing her own thing. And now that he's 18, imagine like, where are you? I love you, but it is very suffocating if I'm just like this. And I knew that he's going to be 18 because I was 18 too.
And you want to exert your independence then. So you have to understand this.
And a lot of women who give up their work to take care of the kids. Kudos to you. But during that period, if you decide to give up your work to take care of your kids, take the time to learn something or do something. Develop some sort of skill because the emptiness syndrome will happen. And then you're completely lost.
We are not just one entity. I am a mother, I am a daughter, I am a sister. I am all these things. Understand that and be prepared. And that's the premise of the book. Life's a stage.
And I wrote a thousand words a day over 40 days and it was like, no TV, no Netflix, none of that until you've done your homework. So self- imposed discipline. It's going through the final stages of editing right now.
Ling Yah: Yeah, I noticed because I was lining up all the books and I realized that each of these books were published within a year or two.
And I thought, wow, you are really, really prolific. You have really got it going!
Freda Liu: Actually I had no plans to write one this year. I had no plan. And so there's 2013.
2014, 2015. I took a break, then 2018, it came one 2019 came and had no plans. write the book so soon. But then I guess 2021 and the next book comes up.
Ling Yah: And there is one thing I hope you don't mind just touching on because obviously as a mother, that's something that's very important to you and you went through a really difficult time in 2014 as well because of your divorce.
And you've been really open about it and even gave a TEDx talk about being better, not bitter. And I wonder if you could talk us through you going through those five stages of grief to such an amazing place.
Freda Liu: Okay. Yeah. So it is like death, okay.
So better, not better is also from basil Harris that my mentor taught me. But it's from Nelson Mandela, you know?
Oh, he said it's like drinking poison. You're drinking poison and expecting someone else to die. That's bitter, right? You are the only one drinking poison. So at that moment when it happened, actually it was 2009 already.
I didn't know what I had to do, but I just prayed to God and said God, I don't want to be bitter, just make me better. And I don't know what better looks like I had no idea what better. I just didn't want the deadness to set in my heart.
I guess I see people who are bitter after something horrible happens to them. So when you're going through anything, that's horrible. You have to take time to go through the emotions. connect it with the five stages of grief.
You go through the whole process and you go through at your own time. But you must have that vision that you will come out of it. So the healing may take a long time, but the attitude is that I will come up.
So I think one of the things that I did then, what got me going was, what is in my control and what is not my control? How my ex reacts is not in my control. I can only control myself. So the first thing was to get right with God.
And do you connect that with God? Because it's got to be well in my soul. Your cup has to be full right before you can do anything. That is the most important thing was my anchor.
And doesn't mean the pain magically disappears. I can still talk about it and cry. I still do and it's okay because it's still a painful experience. It doesn't mean that I don't cry anymore.
So the thing was to get right with God. Like if everything is removed from me right now, if who am I not a news reader, not a writer, none of that. Who am I is very important. Who's the am I is also very important. So you got to be very clear about that.
So find your anchor, whatever it may be for me, it is my God. The second thing was after that, when I started like, you still miserable now, what's the second thing is exercise. Why exercise? Exercise gives you your endorphins, your oxytocin, the happy chemicals.
So it means that you're going to be fitter in the process anyway. So I went to do a bootcamp with people I completely didn't know and it was fun. I needed that time out. Your whole body aches. getting happy chemicals from exercise. That is a process. So you go through the motions until you get to that point.
So the wheel of life, which I talk a lot about, that's so important, your faith, your fitness friendships. My friends are very important to me. I make time for my friends. I invest in my friends, and they invest back in me as well. I choose my friends. I choose to remove some people from my life if they drain me. So my friends are important.
Sort out your finances as well. Make sure that you've got enough insurance and everything.
Your family. So my son and all that, that's important spending time with him, and investing time with him. mental growth.
You must also invest in fun. And my fun is traveling and I learned so much when I go traveling. And that's my thing. That's my excitement. And so this year, very painful but you find other things to do. Yeah. You find out the different things to do. You do other fun things and what's the other one.
Community. Even doing things for the community. That's also important. How you behave.
Ling Yah: And how has COVID impacted you? I mean you mentioned it briefly with the book, with the love of traveling about like overall in terms of career, your life. How has it impacted you and how do you see your future?
Freda Liu: I'm going to choose to see the good in it. Every time, even when I go traveling, there are still people communicating with you because although you are arresting other people and not resting for once, everybody's resting for a while.
And it really gave me time to think. And you have to be comfortable in your skin to be comfortable in your own thoughts about where you want to go. And so last year, fortunately, I took up a course and now I have time to do the course properly. I did a postgrad diploma in design thinking.
. And it was like completely again, out of field, but I wanted to do a design thinking. so that was what I did. I've just been back there for a new course. I want to get myself certified as a futurist. So this is something that I've learned. . then I've also developed an online course with Andrea, for Zacchaeus and when they leave Oh my, yeah, so I've just developed a course with them. I do a lot of work with MC and all that doing events. . But then I was visible. So fortunately I still have worked doing webinars all that, because I was very visible.
Then also you think about the past society things. So coming up with an online course, and I've always wanted to do that. Now I have the time to do it. . So I'm choosing to see the positive things that I wanted to do. Finally, I had the time to do it right. And you can only just move on and like, I've got my, a little book planning for 2021.
And I always planned for December. My year usually ends by November and I'm really preparing for next year. So I already did the closing ceremony of my year. And then like, what's next year going to be?
Does everything happen? No, but at least I write it down and it's 60% happens is good enough.
Ling Yah: You actually wrote about this quite extensively on your website, the whole concept of goal setting and how Forbes actually did a study on the Harvard MBA students, that those who wrote down their goals are 10 times more likely to achieve them than those who didn't.
Freda Liu: Yeah. If the facts are telling you, then better do it.
So there's the thing. We always hear these things right now. Like when I say this things like, it's nothing new, this isn't no one actually put it into practice. You put into practice, some things are 60% happened, better than 0%, right.
I share my grand plans for this year like, not even the book. Design thinking courses were one. Things that I wanted to do is that I'm sure I would've been distracted by my overseas holiday. I'm sure I'd have been distracted by it, but now there was no obvious holiday to distract me, so, okay.
no, excuse. No, I can't go for events. I had to write a thousand words a day, so it would have been something I would have done anyway, but probably would have taken my time.
Ling Yah: And so in your book, in your skin, you always ask the interviewees, what would they have told themselves at the age of 21?
So I'm wondering how you would answer that question.
Freda Liu: Don't be in a hurry. I understand the concept of delayed gratification.
I think that's really important and I've never been in a hurry. I haven't been about chasing the money. No point in having all the money and it's not fulfilling.
I always tell this to women, freeze your eggs.
like, I have no regrets having my son. I have no regrets having him at that age. I wasn't that young. I wasn't that old either. I've no regrets doing that.
What happens with a woman, unfortunately it's the biological clock. And some people are unsure they want, or they don't want to have children. If you can afford it, freeze eggs and you won't be in a hurry to find someone. Because your clock is ticking. Now, if you take that equation out of the picture, then you might be able to get more clarity on your life partner, should you choose to get married again?
Not everybody needs to be married. I'm saying there are no regrets. There are no regrets, but why not?
Ling Yah: And is there anything that you could, you would want to go back and redo if you could?
Freda Liu: No, not really. Not really. Yeah, like I would say, be more disciplined. No, not really
Like everything happens for a reason. Of course I've got goals. One thing I really appreciate about myself, if something doesn't happen now, it doesn't happen. I'm not so hung up about it. When the doors open, it is open. It doesn't open. Doesn't open it. Sometimes it's not now.
And again, a new thing that I've been talking about the mental real estate. I've been writing a few articles in the New Straits Times about it and understanding Kronos time and Kairos time, you know?
So whenever we work with our Kronos time, I go to do this, I go do this. And that's a Kronos time. And we're looking at time.
But sometimes this kind was time and you have to understand that sometimes it's Kairos time, it's the opportune time or it's God's time. So understand that when something doesn't happen that's because it's according to your plan. But if something's just happened because it's Kairos time.
And I look back at the Kairos timing in my life. That going back to that time, that door should open. Not like when I look back at that period in IBM when I was stuck, I hated that role. I didn't hate the company, but I hated that role. I was miserable.
But if it wasn't pushing that corner, I wouldn't have even looked at BFM. And you're a little bit, ah, right. And I was just saying some things that 20 years later on, you're like, ah, no wonder that door didn't open.
So I think as I get older, I'm more relaxed about some things. Okay. I've tried it. Okay. Not meant to be, not meant to be. But I tried it. Like just a very simple thing. Appreciate like my students doing my book cover for me.
You know what I mean? It's like she just happened to be there. She wants to do it for me for free. Of course I give her credit and everything was like, eh, How do you explain that? And you are just thankful for little things. it's not the money, you can pay someone to do it, but just the sweetness of what has happened.
And this is a journey 20 plus years ago when I last saw.
Ling Yah: what is one thing for those who are listening to this interview, what can they do to help you?
Freda Liu: Oh, what can they do to help me buy my mix? Buy in bulk, buy in bulk because, okay. No, I mean the story by embellish, I'm working with a different publisher right now. So are you from Singapore?
Marshall Cavendish. So they're also working with a Malaysian distributor and of course, it's different. I know. And that's the reason why I wanted to work with them as well was a whole new experience. What's it like working with an international publisher? Based out of Singapore and I'm so glad again, I just wrote it up to, okay.
Another story I wrote a letter, I said, would you like to publish my book? This is who I am and say, yeah. Okay. You tell me, if it didn't happen, it didn't happen. And plan B was to go back to. You know other publishers, but it happened. if people can do our purchases, then that comes with a talk that I can do online, face to face depending on the situation?
And you can use it for oh, your women's group in your organizations or international women's day. A very nice organization has already agreed to buy my books. HSBC. Thank you. so like that,
Ling Yah: You have obviously interviewed lots of people and you've given lots of interviews. So tell us something we don't already know about you.
Freda Liu: here's a new story. I remember this very recently. I wrote it in my book and I was like, oh my goodness.
So while I was about nine or 10 years old? There was a storytelling competition with all the different schools in Brunei.
I won for my district for the blight, And we went to the finals, and it was on RTB radio, television, Brunei. So it was just over radio and I wrote my own article and I did the storytelling.
I remember there was one girl that was very articulate. I remember where they were announcing the results. I remember turning pale doing this cause this was aired on radio. And after that, they were announcing winners and I'm like, when am I getting my consolation prize?
What am I getting my constellation price? And then after that I got second price. I was so surprised that I got second prize. I really did not expect to win. And I know the first goal was very articulate and everything, but I was more nervous when I looked back. I said, wow, that was my first foray into radio.
Writing stories I sort of suddenly remembered this . Second prize I had I could've won, but I'm even thinking about winning. I was just thinking like, let me get it over and done with . But it's like wow, that story. Suddenly I remember radio, how it's made such an impact in my life.
Ling Yah: Wonderful. I love that story. Thank you for sharing. So I normally end all of my interviews with these questions. So the first one is, do you feel that you have found your, why.
Freda Liu: Cool.
I have found my ikigai. And it continues to evolve.
I know my why is to impact lives. And how and in what form? I don't know. So everything I do, every interview I do, does it impact lives? Every book that I write does it impact lives? Every connection that I make, whether I'm buying from social enterprises, does it impact lives?
So that's my why. The method, the way it could change along the way, but I know that I'm going to impact lives.
Ling Yah: And what kind of legacy would you like to leave behind?
Freda Liu: That I've been back that life, I think. Okay. I think the most important thing, jokes aside, is my son.
. and I've told him that I love you. , , he is my world and that we continue to have a great relationship. I think what's the point of all the success of the person that's closest to you. You said, mom, you suck.
I think that is the most important thing, at the end of the day, so I want to continue to have that relationship know that mom has always been supportive. Mom has always been encouraging. Not forgetting about what everybody says, if your son can't say that about you, how is that successful?
Ling Yah: And what do you think are the most important qualities a successful person should have?
Freda Liu: Authenticity. Authenticity. That's important. I think people are definitely looking for that right now. Integrity. If you're not drivable at a million, are you profitable at 10 million? So yeah, being authentic. Having integrity. That's important. So if you don't equate success with finance, like people always think of it as finance.
And I never want to equate with that but I would say authenticity and integrity will be the qualities. Someone I respect. Yeah.
Ling Yah: And where can people go to connect with you? Find out more about what you're doing and support your work.
Freda Liu: I'm on every platform there is called the theFredaLiu. But I think connect with me on LinkedIn. And LinkedIn, Freda Liu. You'll be able to find me.
Ling Yah: And I'll put those in the show notes as well. So people can go to find you thank you so much for your time. I've really enjoyed this.
Freda Liu: Thank you. Thank you for your time and doing this late at night.
Ling Yah: And that was the end of episode 27.
For the show notes, visit www.sothisismywhy.com/27, where you can get the links to everything we just talked about.
And don't forget to subscribe to the newsletter as well while you're there. Where you get a low down on some of the most fascinating and inspiring things, people and developments I've found over the past week.
And stay tuned for next Sunday because we'll be meeting a Korean American violin child prodigy.
And what was it like to grow up before crowds of thousands, studying at Julliard, being on tour and what her life and purpose now is.