Welcome to Episode 60!
Our guest for STIMY Episode 60 is David Grief.
David Grief is the CEO of David Grief International Consultancy Pte & former Senior Clerk at Essex Court Chambers – known as one of the UK's most prominent commercial sets with a multimillion-pound turnover. 
Described in a recent TIMES article as a "giant among clerks", David has spent over 40 plus years managing barristers' chambers including at Gray's Inn Chambers, 17 Old Buildings, Lincoln's Inn and finally, as Senior Clerk and Head of Administration at Essex Court Chambers. 
But what does a barristers' clerk actually do?
This might be a bit of a struggle to understand if you're unfamiliar with how the UK legal system works and indeed even for practicing lawyers. Unless you've worked in chambers in London before, it's difficult to pinpoint exactly what they do!
But the short of it is this: barristers' clerks are traditionally referred to as "the Law's Middleman" and are known to "make or break" a barrister's career. They manage the diaries of their barristers in chambers, the client relationships, the negotiations and collecting of fees and general running of chambers. They are also a barrister's therapist, marriage counsellor, discipline master, agent, debt collector and some might even say, 'pimp'!
Much has been written about the clerking world but less so in the modern day and in this episode, David peels back the layers. He shares how he first got into the world of clerking, his love of flying, how he manages and grows his relationships with instructing solicitors and barristers, how he has moulded the careers of his barristers, helping them become silks and even getting onto the bench (he used to clerk for the former Chief Justice of England & Wales!).
David also shares his plans in helping to develop the legal industry in Singapore and his plans moving forward with the establishment of his new consultancy – David Grief International Consultancy Pte.
PS:
Want to learn about new guests & more fun and inspirational figures/initiatives happening around the world? 
Then use the form below to sign up for STIMY's weekly newsletter!
You don't want to miss out!!
Who is David Grief?
Born in 1953, 8 years after the Second World War ended in 1945, the war "meant nothing to me at all". However, there were a number of things that stuck out for him: his love of flying,  his experience in school, and how he ended up entering the world of clerking. 
3:27 What school was like for him

4:39 Learning about the clerking profession
I didn't have a CV. I didn't have to have anything other than I was wearing a suit & looked smart and all of that.
Working as a Barrister Clerk
David began his clerk as a junior clerk at Gray's Inn Chambers on 16th August 1971. He shares what it was like working as a junior clerk before the age of the Internet, particularly when the 1974 UK's Miners Strike occurred. 
9:45 Clerking before the age of the Internet

11:46 What a barristers' clerk actually does

17:19 Knowing the breaking points of a barrister

19:40 Collection of fees

22:49 Going through the 1974 UK Miners' Strike & 3-Day Work Week
Life of a Senior Clerk
David has lots of fascinating insights to share from his 40+ years as a barristers' clerk. Including what it's like to mould the careers of barristers who have risen to the very top, and now sit/have sat in the UK Supreme Court, International Court of Justice and Court of Human Rights in Strasbourg.
24:47 Building relationships with instructing solicitors

30:02 Being the only clerk with a license to fly

35:18 Working with barristers

37:06 Direct access

38:53 Managing situations when a barrister cops out

43:09 Identifying barristers with star quality & when they're ready to take the silk

48:17 People who have most influenced David's career

50:47 Joining Essex Court Chambers
Moving to Singapore & Establishing his Consultancy
David shares how he was part of the move to be the first senior clerk in Singapore, while establishing the first pure chambers practice. 
57:05 Why David moved to Singapore

1:01:32 Challenges in establishing Singapore's first pure chambers practice 

1:04:41 Innovations that David anticipates happening in the legal sector

1:06:26 "Don't ask, don't get"
If you're looking for more inspirational stories, check out:
If you enjoyed this episode with David you can: 
Leave a Review
If you enjoy listening to the podcast, we'd love for you to leave a review on iTunes / Apple Podcasts. The link works even if you aren't on an iPhone. 😉
Patreon
If you'd like to support STIMY as a patron, you can visit STIMY's patron page here. 
External Links
Some of the things we talked about in this STIMY Episode can be found below: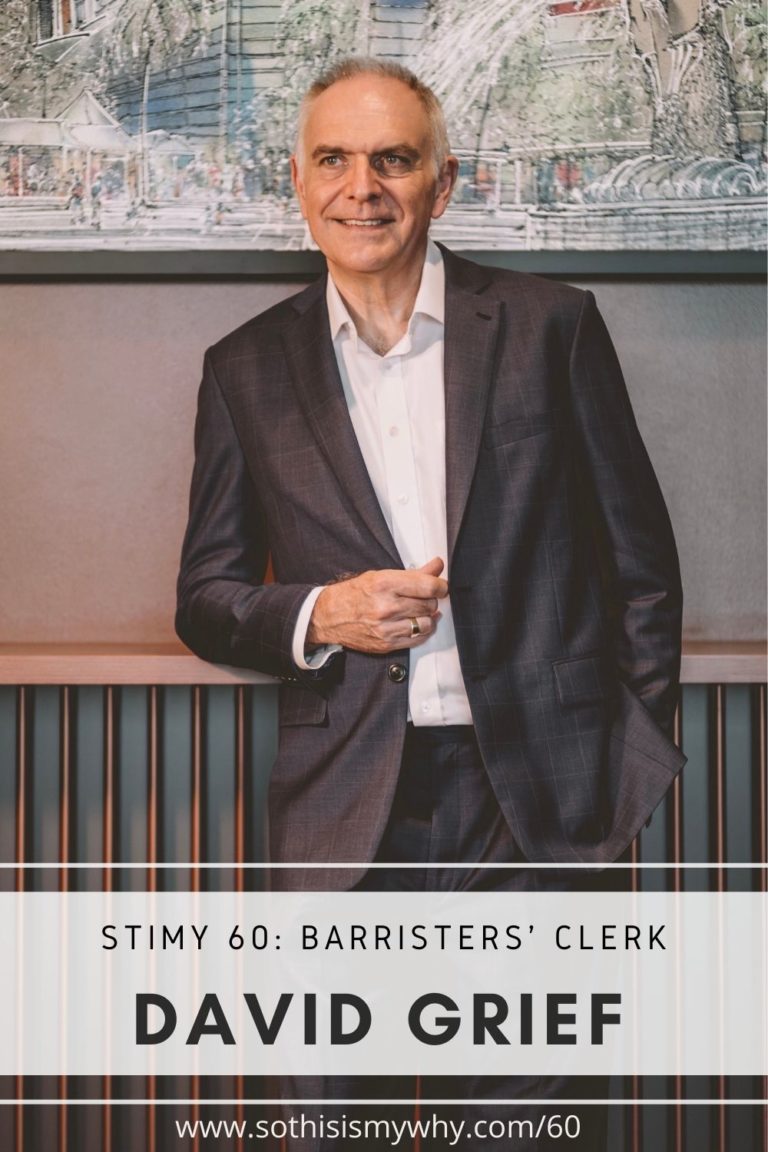 STIMY Ep 60: David Grief - Former Senior Clerk (Essex Court Chambers), CEO (David Grief International Consultancy Pte)
David Grief: You then got a barrister who is critical of the instructing solicitors team. Thinks that the junior solicitor on the case or whatever, is just not up to the job.
So, David, this was ridiculous. You've got to do something about it. That's me.
And what can I do about it?
And I did try once to do something about it and that was 30 odd years ago.
And I spoke to the solicitor about one member of the team and I learned very, very quickly. Never made that mistake again. The solicitor would immediately and quite rightly protect his team.
And it's the same the other way with the bar, you know. You learn by your mistakes to say, Mr X QC doesn't think that you're number two is up to it and sorry. The main man, main woman on the case would immediately protect the number two. And be quite honest now as a clerk, you cop out of that.
If the member of chambers has got an issue, then that's really for the senior solicitor on the case with the barrister concerned, and they should go and have a drink and sort it out between them. Don't put me in the middle.
Ling Yah: Hey everyone!
Welcome to episode 60 of the So This Is My Why podcast. I'm your host and producer, Ling Yah, and today's guest is David Grief.
David has been described in a recent TIMES article as a giant among clerks and has spent over 40 years managing barristers' chambers.
Including being senior clerk and head of administration at Essex Court Chambers, known at one point as one of the best set of chambers in the land.
Now, if you aren't already familiar with how the legal system works in the UK, here's a quick breakdown.
There are essentially two types of lawyers. Solicitors, the ones that you see working in large law firms, drafting, and negotiating contracts. And barristers. The ones that you see dressed in a wig and robe, appearing before judges in court.
Now barristers in particular work in chambers as opposed to law firms and clerks are an absolutely critical part of the running of chambers.
While barristers focus on their legal work, clerks do pretty much everything else. From getting tea and biscuits for chambers, to printing documents and bringing them to court. Negotiating fees, managing clients and the diaries of their barristers, and running the marketing and business development of chambers.
Clerks are also known to be a barrister's therapist, marriage counselor, discipline master agents, and debt collector.
And if all that still confuses you, then think of chambers like a football team. The clerks are its manager.
But what does it take to actually be a clerk?
Particularly one has been working as a clerk since the early 1970s way before the age of the internet.
And what is it like clerking for some of the finest legal minds, including the former chief justice of England and Wales. Why did David decide to move to Singapore in 2018?
And what does he hope to achieve moving forward?
We unpack all that and more in this episode.
So are you ready?
Let's go.
David Grief: School was okay. People say those days of school to the best days of your life. For me, I wouldn't agree.
I don't think I was bottom of the class, but I wasn't star at school.
And then when it came to exam time, I took all my exams. I failed the lot.
So that was in the fifth form in those days. So that would have been uh, the age of 16 And I failed the lot. So my dad put me back through the same year all again. So went back to school and redid the fifth form.
The school was a small school and each class had 12, 13 people in it.
And I knew all the people in the form below. And I went back and it was, I think the best thing that my dad ever did because it set me up for my career because I went back to school not feeling like the bottom of the class, not feeling what anything. But I went back, I was made deputy head boy. I was the school shooting captain and I sort of had some authority.
I now know that that was a turning point in my life. I failed all my exams again the second time, but I went back for that second year. I grew up and I left school at the age of 17 in July, 1971.
Ling Yah: When you left school, wasn't this around the time where you first heard about what this career being a clerk was?
David Grief: So just winding back to my passion, my passion is always airplanes.
I used to go to London, Gatwick airport, London Heathrow as a five-year in short trousers standing there. I had an ear and Allen was it's called aircraft spotters book. And I used to tick off every airplanes, registration number.
had this passion for airplanes. And one thing that I always wanted to do was to b e an airline pilot, but of course having failed everything at school twice, it was no option.
And because of flying, I was passionate about travel and seeing the world. And I tried to join the travel industry. I applied to then Thomas Cook and that didn't work either. So I was a bit of a loss.
I did not know what I wanted to do. And in April or may of 1971, I went to somewhere called the Fairfield halls in Croydon, which is south of London. And my mum and dad, maybe my brother and sister, I can't remember.
And the couple that joined us was a couple called Rosalind and Keith Goodfellow. And we knew them through the church. They didn't live in our area. They lived out west in Surrey. But he was a QC. Now QC meant nothing to me. But Keith Goodfellow and he was a construction QC. He came from chambers at 22 old buildings now known as Atkin chambers.
And he was one of the stars at the construction bar. None of that meant anything, but that's his background. And I can remember walking up the stairs into the auditorium and he said what am I going to do when I leave school? And I said, I've tried this. I tried that. And I really don't know. And he said, well, what you should do is come to London and meet my clerk.
And his clerk was called Robert Allen. And I thought this was a good thing, but getting on the train, going to London on my own. Which probably I hadn't done before. I don't know. I'm walking up fleet street and then turning up to Lincoln's Inn. He was at 22 old buildings to meet Robert.
Robert, I imagine he was in his mid forties, early fifties, and we chatted. Told me a bit about the job. And he said I've set you up a day's work experience.
So I came back to London, went to the temple to Lamb building went to chambers, at Lamb Building. The senior clerk was called Eric Cooper.
And if you look online, you'll find references to Eric Cooper. He was the clerk to the then Lord chancellor, attorney general. Alvin Jones. I think he was in those chambers. And I spent a day with Eric Jean who was the second clerk and I came away thinking, yeah, that's fine.
Don't learn much. But you did start to see barristers, but I didn't know what a barrister was. I didn't know what a solicitor was. I didn't know what a set of chambers was. Know nothing. Know nothing at all. Anyway, I went back to Robert and said yeah, it's good. So he said David, I've arranged two interviews.
One in chambers at seven stone buildings, the cloud was earnest, wearing. Ernest was a sort of senior guy. Lincoln's Inn is a bit sort of, I don't want to be a told off for this, but it was a bit sort of dusty and a bit old fashioned.
Chancery law. Trusts property wills and all of that. Not quite the same now.
And the other job was on 4th floor Grays Inn Chambers and Grays Inn Chambers was a modern building. Hadn't been there long. The senior client was in his early thirties Wesley page. And my rationale was I chose grays chambers because the senior clerk was younger. The building was more, and that was my only point to choose.
The job. I got offered two jobs.
You've got two interviews, but it wasn't so much an interview. And there was David, I've got you two jobs almost, and which ones you want to take. I took the job Wesley Page.
Ling Yah: What were the interviews like? Was it more about getting to know who you were as a person? You would just of school, you couldn't really offer anything.
David Grief: I didn't have to have a CV. I didn't have to have anything other than, I was wearing a suit and looked smart and all of that, my parents would have, I was just always been well, turned out.
My dad would have made sure that was the case, but it was more about me and whether I was going to fit in. So started there on the 16th of August, 1971. I opened a bank account, my first bank account with the bank, just down the road from Grays Inn chambers at Gray's Inn road. Barclays bank.
My dad banked to Barclays.
So he fixed it with the manager, just see me. And I opened an account Barclays, and my pay was eight pounds a week.
Ling Yah: That's one meal these days in London.
David Grief: I could get lunch and I'm going to talk now. I I'm talking old money because it was just decimalization came in in February that year, 1971.
I could get lunch for less than 25 Pence. So there's a problem. And then 50 p, 25 P so I could get lunch for 10 or 15 pence. And we used to have luncheon vouchers cause that was part of the salary, a luncheon voucher. And you get 15 pence a day.
Ling Yah: Back then, when you were junior clerk, this was before the age of the internet. What was it like than?
David Grief: The work in chambers was commercial work.
It was particularly focused on banking. It was planning inquiries, local governments. So quite a number of the cases we were doing. It was the early days of shopping centers, shopping malls. Going back in time, it was just high street. And then suddenly the start of malls. And we were doing a lot of inquiries into these shopping centers.
I'd also, it was the time of motorways. We had the M one in England, but nothing much else. And so you have the M25 inquir y at the M11 inquiry and all these roads today. But England is one of these places where e verything has to have an inquiry and they take for months.
In later life, there was the terminal five inquiry, Heathrow and they go on and on and on all these objectives about everything.
And I was interested in what the members were doing and I got interested in their work.
In my limited way. I somehow I don't know how, impressed them. Because within six months there was the senior clerk, there was the junior clerk and there was me. So I was the second junior clerk The first junior clerk left at Christmas. So I'd been there less than six months, four months, five months. I was very keen to be promoted. I don't know quite what was possessing me, what did I know?
Anyway, I found myself first junior clerk by Christmas, 1971. So there was the senior clout and there was me. When the senior clerk was off, and I started to be in charge.
I mean, it was quite something aged 17, going on 18. And that was a decision of chambers and chambers then I suppose, 14, 15 strong. And that was a decision of chambers. I think some thought is a good idea. Some weren't too sure, but I got the job and that was really quite something, I think at that time it was, but I felt it was something that I really wanted.
I want somebody to come in above me. And someone came in by so suddenly I had a junior clerk below me.
Ling Yah: I think for a lot of people listening, they will probably hear this word, a clerk and wonder what that means. I mean, like the centerpiece is managing the diaries of barristers, but when you just come in were you making coffee and tea for them? What was it like?
David Grief: Yeah, it was the early days of the photocopier and we were one of the first set of chambers to have a plain paper copier. I had to get her to rank Xerox in Euston road for a course on how to put in the toner, how to unjam, how to do this, how to do that. So I did a course.
I remember going to going for that course, so you know how to do photocopying. The papers to court. Now you look at papers that go to court now. Boxes and boxes and boxes of files. In those days. It was a file but the rest was just books. Books are books and books.
For me, it was books to court and there could be 50 books because you didn't photocopy them as they do them today, you took the book and you provided the usher in court with the book list.
And the book list had to be in by nine 30 to give the usher the time to get the books out for the judge and mark the page.
And because I was in Gray's Inn, I had to cross Holborn, walk through Lincoln's Inn itself to the back entrance, to the lower courts in Kerry street.
Many, many, many, many clerks used trolleys, but I didn't want to be seen with a trolley for whatever reason. And I used to strap these books up, a 25 books in a strap, and then carry them like that across the road. Incredibly heavy. I'm sure my arms are longer today than they were when I was growing up. But those books to court.
Yeah. And in the summer, obviously not Singapore temperatures, but pretty hot in the summer. And you wore a suit. A tie in a jacket buttoned up, smart, because you're going to court, carrying these books. And yes. So making the tea, chambers tea every day, members of tea in the sort of reception area of chambers.
So I had to make tea. I had to order the biscuits. Order the tea, order the coffee. If we didn't have a Fairprice, so we didn't have a Tesco, we had to go somewhere. And he got delivered. My job to make sure we had enough biscuits and enough tea, enough sugar. The milk came every day delivered to the front door of chambers.
when I was stepped up. But that was the job of the next junior clerk, but I was never too proud. And in fact, my one thing I learned that as a clerk, whether I'm the most junior and the most senior, there's nothing that I wouldn't do just to help out. So if necessary my senior clerk will make tea.
And I've done it, all of that, right, the way through my career. If some books need to be rushed to court or something needs to be done and chambers that are on the senior clerk with the best set of chambers in the land, it didn't matter.
I can do it. And I loved that with my senior clerk, nothing is ever beyond you. Just dive in and help because it's a team effort.
Anybody watching this podcast I'd recommend that they sort of research barristers clerks. There's a lot written out there.
in my time or before, not so much written in today's, but an analogy is a bit like a football manager. You've got your stars and you're their life coach, you're the psychiatrist, you're a therapist, marriage counselor, deal with the members of chambers sort of breakdown situation, divorce situation, bereavement, dealing with their fees, you are advising them on the cases to take on or not take on. You're dealing with diaries and it's not simply, one case, one case. Sometimes you're offered a case, which is perhaps slightly overlaps with the next case, but it's an unmissable case. So you're trying to manage the diaries, talking to the court as to how you could move that fixture and play with that fixture, because there are cases that can move people's careers on and get into the press, get into the lower courts.
And it's all about someone comes in as a pupil joins chambers, you're making their careers.
It is said that a clerk can make or break and I've always made in my life. Never broken careers, but it's a job of many applications.
Someone said, what's it like being a clerk or how do I become a clerk or what do I do in chambers? And it is very, very difficult to explain that to them in a few sentences, you have to live with. And one thing is key to do is to learn about the members of chambers because it's chambers. A group of self-employed people who pay into our pot to pay for the building to pay for the staff.
So everybody's self-employed so we have cases against each other. So a member against member. As a clerk, you sit in the middle, you divide your brain in half and you hear both sides of the argument, but don't talk to the other side about the other side's case. And it's important to know how people think, how they work, how they tick, how far you can push them before they explode.
Cause some people want to do one case at a time. Other people want to take over as many cases they can possibly do. They're a complete nightmare because then you've got to manage that caseload, but they're there to do their work. The rest is down to the clerk.
So the instructing solicitor brings the case to chambers.
The case goes to the barrister and in the early days of clerking, it was often the clerk deciding which barrister was the best person for the job. It's different today because there's a lot more directories, internet websites and everything. But it's, how many cases can you pile on this person before they get angry?
So you, you get to know their breaking points, their personalities.
Ling Yah: How'd you figure something like that. Is it just through trial and error to see whether they can handle it?
David Grief: I think I probably was good at, I mean, there's two things is understanding people and also having a good memory.
Um, I was always included actually linked you don't mind memory. I cannot.
Uh, but as you get older, it's not as good as it was, but I do have a good memory, a good memory for names.
Ling Yah: I was listening to other clerks giving interviews as well. And they said that, sometimes we will also discuss the legal aspects of a brief rather than just telling you, do this.
And barristers found that very helpful.
David Grief: I'll ring up and say, I've got this type of case. Okay. And I've learned probably a lot more law than I like to admit, , so what's it about? Who do we act for? How much money is at stake? What are we hoping as an end result? Because in the early days you would take, take, take, take cases on and you wouldn't always go and consult with a member of chambers as to whether this is something that we should be doing.
That that's happened in later times. But yeah, I mean, I would put my head around the door of a member chambers, and say, I've got this case. But they want to know a bit about it. So you've got to know what it's about. And then as you get more senior in the job, and then you'll starting to agree fee. The fees is all down to the clerk.
There's no member of chambers input whatsoever. They're there just to prepare and argued the case. Everything is down to me.
So I'd go to the member chambers and say tell me what it's about, how much money at stake. What's your preparation time? How many witnesses? What's the money at stake? What are we trying to achieve?
So then I ring the solicitor and then start talking fees and that part of my rationale for asking sometimes very large sums of money is because client's got to know about the case. In terms of justifying the fees. You can't just say Mr. X or miss X, who's going to spend a week's preparation for these reasons against that. There's more into it. They've got a particular style of barrister like it's a bit of a pop star. You can't price that on time.
There is the star factor, which has a price that you can't put a value on this to however the client perceive that value. And it's staggering when I was agreeing fees, which were greater then the value of my house. Yeah. So that's sort of, that is all where it goes. When it goes out, it's just all about numbers. You forget, you don't compare it with anything really sometimes. But it's what it's worth to the client.
Ling Yah: Isn't it true that in terms of speaking of fees, that the collection of fees can be, and still is quite an issue.
You might provide a service now in five years later, you still haven't being paid yet. And you can't chase them because you've other members might be instructed by the same.
David Grief: A bit of that, because you've got your clients Going back in time solicitors used to be blacklisted for not paying fees.
You could go to the law society, they could be disciplined for non-payment of fees because there was a time when the instructor's solicitor was responsible for counsel's fees. So whether the solicitor got paid or not, it was his duty to pay the barrister. That's all changed now, but dock was at that time.
You've got one firm that send a lot of work to chambers. You've got one angry member of chambers because there's a bill being outstanding for two years, but you don't, , get them blacklisted. Cause otherwise, the other half dozen members of chambers that source of work gets switched on.
So that sort of diplomacy on my part to try and work it all through. You had solicitors at that time would collect the money from the clients. If they had a big payment from a client, keep it on the client account for a year. You made quite a good turn on the interest before they paid the barristers. That was all going on at that time. Can't happen now.
Ling Yah: How would barristers manage? Because it depends on what kind of work they were doing. They would be paid very, very little.
David Grief: You start off at the bar, doing what I've always described as knock about work. Get in front of the judge, get experience. Perhaps the analogy now is a registrar. We call it the masters in the UK. We go to the county court, the county court judge. We did some magistrate's work, but often on licensing, as opposed to criminal, we didn't do any criminal work.
I've never been in a criminal set of chambers, but the small work, because a barrister, he's an advocate. So he's gotta get advocate experience. And there's nothing like the young advocate in front of a nasty judge to get him really good, or him or her a good experience.
We were doing a certain amount of employment work in those days. Some employment tribunals was going on. That was the early days in employment work.
That sort of work did get paid quite well. Cause these were small cases. We did quite a lot of work for local authorities.
I mean, fees did get paid. There were some old debts, but it wasn't unusual in those days to have fees outstanding for a year. Now it's all tightened up, get your fees paid in 28 days, often fees get paid ahead of the case, et cetera, et cetera. It's all changed. It's all changed because solicitors were paying quicker as well. So they pull their fees into the client and then obviously you're going to get their disbursements settled as well.
That has changed, But there was fee notes that get sent in. You'd have fee notes and you put the date of the last fee notes. So beyond computers, but you'd put the date for the last fee note at the bottom. And there was a whole line of dates, certain two rows of dates cause you'd be billing every month.
You'd write letters saying this hasn't been settled. I wasn't very good. I'm probably not very good. Still, not very good, but I wasn't very good at writing letters. My senior clerk often used to have to sort of uhm a fake drafts, change them around a bit. And it was picking up the phone cause the junior clerk, typing the fee notes.
Ling Yah: Speaking of fee notes, just going back a little bit, very soon after you started work first. There was the UK Miners' strike and the three-day work week. And you ended up having to write the fee notes under gas lamps. Can you share a bit about the entire period?
David Grief: So this was '74 from memory and as a result of miners' strike, there was no coal and there was no coal for the power stations or limited coal.
So they had to ration electricity. I mean gas was there, but it was more about electric. We would know in chambers by something in the newspaper. I think that if you worked in London, WC1 on a Wednesday in the afternoon between two and six, the power would go off.
And this, I believe. it was the autumn. And so in the UK, then autumn progress would be gets darker by four in the afternoon. So we had gas lamps. My job to go and find the gas lamps, because you're gonna imagine candles run out gas lamps run out, or gas, GAZ, was the brand.
In the recent article that appeared in the times about me, the reference to writing fee notes. It wasn't so much writing. If we did have electric typewriters, they were useless because there was no power. So we had to use go back to the old sit up over bank, manual typewriters. A and we used carbon paper and then it progressively, then we actually used to get photocopied, et cetera, et cetera.
But it was a challenge on working. And I can't remember how long it went on for, but certainly I do remember it quite clearly with candles and gas lamps and making sure when you go home at night, because you could go home at the time of a power cut, to make sure that the lights are switched off, all the candles were out all the gas lamps were out, because it was quite a fire risk as well.
It wasn't just in chambers, it was across London. Wherever you worked, it was shock, shock, anything you were affected by the power cuts.
Ling Yah: And we spoke quite a bit about solicitors earlier, and I wonder if you could share a bit about how you built that relationship with you instructing solicitors.
David Grief: There was one firm that I've always been quite keen on because there were two partners in that phone that really inspired me as a young person at a 17, 18 years of age.
And there were two partners. They were quite sort of wild sort of city types. And there was a guy called Michael Lee and another guy called Guy Sutton. Both still alive. Michael Lee is an arbitrator now here in Singapore, 20 Essex Street. And I first met Michael in 1971 slash two. So I've known him for 50 years and he was this guy in his early thirties, late twenties, early thirties. The big cases coming into chambers to see one of the leading silk in chambers that time called Richard, York.
And I, I don't know, there was something about Michael that really sort of inspired me, his life's gone on. Now, he's one of my great mates here in Singapore.
We go drinking together and how that relationship, I was the main junior clerk. He was a city solicitor, a partner at Norton Rose. Guy, still in the UK, lives quite close to me back in Kent and with Mike here we often FaceTime with Guy back in London now. I mean, they're both in their late seventies, so I'm in my late 60s, and we sort of reminiscent or whatever.
Anyway, that's one particular relationship.
But you didn't really start courting solicitors as a junior class. That was something you did a s a senior clerk and it's something that came progressively. Even when I became senior clerk at the age of 23 which is unheard of at that time, in a set of chambers in Lincoln's Inn.
Even then those three years Lincoln's Inn, you had conversations, you made sort of relationships over phone, because you dealt with a lot of the same people, but you didn't head off to the west end or the city or out of London to go and visit solicitors.
That. In the early eighties, because I then became Senior Clerk at 4 Essex Court as it was then known. And then I saw it more relaxed, commercial, different approach to life. And I did start to lunch with lunch. And it was lunching then. Not so much grab a coffee which has become in later time because lunches can take up a bit of time. Coffee's quicker, but it's building relationships.
And then I would get out of London and this, my newspaper article recently said, I'd head off to Manchester, Leeds, Newcastle Middlesborough county, Birmingham. You name it, I went because we were getting work from the provinces and the work was good work. There was a very good regional firms.
The early days of Eversheds, Addleshaws, Diplock and DLA which they came later, they came in the nineties, but a lot of the firms that formed those partnerships the Eversheds, the DLS, the Addleshaws, I knew all the firms. All joined together. Alexander Tatum in Manchester was a firm I knew well. Eversheds in Birmingham was standing like Hepworth and champion could lead. I remember going to Manchester for the first time and I walked into Addleshaw's offices and I knew the partner because he'd been into chambers in London.
Chap called John Gainby. He'd at one time was at Linklaters. And he said, David, this is amazing. You've come from London to see me in Manchester because the clerk at chambers over the road in Manchester, because there was the Manchester park, clerks at the Manchester park have never been to see me. And the fact that you've come all the way from London and see me, you could almost pack up and go home because you've made a statement and you've impressed us.
I didn't just go home because I stayed for an hour and talked about chambers. I went on and see a number of other firms. For me, I never really understood why the provincial bar never got it. That I would come from London, visit all the provincial centers. The local bars knew that I was doing this, but never thought to compete with me by doing it as well. I had a clear run. It was I don't know. Was it just a different mindset by clerks in the provinces?
And I used to get teased by other clerks in London as David Grief's touting tours. It wasn't touting. It was just relationship. And so it started off in the UK and then that extended overseas because I just thought, when you're ringing up a solicitor to talk fees on some big cases you want to know the person you're talking to. It becomes a colleague and so you can see his face. Where the office is. Whereabouts do they sit in Manchester? What his room looks like.
You know what his view out of his window looks like.
And you have a much more c omfortable conversation, because he may know that I'm a private pilot or he may know that I like to do this or whatever. I know what he likes to do. So you can always kick off the conversation was, you know, have you played golf recently? Because rather than just ring up and say, I want a hundred thousand pounds on this brief, you warm them up first.
And in fact, in some ways by warming them up first, you'd put them on the back foot and I feel I have an advantage. It's just the way I did it.
Ling Yah: Would you say that one of your advantages is that you actually learned to fly in the 1970s. That was something that people found very interesting.
Came up all the time. How did that come about?
David Grief: I'd been in chambers, so. I started in chambers in August, 1971. I was always airplane mad, and Richard York QC had an airplane, a wow has an airplane. And so I was immediately, you know, the great Richard York and one of the stars of the bars at the time, but I was a junior clerk and he could see that I had a passion for airplanes.
So I was very interested. He had a, what was called a single command a gopher, a Victor, Charlie, Mike. I remember. A VCM single command.
Members of chambers would give the clerks Christmas presents. My first Christmas in chambers, he gave me membership to his flying club and my first lesson. I got the books from the civil aviation authority and I looked at what one has to do to learn to fly.
And I looked at it and this, when I thought completely beyond me, I really couldn't see myself getting my head around any of this. And so I didn't take my first flying lesson until July, 1972, but I thought, gosh, he's gone to the trouble of giving me a flying lesson. At least I'd better go and use it. And the airfield was Biggin Hill, which was famous in the second world war for Spitfires.
It was only five miles from where I lived. and I was driving at that time. I'd passed my driving test in April 71, took my mom's car to Biggin Hill and had my first flying lesson. And I was completely and utterly blown away by the fact, because you go with an instructor you're in the pilot in command seat and you're airborne.
And he said, right, take the controls. We did affects of controls in the first flight and I landed well the instructor landed. And I went home and told my dad, this is just amazing. I want to do this. And and my dad said, look, I'm going to help you. Richard York helped me. My flying lessons were eight pound an hour and I was getting eight pound a week.
I worked at the flying club at weekends doing the bookings, filling the aircraft, refueling the aircraft. I made myself sort of indispensable flying club over time. I mean, I went there for the first time in July and probably by August, September, I was there weekends taking the bookings and doing all sorts of things.
I was clerking airplanes as opposed to clerking barristers.
So that was July, 1972, and I got my license in March 73. So nine months later I passed out, I got my license. So it's coming up 20, 23. I don't have my license for 50 years and I've never looked back.
Flying has been my life. I've been all over the place. And then Richard York when I got my license, he said, well, go on and get your twin ratings, which has two engines. And then you could have the keys to my plane. So I used to fly his twin. Then he'd sold his single command, bought a Cessna three 10, Gopher Alpha Zula, Yankee, Mike.
I had the keys, he traveled a lot for work. He was often arguing cases in Hong Kong, Singapore. And so he just wanted his aircraft used.
So I used to take his aircraft to two K in Northern France. Michael Lee, who I've mentioned earlier, took him and his son Rory to France. And it's just gone onwards and upwards. I own a share in my first airplane in 1988.
And I own an airplane now, which I shared with three other people go for score alpha Lima, Delta, and when I could and I was in the UK and before COVID times fly every weekend somewhere.
I would on a Saturday morning with one of my co-pilots, we would go from Bigging hill to Guernsey, which is one of the channel islands. Have coffee.
We then from Guernsey to Deauville in Northern France Normandy, and have a ham baguette and another coffee. And then we fly from Deauville back to Biggin Hill. I'll be back before midday and I would drive home and I'd see all these people coming out of the supermarket, having done their weekly shopping and everything else.
Hey, I've just been to the channel islands.
I wasn't big-headed about it. It was, for me, it was a passion. I got a big kick out of it. It made my weekend, it was just a mindset. When I got back, very tired used to doze in the afternoon, but it was just what I liked doing.
I was the only clerk at the bar who was flying actively, so it was a conversation point. And I mentioned Guy Sutton earlier. Michael's partner, whereas guy was learning to fly at the same time as me and where we've done a lot of flying things together.
I was the only clerk member of the lawyers flying association, which was mainly solicitors, but I did that to try and attract aviation law to chambers.
So I was trying to persuade solicitors that I had massive aviation experts in chambers. I was the aviation, if I wasn't, I didn't know any aviation law, but I thought I would love to get aviation work into chambers. And I did to some extent succeed.
' cause I knew a lot that the lawyer's flying association knew a lot of aviation lawyers. So I've used all different methods to get work.
Ling Yah: Having dealt with solicitors, what is the most effective way to market a barrister and what are their pet peeves as well?
David Grief: it's all about my relationship with solicitors and their relationship with me and trust and judgment. And I would go to see solicitors and they might say, Hey, David, I got this case, who do you think is the best person in chambers on this type of work or that type of work? And because I said it and because they know me and trusted me, they would come to me with cases and I can't make any lawyer, any solicitor instruct any member of chambers. This is a matter for the solicitor, the lawyer, and for the client to agree.
What I can do is open the door. Make the introduction because once the solicitor and the barrister are together, it's then up to the barrister to do his or her stuff.
And if it goes well, it doesn't always go well. Sometimes cases were a bit of a disaster, but doesn't mean the relationship's at the end. It's just the case. As long as you've done your best, that often brings the next case.
For me, it was relationships. It's increased now with the modern bar and build better relationships because it's acceptable to go out. In the early days, it wasn't acceptable for a barrister to wine and dine a solicitor. That was- are not acceptable. It was certainly unacceptable and I never did it. Just go knocking on doors. I never cold called. I always had someone to make an introduction by saying, you ought to meet David Grief, or I was building the relationships within firms.
But it is just about relationships and and that's the way I've always been.
Ling Yah: Wasn't there it's changed to the bars code of conduct where barristers could then start accepting privately funded directly? Did you feel that that changed the nature of your work?
David Grief: Yup that is a change. So direct access as it's called. So it was direct professional access where surveyors accountants and the likes of that had licensed direct access.
So suddenly one was also marketing in my case accountants, because we did in essence court chambers, as we eventually became work in the indirect tax world. VAT. So there were accountants to be marketed because clients would go to accountants. The accountants wouldn't need to go to solicitors because they can instruct directly.
So some ways solicitors used to get a bit peeved with the bar because they suddenly had direct access. And then there was direct access from the man or woman on the street to the bar. We didn't do that because suddenly you're turning yourself into being a solicitor slash advocate and so much more was required.
So we've always done professional direct taxes or work directly from in-house lawyers, the likes of shell. For example, we had very good relationships with shell because they were all in-house solicitors. And so I would be courting in-house to come direct to the bar. But yes, that was a change.
I mean, going back to the seventies, when I talked about planning. Local authorities couldn't come direct to the bar. So you have your solicitor within North Hampshire county council or whatever it is, they have their own legal team. They could come direct to the bar.
Ling Yah: And you mentioned briefly about how barristers would encounter disasters.
I wonder if you have particular memories of how you assist with barristers who cop-out?
David Grief: I mean, it depends on the situation because sometimes it's relationships. Barrister just does not get on with the solicitor.
Solicitor wants to take a load of bad points because the client wants to take a load of bad points and then perhaps the solicitor won't tell the client. They'd rather than the clients so of caught, the solicitors cops out and lets the barrister deal with it and that causes friction. You then got a barrister who is critical of the instructing solicitors team. Thinks that the junior solicitor on the case or whatever, is just not up to the job.
So, David, this was ridiculous. You've got to do something about it. That's me.
And what can I do about it?
And I did try once to do something about it and that was 30 odd years ago.
And I spoke to the solicitor about one member of the team and I learned very, very quickly. Never made that mistake again. The solicitor would immediately and quite rightly protect his team.
And it's the same the other way with the bar, you know. You learn by your mistakes to say, Mr X QC doesn't think that you're number two is up to it and sorry. The main man, main woman on the case would immediately protect the number two. And be quite honest now as a clerk, you cop out of that.
If the member of chambers has got an issue, then that's really for the senior solicitor on the case with the barrister concerned, and they should go and have a drink and sort it out between them. Don't put me in the middle.
And there's been a number of situations over the years, where senior member of chambers is complaining about a junior member of chambers and said, this person just hasn't done the work. Hasn't dug deep enough. Hasn't looked at it so hard because there's these cases that this person never found. And this is unacceptable because how can I trust the work? If I'm don't think the research has been done? David, you've got to go talk to them.
And I said, it's not my job. And of course they cop out because they find it too difficult to have that conversation.
But I said, look, if you've got a problem with that junior member of chain, you've got to deal with it yourself. Cause if I go and deal with it, they're going to know why is the lock falls and everything else. And I'm going to answer to those questions because I'm not the person who has found the problem.
And I so I say to the senior member of chambers and often some of these members of chambers where there are pupils. So, you know, you've built up that relationship and if someone is not doing the job properly, you need to tighten them on the one side and help them because they need to learn. I can deal with many situations, but it's not for me to guide them legally. If they're not doing it right, the senior barrister should direct them.
And then you've got, it's often situation where cases don't go well.
Cases don't go well because the client has been found to be lying or haven't disclosed a document. And that just when cases go bad. We did a lot of shipping cases and a lot of the shipping cases that were scuttling cases where the master gives the order for the ship to be sunk.
And then the owners then claim on the insurance.
And we did a lot of cases like that.
And day before trial suddenly amazingly, this telex is found where the master has said, pull the plug and the case has to settle. but that's no fault of the barista certainly not the fault of the instructing solicitor.
But then a lot of what I had to do was just relationships where maybe the member of chambers wasn't putting all his effort into the case. Was doing 6 other things same time, and that was easily found out. So I had to be the interface between the solicitor, many, many, a situation like that.
But you also know in a set of chambers, the members of chambers you're gonna have this issue with. You're fully aware of it before it happened. You he ad that off at the past even before the solicitor has said, I've paid this person you know, all this money.
And why is he not working a hundred percent of my case.
Why is he in court on this? Why is he in court on that? So you can see that coming down the road. So. you can get it before the solicitor s got there.
Ling Yah: What about on the flip side? I mean, having worked with so many barristers, are you able to identify when someone has that star quality and they might be ready to take the silk?
Do you plan for that as well?
David Grief: Yeah. That's a double act. That is the barrister and the clerk talking about it. I could raise it. The barrister could raise it. The barrister could raise it and I say, it's too early. It's not right.
There was a time in my career. And probably it was back in the eighties when I'd been at Essex court for maybe the first 15 years. I don't know. Maybe where the process changed.
But you had a feeling that that member of chambers was sort of right for silk and it wasn't, I don't have a feeling that he, she had got to that level where you thought that he had that, or she had that sort of star quality type of work, what people were saying about them.
So when I clerked someone called John Thomas. John Thomas, he eventually became Lord chief justice of England and Wales. Lord Thomas. And I remember him in 1982 slash spring, talking to him about his silk application. The form. It wasn't a very big form in those days, but some difficult questions.
And I remember going to see Anthony Evans, who was the head of chambers who then became Lord Justice Evans, and also chief justice of the Dubai International Financial Center.
And I remember going to talk, I said. John wants to apply for silk and there are these questions. And can we just help us on the answers because he hadn't gone to the bench at that point, but he was a silk, he'd seen the form, he knew- and I used to keep the forms.
Years after that people would want to apply, I knew the sort of pro form I have my sort of model, what other people had said without saying, John Thomas said this or whatever, I had it.
And don't get me wrong, in those days it was always Mister. So Mr. Thomas, Mister Evans. It was never Christian and in those days, not even for me as a senior clerk. Tha t only changed in the early two thousands.
But you just, you had a hunch and in those days, you applied and you got it.
And there would be 25 or 30 people on the line. You go down to the house of Lords, they'd get sworn in. And it was much more of a sort of family occasion because the wife, husband, the kids, the moms and dads had turned up. You went down and then to the House of Lords. The Clerk they say the silk, wears the full bottom wig and all the way regalia and the clerk wears morning suit, striped trousers, tails. While the silk has white gloves. The clerk didn't have white gloves in my day.
But it was a big moment when someone took silk probably of the moment.
Cause the silk is like starting all over again because you're competing with all those other people that have just taken silk. All those people who are young in silk and it's a bit unkind, but I used to say, , when you've just got silk you're not a real silk. I used to say a rail. You didn't become a real silk, until you'd continued been going for 10 years. You made your name because progressively there are more and more and more silks. It was like cream rises to the top.
And eventually I sort of perceived as one of the start silks and I was lucky in the set that I had, that those who took silk have risen to the top. I've had many, many, many silks. Many, many, many judges not only to the English high court, to the court of appeals. To the house of Lords as it was, then now it's Supreme Court. But also to the international court of justice and to the court of human rights in Strasbourg. Never achieved Luxembourg. Never got anybody onto the bench in Luxembourg, but I had two judges to the international court of justice Dame Rosslyn Biggins and Sir Christian Greenwood.
And judge to Micah to the court of human rights in Strasbourg. So chambers has done well and you have these people. I see these people as juniors, as pupils. And I remember I went to Strausberg when Tim was sworn in as the UK judge in Strasbourg. I knew them as people. It's a very personal. Personal relationships one has with these people. They're not just clerk, barristers. You've grown up with them. It's a team effort. And as they join the bench and Strasburg, you almost start to say, it's like dad saying goodbye. You're no longer in my charge.
Or the high school bench, and I go to swearing in.
In those early days, used to go and see the Lord Chancellor. Me the new judge the family, we would go to the Lord Chancellor's room. It was very, very personal. And a massive you know, incredibly proud to see these people.
And I've always made a point of keeping in touch with my charges as they've gone on to bench. I go and have tea with them. How's it going? What are the cases? Any feedback on my members of chambers when they appear in front of you. And then talk about when they go into the court of appeal, maybe to the Supreme court , I'd go to the International Court of Justice. And I go and see some Christian Greenwood and understood what work they're doing.
Ling Yah: Who you say were the people that influenced you the most in your career?
David Grief: The first influence was Richard York. You had the airplane. That didn't matter so much. He had an Aston Martin, he had a Rolls Royce. None of that really mattered. And it didn't, the airplane impressed me.
But the other thing you said, though, I did use to use is Aston Martin the keys to that as well. But it was his outlook on life. He's sort of commercial. he saw the future of the bar and at the time, I didn't know, but it was rubbing off.
There is a silk at the English bar called Steward Isaacs. He appears a lot in Singapore he was Richard's pupil. They often talk about Richard.
The other person was when I joined Essex Court, he was a fantastic administrator and I learned so much from him because a lot of what I had to do , I didn't know much about it, but John was a great teacher and all of that.
We were the first set of chambers to have a computer.
We were the first set of chambers to form a management company. So the staff were employed by the management company rather than the head of chambers. We were the first set of chambers to have a brochure.
Eventually, I mean, the bar council used to come up with ideas and I would think, I thought about that five years ago, this is not new.
So John and Richard York were of great influence.
Gordon Pollack head of chambers for 20 years.
A tough, tough, tough, tough man. But I learned a lot from him but equally I was privileged in the nineties to clerk Sir Michael Carr, who left the court of appeal.
Laurie Mustle when he retired from the House of Lords and came back to chambers lock from Michael muster.
You know, one was learning from people like that.
When I was a clerk, it was Richard York. And when I started in chambers, it was John. In the chambers, I spent three years in Lincoln's Inn.
There was no standout person there, but chambers as a whole, they were Being in a commercial slug, stroke planning set, and joining a set that did trust, wills property. It was really different life. Very slow. Very frustrating for me. Members of chambers weren't very quick, and they take months to do an opinion.
I learned about patience. I learned about diplomacy. And in fact, one of the people that commented on the times article, , how to deal with cantankerous old people.
But it was a fantastic learning for me in that three years, because when I eventually ended up at 4 Essex Court, that I'd had a real grounding in some of the things which was so important for the next 40 years.
Ling Yah: Wasn't 4 Essex Court a place you always wanted to join?
David Grief: It wasn't a place I'd always wanted to join.
My senior clerk, Leslie Page said when I was a junior at college, that the best set of chambers in the land was 4 Essex Court. It was the set that everybody looked up to.
And I thought to myself, if I'm ever going to get to a set like that, not necessarily 4 Essex Court, I need to have a grounding as a senior clerk somewhere else.
So a job came up at 17 old buildings in 1976. I'd been in the job, what was it, five years? I thought, well, I'm going to go for this because if I want to progress in my career, this will be a good school to learn. Learn the craft as a senior clerk. Not as sort of high-flying commercial set..
So I joined 17 old buildings in February, 1977. and I was 23. Amazingly the job at 4 Essex Court came up. I didn't suddenly rush off an application.
I went back to Gray's Inn Chambers. I sat with my senior clerk, Lesley Paide. And I sat with Richard York and said, what do you think? And they said, David, go for it. And I went for it. And the first interview, I think it was an absolute disaster. I thought, well, that's it. I blown it. It's not going to happen.
And I forgot about it. And then the clerking professionals, and there were all sorts of people apparently had got the job. So I thought, well, they've even been as rude to not even to tell me that I hadn't got the job, but as far as I'm concerned that was it.
And I then got a phone call in June, 1980, probably, and saying they want me back for a second interview.
And I thought, well, what's there to lose now. You know, as far as I concerned, nothing to lose. So I went back for my second interview in a much more relaxed mode. Happier perhaps, I don't know. Perhaps all these words of no, I haven't got the job and everybody else has. I went for that interview.
I was interviewed by the whole of chambers and it was only 20 strong. And I remember all these characters, not only sitting in front of me, but sitting on the way around. I sat in the middle, asking all sorts of questions. Again it was pre-CV. No CV. It was just about how I'd approach situations. How would I market? How would I do this?
A lot of which I'd learned as a Senior Clerk in Lincoln's Inn. And the next morning I got a phone call saying you got the job. July, 1980. And I started on the 1st of October, 1980.
The other thing is, and I don't recommend it to anybody. And I've been saying this right the way through my career.
Uh, I married my junior year clerk from Lincoln's Inn. So we had a relationship as she was my only junior clerk.
I started dating her in November, 1977, and we kept it secret from chambers until we announced our engagement, in February, 1990. And there was only one member of chambers who had a suspicion. Nobody else knew.
Ling Yah: Wow, I'm amazed. I mean, it's such a small community.
David Grief: I had a life at the weekend. And a life during the week. So my junior clerk, Joanne, Ron, go and do this, go and do that, go and do this. And then when we announced our engagement, she then went on, became the clerk in another set of chambers. And then I left. And so when I got senior talk at 4 Essex Court, I got congratulations from the chambers Joanne was at, from my old chambers, from Gray's Inn chambers. Cause it was the big moment. the world went around the country. I got this job, like 26.
Ling Yah: When you got that job, weren't you the youngest person to be running all this?
David Grief: I was the youngest. And 26 now is just unheard of.
I look at 26 year olds today and I think, gosh, what I had to do then I couldn't see people in that age doing it today.
I think it's just family life from the way things that may be that I had had to do things myself. I think going back that last year at school is a big, big thing for me. Being deputy head boy, school, swimming captain.
I went from nine years Knowing nothing to running the best set of chambers in the country. In fact, it was the best sort of chambers in the world.
I got married with my wife in 1981. We got engaged on Valentine's day, 1980. It was a Thursday the next year was a leap year. So Valentine's day fell on a Saturday, 1981.
So I got engaged and married on Valentine's day. And I used to say, I did that so I could save money on Valentine's cards. And we went to the us for our honeymoon. We spent a month flying around the U S. I had unlimited air travel with American airlines.
The people say how on earth did Joanne put up with this?
I went to see a lawyer from Los Angeles on my honeymoon and because I came from 4 Essex Court. And because the worldwide international reputation, because of Essex Court, had the red carpet rolled out for me. I was then 27 and we were up in Toronto and we did a lot of work for a shipping line called Federal Commerce, and they were in Montreal.
So I said to Joanne, I just want to get out to Montreal today. You stay behind. And I just nipped off to Montreal and I went off to Montreal to see Federal Commerce, to meet machete, who was the big man. And so that's really where it all started for me.
And my first visit to Singapore was November, 1918. I met many lawyers, but the first person that really made an impression on me is now a member of the Supreme court, Justice Loh. Justice Quintin Loh. And I knew Quentin Loh. He was early thirties.
I was 28 and we are very close. We've grown up together here. And that's why now I'm here in Singapore. Singapore was being a massive part of my life ever since I, I first came here, like when I came in 1978 with my old set of chambers at Lincoln's Inn. There was an opportunity arose and I thought, better grab that opportunity to, because I never go again.
I come here in 1981. I've been coming here every year. Sometimes, twice a year, ever since. And I know a lot of history about Singapore. People just mouths open because they can't believe I've seen the Singapore river boat Quays when it was a dump.
Ling Yah: start about you coming to Singapore and-
David Grief: because I've been coming here so often. Because the people that I knew they went on the bench, but they were senior lawyers, the areas of which they were practicing were commercial construction, arbitration. It was all the talk about the sale of Singapore International Arbitration center and the development there. The idea of having a dispute resolution center, Maxwell chambers.
And I was asked what were my thoughts?
And I thought blimey, , on the clock from London and I'm being asked about the developments of things in Singapore, but This was 2000 4, 2 5, 2006. And having grown up with Mark Savile, the great Joni Veda, Toby Landa, Stuart Boyd, Martin Hunter, people in the world of arbitration and the best in the world.
I knew quite a lot about it. And in international practice for them, I see Jay and all of that.
I was at the forefront and I was part of the development of international law, arbitration in the UK. And they wanted my advice. And as it goes on, , Maxwell started, Siack moved to Maxwell's. Siack then grew, I knew men who was the chief executive of Siack at the time.
Then Chamber's, Essex court chambers took room at Maxwell, Sadley 20 Essex Street, Standard 1 Essex Court, 39 Essex Street. And we were the sort of oversees sets, creating a presence of Maxwell in which Singapore were very keen.
But I always had us on a dream only to do better than that.
I used to say to the chief justice Sundresh Manon, and he wasn't chief justice at the time he was either attorney or he might've just been in practice about, I want to be the first senior clerk in Singapore.
I used to bowl people with that subject. And then Tony Lando, which admitted to the bar here. So that was one of the building bricks
in the history of Singapore. Yup. And that was one of the building bricks, because suddenly there was an opportunity here because Toby was admitted to the bar and he could practice here. Where up to that point, you had to be admitted on a case by case basis. And we had a lot of cases in Singapore. Yeah. But it was always ad hoc.
And a lot of my silks appeared here.
So I talked to Toby about how we could build all this. And so we had lots of ideas. Another guy now silk, well-known in Malaysia, Jern-Fei, we've sort of talked about these plans and then VK, Roger, who I knew on the bench used to see a lot.
And he was an attorney general. His daughter Mira, was doing a secondment in chambers in London. She was interested in employment law at that time. And she was turning the prime common. She said to me in November, 2016, Hey, dad's retiring. So I thought, ah, this is an opportunity. So, I'm running off to Toby and to Jern-Fei and saying, this is another potential building brick.
So I emailed VK to say, would you be free for breakfast on the 4th of January 2017. And Richard came back and said, yeah. And we went to raffles hotel the day before it closed for refill. And it was only he and I there. And I said to him, I got this idea. And he said, no, no, no, I've got to go and do this. I'm going to do that. This law firm wants me, this, that and everything else. And I just kept talking through breakfast. And by the end of breakfast, he says, this is a really good idea. I really, really attracted by this idea.
And that was January, 2017, and by October, 2017, chambers launched here in Singapore. And I'm regarded as the midwife.
A lot of stuff was going on in the, in between the chambers launched. And I turned up here as CEO in July, 2018. I was called CEO because the lawyers knew what a clerk was. In-house clients wouldn't understand what a clerk is. The clerk is a lowly person.
So I had to be cool to CEO.
I never liked the term CEO because there were a number of people in London who were becoming CEOs in chambers, and I like the historical term senior clerk because it's our history of Singapore.
Anyway, when I got off the airplane, at the end of July from London, as I stepped on the Singapore site, I said to myself, I am the first senior clerk in Singapore.
And no one can take that from me. Toby might be the first English silk to be admitted in Singapore. But I was also the first senior clerk.
Ling Yah: And both of you were working in Singapore's first pure chambers practice.
What was the big challenge in establishing yourself? Understand what you were doing? Because it's so difficult.
David Grief: Yeah, I, no, that was, I'm it's like London is London. Group of self-employed people. T hey were, all sole practitioners in a group practice, which is what is known here. A group practice had a night and the sole practitioners. And it's getting the message across.
And we were small. We're still small, but we could do cases against each other. this happened a little bit, but it were too a little bit too small to do it. Chambers will grow up. Whether all of a sudden chambers will turn up here. I think it would be a good thing if they did, because it will be good to have competition.
But I'm okay. I'm no longer at Duxton Hill Chambers. I've now started my own consultancy. I wanted to do this because I wanted to do a lot more for Singapore and not be confined by chambers. I want to mentor, guide, help, clerk. I want to help the academy of law. The law society want me to help them in the ASEAN region and talk to other precedents of most societies. I work with the attorney General's chambers in the world of public international law with chambers in London.
There's all sorts of things within Singapore, bringing work into Singapore helping the junior bar. I've created what they put is known as the young public international law group here and that has gone from strength to strength in the last 12 months.
Ling Yah: What were some of the big lessons you learned?
David Grief: I sort of learned about relationships. I was lucky because I was so well-known though I was here at Duxton Hill Chambers, I was still really seen as the senior clerk in Essex Court Chambers London. I think how to deal with people. I think probably was um, the lesson. It's different to dealing with people in London.
And one of the challenges is where the juniors in chambers, it's not their fault, but they've started life in a law firm they'd become partners in a law firm. They've never been in a set of chambers.
They haven't startedout as a pupil in a set of chambers.
So they don't even understand me. They know what I did, but they don't understand me. And it was a real, and I sort of broke through to some extent, but it is quite a challenge to it. Just a relationship. Is, I was trying my damnedest to work with them like I did with members of chambers in London.
That was probably my biggest challenge in chambers. Because they didn't understand the relationship between the clerk and the principal and other challenges that followed.
Ling Yah: And how do you feel that COVID impacted your work, your industry?
David Grief: It didn't really. Uh, yeah, I've missed the opportunity to go to Australia, to India, to Korea, to Malaysia in particular and greater bonds with the friends I've got in those countries. Lawyers. So I've missed out. Zoom has helped a lot in that.
But in a way, you know, it's been to my advantage, because nobody's gone anywhere. So all my friends here are always here, so I've had more time to do what I want to do, and someone's not nipping off to London, Australia, or India or somewhere.
Ling Yah: And what kind of innovations do you anticipate happening further in the legal sector?
David Grief: These are personal views.
Think you'll gonna see ] more boutique operations. more so pro, pro proprietors. I think we're going to see perhaps chambers models. Not so much. Well, not necessarily Duxton Hills chambers models.
I think you're already seeing sort of dove into chambers. Devindra Singh Chambers was what we mean, chambers, which shows sort a boutique outfits. I think we're gonna see more of that. In time, I think you may see that the, dominant form may not be so dominant. people say that I'm partly responsible for all of this because of the creation of Duxton Hill Chambers.
I don't think we can underestimate what Duxton Hill Chambers did in the market, because suddenly we've done it. And then suddenly you've got Davindra Singh Chambers. Different model. And that really interests me because I talked to a lot of people. Talk to a lot of the younger people talk to them about their ambitions, what they want to do, how they want to do.
So , now I've got my consultancy. If I can keep going for another 10 minutes, which is what I want to do. I've got two dreams. My first dream is to get Singapore on their feet, leading in a case in the international court of justice, which is part of my bottom of my plan.
And I think I can get the re in the way that we've done so well, so far.
The other dream. And it's entirely possible is when another pilot friend of mine who's an English barrister, to fly ourselves to Singapore, I'd like to fly myself. and that is in Tawny posts.
It will be in the winter January time.
But to fly myself to Singapore would be something to chalk up and to land at Solita and thinking, Hey.
Ling Yah: Is there anything that you believe in that most people don't?
David Grief: suppose people would say I can't. Or they want to do this, but they're afraid to ask. My motto here and I use it awful lot here is if you don't ask, you don't get. And it's the cultural thing, maybe the same in Malaysia. The people junior afraid to ask seniors whether they can do something. They can get some impulsive.
And if I talk to seniors from the other end of the scale, they would say, of course, why not?
But you talk to the juniors, they don't ask. So my motto is don't ask don't get. What's the worst going to happen? Someone can say none.
Ling Yah: Well, thank you so much, David, I normally end all of my interviews with these questions. So the first one is this. Do you feel like you have found your way.
David Grief: I started life wanting to be an airline pilot. So I didn't start by thinking I don't want to do anything else. But I, life is a book and it's a journey. The older I get the longer I've been doing is I do think that I was on this earth to do what I've done because of what I've created, both in London.
And what I'm trying to create here in Singapore is sort of, I have a purpose , I do think it's an a book. I know where this book is. I don't want to know the last chapter, but it's a journey. So I now do think that I've found my why.
Ling Yah: And what kind of legacy do you want to leave behind?
David Grief: If I could change things here in Singapore, which I think would be to the advantage of Singapore. If I could get someone on their feet in the ICJ that I could be remembered for that I can be remembered being the first senior clerk in Singapore. I've already created a legacy perhaps in London and I'm now being credited in London for creating the international bar.
People say, David, you started the bar now being recognized, massively abroad. And people now say, David, that's all down to you. and I never think, I think myself, I mean that headline a giant, I've never thought of myself that way. I'm quite embarrassed for those figures.
When I started, there was an amazing, amazing characters. The senior clerks, the great Ron Berlin, the great civil bachelor, and I still today do not see myself as one of those characters. I'm told I am. They were really really amazing clerking characters, but , now people say David you are one, but I don't see myself in that way. I just carry on as I am. I do my job.
Ling Yah: And why do you think are the most important qualities of a successful person?
David Grief: Oh, erm, good at what they do. Approachable, transparent and fair. Sums it up. Probably this in my profession. good judgement's another one.
Ling Yah: And where can people go to find out more about what you're doing?
David Grief: I don't have a website one day, talking to website designers and putting my website.
But [email protected]. They can find me on LinkedIn. I'm always happy to speak to anybody. Anybody's got any questions. Anybody wants to chat over there the phone from any part of the world I've already had this on LinkedIn from people want to chat with me as a result of my piece and times from last week.
So no one should think they can't bother me. Course they can bother me because , they want to know something. They want to learn. How can they do this or how can they do that. but that's how they can contact me.
Well, thank you very much for connecting and also enormous. Thanks to Ji Ern Lee. Who's in fact, standing next to me at the moment, Thanks to Ji Ern for connecting us.
Ling Yah: And that was the end of episode 60.
The show notes and transcript can be found at www.sothisismywhy.com/60 alongside a link subscribe to the weekly newsletter for this podcast.
And if you've been enjoying this podcast so far, we recently launch a Patreon page for this podcast to make this podcast even better than before. So if you'd like to support this podcast, I would love for you to join and be a patron.
And stay tuned for next Sunday, because we'll be meeting an incredible Y Combinator founder who has pioneered a very new type of developer school where students can attend their nine month course entirely for free.
And pay back to the school only after they've started earning a decent income as a software engineer. We explore this founder's journey from Vagabonding around China to dropping out school, being homeless in Silicon valley and how he got into Y Combinator and ended up starting his coding academy.
Want to learn more?
See you next Sunday.