Welcome to Episode 49!
Our guest for STIMY Episode 49 is Dato' Thomas Mun Lung Lee.
Dato' Thomas Mun Lung Lee is a Senior Partner & founding member of Lee Hishammuddin Allen & Gledhill – one of the largest law firms in Malaysia.
He was also Chairman of AIA Public Takaful Bhd & AIA Malaysia Berhad, had directorships at AIG Malaysia Insurance Berhad, was a member of the Appeals Committee of Bursa Malaysia Berhad and Chairman and Non-Executive Director Alliance Bank Malaysia Bhd & Alliance Merchant Bank Berhad. He also served on the Board of UMW Holdings Berhad, Saujana Resort (M) Berhad and Bank of America Malaysia Berhad.
In addition, Dato' Thomas was an arbitrator with the Court of Arbitration for Sport, Lausanne, Switzerland and a member of the Ad Hoc Panel of Arbitrators at the 1988 Commonwealth games at KL, the Commonwealth Games 2006 at Melbourne, the Olympic Games 2000 at Sydney, Olympic Games 2008 at Beijing & Olympic Games 2012 at London.
Last but not least, he is also the son of Tun HS Lee – Malaysia's first Finance Minister!
In this episode, we cover Dato' Thomas' life story, beginning with his earliest memories (of air raid sirens & bombs dropping over Kuala Lumpur!) to then fleeing to India after the Japanese placed a bounty on his father's head, and how he eventually made his way to the UK with his brother for his studies at the age of 13. 
And his fascinating legal career, which included being colleagues with Tun Hussein Onn (who eventually became Malaysia's 3rd Prime Minister) & Chan Sek Keong (who became the 3rd Chief Justice of Singapore).
Here is Dato Thomas Lee's journey.
PS:
Want to learn about new guests & more fun and inspirational figures/initiatives happening around the world? AND get an exclusive behind-the-scenes copy of the research notes I prepared for each STIMY interview (including things we didn't cover in the released episode!)?
Then use the form below to sign up for STIMY's weekly newsletter!
You don't want to miss out!!
Who is Dato' Thomas Lee?
Born in 1938, Dato Thomas Lee shares his earliest memories of air raid sirens and bombs and how his family fled to India after the Japanese placed a bounty on his father's head. And what life was like there before they eventually made their way back to KL!
However, his return home was short-lived given the dangerous times then (under the British imposed emergency rule) and he soon found himself shipped to the UK for studies with his brother, Alex.
1:57: Earliest memories of air raid sirens & bombs

2:40: Fleeing to India

7:52: Living under the British imposed emergency rule during the height of the communist insurgency

9:42: Travelling to the UK from Malaysia via a 3-week boat through the Suez Canal
I really wished that I had talked more to the older people in the club... because I think I would have been much smarter and more learned if I had listened to them. But when you're young, you're full of yourself. You think you don't need to listen to anybody.
Studying Law in the UK
10:42: Studying at Leys School, Cambridge

14:14: Being guided to study law at St John's, Cambridge University

16:29: Working as a tourist guide at Costa Brava, Spain

18:36: Completing a pupillage at 2 Crown Office in the 1950/60s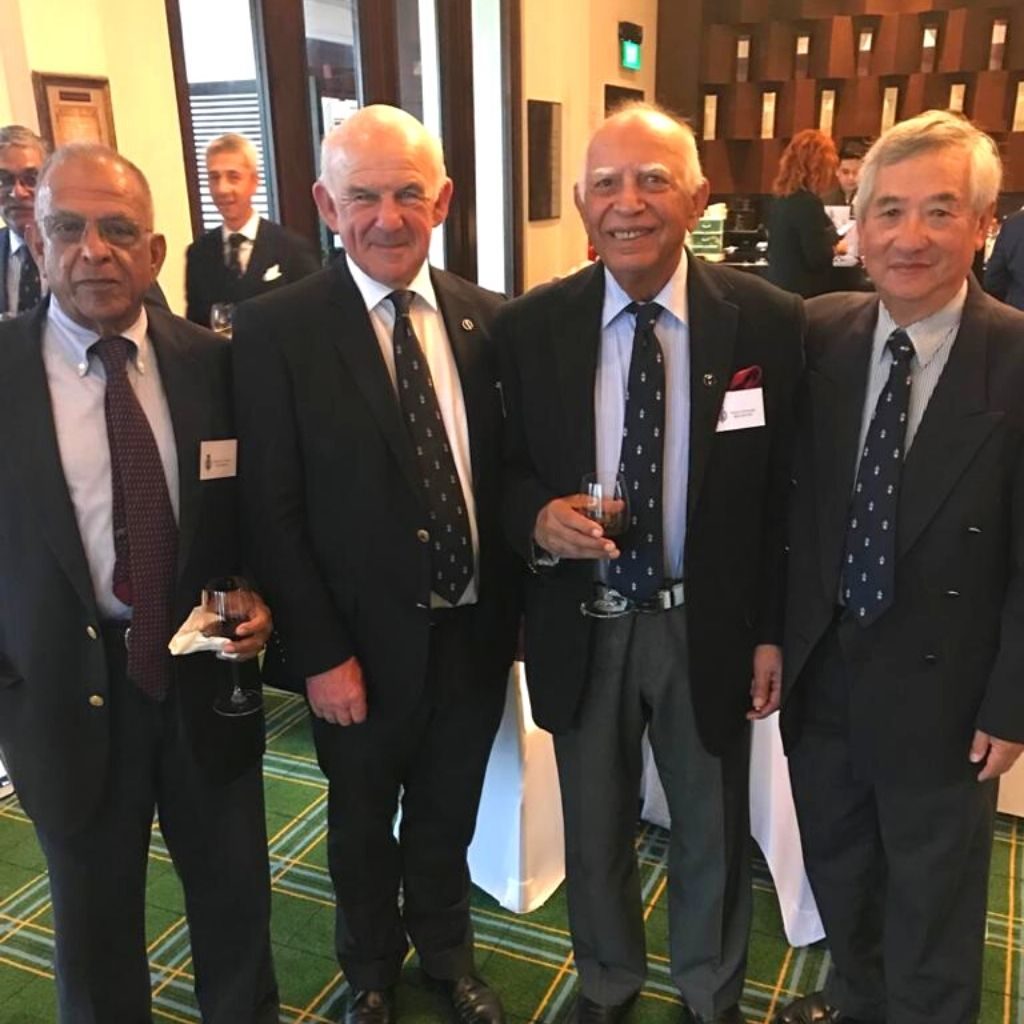 The Malaysian Legal Community
Dato' Thomas Lee shares what it was like being a part of the Malaysian legal fraternity in the early days after Malaysia first obtained her independence, and some of the prominent figures that he came into contact with.
Including early founding partners like John Skrine & Peter Mooney, as well as Malaysian Prime Ministers like Tunku ABdul Rahman and Tun Hussein bin Dato' Onn.
27:20: What KL & the Malaysian legal scene was like in the 1960s

28:54: Beginning his career in debt collection

30:34: Seeing Bannon & Bailey dissolve in 1963 & joining Skrine & Co

31:15: Why Dato' Thomas wanted to be like John Skrine

32:19: "Don't harbour a grudge. Life is too short for that." – John Skrine

34:24: Working in the same pupil batch as Hussein Onn

36:12: Impact of 13 May 1969

37:57: Royal Selangor Golf Club

39:30: What Tunku Abdul Rahman was like in person

40:29: What Tun Dr Ismail was like in person

41:06: Setting up of Lee Hishammuddin in 1993

44:06: Turning down 2 offers to join the judiciary (including the Court of Appeal!)

45:03: Whether he ever felt pressured by his father's legacy
If you're looking for more inspirational stories, check out:
Azran Osman-Rani

: CEO of Naluri Hidup (formerly CEO of AirAsia X & iFlix)

Guy Kawasaki

: Chief Evangelist of Canva & Apple

Oz Pearlman

: Mentalist & Magician, Runner-up in Season 10 of America's Got Talent & multiple ultra marathon champion
If you enjoyed this episode with Dato' Thomas Lee, you can: 
Leave a Review
If you enjoy listening to the podcast, we'd love for you to leave a review on iTunes / Apple Podcasts. The link works even if you aren't on an iPhone. 😉
Send an Audio Message
I'd love to include more listener comments & thoughts into future STIMY episodes! If you have any thoughts to share, a person you'd like me to invite, or a question you'd like answered, send an audio file / voice note to [email protected]
External Links
Some of the things we talked about in this STIMY Episode can be found below:
Subscribe to the STIMY Podcast for alerts on future episodes at Spotify, Apple Podcasts, Stitcher & RadioPublic  
Leave a review on what you thought of this episode HERE or the comment section of this post below
Want to be a part of our exclusive private Facebook group & chat with our previous STIMY episode guests? CLICK HERE.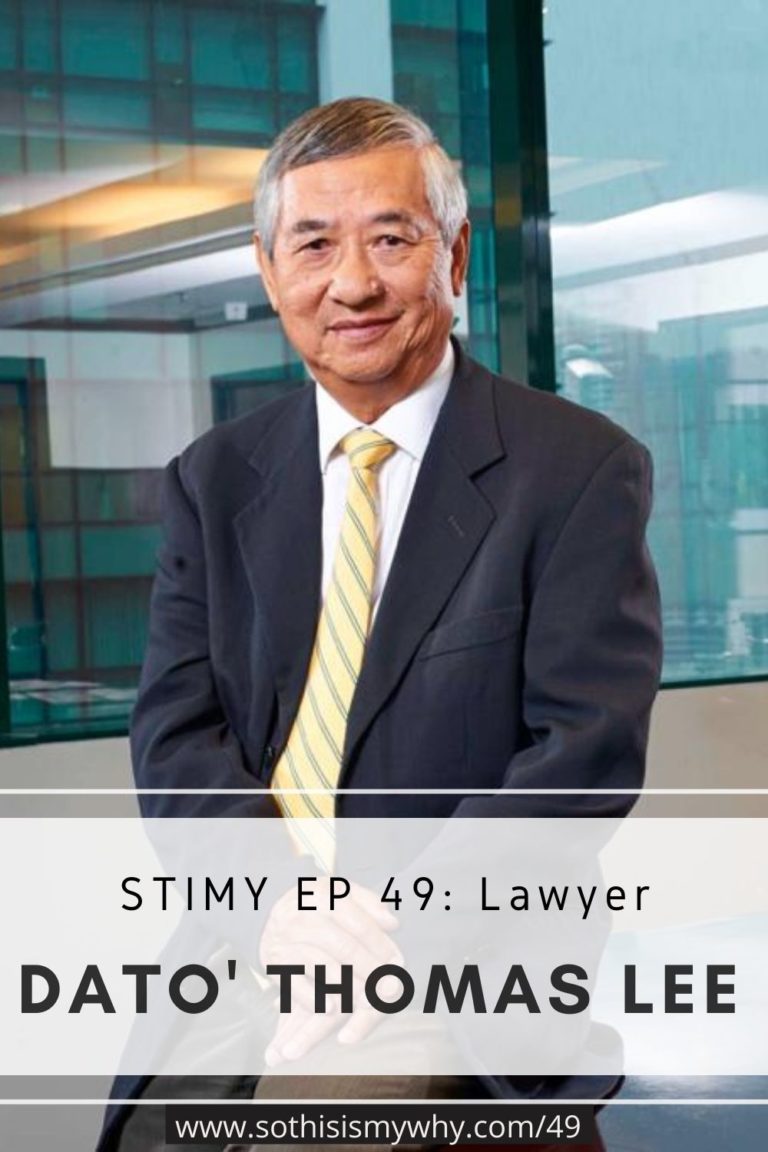 STIMY Ep 49: Dato' Thomas Mun Lung Lee [Lawyer, Founding Partner at Lee Hishamuddin Allen & Gledhill & son of Tun HS Lee]
Dato' Thomas Lee: I just found actually a note, which my brother, Alex, made at the time. And one of the questions that we did ask Siew Sin at that time was, if we enter politics, will it make any difference?
Do the Malays really want a Malaysian Malaysia, or they want it to be a Malay country because if it was a Malay country that they want, it's very difficult for us to enter politics.
So yes, questions were already asked at that time after May 13th, whether really the Malays wanted a Malaysian Malaysia, or they want Malaya Malaysia.
So it's very difficult for MCA to play a role, I think, in that kind of situation. And that's why we never joined MCA.
Ling Yah: Hey everyone! Welcome to episode 49 of the So This Is My Why podcast. I'm your host and producer, Ling Yah, and today's guest is Dato' Thomas Lee. Senior partner and founding member of Lee Hishamuddin Allen & Gledhill. One of the largest law firms in Malaysia, who also happens to be the son of Tun HS Lee. Malaysia's first finance minister.
In this episode, Dato' Thomas shares his fascinating life journey, starting with his earliest memories of air bomb sirens, to fleeing to India because of the bounty that the Japanese had placed on his father's head.
To what it was like studying in the UK and how his legal career began with Bannon and Bailey in the 1960s. It's a fascinating peek into what it was like working in law way before the age of smartphones and computers not long after Malaysia first became independent. As well as what, some of Malaysia's most prominent historical figures and prime ministers were like in person.
Now are you ready for his story?
Let's go.
You were born in 1938 in Malaya before Malaysia was even formed.
What were your earliest memories from that point in time?
Dato' Thomas Lee: Earliest memory would be air raid siren and bombs falling in Kuala Lumpur. We had shelters prepared, so I remember going up taken by my parents into this underground shelter. And there was this air raid sirens and searchlights and bombs going off.
Don't know why I have that recollection, but nothing left other than that.
And then as I understand it, my father managed to get us out at the last minute from Malaya, from Singapore, just before the Japanese invaded Kuala Lumpur and got in.
Ling Yah: There was quite important, right. Because your father was Tun HS Lee and he had a bounty that was placed on his head by the Japanese.
Dato' Thomas Lee: Yes. That's why, but I think, I don't know why he left it so late to leave, but certainly I think that if we had not left, we'd all be killed. I think the Japanese were after my father. For sure.
Because you know, you may not know that there was a lot of money raised against the Japanese the war by the Chinese. And my father is one of those people who helped to raise a lot of anti Japanese money to fight them.
And definitely even his name is mentioned by Japanese historians, as somebody who, worked against them.
Ling Yah: You were so young at the time, but you were living in the middle of a literal war. Air sirens, had to flee.
Did you feel any sense of fear and anxiety at the time, or it was just something that was happening to you?
Dato' Thomas Lee: Oh, I was just too young, absolutely too young. And I think that I mean, sad to say most of the worries went to my parents, not by us, you know. I mean, I can imagine I was told, you know, for my mother to look after nine children, running away with bombs falling and all that. I mean, quite something for her and my parents. And even when we ended up in India there were quite a few other Chinese families from Malaya and from Singapore.
But my father was very lucky in that he knew the British bankers. Standard Chartered bank HSBC. And so he managed to get some line of credit from them in India. So that's how we survived, I think.
Ling Yah: And what was it like being in India? I think you were at Musoori. And then you moved to Daradoon then Mumbai.
Dato' Thomas Lee: Yes. Remember Missouri, which was a Hill station. Cool weather. Rather bit like o ur Cameron Highlands.
And I remember there was a time when my father used to ride horses and he had a bad fall. And I remember seeing him in hospital after the fall.
I remember that.
Daradoon was beneath Masoori. I still remember we lived in some sort of guava plantation and there was not an elephants elephants, you know, in that era. Yeah. But then I was a bit older when we got to Mumbai. Those days called Bombay. We went to school there.
And I remember we had actually quite a good time. I had a very loving Indian ah mah to look after us. Going to school. And my parents spared us all the worries of financial, war and all that, you know. And of course you're in a time, I think from what I see now, my father was constantly involved in what was going on in Malaya and working to come back.
And I think there was correspondence with Tan Cheng Lok and Tan Siew Sing as to what the Chinese would do in Malaya. Even during the war, you know,they were already planning then.
Ling Yah: You must have had quite a lot of visitors from Malaya, just, you know, coming to see your family as well. When you were in India.
Dato' Thomas Lee: Yes. We were very lucky. Went to a good school and lived in a good area.
And my parents, the friends, they used to play Mahjong, bridge and stuff like that now. But the time passed very quickly as 1946, we came back and that was a time also, which should have been very interesting because it was a bit of chaos, in your country.
And I still remember we arrived in Singapore and my father had arranged a whole convoy of vehicles to take us back to Kuala Lumpur. The trip lasted the whole day from early morning to night. The car used to break down. You have to fill up the water and the cargo overheated and stuff like that.
But we managed to get to KL and then I went to school at Batu Road school and then VI. But I think that we had just a few, one or two years life and my father where he was a bit freer. But after that he was so busy, we haven't saw him, you know.
He would go to office, we would go to school.
We would come back in the afternoon to the house. Never saw my father because quite often he'd come back for dinner.
My mother, it was explained to me later, she had such a busy and worrying time in India.
Then when she got back to Malaya, I think she was you know, relieved and tried to enjoy herself a bit. She loved playing Mahjong. Right? So whenever my father never came home for dinner, She also stayed back with her friends. Played mahjong.
So basically, you know, life was between myself, my younger brother.
Very sheltered.
We didn't go out much because of kidnappings and stuff like that going on. In fact, to show you how bad it was, we lived near the Royal Selangor golf club. Now it's called the golf club.
At that time, all around the golf club were rubber estates.
Now this would only be something like two miles and three miles from my house. And some terrorists were killed just there. So that's how close they were actually, you know, and sometimes I think that we are actually very lucky to survive because my father never believed in body guards or things like that.
Yeah. So the house, we only had one elderly Sikh jaga. For some reason or other, nobody bothered us but I always worried that people would come into the house, et cetera, et cetera. Because it was quite a tricky time.
Ling Yah: Yeah. That was around the time when the British imposed emergency rule as well, right. Because of the communist insurgency as well.
Dato' Thomas Lee: Yeah. Yeah. So then, we then left for England in 1951 and that's it. I mean, we miss all the Excitement, which my father went through after that.
When my father said to my brother and I, look I'm sending you to school in England, we were absolutely shocked and afraid because we are a very traditional Chinese family.
We still ate with chopsticks at the time and it never had a fork and spoon. So for us to suddenly be transported to a British environment was a real shock mass, you know, and I still remember going to school you know, we are quite small size of course, and the big British boys, you know, standing over us.
We are very lucky, but that both my brother and I were not bullied at school. For some reason they didn't pick on us, but there was quite a bit of bullying going on because in the, 1951 or 52, some of the English boys who joined school were overaged because of the war you know. So they were actually much bigger than us and all that.
Ling Yah: When your father first said he was going to send you to the UK and you said you were shocked. I wonder why that was the case, because you had elder siblings, right. And they also went to the UK yes.
Your sisters went to Australia.
Dato' Thomas Lee: Yes. But they were, a bit older. They were a bit older. And my two, two oldest brothers went to England. My two sisters went to Australia.
Ling Yah: Do you think you were sent so early because of the situation back at home and it was just for your safety?
Dato' Thomas Lee: Yes, I think so. I think so.
And the two elder ones went to study mining engineering and my two other sisters one did did dentistry, the other one became a doctor? Yes. Yes. Could be that because of the uncertain situation, the security and all that. He sent us off early.
Ling Yah: Back then, you know, you were 14 years old.
It was 1952. It's not like you can board a plane and within 14 hours you're in London. So what was that journey for you to get from Malaya to the UK?
Dato' Thomas Lee: Well, the first trip went by boat. And it took us three weeks to get to England. We still went through the Suez canal, actually, it was quite interesting should make a trip.
You know, to be the Suiz canal, you know, which is seeing the desert and the Arabs and all that. It was quite quite interesting. But we were on a boat, which was a Dutch boat and there were a lot of Dutch people on the boat. I didn't realize it at the time, I was too young, but now of course I realized that the Dutch were actually leaving Indonesia. You know, India, Indonesia was given the independence. They were all leaving.
So that was the reason why there were a lot of Dutch people on the boat.
Ling Yah: Was it just you and your brother who I think is younger than you by a year. Right? So-
Dato' Thomas Lee: no, my parents went with us on that boat trip. It was our first time. But after that they just left us in the school.
And that's it.
Ling Yah: And you talked about Leys School in Cambridge. Do you remember what it was like, you know, just arriving there for the first time, knowing that you were going to spend quite a few years at this completely foreign place?
Dato' Thomas Lee: I remember that the first two, three weeks I was very homesick.
But after that I got over, but I never did enjoy school. It was too much discipline. And the school bell rings, you go somewhere, school, bell rings or somewhere. No privacy also. And I didn't enjoy it because the funny thing about English is that at school, they will all call you by your surname.
They will all call me lee. Never called me Tommy. And that always seemed a bit unfriendly to me when somebody call you by that. But a strange thing with the same English boys. When I met them in university, they would call me Tommy. I don't know why. Public schools have a culture. They'll call smaller boys by the surname.
They don't call you by the name.
Ling Yah: Were there many people from Malaya or was it just your brother and you?
Dato' Thomas Lee: Not at the school. At the school, there were only three Malayan boys at the time. They were older than me. But different houses. The school had different houses and you live in your house, but we never met each other.
And rarely talk because the culture, again, big boys don't talk to smaller boys and it was like that, but I did meet them when we got to Cambridge university. There was already a Malaya, Singapore students union at that time. Then I met, a lot of Malaysians and Singaporeans.
Ling Yah: When you were in the UK, was it hard to stay in touch with your family back home in Malaya?
Dato' Thomas Lee: Yeah. Well, we don't have emails and WhatsApp. And my father was so busy, right. We were getting a letter from them once a month and my mother who didn't write English, you know, she didn't write at all.
I mean, the other thing is of course, The way we, left for England. We had no Chinese education. So we, couldn't write Chinese. My mother only wrote Chinese so we could not communicate. I mean, there was no communication, which is another thing.
Ling Yah: I imagine that must have left an impact on you since you had left at such a young age, and you were there for nine years. Cut off from your family, from anyone who looked like you.
Looking back, how do you think it impacted you as a person?
Dato' Thomas Lee: Thinking back, it must have an impact on me, right? Because I really had no parental guidance. One thing did happen was that my father managed to arrange a holiday home for us, so that when we had school holidays, we went down to this person in a town called Seaford in Sussex.
And she turned out to be like a foster mother to us. She's a very nice Austrian lady. And we got to know her very well. And she was a person that we could talk to. She was like my mother instead of my mother, you know?
Ling Yah: So you mentioned that you later went to Cambridge and Leys School is actually located in Cambridge.
So I imagine it must have been quite a strategic choice by your father to pick a school located in a place where he wants you to go to university. Eventually.
Dato' Thomas Lee: Yes. I think he chose the Leys School because of that. Because he always wanted my brother and I to go to his college, which was St. John's college.
At a time, I think the university still allowed children of alumni, get into a college. You will not that difficult. So long as you pass your exams and so on. You are preferred because you are a son of somebody. I think he did that.
And of course being at a school inside a university town, you got to know the town very well, even from school days, right?
Ling Yah: At what point did your father have that conversation with you saying that I want you to do law at St. John's Cambridge. Do you remember that conversation?
Dato' Thomas Lee: I think from the very beginning. When I went to school, he already told me to do law.
Those days were not like people who nowadays young people are so much clever and know what's going on. We didn't, you know, actually those days if you had some money, you either become a lawyer or a doctor engineer or accountant. That was not my choice. So I think my father thought that law was something which if you didn't like to practice law, there are many other things you would do with law.
He thought that it would be good for me to do it, and because I was quite good at English and so on, I really didn't know what to do. He just guided me.
Ling Yah: So what was it like studying law at Cambridge?
Dato' Thomas Lee: It was absolutely no technology. But it was a bit of an eye opener for me at university because, we tend to be Asians very obedient to the teacher. I found that the English boys are very independent of the teacher.
You see, Cambridge at the time, I dunno if it's the same, we had the university lectures that you go to and then you have your tutorials in the college by somebody else.
I used to find some very bright english students not even bothering to go to lectures and a university. There was no roll call or, attendance. So you can actually find a whole year without attending lectures and they just go by tutorials and they were bright enough.
Because one thing I did realize with the English that some of the English students, especially those who had fathers or mothers who are lawyers tend to have an aptitude for law, and they could understand the logic or the thinking of law much better than I could.
Ling Yah: So you also mentioned that you were very sporty while you were in Cambridge, you were doing badminton. I think you were also doing tennis as well, weren't you?
Dato' Thomas Lee: Yeah, so I played both badminton tennis.
I managed to play a lot of badminton when I was the university. And of course the team was composed mostly by Malaysians.
We had a very good team, actually
I was captain of my college in tennis. I was on a university team for three, four years.
And that was very good because I think that for any, young person, I've always advised the best way of getting to know people is play sport. When you play sport, you get to know people.
Ling Yah: So while you were at Cambridge, you were also during the summer working as well. And you were a tourist guide at Costa Brava, Spain. How did that happen? What was it like?
Dato' Thomas Lee: Well, this is what I mean by one of the good things was I learned to be independent.
I don't imagine somebody in my situation doing that, but we were left alone.
We had some friends said to me I've got a job as a guide in Costa Brava. Why don't you come with me and let's see whether you can get a job there. So I followed him and managed to get a job as a guide, basically because the dog would speak English and I was guiding English, tourists, and some German tourists as well too, came to Costa Brava.
I had to learn some sort of Spanish to do my job, but it was interesting to do that. And then another holiday I was working in Cambridge in a brewery, and that was another experience working in a brewery because, you know, I was working with the labor class. England. And actually I've found that they're very nice people to work with.
They actually help me to carry stuff and all that, you know, because I was small, so they would have a caddied for me. You can understand that's a working class, which thinks differently because they will look at us as students, the elite in Cambridge, whereas they are the working class, but it was a good experience.
Ling Yah: And during that time you were also going to London as well to have your bar dinners.
Dato' Thomas Lee: Yes, I shortcut everything by eating my dinners. you know, you had to eat then I think about 12 dinners before you qualify. So I will already eating dinners when I was At Cambridge. So that by the time I went down to the bar to study for my bar exams, I'd already done most of my dinners.
I think that time they wouldn't give her an allowance as a, graduate. I think when I was in London, I think I was only there for nine months or one year. Took my exams and passed.
Then I did a pupillage. And I think that is a very valuable thing, which I would advise anyone. I don't know whether it's easy for anybody to get a pupil master nowadays, but I was lucky to get one. And I think that's what I learned most. By following my master around the court and working with him and chambers, see what he does, how he prepares for case it's not mine.
Ling Yah: So you were at two crown office role in the 1950s sixties. What was life like if you are for someone who has never done it.
Dato' Thomas Lee: They were actually there very kind to me, quite honestly. The head of chambers was a man called John Hobson. The very formidable looking chap. he became the attorney general of the country and another person called Jeffrey Lane was the QC. And he became chief justice of the countries.
And they're all very nice to me, I must say.
My master was a chap called Charles McCulloch. He is a Cambridge graduate. I still remember this. He always took me out for lunches and insisted on paying for the lunch. I think my father paid something like 50 pounds for the pupilage, but I got it all back for lunches, all the lunches he bought me.
Ling Yah: What do you feel was the biggest learnings that you had from just shadowing and working with these amazing people?
Dato' Thomas Lee: The thing which you will learn is first of all, integrity.
Now the way these chaps practice, they shared a room and they could actually be opposing each other in a court case. Now it's unheard of. Right. And you can share room and B you know, your papers and so on and so on. And. nobody believes that, you can be complicit with each other and do things right.
But the bar conduct integrity that nobody would even question the system. I remember, for example, Jeffrey Lane had a court case against my master. So, you know, same chambers and nobody thought anything about that, you know, the bar, we used to follow, them.
And sometimes we listened to some of the top barristers conduct the cases. I still remember a leading barrister at a time that called Gerald gardener, who became Lord chancellor.
You know, just, listen to him, the style, the command of English, it was very educational.
Ling Yah: And it was not as though they had a lot of time to prepare as well, right.
They will often get cases on the day where they have to submit.
Dato' Thomas Lee: Yes, sometimes you get a court case given to you on a day itself. So you just have a quick meeting with a solicitor and you meet your client and that's it. that's the reason why they can do that is because they're specialists.
Like, for example, my, master was a common law barista, which means a lot of contract, tort, negligence. He would know all the leading cases by heart. He didn't need to take any books with him, but I think the mastery is on the facts because when you meet the client and you see the case, you listen to the fact then you have to apply the law.
But you still have to analyze the facts. If you don't analyze the facts, the law is useless to you. But they don't need a lot of books because they know the law. So it doesn't matter. Applying the facts to the law or the law to the facts.
Ling Yah: Have to really understand and be able to take in love information, right. Wasn't there this story of how one of them had a motor accident and he didn't know anything about motels motors then.
Dato' Thomas Lee: Yeah. That's another thing you said. They are such good minds that they could master the facts of any subject of a case, for example, if it's a medical negligence case and they would learn all about the medicine now, what happened?
That's one song. But that one that I talked about was in a motor accident where Gerald Gardner was the barrister involved, and he was explaining to the judge how a motor car works, how the engine works and how the brakes work and all right.
And I was just listening to their letter and I managed to ask his clerk. I said, Mr. Gardner must be an expert on motor cars. He said, no, no. He only just learned about it on this case.
So you must learn and then articulate the facts. And that's where they're very good. Of course English being the native language, they should be good at it, it's the mastery of being able to absorb the information and articulate.
I always tell young people here don't be shy because you're young. you should grow up quickly because I noticed with the English, at age 25, 26, they are full of confidence. They can go to a board meeting, addressed directors with full confidence.
They have developed that through I suppose, the childhood, you know.
One thing I noticed when my brother and I flew back from England for holiday. The plane was full of English, boys and girls in a plane.
And they were so badly behaved on a plane. That pivotal fights and all that on the plane. The air hostess couldn't even control them? But the funny thing is these chats are like that when a young they become more independent quickly. So when they are very young, they can be very independent. That's why I was telling you when the student days in Cambridge, I can actually hear students say to the lecturer.
You tell me this, but this not what dicey says. Dicey in his book, say something else. It's like, actually tell the lecturer that. So, I mean, they've come much more independent the way. because you might say they're very naughty as a child, but that's the way things are. So I think maybe sometimes our children are so well behaved.
It's not necessarily a good thing.
Ling Yah: So while you were at 2 Crown Office Row, did you always know that eventually you would be going home? Do you never have the intention of maybe I want to actually stay on and practice a bit?
Dato' Thomas Lee: I think sometimes you realize in life, things just happen.
I have never planned anything. As I told you, I didn't know anything about what's going on in this country. So when I was finishing my studies in England, I knew I had to join law firm in Kuala Lumpur. I knew I had to do chambers in a law firm and my father just arranged everything for me.
I still remember my father said you know, I'm thinking of two law firms for you.
One is Bannon & Bailey, and one is Shearn Delamore. Both of them are quite interested to have you, but maybe you should join Bandon Bailey because I know John Skrine quite well. And so that's how it happened. And John Skrine came to London on holiday and arrange to meet me in London.
We had a chat about it. And then he wrote me a letter and said, yes, we will accept you as a pupil.
When I called back home, I was totally ignorant of the law. I had not been taught any Malaysian law at all, So it's real shock to me, but I was so lucky that my fellow pupil was a very bright student called Chan Sek Keong, who was from Ipoh.
And he was chambering and he had graduated from Singapore with, he was top Mark from there. And he was so bright. He used to do work for Malal Form Digest. So he knew he knew a lot about law and he was very helpful to me. He really taught me a lot, but as you know, he became, attorney general and chief justice of Singapore.
Ling Yah: I think you wanted to do an MBA at Harvard, how did that come about?
Dato' Thomas Lee: Well, that was just a fancy, you know, because people thought that, you know, if you do an MBA at Harvard, combined with law would be good. I think it would have been good for my father. Maybe running out of money to finance me, said, no, you've come home.
I'm not going to pay any more for your studies
Ling Yah: So you retired in 1961. Did you feel that you were resentful having to be home because you have been gone for so long, you were essentially English by then.
Dato' Thomas Lee: Yes. And funny thing is it took me some time to get used to speaking Cantonese again, but it's strange because I didn't speak it for so long but the partners at Banner & Bailey were very kind to me.
And one of the good things for me was having been educated in England. I got on well with the English people.
I think Tommy Thomas in his latest book talks about his days in Skrine and company. He talks about how good the partners were. And I can echo his words.
I mean, John's Skrine was a wonderful man. He served the bar council for many, many years, but he never took on the chairmanship because he said this, has fallen to a local people. I shouldn't do it, but he served a lot.
Peter Monet was another person who served a lot of bar counsel. Sandy Patti, very good barrister and solicitor But the main thing about them was that they actually wanted to Malaysianise the firm. They were not holding on to things that they knew that they had to go retire and they just wanted to bring in local people.
So actually my brother and I were brought into the firm quite early. when the firm of battled Barry broke up and new firm of Skrine and company as formed I think it was only about two, three years later, I was made a partner of screening company. And so they were really very good at promoting local people.
Ling Yah: You must've also been quite inspired by their work ethic as well. I believe John Skrine, his wife would say you're married to the firm.
Dato' Thomas Lee: Yes, yes. his wife always used to complain to me that. No John's screen spends more time in the fund under the phase family. cause even after he retired, it was so constantly in touch with her, you know, worrying about what was happening and swung it.
Ling Yah: I want to set the context because this was so long ago, in the 1960s of what was KL like then?
Dato' Thomas Lee: Well, Bannon Bailey the office was actually. At that time, we call it Mountbatten road.
It was the bridge and the office. That was very near to the courts. The courts was where the clock tower is the Padang and the lower courts were where may bank headquarters is now that was called Court Hill.
So we were actually quite well-placed because we could actually walk to the high court or to low courts.
But it was small then, because I think that maybe few hundred lawyers only at a time. There was still some lawyers around you know, of course, Bandler Bay, Skrine & company, Shearn Delamore, Lovelace and Hastings.
They still had before they phased out. The chief justice was still Lord thompson Thompson was the chief justice. He was a very, should I say, quite relaxed practice those days? No. You could actually. Take a stroll up the court Hill, chit chat with people. Do your case, have a coffee there. Stroll back.
The reason because you didn't have faxes, you didn't have telexes. The firm had a lot of clients which was agency houses for British companies, Australian companies, how you advise a client is two letters, correspondence. So it may take one week for letter, go to England. they take some time to look at it.
They will send you back another letter or another week. So you actually probably have three weeks to do something. So in that sense it was quite relaxed, but of course now work crisis. You know all the time. And so when that happened, of course, things got very busy.
Ling Yah: Was there a reason why you started your career in debt collection?
Dato' Thomas Lee: those days, if you started as an assistant, they always give debt collection to do, and there was no specialization or anything.
And we had to run it up the courts to do mentions and et cetera, et cetera. So it's basically a debt collection, but from debt collection, you do learn about bankruptcy, winding up, how to enforce a judgment and stuff like that. And drift from that. Then slowly you start doing advisory work, to look at the law and give him some opinion.
But it was a matter of really those days. Some people just like to be a litigator. And some people didn't want to be a litigator. So you just move on that way. And I think you just learn the subject as you go along through practice. It was nothing sophisticated, specializing, go to courses.
And I think that the people were good. The reason why I ended up the way I did was I started by doing litigation, but I found that, the cases always got postponed. Now you prepare a case and then you get postponed. I found it easier to do commercial work and advisory work.
And, you see at a time that we were lucky because Skrine & Co and Shearn Delamore were the two firms that had a lot of work from international companies and British companies, Australian or whatever. I suppose, because there were British partners there. So we had a lot of that sort of work. by assisting them, I also had a lot of work with British banks, insurance companies, t in complete and something like that.
Yeah. From that you just end up doing more, banking, work, more insurance work. Just ended up that way. I mean, Because in the end you don't have enough time to do something else anyways, right? so you have to do that.
Ling Yah: So you mentioned this before that Ben Bailey dissolved in 1963 and on first may screen and co came about, do you remember much about this period?
Why this happened, how you end up going with John Skrine and two others to form this new firm?
Dato' Thomas Lee: Well, there were four partners in Bannon Bailey and three of them disapproval, what the fourth partner did. They were very secretive. I think quite rightly confidential. They didn't tell us what it was about, they explained to us that they were desolving the firm. The partnership.
And both sides. they asked me to join them, but I thought that John screen was a lawyer that I like to follow rather than the other one. So I agreed to go with him.
Ling Yah: What was it about John Skrine that made you feel that you wanted to be like him?
Dato' Thomas Lee: I think his, integrity, his ethics is hardworking, always very conscientious, huh. And the very nice person actually God-fearing person. I think we sort of, you had some confidence in him. He took everything seriously.
They used to say that he was a great polo player and he used to take this work to the field. And in between the golf Chuck Plaza, he would do his work. always working and the trouble with him was because he was so busy. He was actually a person who, that you could hit. Didn't have much time for you now you've, you know, I'll go and see him and talk about it.
And he'd just give you a, you you could see, like, he doesn't really want to talk to you. And so you get the hint and you go off, but Stanley petty was different. He was so patient, you can sit down with him and talk to him for one hour. He'll probably listened to. So we had that. I think we had the great advantage that we were able to consult very senior lawyers and young people.
Ling Yah: And wasn't John Skrine known for saying don't Harbor a grudge life is too short for that?
Dato' Thomas Lee: He was always telling me that whenever you have grudges or quarrel with people, life is too short. Forget it. Get on with life.
And I, I thought that a very good philosophy. And you see, after I retired, I found out that he got cancer. He was in Ireland then, and he didn't have long to live three months. So I decided to go and see him. I took the trip, the bottle and see him. And at that time decided not to have any chemo.
He decided that, whatever time he had left, he should tidy up all his affairs and do what he had to do because chemo tends to knock you off. You can't do much in your chemo, so you stop all that. It didn't do that at all. But when I met him, which is about three months before his death, he was still okay.
He showed me around, we talked about that from him, but he was still worrying about the firm. he was still talking to me about much will happen. That's all a band.
Ling Yah: Wow. Are there moments with John Skrine that stood out for you? That was very meaningful.
Dato' Thomas Lee: Well, I think that's the time I spent with him before his death in Ireland. He was of course, very sorry when I left Skrine & Co. He was very sad about that, but I won't go into that, the reason why, but he was very unhappy that I was leaving Skrine & company. But I'm very sorry for that as well, because it made him very sad.
But I think Peter Mooney who stayed back the screening company was more understanding. I think he realized,
Ling Yah: Yeah, Peter Mooney was a concert pianist as well
Dato' Thomas Lee: Continue to live in Malaya, Malaysia until his death. And he was still involved in the law and everything. One of the brightest minds that I met, he is intellectually very sharp. And even when he was 90, still intellectually, very sharp and like John screen, very charitable. he gave his house to his man servant.
I educated the two sons of the obvious servant. One became a top another top lawyer, wonderful person.
Ling Yah: So, Skrine & co within two years you were partner with Alex your brother and Tun Hussein Onn, who later became prime minister. Were they also, the same pupil batch as you as well?
Dato' Thomas Lee: Yes. So, I mean, Hussein Onn actually had a room next to me, I might say I never expected him to be prime minister and I must say that if any body became a prime minister, because it was given to him, I think that's a case was actually given to him.
I don't think Hussein was the person who look for it. It was not, ambitious that way, but I think when a nation needed him, they asked him to do it and he did it. he certainly wasn't fiery politician that you see today. nice man as well. And then very much personal integrity.
Ling Yah: Any particularly memorable incidents?
Dato' Thomas Lee: He was so cautious and, he would always underline his notes, I still remember once there was some line office matter when I thought it was Joe Hall and since he was very well connected in trouble, I wanted him to speak to district officer about the matter.
And, you know, he wouldn't do it. He wouldn't do it. He will not use his influence so that a person, even for me, you want to do it. He said, no, I can't use my influence at all.
My brother, Alex will also in the firm with me. Alex was a livewire. You know, he was involved in all kinds of things and eventually he was persuaded by Tan Siew Sing to join MCA.
And so even when he was in the firm, he was very much involved with MCA and politics. But a tremendous networker a lot of people liked him, not a client liked him. He would be multitasking person. But later on, I think if you fell out with Siew Sing and left for the group of young people from the industry and they joined Gerakan, so he didn't stay too long as a lawyer.
Ling Yah: So you mentioned Tan Siew Sin and this was around the time when there was the 13th, May, 1969 racial riots. What do you remember of it?
Dato' Thomas Lee: Well, I think I mentioned that my little brush it politics when after may 13, called a whole lot of young English educated people to support MCA and do something for the country.
And I remember that you know, we used to meet him and he was, of course telling us, look you chaps ah, you've got to do something for the country. You can stay out of politics. But I just found actually a note, which my brother, Alex, made at the time. And one of the questions that we did ask Siew Sin at that time was, if we enter politics, will it make any difference?
Do the Malays really want a Malaysian Malaysia, or they want it to be a Malay country because if it was a Malay country that they want. It's very difficult for us to enter politics. And as you know, what's happened since then. Right? So yes, questions were already asked at that time after May 13th, whether really the Malays wanted a Malaysian Malaysia, or they want Malaya Malaysia.
So it's very difficult for MCA to play a role, I think, in that kind of situation. And that's why we never joined MCA.
Ling Yah: And wasn't it quite a dangerous time as well, just in terms of what you could say, otherwise you could be charged with sedition.
Dato' Thomas Lee: Oh yes. I mean, we had to be very careful what we were saying and who's going to leak out, because after May 13th, of course there was the emergency.
And, I think the special branch was all over the place.
Ling Yah: Were you ever in fear for your life, especially since your brother had decided to enter into politics?
Dato' Thomas Lee: No. Not myself because I didn't go into politics but I think yes. Alex would be.
In politics, there are also a lot of gangsters. so there's always a danger of that.
Ling Yah: So you were at Skrine & Co this whole time, and then you were also quite active outside of the law because you were in the Royal Selangor Golf Club as well.
How did that come into your life?
Dato' Thomas Lee: That has actually been a big part of my life. When I first came back, you know, I was a tennis player and joined golf club. I was playing tennis and I did play for the country once in the Asian games, tennis, but then later on, I switched to golf and I just fell in love with the game and got involved in that in the club.
And I became captain of the club kind of very early age at 34. I was a captain of the club and I was in the committee for about 14 years in the club. But then from there I got involved internationally with the international golf association also. And then my life has been involved in Asia Pacific, as well as Malaysian golf.
So I was president of, the Malaysian golf association for 17 years. I'm a member of the committee for 30 years and the Asia Pacific golf I've been there for God knows long, long time. And so that has been a wonderful part of my life in the sense of meeting a long, nice people. and I also traveled a lot.
I'm a member of the RAs and Andrews. I'm also member pine Valley in the us. I've been told Gusto, which everybody knows about. so that part of my life, which I don't regret spending, I think.
You know, in a way I regret that I gave my time there because I didn't spend any time with a Bar council or my legal profession.
Yeah, I didn't do that. I shouldn't have, I think.
Ling Yah: But even, so you were still exposed and meeting very interesting people, at least through your father as well. Right. you've met. I believe you met Tunku Abdul Rahman. What was he like in person?
Dato' Thomas Lee: I met Tunku as a young person with my father, and later in life when I was president of the golf association, I met him again because he loved golf.
And all I can say is he was a wonderful man. He was very warm, very humorous. Very kind. I know some people say that he could be quite ruthless in politics, but I still think that he had a good heart. I think he did things for the right reasons. I believe that he did believe in a Malaysian Malaysia.
I think he did. I think being a Malay. I mean, you can't help it, but he did try to be fair to the other races as well. He did. And I think he was, also a bit swept away by the very pro-Malay politicians, but I think he did believe in the Malaysia, Malaysia. I still remember him saying an independence that I'm a happiest prime minister in the world.
Ling Yah: And you also met Tun Dr Ismail as well. What was he like in person?
Dato' Thomas Lee: Well, I actually played a golf match against him. Yeah, I did. And I was very afraid of that, but he was a formidable person and he tolerated no nonsense from anybody. But again followed the law very fair.
He was tough on anybody who broke the law. But as I said, being a Malay, you have to be pro-Malay, right. So you would understand that.
But still, I think it's a pity. He died young. I think he would have played a very important part of this for this country, if he'd been alive.
Ling Yah: And then 1993, that's when Lee Hishamuddin was formed, how did you end up being involved in the setting up of Lee Hishamuddin?
Dato' Thomas Lee: Skrine & company and it so happened that some of the younger lawyers at the time decided to leave Skrine and company as well. And they asked me to join them. So I said, okay. And it's been very good for me.
Usually when you do something new, there's always a lot of new energy and everything new and everybody's enthusiastic it's nice to be involved in that sort of
Ling Yah: What'd you remember of those early days? The challenges and the highlights of setting up a brand new firm.
Dato' Thomas Lee: Wow. I still remember it happened when the computer does came in. didn't know how to use a computer. had to be taught how to do it. None of us had any secretaries and just a few staff.
We're all partners at the time. They all had to do their own thing, but a lot of enthusiasm and, I think that because the partners were good lawyers and were hardworking, they managed to make it work. I mean, for example, I don't think we had to go for overdrafts to start off.
But even in Skrine company, they started off with old draft, you know, when they left Skrine & Company, the partners had to borrow money to start it off. But I think in Lee Hishamuddin, we didn't. We were fairly fluid at the time.
Ling Yah: How did you manage it then? I imagine, especially for anyone who wants to start a new law firm now, that is amazing to be able to, not have to start off with that overdraft. You also were managing to make enough money to survive almost immediately as well.
Dato' Thomas Lee: That's right. I think we're lucky because I think, I must say, I think that we brought quite a few clients over with us, so I think that that helped, I think that helped.
I think what also helped, you know, you don't want to in a downturn in an economy, you're lucky if you have litigation. Good litigators, because there's always litigation in a downturn. Even now you can see there's a lot of litigation going on.
When the conveyancing and a commercial work drops, the litigation is what keeps you going. I think that's what happened to us in Lee Hishamuddin in the early days. The litigator did very well.
And then eventually, there was a merger with Allen & Gledhill in 2005. Can you share a bit about how that happened, your memories of that period?
Well, I think, how it happened is that some of the partners were very friendly with the partners in Lee, Allen Gledhill I think that's how it happened. I think it was these partners that wanted to expand each other's firms and that's how it happened, but it's, always not easy for two firms emerge because maybe the culture is a bit different.
Now people see things differently and it takes time for oil to actually merge properly. So luckily it worked out here although some people did leave. Not everybody stayed on.
Ling Yah: Having gone through the experience. Do you have any advice for people considering merging? What are the things to look out for?
Dato' Thomas Lee: Well, my advice is be ready for the problems. There will always be problems in a merger.
And there'll be some people unhappy, some people happy. At the end, you need good leadership to put it all together.
Ling Yah: And looking back, clearly you've had such an incredible, incredible legal career. You were, as I understand it also invited twice to join the judiciary, including the court of appeals.
Do you regret not accepting it?
Dato' Thomas Lee: Well, the first time I was, asked was to be a high court judge. And at that time, it was fairly early days in my career. I didn't particularly feel that I wanted to leave the profession.
But the second time. When I was actually asked to go on the court of appeal at that time I realized that I don't think the bench is the life I want.
It's got it's own discipline, and I'm too independent for that.
I don't belong with that fraternity. That would be part of the fraternity. And of course I knew that my good friend, Tony Hammad, who at that time was the chief justice was due to retire and his successor was going to be Yusuf chin. Who I didn't know at all. That was another reason why I didn't take it on.
Ling Yah: Did you ever feel pressured by your father's legacy? Cause he clearly had such a huge hand in how your entire life and even career unfolded.
Dato' Thomas Lee: You know, my, father was a person that I respect greatly because he was a man of integrity and I don't think he ever took a bribe or anything. In fact, I remember that you know, the customer Malaysians, tends to give gifts presents for people. He would always tell the servants, anybody sends gifts to our house, turn them away. He'd always say that.
But having said that, not. Easy person to get on with, he was very strong minded and stubborn. Can be very fierce and very fierce.
He was the, what I called you all type of father. The patriach. Strong not emotional keeps his distance from his children.
Although he loves them, he loves his children, but he will never show any emotion or affection. That type of person but you know, he took us through the war. All the problems, his shoulder. And I'm very grateful to him because of his name and everything, I think it made life much easier for me at the beginning of my career.
Now he opened doors for me. People knew him. So they treated me well because of that. And he was a big advantage. A father like him. He was a funny fellow. I mean, for example, he was a golfer. I'm a golfer, but we never played golf together. You never asked me to play golf with him.
Ling Yah: Did you never feel you could ask him?
Dato' Thomas Lee: I mean, there were times Cameron Highlands together when I did play with them. But in Kuala Lumpur, he had his own friends. He preferred playing with friends, right?
He used to go for example, to Taiwan, to play golf for his friends, but he never asked me to go with them.
By the way, I must say something about my father that might correct impression. He was actually a very sociable person with his friends. he had a lot of parties with his friends.
He gave a lot of dinners a good drinker enjoyed his drinks. Maybe sociable as a friends. And I think a lot of his friends remember him that way now that they think he was a great person, a great friend to have. Most of them will remember him very well.
Ling Yah: And knowing what you know now, is there anything that you wish you could redo in your life?
Dato' Thomas Lee: Well, it's difficult. I don't compare myself. I think I mentioned to you. Some people done a lot for the country as lawyers. Karpal Singh or people like that who really stuck the necks out. I remember Raja Aziz at a time when the judges were sacked when Sali Amas was sacked. Told me that he refused to, go before some of the judges, because he just didn't want to.
He felt that they didn't have the integrity for him to. So he didn't go for some people and it's different type of practices centered. He never wanted a partnership because he told me that part on us, give you a problem, which is true. Partners do give you problems. So he preferred to be a one man show.
And of course he was a barrister. People brief him and he doesn't really need a lot of people, but he preferred life that way. But the thing is, if you choose to practice that way, then of course the practice dies or you, you don't, he dies or you have no successor. There's nobody to buy over your firm where you die.
So you must understand it, but some people choose that way but a great man of integrity. And of course, you know, Karpal Singh, I think throughout his life fought for justice. And even though it was always the losing end, but still continued to do it. Yeah. I admire people like that.
I think I've mentioned also Tun Suffian, I think was a man of great integrity and humility as well.
So I suppose there's nothing that you actually want to redo in your own life then.
I mean, not really. I mean, I just feel that
One thing I would like to help people always is that now at this stage of my life, I think friends are very important, right? Friends are very important to you and time is always passing. Don't think that you have time on your hands. Time could be very short. You never know.
So enjoy yourself and really do the things that you want to do and treasure all the good times you have with people and what you do together and die with a clear conscience.
Ling Yah: Well, Tommy, thank you so much for this amazing interview. I normally love to end all of them with some questions. So the first one is this. Do you feel like you have found your, why?
Dato' Thomas Lee: I'm still looking for the meaning of life.
Ling Yah: And what kind of legacy would you hope to have left behind?
Dato' Thomas Lee: Well, I just hope that I've been a good father and husband to my children and my wife. And hopefully they'll think well of me. And also my, partners as well. I value their opinions. I feel very much that young people do need guidance, but in a way it would be good if I could talk to people and exchange ideas and so on and so on .
I'm not doing legal work, much knowledge, so it's more the guidance and be able to engage with people and see how they're thinking and also help them with that thinking, I think that's something worthwhile doing.
Ling Yah: Are there particular areas of interest that you would be keen to talk with people on?
Dato' Thomas Lee: And no, I think what the most important thing is how you think it's not so much a subject it's the way you think you develop. Read books, read things like that and get the big picture.
What is the big picture out there.
Ling Yah: And what do you think are the most important qualities of a successful person?
Dato' Thomas Lee: Well, I suppose it depends what you mean by a successful person.
Ling Yah: How would you define successful then?
Dato' Thomas Lee: I would say that the successful person is somebody that you respect and that, that you, look up to whatever, he may not be very rich, but because of his wisdom or his integrity or what he's done in life, I would say it's a successful person. A lot of very rich people. I don't respect the law.
There are a lot of Tan Sris or Datuks I don't respect. Doesn't mean a thing to me. You might say they're successful but I wouldn't. Not in my mind.
Ling Yah: So what do you think the qualities of a successful person based on your definition would be?
Dato' Thomas Lee: Well, I suppose a successful person is somebody who's kind. And actually it does things for people.
You serve people, you're not a crook, you're not cheating. And if you have wealth, you actually earn it. you don't cheat people for it, honest person.
Ling Yah: And is there anything else you'd like to share that we haven't covered yet?
Dato' Thomas Lee: I would not like to say maybe at the end of this, how sad it is for me, that when I saw the country and independence, the energy, the multi-racial atmosphere and appointments how people go each other. It's just sad that after sixty years or so, we're actually at a situation where people are gloomy.
That was a lot times during the 60 years where we had worried after May 13th, that's a lot of worry. The Vietnam war, there was a lot of worry. A lot of people thought the communist would come down from Vietnam, take over this country. And then though there've been recessions. A lot people are migrated as well.
So it's just sad that this country, which had so much promise at independence. Very rich countries, second richest in Asia. I think it's slipped so badly because of the politics we people divided. That's very sad to me. It's also sad to me that you wonder when we will ever get better.
I imagine there are a lot of young people who also feel that sadness as well, and also feel powerless thinking who am I, what can I do? One person can change anything. Do you have any advice for them?
I think the future is with young people for sure in this country, right?
It's a young people's world and I think how they will take charge. I have a lot of respect for young people. They're very bright, but I just wonder sometimes that well, they are too spoiled to really deal with problems. But let's hope not.
When I look back at my life when I was young, maybe I also didn't listen to old people much.
In the club when I was a captain at age 34.
I don't know how I did it because there were lots of, much more qualified, older people. But they accepted me as captain, but I really wished that I had talked more to the older people in the club.
The members were in the six years old, 50, 70. I really wish I had talked to them more because I think. I would have been much smarter and more learner if I had listened to them. But , when you're young, you're full of yourself.
You think you don't need to listen to anybody, but life is such that it repeats itself because what I see now at my age, I can see exactly what happened to these people when I was young.
The same views that I have, they had also. So it's a wisdom that repeated itself. And, if you're young and you are smart, you will listen to all the people, because eventually when you get to that age, you will realize that what they said was true. For example, is time passes and it doesn't wait for anybody.
So do things.
You might think that you have all the time in the world, but actually you don't have.
I have so many sadly, so many good friends who pass away young, 50 years old, 60 years old passed away. And so you never know when your time's up. And just make sure that you live with a good life.
Ling Yah: And that was the end of episode 49. The show notes and transcript can be found at www.sothisismywhy.com/49, alongside a link to subscribe to this podcast's weekly newsletter.
And stay tuned for next Sunday, because we will be meeting a Malaysian entrepreneur who is passionate about creating Malaysian single origin chocolate.
He shares how he first got started in the chocolate making business, the fermentation culture in Malaysia and the complexities involved in his drive to revitalize Malaysia's ancient cacao culture
To find out more about why it takes to become a professional chocolate maker, don't forget to subscribe to this podcast and see you next Sunday.