Welcome to Episode 26!
Our guest for STIMY Episode 26 is Cesar Kuriyama
Cesar Kuriyama is a video maker, director, producer, animator, and founder of 1 Second Every Day – a mobile application that allows users to record one second of video every day and then chronologically mashes them together into a single film. And an app that is well on track to being the No.1 Downloaded Free App in the App Store!
PS:
Want to learn about new guests & more fun and inspirational figures/initiatives happening around the world?
Then use the form below to sign up for STIMY's weekly newsletter!
You don't want to miss out!!
Who is Cesar Kuriyama?
Born in Lima, Peru, Cesar was 7 years old when his mother told him that they would be going to Disneyland, to his utmost delight!
Only after disembarking in the States, he discovered that they had arrived in Newark, New Jersey and that the Disneyland trip was all a lie. They had actually moved to the USA instead!
In this STIMY episode, we cover:
2:42: His struggles in picking up the English language

3:16: Growing up as a science & math nerd 

4:50: Wanting to be an architect

6:13: Wanting to work on the Stars Wars movies after graduation

8:23: Studying at Pratt Institute

11:29: Being a Marvel intern

17:03: Finally breaking into the NYC advertising scene & getting into Curious Pictures

21:43: Shooting 45,000 photos to create the music video for Fat Cat Reprise (Long Gone)
The Power of Time Off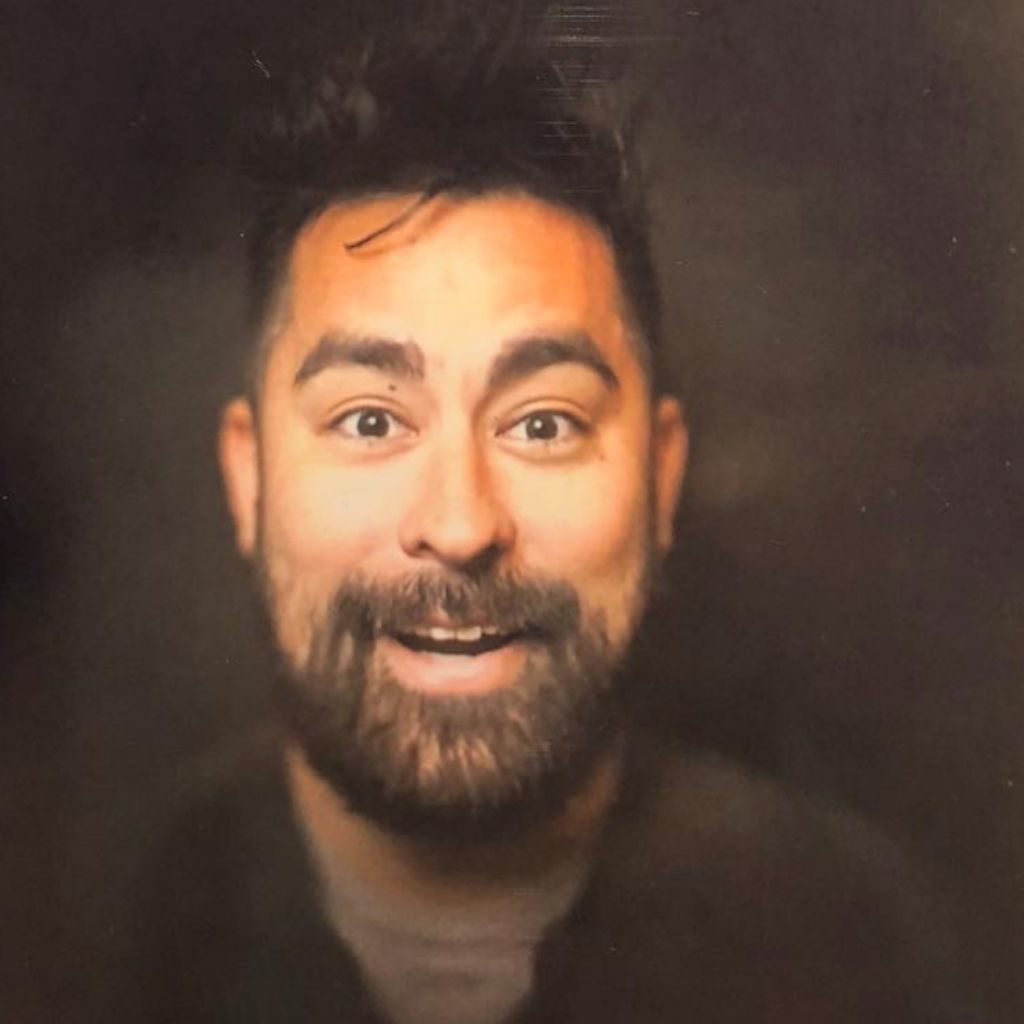 Cesar had always been an avid TED talk listener and Stefan Sagmeister's TED talk on taking a year-long semi-retirement break once every 7 years had a large impact on Cesar. 
And quite unexpectedly, Cesar's year-long break ended just before Cesar himself went on stage to give his TED talk on his project of filming 1 second of every day!
23:56: Impact of Stefan Sagmeister's TED talk, Power of Time Off

26:38: Writing a future email to himself on futureme.org 

28:36: How he first came across the idea to shoot 1 second of video every day as a form of a private diary

34:03: How Cesar ended up giving a TED talk that went viral & changed his life

38:11: Filming 1 sec of every difficult day he experienced
Building a Mobile Application
After the tremendous success of his TED talk, Cesar had to figure out how to make a mobile app. One of his earliest challenges was finding a developer to build the app. Most shops were quoting a fee of $100,000, but thankfully, Cesar ended up finding Alchemy 50, who could build it for $20,000.
Now he just had to run a successful Kickstarter campaign to get the funds he needed.
40:57: How Cesar figured out how to build a mobile app from scratch

41:37: Meeting Tim Ferriss & the advice he gave

45:29: Running a highly successful Kickstarter campaign
Launching 1 Second Every Day
The early days of launching 1 Second Every Day proved to be chaotic. Endless bugs and angry customers – pretty overwhelming, when over 50,000 downloads of the app were made on Day 1 of its release!
48:54: Getting 50,000 on Day 1 of the launch of 1 Second Every Day

51:52: What Cesar had planned to do next after the launch of 1 Second Every Day
The Power of a Tweet
Did you know that 1 Second Every Day is featured heavily in the 2004 movie, Chef, co-produced, directed, and starring Jon Favreau (who also directed & acted in Marvel's Iron Man 1 and Iron Man 2?). 
And it all happened because of an early morning tweet that Cesar sent.
...well, you know how he (Jon Favreau) found out about your app, right? I was like, I have no idea. And he said, I guess you tweeted something nice at him. And then he just checked out your profile & saw that I gave a TED talk
53:54: The tweet Cesar sent that resulted in Marvel Director & Actor, Jon Favreau, featuring 1 Second Every Day in his 2004 movie, Chef

1:00:42: The value proposition for 1 Second Every Day

1:03:44: Impact of COVID-19

1:04:49: The future for 1 Second Every Day

1:06:44: What Cesar would do differently

1:10:35: The best sources to find information/get help from
Doesn't Cesar have just the craziest, most inspirational story as an entrepreneur?
If you're looking for more inspirational stories of people in the creative field who've achieved amazing success, check out:
Benjamin Von Wong

 – Social artivist/photograph whose works have raised over 100 million views in the social impact space!!

Morgan Then

– Pivoting from economics/finance/commerce to form half of Australia's popular electronic duo, Slumberjack

Yi Jun Loh

– Engineer graduate turned food blogger, writer & podcaster (for Malaysia's top business radio channel, BFM 89.9)

Tan Kheng Hua

– Marketing turned popular actress who's starred in the likes of Phua Chua Kang, Crazy Rich Asians, HBO's Serangoon Road & Netflix's Marco Polo 
If you enjoyed this episode with Cesar, you can: 
Leave a Review
If you enjoy listening to the podcast, we'd love for you to leave a review on iTunes / Apple Podcasts. The link works even if you aren't on an iPhone. 😉
Send an Audio Message
I'd love to include more listener comments & thoughts into future STIMY episodes! If you have any thoughts to share, a person you'd like me to invite, or a question you'd like answered, send an audio file / voice note to [email protected]
External Links
Some of the things we talked about in this STIMY Episode can be found below: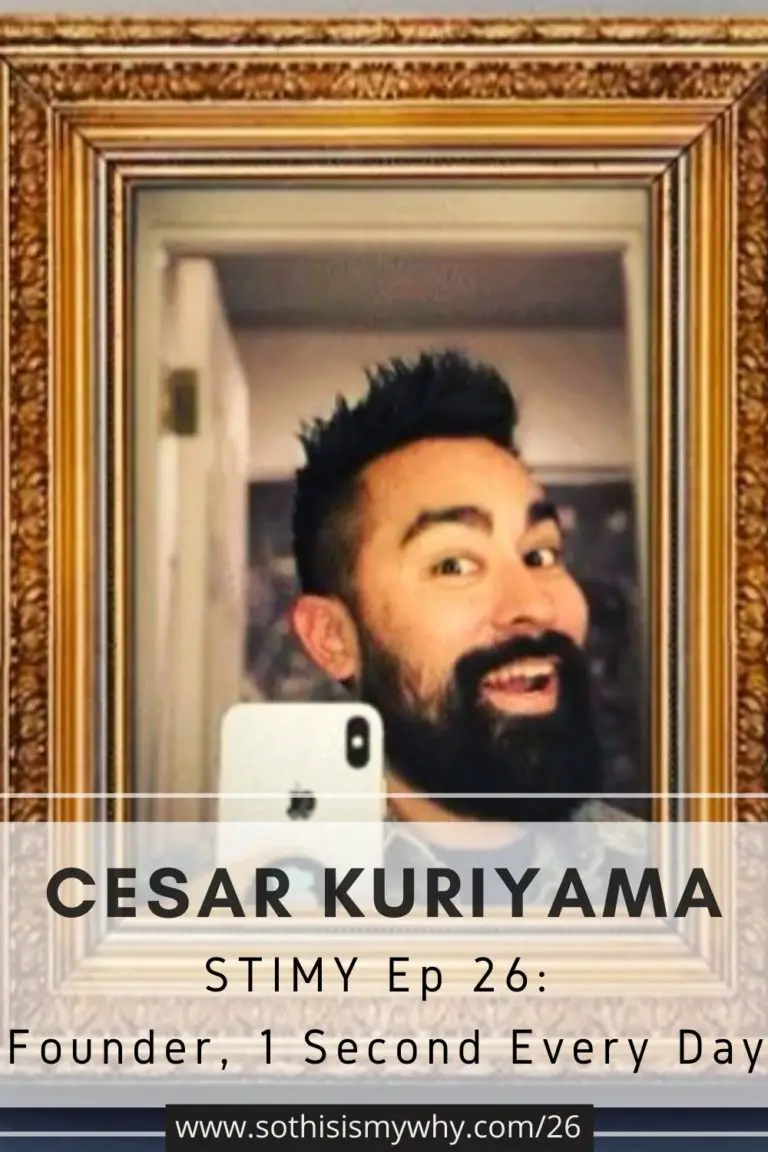 Ep 26: Cesar Kuriyama - Founder, 1 Second Every Day
Ling Yah: Hey everyone.
Welcome to episode 26 of the So This Is My Why podcast. I'm your host and producer, Ling Yah and today's guest is Cesar Kuriyama. Founder of One Second Every Day. An app that allows users to record one second of video every day, and then chronologically mash them together into a single file.
Cesar has had quite the epic journey. From working advertising in New York to quitting his job, giving a TED talk that went viral, running a highly successful Kickstarter campaign that gained over 11,000 supporters in two weeks to fund the development of his app, sending a tweet that caught Marvel Director and actor, John Favreau's eye, which resulted in 1 second Every Day being featured in the movie, Chef. And finally achieving amazing success with the app.
Such that it even became the number one paid app downloaded in the app store. And is on track to being the top, downloaded app come end of 2020.
But how did it all begin? How did it Cesar, who was deep in the world of visual design and animation, and once even stitched forty-five thousand photos together to form a music video that went viral, transition from the art world to the mobile tech world?
We deep dive into all that and more in this episode.
So are you ready?
Let's go.
I understand that you were born in Lima, Peru, and at the age of seven, your mom almost tricked you to coming to the States. Can you share with us that whole journey.
Cesar Kuriyama: You did do your research.
I was eight years old and my mom said she was taking the Disney world, and I was the happiest kid on the planet. There was this big party where everybody we've ever known or met was at our house in Peru and everybody was hugging me really tenderly and nothing registered.
And then I was at the airport and everybody was crying, saying goodbye. And I was like, I'll see you in two weeks. What's the big deal here?
And then I landed in Newark, New Jersey. They told me that they'd lied to me. That they just didn't want me to freak out that I was moving to America.
And to their credit, they did make it up to me three years later and took me to Disneyworld. But that's how I got here.
Ling Yah: It would have been quite difficult for you though, because English wasn't your first language when you first arrived, right?
Cesar Kuriyama: I have vivid memories of taking English class in Peru. And it was by far my worst subject. I had to take the final tests I remember like three times cause I just couldn't pass.
And I mean the test was like cat and I'm like, I don't know. It was very simple words to memorize into English and Spanish and I couldn't do it.
So I came here totally not knowing the language whatsoever.
Ling Yah: And what kind of child were you when you grew up? What would your parents have described you as? Because I heard that you always say you were a math and science nerd. So how would your family have described you?
Cesar Kuriyama: I have no idea what my parents would describe me as but I was very hyper jumping off walls and it was hard to get me to sit still. In retrospect, I guess I was creative, but I don't know if that came through in a way that was acknowledged by my family and or myself included.
One of my first Christmases here, I asked for a microscope. Like I was that kid. I think it's just cause I probably saw some movie where they were putting things into a microscope and they were showing some visual effects and I was like, that's what I want. and of course it turns out microscopes don't work that way.
But looking back on that, me looking around for things that I could put on there own microscope, there's actually very little science for me. It was just the visuals of seeing those microscopic worlds or whatever you want to call it, was what was really interesting and awesome and beautiful to me.
Math and science just came very natural to me, and I never really tugged on the art thing and that all just happened accidentally throughout the course of getting into art school in college.
Ling Yah: So when was the time where art became more permanent in your life?
Cesar Kuriyama: At some point in art school, I think I had an epiphany of oh, I am creative. I think I am a creative person. I think because math came very natural to me, science that stuff was just something that I enjoyed, middle school and high school.
I had always just seemed destined to go to computer science cause I was the kid that would fix my friends' computers and-
Ling Yah: And you play with AutoCAD.
I mean, my dad's an architect and he let me play with AutoCAD and I just gave up after a couple of days. But you learned it in high school, didn't you?
Cesar Kuriyama: Well, my brother was an architect in training. Meaning he's 10 years older than me. So when I was eight arriving here to America, my brother was already in college in Peru.
And he was doing architecture stuff. I would watch him do AutoCAD stuff.
And so being a gullible young kid, I was just like well, that looks cool. I'm going to do that too. And I just thought I was going to be an architect too, because I liked a lot of what my brother was doing, with architecture and AutoCAD and all that.
In high school I started doing a lot of AutoCAD, which led to doing 3D stuff, which led to ooh, I kind of want to move 3D stuff, which led to animation, which led to making my own little short stories and little animated shorts.
And then it was all very technical to me. It is technical. Part of what that whole industry is with visual effects and animation is it's the marriage of highly technical skills and art. And for me to be doing that in high school was a little weird.
Toy Story 1 came out when I was in high school. That was the first CG animated movie. I wasn't thinking about it as art. I was thinking about it as technical.
I was teaching myself how to do it. My teachers didn't know how to do it. I was just reading the books and just clicking everything until I figured out, oh, that's how that works.
It all just kind of happened accidentally from AutoCAD all the way to the next thing, the next thing. And then next thing I knew, I was doing little animated shorts in high school.
Ling Yah: And what was the thought after you graduated from high school?
Cesar Kuriyama: I was doing the animated shorts, so I thought, this is what I want to do for a living.
I want to be a computer animator. I want him to do visual effects and graphics. I grew up obsessed with movies and obsessed with how they need the visual effects for star Wars and all the other nerdy movies that I grew up watching.
I mean, it's embarrassing, but my goal is to work on Star Wars movies.
I think I'm embarrassed about it now because the three movies that they made when I was in college or whatever were terrible.
I feel great that I didn't help on those movies I don't know. I think ideally my goal would have been to work in visual effects in movies, but everything was centered around this blinded vision of like, I need to get my name in the credits of a Star Wars movie.
That was just everything I wanted.
and. I was in the local newspaper for watching episode one, four times in 24 hours, which is also embarrassing.
Ling Yah: What's amazing is that they even been found this fact about you.
Cesar Kuriyama: Actually, they found it because I won a national competition for computer animation in the summer after I graduated high school, before I started college.
We were representing New Jersey. We didn't know that the competition would involve the new Star Wars movie and that we would have to be recreating some stuff from the new Star Wars movie in a day. I guess at some point in the interview, I was , hey, I saw the movie 4 times in 24 hours.
And they were ooh, that's juicy. And they put that in the paper. So I ended up at Pratt Institute in Brooklyn, a year after high school actually. And it was the only one of five schools that had a major in computer graphics at the time.
And that's also where my brother studied architecture. and I'm so grateful that I went to art school and as opposed to learn computer science craft, don't think I would've been a good programmer. My brain's just too unhinged for me to sit still for hours and write code.
And in retrospect, all this technical stuff with computer animation was just a means to tell stories, which is what I've always enjoyed doing. I've always enjoyed watching. I've always enjoyed everything.
So I didn't realize for a long time that a lot of the things that I thought I liked were only symptoms of the things that I actually liked.
Ling Yah: But I think when you entered school also, it was very art based, and you hadn't actually done a lot of art. So that was a struggle for you, right?
Cesar Kuriyama: Yeah. That was really rough.
What happened was, I was going to a different school before Pratt in Arizona for a couple of months. And I realized that it wasn't a great program and I wasn't really getting a good education. And I only really went there because they had a trimester tutoring program, meaning you can graduate in two and a half years.
I would tell people that I needed to graduate as fast as possible. Otherwise I wouldn't be able to get it to work on episode three, the Star Wars movie.
And that was partially very true because I had a goal that everything was about making sure I worked on a Star Wars movie. And fulfill my childhood dream. but it was also largely about trying to help my mom and dad financially as fast as possible.
So two and a half years was like, Oh, I can start making money and I can start helping mom and dad faster. Luckily I was such a bad program. And I asked my brother because he went to Pratt. During Christmas break, he was asking me how's it going?
And I was like, well, is it better to go to a good school and be the worst students or go to a bad school and be the best student?
And luckily, he said you should go to a good school and be a bad student. Okay. So during that Christmas break, I went to Pratt. I showed up for a portfolio review.
And they said, well, uhm, I'm you have an impressive body of work for computer graphics, and that's the major you're coming here to do. So I'm going to recommend that they accept you, but we're a very old school art school. And you have very little experience, actually figure drawing, painting, whatever, all that stuff.
And he's like, you're going to get murdered here. So you need to spend the rest of the year before fall, like draw every day and I was like, yep, you got it. I'm in. I'll do it, but of course I didn't do it. And it just hung out with my friends for a couple of months.
I arrived into Pratt and that first year of Pratt was just mentally one of the toughest years ever. But I was in a school where every student in every classroom was the best artist from their high school.
Very demoralizing when you're sitting next to kids just accurately drawing a naked person in front of them. And I'm there like doing stick figures, trying to like start from scratch. It was very, very, very difficult, but over those four years, I also ended up with a very all around art education that I'm very grateful for.
I'm grateful that it wasn't just some technical school learning how to push the buttons to make the animations do their thing. Instead I took classes in everything. It was kind of like when I was watching my brother to AutoCAD and I was like, I want to do that.
That's what art school was. Art school was watching my friends in other majors do something and I'm like, whoa, that's cool. I want to do that. And that's how I ended up taking film classes and graphic design classes and sculpture classes photography. And it really turned me into who I am today.
And I guess, like I said, it's just like once I wasn't really in that bubble of 24/7 creativity and every conversation I'm having is creative and whatever, I realized that that was actually my sweet spot and not writing code.
Ling Yah: When you were in school, you ended up interning at Marvel as well.
There must have been really, really exciting. And I think you went to the movie premier for the Hulk too ? Tell us about that experience.
Cesar Kuriyama: I got lucky, but also I try to maximize my luck all the time. And what I did was I really wanted an internship and I mean, it was really hard to find. Like I Googled around like crazy looking for opportunities and I found every visual effects place, anywhere that I could find one.
And I spent an entire night at Pratt, turning my two to three minute portfolio, which is just terrible animations that I did in college. Copying them from VHS deck to VHS deck to 50 VHSs that I bought fancy labels for and made them as pretty as it could. Cause I was overcompensating for the fact that I don't think my demo was very good. And I mailed out literally 50 VHS tapes around the country.
I was optimistic, but at the same time I just didn't have a strong reel and I got really lucky that for whatever reason while I was looking for a visual effects place, I landed on the Marvel one and that had nothing to do with visual effects.
It was comic books. I was , ah, I mean, I dunno, Marvel. I grew up reading Marvel comics, my whole childhood. So I sent one. I mean, I have 50 of them. I have to send them somewhere.
And out of the 50, I ended up getting 2 replies. One of them was a visual effects shop and they turned me down and the other one was Marvel. And I went in for an interview and they gave it to me.
And as it turns out, the reason they gave it to me, it was because they were like, Hey, you have experience in visual effects.
And we're trying to think about ways to integrate that into our stuff. And so maybe you can help us think through that.
And I'm gonna date myself. Spider-Man 2 was about to come out. This was before Disney bought Marvel. Excellent 2 or 3, I think maybe 3 was in the works. And it was before Iron Man.
I mean, I was the room in meetings where they would talk about the fact that like you know they're saving the Avengers for their own movies.
And I remember being asked questions about how I felt about some of these decisions. And I remember honestly, answering. Cause I was in my head, I was like, I don't know, Thor? Like I was very knowledgeable about the Marvel comics, leading before the internship.
Ironman was very low tier MARVEL property. No one knew Ironman was. People knew who the Hulk was because there was a TV show. There's certain properties, all of which they sold, Spiderman and X-Men or whatever, what they were holding on to was kind of the stuff that nobody wanted, , or people that weren't very interested in.
I remember being asked about a captain America movie and I just, if you take what was in the comic books at the time, it just didn't seem like it was going to be something that could work in contemporary or whatever. But the idea that we'd always talk about it or it came up at least a couple of times it was like, well if you think Saving Private Ryan.
And you plop Captain America in there and you really make it a period piece. That would excite me. That sounds awesome. But Thor, I couldn't wrap my head around how they would ever make Thor work.
But anyways, it was those early days of them trying to figure out how do we turn these into something that people in the mainstream would like? And of course now Avengers, like the craziest biggest movie property there is.
I was very fortunate to be in that studio at the time.
Ling Yah: And that was one of your final internships before your greater rates. It, so what were you thinking of doing, because I noticed that you did quite a lot of different work with different people and you were freelancing as well in New York, right?
Cesar Kuriyama: Yeah. I was all over the place. that was my probably first real quote unquote work experience cause that was between junior and senior year of Pratt. And then after that I had a really hard time getting my foot in the door, getting a job in visual effects. My reel still wasn't very good.
So I was trying to work on that on here at home, trying to get a good enough portfolio. But I needed to start paying back my loans from college and all that, which I'm still paying till this day cause it was a lot.
I was thinking whatever gig I can get. So I was doing a lot of work in fashion with brands, like Tommy Hilfiger, Nautica, Polo Sport, whatever It was stuff that had nothing to do with visual effects, but it was just stuff I could do, because I kind of got an all around education and visual effects is so complicated that some of these other things I'm like, Oh yeah.
I mean, of course I could do that. Once you prove to certain studios that you can do something, they'll just keep hiring you back whenever they need you for stuff. And it was a freelancer, so I kinda was able to set my own rates. And that was really awesome.
Ling Yah: You worked on Chicago 10. So that must've been exciting.
Cesar Kuriyama: That was two years after college. I was like a paralegal, I did all sorts of stuff. And then I got my foot in the door, I'm gonna say like a year, year and a half after school at a studio called Curious Pictures.
And that was my quote unquote big break, because it was a real CG studio. I was doing real, real stuff. I had to learn a lot very quickly and I realized there's so much that I did not learn in college that I needed to know to work in these pipelines of film and commercials, but that worked out.
Chicago 10 was the last thing I worked on there. Before that I was working on a Barbie movie. It was a straight to DVD, I learned about a whole CG pipeline of making something as long as 90 minutes in CG with multi characters everywhere, and I was doing motion capture stuff, which is pretty early for motion captures as well. We're one of the few studios at the time that was getting the ball rolling on motion capture, which now everybody uses for basically everything.
Ling Yah: So, what was the ultimate goal? Did you have a particular feeling you wanted it to be known in or a company you were targeting this whole time as you were building a portfolio?
Cesar Kuriyama: By then, I just really wanted to work on movies or something like that. but, that meant moving to California. Every year I would do a gut check on whether or not I could do something like that. And it always seemed like a lot of stuff going on with the family and it just wasn't happening. I couldn't take the risk.
But I did dabble. I would apply for jobs to see if I can get my foot in the door. But what happened was the Curious Pictures. I went to SIGGRAPH, which is this big computer animation convention every year.
And I watched the animated shorts that basically won the best of the year. And it was shortlisted for the Oscars it was called one ride short. and it blew me away.
And it was at the studio in New York called Charlax And somebody that I worked with at Curious Pictures was now working there. And I kind of bugged them to let me into the party where they were celebrating THE accomplishment of winning best short of the year.
And he got me into the party. , I had a couple of drinks and I was just like, dude, I, got to work here. also the party was incredible and I was just like, this is it. and he took me to the supervisor and said, Hey, this is Caesar.
He should work for us. And he took me over to some other guy and he said, Hey, hire this guy. I didn't think much of it. But then I got an email two weeks later saying what can you start?
And clearly there was a lot of miscommunication about a lot of things because they hired me to do stuff that I do not know how to do at all. Like my worst subject and visual effects, when I was in college and it was during my first day at work, they were giving me the tour, I realized that they were taking a lot of time to introduce me to the lighting team.
And they only glanced at me past meeting the animation team. it took me a bit to realize, do you think I'm a lighter? I just couldn't tell them, cause I really wanted to work there. , it wasn't like I'm not going to tell them it was more like, just , well, let's just play this out another hour.
Let's see what happens. And I just did that for a couple of months, I remember how frantic I was at first, at the end of that first day where I was like, oh my God, I made it. They didn't figure it out that I don't know how to light. And I went to Barnes and Nobles here in Manhattan and started reading every book I could on lighting.
And every night I would just read and read and read. I could go there and just read all the books. It was miserable, miserable, miserable.
And I would ask really stupid questions. I was literally making formulas in my mind of okay, All the people in the lighting team here are the five that I think are really nice.
And probably wouldn't judge me too much. And I could probably get away with asking each one of them 3 really dumb questions. But I have to spread them out over the course of as much time as I could. And I can phrase the questions in a way where I'm like, Oh, right, right, right. And I feel like I only get three shots per person.
And before I knew it, it was a year later and one day I just realized, oh, hey, I know how to do this now. But it was a miserable year of learning through reverse engineering almost. I never realized that it was never going to be my superpower.
It just wasn't something that I was super naturally good at, I got good enough to do it. but it always felt like. I was swimming against the stream. it wasn't what I was meant to be doing or what not. But the projects were great.
Ling Yah: The working hours were really, really long as well, and you didn't have weekends as well. Right?
Cesar Kuriyama: Yeah, it was, especially the first two or three years, , I never really knew if I had the weekend off until Friday night.
So I didn't have much of a life at that time. And if I made plans, it was always Friday at 9:00 PM, where everybody's at, and people would ask me, hey, can you want to do this this weekend? And be like, I'll let you know, on Friday night
Ling Yah: Sounds like a lawyer.
Cesar Kuriyama: Yeah, we were always on deadlines where this commercial has to be on the air during this football game in two weeks. So we just have to do whatever it takes to get it done. And it was in a time of life where I could make those sacrifices.
That broke me, early on. In retrospect, I kind of feel like my calling was more or less go to film school. The thing about a film school is that with a camera and two or three friends, you can do a lot quickly to tell a story. And with visual effects, I'm going to spend eight months on a three minute animation, it's a totally different thing.
Everything is just so much more difficult and so much more time consuming. I got a new idea every minute. And so to spend. Eight months on something, while I'm getting 50 more ideas of things that link more and more.
It seemed like it wasn't really, long-term what I wanted to do. And I was always doing side things and then I started making this music video that I had in my head for a band.
Fat city reprised, song was gone.
Ling Yah: With 45,000 photos
Cesar Kuriyama: I shot those 45,000 photographs essentially inside of four days total of shooting. One shoot was two days. One shoot was one day. And then I had everything I needed.
I was just like a lot of compositing and visual effects, on the other side of that. But putting the photos together. It took me many months. at the time, digital SLRs couldn't shoot video.
So, the idea that I basically had it in my head was, well, what kind of camera can I get that shoots fast? If I can get the talents to move as slowly as possible, and then I put it at 24 frames per second, what does it look like?
In my head, I was like, I probably looked really weird in a cool way. I wanted the video to look as good as a photograph.
But I couldn't afford nice cameras at the time I had a zero budget. So the idea was well, what do I have access to? I have photography friends with nice cameras. Let's find the one that shoots the fastest. Let's do a test by myself with me walking or whatever. And I was like, yes, that looks weird. But also not wrong and whatever.
And so it all kind of came together out of my limitations of having no money, wanting to look professional without any money put in. Other than my time I would end work sometimes at 10:00 PM, then I would stay there till midnight working on the visual effects on my desk computer.
I would come in on weekends where we actually had a free weekend, but instead I would wake up and go to the office. They're super computers are so much better than anything I had at home.
And then the video, it ended up on Wired and I got over a million views and it took me 14 months to make it, from beginning to end and in my spare time, that's why it took 14 months.
Cause I didn't have a lot of spare time and the band, I told them. I was like, I'll do it, but I have to be able to do anything I want. I have to be able to pick the song and I have no idea how long it'll take me. So I don't know if they thought it was going to be 14 months when I said that, but I'm also probably a self-described perfectionist where I got sucked into vortexes where I want every pixel to be perfect. And I've gotten better about that.
But at the time I was certainly overthinking way too many things and it convinced me further that I really wanted to work on my own ideas, as opposed to working on other people's ideas, which is basically what I was doing, which was getting paid to work on other people's ideas.
Ling Yah: You had that thought you wanted to do your own ideas and what was that push to you leaving work?
Cesar Kuriyama: So didn't know what my exit strategy was. I had some ideas, one of them was like, maybe I'll go into crazier, crazier debt, and I'll go to film school. I could go to USC film school or something. I was addicted to watching Ted talks online, and I would work with three monitors.
And one of the monitors was basically dedicated to watching Ted talks. And one day there was a TED talk by an alumni of my college Pratt. Stefan Sagmeister, he had a talk called the power of time off and 12 minutes later, I was like, all right. Oh my God. And I grabbed the sheet of paper and a pen.
And what he talked about in that talk was how he closes down his design studio here in New York every seven years for a whole year. He gives his employees a year off to go do whatever they want.
One of the reasons for that is that we tend to retire at 65. Our working years are 25 to 65. And we educate ourselves from birth to 20, 25 ish, right. The problem with this, like, Oh, I'm going to wait till retirement to do all the things, is that we don't really know what life's going to give us and it's certainly clicked close to home for me in that my parents were certainly in that boat where they thought well, with all the kids are off to college, we'll be able to go travel or whatever, but my dad was very sick with dialysis machines or whatever by the time that happened. And so they weren't able to just go out and travel there. They have a lot of restrictions and I thought. Stephan was basically saying was I'm going to take a one-year mini retirement and I'm just going to retire later.
Because there are things that I can do in my thirties, forties, and fifties, that I won't be able to do when I'm 70. So that really hit me in the gut. And I thought, okay, I want to do this. I was about five years into my working years and I was burnt out already because I was working so much.
So it kind of really made me realize that maybe what I needed to do wasn't to, figure out what I wanted to do next, but to give myself the time to figure out what my exit strategy was.
I calculated how much money I would need to be able to live in New York city without working for a year, which was a lot.
And I opened up a savings account through my computer, got the account number, went up to accounting upstairs and said, Hey, half, half my check, go into this account. And I'm going to find a way to live off half my cheque.
So then for the next two years, I'll be accumulating enough money. So I could take that a year off. 3 years later, I gave my job a heads up 6 months in advance. I was like, I'm going to quit my job on my 30th birthday, I saved up just enough to make that year off happen.
But it was close.
Ling Yah: Was it around the same site as you were making this plan that you wrote an email to yourself on futureme.org?
Cesar Kuriyama: Oh yeah. I don't know. I can't remember the exact dates, but I know I wrote myself a message on a really bad night. I think it was a Saturday night or something. peak. I don't want to be here. but one of the best things that came out of that plan at that time or in two years, I'm gonna quit.
I'm gonna start saving half my money. I'm going to live frugally for two years. No more $10 cocktails, whatever. I wish they were still $10.
And looking forward to that, I realized how important that was and that I could see an end. Almost kind of what I wish I had right now with this pandemic where I was like, all right, I just have to make it to July 20, 21, right?
like if there was a set line that would really help mentally. and that's what that was, it was, on a night like that, where I was just miserable. knowing that look in nine months, this will all be over. I think at the time it was maybe a year. I sent that email to myself to arrive, I guess, on I think it was my birthday the following year.
and part of how I started like companies that I have the worst memory or I feel like I do anyway. And I totally forgot I wrote that in that message.
So when I got it back a year later or whatever, there's no better out of body experience than getting a message from yourself that you barely remember writing. It's clearly you, it's you, but it feels like another person talking to you. And there's certainly an element of me today versus me five years ago versus Caesar five years before that.
Technically more all the same person, but mentally we're all totally different human beings.
Ling Yah: For those who don't know, it's basically a simple webpage where you just write an email to yourself and you set on a date on when it will arrive in your inbox.
So you got your email and then you quit in 2011 when you were 30. Do you have a plan in terms of what you were going to do that year?
Cesar Kuriyama: Not really other than hopefully try to figure out a way to not come back. And that plan went very badly.
Since I was a kid, I've been trying to keep it to irony and I have failed every time I would do it for a couple of days and then stop. I couldn't build a habit. My assumption going into that year off was that this might be the only year of my life.
I mean, it's cool that Stefan Sagmeister does it every seven years. I don't know if I can do that. This might be the only time. And so I just thought to myself, what can I do to start a diary, actually stick to it?
Because when I turned 40.
I don't want to just mildly remember the one year off I ever had, because I was about to turn 30. And when I looked back on age 20, it was already pretty blurry. And the farther back I go, the more blurry it is.
You remember big things. if somebody reminds you of something , you're like, Oh yeah, right.
Or sometimes you don't. And you're like, really? It's just, the farther back you go, the harder it is to remember stuff. So I thought, what can they do to finally keep the habit? And so I landed on a couple of ideas.
It was just like, I've always been a visual person, so I should do it visually.
I have this iPhone in my pocket. Now that shoots high definition video. This is iPhone five, I think. , but at the same time, I'm somebody that would go indicate and spend way too much time capturing and recording or whatever. And it all ends up in a hard drive that till this day is when my closet I don't ever look at.
So it was just like, how can I make this so that it's too easy not to do? And the outcome on the other side is short enough that I'll actually meaningfully look back on it in the future,
I started putting all these restrictions I kind of naturally landed on. I'm really trying to keep this as simple as possible so I'll stick with it. What's the minimal amount that I need to record per day so it'll give me a visual trigger so that I'll remember what that day was? And I was like, oh, if I cut it down to a second, it comes out to about six minutes per year. And that's at the minimum of internet attention span. It was six minutes.
I was like, I can make six minutes to watch a year of my life. And so I kind of landed on that idea. And then I got started.
When I quit, I realized very quickly that it was starting to having a positive impact on what I was doing with my time, because It would kind of get me out the door to do something that I probably wouldn't have done it if it wasn't for the fact that well, I need to report something tonight.
And there were a couple of days where all I recorded was me sitting on the couch, watching a movie. Which is , fine, there's nothing wrong with that.
But it was happening a lot. it was making me very aware and accountable to like, what did I do this week? i did this, I did that. And then I missed two days in a row very early on, it was a couple of weeks into the project and I was devastated.
I mean, I thought I ruined it. , like every other time I tried to keep a diary. I ruined it. I couldn't do it. And I really started connecting dots about well, I forgot because something interesting is happening in front of us and our instincts nowadays is to take our cameras out and record it.
If you're just sitting around doing nothing, that never lends you in your head. And all I did was scroll Facebook those two days. It devastated me so much that I basically never forgot ever again, because on the one hand, I've never wanted to feel that feeling again. But also I realized. it really helped me understand that when we have nothing interesting going on, you're unlikely to once or capture it.
I think that was really putting me on a path where it just became a lifelong project at that point. At the time I thought it would just be a year. I would do this for my year off. And then I realized what an effect it was having on me. So I thought, well, this is also really easy to do.
And I'm unlikely to not have an iPhone in my pocket anytime soon, will probably always be an iPhone in my pocket from now on. so, all right, this is my diary for the rest of my life.
Ling Yah: Did your friends think that it was strange because I was watching your earlier videos and I heard some of them say, oh, are you videoing?
And towards the end, they were starting to ask, oh, is that for one second everyday. So you could see that they were catching onto what you were doing.
Cesar Kuriyama: Yeah. I remember the first person I ever told the idea to, my buddy Paul, I was like, I'm going to record a second every day, it was a very supportive artist's guy. It was just like, cool.
Yeah, man. And then, I went through a lot of evolutions of finding my own way to capture these moments. And I was in the moments a lot early on. I would give the camera to somebody and I would record third person. And I realized that oh, that shouldn't be my point of view.
It should be like what I'm seeing with my own eyes. Now it's a little bit more I just go with whatever feels right for that moment. But at the time I was experimenting with how to do it. And I didn't want it to be a running gag in the video.
So I don't actually use those moments a lot, but I have in my camera all, I have it endless. Are you recording video right now? Like it's funny how gradually this happened, but during that time, If you point a camera at somebody, they just always assumed it was a photograph. So let's just pose and they'll just stand still.
And it took the past decade for people to become accustomed to the fact that , actually it's probably video now. I would say nowadays, but the fault is people assume you're recording video.
Back then people always assumed you were taking a photograph. And so everybody would get into their Captain Morgan pose or whatever.
After the first year, one second every day was out in the wild and all my friends and family saw whenever I gave the Ted talk, from that point on instead of them being , wait, are you recording video right now? It became. Is this your second of the day, like, ,
Ling Yah: one significant moment in your day.
Cesar Kuriyama: Yeah. I mean that's something I didn't expect. Which is how flattered people were to be in my second. It meant a lot to a lot of people. Again, that's not something I saw coming.
There's also instances of somebody being like, no, no, no, no, no. Like I don't- I was like, Oh, all right. Fair. Okay. So it was kind of a full spectrum there with reactions.
Ling Yah: So one of the big things that came out of it was the fact that you went and gave a Ted talk about this whole project. How did that come about?
Cesar Kuriyama: Yeah, man. I mean, it's really crazy, cause it was a full loop of a Ted talk kind of inspired me to quit my job and save money and that year off ended with speaking at TED.
So it was the very beginning of my year off, right around that time where I forgot those two seconds.
At the time, this is when, , if you liked the page on Facebook, anything they posted, they would show it to you. Before they started monetizing basically. Now if we wanted everybody who likes one second, everyday on Facebook to see something we post, we have to pay a bunch of money to Facebook to show them.
and so that's kind of how I knew about the Ted talk of the day. It'll usually go show up on my feed. It's the Ted talk on the day is this.
They posted on their Facebook, Ted, that they were holding the first ever Ted auditions. They never opened it up before and I clicked on it.
I was like, wow. So cool. If only I had an idea where it's spreading. Scientists or curing cancer should hopefully apply and I just tend to have way too many browser tabs open and it just stayed there staring at me, the TED browser tab. And so it's kind of lingering in my head just cause it wasn't in my browser.
And I think it was my dad's birthday. When I was recording my second of the day on my dad's birthday. And I just finally connected those two dots where I thought I'm just recording of one second video per day, but it is having a positive impact on me. And I thought maybe that is an idea worth spreading.
And then the part of my brain that never wants to regret anything turned on and it said, Hey, there's nothing to lose if you try, but you'll always regret it if you don't. So I went home, recorded a one minute video of me explaining the idea and I included the first 30 seconds of the video of that first month. And as I was explaining it in 60 seconds I remember the anxiety of one thing I didn't account for it.
Cause anything else in my life. I waited till the last minute. And so it was uploading to YouTube. And it was taking a lot more time in the admissions to close at midnight. Oh my God.
I don't even think it was finished processing, but it gave me the link and I was able to grab the link to that YouTube link. And then I threw it into the submission at 11:59 PM or whatever.
Two weeks later, they emailed me saying hey, out of a thousand submissions or whatever, we would like you and 16 other people to give a longer version of your talk at an event in New York city.
I was the only one I think out of those, or maybe two of us actually living in New York, the rest were flying in from a little bit of world and I had to give a three minute version, which I super went over my time and it was a four minute blab. There's a whole story where I was throwing up and I never done any public speaking before.
So it was really rough.
I was speaking from the heart because I was too nervous to remember what I wrote down to say. But then two weeks after that, they said, hey, we would like you to come to the TED main stage at TED 2012 and give a six-minute version of your talk.
I mean, that totally changed my life. I gave that Ted talk seven days after my 31st birthday. So I showed the first full year of the project, which at the time now it was a lifetime project. And I went back to work in advertising for a day cause I was super broke.
And I couldn't do it. And I said, I can't go back.
And at that point, the reactions that people had to the video went viral. It got millions of views. The number one thing people said was, I want to do this too. So I thought if it's having a positive impact on me and then the people seem to be enjoying the video.
Can I make it easy for anyone to do this with their smartphone, even though I have zero experience with making an app or any of that stuff? Essentially that started the next chapter of my life is just how do I make an app for this?
Ling Yah: So one of the things I picked up during your Ted talk was that you mentioned that it's very hard for us to recall our worst days and you actually showed quite a lot of, , those moments when your sister-in-law was going in for surgery. And I wonder like was there opposition to your family taking such intimate portraits?
It must've been very hard for you to take time out to do that, even though it's just one second.
Cesar Kuriyama: It's interesting. It's actually a combination of a couple of things. my family was unaware, not because I was keeping it from them just because my family's not very technologically minded.
And so they, Oh, Caesar's doing these things and whatever. And so there. They don't want to really understand what I'm up to. I also didn't think of it as anything other than my personal thing at the time although when that stuff was happening, by then I knew I was going to give a Ted talk.
I do feel like there is a part of me that thought to himself. I don't want to record, but I kind of have to because I'm supposed to show this full year. But that sensation of I don't want to record, that also made me hyper aware. Of how we typically take our cameras out when cool things are happening. Awesome things are happening, life moments, right. But we don't tend to do that for the opposite.
And even though I was giving a TED talk about it, I still saw the project for me as a personal diet. So it's weird because on the one hand, I know I have to show this in front of a lot of people.
And if it wasn't for that, maybe they would have hit record. But also, move TED from the equation.,This is a very important moments of my life that I want to remember and that's the whole point of keeping a diary. So there's a lot of crossing things there and of course I picked my moments.
What's always interesting about one second everyday video is that I know the true context of any moment you see. And other people watching it are coming up with their own narrative based on what they see.
And so a lot of the moments in that video are not the moment that I actually think about. They're just triggers. I know what happened right before that or I know what happened right after that. So a lot of the moments from that terrible time that spans two months essentially there's a couple of shots of me in the waiting room with my family, right.
It's a relatively low effort time for me to capture a moment. I'm not going to capture a moment in the middle of a deep conversation.
There was a lot of intentionality there. And in retrospect, I'm incredibly grateful to that Cesar that decided to grab those moments because they're exactly why I wanted to keep a diary in my whole life. They're bringing me back to moments of my life that are very formative for me, that ordinarily would've probably been slowly. Over time, whittled away in my head.
And I don't want that, especially for those moments. I care more about those moments that I care about seeing another sunset. I can always see another sunset. I'll not get to see my sister-in-law again. So it's a whole weird mishmash of conflicting things in my head at the time that it took me some time to sort out.
One of the last seconds of that year is my sister-in-law in the hospital with my laptop on her chest. And this is three or four days before the T there was a couple of days before the tech talk.
Basically, I'm showing her the whole video. and I said to her, before she watched it, I said, Hey, if you do not want me to include the stuff at the end, I will remove it.
And I will give my Ted talk without it. I made sure I had her blessing. An unequivocal blessing and not a I guess.
Ling Yah: So it's clear that you have a very clear why, and now you had to bring into reality. So how did you even begin? Because you're an artist. You weren't in the VC world. So what was the thought process?
Cesar Kuriyama: So I started out by Googling, how do I make an app? Genuinely had zero knowledge.
I knew I needed programmers. I generally had it in my head, how I wanted it. I was a tech nerd. So I bought an iPhone day one, I downloaded every app that came out on day one or whatever. So I knew what I wanted. I just didn't know how to make it or what it would take, and bought a lot of coffees to people. Asked a lot of questions.
I. Went to art school. So I didn't know anybody who could program. I started going to iOS developer meetups in New York city. And from meetup.com and just hoping nobody asks me any coding questions and I was just meeting people and shaking hands and I would go to all the events that I could to learn and educate myself.
I went to Tim Ferriss' book signing for the 4 hour body. There's a big story there where I waited for hours for the crowd around him to dissipate.
To his credit I mean, he stayed there for literally I think two hours, talking to as many people as he could. I was trying to be last cause I didn't want to be rushed.
But then I overheard him say that sorry guys, I'm going to be late for dinner with some friends. And I was like, oh my God, no.
And just jammed my way in there. And rehearsed my question over and over again in my head.
Basically squeezed in when I finally had his attention for a split second, I said, hey, just give me time to talk about this idea. I want to build an app. I don't have any money.
And he said, figure out a way to do it without giving up equity. Figure out a way to test the idea without giving up any equity. And that stayed in my head.
I did not understand the venture capital world at all.
Till this day. I think it's just insane that entire space. I grew up poor in Peru, here making ends meet and whatever, and me wanting to graduate college fast so I can help my mom and dad off finance.
The whole idea of I'm gonna put 10 photos and words in a PDF deck, walk into a meeting and get a million dollars. And I don't have to pay it back if the idea doesn't work, it's crazy to me. That is the reality of the venture capital space, which is like, you get a bunch of money.
Because on paper, they own a piece of that 20% of the company. And they hope because they gave a hundred of these cheques out, that one of them will become the next Facebook or whatever, and they'll get their money back. That's VC in a nutshell. so that whole thing was crazy to me.
And Tim Ferriss wasn't the only reason for me taking the roads that I took, but it certainly was something that stayed in the back of my head for awhile. And at the time I was super nerding out on Kickstarter for years. So I cold emailed somebody on Facebook.
I got one on Facebook. I put Kickstarter and I just scrolled around. And I finally found people who work at Kickstarter, who I had literally one mutual friend with. And I just cold emailed a couple of them as politely and gently as I could. Ssaid, you don't know me. We have blah-blah-blah as a mutual friend.
I'm trying to build an app. I'm thinking about funding it through Kickstarter. I can't figure out if I am allowed to do that. And I don't want to do all the work of doing it and then be denied cause the terms of service were ever evolving at Kickstarter in those early days. And one of the people replied, and she was gracious enough to have a meeting with me.
She was amazing to this day. We're friends and she really helped me navigate those waters to comfortably launch a Kickstarter that I knew wasn't going to be slipped under the rug.
It was very complicated. I mean there's no way to deliver the app to people.
I flew to Apple also. What did I do?
I had Ted, I had met the guy who runs the app store randomly. I was standing in line. A lot of what you do at the TED conferences is you just put your hand out and you're like, hi, I'm Cesar. Everybody's super friendly and whatever.
And I was like, ah, Oh, it was like, Oh, you're speaking. I was speaking on Friday. It's probably run. I'm like, huh. At that moment in time, I thought that maybe I shouldn't make an app. the thought was lingering in my head about the idea before I spoke that week.
And before the video had gone super well on the internet. So I messaged him and I said, hey, I happen to be in San Francisco, can I talk to you?
And I wasn't in San Francisco, I was here, but then he said, yes. So I booked the next flight. I was trying to get Apple to help me deliver the app , I had no way to deliver the app to people.
And till this day, there's really no way to easily do that.
So I had to make it free for 24 hours. Kickstarter was successful in that it allowed me to stay afloat. I mean, those first couple of years were very Rocky, but.
We didn't die.
Ling Yah: I think the Kickstarter, you reached your goal in two weeks, right? Do you think the success was because unlike most people that were submitting an idea, you actually had a working beta that people could see. So it was more substantive.
Cesar Kuriyama: Kickstarter is basically a place where people dump their ideas and their people will tell you if they like the idea or not with their own credit card numbers.
And this is the early days of Kickstarter. So we should put a statue of Robocop in Detroit and then people put their money in. It took a while for people to actually consider the feasibility of the person who put up the project actually delivering.
And once people started not delivering, it became way, way more difficult to get press. Most outlets put a moratorium on giving any Kickstarters projects any visibility, because they didn't want to be held liable for bringing their audience to a project that never gets fulfilled.
That hadn't quite happened yet, but it was starting to happen. The headlines were no longer about this amazing picture on a project that headlines were more these guys basically are bankrupt already and they're not going to deliver. And all these people are shut out of luck, which is also why Kickstarter had to start fussing around with their terms of service, which is why I was nervous about putting this on the app store.
And look for better or worse. My mom made me very risk averse, so I'm always trying to overthink everything and always trying to triple guess myself or whatever, is why I'm not going to spend my time putting a Kickstarter project without having Kickstarter tell me that this is going to be valid or whatever.
Ling Yah: I noticed in my research that among your many, many backers, you had 11,000, I think you had one Disney animator and your former boss also pledged you some money on Kickstarter. So they clearly believed in your vision.
Cesar Kuriyama: I mean, I mean, hopefully, I don't know. At least the former boss could have just been nice.
Ling Yah: $1,500 nice.
Cesar Kuriyama: Yeah. Yeah. Like I said, it's like, I don't know, but I hope so.
And this Disney animator. Patrick, I didn't know at the time I didn't realize this.
There's just too much going on for me to know name by name. We had over 11,000 backers. It's always been interesting throughout the years to have somebody say I backed you on Kickstarter or something. Like you did?
I Googled their name on my g-mail and it came up. The email that says the 11,281 emails that are in one archive folder.
The Kickstarter email that says Oh, blah, blah, blah. Back to you on Kickstarter for X amount of dollars. I immediately created a filter for that. Cause it was just a thousand emails. Over the years I do find these names come up all the time. and the animator.
He ended up using one second everyday. He was one of our biggest backers. He put $250 to be able to get the beta immediately. At the time, Apple only allowed you to serve so many beta testers less than a hundred. So there were very, very precious slots. We opened up 20 or 30 slots and we said for $250, you get the app right now. And he was one of them.
I didn't know at the time, but he emailed me years later saying that he used the app to catalog what he was eating every day . He was wanting to keep himself visually accountable to what he was putting in his stomach. A diary of his food.
And he turned that video into part of his pitch to Disney, to direct an animated short that the idea that he had, which became an animated show called Feast, which was attached to big hero six. And it's super good. And if I'm not mistaken won the Academy award or was certainly nominated for best animated short, and he won absolutely one.
Ling Yah: So you released your app and I think on the first date you had 50,000 downloads. So there must have been way beyond your expectation, a crazy period for you guys.
Cesar Kuriyama: I mean, I don't know what I was expecting, but we were right next to Instagram at the end of the first day. But that was because we made the app free for 24 hours because we were frantically trying to get the Kickstarter backers to download the app during that window because there's just no other way for us to deliver the app. Apple wouldn't give us promo codes.
We had so much pressure coming in after we launched a Kickstarter for people who want it to start at the beginning of the following year in 2013. The Kickstarter ended December 27th of 2012 and less than two weeks later, we launched on the app store.
Probably a bad idea in retrospect because it was crazy buggy. We spent months just fixing bugs. We went from 50 beta testers to 50,000 people in day one. And there's just like an email coming in every minute from somebody who had a problem. I mean, thank goodness it turned to paid the second day. It meant that there were less people downloading it, which meant we had more time to fix things.
That first year was rough. I mean, just a lot of learning, a lot of not knowing what to do, a lot of angry customers.
Ling Yah: I found that very encouraging that you had all these customers, because I think before you launched it, there was actually this other guy who tried to mimic and stole your idea. And launched it before you launched yours. But clearly that didn't leave any impact whatsoever.
Cesar Kuriyama: Yeah, mentally, it really screwed me up. It never made a dent or anything. And it came out of watching my Ted talk and watching my stuff.
It didn't come from him doing the project. I designed it as what I wish existed having been doing this for a year and he just like tried to reverse engineer my brain through just watching the video. but at the time, it was pretty crushing. I was very, very sad and upset.
Ling Yah: Did you feel uplifted by the 50,000 downloads? Where were you thinking it would go after that?
Cesar Kuriyama: Honestly, I celebrated it for an hour with some whiskey and my now co-founder. But at the time it was, I have a bad streak of this. I'm not great necessarily at letting my brain enjoy the moment, long enough before the part of my brain that's focused on the next problem starts seeping in.
And at the time, that was awesome. We were next to Instagram, but there were just so many problems and so many emails coming in nonstop with people with issues that that's all I could think about for months after that. It was just getting the app fixed. Getting the app to work correctly.
Oh, if you have this version of iOS and you press these two combinations of buttons, this won't work anymore. Emotionally it was very heavy for those first couple of years is that like, we're dealing with people's memories. And so it only takes one person to email me that they lost their videos that I just tailspin.
There's a hundred thousand people who couldn't be happier or whatever, but just you get that one email and forget it. And it just kills me too sensitive.
Ling Yah: So were you ready to be done with that app like once all the bugs were done, you were just gonna leave and find something else?
Cesar Kuriyama: I was dumb enough to think that I could build an app, put it on the app store and then go on to direct more music videos while the app is making me some money to stay afloat while I do other things. That's what I foolishly thought. I learned the hard way that you don't finish technology. There's always a new iOS update on the new iPhone.
There's always a bug. There is always a feature that people need now. It doesn't end. And it took me a while to come to terms with that. I was back to the hours I was working in advertising where I would wake up, start drinking coffee and just answer support emails, and then send emails to the developers to try to fix this and that and set priorities.
And then try to design this thing and more support emails and go to bed. Wake up, repeat. I mean, it was just a terrible cycle that I didn't know how to get myself out of.
At the end of that second year, I basically took my friend out for drinks.
Same friends that helped me through launch. And I took a road trip with three my year off and Shauna is the perfect other side of the brain that I do not have. I love thinking about products and ideas and he likes to make pie charts and do all the stuff that I'm terrible at. Not my superpower.
And he's really good at it. He's got a really good head space for it and he's way more disciplined than I am. And I'm way too new shiny thing over there and you find anything over there. And I took him out for drinks and I said, Hey, what would it take for you to quit your job and join me?
Many months of courting and figuring things out. But he really helped once he was on board, when we really became a company, it wasn't just me. We hired two more people, our CTO and whatever. And there were four of us now we're the core.
We're 19, And it really came from him, really turning us into a real business and not just me trying to keep the project to not die.
Ling Yah: But then you brought really interesting things to this. One of the things you did was to tweet at John Favereau, which brought a lot of publicity in 2014. Can you share with us how that happened?
Cesar Kuriyama: Yeah. So as you know I am a giant Marvel nerd growing up, I interned at Marvel. we would talk about the adventures where they would talk about it.
And I would listen and maybe chime in at Marvel. And when they announced it, that John Favreau was gonna direct Ironman, I just thought what a perfect choice in my opinion.
A, I had been a fan of his movies growing up, Swingers, so on and so forth. But particularly he had a show on, on a channel called IFC independent film channel. It was just John Favreau and four people from Hollywood. Sometimes actors, sometimes screenwriters, sometimes producers, whatever. And we'll just sit around and have dinner. That's it. That was the show. Late nineties. And I would love it. In retrospect, it was like a podcast, but with video. It was before podcasting was a thing.
It was just then chatting for two hours and then they would cut into like the best 30 minutes of the dinner. And that's the show.
I remember there was an episode where they were talking about visual effects, which of course I was in. He said stuff like visual effects is a means to an end,. You want to use it when you absolutely need to and avoid it when you can. Which is exactly the right headspace for visual effects. This is during a time when things have become super CG and you could tell it was CGS, but just looked weird. It just looked too whatever.
Now you go back and you watch like Ironman one, that was 2008. Robert Downey jr. Is wearing a suit. And when it turns into a CG suit, clearly it's a CG suit when he's flying, but when you're standing around, is it real?
He blended those two seamlessly. The visual effects and the non-visual effects. And I can nerd out about that stuff forever.
So he directed Ironman one. He directed Ironman two. He did not direct Ironman three. I watch every Marvel cinematic universe to be first showing when it comes out, buying tickets as a ritual, as soon as they go on sale so I can get the best seats at the best screen.
Even though he was directing movies in the first and second movie, he played Happy Pappy, which is RNs driver, essentially in the comics. and, he still played that role in Ironman three, even though he didn't direct it.
As someone who has his finger on the pulse of that bubble, I just thought to myself, why isn't anybody giving him credit for having the class to still show up and play that role of iron man's driver, even though he's not directing the movies anymore? Because in Hollywood relationships fall. It was an inch that I needed to scratch.
And I watched Ironman three for the second time with my family.
And I got home and it was really late at night and I was laying on the couch and I started to spend 30 minutes trying to write the perfect tweet. and I just kept editing it and editing it.
And I just thought this is so stupid.
This is 30 minutes of my time at three in the morning, trying to write a good tweet. And essentially all the tweet said was, hey, thank you for having the class to come back to play happy when you're no longer directing, but it felt stupid.
I couldn't quite get a version of it that I thought was not. And then I was hyper conscious of the fact that people who follow me and John Favreau will see the tweet and then was just, I'll just be embarrassed but I fell asleep.
And I woke up at six in the morning on the couch and I was grabbing my phone to walk myself to bed and I opened up my phone and I saw that the tweet was there. And I just, nah, I just hit sent. I was like, no, one's going to see it. It's six in the morning, whatever. Who cares. He's not even going to see it. That's what I kind of assumed. didn't think anything of it.
And then. A cut to me on the set of, chef, which is a movie that features one second, everyday as a major plot point that John Favreau wrote and directed after, he did co always versus aliens. But before Jungle Book and now Mandalorian and all that.
I was on the set of the movie, And this guy, who apparently shoots with the documentary footage for all the Marvel movies. That's his job. Sounds basically the best job that I've ever heard of we're just chatting, which you do on sets while they're setting up lights and stuff.
And he set up, he said, well, you know how, he found out about your app. Right? I was like, I have no idea. And he said, I guess you tweeted something nice at him. And then he just checked out your profile and saw that I gave a Ted talk.
Watch the TED talk saw that there was an app now downloaded the app sort of using and of course, after he was using the app, he was writing this movie and they emailed the producers, emailed me and said, hey, Jon Favreau is writing and directing a movie.
He must've written your app into the movie and he wants to make sure you're okay with that. And I'm like, yup. And of course the movie is super good and it feels like most of the time people have seen it. It's become an easy shorthand for me anytime.
So, well, what do you do? I was like, Oh man, I'll just be like, have you seen chef? And they're like, yeah, yeah. I remember in the movie, I was like, yeah. All right. That is me. That's that. Generally people have seen and love that movie.
Ling Yah: So was that one of the main drivers for new people coming in and downloading this app and using it because you were consistently hitting the number one paid app as well, right? And then 2018, you did it twice.
Cesar Kuriyama: So in terms of measuring Chef, it's hard to connect dots.
So I'll give you kind of a basic rundown, which is the movie was in limited release in theaters, then it went wide. But it wasn't like Avengers wide. It was wide, but it wasn't until the movie hit airplanes that - my best friends did not go see the movie theater so despite the fact knowing that One second every day is in the movie.
So before it was unlike DVD, whatever, or anywhere else it was on planes. And that was huge. We were just watching Chef on airplanes. It was the perfect flight movie.
I haven't seen it yet. There's famous people in it. It's not a huge visual effects movie or anything for, I would say the first, this is in 2014, 2015, People who watch the movie did not necessarily equate that that was a real app. It was made up for the movie.
But as the years have gone by and more and more people have seen shut because it's just one of those movies that people love and talk about it. So people eventually saw it, but it just didn't happen all opening day, like an Avengers.
It was just a very slow trickle of people.
As we became more and more popular, people would see the movie and he'd be like, Oh, they have heard of that. Maybe they weren't using it, but they've heard of it. Whereas early on, people wouldn't think much about it other than like, Oh, it's a part of the chef movie.
Anecdotally, people will often tell me that they heard about it from chef, they didn't necessarily start using it because of Chefs. Coz usually it was something else that triggered them to start using it.
So yeah, it's hard to quantify who came from chef.
Ling Yah: And I'm quite curious, because I've noticed that over the years, , the revenue has been doubling all the time from 250 to a million to 2 million. And what was it that was drawing people in because surely the kind of thing that one second everyday does, it's not something that you can't do with say your phone right now.
So what is that value proposition they offer us?
Cesar Kuriyama: There's a couple of things that drive people into the app. Number one by far is people sharing their one second every day and then their friends and family being like, oh my God, I need to do this too.
We spent almost no money on marketing. Basically zero. It's all organic. And it all comes from people sharing. which ironically is also one of our biggest value propositions for a lot of people is that you do not have to share. No one is private, no one ever has to see your one second everyday video. And for a lot of people, that's how they use it.
In a way, we don't get any long-term value from some of these people because they're never sharing. And so we don't get more influx of people, which is cool. We account for the fact that a lot of people are never going to share and that's fine.
We want it to be private first and foremost. It's work. People will often tell us, they've put the moments of their life that they would never put on Instagram and Facebook , that's just for them. we also give you the ability to turn those moments off. If you do want to share parts of a video, that's just the parts that you're willing to share publicly.
The other thing is babies is a huge. Baby videos do really well. And parents tend to be more into recording their children and recording themselves. The retention is just way higher. You want to catch every little moment with your baby.
Part of the problem with that first year of your baby growing up is that you end up with just hours and hours and hours and hours and hours and hours. So then just footage on your phone. And we turn that into a six minute video. You will actually see. So that's a big one.
And then there's a lot of other substantial use cases. People who are off to travel the world. That tends to be a huge use case. But a lot of it is driven. And new year's is the number one time of the year when people will make and share on one second everyday video.
So every new year's has been bigger than the last, because so many people share their year. And so that's when we've been hitting number one on the paid side. We turned the app free two years ago. We monetize now by having a subscription tier that's optional that has extra features.
And that really opened things up for people too. But that also meant that we went from being one of the top five paid apps on the app store for two years to competing with YouTube, Instagram, Snapchat. So on a day to day throughout the year, we're not up there.
First of the month we usually spike because a lot of people share a 30 day. This was my month. So we spike every first of the month. But our big, big day or a day that we know every year will happen is New Year's. So many people show them one second every day videos.
Last year, the only app we did not eat was TikTok. I feel pretty confident that this year we will even be like the number one app on the app store. By the end of January 1st will be one second every day.
Number one . whatever else, number two. If I'm wrong, I'm wrong. But I called that shot all of 2019, which was like the only app we're not going to be is Tik Tok. And that's what happened. So this year it will be the number one free app on the App Store at the end of January first. Knock on wood.
Ling Yah: So 1 Second Every Day has been doing well during COVID then. Even though everyone's been stuck in home and can't go out for a majority of the year. That's really interesting.
Cesar Kuriyama: I don't know. It depends on how you quantify COVID times. we. Have been doing , not up, not down, we're stable during COVID.
I mean, we're starting to do well again, it's , people are just like, screw it. I'm going to go back to my life. But, it's been a mishmash, so a lot of people stopped using it because it was like me. You know that first two months of one second, every day for myself where I wasn't doing anything. So I didn't record anything. Same dynamic.
People felt they weren't doing anything interesting with their lives other than the same thing. And they would just forget to use it. but the opposite was also happening, which is people were like, this is a moment of my life that I want to make sure I remember in the future, this pandemic.
And therefore they started using it or they're keeping up with it because they want to make sure they keep this bubble of their life for their future selves. So it was a mixture of both.
As a business, our growth basically stunted and we were just kind of in the middle for all these months. Not bad, not good.
Ling Yah: So what kind of future do you project for yourself and for the app?
Cesar Kuriyama: We're busy building the social side. As I mentioned, we want to make sure that the app is private for whoever wants to keep it that way.
But there's a lot of things in the short term that we know our customers could really use that is walking towards social. One of them is, as an example, parents want to be able to share a timeline together. As opposed to just having one parent have the account and the other parents send the videos. We just launched the first piece of that, which is a collaboration timeline where at least six people can share videos together.
The piece that comes after that is probably the ability to add people to current timelines. Right now you have to start from scratch, but it was just way more complicated to just attach new people into current timelines. So that's gonna take some time.
There's way more to it than that that is still gonna come and 2021 that will come with, a lot of the things that our people are used to such as usernames and whatnot. But we're consciously building it in a way that's one tiny little social step at a time. Keep things private, keep things, ad free, keep things in a way that is sustainable.
And hopefully it does things in a way that's not just another driver for your attention, but just things that bring value to people's lives without doing things that aren't necessarily good for people.
We're taking a different road and the beauty of that road is that we don't need to be a company for a billion people like other companies need to when they're venture capital backed.
We are hopefully taking a road that allows us to build something that is exactly what a million people, 10 million people want. It wouldn't work if it wasn't for the fact that we built it sustainably in a way that is self-funded.
Ling Yah: And looking back. I mean, I feel like you've done so many things that were right, sending the right tweet, finding the right development team, giving the TED talk, the launch, everything.
Is there anything looking back that you would do differently?
Cesar Kuriyama: Hmm. There's a lot of things I would do differently. so many things.
One of the ones that I mentioned all the time, probably not the best answer to your question, but it's just, I have such a scar that I can't help but think about it all the time. We launched Android too.
Again, I didn't know a lot about app land and a lot of people backing us on Kickstarter. We're like, Hey, I want to back you, but are you going to work on an Android version? And I'm like, I want to, but whatever. And I kinda made this promise that for any money we made over our goal would go towards Android.
That's the only promise I made. we meet our goal. We did end up with I don't know, something like 25,000, 30, $5,000 or whatever more. And I fulfilled my promise and I had found a development shop in New York city that built an Android version.
But like I said, you don't finish the technology. You don't just get to put it on the app store and walk away. And instead I just kind of compounded the amount of stress that I added to my life where I could barely support the iOS version. The Android was a whole nother set of problems that just compounded infinitely. It was a mess.
I mean, if somebody had an iPhone problem, it's like, which iPhone? Cause there's five of them.
There were thousands of Android phones, all of them with their different chip sets. It's not one thing. It's Motorola, iPhone, Android, and HTC. They're totally different things that just started from the same base. And then they all just do whatever they want on top of it. So the bugs were just like, it was a game of whack-a-mole that was impossible to win.
And it would have been way better for me to have extra money to pour into getting iOS up and running instead of creating two sets of infinite problems at the same time for a one-man team of me and people that I pay for their time to help me with development.
So, that's what I meant. It left such a scar tissue. If I could send one message in a bottle to Cesar back then it was just to nail iOS. And then you can concentrate on Android. We've been slowly chipping away even now at getting Android up to speed on iOS with an in-house team now.
It took us a lot of pain, a lot of angry people, a lot of emails to get to that place where you can log out over your iOS app and log into an Android one second everyday, and your memories are there and all that.
Ling Yah: And is there anything that anyone listening to this can help you with?
Cesar Kuriyama: I don't know. I mean, we've been very lucky over the years to be relatively good. We could always do better at identifying the things that we're probably not good at figuring out ourselves for whatever reason. And we've brought in advisors and stuff to help us navigate those waters.
And now we do have investments with non venture capital and they've been very useful and helpful to help us think through things. So nothing comes to mind.
Ling Yah: Buy a subscription.
Cesar Kuriyama: Yeah, that always helps everybody can. I mean, our company's going to grow with description growth. So every X amount of new subscribers means we can hire another person to help us build everything faster or fix everything's faster nowadays, the ops are very stable and we have very few problems.
Venture capital, they fund the companies. Will hire everybody, and then they have 18 months to make it work. And if they don't think I'll get fired and the company goes on there or they raise more money and then they start the cycle all over again and we hire as we can afford it.
We don't play that game. If we're making the money to hire the next person, that's fine. We do it. It has allowed us luckily to be in a very fortunate position of no one's under the 18 months or we die clock. And we pride ourselves on a lot of the company culture we think about to build.
Ling Yah: And before I enter into the final few questions, I wonder for those who want to be startup founders, you've often said that, , if you don't know what to do, just go online and all the information's there, but there is so much information. It actually is an issue. So what is your advice in terms of the best sources to go to.
Cesar Kuriyama: In general, I tend to look at YouTube first for answers. Cause ideally there's a really well-produced nerd about X that'll just blab about something and it holds my attention. It's just way more effective for me than to concentrate and focus on reading a long blog post about something just sucks the life out of me to just sit here and read a blog post.
Twitter is very useful for me because basically from the day that I opened up a Twitter account over 10 years ago, whenever that was building a set of human beings that I follow, right. That over time I generate trust with, because I agree with what they say or whatnot.
So I think there's an element to that where I learned a lot from general chatter and it's easy for me to consume and bite-size. And sometimes somebody writes something where I'm like, oh, I trust that guy and he wrote this thing. That's something relevant.
And a lot of it is also asking questions too. Slack groups or even posing questions, , on something like Twitter tends to reveal more. A lot of people post things on Twitter that are, a statement I feel like most tweets there's not much to engage with.
And it's always surprising that when you ask a question, you realize there's all sorts of people who are actually reading and consuming and want to help. Generally I think people love to help.
And Twitter is a place where you can ask a question and people can give you their 2 cents in a sentence or two. It's very efficient that way.
There's a company called Upstream. It's basically a professional networking app that's entirely built around asks and needs. So anybody can just post basically a Twitter version of something they need help in, and people can just train them.
Generally, I think people who know about X are always happy to help people navigate X. it's just a matter of finding them. It's like Tim Ferris. right? Because time is limited. But something that he said in his, I believe his first book, the four hour work week, which I read during my year off. That's how I became familiarized with Tim Ferris.
You know, you don't email him the main person. You email like two or three people below them that nobody knows their name.
You've just figured it out through Googling or LinkedIn or something. Their inboxes are pretty sane and they'll have equally as good advice as the famous person.
It's like, sure you want to email Elon Musk. there's probably a couple of names below Elon that are executive vice VPs or whatever that probably will answer their email.
People focus so much on the famous people. And there's a lot of people who are just as knowledgeable that aren't famous that you can cold email them.
I didn't email the founders of Kickstarter. I emailed somebody, anybody at Kickstarter that I had a mutual friend with. I'm not just a random. You could ask that person, that person will vouch for me.
And they replied and I had a meeting and it went well. So I think if and when people need help with something, they should think about who are the not famous people who are equally qualified to answer.
Ling Yah: I love that advice. Thank you Cesar for your time. I normally end with these questions.
So the first one is, do you feel that you have found your why?
Cesar Kuriyama: I guess so. That's tough for me because I have way too many ideas all the time. There's a lot of things that I want to accomplish with one second, everyday that we're working towards there's short film ideas that I have. There's like to write a book someday, like everybody else. I mean, there's just all sorts of stuff.
And I also just wanna not doing anything and travel for a year again. I'm all over the map there, right?
I'm very passionate about what I'm working on now. And that keeps me very motivated and going but it's certainly plausible that some other passion will overtake this one at some point in a couple of years.
I kind of take it one day at a time to some degree.
Ling Yah: And what kind of legacy do you want to leave behind?
Cesar Kuriyama: We've made our lives very difficult building this company because we're building it in a way that we want to make sure it's around for 50 years and beyond. And if it was a shoe company, I would probably not care too much.
And if somebody wanted to buy it, I'd say cool. Send me a cheque. I'll go on vacation.
But I ended up accidentally building a company that's about people's memories. And we get emails every day from people who tell us that it's the most important app on their phone and tell us stories on how it's changed our lives.
And we feel a bit of a stewardship to that in making sure that we don't screw it up, which means that we want to build it right. We want to build it sustainably.
Ling Yah: And what do you think are the most important qualities a successful person should have?
Cesar Kuriyama: Curiosity.
In my time and anecdotal experience, as I've been trying to boil down things to their most basic unit, I have found that that tends to be the most basic unit, which is if you're curious, you ask questions. You don't necessarily are always a hundred percent positive about anything. You're open minded enough to change your mind based on the evidence.
I tend to like people who are curious, because that leads to everything and what you're curious about this and next thing you know, you're curious about that and it's this endless, infinite thing that takes you to some really interesting places .
It's where all the best stuff comes from. It's from people scratching their curiosity.
Ling Yah: And where can people go to find out more about what you're doing and connect with you?
Cesar Kuriyama: I haven't updated my website in 10 years: cesarkuriyama.com.
There's our, website 1sec.co
On a personal level, I tend to be relatively active on Instagram.
As far as just my personal life, I just assume they're public. I just assume that anybody can see them. So I generally just share things that I don't mind everybody's seen. The private stuff is in my one second everyday.
And I'm mostly a lurker on Twitter. I just mostly consume. I don't post a lot but I'm on there. I'm pretty active there a lot.
Those are kind of the places where I'm usually, I'm always at Cesar Kuriyama everything.
Ling Yah: Great. Well, thank you so much, Cesar, for your time.
Cesar Kuriyama: Yeah. My pleasure.
Thanks for having me.
Ling Yah: And that was the end of episode 26.
The show notes can be found at www.sothisismywhy.com/26
And don't forget to sign up for the newsletter. This podcast can only cover so many stories and inspiring people, so the newsletter is a chance for me to expend and cover all the fascinating things I'm learning about, people I'm meeting and initiatives you might want to get involved in.
And stay tuned for next Sunday's episode, where we feature one of Malaysia's top business, radio personalities, emcee and 5-times book author on what it took to get to where she is today.
See you next Sunday!