Welcome to Episode 35!
Our guest for STIMY Episode 35 is Chye Neo Chong. 
Chye Neo Chong is the former Managing Director of IBM Malaysia with over 30 years in the information technology industry, and current independent director at Hong Leong Financial Group and Bursa Malaysia. 
Chye was appointed to the role of MD in 2015, becoming the first woman to helm the company in its 57-year history in Malaysia and was also awarded the CEO Champion Award by Talentcorp in 2015 and recognised by the Malaysian Business publication as one of Malaysia's Women of Influence in April 2018.
But how did it all begin?
PS:
Want to learn about new guests & more fun and inspirational figures/initiatives happening around the world?
Then use the form below to sign up for STIMY's weekly newsletter!
You don't want to miss out!!
Who is Chye Neo Chong?
Chye talks about her childhood and in particular, her father whose passion for helping the underprivileged, mathematics and science, strongly influenced her family growing up. 
1:36: Growing up with 5 siblings (including an elder twin sister!)

3:22: Why Chye studied computer science at University of Science, Malaysia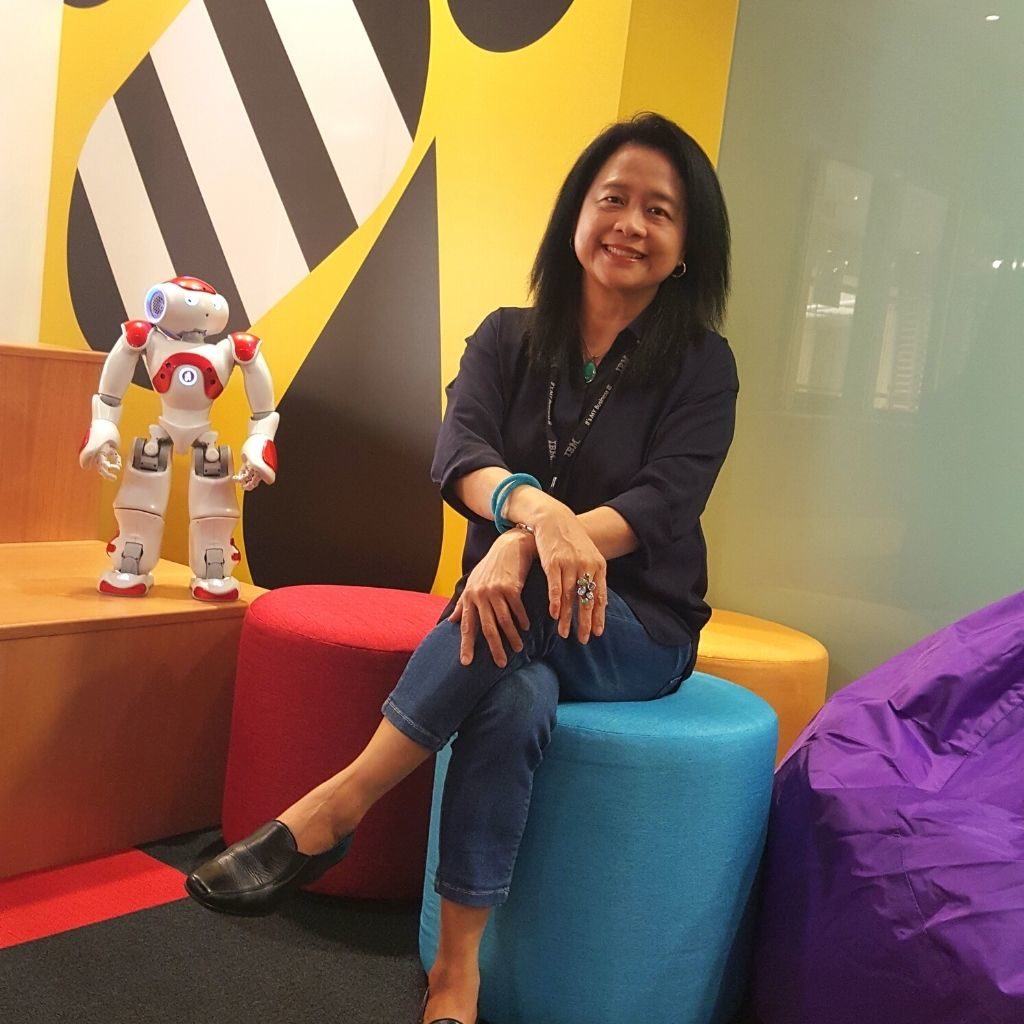 Entering the Workforce
4:47: Working as a software development engineer in Penang

10:26: How Chye managed to get so many work opportunities coming her way (without applying for them!)
Joining IBM
Chye shares a great deal about her decades spent working in IBM Malaysia, leading to her tenure as the Managing Director!
12:06: Why Chye turned down the opportunity to be the MD/CEO of IBM Malaysia in 2007

14:36: Does Chye regret her decision to reject the position of CEO?

16:08: Taking 2 sabbaticals at the peak of her career

19:03: What am I worth without my (work) title?

23:33: Staying relevant while being on year-long sabbaticals

25:26: Returning to IBM & becoming MD/CEO of IBM Malaysia (the first woman to do so in its 57-year history in Malaysia!)

32:49: Leaving a legacy behind

38:32: Chye's succession plan

40:20: The best way to ask for a salary increase

42:07: How do you find out that you're being paid what you're worth?

42:59: Networking with people 

44:54: What value can you bring as a young person to a CEO?

46:33: Reinventing the wheel at IBM

49:45: Why Chye took early retirement
You can stay on in this role forever, but don't be upset if someone less capable than you get promoted ahead of you because you choose not to be visible.
If you're looking for more inspirational stories of people in the business space, check out:
Ooi Boon Hoe

: CEO of Jurong Port (one of Singapore's 2 main commercial shipping ports)

Azran Osman-Rani

: CEO of Naluri Hidup (formerly CEO of iFlix & AirAsia X)
Dr Finian Tan – Chairman & Co-Founder of Vickers Venture Partners, a deep tech VC based in Singapore

Malek Ali

– Founder of BFM 89.9 (Malaysia's top business radio station) & Fi Life Sdn Bhd (online insurance platform)

Renyi Chin

– Founder of MyBurgerLab, MyPizzaLab & MyBobaLand – one of the most innovative F&B food chains in Malaysia

Hillary Yip

– 15-year-old Founder of MinorMynas & one of the youngest CEOs in the world
If you enjoyed this episode with Chye Neo Chong, you can: 
Leave a Review
If you enjoy listening to the podcast, we'd love for you to leave a review on iTunes / Apple Podcasts. The link works even if you aren't on an iPhone. 😉
Send an Audio Message
I'd love to include more listener comments & thoughts into future STIMY episodes! If you have any thoughts to share, a person you'd like me to invite, or a question you'd like answered, send an audio file / voice note to [email protected]
External Links
Some of the things we talked about in this STIMY Episode can be found below: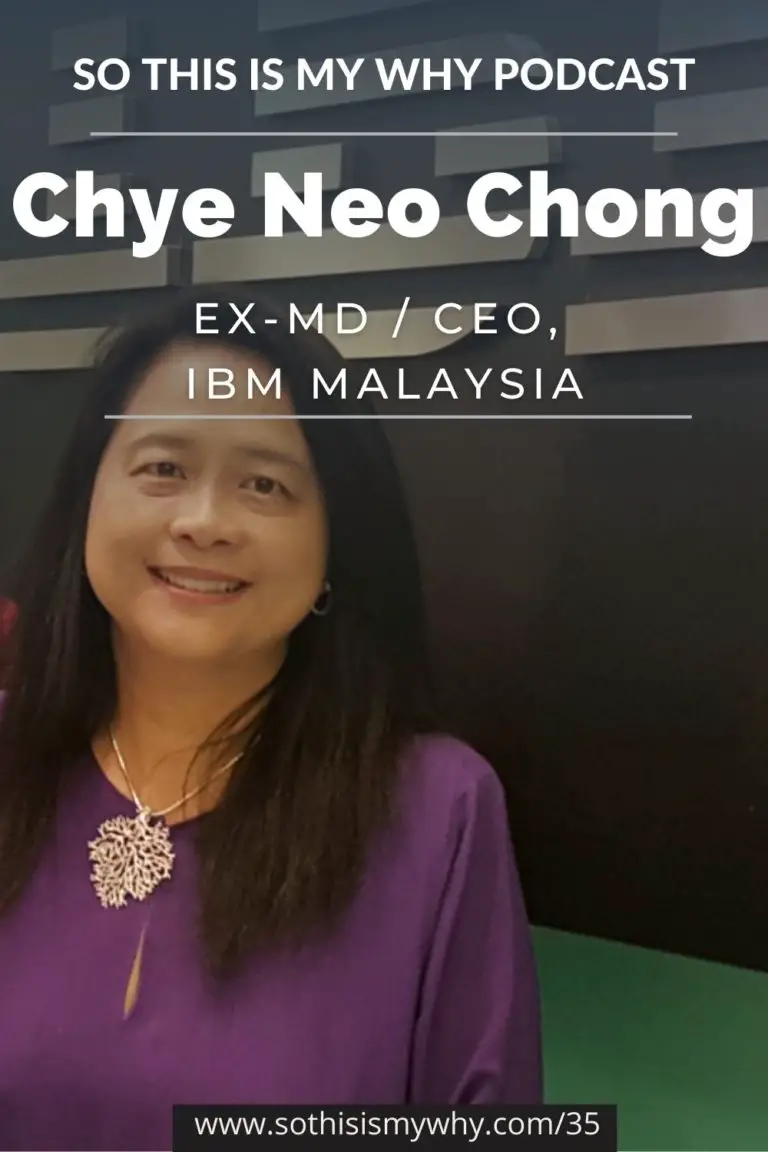 Ep 35: Chong Chye Neo - former Managing Director of IBM Malaysia
Ling Yah: Hey everyone!
Welcome to episode 35 of the So This Is My Why podcast. I'm your host and producer Ling Yah, and today's guest is Chye Neo Chong. The former managing director of IBM Malaysia with over 30 years in the IT industry. And current independent director at Hong Leong Financial Group and Bursa Malaysia.
Chye was appointed to the role of MD in 2015, becoming the first woman to helm the company in its 57 year history in Malaysia, was awarded the CEO champion award by TalentCorps in 2015 and recognized by the Malaysian Business publication as one of Malaysia's women of influence in April 2018.
In this episode, we discuss how she ended up in the computer science field, how she excelled in her career, her thoughts on how to handle sabbaticals and staying relevant while not working, the difference in attitudes she has observed between men and women when opportunities arise and the advice for women in advancing in their careers.
But before we begin, if you've been enjoying this show and you want to find an easy way to support it, please leave a review on iTunes.
It's the best way to help us to find the show. And I would really appreciate it.
Now, are you ready?
Let's go.
Chong Chye Neo: I have two brothers, three sisters, including myself, six. One of my sisters, she's my twin sister.
Our upbringing was very much influenced by my father by and large. He is actually a trade unionist, and he believes in fighting for the underprivileged. He would talk to us about collective bargaining and I guess I learned those words at a very young age because he'd talked to us about helping people who couldn't help themselves and all that.
He was a municipal counselor. He would go to the wet market and see people selling vegetables or fish on Antap Road. So when it rains, it's wet.
So he'll make it a point to write their case to the ministry asking them for help and that he will measure drains are unclogged.
When I was young, a lot of people would come to my house. They will tell him that my license is being revoked and then a lot of them cannot write in English, some of them cannot write in Malay. They don't know how to appeal, so you will write appeals for them.
Against that kind of backdrop, my father who loves science, and mathematics and all that. My entire family grew up with a passion for mathematics. Weekends, we'll do mathematical quiz.
So there are six of us. The elder three will be competing with each other. The younger three will be competing. There will be some prizes there. So you put like piles of points. So if you are number one, you get the highest pile. So the three of us will compete. And all 6 of us are very good at mathematics.
We were very familiar with trigonometry. With calculus, with algebra at a very young age. To us, it was fun. Nobody told us otherwise.
And I think my father was also very gender agnostic.
He told us at a very young age. There's no distinction between daughters and sons. All I asked of you is to give you a mess. So you can choose whatever career you want, but you have to give your best.
And he was true to his words.
I did computer science. One of my younger sisters did mechanical engineering. My brother has a PhD in mechanical engineering. I have another brother who did physics. And then my other sister's an accountant. So she's the only non-science.
Ling Yah: You chose to take on computer science at University of Science, Malaysia. How did that come about?
Chong Chye Neo: Well, to be honest with you, I wanted to do architecture because there is an art and science aspect of it. I actually applied to NUS.
During that period they kind of sequenced the results according to the courses. If your results are good, they will give you accountancy, not architecture.
When I applied to NUS, maybe my results were not the better ones and they actually offered me accounting. I balked at the idea like, accounting? I mean, like so boring. I don't want to do accounting. So I told him I'd want to do accounting.
And at the same time, I had opportunities to go to USM for computer science. When I told them I don't want to do accounting. Then she offered me architecture.
But the only problem is in Singapore at that time, the first few years, they give you a bachelor of arts. Then you have to go out and do some training and then you got to apply again for another three years to do architecture. So I thought about it and I said, wow, it looks like seven years, you know.
I mean, it's a long time. I don't think I want to be starting seven years. I'm not even sure if I applied, when I come back, will I even get into architecture. Else I'll be ending up with a bachelor of arts, which was not what I wanted.
So anyway, finally, after much thought, I'll do computer science. At that point in time, computer science is not as hot as it is today, honestly.
And nobody really knew where it was going. Everyone taught computer science and mathematics, like, applied science and applied mathematics. So I said, okay, fine. Here's a new course, it's quite close to mathematics. I'll do it.
So that was why I decided to go for computer science degree at USM.
And I didn't know any better, honestly. Who knew 35 years ago or 40 years ago where IT is going to hit. Is it going to be as pervasive as it is today?
Ling Yah: So after you graduated, did you have any plans in terms of what you wanted to do?
Chong Chye Neo: I always thought that I would do something technical. So I was very clear upon graduation.
I will go into a job. That will allow me to realize the creative aspect of computer science. When I was in university, I consciously looked for jobs. They will give me this ability to create, develop.
So I started my career as a software development engineer on the plant floor in Penang. And I kind of enjoyed it because I've been interviewing people, asking them, so what do you want to do?
Then they say, Oh, we want to automate this or that. And I said, okay, let me go back and think. So it was so exciting because it's of the logic, how do you write this program?
At that point it was so basic compared to today, and then you be thinking, so at the screen pops up, what does the user see?
Which button they press is not right now, not all graphics, but he was so excited because you have so much control over all the various components. When you want to split them up, like what's the logic?
I'd be debugging for hours. I go home, I sleep three o'clock in the morning or wake up and say, I know the answer.
I know where the problem is. I didn't live that far away from the plant. I actually drove to the plant, in the middle of the morning because those days, there's no computer at home. So whatever programming you do, you have to do with the office. So I actually drove like early in the morning, cause suddenly it's like, oh, brainwave.
So drove all the way to the factory. Go on do all my debugging and I will tell you, those were exciting days. But what happened was that after a year plus in a manufacturing plant, I realized that the plant is where the front liners are, the engineers because they are the ones that produce the product.
They're the ones that test it, they're the ones that quality control it. So if you're not an engineer, if you're a software developer, you're also the back office. You're not a profit center, your cost center.
I realized from a career point of view, I'm not going to go very far if I stay in that organization, because it is a plant. Rightly so, the engineers and the front liners. So it gives me this kind of thought process, ? Where you go in your career, you have to decide. Are you going to be a front liner, means you bring back the bacon or you're going to be a support function.
So you've got to decide now. Very clearly.
I was in a support function. I realized that if I really want to progress my career in this organization, I've got to be at the front, but I'm not an engineer.
So that was when I decided to leave the company.
And now I went to look for a job in sales. So I was putting them into a sales organization because I thought might as well go to the front line where I'm actually selling related products or services rather than supporting it. So then I went to sales.
I decided that I don't want to do hard selling. I want to do, they call it technical selling. I'm an engineer supporting the sales rep. So it was a progression, from support function to frontline, but not front front lah you know, one step behind.
I didn't know that I was going to face a job that I thought was so exciting, but not front liner, the job that isn't a front line, but unfortunately the department I went in was a, they call it a PC and peripheral emission. So PC and peripheral you have to understand that technology changes very quickly.
So let's say I've been in that division for two years. It doesn't make me better than someone who was there for six months. Because the technology is new. So I realized that I should go into a field where there is a lot more longevity.
That means the technology I learn as time goes by whatever I pick up, I become an expert.
That means there will be. I call it a high barrier to entry for anybody coming in, who has to go through the same path.
So at that point, this was 30 over years ago. I realized that I was in a field where the change was so quick that I will not be an expert even if I stayed up for 10 years, which is true.
So luckily I understood that and I decided to leave the company and go on to IBM.
IBM was a little bit different because when you first come in, they don't put you into any stream first. They put you through a training program. As you go through the training program, they assess your inclination.
So if you're inclined towards sales, they put you into sales. And sales and technical has got different degrees of sales and technical.
That point in time, IBM was the biggest IT company. And I felt like that was my dream. I always wanted to join IBM. So when I went in, I wanted to do a technical role, which I always thought I'll be technical.
So when I came in, I was interviewed and then they gave me the job and I came in. As an associate systems engineer.
About a month into the job, the country MD at the time called me and said that you don't look like a technical person to me. Your profile is a salesperson.
And I was like, well, I'm a technical person So I completely refused to go to a sales job. Then he said, okay, fine. Let's put you in marketing. So it was very interesting.
I just put you in marketing because sales and technical, the career path and the development path. are totally different topics already.
So after six months in marketing, I wasn't happy because all my peers have gone on to develop their skills and I'm like, stuck in the middle. So I went back to the MD. I say, you look, you know, you're not being fair to me. I want to do technical. I applied to be technical, and now I'm stuck in between neither one. So he said, okay, okay. Okay. I'll put you in technical since you want to do technical.
So he put me in the back.
Okay. You go to the technical path Then six months after that, I realized why the MD wanted me to do sales. Similar to when I was in the plant, the guys who called the shots, the King is actually the sales rep. So when you are in a sales and distribution company, the King is a sales person.
If you want to call the shots, you have to be the sales person. You're not a technical person, you're playing a supporting role. So I was like, Oh my God. , I didn't expect that. And after six months I went back to the MD and I said, look, I think you're right. I'm not very happy because I can't call the shots.
I couldn't drive things. I'm actually always supporting. Even though I was soak up the frontline. So it wasn't quite front enough.
So then he said, okay, fine. I switched and moved into a sales career and it all happened within my first two years. IBM.
And then I think from then on, my career took off in many different shapes and forms. And I was very fortunate because I mean I didn't even have to apply for anything. Every step of the way, somebody would call me and say, hey, there's this job; do you want? There's this job. I never had to apply for anything.
Ling Yah: Were there any particular landmarks in your career that allowed all these opportunities to just come to you?
I'm sure they didn't come to you just because you were lucky .
Chong Chye Neo: One of the most important things, I think that shaped my career was work ethics and your drive.
Starting from university, I would not be afraid to go up to my lecturers and ask for extra classes because I missed something or I didn't understand something.
So it is that willingness to walk up and say, look, I need help. And can you help me?
Some people call it OCD. I was very focused on delivering everything that I committed to. So if I say that this is a deadline and I'm going to deliver on this deadline, even if I don't sleep for three days, I was still delivering on day one. And I think it's characteristic of fulfilling your commitment has become a trademark I believe that has brought me a lot of opportunities.
I have many bosses in my career that tell me that if I pass a job to you, I can sleep well at night because I know it will be taken care of.
My father always said you always give your best. Sometimes you may not meet the standard. Sometimes it does, but the point is that you are given your best and you are at peace because you've given your best.
Secondly is drive. Because at the end of the day, if you don't have the persistence and the drive to make things happen, you will give up along the way.
You can not expect things to be smooth all the time. There will be a lot of blocks and you need to have to mentally be prepared to overcome these roadblocks.
Tenacity, that resilience, the persistence that will help you overcome.
A lot of times it is not physical or anything. It's actually mental. You think you cannot do it. This is why you cannot do. Sometimes I have very difficult times and I say, it's mind over matter. I tell myself it's mind over matter mind over matter.
If I don't sleep for a few days, or I sleep very little over three days and I'm tired and I got to present.
The first thing I tell myself is mind over matter. So you try very hard to set your mind in the right direction. I think that's very important.
Ling Yah: And am I right in saying around 2007, that was the first time that you were asked to consider becoming the CEO of IBM, but you turned it down at the time.
Chong Chye Neo: Yeah, IBM Malaysia.
So year 2000, one of my bosses, he came back to Malaysia. He became the MD of IBM Malaysia. So at the point in time, I was supporting him because I worked with him for a long time.
And he was one of the bosses who would always say that if I give you anything, I will sleep well at night, because I know you will take care of it. So of course he has been encouraging me and kind of grooming me and sais, you don't think about it, think about it. You should think about taking on this role. My kids were growing up.
At that point I was doing a few roles.
I already felt that giving my best and giving my hall was already taking a lot of time way from my kids. And my kids were growing up 2007. My kids like 10, 12 years old age. So then I thought about it and say what really want the job? Because I look at him and he really worked hard.
Of course, his wife supported him. So he always say that I'm fortunate because I leave everything in my life.
I said yeah, but I can't get it to my husband and working for his own career. So if I were to take on this role, I'm going to do that role. Plus I'm going to take care of him.
? So I thought about it and I say, I don't think I am ready for it. I thought about it, I said. Do I want to take time away from my family? I'm already taking a long time away. To be honest. At that point, I was already working on this 12, 12 o'clock at night.
My boss was like, typically in IBM, people become MD or IBM Malaysia or any of the IBM organizations. Typically four years, five years, they will actually ask you to groom someone to take over. So he was already like six, seven years in the job.
I remember it was four or five years from 2005. So they started talking to me about it and I kept saying, I'm not ready. I'm not ready for it.
And at that point in time, you asked me why? I said it was not ready. I've always put, said oh because my family, I want to spend time with kids and I don't want them to grow up without me always so much. But actually after a few years after that, when I think back, there was not the real reason.
There was the obvious reason, but the real reason why I think I was resistant was I was afraid of failure.
You're probably the first to hear this because I don't talk about this. . I was afraid that if they gave me something that I was not 110% ready. I would fail. And I cannot accept that.
You know, I grew up as a perfectionist. My father said excellence, I interpreted perfectionist. So you know I was trying to be perfect. So actually what my father is saying is excellence. Be the best. Perfection is different. Perfection is unattainable.
So at the point in time in my mind, I thought if I take this job now, of course I cannot give her something like that because I have to think about my family.
So first of all, I don't even have that luxury of giving a hundred percent of myself. Secondly, it's what if I fail. I think this part about the failure didn't surface at the time. I didn't think that I was afraid of failure.
But later on when I looked back, I realized that there was a very big factor.
I was afraid to fail.
Ling Yah: So, what will you have done differently then with all this knowledge? Would you have been willing to just be the CEO?
Chong Chye Neo: Actually, to be honest, probably not.
And the reason behind that is that when I took the role in 2015, I found that the role was bigger, deeper, more complex than I ever saw. Even though I was working side by side the MD at the time. The depth, the emotional impact of decisions you make was a lot deeper I didn't even see it.
But I realized that when I took the job in 2015, I think if I had been less mature, if I took on the role 10 years earlier, I think I would not have done a good job.
I could still take on the job. It'd be given the title, do the job for five years and then move on. Now.I felt that doing it in 2015, I was more mature.
I obviously had a lot; 10 years more experience. I felt like I contributed a lot more through the people. It was a people thing. It wasn't the numbers. I felt that I was mature enough to handle a lot of emotional situations.
When you have to fire people, when you have reorganize, we have to select leaders and deselect others.
Those are not easy decisions because you are actually impacting a person's life, And may you have to deal with non-performance for example. The impact when you are growing up in an organization you're younger, non-performance and the ability to shift around, change jobs and all that, you're a lot more fluid, more flexible.
So I realized that even though I could have done a job 10 years before that taking the job in 2015 gave me a different ability to build different kinds of value to the people and organization.
Ling Yah: And I wonder between 2005, 2015, you actually took two sabbaticals. The first time was in 2010. Did that contribute to you becoming the person that was ready to become CEO?
Chong Chye Neo: Yes. I will say yes to a very large extent until I took a sabbatical . you almost feel that you talk to a lot of people who are progressing in their careers.
They almost felt like they have more choice. They feel like, oh, I'm on this treadmill, right? I'm running, running, running. The treadmill stops, I will roll back. Climbing up. So I had the same mindset.
During my maternity leave, I actually went back to work almost immediately after I delivered. So I remember I delivered my daughter. Three days after that I arrived for home. I was so bored.
I had nothing to do. I took out my computer and started working you know, started to reply mails. And after the obligatory confinement after the first month. Well, people came to my house. I remember we were working on some campaigns and all that.
It was almost like you were so afraid to leave, in case you can't pick up again. So when I decided to take a sabbatical, it was a very difficult decision. But I think circumstances at that point required it because my kids were beyond physical care.
They needed someone to talk to. You know, they're deciding on their careers. You know, like where do I go? Do I go for science? Do I go for art? What kind of skills should I be developing? So I felt like I wasn't there for them because even though they're talking to you, you're doing your work. It's like, you're not on a concall and they call you mommy I need to talk to you.
And my son was growing through quite a difficult time. He was searching for himself. He was having a lot of mood swings and he was very unhappy in school. He would come back crying So I was very disturbed.
I'm thinking like what's going on? For all the success I have in my career, I'm not there for my kids. So I thought really hard about it.
And also my husband actually played a very big role when I was progressing my career. So he left a corporate job to do his own business so that he could be at home for the kids.
He was always the one bridging when I travel, he will be bigger on and off when I'm overseas for long period, he will arrange most of the concalls and we'll talk to them.
And my husband's business took off. So he was traveling. I was traveling. And I was really very uncomfortable with the whole situation. So I told my husband, I think you should focus on your business. And since you have already sacrificed so much, go and do what you need to do while I take a break and let's see how it turns out.
So I decided to take a year of sabbatical. Now, suddenly you're out of this tornado. There you are in a place where you can look at the tornado rather than being in it, And then a lot of things started to make sense.
So the first thing I realized that a lot of people think that you are your job. You are your title. You are not. You are your title only when you're in the job. The moment you step out. Like for me, I became a mom stay at home mom .
This whole thing about me being a successful career woman, it just goes away. Disappeared. And then you realize that all these people that you were so busy engaging with You're no longer in a position where you are relevant.
You're totally irrelevant.
Even having conversations, you know, you go for tea, coffee, whatever. I know the first one to meet these things. We'll talk about. After that, what's there to talk?
So a very important realization for me was have to separate yourself from your job. If you think you are the job, the moment that job goes away, your entire world will fall apart.
But I had the good fortune to take a step out. It was a pilot testing. I still have a job to go back to later, but testing, you know.
You got to be clear about your own self-worth. Be very clear about what experience, what value you can contribute.
Forget about the job. You as a person, what have you acquired? What type of skills, what type of knowledge, whatever experience have you acquired?
What am I worth, without my title? What am I worth?
Ling Yah: Do you mind sharing how you rated yourself, in terms of what am I worth without the title at that point in time?
Chong Chye Neo: Well, I'll be honest. The first sabbatical, I was taken aback because suddenly it's the first time.
Never did it before. First time was like, I mean, I'm no longer relevant because you don't have nothing to discuss. So I was taken aback. I wasn't sure. And more like, what am I really worth? I'm not sure. Even though I took a sabbatical, would I be going back to a good job?
Or when I go back, nobody wants me. I wasn't sure.
Anyway, to be honest, at that point, I was quite tied up with my kids, And at the same year, my late father contracted cancer. You know, I remember because in 2010 April, I actually was supposed to leave in January. But I left in April because they wanted me to hand over the role to someone who was from Hong Kong to do their job.
So I was hand holding the guy for three months. So effectively, I only took my sabbatical April 1st. So April 1st, my father was diagnosed with cancer in I think April, probably may or June, and he had to go through some major operation and all that. And he actually passed away in September.
So all that happened in 2010. Suddenly you realize the importance of real engagement with your kids. Really being there, send them to school, chit chat with them.
People talk about it's okay. If I spend one of the weekends with the kids, it is not the amount of time that matters. It's a quality, the time people will tell you that.
Actually, it's not true because when you are distracted. I found that there was a big difference not working and giving the kids attention versus weekends.
I felt like I was back in their life again, not out of it. I was very fortunate because IBM called me up and said, hey, look, there's this job. Do you want it? So at the end of it, sometime in December I had three jobs to choose and all three did not compromise my position.
I was actually very excited about going back because I was so worried. Like I've lost 9 months, you know. Maybe I won't be relevant, maybe I'm out of touch, maybe my mind's a bit rusty.
After I went back to work after about one and a half years, I took my second sabbatical.
Because my kids were sent home. And I realized that this nine months sabbatical wasn't enough. We were engaging, but I kept getting distracted.
And by the way, the job I took required me to travel. So I'll be traveling to three countries in one week. This job is regional directly to global.
I don't even have an ASEAN or Asia Pacific. I think I was the ASEAN head of this organization, we should report directly to global. So I found myself on calls late at night And then I found that because it was a small organization almost like a startup, something very new.
I had to get involved myself. I have a flight from Malaysia to Hanoi from Hanoi, and we'll fly to Manila. From Manila I'll fly to Singapore then fly back to Malaysia. And then after about a year plus, I realized that I started to lose engagement in my case again, because you're traveling, traveling.
Sometimes I would call home and my husband was traveling. And so I was called home and asked my son, I said, Hey, so today, what do y'all have for dinner? And is it, oh, I didn't have anything for dinner. I'm like, why not? Because my daughter and my husband, they want to eat at the club house.
And I don't feel like Clubhouse food, so I didn't eat.
Some days you'd call, my daughter said I'm going to sleep now. Why? I decided not to have dinner.
Why? Because my son decided to order pizza and I don't want to eat pizza.
And then I remember one time I called and my kids were crying and the reason was because their pet turtle died. And they were crying nonstop. And I was overseas. I told myself, maybe it's not the right time. I should go back to be with them.
This time, I decided to leave IBM. I said, okay, forget it. I'm not going to take a sabbatical. I'm leaving IBM because I really don't know how long it's going to go on. And to be fair to the organization, you can't just go in and out. I know. Please lah you have responsibility.
My boss at the time, she's the head of ASEAN. She said, we offer you the sabbatical, you take it. So she insisted. You take a sabbatical, do not leave IBM. and this sabbatical was longer. Close to two years maybe.
I decided that I will not be totally cut off from the organization. I offered free services to IBM to say that I will come in and do mentoring a mentor, even though maybe not a lot, but still you don't totally cut off. So as long as you're in touch, you're doing something, you're relevant. Number 1.
Number two, the fact that you're keeping in touch, you don't lose sight of what is happening or developing in the industry.
So in a way, I felt like the second time around, I was more prepared. I was more organized. And I did not exclusively decide to stay at home. I went out and do things. So I think that made a lot of difference.
Ling Yah: And you were saying that while you were at home, you wanted to make sure you were kept abreast of what's happening in the industry, but it's such a fast moving industry.
So what kind of things or questions, were you asking the people you were in contact with to make sure that I know what's happening, this is the new development and I can go home and read up so that I'm aware of it.
Chong Chye Neo: See the second sabbatical and the first one, even though it's only a span of two years, surprisingly the technology advancement when I took my second sabbatical was far ahead when it comes to social media.
So I remember in 2010 when I first left IBM - by the way, my boss retired at the same time I left. He said, okay, first thing you do is get your own laptop.
And then, okay. Let's join Facebook. Join all the various social media. 2010, you know, that was the first time actually I joined. So I joined all this social media. because we always had our own email system. I tell you I was struggling the first time I was looking at an email system.
I don't know how to use it. Because I'm so used to the IBM email system, all the outside one looks so primitive.
So of course this was 2010.
When I came back to work at IBM in January 2011, immediately I said, I don't want the IBM laptop. I will buy my own. So in fact when I left IBM. That device I have is my own, it's not IBM's device, so I don't feel so cut off the first time I was totally cut off because when IBM took back the laptop, I bought a new one.
The interface was so different. I was struggling. I couldn't use.
Also the job I took was IBM intellectual property development. I actually interact with a lot of researchers and scientists in the US, all of them have their own MacBook. I decided to get a Mac book until today. I still use a Mac. So in 2012, in 2010, very different world to years ago.
Social media is so much more mature. All the devices so much available, the Gmail and email and whatever meals are also much more developed.
So the second time around was much easier. I had my own Macbook, no new interfaces. Number two, all this social media thing, even though I left IBM, I've already had a network.
Today everybody's connected, but this was 2010.
Ling Yah: So then you came back and you were Client Director for banking and financial markets before you became the managing director of IBM. And you mentioned earlier that you were battling with feelings of inferiority that you're not good enough.
So how did you overcome that and decided that ok now is the time. I'm ready to be the MD?
Chong Chye Neo: I always believed that different profiles will suit different jobs.
I'm not an extremely extroverted person, so I don't enjoy doing the song and dance on stage. I prefer to stay in the background.
I remember my ASEAN boss came to Malaysia and he said to me, a leader is to be seen. I know you don't like the stage.
I know you don't have to be in the limelight, but you cannot be a leader if you're not seeing. People need to see you. They need to be inspired by you. He said, think about it. Do you really want to progress up the leadership part in IBM if you don't want to?
I'm fine with it because I love it. You do what you're doing, you perform, you deliver and you can stay on in this role forever, but don't be upset if someone less capable than you get promoted ahead of you because you choose not to be visible.
So that was really a reckoning of sorts because I thought about, he say, he's correct.
Would I be able to look up to a leader that's not visible? I can't even see the person. The person doesn't even want to be there for me to see.
Then I realized that I had to make a decision. Do I want to be in the limelight? Do I want to be in a position where people look up to you? You're visible, like it or not.
And I thought hard about it. And I said, okay. Let me take small steps. Let me try. So I said, okay, the first step you do is I will give you a role that will report to me directly.
And I want you to take your seat in my leadership team. He was in Singapore. And this position that he gave me, you have to relocate to Singapore.
I have a discussion with my husband and I really want to be in my family. So he accepted it, you know.
You say, okay, fine, but you have to fly in. So I remember for nine months, Monday morning, I flew to Singapore. I will stay in Singapore until Friday. On Friday I come back.
So I went home to sit on his leadership team, met a lot of people, learn a lot, not observed all the different personalities And then I realized that actually to be a leader. You don't need to be boxed into a certain personality.
I mean, I'm not a song and dance type. I'm not the kind that likes to socialize. And I'm also not the kind just have to say something, whether there's meaning no, meaning you just have to say something.
I can't. If the content is not meaningful, I cannot.
So from then on, I was always given a lot of opportunities to take on roles that. Develop me and give me opportunities to shine.
I've been on sabbatical there, I came back to this boss, Paul. Paul's an introvert and he's one of the very few IBM leaders who are introverts. And Paul said, hey, look, I'm not a Malaysian and I'm the MD of IBM Malaysia.
I need you to come back because I need someone to really help me because I'm not Malaysian. So he didn't give me much choice. And I was like, oh, I'm not sure Paul. I was thinking maybe I should retire. No, no, no, no. You come back.
He was very adamant about it, and he was very persuasive. So anyway I came back. I said Paul, I'll come back and help you for one year after that, I will leave. He says fine. So I came back and I worked alongside him for a year plus.
Along the way, he kept telling me, he said, I'm here on the shotgun because I'm not Malaysia. I'm going to be here just to bridge the gap and to groom a Malaysian for the role. And I want you to take a role. I'm not not sure Paul, I'm quite comfortable where I am.
And there was one thing he said to me, which was really, again, an inflection point. By the way, a lot of women are like this. So people offer you a job. You always think that. That's it, you to accepting whatever, all the thumbs attached to it, I have to accept it.
But the truth is when someone offers you a job, you are actually in a position to say, I'm willing to take a job, but I would like this or that I want something and I need the environment to be different or whatever. And he was the one who told me that, what are your outcomes?
It's like, I never thought I had them because I've been here for so long. So it's not like I'm going for a new job outside the company or whatever. IBM says, there's a position. Do you want me? And I've always thought that the position comes with certain responsibilities.
So I said I don't think I would like this job because of ABCD. He'll tell him all the reasons. Then he says, what if I tell you this ABCD that you have objections to, I will remove them. I'm like, well, can you do? Then he started to share with me about himself.
And he said that he's an introvert. So he's not the kind that like to sing and dance. And you always had this perception that you put to be successful in Malaysia. If you are a business leader and be successful, you got to be socializing out there, of course, pre COVID.
At night, you have to go for drinks, go for dinner, weekends, you play golf, whatever lah. So whatever you do is always socializing. And then remember that the MD and CEO of IBM Malaysia, you are the face. So you cannot say, I don't want to meet clients. You will have to meet clients. I mean, that's what you think lah.
So then he said, I choose to play golf. If I want to play golf, I don't play golf because I'm forced to play. So, and so I'm forced to play because I want to build a relationship.
I play golf because I enjoy it So he doesn't like to socialize for the sake of socializing. Of course, once in a while he does, but it's not like every night, like my previous bosses, every other night, they're not home.
They're always out there having dinners with clients almost every night. So I built my perception of the role based on what I observed in the past.
it was a breath of fresh air that he is doing the role. And by the way, he did a very good job performing on the road on his own terms.
It was almost like a wow moment. You know that, Oh, I can actually tell them, this is what I want or what I don't want.
And I think it changes the whole perspective of doing the job. And to be honest with you, a lot of women face this because why? A lot of us worry about, Oh, I want to go home.
I have to cook dinner for me. I cook dinner for my family. I'm going to cook dinner four nights in a week. Huh? I mentioned out there socializing, I'm going to cook.
When I was growing up, during my era, people are very careful about how they look because they represented the company.
You are the face of the company. So I have this perception that, oh, I cannot do this. I cannot do that. So I realized that a lot of these things are perception.
There are things you need to be careful about, especially things that are related to ethics.
For example, integrity. Very important. So I'm not saying those are not important, but we've put a lot more barriers that are necessary. And when I speak to a lot of women, I always say that every time you're offered a job, what's the first thing you do. You will probably count why I shouldn't take the job and these perceptions and these barriers, you put in front of yourself.
So I always tell a lot of women, the moment someone offers you something and you put all the why you cannot do that, ask yourself. Can I negotiate all of this?
So this is a very interesting story about a few months ago. One woman leader I know very well came to me and said that about two, three years ago, she started only company.
They were going to put the company up for financing and private equity, peer to peer financing. Then of course COVID, so the whole business momentum start to become slower.
So she said I was offered a job to be the CEO of one organization, which she is very passionate about. But she said, I don't think I should take it because if I take it, who's going to run my business. , I already invested so much for two years and now I'm not at the point of getting financing and then I move to another job, which I'm passionate about also.
So she was putting this barrier in front of her that she would not accept the job because it'd be unfair to my partners and to this business that I built from scratch. The interesting thing is I asked the one question. I said, can't you hire a professional to run your company?
think about the advantages you will have if you were to be the CEO of this highly regarded organization, because her business is not in conflict. And on top of that, her business was a startup model. So the startup model is quite nimble, not capital heavy.
So she said, oh I never thought about it. So you think I should hire someone to run it professionally and I can be an advisor. So then after she thought about it, she came back and said, I agree with you. I will accept that job. And I will hire someone to run my company professionally.
We are the ones who stop ourselves from going forward. They're not barriers where you put barriers yourself. It's much harder to remove them.
Ling Yah: Going back to you becoming MD, were you already thinking long-term like, oh, what do I want to leave behind after my tenure as an MD?
Chong Chye Neo: Again, I learned from Paul, He said that so when people ask him what's your legacy, he said that I want to leave the company in a better shape when I leave, as compared to when I came in, when he said that that resonated with me strongly.
And this is again, coming back to the point about excellence and perfection. rather than trying to be a perfectionist and say that, these all the numbers I'm gonna achieve this, this, this.
So when I took over from Paul, I asked myself, what are my strengths? let's be realistic, in the company of two, 3000 mobile people. Okay. Your contribution is a percentage of the whole, so the question to ask yourself is what are my strengths?
So first of all, I'm a very people person. So I told myself that I want this environment to be a place where people want to work.
And I want it to be an environment where we care for each other. So that was one of the things I really worked hard to build that kind of climate.
Until today, a lot of my teammates who left IBM are still there. They always call back and say that it was such a fun time. We work, but we play. There was no compromise on ensuring that we deliver what we commit on, no compromise on excelling and really doing the best we can do.
At the same time, we want to create a lot of fun one of the things that I think is very important is birthdays. I think birthdays are very important. So I want to say to my team that we will celebrate all birthdays. So it's the cascading effect.
So for me, I had 25 people reporting to me, my secretary will put all their birthdays in the calendar. So every morning when I open up my calendar, I will know whose birthday is it. Then my secretary will also remind me to be sure that we order cake And also we be sure we have cake, we have lunch.
It's my responsibility to celebrate the birthdays of my direct reports. All my other reports are also managers. And they are responsible for celebrating their direct reports and then it cascades down.
So it's so fun because every other day there'll be people singing happy birthday in the office, and then I will see cakes on my table.
So we create a kind of environment.
I mean, at this point, a lot of us have already moved on to other roles and all that, but I think that holds us back together.
We always talk about that camaraderie, that relationship, and until today, this team, we are still on WhatsApp together, and we are always keeping abreast of each other's progress and all that.
So there was this guy just recently I saw on licking someone thanking him. He's actually in Singapore, he sent I think some cookies or food, whatever. He was sent to his team in Malaysia. So someone wrote in and said, well, thank you so much. So I commented also la.
I say, oh wow, he's from Singapore, make sure that they have got the cookies and food. So then he actually replied back and said I learned it from my boss, So there was one of the things.
Secondly, I wanted to develop a culture of. Residents. See, a lot of times when things don't go, we always like to give up.
We are very blessed. We come from a land of plenty. We've got natural resources. I mean, how bad are things here?
I go to India and I see people on the road side, people putting babies on the roadside. You see a woman carrying babies at the back and they're actually doing hard labour work.
So I want Malaysians to not settle into complacency and settle into comfort zones.
We should aspire for excellence. We should develop ourselves. Progress intellectually. We have to have that resilience because the global market is already open. Today you are competing with every country around the world.
Look inside, look at ourselves and know what message are we sending to them. . We have to send a message of, no, we are hungry. No, we will strive. You want dry, but we are always very relaxed. I may have an excuse for everything that's not done. Then you'll never get the job.
So one of the things I really wanted to build at the time was I wanted to build a culture where people are really understand that the competition is global. It's not just Malaysia, it's global, and we aspire to be a world-class organization.
Then we get people with a world-class mindset. . So really push and drive and educate and encourage. Take people out, put them in uncomfortable roles and not make them, , try to change the way they work. I think to a large extent, we did quite a lot in terms of repositioning the people in Malaysia, When they started in my team and when they lead the team, they would have grown and developed in leaps and bounds.
The legacy has nothing to do with making numbers, doubling our market share , it's about relationships. I always tell people that if you asked me how many medals I won in IBM, how many times I went to this achievers club, I cannot remember. But I remember the relationships. The people.
Earlier I was running this organization at ASEAN. I came into the job cold, meaning that I don't have the background. A lot of experienced people in the team and to a large extent, very capable people, but a lot of conflicts. So they were competing and they were really, I call it unhealthy competition. So I took a very strong position where I say teamwork is the most important.
If your wavelength does not resonate with the rest of you, I welcome you to leave the team. Number one.
Number two, when I make an assessment of your performance, it will be a three 60 performance. That means that someone you're subordinate has an equal chance of rating you as you have within them.
The point is when they come to a contention, If let's say you are one, which is the highest level, and you are more senior than the person that you have a conflict with and you can't resolve a conflict, I will bring your performance down.
So I put the responsibility to the most senior person to say, if there's a conflict between two persons. The senior person will be the one that I will put the responsibility on you. We correct the situation.
There was one lady there, very good performance.
And I think she had a lot of conflict with some of this. senior people, innovation like IBM. And I worked very closely with her, trying to develop a company. So she left.
Two years later, she actually texted me and said, hey, I want you to know, I'm actually attending this leadership class, and they asked me to visualize the kind of leader I want to be, and your face came to my mind.
I was so touched. That is the legacy that you made a difference in someone's life. You made an impact. Big or small, but you made it in the back and it's a positive one.
Ling Yah: And just tagging onto the idea of legacy.
I understand that you were also putting into play a succession plan and you invited 5 males and 5 females to come in and ask, can I groom you to be my successor?
So I wonder if you could share a bit about how you narrow down to those 10 people and your plans in grooming them to become the potential next CEO.
Chong Chye Neo: I mean, I had 25 direct reports, so it was already a limited pool. From this group of 25, who would be ready one job away because when I leave this person must step in. So you cannot find someone very young, two three jobs away.
You can't. So in succession planning, you have to have one job.
So IBM is very structured. You got one job away, two jobs away, three jobs away. To start off with, there's a limited pool. So you bring up all those reports on one job away.
When I came in, I said, if I planned to be here three, four years, I should start now. I told my HR director to give me names.
So these are the 10, So I said, let me speak to them. So get them in one by one. And I asked this question, so do you want my job? the five guys that I spoke to, and says yes, simple.
Yes.
Again, back to the woman, putting barriers in front of themselves, all the reasons why they shouldn't take the job.
Whereas the men say, forget about the barriers. I will deal with the barriers, give me the job. If you want something you must ask for me, don't assume that you will be given to you.
And I can tell you, in my years, as a manager, as a leader at IBM, Very few. In fact, I will say no woman has ever come to me and say, give me a salary increase. Not even one. But men, every other week I will have someone coming in and say, Hey, my salary, you know it's not high enough.
I will tell you most women, they don't think about asking about salary increases. But men, they will ask for salary increases.
Now you asked me, there are a lot of complicated reasons. Like maybe they are breadwinners. Maybe they need to be home. Now they have to support their family. I don't know. Maybe most of the woman husbands, the main breadwinner, I don't know. I cannot be right. I mean, I'm sure there are some women who are breadwinners as well.
Ling Yah: From your experience, what is the best way for someone to approach and ask for a salary increase?
Chong Chye Neo: So you're asking the wrong person coz I never asked for a salary increase.
I think the first thing you have to do is, again, going back to the value you bring. You feel that you are contributing a lot. And you think that how you are paid is not proportionate to your contribution. I think you should bring it up for discussion. Now it's not easy because of our culture. Culturally, it's very hard for me to go to my boss and say, , I don't think I'd pay correctly.
Again, it's very individual because I'm actually a very factual person. So meaning that if I ever do it, I will do some study first. So for example, if I have a job offer on the side, that's the easiest one. And the person on site is willing to pay me 50% more.
Then I will go and talk to my boss and say that, am I worth the 50% more to you? Not to be honest with you, there are people who come and ask for extra 50%, but the contribution does not come into it.
So I know of many instances, the managers will come to me and say, look so and so has got an offer outside for 50% more.
Then I asked, do you want to pay him or her 50% more? And sometimes the manager said, no, I don't want to. So see, that's the point here is the balance between knowing your worth. And if an external party is willing to take you. You also have to weigh the other aspects of it. Like, how risky is a job have you oversold yourself?
So I always tell people in my 30 years in IBM, I think I had probably between 15 to 18 jobs, which means on average, less than two years. And it's not because I choose to leave, , jobs come and it was, I feel good learning. I can learn something. Then I take one. So I had that opportunity.
Now, if you asked me if I was correctly paid in IBM.
I didn't think about it, but looking back, I think probably I could have gotten better pain if I asked for it, but I didn't. You really got to be clear about your worth lah. I think that's very important.
Ling Yah: But benchmarking is a bit difficult because even in the same organization, people don't want to talk about how much they're paid, let alone going out and asking other people, how much are you?
Chong Chye Neo: Now it's very easy. Got glassdoor what. There's so many they can go on and you can actually do some information from the website.
Secondly, be very open to opportunities. That means that if let's say headhunter calls you, go.
Go for interview and then find out about it. I honestly in the 30 years I've been in IBM. I probably was not willing to meet headhunters, maybe two times or three times, but I was not willing to meet headhunters. I'm not interested.
But the point is that if it's really important to you to make sure that you're correctly paid, what you should do is if headhunters call you or even you pull yourself up for jobs, go and benchmark.
And the thing is this until you pull yourself out there, you do not know whether or not you're correctly paid in your organization. That's my hindsight. I'm looking back.
Ling Yah: And I think one of the things that is your strength is that you're very good at networking with people both internally and externally, just balancing all of that.
How do you do it?
Chong Chye Neo: It's about authenticity.
When I engage with you. I need to be clear about why am I engaging with you?
you can call it purposeful. I mean, some people do a lot of socializing and a lot of socializing you're doing, you're not building a relationship. We just meet. And it's just a chat. I guess for me, I always feel that there has to be a purpose. Of course, we get a fun and all that. I'm not saying you shouldn't have fun, but there is a purpose.
when you meet people and it's the purpose, not be tangible, , like, Oh, I'm going to get something out of it.
The purpose would be, I feel good to me. I'm meeting someone and the person is asking for advice, or even not necessarily advice, but just a place to just not share his or her feelings, emotions, challenges, whatever.
And after the person talk to you, you may not give any advice, but the person feels good. to me, it's not a personal engagement.
And this is a training I got when I was in IBM.
It's very funny because when I started my career in sales and IBM, all of us go to a program called the CTSE custom tailored sales call. So what custom tailored service calls is, we find that a lot of sales people, when you go out and meet clients, they will have teh tarik lah. They will chit chat, chit chat and after that, they go back.
So they spend two hours, three hours of their time. At the end of it when they come back to the office, the boss will have them now. So what do you achieve today? There was no purpose. I mean, I have drinks and I go back.
So the training actually tells me that when I go and meet a client, he's going to spend 2-3 hours with me. I'm going to spend two, three hours. He's not my brother and my sister or my cousin. It's the client.
So when you meet the client and the client wants value from you, you also want value. So when you meet the client, they teach us customer tailored sales call.
What is the objective? What are you trying to achieve at the end of the call? Did you meet your objective?
Let's say you're meeting someone business associates. There has to be a purpose. What is that purpose? And I guess all the time, I no longer think about it.
It's intuitive.
Ling Yah: For a lot of people who are not at that CEO level yet, I think the biggest concern would probably be, I really want to speak to the CEO, but I don't know what kind of value I could possibly bring to the table.
Chong Chye Neo: The how is that today, I think women are very fortunate because we have so many platforms. For example, they can sign up with LEAD woman.
I remember at one point ICAW have put this women in leadership program. And then they have linked in and then different different companies like Monash university alumni and Maxis Woman Network.
First of all, many organizations actually have a woman development program. Then they've got kind of public ones like lead woman ICW women leadership and lean in.
So if you want to build a community and you want to be able to listen or learn.
From those people who are experienced, these are very good platforms to go on. Of course we can go online and log information online, but we can also do that. So there's the how.
Now the what is not so important at this point, let's say, for example, if I'm a young woman leader and I am not sure what I bring to the table, it's okay.
You don't have to bring anything back in many of these programs. They assume that you are going into the program to learn, not to give. You're not yet giving.
So I know of many young women leaders, they feel like they've learned and they want to share it on their own.
They could also set up small communities. And each of the small communities, it could be younger or less experienced than them. And these people can actually learn from them. I call it the multiplying effect. That if you, in your mind, you actually want to help.
Whatever you learn, you can share it. And today is so easy to share because even if you don't have an audience, we just put on LinkedIn, your experience, people read and they ask you questions.
Ling Yah: IBM early, say it reinvention is part of our DNA.
And when you were at IBM, that was the heart of them really just going through a lot of changes from hardware to really going to cloud computing to AI. but at the same time, there was a challenge of IBM being this big ship. And so turnover was really, really difficult.
So I wonder if you could share a bit about the challenges that you had being at the head of this big ship that was going through these transitions.
Chong Chye Neo: You see, IBM has been undergoing changes continuously. It's not just the last few years.
From day one I joined IBM, iBM has been reinventing itself the last hun IBM was going through something called a market driven transformation. They call it MDT.
So after going to the MDT, I was very frustrated because I still felt it was so slow and cumbersome. So I remember I went to see this MD and I said to him, I don't understand. you put everybody to this MDT, you change our minds and everybody look at things differently, but still so slow to get things done.
I don't understand why is it not moving faster?
Let me give you an analogy, he says. You are on this huge ship, luxurious cruiser, and you have got three cinemas. You've got three casinos. She's got 10 restaurants, you got three swimming pools. A huge ship. But you see, it's a luxurious ship.
Now, the ship wants to turn. So to turn, they have to go off the engine and then slowly turn because it's big. So you have to ask yourself this question. It's your choice?
Do you want to be on this huge luxurious liner, enjoy all the luxuries of a luxurious place? Or do you want to be on a speedboat? If you are on a speed boat under the hot sun, you are moving very fast. because it's mobile. It is your choice. you want to turn fast, you have to be on a speedboat. You want to be on the luxurious cruiser and enjoy all the parts and benefits of such an environment. It is a lot of them.
So along the years, I encounter inflection points of the company's journey. Every three, four years, we encounter these changes.
And every time the change has to happen, it is so painful because it is really trying to get a huge ship who look at both. Trying to explain to them. Try to get a bite mean, kind of get the mindset change. And then you've got to put all the processes, the procedures, the systems in place to change it.
So for example, our salespeople have a very complex sales plan to pay commission to a sales person, because depending on where you want to focus, you pay them differently. Just to pay people. The sales plan is a huge thing. All the way from among US the cascade down. So even to change the sales plan takes a long time and a lot of effort to change.
Now, when we change it, people are used to the old sales plan, don't like the new sales pen so they complain. They complain, they complain, some will leave the company. I don't like my suspect because you're not paying me commission the way I think it should be paid and all that.
So you go to Oregon and then there's only one problem with this internal. That external clients, same thing. Oh 20 years, I worked in IBM like that. I don't need to sign this thing. You know, I don't want to sign this thing, whatever. So it is really like an inside outside, you know, there are certain perceptions of the company internally, externally.
Whether you are a senior leader or you're the MD of the company. You have to do a lot of communication, a lot of buying in trying to get people to see why it is beneficial.
Ling Yah: You retired. And I was wondering if you could share the thought process behind that decision and your plans for the future, if you will.
Chong Chye Neo: I call it slowing down to the pace of life. I think I've always been on the accelerated path all my life So when I hit the first sabbatical, some realization happened lah like eh, there's more to life than my job.
I said, I am not my job.
Then the second sabbatical came and I found more meaning, more purpose, and I could do more things because I learned from the first sabbatical, There's phases of early with time.
And then of course, when I became an MD I felt like I've achieved what I wanted to achieve in my career. And I felt that , what would the next phase be like? So I thought about it and I said, okay, so after I've done this. If I leave the company at the top in the country, the only place for me to go is to go regional. Can go to Asian or Asia Pacific, or whatever.
And I had done those jobs before I could travel to three countries. And is that what I want to do?
Then I thought really about after 30 over years of working, do I really want to do something else? When I was an MD of IBM, I was very fortunate because many women leaders and even men leaders in the market, in the market. People, I don't know, actually she approached me and embraced me, took me under their wings, introduced me to many people and gave me opportunities to play a role in organizations.
Those engagements with many of these leaders told me that number one, there's a big world out there.
I encountered this really iconic woman leader. So one day I went to an event, So she came to me and immediately gave me a big hug. And then she says, ``We want you to be successful.
You are visible. You took on a role that nobody's done before, and we want you to be successful."
I don't know that person.
Imagine somebody in a crowd coming to you and somebody very iconic, hug you and say that we want you to be successful.
Can you imagine that? It's amazing. It's like, and this is only one encounter. Subsequently I get calls from many different different leaders, different organizations, and everyone is coming to you and saying, we want you to be successful. I don't know what I did to deserve such support, but I got tremendous support, tremendous men, women, a lot of women leaders, she came to me and said, we want you to do well and be successful.
Every one of them taught me something. After a few years. I thought to myself, what's next for me?
Along with all these networks came opportunities. CEO positions, a lot of people came and said,hey would you like to run this or run that?
And then a few boards came, would you like to be on the board?
So then I thought about it and I said, if I remain where I am in my current job, it'd probably be more of the same. . Yes. We inspire people.
Yes. We run the business, but what can I do that would bring me to a different space, meet new people maybe opportunity to reach out to more people.
So I decided that I will retire early.
And the last two and a half years, I will tell you what was tremendous. I thought I left the workforce , I'd be sitting down doing nothing . but honestly the last two and a half years, it has been a non-stop learning. I'm learning and learning and meeting new people, adapting to new cultures, looking and observing how experienced people work.
And on the board, you meet so many talented, corporate leaders, government leaders, all sorts of people you meet. It's amazing. The amount of learning was just tremendous.
And honestly, these are people that have been there, done that. They've got so much to share. So I look back with no regrets. I think I did the right thing with retiring when I did. I mean, what can I say? There's a lot more to learn and I'm just so excited, doing what I'm doing.
Ling Yah: So do you feel like you have found your why?
Chong Chye Neo: Okay. I'll be very honest with you. I never ask that question.
It's not the destination. Life is about your journey. It's not about the end and the destination. So when I think about the why it appears like the destination to me.
Throughout my career throughout my life, I asked a lot of why questions but I realized that there are many small whys not one.
Why.
I call it a composition. It is many, many whys along the way. Why do you take sabbatical, I could answer that why.
Or why did you decide to retire early? So I could answer small why.
But the big why about did I achieve my life's why?
I can't think of the why.
Ling Yah: What kind of legacy do you want to leave behind?
Chong Chye Neo: I think if I look back, one of the things that I really feel happy about is that I think that I have impacted people that I met in a positive way. And I believe that in my entire career, I have helped some people achieve their potential.
When you hear people telling you that you have made an impact. To my life positively, you have helped me overcome some challengers. You have helped me see you have Ms. You have helped me see the light or help me open my mind to new opportunities, I mean, to me, that is my legacy.
Making an impact, making a difference to the lives of people you touch, maybe in a very small way. Not may not be big. Impact, but you only put a small and that is really no, the kind of happiness I get. Well, I get feedback from people and sometimes some people come back that I speak to sometimes 10 years, almost 20 years ago, three years ago, someone came to me and said, , 20 years ago you sent this to me and actually made me realize certain things.
I think it's, again, the multiplying effect where, , you learn something, you impact that you learn that, and then all the things that you do cumulatively make a positive difference generally. And to the individual that you make that different store yes.
Impacted their lives positively.
I don't know if I will call it a legacy, but it's what gives me that sense of purpose that I have. Progressively achieve some of this purpose. What is it? Legacy. Legacy seems so big, but the purpose is more bite-size.
Ling Yah: And what do you think are the most important qualities a successful person
should have
Chong Chye Neo: I think you have to really be clear about your values and whatever you do. It has to align back to your values. Drive, we talked about resilience, we talked about persistence. They all form part of that work attitude, but some of these things are very important qualities that you must have as an individual.
When you commit to something, you have to make sure you deliver it so reliability. When you encounter challenges, you have to be resilient and try to overcome them. Don't give up too easily. , when you are challenged with situations that are against our values, you got to walk away, and not do something that is against our values.
Plus in addition to all that is also the people aspect. You must have the heart for the people, but if you are, if you only think about your success ensuring that only you move up in your career.
Your organization will never make it because the success of a leader as to move higher and higher depends more and more on the people.
A leader is not a leader if you have no followers. The people in organizations don't support you, will you ever be successful? You'll never be successful.
So leaders who are successful are leaders who ensure that when they are successful, they bring their team and the people who support them up with them, not just themselves going up, the people supporting them and their team move up.
Ling Yah: Where can people go to connect with you and support you?
Chong Chye Neo: I go to LinkedIn to support a lot of people.
I don't go in every day, but as often as I can and occasionally, to provide supporting ideas and all that.
I do speak in a few events. So like, people who come to me and connect to me after the event and say, look, , you spoke about something.
Maybe, you get some thoughts. As I said, there are a few organizations like Monash university, their east alumna program. So, I guess there are so many ways and social media seem to be the easiest way, a more pervasive way lah.
Ling Yah: And that was the end of episode 35, the show notes and transcript can be found at www.sothisismywhy.com/35
If you want updates on the latest episodes, as well as other fascinating things I find and read about over the course of this week, you can sign up for the weekly newsletter at the show notes link, which is www.sothisismywhy.com/35
And stay tuned for next Sunday, because we'll be meeting our second Tik Toker, who also happens to be a mathematician, a drag queen who appeared in season one of Canada's Drag Race, and has over 800,000 followers on Tik Tok and counting. Where she makes incredibly educational and impactful videos on mathematics.
If you want to hear about this Queen's story, don't forget to subscribe and see you next Sunday!