Welcome to Episode 56!
Our guest for STIMY Episode 56 is Amra Naidoo.
Amra Naidoo is the co-founder of Accelerating Asia, an early stage venture capital fund that runs programs for startups and investors, and General Partner at Accelerating Asia Ventures. Prior to that, she was the Head of Corporate Partnerships at UN Women, including Project Inspire (a UN Women global social entrepreneurship program) and a part of muru-D's, which was one of the top startup accelerators in Asia. 
She is also the APAC Regional Lead for Shaper Impact Capital and Outgoing Curator for the Global Shapers Singapore Hub, an initiative of the World Economic Forum and is the host and creator of the Doing Good Podcast. She has been interviewed and featured as a guest author on industry blogs, including The Straits Times, Techcrunch, Reuters and named as one of Harper's Bazaar's Women Who Inspire Others.
PS:
Want to learn about new guests & more fun and inspirational figures/initiatives happening around the world? 
Then use the form below to sign up for STIMY's weekly newsletter!
You don't want to miss out!!
Who is Amra Naidoo?
Amra first grew up in Zimbabwee before moving to Australia, which was something that impacted her. 
1:56 Growing up in Zimbabwee

3:14 Moving to Australia

5:23 Why Amra started dreaming of working at the UN
The advice that we kept getting was just raise a small fund. Do it quickly, deploy it quickly, show that you have a first fund and then go on and raise your second fund and then you'll have a track record. So that's what we did
Moving from Cosmetics to the UN
Amra shares how she became aware that she wasn't doing what she enjoyed, and how she made drastic changes to her personal and professional life.
7:26 Selling SKII & Shiseido

13:53 Deciding on how to change her life

16:18 Getting a UN internship

20:03 Becoming Head of Corporate Partnerships at UN Women

21:00 Running Project Inspire
Co-Founding Accelerating Asia
Amra shares how she ended up co-founding her own consultancy, accelerator and VC fund with Craig Bristol Dixon.
25:50 How startups can run successful crowdfunding campaigns

27:28 The struggle with marketing 

31:35 Why Amra ended up leaving the UN

34:17 Obtaining a marketing degree from the University of Newcastle

36:30 Meeting Craig, her current co-founder, at muru-D

37:19 How the idea of Accelerating Asia began

39:20 The "missing middle"

41:26 The biggest challenges in setting up an independent accelerator

43:21 Bootstrapping to set up a consultancy program

44:16 Running the 100 days accelerator program

47:22 The regulatory challenges behind running a fund

48:24 Fundraising for their fund

50:37 Why selling a fund is similar to selling Chanel

56:25 Why Accelerating Asia focuses on pre-Series A companies

58:48 Whether Amra looks for social impact in their startups

1:04:00 Starting the Doing Good podcast

1:05:44 What Amra thinks about the creator economy & how VCs/startup founders should get into the space

1:07:31 How Amra ended up joining the Payment's Race – MoneyAsia 2020
If you're looking for more inspirational stories from creatives, check out:
Kendrick Nguyen

: Co-Founder & CEO of Republic – one of the top equity crowdfunding platforms in the US

Dr. Finian Tan

, Chairman, Vickers Venture Fund & first investor in Baidu
John Kim,

Co-Founder, Amasia (Singapore-based VC firm), Kauffman Fellow, a Term Member at the Council of Foreign Relations, a member of the Young Leader's Circle at the Milken Institute. Received a platinum record for contributing to Grammy Award winner, Brandy's, album
If you enjoyed this episode with Amra Naidoo's you can: 
Leave a Review
If you enjoy listening to the podcast, we'd love for you to leave a review on iTunes / Apple Podcasts. The link works even if you aren't on an iPhone. 😉
Send an Audio Message
I'd love to include more listener comments & thoughts into future STIMY episodes! If you have any thoughts to share, a person you'd like me to invite, or a question you'd like answered, send an audio file / voice note to [email protected]
External Links
Some of the things we talked about in this STIMY Episode can be found below: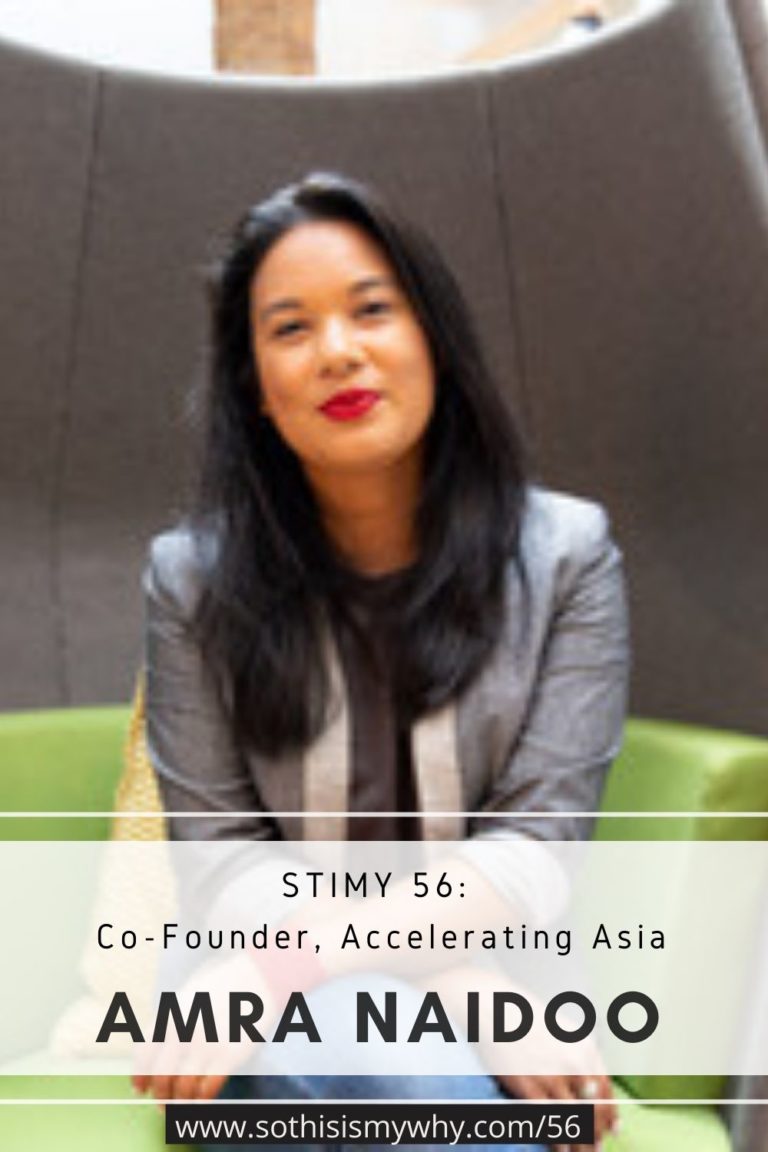 STIMY Ep 56: Amra Naidoo (Co-Founder, Accelerating Asia)
Amra Naidoo: I think it goes back to selling something that you're passionate about.
the reason that I enjoyed selling Chanel, I mean, well, it's Chanel, like that's enjoyable. The other part is I'm a competitive person. And so if I can see that my targets and my numbers are really high, then I get even more motivated.
And then I think also when you are working in beauty as an example or fragrances I think you kind of realized that the best sales come from when you're being genuine.
Nobody wants to feel like they're being sold to it's such, I mean, when you're going in to buy something like makeup, they're not everybody enjoys it. They kind of feel a bit vulnerable. And if you can go in and just have a chat with people, make them feel comfortable. You end up selling a lot more.
Ling Yah: Hey everyone! Welcome to episode 56 of the So This Is My Why podcast, I'm your host participant, Ling Yah. And before introducing today's guest, I'd like to say a small apology for the sudden month of absence. Unfortunately, I got hit with COVID, but thankfully that's all over. And we're back on schedule.
For today's guest, we have Amra Naidoo. Co-Founder of Accelerating Asia, which is an early stage venture capital fund that runs programs with startups and investors and general Partner at Accelerating Asia Ventures.
We learn about how she went from Zimbabwe to Australia and how she transitioned from selling Chanel, to being head of corporate partnerships at UN women in Singapore and how she eventually ended up entering the VC space.
So are you ready to learn more?
Let's go.
I understand that your mom is Chinese from Hong Kong and your father is Indian. So how do you end up being born and raised in Zimbabwe?
Amra Naidoo: Yeah. Wow. You've done your research.
my dad was, born in Zimbabwe. And him and my mom actually met in London. So they were next door neighbors. I think that's so cute. Like if there was ever such a love story that could get any cuter, I don't think it's that right. Yeah, so they met in London.
They spent a few years there. They then went to Hong Kong, spent a few years working there. And then decided to move back to Zimbabwee where my dad is from and, start their life there. And that's where I came along as my brother came along as well.
Ling Yah: You were there until the age of 13, right?
Amra Naidoo: Yeah, that's right. I remember a lot of it, and I have really great memories of what it was. Obviously it's very different now because of the political situation and, It's part of the reason why I haven't gone since we left that. I do have such good memories about it, but I know it's going to be a huge shock.
At some point in my life do want to go back and I do want to. see if there is anything that I can do there. I still have a bit of an attachment to the place. Unlike my brother, I think he was a little bit too young when we left. So he doesn't.
Ling Yah: And was it a huge shock to move to Australia?
Amra Naidoo: Yeah, it was a huge shock. It was a massive change. I think when I first got there, especially at that age, I think you don't really comprehend that you're leaving potentially for good. And when I was growing up, I was fortunate enough to travel a lot when I was young.
And so in my mind it was just like another holiday.
We got to Australia and then you're there for like a couple of weeks, so good. You there for a couple months still good. And then you start school and it's it's okay. But then it starts to get to a point where you're like, okay, why don't we go into home now?
When is the holiday over? And I think that's when it really hits you, but yeah, it was a massive difference. I mean, one of the reasons why, well, my dad says that he chose Australia and the gold coast in particular as the place, , to move to was because he said the weather was like, Zimbabwee, which it's not. And it's just completely different.
I mean, there's a beach right on the gold coast and always a landlocked country. There's so much different about it.
Ling Yah: Was it hard to assimilate in terms of culture as well and race? I think you were the only brown skin person as when your school for awhile.
Amra Naidoo: Yeah. Yeah. I always joke with people that I didn't know I was brown until I came to Australia, but it's true because I think you don't really, essentially, as a kid pay attention to the color of your skin or anything like that. And then going to Australia, especially at the time when we first got to the gold coast, it wasn't as multicultural as it is now.
I mean, now there are people all over the world living and working on the gold coast and it wasn't as popular as some of the other biggest cities in Australia. And I think also in particular, our family looks a bit strange, right.
So you're not used to seeing people who are like brown, let alone like, oh, there's a Chinese woman is Indian man. And then there are those kids. They're a bit different. Yeah. And then you're going to like a little town outside of the gold coast, which just even more regional. Yeah, you definitely stand out and you definitely notice that you stand out.
Ling Yah: I read that since you were young, you wanted to work at the UN, I wonder when that dream started. What was it that triggered that dream?
Amra Naidoo: it was seeing Kofi Annan do a speech, like one of his speeches and he is probably the most inspiring speaker, right? He just captures people. He's very eloquent and gentle, I think as well with the way that he speaks.
So I think that's what initially caught my attention.
And I think I also was drawn to it because it was so multicultural. In my mind, like it's the United nations, literally everybody on the planet. I'm very idealistic and optimistic person said, I think the idea of the UN as well, just fits right in with my personality. And I'm like, wow. Look at the potential of this thing. It could do so many exciting things for humankind. But I, I don't know when it says started, , I think it was just a gradual thing, but I think I really felt it the most when I was deciding what to study at university.
And in Australia you get this book that you can flip through it, all the different degrees, and then it tells you what job you had and could potentially have at the end of it. And yeah, international relations had diplomat and I was like, yeah, worked for the UN.
Ling Yah: You did international relations, but you also had a second degree in business management, which is totally different.
Amra Naidoo: How did that come about? Yeah, it is different. I don't know. Consciously at the time. I don't think I realized I was hedging my bets. it was more of being indecisive and trying to please every one. If that makes sense. So the international relations I think was, for me something that I really wanted to pursue and, and the business side was kind of from my parents.
And then also just, it's a safe degree in my mind, age. I just felt a lot of pressure that whatever you study is going to be your career for the rest of your life. And so when you're making that decision, I was like, okay, is this going to be the rest of my life?
Like. Let me, let me hedge my bets here.
Ling Yah: I found it so interesting that, when you speak about your dream of the you and you were pleased, so passionate, so excites it, but then I saw while you were at university, you were doing all sorts of things that were not aligned at all with that dream that you were working to sell SKII and Shiseido, and you were at agencies. So different.
So how did these things come about?
Amra Naidoo: It's funny. I mean, I actually took a gap couple of years from university. So I did go through a bit of a down period where I was kind of questioning, why am I studying what I'm studying? I think it was multiple things. It was not knowing what I was doing and why I was doing it.
And I think. if you don't know why you're working towards something, it's really hard to continue and to keep doing what you're doing. So that was one of the things. The other thing is I was definitely going through a down period of just not knowing anything about myself and not being confident in myself.
and going through a really down period. And I would say it's depression. I think there's a lot of preconceived ideas about depression.
I think at some point everybody's going to go through a down period and that it doesn't define you or anything that you do. And so that was my period for me. And I think the, the third factor was studying international relations. You basically see all the horrible parts of humanity.
I went into studying this degree with obviously a very idealistic idea of what was going to come out from it and ended up studying about wars and why, you know, it's like different types of political issues and, human rights treaties and things like that. And obviously when you're, studying international role and human rights law, you obviously looking at all the bad things that, I mean, as part of that as well, and the reasons that they're coming about.
And so I think I got very motivated about that. So yeah. I ended up taking a break and dropping out of university for a couple of years and figuring out, okay, what am I going to do next? And I remember just seeing her scrolling for something interesting that I could be doing.
And I came across this job ad, which was looking for brand ambassadors for different brands. And I went into the interview and it was like a group interview setting. And they were like okay, as part of the interview process, you need to sell me something , that you have with you right now.
And that's basically, you can get the job it's you, you sell it to sell whatever you have. So everybody is selling things like , their pen, their notebook, that they were carrying with them. And me literally the day before had bought this pair of heels that I absolutely loved. It was so comfortable when I was wearing it into the interview.
Cause I was feeling so good about it. So I got up and I was like, well, I want to sell you my heels. And I went into like all the benefits of my heel and they're really high I'm a short person. Got all that ankle strap. So you can like super comfortable it's made of leather. So you can like, , basically you've got the job on the spot and it ended up being something that I turns out I absolutely enjoyed.
Connecting with people and not necessarily, I guess, the selling parts in terms of, you're doing after a while, it becomes a bit boring. If that makes sense. Like you're not fully passionate about what you're selling. But yeah, during that time it was great. I got free alcohol free makeup.
it was a fun job. I got to go to nightclubs and promote, you know, different alcohol brands. It's great for that period of time.
Ling Yah: So after that period of time, what was it that triggered the change?
Amra Naidoo: I mean, I stayed in that job for a few years.
Ended up working up from being a brand ambassador to managing the state of Queensland. So managing all the other brands and competitors. And that was great. I mean, I got to work with some really awesome crowds, not just in terms of selling them, but understanding how they market things, managing the accounts and your relationships with people as well.
A lot of project management and logistics, like, especially executing. These are like on the ground marketing campaigns. So I learned a lot, but yeah, it got to a point where that job was insane.
So during the week you have all the beauty and cosmetic type promotions.
And then over the weekend and the evenings, you have all the FMCG, like alcohol type promotions. So essentially you're working 24 7 because you have to manage all of that. And I was in my early twenties, I was managing 200 staff across the state. These are all casual staff, so they can call you five minutes before the start of their shift and be like, oh, I'm sick.
I can't go and towards the end, one of my breaking points was this guy called me. It was literally five minutes before the side of his shift. And he said I don't have the right chance for my shift. Like he's meant to be wearing white pants. It's kind of beautiful. And I was like, okay, any other times, blue, , black? No.
What do you say to that? And I think also when you're young, early twenties, you don't have the confidence to be like, this is your job. You signed up for the shift, you're going to the shift then I just had a bit of a, I think was, that was a breakdown. It was just like, I've had enough of this.
Also I think with the hours that was oftentimes times standing at the back of the room, friends engagement parties, birthdays and things like that. And like always on my phone, coordinating different shifts and things like that. Yeah, so it got to a point where it was just too much. And then I started to rethink about, okay, I need to do something else.
I need to get out of this environments. Apart from all of those little things that were happening, we had this big Justin Bieber promotion and w always remember this every time I see Justin Bebo his favorites. Is there anything always remember this?
We didn't have enough t-shirts for all the brand ambassadors to go around. It's such a stupid problem, but , like ends up being such a big thing. We didn't have enough t-shirts to go around. And so everybody had to swap t-shirts. So, someone was always branded when they're working their shifts. And the people who were promoting Justin Bieber, I happened to see one of the staff members in my state didn't have a Justin Bieber shirt cause we didn't coordinate this with him quick enough.
And it ended up being a massive problem that my boss called me from Sydney yelling at me and I just started crying on the phone. It was like, oh, this is not healthy. This is not what a work environment should be. So yeah, it was all of that. It was just a breaking point.
Ling Yah: And also at that breaking point, how do you figure out how to change your life?
Amra Naidoo: I don't think I consciously knew what I was doing time and just knew in my gut that I needed to, heal. I actually ended up going to the doctor and the doctor said, you have anxiety. You need to see a therapist.
And I tried like on and off, like, school counselors and all that kind of stuff. But never really enjoyed therapy in any way. I felt like they just created more problems than they solved. But I think my gut here, I was, at a breaking point. I needed help.
And so. I remember coming out of the doctor's office and right there right next door was a psychiatrist. And I literally just walked into the office and the lady there behind the counter, I just started grilling with all these questions. Like, how do I know if I can find the right one?
all the questions that I probably would've never asked before. And after that 10 minute grilling I was like, okay. I think, yeah, I think I'm going to come to this, place. And it turns out she was the owner of it. And so I ended up like signing up with her and she was, I think made the biggest impact on my life and still does.
I think a lot of the things that she told me I still do. So yeah, I think that that is what kickstarted it. And then also knowing in my gut that I needed different work environments. And then also kind of realizing that I think I'm ready to go back to university, finish that off and just get the piece of paper.
I think at that mind, I shifted my perspective too away from it being like a massive career decision that I'm making after having some work experience under my belt to the university degree, just being a piece of paper, that's the goals for me. And that was the motivation that I needed to just get back into it.
Ling Yah: And when you got that piece of paper, it helped you to open the doors that you wanted?
Amra Naidoo: Yeah, definitely. I am in Singapore, because of that piece of paper.
17 year old me literally chose that university because they had nice trees on campus. that's crazy.
It turns out that the fees that I needed to get cynical you have to have graduated from the university that ranks in top hundred globally.
And my university did thankfully, which is how I ended up getting my visa here initially.
Ling Yah: So that visa you're talking about, it's for the UN internship that you applied for which would last for three months. How did the idea of applying for an internship come about?
Amra Naidoo: One of my friends, he's Singaporean and he was living in Brisbane and he was moving back to Singapore and he was like, you know what, I'm going to come on.
Love Singapore. You should probably come through. So I was like, yeah, that's a good idea. what have I got to lose? Right. So ended up like researching or reaching out to a lot of people here. What's it like to live in Singapore? before that I'd only been here on really short stopover, so I didn't really know much about Singapore before that.
And one of my friends from college was living here and she got back to me and said, UN women has internships. The best way to get a job in Singapore is to actually be here. Why don't you apply for the internship? And then if you get it, you can come here and just network, while you're here?
And hopefully gets.
Ling Yah: I read that once you got the internship, they actually told you , full disclosure, you are not going to get a job after this. How did you feel? Cause that was your ultimate aim.
You wanted a job.
Amra Naidoo: Yeah, I think there was initial disappointment because you always hope, back of your mind. You're always hoping, but it was a conversation that I actually had with my then boyfriend now, husband. And this was also while I was trying to decide whether I come to Sydney or stay in Australia because you know, there was a stipend with the internship.
It's a really small stipend and I would have been going through all my savings. So we had a discussion about it. And he said to me to look at the worst case scenario and in that particular , scenario, the worst case scenario me, is that, okay, I go for the internship, it ends up to three months and nothing happens.
And so I ended up having to go back to Australia appointed probably two, three of our savings. So I need to live with my parents and then I need to find another job and I need to find a job quickly. And it's probably going to be a job that I don't really like, but. I was already in a job that I didn't like, and I really liked my parents.
So living with them is not a problem. And so it was kind of like, okay, well, I'm comfortable with my worst case scenario. And so he's like, if you're comfortable with your worst case scenario, you can do whatever you want. And that has really impacted how I make all of my decisions now. So yeah, that's exactly what happened.
So I moved over here. I was actually really excited about the three month internship because I was like the UN.
I remember my first day I turned up, I think it was like 9:00 AM on the dot, like standing out there ready to go.
So excited, knocked on the door. Nobody's there. Because of office only opens at 10:00 AM so I was like wander around. And if you live in Singapore, you understand this everything literally only opens at 10am here. So But yeah, that's kind of how it.
Ling Yah: Was the internship, everything you thought it would be?
Amra Naidoo: Yeah, it was I think it was more than what I thought it would be.
I had no idea what I was getting into when I signed up for the internship. It was my best exposure to the whole social entrepreneurship world. And so I was really excited by all of it. It's nice seeing all of these different solutions that all these entrepreneurs all over the world are creating different types of business models with different models for running an organization.
And all the different types of social issues, but that's all bang as well. I think it was the pot of, what motivated me to be interested in, , the whole UN international relations thing. Like I found that in the whole social connection world, so it was more than what I expected it to be.
Ling Yah: So how'd you end up that you were there for three months internship, you ended up spending just over three years and you were also the head of corporate partnerships at the UN!
Amra Naidoo: so what happened was when I had applied for my internship you're right. They said there's no chance you're going to get a job here. We typically only bring in new grads as interns and really the organizations. Fine fine. It doesn't matter. I'm just going to use the three months to network, and live my life. so a month into my internship, my manager resigned and I already had a lot more work experience than the other interns.
And so yeah, I applied for the role and I mean, it's not from being the one who is already kind of working on projects and understanding the role. I was probably the cheapest option because, , they hired for someone quite senior, right. And I was just like coming in undercutting the competition.
Ling Yah: One of the big things that you were in charge of is this thing called project inspire. Can you share a bit about what that is?
Amra Naidoo: Yeah. So project inspire was a global social entrepreneurship program for women and girls around well. So in looking, we were looking for solutions from all around the world that would impacting women and girls and different priorities.
I think they have a little bit of a skew towards financial inclusion and financial literacy because the program was in partnership with Mastercard. It was also a youth program. So we were looking for people between 18 to 85. I think I ran it for about three years. It became such a massive competition by the end of it.
We had a bootcamp part of it as well. So basically you get thousands of applications coming in. Similar to, I guess what we're doing now. An evolution of what I'm doing now, but you get a lot of applications, read the application, bring over, , the finalist London through a boot camp pitching competition.
It goes with $25,000. And there were some other grounds as well from different sponsors. it was exciting. It's a lot of hype as well. And I think for many of these people, like the entrepreneurs that we were working with, any of them were women. and from emerging markets as well, this would be their first time in Singapore.
a lot of them, we have to coordinate all of the logistics of getting a passport, how do they get to the airport. And then landing in Singapore is whole big, thing for them. So I think that's something that I always remember and that always brings a smile to my face is just how exciting it was.
Ling Yah: You said massive. Under your stewardship, that program went from eight to over 109 new geographies that were involved in the project. How do you manage to expand so rapidly in three years?
Amra Naidoo: Had a really great team that was official. We had a really great team of people who is super passionate about this as well.
We also rolled out a couple of neat things to test it out.
One was accepting applications in different languages. That was difficult, like really difficult logistically to do because you need to essentially translate everything as part of it. , when we said we were going to do it, we didn't realize logistically how much translation you actually have to do and how it means to continue through the entire part of the program, right.
You can't just accept applications in one language. It has to go through the entire process. The thing that was one the second thing was we wrote on country ambassadors. So, , our team was a really small team headquartered in Singapore and there's no way that we can really be on the ground.
And scout for the social entrepreneurs spread the word about what we were doing as effectively as someone who was already, and that was already embedded in the community. So we recruited country ambassadors. We were people who were super passionate about the whole social entrepreneurship space, and maybe they didn't qualify for what we were doing.
They were kind of embedded in the community and happy to refer people in. But it grew to such a big program that we had country ambassadors who were doing media interviews on behalf of us in their home countries they were hosting screen bodies. So, , when we would live stream the finals of the event and, , someone from their country would be in the finals pitching, they'd have this whole event where they could watch the whole thing.
So think that's kind of what you really realize is that, especially in the space that I'm working in right now, $25,000 doesn't seem like a lot of money, but it is a lot of money for a lot of people. It's a lot of money. And when you see how it can make such a difference in people's lives, it spurs you on and you get some more motivated to do more.
Ling Yah: And one of the features I was most intrigued by was in 2015 years on the crowdfunding campaigns. How did the idea come about and how did the UN help the founders to launch this?
Amra Naidoo: I mean, that one came about because we thought that, well only there was a couple of reasons.
One was we had quite a big audience. And so we were thinking that, apart from just watching the live stream and things like that, it's not really ways to engage with what we're doing, if you're not a social entrepreneur basically, but you're interested in what they doing. And so that was kind of the reason is, can we get some of these people to help fund some of these programs as well?
The second thing was we always had I think it was about 20 companies. They're not all going to make it through to the finals that will not gonna make it through to coming to Singapore, but at least we can give them something that they can go away with even if it's a couple of thousand dollars, it's going to make a big difference in what they're doing with their projects.
And so at least the top 20 can get something out of the whole process. So the whole idea was to Create more impact more people. So, yeah, I think it went well.
Ling Yah: Based on your observation, what were the most successful techniques to run crowdfunding campaigns?
Amra Naidoo: After running those crowdfunding campaigns, I have a lot of respect for people who fundraise on crowdfunding campaigns because it is so much work and you've really don't realize how much work it is until you actually get it.
I think the successful one has everything to do with how you communicate your story. And I can present your story as well, what platform you're using. But yeah, I think the most successful ones that I've seen were ones that were able to effectively use a lot of different marketing channels in order to promote stage.
And they had planned it out, like really strategized about how they were going to do this. So it wasn't just, I'm going to upload a bunch of pictures and tell people what I'm going to use the money for. And then I'm going to click live, it goes live with it. But it was more of coming to rally my audience.
I mean for that a bunch of content, before, during and after I'm going to do update messages And that has to be really appealing to offer to people who are potentially funding as well. It's a huge campaign and we did a lot of the work in terms of, we had a toolkit, everyone got sent about how to run it, what content to create things like that.
And obviously they've got the leverage of UN women and MasterCard networks as well. And when you're all launching at the same time, you also have the network, Someone else's audience might be more interesting if you were doing it. So you really come to site and not be, and, , hack the algorithms with social media as well.
But if you're just doing it by yourself, it's a lot of planning involved. Planning and marketing is the most important thing.
Ling Yah: Do you feel like planning, marketing was one of the biggest struggles that entrepreneurs face? Like what were you observing about them?
Amra Naidoo: Yeah, so I think marketing is one thing, but I think it also depends on what the project was, right. Or their business was. Because some of them didn't need the kind of marketing that we would be using for crowdfunding. They're trying to do it because that's what was required in order to raise the funding that they were looking. But if they're working with micro entrepreneurs, , girls from slums and things, I thought it's obviously a different type of marketing or even skillset that you're required to bring people on board and get people excited about what you're doing and in line with your mission as well.
But the biggest thing that I saw, which is part of the reason that I ended up moving on from project side was a lot of the entrepreneurs were coming to us, looking for funding for tech solutions. And every time we look at these proposals, we're looking at them saying that nobody on the team has the skillset in order to build these tech solutions or even know if it is the right solution for what they're trying to do.
And I think also there is a lot of hype about tech protects cage, right? Like sometimes you don't need a high tech solution for a problem. And so, but it's just kind of sexy thing, does attract funding. It doesn't get people excited because everyone wants to be involved in something that's new, not necessarily the old way of doing something.
So that was one reason why a lot of applications funding tech solutions and the new case for it, or the justification or the skillset of the team was just not there. And then the second thing was, I mean, even though we call it as a social entrepreneurship program, I learned that social entrepreneurship means different things to different people and also means different things like depending on where you are in the world.
And so it becomes a massive I guess, range between. Full profit businesses that are donating a percentage of their profits to a cause all the way to a nonprofit who happens to me making handcrafted bracelet and selling them. It doesn't obviously the entire operations off the non-profit.
And so all of these different types of organizations and everything in between, technically social enterprises. And how do you judge them all using the same lessons, right? $25,000 for a for-profit business, then you start asking the question, well, why do they need the twenty-five thousand dollars?
Surely if they're already profit generating, they could use that to expand or whatever, whatever. And then on the other end of the spectrum question about, okay, but we give them $25,000 in six months time, they're going to be coming back to us asking for more money because it's not a sustainable organization.
So you ended up having a lot of issues with judging all of these kinds of models. And then you start looking at, okay, well, what is the coolest that they're working on? Maybe the particular cause that they're working on you can't be a full profit business model. Like there are some social issues that it's just not appropriate to have a business that is solving that problem and it should be a nonprofit.
So then you start looking at that and studying to try and compare it. And it just becomes like planning, like surface level things here, but it becomes really overwhelming. But I think the thing that most of these founders have in common. They were coming from a place of cause.
They were super passionate about the issue that they were solving that they didn't think about, how do I make this sustainable? They have no business acumen.
They would just kind of solving the problem, which is great. And you really need people like that. But yeah, I think it was kind of like, there are other models that could make this so much more sustainable and scalable.
But he kept looking at these organizations like must be another way that you don't have to keep coming back, asking for money. It's something that we could be doing that.
Ling Yah: Do you think that after a couple of years of dealing with people like that, you thought you could be more effective outside the UN?
Is that what instigated you leaving a place that you had dreamed of?
Amra Naidoo: Yeah, I think it's that.
But I think it's also realizing that you didn't do well in bureaucracy. , I think everything that happened with project inspire was because I had full control over that and we could keep testing new things.
MasterCard were a great partner for us. They were very encouraging about all the new things that we were trying out. And so essentially we will operating in a little bubble outside of the rest of the infrastructure. So that was really exciting, but I think it got to a point, whereas I think to be other models for this.
And I think it was also a point in time, I mentioned that were looking for a lot of the founders were coming to us, looking for funding solutions. And that was a point in time where I started to get more in the whole startup world. I was going to startup conferences. And it was also when the whole big dating app boom thing was happening.
And so he went and women, we kept getting startups coming to us and saying, Hey, you're you on women? You must have women. We need more women on app. Like this idea of startup founders being like, oh my God, like, who are these people? they have no idea.
And yeah, so I ended up going to small startup conferences, just seeing. What was out there? The idea was maybe we could like mind two worlds in some way. And I remember, I think it was, I went to an, e27 conferences, my first e27 conference that I went to and I went down the startup alley and they had all of these dating apps there.
And like, literally you go to one booth. It's like, Hey, I'm a dating app. And then Vietnam, like, okay, next one here hey, I'm a dating app and then Thailand, Hey, next on Hammond dating I'm in Thailand. But you realize as dating app in Thailand right next to you. Yay. Yeah. But, we can do gifts. So something like that.
So we're different. But I think I realized at that point that in the startup world, there are so many passionate people who want to create things and they have the skillsets in order to create and like scale things and, , I guess the willingness to find well, the way of making it sustainable.
And I'm just thinking to myself, can you imagine if we put these people who obviously want to create something with people who already have a problem and put them together, you can make some really cool things. So I think that's kind of what got me more involved in the startup world. And I guess motivated me to, see how I can be a part of it in some way.
Ling Yah: So how did you wanting to be a part of this, that while lead you to wanting to a marketing degree at the university of Newcastle.
But to be fair, you were part of an accelerator as well. So your feet were still in it.
Amra Naidoo: Yeah. Yeah. So that was me hedging my bets. There was a part of me that still wanted to work in a development world in some way.
Social impact is something that I'm just so shit. And I ended up leaving that to UN Wells and moving over to Telstra who were running a program startup program called purity. And the idea that for me was learn as much as I can about the whole startup world about, , their startup accelerators and things like that.
And maybe I can force impact on the startups in some way and like, see how that goes. And I also have a lot of people who were like, oh, you moving on to like the corporate world, you're going over to the dark side and things like that. And so it kind of also made me question. Why do people think that it's the dark side?
Arguably corporates have the most amount of power and potential for good positive impact. If all of the people who are thinking about social impact stuck in nonprofits, not earning enough money because honestly the salaries that are in the nonprofit world, terrible. And I can go on a whole round about how the non-profit model is just like not working.
it made me think like, why is that well perceived space or bad? And so that was kind of what I was trying to do is see, , how can I take.
The best parts from that world. And it's not the stuff that I'm really passionate about and see if I can put it together in some way. So I didn't have an end goal. I was just there because I was learning and trying to experience something different and doing my masters in marketing. That was because you get to a point in the development world.
If you don't have your masters, you can't advance, you can't move off. And so that was me hedging my bets saying, well, at least I'll get my master's at the same time. And it's a master's in marketing because, well, I could do marketing with my eyes closed.
Ling Yah: So at muru-D, that's where you met Craig, who's now your co-founder. How did that happen?
Amra Naidoo: Honestly, I don't remember the first day that I met Craig. I mean, I remember my, at the end of my Fest day, any reason I remember that is because I took a selfie outside of the logo that was on the wall.
yeah, I mean, we had very different roles. So Craig at muru-D was the entrepreneur in residence there. He was working with directly with the startups and, , doing all of the coaching and things. My role was community and operations. So it was really making sure the whole machine functions and then using my marketing skills to kind of spread the word about what we were doing in all of the markets around the region.
So yeah, we had very different roles, but very complimentary as well opposites, right? Complete opposite.
Ling Yah: And so muru-D ended up shutting down and it's one thing to have been working together, another thing to decide, I want to start something together. So how was that transition? How did the idea of accelerating asia come about?
Amra Naidoo: Well, I think it's funny because like you said, one thing working together Melva things, time, your business together.
We only really knew each other as coworkers. It's like you socialize, but you don't really socialize. You don't really shared like pots of your personal life, anything like that, you'd go for after work drinks, and then you go home, like you don't talk about anything else.
So we would definitely our relationship with definitely as co-actors. And so starting a business together was kind of in response to the feedback that we got as muru-D was shutting down. A lot of VCs a lot of startups and a lot of mentors who were very close to the muru-D program reached out to us and we like talk about the same die.
we actually went out and tried to see if the original idea was okay. If it tells you're grieving, maybe we can find someone else, like another plan that's common, like take over the entire. And then as, I guess, as time is running out, we kind of realized it's just not feasible.
A transaction that size to go through is just, I felt possible like the corporate world most way too slow, but things like that. And so then we started to think about, well, what if we did this ourselves?
And I go back to the worst case scenario thing that my Ben husband said was the worst case scenario, applying to jobs and everything. We're probably going to be working in some community innovation team. I have an idea of what your career trajectory is going to be.
I mean, we don't know what's going to happen if we start up accelerating Asia so we could just try it. We gave ourselves six months to just be, and if it didn't work out with forget it and go find jobs. So yeah, we were on a timeline and that's essentially how we started.
We got to know each other pretty quickly during that six month period.
Ling Yah: What you guys ended up doing was to create an independent startup accelerator, which you have described as well as the missing middle. What does that mean?
Amra Naidoo: Yeah, so the missing middle, it's funny because I actually got that phrase from the development world.
And it's funny because actually it applies to the startup world, there's so many parallels across the two, both. And it's basically that there is a funding gap for social enterprises or startups center. So in many markets, there's a lot of really, really early stage. Incubate is government entrepreneurship programs, or even like on the social entrepreneurship world, there's a lot of development organizations doing capacity building programs.
And then on the other end of the spectrum, you have all the institutions. So in the startup world, you have all the venture capitalists who are investing big ticket sizes, , at least 500 K, but typically much, much more in the development world. You also have institutions, the bill and Melinda gates of the world who are investing large sums of money.
And in the middle you have all of these organizations that are past the stage of doing that early stage kind of things. And not at the stage where they can qualify for some of these big grants or big investment dollars. I mean, one, because they probably don't meet the requirements. In terms of just going through due diligence, the government instructors or anything like that.
The second is that the probably too small to even absolve that kind of money, like what are they going to do with all of that money? And so yeah, we call it the missing middle, which is, , there's a huge opportunity to do a lot of capacity building and you don't necessarily need to start from square one with these organizations, right.
They have probably already been operating for a couple of years. This there's something now already. They just need to get to that. So if you can help them bridge that gap then they've got a lot better chance of succeeding, but also because you catching them at such an early stage that you can be part of the journey too. Virtually set them up with a stronger foundation then if they were to try and do it themselves.
Ling Yah: And what were the biggest hurdles that you face in setting up this independent accelerator? I think you were going around and asking other people doing the same thing as well. Right? What are your biggest?
Amra Naidoo: Yeah, so in Singapore there's been one other independent accelerator program and that was JFK.
And they are legendary in the regional ecosystem. And unfortunately the model just didn't work for them. So obviously when we were starting something, when we were starting accelerating Asia, we knew that one first, organization that we've gotta be compared to is them second is we needed to go to them and find out like, what happened?
What would they do differently? Obviously a few years had passed since they had decided to shut down and when we decided to add off, so a lot of things that changed the ecosystem, but I think there was a lot of opportunity to learn. So yeah, I think the challenges that we face, I guess the problem is that an accelerated program, you can't charge startups, right?
Startups don't have money. And so if you're running a program for startups, you're not going to get money from them. so then the question is, who do you get money from? And how do you balance that between, providing services, but things that are revenue generating and also working with the startups, which I guess are your long-term bet.
So we knew we needed to set up something, we set up a consulting arm and the consulting is essentially the revenue generating part of the business, the short kind of cashflow. It kind of keeps everything up and running. The accelerator program is our long-term bet. We take equity in each of the startups.
But we also take a program fee and that was possible for us to take her for a grand fee when we set up on fund So we do take the cash program fee that from the startups, but essentially it's a pass through on the investment that gets made from fund into the startups. And that essentially just sustain the operations of the accelerator program.
Ling Yah: How was it to set up that consultancy program since you were bootstrapping?
Amra Naidoo: it was the first thing we set up and yeah, it was literally just me and Craig going out to all the contacts we knew, being like, what can we do for you?
What kind of programs can we run? we didn't even really have an idea of what we could be doing on the consulting side of things. And it worked out so well that our first client was so the Australian government they had their landing grad program and we were working with them on helping the Australian companies that were coming to Singapore, expand in the region.
and that was a relationship that we had developed or a, , a couple years before we even started accelerating Asia. So then you asked really well and we knew exactly what to expect from the whole thing. And then obviously when you have a first client like that, the second third clients come on pretty easily.
Ling Yah: And one of the programs you run is the 100 days accelerator program. What's the curriculum, like how do you think about it? Because you have some interesting things like a one-on-one entrepreneur in residence, you have the highlight startup mastery program in San Francisco and Silicon valley as well.
Can you share a bit about that?
Amra Naidoo: Yeah, so that hundred day program is our flagship program. That is the accelerating nature program. And then all the other programs around that will different. And The a hundred day program. Well, a typical week is we have stand up at the start of the week, which is when the startups in the cohort can talk about what happened last week, what they've got planned upcoming week any challenges last that they have, or, , the other founders in the community or the team as well.
And the idea is that you curate the up so that it is both happy. He it to move quickly. , you don't want 10 to 15 companies going on and on about like olefin challenges and things like that. You also want it to be a safe space, so they can be very honest about the challenges that they're facing so that you can help them really quickly.
And then you also want them to be giving back. So another founder is asking a question, they happen to have it and that that they volunteer themselves and kind of, it becomes a whole community. so that stand up and I think up is probably the highlight of the week. And then also that we'll usually have a session one-on-one session with entrepreneurs and residents.
That could be anything , if that is a deep dive into their business and what they currently going through, it could be anything from fundraising strategies that kitsch froze operations, finance. The program is very tailored to the startups and what the challenges they can't be facing, typically the startups coming to us have.
Already been through some kind of program in their home countries that probably already raised angel funding. So they're not new. And if we were to go through a lot of theory based things, it would be a waste of their time, a waste of our time. So the program is very curated and responsive to whatever's happening
We also have master classes. So the masterclasses are typically for the first month of the program, after the whole recruitment period, we've got a pretty good idea of the challenges that the startup's facing. And so the first month is kind of pre curated as they coming into the program. And then after that, depending on what's going on, we change it up.
we had one batch that raised or pretty much closed around in the first month. so we had to change her advocate. How do you deploy, how do you hire a tech team? , leadership coaching for founders as well? And then at some point during the week we'll have kind of community events or have VC office hours.
We also have the trip to San Francisco, although obviously, not traveling right now. So that is good for entire portfolio, but we are, we do ends up going back. And then after they graduate, there is a lot of engagement. We still have , anytime they have initiated and reach out to us, having you invested, coming on board and some help reach out.
So. It's an ongoing relationship, for sure.
Ling Yah: So you're ultimately running three separate businesses. And your third one is your fund. What were the regulatory challenges that you had to start your own fund?
Amra Naidoo: Yeah. I mean, looking back on it, now after, we had no idea what we were getting into. The fund initially came about because we started the consulting.
We're like, okay, cool. We have a bit of cash. Now we started the accelerator. And then after we started the accelerator, we're like, we should probably start a fund so we can also participate.
And that was how it came about. Honestly the license and everything was pretty smooth sailing in terms of getting that , we have a DCFS license, which is designed to be a streamlined process and easy for emerging fund managers to get. The regulation is not as much as some of the other licenses. , there's some limitations to it, but I think if you're just starting out and actually most arms would qualify for I guess, full of the, the restrictions I put that in air quotes, because I don't think that that much restrictions, most funds would be fine.
Ling Yah: And you and Craig were running your first fund for the first time. How challenging was that in terms of fundraising itself since you didn't have a track record to lean on?
Yeah.
Amra Naidoo: Yeah, I think that's the most frustrating part about fundraising was that we'd been in the startup ecosystem for a long time.
We've managed programs. You've helped startups and entrepreneurs for those of us a very long time. And we have an established reputation in the ecosystem. And obviously after running the program, we had experienced with choosing stylistic, get invested and the whole investment process and, kind of managing that.
But in the ecosystem, there is just this thing that it's not your track record, and this is actually , your money, your funds, that you've actually raised. That's what counts is your track record.
So when we were starting out, , we were thinking about size of the fund And basically the advice that we kept getting was just raise a small fund, do it quickly, deploy it quickly, show that you have a first fund and then go on and raise your second fund and then you'll have a track record , so that's what we did.
And I'm glad that we did that because I feel like we had no idea about what we were doing. We were learning on the job for sure. , like everything from the whole paperwork process, legals accounting to even just pitching LPs being comfortable with answering their questions.
And I think for me that was , a big thing that I was really uncomfortable with was pitching to potential investors in our fund because in my mind, I guess I have this idea that , who these people with a lot of money, , and you just instantly start thinking about power dynamic and you just get into kind of negative space and then you start stuttering on your words.
And the whole pitch just ends up messed up. So for me, that definitely took a lot longer than I think it took right. To get comfortable with. But yeah, I mean, fundraising is definitely a whole different skillset, a different process. And especially in fundraising for a fund is completely different than your fundraising for start up or getting a ground cups or things like that.
Ling Yah: What's interesting is that you said before they're selling a fund was quite similar to selling Chanel. Why is that?
Amra Naidoo: I think it goes back to selling something that you're passionate about.
the reason that I enjoyed selling Chanel, I mean, well, it's Chanel, like that's enjoyable. The other part is I'm a competitive person. And so if I can see that my targets and my numbers are really high, then I get even more motivated.
and then I think also when you are working in beauty as an example or fragrances I think you kind of realized that the best sales come from when you're being genuine.
Nobody wants to feel like they're being sold to it's such, I mean, when you're going in to buy something like makeup, they're not everybody enjoys it. They kind of feel a bit vulnerable. And if you can go in and just have a chat with people, make them feel comfortable. You end up selling a lot more.
I mean, one of my biggest sales it was this guy who came in and, nobody was paying any attention to him because he was a minor. So he was like, it didn't look like someone who would be buying from Chanel. Right. So nobody was really paid attention to him.
And I just walked up to him and I was okay, , do you need any help and Christmas tags or the opportunity for the biggest amount of sales here? And he's like, yeah. I'm looking for something for my wife for Christmas. And then also looking for my mistress.
Oh, okay. Well what are you looking for?
He's like, I have no idea. I just like, put together, I, for me a package. Do you have a budget in mind? No budget. So obviously I put everything in the box and created two of them, and he just like, pulled it and walked off with it and I was Yeah. Done. So I think that's kind of something that I learned back then is you want to make people feel comfortable and you got to be passionate about what you're selling and never underestimate people as well.
You never know where it's gonna come from. And when doing the fundraising for this fund? I think I try to be forgot that I got really overwhelmed by these are men, typically men who have a lot of money and I'm not confident in anything to do with financials. So if they do ask me a finance related question, I'm not going to be confident responding to it.
it was completely out of my comfort zone. But I think when I kind of realized, and I think the other thing as well is, and look young. , they're generally a lot older as well, so there's a big confidence thing there too. But I think I got over it because well, first I got comfortable fun today.
I wrote out a whole script of what I say, during calls, like all the bullet points that we need to make. I have all of the answers I'm fully prepared. And I have to say in a COVID world, like I, would've never been able to do this in a real life meeting. Right. You can't just carry all your notes and use scripts in there, but you can have it covered well, right.
Cause you just have another window open and you just keep moving between the screens. So that really helped me. And then I think the second thing was just being comfortable with who I am, because realized that, , if they don't want to invest in the funds, because I don't know they have an issue because I look young or whatever like that.
That's not my problem. That's and this is a long-term relationship as well because the life of Alphonse is 10 years. So if they have a problem with that , they don't like me for whatever reason. I just have to say about people like me. I always want people to like me. If they don't like me, then, oh, well they want a right fit for the funds.
They would have never come into any inquiry. And so not to take it so personally.
Ling Yah: You mentioned before that most of the people you were meeting were men. Did you feel that that lack of diversity had an impact and what you were doing?
Amra Naidoo: I don't know. I think it's a hard question because I mean, I, I get that a lot, especially , when people say to us, wow, , your accelerated program, we have one of the highest rates of females come to us.
And now portfolio, if you're looking at across , funds of this nature They're like, , do you do anything special or do you think that female founders come to you guys because you're a female founder and you're the co-founder of that organization. We see you and they come.
And I was like, honestly, I have no idea. have absolutely no idea. I hope that, , some people who do feel like it's something that they conscious about and, , they do see me and they, , especially young women who want to get into the whole VC it's out of state.
they can see that there are other people in them, if that is something that they need in order to motivate them. But it's honestly not something that I've really looked around. So like, when we were getting into the health VC space, I didn't look around and say, okay, are other other women in that I was just kind of in it.
And then I realized, oh, I'm the only woman at this conference. Okay.
Think about it until I was in the scenario that I realized.
Ling Yah: it's really interesting for me because I was speaking with another founder of this social enterprise. He won the most prestigious social enterprise award by the UN, which was also run by former president, Bill Clinton.
He said after they won and he's Malaysia and it's a pure Asian team after they won the next year, there was a surge of application from Southeast Asia because I said, well, the first time we see Asians winning, so it's possible we can actually apply. So it's very interesting because for him, he never even realized or thought that that could possibly have any impact whatsoever.
But it actually did.
Amra Naidoo: Yeah. I mean, at the very least, , even though if I'm not consciously. Thinking about it from my perspective, and looking for, I guess, other female role models in this space, if other people are, I hope that I'm setting a good example and encouraging them to be part of the space as well.
Ling Yah: Another thing I wanted to talk about was your deal flow. So you target pre series a companies in any industry. What do you mean by pre series a? Who are you looking for?
Amra Naidoo: Yeah, the startup world has some funny definitions. I mean, C could be anything seriously. Hate could be anything. Essentially what we're looking for are startups that have traction.
So typically they've got a little bit, they've got revenue coming into the per gram. Got users at the very least the people who are actively engaging with the product or the service The founders some kind of deep domain expertise in the area that they're working in entrepreneur in residence, Nash secrets, they have a secrets.
There's a reason why they're doing what they're doing.
The other thing is that the why. Why are they doing what they doing? So the stage that we're investing in is obviously so early anything could happen. I think the founding team is probably the most important part of the decision-making process process with we're looking at applications apart from, , the skillset, why are they doing what they doing?
Why are they so passionate about it? , especially when you see someone who. Doesn't have app ground in that industry. I mean, running a business in that industry, w Y , what are they going to, like, what do they know in the industry don't know and how are they going to be the ones that have to wait the passionate, if they don't have those industry connections or any kind of knowledge?
The other thing is the founding team itself. So to all the founders and the team have kind of the skill sets required to run the business, do they compliment each other? Similar to Craig and I are, we're complete opposites. We're looking for that in the founding team as well. And then the other thing is the relationship.
How do they know each other? And how long have they known each other? If things get difficult, are they going to be able to have those tough conversations with each other and they'll come out on the other end of it, , As founders as friends or whatever, , sometimes family members, you see a lot of husband and wife teams as well going off program.
So yeah, the team is the biggest part about it coachability as well. So I mentioned how standup works, obviously if you're not coachable and willing to receive feedback and , going to go into the entrepreneur and residents one-on-one sessions of mind and accelerated program is probably not for you.
Are you going to give back to the community in some way, and you're going to really be part of the whole accelerating Asian community too,
Ling Yah: Is social impact something that you looked for at the very start or is it something that comes in after?
Amra Naidoo: So this is something that I learned when we were running the muru-D paragraph. Is that the whole social impact space, despite it being woke and inclusive of all of those words, is not.
There are so many things that exclude people from being involved in it. And one is just access, if you just looking at internship programs as an example, right, you need to be of a certain , financial position in order to do an unpaid internship in a country like this, right. If we're just looking at that like inclusion.
But it's also all the acronyms that are being used. It's really difficult for people to understand how they can get involved in the whole space and. What it all means. I mean, if you just look at measurements as one subset of the whole impact site, it is so confusing.
Nobody knows what they're doing. There's no standard for it. Everybody's doing their thing. So it's a very exclusive place. And so what I learned at muru-D when we were running that program is that they were actually a lot of social entrepreneurs applying to startup programs and, , they were coming from the perspective of just working on solving a problem in their home country or their home city.
They weren't thinking about social importance, even though, , social impact is oftentimes embedded into the business model itself by nature of the problems they're solving and the business models that they've created. But also by nature of where we are in the world.
In Southeast Asia and in south Asia, there are so many problems that need to be solved and entrepreneurs solving those problems.
So all we need to do is find these entrepreneurs and then teach them about the whole social impact space.
Ling Yah: So how do you find these entrepreneurs? It's your fourth cohort. Now you have 10 for each cohort and all of the 10 is from just over 200 applications, but your touch points around over 2000.
So how do you even get that many options in the first place. You have very interesting startups from like Bangladesh and Pakistan as well.
Amra Naidoo: I think it's a couple of things.
One is obviously the networks that we have before we brought them over. Obviously we've been in this space for a long time.
So the reputation of us as individuals and our team as well. We come from all kinds of different types of programs in different parts of the world assigned to these entrepreneurs.
Actually the number of applications has increased. We get on average at least 500 tech cohort. So now fun fact, we have an acceptance rates that is hardest to get into the hub 2% range, it's got to do with a lot of on networks. It's got to do with our alumni as well. I guess, similar to what you were saying about, , women or people, seeing someone in positions they'd like to be in or start up programs that they'd like to be anything. Startups in Bangladesh, see that we've invested in companies from Bangladesh.
And so they applied to our programs.
Same with Pakistan and same with, , all of these other places. So that's one thing. Having alumni from those countries, we have a lot of invested partners as well in these markets. So they will refer in companies that they're currently working with, or they would either think are a good fit for our program.
And then obviously all the traditional ways of marketing. So social media webinars and things like that as well. And in a world that you could travel, we would typically be out in pretty much all of these places all the time
Ling Yah: Given that we're speaking in 2021, obviously we can't travel as we used to, I mean, what other ways has COVID impacted your space and what you're doing?
Amra Naidoo: Last year there was definitely a slow down in terms of investing a lot of the angel investors or individuals stopped investing, , they wanted to conserve their cash, especially everything that was going on with the stock pocket point in time. So a lot of it, , angel money kind of dried up.
And when you're looking at the institutional capital that also kind of dried up because they were focusing on supporting existing portfolio companies as opposed to making a year. So last year was a tough year to be fundraising. And it also was really difficult for startups who across all industries, we were impacted by things like the lockdowns.
The lack of travel as an example, many startups in the travel industry, not necessarily bad companies. They could have been really great companies, but it's just a matter of timing. And they just happened to be in a wrong, place, wrong time.
One thing that maybe COVID did do, is the whole idea of profitability for startups in terms of a lot of investors were starting to ask questions about the business model and at what point is it of going to become profitable and taking that into consideration a lot more with their investments, as opposed to before, obviously we've seen the whole WeWork story, whole bunch of the stories, but when you've got conscious blind around, really easy in a way to kind of make those investments.
Ling Yah: Another thing that you are doing is that you are the host of your own podcast. Doing Good podcast. How did the whole idea come about and how does that play into what you're doing?
Amra Naidoo: Yeah, honestly, it was a hobby.
I started it because while I was working for UN women, meeting all of these really incredible inspiring people from the grassroots level or the social entrepreneurs who were working were also top down, you know, the key optical partnerships, you get an idea of talent, different types of organizations and looking at the social impact of DSI and diversity.
, all of the people was in big organizations that are trying to drive these gigantic shifts to like different directions. And so originally it was meant to be a blog yeah. I wanted to interview all these people and she's like, , I get excited about talking to people. I like writing, but I'm so very conscious about all the words that I'm putting to paper.
, I feel like when people read a blog, they're very critical about the exact words that are being said. All the information is being presented. As opposed to a podcast, you can kind of have a really casual conversation. And it can be a bit more in the moment. So that's how the podcast came about, started off as a hobby, literally, , just me talking to people and friends, putting it out on a platform.
But yeah, the whole idea is to kind of explore different ways that people can create social impact or help different people think about social increments. So the idea, , many people that I need, especially when also I can be, you said, lucky you get to, , create and practice product your, your job.
And that's what I realized actually, everyone can do it. There's so many different ways to operate as part of your day to day life. And so that's kind of why I wanted to profile. Lots of different people doing them.
Ling Yah: The creator economy's on the rise, and he seems as though everyone is some kind of a creator.
You have got like Justin Kan and Garry Tan. They're all these VCs, they have their own YouTube, they have their own podcast.
You've got A16Z. They're creating their own media empire. How important is it for say those in the VC world to be content creators themselves and be known and heard?
Amra Naidoo: Well, I think it depends. I think it's important for everybody.
Ling Yah: Even for founders as well. They should put themselves out there.
Amra Naidoo: Yeah. Yeah. , I think it depends on how you look at it, right? If, everybody was just to create something and just put out a whole bunch of crap into the world, I think that really. Benefits society in any way, right.
But it depends why you're doing what you're doing. Like I'm doing my podcast because for me, it's a hobby. If people listen to it then great. If not, then it's a project that's been me.
I'm enjoying talking to all these people. I'm learning a whole bunch of days. I heard they are too, but the reason that I started it was, selfish and it was for me like that's why I was doing it.
And so I had no expectations about, oh my God, the web chat has to be perfect. Like I need to produce so many episodes and all that kind of stuff. I need to get all of this kind of all these episodes. And, , when I first started, I was like really obsessive about all of those things.
But then when I went back to it, I was like, at the end of the day, I'm doing this for me. And so, , just make it easy for myself. So yes, I think that, , people should create.
Should they create YouTube channels or podcasts or blogs, pieces of art? I think they can express themselves in different ways.
I think not everyone is going to be a thought leader in their space, but they don't need to be. They can contribute and create other ways and it doesn't need to be public.
Ling Yah: You were involved in the payments raise money, Asia 2020.
Yeah. How did that happen? I found your blog on YouTube and he looks like a lot of fun. You were racing through Asia and you could only use your credit card.
Amra Naidoo: Yes. Yeah. Wow. You've done a lot of research. Yeah.
So the payments race is kind of the money 2020 conference. And basically what it is, is it's kind of like a mini amazing race and each competitor has a different payment method and they can earn the use that payment method, strappy entire race.
So I had credit class results of gold Bitcoin Ash and global payments. And not only do you have to travel around, but similar to amazing race, you have to do like tasks and get points and things using your payment. It it's not what I get involved in. No, it was like completely random. I got a phone call from my friends one day and he was like, Hey, the money 20, 20 races on, would you like to be considered for, I can put your name forward.
And I was like, yeah.
Ling Yah: Do you find that experience?
Amra Naidoo: If I had to do it all over again, I totally would. It was a lot of fun. It put me completely out of my comfort zone. It was terrible timing though. I have to say because I had a big work trip in the U S right before it, so it was like two weeks in the us.
It was also time that, , we had a lot of stress because we knew that the muru-D program is coming to an end and we were planning out what was going on with accelerating Asia. So there's was just a lot of stress at that point in time. I was also doing my master's at that time. And it was, exam time.
I had three assignments that I needed to submit. And so I landed back in Singapore for like literally five hours, unpacked, all my stuff from the U S and then started the race. Those jet lives the entire time. And I was trying to finish my assignments well, during the race timing was not great. I definitely do it again.
I learned a lot about myself. One was at I can push myself obviously to a certain limit for short periods of time. The other was I used to follow this race and it's ironic because I travel so much, but I used to get really nervous about traveling, especially traveling by myself because it's like, I'm gonna miss the flight.
They're going to stop me at customs or whatever, and I'm going to be interrogated. I don't know. Like I just always had these kind of worst-case barrier things going through my head and during a race, you obviously don't have time to think about these things. You're just like competitive trying to meet all of the stuff.
So yeah, it got me over that pretty quickly, but it was also just fun. Like if something completely out of who does that, right. If anybody asks you to say yes,
Ling Yah: Do you feel that having gone and done so many different things that you have found your why?
Amra Naidoo: I don't know if I fully found it, but I feel like I'm getting closer to it. I know in my heart that I am so passionate about creating change and enabling other people to do that. And in particular, just reducing inefficiencies, I think, , when you look at the nonprofit world, I always get annoyed at because of obvious table things going on, that if you're ocracy funding, all that kind of stuff.
And then you look at the corporate world and I get really annoyed at that because it's just like purely for one purpose, , profit driven and often at the expense of everything else. But I think there's a fundamental issue. And that is that when people think about business, they automatically think that it's an odd thing.
It's like, where did that concept come from? Why is business a bad thing? Business actually has the most amount of impact to people looking at just, , bringing people together and communities and employing people. So, yeah, I'm really passionate about finding more sustainable, scalable ways for creating.
Ling Yah: What kind of legacy do you want to leave behind?
Amra Naidoo: Yeah, that's a really interesting question. I've been thinking about that a lot. Cause I started another side project, which is reporting the videos for my future self. Maybe my children or whoever, in a hundred year time, once they watch my videos, they can do that.
But legacy, I think haven't quite figured out what, what that is. I know I want to make a mark on this world in some way. I know I don't need recognition better. It's , like your friends looking at success, becoming famous, or, , anything like that is not, on my priority list, but I think knowing that I did something good and I left the world in a better place.
Ling Yah: And what do you think are the most important qualities of a successful person?
Amra Naidoo: Adaptability. Being willing to change. from myself, obviously I've changed a lot in terms of literally all the careers that I've had. If you look at my resume, I probably wouldn't get hired.
She jumps around too much. She never stays in one place. Yeah, I think adaptability is really important in particular. Like right now a world is changing so quickly. If we just look at COVID for an example, as an example, how quickly that spread around the world, how quickly everything changed in fact of doing business, either pulling relationships and people.
I think it's a huge skillsets that should not be underestimated and probably something we need to ingrain in, into our kids in some way, because the world is only going to change a lot quicker pace of technologies or any accelerating.
And then the path of adaptability. I think the other thing would be just being willing to learn.
Ling Yah: And where can people go to connect with you, find out what you're doing and also accelerating asia.
Amra Naidoo: So for accelerating Asia if you're a startup that wants to go through our program, you can check out the application form and everything there as well. And if you're an investor that wants to invest in these startups, come talk to us as well. Always happy to give you deal flow.
We're also on all the socials. For myself, you can check out doing good stuff. Just the podcast itself. I also have my own website, I'm also on old socials, so
Ling Yah: And that was the end of episode 56. The show notes and transcript can be found at www.sothisismywhy.com/56.Alongside a link to subscribe to the weekly newsletter for this podcast.
And stay tuned for next Sunday because we will be meeting the former head of post-production at the Conan show on life in Hollywood and what it takes to succeed in the late night scene in LA.
If enjoy the previous episode we had with Nick Bernstein, who is the current executive in charge of late show of James Corden, then you'll probably enjoy hearing from a different perspective of someone who's also in late night in post-production.
Want to learn more?
See next Sunday.