Welcome to Episode 54!
Our guest for STIMY Episode 54 is Yulia Brodskaya.
Yulia Brodskaya is a Russian artist and illustrator known for painting with paper. 
Pioneering contemporary paper quilling, she uses thick, coloured paper to compose stunningly detailed 3d portraits. And her work is owned by the likes of Oprah Winfrey, Hermés, San Francisco Museum of Modern Art, Paramount Pictures, Country Music Association, The New York Times Magazine, Washington Post, New York Observer, and Issey Miyake. 
She also designed the official poster for the 2015 Wimbledon Championships, designed a Google Chrome theme, created a Forever stamp design for the United States Postal Service in 2016 and Christmas 2017 stamps for New Zealand Post. In 2019, she was named a "Breakthrough Star" by Creative Review and featured among other leading UK-based artists in the BBC programme Making Art Work: First Idea to Final Piece.
Here is her story.
PS:
Want to learn about new guests & more fun and inspirational figures/initiatives happening around the world? 
Then use the form below to sign up for STIMY's weekly newsletter!
You don't want to miss out!!
Who is Yulia Brodskaya?
Yulia was born and raised in Moscow, Russia and was sent for art classes at a young age.
2:32 Growing up in Moscow in the 1980s

8:27 Learning to see the world with an artist's eye
They taught us that the less perfect the object or the motive is, the more unique it is. The more interesting and special. You really start to look around and really truly see things. You become an observer. So you don't just go around being inside your head. The mind goes away and you just learn to look and see.
Moving to the UK
Yulia eventually moved to the UK to study graphic communication at the University of Hertfordshire in 2004. In the UK, she developed a love of typography and eventually, paper art!
10:12 Picking up a love of typography

12:43 Discovering a love of paper art
Paper Art as a Career
Yulia shares how she honed her skills as a paper artist, landed her first commercial gig with The Guardian and built an enviable career and client list that includes the likes of Oprah Winfrey, Issey Miyake and Paramount Pictures!
16:59 Creating the Christmas cover for the G2 supplement of the Guardian

19:27 What "paper quilling" is

21:54 Being protective of her own style

23:40 The process of creating her work

27:19 When she knows a piece of work is complete

30:18 Creating portraits of old folks

39:20 Publishing a book

41:52 Creating her own mobile app

44:16 Creating her first NFT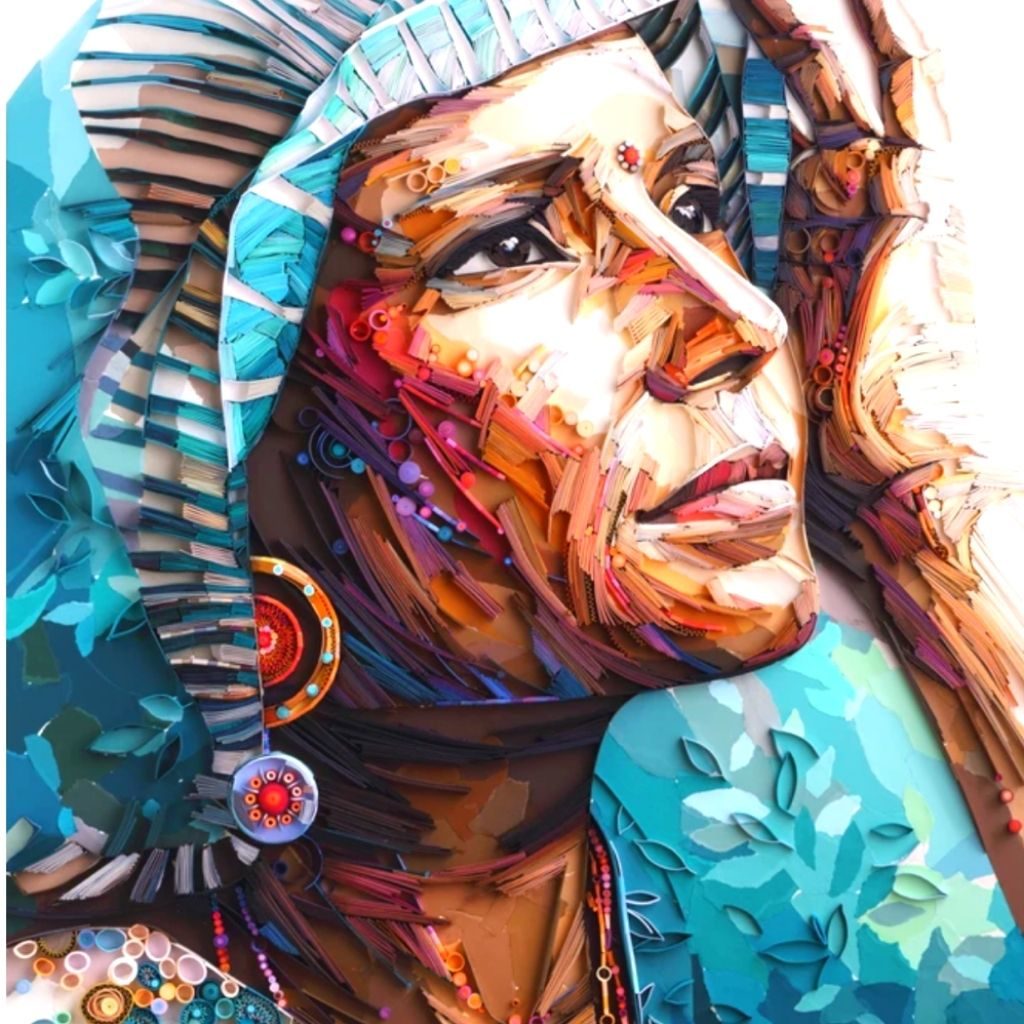 If you're looking for more inspirational stories from creatives, check out:
If you enjoyed this episode with Yulia Brodskaya you can: 
Leave a Review
If you enjoy listening to the podcast, we'd love for you to leave a review on iTunes / Apple Podcasts. The link works even if you aren't on an iPhone. 😉
Send an Audio Message
I'd love to include more listener comments & thoughts into future STIMY episodes! If you have any thoughts to share, a person you'd like me to invite, or a question you'd like answered, send an audio file / voice note to [email protected]
External Links
Some of the things we talked about in this STIMY Episode can be found below: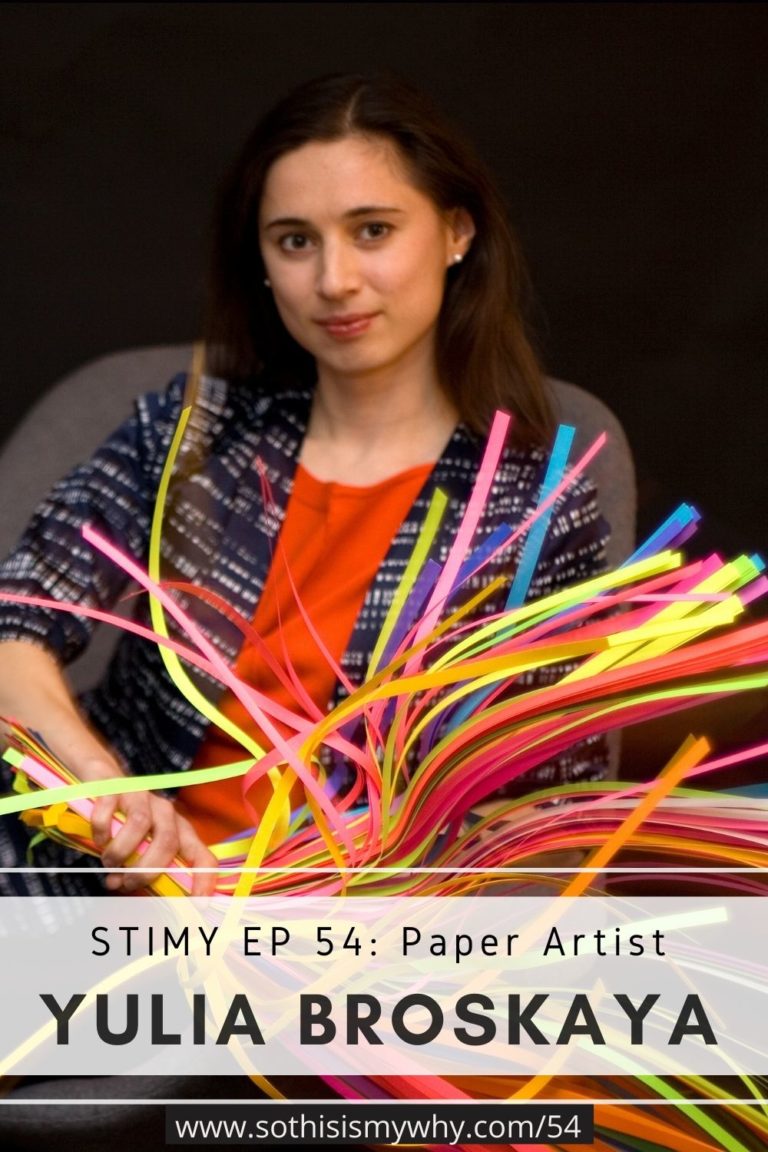 STIMY Ep 54: Yulia Brodskaya - Contemporary Paper Artist
Yulia Brodskaya: When you walking around, you just try to see all the objects, all the details as they are, trying to visualize, how would you draw?
How would you depict them? We practiced finding beauty and observing the details in like the weirdest things like crooked houses, dilapidated buildings how Phaeton leaves.
They taught us that the less perfect the object or the motive is, the more unique it is. The more interesting and special.
Everything we noticed, we were supposed to kind of draw doesn't matter, which technique you use, we were given freedom, but we had to create a large number of sketches, artworks, just depicting whatever catches our eyes and being given the task.
You really start to look around and really truly see things. You become an observer. So you don't just go around being inside your head. The mind goes away and you just learn to look and see.
Ling Yah: Hey, everyone!
Welcome to episode 54 of the So This Is My Why podcast. I'm your host and producer, Ling Yah. And today's guest is Yulia Brodskaya. A Russian artist and illustrator, known for painting with paper. Known for pioneering the contemporary art of paper quilling, which we will get into in this interview.
Yulia's work is both simple, yet highly complex and stunning in its execution. She uses colored paper and cocktail sticks to create art that has been collected by the likes of Oprah Winfrey, paramount pictures and Wimbledon, and even designed stamps for the United States postal service and New Zealand Post.
In this interview, we learn how Yulia was first exposed to art in Russia, how she ended up studying in the UK and all things regarding the art of paper quilling as well as how she built her career as an artist.
So are you ready for Yulia's story?
Let's go.
So I understand that you were born in Moscow and I wonder what your childhood was like growing up in the 1980s in Moscow.
Yulia Brodskaya: The most thing is I remember it's just being a child and going to the country house. For some reason that's where like my best childhood memories are.
When I was about five, my parents decided that I didn't go to nursery or kindergarten. I was always like with my mom or my grandmother. And they said it would be nice for me to spend some time without the children and learning to do something else.
So they sent me to lessons, just couple hours per week, but we were doing music, dance, art, I enjoyed those lessons and I enjoyed art in particular and the teacher, apparently she saw something in me. So she told my parents that she thinks I have a talent, and she even went further and took my portfolio or those drawings I created with her. So she took them to an like proper art school to see if they want to enroll me. And apparently they liked it too.
So I'm really grateful to that first teacher. I don't remember her name, but that was her who really saw something in me at the age of five, have no idea what she did see. But that's how I got into art school. So it was just six and it was kind of evening school, which I would go to two or three times per week after my normal school.
But I started it exactly the same year with my normal school. And then I finished it after 10 years. So for 10 years, you know, every week, except for summer holidays, I was just constantly drawing something, painting whatever they asked us do.
Ling Yah: Did you enjoy it? Because I will have imagined as a child, you would want to go and play, not work and work and work, but you were doing this for so long and from such a young age.
Yulia Brodskaya: I didn't mind doing it because I think if I didn't like it, I would say something to my parents, but I can't say that I really loved it. As you said, I mean, I would choose playing and doing something fun. Like any time over drawing, it's only much later towards high school or even like university years when I actually realized that I actually, I, I I'm actually enjoying doing art, making art and creating.
But before I was kind of really going with the flow.
Ling Yah: So when you realized you enjoy art, was that when you started thinking, I want to do it for the rest of my life as a career.
Yulia Brodskaya: I don't know, funny enough, kind of didn't put much thought into what I want to be doing. And I was a good girl. I always listened to my parents. They saw that I'm quite good at it.
So they suggested why don't you just continue doing art, but actually they thought that maybe being an artist is not the best way to earn a living. So their suggestion was I do something like with applied arts, so they chosen university for me in the course around graphic design and advertisement. At least that's how it was called.
I mean, they teach you different things. It was just a title, but what my parents wanted me to have more real life application to my skills. So that just, I'll be an artist, but I'll be able to work on the computer or work in agencies. So more real life application.
And I wasn't against it as again, as I said of somehow I just was going with the flow. My parents said this would be a good idea. So I said, yeah, sure. Why not?
Ling Yah: Was this the five-year course at Moscow's textile university?
Yulia Brodskaya: Yes. that was the one. At the beginning we went to see how they do things.
And so what's really spoke to me is the ornamental and decorative way that they were approaching all the subjects. So it wasn't like, you know, strict academic type of drawing and painting. When you learn the techniques, there are specific ways things supposed to be look. We were still doing plenty of model drawing and still lives.
So things has to be like done properly, but at the same time, there was this kind of decorative ornamental flare that would probably, you know, come from the textiles because they're better. And they're like a different color blocking and textiles. So I think that kind of flew into other like painting and drawing areas around the whole textile academy.
So it was actually a blessing because this type of the unit gives me quite a distinctive I dunno, style you might say or things that I appreciate, I suppose it can see in my work. So it's, quite decorative because I use different colors. I like patterns. I like incorporate them wherever I can.
So. I'm glad I didn't go to school.
Ling Yah: I mean, it certainly sounds like a blessing because you have said before that those five years were crucial in setting you on the path that you are now. And then wonder what it was that was so pivotal.
Yulia Brodskaya: All this kind of revelations, I only realized much late there because during those five years, my main worry was that I'm not learning anything about graphic design, because still a nineties.
The university wanted to be modern and contemporary. They wanted to attract more students. So the title of the course says war, right. But they didn't know how to teach us the real life graphic design or what it's actually mean. for the five years, I was frustrated.
It's kind of wasting my time, but it's in fact right now, I know that it's not true. And one of the key things I learned during those years was because of the art products, our summer practices that's the student was sent to. And that's where we learn to see the worlds with artists eyes.
It means that for instance, when you walking around, you just try to see all the objects, all the details as they are trying to visualize, how would you draw?
How would you depict them? We practiced finding beauty and observing the details in like the weirdest things like crooked houses dilapidated buildings how Phaeton leaves.
They taught us that the less perfect the object or the motive is the more unique it is. The more interesting and special everything we noticed, we were supposed to kind of draw doesn't matter, which technique you use, we were given freedom, but we had to create a large number of sketches, artworks, just depicting whatever catches our eyes and being given the task.
You really start to look around and really truly see things. You become an observer. So you don't just go around being inside your head. The mind goes away and you just learn to look and see.
Ling Yah: So you learn those very crucial techniques in those five years. What led you to decide you wanted to study graphic communication at the university of Hertfordshire?
Yulia Brodskaya: Well, that's because I was really frustrated that I haven't learned anything for practical. So then my parents and I, so can't learn it in Moscow, then maybe I should go and study one more year, somewhere abroad. And we picked England. So that's how I ended up going to Hartfordshire university.
Ling Yah: And was that where you picked up your love of lettering?
Yulia Brodskaya: Yes, I think that's the first y ear maybe then I did master's as well. So during those two years of my UK studies, I think that's when I, first of all, I realized that graphic design, it's not all about typography, but typography is a crucial part of it.
So I think that's when I really got interested in and letter forms. Arranging them, creating interesting compositions with letters, trying kind of to draw them imagining that they're not just letters, but they can be illustration. So they need to be coherent with the message.
Ling Yah: The first love that you have, which is, you know, using papers as an art medium. And was it something you were experimenting with as a personal hobby while you were studying as well?
Yulia Brodskaya: I wouldn't say so. During my two years in England, I was mainly doing things on the computer because finally coming to the UK, I kind of felt there's a creativity in the air.
I could feel that there are opportunities and I wanted to actually enter different competitions. They were usually design competitions. So I was still kind of doing lots of things on the computer and not using paper that's much. It's only towards the end of my master's degree. entered one competition where they asked us to draw some things and.
While some work for this competition, I suddenly realized that I preferred doing things with my hands rather than on the computer. so after I finished my masters, after I graduated, I spent like more than a year actually producing hand drawn illustrations. with very fine pen.
I would like created you know, very fine lines illustrations. Some of them were with color. So basically I was looking for my style, but using drawings, I still try to incorporate typography quite a bit, but not with paper. Paper was not in the picture.
Paper was always in my life in some way.
But it was, I think mainly during my Moscow years, because back then there was a period I was interested in origami. There was another period I tried making handcrafted papers. I liked different textures. I would collect some nice textures if I ever stumbled upon one. There was nothing like continuous or really specific that I was doing with it.
I just liked it, but I didn't use it that much.
Ling Yah: So what was the turning point where paper really came into your life?
Yulia Brodskaya: When I was still doing my hand drawn typographic illustrations, I've done quite a few of them.
And I decided it's time for me to them over to magazine editors or some advertising agencies just to get some potential jobs. And so I'd say the best way would be to put together a small like a booklet with my work samples and I was missing is the eye-catching illustration for the cover.
And I decided that I'd like to create my name. So I tried several hand-drawn versions, but I didn't really like them. They were not original enough cause I, I needed my booklet to be noticed and picked up. So as you know, the cover has to be spectacular. I don't remember how this idea came to my mind, but all I remember I had some paper, I started to cut it into strips and then just play with those strips.
Eventually I made an outline on the mountain board, just for the pencil. And then I took the strips of paper and repeated those drawn outlines with the edge glued strips Alexa rolling them, feeling the insides of the letters I made some of the paper strips, like come out of those letters. Just basically it had fun.
It took me a couple hours, but once I finished, I was really surprised. Oh, it's, it looks so good. I kind of felt at home. I really want to do it further.
I dropped the booklet aids year because there was so much interested in this new technique. So I decided I want to practice more. I want to try different things.
So spend another half a year just practicing, working with paper using color, still using like just white paper in the beginning, I tried to blend my hand drawings with paper.
Ling Yah: I think you said that at the time, you didn't think that paper was enough, right?
You needed to draw with the paper.
Yulia Brodskaya: Yeah. it gives some nice 3d effects, but I couldn't let go of my handdrawn style. So it took quite a few artworks for all the drone part to be squeezed off the designs.
Ling Yah: You said that there was a half year where you were just exploring, how were you exploring?
Like what kind of projects were you looking for to expand on your skills?
Yulia Brodskaya: I was still focusing on typography mostly. So for instance, my name, the very first one Yulia, I've created using like read out paper for the outlines and then white for the insides, but then I thought, how would things look like if I use just white paper?
So the next creation was made with the white paper only.
So next I thought, okay, I can, see how the white thing looks like, but what if I use like everything in color? So that was like my next step. It was still all around letters. So gradually, like I create one thing, then I get an idea. What would it be if I change like this particular aspect of it then?
So I just moved on from one artwork to another, like pushing it in different directions. Until I saw that get to now. Until I kind of felt that I've done enough experience with the papers so that I'm ready to show it to people and see where it takes me.
Ling Yah: During that half year, when you were exploring, were you also being an illustrator as well, because you had to fund yourself right.
Yulia Brodskaya: Yeah, well, it was married already. So big, thanks to my husband who supported me. But at the same time, I was also doing some translation projects for the company my husband was working for. So I brought some in income but I'm grateful to my family. So they always allowed me the opportunity to pursue what I really want to be doing.
Cause it, was my decision that I want to do at least something with those like translation tasks I wanted to contribute, but overall they were told me, just go ahead and do what you feel doing. So in that way, I was really blessed.
Ling Yah: That's amazing to hear. So you said after that you were ready to show your work.
How do you go about getting your first client?
Yulia Brodskaya: I found several magazines, the ones that I liked the most I found who the art directors were. Somehow found their emails. I'm good at doing research. And I just sent, I think no more than 10 emails, like to my favorites magazine and yeah.
One of them replied and it happened to be art director of the guardian supplement called G2. And he said if I wanted to illustrate their upcoming Christmas issue about I think it was, it was thrifty Christmas. I believe they already had some kind of design for it, but maybe it wasn't that excited.
So he kind of just decided to take a chance and give me this assignment to see if I managed to create something better to replace whatever they already had ready. But the thing is there was only less than a week basically available for me to, give it a try. If I choose to, obviously it was my first opportunity.
So I said, yes, even though I knew I kind of am jumping into water without sitting. main issue was, I didn't know how much time things would take me. I was only doing it in my own time, without any deadlines. With my first commercial project, I had very particular timeframe which needed to be met.
So that was the challenging part. I really had to learn how to manage my time.
Ling Yah: And wasn't that the first time you learned that what you were doing was co quilling, you didn't know what it was before.
Yulia Brodskaya: I found out about it later. So if I've done this first project, it was crazy. I almost had a panic attack at some points, because I was just realizing I'm not gluing fast enough.
once I still managed to finish the job they send the photographer. So another crucial parts that's together with that photographer, we found a way to photograph this type of artwork, which has to be really specific So that's another.
thing I learned on the way, but once this supplement was published, it started to appear on various design blogs just because it was something new. I mean, this haven't been seen much before. And so I started to get emails or comments from people and some of them would mention quilling and decided to Google what it is.
And that's how I found out. That's what I was doing was the connection in name.
Ling Yah: Quilling is actually quite an ancient technique right back in the 16th century. What is it actually?
Yulia Brodskaya: Yeah, it's believed to be ancient. No one can really pinpoint it's Right because, you know, when paper has become available, it would be just to natural for people to take strips and start playing with them, calling with them.
So earliest preserved samples of this kind of paper filigree are dated from around 17th century maybe even earlier. But most likely they existed before. It's paper. So not many of those ancient things have survived. I think it really was put on the map during their nascence period when monks and nuns start used it's instead of metal wire, too.
Embellish and decorate different religious objects or book covers. Cause usually they would create this paper filigree and then guild the edges. So it kind of gave the books and the items shiny expensive look, but not as expensive as if they would use metal filigree.
Ling Yah: So discovering all this, did it change the way that you would doing your own art, because at the time I think you were using cocktail straw, wooden tooth pick and thick paper rather than thin paper, which they are. We see.
Yulia Brodskaya: I've discovered the term quilling, but I kind of stuck to my guns.
I still use exactly the same tools, and cocktail sticks. I haven't really switched to all other techniques. The key difference is that I use heavy paper. That's why I don't really need those tools and those basic shapes. That's a traditional quilling uses. I just create my designs and lines free hand.
When paper is thick, When it's cut into strips, you just shape it deep into glue boots on the surface, and it's stands on its own. With traditional quilling, it uses very, very thin flimsy paper. So it's not stable. The only way you can work with it, if you roll it into some kind of a shape, like a spiral or some kind of a loop, they're addressing so many different shapes.
I don't know them well because I never really learned how to do it, like the, traditional way.
Ling Yah: So it was very much your own personal style. No one else was doing the same thing.
Yulia Brodskaya: Yeah, I kind of reinvented it from scratch, using slightly different methods.
Ling Yah: Did you start seeing people copy your style and did you feel as though this is my style and I'm very protective of it. Why are you copying me?
Yulia Brodskaya: Yeah. In the beginning, I really felt protective of it. It didn't happen overnight. I had, I think around two years of when it was pretty much just me doing it. But then at some point more and more other people started to use it.
So I would somehow stumble upon. Some magazine ads or other illustration created in a similar way. So I did feel they've stolen my style and it wasn't pleasant, but luckily over the years I kind of grew out of those feelings realizing that it's actually a good thing.
If people are following my example, it means I'm on to something good. So right now I only see it in a positive way and I try to kind of teach people and help Exploration of paper. What I'm really trying to encourage is creative freedom within the material because it's, so new, I'm doing my own work, trying to push it into new undiscovered direction, but they can also be other people putting it in a different way that I would never think of.
So I think by doing this experiments and work together, we put the whole me further. Cause I, I do believe this type of the paper arts can stand alongside other mediums, such as painting. it's amazing. in its own. Right. but it's still not known in the same way and not celebrated.
I think my work is to show people the potential of this technique and what you can do with paper. And now I'm, excited to see other people joining me.
Ling Yah: And what is the process of creating one of your paper at work? Because some of it like your name to a couple of hours, some of it takes like two months.
So that's very, very long. So how, does the whole process work?
Yulia Brodskaya: Well, it does depend on what you're trying to create. I mean, in the beginning of my career, I was still mainly doing textbook type of graffiti based illustration. So that kind of design would require one approach. You already have those letter forms though.
I would use the existing letter forms, but just to bring over some decorative elements into it key thing for those types of designs was to be precise with the lines. if one line is crooked or slightly off, it was really noticeable because there are kind of letters. Things has to be parallel, proportionally, corrected things need to be in the right place.
So my first year was kind of a obsession about ensuring I designs neatly. So glue doesn't smudge, it's this nice, not smart as everywhere. And I was learning how to work with scholars because another crucial thing was every strip of paper drops a shadow. And when you use. Different colored papers next to each other, then those shadows, they kind of the reflections they blend.
So if you have a red paper next to yellow paper, so the overall reflection between them will be some kind of orange, and you can vary that reflection by varying the distance between those strips of paper. So I was kind of learning how I consciously can adjust to those parameters to create the effects that I need.
So nothing is random.
Ling Yah: Are those reflections the reason why you favoured using white background?
Yulia Brodskaya: Yeah. that's because there is no interference between the colors. Anytime you introduce some color on the backgrounds, you will get this color edits to any reflection from the strips of paper that you have on top.
So for instance, it comes to the point when you use very bright backgrounds, it simply overwhelms whatever reflection you might have on top. for this neat and organized and precise type of a design, I would always use white paper, surface on the background.
Ling Yah: And what about when you use dark backgrounds, which you use sometimes I imagine you must have to change though your stylist.
So it's adept to having a dark background.
Yulia Brodskaya: Well, I think right now we're still talking about like my early, days style. So back then, I maybe only use their backgrounds a couple of times. And what I had to do is to introduce quite a few areas of a solid color paper on the background, like something light, light areas, because it's just impossible to create eye catching and bold elements or lines.
When you glue the edge glue, strip of paper on a dark fairground, just doesn't hold it's to thin, to be impactful in any way. So that's why. I didn't really use it that much later when I discovered my next method of working with papers trips, then I started to use dark background more and more.
But they did is the same. Whenever it is dark. I had to find ways either by introducing other paper manipulation methods or just finding some ways to make the lines thicker in order to stand out from the darkness.
Ling Yah: When you're doing a piece of art, when do you know that you have finished? Because it's so subjective, right? You can work on it for forever. So at what point do you feel that I'm done with it?
Yulia Brodskaya: I consider it done when nothing distracts me from seeing the whole picture because usually I stand like a few meters from the artwork and trying to observe the whole thing. And usually when I do it, I see little areas when I feel that. Need something. So I keep edging them against the back and then I observe how it changed.
So I've, I've been doing it quite a lot and it's usually hapens in the end. It's the most intense part of the process. It's, literally, I glue one paper. I stand back, I observed, I noticed something else. Then I blew another piece of paper. But that's how it happens in there. And, at some points, I just look at it and there is nothing bothering my eye.
I leave it be and I come back in other day. And many times there will be a couple of more things that I'll notice with fresh eyes that I still need to tweak with eventually. That's not much. And at some point I just look at it and nothing really distracts me from seeing it as a whole.
Ling Yah: What, I thought was interesting as well is you've said that you tend to finish 95% of your projects, which is really incredible. How do you keep at it? Because I can't imagine that you were very happy and motivated and driven to finish every single piece. So how do you keep going?
Yulia Brodskaya: rarely, rarely do it. I think there's literally just a couple of times I decided to stop working. It's when I clearly see that it's a torture it's just not going anywhere.
around the middle of every project there comes the time when I might feel tired mentally or physically one it's still a long, long way til the end. And I've already been working on it for a while. So this stage is, I know it can usually happen.
That's why I'm used to pushing through which I kind of do even with artworks that are not going well, but if it's, continuous for too long. And so I really feel that there is no progress, then I might leave it aside. But luckily, as I said, doesn't really happen often. If I started something in most cases, I finish.
Ling Yah: You have said before you are inspired by Gustavo Klint, who's an Austrian painter known, especially his golden phase.
Yulia Brodskaya: Why is that? I think that's the, again, my Moscow education's legacy because he was one of the celebrated artists who We were shown as an example, so many students like him, and I think that's when I also fell in love with his work.
I think it did. That's a decorative aspect and use of patterns. that's really speaks to me. I don't know, it's difficult to explain when you're like something and drawn something. I try not to overthink it.
Ling Yah: And then one of the things I love is that you have personal projects and you have done 45 old people portraits. How did that personal project start?
Yulia Brodskaya: Some point after creating many, many typography based designs and commercial client work? I felt I needed to do something for myself. I don't know.
how I started to considering doing some portraits with the paper. But it was really scary. I mean, not nothing of it has been done and it's not, I'm really great in depicting people at least back then. I didn't have much experience apart from like, phew. Drawing and painting classes in my old art school.
so I decided to focus on the older people portraits, just because I knew that this edge glued paper should work fine for the wrinkled skin, but I couldn't make the next thing that I would ever attempt to do in a young person portrait. So kind of wants to put the time my first project, they were all depicting aged people.
So I wouldn't worry too much about the smooth skin.
Ling Yah: Your first portrait was off babushka. Is there a story behind it?
Yulia Brodskaya: It just, there's not really story. The main thing about this portrait was how long it took me and how I struggled with the whole process right now.
I, can do quite large artworks in couple months, but this portrait, I think it's about 60 by 50 centimeters. So it's not crazy big. However it took me almost half a year to create it. Although I still was working on some commercial projects at the same time, so it's not clear time.
Exactly. But still overall, it was almost half a year, but the main issue was, I just didn't know how to approach the eyes, the nose. Where would I place the lines? what kind of paper do I use? do I work around all the shadows that paper strips produce? how do I differentiate hair from the skin?
I mean, those things you'll never know how to do unless you actually start doing them. That's why I was overthinking everything. I was concerned about every single strip of paper. I was worried. What if I didn't place it in the wrong position, it will ruin the whole thing. So kind of more than half of it was just worrying about not doing it.
Right.
Ling Yah: Do you feel that it was easy once you got that first portrait out of the way?
Yulia Brodskaya: Yeah, I think once I finished it and I saw that it's actually good. I think in the middle of it, I. decided on what's my next portrait is going to be because, you know, the six months length of work, did start to look into other things.
There was two kind of words doing just the same portrait. So I had already planned for my next work. And after finished this babushka portrait, it was just confirmation that, okay, this technique works. The idea works. I can move on to the thing I planned to do. So, and the next one was the men with pigeons.
Ling Yah: And how special was it to make a portrait of your own 88 year old then grandmother?
Yulia Brodskaya: Oh, that happened a few years later when I discovered my technique of painting with paper yeah. It was quite emotional because I don't see her much. she's still in Russia. And I try to turn off all the podcasts to videos I was watching on the background when they work.
So I tried to think about her kind of remember things you were doing together. Just kind of be inside my memories while creating their projects. I think I cried a little just missing her that moment. And then I, gave her this as a gift, so right now it's in her flat.
Ling Yah: It sounds like your own journey with paper has undergone somewhat of an evolution.
You started paper with drawing. And then you started, with just the paper and now you have watercolor with people. How has that whole evolution gone?
Yulia Brodskaya: So I think it's moved from a very neat organized and structured, simple design, such as typography to a more expressive kind of colorful free hands, no emotional portraits or, I mean, not just sports or just the style that's is a lot more free.
I think expressive would be the word compare it to. Expressionists art, but main difference that instead of the fled brush stroke, I use the three-dimensional brush stroke, which I created by taking several strips of paper and folding them together and in a very tight puck exact shape.
So basically it's like a three-dimensional brush stroke, and my portraits and other artworks, they would be simply laid out of these three-dimensional brush strokes.
Ling Yah: I wonder, was there a point as you were exploring all these different things that you realize I can do without this?
Yulia Brodskaya: I really got this idea that that's what I'd like to be doing during that first half a year that I was experimenting because like, I remember for instance my husband, he would tell me, why are you keep doing these things with paper when you hit such lovely can draw an illustration.
but they kind of older didn't you begged them that's no, I need to be doing this even though no one kind of saw it yet. No one liked it yet. I just had that in there knowing that seat. And we saw that Most likely will be doing it for a long time. I started, okay, this style became popular.
I'm known for it. Maybe I'll be doing it for a few years until people get tired of it and I'll be forced to switch something else. But then year after year with another year and my techniques keep evolving and I keep experimenting and every year I come up with something else and there's just no end to it.
The longer I do it, the more excited I am about it. And the more possibilities I keep steam. So that's how it is.
Ling Yah: You said before that when you first started, no one liked what you were doing. When was that moment when you realized that people did like it?
Yulia Brodskaya: I think that having some commercial success and exposure. That's proved it to myself that I'm on to something. Although I did feel it from the beginning, as I said, it's just take some time for other people to see it as well.
Ling Yah: I think for artists as well, it's not like any other career where everything is fixed and you know exactly where you're going.
once you had the guardian article, how do you build your reputation so that more and more people will come to you and want to commission you? Because right now I think, most of your work is commissioned work, right? So how did you reach that level?
Yulia Brodskaya: Literally one step at a time and thanks to internet, basically, because once your first project appears someone sees it, then they might get ideas of how to apply this style to their project.
So just a snowball. Once you start then usually it just happens organically, but I still had to go through kind of a change of direction because a few years ago my commercial sides of, my art practice has really began to slow down. There was a point when I pretty much stopped doing commercial work and I didn't panic.
I think it came at the right time. I was. Quite tired of just creating work, based on the brief or things that other people needed. So that was the time I didn't have commissioned, but I concentrated on working on my portraits things that I wanted to create myself, like following my own ideas.
I mean, what's the real artist would do, because when you work for clients or on a project, it's more like more designer, meteoric kind of illustrators, you take someone's brief and you put your own mark on it, but when you actually you're on your own boss and you go deep into things that you want to create things to come out, then one can feel that you become the real artist.
So I concentrated on that and gradually people started to come in and my art practice switched focus right now. I still do selected commercial work, but it's mostly either private commissions or just art that I create myself.
And then people might buy. And I must say right now, I enjoy this a lot more than the work I've been doing the beginning, but still, I mean, every, stage is great. So I appreciate every year.
Ling Yah: So how did the idea of your book, which was published in September, 2019? How did that come about.
Yulia Brodskaya: I've been approached by many publishers to write a book, but the thing is they always wanted me to do it.
Your tutorial book? I really felt very strong resistance to the idea. I couldn't either. No, and I really don't want to do tutorials. That's not where my strengths kind of an influx can come from. So I've been saying no to quite a few. And at some point one lady got in touch with me.
And first she did ask about the tutorial book, but I think I was so fed up with the suggestions at that point. So I kind of released all my emotions my reply to her saying. I don't want to do tutorial book. Like my work is not evolved. I want to encourage people to be free and kind of learn how to create things, to not follow someone else's design.
They wanted to find inspiration within themselves. So I don't do it often, that time I just unleashed all my frustration onto her and she said, oh, okay. So, what kind of book would you write instead? And I thought about it and I said that it probably would be something more about some techniques that I'm doing, but it would never give you some templates or steps that you need to follow. So I didn't have a concrete concepts in my heads but we started this discussion and little by little, this, idea started to shape and they decided to give it to go.
And if I was given half a year to write this book and, before I start writing anything. Always kind of knew that I make decisions. I make creative decisions for a reason, but I could never formulate those decisions and like put things into words. Like, why do I use this specific color combination?
Or how do I mix paper? So don't think intuitively I never apply logic or a thinking mind to how I do things. But during the writing of the book, I had to actually go, inside and try to find those reasons why to be able to explain them to people. And by doing that, I also kind of confirm to myself that actually nothing is random.
I do know why I do it, but just, I didn't know how to explain it.
Ling Yah: So why do you do it then?
Yulia Brodskaya: Well, depends on which particular aspect and writing about. I mean, how I select colors or like about composition.
Ling Yah: So you have this book and then you also now have a new game app code paper Mingo. How did that start?
Yulia Brodskaya: It's an interesting twist. would never thought I would be doing a mobile app but basically after seeing the popularity of such a great casual games like candy crush, I got the idea that it would be nice to maybe create art inspired by my style, my paper art and this fake piece, more people would be introduced to the type of work that I do. They would maybe learn what quilling is because visually I think this, paper and the style has really nice, tactile and textures feel to it.
And then from my sample, I know when I even. A mobile phone. I usually like to have some texture. No, just smooth.
So obviously I didn't do it myself has like friends who are developers, They basically took all my pictures and designs and applied their coding magic, making them move and interact. And it's, a fun project because there are like new chapters we release every few weeks. So I always have to come up with new designs to make like every level and chapter look fresh and interesting.
And I think it's the longest project I've ever been involved with because usually even the longest artworks would take me maybe like a couple of months, half of the years we discussed this project that I started more than a year ago and it's, ongoing. So it's really fun. even liked playing it myself because I find it relaxing.
Ling Yah: So was this a project that kept you going, because this happened during COVID right. So how has COVID impacted you your work?
Yulia Brodskaya: Yeah, most parts of the pandemic happened while I was developing this game. But so I still kept working on my portraits and other commissions. So I can't really complain.
I got more and more people interested in my work. And I think maybe because right now there's a need for like more beauty, more positive energy. And maybe it's just people want, now they forced to stay at home for just longer periods. And they want to bring more like beautiful things in inside their houses.
So that's why maybe I get more commissions right now.
Ling Yah: Yeah. I love that. You know, while everyone's stuck at home, you have been so busy. One of the newest things you have done is this April, you put up your first NFT listing. So how did you first start thinking that I want to start an NFT.
Yulia Brodskaya: Well, I had no idea about NFTs. You can think of me like you're like, grandma I'm really slow with the technology, even though it made enough and everything is just digital things. they don't come easy to me. it's actually was my husband who told me about NFT and it took me quite a while.
And a few articles, if you videos, just to get a basic idea of what it is, but I mean, I'm usually open to different things to try. So I said, yeah, why not? I'll give it a try.
Ling Yah: I imagine a lot of artists listening to this who also want to try and make their own NFT. The big question is how so? What is the process?
Yulia Brodskaya: You just first need to really learn. because right now there are so many sources. They explain the process. So first you basically, you get familiar with what it is and different options with different platforms. They have slightly different ways of how they offer NFTs.
And maybe the first step would be to choose like where would you start a food? Just start with like I'm with foundation. And I had to like ask a friend. For an invite. So there are different platforms. Some of them are open to everybody. Some of them you need to be invited. So I think the first step would be to look different, maybe try to approach some of them, see like who you want to work with.
And then usually they provide explanations of how to do it. And then get started.
Ling Yah: why did you decide to settle with, with foundation? What about them that you'd liked?
Yulia Brodskaya: Well I tried a couple others and they didn't reply this was the third one I tried. And I got in, so it's as simple as that you just try different ones and the right door will open.
Ling Yah: And what else can we expect from you?
Yulia Brodskaya: Well, definitely more portraits. I think that's what I'm excited the most still. but on the larger scale, and I'm kind of experimenting with ways to work a bit faster so I can not suffer much so the through process, although I don't really, but just, I think with, every attempt, I find ways to work more effectively.
So right now I think that's my focus. It's still nothing compares with seeing the real three-dimensional physical thing. Hopefully once I my blood pressure reduced a bit, some more of those large portraits, hopefully I'll maybe do my first proper exhibition.
Ling Yah: And do you have any advice for people listening who want to be just like you?
Yulia Brodskaya: Well usually my main advice I can give is to just go for it and enjoy the process without putting too much expectations for the outcome that you'd like to achieve.
' cause it rarely works when you have a certain idea of like, what you want to achieve and where he wants to go. But if you just play with it, see where it takes you experiments. Sometimes it can like follow someone if you need to. But with this type of techniques you don't really have to.
And I think I'm the example that you don't really need to learn them. You just go ahead and then try different things. And the way to come up with something original because when you know how to do things the right way, you might as well do it the other way and realize that that's the violent way as well.
Ling Yah: For someone who is discovering your art for the first time. What kind of art pieces would you invite them to look at and explore and dive deeper?
Yulia Brodskaya: the one that is called free spirit, which is on the cover of my book. I think that's maybe summarize the essence of my style because it uses that very dynamic kind of freestyle If you look closer, you will see that are actually packs of paper, braids element which is gonna represents the experimentation part, which I always try to bring because for instance, this portrait that I'm talking about it came about because they started to make the braids out of.
White paper card. I made like a big bunch of them, like different thickness. And I said, what can I do with them? And it's like, okay, I'm going to apply them in certain pairs to make this woman's hair. And then I like find a photograph of the ladies profile. That's kind of fitted rough idea that I had in my head.
so it came out of the desire just to apply this nicely, to braid to something. But I think just any portraits will give you a good idea of what my style is and what, is the thought it is about? I think what I want. Convey with my artworks is like, when you look at any of my portraits, you can see like they're alive.
So you can feel that liveliness coming through, even though they're really rough, because there, even though drone lines, everything is just strips of paper, but somehow you can still feel the presence of a person behind them.
Ling Yah: do you feel that you have found your why?
Yulia Brodskaya: Yeah, definitely. And what kind of legacy would you like to leave behind? I think For me, it's just, I want people to appreciate beauty and they want paper to be seen as a very, maybe like serious medium for conveying emotion.
Just to stand alongside all the other different mediums. I want to push the boundaries further for this particular vapor techniques again, to make people realize like the possibilities are endless and it's a wonderful, wonderful way to create.
Ling Yah: And what do you think are the most important qualities of a successful person?
Yulia Brodskaya: I think successful Verson really enjoys what he or she is doing. And regardless of the outcome, if, it feels good, if you feel joy, then that's what is really important. And eventually it just comes through and other people start to feel it too. So as long as you're enjoyed that in the key.
Ling Yah: And where people go to find you find out more about what you're doing and even commission your work?
Yulia Brodskaya: I think my website www.art, yulia.co.uk. And from there I have Instagram where I usually like post the most recent artworks or sometimes work in progress or Facebook. I think it's easier to go to the website first and then see.
Ling Yah: And that was the end of episode 54. The show notes and transcript can be found at www.sothisismywhy.com/54. alongside a link to subscribe to the weekly newsletter for this podcast.
And stay tuned for next Sunday, because we will be meeting a Singaporeans founder who founded one of the top media companies in Southeast Asia known for its memes.
On how they first did it for fun, how they create viral content based on current affairs at the time.
And how they've grown into the behemoth that they are now.
Want to learn more? See you next Sunday.