Welcome to Episode 83!
Our guest for STIMY Episode 83 is Bilal Zaidi.
It's always exciting for me to introduce another podcaster on STIMY, and today's guest is a particularly exceptional one who has not 1, but 2 highly successful podcasts!
Bilal Zaidi is the founder of Creator Lab – an entrepreneurship podcast & growth marketing consultancy. He's also the co-creator & host of "Not Investment Advice", a weekly business podcast covering the latest in business, tech & web 3.
He's interviewed some of the world's leading entrepreneurs, including people like Jim Mckelvey, the billionaire co-founder of Square, Tim Urban from Wait But Why, Kat Cole, president of Athletic Greens, Daymond John from Shark Tank & Gary Vee.
Beyond entrepreneurship – he's interviewed a wide range of creators ranging from Hollywood actors, Emmy-winning performers, leading writers, billionaire investors & non-profit founders. 
He started his first company, an ecommerce business, aged 16yrs old after selling sim cards, CDs & clothes at school & also an Arsenal Review blog that racked over 500,000 views. He later spent 7.5yrs working at Google managing a $100mil+ business. After meeting the founder of leading social enterprise, charity: water, Bilal left his job to join their leadership team full time as their first ever Director of Brand Partnerships, partnering with brands like Saint Laurent, J Crew, Amazon & 100+ others to raise money & awareness for clean water. To date, charity: water has helped almost 15mil+ people get access to clean drinking water in 29 countries.
Bilal is now a full time entrepreneur & creator, working on several ventures as a podcaster, consultant & investor.
PS:
Want to learn about more inspirational figures/initiatives & stay updated on latest blogs about Web3 law? 
Then use the form below to sign up for STIMY's weekly newsletter!
You don't want to miss out!!
Who is Bilal Zaidi?
Bilal shares what it was like growing up in East London, the skills he learned from the vendors operating at local street markets and also the two businesses he ended up founding as a student. One of them was a blog that received over 500,000 views! 
3:40 Growing up in East London as a Pakistani British

6:52 Being a fan of Nars the rapper

7:42 Taking money seriously

9:47 Starting his first company, Street Vibes, as a student

12:49 Learning the art of selling from the vendors at London street markets

15:24 Running an Arsenal Review website with over 500,000 readers
I was a little bit younger and I had this VIX pen, like, when you've got a black nose and I kept like sniffing the VIX pen and he just looked over it. I mean, he was like, what's this guy like sniffing over there. It's like kind of weird.
Working at Google
Bilal ended up spending over 7 years working at Google, but did you know that Bilal almost turned down the offer to apply to Google (after being headhunted on LinkedIn)?!
18:44 Being headhunted by Google on LinkedIn

22:14 Almost turning down the opportunity to work at Google

23:25 Being seen as a drug dealer?!

25:37 Spending 7.5 years at Google

27:19 Shutting down a $300M company within Google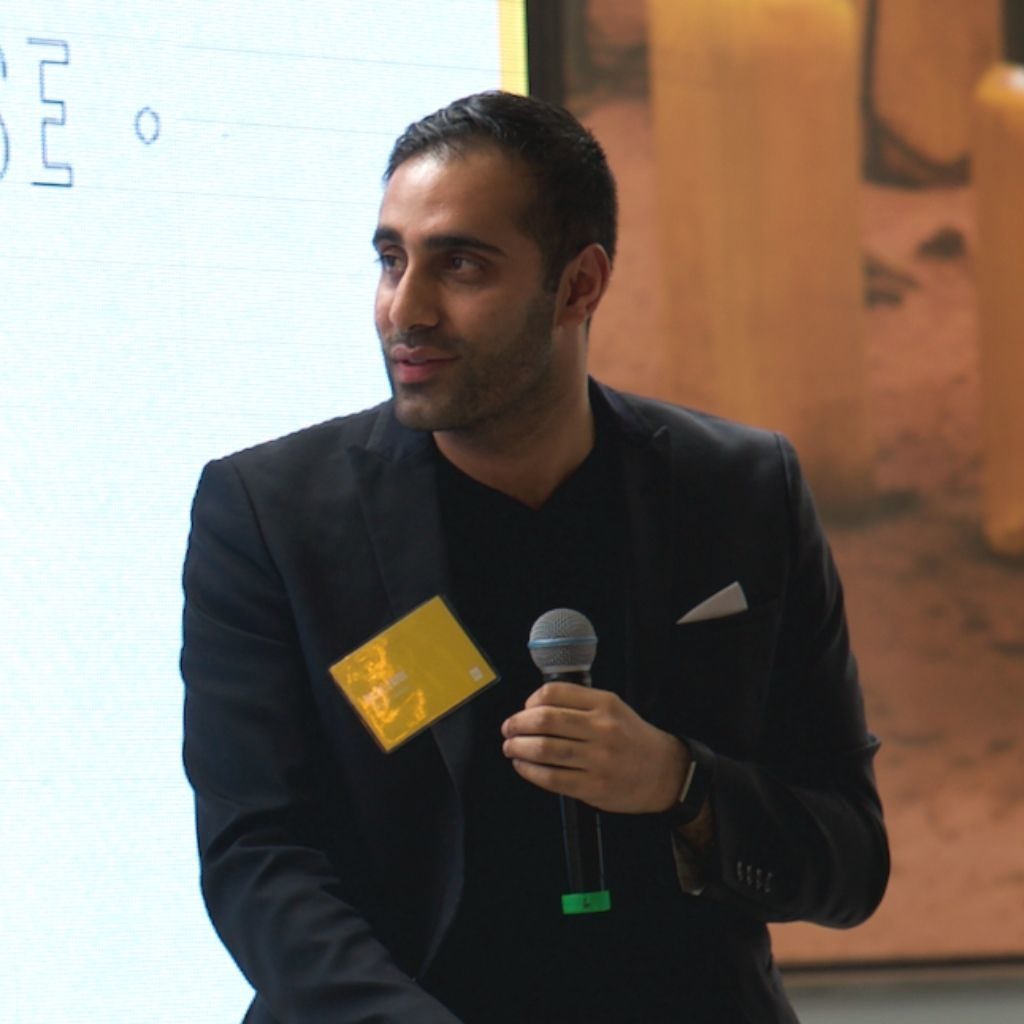 Starting the Creator Lab Podcast
Bilal found himself in his lowest, almost depressive period, questioning what he was doing with his life. His solution? Starting a podcast, and beginning the journey to speak with some of the most well-known names in the world.
29:19 Getting out of his low period

32:16 Starting the Creator Lab podcast

36:43 How Bilal lands amazing guests 

43:49 Focus on one platform

48:26 Landing podcast sponsorship deals

53:05 Milestones in Bilal's podcasting journey

55:30 Meeting the Winklevoss twins

58:40 Interviewing Gary Vee

1:05:39 Jack Butcher – going from cold DMs to close friends

1:14:40 How much personality should you show?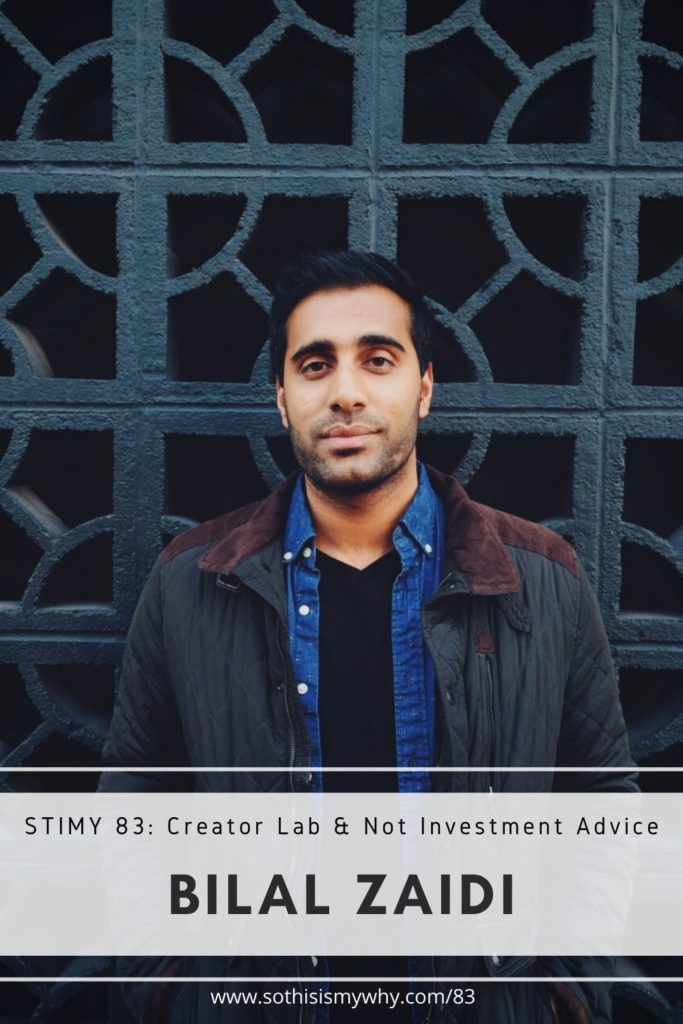 If you're looking for more inspirational stories, check out:
Nicole Quinn

: General Partner at Lightspeed Venture Partners; investor and/or board member at Calm, Cameo, Lunchclub, Haus Laboratories (Lady Gaga), The Honest Company (Jessica Alba), Goop (Gwyneth Paltrow), Girlboss (Sophia Amoruso) etc.

Debbie Soon

: Co-Founder of HUG (Web3 accelerator, discovery platform & pre-mint fund), and former Chief of Staff at ONE Championship

Daniel Cohen

: Managing Director of Beigel Bake – London's most iconic 24/7 Jewish bagel shop
If you enjoyed this episode with Bilal, you can: 
Leave a Review
If you enjoy listening to the podcast, we'd love for you to leave a review on iTunes / Apple Podcasts. The link works even if you aren't on an iPhone. 😉
Patreon
If you'd like to support STIMY as a patron, you can visit STIMY's patron page here. 
External Links
Some of the things we talked about in this STIMY Episode can be found below:
STIMY 83: Bilal Zaidi (Entepreneur & Host, Creator Lab & Not Investment Advice)
===
Bilal Zaidi: Both Street Vibes and Arsenal Review were around the same time they were kind of overlapping. It was always just me saying, oh, I like to do this one thing when I start doing it, not overthinking it, which is something I've had to work on as I've become an adult.
Cause at that age you have nothing to lose and the world hasn't like brought you down yet, you know? yeah, So I'm a huge Arsenal fan. Like I'm obsessed even until today. And I just started blogging myself on blogger.com or whatever it was called. And eventually that progressed into saying, oh, I don't want to Arsenal [email protected].
I want Arsenal review.com. So let me learn how to do that. And then after awhile, I was like, ah, the blog is kind of basic. What about WordPress? I did that. And then at one point I realized well there's only one of me. I can only write X amounts per day or week. Why don't I get other people to write as well?
And you know, then you figure that step out. So at the, at the peak of it, , I think it was 23 or 25 writers from all over the world. And we had about half a million people, unique visitors on the site. The craziest thing is I didn't monetize very well. Like I didn't know what I was doing.
And I find if I had that now, I would do a lot more, I would sell brand deals. I would start a newsletter. I'd do a podcast. Either way, I learned a lot from it it was cool, but it was all organic. I never spent any money on it, even the writers. I was like 16, so I couldn't pay anyone.
Ling Yah: Hey, everyone!
Welcome to episode 83 of the so this is my why podcast. I'm your host and participant Ling Yah. And today's guest is Bilal Zaidi. He is a creator of two podcasts, Creator Lab, which I listened to and how I first learned of Bilal and also not investment advice with Jack Butcher and Trung. Prior to that, he worked as the director of brand partnerships at charity water and also at Google for over seven years.
Now, I'm personally really excited to share this episode because firstly, I am a big fan of the creative lab. It features many exciting leaders and entrepreneurs that you will probably recognize, including Gary V Tim Urban of Wait But Why, Scott Harrison, the co-founder of Charity: water. You want to Daymond John.
Cenk Uygur, Shaan Puri, Jack Butcher, Jim McKelvey, who's the co-founder of square and Dire Hickey, the co-founder of the web summit. So obviously in this conversation, we got pretty matzoh and we talked quite a bit about all things, podcasting, how he lands incredible guests, like Gary V, how his interview with Scott Harrison turned eventually into an actual job.
And also prior to that, what it was like growing up in East London as someone with Pakistani origins where he started a business while he was still in school. And ran an arsenal review blog that racks over half a million views. Why he almost turned on offer to work at Google, why one of the employees thought he was a drug addict in his first week there and how he got out of a very low period where he didn't know what he wanted to do with his life.
If entrepreneurship, marketing, and seeking purpose in life is what you're looking for, then this is the episode for you.
And if you don't already know, this podcast does have a weekly newsletter where I highlight other interesting people and initiatives that don't get featured on this episode and also have been writing some original pieces on the law and how they apply to web3.
So if you're interested, just head over to the show notes for this episode, and you'll find the links to subscribe to the weekly newsletter. Now, are you ready? Let's go.
Bilal Zaidi: The interesting thing is my girlfriend actually came and visited where I grew up and she's always been confused because every time she asked me like, where did you grow up?
I'm always like, well, it's on the border of this and this it's very difficult to understand. And then when she got there, she realized like, I get you because outside my parents' place, there's one sign that says London borough. I don't want to say it just cause you'll be able to somewhat be able to figure out where it is.
But basically London borough one in east London. And then there's another one which says welcome to Essex. And my address is like three different things. So it's always really confusing for people, but if anyone knows London, I know you spent time there. It's right on the border. And where my family actually grew up, it's in a place called Walthamstow and Hackney before that.
Hackney is quite famous now for being kind of like very trendy and cool growing up. It wasn't the same reputation. It was kind of like, I live in Brooklyn now in New York and it was very much the Brooklyn of London in a way.
Ling Yah: Hackney is now gentrified.
Bilal Zaidi: Yeah, exactly. Like if you think of gentrified places in the world, Hackney is number one, probably right like up there. still gentrifying in certain parts, but, you know, it's like really different to what it used to be. So that was kind of the area.
Growing up, I went to school in kind of both of those areas. I went to school in Chigwell Essex. And then I also went to sixth form college in Walthamstow, but all of my family and a lot of my community was in Walthamstow cause that's where our local mosque was. That's where my family used to live before. So they had more roots there.
So I always kind of had this transition point where I'd go to school. Didn't really feel at home there. And then in the evenings and the weekends, I would find my tribe so to speak.
And honestly, a lot of it at the time up until the age of 13. From my experience, anyway, race became a bigger part of everything. It was very apparent and I was like one of the only few non white kids in my school and that led to some like bad stuff.
Like a lot of racism and stuff like that, that happened. So then when I would go into this other area where a you know, everyone looks at me and we're talking the same stuff at home, we speak the same language at home. We eat the same food.
There's a lot of shared values. That was the age where things started to become very different for me. A lot of my identity started to form, I'd say around that time.
Growing up there was very multicultural overall, you know, a lot of Pakistani Indian, Bengali people, but also Turkish, Greek Cypriots Nigerians, Jamaicans obviously English as well. And I think that made a huge difference to the perspectives you have and you can connect with people and like have more empathy for them and that sort of stuff. And a lot of my work has always been about building bridges with people.
I think that's become naturally to me over time, like in sales, your job is to connect with the person. Make them trust you, you know, obviously authentically and build a relationship and eventually, you know, progress your company's goals with that company. Right?
So on the non-profit side, when I worked there, I know I'm jumping ahead, but that is about connecting with someone, getting the trust you within a few minutes, you need to know if you're working together and then obviously in podcast land, that's all your job is to make people feel comfortable, ask them questions.
Ling Yah: Weren't you a fan of Nars the rapper, you always love the spoken word.
Bilal Zaidi: You've done your research. Exactly.
Yeah, like most kids, I'm getting into music like in my early teens and hip hop was the music that I kind of fell in love with a lot of it was NAS.
If people don't know NAS, he's kinda like the lyricist rapper, right? It's like poetry but in music form. Obviously that Kanye and all those guys as well at the time, it's just like early 2000. But yeah, I would take the bus every day to school and it was 45 minutes. And I would listen to a CD where there were 18 songs you could have on a CD, which is basically one album.
And then eventually there was this new type of CD where you could compress it. And I could have like eight or 10 albums. And I basically had every single album of his. So every day I would listen back and forth, back and forth. So, yeah, that was good times.
Ling Yah: And you were also very aware of the life of an entrepreneur, right?
Your father actually used to work in factory and KFC, then he ended up working in banks. And so he brought you into that world thinking about money seriously.
Bilal Zaidi: Yeah, exactly. Yeah. So my dad actually my mum also. You know, she worked as well. A lot of the time, like she did everything from my mom's mom's side. They did like machining in east London industrial style, like manual labor at one point. And then she worked in retail and stuff like that and became a teacher.
My dad, similarly, you know, came as an immigrant from actually quite an educated family in Pakistan. But by the time you come to London, you're kind of starting from scratch. If you don't already have a degree or something. And it's interesting cause you used the word entrepreneurial and I will say to me, the money and business side, he definitely instilled that in me. Like I would look at stocks and share prices with him and eventually real estate properties, what he ended up doing later down the line. But I wouldn't have ever thought of him as like entrepreneurial at the time anyway.
He was actually quite like corporate and not in like a bad way. It's just, that's what it was. He worked in a bank and it comes from his generation and also his situation, right? Like he didn't have any money. He came, worked really hard, built something for himself. He didn't have the opportunities that I had.
They didn't have the internet either. Right. So I'd say the most entrepreneurial stuff he did specifically is he did start a restaurant at one point after he kind of like semi retired in Pakistan, which unfortunately didn't go too well.
But he was like always investing. He's someone who can see an opportunity and say, oh, like there's a house. It costs a hundred thousand pounds. I put 10,000 down, I'll pay a mortgage of 500 and I'll make a thousand of rent. That's my profit.
So that was definitely a part of, being exposed to it. But I don't know where the entrepreneurial side actually came from. That was probably, from reading books or TV shows. Like I watched that dragons then in the UK, which is like shark tank here. And I've read like Richard Branson's autobiography.
And I think that was probably one of the first few, things. Yeah.
Ling Yah: So how is it that reading all these different books led you to starting your first company street vibes? Was it because of your brother and you were sharing a room with him?
Bilal Zaidi: That's a good question. Cause honestly, by now a lot of this stuff is fuzzy and I think a lot of it, you know, many years later you tell yourself stories.
So it's a good question. I'm going to try to answer as honestly as I can.
So at the street vibes, I was 16 years old. It was an e-commerce retailer. Right. But I actually started selling stuff at school. So it was probably 12 or 13 years old.
I started selling CDs at school, you know, every school has this kid, right. SIM cards. We couldn't leave school for lunch. So on the way home, I would buy a bunch of Haribo sweets and sell them at school. Like just whatever I could get my hands on. And I guess that came from partly a need for money and also the rush and the fun of it. Like, it just made sense to me.
I bought something for two, sold it for 10 and everyone was happy. I got it for two. Cause I bought a hundred of them and I took the risk and someone got it cheaper from me versus someone else. convincing someone face-to-face is also something I kind of grew up with because in Walthamstow, it's actually the longest street market in Europe apparently. It used to be anyway.
I don't know if that's still the case or whatever, but it's like a typical east end London market. So if you've ever watched like EastEnders or the soap show on TV, like Cockney people, they're like two pound banana they're selling, fruit and there are literally members I'm going to people.
There's a guy called Rico who was a Rastafarian guy who sold like Bob Marley t-shirts. I was 16, I'd go and like chat to him, tried to make friends with him and say, Hey, how'd you like convince someone to come over and like, look, do you mind if I just hang out with you? And just that feeling of face to face, talking to someone and servicing them, but also like selling them something would just kind of came naturally and something I really just enjoyed.
I don't know if there was a trick, I think it was more just like seeing how friendly it was. Like he was so warm and he was funny. And like he had all this personality, right. And I think a lot of that, you can't really like trick. A lot of is your personality, you know?
So I think I always had a sense of humor. I'm not a comedian, but I always, laugh all the time. And I'm looking at funny stuff all the time. That's kind of like how I get along with life Yeah. And I think just seeing, seeing that, and I would also see him build a bridge, like I said before.
if someone's a kid, he would treat them in one way. If someone's an elder, he would treat them with respect. there's another guy, Hector, I remember this guy, he used to sell hats and sometimes I would like go and buy hats from him when I ran out of, for my website. And he would say like, what up king?
Like he would call you king, you know? And I was like, what's that? And I later found out like, that's in the black community, they would say these like empowering words to each other. and I really liked that. And I was like, oh, that's kinda cool. No one's called me a king before. And so it was stuff like that.
you can't really learn that in a textbook. Right. You kinda just have to experience it, but I'm sure like in Malaysia, there's all these street markets and stuff too. Right. I'm sure you have experienced a lot of it.
Ling Yah: I think there are street market s but I don't tend to go to them that often.
So my biggest exposure was actually in London for instance, Brick lane.
Bilal Zaidi: Yeah. Or brick lane is another great example. Brick lane , again for people who don't know, it used to be the industrial part of London. A lot of it, that area is like Aldgate, Aldgate East and commercial road, commercial street.
They're literally called commercial street. Right. And they used to be a lot of factories there. I think there still are. But also that whole area is gentrified and it's pretty cool now.
Ling Yah: The factories have turned into partial weekend markets. right?
Bilal Zaidi: Yeah, exactly, exactly. Like a gastro pub or something like that.
I did an internship , like in a consultancy company for one summer at school and I would literally leave at lunch and like go and it sounds really sad now, but like practice talking to wholesalers. Cause I just like loved doing it.
Before I was importing stuff from China, so it was over email and phone, but doing it in face to face. I was like, I've got an hour.
I was on my own and I didn't have anything to do. So I would go over there and just chat to them and learn like how does the order work? Oh, what's a minimum order quantity. What does that mean? And is that negotiable? And like, oh, if we go from 12 pieces to 100, 2000, how much lower do the cost go.
And then you learn about credit. I don't need to pay today. I can pay in 30 days. Okay, cool. So all of that stuff, you know, it's not rocket science, you can read about this stuff, but again, I think just the way I've always learned is by speaking to people, that's why I do the podcast and asking experts how it works.
I just love it because you remind me of a previous guest I had, Daniel Cohen. He actually is running Beigel Bake, which is along Brick Lane. And he was talking about the same thing. Cause I was curious and I thought everyone knows about it. How did it first start?
And he said, it was basically my uncle and my dad, we started and people started trickling and saying, Hey, this smells really nice I want you to sell it. And they just really reacted to people, literally coming up the street. It sounds like there's such a community there.
that's true completely. And, I'm conflicted in this way because on one side I love the internet. I love the fact that you and I can speak now from, you know, you are Malaysia, I'm in New York.
You can't be further away almost right? Like really far geographically. And this would never have happened without the ability of the internet and the potential of the internet.
But then there is the other side to me, which is old school, nostalgic, romantic, who wants the face-to-face interaction and the community.
But I think the great thing is you can have both, you know, wherever you live, you can make the most of that and you can still make the most of this massive world out there where people are doing crazy stuff. So definitely love it.
Ling Yah: And you definitely did have both because you soon after started at the arsenal review online magazine and you grew it to 500,000 users over the world. How did that happen?
Bilal Zaidi: So up to this stage, it was all very organic. Both Street Vibes and Arsenal Review were around the same time they were kind of overlapping. It was always just me saying, oh, I like to do this one thing when I start doing it, not overthinking it, which is something I've had to work on as I've become an adult.
Cause at that age you have nothing to lose and the world hasn't like brought you down yet, you know? yeah, So I'm a huge Arsenal fan. Like I'm obsessed even until today. And I just started blogging myself on blogger.com or whatever it was called. And eventually that progressed into saying, oh, I don't want to Arsenal [email protected].
I want Arsenal review.com. So let me learn how to do that. And then after awhile, I was like, ah, the blog is kind of basic. What about WordPress? I did that. And then at one point I realized well there's only one of me. I can only write X amounts per day or week. Why don't I get other people to write as well?
And you know, then you figure that step out. So at the, at the peak of it, , I think it was 23 or 25 writers from all over the world. And we had about half a million people, unique visitors on the site. The craziest thing is I didn't monetize very well. Like I didn't know what I was doing.
And I find if I had that now, I would do a lot more, I would sell brand deals. I would start a newsletter. I'd do a podcast. Either way, I learned a lot from it it was cool, but it was all organic. I never spent any money on it, even the writers. I was like 16, so I couldn't pay anyone.
So my pitch to them was, I've got massive audience. If you want to write for experience this is what the kind of deal is if you're up for doing it. Great. And a lot of them were like, you know, students trying to get their portfolio out. One guy was like a 75 year old, ex-journalist who wanted to do it for fun.
Now I'd probably do it differently. I'd try my best to pay. I do believe in paying people for work, but I also learned that pay is not always just money, right? Like that doesn't mean you shouldn't pay people. But my pitch to them was here's an asset. I've spent many years building this up.
I've spent hundreds and thousands of hours, right. This is what I said to them, but that's the exchange. I've pre done a lot of this work. I've done a lot of the hard work. You want to get these benefits. And if you're up for it, they always invite people like I'm very transparent. This is what we will be doing.
And if we get to this next stage, then I can afford to pay you at the moment I make zero money from. and it was not really a business, right. It was kind of like just a fun sports site.
Ling Yah: With half a million people reading.
Bilal Zaidi: Yeah, yeah, exactly. Which was crazy. And now to do that from scratch now, honestly, it was so hard because the world, the internet has changed.
That's another thing I kind of learned is when you're early, there's a lot of arbitrage. Like you get the upside, the other people won't get in five years time. So if you early to Instagram in 2011 or whenever it was, or if you're early to Facebook in 2007 you know, now in the last two or three years, it's been tik tok, right?
And two years from now tik tok will not be what it is. And that is always just the lifecycle of how things develop and you're rewarded for being early. It also means nine times out of 10, you try saying when it's new and it wasn't worth the time. But if you're that sort of person who is interested and tries experiment and with stuff, you will find the arbitrage essentially.
Ling Yah: Will you say that that arbitrage is what led you to Google because they found you through LinkedIn, right?
Bilal Zaidi: Yeah. And so that's another way to put it. To put an age on it, I was 21. So I'd just finished. I went to Imperial in London since you know university of London as well.
It's 2009 and it was just in the middle of the big recession. So it was actually the worst year to graduate in a hundred years in the UK anyway, and probably in most places. my dad had just lost his job. He used to work in banking, right. So it was actually quite a weird time.
He'd lost his job, like 2008 for the final year of school. I was like working while doing school because I needed it to pay for everything. I always just wanted to go back to doing what I did. Like, I kind of went in a typical Asian family, go to university, become a doctor, lawyer ,engineer vibe.
And my parents are amazing. They basically were like, look, all we ever asked is you just to do your degree because my dad didn't get to do a degree. And so that's been an over emphasized thing and in their world, that's how you get out of poverty. That's how you build a better life for your kids. And I think generally that has been correct, right?
Like they gave great advice 20 years ago, maybe in 20 years from now, if my kids are that age, maybe things will be different. but yeah, so up to that point, I was basically working a little bit on the side doing that consultancy work.
You're at 21, you don't really have that many skills, but lucky for me,. I'd built an e-commerce site. From 2004, when most people weren't doing stuff like that, there was no Shopify when I started doing it.
I'd learned about SEO. I'd built a blog to half a million people. I'd technically manage people, it's not the same as managing in person and stuff like that.
And so for a 21 year old coming from a relatively good school, there weren't many people with my keywords on the LinkedIn profile literally, right?
Like the word SEO, Google search, paid search, analytics. Those were all on my profile. So I actually asked the recruiter who found me many years later because we became friends and I said, how did you find me, do you remember it?
And she was like, we'd literally just search by school. And I did some keyword searches and yours popped up and you looked like a good candidate. And then we reach out. Then you have to go through the interview process, obviously. The way I always think about this is, people like to say, what's lucky what's not. How much is skill, how much is earned all that sort of stuff.
Everything is both, right? Like the luck here is huge, right? Like I was born into UK, I speak English. I was smart enough to go to a good school. And I was curious about all of this sort of internet stuff.
And you mentioned my brother before we used to share a room he's 10 years older than me. He was learning to code HTML, JavaScript, like CSS, like the web languages. And I just got exposed to that really early and I really liked computers, so that was a lot of luck.
And then the other side is what you do when you get given opportunity or did you work hard?
Did you apply yourself when you tried to procrastinate? So those are all the things that you do have in your control.
And another part of it was, I'd built some skills over five years as a young kid. And I will say a lot of people I worked with like half of my best friends are from Google still. Most of those people went to like really good schools. They went to private schools, they had like a lot of privileges and there's nothing wrong with that.
That's what I would do the same for my kids if I could. But I think for me, mine was a little bit different because it's slightly different background. Eventually it went to a good school, but like all the stuff that happened before was very different to like an average Google employee.
So yeah, that's kind of how, how it landed and moved to Dublin when I was 21 years old. And that was the European headquarters at Google.
Ling Yah: Didn't you almost turned down the Google opportunity and everyone thought you were crazy for doing that.
Bilal Zaidi: Yeah, it was before I'd done the process. So it wasn't like they gave me an offer.
It was the initial outreach. They emailed and said, Hey, we seen your profile. Would you be up for applying for this job going forward for this job? And at the time it was the summer of 2009. So it was just after I graduated and all I had my focus on was starting some sort of company, because that was all I cared about at the time work-wise right.
I was obsessed with business. I was obsessed with startups and learning about how you create something on the internet and I could see the potential and it was the only thing really, really exciting to me work-wise.
I'd looked at consultancy in banking and all the kind of like standard paths, someone in my university would take. Again, nothing wrong with that, but it just wasn't exciting me.
Like I worked in a bank for, you know, for internship and I was like, oh my God, I don't ever want to do this. Right. It's an interesting now, like I actually really liked investing and that side, but at the time I didn't even know that was an option. I would have been doing like bottom of the barrel stuff processing stuff in Excel, or making decks with people and I'm not the best employee for that.
You know what I mean? I'm like good at other stuff. Thankfully it worked out.
Ling Yah: I heard that when you were first there early days a colleague came and saw you and thought you were a drug dealer.!
Bilal Zaidi: Oh my God. That's so funny. That you not, this is a colleague, one of my best friends, Pete who lives now, right here, just moved there is about to have a baby.
We're still, he's one of my best friends after 12 years. And this is, you know, where at the level where we can joke like that. And he told the story at his wedding. I don't even remember sharing that. So that was quite funny. He, yeah, he's Canadian and I'm from east London. So we were kind of a funny little match, but we sat next to each other.
On our first day it was called Noogler, hate the word, but it was like new Googlers. like we now bond over a lot of humor and music and all that sort of stuff. And at the time we didn't know that yet, right. So imagine that where we're all trying to put on our best face. Cause we're 22, 25 that most people were like 23, 25 years old.
I was a little bit younger and I had this VIX pen, like, when you've got a black nose and I kept like sniffing the VIX pen and he just looked over it. I mean, he was like, what's this guy like sniffing over there. It's like kind of weird. And I had a Blackberry. So the joke is he was like Bilal's in the corner, sniffing his VIX pen with a Blackberry.
And he's like, who's this guy, like, it must be a drug dealer. So that was the, and to be fair, to be objective, I probably looked a little bit more rough than I do now. Like I looked a bit like an East London rude boy more than I do now. So for someone like him, who's not really seen many people like me. He might've thought that.
Ling Yah: Your accent was quite different as well. Right?
You had to learn it.
Bilal Zaidi: Yeah. I definitely still have a really British London accent, but it's kind of toned down compared to if you've met me when I'm 16. Versus now that's not because I like consciously changed or anything. It's just after a while, when you say a word and people don't know what you're saying, you learned to say in another way, right? So you pronounce your T's and S's or whatever.
In Ireland, people didn't know what I was saying for the first six months, for sure. Especially the European people. Cause it was a lot of, people from all over the world and they would just like laugh and be like, oh, this guy's got so much energy.
And like, I was making jokes all the time and like having fun. But half the time people don't know what I was saying, you know? So it was, it was quite funny.
Ling Yah: You said that earlier that you wanted to start your own company. You intended to be at Google for maybe two years. You ended up spending seven and a half years there.
Bilal Zaidi: Yeah. That's a great question. I guess when you're 21, you think you know more than you do. And I think I'll probably say the same about myself now. You know, hopefully in the future that I thought I knew so much at 34 years old.
From the earlier story, which was, they sent me an email.
I said, I'm not really looking for a job right now. And they said, okay, cool. Let's stay in touch. And then a month later I went back and said, I'm being stupid. Like I should do this interview process. By the time I got there, I said, okay, I'm going to go there for a year or two. Meet all these great people and then leave.
And I'm going to like save a little bit of money up, but more importantly, I would have learned some stuff and made all these connections. Because again, coming from my background, that was all I cared about. Right. I was like, how do I meet smart people? How do I get in the rooms that I wouldn't have gotten just growing up where I grew up.
as soon as I got there, I realized, oh, these are some of the most elite students around. Right? Like they're all really smart people.
But yeah, to answer your question, why did I stay that long? Every two years I kind of recalibrate and said, okay, am I happy? Do I need to change? Am I learning still? Do I want to change location?
so let's say two years later, I moved back to London. It's got an amazing job there at Google helping to launch a start for Google. And I was like, okay, this will be great for me. I'm 23 now. Right? Like I've got a long career ahead of me. Hopefully. Let me just go and learn something new. If I get some experience there, it's not going to do me any harm.
So I think it was very iterative. Then a year later that team actually got shut down just cause Google shuts down the teams that don't make enough money basically. So that shut down. And that was again, I was 24, 25.
Ling Yah: Was this the one that was generating $300 million?
Bilal Zaidi: Exactly. Exactly. Yeah. So they were making on paper 300, but their cut is probably less. For most companies, it's a significant size, but for Google, it wasn't growing fast enough, which actually makes sense in hindsight. And so thankfully for me it didn't mean I actually lost my job.
It just meant, they said, Hey, there's other opportunities we can put you here. Why don't you apply for jobs? Let us know. You've got like a few months or whatever to figure out. And actually what they didn't know at the time for the last six months of that time, I was already planning to leave.
So I was working on this business called supper up. I've probably talked about this a little bit, but not too much. It was basically think of Airbnb for food, which now is like Airbnb experiences. But none of this existed back then to think of the way we go and stay in people's homes and we stay and we feel that we're a local imagine coming to my mom's house and having authentic Pakistani food for a dinner party.
And she doesn't know how to sell tickets. That was where my platform would come into play. And that was kind of the idea. while I was working on that, this whole mess happened with the job and I was like, okay, what are my options? I can continue doing this business stuff. I'm 24, 25. The other thing I've thought about doing is moving to the States.
And that was the next step, but eventually I got offered a job out here moved, so it wasn't like seven years doing the same thing. It was like every two, three years, something new kind of evolved and also in a tech company, maybe not as much nowadays, but especially back then, every quarter is very different because things are changing.
Your role is changing a lot at the time. Even more so in like a startup is like every week has changing. Right.
After a while I realized like it's not business that I had to do. It was, am I engaged? Am I having fun? Am I enjoying the people I work with? Am I making enough money? Is the overall equation here more balanced?
And whereas when I was 21, it was, oh, I need to start a company. I need to do X, Y, Z, because that was the only option I could see. Now over time I've seen many options. So I don't think it's just one way to do it.
Ling Yah: You've said several times that you were reevaluating your life, where you were going with a, you occurring wasn't there, this period where you were actually down and depressed, but what happened and how do you get out of it?
Bilal Zaidi: Yeah, yeah. I didn't use the word depressed originally cause I know like people are really, really depressed when they literally can't work.
And so I don't want to like put it on the same level as that, cause I was quite functioning still. But whatever you want to call it depressed or down or whatever, it was just looked like a bit of a low moment. That was probably when I was like 25, 26. So that was when I was at Google in New York.
And it was like a lot of cities have this, but New York, in my opinion, is like the epitome of this high highs and low lows. It's just like really extreme.
And so one day you're having the best time of your life one evening. And then the next morning, or the next day, you're like, oh, what am I doing here? This is meaningless. For me, a millennial anyway, like the quarter life crisis, there's a bit of a joke, but you're kind of 25, 26.
You've got all these expectations, especially honestly, for a lot of high-performing people because you know, I'm just speaking for myself. Like you go to good school, you get good grades, you get the job that you were looking to get everyone from the outside is like, oh, you're doing really well.
You're making money. You're doing X, Y, Z. And then you're like, well, yeah, that's cool. But is that really what I really wanted?
I literally write on the website, you've probably read it. It's a privilege to have a quarter-life crisis, right. Because really like at my parents' age, at 25, they were like, how do we pay for the rent this month?
And like, a lot of people still have that, obviously I'm talking about myself. so yeah, I don't want to paint it like, oh my God.
Everyone still has their struggles and it was more me trying to figure out, like, what am I doing? I also felt kind of helpless with my work. Work was not the best at the time.
It was just kind of repetitive. I couldn't leave Google cause I didn't have a green card at the time. If I look for another job, the equation wasn't working out without going into all the boring details, I felt like I had to stay in my job, wait around for the next promotion or that sort of stuff.
But what I really hated was not being in my own control. And now looking back over my life, that's a very common theme is I'm happiest when I can control as much of the outcome as possible. And I think a lot of entrepreneurial people have that because there's a lot of downsides of doing entrepreneurial stuff or starting a company or not being employed, let's say And a lot of that is the uncertainty.
Because you don't know if you're going to get paid next month, the same way you're doing a job. And that trade off has to be the right equation for you to say, but I value this other part, which is so important to me. So for me right now is maximizing flexibility, maximizing the things I don't want to do.
Like I hate being in meetings. I don't need to be in it, like really pisses me off. When I'm in a room with 25 people and no one's doing anything and pretend that everyone's pretending they're doing work. I just it's like what a waste of a life like, whoa, like there's all these smart people here why are we wasting time?
Most people can deal with that. In my head, I just go to the extreme. I just reject it.
Ling Yah: Is that why you started Creator Lab because you felt that that was within your control and it's set into everything.
Bilal Zaidi: That was it.
And sorry, I did to answer your question. How did I get out of it? Creator lab was definitely a huge part of it. But more so it was, how do I find stuff outside of the core? You know, when you're in a bad situation, sometimes you can't change it straight away. Mentally you're like wearing down.
But I find like just having basically a distraction is maybe a negative way to frame it, but just something to focus your efforts on. That is a positive frame.
It was saying, how can I be proactive again? And it was actually before Creator Lab, I used to write and go and perform at all these like open mics.
That was actually what really helped me originally because it was completely different to Google. I literally like living two lives. I would go to work, do my stuff. Sometimes hang out with friends or I would like go home and drop my stuff and then go to this place on my own.
No one there cared where you work, how much money you make. It was like, oh, what is your art? What's your creative idea that you're sharing today? It was just a completely different way to express yourself. There's the musical element. It was a really amazing community of people in New York.
The other way I'd describe it is when you do stuff that really scares you, right? Like going on a stage with let's just say a hundred people with the lights on you.
I'm like literally visualizing in my head right now and everyone's silent and it's just me. There's no music, nothing. It's just me. I'm about to speak for three, four minutes and share something that is so personal. That is so mentally challenging.
The next day you go into meeting, everything's easy, you know, because you played on hard mode at night and the next day is easy mode in the game, you know?
For other people that is like running a marathon and they're training for it, or, whatever it is. It's just something that distracts you enough that gives you this positive frame. We could be proactive. And for someone like me is the improvement part like, oh, how can I improve my craft?
and it wasn't about an end goal necessarily like, yeah, you want to win the competition or whatever, like anyone else, but it was about how can I keep getting better? if I'm going to do it, I want to do it properly. So from that, it gave me the kind of room mentally to say, oh, forget this stuff. That's annoying me at work. What else do I want to do? Let me make an exit plan. That is when I started create a lab.
It was similar to you. It was saying, how do I find people who have taken an interesting path, how they've done it beyond just like the PR story and how can I get in a room with these people that I really want to meet and build a network with.
And yeah, that's kind of how Creator lab started.
Ling Yah: Did you start Creator lab thinking I want this to be my exit plan and the business. Do you have some,
Bilal Zaidi: yeah, I had metrics success. I mean, look, if I could have made it a full-time thing from day one and said like, this is going to replace your salary and you get to do this instead of do Google ads, right? Like, yeah. I definitely would have said yesterday.
At the same time, there's a part of me that when it becomes a job, it's not as fun. So you take a bit of the fun away from it. So in a way, especially in the beginning, it was nice for it just to be this fun project where I could like apply myself.
I got called out by like the global head of Google, right? Like in an email at the end of the year. It Margot. Exactly. Yeah, exactly. And she wrote about me in this email. I know only like two or three other people mention it.
Especially at my level, I'm not like an executive at Google. Right. I remember that hitting me and being like, okay, I'm never going to get in this email, just doing what I'm doing and not to say that that's what matters. I've always felt like I punched above my waist in general.
I've always felt like don't limit me in saying, oh, this is how you're going to progress. I'm like, well, no, I'm going to figure out how I'm going to progress. I'm not going to do it based on a curriculum or something like that.
If I do the work twice as quick, you're not going to make me to sit around for half the year. So that kind of came to my mind. That's kind of like probably a childhood thing to me.
And being kind of constrained in a company, especially a big one, it's like really like suffocating for someone like me.
I just remember thinking, okay, there's some potential here.
And I remember just thinking, if I convinced Gary V Damon John, Jenk Hugo, like all these people who have millions of people following them. And I'm like a, nobody, like, I don't even have a podcast. I have skills that I know I can apply to myself and I need to kind of take myself in that direction. And so, yeah, it was a gentle nudge, but it wasn't necessarily the plan like, oh, I'm gonna quit my job tomorrow and make money off ads like that wasn't necessarily the plan.
But eventually led me to try to war, which maybe we'll talk about. Yeah.
Ling Yah: I mean, we said this off air, but one of the reasons why I was so excited to speak with you with just because your story resonated with me. I also have really high standards in terms of who the guests are. And one of the questions that I always get, which you probably always do is how do you get these high quality guests?
I suppose we could start with a general question of how do you genuinely get these people on?
Bilal Zaidi: It's a good question. So I actually kind of break it down into different stages, right? Again, a lot of the advice do you hear from people is very specific to that person, their network, their location, and the time they did it. So I don't want to say like everyone can do it exactly the same way.
Actually Spotify wrote about how I did it on their blog. If you're interested you can Google that if you're listening to this. Bilal Zaidi Spotify, it should probably show up guests. But so I wrote, they wrote like a whole framework.
But the summary is there's like the pre-selling, which is before you have a podcast, I think is great to pre-sell the idea to people and say, this is what I'm doing. And once you get a few yeses, most people say, no, it's like sales. 90% of people say no, but, and you get used to that rejection. It's a numbers game. Exactly.
You can improve your process. You can improve your pitch. There's all of the factors. But ultimately if you're someone who asks one person and they said no, and like takes it to heart, you're not going to be able to do it. Because you need to ask lots of, lots of people. It's a great lesson for normal life too, right?
Like as a guy, when I was single, I needed to speak to lots of people before one of them was the right person for me. Right? Like I needed to get rejected by 90% of people that I went to speak to. The 10% who liked me enough to speak to me, only 10% of those people were even compatible.
I hate to put it in those terms, but it's a pipeline in sales or a funnel in marketing. I don't want to compare like relationships to that, but you kind of get what I mean. So it's the same with this, right? You have a funnel essentially in guests, like you have the presale.
So for me, that was a guy called Uygur. He's got a massive YouTube channel. At the time, one of the biggest ones that YouTube would use as a best in case example. They had maybe five, 6 million people subscribed at time, which is huge for YouTube. Now it's probably even more. And I met him and I basically, at that moment I sold the vision.
I was like, Hey, this is who I am. I established credibility. I also spent a bit of time with him and his wife just happened to meet them. So I built a relationship. They got to like me.
I was just being myself and I'm trying to like, be genuinely interested in them. And I also had followed him for some time. So I knew about his stuff. He knew it was genuine. And I basically said like, oh, I've got this idea. I'm going to be recording where people to share their story, how they did X, Y, and Z.
So you kind of have to have that down. And he eventually said yeah, well maybe that here's my card. And he, it was one card left and he said, email me next week. We'll see what happens. And what happened in that case was I emailed him. He passed me over to his chief of staff. She said, no, basically like, can't do it right now, maybe in the future.
And then I said, okay, cool. Didn't take it personally. And then for maybe two or three months, I can't remember the exact time we had like 40 emails back and forth. Cause I had just asked in the email like, how's your summer going? And she said, oh, thanks for asking because no one asks her how her day is basically, right. She's just like someone who has to like schedule his stuff and she's, I'm getting married. I'm like, oh, that's cool. So we just kept going. And she sent me her wedding photos after like email 12. That was the way you having to do a lot more upfront work. That was like pre-selling.
And then once you get a few guests names, you can then go pre-sell to other people you can say, Hey, Gary V Hey, so-and-so I've got this person coming. And that helps a lot. Like there's social proof that someone else busy and important is giving up their time. And I guess to be more tactical though, how'd you do this?
You don't always meet these people in person. You sometimes have to cold email them. Do you go on their website and see, you know, it depends who they are. If they've got a book, you find the publisher's name and you email them. Sometimes you just cold email the person and they forward it on to the right person.
Social- obviously you can DM them, Instagram, Twitter, LinkedIn. I've got a lot of people from LinkedIn. I hate LinkedIn, but once in a while it works, you know? So it's just, you have to be persistent and don't be down when they don't respond. Everyone's busy.
Like I'm not even sure that busy and I didn't see your email until like the second or third email. Right. And you were persistent, you added something which showed that you'd listened to the podcast and you weren't just a generic outreach email, which happens to a lot of people.
So yeah to summarize, you pre-sale, use those names and then you just have to keep hitting them from different angles.
And then once you've got a few, you ask for recommendations. You do a great job with the guests and the way I was positioning it is I never want someone to feel pressured in general. Even meeting people out for drinks. I'm like, if you want to come great. If you don't want to come, I'm not going to pressure you.
It's the same thing here. It's like, if we do a good job, do you have any money in mind, by the way, this is a of person I'm looking for. If anyone comes to mind and you think they would enjoy doing this, that'd be great. And a lot of the time, those people do have people in mind, the bigger people.
Sometimes you have to ask in a more direct way. Like if you know, they know someone. If you've built that relationship, right, like you can't just go in cold. So like some of the best people I've got, like Tim urban, who's got the number one Ted talk in the world.
I could never have gotten through cold outreach probably. Like it was because I got a warm intro from another guest who loved the interview and yeah, so there's, there's a few examples like that.
It's selling a vision, warm intros, pre-selling and then getting more and more recommendations from the existing guests is normally how it works.
Something I've done later is I started writing on Twitter. In the pandemic, for my industry, for business and tech, like Twitter's where the conversation happens in public. So by me putting stuff out and getting, people that have a following on that, they share out with their communities, people start following you, you start writing stuff, and that's a way of getting your name out. That scale was underrated for me.
I didn't concentrate on that early on. I wish I did. So that's another way to do it.
Ling Yah: Something I notice with a lot of your guests, you would say, oh, we actually have been tweeting at each other for quite a bit we have this conversation.
So that's quite normal?
Bilal Zaidi: Yeah.
Since the pandemic, I basically did everything online and I decided to focus my efforts more around tech and Twitter because it was what I was mostly interested in. Right. And that I think really helps. And if you're someone who's got a podcast, got a blog, writing, whatever, and you're interested just Google Bilal Zaidi or go to Twitter forward slash bzaidi.
And there's a pin tweet I have, which is from ages, go, I haven't written for ages and it is about all the people I interviewed on audience building and really tactical non-generic advice. Cause a lot of people said like, oh, make great content and you just get out there and it's like, yeah, you need to make great stuff and do it consistently.
That's obvious. But there's lots of people who do that and don't think about where it's going to be found. And so coming from my background with growth marketing, digital, I share like tools that I use or like how you think about organic reach, for example, like when you post on Facebook it's very different to posting on Twitter.
You post a video on Tik Tok it's very different to Instagram. And so if you're interested in that world, you can check that out
Ling Yah: And wasn't it people like Jack Butcher as well who also said you need to focus on one platform and really build it fast.
Bilal Zaidi: Yeah, Jack and then there was a guy called Pomp who has got like 1.5 million followers.
He's got 200,000 email subscribers or more. A massive top 20 business podcasts now. But he did one platform at a time. He started with Twitter because it was a way you can focus your efforts and get discovered by new people. And then slowly he moved those people to email. Then he slowly built up the podcast and it's really difficult.
Like I'm trying to do it now still. Right. I've been doing this for many years and I have a decently sized podcast, but it's tough. It's like every week it has to be really good because if someone drops off, they're rarely coming back to listen. So it's very different just following, pressing follow on, Twitter or Instagram.
And like once in a while, if they're like, your tweet is fine, you asking someone to listen to you for an hour a week. It's very different.
Ling Yah: Where have you found to be the most easy way of reaching people on Twitter? Because you have Twitter threats, which is huge, but then you will also post snippets from your podcast as well, you have graphics or just commenting on other people's tweets as well.
Bilal Zaidi: Yeah. Honestly, I wouldn't say I'm an expert on this. I think I know based on like conversations. I've got like nine, 10,000 followers there, but I don't even tweet basically. I did it for a short period of time. I was growing every month and then after a while I was like, okay, I don't want to focus on this right now.
Trung is one of my good friends. He does the second podcast with me called not investment advice. He's grown from 3000 to 350,000 in one year, basically. So he's grown as quick as anyone I've seen. And he says, if you want followers, you write threads. You have to write good threads, right?
Threads are what get you followers. The memes and the stuff he does is what you gets you engagement.
My opinion is though, it depends why you're doing it. Like it can become a never ending cycle of, I need more followers and the dopamine hit. I've been quite conscious to say, look, if you gave me a million followers tomorrow, I'm never saying no to that, but why am I doing what I'm doing?
I love having conversations with people. So that's what I want to spend my energy on the creative side, I do two podcasts and that has already so much, I also have a business, right? So it's like quite a lot for me. If I commit to writing every day on Twitter or a few days a week, that's great. And I probably should do it. And I probably will get back to doing that at some point.
But it's also like what's your end goal. And so for me, I love doing the podcast. I like to learn and meet those people. And if one 10th of the people listened to me for an hour versus like one of my tweets, I personally prefer that. It doesn't always help though let, if you're trying to turn into a business, right?
Like they're not asking watch time. They're asking number of views and number of listens. So it depends on your goal. If you're trying to create a business, having a high follower count is going to help you. So it just depends on your objective. The way I've created my current life is I do stuff that makes me happy.
And I need to make money to feed myself and my family and everything. And so far it's worked, right? So I've been doing that three years and I have a hybrid where I have half my week is the business that have growth market stuff I do. And then I have these two podcasts that give me so much energy and then I have extra free time.
That is also really important to me that I get to go on travel, see friends and spend time with people and don't have a terrible life in that way, too. So it just depends if your goal is to be like unicorn founder, that is not what you should be doing. But what I would ask is one, is that really what you want?
So I don't want to spend 50 years doing stuff and look back and be like, oh, I was just chasing this thing. No, like my happiness is what I'm doing today.
That is what success is to me.
Ling Yah: You mentioned that you have a business in digital marketing. How have you funneled your guests or your listeners to become clients? Because that's what happens with some.
Bilal Zaidi: Yeah. That has happened with some, and I will say I've actually been quite conscious to not over mixed the audiences, basically.
Like I don't have a team of a hundred people. Personally, that's not why we currently want to do.
Some of my guests have become clients in some cases, but it came from building that relationship. when you speak to me on my podcast for an hour or two, we're talking about hard business, right?
by the end of that you kinda know if I'm smart enough or not and my style and you understand if I could potentially add value.
Obviously you don't know how I actually work yet, but you've built a layer of foundation of connection with someone. So that definitely helps. And honestly, a lot of it just comes from my network, which was before the podcast.
And the podcast has only accelerated that, obviously. So there is an overlap, but I've never sponsored my own podcast let's say. I've never read out an ad, which I might do one day cause it's actually not a bad use of time. For that 30 seconds to make sure everyone knows.
But at the moment that's not really my focus. So I just kind of keep them mostly separate.
Ling Yah: But you've also done sponsorship on the podcast before although you also stop at one point, I believe in August. Yeah. So how did you start to be able to monetize that podcast and fast?
Bilal Zaidi: Definitely is very hard.
I work in advertising so I know a little bit about this. I actually started the podcast with sponsors, which most people don't do. Right. So similarly what I did there was I started the work first.
I got the guests. I started building a vision for what it was. And I was just so excited about that. A lot of those people already founders of companies, because I was already meeting those people for fun. I would tell them, oh man, I'm starting this podcast. And like, oh, I've got this person confirmed.
And they're like, oh, that's great. Wow. And that was over a six month period. Maybe, maybe more. And as I started recording it, I started thinking, oh actually, I've got like Gary Vaynerchuk and I've got Scott Harrison, like these huge names in our world anyway. Maybe I should just offer it to people and say like, Hey, this is what I've got similar to what I said before.
Be honest, be transparent. Tell people what you do have and what you don't have. I tell people up front, by the way, look, I don't even have a podcast yet, but I've recorded this with these 10 people. I'm going to putting this out every week, whatever.
I don't have an audience yet, but I know lots of people at the time, you know, I was quite extroverted meeting people all the time.
Lived in three countries, worked at Google for X period of time. So just even getting into my network was probably already worth the money for a lot of those people.
And I would soft pitch it to a couple people. In fact, literally I think the first person I asked was someone I know he had a company called square-foot. It's like commercial real estate. Right? So that was another thing I was conscious of. I said, look, I'm not going to charge a million dollars for this. I'm going to charge probably like $500 or something.
Ling Yah: Per episode?
Bilal Zaidi: Per episode, per ad read. So if I had more than one, it would be thousand and now it's more, but that was the original amount.
And I basically said, Hey dude, I've got these people lined up. I'm going to offer this as is. I'm only going to have one or two sponsors per episode. And if you're interested, this is how it work. You would tell me some of the bullet points. I'm going to say it in my voice. And it will be at the beginning of the episode. It's built into the podcast, so forever that's going to be on there.
So if this blows up, you're going to have it on air for quite a small amount of money. And I'm trying to look for people who are willing to commit to like 10 episodes so that I could just focus on the thing. So for him, it's like let's say four or $5,000 commitment for 10 episodes with all these great people. He's supporting his friend for his business. And if one person converts he's made his money back, right. Because in that business, the amount of money you make from one deal is huge.
So the economics I'd also thought through, it's worth it for him. It's not worth it at that stage for manscaped or like Squarespace or whatever it was, that's advertising everywhere.
So it was people I already knew. I didn't talk about a price straight away, I basically like said, are you interested? And normally if they're interested, then I'll say we could figure out a price that you feel is fair.
Again, look, I had a full-time job at Google, right? So to put it bluntly, that three grand is not changing my life, but it paid for a little bit of time. Eventually it paid for my editor that I eventually hired. It was break even at least.
And so to me as a business person, I'm like, if I'm break even, and I gained all this other stuff from it, it makes it worthwhile. Now not investment advice. For a year, we haven't monetized. So we can, we, we talking to people right now, but we purposely haven't monetized because we wanted just to focus on making it good, giving it out to people for free.
And yeah, when you get to a stage where it gets to a certain size, you can try to monetize. Traditional way of monetizing a podcast is you charge what's called a CPM per is basically cost per thousand impression.
So if you have 1000 people listening, an average podcast can charge $25 to $50, which is quite high for a CPM. In advertising and Facebook ads, you can pay $10 CPM, right? So you can reach thousands of people with your message.
So if I'm a brand spending money, that's the comparison. Now, obviously a podcast is a little bit different to a Facebook ad, right? And you're getting a host to read it. And people are really engaged.
There's less banner blindness, et cetera, but that's the pitch. That's why now I don't really sell, five, six years later I I never sell on a CPM. I never say I've got X thousand people. You're going to buy my audience because I think that's a waste.
I'd rather not interrupt my audience for that amount of money. Now I charge more and that is way less than I make on my core business, but it helps justify the time and energy I put into it, right. I spent five, six hours preparing. I used to do everything myself.
So sometimes it could be a whole day's work for one episode.
Ling Yah: What would you say are the milestone achievements in starting your podcast?
Bilal Zaidi: Yeah.
Great question. There are a few moments that really stand out.
I eventually left Google, went to charity: water and that was episode two, Scott Harrison, the founder of charity:water.
If you haven't heard of it, amazing nonprofit, very forward-thinking social enterprise. He had been on my list forever of someone I wish I could meet because I'd followed him for years.
Anyone who was into tech, especially in the 2010s, when Twitter was blowing up and tumbler and all these people, they were the social enterprise. poster child.
And I was like, oh man, it's so cool. He's like using technology and he's actually helping people with it. And that was very rare at the time.
When I met him, I was like, oh, this guy is the boss. Like he's so good, he's just so entertaining and is a great guy. And that was definitely a milestone because I eventually left and worked with him for two years. And that was kind of like a full circle moment for me to see that I've kind of grown as a person.
I used to read about these people and now I'm working in the same room with this person.
And the other one, gary V. He's got 10 million followers on tik tok. He's a famous guy here if you've never heard of him. not you, I'm sure you have, but if you're listening to this.
Gary V I'd say, he's really, really great guy. He's very nice to me. And he's helped me a lot. But that moment was quite a big moment for me, because I was in the room.
He's got Netflix outside, shooting something with him for a documentary. There's three, four guys following with cameras and it was like high level. We're in the moment of social media blown up. He's the guy in business for Instagram and I'm in a room with him, testing my skills.
And it's like, pressure's on. What you're going to ask. He's put it on his YouTube channel and Facebook and Instagram podcast. So that was probably another big moment.
And then I'd say, lastly is now meeting Jack butcher on the podcast. And now he's one of my closest friends and we have a podcast together.
A second one could not investment advice. That was another big thing, right. Cause that is the evolution coming back to what you said before.
Creator Lab has always been this thing on the side of my life. Whatever my position was in life, I kept it going and it kind of evolved in that direction.
In the beginning, it was finding inspiration, eventually became social impact. And then after that it came like core business again, like more self-funded businesses, not just VC backed businesses. And then in the last two years it was a lot of crypto stuff cause that was really interesting me.
So it's been really nice to have that kind of place to just go and learn from people.
Ling Yah: I want to dig into all three parts that you just said. So let's start with charity:water. I learned that when you were working there, you met the Winklevoss twins. How did that happen?
Bilal Zaidi: I was the director of brand partnerships, which is basically these three parts of the organization.
There's where the money comes as a charity. Right? So we're trying to raise awareness to money for the world water crisis at the time when I worked there.
That is three parts. One is retail, basically like general public. That's the marketing department's responsibility. That's me and you giving $10, $20, $30 a month for whatever.
Then there's what's called key relationships, which is basically high net worth individuals, rich people who give their own personal money at a certain amount and they get like white glove service and support.
My team was brand partnerships, which is basically anything to do with the company. So it was like a hundred plus companies from Amazon to Wework to St. Laurent to Google, et cetera.
So that was kind of the background. My team is eight or 10 of us. I had just done this like crypto thing in 2017. I think when everything was really pumping that year and the whole world was like learning about for the first time.
I found this guy called pineapple fund on Reddit and long story short, he gave us a million dollars in Bitcoin or maybe two by the end of it.
He posted a message. I tracked him down, send an email. He's like, oh, great. I love what you do. Gave us all this donation. That really triggered me to say, okay, normally my job as the brand partnership person is to say, yeah, we're raising money, but how can we like multiple this?
When we do it with Uniqlo or J crew, we created a clothing line. I think Uniqlo was more like at checkout people can donate. Right?
So if a million people see your brand, there's a value for that. And so my idea was why don't we pitch? It's Q4 where everyone's very generous for the holidays.
Everyone in crypto had made a bunch of money. Winklevoss twins included. They're billionaires because of crypto. And they own a company called Gemini. I just pitched Scott, my boss, the founder and CEO. I said, Hey, I think, you know these guys, because he's like knows everyone. And he had mentioned it before and I said, we got this big donation.
Why don't we pitch it to them as a bigger campaign? they can email out all their customers and get the crypto community and rally around giving crypto for Christmas. And that was kind of the idea. It was like a match campaign, which is quite common in charity world, where you say like, you guys donate up to this and then Google will match it a million dollars or something like that.
And that's what I was trying to pitch. So yeah. Got there. Met them. They're wearing the same. T-shirt kind of wild. They literally just look the same. They're so identical. There's some twins you can tell the difference. I was like, no, they look the same to me.
My meeting wasn't actually with them.
I will say in the two years I was at charity:water, there were a lot of moments there where I was like, what the hell is my job? Like in a good way. I like Tony Hawk, the skateboard guy, just rolling through the office on a skateboard like meeting the NBA player. And he's like, his hand is bigger than my face.
There were a lot of like, really fun kind of moments like that. And obviously like some really touching moments as well, where I was like, oh my God, I can't believe like this is the work we do, because that's unreal. Oh, I can't believe we complain about stuff when this exists in the world. Like how bad some people have it, you know?
Ling Yah: And the second point that you mentioned earlier was Gary V and I learned that you actually tried to book his time. Six times, you got canceled. Finally did it.
And it just makes me think of the idea of follow-ups, because I don't know if you experienced it. It's the one thing to send an email. It's another thing for people to actually respond and some people never respond.
And then you follow up. Do you have in terms of how many times you were follow up with a person before you drop?
Bilal Zaidi: I don't really have like a hard rule on it. I generally like stop after a couple of more times, like one email. I normally hit them from different angles. So like another example is the guy Shaan Puri, who now has lots of followers.
He's got an amazing podcast with Sam Parr called my first million top 10 business podcast. Terrible name, but great podcasts. And he is someone I actually met six months, a year before he even started his podcast. We had a phone call about something separate and tried to stay in touch, but he's kind of a busy guy.
He even said yes, over DMs, like in Twitter and said, yeah, I'm up for doing it. And he just dropped off, stopped responding. So about how many times, you've probably heard me say this before, but for people who were listening, offer something new.
Honestly, sometimes changing the subject line, sending it from a different place can help too, like LinkedIn versus DM versus email. But what I've found more importantly, like Shaan I said, Hey Sean, sure you're busy. In fact, in this, the Spotify r I think we even shared a screenshot of the DM to him.
And it was something along the lines of since the last time we spoke, I recorded it with Sam Parr, who I knew he is friends with and does a podcast with, and I'm recording with Jack butcher next week. We're doing a live together. And It wasn't like name dropping like annoying. It was more like letting him know I'm still progressing.
And since the last time we spoke there some update. Or I would say, oh, I just got featured in this thing. The more of them you get, the more you can leverage them, right.
And one time I got like a tune in home page takeover thing where they featured me alongside the NFL and New York times, like completely no reason I should be in that group.
Right. Like, they're like two massive organization. And so I would take a screenshot of that and I would keep that for my pitch deck. So when I show people, guests or whatever, I have a deck, which is like, there's some media, I call it like, here's some press while I was in fast company, I was in the hustle I was in here.
Again, it's just all building a case for yourself.
Social proof. You're basically saying like, look, I'm doing well. Do you want to be a part of this or not? Not in an arrogant way. People attracted to other people who are doing good stuff.
And also the most important thing is never be a Dick. If you get annoyed and say something kind of like passive aggressive or being really not that nice. Like, look, sometimes you need to be stern on people in general. Like if there's something that someone's not being nice to you, you might need to pushback.
But when it's literally just a guest outreach, I don't think it's ever a reason to not be nice. Like I've had people cancel on me and I generally keep it pretty cool. I will let them know generally, like, Hey, it'd be great if you could give me more notice next time cause I've prepared or whatever.
But sometimes you just have to know people are busy. Like Daymond John on shark tank. I was supposed to interview at 8:00 AM before work and like 7:30 am or like maybe the night before his team, there were so professional. They were like three people updating me to like, yeah, confirming for tomorrow. Cool.
7:50am, 10 minutes before they send me an email and they're like, sorry to do this, but he's just been called by Obama cause he's like some entrepreneurship delegate or something for him. And like, he's going to have to go to DC today. So we can't make it. I'm like, okay, pretty fair enough. Like I'll be here tomorrow, don't worry.
And to be fair to them, they completely followed through and that he was great. So it's just like with Gary V in particular, there was six bookings or something like that, it was like literally in the calendar it was being moved.
So it wasn't like, oh, they canceled it. It was like, oh, sorry, we can't make it today. We have to push it forward. So it was like that. So every time I would be like, you do the prep, it takes you ages. And then the day comes and you're like, okay, damn, I got to do that all over again.
Because even though you've done the prep, the next time you're going to prep again, right. Because you might have done a lot of the questions or whatever, but things have changed since the last time you prepared for it.
Ling Yah: I don't know if you feel the same way that when someone I'm going to have an interview and they cancelled. It's like you've hype yourself up and eventhough it didn't happen you feel exhausted.
Bilal Zaidi: That's a great way to put it. Yeah. It's like the adrenaline, and yeah, there's a disappointment, right? People don't realize how much goes into having a long form conversation you know is recorded. Even a long meeting is tiring, but when you know it's recorded, there's not much room for mistakes.
And you're always going to have stuff that you didn't want to say, or you want to adjust which you generally don't. And I think that is quite a mentally taxing thing for a lot of people.
So like, you're naturally curious, you're asking great questions. You're a good listener.
For someone else, they're not those things and they shouldn't be doing a podcast because there's certain things you need to enjoy to want to do the podcasts. I'm not saying they shouldn't try, but I think that is really important.
It comes back to the energy, like Trunh likes making memes. I am terrible at making memes. I'm not gonna spend all day trying to be a good meme guy. I'm like good at having conversations with people.
Ling Yah: And another point was, Gary V obviously has a huge audience. I wonder if you have necessarily seen guests with huge audience translate to high downloads because that hasn't been the case for me. Sometimes it is sometimes it's not.
Bilal Zaidi: Yeah. The summary of the answer is no, it doesn't help that much. It helps in other ways, like it's always going to be helpful that I have a video of me and Gary together and a link to say a channel like his posted on his channel. And he's got like hundreds of thousands of views or maybe a million .
And that's cool, but you can literally see in the comments what's really annoying is you see in the comments, people are like, oh, this interview is so good. Oh. And I'm like, I know that person probably didn't even go and like subscribe to the podcast. I've got lots of other interviews that are good too.
It's a funnel at the end of the day, this is top of funnel. People seeing your name and being like, oh, that person did a good job. There's only a percentage of those people that get to the next stage. So you just need to do more of them.
Then it comes about retention. Like, did you give them a way to try your podcast, like a clip or a playlist, a good description, a tweet, whatever . And then was it good enough that they actually liked it and stayed? Right. It's very difficult.
Even for me, I've been doing it for ages. There's lots of people, I'm sure have liked some my episode and didn't like others.
So that's kind of just the game, right?
Long form is really hard to grow because you're asking someone to listen for an hour or two hours and it's very different. It's not to say that someone who makes something an hour or two isn't better than someone who's got a big audience. There's so many things that go into having that big audience.
I know from Trung and Jack combined, those two have 5- 600,000 followers on Twitter. I have 10 and my Creator lab is still bigger than no investment advice.
We tweet out 50 times and lots of people tried it and liked it. And we still are pretty good sized podcast, but I was really focused on subscribed to the podcast. That was my ask. It wasn't follow me and give me a like. That's where I want my audience to be. But the truth is if you want to do it long-term, you kind of need to do both.
Ling Yah: And speaking of a Jack Butcher, you actually have done two interviews with him on the podcast.
Bilal Zaidi: He's my favourite, yeah.
Ling Yah: And now you've obviously started a new podcast with him and Trung as well. How do you develop that sort of relationship from this cold outreach to becoming buddies?
Bilal Zaidi: I'll give the specifics on both of them. Jack, he's a really talented artists, creative, and he's got an account on Instagram and Twitter called visualize value. And he basically has a black canvas and white drawings however you want to describe it. Very simple, minimal, but like kind of genius when you get it or if you like that style.
So if you appreciate simplicity, he does it like better than anyone I've seen. So I remember seeing those visuals and just being like, oh, these are so good. It would be like a quote or it'd be an idea and he would just simplify it. So I just DM him. Genuinely, not even trying to ask him to be on a podcast cause I didn't know who it was.
And I'd just DM saying, Hey, this is really cool. Like keep doing what you're doing or something like that. And he just responded saying, oh thanks mate. Or something like that.
And when he said mate, I was like, oh, he's maybe English or. Australian because Americans don't say mate as much. And then I like just went back and forth. We realized oh, he actually lived really close to me in Brooklyn, but he'd just moved.
It started like that. And then I escalate that basically and say, oh, by the way, I have a podcast. And I've had some of these people in the past, if you're ever interested in coming on, let me know. And yeah, we can sort out. And he was like, oh yeah, that sounds fun. Let's try it.
You're capturing the lead, like in a marketing funnel. That's what you're doing. You're saying, oh, that person now is at the next stage.
Now I dig into his work and I'm like, oh man, this guy has got so many interesting things. Oh, I love this thread he wrote and he illustrated all this stuff from a novel, which was quite interesting.
Then we have a two hour great conversation. We got on more than an average guest. I normally get on with people, but this was like really cool. And then secondly, we have the same background, right? We're English living in New York, same age. I found out later we liked the same music.
He does like Nars, but honestly it's a lot, the UK, we, we send each other a love, like UK grime and like stuff that like, I don't get to share with many people here, right. So that was another thing.
After the interview I often say to people, depending on how well it went and how comfortable I feel, I say, oh, this is what's going to happen next.
It's going to go out on this day or next week or whatever. What's the best way to get in touch you when that happens? Is it email? Is it text? We have too many emails and texts is always the best because it's less crowded. And generally when people text, it's more friendly.
But not everyone is like that. I also don't always feel comfortable doing that. To be completely frank, if it's a guy versus a girl, I also am respectful of like, oh, this person could be married. If I text this person, it could come across in the wrong way. Or me even saying that to them might come across in the wrong way. So I don't even do that sometimes, right.
So that's another thing I think through. I ideally have someone over texts and that way when it comes out, I share it with them. It's harder for them to miss, which is also key because you want them to promote it if they can.
I try not to pressure them and say, if you want to share it out, that's really helpful, but no pressure, whatever.
So that's kind of how that relationship progress with Jack. And by then I could tell in the conversation he was up for staying in touch. Some people say it in a way that's like, oh yeah, we'll stay in touch, but never do. And which is fair enough. But with him, it was a bit more friendly.
And then we kind of had this humor to share over so we text once in a while like, you know, the way you text your friends. And then we realize we had all these overlapping interests.
And that's kind of where a lot of that friendship started. And this is also in the pandemic. We're all at home, not seeing many friends and Trung now comes in. Trung is also in the Twitter world. We're all kind of like in this little bubble.
And so me and him have like spoken in DMS for ages. He actually wrote about Creator for the hustle once. And then a second time when I did the Tim urban thing, we actually collaborated on that. So I could ask some questions for the hustle and he could feature it in the newsletter to 2 million people, which was great. It doesn't drive that many downloads to be honest, but it was still good exposure.
So we're naturally getting to know each other over time. It wasn't just, Hey, tomorrow let's do a podcast. So that's kind of how that one developed.
And eventually could to see, oh, Jack got all the humor that no one sees. He's an introverted, quiet, a guy. Trung is this like bombshell of a person who's like in your face, but really funny.
And I could sense there was enough humor there to at least try it out. By this point we did the second one with Jack and genuinely, he was like, oh, this is the best podcast I've done. If you ever want to do it again, let me know.
So I kind of proved my worth in terms of a partner in podcasting, at least.
That's how I do it, a a job. I made sure you had good quality audio. We did the clips, I did the thread and he was like, oh, this is better than most people do. Trung, the same.
I pitched them, I said, Hey, would you guys be up for trying this thing?
I've got an idea for this podcast. And maybe we just do it as an episode on Creator a lab for now. Also, there's a value for them, right? I said, you guys need to just turn up and if we like it, we can do more. If not, then it was just a fun experiment.
It's like similar for the guests, similar for the sponsor. I make it really easy for them. I just got a inbound pitch like yesterday and I respond saying, Hey, this is how it works. If you're interested, send me a few bullet points, I'll send you an agreement and an invoice. And it's simple.
People hate long, going back and forth, talk to my lawyer, like all that crap. The benefit of working with me is I'm a nimble, one person company. I can compete on that scale where other bigger podcast can't.
It's actually been quite a good learning experience for me because working with two guys like that who are so talented, I also pick them for this experiment because they were two people that I respected the most in that world. They weren't just saying the same stuff. They had different skillsets. They had the humor.
Jack had the visual side, we have the English connection, which is like, humor is related there. So it's just, it was quite proactive on my side to be like, this is something that could potentially work. And then when we recorded, once we were like, oh, this is so much fun.
People loved it. And we were like, okay, this is great. This is something different that isn't out there right now.
Ling Yah: I saw this tweet about someone saying that you are like the voice of reason and Jack gives this really incredible insights and Trung basically is crazy AF.
Bilal Zaidi: Yeah, yeah. Which is kind of true but also Trung got so much knowledge. Like yesterday, he was just slipping into this history professor mode of like how people from Hong Kong came to Vancouver 50 years ago, whatever it was.
talked about angel investing and he can just like straight away talk about that. If we're talking about Coinbase, he's like, oh yeah, Coinbase went public for this amount and they did this. And in 2008, 18, they had this issue and blah, blah, blah. So he's like an encyclopedia of business knowledge with fun and energy.
Jack is really, really smart and well thought out and what he says normally is more thought out than both me and Trung. And also has a complete different angle of being a creative person.
The phrase someone used was energy sensei to describe me, which was quite funny, cause I've never heard of anything like that. I naturally become the bridge a lot of time and I'm trying my best to keep things moving.
And if let's say they're above introverted, I would be more extroverted naturally. with Trung when he's been extra and like shouting and being fun. I tried to anchor it down a little bit more. I think I just do that naturally. It comes back to having to adapt as a kid and I meeting lots of, lots of people. Not perfectly, but with those guys, it just works.
To have three people who actually like each other who are interested in similar stuff, but have different points of view. And when we talk, it kind of flows and it's kind of fun to listen to. That's quite hard to get. And also three people who have some audience already, right? Like I had podcasts, these guys have big social followings. So we're not starting from zero either.
Ling Yah: So there's another tweet I found where someone was saying that this podcast, the not investment podcast, is sort of like the All In podcast, except that the speakers are in a more relatable income bracket.
Bilal Zaidi: Yeah. Yeah. I thought that too. And I love All In.
All In is great, but it's like two to four, three billionaires plus Jason or whatever like that. They're on another level. And that's partly the reason we listened to them. Right. Because they have a vantage point that is very rare.
And they have enough fun between them because they know each other. They're not comedians though. The podcast I'm most inspired by style like ones, most people would never even heard of in the business world, because there they're a bunch of comedians talking every week or, radio people with comedians and that flow is, or even honestly sports.
Like I listened to arsenal podcasts every week. And that is, what I found myself. I stopped listening to interviews for awhile and I started just listening to these regular folks and they become part of your week. And when you like them, you get used to the jokes and you kind of like, you feel like you're hanging out with them.
As much as I tried to be like that with my own interview podcast, it's harder because you can't control what the other person's like. Whereas when you have three people every week, there's enough consistency in the style that a certain type of person finds entertaining and interesting.
Ling Yah: This is one thing that I got feedback from a lot of friends who were saying that, , oh, you do a lot of these interview podcasts. It's all about the guests, but at the same time we want to see more of your personality.
How do you think about balancing, it all being about the guests, but also showing a bit of yourself?
Bilal Zaidi: Yeah. That's a great question. Something I have evolved my thinking on quite a bit. So early on when you haven't done any interviews, you're basing it on the interviews you've liked or seen and what is conventional wisdom for interviews.
And what you have to remember is that conventional wisdom comes from 50, 100 years of TV and radio. Podcasts are different.
There's benefits to podcasts that you don't have in TV and radio. Right? So TV, personally that's kind of boring to me now because they say the same regurgitated stuff that the PR person got them to say.
It's short so you don't really get in the weeds like a real conversation. And I remember when I started the podcast, one guy at Google said to me, oh yeah, cool idea. But they should be short. There should be 20 minutes or less because that's how long my train ride is. And I'm like, first of all, there's not about your train ride.
Two, it might not be for you, maybe you like 20 minute conversations and great. There's 20 minute VC Harry Stebbings who eventually did way longer anyway, after that.
Ling Yah: Like forty-five minutes now.
Bilal Zaidi: Exactly. Yeah. And he does a great job of like packing it in and focusing. But I don't listen to 98% of his interviews cause it's not necessarily for me. I've met him. He's one of the best in our game, but not necessarily for me.
I like listened to Charlemagne the God and Andrew shows on brilliant idiots and they're funny. They have millions of people listening to it.
I think A lot of people in the business category look at the big players in business. So it's like, if you're going to learn about YouTube, learn from both. Learn from Mr. Beast, learn from pump, learn from the hustle and you will see three different levels of what's working, what's not, and you can find your own style.
There's certain things that Mr. Beast has figured out that everyone can learn from on YouTube, right? I don't know if you've had this recent thing on Joe Rogan, but one thing stuck with me. He said, YouTube cares about basic click through rate and watch time. Which is how many people click, how many people watch, or the amount they watch.
If you improve those by 10%, you don't get a 20% increase in views. You get a 400% increase because there's exponential algorithm. That is something I would not just figure out on my own. I might know intuitively, but he's spent thousands of hours and he's got hundreds of millions of views, billions of views.
Ling Yah: He has a huge team as well.
Bilal Zaidi: Ah yes, like 700 employees or something. He's amazing what he's doing.
A lot of the time we get in our bubbles, especially in like tech and business, where it's just becomes conventional wisdom, oh, let's do the same tweet template. But it's not being authentic to the way you actually want to write.
Coming back to your original question, you're the interviewer so it should be about the other person. Let them speak, be a good listener. And I think those are all really key things.
My style is conversational interviews. There's interviews as conversations and in the middle there's conversational interviews.
Interviews are Larry King or Oprah. Like they have a set list of questions. Oprah, little bit more conversational, but they're like classic radio and TV. We've got five questions we're going to ask you. And there's still great.
And then you've got conversations, which is what we have with friends. We go for dinner and drinks for four hours, and we talk about all sorts of stuff.
Joe Rogan is closest to that. He's having three hour conversations. Joe Rogan is the biggest podcast in the world. So I still think he's the best reference point. But for a long time, people thought that was way too long, right? So he kind of proved that you can still make it work as good.
And my style is conversational interviews, which are structured conversations. Kind of what you're doing, because you have a framework for the style of conversation, but you let it flow and you have more room to go down tangents and it feels more like you're hanging out with us.
That's kind of what I'm trying to get to. And so that lends itself to long form and long form is the magic for me is like that's why it's red.
That's why people love podcasts is because you're getting deep conversations you're not getting on TV, you're not getting on radio. Again, it comes down to what do you care about?
So I know if I do an NPR style, more people will listen, but it's not true to what I am actually trying to learn. I don't want the fun story. I want like how it happened and the good and bad. The tactical stuff that actually help someone be a better entrepreneur. That's basically what I care about.
I want more people to live life on their own terms, create businesses, start a podcast, write a newsletter, whatever it is that makes them happy. And if more people do that, that's my tiny way of helping people, do something positive.
That's not NPR style though. They're trying to reach a million people because they need to sell ads or built the sales ads anyway.
The last part on how you let your personality come out. Just be natural to how you feel. I think what you've done today has been great. I don't think you need to adjust too much, but I think the personality part is something that for me anyway, a lot of my friends would say, oh, I think you did a great interview. But people like you in real life because of your personality and that isn't coming out on the podcast as much.
Over time I became more comfortable saying the joke that comes in my head versus thinking all that's going to make them feel uncomfortable. You know what I mean? So it just was leaning into that becoming more comfortable. I think that's what it was.
Ling Yah: You're currently in New York. How integral do you think that your location has been to your success?
Bilal Zaidi: For me, success is more, are you living on your own terms? Do you have time to do things you want to do? Are you around people that you love and care about and that you want to be around as much as you can?
Obviously my parents and family live in London, which is close enough, but it's still not in the same place. I think the word success normally is used towards like business success, career success, whatever, and that's a part of it.
But to me, there's finances, business, career, health relationships, and it's probably another four or five them I'm forgetting, but those are kind of the pillars.
So to me, it's like, I guess the fourth one to me is like are you actually doing the things you want to do? Not just work-wise, but does your week look like you want it to look like?
There's an interview I did with Tim urban. I was talking about this last night, micro macro happiness for this is quite a good frame for it.
There's the micro, which is the week to week the day-to-day. Are you finding joy in the little moments? Are you being silly with your spouse at singing to the music this morning like I was and being like happy in that moment.
And then the macro is the bigger things. Like, am I in a career that I actually care about?
Did I find a partner that I care about that I'm happy with? Are they a good partner for me? Are we well suited to have kids? Is that something I wanted? And if you don't that's fine.
But for me, yeah, one day I would like to have kids and that would be something for me long-term. Like how did I bring up my kids? . But you're never going to get all of those. Right, right.
And it's like certain points you're doing really well in one area and the other part, like right now to be completely frank, my health has not been great. I've been lazy with my health. I haven't been disciplined. I've been traveling going out all the time and that slips for me.
So one part of my will is all adventure and fun but then the other part slips a little bit. Objectively speaking, I know I messed up or I'm not doing as well in that side as I should be. Whereas the freedom and spending time doing things you want to do, that's the best it's ever been.
Money is another one, right? Like money is important. Like, is it about maximizing money or is it about making enough that you can still do the other thing?
So currently I'm at the stage where I'm not maximizing money, but I still make a pretty good living. And I have the most time I've ever had. And I get to do the things that I like to do. So that to me is my version of, you know, being happy or successful wherever you want to call it.
To answer your question on the location, I actually think where you live makes a huge difference to your happiness. Forget success.
Like if you're in the 2000s or 2010s, you want to work in tech being Silicon valley helped or be in San Francisco helped. Now, if you're in media fashion being in New York, London, these big hubs does help, but I think that's for career.
And I think that is changing. Like you can still do a lot remotely, but of course in person is always great. Like if you can do both, that's great. but the ways that I'm separating is because to me, it's more about what makes you happy.
The location to me is so key in way in happiness, because like I said before, , are you around the people you want to be around?
If I was living in upstate New York and I needed to work in the city every day and I needed to take two hour train one way and I'm commuting for four hours. I would absolutely hate that.
To me, that is me not living on my own terms, right. So I haven't created my life in a way that avoided me traveling for four hours a day.
And again, for someone else in another stage of their life, that was the right thing to do or they didn't have the choice. They went to a job where they made a million dollars a year loving what they do.
So for me personally, it just depends on, are you choosing to live in that place you want to live? For me, it's like as you get older, you realize that what makes life fun is like the people you spend time with. Right? If you have friends that like walking distance, for me, that is so nice.
Like if I can text someone on Friday afternoon and say, Hey, you want to pop out right now? Start the weekend early. That like is so nice. I'm paying a premium for that right now. Right? Like New York is not cheap and I'm paying to be able to walk, to see people and, or jump on a train for 20 minutes and see them.
But for someone else, they don't value that. And that's fair enough. Well, they've got kids and they care about being a location where the kids can go to great school or whatever. I might be that person in a few years' time. I don't know the answers, but I just wanted to separate the success, meaning your career and actual wellbeing and day-to-day living.
Ling Yah: And do you feel like going along this entire journey, you've lived in London and Dublin now New York. Do you feel that you have found your Why?
Bilal Zaidi: Yeah. I struggle with that word because I feel like it changes, you know, I feel like it's never been one thing.
Honestly sounds kind of cheesy and old school, but this point like being there for the people I care about and doing stuff every day that I enjoy, it's kind of the why for me. Right?
When I was at charity:water, I would've said something different. I would've said, oh, I want to use my time and energy to like help people live a better life and to end suffering in this part of the world where I can.
And I think that's an amazing way for someone, but it's hard to sustain that for the rest of your life. I also think a lot of people who fall into that world often haven't figured out their own stuff. They haven't become comfortable themselves. And eventually a lot of the time they become quite resentful to people who have success that they didn't have.
And I think that's another thing. You need to look after yourself and be in a good place before you can really make a meaningful impact on other people in my opinion.
Doesn't mean you can't help them along the way, or you can't. There's a few extreme examples where people dedicate their lives to one thing and that's amazing.
To truly be able to give to someone, not just in terms of money, but your time, energy, your love to people, you need to be working on yourself and be comfortable with yourself and feel secure emotionally and financially. I think a lot of people really dismiss the financial part because they don't realize what it's like not to have any money.
If you've been poor, I've seen poverty you realize money makes a huge difference to people getting up to a basic level of living standards and all the problems and the fights you have at home with your spouse, because you couldn't pay the rent this month. A lot of that goes away and they can actually live quite peaceful life. That's kind of how I, think about it.
Ling Yah: And what kind of legacy do you want to leave behind?
Bilal Zaidi: Yeah. Good question. My general focus on it and that sort of question is more, can I control what I do myself and let me be the best person I can be?
if more people can have a good time every week because of stuff I've put out and created, or on the flip side, if they've learned something that changes their life in a positive way, even if it's a tiny thing.
They literally just wrote on the weekends because they were inspired by Tim Urban. A lot of those interviews are done as like evergreen pieces. You can listen to that in five years, it's still relevant. It's about writing.
The tactics are going to change, but the approach to how you find your voice, which is what you talked about and finding stuff to be interested in to talk about, it's always going to be relevant.
I've got a talent for like being curious and if I share that with other people that will lead people, there's a multiplier effect to that.
Ling Yah: Tapping onto that a little bit, you do a lot of research for all of your interviews. I wonder if there have been any interviews where you learned something that surprised you in spite of all the hours of interviews, research that you've done.
Bilal Zaidi: Yeah, probably a lot of them, honestly. There's one guy, Ryan Begelman who started this ankle summit series and another company. He's also a friend of mine now. He lives in New York.
That one surprised me in a way, because I kind of knew he was a bit deep. But when we spoke, if you listen to that, like the second half especially, is like very philosophical, talking about how he thinks about life . That was quite surprising because he actually told me, he said that, oh, other people don't want to talk about this stuff.
Getting to know him, you see how much work he has done on himself. He's done so much therapy, like coaching, read so many books and met many people. But then on the flip side, he's got his own struggles.
The one that is the most relevant is the founder of square, Jim McCovey. I don't know if you've heard the episode.
Ling Yah: You got him through the publicist. Right?
Bilal Zaidi: That's the one. Exactly. Yeah, yeah, yeah. Jim McCovey, I don't know if you heard the episode, but he tells me that his mum committed suicide when he was a kid. And that was like out of nowhere. I had no idea cause that wasn't mentioned in the notes that I did research for.
That was probably even more of a better example than Ryan. Ryan was still great. But I felt like I knew more about Ryan cause we had a phone call before.
With Jim, it was fresh. Like I'd never spoken to him. It was organized with his publicist, you turn up. He's in a barn or something and the internet was bad. and then you're talking, one of the things stood out. He was like, you know, He's a billionaire on paper. Right. So he's got more money than he ever needs in his life, but he didn't really start up like that.
He was an artist and it's not to say he didn't want to make money, but he just kind of went down this route that landed in creating Square, which became this big thing.
But then you realize like, okay, again, someone's listening to this saying boo-hoo for the world's smallest violin for the billionaire, but it's like, okay, how many of us have had a parent killed themselves that not many.
And like that was before he was on paper, successful in business. Right. It happened when he was a kid and to think, oh, he went through his whole life and now people look at him and say, oh, you've got everything you need. And you're rich. And people come up to him trying to just, he said that like, he has to kind of be careful who he makes friends with because people would want to use him for his money or that at least get money from him.
And that's kind of sad, right? I think The same about famous people, they can't just go out and get a bagel from downstairs. That's terrible.
You realize we all have stuff to complain about and obviously we all have privilege and things that we were lucky to or fortunate to have. But I think it can often become a crutch when people become too focused on their own shortcomings or like things that are holding them back.
And of course, look, there's a percentage of people who are really in a terrible, terrible place. They're like mentally sick. The parents were abusive. Their wife or husband is abusive. That person really needs help. That's what society needs to be created to be able to help people when they're in their worst place.
There's a middle ground, which could go either way. If your mindset is constantly negative that can lead you down one path versus, oh, I'm going to figure it out. I'm going to change my life. I'm going to get healthier, get smarter, read the book, take the risk.
We need to help people that are in a terrible place. If you choose to be focused on what you do have, and you try to figure out most of the time, you're going to find yourself in a better place.
But sometimes your luck is not there or there are things that are holding you back and you need help in those situations too.
Ling Yah: And what do you think are the most important qualities of a successful person?
Bilal Zaidi: Yeah, kind of what I said before, which to me is about living life on your own terms, being someone that people want to be around. And when people think of you, do they think of you in positive terms?
Do they just say that person's a great person. I like spending time with them. Or are they just like, oh, that guy's just absolutely terrible. On paper that person's successful, but I'm like, no, that person is mentally challenged because they haven't done the work on themselves or they're like complete arrogant. They're just not nice people. So to me that's more important than anything.
So, yeah. Success to me is more, the people choosing to live the way they want to live.
You'd be surprised how many really rich people don't have time to spend with their kids. They're in meetings all day. And they convinced themselves they're delusional. And they say, oh yes cause I'm doing this for my kids.
You don't need to do that. You're saying you're not there for your kids, because I have to be in 14 other meetings, I think you're choosing to do that.
Ling Yah: And where can people go to find out more about you and your Two podcast?
Bilal Zaidi: Yeah. Thanks, Ling. Two podcasts, if you're on your phone right now, just pull out your phone to the podcast app, use Spotify or whatever, and just search for Not Investment Advice is one.
And the second one is called, Creator Lab. Creator Lab is more entrepreneurship interviews. All those people we spoke about.
Not Investment Advice is the weekly show we talked about with Trung and Jack. That's more business technology. If you're interested in that world, I'm sure you'll enjoy it as well.
And then yeah, I'm on Twitter and lots of crypto. Yeah, well, yeah, it's, it's kind of like, I'd say the theme is like the new stuff happening in technology and business.
And a lot of that nowadays. There's a lot of crypto beyond just the money, cause a lot of people think of crypto is just Bitcoin and money.
It's like the potential new web, what people refer to as web three, which is a very generic term. What is happening in that world to decentralize. People creating new ways for media, for banking, for all these different areas of our lives that we already live.
People are creating new versions of that. So we explaining some of those things. Gaming, all that stuff. And then we talk about the economy what's happening in the world. We spoke about the commodity crisis, like fertilizer and wheat comes from Ukraine and Russia.
We explained what might happen from there and the negative impact that might have. We talk about the market's inflation. And then we talk about business too. Like the next few episodes with the one that's going out later today with Alex Cohen is all about angel investing and his experience doing that.
So yeah. Lots of, lots of fun, fun combos that I'm sure you like it.
Ling Yah: And that was the end of episode 83.
The show notes can be found at www.sothismywhy.com/83 and stay tuned for next Sunday because we'll be meeting one of STIMY's biggest guests yet.
He is the global head of social marketing at Meta, having previously worked at Snap, Nike, and also Airbnb where his team launched some of the most innovative and viral campaigns.
He's also an inspiring Asian American is passionate about uplifting his community with his work at the newly launched Meta prosper, and also an advisor of the Smithsonian, amongst many other things.
To learn about his journey to get into the pinnacle of his career, including how he recovered from the ultimate fall, from being fired from his job as CMO, do stick around, subscribe to this podcast, if you haven't already and see you next Sunday.