Welcome to Episode 78!
Welcome to the 4th episode of STIMY's mini NFT sub-series! 
Our guest for STIMY Episode 78 is Debbie Soon.
Debbie Soon is a Singaporean Chinese who is passionate about increasing diversity and representation in Web3 and NFTs. Having spent her entire career both investing in and building multimillion dollar consumer businesses, she is particularly excited about the intersection of web3 and consumer goods/services, where she sees new and exciting opportunities for consumers to collaborate, connect, and interact with each other.
Today, she is the co-founder of HUG alongside Randi Zuckerberg. HUG is a Web3 platform that supports creators and collectors through its community and growth initiatives: HUGhub (curate-to-earn discovery platform for NFTs), groupHUG (NFT growth accelerator), and hedgeHUG (early stage pre-mint program).
Prior to Web3, Debbie was an equity investor where she managed over $1 billion of global consumer sector investments for one of the largest sovereign wealth funds in the world, GIC. She then pivoted into the world of startups where she founded Singapore and Southeast Asia's first boutique indoor cycling studio before going on to build three businesses from scratch for one of the most successful unicorns in Southeast Asia, Sequoia Capital-backed ONE Championship. Debbie's experience spans consumer tech, ecommerce, and gaming, and she is excited to bring her wealth of startup experience to breaking down barriers for equitable representation in Web3.
Debbie graduated from the University of Cambridge with a degree in Economics and from Columbia University with a Masters in Financial Engineering.
PS:
Want to learn about new guests & more fun and inspirational figures/initiatives happening around the world? 
Then use the form below to sign up for STIMY's weekly newsletter!
You don't want to miss out!!
Who is Debbie Soon?
Debbie shares the journey of being an equity investor at GIC, one of the world's largest sovereign wealth funds, while managing her own startup – 7Cycle Pte. Southeast Asia's first boutique indoor cycling studio.
4:20 "Accept the changeable, change the unacceptable"

6:00 Launching 7Cycle Pte – Southeast Asia's first boutique indoor cycling studio
my wish is to now going to Web3 full time, the only problem is that I've not actually done anything in Web3 up unto that point
ONE Championship
The next chapter in Debbie's career is marked by her incredible time at ONE Championship. 
She was the Chief of Staff to ONE CEO, Chatri Sityodtong – making her the OG Apprentice (before the reality show was launched!). She spearheaded ONE's expansion into Japan & establishment of ONE Esports. Before being promoted to VP, Head of Consumer Products and launching ONE Shop.
8:26 Joining ONE Championship

10:36 Being the OG ("The Apprentice") Chief of Staff to CEO, Chatri Sityodtong

12:49 Establishing ONE Esports

15:50 Launching ONE Shop as VP, Head of Consumer Products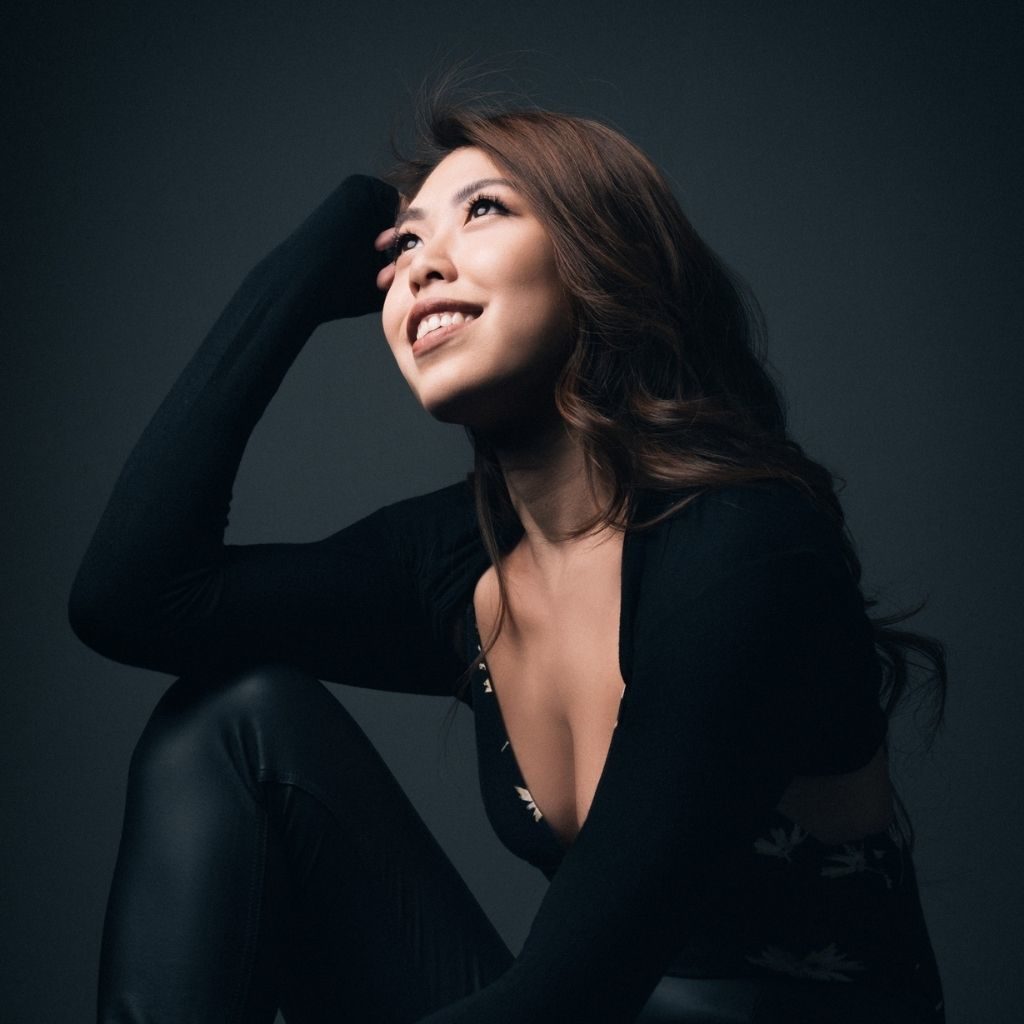 Web3 & HUG 
Debbie's move to LA was rather COVID-inspired. And she shares how she tried to launch her second startup, and how she ended up in the Web3 world by making a wish at a Wishing Well!
We of course, talk about all things NFTs/Web3 accelerators/Discord communities etc.
😉
17:42 Moving to LA

19:52 Nearly stealing the furniture of a homeless person in LA

21:20 Launching her second startup

26:23 Meta Angels NFT & the Wishing Well

31:43 Getting on a Zoom call with Randi Zuckerberg

33:16 Getting a Web3 job without any relevant Web3 experience

35:25 The problem that HUG is trying to solve – discovery for creatives

38:48 Scaling HUG's Curator Club from 300 to 3,000?

41:17 Making HUG's Discord channel the go-to channel for people

42:03 Hosting weekly Twitter Spaces with Randi Zuckerberg

43:10 Analysing 3,000 reviews of NFT projects

44:46 Is art an important factor?

45:36 Analysing roadmaps for NFT projects

46:55 HUGhub – the curate-to-earn discovery platform for NFTs

49:00 How to make HUG unique from other NFT accelerators/platforms

51:04 Sharing of confidential information?

52:32 How groupHUG is different from a typical Web2 startup accelerator?

53:39 How the groupHUG cohorts are curated

55:12 Biggest needs of NFT founders

56:03 Raising USD $5 million in VC funding for NFT projects in 1 month

57:32 When is a NFT project ready to pitch for VC funding?

58:51 Web 2.5

1:01:03 How NFT Collection founders can pitch for partnerships

1:04:13 Web3 influencers that Debbie recommends following

1:05:22 What a Web3 dating app might look like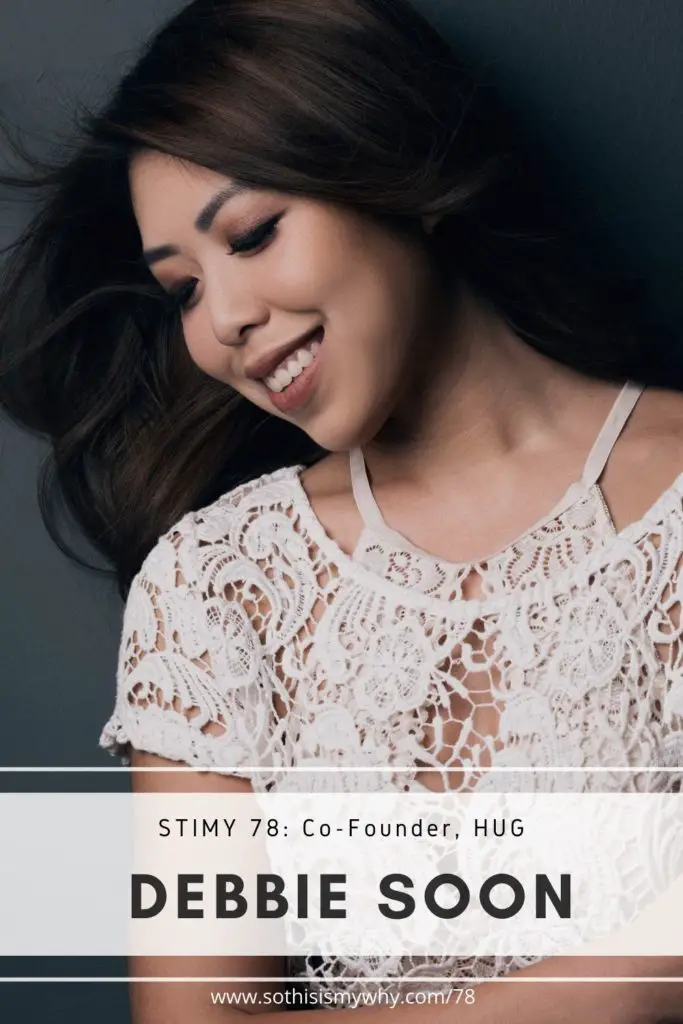 If you're looking for more inspirational stories, check out:
If you enjoyed this episode with Debbie, you can: 
Leave a Review
If you enjoy listening to the podcast, we'd love for you to leave a review on iTunes / Apple Podcasts. The link works even if you aren't on an iPhone. 😉
Patreon
If you'd like to support STIMY as a patron, you can visit STIMY's patron page here. 
STIMY 78: Debbie Soon (Co-Founder, HUG)
===
Debbie Soon: It's so funny because all of my coworkers will call me the OG apprentice.
And after Chatri promoted me to VP of consumer products, delete one of his divisions. Everyone was joking that it was so hard to replace me, that he had to have a whole show to have a whole like reality show to find my replacement.
That was pretty funny.
But yeah, I mean the Chief of Staff role is such an interesting one because Odyssey, I think it's different for anyone, depending on who you are Chief of Staff to, and I did a lot of research too. When I took up the role, like, you know, what is a Chief of Staff?
Because I think a lot of people think of chief of staff in a political capacity and really a chief of staff's role is to make, you know, whoever you're being chief of staff to help them be more successful. And in some ways the loyalty's almost to that person as it is. More so than the overall organization, all the other people that you're working with, it's really about how do I empower this person to be a better version of themselves.
And for Chatri, that really look more like he had a lot of great new ideas in order to grow ONE championship and expand as total addressable market. And so he had a lot of new business initiatives. So one of it was ONE Championship's expansion to Japan. And then the other was ONE Championship's expansion into e-sports.
And so I really headed both of those initiatives.
Ling Yah: Hey everyone!
Welcome to episode 78 of the So This Is My Why podcast. I'm your host and producer, Ling Yah, and today's guest is Debbie Soon. Co-founder of HUG, H U G. A web three accelerator and discovery platform that she co-founded with. Randy Zuckerberg.
Debbie is also a startup founder and also the former chief of staff and VP of head of consumer products at one championship. Now, if you've been following our NFT series, and by the way, if you haven't, you really should, then you will have probably heard about me, talk about HUG and as a number of the NFT projects that we will be discussing in this episode.
Now what is hug? Well, the three main pillars to it.
There is firstly groupHUG, which is it's creator accelerator program. And currently on its second batch. Some of the NFT members that are part of it include Nicole of 8sians. She was episode 75. Then we have WOW Pixies. A venture DAO founded by Lily Wu. That was episode 76.
And Curious Addys. Another fascinating education focused NFT project that I will be featuring in an upcoming episode on this podcast.
Secondly, there's HUGhub, a curate-to-earn NFT discovery platform where it's curator club discovers reviews, and curates NFT projects
They've reviewed over 3000 projects to date. So you can imagine the wealth of information that's there. And then we have hedgeHUG. An early stage pre mint program.
But before we dive into the world of NFTs, we're going to take a step back and explore what Debbie did in her earlier Web2 life that included founding Southeast Asia's first boutique indoor cycling studio, being chief of staff to Chatri Sityodtong of ONE Championship.
And in case you were wondering, yes, she was the OG apprentice. The inside joke among colleagues at one was that she was so invaluable as Chatri's chief of staff, that after she was promoted, Chatri had launched an entire virtual reality show, called the apprentice to find her replacement. Debbie also shares how she ended up in LA, why her next startup failed and how she managed to transition into a web three role, despite having no relevant experience by making a wish in a wishing well.
We then talked about investing in NFT projects. How HUG is different from other accelerators, the question of confidential information being shared outside of HUG, what it's like to raise $5 million for NFT projects, in the past one month and so much.
But before we begin, if you've been enjoying this episode, I would love for you to head to apple podcasts or any other platform. You're listening to this on to leave a rating and review. I read every single review and it really does help this show to grow. Now are you ready?
Let's go.
I was doing my research and I realized that you have a six word mission statement "accept the changeable, change the unacceptable". How did that come about?
Debbie Soon: Well, you know funnily enough, I saw that off watching a bodybuilding competition.
So I'm quite the gym freak, I guess that's sort of part of my, hobbies outside of work. And I was watching a bodybuilding competition and it was one of the athletes said, and it really resonated with me because I think a lot of the times we feel very frustrated about certain things that are outside our control.
And I think we get a lot of anxiety around that. So I really liked the bit about, how we have to accept that there are certain things that we can't change.
At the same time, like if there are some things in our life that we feel unhappy with, then it's up to us to change it and read it and, you know, let things happen to us.
Really taking initiative and change something that you kind of accept. So I really felt like that resonated with me. And you know, I've adopted since.
Ling Yah: I mean, you said that you were very into bodybuilding and I saw that even when you were at university, you were also very into cheerleading.
So suffice to say you're very into sports your whole life.
Debbie Soon: Yeah. I mean, well, it's funny actually, because I grew up in Singapore, traditional Asian parents. So my mom actually didn't want me involved in any sports for the large part of my life. When I was in primary school, I was a librarian and I was in the advance mathematics club as well as robotics club.
And mom was very against me um taking on any kind of sports because she felt unsafe. And then even in secondary school, I ended up taking up the performing arts. So I was in the choir and then in high school I was in drama. So I think it wasn't til when I went to college and, you know, I was living by myself.
I was at Camb, really going to embrace my love for sports. And so that's when I took up cheerleading.
Ling Yah: And how do you go from studying financial engineering and economics to deciding you want it to do your own startup? And it was Southeast Asia's first boutique indoor cycling studio.
Debbie Soon: Yeah. So I was a GIC scholar. I guess sold my soul if you will, while he paid for my education. So I was very fortunate for that. And I guess I had to go back and stuff, a bond. So you know, was originally quite excited to enter the world of investments and often finance.
But I think, very quickly, honestly, within a year and a half I realized that this wasn't something that I wanted to be doing for the rest of my life. And so started a startup, pretty much just a side hustle that I was really doing on the side. And actually back in the day, I was so scared of my superiors finding out, even though I guess it would have been pretty obvious, but I rented a space near the office, like a five minute walk away from the office so that I would be able to run back and forth, from the office, like before work during lunchtime and like often work as well.
Ling Yah: Definitely noticed.
Debbie Soon: yeah, I'm pretty sure everybody knew.
And I guess a lot of that desire to be fed did also come from the one that was doing it at GIC because I was in equity. So I spent most of my day really studying good companies. And I spent a lot of my time speaking to successful management teams.
And I think I was just really inspired by how people were building businesses that I wanted to build my own business as well. So I felt like I would be in a happier place building businesses, spread it and studying how other people did it.
At the time I was only 24, 25. So I felt this need to also want to prove to the world that I couldn't do what other people were saying.
So that's what kickstarted my journey into entrepreneurship.
Ling Yah: Weren't you concerned? Because you were using the bulk of your savings, right to start this.
Debbie Soon: Yeah, I mean, honestly, I look back at those years and I feel like this is definitely a naivety or like blind naivety that I don't think I will ever get again.
And I, frankly, sometimes I miss it. Because I think at the time, I felt, oh, you know, I'm so early into my career. Like, I guess I'm making like, you know, a decent amount of money. At the time I didn't have a mortgage, I didn't have a family. So I felt like if there was any time to fail, it was then.
And that even in a worst case, even if I lost all my savings, I still had a job. I will be able to find another job. And I could, I guess I could just work my way back up again.
If you asked me if I would do it again now? I feel I'm definitely more risk adverse, but I think at the time it just felt like my calling and, you know, I have no regrets whatsoever.
Ling Yah: And how did you decide that you needed to exit and to join ONE championship, which is totally different?
Debbie Soon: It definitely didn't pan out as well as I would have expected. You know, I started a business with my co-founder at the time and, you know, unfortunately things got a little bit tricky because I guess my two co-founders were in a relationship with each other, so it ended up getting a little bit complicated.
And so I think it got to the point where I decided that it was better for me to just exit a business. And so we ended up selling the company later, like, I guess like six months later. And then I actually focused on my, work back on GIC for the next two years. I was running that startup for probably about a year and a half to two years.
And I was doing that while at the same time, also managing a full-time job at GIC. So it was pretty full on. And then not to mention, I think aside from being a founder of the cycling studio, I was also an instructor. So I was also putting in the hours to teach classes and get to know people of running the business side of things, almost running social media at the time, at the time, like Instagram was like so new.
So, you know, it was like running all of that email marketing and then like having to go back and like analyze companies and occasionally flying overseas for like conferences. So I think you know after exiting the business. I think I just told myself, I need to take a little bit of time for myself.
Focus on my finance, curious, see what else I can learn.
I originally thought that I would leave GIC at the end of my bond. So I think in my mind, I thought to add the 6 year mark I'll be out of the door. But I think I ended up having a really great team at the time. So, you know, I realized that they also different things that, makes you happy and just to fulfillment.
And at the time I just really had an incredible boss, incredible coworkers I was working with. So ended up staying a year longer than I had intended. But I think finally, like when the time came, you know, I knew that it was time to leave and I was really fortunate enough to be introduced to Hua Fung who is now the group president of ONE championship.
He and my brother had mutual friends and he had just been hired by ONE championship at a time to be a CFO. And so they were, you know, massively growing the team and you know, we got introduced and as you quite rightly pointed out, I've always been really into sports. So for me, this was kind of fun.
It was great. It was like sports media and you know, A great opportunity to leave the wall to finance, but a lot of startups, like officially.
Ling Yah: I noticed that one of the your roles was being chief of staff to Chatri Sityodtong. And I imagine people have an idea of what that means, because there's the apprentice now. What was it like?
Debbie Soon: Yeah.
It's so funny because all of my coworkers will call me the OG apprentice.
And after Chatri promoted me to VP of consumer products, delete one of his divisions. Everyone was joking that it was so hard to replace me, that he had to have a whole show to have a whole like reality show to find my replacement.
That was pretty funny.
But yeah, I mean the Chief of Staff role is such an interesting one because Odyssey, I think it's different for anyone, depending on who you are Chief of Staff to, and I did a lot of research too. When I took up the role, like, you know, what is a Chief of Staff?
Because I think a lot of people think of chief of staff in a political capacity and really a chief of staff's role is to make, you know, whoever you're being chief of staff to help them be more successful. And in some ways the loyalty's almost to that person as it is. More so than the overall organization, all the other people that you're working with, it's really about how do I empower this person to be a better version of themselves.
And for Chatri, that really look more like he had a lot of great new ideas in order to grow ONE championship and expand as total addressable market. And so he had a lot of new business initiatives. So one of it was ONE Championship's expansion to Japan. And then the other was ONE Championship's expansion into e-sports.
And so I really headed both of those initiatives. I was the first, essentially the first employee for ONE e-sports, I was the first person to break ground in Japan. I hired the president, hired like the founding team you know, found the office. Same e-sports, you know, high at like the first 10 people hired the CEO.
And so I think in both cases, I really felt I was in a happy place too, because I mean, at the time, ONE Championship wasn't small, like there were already about maybe 150 to 200 people and growing really quickly. But I think within these two areas, I still felt like I was growing something from zero that I was building essentially a startup within a startup.
And so I think through the experience, I really, once again, continue to discover my love of entrepreneurship. Discover my love of being studied from zero to one. I had a great time doing both of those projects.
Ling Yah: What were the main challenges in establishing say one e-sports? I was quite excited to see you do that because my third guest on this podcast, he actually established the Esports version of formula one and he created from the ground up same like you, only you did it for one championship.
So I wonder what that experience was like for you.
Debbie Soon: Oh, my gosh. I mean, that experience was crazy and okay. To make things even crazy. And both of these projects were happening at the same time. So that was a lot of juggling different personalities. And it was definitely a crazy that year and a half that I was Chatri's Chief of Staff before being promoted.
That was honestly, probably one of the craziest and busiest, like 18 months of my life, even more so than juggling the startup, my studio and GIC. So I think that gives you a sense of how crazy it was, but ONE Championship, so itself essentially is a media platform and it had all the distribution as well as the relationships with broadcasters, as well as digital platforms.
And at that point, you know, the content that we were putting out was essentially and it just mixed martial arts. I guess, over the years, they had added on muay thai on top of mixed martial arts, like kickboxing. So I guess they went diversifying into other types of combat spots but it was still very much combat sports related.
Everybody that had high end as well, we're very familiar with how the combat sports industry worked like, knowing the right managers and athletes. And so going to e-sports was really a completely different space altogether. And not to mention that, we were growing so fast. And so it's a number of events that existing team was also really you know, they weren't really what to do an edit capacity.
So it was really hard to even put them to even contemplate like, you know, having to take on another product. I think it was a really challenging endeavor because I had to learn also the basics about e-sports and what the community was like. And actually, I guess, funnily enough, like, you know, we're going to talk about community a lot more later on, but, what I learned in e-sports was really the importance of authenticity and also realizing that e-sports.
As it is e-sports so every game is essentially its own sports. It has its own ecosystem and its own set of athletes. So I think it was like a very steep learning curve for me.
And also I'm not really a gamer. Like I used to game like many, many years ago when I was a teenager. But since then, I probably haven't really been that excited about anything when it, it like Pokemon go when it first came out.
So you know, this was definitely not a natural fit for me.
I think my first hire was someone who was from Activision and she was great. So I think I learned a lot from her as well. I think we were fortunate enough due to the one name. it made it a little easier to start having some partnership discussions with game developers.
And then we also found an incredible CEO. His name is Carlos and he's a CEO on e-sports and together, we managed to throw up like our first two events. You know, we had a fighting games tournament in Tokyo, which we ran alongside our 100 events in Tokyo as well and mixed martial arts event and Tokyo.
And then we also ran the Dota two you know, invitational at the end of the year. So I'll just say that it was a really crazy year, but I loved so much and it's probably one of the proudest things that I had accomplished for ONE.
Ling Yah: Would you say that life slowed down later when you transitioned to be VP and launch ONE shop? Cause it doesn't sound like it was any easier.
Debbie Soon: No, I mean, I don't think it necessarily slow it down, but I think it allowed me to be a lot more focused because I think I had my own key and I would run plus time I actually had my own team. I think that the other challenge of being a chief of staff is that you don't officially have a team and that you are trying to I guess execute on what your CEO would like to see done, but in order to do so, you need to rely on a lot of other teams. So for anybody who is listening to this and this, you know, thinking of being a chief of staff, I would say one of the really important skills required is having great interpersonal skills.
Because it really relied on me needing other people to do like favours for me.
I mean, and sure. I could always use Chatri's and be like, you know, Chatri wants this and do this or else. But you know, that wasn't ever going to be a sustainable way of working with everybody else. So it was a lot of relying on personal relationships and having them prioritize what I needed in order to build both of these businesses.
And against all the other KPIs that we had, right? We were having events every other week. We had lots off Facebook shows, YouTube shows that we had to put out because we were constantly generating so much content.
But then once I transitioned into, I guess, managing my own P and L managing my own team, that was different.
It was a lot, it was a lot more efficient. I couldn't move much quicker. I could be more decisive as well. I mean, I really enjoy being a head of consumer products and going into e-commerce. I also love fashion. So it was really great, like being part of the creating process. I'm looking with a team of designers, designing product, getting all of that into the hands of consumers.
I think the most satisfying moment for sure was, and this was by this point was during COVID was one day I'm walking around my neighborhood and I see somebody wearing the t-shirt that I had sold and I had designed. So that was like a really like nice moment.
Ling Yah: So how did you decide that it was time to leave and to move to LA?
Debbie Soon: Honestly, I would say that it was probably COVID inspired. COVID like inspired move.
I'd studied in the U S I did grad school in New York city. And ever since moving back to Singapore, I think that was always a part of me that wanted to move back to the U S and the entire time I was at GIC, there were actually some potential opportunities about moving to New York, but they never really happened.
And then I think at the time when I left GIC, I found this great opportunity to ONE championship. I felt like it was really worth staying in Singapore for, and like I said, don't regret any of it at all. And I think I went through, you know, just a little over a year of running this new business.
I had taken it from zero to close to $2 million in revenue in less than a year. And I think at that point I was sitting there in my studio apartment in Singapore, and I realized that despite all of that, I still wanted to experience what it would be like to live and work in the U S and I think not being able to travel probably also contributed a little bit more to that DNA because I always like to joke that one of the best things about Singapore is how easy it is to leave.
And you know, because the airport is so convenient from like touchdown to my doorstep is less than an hour. So, you know, you always felt like you've been exploring somewhere new. And I think I just started feeling a little like, oh, I've been doing this now. And I know like one year doesn't seem like a long time, but I guess when you're in a fast-paced startup environment, like even a year, a few it's like, oh, you know, three years.
And I think having already grown ONE shop to around like, close to 2 million dollars, like in that amount of time, I think I sat there and I thought to myself, would I feel really accomplished, if even in one year from now I took that 2 million to 10 million?
And I realized that I didn't feel like I would have learned as much as I would have if I hadn't left Singapore and just started somewhere new and see what there is to offer. So it was a tough decision for sure, because I had an incredible team. You know, we were really like family. So, you know, it's like a team of like six or seven of us.
And, you know, obviously I had learned a lot from Chatri and, you know, it was a very grateful for the opportunities that he had given me, but I also felt like it was time for me to kind of discover what life would hold for me. Like if I wouldn't leave kind of like a safety net of Singapore.
Ling Yah: And I read in a tweet, you said that when you first moved to New York, you nearly stole furniture of a homeless person. What's the story there?
Debbie Soon: Oh gosh, that was a, so this was 10 years ago. So this was when I left college and I moved over to New York city from grad school.
agreed to be roommates with somebody that I knew from Cambridge. And so he had, I guess, found the apartment first because he was already in New York and I guess he had taken photos of it and like send it to me. I was like sure fine.
I didn't have a lot of money. I needed it to be near my school. And so like, I was like, great, this is within a budget. It's like five minutes walk away from school, like perfect. Right. I get there. And guess in the U S is pretty common for apartments to come completely unfurnished. Which I guess I'm not really used to. I, I guess I always thought that apartments would come with a little bit of furniture, but I walked in and was like, literally nothing.
And all I had was a sleeping bag that I brought with me from the UK.
It was my first night there so I'm just walking around the neighborhood and I see like a coffee table, like just a wooden coffee table. And so in my mind, I thought, well, it'd be good to at least have a table so I could put things on like, you know, so I guess I start picking it up.
And then a homeless person started running after me and then starts yelling at me. And I guess I was stealing stuff from his home, like his makeshift home on the side of the street. Anyway, I gave him like $10 and it was bought a radio off him. Everything was good.
Ling Yah: So suffice to say, when you decided to move to LA you a lot more savvy and you knew how things worked.
Debbie Soon: Yes. I've been working for 10 years and get myself set up.
Ling Yah: What was it like moving to LA because you started your own company again from scratch?.
Debbie Soon: Yeah. I mean, moving to LA was it was exciting and frankly, I didn't really have a plan. So think I had hoped that I would have been able to continue working for ONE championship actually like you know, remotely given that I was also running an e-commerce business.
But I think at the time Chatri wanted everybody stay in Singapore and be close to, you know, management. So, you know, I think we agreed to part ways. And so when I moved to LA, I really didn't have much of a plan. I had packed two suitcases. I packed up my entire Singapore apartment.
I didn't know when I was going to be back. But I, packed two suitcases. I brought my dog. I really brought my dog off as he cause she's like my child, but also I was like, I now I really need to make it work because it's easy to bring her into the U S it's a lot harder to bring her back into Singapore, due to the quarantine and everything.
I didn't even have my visa sorted out at a time. I had like started the application process. I didn't have a visa so I was entering the US on a tourist visa.
I also want it to take a little bit of a break. I pretty much didn't have any break between GIC and ONE championship. I guess I started at ONE championship a week after I wrapped up at GIC.
So this was probably like the first real break that I had from working in over 10 years. And I guess I had really planned to maybe not do anything for like six months. And then I was fortunate enough to, find myself in this venture studio program by a venture capital fund that space out here in LA.
And funnily enough that a venture capital fund belongs to Paris Hilton's husband. It's like a one degree of separation away from Paris Hilton.
I felt like it was the perfect program for me at a time. Like I said, I don't know if I would have had the same kind of bravado to launch a company from scratch with my own funding, I think with my own savings. And I, I guess to be fair, I also didn't really have any kind of idea that I felt so strongly about.
So the way the venture city to program. We had three months to essentially meet other potential founders, potentially finding a co-founder. Ideate on ideas together, stress test items that doing a little bit of early customer testing. And then at the end of the three months, if you up the pitching it, the VC may give you some funding and then you can take that funding Institute of building it.
So I think in my mind it was like a fairly like you know, worst case, I'd go through three months and I learned a lot and I have to find something else or, you know, best case, I imagine a three months with a new business and some funding.
And the latter happens. So It was also a great opportunity for me to meet people in LA or like in the U S given that this was still in the middle of COVID.
So there wasn't really a lot of opportunity to go out and socialize and meet people.
Ling Yah: And I read that it was quite difficult for you in terms of you were pitching what, 70 VCs and you only got two yeses?
So you must have gone through this period of why am I doing here? I think I made the wrong choice.
Debbie Soon: Yeah. I mean, and it was and it took a while to get there. So, you know, it was, three months in the program. So it was a fairly structured program was pretty much nine to five every single day with a lot of schedule presentations and all of that.
I met my co-founder through this program. We graduated from the program in June, and then we had a little bit of funding, not much, but we have a little bit of funding that continued to allow us building on the idea, which was a product of women's health.
I guess we got to the point obviously where we needed it to raise more money. But, think we ran a very tricky situation because the amount of funding that we raise wasn't a lot. So we couldn't really have done that much. I mean, It was basically a mobile app that would teach women how to use food to manage their chronic health conditions.
And so we didn't have enough funding to build a product, and we needed more funding, which why we set up fundraising, but then obviously we didn't have enough traction to raise the funds that we needed to raise. and I guess also because of the nature of the venture studio program, they took a sizable chunk of the equity as well as part of them, you know, incubating the idea. It definitely felt like a different kind of emotional tie to it versus say my indoor cycling studio setup, because that was, you know, a hundred percent of my idea. It was a hundred percent of my money. It was 50 50 between myself and my co-founder at the time.
You know, we put equals amount of money in, but, you know, that felt very different because that really felt like my baby, this felt a little bit like it was definitely not a job. So it definitely wasn't like a salary job, but it also wasn't.
Adopted stepchild.
Yeah exactly, exactly. My co-founder and I, we were essentially fundraising pretty much non-stop for three months or so, like, you know, every day, four to five, sometimes even like seven calls in a day of just selling yourself, selling the idea, selling what we were building.
And we were getting a lot of nos.
The feedback also I think was pretty consistent. It was nothing against us. That he loved us. They loved us as founders. But they, I guess felt like we were either too early or they felt like the idea wasn't differentiated enough. Both of us were really honest with ourselves and we looked at a business that we felt that, you know, maybe this is not us.
It's just that this is not the right business to be building. And we could continue I guess trying to bang on the door and then try and get us across the line. But I think at some point it really felt like we were pushing like a huge boulder up a hill. And I think we were just reading the tea leaves and it wasn't a really tough decision, but I think we felt that the most valuable resource that either of us had was time.
And then more time we spend on this, the more time we were taking away from exploring other things that could potentially be more interesting and more valuable to us. And so, as a result, we made a really difficult decision to, I guess, close that start up. we got two yeses, so we could have, taken some money and continue to try to build a little bit more.
But I think we thought a responsible thing to do was to not take that money. Call it time on that and, you know, explore what else was out there.
Ling Yah: I feel like this is the point where I can say that the web two phase of your life ended and web three phase has just started. So how did you end up discovering Meta Angels, because that's how it all began?
Debbie Soon: Yeah.
And, you know, I have to say the irony was that part of the reason why we were getting so many nos at the time from venture funds was that everybody was talking about web three at a time. Everybody was like, you know, people would ask us to so what is the web three angle to your product? And in my mind, I was like, well, there really isn't a web three I don't think that it should be right.
Like, you shouldn't be flossing like a web three solution to something that doesn't have a web three problem. And honestly, even at the time I was a face of this, you know, like people are just investing in crypto. I like, I was one of those, like skeptics or naysayers, if you will.
But I guess when we had decided to close down the set up, you know, obviously I had all this free time on my hand. I could, once again take a little bit of time to sit back and figure out what was really important to me.
I realized that I was really interested in learning about web three and rather than saying that it wasn't great rather than pooing on it or whatever.
And like, you know, is this mostly because I didn't take time to understand it or research it. I had started investing in crypto since 2019, but frankly I did it in a very passive way and was more like, all right, I'm just going to take like a certain percentage on my savings and throw it in crypto and just see what happens.
Right. So I wouldn't even check it every day.
I also bought it at a time where it was starting to go into a bear market. So I think at some point I thought I had lost all my money. And then at one point, I guess when I really should have sold, like I made like five times my money and it would have been like, I wouldn't say like life-changing, but it would have been nice. like, I also read it, but I didn't sell as I've written it all the way down to over where I bought it, at that, you know, once again, like nothing too signifiant.
At this point I was like, well, you know, I should really understand what I'm doing. And this is a reason why, like, I can't figure any of this out. I should have the time and the resources to figure out exactly what's going on in crypto and what web three is.
honestly, I think it took me two full days of research . And I guess I started going off to Twitter, which is why there's a lot of great resources. I never really used Twitter before. And on Twitter was when, one of the mentors that I had met through building my previous startup, she was talking about Meta Angels was like, what is this Meta Angels thing that she had tagged.
Ling Yah: Is this Cheryl cologne?
Debbie Soon: Yeah, this is Cheryl. So Cheryl was one of the mentors that was introduced to us by empathy and the VC that we were building with all of 2021. I see one of Cheryl's tweet about Metta angels and I'm like, oh, what is this Meta Angel's thing?
At this point I knew crypto . I know what an NFT is, but never really went into like the NFT, like rabbit hole, like explore NFT world. And I guess the one thing that drew me to Metta angels was that first of all, Cheryl knew the founders. it's not like they are random people off the internet.
And they also happen to know the partner that we were working with the emptiness wall. So we had, I guess really close mutual connections. And I guess I discovered them two at a time when they were pretty early. So when I went into the discord, it wasn't overwhelming at all. Cause there were only a couple of hundred people.
So it was really easy to get to know people like just introduce myself. I realized that he needed some help as well because they were starting to amp up their marketing. So I figured the best way to let us by doing so you're not also volunteered my time to see how we get involved.
And I think That's when there was no turning back up to that.
Ling Yah: I love the fact that you said a small crowd was a couple hundred, which when you really think about it is quite a lot of people, but in the web 3 world, it is not at all.
So the Meta angels is very interesting because they have this thing called making your wish, right?
And that's the thing that changed your life. So can you share a bit about what that is and how it affected you.
Debbie Soon: Yeah. So, I mean, I think Meta angels, they set themselves apart by essentially positioning themselves as a membership community through owning a Metta angels, you'll be able to access the network. All of these individuals who are in the community.
Alison and Alex were founders of Metta angels. They all like former Tech stars from a Y Combinator, as you know, they're pretty well connected in the startup world. And so they had a wishing well feature where essentially members could make a wish and then people in the community with you can make those wishes come true.
It was obviously from anything from like mental health resources or like security tips, or like I'm looking for a discord manager or what have you. So I threw my wish there and like after this, it was very quick descent down the rabbit hole. Within three days I decided I wanted to go into web three full-time.
And I really got hit with this. If I don't do this now, like we're so early in, web three still that if I didn't do this now, when I have the opportunity to do anything that I wanted I'll be looking back on this time being like, why didn't I do it.
And so I went into the wishing well, and basically just give a brief introduction of my background, which is that I'm an investor and a founder, a couple of times I've built a lot of things from scratch for ONE championship.
But my wish is to now going to web three full time, the only problem is that I've not actually done anything in web three up unto that point. Honestly, it was just like a wish, right? Like that's what it was. I'm wishing well, and like nothing really happens for about a week.
Like maybe I had a couple of pings, but it will all like, just very exploratory conversations of nothing very concrete. And then like it's one week later and Randi Zuckerberg, who was an advisor to Meta Angels project sees that message. And replies to it and says, oh, you know, she's thinking of like looking for someone and then we get connected.
And in my mind, it's wild because, obviously discord moves at a million miles per hour, Adele like messages after messages, it's impossible to find any. I can barely catch up on things that happened in the last three hours. Let alone anything that happened from a week ago.
So I don't really know how she found that, but I guess she found that message and replied to it and and then next thing you know we're connected and we're working together.
Ling Yah: What was that zoom call like? What was that initial discussion like?
Debbie Soon: I guess I was kind of nervous for sure. I think I was a little bit star struck as it is for anybody that speaks already for the first time, because you hear all of these incredible things about her.
But she is exactly who she is.
If you've ever heard her speak or if you have ever seen her in a video, she has a naturally infectious energy and she always just makes you feel like you're speaking to a friend. So I think that you know, at least from my perspective, I felt really comfortable just speaking with her and sharing my story. You know we hit it off really quickly. like the interview process was like really short. Like I spoke to her for 30 minutes. I spoke to her GM I guess for another 30 minutes the next day. And then next thing you know, like at the end of the week I had an offer.
So I don't even think I sent her like my formal resume. I just sent her my LinkedIn profile. I sent her my Twitter profile, which at the time didn't have that many followers anyway, because I had just started it. But I think she also saw the one that I had been doing for Mehta angels.
So all the marketing stuff that I've been doing for meta angels, which, like I said, I was doing it really because I had time on my hands. I wanted to learn. I wanted to contribute in whatever way that I could. And I guess she was really impressed by all of the marketing pieces that they're putting together.
And it's ironic because I don't even consider myself a marketer. Like that's not my core skillset. I'm more of a generalist . I'm a great operator and I'm a great strategist, but I definitely have like no marketing, like actual marketing credentials whatsoever. But yeah, I think we just really hit it off.
And I think we both share this passion of, you know, really uplifting women in web three and in the NFT space. And so I, felt like we just connected and hit it off really well.
Ling Yah: I love that you said that you didn't even have any marketing background because that's the thing for most people who transitioned to web three, right.
They actually don't have any of those skill sets previously that they're doing it. Like I saw that Lorraine, for instance, she's your head curator. Her background has nothing to do with curation community, and now she's doing a fantastic job for hug.
Debbie Soon: Yeah, absolutely. I mean, and I think it's definitely still a lot of misconception that you can only go into web three, if you're a developer and an engineer, and suddenly there is a shortage of good developers, for sure.
So we do need more web three developers, but there are so many skills from the business world or like whatever anybody's career is that are completely transferable into web three because web three businesses. So just like any out of businesses, they're going to need PR, they're going to need marketing. They're going to need strategy operations. And now I guess community is more important than ever.
I would say that all of us have been involved in building communities and in some shape or form, even when I was running seven cycle, my indoor cycling studio, that was a really small community but even if you have 30 people showing up to a cycling class, that's a community of 30 people right there who are going through a shared experience. And our Philly chefs have something in common. Otherwise they wouldn't be there at that same time at like 7:00 AM in the morning, riding on a stationary bike to loud music.
So I think a lot of the times people want to see an exact match, but then I think they don't realize that a lot of the skills that they have acquired through just doing and the experiences are completely transferrable and yeah, Lorraine is a great example where, you know, she's been a journalist before I think. Gosh, she's, like so many different like she's worked with like Korean, like boy band. You know she's done a whole bunch of random things.
I reached out to her on Twitter, but I guess what stood out to me was her personality and who she was as a person and her passion for the space and how she communicates. And I think good communication is such an underrated skill. And I guess that's exactly what we ended up meeting for, you know, curation and, and you know, her, her level of organization.
And once again, it was also a great quick interview process. I think it was a lot of based on intuition. I'm a very intuitive person but then it turns out that like in this case, you know, she's been knocking it out of the park and, we went from offering her a contract to then offered her a full-time role in basically like two weeks.
Ling Yah: I just love the fact that you put a wish in the Discord Channel, and then you transition to web three. And Lorraine sent a tweet saying, I want to working with three and then she got into Web three. That's incredible.
As with any startup, what is the problem you were trying to solve?
Debbie Soon: For hug, we really want it to solve the problem of discovery for creatives. Randi, and I was so excited about how web three and NFT have given artists a new really viable way of living through, you know, essentially finding ways to become an entrepreneur, whereas previously they were just artists.
And I think we realized that a lot of creators, you know, daytime and audits, I did not really business people. And so I think we found an opportunity to really help support them. We felt like web three had given creators the infrastructure to succeed, but they will also lacking in some ways the skills to succeed.
And that was where we could step in. And so for hug, we really want to do this through two ways. So one of is that accelerator program. So very similar to the program that I went through as a team the year prior, actually. So I think there was a lot of great relevant experience on learnings I could bring from that.
But I think we also realize that sure, we could solve that through mentorship and this program that we put together, but this will also set a limit to the number of projects that we could help at any one time. And that we wanted something that was scalable. We wanted to do even more and we wanted to, okay, we can't be at the side of every single project. What else could we do?
And so that bought a big problem that it became about was discovery because right now the world is so noisy. Like Twitter is like, you're beholden to the Twitter algorithm . And I mean, there's nothing wrong with having to work hard to get noticed. I think in general, that's something we all need to do and be comfortable doing.
But I think we felt like there was a way that we could make it easier for creators to be discovered. And at the same time also connect collectors to, to creators that they were inspired by. There was something worth building and so that's what we set out to do. It's been, I guess, two months, but it's felt like years or any.
We are essentially building a platform. I guess the best analogy I would use is that it's a rotten tomatoes for NFTs. The access to the platform is gated through an NFT team membership pass. So I would look at a NFT, not so much as a JPEG because in fact, there're only 20 prototypes.
We have 15,000 membership passes, but only 20 different designs. So I would look at it similar to a Starbucks card. It's the same Starbucks card. It just has a different design on the front of it. And so the platform that we're building essentially allows people to write reviews similar to how you write a review on rotten tomatoes, or Yelp or TripAdvisor, right? So think of any kind of review and aggregation platform. The only difference is that you're doing it for NFT collection. And while you're writing these reviews, you also earn tokens for your contributions. And in return, you can use those tokens to exchange from one NFT, get yourself on like presale spots.
So we're really excited about what we're building here, because I think we're really using the technology or the infrastructure that has been provided to us through web three in order to reward people for doing their research. Right. And I think one of the things that Randy and I talk about is that if you're in NFTs or you get a web three space, you always see this acronym that says D Y O R and do your own research is that everybody's doing their own research, but rather than doing it by yourselve, like, you know, once again, why can't we leverage out of community and share that research with each other and in doing so, get compensated for it and uplifting everybody at the same time, which is a very like web 3 ethos.
Ling Yah: And you now have a curator club, right. Which is around 300 people. Are you thinking about scaling it? What are the thought processes from 300 to say 3000, it's going to be a very different story.
Debbie Soon: Yes. I mean, as a great, great point. So yeah, so the platform isn't launched yet at the platform. We'll probably have the beta launching in May.
So we need it to really, I guess, get in building. And so we thought the best way to do it. And once again, in web three is to use the community. So we opened up applications to curate a club a couple of weeks ago, and we had 300 applicants who honestly took like on average, like 45 minutes to complete the application, which was like crazy to me because it wasn't even like a very long like application blog.
It was just that I think keep, it took a long time to be thoughtful with their answers and replying to the questions that we asked.
They essentially apply to volunteer to be a part of a curator club and they have been aggregating information, all of these projects, they have been reviewing each of these projects.
And in two weeks we have over 400 projects and over 3000 reviews, which is just like insane just from the 300 people alone. We definitely have plans to scale it. So I guess at scale, everybody that holds onto a membership hospital essentially be part of the curator club. but yes, like I, I think that the challenge of going from 300 to 3000.
Even when I joined Meta angels, when it was like a couple of hundred people. Even though there's a couple hundred people like this only X number of people about online at any one time, so it's still kind of manageable.
Right. So even if you're talking about. 10% off your community's online at any one time, because everybody has other jobs in different time zones. So, like you're talking to like 30 people at 10% of 300 is still pretty manageable. I think when you get to 3000 and now all of a sudden you try to talk to 300 people all when you get to 30,000 and now you've been talking to like 3000 people.
I think all of that, it becomes very challenging. And I think we've always wanted to create this community that was really authentic and also shared in our mission of uplifting creatives. And I think that's something that we're going to have to wrestle with. So suddenly we are expanding our current group when we start minting these membership passes in a couple of weeks.
But even that process that we have, we set about that process, you know, completely differently. We have people fill in an application form again. We let our application pause. So yet people feel the application problem is why does she get a membership pass? And once again, it was like a really simple form that probably takes like two to five minutes to fill.
But we wanted to at least vet who was coming in. To make sure that they were really there to support in the community and not just there to, you know, buy and like flip you know, membership passes. So I think we definitely will have a lot more learning to share along the way, and we're still very early in the journey, but yeah, it's definitely something that keeps me up at night.
Like, well, how do we maintain this magic that we have built into some group of 300 people?
Ling Yah: Yeah. And because I think a lot of people who are into NFT, they will be training lots of discourse, but you can only be active in say three to five. So how do you ensure that you are one of those three discord channels?
Debbie Soon: Yeah.
And I mean, I think that's a great, great question. I think every single community has to think about that. And I think this quote is also kind of like the necessary evil where, you know, it's probably not the most efficient way of keeping up to date with all of your different communities.
And like you said, like there are only so many communities, one person can be in. I think which is why for us, like the platform in all minds, this provides true utility that, like obviously the community element it's dead for sure. And, it's so important, but I think where you really unlock real growth is when community meets utility.
And we're hoping that through the platform and what we're building and involving everybody in that process.
Ling Yah: How helpful has your weekly sessions with Randi and everyone else been? Because I've been tuning into that. I'm so glad there is a recording and there's like over 1,500 people who attend every single week.
And it's just really interesting updates all the time.
Debbie Soon: Yeah. I mean, I must say I think we're kind of blown away how, like every week there is something you turn down, so I didn't even think of everybody, what are we announcing? and so, yeah, you know, I think that's been great for us because, we have set aside at one hour every week and we feel like it's essentially our, I don't want to a board meeting and I don't know what to right term or what the right analogy would be. But I guess if you would think that if every one of our community is political board, it was really sort of all weekly board update, right?
Like this is what we're doing, but it's also a great opportunity for us to, you know, share what we're thinking and like hoping that over time we will have also lessons and learnings to share as well. I think right now we're in very much of like, let's build, let's build, let's build. And you know, I think we're obviously making mistakes for sure, but not perfect.
But yeah, it's been, great. Like I think speaking to the community sometimes involving the community to come up as well and to share, you know, stories and experiences. So you know, we've just been very thankful with what at Twitter spaces, I guess allows us that channel communication with everybody else.
Ling Yah: You mentioned earlier before that you were doing like 3000 reviews, has your thinking changed as in sense of how you analyze NFT projects having seen 3000 reviews, which I think is more than most people will have?
Debbie Soon: Gosh, I mean, maybe I'm biased the process a little bit, but I guess the reviews I mean, we introduce a rubric for this review that is very similar to, I guess, how I think about evaluating and a few projects.
And I've shared some of those resources on my own Twitter profile as well. I really look at a NFT projects through four buckets. I look at them through the team and I really evaluate them the same way I would evaluate a company. And so I guess all of my seven years at GIC has paid off and that, you know, is really like giving me some foundation in terms of how I look at evaluate companies and making investment decisions.
But I look at a team because of, especially for an early stage company, the team is the one thing that you can change, right? You get stuck with a team no matter what. Then I looked at the art as well, which I know is subjective, but really I look at how original it is. I think in an NFT space, we see a lot of derivatives, right?
Like there was Bored Apes. So people are going to do like a different kind of Ape or like this Ape, that Ape, you know, and it's just at some point it's like unoriginal.
So I look at odd that really has like an original point of view. Like it doesn't have to be a specific style. I like Meta angels, which is a little bit more like realistic.
I like doodles, which is like a little bit more cutesy, right? Like gum. So, you know, I don't think there's any kind of specific art medium, but it's just that it has to be differentiated.
Than I obviously look at community, which is, you know, the bread and butter of an NFT project is to basically who are your customers and what have they done to apply a customers and engage customers, and then lastly I look at what the actual business plan is.
And the utility that comes from holding the NFT.
Ling Yah: Would you say that art, which is what you mentioned to be an essential factor, because I've heard that Randy say she has a 10 step process of analyzing and art. Sometimes isn't even in that 10 steps,
Debbie Soon: Yeah. I personally think that like this is really hard.
Art is so subjective, right? Like I could love a piece of art and somebody hate a piece of art. But I think in my mind, even if we felt like a piece of art was like nice looking, but it looked like 10 out of different types of projects. It's going to be really hard to pick which out of this 10 that, we would want to invest in.
I'll be, we'll want to collect, they'll buy an NFT from. Whereas like if it was something that was really differentiated, like even if I hated it, I could guarantee you that if somebody else that it would love it just because it was so unique.
I still think it's something that's really important. Randi and I like, guess we have like similar tastes too. So we have like different perspectives, but I would say that there were a few times where we are at complete opposite ends of the spec.
Ling Yah: How do you think about roadmaps? Because I feel like everyone has so many different ideas. And eventually you're going to be looking at other people's roadmaps and copying some as well. You can only be so original.
How original do you want them to be? What has stood out for you so far?
Debbie Soon: I think similar to looking at early stage companies as well. I really look at NFT projects who have identified a problem to solve. And you know, the space is evolving, right? I think the one thing that we can all agree on in web three and NFT spaces that it changes so fast.
So even something that was successful in like a month ago, it's not necessarily going to be successful today. And the market is also very volatile, right? Like, depending on the price of the Ethereum are, or what Solana, if you are building on a different blockchain, like all of that also affects the bearishness or the bullishness of NFT market.
And then we're also seeing like new projects pop up every day. Right? Like, I wouldn't be surprised at us. And these like 50 to a hundred projects popping up every single day. compared to last year, I'm sure that number has like 10 X, 20 X or whatever, that, I don't have the statistic, but I'm sure it's a lot more compared to a year ago.
And so I think now it's harder to be differentiated and maybe we won't even see some consolidation down the line. I think we've seen that with like, you know, Bored Apes and Crypto Punks. So there's no saying that there wouldn't be an opportunity for more consolidation. But yeah, I think when it comes to business roadmaps I really look at what is the problem that this project is trying to solve and doesn't have the right teams to solve that problem.
Ling Yah: So for people who are listening to this and are very interested and want to get involved, how did they get involved? Because there's a community curate-to-earn platform they can join. But I think that you've already given that all your passes. So what's the next step?
Debbie Soon: Yeah. The next step is definitely to, I guess, keep updated because like I said, we are doing things in slightly different ways.
I would say that most NFT projects, they would say, this is how much we're selling and you open up a sale.
If it doesn't sell out within like a week or even 48 hours, everybody thinks that this is a crappy project. But, you know, I think in reality, most great businesses are not built overnight and suddenly, like, we don't want to be in a situation where we're selling out overnight, but it's going into the hands of the wrong people who don't even understand a project?
Cause I think the NFT space, unfortunately is very speculative. So there are a lot of traders who would buy NFTs and then flip them in an hour just to make like 10, 20%. And, you know, I think that's not really the culture that we're trying to nurture um, because we're really building something for the long term. We're building a platform that we hope will be able to help a lot of and like this.
And frankly, I think if we can develop an infrastructure that allows people to earn tokens for their reviews, that's no reason why we can't adapt that infrastructure to other types of reviews, right? Like restaurants like movies, or like, imagine you write a review for open table and you get like credits that you can use at your next restaurant.
And everything's on a blockchain. And, you know, we're really excited about what we're building. And so we decided that even though we said that we have a supply of 15,000, we're only going to open up a certain amount, in the beginning, but as first base. So by all estimates, that should be less than half of the total membership passes that we have.
And, you know, I think that's also going to allow us to manage our community growth in like a more measured and balanced way, as opposed to setting the flood gates open and like, you know, there's so many people that we kind even manage them if you don't really know, like, how to manage the process anymore.
And I think later on when I'll close the first closed beta version is released in May I think, you know, we'll be in a better position to set on releasing all membership passes. And you know, I think we still take curated club applications so selectively, but you know, on a much more. Like maybe every week we add about like another five to 10, like in this, during this process.
So Lorraine's handling all of that great stuff. So it's nice when you can finally like delegated.
Ling Yah: Fantastic. And do you think about how you're creating a moat around HUG? There are lots of people who are definitely creating communities and thinking, oh, I want to invest by one to have many brains coming together to think about it. For instance, when I was reading about what HUG is doing, I thought of Lily's own WOW Pixies and they also have their own private channel. They go in and they talk about different investments. They vote on what to proceed with and what to sell.
So how are you planning to be unique from other people, such that everyone wants to join you and not others?
Debbie Soon: Yeah, I mean, and you know, a huge fan of what Lily is building, you know, she's building the first kind of I guess NFT backed DAO that invest in women led projects in a big way. So, you know, they have a lot of blue chip NFTs, like World of women and, you know, I think I have great respect for holiday hat.
They have organized their teams, I guess they call them like work stations you know, whether it's from legal to development, to like marketing. And it really, it's like a great melding of the minds really thinking that there's a law for us to learn from as well. And, and, you know, I think that's part of why they're in groupHUG and we can teach them what we know but we can also learn from what they know.
But you know, I would say the one thing that really sets HUG apart is that at the end of the day, we are creative. And we are really all about empowering artists and that's something that's really near and dear to Randy's heart as well, because, you know, she was in Broadway, so she left Silicon valley to be a Broadway actress, and then it was a Broadway producer.
So, you know, she's always felt like a real strong connection to artists. I would say that probably, I personally have a less strong connection, even though I wasn't a performing arts, but I wasn't, I was like a teenager. So, you know, I don't want to like dig that up too much. I do love like that's what sets us apart that we are changing the lives of a whole group of people that, you know, for years they have just been toiling for something that they're so passionate about. And you know, we're now giving them the economic opportunity to, you know, not just getting discovered, but also, you know, with the tools to really help them to build. Take that livelihood into a real scalable business.
Right. You know, we hope that, you know, through some of these NFT projects, we'll see the next billion dollar business. I mean, really saw like Bored Apes is like a multi-billion dollar like NFT project, but they have much bigger visions than that. So how do we help at least one of the projects is under us, you know, reach that same status as well.
Ling Yah: Are you concerned in terms of whether information is shared between NFT collections? For instance, if I was to join yours and I get information that most people don't but I also happen to be involved in my own NFT collection and I share it over there. I mean, normally if you're investing in startups, you will sign NDA, but in this case there is no NDA.
So is that concern?
Debbie Soon: Yeah. You know, anything that you share in a public setting, it's not going to be recorded or like, you know, broadcast to everyone, but obviously there's no guarantee that if somebody said something like somebody talked about a partnership that they had for example, there's no saying that that's not going to get out.
So I think, you know, teams just have to exercise their own discretion where they feel is appropriate. I think on the platform side of things for HUGhub, which is the review platform that we're building, we discuss/ research publicly, because these are research that we're doing based on what information is already available to us.
And so, you know, I don't think that's anything that's like sensitive over there and yeah, like I think, we're very open to building in public. I think we feel like we have a secret sauce in really what our values are. And we have a really strong point of view, especially about elevating diverse creators.
I think that has a huge point of motivation for us, you know, especially in being in the U S as a woman of color now. I feel very strongly about that and wanting to amplify voices from marginalized communities. And I think like that doesn't change.
I also say that even though keeping an eye on what other people are doing is important at the end of the day, the only thing that we can control and I guess, funnily enough, it goes back to what we said in the beginning is that we have to accept that certain things outside of our control. But what we can control, we have to do it to the best that we can.
Ling Yah: We've made reference to the accelerator quite a few times. So that's groupHUG. groupHUG different from your typical web 2 startup accelerator?
Or is it not at all.
Debbie Soon: I would say it's similar. I would say that there are definitely a lot of similarities from like, some of the more popular, accelerators out there. Whether it's Y Combinator or Techstars. I think there are a lot off like materials or resources that we kind of pulled from there.
I would say then probably the difference is that we do understand what it is to be artists. Uh, You know, so Michael who's on our team who is leading group hug. Like he's been a creative producer for, you know, many years. He also produces Broadway shows, so he spent a lot of time working directly with artists.
And I think we are able to speak to artists in a way that, a traditional accelerator would not be able to, you know, I think we spend a lot of time on talking about like what the art means to you and like how you, as an artist would describe your art and share your perspective with the world.
I would say the other thing that is different is that there was a huge emphasis on community and what we do to foster healthy community growth. And so I think those are probably the two things that set us apart from the usual accelerators, but definitely a lot of the core business strategy stuff, you know, that will be similar.
Ling Yah: I want to talk about the curation as well, because you've had two batches so far, and I was amazed that a lot of them are my past guests and my future guests. So you have like, WOW Pixies from Lily. You've got 8SIANS who has just joined, Nicole and I'm interviewing Mai from Curious Addys. So they are all very different.
How did you decide that they will be a part of your accelerator?
Debbie Soon: Oh, gosh. Yeah. I mean, honestly, they're all great projects and, you know, we wanted them to be differentiated. Obviously we didn't want to feel like any project was competitive with each other. But really it goes back to that same metrics right?
Like whether it's a team, whether it's the community or the business and, you know, for each one of them, I can talk about how they're all like differentiated, right. You know, I think Asians, for example, like they have a really strong point of view from their art in that it is very focused on Asian representation.
And you know, the diversity across Asian representation.
They are also, you know, based in Malaysia. So you don't have a strong kind of Southeast Asia following. So you know, very excited about what Nicole and her team are building there.
You know, when I look at WOW Pixies, where you talked about Lily, I think her team has really executed really quickly in terms of like putting all the right pieces in place. Leveraging the community to help them further some of the things that they're thinking about. Whether it's legal like Deb, like you said.
And then when you look at Curious Addy's, their business is beyond NFT project. They're building a whole learn to earn model with the ultimate mission of onboarding, you know, the next million people into crypto and into web 3.
I would say that all three of them definitely checked all the boxes of like team, art, community, like business. I would say for the three of them, like certain bits of it are like stronger than others. They definitely shared in having all of those check boxes ticked.
Ling Yah: What have you observed are the biggest needs that all these entity owners are needing?
Debbie Soon: I think learning how to pitch oneself is probably a great skill that I think we could consider to develop an even, even myself where, you know, I think that this is an area of constant development, but I think Projects are looking to go out and raise more money, whether it's through doing another collection and raising money for the community or whether it's going to venture capital funds and raising money and f rom my experience of pitching 70 different VCs, sometimes it's also how you're telling that story.
And what do you have the data to back that story up. And so, you know, I think even with curious Eddie's like Randi and our team has worked really closely with them to refine their pitch. You know, when they go out and raise funding.
A lot of times it's like all of the ingredients are in place.
Like all of the stock, all of the things that have done, like, you know, people can see it. But how do you string all that together into a cohesive story, sort of gets people really excited about what you're building.
Ling Yah: I read that you have helped your projects to raise over $5 million in VC funding, which blows my mind because you've only just started like a month ago.
So what have you found that investors are looking for when NFT projects come to them, asking for funding?
Debbie Soon: Yeah. And I mean, I think it's going to be interesting and I definitely don't think every single NFT project will have the opportunity to become a venture backable business. So I think it really boils down to what is the eligible goal? It has to be more than the JPEGs, right? It has to be more than the art in the community. That has to be something more than that. So honestly, I would say out of all of the NFT projects, it wouldn't surprise me if like less than 1% of them would even be a candidate for VC funding.
But you know, I think it really is about proving that there is a problem to solve. And you know, I think in venture we always talk about firstly is there a problem market fit? Like have you discovered a problem that the market feels is worth solving and it's a big enough customer base that feels like that as a problem with solving.
And then secondly is what you're building, is there product market fit, right? And I think the more that you can prove that there is product market fit, you know, which you already have done, which a lot of products have done within a small community, but you know, an NFT collection typically has 10,000 pieces.
They have like maybe 6,000 holders. How do you prove that you can scale from that 6,000 people that are holding onto the NFTs into something that's venture-backable? Because I think VC unfortunately the name of the game is scalability, right? Every venture capital investors, looking to see how to they can x10 their money from today in the next like five years So, how can you tell that story to show that you are taking it from just an NFT collection to something much bigger?
Ling Yah: Do you have a sense of, at what point is an NFT collection ready to pitch? Is it premint? I mean, most of them, like for 8sians, for instance, when they launched they didn't even have a roadmap and look at where they are now.
Debbie Soon: Yeah, no, I mean, definitely post mint. I don't think every single NFT project has to raise, right. Successful mints can bring in like a couple of million dollars right off the bat. That is essentially a fundraising.
And I think increasingly we will start seeing people use NFTs as a way of fundraising as a way of crowd funding as opposed to going down the traditional VC route. So I would say that first of all, VC funding isn't for everyone um, really depends on what their roadmap or the plan is.
And then secondly, maybe in the future, I think part of the earlier web three is that there may not even be a need for institutional funding, and there's a way to get funding from the community, which I think is also like a beautiful thing, because it is also democratizes access to funding, which was, you know, what web 3 is all about.
I think I would ask every single NFT product to kind of figure out like, what is their long-term plans? Like what's their long-term vision? How big do they want us to be? I mean, when I set at seven cycle, I had no intention of it being a VC backable business. I think I always felt like it would be something that I would maybe have like two to three studio locations make some like nice passive income from it.
But like it wasn't meant to be a full cycle and roll out across South east asia. That was never really the plan because like all of that takes like a different kind of growth in different kinds of funding for that.
Ling Yah: When you think of building a web three business model, must it incorporate web two elements?
Because for instance, I'm thinking of Asian again, when I was speaking to her, she said, oh, I really need to establish a legal entity because most of the companies here, they are going to laugh me out of the room if I don't have a company. So what are your thoughts on this?
Debbie Soon: Yeah. I mean, I think definitely there's certain things that like legal entities are like really important in order to protect like any kind of personal liability.
So, I think Nicole's definitely thinking about it in the right way. And I think there are a lot of things from the web to world that will have relevance. And I honestly think that in the near term we'll actually see mobile web 2.5 web 2.75, I guess. I don't know how far along a spectrum we would be, but I guess definitely a hybrid model.
Web 2.5 I guess like even for the DAOs, if everything is decentralized, but no one's actually executing on making the final call as to when something gets pushed ahead. Like it would just be a lot of noise and not actually anything being done. And I think that, you know, we're still trying to figure out what the right governance structures for dao is and how do we track contributions?
How do we sufficiently motivate everybody to be an active member of the DAO. So, you know, I think that there will be some form of hybrid I guess implementation. And I think part of it too is also technical where we are from a technical development standpoint. So the full web three solution that can be very costly because of the costs it takes to use a blockchain on what they call like gas prices right?
So the amount of money it takes to run everything on web three may actually defeat the purpose. You know, the user adding to tokens, right? It has to cost me $50 to claim 10 tokens into my wallet, but the 10 tokens only worth $10, that it doesn't make any sense, right.
But towards the web 2.5 model would be I'm tracking the actions, not on chain, I'm tracking on a database on the back end. And then I air drop the tokens. So that's kind of like a web 2.5 where you are still earning. There is that web three elements, but reality is not fully web three since I was still running that on a centralized database on a bag.
So I guess those are some things that we're considering. I mean, we haven't decided yet, and they're obviously different technical solutions, but I guess those are some examples of, I think both from a technical standpoint, as well as a governance standpoint, you know, I don't know if we're necessarily at a point to hit like full web three mode.
Ling Yah: Another thing I want to talk about is just partnerships. Cause I realized that a lot of your people in the cohort, they have amazing partnerships like boss beauties. Lisa was featured in Coinbase. She has partnerships with Barbie and Neiman Marcus. Women rise, curious eddies. They all have amazing partnerships.
So from your observation, what is the best way for an NFT founder to approach this idea and pitch and get partnership?
Debbie Soon: I think it goes back to why storytelling is so important and what is your story and why you different from the thousands and thousands of NFT projects that are out there.
And I think, part of our program and teaching people how to tell your stories, identifying what your brand values are. And I think many NFT projects, at least a lot of the ones I've come across, if I ask them straight off the bat, like, what are your values? What are your brand values? I'm not sure how many people would be able to answer that.
And I think if you look at Meta angels, they'll probably be like a great example where from day one, their website already said what their values are. You know, it was like transparency. It was like generosity, as well as like assessability.
Everything that I've done has been centered around those three values. And I appeal very few projects actually really know like what their North Star, what their guiding principals are. Even at hug, like we went through that process really early and we want to demonstrate leadership, but we're doing that in a joyful welcoming way.
But we're also, you know, extremely perceptive and brilliant you know, there's other things that we use to shape our brand identity. So I would say, yeah, figure out what a story is, figure out how you're differentiated and then also put yourself in the shoes of this brand, right?
What problem is that brand trying to solve. By at the end of the day, we must all be here to solve problems and not doing partnerships for the sake of doing partnerships, because at the end of the day, that's not something that's going to be replicable or like to all, to have that partnership being renewed.
You know, even if you manage to sign up for the first time,
Ling Yah: Can you give an example of one person is doing something well, three that really excited you recently.
Debbie Soon: Oh, gosh so many. I mean, I, I will say that I'm really excited about what Curious Addys is building and, you know, obviously you can wait for you to speak to Mai, for her to share a little bit more about what they're doing there, but already they have delivered so much utility to the holders.
They have a portfolio tracker that you can only access if you are an Addie they have like a virtual trading game. And like, you can also like mint, like you can pretend mint an NFT so it teaches you to go through the process before you do it for real, the first time. And so that you don't get scammed.
So, you know, I'm really, excited about what they're doing.
Actually, we're also really excited to see how other big brands are approaching the space. Especially I spend a lot of, I was a big Shopify customer when I was building one shop. So I'm really excited to see all of the things that Shopify is doing in a web three space and token gated and using token gate at commerce to really capture greater customer loyalty on a blockchain.
So I think all of that is like really interesting and excited to see how we could continue to partner with Shopify, maybe sometime down the line when we have like built up our brand even more. And I'm also like excited to see how even ledger like a hardware wallet, how are they embracing the consumer side of things.
Because right at the moment. I think they're considered like a necessity in that. Okay. We all need high security, but is there a direct to consumer play there where we're like buying legend wallets as a way of showing off something right. Showing off that we're part of the community.
Once again, this kind of like a web three meets web two world, where we're not just buying a wallet, we're buying something more than that and we're buying it because we're consumers and we've loved pretty things.
Ling Yah: But for people who want to get stuck into that web three world, there's obviously too much information out there.
Do you have any recommendations in terms of who to follow, where to go, just to get stuck in? But still get good quality information.
Debbie Soon: Yeah, I mean, definitely follow us at hug. The hug XYZ on Twitter. But yeah, I mean, I would say Twitter is your best friend in terms of having a lot of great resources. I think certain projects as well, like Curious Addys or Zen academy which has Zeneca's community or project.
They have a lot of great resources for anybody that's trying to get onboarded. Odyssey DAOs that another great one where they're a DAO that is bringing a lot of great educational content. In the early days I actually sign up with an email marketing series that was pretty cool. It's called like a seven day guide to NFTs, for example, a seven day guide to like DeFi.
And every day for that seven days, you get like a two minute read about what it is. And I found that like really useful, like, doesn't take a lot of time, but it's enough to kind of peak your interest to want to dive in more. So I did all of those you know, great resources that I would recommend anybody go check out and just spend a little bit of time on Twitter and where it can be a little bit intimidating.
But I think once you find the right people to follow, you know, you just keep discovering more and more great stuff.
Ling Yah: Just before we wrap up, I wanted to ask this one question that I noticed from one of your tweets, what does a web three dating app look like?
Debbie Soon: This is my new business idea. So if anybody wants to fund it or incubate it. Well, I mean, I think it's funny because we always talk about how in web three, your wallet is going to be more symbolic of what you have done and who you are.
Just like how NFTs have become a representation of who we are on the virtual world. We were joking about like brainstorming, just like dating app, where instead of it being linked to your Facebook or your social media profiles, your web two profile actually linked to your wallet so that you can kind of see what NFTs somebody has collected. And not just NFTs.
Right. I think in the future, we will have you know, any dao contributions onto your wallet as well as you see. It's almost like a proof of work. A proof of work that could be even more legitimate than LinkedIn, because you know, anybody can say that they did such and such on LinkedIn but they don't actually have the proof.
Whereas on the blockchain you can actually see what somebody has done. So it would look exactly like Bumble, like Tinder or whatever, like these dating apps, which I don't use since I have a partner. but you know, you would swipe right or swipe left on this.
But instead of the person's photo, it would be a picture of their avatar, which should be an NFT. So I also consider it like, love is blind. But as of not seeing anybody come to me, you see like an eight or you see like a boss beauty and that's how you're matching with people.
Ling Yah: I mean, the problem with that is that once you make one mistake, it's there forever.
Debbie Soon: That's true.
Ling Yah: Debbie, I have loved this conversation. Thank you for being with me. I love to end all my conversations with the same questions. So the first is this: do you feel like you have found your why?
Debbie Soon: Yeah. I definitely feel that way. Like I said, I've been in startups.
I founded my first set up when I was 25. At that point, I really, did find my why.
I had so much fun building seven cycle it was called. And it was really such a beautiful community. Met a lot of friends, some of my friends, my closest friends, I knew from seven cycle.
Even though I had a great time at one championship and learn so much from that experience I would say that I've never really felt like I was exactly where I needed to be. And then like, always, like I mentioned earlier, when I was building this out of women's health, it was weird. It was like, like you said, like an adopted stepchild, you know, like it felt like this weird tension there and you know, I would say to, in a web three space, I suddenly feel this potential that I'm also wanting to step into that potential.
Whereas I felt like in the past I may have shied away from it. And now I feel like, oh, you know, I do want to step into the spotlight a little more because I want to share the story and I want to touch the lives of so many people and I really feel in web three I can do that in a way that I could never have done before.
I'm really, really excited about that.
Ling Yah: Assuming that everything that you want, happens the way you want it to be. 10, 20 years time, where would you envision yourself to be?
Debbie Soon: It's so funny cause I can't even look beyond three months in a web three space.
Like crazy. But, I want hug to be really successful. you know, I want to be able to look back on the time to know that we helped change the lives of so many people. Whether it's somebody who's entering the space of collecting NFT fo the first time, or whether it's an artist who is embracing web three.
I think we're already starting to see some early signs of that. Even though we're only two months old, but you know, I really wanted to be able to look back on the time and realize that we have solved the income gap for women and marginalized communities and, you know, hug was a part of that.
I mean, HUG's not going to solve every single problem the world has, but you know, at least we can look back on that and realize that, oh, we did, you know, contribute to solving their problem in a really meaningful way.
Beyond that, like I'm always passionate about empowering other women.
So, you know, the more women that I can get connected to and be a kind of inspiration and mentor to that, you know, I would love to know that and, you know, 10 years time, I had like that part and, whether it's my story or whether it's connecting with them directly, I have been able to, help guide them to make better career decisions that makes them feel like they are also finding their why.
And I would like to help other people find their Why too.
Ling Yah: And what kind of legacy do you want to leave behind?
Debbie Soon: I'm really proud of being Singaporean and I'm really proud of where I came from. Part of the other thing that I really enjoy too, is that I, in some ways feel that I'm flying to Singapore flags, even though I'm based out here in LA. You know, my family and my friends are still back home.
And in some ways, I want Singapore to get noticed. I want to support other Singaporeans doing incredible things. I want to be one of those Singaporeans doing incredible things.
When I was growing up, I always felt like I, not that I resented being Singaporean, but you know, like we were on like a small country and everything. and you know, I went to college overseas and people never even heard of Singapore. This is like back in like 2010, right.
So 2008, like no one even knew where Singapore was. Obviously a lot of time has passed and Singapore's on the map on the map more than ever. But I think the more that I can do to kind of fly that flag high and represent it's something that I would really be excited to do.
Ling Yah: What do you think are the most important qualities of a successful person?
Debbie Soon: I think grit is an important one. Like not being discouraged when things don't go your way. And recognizing that any bump in the road is really an opportunity to learn. I constantly have to remind myself to and actually to be fair, like, you know, Chatri used to tell me a lot of that too.
It's humility and also being open to learning and feedback. It's natural that the more successful that we get, I guess, the less feedback that we hear. It's just, what happens in any organization. The more you rise to the top, in general, people seem to get scared of you.
And so they get more afraid of sharing feedback and without feedback, it's really hard to learn and to incorporate that and you start having more and more blind spots.
Aside from grit and having to push through all of the obstacles and all of the things that's thrown your way, I think it's also when things ongoing well, like how do we stay humble?
How do we constantly be receptive to new feedback and new information? And you know, I think those are two really important qualities to have.
Ling Yah: Did Chatri have ways of staying humble that you have learned, and we can learn.
Debbie Soon: That's a good question. I think, no, I think to be fair, I think he's always very aware of that. like I said, it's definitely something that he has. He tells everyone that in the company that has, risen.
To be fair, it's easier said than done for sure. Because as one gets more successful, you know, one also feels like that they know better than other people, right.
One thing that I did learn from and something that I do believe in as well as also having gratitude. Like looking at how far you've come and being thankful for where you are and recognizing that this is not something that you have to do is something that you get to do.
And I think once you realize that you're in that position, it kind of brings you back down a little bit and, that helps you stay humble as well.
Ling Yah: And where can people go to find out more about you and what HUG is doing?
Debbie Soon: You can follow me on Twitter.
That's probably where I'm most active. Unfortunately, it's really hard for me to maintain what I have one social media account at a time. So for any of my friends, my Instagram is more of like a personal social media accounts. So for any of my friends still on Instagram, sorry, I'm still alive. I'm on Twitter.
But I am at Deb soon, D E B S O O N on Twitter.
Ling Yah: I'll add all those that so people can find it. And is that anything else that you'd like to share that we haven't covered so far?
Debbie Soon: Oh, gosh, I'd be, I feel like I've had such a great extensive conversation. But yeah, I guess for anybody who's listening, if you're not in web three yet and intimidated, don't be.
One of the things that I'm most excited about web three is that we're still so early, and this is the one opportunity that we have to build a world that we want to live in.
And not just for ourselves, but for generations to come. you know, I'm a child of the late eighties. you know, I think that we always felt like we were too late, right? We complained about like web one, we complain about web two. We complained about how things just so unfair.
We're early enough in web three to prevent us from making the same mistakes. So if this is something that feels intimidating or you feel like you don't really care, like I would hope that, you can come to care and we can all meet each other and really make this world a better place through web three.
Ling Yah: And that was the end of episode 78.
The show notes and transcript can be found at www.sothisismywhy.com/78
and stay tuned for next Sunday, because we'll be meeting one of the most renowned VCs around who has invested in and is a board member of quite a few highly recognizable companies. Some of her portfolio companies include Calm, cameo, the Honest Company founded by Jessica Alba.
Goop by Gwyneth Palthrow. HAUS by lady Gaga, autograph by Tom Brady and Girlboss by Sophia Amoruso. As you can imagine, we talked about things like how Lightspeed spots, new trends ahead of the curve. What it's like to work on celebrity-founded companies, including the early days of building and launching HAUS with lady Gaga, what the leading indicators of a true brand are.
How she evaluates, whether a celebrity intends to be a serious long-term founder and what engaged followship looks like.
Want to know when this episode is released?
Well, just subscribe to this podcast and leave a rating and review, if you haven't done so already.
See you next Sunday!
External Links
Some of the things we talked about in this STIMY Episode can be found below: