Welcome to Episode 88!
STIMY Episode 88 features Diego Borgo.
Diego Borgo is a metaverse native, Web3 ambassador, NFT collector and advisor to global brands.
His personal mission is to help mainstream adoption of blockchain and NFT technology by:
Advising major global brands and helping them enter the space in the right way.

Consulting on Metaverse & NFT native projects, as well as being a member of advisory boards.

Mass educator through conference keynotes, workshops and on-demand content.
As a brand & marketing strategist in the NFT & Metaverse space, his last work was helping Adidas bring "Into the Metaverse" to life and helping Salesforce to successfully launch their NFT Cloud.
Metaverse & NFT projects DiegoI contributed to:
Other brands he has work with:
Unilever (advisor)

L'Oréal (ups-killing session)

Škoda (Volkswagen Group) – (ups-killing session)

Boson Protocol (advisor)

The Fabricant (ambassador)
Diego Borgo also has a NAS Academy masterclass that helps brands go from web2 to web3, learn about the metaverse/NFTs and what a winning strategy looks like. 
Don't forget to use the special STIMY code to get 10% off – SOTHISISMYWHY
PS:
Want to learn about more inspirational figures/initiatives & stay updated on latest blogs about Web3 law? 
Don't miss the next post by signing up for STIMY's weekly newsletter below!
Who is Diego Borgo?
Prior to Web 3.0, Diego Borgo graduated in International trade, has an MBA in marketing, 10+ years of experience in digital marketing and digital strategies, 8 years of experience as a consultant for brands and 4 years consulting Adidas (HQ) in several areas around digital transformation, particularly on the brand strategising their move from a wholesale-focused brand to DTC.
And then… Diego heard about something called blockchain and eventually decided to take the leap (aka risk):
3:11 How Diego entered the Web3 space

8:21 Why Diego took the leap
If you're a CMO, Brand VP or if you're within this space and you still don't have at least a clue of what's going on, you gotta get your shit together because the boat, it's going. Not coming back. Go through the list of Fortune 500 brands and I promise you that 95% of them are looking to the space (Web3/metaverse) if they haven't done something yet. It's a fact
How Fortune 500 Brands Can Enter the Metaverse
Diego Borgo shares his thoughts on how brands are entering the metaverse:
18:50 Brands driven by FOMO

24:31 What other brands can learn from Nike

29:26 Incorporating DAOs & shared ownership into brand strategies

34:48 Creating products with large communities

37:23 Mitigating risks

41:16 Bringing existing clients from Web2 to Web3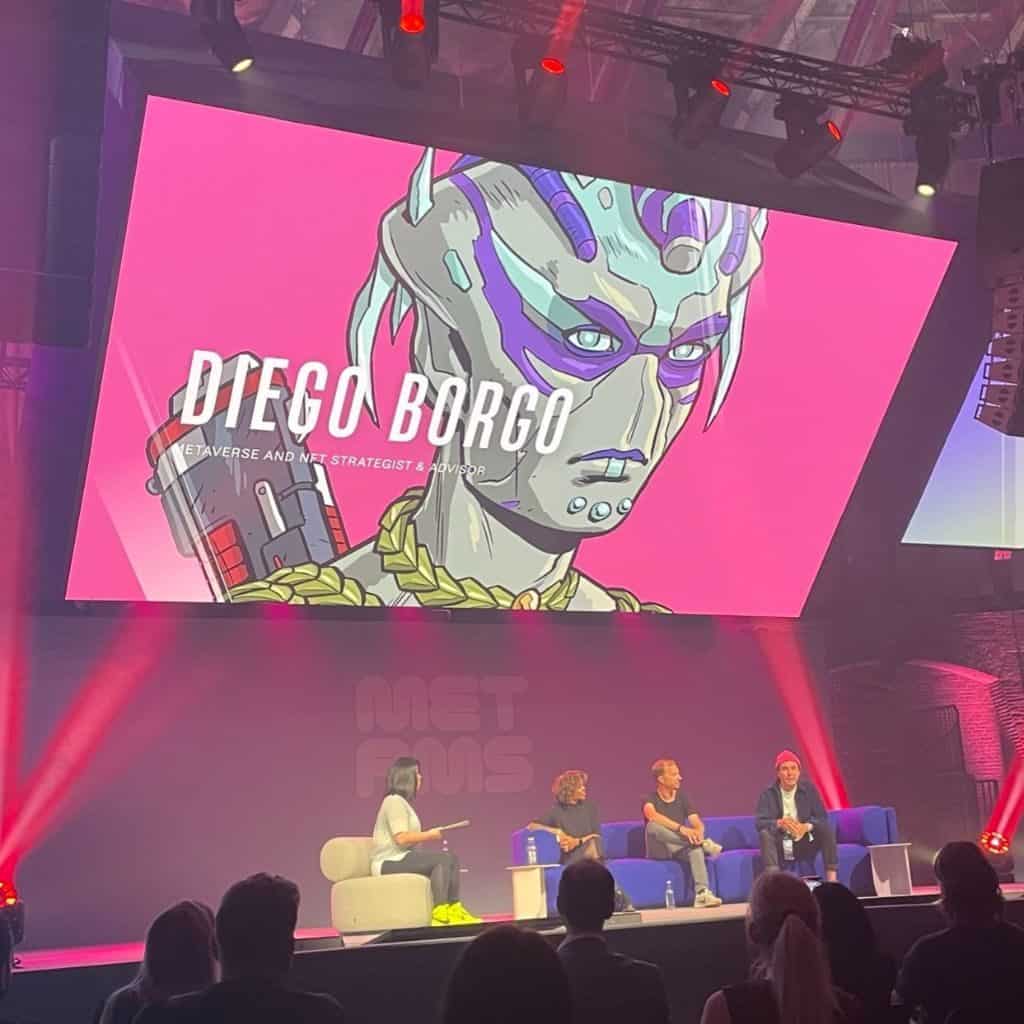 Web 3.0 Use Cases
Diego Borgo doesn't hold back when he drops the alpha on what companies have done well, what haven't done more than a box ticking exercise, and what his favourite NFT project is:
43:31 G-Star RAW Denim – why it's an interesting use case

48:10 How important is climate change?

49:30 How brands can mitigate against environmental harm arising from use of blockchain

53:33 What happens when your own employees riot and go against your metaverse initiative?

56:37 The secret to the success behind Adidas' Into the Metaverse, which generated USD 22 million within hours!

1:01:03 Diego's favourite NFT project

1:02:59 What is big tech doing?

1:07:39 What Diego would love to see done, but hasn't happened yet
If you're looking for more inspirational stories, check out:
If you enjoyed this episode with Diego Borgo you can: 
Leave a Review
If you enjoy listening to the podcast, we'd love for you to leave a review on iTunes / Apple Podcasts. The link works even if you aren't on an iPhone. 😉
Patreon
If you'd like to support STIMY as a patron, you can visit STIMY's Patreon page here. 
External Links
Some of the things we talked about in this STIMY Episode can be found below: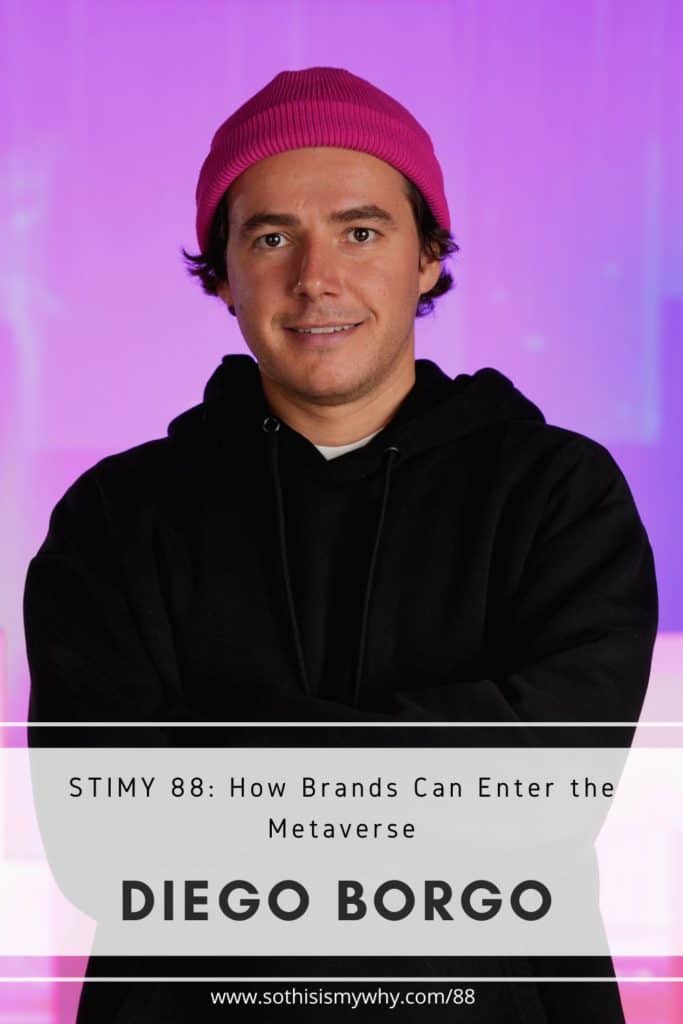 STIMY 88: Diego Borgo - Metaverse Strategist & Web3 Advisor on Fortune 500 Brands Entering the Metaverse
===
Diego Borgo: What Nike did is a power move.
When Adidas came out with the project, the whole NFT Twitter blew up and the internet, as we know within that space broke. But then Nike comes and follows up and like, we just bought RTFKT.
They were early, they were fast and they did a strong power move. They haven't followed up much yet since that happened, because I feel that, , they're definitely building a lot of things on the back. But that gave me the feeling that they're doing it, quote unquote right.
But I like looking at other order examples as well. , I tend to say that there is not a single brand that is doing all right. One, because it's so new.
Two, because right changed every day. If you look at two months ago is different than what you look now. Two months ago, charging for a drop or a mint would be fine. And You look at a current state doing a free mint is the way to go.
So this change is really quick, right? And it took like Adidas about six to eight months of planning and preparation to do what happened in December. So imagine if those changes happen so fast, how do you move that tanker to be able to be relevant to the point that you actually drop, not to the point that you actually were planning.
I like seeing different isolated examples of brands doing one or two things, right. But that doesn't necessarily mean that they're doing everything right.
Ling Yah: Hey, everyone. Welcome to episode 88 of the So This Is My Why podcast. I'm your host and producer Ling Yah. And today's guest is Diego Borgo. As you may have noticed on the pod, we've been recently on a bit of a web three binge, we started by meeting a number of entity artists and a three project founders styles.
And now with Diego, we are meeting a metaverse strategist and advisor who's worked with and contributed the projects like Adidas' into the metaverse, worked with Salesforce, Unilever and L'Oreal. This episode is all about how brands can enter the web three slash metaverse space. What are the examples of brands who have done well and brands who haven't, how can brands convince their employees to get behind on their venture into the metaverse and work with your customers in a DAO setting, the importance of sustainability and more.
If you find that you enjoy this conversation and want to learn more about how brands can enter the metaverse, Diego also has a NAS academy course coming out later this month and STIMY can get a special discount. Just use the code sOTHISISMYWHY and use the link that you can find in the show notes or the description of this podcast.
And if you've been enjoying past episodes, I'd love it if you could just take a moment to take a screenshot and share it with anyone in your life that might be interested in entrepreneurship growth and all things web three.
I'd love to get this education into the hands and ears of as many people as possible. So if you do me a little favor, can you please make sure there's one person in your life who, you know would enjoy this content hears about STIMY.
Now, are you ready?
Let's go.
Diego Borgo: I've been consulting brands and marketing strategy and branding and digital strategies for the last eight years. So I would say my background on web two is, is mainly focused on marketing and branding. I start working when I was 16th in a creative agency, working with global clients like Rabo, Microsoft, Xbox , brands of that caliber back then, which was all connected to like social and the sort of like gaming universe.
We had Samsung as a client as well, doing the work, cyber games back then, which was a lot about Samsung pushing gaming and a lot of stuff like that. So my background is, this vast element of branding, marketing, and culture.
The last four years I was sitting inside Adidas at headquarter in Germany consulting the brand for four years on the digital side of it.
I've been in blockchain since 2017. That's when I first sort of like got really deep into understanding the use case of blockchain technology, how does that technology has potentially the power to change the world for better? But since I'm not like a deep tech guy or an investor, a speculator, I haven't made like the deep dive. So I was watching from the sides, but I spent like a lot of time looking on the use case and everything that was around blockchain back then.
Ling Yah: I think what you said has really resonated because honestly, most of us I think are not technical at all. And so a lot of people I've met have said they came across, heard of this thing called Bitcoin. Didn't really understand it. And a couple years later they decide to enter into it. And it sounds like that's your story as well.
I wonder what it was that as you're watching this, you're not technical, but you're following the stories. At what point did you think, this is something I'm going to go into full time? Cause that's a big jump.
Diego Borgo: Yeah. So I learned from the past where I haven't like really paid attention or took the leap on the right moments, especially with blockchain. So in 2014, I'm in Bali meeting those people and talking and having a good time. This Australian guy comes to me and tells me, oh dude, you should pay attention to this thing called Bitcoin, you know. It's gonna be the new way we transact with, with each other. It's gonna replace the financial system. that's a decentralized finance too, now that you can invest and you can buy and people can pay each other with. It was $400 back then. And as he speaks, my brain just screams scam, right?
Like ponzi and all of that. So I didn't pay attention to it cuz I thought he was mad. Crazy. You fast forward to 2017, that's when I heard again about like not Bitcoin itself, but obviously I've seen everything that happened with Bitcoin. I was like, okay. Whenever goes back to 400 bucks, I'm gonna get in.
It never did. So then in 2017, I made this friend. We travel in Colombia and then he starts talking to me about blockchain technology. He's a deep tech guy working with cloud and computing and all of it. And then I was like, okay, I'll pay attention to this thing now.
That's when we got to the stage I told you that I spent every single minute I could and downloaded everything you can imagine to watch, draw up my travels. And on the plane, all about like use case and YouTube channels and people talking about it and all of it.
But again, I haven't stuck around, right.
When NFT showed up to me in April last year while I was at Adidas, a friend introduced to me, I have seen it and he told me the things that he has seen and has imagined. He has a similar background to mine. I was like, that's the time that I cannot let that go again.
And this time more than ever, I understand cuz I understand the technology, but I also understand the sort of like culture aspect of it, the creative aspects of it. The music, the art, which was sort of like the first use case of it back then. So NFTs were sort of like this gateway to me, to the so-called web three. The first sort of like experience I had with that and put a name to it.
And while I was at Adidas, my friends were already pushing the brand towards that direction. So I was lucky enough to be part of the team that delivered into the metaverse and Adidas and Prada collaboration and seeing that from inside out, also being a degen from the community and having perspective on both sides, showed me something that I haven't seen before.
And I was like, okay, I need to go all the way in on this thing, right? So by December last year was when I left Adidas and started consulting the brand and start doing my own thing. But the main takeaway for me was learning from the past experiences and understanding that the only way to win within this space is by sticking around and that's why I decide putting myself on a situation where I had no plans when I left Adidas.
I just bought a house. My son was six months old. Was my main revenue stream. And then out of, a sudden, I put myself in this position to be like, if you really believe in this thing, can you really think that this is gonna be the next big medium? I was too young when the internet blew up to take advantage of it.
I was too young on my career when social media blew up to take advantage of it. And now I'm in the best position of my whole life so far. And I just didn't want to, to let that pass. So I went no win, and it's been now seven months and my life went upside down from there in the past, in the past possible way.
Ling Yah: How did you get over that barrier of, is it a scam? Did it help that you were working with Adidas and that's a global brand and it helped you to basically know what to read up on and realize the full potential behind this.
Diego Borgo: I mean, for me, I'm a risk taker, right? So the personal story I just share, that's how I operate.
I put myself in the most uncomfortable situation, because that's how I can thrive. So, I'm happy to take risks and maybe get scammed and move on.
I don't dwell with the things I've done wrong in the past. I don't dwell every day that I passed on Bitcoin, when it was 400 bucks. I don't care.
I learned but I move on.
So for me, it's very easy to see, even though I wouldn't have thought that is not a scam anymore. I'll just like, take the risk and see what's up. See how it goes. Right. But obviously , the more time you spend within the space and the deeper you dig to see that these smartest people I know, and the smartest people out there and the most innovative and most disruptive people out there are actually moving into this space or have been in this space for a while.
That gives me more confidence to understand what the possibilities are,. That's always tried to do. I try to , analyze behavior and see what people that I really look up to are doing and what are they headed. And everyone around me was going to that direction.
So for me, as a no brainer to dive in. I think for, for newcomers, I think that's why you're trying to get out of this answer as well is how do you go over the barrier of like, thinking that this is scam and that's a Ponzi? I think we, as humans are always afraid of the new things, the new mediums, the new technologies especially because of innovation, especially because change is such a hard thing for us.
Cause our brain doesn't operate that way. We don't like change our brain. Don't like changes. So I think that the best way to go over that is by education. By talking to the people that are within the space, not speculation, not trying to chase a quick buck, not looking at the media headline saying oh, someone just bought this JPEG of a crypto, but dig whatever for 600,000.
And like, that's how you get confused. And that's how you go into the hurdle mentality of like, oh, this is just a scam. I don't wanna see you. I don't wanna talk about it. And that's also how you become your grandparents. Right? You become that person. That's sort of like, oh, this new thing, like, no.
Hmm, no internet. Like, no, no, no, no.
Do you ever think that someone gonna be selling something online? I will never buy this. Do you think they're gonna put my credit card on this digital thing? Like no, not gonna happen. , I think that it's important to question, but my call to action to people is usually, dig deeper, go talk to the people that are within it.
What they have seen. If you still find it's not interesting , it's fine. It doesn't have to. My role within the space is not to convince anyone. My role in this space is to show what I have seen. To show the possibilities I have seen and hope that people that are interested and feel that this is something that they wanna explore for exploring.
They come along and, and we build the future.
Ling Yah: As you were speaking about risk and education. I was thinking of a previous guest, Zeneca, episode 86. He was also talking about that, , he has a, we liked the
Zen. Yeah. I mean, he has an interesting way of looking at risk because he was a professional poker player.
And I asked him the question of, okay, once you were convinced, how did you even figure out and what kind of educational resources were you using? Because there's so much out there. It's not question of what. It's just which one, cuz there's too much. And also how do you even begin to build those relationships online?
So when I ask him that since most of the information is actually on twitter discord and let's face that most people don't actually use that as a normal thing. His answer was, oh, on Twitter, you should always be asking questions and that's how you build their relationships. And I wonder if it's the same for you.
Do you have any other advice in terms of just learning who exactly to go to, to learn and also just build those relationships so that you can trust those people to answer your specific questions.
Diego Borgo: Yeah. I mean, that, That's a great question. And Zen is a good friend. I, I love everything he's done for the space. GMoney and him were two people that I really looked up when I first got into the space.
And I'm really grateful to have them as friends today. You know, I learned a lot from those two, so I'm biased. But if you were entirely new to it and you like to have like two people to start following and start guiding you around or at least see what they're up to those are two people I would initially recommend.
To your point of like Twitter and thisor, especially for non crypto native or people that are not in tech or people that are not interested to like really going out of their comfort zone, creating a Twitter account or going on discord and trying to figure out all that madness, which I understand if you wouldn't like to do it.
That's why I do the work on LinkedIn. A lot of my friends that are from the space, proper degens working 24 7 in the space, anti Corp and all of that, they question me when I start moving towards LinkedIn and start working with the big brands as I do. But I feel that is our job as early adopters or semi early adopters , to educate and simplify the message.
I think Twitter is a great platform once you've understood and you wanna drink from the source. But starting from there is so difficult because we don't make it easy for anyone to come into this space. We rather do the opposite. This space was built and created by extremely smart tech people that are tech savvy for extremely smart tech people and tech savvy.
So the idea of making it easy, never came to their mind because in their minds, that is easy. So what I am trying to do on a daily basis is to simplify the message. To break it down in a way that anyone can understand and feel comfortable and taking part of it. And that's why, again, I do the work on LinkedIn.
That's why, , I get a lot of the things I've learned throughout this year and my experience and my background and the connections I have and the friendships I have and the information I have access to. And I translate that in a manner that someone that has never heard of it now is on LinkedIn, can look at that and be interested and start digging deeper.
So I feel, you know, like making the message easier is a responsibility , and also going to channels that the core audience that are native to the space are not like LinkedIn, TikTok and others. I think that's kind of like, what's gonna get us a bit closer to mainstream adoption.
And if you wanna like a tactical advice for someone that is just getting started or is semi started, but not entirely into it, I would say you should tackle that by two ways. You should go horizontally and vertically.
On the horizontal aspect. I would say, look into the technologies and what is built within the space.
So very high level. What blockchain is maybe a five minutes video. That's all you need to know what blockchain is. Tick the box. What NFTs are two to three minutes video, whatever you find something good, tick the box and start going towards the direction. What are, cryptocurrencies? What is decentralized finance?
What are decentralized autonomous organizations? What is smart contract and things like that. What is Web three what is metaverse?
So within that horizontal aspect, I would recommend you staying very high level. Just so you have a grasp of what the possibilities are and what we all talking about, and then go deep on a vertical into something that you're really passionate about.
So if your passion is fashion, or if your passion is sports, or if your passion is collectables, or if your passion is art, get that niche and go really deep into it. And what I mean, dip, it's not just about reading. It's also about , connecting, so jump on the Discord channels, where those things are happening and go chat with people.
Go to communities that are well established and go learn and engage and try to figure out and ask questions. Find someone that is the closest to you. Anyhow, friend of a friend, cousin, whatever it is that already has a clue about the space and ask them for two three places that it should start from.
I think that's kind of like how it's gonna start is this ecosystem that's gonna enable and make it easier for people to come in. But , this horizontal and vertical aspect that I'm talking about really makes easy for you to be focused because a lot of times, , it's so easy to get distracted within the space because there's so much going on and everything is exciting.
And every day there is some meals and you wanna do everything which can become overwhelming. And then you end up giving up because there's just too much going on, on top of everything that you are already doing.
And then a last piece of advice I would give is, do not invest your money. And that's probably the opposite of what majority of the people are saying.
But why I'm saying it is because as soon as you change your hat to investor and speculator, you are no longer just a person that's curious, or a person that wants to explore or a market here that wants to understand why so many brands are jumping in, or an artist that wants to understand why artists are now using this new medium to create their art.
You become a speculator, you become an investor. You worried about how much Ethereum is worth today, tomorrow, how much it's gonna be worth in 10 years. And that distracts you from learning. Understand what you wanna do. Do you wanna invest and make money, or do you wanna learn and build something?
You can do both at a certain stage as soon as you cross a threshold, but it would not recommend you doing that from day one.
Ling Yah: At what point do you think people should start thinking I'm ready to be an investor?
Diego Borgo: It's a personal decision, right? Like it's an investment decision that you need to make based on how much you're willing to lose. The likelihood of you losing money within the space is extremely high, probably the highest likelihood within any type of asset that you could invest out there.
Most volatile. You are literally giving money sometimes to people that you don't even know their names don't even know their face. Aons within the space, you don't even know what they're gonna do with it. And people can just vanish next day, because there's so many tools that can be used to don't leave, trace behind, not to say of volatility, not say of regulations that are not in place, not to say about things that happen on macro scale.
What brought us to this crypto that we are currently in. So if you are comfortable with all what I just said, and you are comfortable with losing everything that you wanna put in the space, that's the moment you are ready to do it. And that's a personal decision that I'll never be able to say like, oh, I think you're ready to do it.
You're ready to do it when you're ready to do it. I think it's important look at a mirror and understand what you wanna take out of it. I see all the money I put in as a personal investment on myself that has accelerated the way I learn, because I don't wanna lose money.
So I stick around as much as I can to learn as much as I can to make sure that I'm taking well educated decisions. But again, I operate on a higher risk level and I'm willing to spend 25 hours of my day looking to that. If I put my mind to it. It is a personal decision.
Ling Yah: Do you feel as though, from your observation, that brands who are jumping to the metaverse to NFT space and there are lots of them every single day, are they driven more by FOMO as opposed to anything else?
Because what you've mentioned are people looking at this and it being a rug pull is so high and it's not as though sometimes it's supposed to be a rug pull. It's just, things just didn't work out. It's a lot harder than I thought it would be. And it just ended up that way and it would jeopardize the brand that they've already built in web two space.
So I wonder what your thoughts on that.
Diego Borgo: Yeah. So to your first point it's a mix, as I said. I've been in the space, especially working with brands for over a year now. And I heard several different things. I've got briefing, or I've been in conversations where FOMO was sort of like a KPI, right?
Like last generate formal. And I've been to conversations where people from inside the brand want to now use their brand as a platform, uses technology as an enabler to bring community closer to them. So they can support causes that are close to their brand and brand strategy to bring us and make the word a better place.
So there's like left and right extremes as everything in the world.
You can easily tell whether a brand's doing it for FOMO or a brand's doing it as an experiment or a brand's already entirely ready to do so. I like having those sort of like tripod framework where I can easily put any brand artist celebrity into any of those boxes just by seeing what they're doing.
So let's give an example, a brand that's doing or a brand that has done it. Just sort of like for PR or for what the hype or to take advantage of what's currently happening. I would say for example, McDonald's when they've done the McRib NFT, I think mid last year, if I'm mistaken, it feels like ages ago, but they've done that, I think last year, And I've seen the team posting about it saying that they smashed the KPI, which was generating conversation on Twitter and also generating engagement.
So what you can see from there is that the brand at the time was using NFT technology and this new median, but tracking it with web two or quote unquote old world KPIs, which was generating conversation on social generating retweets , likes and comments. So that's when I see a brand not being ready to come into the space yet.
And rather than experimenting, just literally doing something quick to get a small win, to say like, oh, we've done NFTs now, what is next ? That's one example.
On the second pillar of experimenting, I think you can look into brands that have done a bit more homework, but also weren't entirely ready to go all in. So Coca-Cola has done that drop on the auction with the friendship day. They had a sort of like a Coca-Cola different assets and they used the revenue that was generated that to donate to a charity. So they did something exciting, was one off, was an auction. There was a donation to charity.
So they tick some boxes of like this new mentality, which web 3 is all about. Of distributing or co-creating, or rewarding, orders based on something that you've created as a brand. So that for me feels more like an experiment. They were like, oh, there is this new thing.
And we wanna figure out what we can do with it. What about we do something small? We don't need to make a big buzz about it and anything. We just wanna see, like, how does this thing work? How does this space operate? And they've done something punctual at the time that made sense to them and resonated with some people from the community.
Now on the third spectrum, you look at brands that are like really they're playing for the long term brands that are based on their actions and the way they are , entering the space or even being part of the space. You can already tell where their head is at. And one of the very few that I could mention that are already in that direction, although not perfect, although there's so much to develop, is Nike.
And when you see that they purchase RTFKT, or acquire RTFKT, which is obviously if you're a degen from deep web three space, you can question whether that's the right way to go about it or not.
But I'm taking myself off the discussion and looking from outside as a marketier. They position themselves to be in the best position that any brand's gonna be five years from now because they acquired the most intelligent and the most capable team that was doing the biggest and best things in digital fashion.
As a NFT Web three native studio in December last year, they brought Intel in the house. They brought the community in the house, and now they are putting their brand artifact right beside , their main brand. So if you look at their current ecosystem, you have Nike, you have Converse, you have Jordan and you have RTFKT.
If you are not seeing that they are playing for the next 20, 30 years, you're not paying attention right now because that displays a lot. And if you're into branding and corps, you understand that that's a ginormous move that takes top down decision to happen. So it's not an activation, it's not a PR stand.
It's not a social media campaign. So that's kind of like how I go about analyzing the behavior and the different directions brands are taking when coming to the space. And that gives me a very clear direction whether they're gonna stick around for long term or if it's a one-off type of experience that they're doing.
Ling Yah: I love that you brought up the example of Nike. I wonder before I go into my next question, what is it that they did right that other brands could learn from?
Diego Borgo: Well, they were fast. They were willing to take risks. If you think what Adidas has done last year in December was fast and again, I'm biased, but I'm with my community hat on now. And incredibly well was executed, incredibly focused on the community, incredibly focused on.
being authentic to the brand.
What Nike did is a power move.
When Adidas came out with the project, the whole NFT Twitter blew up and the internet, as we know within that space broke. But then Nike comes and follows up and like, we just bought RTFKT.
They were early, they were fast and they did a strong power move. They haven't followed up much yet since that happened, because I feel that, , they're definitely building a lot of things on the back. But that gave me the feeling that they're doing it, quote unquote right.
But I like looking at other order examples as well. , I tend to say that there is not a single brand that is doing all right. One, because it's so new.
Two, because right changed every day. If you look at two months ago is different than what you look now. Two months ago, charging for a drop or a mint would be fine. And You look at a current state doing a free mint is the way to go.
So this change is really quick, right? And it took like Adidas about six to eight months of planning and preparation to do what happened in December. So imagine if those changes happen so fast, how do you move that tanker to be able to be relevant to the point that you actually drop, not to the point that you actually were planning.
I like seeing different isolated examples of brands doing one or two things, right. But that doesn't necessarily mean that they're doing everything right.
I use Gucci as an example, because Gucci is exploring different aspects of the space. They've done activities within roadblocks, which you can call metaverse or gaming, depending your perspective, but they were there on a web two platform.
They've launched their own NFT project in partnership with super plastic. And they've done one of the first phygitals as a big brand, right. You basically purchase the NFT and you can get the physical item sent to your home, which is incredibly bureau. And I'm part of, and I'm really looking forward to have that on my table.
They are accepting cryptocurrencies as a payment method, which is again, another way of exploring the space and seeing possibilities. They just became part of super rare. They pay 25 grand to be part of a DAO. And I don't know if I'm right, but I think they're the first major brand doing so. At least in public or at least talking about it.
I could be wrong. But the first one I have seen, so I find interesting that they're exploring different aspects. I would say that they are in the second bucket I mentioned before, cuz they're on the exploration phase.
They're trying to figure out what is in for them. They're building their team. They're building Web three studio or whatever you wanna call it. They're hiring people from that space or have hired already. So that's exciting to see.
But then you see stuff like Etihad coming in and using NFT technology in an entire different way. As we speak, they haven't launched yet, but probably they will have launched when it goes live.
Now they're looking to membership programs and how they can connect their current audience or their current membership program or real world program or loyalty program with this technologies again, as an experimental move.
Right. So all of this is interesting and exciting. I look at all those different bits and parts and I start trying to make the best puzzle out of all those brands. Instead of saying like, this is the only one doing it right now, a lot of them are doing a lot of things, right.
And you can build one big right spectrum of it as you can do with a wrong spectrum, if you will. So I try to analyze the differences and the things that I find interesting. Especially the ones that are doing and looking at things differently.
Lacoste now proposing doing almost like this DAO where you can come along and co-create, and collaborate together with the brand to create products for the future.
That's dope, right? Like that's a really cool experiment from a big brand. That's trying to figure it out as well. So what I'm looking for next, and I advise fortune 500 companies on how to enter this space. And a lot of my work is to spend within those boardrooms and those sort of like high level conversations.
What I start hearing more and more often is how brands can now integrate NFTs within their products. And that starts becoming exciting. Think about an automotive company that now is thinking about how a future self-driving and electric car will behave having a wallet within the car. There is a car wallet, and now you start thinking about your car can be connected with your NFTs.
Your car can be connected with IOT. Your car can be connected with a lot of different things because there's a wallet in your car. That type of thing for me is when we are gonna start really looking at NFTs and blockchain technology going major mainstream from a consumer perspective, because now they're gonna be part of enabling and making people's life easier rather than just be like a collectible that sits in a wallet that you cannot even see.
And there is just a million people around that were talking about.
Ling Yah: DAOs are very, very fascinating structures to think about. It ties back to the whole idea of ownership, which is what everyone is so excited about. How do brands think about this? Because it's so contrary to how they've been operating.
It's always been, these are my assets. You can only use it in this space. Now it's the whole idea and people moving to it. I feel an area where they think, I expect you to share your assets with me. And I expect to be able to use it on many different platforms across idea of interoperability.
So how do brands approach this right now? How can brands think about the idea of actually having to share ownership to a certain extent?
Diego Borgo: Yeah. I play a lot with the concept that Web three stands for win, win, win. That's my idea of it and how I see the sort of like mindset.
And, we talk a lot about technology, right? We're like, no, we wanna make this space inclusive. Everyone is welcome. We're gonna go mainstream, but here, listen to this like 45 minutes like deep tech conversation about how blockchain works and what are nodes and what is proof of work, proof of stake.
And here's how you open your wallet. There's 20 steps you need to take. And here's your seed phrase. You have to like hide that. And here's how you connect readers, oh, by the way, there's like 250,000 other cryptocurrencies. Yesterday there was just a drop on Solona. Oh, you dunno solona .
I'm saying like we want make it easy, but then we just make it extremely complicated by focusing so much on the tech.
For me Web three is not just a tech evolution of the internet, but is a mindset shift. And the mindset shift is way more important than the technology when it comes to what we should be talking about.
Because if this technology doesn't work, it can be carried out further. The mindset shift is exactly what you're talking about. So I'm sitting in conversations with brands right now, and again, I've been working with brands for a long time, but now I'm sitting in those conversations with brands and they're like, oh, we will launch an NFT project.
We definitely want to use an artist from the space because we want to be part of the community in authentic manner. And we just don't wanna partner with this artist. We wanna give these artists royalty on the primary sales and royalty in the secondary sales in perpetuity.
What does that mean is that major fortune hundred brands are talking about how they can share the revenue and share the success with someone that is not like Kanye west or Beyonce or something like that. That's literally a small artist out of like Nepal that is working in his or her house.
And now because people love what she or he does, he's got attention and he's got relevance. And there is a revenue split that's already been fro. This never happened before. Usually would be like, oh, let's get his artist. We pay like 10 grand. Thanks for your work. We make millions out of it and we keep it cuz that's what brands do.
So this mindset shift is happening, which is so exciting to be part of because I'm exposed to a lot of different conversations. Good, bad and ugly. What I just mentioned became almost like a standard on the rooms I am at.
Not because I'm pushing it. I'm like watching it, and it's really interesting. It's really exciting. And they're talking about community and they're talking about community wallets and they're talking about how they can co-create and they're talking about, okay, maybe next season, we should, , launch an NFT gate community and decide with the community how the next season's gonna look like from a footwear, from a apparel perspective.
Let's go create, let's get artists from the space to help us shaping the future of our line globe or anything that they're building.
So this is what I think is exciting, which goes beyond technology. It goes in a mindset shift.
And to your point on brands, brands are the holy grail, right? They're untouchable. They sit there on top of everything and nobody can do anything about it. And if you ever there to do anything with it, we sue you and you get you bust it and you out.
Now, I think that Bored Apes has set a very interesting precedent on how brands can be built in a new space and how you can get your community to become evangelists ambassadors of your brand, but also the ones that are shaping your brand.
Now, people are like , what about we try to do something similar at a smaller scale with one of the IPS that could even be that within our range of brands and try to reignite and restart that by taking a similar approach.
So I think that's what is powerful. I'm always pushing brands to look at this. I'm not coming and saying, Hey, give your logo for everyone. Everyone can use it and let's see what happened. Like definitely no, I'm not stupid.
But I'm saying is there is a new way, a new mentality on how you can co-create and co own, develop the future of your brand of products or anything alongside and with the community.
I say that in web two we had consumers, everybody was consumers or targets, right? So that mentality is shifting now because consumers consume. That's the only thing they do.
They don't add value. They're just consuming. The value they add is giving their money. Done. Next.
Now, within this new mentality of Web three, we're shifting from consumers to community. Communities co-create. Communities have ownership. Communities are re awarded .Communities build together. Communities create together.
And that's what's very exciting.
Ling Yah: As you were speaking about co-creation community, I was thinking of the writers room, which I think is really interesting. You've got 3000 people coming together, determining the direction and plot of the writing of the story," more and dangerous" .
I wonder for other brands who are thinking about opening this up and allowing 3,000, 5,000 people to determine the direction of a certain product. What kind of things do they need to be thinking about as they're plotting this?
Diego Borgo: I think the main aspect and why this hasn't happened yet at scale is risk, right. When you look at, when you look at a project from the space that is run by 1, 2, 5 people that literally just got born, got traction, got funds. But if it goes to shit tomorrow, it's like, oh, we tried.
It's different than when you have like a 70 year organization that employs 70,000 people and generates $30 billion in revenue a year and has shareholders and is a public traded company. How different thing? So that's where we need to start from.
Secondly , It's probably someone wouldn't spend time trying to sue someone from the space that is doing that because the person has broken any type of IP law that we might not be aware of, or the person that created the space that the thing wasn't aware of, right.
A brand is a big target. There's a lot of things that can go wrong within that space, especially in this space, which is a wild west. There is no regulation. There is no clear, this is allowed. This is not allowed. If you do this in this country is a problem. If you do that in that country is not a problem.
People are all over the world. How you deal. For example, with China, where NFTs are banned, if some Chinese customer comes in and takes part of it, is that brand's responsibility. Is it not? Whose is the fault?
In the US, this conversation getting more and more towards security. Whose fault is that, oh, you haven't told your clients that this could be a security.
So this is your fault. And now you're gonna get sued for that, right? Like there's a lot of implications that come with it, which by the way, is not at all my field of expertise. Those are just very few things I can see. But I'm far from, from a specialist when it comes to law and risk and any, any of it.
But I talk with a lot of lawyers and I, understand the concerns and I get a lot of times the same questions from the brands. How do we mitigate risk? How can we do this without any risk? And I'm like, you can't and getting brands to be comfortable to the fact that they cannot control everything.
And they cannot be sure that there is no risk is a big challenge.
Ling Yah: So how can brands mitigate their risk if they were interested in potentially creating some kind of DAO when communities could come together and create a product?
Diego Borgo: Yeah. Again, I'm not a specialist.
I'm not an attorney. This is not a financial advice or legal advice. Exactly. No legal advice, no financial advice. What I'm trying to say is , there are ways surrounding yourself with the right people and the specialists that are indeed specialists, not self-proclaimed, which is extremely hard to find and understand the difference.
That's tricky, but the first step is to gather people from the organization that are inside the organization that are a specialists in the fields that , low corporate treasury, all those things bring that in.
It's not gonna be easy, but it's mandatory to have that on board and start trying to have conversations with them on how you can mitigate risks, how you can find the right external partners that have done it that have seen it that have experienced to come and help you.
I think that one of the big mistakes I'm seeing right now is that everybody's an specialist and everybody's an expert. And every single consulting firm out there out of nowhere became like I have 25 years of NFT experience and they're doing reports left and right. And suddenly they know everything.
Agents is the same. Every single agency now is in a web trade studio. Right. So how can you make sure to filter through the bullshit and work with the people that have seen, have done and are part of the space that can help you doing it not necessarily right, but , be more assertive.
I think that's the first challenge, finding an internal team and finding an external team that can help you.
And from there is gonna be about, how do we mitigate risk? how do we make those risks smaller? If we do A, B or C, which one do we have the more risk or a less risk?
I cannot comment on because that's not my fit of expertise, but whoever is the specialist in the room from a law perspective, IP lawyer, or whatever is gonna be, is gonna be able to tell you based on experience that are already out there, thoses are not even like technically not legal entities yet, right.
There is the Wyoming conversation happening for a long time. That's been pushed in the us, which is great. It's only space in the world that I know that is working towards developing and working around those concepts.
So I think that avoiding those terms is a good start. Often I tell brands don't call it NFT. Call it digital collectible, don't call it a DAO, call it a collective. Don't say that you're gonna be sharing revenue and splitting revenue, maybe you call that rewards. Maybe you do a gamification of something that's not connected to dollars, but in a way you can get benefits from.
So take the layer of financial incentive or speculation or investment from it, which makes you less appealing obviously, and makes people not be so excited about coming, cuz they might not make as much money as they thought they would, but it's safer it keeps you safer as a brand in that sense.
And I think especially within this spirit of exploration, we are going through is the place to start from.
Ling Yah: I will also add that just because you quote something else that doesn't mean there's in jurisdictions that you escape from it. A lot of times they will look at the intent behind it and what you are actually trying to achieve and you could still get caught.
Diego Borgo: Very good point.
Exactly. Exactly.
Ling Yah: Hey there, if you're enjoying this episode so far, would you consider buying STIMY coffee? You can find the link in the show notes and description of this episode. Every coffee would be much appreciated and help STIMY to grow. Now let's get back to this episode with Diego.
This is a very fascinating view for me cuz I'm an IP lawyer as well. So there's so many issues that arise but I, I won't grill you on this part cuz this is not your field .
So I wanted to talk about the idea of community. Obviously there are lots of people who have heard of web three, they are very reticent, even very hostile to it.
How do you bring your existing customers into web three with you? How do you convince them that we're not trying to scam you out this, even though you've always loved us before?
Diego Borgo: Don't use the names. Try to add value on the project you are actually doing and why that project is interesting rather than using the buzz words and the technology and trying to convert people and all of it.
If you feel your audience is not ready, why force feeding it. If you feel your audience is ready and there is space for it, then oh, perfect. Go all in. Or maybe start with education first.
The main problem is that brands are trying to go from zero to one and make money on the way. And that relationship becomes very sketchy because one, oh, you found another way to make money of us, right?
That becomes the problem. But if you do something either for free, then, then you can take , revenue on the secondary. You want people wanna trade. You don't necessarily need to call that an NFT. You can call something else. You don't need to call it metaverse. You can call, like, a virtual experience.
You start navigating around and doing what you wanna do without having to be too focused on like the PR stunts and oh, now whatever brand from whatever entered the metaverses right. What they have done. Oh, they launched an NFT. Wow. That doesn't mean they entered the metaverses.
So like, people are trying to force through. And when you start forcing and you're not authentic, that's when you run into troubles. People that are closer to your brand, know it from day one, what the intentions behind are. I feel this is a good exercise to sense check if the fans are ready for it or not. And if they aren't , how can you find ways to explore this space without necessarily putting that on their face?
Maybe show them the benefits before talking about what it is. I feel Steve Jobs had that brilliant quote, which are gonna butcher right now, but the concept is , you don't start with the technology. You start with the problem, and then you use the technology or based on the problem you wanna solve to solve the problem, but you don't start with the technology and then you try to find a problem you wanna solve.
That's what's happening with NFTs right now. People are like, oh, we're gonna use NFT technology for what we don't know, but we gotta use it. And that's when you run into troubles.
Ling Yah: Based on your experience working with so many brands, what has been the best way for brands to educate their existing customers saying, hey, we're think of entering to this space. It's called digital asset, not necessarily NFT, to actually launching it.
And I'm saying this cuz I came across the story. I'm not sure if you're aware of GST and S.T.A.L.K.E.R. Two. And it sounded like a really interesting idea. You buy the NFT, you can be a non-player character. Why not?
But then within days they faced tremendous critique and they just decided to cancel, even though they had said we want to do NFT right but clearly they didn't. So I wonder what I ran wrong there.
Diego Borgo: I'm not aware entirely of that specific use case, so I can't comment on it. But I can comment on a project I work on and I feel was a very interesting use case.
G star raw is a Dening brand from the Netherlands. They have heritage and space. They've been a brand for a long time and very respected. So when you think about a super bowl, for example, ING and Snoop dog were wearing products from them at stage, right? So that shows like the level of talents they're working with.
The thing is that G raw is not as attracting for young consumers as other big brands that are within the space. That's obviously a clear thing when you look at market share and stuff like that. So this new medium now is a way on which you can use to connect with new consumers or a new database or a new demographics, or even with the ones that you already have. That just want to see the brand doing something co innovative and new in a new type of form.
That's kind of like what I've seen the brand going towards and the way they start doing. Which was really exciting is that every single next step they wanted to take they ask the community that they put together what they should do. How they should do. What do you think would make the most sense?
So they didn't call from they want, like an NFT. They just gather a community on discord. Start bringing people towards the direction digital collectable and stuff like that. And then they start asking like, okay, how many of those digital collectables should we launch?
How should we, the price what you think the future should be giving options to the community to decide together. Which channels you think is this core community you think you should have? Which type of conversation should we do? Do you wanna have a Q and A, do you wanna have a AMA? So you start shaping together.
As soon as you do that, there is a feeling of belonging, which is essential for humans to get together and to care about something that is born from day one. And you hacking the system by doing what people want you to do, rather than trying to figure out by your own and thinking about your own interests.
So that's an interesting way of looking at it. And even though it didn't sold out 24 hours in that madness that we've seen before crypto started, it took about like one and a half months to sell out. But then the community is really active. It's really fostered.
It's really like being together despite the current market situation, because you build together with them. And because they felt they belonged to something, rather than just being an investor, that's looking to flip and do a two to five, 10 X and leave the next day.
I feel this is an interesting benchmark on how one avoid troubles, but two, you also like foster community for the long term without being super stressed out about like, oh, we didn't sold out so it's a failure, which a lot of brands tend to think.
Well , it could have gone deeper if topics like sustainability would have matter as much. which is a major topic, especially for brands. Especially on this one sided conversations that we are having from a mainstream perspective.
Blockchain is the motive now why climate change exists apparently, right? Cuz everything goes back to blockchain and if energy's being so bad , I'm not denying it at all. I know the impact of how much energy is needed from proof of work mechanics perspective and all of it. But so does cloud system, so does a lot of other things, right?
What I'm trying to say is we are in a one sided conversation that you cannot spend time educating people as a brand. You cannot say we are gonna do an ethere and here's the 500 pages why Ethereum is not that bad.
You can't do that. You need to understand what the values of the community are. You need to tie back to your brand strategy.
What are the values of your brand is in your brand strategy? To become carbon neutral or to be a benchmark for sustainability within your industry or within the world. If that's important to you, then choosing the right chain or choosing a chain that's proof of stake probably , would be a better option for you to do.
And those things come from having sort of like quote unquote brand self-awareness. Which is knowing it really well, where you wanna go and where we headed, but also what people expect from you.
Ling Yah: Do you think that the conversation of climate change is something that every brand as entering web three will have to grapple with at some point?
Diego Borgo: Every single brand, every single brand.
I haven't been to a room with any brand, no matter the size that the first question that was asked and the first topic in the agenda was sustainability in which chain we're gonna use.
Ling Yah: Will you say that the companies are more eager because Ethereum is moving to proof of stake and so maybe this concern would die down a bit, but then you also, have Solana, you have Tezos as well,
Diego Borgo: It's a chicken and a question, right?
Because one, you wanna be where the people are and people that are into an FTS, majority of it, and sorry pro of steak maxes are on if your own, those are facts. Just look at like liquidity when it comes to defi locked value and also trade volume within NFT space. So people are there and you wanna talk to them, but then you cannot be there because of sustainability.
So where do you start? How do you go about, oh cool, let's do that on, flow. But then there is no one or barely people there yet. So how do we go about it? Right.
So it's a chicken and egg conversation and a lot of brands have to take this stance and say they don't do it on athere.
If you look at a project that I'm also part about a part of NFT cloud that we launched with Salesforce, Salesforce does not support Ethereum right. And it's a decision that has been made until ethereum moves to proof of stake. Those are all public public information by the way.
Ling Yah: That's where we want to talk about. They are also allowing the users to offset via carbon credits. How does that work? Is it actually effective?
Diego Borgo: Right. So those are ways to mitigate . When I'm not by no meetings, just speaking on Salesforce behalf, I'm just speaking as a community member and someone from the space. Ways that brands are looking to mitigate this issue right now are either using proof of stake as you suggested.
So like Solana flow Tezos, Avalanche. Whatever's gonna be so there is obviously a major difference on energy consumption and perception from the public on those chains compared to ethereum.
So that's a quote unquote, low hanging fruit, but a very difficult discussion because again, you go back to volume and uh, locked value within the chain.
And the second one which sometimes works almost like a bandaid is monitoring on chain activity and mitigating carbon emission through partners that go in the direction, which you mentioned, which is carbon upsetting, So there are strong, very credible companies doing that already out there and offering that as a service , cetera is one of them.
There are marketplace like rebel that allow you to already do that at checkout.
I think is another way to mitigate it.
We are not there yet. We are working to be there, but we cannot stop right now. So how do we make it better, but not perfect.
And that's where we are at. We need to be ,very, very conscious and transparent about that because there is no water way right now. that's what I've been seeing. That's usually the suggestions I give to the brands as well.
You need to understand if sustainability is such a major issue for you and your main goal is to come into the space and make a lot of money and expect to be really authentic. Not doing ethereum probably is not gonna be the best way for you to do it.
Polygon is interesting. Major brands are coming to polygon. Now we've seen Instagram using polygon as their feature tweeter using it, a lot of big brands coming into it. Maybe there is something there cuz polygon obviously has slightly more than the others when it comes to trade volume and stuff like that.
But it's gonna be an interesting conversation. I don't know whether if the dreamed of move from proof of work to proof of stake from ethereum is gonna happen September as everybody's sort of like speculating right now. That's why E prices is popping. And if it does happen, I dunno what that will represent, right.
Again, those are very one sided conversations. There isn't a lot of clear information out there to take the decisions to say, even if proof of stake is as good as we think it is and especially safe.
We'll see how that develops. I work with the information I have at hand and the solutions I have at hand right now that I recommend brands looking into is using different chains and offsetting your activities or making donations or grants, whatever you think is the best for your brand to be doing within the space.
Ling Yah: I want to bring up an example. It might not be the best example. So Nemus that you're advising and I'm actually going to interview the co-founder as well. I find that what they're doing is very, very interesting. They are basically trying to conserve Amazon rainforest, which is fascinating, but they're also using it with NFTs.
And so on a very high level, you could say that well, you are creating more harm to the environment to protect the environment. So how should we think about that? Does it even make any sense to go to the NFT route if you want to do this?
Diego Borgo: I mean, if you're gonna have Charlie on the show and that's a call to action for everyone out there, Charlie is a fantastic, incredible person.
Personal friend of mine. Spent a lot of time together. One of the person that I learned the most within the space. I'll pose that question to him.
His road, an immense amount of material he's being answering this question. An immense amount of times. And I definitely don't want to take or instill the moment for him to, to acknowledge that, cuz it's extremely important and I'm sure he's gonna do a great job on why cause he was a deliberate choice doing on Ethereum for the project and there's a big motive behind it. And Charlie definitely can tap into that.
Ling Yah: All right. We'll just build anticipation and leave it there. Another thing I wanted to bring up is as an example, so Salesforce NFT cloud, if you Google it, the first thing that you see in Google search is controversy.
There were lots of employee protests behind it. And one of it was an environmental cost, the security, the fact that they're regulated financial assets. So just as an example, if I'm a brand and I find that I'm facing internal conflict because people don't believe in the direction, how can I mitigate that?
Diego Borgo: Well, it's, it's really hard.
It's a really hard one. Especially when people from your own organization are coming after. Right? I mean, Salesforce is not the only one look at at Starbucks. I dunno if you watch that town hall where they were announcing that they're doing their membership program now, or gift cards, whatever's called as NFTs and people stood up and were like, but every time you mint an NFT, you kill a polar bear.
How about that? Right? Like it's that one sided because the information, the mainstream media is doing a very good job on pushing the agenda right now. So it's difficult. It's extremely difficult. I don't have the answer for that, but obviously communication is extremely important.
And I think that's what's happening a lot within those companies and organizations is having open conversations about it. Trying to display the why's to educate. But again, it takes a long time to educate people especially when we don't have all the answers.
People are expecting like, okay, I heard is bad for the environment. So what is the solution? Like we don't know, trying to figure out, we're trying to make it better. We know how to mitigate. Yeah. But mitigating doesn't help.
But there is not right now, so we shouldn't be driving cars either because we are polluting the environment with cars.
No, we're trying to move to electric cars. Oh. But electric cars are also better to the environment. Okay. So let's go back to horses.
There are a lot of arguments you can have around the topic which, again, I'm not at all a specialist in climate change in any of it, but when those conversations are happening, I think having like a clear open forum to let people express themselves and hear their concerns, because there's a lot of things in there. Those concerns that are absolutely right, and very important to be raised.
But again it is a risk the brand's gonna take. And the brand's gonna need to decide whether they are keen to take the risk or not. The commitment, as you can see from outside from Salesforce, based on that conversation was you don't go on using ethereum. So that's a way where you can still moving forward.
You can compromise and listen to the people from your organization. But you don't stop what you're trying to do moving forward. Right? So it's a halfway, you meet a middle, I would say. And a lot of brands are doing that. A lot of brands, again, every single room I enter. The first question is what about sustainability?
A lot of people are against a lot of people think that NFTs are fad and scam and ponzi and all of it, as my grandma thought about the internet. But we going through through a technological evolution that a lot of people are gonna push back and we might be wrong in the future and look back and they were right.
Or we might learn together that there are different ways of doing it. But I think communication's gonna be the right way. There is no right and wrong answer. I think from a brand perspective, what you really absolutely need to be ready for is any type of PR shit storm. it can happen. It may happen.
It will happen. How do you get ready to go back to that? How do you acknowledge that? And that is gonna need to be in a sensible manner as well. Right? Because again, we don't have the answers. We cannot say like, no, we've done this and this is the only way you can do it.
And that's the most correct?
Ling Yah: I want to talk about a project that you were involved in before we start wrapping up. So Adidas into Metaverse, hugely successful, almost 30,000 NFT sold within hours, made 22 million dollars. So made a huge splash.
You were involved from the start. How did it evolve from it being this initial vision to what it was when it launched? What were the differences?
Diego Borgo: I think the first point is it took a long time. A lot of perseverance because again, it's something new. So the core people from the team, and that's probably like three or four handful, they fought the battles.
Not because people were pushing against, it's just that we are so busy trying to make this business run and do everything right.
And there's so many initiatives and now you wanna put something on top of it, like that type of corporation conversation that you have to go through. And then on top of being a new thing, nobody understands.
There is no regulation. My cousin tells me that cryptocurrencies a scam. So I never wanna touch that.
The government says that just terrorists are using it. So why should we be doing it as a brand? Why do you want me to pay 150 grand in a JPEG of an ape?
It's not easy. I think especially last year. Now those conversations are becoming like people get it a little bit more.
If you're a CMO, brand VP, or if you're within this space and you still don't have at least a clue of what's going on, you gotta get your shit together because the boats, it's going. Not coming back.
Go through the list of like fortune 500 brands. And I promise you that 95% of them are looking to the space if they haven't done something yet, it's a fact.
So back then was different. Back then I was like, oh, nobody has done anything. No other big brand has done anything. So how we go about it. There's a lot of kudos especially for the core team that started. Which were friends of mine about four to five people that were the ones that really kick started again, de gens around the space.
People that have been around and always starts with them. It's a bottom up initiative. Every single brand I work with, I always get hit by one person is like, Hey dude, listen, I've been trying to this thing for moms. You've done that with other brands. Can you come and lie those people, cuz they're not believing in what I'm saying.
That's always how it starts. And then you start finding others within the organization, then it start building a bigger team and then you go about doing it. Right.
Ling Yah: Sounds very much like to change the perspective internally, it's find this core group of people who believe in it.
And if other people still don't get on board, find someone who everyone else will respect to come in and share the same vision as well.
Diego Borgo: You need buy in. And that's why I always say tie that with the brand strategy. Say like that's where the brand wants to be five years from now. And that's how now we're gonna use this new medium to enable that to happen.
And then you get people attention and they're like, okay, we got budget for that. Let's just throw a couple hundred thousands there and see what's happened. Oh, we might need some head count. Cool. It's tied to the brand strategy anyway, let's put it there. Oh, do you wanna come and present on that? Like quarterly meeting we have about brand strategy because this is a new revenue stream that we could use potentially to grow to business.
Cool. Yeah, let's do it. So that's kind of like how you get more traction rather than just trying to approach from one side and be like, oh, but we need to do it now. And it's important and we gotta miss the boat gonna miss the boat. There's no way.
More than just finding the people that are already convinced or that are already in for a better word. You get educate others. Gotta show why it's interesting. Again, now it's easier, much easier than back then. Cannot forget this thing started in March last year when the work started, right. When my friends started like working on that. And then that went live in December.
So majority of the people that are listened to this or majority of the people that are sitting on brands right now as NFT leads or metaverse leads didn't even knew about the space when this initiative started. So I'm talking about like early.
I think how it evolved is that the brand was able to move fast, the right people, that our decision makers took the decisions that we could call right today because they made it happen.
The brand understood the value of being in a space like this. I don't have any insights on what's happened past December because they laughed, but I'm very sure cuz I still have a lot of friends within the brand that, this is being taken as a very serious initiative within the company as everywhere else.
Companies hiring left and right now for Web three roles for chief of metaverse. For NFT director. Whatever you see the jobs are out there. So I think this kind of like Web three studios and NFT studios, and metaverse studios gonna start popping up within organizations.
It's gonna be really exciting to see how that's gonna shape.
Ling Yah: I wonder to the extent you're able to share what was the brand strategy behind indigo Hertz? That's a Bored ape and I found it so interesting because I'm sure everyone must have heard of Bored apes by now, but you're deliberately taking this NFT, this other brand, and incorporating it into a very critical part of your NFT strategy.
How do you think about that?
Diego Borgo: I love it. I find it to be really exciting. My favorite project in the space and that's an alpha is 10 KTF. Right. I don't know if the audience knows about it.
But 10 KTF is a project that people, and other people involved, they run a company called we knew and 10 KTF is a origin or a, is IP from that company.
They have a main character Wagme-son. He's the shop seller that you come to connect your wallet and see what he's got for you. And there is a lot of storytelling, the best in class storytelling within the space. There's so much exciting things happening there and everything runs around a character that's leading the story, which is beautiful. So you follow his journey. You wanna support. There are people fighting and trying to beat him up and you wanna be part of it to protect him. It's a classic storytelling driven sort of initiative that you hold hands with a character and let him navigate you through this new world.
And I feel that this is so interesting for a brand like Adidas and Indigo because it could play a similar role. It could become almost like the lead on that new world where Adidas is now navigating. And a lot of brands are navigating. There is nothing better than having a core character to sort of like walk you through what is next which I find really exciting.
So I don't know if that's the case. I feel that's the opportunity that's at stake right now. I look at 10 KTF as a great example on how to do it right. How to do it authentic to the space and how brands could take advantage of it as well.
Ling Yah: Speaking of doing things right, I wanna talk about the metaverse standards form, which is what a bunch of big tech decide to sign up on Meta, Microsoft, Alibaba, Sony. They sign up pledge to say they're gonna create this open interoperable Metaverse. There's lots of criticisms about that. There's a lot of skepticism. Can big tech really do that.
Isn't it contrary to the nature of what they are doing?
Diego Borgo: Yeah. I mean to start from a common ground, this whole metaverse thing is extremely overcomplicated and there is a lot of hype and a lot of like, oh, the metaverse is entirely new.
No, it's not think about like second life. It was 2007, 2008. , like think about the SIMs. Think about gaming is nothing new. The fact is what the Metaverse for me is, and the difference school of thoughts exist. But that's my definition. Personal definition is that the Metaverse is nothing else, then an evolution of the internet and how we connect digitally as humans.
That's what it is for me.
If you want my point of view on that, we need to start from there. So this thing now enables us to connect in a deeper way than the current state. So the zoom call, this teams or whatever we are connected is horrible. We spend three years lockdown and we realize that the way we connect as humans digitally sucks, the UX is horrible.
So how do we go about making it better? Now that for most of the time also be working more remote. We're gonna connect more with communities all over the world. How do we make a more enhancing and tying experience.
And that for me is the role of this whole Metaverse conversation. Get what we've learned from gaming before apply that to different ways. How you can work, how you can connect, how you can talk, how you can meet how you can throw events and stuff like that.
And reutilize that engine and start building something towards the direction that can enable more than just gaining. So that's my take. And what's happening within this sort of like open and closed Metaverse, that's extremely, extremely important conversation. If you follow trends as we tackle before, what happens before is exactly what's gonna happen next.
What happened with internet eCommerce and social media is what's happening now with blockchain, NFT and metaverse. Is the similar cultural , shift and impact where now people are looking into a new media on how they connect and how stories are being told. That's all what it's about.
It's about human connection and storytelling. That's the core of our existence as society, as communities. So thinking that the time that we are spending online has grown exponentially throughout the years, but especially within the last three.
Having companies that we don't necessarily trust as much as we did before, cuz we know what happened because we did.
Owning the way and the place and the environment where we will spend most of our online time as humanity is dangerous . So that's why a lot of people are right now questioning that right?
Open Metaverse, closed Metaverse, it's gonna have space for both. And I don't think that's so black and white, that conversation I think is literally gonna be, you will have space for Meta. You're gonna charge 47% every time you buy and sell something on their space.
And that's how they rope. Fine. You have space for Microsoft because they need to evolve the experience from teams to something else because they need to keep corporates , utilizing that product. And if you think that corporate's gonna go to a entirely decentralized and on space to secure their most important information, to hold the most important meetings about the future of the brand product and IP, you are entirely wrong.
And you're very naive. That's why Microsoft is gonna still have its place. The difference is that we will have place that gonna be entirely open. We will have that anarchy like mad place that you go to do whatever you want. Like GTA is, and it's gonna exist and it's gonna be entirely decentralized and entirely open. But you also will need the closed metaverse.
You also will have hybrid versions. So I think that that whole conversation comes down to people thinking that there will be just one metaverse and that one and only metaverse cannot be from meta. It's not gonna be one. Think about the different social media platforms out there.
There are different ones and people coexist and live within different ones. There are platforms on how just the, the working platforms are also different. We work on teams, we work zoom, we work on Google hangout is the same. It's gonna have different ones. The important thing here is to make sure that we have all of them and that there is space for all of them.
So people can choose from.
That's what matters.
Ling Yah: I wonder since you speak to so many brands, what is something that you would love to see brands do that you haven't seen done yet
Diego Borgo: Oh, I pitched this idea everywhere I go, and nobody wants to do it yet and I don't know why.
I'm really excited about the other things we were talking before. But you as IP lawyer already shutting me down with all rights because you understand it much better than I. But I'm dreaming of this time that we are gonna have like an NFT that gives you access to those space.
Coming into this space, you can co-create anything with that brand. And you can take a, cut or a royalty or a revenue from that product that is being co-created. You as an artist can come and create your own product under that silhouette, for example , that you can dance, sell to your community like this crazy mad, open studio to shape the future of how we collaborate and create with the major brands around the world that has been born in the space and born into culture. And everyone that is involved can take advantage and can be real reward for doing so. That's like the utopian thing that I really would be excited about.
The second utopian thing is having brands to look into projects like Nemus for example as I said are trying to save the Amazon forest and protect and conserve by using web three technologies. Coming along and using their brand as a platform to help projects like that, help us decelerating climate change.
Instead of being profit oriented is understanding how they can use their platform, which is major their community, these new technology to change the world for better. Not just about climate. But also talking about diversity and inclusion, talking about distribution of wealth, talking about giving opportunity for people that don't have as much opportunity talking about disability, talking about the most important topics we have on the table right now that we are tired about listening, but we see so many, so few initiatives is how now brands can use wonder platform into this technology to change the word for a better place.
Those are the two utopian dreams that I would love to see brands doing. If you wanna do that, I'm ready. Just gimme a call.
Ling Yah: Amazing. For the first one I can already envision all the complex terms you need in your licensing agreement. I can see why the lawyers will bear down on this.
Well Diego, thank you so much for your time. I have loved this conversation. I normally end with the same question. So the first is, do you feel like you have found your why?
Diego Borgo: I think I'm closer to it, I think the first time in my life I feel that there is like deeper meaning at scale on not just what I'm doing, but a lot of people that I meet, people are excited.
People were driving for it. People were like, oh man, I wish I would have found this thing before. Everywhere I'm going people like I'm doing this, I'm creating that. I'm building that thing. I'm helping this. We wanna do this for better.
It's so exciting to be around that type of energy. Creation energy. Positive energy. People just literally like trying to find ways to make this work. But to make this as a new mindset, as a new way for us to be in a better place as society again.
When it comes to equalizing, it can be utopian. I know a lot of people were against it. Jack from X Twitter has made a lot of points . But I feel that the most important thing that we cannot deny is if this is a dream, let's keep dreaming until this becomes reality.
If that's web three, web four, web five web 20, the fact that we are awake and dreaming of those new features that we want to develop, it's incredible.
And that really excites me.
Ling Yah: And what kind of legacy do you wanna leave behind?
Diego Borgo: I think it's basically looking really into leaving the world in a better place that when I got here.
Initially, to my family and secondly, to my community. And third, if I get there at scale, I think it's looking at the issues we have and how we can collaborate and work together to make it a better place.
Ling Yah: And what do you think are the most important qualities of a successful person?
Diego Borgo: For me, everything comes down to self awareness. Knowing who you are, knowing what you wanna do, knowing how you operate and not being told by others how you should be and who you should be and how you should think. Literally not give a fuck about how people think about it.
I think it's so important, especially in this generation right now where social media plays a major role on dictating how you are and who you should be. I think that's major.
I would say the second one is gratitude. A lot of times we think about we don't have. We don't necessarily,
grateful enough for the things we have. People tend to say, oh, like the world is worse every day.
Well, what you talking about? Look at the medieval time. People come on horses, invade village and kill everyone. And that was a norm.
Yes, it's not perfect, but I can surely say that's much better than what it was, and hopefully it's gonna keep going that direction. Now we have so much more access to information.
Negativity and bad news are the ones that go around easier. There's a lot of good stuff happening, but you know, people rather focus on the bad stuff. So I think that pausing and looking around and being grateful for what you have and comparing even to your parents into the past generations. I think we are pretty lucky to be where we are.
The third thing I would say is compassion. I think we lack a lot of compassion, especially in the digital world because people tend to use that anonymity as a tool to say whatever they want without thinking that there is someone else on the other side that could be, or is likely struggling.
And that comment you just made can accelerate something very negative into that person's life. Everybody's struggling. Everybody's going through things. Everybody's trying to become better.
The current moments we've been living since the last three years where negativity took over in a lot of mediums. I think compassion is important. To be mindful in how you talk to people, how you treat people, because you dunno what's going on on someone's mind and whatever you do or in say could accelerate things in a bad, very bad way.
Also in a positive way, sometimes just being nice to someone can literally make someone's day, cuz nobody has been nice to that person for a long time.
Ling Yah: And where can people go to find out more about you, what you are doing, get involved?
Diego Borgo: I would say LinkedIn again. LinkedIn is sort of like where I spend most of my time.
I connect with people and I try to use that platform as a way to transmit the message I have. And again, show what I have seen and hope that we can all shape this space in the right way.
If you look at Diego Borgo, B O R G O at LinkedIn, you'll find me. I'm an alien. That's my photo.
Ling Yah: Is there a story behind this alien?
Diego Borgo: There is a story. Yeah. That's from pixel vault.
It's a Meta hero from pixel vault. I love it. It is a great project. I know Sean, I know the team: G Fong. I really believe on what they're building. That's not a financial advice by the way.
I just really like the stuff they're doing and the main motive on why I choose the alien to be my identity, especially within this space that I choose to be at with brands and LinkedIn. And all of it is because that's exactly how I feel. Every time I have those conversations with those people. I feel like I'm an alien.
And I'm just trying to bring you some stuff from outer planet and maybe show you that there are different ways of doing the things we are doing right now. And a lot of times I have that look that people are just thinking that I'm an alien.
Ling Yah: And is there anything you'd like to share that we haven't covered so far?
Diego Borgo: Yeah, we talked a lot about education. I've dropped a masterclass on how branch should enter the metaverse and NFT space.
I wrote myself 120 pages of content that we shot for five days, 12 hours a day in Dubai with NAS academy, which is a great partner. I interviewed about seven to eight people from different companies, fortune 500 like Volkswagen Salesforce Unilever.
I interview Charlie as well for Nemus. I interview Seneca as well. I was in there talking about community. I interview head of NFTs and, and Grove at media monks, which is one of the largest agencies in the world. I interviewed Somi, which is a thought leader within the space mixing marketing technology and a lot of different things that are really exciting from her point of view as well.
It was a great interview and a bunch of other people that I might be forgetting. Oh, I interviewed Oliver as well, which is a IP lawyer from Germany, which you might know.
Ling Yah: He's looking for German IP lawyers right now I've noticed.
Diego Borgo: Exactly. So yeah, he's in there. All of that, that I just said within that masterclass is one based entirely on my experience.
So it's no theory. He's no like, oh, I read this in an article. I listened to this in a podcast, or I heard someone doing, no. Everything that I put in there is all I have experience first hand.
Secondly, I gave everything I know, not holding back anything. I gave all the frameworks I use. I gave all the materials. I use checklists, the stuff I use with the brands on my daily consultancy and advisory.
And third, I brought different points of views at the table, but are not just mine. There are case studies there with projects I work with. Also, there's case studies and interviews with people from like, others that I just mentioned that are also in the space and see things differently than I.
If you are interested in any of it, and if you wanna see more about my work and what I do that's kind of like the place. I decide putting everything together because I haven't onboarded over 250 people to this base one on one or in small sessions. And I cannot do that anymore. Cuz time is scarce.
That's why I put a masterclass together. I wanted to be able to scale up education and sharing my knowledge.
Ling Yah: And this is gonna launch on 13th August. And if you've listened to this, they will also be a promo code for everyone. So everyone can get involved and learn more from you directly.
And that was the end of episode 88.
The show notes can be found at www.sothisismywhy.com/88. If you'd like to learn more from Diego as mentioned, he has an upcoming online course, it's all about how brands can enter the metaverse and STIMY has a special promo code, so just head to the show notes. Use the promo code SOTHISISMYWHY at the link.
And stay tune for next Sunday because we will be meeting the managing director and partner and co-lead of the metaverse at BCG to talk about his perspective on the metaverse, how he sees businesses, entering a web through space and steps can be taken for brands to become more web through centric. So do stick around and see you next Sunday.