Welcome to Episode 89!
STIMY Episode 89 features Tibor Mérey.
Tibor Mérey is a Managing Director and Partner at BCG, global co-lead on the metaverse, and a core member of Boston Consulting Group's Technology, Media & Telecommunications (TMT); and Marketing, Sales & Pricing (MSP) practices. He leads the TMT practice in Austria, where he focuses on digital transformation and technology-enabled growth strategies. He helps companies unlock value from data and become data-driven organizations. Tibor joined BCG in 2011 and spent one year as an Ambassador in the Houston office in 2014.
In 2018, Tibor was an interim Chief Customer Officer at a large European telco. He leads data-driven sales/customer value management transformations for B2B and B2C companies in the tech, media, telco, and industrial goods industries, from data architecture to introducing artificial intelligence to decision makers and frontline workers. Tibor has also led many digital transformation efforts and buy-side and sell-side due diligences.
Prior to joining BCG, Tibor co-founded a freestyle fashion startup in Switzerland. He is fluent in German, English, French, Spanish, and Hungarian
PS:
Want to learn about more inspirational figures/initiatives & stay updated on latest blogs about Web3 law? 
Don't miss the next post by signing up for STIMY's weekly newsletter below!
Who is Tibor Mérey?
Tibor Mérey grew up in Switzerland and prior to joining BCG as a consultant, he co-founded a Swiss freestyle brand with a starting capital of CHF 100!
3:32 Co-founding a Swiss freestyle label with CHF 100

4:11 Milestone achievements

5:28 Working at BCG
An NFT is essentially only a technology which allows to store singular information which is unique. Which is immutable. If you want to, with certain smart contract features onto a decentralized lecture such as for example, the ethereum blockchain. That's all it is.
Creating a Metaverse Strategy
Tibor shares how he first got into the web3 space, and how companies can think about incorporating web3/metaverse elements into their existing business operations.
6:37 How Tibor first got into web3

7:46 How BCG internally prepared to offer web3 consulting services to clients

9:44 Key components of a "metaverse"

13:03 How do you create a metaverse strategy?

14:26 Should all companies have a metaverse strategy?

15:43 Mitigating risks when companies enter the web3 space

17:32 How companies can get buy-in from existing customers & employees

19:58 How did Nike do?

22:20 What is "cultural relevance"?

24:05 Companies that haven't done a good job?

25:30 Can companies regain the trust of customers?

27:05 Defining "authenticity"

29:23 How should you measure web3 success?

31:08 How can companies share ownership with their customers?

33:58 Interesting DAO use cases

35:24 Future trends 

36:59 How BCG has incorporate web3/metaverse strategies into their own operations

38:06 Advice for people entering the web3 space for the first time

39:54 Lowest risk ways for companies to dabble in web3/metaverse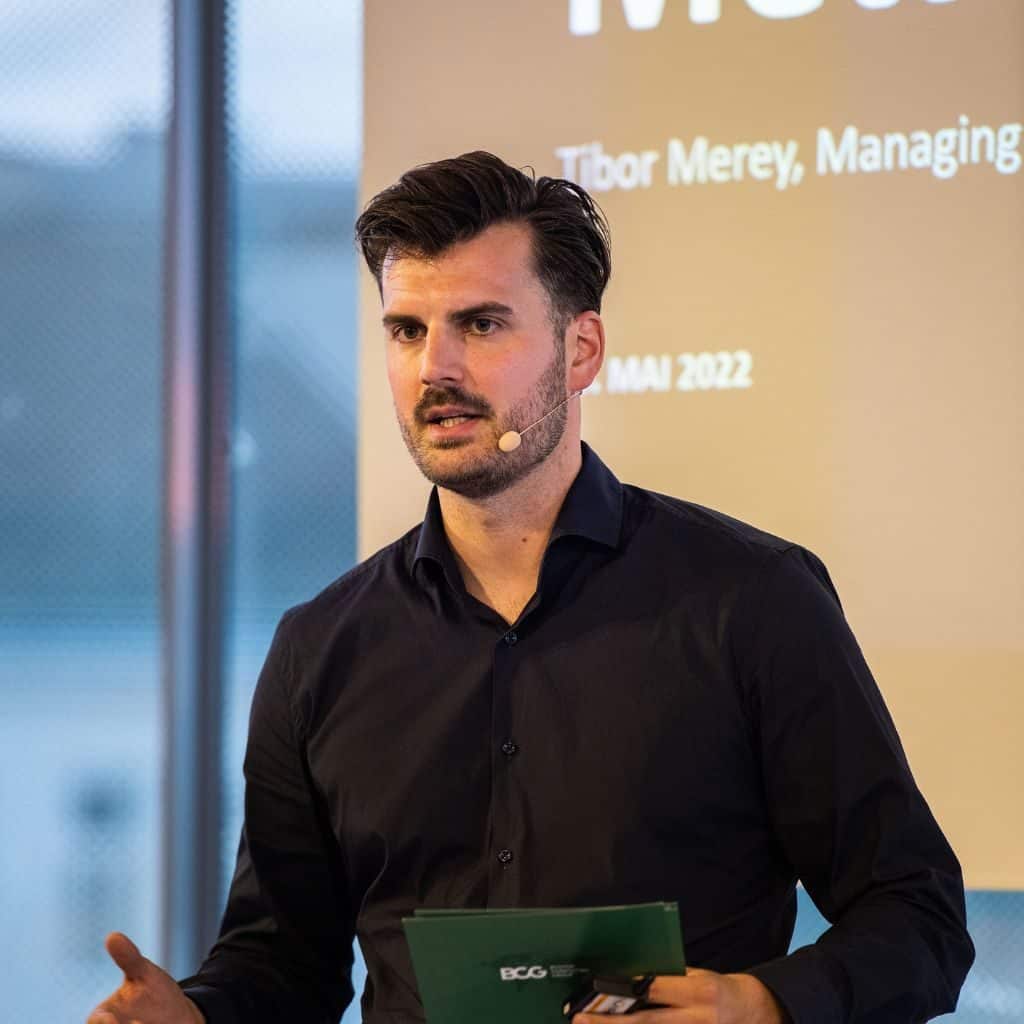 Recommendations
If you're interested in diving deeper into the web3 space, here are some additional recommendations from Tibor:
Books to Read:
Snow Crash – the origin of the word metaverse 

Ready Player One (and the sequel, two) – even more entertaining than Snow Crash in Tibor's opinion!

Experience on Demand (slightly dated, but very good to understand the psychological potential of VR

The Metaverse – How it will Revolutionize everything – by Matt Ball
People to follow:
Tim Walther

Diego Borgo – P/S: Diego was a past STIMY guest! You can check out his STIMY episode

here

Cathly Hackl
If you're looking for more inspirational stories, check out:
Diego Borgo

: Metaverse & NFT Advisor – Adidas' Into the Metaverse & Salesforce's NFT Cloud

Eric Toda

: Global Head of Social Marketing & Head of Meta Prosper, Meta

Nicole Quinn

: Celebrity Whisperer & General Partner at Lightspeed Venture Partners. Portfolio Companies include Goop, Haus (Lady Gaga), The Honest Company, and Lunchclub

Phil Libin

: Co-founder on Evernote & mmhmm on why startup success is worse than startup failure & why he thinks that the blockchain is bullish*t

😅🫣
If you enjoyed this episode with Tibor, you can: 
Leave a Review
If you enjoy listening to the podcast, we'd love for you to leave a review on iTunes / Apple Podcasts. The link works even if you aren't on an iPhone. 😉
Patreon
If you'd like to support STIMY as a patron, you can visit STIMY's Patreon page here. 
External Links
Some of the things we talked about in this STIMY Episode can be found below:
STIMY Ep 89: So You Want to Enter the Metaverse? | Tibor Mérey (Managing Director & Partner, Global Co-Lead Metaverse, BCG)
===
Tibor Mérey: An NFT is essentially only a technology which allows to store singular information which is unique. Which is immutable. If you want to, with certain smart contract features onto a decentralized lecture such as for example, the ethereum blockchain. That's all it is.
The culture level elements comes from elsewhere. The cultural evidence comes from the fundamental emotions that your brand is addressing emotions or needs with your core product. And I think one way how we approached is to really go and understand that better.
For example, if I take insurance, you might think the product is you buy an insurance, which protects you in the case of a certain event that you want to be protected against. But you can go even one level deeper and say, it's about buying psychological safety, which is a basic human need.
So how can you take that and then translate that into other use cases, because to be honest, web three is now such a wild, wild west out there. There's not a lot of psychological safety in this world.
Ling Yah: Hey everyone!
Welcome to episode 89 of the So This Is My Why podcast. I'm your host and producer Ling Yah and today's guest is Tibor Merey.
In our last episode, we spoke to Diego Borgo, a Metaverse and NFT strategist who's worked on projects like Adidas into the metaverse and Salesforce's NFT Cloud.
This week, we have Tibor - Managing Director and partner at BCG, global co-lead on the metaverse and expert on data, driven on data driven transformation, as well as technology, media and telecommunications.
In this episode, Tibor shows how he went from bootstrapping his own freestyle brand in Switzerland, to working at BCG for the past 11 years. Specifically, we dive deep into the metaverses.
How did BCG prepare to meet the wet three needs of its clients internally?
What are the key components of a metaverse?
Should all companies be thinking about having a metaverse strategy?
How can companies mitigate the potential risk of jumping into this new space?
What does it mean to be authentic as a brand?
How can brands think about giving ownership over the IP to customers?
What are the upcoming trends and what are the lowest risk ways for companies to dabble in this space.
We cover all this and more in this episode. So if you are a brand interested in developing a Web 3 strategy, or if you just wanna know how consultant thinks about the companies that are entering the metaverse, then this is the episode for you.
But before we kick off, if you're being enjoying past STIMY episodes, I'd love it if you could head to the platform that you're listening to this podcast on whether it's apple podcast, the website, or even YouTube, to leave a review.
Every review does help this show to grow and it also helps me to understand what kind of content that you would like to get more of.
Now, are you ready?
Let's go.
Tibor Mérey: I grew up in Switzerland actually. In a rather small village with more cows than people.
I'm the oldest of four brothers and sisters.
And when I was a child, I was much into sports. I really liked skiing and snowboarding in wintertime. In summertime I would play water polo which was a sport I really liked.
so that's a little bit, you know, my upbringing in cozy Switzerland.
Ling Yah: I noticed that you actually were a co-founder before you became a consultant. You started this Swiss freestyle label called Virgo wear.
So Where you from an entrepreneur family, what was it like?
Tibor Mérey: Well, I mean, the story behind work wear is actually a funny one.
I found that the work wear together with two other friends of mine. We were sitting at a table having a beer and then we together decided to found a new freestyle label.
Each of us put a hundred Swiss francs on the table and with 300 Swiss francs, that was our starting capital.
That was really bootstrap. So if people talk to me about bootstrapping, I have been there. That's all it took to get started back then.
Ling Yah: What were the milestones? Because you ended up running it for five years. That's a really long time to be bootstrapping something.
Tibor Mérey: I mean, the purpose behind it was all of us were some sort of either skater or snowboarder or free skier. And so we wanted to create a new brand, which really reconnected with the original spirit of freestyle.
Back then many of the older brands, like Burton or Quick Silver and so on, they have already moved into a chasing sea, right. They started producing shirts or, types of designs that were no longer in our view connected to this original way of freestyle. And so we wanted to bring something back there.
As I said, we started out by just creating the first designs. My younger brother, he actually came up with the initial design. So we essentially were just producing the t-shirts in a local t-shirt shop that were ordered.
Some of the milestones were that as this grew, we outsourced already back then the production to India and then Africa. We were producing already back then sustainably. We were one of the very first ones. By now I think the industry has progressd.
Another milestone was that we even won an award in one of the larger German freestyle sports awards. And so at the peak, I would say we were present in 11 shops across Switzerland.
Ling Yah: Wow. And I noticed that after you founded this, you ended up being a consultant at BCG.
Isn't that an unusual switch? Cuz normally people would spend say two years as a consultant and they think okay enough with a slide deck's time for me to try something in the real world. So how did that transition happen?
Tibor Mérey: Yeah. Again, it wasn't a big, big plan to stay with BCG then for 12 years or whatever.
The story was, I was doing that startup on the side, I was still finishing my studies and so were my two co-founders. We reached a certain level where in order to get to the next level we would've had to put in more time and resources.
So what I did is when I got the offer from BCG, I postponed the offer for another six months and I said, I'm gonna take that time and see can we make it work with Virgo. Can we see a perspective?
But I also time myself and said, if I don't see that perspective after six months, I accept the offer. And as you can see, I'm with BCG. So that's how it turned out to be.
But then at BCG, again, it was always this kind of two year horizon, or even one year horizon.
Somehow the roles kept evolving. The topics kept changing. And that's why I guess I'm still around.
Ling Yah: And I believe one of your most recent roles is as global co-lead of METAVERSE. METAVERSE is actually not on your con around since the snow crash, but everyone's talking about it now. And I wonder before we dive into all that, how did you first get into web three yourself personally?
Tibor Mérey: I think my journey into the METAVERSE or into web three started on the personal side.
I'm also an investor in a couple of startups. I never quit the startup world completely. So I'm still, you know, was connected. Had a couple of business ideas myself, and now I'm in a position I can also invest. I missed it in virtual reality company already three years back.
And that was essentially my entry into the metaverse. Before , it was all hype and, you know, growing in the past eight months. And so when that happened about eight months ago and mark Zuckerberg decided to rename Facebook, meta I was already one of the few people at BCG, that acquired some stuff in that area.
We then kind of pulled together these different pockets of knowledge around crypto, around NFTs, around immersive technologies, around gaming and really have an amazing group of people that then have started doing more and more of this work.
Ling Yah: How does an entity like BCG come together and say, okay, there's this new rising industry that's coming. We need to be prepared for it.
How do you come up with that entire structure in your company?
Tibor Mérey: I mean, to some extent we don't. It's not like BCG is a top down driven organization where the CEO identifies. Ling or Tibor has to do metaverse. I think the power of BCG is maybe in the name. it's the group, right?
We are a group of people. We're very diverse and there's just a lot of motivation of people around the world that wanna drive stuff. And so when I got more into leading the topic together with great colleagues, I was just looking at what we been doing. And yes, maybe we did not call it web three back then, but we did crypto work already for the past five years.
We have been doing, VR, AR immersive technologies for the last six years. And so now, these pieces, kept being put together and combined with a culture BCG that is about helping out each other and coming together, I think that's what really then brought together this energy that we see today.
Ling Yah: There must have been a trend that you noticed. What was that trend when you were pulling together all this different knowledge and projects that you were involved in?
Tibor Mérey: if I pick out the example, they are very similar on the crypto side or on the VR AR side, I think it all starts with a couple of crazy guys or gals that believe in that and see a little bit further beyond the horizon.
Like a very good friend of mine who has been doing crypto for probably four years now at BCG. In the beginning, he had to defend himself and say is this just all scammed?
We should not be talking about this to our clients and so on, but he, he kept going at it and now suddenly the tides have shifted. And similarly, the same goal is true for VR. I mean, we started testing out VR collaboration already two and a half years ago at BCG internally.
And It was starting as a small group and so on, but having now done two and a half years of these trials and rollouts puts us into a prime position of helping our clients look into it.
Ling Yah: I love that you brought up the word METAVERSE cause that's something I'd love to talk about more.
As I mentioned earlier, it's not a new concept. Many people have talked about it. There is even a patented technology for METAVERSE theme park. But I feel as though there are so many different definitions of what the METAVERSE is and what constitutes a METAVERSE.
How would you define it? What are those key components?
Tibor Mérey: That is one of the first questions everybody asks and it's a relevant one. Yeah.
When we look at it we also did some research. We also published a report about it.
Ling Yah: Is that a hitchhiker guide?
Tibor Mérey: Yeah, exactly. The corporate hitchiker's guide to the METAVERSE.
So, if you look at our report, we have this framework where we say that there are all these buzzwords flying around. People talk about web three, NFT, crypto and so on so forth.
Essentially when we look at it closer, we identified three quite distinct technologies, which are emerging at the same time.
We have on one side, this cluster around web three. The evolution of the internet, largely driven by decentralization. Decentralized technologies such as blockchain. On top of which other use cases like NFTs, like DAOs, like cryptocurrencies and so on are running.
There's the whole ecosystem and probably another an entire set of rabbit holes right there in that technology.
So the second part is this cluster around immersive technology, such as augmented reality. So displaying three dimensional, digital information or objects into your vision of the real world. Usually done through either semi transparent glasses, or for example, I'm holding your tablet or phone using that camera or virtual reality, which means fully closing you off from the real world. And what we see here is that these two quite separate vectors that were separate in the past with different types of devices and players are converging now faster than we anticipated.
So even the current headset of meta quest two, which is the best sold headset I've now read numbers that already 15 million units sold is capable of mixed reality.
So you have a pass through mode where you see the real world. Yes, it's grainy and it's black and white. But you have some sort of mixed reality features where you can switch seamlessly between an augmented reality and a virtual reality mode.
And the next headset of Meta Cambria, we already have full color and full HD pass through capabilities.
And so that will enable now a host of new use cases around mixed reality. So that's an entire field.
And in the third area we call so-called meta worlds. So essentially persistent social spaces where dozens, hundreds, thousands, and maybe at some point millions of people can meet, interact, transact.
And some of these meta worlds, they come from the gaming world such as the Fortnite, the Roblox of this world. But there are some newer ones like the Sandbox. So Decentraland that run on chain. That's the third area. I think the key message here is today, these are quite separate worlds.
So that's something clear. It's not necessarily the same person, a place Roblox that is holding an NFT of a Bored Ape and is using VR all the time. But the intersections exist today. And they are growing and already today, there are valid use cases for each part to look into in each of the different areas that they can extract value from.
Ling Yah: I imagine that lots of companies are eyeing what's happening in the world. As you mentioned, these different use cases and coming to you saying, I want an NFT strategy, I want a METAVERSE strategy. How do you respond to that? How should companies be thinking about this?
Tibor Mérey: I think one thing must be clear to every company.
Not every company wants or can be a builder of the metaverse, right? So I think there are certain companies that have ambition to be a builder either because they have been a builder of Web 2.0 or they wanna become a builder because they have missed out on that.
And so these are typically of course tech companies or telco operators that at least provide connectivity associated to it, or your media companies that have been running, you know, experiences on top of web two and are thinking about that.
I think the question first is do you want to become a builder of this new world? And even if you don't wanna become a builder, you have to think about to what extent you become a adopter of this technology.
It's a little bit like with the internet. Not every company became a Google or a Facebook or an Amazon in the nineties, but some point every company had their website.
Many companies had to build an app or have some sort of eCommerce and so on and so forth. And so that's gonna be quite similar in the Metaworld. And so it is worth looking into what it is, how it translates into relevant use cases for as a company. And what is your strategy to then either build or adopt the matter voice going forward?
Ling Yah: So setting aside those who are building, would it be right to say that eventually we are heading into a world where if you're running a business, you have to adopt the METAVERSE in some form or manner. And I say this.
Oh, absolutely.
Absolutely.
That's so interesting. Cuz I was talking to another founder recently in the States and she was saying, I tried to fundraise and every single person came to me and said, what's your web three strategy?
And her thought at the time was sometimes certain businesses don't need a web three strategy. Do you agree with that? It doesn't sound like you do.
Tibor Mérey: No, I don't. I mean, to some degree you could even say not having a web three strategy is also a decision, right?
I would compare it a little bit, like saying you don't need to have a climate change strategy. I think no person in his or her right mind would agree to that.
Do different companies need to have different types of climate change strategy? Of course. Yeah. It is more relevant to some companies than to others.
And similar is true to web three. But I think having that first level of conversation doesn't have to be a full project, right?
It can be simply educational in nature. Understanding what it is about and then making a judgment call and say, I at least understand what it is. And they took a judgment call not to act on it or not to act on it now, or to act on it in this shape and form.
I think an exercise every sound leader of any company should do.
Ling Yah: When I was speaking to other strategists in the area, they said one of the reasons companies are hesitating to jump in is because of the risk inherent. Cuz they have spent decades building this brand. If they do it wrong, then the entire world is gonna hear about it.
How in your opinion, can companies think about mitigating potential risk in jumping to this completely new field?
Tibor Mérey: So the risk is real, I must say. because especially if you talk about web three or blockchain, and you're talking about some of the permissionless, public blockchains.
Whatever you do on blockchain will stay there forever and will be transparent to everyone. So I think that needs to be clear. There are other use cases you can have private blockchains.
To be honest, you don't need to have a blockchain for every use case. Because that's the other key thing is just because we have new hammers, not everything has to be a nail.
So that's also one of our mantras, when we do these projects is we really go to the strategy level and say, what is it you want to achieve?
Even in your today's business and how can these new technologies around METAVERSE help you achieve that role? I think this is how it should be about.
And I think the other thing is there is so much hype now that there is also a lot of profiteering and charlatan in market.
Every company, every business person, including myself gets approached daily by dozens of freelancers, agencies say you need to do an NFT drop. You need to, do something with blockchain. You need to do something metaverse whatever that might mean.
And many fall into that trap of FOMO. Fear of missing out is real.
Everybody is confronted, even companies. And I think what we see almost now is some of the very early adopters that have done something, they have been burned. They are not happy with the quality they have received. They are not happy with the results. And that's where let's say some of the players come to us and say, how can we now really make something valuable for our customers and also with a positive return on investment.
Ling Yah: I wonder if you would give an example of say a company coming in and how they could think through the kind of strategy they could implement and ensure that they do give value to their customers. And they don't actually lose the customers along the way. Cuz there are certain companies who try and implement an NFT strategy.
Their own employees are the ones rioting saying, this is ridiculous. I refuse. I'm not on board with this. And then you have other companies who implement NFT strategy and their customers are the ones who rise up and say, I refuse to accept this and they take it done within a couple days.
Tibor Mérey: Yeah. So I think what is really clear is NFT is a good image. I think NFT is not a solution. It's just a tool, right? And NFT does not create community. NFT becomes tools for existing communities to become close knitted together. And so I think companies need to go to the core of their brand. To the core of their customers, what drives them and the core of the community. And Then translate that and say, how can I migrate this core into the web three world?
And so one example the company, I cannot say the name, but it was a luxury company we worked for. They said they're not in there for the hype.
They don't wanna be the first to do something. But they really wanna do something which is meaningful to them and meaningful to their customers. And so they really went into the core of their brand and say their brand stands for luxury, handcrafted materials, scarcity, high quality. And they were then saying, you know, how can I preserve this brand value?
But when I do things in the METAVERSE or in web three.
To fully transparent one of the big debates was which of these platforms offer a high quality luxurious experience. And to be honest, some of these platforms out there, they don't.
They are pixelated. They are not high definition. They might not be accessible through VR and if they are, it is again not a very luxurious experience.
So that takes quite some knowledge to say, what are than the right, let's say hammers to my needs.
Ling Yah: Are there any examples that not necessarily are your clients that you think have done a great job in implementing METAVERSE into their strategy? I mean, I love the fact that you brought up luxury, cuz so many companies are doing amazing things.
Like there's the Gucci garden experience. There's Louis Vuitton the port. They're doing such interesting things and like you obviously bought RTFKT as well. So I wonder if there are any particular examples that would allow people listening to better understand what you're talking about. And how the companies influence
Tibor Mérey: You just mentioned Nike buying RTFKT.
What I personally find quite interesting is really the degree of depth that they go to. So in the end, and I mean, this is true for any kind of fashion company.
The reason why you wear what you were and I wear what I wear has very little to do with the fact that we are essentially monkeys with little hair that need to keep warm.
We are wearing that because it shows that we want to display parts of our personality through fashion. Right. And this is one of the basic core attributes of fashion, so to speak. That holds true also for digital objects and digital fashion.
And Nike , other also like Adidas and so on, there are some consumers, they buy fashion or, kicks not necessary to wear them all the time, but also just to collect them. To display them. That is something that an NFT can do very well. To be honest, I can an NFT, there's a lot of talk about sustainability.
But an NFT probably is more sustainable than buying a shoe or even buying fashion just to show it on Instagram, for example, right. So that's one part of the equation, but what I like now with the Nike exhibition of RTFKT, they are really making interesting use of some of the features NFT has.
So there's obviously RTFKT, they were launching their first set of NFTs. First collections called clone X. I must be honest. I did not buy clone X. So the hindsight is 2020. I bought some other NFTs, but I was actually in the discord chat of the Clone X community when the news hits that Nike bought RTFKT.
And you could imagine, how, how, you know...
Ling Yah: Explosion!
Tibor Mérey: Yeah, it's exploded.
And then, you know, they used this to then say, you know, they were then creating their first collection. So existing clone X holders would get, allow listed is now the correct term for the first Nike collection.
They would then get certain NFT assets, which would then later grant them additional products in the real world. They have now continued that story that they launched actually a sweater, a hoodie with a QR code on it. That again unlocks additional augmented reality features when you see that person.
I think what I liked about this is that it is not in one off. There is a story behind it. It is very close to the brand of Nike. And they are using that as a means to continue playing that lifestyle community type story in the web three world. So I think that's an interesting example to look at.
Ling Yah: Would you say that Nike has succeeded because, and this is something I noticed that your colleague have also mentioned that they are winning because of their cultural relevance. What does that mean? How do companies figure out what this cultural relevance is?
Tibor Mérey: Yeah. And that's again, going back to my point NFT does not generate cultural relevance per se.
An NFT is essentially only a technology which allows to store singular information which is unique. Which is immutable. If you want to, with certain smart contract features onto a decentralized lecture such as for example, the ethereum blockchain. That's all it is.
The culture level elements comes from elsewhere. The cultural evidence comes from the fundamental emotions that your brand is addressing emotions or needs with your core product. And I think one way how we approached is to really go and understand that better.
For example, if I take insurance, you might think the product is you buy an insurance, which protects you in the case of a certain event that you want to be protected against. But you can go even one level deeper and say, it's about buying psychological safety. which is a basic human need.
So how can you take that and then translate that into other use cases, because to be honest, web three is now such a wild, wild west out there? There's not a lot of psychological safety in this world.
Ling Yah: T here's no safety, no regulation.
Tibor Mérey: No safety. But you know, how can maybe insurers think about where is their pocket, where they can bring that relevant service to that space.
Then the question turns into how do I do it? And then you get into a more technical discussion. Do I do it through some sort of a, crypto product? Do I do something in a different type of use case? That's not how you turn it around.
Ling Yah: Are there particular use cases you don't mind sharing where companies have not done a good job and it serves as a warning, don't follow what they've done?
Tibor Mérey: As you understand, we do not like to call out individual companies because we are essentially supporting some we don't but I said. I think the examples that were not successful are essentially were really, you would do things that are not connected at all with your brand.
So if you are like some sort of a consumer goods company maybe that is producing some sort of edible good. And you just launch an NFT collection, you just drop it and you don't have any story behind it. Just say, I'm gonna do it. It's a bit like, okay, why would I do it?
What's the utility behind it? I think some other elements is if you do it, but you are not going all the way in terms of the web three culture.
I have seen some drops where companies would be dropping NFTs, but they are not on any blockchain. You would buy them with your credit card. There is also not a real utility or community behind it.
Yes, maybe they launch a discord chat and they hire somebody who does funny games and community stuff. But it's kind of, okay, what's the whole point? It doesn't mint out. There is no value appreciation. There's no utility.
I have heard stories where then essentially the next collection they're doing or the next drop is essentially only to finance the running costs of the existing one. And so that's not what this should be about.
Ling Yah: Do you feel as though if companies, they don't do a good job, the first round they've basically lost the trust of their customers. Is it possible to regain it?
Tibor Mérey: I think one other thing I just wanna also be clear. It is okay to fail. And I think many things will have to fail. What I keep telling companies is as you approach this, you need to think about it in a portfolio approach, right? There should be a little bit of strategy work there to really understand it and translate it into use case and then decide what to do.
But you should also not overthink this. You should start stuff, right. But I would recommend doing a portfolio of things. Because if you do five things, what I can tell you is about these five things, two things will work more or less like you would expect it. Two things will fail miserably.
And one thing will work much better than you anticipated. The issue is cannot tell you, which is which. This is why you need to try multiple things.
But I think as long as you stay authentic and that's core. The other thing is, as soon as you go into launching things publicly on blockchain, I think you better be quite sure about what you're doing and with whom you are doing it with, because that will stay forever on chain.
Ling Yah: Hey there, if you're enjoying this episode so far, would you consider buying STIMY a coffee? You can find the link in the show notes and description of this episode. Every coffee would be much appreciated and help STIMY to grow. Now let's get back to this episode with Tibor Merey.
When you say authentic, how do you measure authentic? What is it?
Do you make sure that you're always on Twitter always on discord?
Tibor Mérey: I think in the end, being authentic is if you are honest. If you're also honest about things you do not know.
I think what is not authentic is for example, people saying they have it all figured out or that they are an expert on anything here. I mean nobody has a six year degree in metaverse. Nobody has done 10 years of web three consulting.
And some people claim that. And yeah, maybe you have done 10 years in blockchain . Or maybe you have done 20 years in VR. But nobody has all the pieces that come together.
It has to be authentic by admitting what you don't know.
I think the other thing is that you really immerse yourself in this culture.
I mean, there's a whole set of, let's say code words or hashtags that these community's made up of. It's a lot about decentralization and helping each other out. A lot of collaboration we are doing is with startups, with individual people with sometimes even companies that we would consider competitors of ours in other fields.
But in the end, it's all about sharing, about being open and using these new tools the way they are supposed to be used.
Ling Yah: Before we go into the whole sharing and openness, transparency, interoperability, I wanted to go back a little bit to what you mentioned earlier about how certain NFTs don't have any utility. No community founding team probably isn't doxxed.
The funny thing I found about this web three community is that sometimes people love this sort of thing.
This is precisely what they are into like Goblintown. I'm not sure if you've heard of it. completely contrary against everything you have imagined, and they really soar high.
Tibor Mérey: Of course I've heard of them. Yeah. , again, I'm not saying it has to have some sort of economic value or that being utility, you know, having a community of people that are like-minded and share the same sense of humor. That can be also your utility in itself.
So I think that's a little bit like entertainment or art. Art is I think a great example.
There's nothing that you can debate as long as what is art? Is this a nice picture or not? Is this, you know, provocative or not? And the same is true for NFTs, right? But in the end that is something that the community needs to make up.
I think why it becomes unauthentic is if you are clearly a company that wants to make a profit and you're just kind of greenwashing or web three washing your brand in order to be considered hip, right.
It might work out because yeah, you might have dropped an NFT, but is it really adding to your brand equity?
I think that's a bigger question to be answered.
Ling Yah: We talked about success earlier. And I wonder if you have any advice in terms of how do you measure the success of being in web three? I was speaking to another person recently say McDonald's, they said they smashed their KPIs, but they're basically using web two KPIs.
Amount of retweets, likes, comments. That doesn't sound quite sufficient for the web three world and I wonder how you think about that?
Tibor Mérey: It will depend on the person or corporation or organization you're talking to. And that's again, why you need to really go back to the strategy and say, what defines success for you?
If you are a publicly traded company you might have to have some sort of a triple button line, right? You have to have the total shareholder return.
There are other stakeholders, and there might be some climate change targets that you need to fulfill. And so how does your activity in web three ultimately help you with that? That should be the broader picture.
Now the other thing that is also there is many of these use cases don't have a big return today, right? It is early days, but there is a certain option value in getting acquainted today with these technologies.
Similarly, like in the nineties, it was already very useful for some of the corporations to think about internet, not all of these players that were early were the ones that became the biggest. But what is clear is that somebody who was late definitely did have a disadvantage in that whole internet and digitization.
Ling Yah: When we talk about sharing openness, the concept of ownership is so integral to what's happening right now. And I wonder how companies that think about that. For instance, the concept of DAO is completely turning how corporations are thinking about the idea that you can now use my brand anywhere you wish and commercialize it and keep the revenues. It's just something that's completely not done before.
How should companies think about this, in terms of just giving out their IP and how much they should give to their customers, who would then be even more invested, arguably in the main brand itself?
Tibor Mérey: Yeah. You are now raising quite a couple of interesting concepts.
So I think one is the tokenization or fractionalization of IP, which can be a brand, but it can be other types of IP.
The other thing is organizing essentially in the form of a decentralized autonomous organization.
So in a DAO, which in the end is very much like the fractionization of work, right?
So today work in many fields is a one or zero question. Either you work at a company a hundred percent of your time or 80% or sometimes less or you don't.
You're not an employee. Yes, there are certain industries, like for example, the IT industry where freelance work is quite prevalent and quite well done.
But even there you are still dedicated at least for duration of a project. And a DAO really allows you to have on one side of fractionization of your efforts. So you can be part of multiple DAO, but you are doing so not under the terms of unemployment contract, but rather as a stakeholder in the truest sense of the world.
The other thing is you really have this decentralized model of governance ownership, right? And so again here, if I stay on the DAO side for a second, I think organizations should ask themselves in which parts of my business could such a DAO make sense. It could be areas to look out for.
It could be areas where there is a benefit of tapping into a quite diverse set of outside stakeholders or organizations that would otherwise be difficult to get in the traditional type of contracting or employment status. And it can be also where do these types of players see a benefit in a governance mechanism, which is not requiring centralized, trusted entities ?
Where you can essentially build governance into a smart contract and you can run it on a chain and where also the remuneration is maybe done through that. Those would be some elements.
There's a couple of more of them where you could look out for. mind, This can be an innovation where you say, I wanna tap into innovation. It can be some sort of, let's say a gig economy, but under different type of model. So these could be elements where DAO could be interesting to look into.
The other thing with the IP again is a quite interesting.
There are examples of this. Like for example, the franchise model is, is something which has been around for quite a long time. This is a mechanism to again, amplify your brand under certain restrictions. You cannot do everything if you're a franchisee, but you can now essentially bake the similar mechanism into a smart contract in an NFT for example.
You say, what levels of commercialization, what type of royalty sharing, is allowed with that NFT or with that asset? And you can use it now with these new technologies.
Ling Yah: Speaking of DAOs before we move on, are there particular DAOs that you think are doing a very interesting job that people could look towards as inspiration for their own?
Tibor Mérey: I just watched the latest video of uh, Vitalik Buterin, which is essentially the DAO behind the Ethereum blockchain, The initial one.
That is quite interesting.
We have now competing blockchains, right? So there are newer blockchains out there. There are blockchains which are public permissionless and there permission ones. Now there are some private ones coming up.
There's a lot of talk now around Ethereum. We're going through now a couple of changes. Like the merge and then all the other S like purchase S searches purchase.
Yeah, exactly. Now you could obviously come with all these arguments and say, oh, this is so complicated and it's risky and so on and so forth. That is all true, but I still think it is admirable also, not only what they're doing, but how they're doing it. Right. So I think that is gonna be interesting.
It is one of the big debate to what extent decentralization is actually necessary or good or required. And it's true for many things. Centralized organizations and processes are much more efficient in innovating stuff and building stuff.
But I still do think that, especially for many of the things that are being built and that will shape society, it can have a lot of opportunities as opposed to the more centralized ways web 2.0 was was built.
Ling Yah: What do you think we can expect in the future? What kind of trends are coming our way?
Tibor Mérey: In general, regarding the metaverse is, that's a big one.
So what excites me a lot is if I go into the immersive technology side of things, there's just so much innovation going to happen.
I think if you are looking into what is now being cooked up in the labs of some of these companies in terms of what the next or the next generation of headsets and experiences were looked at, it is just stunning. So I think we will pretty soon reach a stage where avatars will be so realistic that you will no longer be able to easily tell difference between a real person.
Amazing, because it truly eliminates geography from the equation for many walks of life. On the other side is also scary, right? How can you be sure it is really Tibor talking to you?
And so that will again have a whole set of other mechanisms like event management, like identity verification, authentication, and so on and so forth that will come into play to actually be proving who are you talking to?
And so that's something which is quite interesting. I think we talked a lot about what innovations are, are expecting us on the blockchain side of things. I think again, people forget that the earlier internet there were a lot of shortcomings.
I mean I grew up in the era of dial up internet where I could not go on the internet if one of my brothers and sisters was on the phone.
If I would explain this to my daughter, she would not get it. For example, in blockchain, there's also a lot of hurdles like transactions per second are nowhere in the realm where they need to be in order to be a viable alternative to some web 2.0 things.
There's a lot of innovation going on early days. And so it's gonna be exciting to see what's coming.
Ling Yah: Hasn't BCG created its own metaverse as well? How has that transform your own personal workplace?
Tibor Mérey: We are experimenting across all different areas.
So we are regularly minting NFTs. Sometimes it's for fun, for recruiting events or practice area events, but we're starting to now add utility to it.
For example we were minting some NFTs at a recent event. One of these NFTs, you could actually redeem it for a beverage like beer, for example, at the bar.
So we have probably one of the world's first beers drafted directly from the blockchain. It's funny, but if you go a bit deeper behind it, there's quite some sophisticated mechanisms to see how can you issue it? How can you verify it? How can you then burn it and change it.
Ling Yah: Sounds a lot more fun than a POAP for sure.
Tibor Mérey: Yeah. That's actually true. Yeah. And then the other thing which is really cool, I must say is the whole VR/ uh, AR side of things. I have it always next to me. But I would say every week, I am now in multiple virtual reality workshops. More and more of them with clients.
And that has become now a standard extension of our toolbox to say, for which types of experiences do we use spatial computing as a means to an end.
Ling Yah: I want to go first from a personal then a company perspective. For someone who's listening, clearly you are very well versed in what's happening in this space, but they are not.
So any advice on people joining the Metaverse for the first time? What can they do? Where can they go?
Tibor Mérey: Yeah, absolutely. This is such a broad space that education is key. And so how did I start? Or how do I still learn because I am learning as well. I think there's a couple of areas.
Obviously, I get a lot of information by following a certain set of people on LinkedIn. There's a growing community and it's a very open community, so there's a lot of helping each other , or saying, you know, you should, talk to that person so on and so forth.
So there's some people that you can follow on LinkedIn. I think there's also the topic of discord chats. There's a couple of discord chats that you can go into. What I always recommend is selecting a little bit of money and trying things out.
It should be not more money than you would be willing to lose. It's a bit like going to a casino. You should never play with more than you are, can afford to lose. But go out and experience it. Buy a couple of NFTs and join the discord community.
After NFT choose something that you like from a community doesn't have to be the biggest investment of the world, but then just experience how, what is this means to be part of that, then you will get, allow list maybe for another drop.
There will be a certain feature. That's how you learn a lot.
And similarly for VR/AR. Either you can rent out such a device in almost every city on the planet. There is some sort of virtual reality cafe where you can go and play some games, try it out. Then if you go a bit deeper into it, I also start reading all of books.
So I have for example here, you mentioned it there's snow crash. I dunno if you can see it. There's a ready player me, which is I think, a great book to get started. There's a couple of others which get a bit more technical, but I'm more than happy to share in the link. A couple of recommendations along these lines.
Ling Yah: That'd be amazing. I will add all those things as well into the show notes. What about for companies? What are the lowest risk ways for companies to sort dabble in this space and figure it out?
Tibor Mérey: For companies, the same thing holds true. Identify a set of people that are passionate about it because a lot of these new technologies. There will be two types of people.
The skeptics, they will always find a reason why it is not there yet. Why our Taron good. Why the headsets are too clunky. Why blockchain is not the right solution for your problem. These are people that see the shortcomings first.
But then there are the others which are the optimists and they say, Hey, I know this is not perfect, but I see the potential and I'm excited by it.
And I wanna learn. And so I think identify a couple of these people who are willing and passionate about it and connect them to each other. And then I think, as I said before, you should do the same thing, but on a bigger scale, you should educate the top management about it. So you should immerse the top management.
And that's a big part of our jobs is when we do strategy work, we try to also infuse some sort of immersion sessions where we take them through some VR experiences. Some of them are just games already made experiences. Some are some customer experiences we have built we mint NFTs together with C level executives to understand what it works. How does it work?
They need to open a wallet and so on, so forth. So we immerse that.
And the last thing is define a budget. It doesn't have to be huge, but it has to be a certain budget to try out things.
to launch a couple of pilots, be it internal, be it externally facing and, and be willing to learn. And I think that those would be something I think any company, regardless of size should be thinking about.
Ling Yah: Just before I wrap up, how can business help you?
Is there anything that they can help you with?
Tibor Mérey: Oh, absolutely. So first of all, if you are excited about the space and you wanna work and do exciting stuff, please do reach out. We are looking for people across different types of backgrounds. Obviously on the consulting side where we are helping on the strategy side, but also on building stuff.
So we are looking for talent from an engineering background, but also from a creative background in our BCG X units where we have to build talent. We're building up codes there and if you have relevant experience or interest, please reach out. That's something would help me as well.
And I think the other thing is, let's continue sharing materials if there's some interesting pilots, new technology, examples that is always interesting to me. I learn as much in these conversations as I give back. And so that's also quite exciting to me.
Ling Yah: Just to wrap up, do you feel like you have found your way?
Tibor Mérey: That's one of the very big questions in life.
I think I'm getting closer to it. What is clear is I have a daughter and so I do wanna genuinely be there for her . So I think I see a lot of the benefits of not having to travel that much anymore. If the metaverse this technology help me with that, that's already a big plus.
Then the other thing is I think part of my 'why' is helping others. Journey into these new worlds and technologies and do so in a meaningful way. That is something which drives me, which excites me. So that's becoming a bigger part of my why and why it's also connected to the work I do.
Ling Yah: And what kind of legacy do you wanna leave behind?
Tibor Mérey: First and foremost, I definitely wanna be a good father and hopefully a lifelong friend to my daughter. That's probably the biggest single one.
Beyond that, I want to genuinely help others fulfill what they wanna be achieving in life. And I can do so in my daily work the business context.
But on a personal scale, maybe help individuals or startups or connect them to somebody. That's a little bit what I'm trying to be remembered for.
Ling Yah: And what do you think are the most important qualities of a successful person?
Tibor Mérey: A lot of it is about authenticity. It is really about finding out what drives you. What really interests you, and then see from that point, how you can turn that super power into a bigger power and then motivate others on that journey.
And it is not straightforward. I don't think you can start by this. I think you have to doing the hard work you have to also expose yourself to different experiences, to see where your powers lie. Sometimes your perception of yourself is not reality. Right? So test it, get feedback.
And as you, you know, then have more and more of this overlap between what really interests you and drives you with what is relevant to others or business, or to academia or so that's, I think where the magic happens.
Don't try just walking in the footsteps of others, if you don't feel like it.
Ling Yah: And where can people go to connect with you and find out more about what you and BCG are doing?
Tibor Mérey: LinkedIn is a very good channel to reach me. I'm happy to post my link down below. That's probably the best way to start with. I can also share the site where we keep publishing new reports. So for the ones who like the hitchhiker guide there's more to come. For the ones who haven't read it, I'm very happy to, to share link to that one as well.
Ling Yah: Amazing. And I'll include those links for sure. And is there anything else you'd like to share that we haven't covered so far?
Tibor Mérey: Maybe the only last thing is, I do think there is tremendous opportunity. Many of them we don't even see yet today. On the other side, I also just wanna be cautious that it is not just about the hype.
And I think similarly, how we are helping brands preserve the core of their brand equity team. We also need to preserve the core of humanity as we move into this new world, because there will be also new opportunities to abuse this new technology. And so I certainly don't want to this to end in a dystopia where I get popups everywhere I go, because it's just my field of view and so on and so forth. But I'd rather wanna really have a world where we can preserve the good in people.
And protect also the more vulnerable ones, the kids and so on from some of the dangers during this. So that's I think the only caveat at the very end that I also wanna share.
Ling Yah: And that was the end of episode 89. The show notes can be found at www.sothisismywhy.com/89
The show notes also contain lots of links to the books and references mentioned in this episode, including BCG's Hitchhikers Guide to the metaverse. So do check it.
And if you've enjoyed this episode and learned anything, can you do me a favor?
Could you take a screenshot and share this episode with anyone in your life who might be interested in entrepreneurship growth and all things web3 and metaverse. At first, I'd love to get this education into the hands or ears of as many people as possible.
So if you'd do me this favor, can you please make sure this one person in your life who you know, would enjoy this content, hears about STIMY?
And stay tuned for next Sunday, because we will be meeting the co-founder of one of the world's largest crypto data aggregators :Coingecko. We talked about how he went from working at a big four audit firm while running Coingecko as a site hustle with a startup capital of a hundred dollars, how they scaled organically, the impact that the collapse of Mt Gox rise of D defi and acquisition of Binance had on them, and so much more.
And in case you didn't already know, this guest is also a Malaysian.
It's a great episode so do stick around, subscribe and see you next Sunday.