Welcome to Episode 98!
STIMY Episode 98 features Francine Ballard.
Francine Ballard is the Houston-based founder of Metagolden, a modern brand for a modern consumer who values physical and digital status equally. A web3 emporium showcasing the finest phygital (physical and digital assets sold together) collectibles by way of collaborations between luxury labels, artists and digital influencers/creators.
Ballard worked in fashion publishing for many years at Time Inc (InStyle), Conde Nast (Lucky magazine) and most recently as style editor at PaperCity magazine working with fashion and jewelry brands Hermès, Gucci, Fendi, Dolce & Gabbana, Cartier among others before transitioning to the technology space.
An avid crypto investor, in 2021 she entered the blockchain space with a line of fine, 18k gold jewelry tied to NFTs. Since then, the company has expanded via partnerships with THEORY, Kwiat Diamonds, Decentraland, Moda Operandi and Fred Segal, successful NFT projects with artists Ashley Longshore, Jonathan Seliger and editorial features in ELLE and Architectural Digest. 
Her next collection- HW3 (House of Web3) will be a community-owned, operated and financed fashion house with the best and brightest from both worlds (Web3 and IRL) rooted in forward thinking operatives of ideation, collaboration and innovation. As one of the first female-led blockchain brands and a founding member of the BFF, along with Gwyneth Paltrow, Kate Hudson, Paris Hilton and founders Brit Morin and Jaime Schmidt, Ballard has become a web3 thought leader and expert, paving the way for women and female-led projects in the space.
PS:
Want to learn about more inspirational figures/initiatives to become the most interesting person in the room? 
Don't miss the next post by signing up for STIMY's weekly newsletter below!
Who is Francine Ballard?
Devil Wears Prada is the closest thing I have to the world of high fashion.
When I asked Francine Ballard how closely it mimicked reality, she said, "There is some truth to that."
And she should know.
Francine Ballard has worked in the fashion industry for a while. 
She was the American Fashion Director at Time Inc (InStyle), Conde Nast (Lucky magazine), and PaperCity Magazine as Style Editor at Large, working with fashion and jewelry brands Hermès, Gucci, Fendi, Dolce & Gabbana, Cartier among others before transitioning to the technology space.
2:52 Growing up in Hawaii

4:24 Speed until you get a ticket

6:26 Devil Wears Prada in real life?

8:10 Climbing to the top of US high fashion publication

9:40 Founding a registered resale startup

13:09 Testing an idea

15:04 Fashion Industry x Web3
Moving through that (high fashion) system was very much like being hazed. Like moving through a sorority or a fraternity system. You just have to pay your dues and you have to come up and you have to do everything and you have to do just the dumbest things to get to a place of power.
Web3, BFF & Metagolden
Francine Ballard shows how he first entered the #web3 space, and her journey with founding Metagolden.
17:11 Origins of Metagolden

20:35 Phygitals

21:54 Traditional fashion house v fashion house of the future

24:51 Building community

38:06 Are brands afraid of web3?

30:09 Interesting use cases

32:07 Launching Francine's 1st collection

37:07 How to decide on pricing

40:38 Where community comes from 

43:31 Building partnerships 

45:00 Dream partner 

46:51 How to create a sense of belonging

47:55 Being a founding member of BFF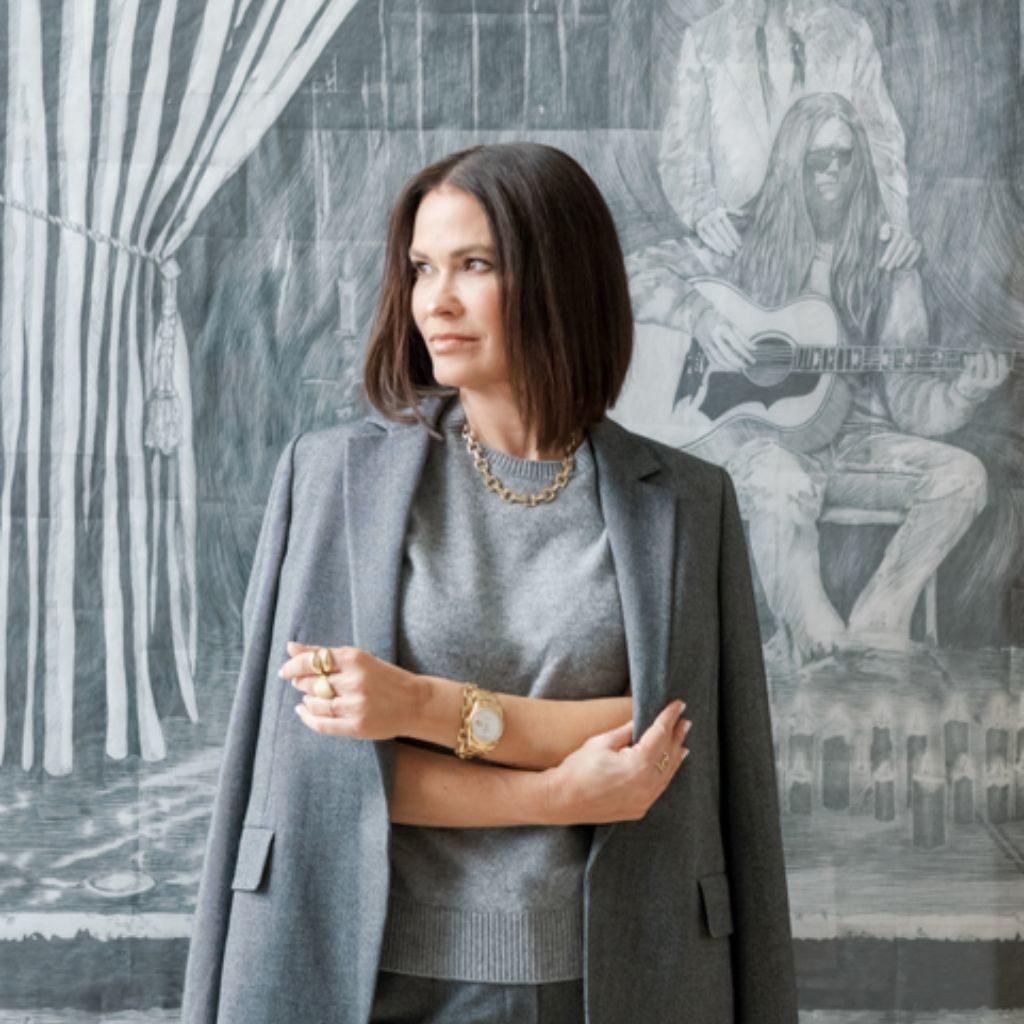 If you're looking for more inspirational stories, check out:
Diego Borgo

: Metaverse & NFT Advisor – Adidas' Into the Metaverse & Salesforce's NFT Cloud

Eric Toda

: Global Head of Social Marketing & Head of Meta Prosper, Meta

Nicole Quinn

: Celebrity Whisperer & General Partner at Lightspeed Venture Partners. Portfolio Companies include Goop, Haus (Lady Gaga), The Honest Company, and Lunchclub

Phil Libin

: Co-founder on Evernote & mmhmm on why startup success is worse than startup failure & why he thinks that the blockchain is bullish*t


😅
If you enjoyed this episode with Francine, you can: 
Leave a Review
If you enjoy listening to the podcast, we'd love for you to leave a review on iTunes / Apple Podcasts. The link works even if you aren't on an iPhone. 😉
Patreon
If you'd like to support STIMY as a patron, you can visit STIMY's Patreon page here. 
External Links
Some of the things we talked about in this STIMY Episode can be found below: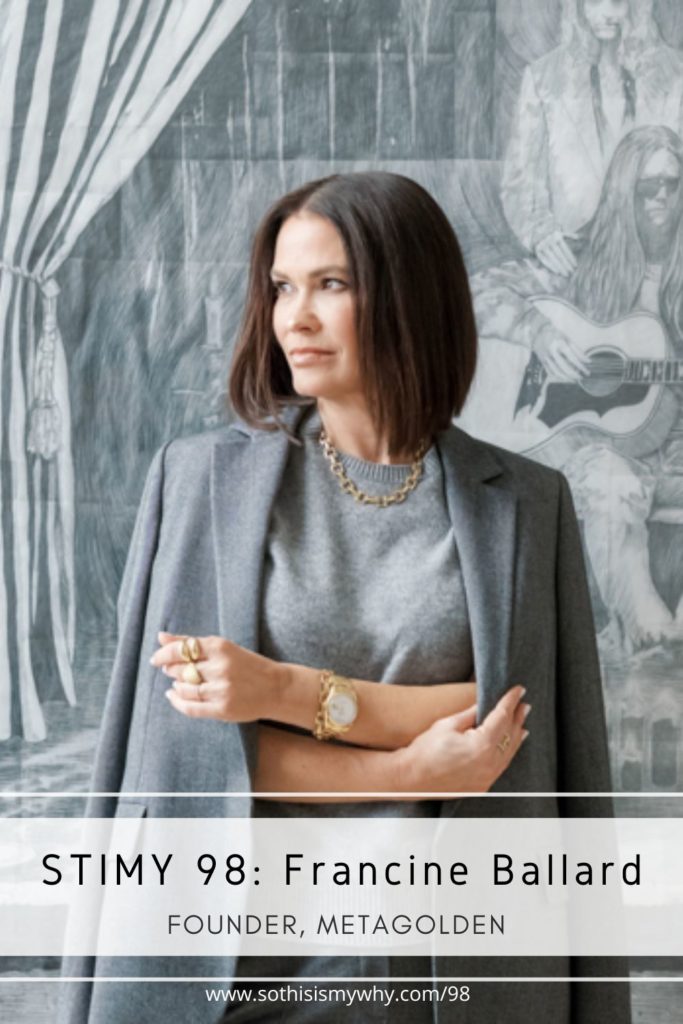 STIMY Ep 98: Francine Ballard (Founder, Metagolden)
===
Francine Ballard: I think that the fashion publishing world has just evolved dramatically. Before the internet it was just very different in that there weren't sort of the blogger societies and the fashion publications were like everything to the American consumer.
And there was a lot of power in that. And so moving through that system was very much like being hazed. Like moving through a sorority or a fraternity system. You just have to pay your dues and you have to come up and you have to do everything and you have to do just the dumbest things to get to a place of power.
And then you could haze the people who work for you. I mean, I never sort of subscribed to that, but that's definitely how it was.
Ling Yah: Hey everyone. Welcome to episode 98 of the So Is My Why Podcast.
I'm your host and producer Ling Yah.
But before we begin, I just wanna give a little STIMY update. Two weeks ago, I had the tremendous privilege of hosting STIMY's, very first physical hangout. It was so much fun meeting 30 of you. There was an appreciation game and also a cookie noomster competition.
And I was so touched that most of you stuck around for four hours. Now I know a lot of you have asked for another hangout and even a conference. The STIMY conference might take a little time, but it's definitely a dream in the pipelines now. In the meanwhile, there will be a second STIMY hangout happening on the 17th of December in KL.
Details will be released soon. So if you are interested, just keep an eye on STIMY's LinkedIn and IG accounts. Details will be released on all platforms this week. Now onto today's guest, we have Francine Ballard.
Pretty much the closest contact I have to Devil Wears Prada in real life, AKA high fashion.
She was the American Fashion Director at Time Inc. Conde Nast and Paper City Magazine. and Stye Editor at Large, working with fashion and jewelry brands like Hermes, Gucci, Fendi, Dolce and Gabbana and Cartier before transitioning to the technology space. She's also founder of BFF alongside Gwyneth Paltrow, Kate Hudson, Paris Hilton and founders, Brit Morin and Jamie Scmidt, and co-founder of several startups, including Metagolden - a web3 emporium selling luxury phygitals.
In this episode, we tackle how Francine went from a small island in Hawaii to a world of fashion publication, what it takes to rise to the very top, how she got into Web three space, how the fashion industry is shifting, phygitals and more.
So are you ready?
Let's go.
I learned that you were actually born in a small island in Hawaii and I wonder just what that kind of life was like. What were you like as a child?
Francine Ballard: I think actually maybe our upbringings were not so dissimilar, I've read a little bit on you. And my parents were somewhat hippy-ish I was born and raised in Hawaii.
I lived there until college, but I went to boarding school for high school and it was a very uninhibited childhood I would say. My parents didn't believe in television at that time. That was sort of like the iPad syndrome. We didn't own a TV but they would let us watch cartoons on a Saturday.
We'd go to a diner called tip top and my sister and I would just sit in front of the screen and be mesmerized for that good hour. But I think for that reason, it really made me always a creative thinker first and thinking of the world in a different way and solutions in a different way.
And never saying I can't do this because, I just had a very free thinking childhood and I think that's really impacted looking back now, that's really affected how I live my life.
Ling Yah: Looking back are there specific examples that you can give of how you thought differently or did things differently?
Francine Ballard: Yeah, I read a lot. I think that's one critical element. I think that's sort of a lost art these days. We didn't have a lot of money too. If I wanted something, I had to go out and figure out a way to get it. I mean, I did all kinds of things as a kid.
I did a paper route. , I had to learn kind of the fundamentals of business from an early age because my parents just left me to my own devices in a way. And I think that that really served me well, I didn't recognize it at the time.
Ling Yah: Did that sort of give you the idea of, I wanna run my own business, be my own boss?
Francine Ballard: I don't think I, really conceptualized it at that point in that way. I think that I just have always been very independent and I have never, ever let someone say you can't do that.
My dad taught me a couple of things. One is speed until you get a ticket. And the other thing is like, you know, you have to kind of push forward for things that you want.
And if you come into a place where there's a hard stop, you just figure out a workaround. And I think that's one of the most valuable skills in being an entrepreneur. But I was always very driven and very, very very much a self starter and a very creative thinker. I think those qualities put together kind of always pushed me to think about things in an asymmetrical way.
Ling Yah: And how did the idea of working in fashion come about? Because anyone who takes one glance at your LinkedIn profile will very clearly see that you've always been in this industry, which seems unusual given that you grew up in a small town without access to the internet, even the TV.
Francine Ballard: Yeah. Actually fashion found me, you know. I had no idea what I wanted to do.
I went to college in LA. I left Hawaii. I graduated with a degree in political science and I went to work for an attorney and ...
Ling Yah: You could have become me.
Francine Ballard: Yes. I knew immediately that was not the place for me to be. I wanted to be in a more creative industry. And so I interviewed with a company, a PR company to do fashion PR and I got the job.
From there, I think that life found me. I just went with the flow and, you know, opportunities just kept coming my way. And I parlay one experience into the other. I then went to be the fashion director at Los Angeles magazine.
From there went to another publication. That's now defunked called Jane and from there In Style, and then in style moved me to New York. And that just opened like a whole other world to me in terms of fashion and exposure to brands and consumer behaviors and marketing, et cetera.
Ling Yah: I have to confess. My closest relationship with this sort of fashion publication would be Devil Wears Prada. And I wonder what it's like in real life?
Francine Ballard: It's very interesting because there is some truths to that actually. I will not say who, but I did work for a lady who would come in with her fur, same thing and throw it on her assistant's desk. Just like that scene in the movie.
And it used to be this way. Anyway, I think that the fashion publishing world has just evolved dramatically. Before the internet it was just very different in that there weren't sort of the blogger societies and the fashion publications were like everything to the American consumer.
And there was a lot of power in that. And so moving through that system was very much like being hazed. Like moving through a sorority or a fraternity system. You just have to pay your dues and you have to come up and you have to do everything and you have to do just the dumbest things to get to a place of power.
And then you could haze the people who work for you. I mean, I never sort of subscribed to that, but that's definitely how it was.
I kind of fell into the space, but primarily you made so little money in those days that you had to have another source of income.
So either your parents were wealthy and had connections and could kind of like make an entree for you and you didn't have to survive on the income that you were making in the industry So it was a very much a killer be killed environment at certain times.
But, I loved it because it was fast paced.
It was dominated by women, and I think that's probably why I stayed. And why I enjoyed it as much as I did is that most of the people that I worked with and a lot of the power players were women and very intelligent, strategic ambitious women.
So I love that environment and I thrived in it.
Ling Yah: I think when you said kill be kill, that's an environment that many people listening will probably be very familiar with, even though it's not in a fashion context. And you were the American fashion director, you were also the star editor. Clearly you knew how to climb to the top.
And I wonder if you have any advice just in terms of making the right moves in your career to reach the pinnacle?
Francine Ballard: Listen, I think that's a very different time in my life because I worked for Time Inc, which is like a huge, company, a publicly traded company. And then I worked for Conde Nast, which was actually an even more treacherous environment because it was private.
They could do anything they want essentially. But I don't necessarily subscribe to the theory that you have to step on someone else to get ahead yourself.
In my career, I had so many people that I admired and there were so many people that I brought up in the space.
And actually that is what has made me successful today. When I was there and I was 30 years old or 35 years old, I trained 20 year olds, you know, and I brought them up and I kept them close to me and they would do anything for me now. And now all of these people are sort of running all these different brands and companies and doing interesting things and we're all so close.
And I think that camaraderie actually is what was the key to my success. Definitely later in life, but feeling like you can give someone something and they value that will keep them loyal you forever. It takes more time, but that has been always how I run my business and how I live my life.
Ling Yah: At what point did you decide, I wanna try and run my own startup because you did, you ran this registered resale startup for five years, which is a big step, I imagine.
Francine Ballard: Being independent as a woman, you have to take care of yourself. So I was making a certain salary working for In Style and then Lucky magazine that I had gotten used to a certain lifestyle. But I always knew I wanted to do something different. I've never, ever actively sought out a way to harness my background or my resources to a business in particular.
If I had an idea that I knew was going to be big and it's the same thing now with my medical business, I just couldn't help myself but pursue that. I guess that's how it was with designer social first and then registered resale is at the time I was working with all of the big brands in the space.
I could see that people were buying their brands on the black market, selling them on eBay and that kind of thing. And I thought, gosh, this is gonna be a huge business, luxury resale. So I pursued it with vigor and I was successful in that. I was one of the first several years prior to the real, real, there was no one in the space.
What I did was got a website for dummy's book I started my own website So through the course of that business, I think we had like five different websites. We kept graduating to the next one when we make more money.
and graduating to the next one. but you know, I kept also expanding my model. You know, at first I came out with the market where I was running everything and authenticating everything. And As the business grew, I had to change that model to make it peer to peer where the buyers and sellers could communicate in much how a lot of these marketplaces do now where they actually run the business themselves and we just act as an intermediary.
So that's what I did. I started with a concept and it happened so quickly, just like, again, with Metagolden that I just kept pursuing it. I kept doing it and I thought, well, if I fail, then that's when it's time for it to be over. But, we had a good run.
I think if I hadn't gotten pregnant and had two kids in the middle of it, I would definitely have stayed the course. I didn't know a lot about investments or VC at that time. I didn't really understand the space.
We were the first mover, but got, beat by a lot of our competitors because they hired a CEO who had IPO experience or who had startup experience, et cetera, et cetera.
Just to sort of transition to this current moment. That's why I'm not going to make that mistake this time with this business, because I feel like this idea is equally as transformative. It's just meant for another time.
Ling Yah: So does that mean that you need to start thinking about raising funds at the very start of your startup?
At what point do you start thinking about it?
Francine Ballard: No, I think it means you have to vet an idea. If you have a really good idea and especially in a new space and evolving space, you have to test it. If you have experience that stands behind that it's even better, but I think that you really have to stress test You know, a concept before you go on race.
We're just at the very beginning of it. The process of raising money is a full-time job unto itself. As a startup, you can very easily lose your way if that's your focus. My advice would be just to start with a concept and see how it evolves and give it some time to become what it is.
Then once you have some certainty around that, that's when you need the process of raising money as soon as possible, I would say because the way that the world works is you will be beaten. Doesn't matter if you're first, it matters if you do it fast.
The people with the most resources win. Usually. That's my experience.
Ling Yah: What have you found to be the most helpful way in just testing an idea to make sure that there is legs on this?
Francine Ballard: Do you make money? I mean, I follow the shark tech guy, Kevin. O'Leary. I forgot. Yes. And he's like, if the business isn't making money in 36 months, it's a hobby . I think there's truth to that.
I think that you can make mistakes and we've made so many mistakes. But we did almost a million dollars in revenue in the last year. So to me that says like, okay, there's something here and let's take this to the next level. I mean, I might not have all the answers.
I certainly don't have all the staff in place that I would like right now but I do have contracts in place and things that we're pushing forward and we've consistently built and grown this business in a very rapid way. And so for me, the next step is funding it.
Capitalizing it so that it can properly become what it's meant to be.
Ling Yah: Is it difficult to put a value on this thing that you're building because it's new. No one else is doing it. No one knows how to test it.
Francine Ballard: Very difficult because a lot of our money was made in the NFT boom. My very first collection sold out in two hours. It was not at all what I expected.
I wanted launch, I don't wanna get derailed.
Yes. It's very difficult to value because we don't know what the next thing is. And we don't know where the industry is headed or how quickly. But I think one thing that's clear is that I'm doing something that not a lot of people are doing in this space and I've had some success in that.
And so we keep trying different things and some things are very successful and some things are not, but it's kind of a certainty that at some point we will get to a level where we have a roadmap and have a direction with what works and what doesn't. And right now I have a two year head start on the rest of the market.
So I'm feeling pretty good about our odds.
Ling Yah: So what you're talking about is this new company working on Metagolden. And before we dive really deep into that, I just wanted to take a bigger step back and talk about the fashion industry as a general whole, because it would be a shame to not tap into your knowledge and expertise.
I wonder, since you've been in the space for so long, you must have seen so many trends and shifts in the space. At what point did you see the fashion industry start to take notice of this thing called web three or NFTs?
Francine Ballard: I think in the past six months, almost every fashion brand and company has really taken a deeper look.
It's very interesting to see the transition from when we entered the space to not just consumers not understanding and annoying it, but really the skepticism around NFTs and blockchain from the fashion community. I think that's because most of the people at the top are not the core target audience.
They don't own Bitcoin, they don't understand blockchain. And so for them, it seemed like maybe in another marketing thing if I'm honest.
I knew it was a really, really great idea. And I understood the concept of blockchain from the beginning because of my past business, where I wanted to act as an authenticator and really capture downstream revenue for the brands because they were not doing it at the time.
This is like 10 years ago. They weren't even selling on the secondary market and now most of them have a plan for resale. It's a very circular economy and that's a very popular term. And it's something that every brand is looking at, I think.
But at that time, they just wanted nothing to do with it. It was like I was in this space where I could see it, but no one else could yet. It wasn't accepted and the technology didn't exist to do that. But now I think it does. And that was what prompted me to start this business.
Because I felt like, the ability to trace a digital asset and to capture royalties in perpetuity is transformational. I had always been looking for that technology, but I wasn't aware of it at that time. It wasn't what it is today, certainly. It wasn't a utility that you could harness at that moment. It took that long for the technology to catch up with the industry. And now I think we're perfectly poised for that.
Ling Yah: I love that you used the word transformational which makes me wonder what is the origin story behind meta golden.
Francine Ballard: Well, my brother is a crypto investor, and I give him a lot of credit for bringing me to the space. He came to visit me in December of 2020, and he was on clubhouse nonstop.
But we had been talking a little bit about NFTs and he told me about blockchain and immediately I clicked into that idea of, wow, this is gonna be huge. And this is real. It's gonna be huge.
Again, I was skeptical up front too.
I had to do my own research and learning. We would explore and create NFTs together and test it out. He would send me Bitcoin or Ethereum and I would send it back just to teach me how to use a crypto wallet and all of those things. And it was very cumbersome and frustrating.
When I learned about the space, I was fascinated and I was just ravenous to learn how it worked and how it all fit together.
And I think that's what drove me really. I just knew that it wasn't an idea or a concept that the general public would jump on right away. I knew it was gonna take some time to adopt. And that's why I thought I wanted to invest in Ethereum, true story. And my husband was not so keen on the idea.
Ling Yah: That's also very common.
Francine Ballard: Yeah. And so I thought I'm not gonna make this like a fight. And I just sold some of my things that I didn't feel I needed anymore. And because COVID, and I don't know, I was just going through a shedding of I didn't need all this stuff So I went and sold it. I invested some money. I made money. I took that money. I made more money. This is a time when Ethereum went, went from 1200 to 4,000 in less than a year.
So I took that money and started the business and I thought, well okay, people are not gonna immediately understand the concept of an NFT or a digital asset having value.
And so what can I do to onboard women in the space? I was always intent on getting women to the game because I felt like it was so empowering for me. You know, once I started making money and researching and doing my own research and then finding other platforms that I saw were growing very quickly, I invested in those platforms.
So for me, it was very empowering and that's what I wanted to build. Like all of the other stuff was just utilizing my background and my experience, but I wanted to build something that would draw women in. A bridge, like some sort of carrot that would make them want to learn more about the web three space and want to learn for themselves and want to protect themselves and make money.
It's a very interesting moment in time because I feel like historically in the investment world, that's primarily male dominated. In most of those sectors men are much more involved and I thought, well, this is exceptional because it's the first time that we are all in an equal playing field.
We're all stupid. No one knows anything about this space. we're all essentially starting at ground zero. And so I thought, well, why not jump in early? So that's what I tried to do from the very beginning.
I thought that jewelry was the biggest and best hook for a woman because that ties a physical to a digital asset in a way that all women love jewelry.
The gold is sustainable and the value of gold is very stable historically. So I thought it was a perfect marriage. At the time the term phygital did not exist, but my platform was always pairing the physical with the digital as a dual investment.
Ling Yah: So for those who don't know what Metagolden is about, it's basically you are offering this NFT, which is linked to a gold, which is in real life and you can own both.
And that's called a phygital. That's the business model behind Metagolden.
Francine Ballard: Yes. Except as we've evolved, of course we work with artists and we've now integrated fashion. We always pair a physical asset with a digital one. And as people adopt NFTs more for authentication purposes.
NFTs means something totally different now than they did a year ago, in my opinion. Now it's much more about the use and the utility of an NFT, which, I think is for the art world in particular, going to be transformational and for fashion and for just about anything you can think of, of anything that is of value will be registered to a digital contract, which is what an NFT is.
And so that's where we've headed with that. We use digital fingerprinting and NFC chips is a way to attach a high value asset with absolute authority knowing that it's been authenticated and it's recorded and registered on the blockchain, and it's a way to transfer that asset safely and securely.
In some cases recapture revenue on the sale when you do .
Ling Yah: I wanted to dive once more into exactly what meta golden is, because as you said before, you started linking it to gold. Now it evolves so much more and I think it's captured by the description I found on the website. Which is the fashion house of the future, which I thought was such an intriguing description.
So what is a traditional fashion house versus a fashion house of the future? What's that look like?
Francine Ballard: Well, we touched on that a little bit about the fashion industry and the way that it used to be. It's very top down. Magazines and fashion brands have always been very authoritative in terms of we create the trends, we create style and we disseminate it to the masses.
And you're lucky if you're wealthy enough to be able to afford what we are putting out because we are so masterful and wonderful that we'll allow you to have a piece of this brand if you can.
Where I think the fashion industry is headed, and again, I understand what's going on in web through right now so I am privy to a lot of things that t he general public is not, or not yet at this point.
The direction that the industry is heading is much more community oriented. It's community based. And the power comes from the community and those brands have incredible community loyalty. But a lot of them have not yet tapped into the full power of web three.
And where I think web three is so different is that it allows the user or the community to actually participate in the brand. To be an owner in the brand, not just own their products. And that is so pivotal because that concept will revolutionize the way the fashion industry is run.
And there are so many digital creators now who are doing incredible things and who will continue to push boundaries. I think that it all kind of centers around this idea of status signaling. Whereas in the past big luck just having a purse or a shirt from that brand signaled to the world that you are valuable because you wear those things.
I think that idea is sort of passe now. I'm definitely not the demographic. You're more the demographic. I think as our children grow up in Roblox and in these digital spaces, they value those digital assets equally to physical ones. That's where the power really is. In the web three community is being able to tie that digital asset to a physical one and being able to actually own piece of the brand versus just purchasing it.
NFTs provide ownership in some way. The community actually owns a piece of that brand. The ability to bring a consumer into your brand in that way is very powerful.
What brands are starting to try to figure out is how do they do that successfully? How do they harness their community to feel more included in the process.
Ling Yah: I think the concept of shared ownership was something that grips me the first time I heard about NFTs and I can't help but wonder because the fashion industry is so interesting in the sense that we glorify the likes of Karl Lagerfeld, Tom Ford. You can't even imagine these brands existing without these people, with like they are gods and everyone revolves around them.
And now we have this concept of community. It sounds like it's inevitable. Is there a space for the Karl Lagerfelds of the world or do we have community on the side? Is it hybrid? What do you sense? Given that you are in the industry ?
Francine Ballard: You mentioned that you saw HW three, that's the next drop we're working on and it's still a little bit under wraps, but I can share this with you. It's exactly what you're talking about is what we're building.
The next drop will incorporate the Karl Lagerfelds and the Anna Wintours and the taste makers and influencers of the fashion world as we know it.
But it will also incorporate the digital creators and designers and web three influencers that are making incredible creations in the metaverse and in the web three world and have incredible power and influence. That's sort of the future of fashion.
In my opinion, there are so much that you can do digitally that you can't do physically. First of all, so much more energy efficient to do these designs. It's hard to explain the power of digital fashion to someone who is not adopted or who doesn't really get it.
The analogy I use is Instagram. You see these influencers.
A lot of them actually rent or buy clothes and return them from these big powerhouse brands. They take a picture of themselves in the clothes and they post 'em on their feed. And then they take the clothes back. It's just about them being in the clothes.
That's so much more powerful to them being that digital representation. That picture on their feed, because they're reaching all 10,000 of their followers at one time, versus going out in the real world where you might see one or two friends that you know in a week. Or maybe you go to a party and you see a hundred. It still doesn't compare to the power of digital.
And so if you think about it in that way, we are all already utilizing these digital assets. It's just that the way that we think of them is different. If you're going to be doing that and the thing is about showing it on digital platforms, then why not make those creations and the fashion that you're wearing representative of a much more fluid and extravagant expression of fashion.
That's what digital creators have done. Now, Some of my favorite designers in this space are Auraboras. There are so many now that are doing fabulous things but my goal is to bring those people who are doing these really interesting things to the space together with people from the real world and create something that's collaborative.
Create something that is first of all, community owned.
So we all own it together. And if it succeeds it's because we have all participated. Also, the mix of the two and seeing how the two industries merge in the years to come I think there's gonna be an incredible amount of pollination. And I think that's where the fashion industry is really headed.
Ling Yah: You mentioned about bringing the change makers together with the community that digital influencers. I imagine there must be some resistance from the traditional taste makers. And I wonder if you could, you don't have to name names obviously, just highlight the kind of concerns that they have.
Is it most people feel that way or are they resigned to the fact that they are gonna be obsolete? They don't jump on board, this band wagon.
Francine Ballard: Yeah. That's interesting. My experience has been, and I've talked to a lot of the brands, it's not so much a concern for exploring the space.
They're nervous to be left behind because they don't understand the space well enough. They know they need to think about it but they're not sure exactly which direction to head in.
And so most of them are just putting it on hold, which I can understand. It makes sense, but that only leaves space for people like me. We are not beholden to our own brand.
We are incorporating all of the brands and we are incorporating all of the creators from the web three world.
We are also very small and able to test and try and go and keep going and keep going. And no one's gonna look at us and say, oh, you messed up there cuz we're already onto the next project. Whereas I think bigger brands have a much bigger burden to carry with their consumers.
I totally understand the resistance there. But in terms of this project in particular, we are not going to the brands themselves. I am going to people who I know who are influential at the brands and whose knowledge and power base and resources and connections and influence extends beyond that brand because many of them have worked for other brands as well.
So what I'm really harnessing is the individual. I'm harnessing a community of people that are assets unto themselves. We are not saying we are Gucci. We are this.
We are not trying to be the brand or in any way, exploit the brand.
I'm bringing them in as investors in this space and giving them equity. If you think about a metaphor, I'm giving them equity in something that's very young and very early. We all stand to benefit collectively if it works.
Ling Yah: I wonder who are these people that you've mentioned that you don't mind sharing who are doing incredible things in this space that could be used for people listening as interesting use studies, just in terms of thinking about how to enter.
Francine Ballard: So, I mention Auraboros. I love Paula and Alyssa.
They're some of the first people that I connected with because I was doing metaverse fashion week and I was speaking there and we had spaces where we were selling our wearables and with Fred Siegel and with other Metaverse stores.
I went to their space in the metaverse and I purchased one of their skins and I love it. The thing I love about web three is that you know, I was talking in a discord or I can't remember, was it Twitter space to Alyssa? And I didn't even realize I met Paula in real life event at NFT, N Y C.
We kind of knocked into each other, or she would say, I punched her in the face. That's not true or slapped her in the face. But I just kind of turned around and we didn't know each other, even though we kind of knew each other. She was like, whoa, whoa, whoa.
And, and then I was like, wait, you're Paula. And she's like, what? And It was a funny moment where we already know each other in the digital world, but to meet in real life, then that just adds another layer of another dimension of friendship. There are so many people doing interesting things.
Swan Sit is one of my favorite people in this space. She's just so smart. She talks all around the country about web three blockchain.
She really has a great perspective. We've spoken on a couple panels together and are working on something for this project in particular coming up.
Ling Yah: She's known as the queen of clubhouse.
Francine Ballard: Yes, exactly. So, you know your space.
I love Leah Lamar. She's one of my favorite people. She's a comedian in LA, but she, knows a lot about blockchain. I have so many great friends I've made through this space that are incredibly influential. Also so intelligent and so forward thinking.
I just can't wait to put those people together with people from my past life in the fashion space and see what kind of magic can happen.
Ling Yah: I think it's fantastic and so exciting to see just the community that you've built. But I think it wasn't always smooth going for you. It wasn't just jumping in and you found all the right people.
You actually had really difficult time. People didn't believe in you. They thought what is this web three space? And you mentioned to me before that it all changed because of this first collection that you did.
What was the genesis behind that first collection? What was it like launching your first thing even though it's not in a fashion context, no one believed in you?
Francine Ballard: Not only did no one believe in me, no one knew me. I was literally just living on clubhouse. Like with a thing in my ear 24 7. There was a guy named Lowe that I listened to blockchain gospel at like three in the morning. My kids were sleeping and if I wanted to talk or say something or ask a question, I'd have to whisper it.
But I knew I wanted to do something and I knew that I wanted to do it as quickly as possible. I thought about the space and at the time it's interesting because I looked around at some of the collections that were dropping and these are like PFP collections and some of them were, I mean, I'll just give you some of the names. I actually wrote them down. Stripperville sewer, rat, social club, crypto punks, board apes. We know those mutant apes, mutant Kongs, crazy skulls, my effing pickle, wonky songs, FUD monsters, crypto moms. This is the best free to mint for all crypto dad holders.
I was definitely turned off by that. And I thought, gosh, I mean, there's just no representation for females in this space. So I wanted to do something that I would buy that I would wanna hold.
I knew an artist in Louisiana pop artists, and I thought she would be fun to do something with. I went to her and I said, I want to digitize your art.
She had a great idea to have it center around a book that she had written containing female characters. The greatest female characters of all time. I just really felt like it was so counterintuitive to anything else that was in this space. And to be honest, I had no idea if it would be successful at all.
I just had a passion and I had a, a hunch, but I couldn't get anyone to fund it. I couldn't get a developer to work on it with me. Every time I would show it to someone, even friends, a lot of the guys that I met, who I love and still connect with, they were just like hard pass, like no way.
Ling Yah: But why was it because you were unknown?
Francine Ballard: Because it doesn't interest them. Because the topic of women or women's empowerment or even just pretty art, that's not what it was about at the time. You know, the best projects were some of the ones I was just telling you, like, those were the ones making money.
And so no one wanted to waste their time on a project that was gonna fail. I actually had a guy say to me, oh, this will, FUD. Like, this is awful. Good luck to you. There's no way you can succeed in this. And I was just so heartbroken.
I remember and I felt stupid because they asked me, tell us about your mentonomy.
And I was like, I don't even know I dunno what my mentonomy are. I mean, of course I've like matured in the space. This is a long time ago. But at the time every single day, I was learning as much as I could, but all the embarrassments and all the hard things led to the ultimate success of the collection.
I just had a feeling that if I felt this way, and this is something that I would collect, there were other women that felt like me. Even Right up until two weeks before the drop, I was lying in bed talking to my husband. I said, we had had a presale when we already sold 200 units.
I don't know if I can sell out the rest of the collection. It's like a thousand pieces. It's 862. And he was like, well, just take the 200 and bird in the hand.
Ling Yah: I mean, this 200 sold in two hours, which was really fast.
Francine Ballard: Sold with the first presale that we did. And that was like a full day, which is full 24 hours.
We maxed it, we capped it at 200, but I didn't know how, or if I could sell the rest of the collection, I had no idea if I could do it, to be honest. And I was like, you know, I still have to sell 600 and something more. And so I would talk to all these people, how should I price it? I did a ton of research. in the end I felt like we priced it really, really well. We presented the project in a great way. We didn't really market it. It was very viral to my own community.
And the project ended up selling out in like two hours, which led to its own set of problems because I actually oversold the collection and had to refund about 600 people who pay with credit card because the crypto people actually got to it first, which was a really big pivotal turning point for me.
And I took every dollar that I made personally from the sale and reinvested it in a platform. And now we have a web free compatible website where you can purchase a cryptocurrency or a credit card and it automatically converts if it's a credit card.
It also allows us to immediately transfer the digital asset upon sale.
If I was a bigger company, I wouldn't be able to do that and save face. I can understand the enormous pressure and burden on those companies because there's no fail safe drop mechanism.
This is so new. Like there's not one drop that goes perfectly and seamlessly. There's all sorts of things that can go wrong. And they do, and they will. And it's just a question of what, where and how.
Ling Yah: You said so many things I want to dive a little bit deeper into. So the first thing you said was you felt you priced it really well. Obviously it's a whole discussion. I wonder, at a high level, how did you think about how to price something?
Francine Ballard: It's a great question. I really deliberated on that. And I talked to art experts in New York and people in the space. I talked to people in the crypto world. I talked to people who had done other drops. you know, I tried to price it based on what this artist's work was selling for physically.
I took into consideration is this artist a fine artist? Are they more of a commercial artist? You have to think about that. I thought about who the buyer is and what the price threshold would be for that buyer. That was like the most crucial element. From my years of marketing I could understand the mindset of someone would purchase this as an initial investment for most of our community, it was their very first NFT.
If you think about that what would my personal threshold be? And so I polled all of my friends, how much would you pay for this? And I said, be brutally honest. Like if you pay zero, tell me that too. and some of 'em did. I did a lot of learning and research around that.
I did a lot of homework. I wanted to make sure that it was something that was realistic and attainable and made sense. In the end, I think I priced it perfectly. I mean, I think in many ways it was the perfect storm. It was the perfect time. It was the perfect price. It was the perfect artist.
It was the perfect sale. And I just oversold it, which was a very big stumbling block. But again, lessons learned.
Ling Yah: I love that you said so many of them were purchasing their first NFT, which is tremendous because the first time I bought my crypto, it was hard. I had no idea what this was, how to pay, what's gas fees.
How do you do that? How do you transfer? It was really difficult. And to do that while launching a project is really, really stressful. I wonder, looking back with the power of hindsight, what would you have done differently if at all, to make the process a lot smoother for people buying their first NFT from your project?
Francine Ballard: Had them buy it in crypto. I spent so much time onboarding people. I can't even tell you. It just wasn't enough. I just underestimated the demand to the product in the end, or at least the demand in such a short period of time.
The drop had been planned for a period of seven days. Like it would happen over the course of seven days. And at the end of those days, it was a blind drop. So then the NFTs would reveal you would see which PFP or which, piece of art you got. What kind of physical assets came with it because we sort of embedded that in some of them too, just as an added incentive.
I wanted to gamify it a little bit and make it fun for people. Some people want jewelry. Like let's say Oprah Winfrey was wearing one of these necklaces, that means you won the necklace too.
Ling Yah: Let's not look down at the jewelry. It was like three carat diamonds, gold earrings, gold medallion. It's not little things.
Francine Ballard: It's my jewelry. So it's our line.
The jewelry itself is I think amazing because all the chains are designed around blockchain code.
I'm such a nerd. I'm totally outing myself as a geek, but that was the inspiration for all of my chains. When I would put together jewelry compilations for the magazines or the guides, I have a very keen sense of what I like and what I didn't like.
And when it came to be my birthday or Christmas or something, I would go around and look what I wanted. And nothing really floated my fancy. I wanted a heavier piece of gold. Usually it would be like a piece of gold, but like hollow on the inside. And I just thought that seemed kind of cheap if you're gonna wear something. that's like, I wanted more of a statement piece.
So that's how I designed the jewelry.
Ling Yah: You said earlier, you didn't really market this project. So how did you build that community? I also heard in a BFF presentation that you did, you said that you look at the community that determines whether the project felt succeed.
You clearly knew very well that community is very important. You clearly build that community. Where did they come from?
Francine Ballard: Yeah. I kind of clicked in with this group of women in the early days of clubhouse. There were artists, they were Coders. They were people who were as fascinated and as smitten with this world as I was. Some of them are like former bartenders who learned about crypto from one of their clients.
I founded a group called NFT girls uh, with a friend of mine, JJ Love. We started this grassroots community and hold our own rooms and it snowballed from there. That group is still very vibrant.
I also pulled from my Instagram feed and the artist Instagram feed and all of my personal connections.
I've lived on the west coast on the east coast and I've worked in publishing for a long time.
I kind of floated this out to all of my friends the way I did my first business. And they know when I'm up to something that it's gonna be something interesting.
And so a lot of people were like, looking for the right reason and looking for an excuse to buy. And I just gave him an excuse. That's all.
Ling Yah: So after you launched this first collection, what was the result? How did that give you this rocket launch to the next few projects that you launched?
Francine Ballard: It kind of did. I mean, it was very fulfilling because like you referenced earlier and I was talking about how I couldn't get anyone to fund my project or to invest in it or, or work on it even like really, really talented coders or blockchain specialists.
But I did find a girl who I love Izzy Offman and she saw it from the very beginning, was like, I'll do this with you. And so we did it together. It was a huge risk, but then when it was successful, all of a sudden I had credibility in the space because I had launched a project and not just an NFT project. A large scale project that was very successful.
It opened doors for me, and it allowed me access to very talented people. It also did in a sense launch opportunities in other directions. It was so highly publicized that I then became like a brand ambassador for theory and who the one of the girls was Jeanine Cheto was I think one of the credit card folders who didn't get an NFT.
Ling Yah: She stuck around.
Francine Ballard: I spoke to almost every one of 'em individually. I spoke her email to almost everyone who didn't get something in the drop and tried to figure out a resolution and worked through the space. It was a devastating time to be honest, because so much of my time I had spent telling them, you need to get in the space and this is your opportunity and then to not be able to deliver on that was heartbreaking for me.
So we became friends through that. And then through that, I became a theory brand ambassador. Someone came and heard me talk at something I was doing for them. I met a woman named McKayla who has works for a company called smart stamp that does AI algorithms and digital fingerprinting.
And now they're my authentication partner. One thing led to the next, the next and so and so forth.
Ling Yah: One of the things I loved about meta gordon, you have so many fascinating partnerships.
And I imagine there were even more offers beyond that. How did you decide who was the right partner for you?
Francine Ballard: With brand partnerships, it's incredibly important that you reach for the stars and reach for the highest level in the initial phases even if it's not lucrative.
We had so many opportunities to do some more mass projects and work with people who wanted to pay us a lot of money to advise, or to bring our community, et cetera. But we passed and I went in the end with Sotheby's, which I think was the right move. And I'm so excited about that.
Fortunately a lot of the people that I've worked with are personal friends who know me and my history and background. So it was an easy partnership. But the Fred Siegel thing really put us on the map.
That was just one of those fortuitous moments. It was before we had done an NFT drop. They liked what we were doing cuz there was no one in the space. and I think again, they were launching this NFT sort of Emporium in Fred Segal on sunset Boulevard and they had Supreme and a lot of people creators that were in the space at the time. But they were all male focused.
So they were thrilled to find a company or a creator that was female focused and welcomed us with open arms. And that partnership also led to so many different collaborations and partnerships.
In fact he's one of my advisors to this day and we talk all the time. It's the guy who pulled me in with that. Doug Scott.
Ling Yah: Who would be a dream partner for you and why?
Francine Ballard: Oh gosh. You're gonna put me on the spot. It would be Supreme.
I love what James Javier has done with that brand.
I love how he started working at the store and then he managed it and then he started his own brand and he's been able to do what I really wanna do with my own brand and he runs his business operationally know they do drips.
I love that their consumers are so passionate about the brand. I think that speaks to what I was talking about with status signaling. I think James Javier was very ahead of his time because I think that what he is done with that brand is what a lot of creators and WebView are trying to do.
And I think that's the ideal web three brand is to take a group of enthusiasts or what I'd like to call taste communities and harness the power of that community because I think status signaling now is very different than it was a year, five years, 10 years ago.
Status signaling now evolves around knowing. It's like we know together. It's not about wearing a bag or a bracelet that everyone knows is expensive because everyone can afford those things now and everyone has 'em. it's more to me about saying it's not a price point necessarily.
It's not a sort of historical positioning thing. It's just about saying I belong to this community and if you know what this means, this is a good example, fungible. So this says Metagolden, but it's also fun. If you get the meaning of this word, you kind of understand what I'm trying to say with that.
Someone else wearing it would be like, ah, I get you. We have that in common. And I think that's what status signaling has become. So I wanna build something like that where it centers around knowing and belonging versus owning and following.
Ling Yah: So how do you build that? How do you build that sense of belonging?
Is it the right hashtags, the right quotes, the right merchandise? How do you think about that?
Francine Ballard: I think it's a mind and I think that that is the biggest hindrance right now to mass adoption. This is a year of mass adoption. I think that once you understand the power of blockchain, how it works and what the potential use cases are, it's very easy to buy into it.
From my perspective, the people who have followed our brand and who have been brand loyalists are people who understand the space and appreciate and believe in it and this idea of us all supporting each other. There's a real sentiment of let's rise together.
That's what I love in this space most especially because it's been so difficult to find support in the industry that's dominated primarily by men. I think there's a real power in that. There's a real resonance in that. I think that sentiment transcends most traditional ideas around status.
Ling Yah: You are also a founding member of BFF. And again, I love to ask the question, how did that even start?
Francine Ballard: There was a writer who had done a piece for us, Dana, Evan, and Cohen.
Again, it comes back to like smart women and she mentioned it to me that she was gonna buy in on it. We were working on another article or some other project together and I was like, oh, that's fascinating.
So I started researching it. I didn't know Brit or Jamie at the time, but I just cold call reached out to Brit because there are so few women in the web three space and that's their whole mantra is creating a space for women.
I felt like what we were doing was so synergistic and it was right as we were launching our first NFT collection. She was interested in hearing about that and having me speak to the community about that. It just was sort of an organic thing.
But I think the reason why it works and why it works so quickly was because we have this very synergistic sort of mission.
Ling Yah: Francine, it has been such a joy to have you on, I love to end all my interviews with the same questions.
So the first is this, do you feel at this point that you have found your why?
Francine Ballard: I do I do. This is interwoven in a lot of the questions that we've already talked about. But yes, I feel like I'm where I need to be.
It's very unexpected, but I feel like I'm inspired every day. My brain is so stimulated.
I feel alive. I feel like I'm in a position to help other people which is so critically important to my why. So motivating to me to bring my experience in this space to other people and give them the empowerment that I have received through this space.
And namely my daughters. It is my why to give something that I have personally back to them and to all women everywhere.
Ling Yah: And what kind of legacy do you wanna leave behind?
Francine Ballard: I hope that my children think I'm a good mother. I hope that they see me as someone who is independent and not afraid. I hope to empower and inspire other women to do things that they don't think are possible because anything is possible with passion.
Ling Yah: And what do you think are the most important qualities of a successful person?
Francine Ballard: I think perseverance first and foremost. You have to be able to disassociate yourself with other people's judgment of you. You have to have courage and conviction in yourself especially to do something and build it from scratch.
Ling Yah: And how can listeners connect with you, find out what you're doing, support you?
Francine Ballard: They can follow us on Instagram. It's meta golden underscore. They can visit our website, metagolden.io, metagolden.com or they can reach out personally. I learned so much from people who want to get involved this space .
So reach out personally also.
Ling Yah: What's the best way to reach out personally? Are you dropping your email address?
Francine Ballard: I will drop an email address. Yes. I'll drop everything: links to all of those below.
I speak a lot on Twitter. We do a weekly room with NFT girls, the club that I started.
So I'm pretty involved with Twitter and you can always find me there. Follow me on Twitter or follow metagolden on Twitter, you'll always see where we're speaking and who we're talking to.
I think that's like the best community right now to get involved with people who are actually in the space and doing things.
That's where they are right now.
Ling Yah: And that was the end of episode 90. The show notes and Transcript can be found at www.sothsismywhy.com/98 and stay tuned for next Sunday because we'll be meeting a former Disney animator who calls himself a Chinese Forrest Gump. God didn't give him a gift of getting straight As, but did give him the gift of drawing straight lines and his works and lights of beauty and the Bees Lion King Aladdin, Mulan, Atlantis and Star Wars.
He was also an inspiration for General Shang in Mulan, because he was the first and only Chinese animator in the Disney studios. He has since left to start his own animation company and his books have been made compulsory reading in every elementary school in China to date.
To learn more about his inspiring story, subscribe to So This Is My Why and see you next Sunday.