Welcome to Episode 74!
Our guest for STIMY Episode 74 is Michael Lints.
Michael Lints is currently a Partner at the Singapore-based venture capital firm Golden Gate Ventures. He joined the firm in 2013 and is currently leading growth venture efforts, which include LP fundraising and portfolio management for Golden Gate Venture's investments at Series B and beyond. He has helped to raise over USD $60M for Golden Gate Ventures and its portfolio companies, including helping to raise later stage rounds from external investors as well as leading two early strategic acquisitions. 
In this episode, we uncover what Michael was like as a child (he took apart the first computer he received), how he convinced his dean to let him skip a year at university, before selling his house and car to start his first IT managed services startup. 
That startup was acquired by a large data and telecom company six years later. 
In 2007, Michael founded a venture fund focused on Dutch small- and medium-sized enterprises to help them with capital financing, business development, and strategy. During the same period, he was invited to join the Economic Development Board Rotterdam as Vice Chairman. In that role, he launched the Young Economic Development Board where he brought together a highly influential Dutch network to develop a sustainable framework for public-private relationships that increased local business investment while leveraging the public infrastructure.
In this episode, we cover all things startup, investments and also his recent documentary, Broken Chains – mending the missing links in the racial wealth gap.
PS:
Want to learn about new guests & more fun and inspirational figures/initiatives happening around the world? 
Then use the form below to sign up for STIMY's weekly newsletter!
You don't want to miss out!!
Who is Michael Lints?
Michael grew up in the Netherlands. His father was in the software business & bought Michael his first computer at the age of 7/8 – which he promptly took apart! 
2:53 Taking apart his first computer

3:59 Being on the Dutch National Karate Team

5:00 Skipping a year at university

6:20 Getting into insurance & realising he never wanted to work for another corporation again
I noticed that whilst I was getting closer to these people and having more conversations, I was like, oh man, I'm just going to take every opportunity to learn. And I want to listen. I'm just going to sit down and listen and learn as much as I can.
Startup
Michael learned very quickly in his role at the insurance company that he never wanted to at another corporation again. 
So he took a leap of faith: sold his car and house, and co-founded his first startup with two other friends!
8:14 Selling his car & house to co-founder his first IT startup

9:40 Pivoting from being a comparison site to a data center

10:51 Being on the same board as the CEO of ING & Unilever, Prime Minister of New Zealand & Head of the UN

15:53 Obsession with focus

17:00 Studying at Harvard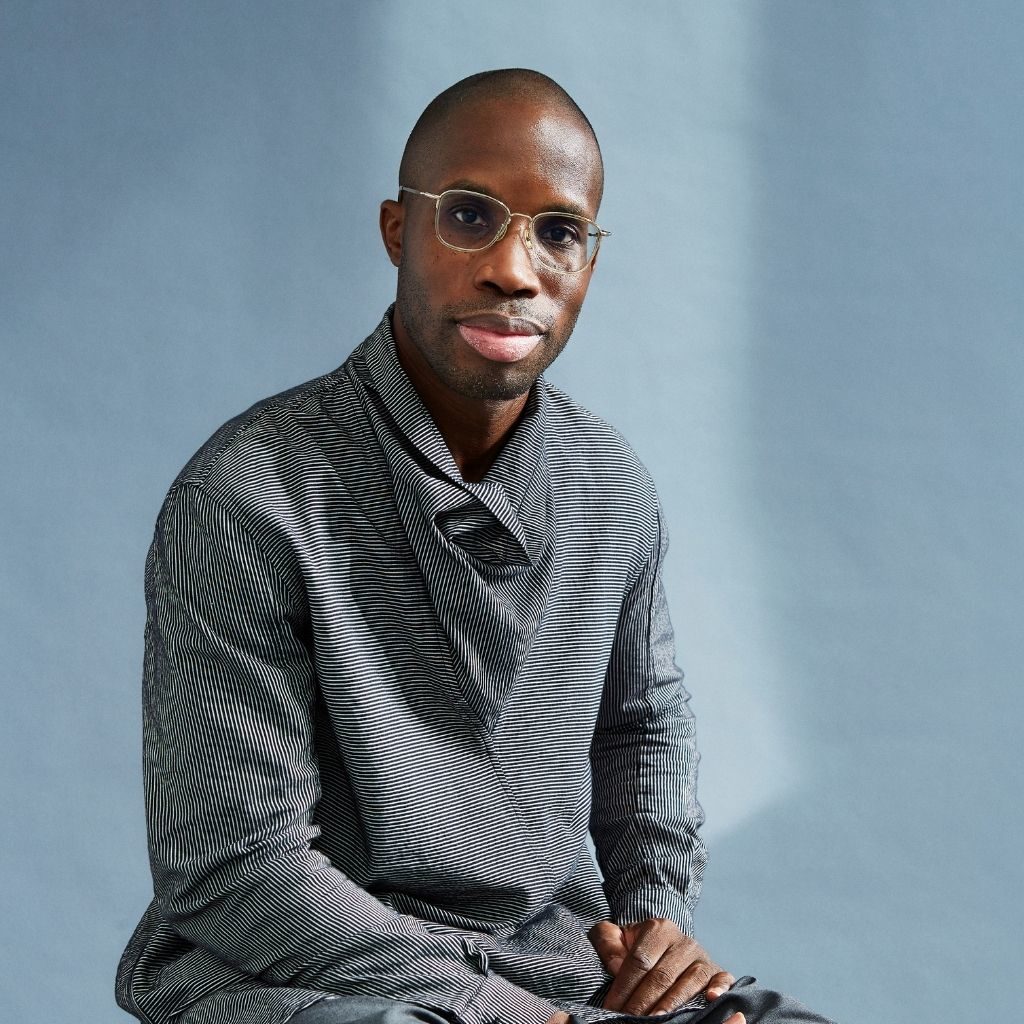 Golden Gate Ventures
Michael shares how he became aware of the Southeast Asian venture/startup scene while studying at Harvard. What excited him about the space, his journey in getting a foot in the door, raising over USD 60M for the fund & its portfolio companies, his thoughts on founders and advice for those seeking mentorship.
17:53 Discovering the venture scene in Singapore/Southeast Asia

19:38 How can I be helpful?

21:29 Raising over USD 60 million

22:54 Getting a foot in the door

24:46 Experience fundraising in the Middle East & Europe

26:20 How the Southeast Asia startup scene has evolved

29:39 What Michael looks for in a founder

31:54 Importance of local knowledge

34:32 Getting deal flow

35:46 Investment mistakes made 

36:59 Investment thesis

37:49 Areas of interest to Michael

40:17 How the pandemic has impacted Michael's portfolio companies

41:37 Fundraising in the pandemic/post-pandemic era

43:44 Framework for maintaining focus

45:36 How to find good mentors for yourself

47:06 Broken Chains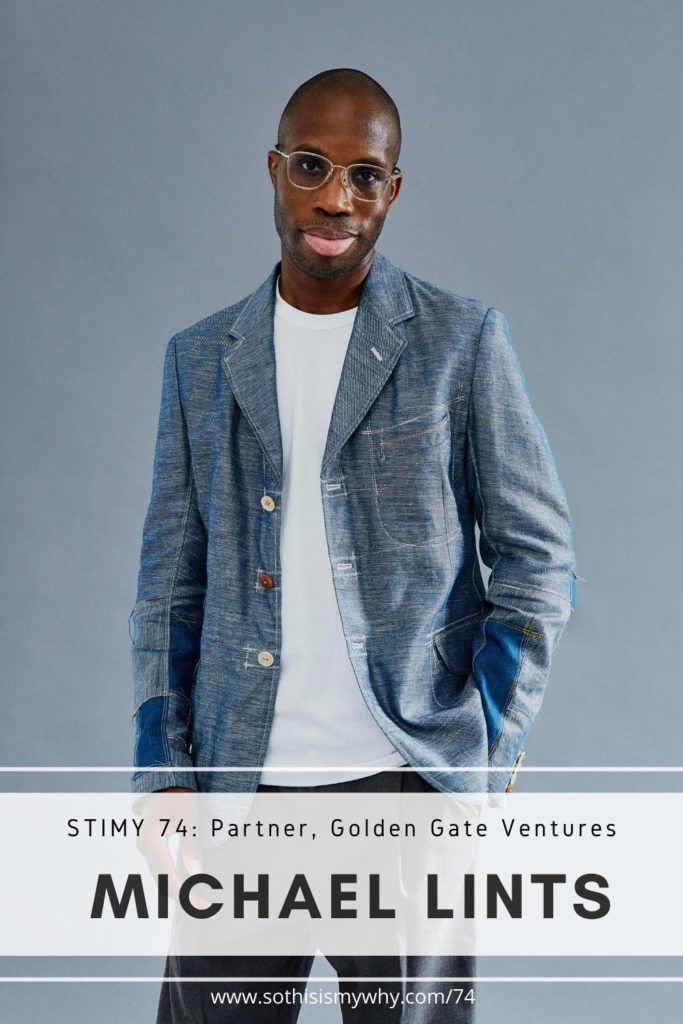 If you're looking for more inspirational stories, check out:
If you enjoyed this episode with Michael, you can: 
Leave a Review
If you enjoy listening to the podcast, we'd love for you to leave a review on iTunes / Apple Podcasts. The link works even if you aren't on an iPhone. 😉
Patreon
If you'd like to support STIMY as a patron, you can visit STIMY's patron page here. 
STIMY 74: Michael Lints (Partner, Golden Gate Ventures)
===
Michael Lints: I remember going to a meeting and we met the real estate mogul and he owned one of the big soccer clubs in the Netherlands. He was a co-owner and he has a super busy schedule. So we get to the meeting and he's sitting there in the room on his own reading the newspaper, and it's stupid, but it impressed me so much because here's this guy is like super busy.
He has a meeting with us. He's not only on time, he's early. And he's so early that he had time to kind of read the newspaper. And I was like, how is it possible that someone this busy is able to make time for us? It always stuck with me. And as we were talking, he basically said, do you know why I'm early to this meeting?
I said, I have no idea as you get up early. I don't know. And he's like, no. The moment you are in a position of power, it allows you to control the narrative of a meeting, of a setting. Even, you know, in strategizing for your business. I am always one step ahead.
It's literally what he said. I make sure that I'm one step ahead in anything that I do. And I was in awe, I was like, t his is amazing. This is such a life lesson. And yeah, I've always taken that with me in furthering my career.
Ling Yah: Hey everyone!
Welcome to episode 74 of the So This Is My Why podcast. I'm your host and producer, Ling Yah, and today's guest is Michael Lints.
Michael is currently a partner at golden gate ventures. A Singapore based venture capital firm, which he joined in 2013 and is currently leading growth venture efforts there. He has helped raise over 60 million US dollars for golden gate ventures and its portfolio companies. And has a wealth of knowledge when it comes to meeting LPs and building relationships, not just in Southeast Asia, but also in Europe, the US and the middle east.
Prior to golden gate ventures, Michael shares what it was like growing up in the Netherlands. His experience in co-founding an IT startup that began as a comparison site, then pivoted into being a data center. This was, of course before the days of AWS, Google cloud, and Azure.
Michael then became the vice chairman of the economic development Board.
And sat on the same board as the CEOs from the likes of ING and Shell, the prime minister of New Zealand, and also the head of the UN. We talked about all things, startup fundraising, the kind of founders and industries Michael's currently passionate about, and also how to get him as a mentor. If you've been enjoying these episodes, please don't forget to share.
It really helps this episode to grow and reach more people.
Now are you ready?
Let's go.
During my research, I realized that age 7, 8 was a pretty significant moment for you. And one of it was because you got your first computer from your dad. And you took it apart.
That was the first thing that you did. So what was the experience like, why would you do that?
Michael Lints: I guess I was just a typical boy just started to break things. And I'm always very curious about how things work. So yeah, the first thing I wanted to do is just understand.
Okay, it's like a big box, but there must be more happening inside at box. I want to see it. So I started taking it apart and the funny thing was for the next few years actually kind of build my own computers just because I kind of like to configure my own way, design it my own way. So that taking it apart, that actually led to me putting computers together and even working at a computer store for a few years ago.
Ling Yah: And your dad must have influenced you as well, right? I heard that he was in software as well, so he must've encouraged you, but he probably was appalled that you took apart your first computer.
Michael Lints: That was it. Yeah, because we always had computers around the house. We always kind of talked about computers and even kind of making programs and developing.
So yeah, it was a big influence for me.
Ling Yah: Incredible. And you also started doing martial arts at the time. What was that like? Because you ended up being on the national team for karate.
Michael Lints: Yeah. it's um, been such a big influence in my life. And I always wanted to be a famous soccer player and it's true story.
So I wanted to join a club in the Netherlands and my mom she couldn't find the actual club for training. So I missed the first training because we couldn't find the club and field.
So I said, well, this is stupid. I'll do something else. One of my friends started judo and he said, Mike, just come along. You might like it. And then through judo, I got into more martial arts and ended up doing karate for a very, very long time.
Ling Yah: Wasn't it also as a form of self protection, because your dad was saying that, oh, you were getting beaten up a lot at school?
Michael Lints: It wasn't so much self protection. It was a lot about building confidence. You know, feeling good about yourself, learning about your body, understanding your own strength. So it was a lot about building confidence. And then it helped that I was able to defend myself as well, but yeah.
Ling Yah: So you end up going to university, you studied computer science and business admin, and I heard this funny story age 19, you found out that university wasn't hard and you went to the Dean to ask to be allowed to skip a grade.
Michael Lints: Yeah, it's funny. So I had to choose because at the end of my career in karate, basically had to decide to either graduate or do karate professionally. So we were selected for the world championships in Cape town, South Africa.
And my dad said, Nope, you're going to finish university. You're never going to get like a proper job doing karate, like get a degree at least.
And then you can make your own choices. So I decided to not go to the world champs and sort of finish university, but then I was so upset because the first two years felt relatively easy. So me and I had a good friend, Richard and a few others. So we went to the Dean and said, is there a way that we can speed this up?
And I think they must have thought we were crazy. And he was like, that doesn't make any sense. But what we can do is if you do your sort of advanced assignments, and if you guys all ace it, and then we can shorten the second year of university, it would be basically made us skip a class.
So we all ace it. It wasn't too hard. We all aced the assignments. And yeah, we accelerated our second year. I was just turning 20. And I finished university relatively early.
Ling Yah: You finished university early. How did you end up in an insurance company as your first job?
Michael Lints: Oh yeah, because the funny thing was we also had to kind of make your thesis on a certain topic. And I wanted to do it about IT auditing like the most boring topic ever, but it had some really intricate sides to it.
But then you had to find a company that wants to endorse your research and through a mutual friends, I got in contact with ING and ING had a big subsidiary, which is an insurance company in the Netherlands. So they effectively sponsored my thesis and my research. And they said, this is really good.
We actually want to see if we can implement parts of it in our organization. They offered me a job. So right out of university, I worked for an insurance company for the first few years.
Ling Yah: And you learned through that, that you never wanted it to work for a corporate again. Why was that? How soon did that realization come?
Michael Lints: Relatively fast. I think there were, there were a few things that I didn't particularly like. I think that the first thing was, the organization is so big right. And I think for some people, they go to work, they do what they need to do and they leave and that's basically it.
I just couldn't understand that that was it. You start at nine, you end at five, you go home, you make dinner and then you sleeping. Do it over the next day again. I said there must be more to life. And then the second thing was I guess what are the same anxiousness that I felt when I was in university.
So I went to management and said, okay, how do I get into management? Because I'm not going to be doing this for the rest of my life. I want a fast track to either a director position or, even better, the board. And everyone's like, no, yo there's a process to this and you have to go wait years and then get gray hairs and grow old. And then you kind of get into the position. So I was like, no, that's not for me. They had one specific project, which was pretty cool. They were actually building one of the first internet insurance company in the Netherlands.
So I was able to kind of be part of that program for a few years, but then said, that's it, that's the last thing I'm going to do. And then I left to build my own companu.
Ling Yah: I mean, when you left, you actually sold your house and your car, right? To start it with 2 old friends.
Michael Lints: Because I had no savings whatsoever. So..
Ling Yah: Were you worried, I mean, you were selling everything?
Michael Lints: Yes. I was relatively concerned. But yeah, I mean, I was young. It was relatively easy because I didn't have any kids. So, you know, I had a house, had a car. I said, that's material things. If I work hard enough, I can always buy a house at a later age. So that, that should be fine, but I didn't want to have a little bit of a kind of smaller cushion in case things go sour.
But yeah, so I decided to sell the house and the car and put that money into the business. So at least, you know, I could pay rent and have a bit of a little bit of a salary while I was, building the business.
Ling Yah: Did you go into it thinking I'm going to give it a go for five years. I mean, if it doesn't work I'm going to pull out?
Michael Lints: No, actually when we started the company, it had two co-founders. We were thinking of, I'm going to do this like for a very long time. That was the idea.
So after three years, we kind of gained some success and then we kind of knew, okay, this is actually going to work.
So it should be fine in terms of, making it a mature business. We were also very fortunate. We didn't have any outside funding, so everything was funded by ourselves that, that made life slightly easier. But then in year six we acquired one company and then we got an acquisition offer.
I felt a bit exhausted after year six, year seven. So I decided, you know, if, this offer allows me to be bought out as a founder, I'm more than happy to kind of take that offer and focus on other things in life.
Ling Yah: So just before you took that offer the business actually started out as a comparison site, right? And then became a data center, which is totally different. What was that pivot like? How did it come about?
Michael Lints: Yeah. The comparison side was the idea of a, one of my co-founders, because he basically said, Mike, you've built this for the insurance company. We should build this like for everything, like, an everything comparison site was his, big idea.
And he was very, very sales driven, but the moment I spoke with his brother, who's the other co-founder, we noticed that I didn't have any legs. This was in 99, 2000. So this is literally like the start of the.com bubble. So it wasn't the best time to start a business to consumer company.
But then the one thing I was, always driven by was helping organizations out. It came back to the research that I did with IT auditing.
So we initially started to do some consulting for SMEs on the IT side. And we noticed that everyone was done with their IT team. They said they're way too expensive.
Why can't I like outsource this to someone and instead of having it done for me. And that's how we started our data center. And that was the business that really took off. And then became a success.
Ling Yah: So this was your version of Google cloud before became ...
Michael Lints: Literally. Yeah. Yeah. I wish we would've known this. Would have stuck around a bit longer,
Ling Yah: So, you got bought out. Do you have any plans? What were you going to do then?
Michael Lints: Not necessarily, but I liked the consulting part of our business. So besides the data center, we did have a lot of strategic IT consulting that we did as well. It helped us pay the bills initially before launching the data center as a surface.
And I liked the consulting part. So I said for the time being, what I can do is I can just be a consultant on my own. So I just advise like a lot of startup founders that were asking for either fundraising help or helping strategy for their business as they were expanding their company.
But in that same year, because I was doing so much advisory work and speaking at events I was asked by the Dutch prime minister and the secretary of finance and they basically said we're launching an economic development board and we're looking for a vice chairman. Would you be keen to kind of take on that role? And I was like, of course, super honored to be asked. So I rolled into becoming this vice chairman for his board for four years. And in the meantime, did some investing and some, some consulting as well.
Ling Yah: It sounds like a tremendous opportunity because you got to work with the top CEOs of the country, right, in Netherlands? Like Shell, Unilever, ING. What kind of learnings did you gain from that? Anything that stands out?
Michael Lints: Yeah, I think looking back in all fairness, it felt like everything always would fall into place, like from ING to building the company to becoming an advisor and becoming vice-chairman.
So I think at the start, I was slightly arrogant, like look at me, they want me for this position I must be amazing. I learned really fast to humble myself luckily. So I noticed that all of these people have so much experience. they were entrepreneurs themselves.
They've built multinational companies over decades. Or they were big CEOs or they were in government. So the prime minister of New Zealand was on the board and also they had a separate advisory board with international members. The head of the UN at that time Ruth liberos was also on the board as well.
So it was very impressive to be part of the community. And I noticed that whilst I was getting closer to these people and having more conversations, I was like, oh man, I'm just going to take every opportunity to learn. And I want to listen. I'm just going to sit down and listen and learn as much as I can.
So that was an amazing time.
Ling Yah: And what were the main things that happened during that period? Because you guys were discussing about how to bring the ecosystem to the next level, right?
Michael Lints: Yeah, I think one of the things that we did, we started at a young economic development board and allowed for a lot of young, amazing talents in the wilderness to be part of the board and develop themselves would also represent a younger generation of up and coming CEOs and people in government, et cetera.
I remember going to a meeting and we met the real estate mogul and he owned one of the big soccer clubs in the Netherlands. He was a co-owner and he has a super busy, busy schedule. So we get to the meeting and he's sitting there in the room on his own reading the newspaper, and it's stupid, but it impressed me so much because here's, this guy is like super busy.
He has a meeting with us. He's not only on time, he's early. And he's so early that he had time to kind of read the newspaper. And I was like, how is it possible that someone, this busy is able to make time for us? And it always, it always stuck with me. And as we were talking, he basically said, do you know why I'm early to this meeting?
I said, I have no idea as you get up early. I don't know. And he's like, no, the moment you are in a position of power it allows you to control the narrative of a meeting, of a setting. Even, you know, in strategizing for your business. He said, I am always one step ahead.
It's literally what he said I make sure that I'm one step ahead in anything that I do. And I was in awe, I was like t This his is amazing. This is such, such a life lesson. And yeah, I've, I've always taken that with me in furthering my career.
Ling Yah: So I suppose anyone who wants an investment from you would know, come early to a meeting no matter what.
Michael Lints: Yes, definitely. Yeah, at least, at least definitely trying to be on time. It just sets a very different expectation. If you present yourself in this way.
Ling Yah: I also read that you were doing investments at a time and your first investment lost you lots of money because he had no idea what investing was about.
Michael Lints: Yeah. I guess the natural thing for me after the company we had was to give back in, in multiple ways. And one is you being an advisor and then two is also investing in businesses. I think the biggest thing that I've learned from that time is the moment you invest in industry, that you don't have knowledge of or a background in, it becomes very difficult to kind of value the actual business and understanding what does growth look like.
I've always been in tech almost all my life. The most natural thing would've been for me to invest in all the tech companies. But I, I said, no, I'm just going to invest in fashion and in LED lighting companies and all kinds of businesses. I just noticed over time, it makes it very difficult to value these companies and all these entrepreneurs were amazing on their own.
If you're in the lighting industry, that industry has its own struggles and its own different ways of doing things, its own little community. it's very hard as an outsider to kind of understand that community if you're not sort of really in it or really understand the business behind it.
Ling Yah: Because you're very big about focus, right? For all your founders, you must be very focused. Is this where you're obsession with focus started because you realized that as you are going to find more investors, they also find it very hard to invest because it was such a random portfolio of companies too.
Michael Lints: Yeah. The one thing that I learned after those investments, we were speaking to a large secondary fund that was looking to buyout our entire portfolio. And the biggest question for them was What is your thesis on the investment landscape diff industries?
Why have you picked this company versus this company? So our thesis was, we went into look at the entrepreneurs behind the businesses. So we were very entrepreneur, founder heavy and not so much thesis driven. And then I understood why some of these funds are like hyper-focused on either a region or an industry or certain stage and really understood that their focus is is so incredibly valuable.
And I've always learned it over time. The moment you're able to nail one thing extremely well it allows you to make more space to do other things. The moment we can do like a lot of things at the same time. And you haven't mastered one of them you're never going to create like additional outsize value.
Ling Yah: Didn't you have a friend called Stef who told you about this random course at Harvard
Michael Lints: Yeah, that's true. He decided to do an executive course at Harvard.
And he literally told me, he said, man, this was such a good experience for me. And you have to fork out a little bit of money, but it's really valuable in terms of the network. And there's the classes, if the content is really good.
And this is me sometimes like on a whim, I decided to sign up for one of the courses. And the good thing was that back in the days, the courses were actually in-person. Not online or virtual. So I spent a little bit of time in Massachusetts, Boston at the Harvard campus. You're with your class, like day in, day out, you start at six in the morning or six 30 in the morning.
You have group breakfast, then you work on a business case. And then the classes start. And then you, you tend to spend time with the class after that for dinner or drinks after. So it was a really good experience. And if you just opened up a entirely new network for me as well.
Ling Yah: Were you not tempted to stay back in the states? Because you ended up going to Singapore instead.
Michael Lints: Yeah. I wasn't set on where to go next. I think I was thinking about what is going to be the next step in my career. And I did want to join the fund, but hadn't thought about where, or kind of which region this was pure coincidence that 2012 one of my classmates who was in Singapore said, Hey, there's actually stuff going on here in Singapore. And in the region, you should definitely check it out.
On a whim bought a ticket to Singapore and wanted to understand what is happening here and what does the investment landscape look like.
Ling Yah: So you ended up speaking with Jeff and Vinny, and it solidified your decision to come to Singapore. So it sounds like they really set a lot of things that really hit you. So what were some of the things that really convinced you that this was the place to come to?
Michael Lints: So I think I'm very on who's the person behind the idea and if there's a connection or if it feels good , I'm sort of keen to go all in and the thing was with Vinnie and Jeff similar where, we had an initial talk and that was good. And we ha we talked about what has happening in the ecosystem and how diverse it was and how it's still very early compared to China and India and how to diversity in the ecosystem allows for a lot of growth over time.
But also the risk of trying, because there weren't a lot of funds around if you look at it now, versus 10 years ago, it's entirely different.
So it was kind of a big leap of faith, but again I felt good about the connection with. It felt like they had their hearts in the right place. So I said, let's give it a go. And then in the first year I was kind of helping more on the fundraising side. So it allowed me to also get to know them better.
And for them to get to know me better as well before officially jumping in and, and working together.
Ling Yah: wouldn't you thinking after that conversation, how can I be helpful? And then you were helping one of those companies to fundraise and you found a family friend who wanted to invest with their family office so all those conditions came in.
Michael Lints: Yeah, true. So the first thing I always try to do is if I can be a value to a group or a community or an organization I'll try to do so. It's easy to say, I'm amazing at X, Y and Z, and you don't show it.
I try to at least show it first and then just prove myself. So my first question was where can I be helpful? And they had a few companies that were actually fundraising. At that point in time, I had a network of friends and family offices that were looking to invest more into Asia and they didn't have network or access to Southeast Asia.
So it was kind of an ideal timing in that moment.
Ling Yah: So I want to step back a little bit. You make it sound as though moving to Singapore was not that hard, but it was quite a big decision. You just had a baby. That conversation with your wife must've been quite hard.
Michael Lints: Yeah, it was definitely a rough period because my wife didn't want to move to Singapore just yet. So first of all, she's like who's Vinny and Jeff? I have no idea who these guys are. And you're betting our entire future on these two folks.
Yeah. And did we just have Lana our daughter, she was just one.
So I decided initially to fly back and forth between Singapore and in the Netherlands which was not easy because it's a 12 hour flight and doing it every two weeks it's pretty intense. But I, I just believe in the opportunity. I thought something was there.
I felt there was more opportunity here than there was back in Europe. So I literally said we should give it a chance and give it a try. Eventually she understood that that flyiing back and forth wasn't like sustainable over time. So yeah, it's convinced her to to give it a try and yeah, the first few years, it wasn't very smoothly.
She didn't like it at all. But yeah, you know, got to build our own community. Got our own friends and yeah, eventually she loved it and our son is born here makes it very different. But yeah, it wasn't easy for a few years.
Ling Yah: As you said, your role initially was to fundraise for golden gate ventures.
You helped to raise over $60 million. And I read that in the early days, you actually felt like an imposter. So how did you figure those first days out and find your footing?
Michael Lints: Yeah, it's funny. I still remember when um, Vinnie had a speaking gig in Jakarta for E27 . And Anthony said, Hey, Mike, maybe, you know, to kind of position yourself why don't you go to the speaking gig?
And I'll say I'll have to pass and then you can go in my place. And I felt so awkward because I was like, dude, I just got here. Like, what am I talking about? And he's like, no, just look at your background. You've been an entrepreneur. You've fundraised, you've invested in companies in a different market, but the experience you have, you can translate that to the founders here.
I was like, oh yeah, that actually makes sense. So I just spoke about my experience as a founder/ investor being, even in a government related entity as well. So I took that, but it still felt like, I'm not from here. I have had in the experience of being an investor here it feels like everyone around me has every right to be here and I'm not.
So that felt a bit awkward. The community was very welcoming. That was helpful. The second thing I would say is that just by doing a lot of speaking people actually said your experience is interesting because it's different and you are different to any other investors that we've spoken with.
So that gave me a bit of, a bit more confidence to, not feel like I'm an imposter here.
Ling Yah: And what was the experience like trying to get through the doors to speaking to, Asia? Because it's very family driven, isn't it?
Michael Lints: Well, I think of course the brand helped.
If you can say you're a partner at Golden Gate Ventures, people tend to take a meeting.
Ling Yah: Even back then, when you were still very young?
Michael Lints: Yeah. I felt like even in the first few years, I think that the team did an amazing job in positioning themselves and marketing the brand. I guess across Asia, it was welcoming. There were instances where I would show up for a meeting and people were surprised, like, who are you again?
So that did happen a number of times. But I knew where I was in the meeting. And I felt like I have a good story to tell you we have an amazing opportunity, so you should listen. So I did try to be convincing and, and very confident in going into those meetings.
It wasn't always easy. It wasn't always easy. So sometimes you felt like, oh, I'm not being taken seriously maybe for a number of reasons, but yeah, you just have to kind of pull through and keep repeating your story and keep knocking on doors.
Ling Yah: And you have to keep doing that for years, right before they even give you the first pay check.
Michael Lints: Yes. Yeah, we've had LPs that I've spoken with for two, three years before they wrote the first check.
Ling Yah: I heard that story you shared about a Japanese company that you've met for three years and you just met and just talked about life and anything, but business.
Michael Lints: Yeah. And it's was literally just building confidence and for some of the families as well, like some families even say, yeah, I just want to get to know you better and understand your philosophy and who you are and how you act in life.
So it happens that sometimes I go cycling with LP. Sometimes it's playing golf. Sometimes it's having a few dinners. I mean, for some of them, I even know their families because you build such a bond over time. And again, it's important for them If they commit to you for 10 years life of a fund, which effectively means that they really want to feel there's trust and the relationship there.
Ling Yah: And you were also fundraising from different parts of the world. Middle East, Europe, States. There must be very different experiences there.
Michael Lints: I just got back from Oman where for like a short road show yeah, it is different, I feel so enriched because you learn all the different customs and cultures and the way to do things.
And even from a fundraising perspective, like how different is fundraising in Japan or Korea versus Indonesia or Singapore or the middle east. Like the different customs.
In Europe, if I go fundraising, I can be fairly direct because most European countries are direct.
Ling Yah: And you're Dutch so you'e direct.
Michael Lints: Yeah. So that, helps. So yeah, if I'm in Germany or in London, it's a relatively straightforward easy conversation where even in France. Yeah, middle east is a little bit more wining and dining.
It's funny. It's literally halfway between Europe and Asia and even in the way they look at fundraising it feels similar.
Yeah. And here in Asia, although it's different within the countries, but yeah, it's more relationship building than anything else.
Ling Yah: You said there was a difference between say in Japan and Korea. What are the differences like?
Michael Lints: I would say that the ones that take the most time would definitely be Japan.
It's really about getting through the hierarchy. It's really about building a long-term relationship having conversations with different parts in your organization. That's very important.
Korea is a bit more transactional from a fundraising perspective. I think that the larger Korean corporates have an idea of okay, in our strategy, we want to have allocation in Southeast Asia. So that makes it slightly easier to convince them to invest. So it's slightly more transactional, I would say.
Ling Yah: And what about the ecosystem itself? Because when you came, it's very different from what it's like now.
What is the shift that you've witnessed in terms of just people looking at startups?
Michael Lints: So much has happened in the past 10 years. I'm guessing the maturity of founders. I think that has changed a lot. Almost like if you go back nine, 10 years ago founders almost have to explain themselves why they were building this company. And now it's normal.
If my neighbor starts a company, we're like, oh, awesome. You know, good luck to you. And, and like 9, 10 years ago it was a different conversation. Why would you start a company? Why don't you just get a job at a big firm or something? So that has changed. So it's normalized.
Ling Yah: You had to convince your own people as well to invest in Southeast Asia right? They were asking the same question. Why?
Michael Lints: Yeah. Like 9, 10 years ago, people were like, concerned about political risk. And look at, in Indonesia and look at Thailand, there's so much happening. Don't you feel it's risky and like we've never had anything even close to political risks when it comes to investing in tech company.
So it's really funny, the perception that people have from the outside looking in. So yeah, you had to convince them you know, why you're here and why is she is big opportunity. Like now, it's the other way round.
People are saying, oh, it's an amazing opportunity. It makes so much sense that you guys invested here. But yeah, it was a long journey and for founders is fairly similar. If you look at the companies that were raising a series nine years ago for this company that are raising a series, now that it's vastly different. Valuations are way higher.
It's easier to get institutional money to back these companies. So, yeah, that has changed a lot.
Ling Yah: Were you saying that that shift came around the 2015, 2016?
Michael Lints: It was still fairly early, but what happened in 2015, more funds like ourselves, open space, east ventures, jungle, monk's hill.
We will all in the market raising either our second or our first like proper institutional fund. And that actually led to just more attention on the region. And I'm guessing if you have seven or eight fund managers knocking on your door, raising for that fund, those are appease mistakes.
Oh, this must be something here. So this can be a coincidence. So that was a big part of it. And it allowed also the companies behind the funds or in the portfolio of these two rays of dissimilar institution. So that was helpful. I think what also happened was 2015, 16 was still a very good year internal venture for India.
So a lot of investors that were looking at India were also with one eye kind of looking at Southeast Asia. You know, Sequoia, India was making investments here and they think they invested in Go-Jek at a time. So there was some buzz but if you look at it now versus then it was still relatively early.
Ling Yah: And then you had the actual exits around 2017, 2018 as well. So that people said that there was a real opportunity here.
Michael Lints: Yeah. Because I think prior to that, the largest exit prior must've been Vicky, I think Vicki was acquired by Rakuten for 200 million. And that was of course a big sensation because it was early days and we didn't have any big exits. I think when Go-Jek started making acquisitions, I think grab become more aggressive as well.
People were saying, oh yeah, I think it, this looks like for instance, what happened in China where either, you know, Baba or 10 cent or JD or making acquisitions. So we saw kind of similar trajectories. And those exits were very necessary also to kind of show to the LPs that, Hey, we can actually make money with the investing in these companies.
Ling Yah: I suppose is the question everyone asks you all the time as a VC what were you looking for? I imagine you were looking at the people that founders, as an investment. What were you looking for?
Michael Lints: It would be 70% people driven because one , the companies are early, of course. There is some comparison because if you look at an e-commerce model or a payment Gabriel model, or like a first model logistics model, we can compare some metrics, do for instance, China or India and say, Hey, there's, there's some dash a bit of a benchmarking that we can do here.
Although there's still so many differences in those markets. So that helps. We look for scalability in general. I tell founders all the time you have to imagine that every single dollar that we invest in your business, it has to return five, six, perhaps 10 X for us. Which means that you need outsize growth over time for us to make this work.
So even if you have an amazing business and you're an amazing founder, but it's not scalable, it doesn't make sense for us to invest. So we do look at, is a founding team, or are the founders able to create a business that an outside and not only created, but also run it as a CEO because you're a founder initially and you become a CEO over time.
And when it happens your dynamic as a business is different. You have different sites, different stakeholders, whether it's business partners, investors, government, if you're regulated. That all changes over time, which means that the founder that you was in year one you're going to be a different person in year 6, 7 or eight.
So we're kind of looking for, do we think that people have the ability to grow into these individuals over time. And then from a business standpoint, I think focus is again important. We like founders that are laser focused on building a business. And it doesn't matter if it's a singular business at first, if you have like one product, but if you have a product that does amazingly well in those first few years again, then you'll have room to do other stuff over time.
I always get nervous when founder explained to me like 11 different things in one pitch, because the question is how can you find time in a day to make 11 amazing businesses at the same time. Just going to be very, very difficult. So, find a personality, ability to scale ability, to execute and typical scalable model in itself is what is important to us.
Ling Yah: And isn't local knowledge something that you really prioritize as well, because you really need to know the local market in order to do anything? And especially in places like Indonesia, they are focused on the country first. Whereas in say, Malaysia, Singapore, you look more out from day one.
Michael Lints: Yeah. It's This the reason why I say 9 5% of our portfolio, are founders that have been here for a long time or are local from Indonesia or Vietnamese or Malaysia. And that is crucial for us. We've had a number of companies pitch to us and said, I'm from London.
But I'm relocating here and building a business here. I said, that's amazing. But it's also important for us to get you understand those little intricacies when you're expanding from Indonesia to Vietnam and understand how fast he different those two countries are.
And building a team in Vietnam is entirely different than building a team in Singapore, for example. So all those things are, are important to us that people understand what it means to build a business there.
Ling Yah: Any particular founders that made you sit up?
Michael Lints: You always meet amazing founders over the years, and it's hard to predict when you meet them. But yeah, there are certain founders that intrigued you. I think the best ones at least for me are the ones that understand the parts that they're not good at.
So many times speaking to front end, they would say, yeah Mike , you asked me to be X, Y, and Z, I'll do with my eyes closed. Ask me to do A, B and C that's not in my ballpark.
I need someone else to help me fill in those gaps. And I think it was important because it shows me that you have a self-knowledge, which is important as a founder.
And I think the ones that are laser-focused are the ones that I always be impressed by. That they're just not distracted. They're just so focused on just building their business. And the one example that I tend to use very often there's audits of course, but I would say Aaron Tan of Caro is one of them.
Moses of Xendit is another one who I feel is like incredibly focused on just getting the business off the ground and getting it done.
Chang ran from ninja van similar. Gillian from homage. She's amazing in terms of, this is what I'm gonna do. This is how I'm going to do it. You need to help me here and here, the rest I'll take care of. I just love that confidence.
Ling Yah: It sounds very much like you're not just giving them the money and letting them go. You are very involved in these companies.
Michael Lints: Yeah. You know, it's funny. Actually the best founders they don't need as much involvement as we sometimes would like to think they need.
And you have fallen into like, Mike, just leave me alone. I got this. I'll come to you when I need help. And then they do. They ask specific questions. Like Mike, I want to talk to this insurance company they're in Europe help me make an introduction. So that does happen.
Yeah, we do try to be involved and be as helpful as we can whether it's on the talent side, whether it's on fundraising, making introductions it, we do try to be helpful as much as we can.
Ling Yah: How do you tend to get your deal flow? Are you open to cold pitches?
What makes it stand out? Cause I think you look at over a thousand companies a year, right? That's a lot to get through.
Michael Lints: Yeah. True. I mean, a lot of it comes through cold emails. Of course there's a lot through our network.
It's either other founders. It is sometimes our LPs even. But I think the majority of our deal flow is our own outbound. We spend a lot of time doing research on the ecosystem and understanding, oh yeah, Who's leaving this company is going where or this person changed their LinkedIn. Are they building something on their own?
Like why is that stealth in their description? So we try to look for stuff that allows us to find founders early.
Ling Yah: If I want to get your attention, I should just put stealth.
Michael Lints: Put yourself in your LinkedIn. They're like, oh, interesting. Something's happening there. So we tried to pay attention and just understand where people are moving harder, moving who's doing what.
Let's give an example here. Typically if for instance, one social commerce company popping up there are seven or eight others as well.
So it would be trying to understand what is happening in this trend and find the best founders. And we find them through our network. And being here in the past 10 years as a firm, you build a network across the region. So you tend to hear things relatively early.
Ling Yah: Are there particular mistakes that come to mind just in terms of investment that you've learned?
Michael Lints: One thing that I've learned is our location is important. So if you invest in a business and you don't have enough ownership, even if it's a minority, but you don't have enough ownership to make sense for your investment thesis you have to fix that.
I've learned so many times that if you look at the companies that returned the best for some funds, it tends to be where you have gotten the allocation, right? So that's important.
I think the other thing is have confidence in your own investment thesis. I think the worst thing you can do as an investor is only follow trends and just try to piggyback off of others. what is your own conviction as an investor?
That's the one thing that I've learned over the years and it's a big mistake not to have one. So that's important. Yeah, I'm overestimating yourself. I think it doesn't matter if you've been successful or not. You have to stay hungry and humbled because you're always learning, you know, I'm 46. I still learn every single day. It just doesn't change. So having that hunger and being eager to learn. I'm eager to learn from kids that are 19 years.
I'm always happy to listen and understand what goes on in their world and things that I just don't know.
Ling Yah: Speaking of investment thesis, what is yours and has it changed over time?
Michael Lints: No, I'm guess I'm one of the older cats in the business. There's certain business principles that never change. And for me, whether it's a local business, a regional one, or global, really understanding your business is important.
I think understanding what scalability means is important as well. It is not easy to build something and do the same thing, a hundred X it's really hard. that's a big lesson for me. In terms of my investment thesis, really understanding what does it take to get to a hundred X.
I always look for that in a business and that has never changed. The nuance change for instance, you know, you look at new developments, whether it's EFT or footie or different ways of investing at the moment, whether it's tokenize or equity. But in terms of the business principles that don't change for me.
Ling Yah: Are there particular areas that interests you right now?
Michael Lints: Yes, I'd say the health tech space is interesting from a wellness perspective. I think technology is going to be an enabler for a lot of people to live more healthier and be more conscious of their own wellness. So that's one thing I'm very intrigued by.
I think I have every single wearable on a planet. Just to try out and test and learn and compare data. So I think that's one.
Financial inclusion is an overused term, but I'm intrigued by how can we make more equally spread over larger communities and how can we use technology for it. So, you know, earned wage access is one example.
You allow folks who use their salary for different ways and sort of automated. Whether it's for savings, for purchase, for school fees , like anything you can do to make people that have lower wages utilize their salary and actually make them more money as opposed to less money. And make sure that they're taking less advantage of them.
I'm very intrigued by art and how technology and art combine. I'm investing in NFTs to learn. It's funny to me, just, sitting on Discord and seeing what these kids talk. It's hilarious, but I'm learning a lot as well. they didn't
Ling Yah: There are a lot of people who really seem very successful entities in this space, in this region.
Michael Lints: Exactly. That's the other thing. The one thing that I'm excited about is Web3, NFT allows Southeast Asia to position themselves. Because I think like if you look at the Philippines or India or Singapore, there's just so much happening in the NFT space.
So that's the thing that I find interesting at this moment.
Ling Yah: I'm interviewing some of those people who have just released NFTs in this space right after you. So, exciting. So I want to talk about some of your existing portfolio companies you mentioned, say ninja van.
I wonder They are logistics company. They must have gone through a very interesting experience during the pandemic. What was it like working with them?
Michael Lints: We've luckily stayed in touch with the leadership team during the pandemic. I think ninja van is an example. The pandemic has worked for them, although it was a very, very, of course, dark time for a lot of people. It worked for them in terms of their business. Everyone was so dependent on buying things online and having it delivered to their homes.
This is public They've three X their revenue in 2020 continuing to show growth in 2021.
Despite the growth they've stayed laser focused on just putting the business, building a better infrastructure. How can you make things smarter? How can you make the consumer experience better. So it's impressive that even if you have success, you're still looking to drive business and try to make it better.
Ling Yah: In a more general sense, how has pandemic impacted your portfolio companies? How have you assisted them during this period.
Michael Lints: I'd say at the startups you've pandemic, like everyone else, we were all concerned. And because we had no idea where this is going. So the biggest question we had was do we have enough runway for all of our companies to get through the pandemic?
That was the initial question. That was in May of 2020. A lot of discussions internally talking on a regular basis with the founders. And then we noticed in September, like, oh my goodness, there's such a tailwind because everyone is looking to invest in tech. Most of our companies have no issues fundraising whatsoever.
So yeah, I think they're going to be going to be okay. So we shifted from sort of a um, cautious approach to, Hey, let's kind of take this tail wind and see if you can fundraise for a lot of our companies.
So a lot of our companies were actually successful in fundraising. For the ones that weren't, we try to put in some extra effort to get sort of new investors on board find fresh, capital for the teams.
So yeah, it was a bit of a shift and I think the one thing we learned was just to stay flexible and just be on your toes a little time. And it really helped us manage the portfolio kind of through this period.
But in all fairness Q3 of 2020 up until end of last year, it's been a tailwind for technology apart from the public markets. In the private markets, there's been a lot of investments.
Ling Yah: When you say it's going to change, has changed the way that you are fundraising for your own VC as well, because in 2019 you took over 80 flights, right? And now you've realized you don't actually need to go and meet people in person. And still raised the funds.
Michael Lints: Yeah. I had the funny discussion that was in Korea a month ago.
So speaking with one of our existing investors and met a bunch of potential investors as well. Everyone appreciated and literally everyone said at the start of the meeting, like Mike, thanks so much for coming down to Korea and see us in person. Of course we fundraise over zoom and close investors over zoom, but having that personal one-on-one connection and I'll give an example.
I was in Oman a week ago and I was having dinner. During dinner, someone said, Hey, Mike I want you to meet someone else. He's here. And I think you guys should be going investing at some point in time. This wouldn't have happened if I would have done just a Zoom call. So having those serendipitous meetings is fun.
One thing though, I will never go back to doing over 80 flights in a year because it is physically exhausting and it's not healthy. So I'll be more conscious about the flights that I take, the fights that I don't take. I would say, let's just do a call if it's possible.
But I would of course still travel. I'm just going to be a bit more focused and pay more attention to, does it make sense to actually make this trip? Yes or no.
Ling Yah: And on a more personal level, when the pandemic hit, you were quite open about the fact that know, you felt that you had to overcompensate. You felt that you were not doing anything.
Michael Lints: Yeah. It's, If you go from flying all over the world to literally no flights whatsoever , it was a bit of a gap in terms of, oh man, there's no output. Because if you are having those one-to-one meetings, if you're meeting folks, there's always something you're doing, you feel very productive.
Not traveling around was like, what am I doing? Of course you have like a lot of work that you can do. You can go through emails, but we did a lot of sessions with our partners. We had founders workshops that we did online with part of Cooley.
We had a number of events for the portfolio, a number of events just for the general ecosystem. So we were able to kind of also give back. And then in terms of work, did a lot of desk research which I had finally had time for. So yeah, you just do your work in a different way, I guess.
Ling Yah: I wanted to ask two questions more from a founder perspective, we talk a lot about focus. I wonder if you tend to give your founders some kind of a framework just to stay focused because easy to say, I need to stay focused, but how do you actually do that?
Michael Lints: Not sure if it's a framework, but I guess it's more experience that I try to share.
The only way I can do it is, when I talk about the business I try to ask questions in a direction where, okay, if you are launching a new product, just for example, right? So your, you have your existing one, you feel your existing product is not generating enough growth. So what you do is, Hey, this is not working. I'm going to do something else. My question is always, okay, let's go back to your first product. Analyze what is it that is not working because the danger is if you launch your second product and you kind of do the same thing it isn't going to work either.
So really understand why that first thing is working. And is there anything that you can fix on the first product to actually make it work? Because we tend to assume if you start something new, because it gives you new energy, it gives you new hope. You think oh, this is definitely going to work.
But I've now learned that spending time on the first thing that you felt like is not going to work, could actually make it work.
So I'm really trying to emphasize on, you shouldn't just throw away all the effort and time you spent on this first product by saying I'll do something new. Because the danger is once that energies goes away from your new initiative, you're going to go do another thing just to get it new energy to it again.
It's like grass is always greener kind of conversation. So I always try to help them focus on work on that initial product. Have you done everything that you possibly can to make it work? And if that's the case, of course you can always say, listen, you have to pivot into a different direction, which is fine. But don't do it because you feel like, oh, it's not working, I have to move on.
Do the work to actually make it work. And if it really doesn't then you can move on.
Ling Yah: You've said before that, one of the things that you lacked when you were a founder yourself was mentors. And that's really, really important.
So do you have any advice for founders just in terms of finding good mentors for themselves?
Michael Lints: Yeah. It's a very simple one. Just reach out to people. We tend to wait until something happens to us. The best thing you can do is just be one step ahead.
And one step ahead is just reaching out and taking that first step. So if you think someone in your community or a network or someone that you look up to and you want them as a mentor, just ask.
I've had a lady from the UK. She listened to a podcast and heard me speak and she reached out over LinkedIn and she was like, I would love for you to be my mentor.
I said, Hey, I'm honored that you asked me. Currently I have little time, but let's find each other halfway, I said, let's do one session. Let's take an hour. And then you can ask me anything you need in terms of your business, where do you go next? And we had an amazing conversation for an hour.
She reached out cold over LinkedIn. Just make sure you take it for a step that's important.
Ling Yah: I love it. I just released an episode with a person who said that the way they got mentors was also through LinkedIn, but what his other friend did was, he also said, if you give me a time, I'll pay you $500.
And he got call the cold. So it works. It works sometimes.
Are there ways that you've found cold calling to be effective? Like certain things that they say they make you more inclined to say yes? Because your time is precious.
Michael Lints: For me, as long as people are authentic then it likely I'll take some time out of my schedule to help. But it has to be authentic.
Ling Yah: And before we wrap up, apart from doing all of this, you also have a documentary. Can you tell us more about that?
Michael Lints: Yeah, sure. We produced and directed a documentary called broken chains. This started in 2020 when the black lives matter movement in the US took off and people all over the world were protesting because George Floyd was murdered run a theater.
And I was in a position where a lot of my friends and colleagues in Singapore were asking how I was feeling about all the events in the U S. I noticed that it was out of empathy for a black person in Singapore there not many black VCs in Asia. I think There's two actually.
Uh, Yeah, it's, really few. And in those conversation, I also noticed that there was little understanding what it means to be black in a professional setting. So I decided to write an article about it. And that article on medium. It took off and a lot of people shared it, posted it and reach out.
Ling Yah: Didn't you get like over 50 phone calls just from the article?
Michael Lints: Yeah. I think even more. it was,
uh, I was talking to my wife about it yesterday. like Even she got phone calls, so was fairly intense. So one of the um, film producers in Singapore said, oh man, this article was so touching and moving. I want to make a short video about it.
And I declined because I said, I don't feel comfortable making a film video by myself, specifically around this topic. I said, but I'm very passionate about social justice and I'm passionate about the racial wealth gap and there's more equality across different communities. And specifically because I am black I can speak about the black community.
So he said, oh, that's an amazing idea. I said, let's find people that we can interview and do a sort of documentary style. And that's how we came about making this documentary that talks about the racial wealth gap and why there is so much inequality. Even in my industry, in the venture industry where only very small percentage of the funding goes through and it is not just a black community. It's a little percent of the funding goes to the Latin community. A little percentage of funding goes to the female community. So There is just not enough funding equally spread and um, we wanted to address it.
So we made this documentary. It took us a little over a year to make it. Official premiere is going to be in April of this year. Yeah, We won six awards in the past year or so. It's been really intense emotional journey.
But I'm so glad to be part of this project.
Ling Yah: Amazing. Well, thank you so much, Michael, for your time. I love to end all of my interviews with the same questions. And the first one is says, do you feel like you have found your why?
Michael Lints: Yes I have. Yeah. I think through life and through the different careers that I've had. I'm feeling in a position that my why is clear for me. I feel comfortable in that position as well.
Ling Yah: What kind of legacy do you want to leave behind?
Michael Lints: I think the most important one is contribute to an equal society where it doesn't matter what your background, gender, or belief is. As long as you are your authentic self, there's an opportunity for you to get access to whether it's a career, education, a healthy life, anything. I think background shouldn't matter.
Ling Yah: What do you think are the most important qualities of a successful person?
Michael Lints: I think the most important qualities are knowing yourself. Being able to lead and inspire others.
Ling Yah: And where can people go to find out more about what you're doing? Reach out, ask for mentorship?
Michael Lints: I think LinkedIn is still a very good platform to reach out to me.
I'm relatively active. I do my postings and articles on LinkedIn as well. So yeah, you can always find me on LinkedIn.
Ling Yah: And that was the end of episode 74.
The show notes and transcript can be found at www.sothisismywhy.com/74.
If you've enjoyed this episode, please don't forget to leave a rating and review on any of the podcast platforms you're listening to this on right now.
And stay tuned for next Sunday because we'd be meeting our very first NFT artist.
She's a young Muslim mother from Malaysia whose very first NFT collector was the lead singer of Linkin Park and is also known to be a pioneer of the Malaysia NFT space. We are kicking off a mini NFT series here at So This Is My Why, so if ever been curious about this strange new world NFTs, cryptos and all that jazz, stick around.
I'm feeling my way around this space and I would love to go on this journey of discovery and learning with you. See you next Sunday.
External Links
Some of the things we talked about in this STIMY Episode can be found below: