Welcome to Episode 107!
STIMY Episode 107 features Michelle Toh.
Michelle Toh is an award-winning writer and reporter for CNN Business, based at the network's Asia Pacific headquarters in Hong Kong. She covers business and tech across APAC, writing breaking news, features and analysis about companies, startups and banks in the region.
Toh has covered some of the top stories in global business, including the disruption and inequality caused by the coronavirus pandemic, the corporate response to Russia's invasion of Ukraine, the crackdown in China on private enterprise, the Evergrande crisis, the US-China trade war, the fallout from the Hong Kong protests, and Huawei's battle in the United States. She has also covered the recent historic market turbulence and some of the world's biggest public offerings, including those of Grab, Didi, Kuaishou, and Coupang.
Toh has interviewed leaders of some of the world's top companies, including Tiffany CEO Alessandro Bogliolo, Galaxy Entertainment's billionaire Chairman Lui Che Woo, Netflix COO Greg Peters, Grab Co-Founder Tan Hooi Ling, Tinder CEO Elie Seidman, Yum China CEO Joey Wat, ex-Reddit CEO Ellen Pao, and Impossible Foods President Dennis Woodside. Her reporting frequently appears across CNN's digital and television platforms, and she often contributes to the network's "Meanwhile in China" newsletter.
In 2021, she led a team across six CNN bureaus on an interactive project about workplace discrimination of Asians around the world, which won an Award of Excellence from the Society of News Design.
Prior to joining CNN, Toh was the Hong Kong editor of Fortune Magazine, where she led a breaking news team, reported on business trends, and researched fundraising deals for its "Term Sheet" newsletter. Her work has also featured in publications including TIME, USA Today, the South China Morning Post and HuffPost. She has moderated and covered panels at major international conferences, such as CES in Las Vegas and Shanghai, Most Powerful Women in Laguna Niguel, California, and RISE in Hong Kong.
P/S: Michelle is a Malaysian too!
PS:
Want to be the first to get the behind-the-scenes at STIMY & also the hacks that inspiring people use to create success on their terms? 
Don't miss the next post by signing up for STIMY's weekly newsletter below!
Who is Michelle Toh?
Michelle Toh grew up in Malaysia, studied with royalty and has always had a strong sense of self and drive. 
Which likely explains how she landed fancy internships with the likes of Elite Model and South China Morning Post.
She just cold emailed and landed some of those roles!
2:36 Having a strong sense of self

4:52 Where Michelle's drive came from

7:04 Sense of inferiority

7:56 Working at South China Morning Post, Elite Model & a law firm

9:23 Cold emailing for internships!

9:54 The secret to cold emails

10:50 "I hope this finds you well"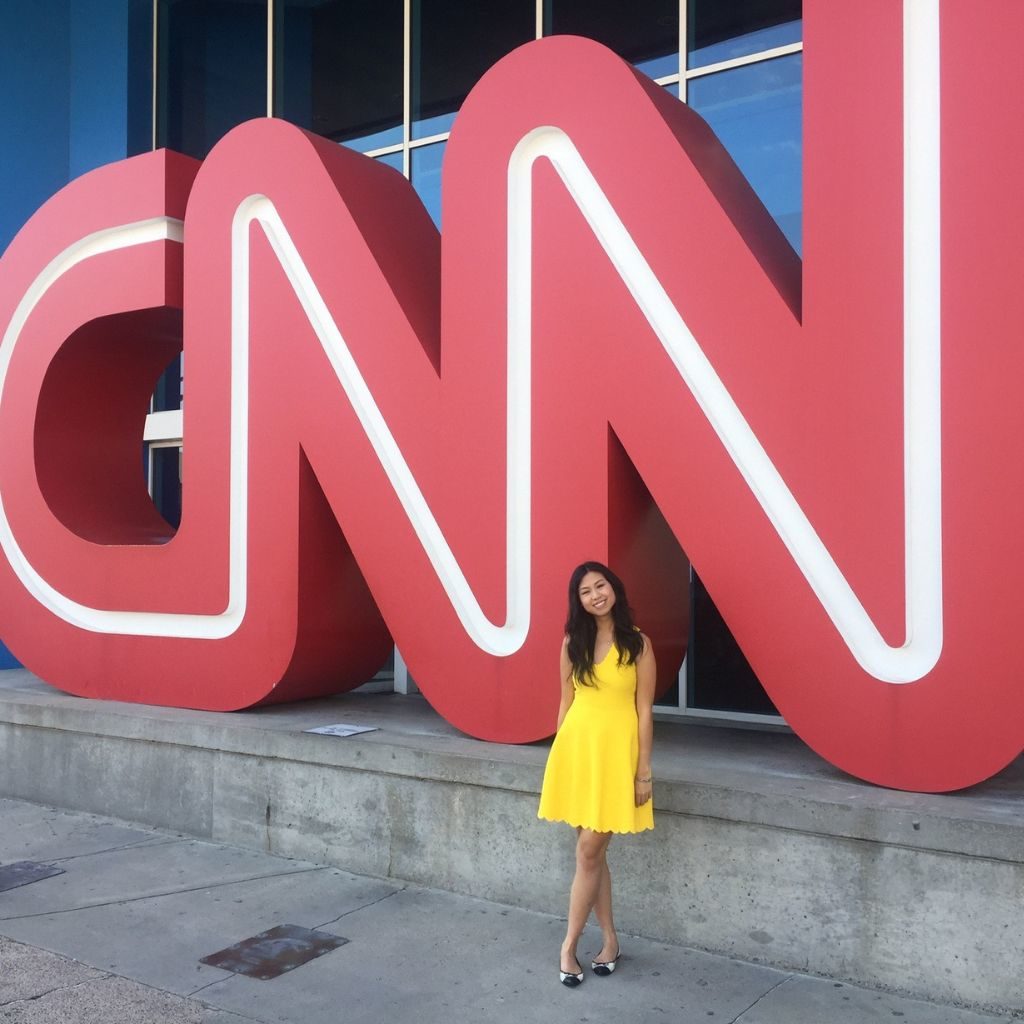 From Fashion to Boring Old News?!
Michelle has always been interested in fashion and initially considered entering the field.
So what changed?
And what is it really like working at CNN (she's now based in Hong Kong)?
12:38 Going from Harper's Bazaar to boring old news?!

17:24 Going from Fortune to CNN

19:09 The Morning Show

20:32 The behind-the-scenes of working at CNN

23:49 Asian discrimination

27:11 Deciding on which stories get shared

28:40 Fake news! How did you spot them?

32:23 Hunting down a superyacht worth USD 500 million!
I very much saw every single summer break as an opportunity to get a new experience. I was very naturally curious. So it was never a thing where my parents put pressure on me, like, what are you gonna be doing? It was just something that I naturally sought out.
Personal Branding
Like most industries and careers, journalism has and is going through an upheaval.
So we talk about the importance of personal branding, why Michelle likes LinkedIn & whether you even need a journalism degree to do what Michelle does.
36:21 Public image

38:24 Building a personal brand

41:30 Why LinkedIn

42:30 How do you craft a story?

44:21 Mentors

46:20 Do you need a journalism degree?

38:23 Hallmarks of star journalists

50:42 How Michelle gains trust

52:07 How listeners can help Michelle
If you're looking for more inspirational stories, check out:
If you enjoyed this episode, you can: 
Leave a Review
If you enjoy listening to the podcast, we'd love for you to leave a review on iTunes / Apple Podcasts. The link works even if you aren't on an iPhone. 😉
Patreon
If you'd like to support STIMY as a patron, you can visit STIMY's Patreon page here. 
External Links
Some of the things we talked about in this STIMY Episode can be found below:
STIMY 107: How a CNN Reporter Built Her Career - Michelle Toh [Writer & Reporter, CNN]
===
Michelle Toh: My job was to basically make sure that the most important stories were getting in front of people every single day. And you'd be surprised at how intensive a job that is, because when there's so many different news priorities, you just need to make sure you balance that.
You really have to make sure, okay, what are audiences in Asia looking at this morning?
And then what's our plan as we go into the Europe morning as well? Because those audiences will care about different things, possibly. Right?
And then for the app we also would have dedicated mobile programming where we would make sure, is the headline optimized for mobile, power of a shorter headline being more conversational, really being aware of where people are looking at your content and how they might interact with it.
Ling Yah: Hey everyone!
Welcome to episode 107 of the So Is My Why Podcast.
I'm your host and producer Ling Yah.
And before we start, a special thanks to Descript for sponsoring this episode.
Descript is an app that I use every single week to edit my podcast. And frankly, you won't hear STIMY without it. All you have to do is take any recording that you have, whether it's audio or video, upload it, and within minutes it will have the entire thing transcribed.
As you are editing the transcription, you can automatically also edit the corresponding audio or video. It's a one-stop shop that makes it possible for me to run the podcast. So if you have any audio or video editing needs, I'd recommend checking Descript out.
The link is in the show notes below.
Now onto today's guest. We have Michelle Toh - a Malaysian writer and reporter at CNN in Hong Kong. She's covered top stories like the fallout from the US China trade war, the impact of the Hong Kong protest, and Corona outbreak, and also Huawei's battle in the us. She's also interviewed the Tiffany CEO, Connie Chan, a 16 Z partner, the Tinder CEO, Grab President, Marriott CCO, and also the Verizon media, CEO. Before that, she was also the Hong Kong editor for Fortune.
But how did it all begin?
How did she end up covering tech and business at C N N when she was actually, and still is, very interested in fashion?
How has she built her network? Craft a good story. Prepare for interviews. Even track down the super yacht belonging to a Russian billionaire?
We cover all that and more in this episode.
So are you ready?
Let's go.
You are Malaysian Chinese, but you grew up in Hong Kong.
What was your childhood like and what were you like as a child?
Michelle Toh: It's a great question, Ling Yah. If you ask my parents, I'm sure they would just start by throwing their head back and laughing. Because I was very much like just the big personality in the family. I grew up as one of three kids.
Middle child, hope you can't tell cuz they get a bad rep. But I have an older brother, he's four years above me and then a little sister. And she's actually nine years below me and that's a big gap.
Even on paper, my sister always likes to joke, oh, maybe that's how your generation likes to do things. So she definitely rubs that in my face a lot. . But yeah, so I was born in Kuala Lumpur and moved here when I was six months old. So I very much consider myself both a Hong Konger and Malaysian, as you noted.
It's really funny that you ask what I was like as a kid because recently my friends and I were talking from high school about whether or not we feel like each other have really changed that much over the years. And I wonder if you and your friends have that conversation too. But a lot of them ended up saying, Michelle, you're exactly the same.
So I was always extremely ambitious as a kid and I think that a lot of folks know me still as that person.
I was that annoying kid who always kind of knew what they wanted to do.
I had a very strong sense of self for better or worse, right?
Because on one hand it's great cuz you have a direction in life. For example, I really knew from a young age I was interested in writing. So I literally would be going after school to just write and fill up spiral bound notebooks every single day for short stories.
I thought I wanted to be an author until maybe early teenage years. Writing fiction journaling a lot. And then as I got older, I got really interested in the idea of journalism and magazine journalism in particular. I've always really been interested in writing and print.
I was very much influenced by those sexy romcoms of the magazine editors, you know, those fashion magazine editors, devil with Prada and things like that. And I thought I wanted to go work for women's Magazine, like Marie Claire or Cosmo. I did not think I wanted to go into news.
I didn't really think much about it, to be honest with you.
Ling Yah: It's probably not glamorous at all compared to what you were thinking of.
Michelle Toh: So, yeah.
Ling Yah: You sound almost like the dream child of Asian parents. And where is that drive coming from? Were your parents pushing you to say, you must try and achieve all these things at high level?
Was it just something new that said, I like this, I'm just gonna go for it.
Michelle Toh: First of all, you're way too kind. I don't think I am like that at all. It's a great question because I think I had a really unique upbringing in that I grew up going to international school here in Hong Kong, which a lot of people do.
But it was very much with Wealthy families in Hong Kong. A lot of the parents of my friends would be running some of the top companies in the city. When I went to Malaysia, we were just chatting before we started rolling. Right. And I told you I went to Malaysia and I actually went to international school there in KL for two years as a kid as well.
I remember I literally went to school with a Malaysian princess, which is just so random. She was very sweet, very down to earth. And one day we even after school had to stay back for something and I remember they said that they were gonna send a helicopter to come pick her up for some state dinner.
Yeah. So really, really privileged childhood, at least in terms of the people I surrounded myself with by virtue of the fact that I went to these schools. But my background was really different, Ling Yah, in that a lot of my friends' parents were these wealthy expats. And my parents were more immigrants, I felt.
My parents were the kind of people they saved up their whole lives to give their kids a better life. Very much that typical immigrant story, right? My mom didn't finish high school. And my dad he basically worked as a garbage man to help put himself through school.
He went to Imperial for grad school and he was actually. Now. Yeah, it's a whole other story.
So I feel like I very much grew up with the expectation that my parents put a lot of their belief in me and that they expected something for that, if that makes sense.
And when it comes to the parents of my friends and schoolmates, when I would go over to their house for dinner or something and they would ask me, so what are you gonna do this summer?
You know, like as we were getting older, especially for internships and whatnot. And I always felt that pressure to have something really great in the bag, in the pipeline to talk about. So I feel like that influenced me a lot, to be honest. Yeah.
Ling Yah: As I'm listening to you, Michelle, I wonder if you felt comparing all your classmates and your friends, they were flying around in helicopters just for a dinner.
Did you feel this sense of inferiority, I suppose like, oh, I'm sort of almost like an imposter syndrome. Cause I kind of experienced that as well. When I went to this private school. Everyone came in the Mercedes or BMW and that was the standard, and you just kind of think, wow, this is a world that everyone just assumes is the norm.
Michelle Toh: Absolutely. I'm so happy you said that because that's something I think about all the time, even as an adult, but very much from a young age as well. So it sounds like you can relate. I mean a lot of times I felt like, for lack of a better word, the poorer one, which is not really the right thing to say I feel because obviously I came from a really fortunate background as well.
It basically made me feel like I had something more to prove. And as a child especially, I think, right, those things are amplified.
Ling Yah: Exactly. So what's interesting for me is that you said you were very ambitious, you were very focused on writing, and I noticed you did a ton of internships everywhere.
You were at South China Morning Post. You were also at Elite Model, then you were at a law firm. Then you were a copywriter. What was going on there?
Michelle Toh: Yeah, so, you know, I very much saw every single summer break as an opportunity to get a new experience. I was very naturally curious, so it was never a thing where my parents put pressure on me, like, what are you gonna be doing?
It was just something that I naturally sought out. So even if I wasn't doing an internship, I remember in my high school days, I would research these university pre-college programs in the States that I might be interested in. So I also did like a creative writing program at Pratt Institute, which is an art school in Brooklyn.
I also did a USC program where I ended up going to school, University of Southern California, where I studied journalism the summer before I graduated high school, which had a huge impact on me.
I think I very much was just driven by the idea there's time to go and do these things.
And when you're a young person especially, people often wanna give you a chance and love to hear from students who might be super overexcited about whatever it is that they do every day. So I really took it upon myself to cold message.
You know, Some of the internships that you referenced were literally a product of me just kind of online googling who works at scmp and how do I get ahold of them?
Ling Yah: You didn't apply for an official internship position, you just cold emailed someone?
Michelle Toh: I think I did eventually for the first one for both, obviously I did two internships there. One was with the Young Post, just I wanna say I was still in high school. And then the other one was when I was a college student and I actually worked on the local desk, you know, actual news stories. Hard news stories.
But yeah, it started off by finding a contact and just reaching out and saying hi. Like you do all the time, Ling Yah .
Ling Yah: But I am so impressed that you did it when you were a teenager cuz it didn't even cross my mind to do something like that.
What is your secret to cold emailing? What are the main components? And what's success rate?
Michelle Toh: That is so funny. Success rate? I have not. Maybe I just don't wanna, I wanna be in denial about that because, you know, it's like sometimes not very moralizing to look at the hard numbers.
But I will say on that note, just in terms of statistics, one thing that really stuck with me throughout my entire upbringing, and I still think about sometimes now, is my dad would always say to me, all you need is one.
So that was something that really kept me going. I remember when I was looking at internships in college, there was a period of time where I think I even applied to something like 80 different internships.
That's nuts.
It's pretty nuts. Some people might say like, take a chill pill or something. Like, relax.
Ling Yah: I think if anyone said grit is one of the qualities of this job, you can just say, I applied for 80. I think that shows I have a lot of grit and determination.
Michelle Toh: Right. And, you know, for reaching out, I think it's just so important to be aware of the person's time and the fact that they're probably always getting reach outs from people, especially if it's someone pretty senior.
So keeping it super tight and to the point. I remember one tip I got from a college professor when I was wanting help with an email. He said, I would always start my emails like, hope alls well or something, or Hope this finds you well.
You know, just very polite, very stereotypical polite Asian girl. um,
Ling Yah: And he's that spoke English. How do you write an email?
Michelle Toh: Exactly
He would be like, why are you always saying hope this finds you? Well, first of all, that's like so formal second. Do you even hope it finds them well?
Like, just get to the point, just ask them what you want. It's fine. You don't need to have those pleasantries. And it was a really good tip I thought, because often the people that you reach out to and you want something from, they kind of just want you to get to the chase. Obviously be polite and courteous, but it doesn't really matter either way.
So I think that was a good tip as well.
Ling Yah: I'm so fascinated with this, what your cold email normally look like? Do you get feedback? Cuz sometimes I do ask people, what was it about my email that got you to say yes? And I wonder if you ever tried to dissect this? What made your cold emails work?
Michelle Toh: I think one thing that has really helped um, in getting for example, big name interviews has been offering to speak with people ahead of time, just on a casual level.
Can we have an intro call? Can we talk on background? And I know that one of the things that you like to do, Ling Yah, is really make sure that they know that you know a lot about them already and that they're not just gonna be talking to somebody who wants the get right the get of the interview.
You actually are curious about so many things that perhaps they spend their time thinking about or feel like they're misunderstood on. Um. So that is a really good trick. I think I've learned. I didn't used to do that to begin with, but that has helped immensely. Just offering to break the ice first.
Ling Yah: I love that. So how do you go from loving all the glamorous parts of life? Because you also worked at Harper's.
Then you end up in news, which isn't very interesting. In comparison, I might say.
Michelle Toh: Hey, that's debatable.
Ling Yah: Okay, that's debatable.. It's not as glamorous.
Michelle Toh: Funny you say that.
It's a really great question.
I think there was a really big watershed moment actually for me, in terms of which direction I wanted to go editorially.
So you're right.
I was very interested in fashion and lifestyle, so I did a bunch of internships in that space in college especially and I really enjoyed that. I will say I still to this day have an interest in trying to actually still meld both worlds.
So whether it's finding the business angle on a fashion story, like how are luxury sales doing in China amid the pandemic or whatever it may be.
But I very much had a hard turn, I think in 2011. This was when I went to the University of Southern California, as I mentioned, for the pre-college program.
It was a journalism program, and it was run by this amazing professor, Alan Middlestead, who ended up being my college mentor later. I took every class I could with him while I ended up going to USC later on, and I'm still in touch with him now.
We were given free reign to explore whatever we were most interested in.
And I remember that was right around the time that there was a spade of suicides, if you recall, at Foxcon from 2011 to 2012. And there were workers generally making, I think iPads and iPhones for Apple predominantly that were not happy with their lives and really committing the ultimate tragedy.
This was very much affecting me because I realized this is right across the border from where I live. A lot of this was in Shenzhen, if you remember.
I was like, why are people not talking about this enough? And that was really the moment where I realized, wait, this is what I wanna be doing.
I want people to be talking about stories that I think deserve more attention. I was literally reading the diaries of factory workers that had been posted and shared on Chinese social media and being like, why is no one talking about the fact that, you know, we all have iPhones and you're not really knowing anything about the stories of folks who are spending 17 hours a day making those devices.
So that was a big moment for me.
Ling Yah: Once you had that realization, was it easy to enter into that field?
Michelle Toh: That's also a good question. I, think, you know, when you're just starting out, obviously I feel like I was very fortunate to have gotten these aha moments early on, right.
Because like I was 17 years old when that Foxcon thing happened. A lot of folks do not generally know what they wanna do. Right, right off the gate after graduating college.
I know my siblings certainly didn't. And they would always say to me like, how did you know, you know, cuz for my brother for example, I think he went into econ just because my parents suggested it cuz he didn't know what else to do, right. That sounds familiar. I think probably for many people.
Ling Yah: I'm like your brother .
Michelle Toh: Did you study econ or you went
Ling Yah: I didn't study econ, but essentially I studied English lit and something I really loved, along with history. I didn't know what to do with my life. So everyone said, with your particular combination, people always do law.
Why don't you just do law cuz it's prestigious and it's flexible. So I just said yes and that was it.
Michelle Toh: Absolutely. Oh my gosh, Ling Yah, so many people I think can relate to that. I mean, half of my friends from my high school ended up going into law as well, so I think it was the same story there.
So yeah, to answer your question about how easy it was, I think it was easier for me in the sense that I had a little bit of early start, right, compared to perhaps someone who might have only realized much later on. Let's say after you've already finished college, when you might have already by that point have been expected to complete a couple of different internships or work experiences by then to change.
Ling Yah: Did you have a clear idea of exactly where you wanted to eventually be working at? Because I noticed like for those who are working at CNN where you are now, people tend to have had done many things prior to, and it's almost like they built their portfolio in order to enter cnn. And I wonder if that sort of external observation is correct.
Michelle Toh: It's very much so. Obviously CNN is an amazing company to work for. It's one of the most formidable, newest companies, if I say so myself. I certainly had no idea that I would be so fortunate to land there early in my career because I was 23 years old, just to be totally candid with you when I started there.
Ling Yah: Is it rare to be so young working at CNN?
Michelle Toh: I think to some degree. It depends on which department you're in, obviously and the positions. Of course, there are some entry level positions and whatnot. But it was kind of rare at the time. I mean, I've certainly been accustomed to always being the youngest person on my team both at Fortune and cnn.
So, yeah. That was a big surprise for me. It was very much something I, I thought I would have to work my way up to, and maybe one day in my life you hope to get there, right? I think people feel that way about places like the New York Times or the Journal as well.
Ling Yah: So what is the story behind you going from Fortune, which is also a really good place to deciding to make that switch and entering cnn?
Michelle Toh: It's funny because with Fortune, I had such a great experience there. I was only there for a really short time. It was roughly a year.
But basically what happened was I got my start in business journalism there, and I was working as an associate editor running essentially what I called an enthusiastic bureau of one, because I was the sole person in their Hong Kong bureau.
So they called me the Hong Kong Bureau chief, but I was like, I'm managing myself.
I was supervising like a small team there, but basically we shared them with Time Magazine, which is our sister publication at the time. That's a whole other story.
But the way that I ended up going to CNN was really unexpected. I was really just enjoying my time at Fortune and then the opportunity come up where someone cold emailed me from CNN, who was a part of the Asian American Journalist Association. Her name is Lizelle Tolo. She's incredible.
I had been part of a program with the association and I was an active member still. And I guess somebody had recommended me. She was looking to hire in Hong Kong. She was based in New York. And she was gonna come to town. So she just asked me if we could talk about career opportunities.
And the funny thing here, Ling Yah, is that Fortune and CNN were in the same building, just a couple floors apart. Yeah. So I
Ling Yah: awkward,
Michelle Toh: basically. Right. So when I ended up making the switch, it was really funny because first of all, I joked that my commute didn't change whatsoever.
And second , later on I did have a couple of encounters where people from Time Inc. which was the parent company of Fortune and Time who didn't know that I had moved over to cnn. I would run into them in the elevator on the way down or something like that, and they'd be like, eh? And I'm like, I know, sorry, . So yeah, the commute didn't change whatsoever. But that's basically how it started.
Ling Yah: The only real insight I have into this sort of world is the morning show, and I wonder how real that is compared to the reality that you live.
Michelle Toh: That is so hilarious. I love the morning show. I will caveat that I am not on the TV side per se, formally. But obviously CNN is a TV network, so I work really closely with a lot of my colleagues on that side.
I guess it's similar in that it's very intense and people like to joke that journalists just have their hair on fire. You're always on deadline, especially in the newsroom, right? That part is all very real.
So I think CNN is very much like the TV shows and the movies, you probably know where you've got like the high powered producers running around and people just like eating lunch and trying to make sure that they do 600 things at the same time.
It's very intense. I think morning show is definitely a lot more dramatic than what it probably is like in real life, I think.
Ling Yah: I think it always is. Like when people ask me, is legal life like silk? No, it definitely isn't .
Michelle Toh: Right. I was gonna ask you that too. Right. There was a Netflix show that was about a law firm.
I don't know if you saw that.
Ling Yah: The closest one that we used to live in when doing the bar in England was Silk. That was probably the closest by still very highly dramatized for sure.
Michelle Toh: And suits, right? I'm guessing too.
Ling Yah: Suits. I've actually never been able to watched it just because I feel like it is wildly non-reflective of what reality is like. So, I just ignore it .
So what is it behind the scenes? What are those main roles I suppose? And I asked this because I notice it's very interesting you started at CNN Money, but then your role seems to change.
Like you eventually moved to CNN business where you are, but you were programing editor, then you became the associate writer and now you're the writer. And that was strange for me cuz I thought editors higher than writer, but it's not.
Michelle Toh: Right. No, no, no. It's such a fair question. Yeah, so I have had a number of different positions at cnn, so I will say I've always been with the same team.
I've always been with the Asia business team in Hong Kong for cnn. We used to be known as CNN Money, and then we did a rebrand a couple years back, and now we're known as CNN Business. But for programming, a lot of people always say what is programming at CNN because, you might think it's coding or something like that.
But it's really just referring to the hardworking folks who work on audience development and digital curation and production for cnn. So we are home to the world's most read news website, at least last time I checked. We're sometimes been neck and neck with bbc. We don't like to talk about that.
But obviously millions of people come to our website every single day. I'm sure you have the app on your phone, right? And my job when I started off at the network was to work with newsrooms around the world on what do we have coming today? What are our top stories? It's kind of like a newspaper.
Because you've got the front page, but it's the home page. And then you have to really carefully strategize about how much time you give to each piece because there's so many different pieces of content that come out every single day.
How often you change that out, just making sure you stay current, but then also making sure that what you're putting out there and how you position everything and lay out everything almost like you would in a newspaper or front page, is compelling.
It's relevant. And we have also to make sure that you show the right amount of what we call counterprogramming. So stories that aren't necessarily hard news, right? Because one, it can get a little bit depressing, sometimes quite frankly to always be plugged into hard news.
And two, just remembering the lighter side of life with human interest stories, whether it's personal finance tips or New York Times does a great job of this, where they have their cooking section , so counterprogramming is what we call all of those other types of stories.
My job was to basically make sure that the most important stories were getting in front of people every single day. And you'd be surprised at how intensive a job that is, because when there's so many different news priorities, you just need to make sure you balance that.
You really have to make sure, okay, what are audiences in Asia looking at this morning?
And then what's our plan as we go into the Europe morning as well? Because those audiences will care about different things, possibly. Right?
And then for the app we also would have dedicated mobile programming where we would make sure, is the headline optimized for mobile, power of a shorter headline being more conversational, really being aware of where people are looking at your content and how they might interact with it.
And writing those breaking news alerts that you probably see a couple times a day from us that's something that I would do as well. So if we had a breaking news story coming out, let's say there's a court verdict, we're expecting, working with a relevant team ahead of time to be like, okay, what time do you think that's coming out?
What do you think is actually gonna happen? Can we like already figure out workshopping language so that we're prepared and ready to hit the button as soon as we can When that goes out.
Ling Yah: I would love to dive deeper behind what you do, Michelle, by going to pick up two particular stories that you cover.
One is in 2021 when you let the team across six CNN bureaus and it was on the workplace discrimination of Asia, Asians around the world, and you were in award for it. I wonder what that was like. What's the behind the scene?
Michelle Toh: Thank you so much for, you know, shouting that out. That project was such a labor of love for me and so personal.
As you can imagine, I'm sure that you've been following a lot of the stories of anti-Asian hate that still are continuing to this day. It's something I think about a lot, and quite frankly, it was a project that kept me up a lot at night, even before I did it because I would talk a lot with colleagues across the network about, this is really awful and it's happening in so many different cities around the world, and we don't know if people even understand the magnitude of what's going on.
With that project, basically what had triggered it, we always, of course, look for a news peg, right? And of there were a lot of events going on, but we wanted to find a way to zoom out on the issue and pay tribute to some of the people who might have been experiencing this problem.
Obviously working on the business side of things, I wanted to find a business angle, so I was like, what about workplace discrimination? I'm sure that there's actually people who might be experiencing customers turning them away, or maybe they got turned away from a job because they're Asian.
I'm just curious if that theory will bear out. And so what we did was we put out an audience call out globally. I think we put one out on WhatsApp, which was amazing, where we had people just write in and text us their stories, even voice noting us, some people crying, telling us their personal stories.
Then we had a call out on our live blog, which at the time we every day had a live blog on cnn.com about the Covid crisis.
Asking folks to write into a form and tell us if you wanna share your story, reach out to us and we'll contact you. We had hundreds of people get in touch.
So that was great. And I will say that, Project really enforced the power of CNN to me without wanting to sound too much like just a company woman.
But it really did because what I did at the time, because I was so passionate about this subject, was I reached out to anchors and correspondence on the TV side of CNN around the world.
People that I have never interacted with and might not necessarily even say hi to cuz you know, it's such a big company in normal life.
But I said, Hey, listen, we're doing this global call out. I would love if you could share this with your followers on your respective social pages and just get this out there more widely. So people like Christiane Amanpour, NEMA Berger, our chief international investigative correspondent, Kristie Lu Stout, who I'm sure you know who she is. She's amazing. She's also been a bit of a mentor for me in the newsroom here in Hong Kong.
They all did their bit in amplifying the message and it really helped because I had people reach out to me sharing their stories from places like Sydney, the US, Africa saying that they had seen the anchors help spread the message far and wide.
And, you know that's how we ended up doing a project that was essentially the work of, I counted in the end, I think it was 16 or 17 different departments across six locations.
So a lot of late nights, obviously, as you can imagine, all those calls, conference calls with people. We ended up trying to do video and audio as well as text to really show people in their own voices as much as possible.
So that was a really great project.
Ling Yah: Given that you had hundreds of people coming back to you. Michelle, how do you decide whose story to share? Because I'm sure everyone had a touching story.
Michelle Toh: That's such a good question, Ling Yah. Well, you know, one thing we really wanted to stay focused on was showing the geographical reach of this problem.
So, yeah, to be honest, most of the responses that we got, I recall they were mostly in the US because that's actually where a lot of our audiences. Right, of course.
So we had to be really selective on that in particular and showcasing, okay, what kinds of discrimination did they face? We don't want everybody to necessarily say the same story because then people get desensitized.
So that was another way that we kind of tried to whittle it down. And then oftentimes, you do these pre-calls with all of these different sources, first of all, to build that relationship, as I said.
And second to kind of do some betting obviously, because, it's hard to necessarily corroborate some of these stories.
Some of the people I will say that we ended up featuring in the project, were not from the call out specifically, they were folks that I had read about who had maybe filed lawsuits online, and I just wanted to know where did that go.
There was one man in particular who was in the news because there was a video that was circulating where he was attacked in his own cafe in Washington DC by somebody shouting anti-Asian slurs at him.
So I wanted to follow up with that person specifically, and that was easier to select because obviously, you know for a fact. You can see the video what happened.
Ling Yah: I love that you mentioned vetting, cuz that was my next question and it's a broader question, not just on this project, because traditional media tends to be linked to fake news, and I'm sure it's not intentional all the time, but there are certain things that you can a hundred percent verify.
How do you toe that line? How do you ensure you end up doing fake news, I guess.
Michelle Toh: Yeah, honestly, it's especially a growing problem with the misinformation out there on social media. A lot of my colleagues on the tech team at CNN have done really great stuff on that because a lot of their job is debunking stuff that you see out there. I mean, we've even got fact checkers, right?
Ling Yah: There was this really popular journalist on Twitter who was debunking everything that Trump was saying when he was president.
Michelle Toh: Daniel Dale, the CNN. Absolutely. And he's still doing fact checking, I believe for us. I think it's probably for Biden now, or I don't know necessarily.
But yeah, his knowledge is unbelievable.
Oh my goodness. He's a machine and so honorable.
So with vetting we actually are kind of unique as a news organization in that we are extremely careful with the systems we have in place.
So for sourcing, anonymous sourcing, a lot of times, especially for example, that project that I told you about, there were people who didn't wanna give their name and there's just like a lot of information perhaps that they might not be comfortable sharing depending on what the subject is, right?
But you really have to do your homework in that. We have a team called Triad which is basically three arms, as you can tell.
It's a team called the roe. They are a team of editors usually very, very seasoned people who are extremely thorough. They go through line by line. Of course every editor would do so anyway, but it's an extra layer of editing that is specifically meant to make sure that everything you're saying is water tight and fair and accurate and balanced.
And then we've got the legal team, which if you are ever working for us, I imagine that they would be interested in you.
We've also got a team called standards, which I think is so important. I mean, other newsrooms have standards teams too, but I think CNN is really different in that we have this three part process that we go through for every single story that we think is gonna be extra sensitive.
Alleged is wrongdoing really wanting to make sure, did you reach out to the other side? Are we sure. That person doesn't have a reason to lie. Did you already try to crosscheck this with two or three other people? Have you tried calling every single person, who you know, might know something about this?
If we are not a hundred percent sure. Even if we're 98% sure. So I've had stories that totally candid with you. I've had stories that were killed because Triad did not necessarily think that we had enough. And it was so hard for me because some of the stories were related to discrimination and things like that, that I felt really passionate about.
I would try to argue back. But at the end of the day, you realize that it is what it is. If you can't meet that certain standard, better safe than sorry. Right? Because reputation is everything in this industry.
Ling Yah: So even though it's very time sensitive, Triad still has to approve before you're allowed to release it.
Michelle Toh: Yes, and thankfully, we obviously as a news organization are used to the whole deadline, time sensitive, what time does this need to go out?
Please bear with me. I'm juggling six other requests. But yes, we, we definitely do have folks who look over stuff for us. And yeah, even if it's time sensitive you just have to know to build that extra time in, to be honest when you're reporting out something that's quite complex perhaps.
And I will say another thing that they really emphasize for us is it's always better to be right than to be first. And that's hard because obviously in news, your instinct is, I got this information, no one else has it, so can we please go out with it right now?
But a lot of times you just basically have to hang tight . You have to be reassured, basically, and talked down by your editor, hold your horses.
We need to call so and so, and let's just make sure that all is good because I don't want anything to go wrong here.
Ling Yah: There's a second story I want to pick up, which you mentioned recently, you were tracking a super yacht belonging to a Russian Oligarch .
What's the story behind that?
Michelle Toh: Oh, Ling Yah. I love that you picked like these sexy assignments. It's so funny, right? Because I always say, people always ask, what do you cover? And Obviously, my remit is very broad. This is definitely one of the more exciting ones that I've had to cover. And yeah, it was really fascinating and unexpected, by the way.
So I started off that Friday not knowing that I would be going on a wild goose chase. We had our morning editorial call and then somebody said, did you guys hear about this massive yacht that just showed up in Hong Kong overnight essentially and is now, parked in the waters just right off of from the city center.
There's been pictures, people just like on the ferry, maybe commuting to and from their workplaces. They snap these really grainy WhatsApp photos that people were just forwarding me.
And I was like, what is happening? And whose yacht is this? You know, it's not every day that you see that, right.
Unless obviously you're somewhere glamorous like Monaco or Portofino or something. But yeah, so then we started hearing chatter that this belonged to a sanctioned Russian oligarch, a billionaire who made his money in industrial resources Alex Mord.
And that there was not really any particular clear reason that people knew right off the bat as to why it was in Hong Kong specifically.
So then everybody wanted to know where did it come from? Why is it here, how long is it gonna be here for? And all that. And what was so funny was coincidentally, I mean, this is one of the joys of reporting in your own backyard.
You get to know a lot of people just randomly over the years, and you build up that network. A friend of mine had actually just changed careers this summer and what did he become?
A yacht broker. So I called my first call, exactly, my first call was to him. I said, have you guys been hearing about this yacht?
And what do you know about it? And he goes, are you kidding me as a talk of the town today? So he starts telling me what the speculation is just kind of off the record.
Ling Yah: Is he the person telling you that it's worth half a billion ?
Michelle Toh: He told me, he told me that it, that was what people were saying.
So obviously I had to confirm that as well for with official sources. But basically we were just chatting about it and then someone at work assigned me that story. They said, can you please look into it and try to see if we can do something with this
Next thing I know, my friend messages me back and says, my company, which is the yacht brokerage, is actually gonna take a boat out today to go see the thing.
So if you wanna come with us, you're more than welcome to join and bring some colleagues. I said, are you kidding me? Yes. So, so literally call our production manager and you know, editors at work and I let them know we've been invited to go look at it and there's a boat that's going out.
And I said, are you kidding me? Go.
So I basically brought a camera woman a photographer who actually coincidentally had just moved to Hong Kong two days before and this was our first assignment for us and just joined us.
Very fancy first gig .
Exactly. Very exciting. And we went off with my friend and another person who basically was the captain of the speedboat that drove us up to go see it floating there.
And it was a size of one and a half times the size of an American football field. Really, really something to see. And, you know, our job was to basically make sure to try to confirm the links to this Russian businessman, right? Because at that point it was all still very murky.
But when we pulled up, we saw clear as day that Vladi Valstok was emblazed on the stern, a Russian flag, which I had actually heard.
Beforehand that people were thinking that maybe that flag would've been taken down just to avoid speculation. Of course it's not easy right now to be linked to anything with Russia.
And it was very, very quiet. We didn't really see anyone other than a couple of people who appeared to be crew members in uniform, but we got really up close and we saw the name, obviously, of the vessel, which was reportedly linked to that billionaire. So it was really, really interesting.
Ling Yah: I am very curious about the idea of a public press, because obviously you're out there, you're somewhat of a public figure, I imagine. How do you think about how you represent yourself out there and how that might reflect on your role as well?
Because I imagine if you talked about something on your personal media page about the particular political situation, it might go viral and it might affect how CNN is viewed as well. So I wonder if how you see that?
Michelle Toh: I'm just a little bit more careful about, just personally. I know that we don't have restrictions, obviously.
Like they're not telling us what to say, what not to say or anything like that. But it is something that I personally, maybe just as somebody who maybe a little bit more earlier career than some of the really seasoned veterans I personally try not to weigh too much into that. Also very cognizant of the fact that my job is to cover business and tech, right?
So obviously there are times where politics will come into the conversation no matter what. Just by virtue of where you are or what the situation is. I don't avoid that or shy away from that at all. But I try not to comment or give my views.
I'm very old school journalist in the sense that I very much believe that nobody should know what your political views are if you're a journalist, you know what I mean?
A while ago there was a story about someone from the New York Times who said that they don't even vote in the US. They were political journalists and that actually caused a little bit of a debate. I remember because people saying like, you can vote, like, you know, just because you're a journalist doesn't mean you can't vote.
But he was saying that he was so deeply committed to being impartial that that's why he felt the need to kind of really abstain from certain things. I thought that was extremely interesting. But yeah, I try to just keep it really professional all the time, obviously. With personal branding, I think we're in a public facing industry, right, as you noted.
So it's important to strike that balance of making sure you put your work out there because you wanna showcase it, right? It's literally supposed to be a public service that you're doing the job.
Strike that balance of doing that versus also making sure that you are also kind of keeping your head down and doing the job you're meant to do, if that makes sense.
That's what I think about it. At least that's only my experience.
Ling Yah: Do you feel that it's important to really build your own personal platform in terms of what, and who you are and that eventually we're moving to a stage where journalists need to have their own "fan" base.
Because I mean, look at people like Christiane Amanpour if she speaks, lots of people will listen and that means whatever she cares about gain so much more reach and just not just because of cnn.
Michelle Toh: Absolutely. I think a lot of my colleagues do this extremely well. You already know some of the people by name, right. And probably have for years and that's a testament to the fact that they've gotten their brand out there. They've not shied away from the spotlight whatsoever.
So I think that's fantastic. It's something that I am starting to think about a lot more these days. I have just been starting to redo my personal website. I have started a public Instagram, which is just gonna be a professional account where I really go behind the scenes day to day, cuz I realize that people are actually really interested to know what it's like to be a reporter.
Ling Yah: Yeah, you should definitely do that a lot more. I see one picture on your public profile. You definitely need more than just one picture.
Michelle Toh: Just give me some time.. I think it was um, like a couple weeks ago and then I just got ill. So I'm definitely going to be more active there.
Ling Yah: Yeah, because normally that's where I get all my juicy information and questions from. On the personal Instagram page behind the scenes and I thought, oh, there's only one photo.
Michelle Toh: No, it's true. Yeah. So yes, Instagram is gonna be a new one for me. It's actually my favorite social platform. But I've always only just had like a private account until now.
I think like a lot of times also, writers and people who work more on the print side have a different way of looking at it compared to maybe folks you might see in radio or tv.
Cuz that's where you're expected to showcase some sense of personality, right? If you're being brought on a show, on a podcast or anything it is.
Versus if you're just paid to write articles, that's not something that you would necessarily think about a lot.
So I think that you'll really see that disparity often with regard to people who work on the written side of things and people work on TV side of things. They don't often necessarily see things like that at all.
Ling Yah: I find it interesting that you mentioned Instagram's your favorite because you're in tech and business.
Shouldn't Twitter be your main platform?
Michelle Toh: Oh, well, you know, I think a lot of people are rethinking how they feel about Twitter these days.
Ling Yah: That's true.
Michelle Toh: As you have probably been following. Yeah. You know, of course as a journalist, Twitter is such a crucial and valuable tool. I couldn't live without it, I will say.
But I'm much more a lurker on Twitter than I am a poster. As you might have seen.
Ling Yah: You retweet a lot.
Michelle Toh: Yeah, I think it's just a personal preference thing. I'm a very visual person, so I like Instagram. I also like LinkedIn because I find that the discourse on LinkedIn is often a lot more constructive and valuable.
You know, when you connect with someone there, it just feels so much more deep. Maybe also because it's not anonymous where it can be on Twitter.
You don't even know sometimes if you're interacting with a real person. And really more engaging. So I also really like LinkedIn actually. I'm sure you probably think about this too.
Ling Yah: Yeah, I mean, LinkedIn is definitely my favorite platform right now. I think because, as you said earlier, what I write, when people do respond, it's a lot more new ones and they definitely have put thought and effort into it. So you don't get all these spam comments that you just have to block or delete.
Michelle Toh: Exactly. Exactly. And then with LinkedIn too, or just in terms of personal branding, like what you said just now, I do think it's increasingly important to get yourself out there because it's a very crowded field, right? Everybody's jostling for attention or opportunities.
And that's never gonna change. But I remember earlier this year I was asked to speak at a conference and asked to interview a ceo.
The person who organized told me, oh, you know, the way that I actually thought of asking you was I saw you had posted about an interview that you had done.
It was either on LinkedIn or Instagram where it reminded me about what you do every day. And I was like, she would be great. So I think it is important to just remember that.
Success begets success. That's really what I learned. It sounds really trite, but it's true. I think.
Ling Yah: That is so, so true as well.
And that's exactly how I find my guests as well. If you don't post about what you at, I have no idea what things to ask you and whether I would be able to invite you on as well.
Unless I would start with a generic, so you're a reporter tell me about it. Which doesn't help very much.
Michelle Toh: No.
Ling Yah: I love that you brought up attention, cuz that was my next question. I wonder, when you think about obviously your well versed in storytelling, how do you get attention?
How do you think about attention in terms of crafting a story,
Michelle Toh: It's something we think about and discuss literally every day because obviously we work for an organization with a massive audience and we're paid to look at the global news agenda, right?
It's really interesting because obviously I have worked at Scmp and other places where you're focused more on local. It's very, very different. The types of coverage that your audience might be interested in.
So we're always asking ourselves, okay, wait, what would someone in New York think about this story though, versus someone in Delhi or, Hong Kong? So our framing often we like to think a lot about whether you zoom out on a subject.
So one example is yesterday we just put out a story on how the US China chip war is spilling over to Europe. One could argue that's a little bit of a niche subject because not everybody necessarily keeps up with the world of semiconductors and M&A, right. So the key there was really trying to boil it down in plain English to a general audience.
How would you describe this to a friend you're having dinner with? That's like literally the litmus test. We, we often like to say Or it's sometimes about completely zooming in. So whether it's just talking to one particular person who was affected by a massive issue that everybody knows is going on, but they don't really necessarily think about the ramifications.
I think one good example of this is last year I spoke to a couple in Bangladesh who basically fell into poverty during Covid. They were an example of people who fell under the poverty line for the first time in a historic crisis.
They luckily managed to climb themselves out of it, which was amazing. But had we not had what we call characters to illustrate that story, I don't think the story would've gotten as much attention or been as strong at all. You know what I mean?
Ling Yah: I want to bring up something that you mentioned briefly earlier when we touched on mentors. I get the feeling you're the kind of person who will be very active and proactive in finding mentors, and I wonder how you think about that. Who are your mentors?
Michelle Toh: Well, actually, I'm glad you asked this because I really feel that I have been blessed in my career to have had a lot of people who are very generous with their time and advice.
Just even within our own newsroom, there are multiple people that I should definitely be name checking. Kristie Lu Stout like I mentioned, she has been incredible. She's exactly like you might expect. So warm down to earth. Very gracious with her time.
There's Anna Corrin, who is an anchor for us at CNN International as well. She's also in Hong Kong these days, who has cheered me on behind the scenes. I've been literally doing some TV testing just between us . Yeah. And they have just been so supportive in terms of giving me concrete feedback and what I should be trying to do. I'm always very aware though of the fact that everyone is just so busy.
So I try to always make sure that when I do seek people out for the odd coffee or just pull them aside for a few minutes if they can. I always try to come extremely prepared and I always try to let them know ahead of time, you know, like, can I just have whatever time that would work for you.
I'll be flexible with that. I should also mention Elena Lee, who is our SVP for CNN International. She has been a huge champion of mentoring diverse and younger talent in the newsroom.
I think that I definitely have been really fortunate to get that advice. I try to always think of it as, if someone is giving me 20 minutes, 30 minutes, what do I wanna get out of that?
And also, I hate people who don't think to ask about the other person. So I always wanna make sure that I listen to what would you wanna see more of by the way? Or how are you doing? And what is it that you looking back wish that you had thought about more in your career as the years went on?
So that's something that I spent a lot of time thinking about.
Ling Yah: I love that. And I wonder, as we are wrapping up, for those who are thinking of becoming journalists, there are some, I've heard reports as well who would say, I don't think you even need to study broadcast journalism in school at all. There are many different pathways.
If you start building and just creating content online, you are already basically putting one foot into the door. I wonder what your advice is for those considering journalism. How should I get and what can they expect?
Michelle Toh: Yeah, it's an age old debate, right? About whether or not you even need that relevant degree to go into journalism.
There's definitely two schools of thought here. I think there's one that is, you know, very much like don't study journalism. Go into law or econ or IR or PoliSci and get that knowledge because then you can have that subject matter expertise and you can bring that to your reporting and use that to inform your stories.
And then there's some people who are very old school who really wanna know everything there is about AP style and how to craft a story and how do I become a better interviewer.
There's no right answer here. For me what worked obviously was going to journalism school, as you can tell. That had a huge impact on me.
And I really just fascinated by the history of media and how that's evolved over time. It sounds like you're really interested in that subject too. And yeah, I personally would encourage folks to see what they're really most passionate about. I think it really depends, right?
So for example, I'm in business journalism now. People aren't born knowing about business, right? And that's something I also try to remind myself if I ever feel like I have imposter syndrome like you mentioned earlier.
There are days that sometimes, I'm not gonna lie, I wish that I had an MBA or something like that, which a lot of my friends have started doing over the last few years.
But at the end of the day I think it just really depends if you're the kind of person who is determined to figure it out. If that makes sense.
I think a lot of it often comes down to the individual and how much they're willing to learn on the job and go above and beyond. Even if they don't know really intricate details of what they're covering.
If they're willing to stay back and do their own self-study, then you should be by and large fine. It's my feeling at least. That's just my thought.
Ling Yah: What are the hallmarks of as star journalists? Cause there are many. What about those who stand out? What are those commonalities?
Michelle Toh: Yeah. So I think one of the big things is compassion.
And I know that this might sound a little bit cliche because you know, obviously people who are paid to interact with strangers all day should have some sense of empathy, and that's often why you get into the job anyway.
But I think that that's a very important one. Literally thinking about misconceptions that a person might be dealing with. Something that I don't think maybe all journalists spend time thinking about.
Another quality that I would say is really important is just drive. The grittiness that you talked about earlier, just being willing to go above and beyond and do things that other people wouldn't. There's a lot of people who, you'd be surprised, just very comfortable doing the minimum or the required and then just sitting back and calling it a day or admitting defeat very easily.
Ling Yah: Quiet quitting .
Michelle Toh: Right? Quiet, quitting. Or maybe not even, right? Maybe just to not be so persistent or dogged. I think is something that could really not work out in your favor if you wanna be a journalist.
Because you often have to be looking ahead to what is it that I can get that someone else hasn't already said? How do I push the story forward is something we talk about a lot.
And I think respect as well because, you know, we talked a little bit earlier about how to gain people's trust and when you're cold reaching out and things like that. There have been times where I know it's a really hard day for that person.
Maybe like, I'm calling them about a headline that I know they're going through a hard time with their company. Their company was in the news for some restructuring or just negative news, right?
Just really being sensitive to that and knowing how much to probe and how much to back off is something to really think about.
I was just talking with my colleague the other day who was looking at the tech layoffs and they personally knew some people who were cut across their respective organizations and we were trying to do coverage of that and she was just trying to think about, okay, how do I reach out and let them know If you wanna share your story about, that please let me know. But also no problem if not.
Oftentimes it is just a common sense thing and you just figure it out and it's very visceral, but not everybody knows the boundaries I think. So it's something I think about too.
Ling Yah: I was about to wrap up, but you mentioned the word trust, and I wanted to ask one question of that.
How do you gain trust, Michelle, especially with people who are total stranger?
Michelle Toh: Yeah, I think one thing that really helped during Covid was we all suddenly got this point of natural connection that wouldn't have been there before. Because I don't know if you find this with people that you interview as well. You know, you're often doing small talk before you actually get started, right?
You often warm up a little bit. You might have a few minutes asking, how's your day going? Where are you calling from? But with Covid there were so many changes that people were getting used to that were completely devoid of anything political as well.
You know, are you at home today? Are you guys back in the office these days? What's the quarantine situation where you are? How's the mood over there? That really, really helped with just building that natural icebreaker.
But another point I wanted to mention, which I think you asked about earlier with regard to just reaching out to folks cold and not knowing them.
I often will like to also show them past examples of stuff that I've done, which I think you do as well. Right? It's so important you wouldn't necessarily think to do that.
I certainly didn't know to do that when I was pitching for CEOs when I first started out. And you show them, Hey, I've already done this and that on that subject.
We could talk about something similar perhaps, or whatever it is, right? Really showing them clearly you have a vision in mind. You're gonna be careful with their time that they entrust you with and that you're very thoughtful about the entire thing. I think it's extremely helpful.
Ling Yah: And finally, just before I end with my final questions, how can listeners to this podcast help you?
Michelle Toh: Help me by sending me news tips. That's what I want.
Ling Yah: What tips do you need?
Michelle Toh: Everybody's always looking for their next scoop, right, as a reporter. But also I would love to hear more from audiences. And this is why I started my professional account just a couple weeks ago as to what questions they would want to be posed to some of these global 500 executives that we're talking to.
I mean, we have the access and the platform and we should be in tune with the people who actually might even be that in their industry.
One example was I just talked to Mercedes ceo. I think it was last month, and I posted on my LinkedIn about what would you want to ask them?
It was the first time I had really done that in a public setting, and I was pleasantly surprised by the number of people who wrote in and just said, I work in the auto industry, here's what I would wanna know.
And I was like, that's great. You know, because those are actual pressing concerns that people have that are extremely relevant and we should be representing that if, if we think it's relevant as well to the story at hand.
So yeah, I would love to hear more feedback from people. And then just tips on things that might have happened that we can expose, quite frankly.
I'm interested in doing more investigative work. And I think that workplace issues are a very big topic at the moment and they should continue to be.
So I would love to hear more from just ordinary day to day workers at companies who can really shine a light on conditions and things like that. That's something that I'd be interested in.
Ling Yah: I love that you mentioned the fact that you were asking people for questions. Cuz I did notice you do that on LinkedIn.
I thought, oh, I do that with my guests as well. And you really do also get a sense of how the public perceives of them.
Some guests, the moment you talk about them, it goes viral cuz everyone would say, oh, I love this person. I have this question, I'm starstruck. They even became a friend on LinkedIn and you really get a sense of, oh, I know he's famous for this, but I didn't realize he was so loved as well.
And that's interesting.
Michelle Toh: Yeah, no, exactly. And I think like, honestly, it's all part of the prep work. And it actually ultimately informs you as a better interviewer. I'm sure you can relate. And when you tell the person that you're sitting across from that, I actually asked around and so and so like, this reader actually told me to ask you this.
They're so often honored to hear that their work matters or their story matters so much that other people would even wanna write in to send questions about them.
Ling Yah: And Is this something that you think is gonna be more commonplace, I suppose.
Michelle Toh: Yes, I do think so, especially with social media. I think it's something we should do more. Honestly. Because, like I say, the old school journalists they really care about public accountability and making sure that they represent the concerns of the average person.
So I think it's the right direction we're going in. A lot of my colleagues already do a great job by doing those call outs as well on just before any interviews.
Let them know, like especially if you're covering, let's say a government official or something like that. You're gonna want to represent the people in their district or constituency and say, Hey, What happened with this issue that you made a promise on?
Like, there's actual real people out there who wanna know what was the latest on that. I wanna follow up on that for them and being that voice for them. I think that's really important as a journalist.
Ling Yah: And speaking of call out, I do have a question from one of my audience, Craig Davis, and he actually wanted to know, he said you interviewed different leaders in the world's top companies.
What's your process to prepare for the people you interview?
Michelle Toh: That's also a good one. I think we're probably quite alike in that we do a huge deep dive. There's probably so many tabs you often have open for an interview and it's like the best feeling. We always joke to close all the tabs after it's all done.
Ling Yah: Yeah. I don't close each.
I just close the whole thing and it's gone.
Michelle Toh: It's the best feeling. So yeah. Obviously the basics are just making sure that you're across all the latest announcements.
But I think like picking out things that are surprising and that really show that you would've noticed a different angle perhaps, that another journalist wouldn't have often is good.
For talking to business leaders, a lot of times I think about what is their agenda. What are they thinking about as they go into the interview?
Because frankly, a lot of times people have their own reason as to why they would wanna sit down with a journalist. They wanna get publicity for a new product, or they wanna talk about their expansion plans or whatever it is. It's often to promote their own agenda, right? Of course.
So I try to really think about the tone to strike with that and how much attention to give to that. But also making sure that we're staying true to what our priorities are from the interview and what news lines that we think would actually make the most sense to try to get, if that makes sense.
Ling Yah: Michelle, thank you so much for your time. I have really loved this conversation. I could go on for hours, but I won't. I normally end all my interviews are the same questions. So the first is this, do you feel like you have found your why?
Michelle Toh: That is a really, really good question, Ling Yah, because honestly, you are catching me at a time where I have been pondering that a lot.
I think I have found it to some extent. I love by the way that this is the focus of your podcast. I was telling friends about it and they were saying, what a great name for a podcast, So This Is My Why. I was thinking about my why and I think there are two things that have really informed that for me.
One is when I was 19 years old, I actually lost my best friend, Ting Tie to leukemia. Losing someone that I loved so early in life was a huge shakeup for me. It really made me think about how life is just so precious and short, and how we only get this one life.
I know that it can sound extremely cliche, but I guess I learned that firsthand very, very young.
So that's been ingrained in me with a lot of things that I do. So whenever I'm going to a conference or a business trip or whatever it is, I really try to pack it as full as I can. And people always say to me, don't you wanna also just sometimes chill.
Like why do you go so hard? And that's really one of the reasons why I feel like I'm that way.
The other thing that has really informed my why is my dad. I mentioned earlier he is such a role model to me. Both my parents are, but he actually decided the year that he was gonna retire, that he was looking forward to for so many years. He was gonna go to med school.
Ling Yah: Oh, wow!
Michelle Toh: Yeah.
So he is currently in the Philippines studying medicine and he's in his third year and he is absolutely crushing it. I am so proud of him. He's one of the world's oldest med students. I looked it up.
Somebody was saying that maybe I should find a way to do something with him for a story one day.
But you know, it really just made me realize that you can do whatever you wanna do. His background was in medical device sales before.
Ling Yah: Before that you said he was collecting and selling rubbish.
Michelle Toh: So he was a student at Imperial in London where his, I wanna say, and he worked at night as a garbage man helping collect wow trash.
Ling Yah: I do remember, cuz I used to live in London and it's not pleasant to collect all these black rubbish bags by the side. Wow.
Michelle Toh: No, no.
Ling Yah: And they always work at really late hours. 2:00 AM is when they start, I think. Or slightly before.
Michelle Toh: Right. Overnight. That's what he did. So, like, honestly, it really just made me realize that you can do whatever you wanna do as long as you're willing to put in the work.
It's such a stereotypical ideal. But I really learned that from my dad. So he still plowing on, and I don't think he plans to practice. I don't know that you can even do that necessarily depending on where you're living. Just for legal reasons. But it's inspired me a lot and made me think a lot about what I want to get out of life as well.
Ling Yah: Your dad is very, very inspiring. He definitely needs to have a story featured often.
Michelle Toh: Yeah. You do your next guest.
Ling Yah: Yeah. What kind of legacy do you wanna leave behind?
Michelle Toh: You know, as I got older, I really realized that it's become more simple to me. I feel like this might have been more complicated for me in the past, but I've really realized that all I care about at the end of the day is just making sure that I am seen as a good person who worked hard and tried to leave an impact in some way. Whether it's by giving voices to people who wouldn't ordinarily have a platform, or whether it's doing philanthropic work. I just feel like that higher purpose is more important to me now, and to pay it forward is something that I really care about.
Ling Yah: And what do you think are the most important qualities of a successful person?
Michelle Toh: Hmm. Important qualities of a successful person? Persistence. I think you'd be familiar with this one, right?
We were just chatting earlier, it took a while for us to schedule this call and I'm just so grateful to you that you even, first of all, were interested in second cared enough to follow up so many times.
That's half my life as it is as well. Somebody was saying recently that people are so busy these days that often they might not respond unless you follow up. Because that, to some people, it's their litmus test of how important it is, right.
If you just get one email that you perhaps missed or thought you were gonna get back to and nobody ever writes you back again, you might think, oh, that's fine.
But if someone just keeps at it, then it really shows, hey, like this matters and maybe you should care about it too. So I think persistence is a really big one.
Ling Yah: Can I jump in that very quickly about follow up cuz that's something I don't mind doing. But then sometimes I follow up six, seven times and you kind of wonder, should I stop at some point?
Michelle Toh: Yeah, no, I totally hear you on that. I mean, I think it's really case by case, but I've had that conversation with myself so many times too, so don't,
Ling Yah: Sometimes I do convert into actual interviews after six, seven times. So there is this part of me that goes, oh, maybe I should just keep at it. But maybe they're really annoyed even though they said yes before.
Michelle Toh: Right. It's like kind of like you wonder at what point. Yeah, is it a fool's errand to keep trying and is it worth it? Oftentimes I find that it doesn't hurt to ask especially if you're the kind of person that is just focused on the end goal, which it sounds like you are too. So that is another one.
I think also just not really caring as much what people think is a really important one. And it's something that I remind myself of all the time because to be honest with you, I'm guilty of maybe overthinking on this front.
So yeah, I think having a thick skin, because I've noticed when it comes to a lot of the top people that I've interviewed, that's something they really have strong convictions on.
You often have to have a little bit of, for lack of a better word, almost arrogance about how you carry yourself and what you believe in if you think you're gonna make a change. And that makes sense when you really think about it, right?
Because it's often not the people who are very happy to stick to the status quo and would second guess themselves who would necessarily guess so far. So yeah, having that thick skin and realizing. That's also super important.
Ling Yah: And where can people go to connect with you, support you find out what you're doing, send you the tips that you want?
Michelle Toh: So you can find me on LinkedIn under Michelle Toh or Toh Michelle, I think is my URL. I will pop that over to you.
My new Instagram page, I haven't really started promoting it yet, but I definitely want to put more effort into that and start engaging with folks more on Michelle Toh. CNN is the handle. And then Twitter, which be Michelle Toh underscore.
Ling Yah: It's Toh Michelle for LinkedIn and I will add all those links.
Michelle Toh: Ling Yah, you know better than me. Ok.
I should hire you for my personal branding. I think. Yeah, I think we collaborate further.
Yes.
Ling Yah: And is there anything else that you'd like to share that we haven't covered so far?
Michelle Toh: No, you know, I think we covered a fair amount. I wanna just thank you for such thoughtful questions and really looking back on the experiences that I've already had.
I feel like you are such a considerate interviewer and I just really wanna thank you for reaching out.
Ling Yah: And that was the end of episode 107. The show notes and transcript can be found at www.sothisismywhy.com/107.
If you haven't done so already, please do leave a rating review for this podcast. It really helps STIMY to grow, and I read every single review.
And stick around for next Sunday because we will be meeting one of the biggest YouTubers in Indonesia with almost 5 million subscribers.
That's an achievement that few can boast off, and we dive deep, obviously, into the word of content creation and the state of education via medium, like YouTube. It's definitely not an episode you wanna miss, so if you haven't done so, please do subscribe and see you next Sunday.