Welcome to Episode 95!
STIMY Episode 95 features Marja Kontinnen.
It's not normal to make yourself redundant, right? 😳
It's hard enough applying for a job, going through 5-8 rounds of interview before settling into your new role & figuring out how everything works.
And what it takes to reach the top. 🧐
It's also not normal to work with NASA to launch a new product (Angry Birds Space !!) & have an astronaut  talk about it live from the International Space Station.
And yet, that's exactly what Marja Konttinen has been up to. 
Marja Konttinen is the current Marketing Director at Decentraland – yes, the place that hosts all those fancy avatar-attending Metaverse Fashion & Art Festivals 🎊 . Where virtual plots (pixels, really) have sold for millions 💸.
So what's Marja's story?
Well for starters, Marja has had a very varied career. Which is explained by her approach to work:
"My whole career has been this fun adventure where I like saying yes to opportunities and when that opportunity comes, I will definitely go for it."
Her first job in the games industry = beta test Hitman Bloodmoney. 
Aka playing games all day to uncover bugs & determine the functioning of the gameplay.
Aka literally playing to earn money! 👾
That kickstarted her 15-year journey in the games industry.
A particular highlight we touched on was her stint as Marketing Director at Rovio Entertainment.
Her first job?
Call NASA. 😍
Because Rovio was about to launch Angry Birds Space. It was going to be HUGE, everyone wanted a slice of it, and Marja was at the eye of the storm🌪.
Now Marja's at Decentraland. She's spearheading its marketing efforts but is quick to say that her ultimate goal is to make herself redundant. Which ties back to the ethos of decentralisation (weird as it sounds!).
Her dream: that the Decentraland DAO runs the entire operations by themselves as a collective. 
So we of course talk about that. 
What are those challenges? What is the true value of virtual land? And what does it really take to throw a great virtual party?
✨Welcome to STIMY Ep 95!✨
PS:
Want to get the latest STIMY news & learn about curious things that will make you the most interesting person in the room? 
Sign up for STIMY's weekly newsletter below!
Who is Marja Kontinnen?
Marja Konttinen is the current Marketing Director at Decentraland Foundation – the first fully decentralized virtual world that is built, governed, and owned by its users.
And she's here to share how her 15 years spent in the world of gaming (!) led her deep into the world of web3.
As with many past STIMY guests, Marja's path wasn't straight forward. But she's ended up in really fascinating roles which can probably be explained with the following:
"My whole career has been this fun adventure where I like saying yes to opportunities and when that opportunity comes, I will definitely go for it."
Marja shares her journey in going from gaming into web3, and why she's actively looking to make her role obsolete at Decentraland Foundation!
2.56 Being artistic

4:47 Saying yes to opportunities

7:36 Lessons learned from the gaming industry

9:24 Working with gaming developers

10:51 Becoming the Marketing Director at Rovio Entertainment

12:12 Good partnerships are a gut feeling

13:23 Spearheading the launch of Angry Birds Space & NASA Collaboration

17:17 Planning the launch

17:56 Biggest challenge in the gaming industry

18:44 How do you build community?

20:34 Working to make herself redundant as a marketing director at Decentraland

23:34 How Decentraland's DAO works

27:30 Challenges in removing herself as a marketing director

28:51 Why pick Decentraland over everyone else?

32:16 What is the true value of virtual land?

35:23 How companies can fully utilise virtual land

40:04 Renting, not buying

41:44 Behind-the-scenes of throwing a virtual party

43:26 What do people always forget to do when planning a virtual party?

44:32 Web3 metrics of success 

46:05 How companies can get started in web3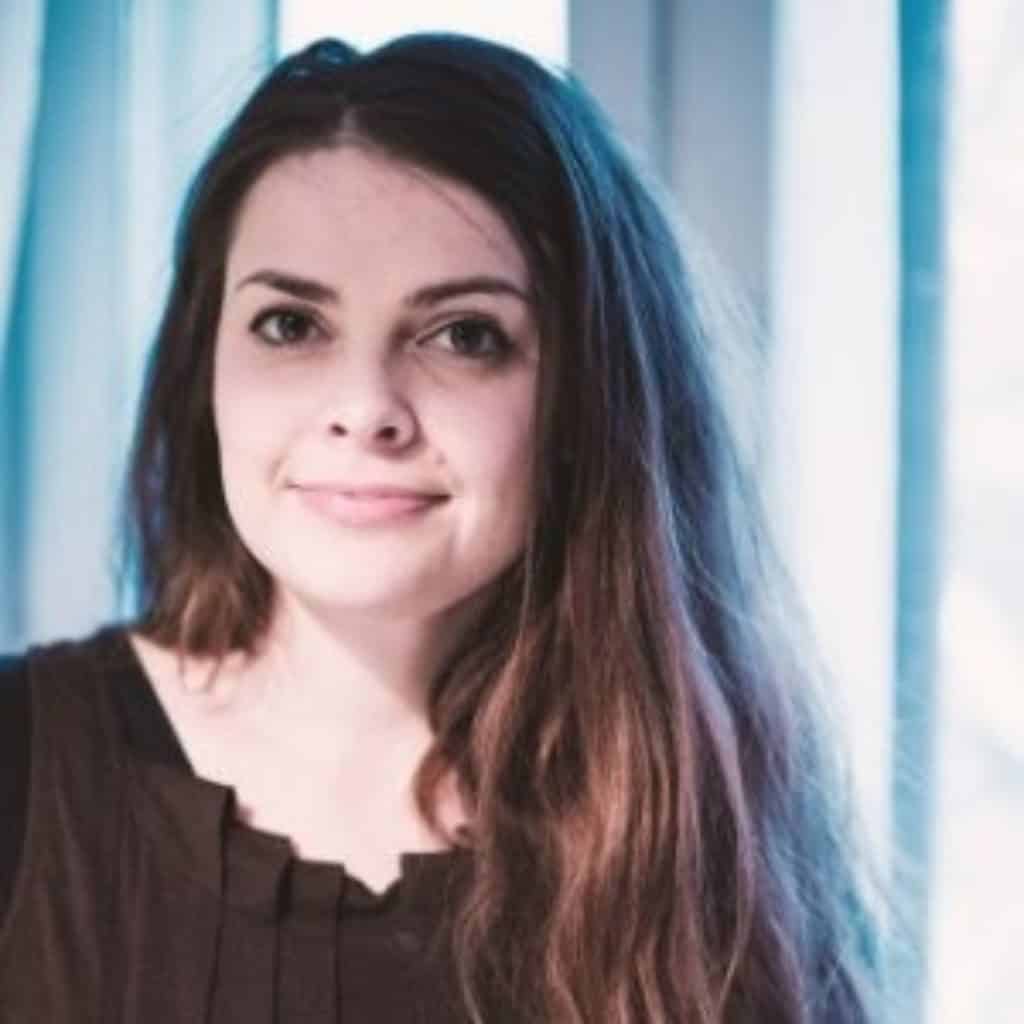 If you're looking for more inspirational stories, check out:
If you enjoyed this episode with Marja, you can: 
Leave a Review
If you enjoy listening to the podcast, we'd love for you to leave a review on iTunes / Apple Podcasts. The link works even if you aren't on an iPhone. 😉
Patreon
If you'd like to support STIMY as a patron, you can visit STIMY's Patreon page here. 
External Links
Some of the things we talked about in this STIMY Episode can be found below: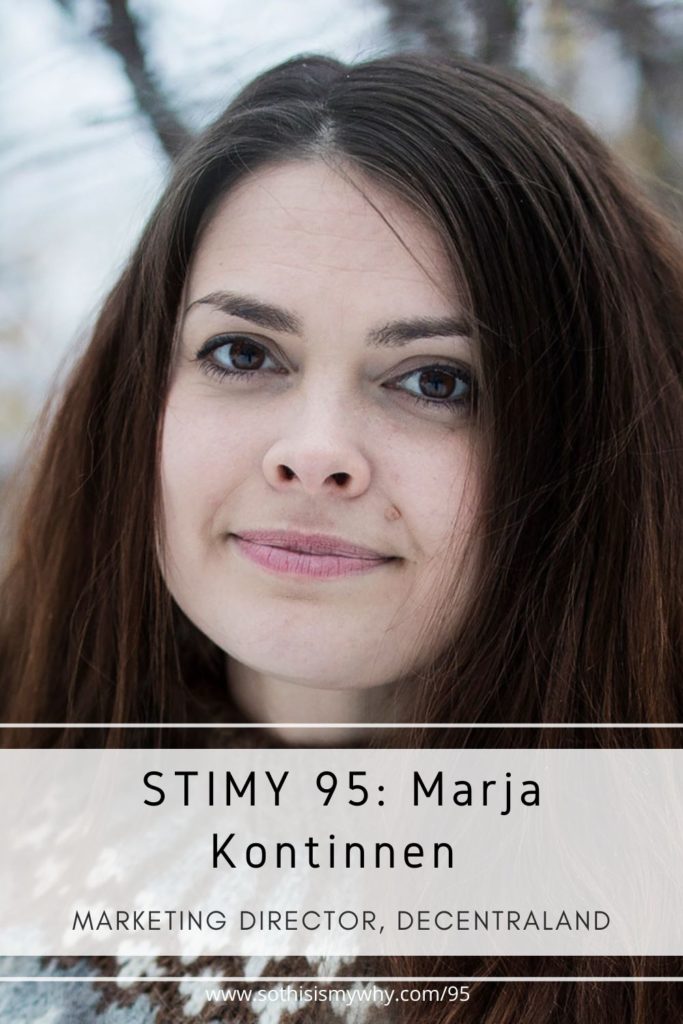 STIMY Ep 95: Marja Konttinen - Marketing Director, Decentraland
===
Marja Konttinen: My um, current role with Decentraland is that I actually try to make myself totally redundant in the next coming years, because it is the role and the nature of the product. So Decentraland is, it is owned by its community, its own users.
I'm with the foundation, which is a nonprofit foundation representing real world topics: So kind of legal contracts and social media channels, things like that.
Ideally the world is able to understand what the DAO is in some years to come. And that the Dao is able to independently start running the marketing, the business development, the partnerships one day.
And that would mean that my role doesn't exist in the foundation. So what does that actually require for my role to move to the downside in the coming years?
How can I actually step away from any kind of central decision making. One day maybe I'm not needed anymore.
Ling Yah: Hey everyone! Welcome to episode 95 of the So is My Why podcast. I'm the host and producer Ling Yah, and before we start, I'd love if you could leave a review about this podcast, whether on social media or on Apple Podcast, to let others know what you think. Every review does help this podcast to grow, and you have my eternal gratitude.
Now, let's get to today's guest, Marja Kontinnen. Marking director at Decentraland, and former marketing director at Rovio Entertainment where she worked to launch Angry Bird Space with collaborators like NASA, including a special feature from a live astronaut at the International Space Station, slash the musician and National Geographic.
So how did she end up in Decentraland? What did she learn from her years as a marketer in the startup world of gaming? And where does the true value of Virtual real estate lie? We cover all that and more in this episode.
So are you ready?
Let's go.
Marja Konttinen: I've been a bit of our loner kid. I loved reading books, so I think I've always living in some kind of virtual world.
It was mainly my imaginary world where I felt like I belonged into different eras and I've been always really into the world that books are able to create. And actually it was quite fun last week. When we were hosting the art week at de central land, our creative director, Sam was talking about how poets might have been the original virtual world makers, because through few words, they were able to conjure these amazing worlds that we can imagine in our heads.
And I think that's where I've lived most of my life as a kid. I really love those fairy tales. And as a teenager, I was the first one to get into internet. And That was really the eye opener that there is another world out there and I can connect with these people. There are other people like me and we are gonna be able to create our own adventure.
Ling Yah: I noticed that you were doing your bachelor's as a media artist, you did digital studies. You did media studies again at Copenhagen and masters in internet and game studies. So it seems like you were very much focused on this field since the very beginning.
How did that interest spark, what were your thoughts in terms of what am I gonna do with my life?
Marja Konttinen: Oh, that's an excellent question. I've been thinking about that as well. I've always thought of myself as a very artistic person, a very creative person, but is also extremely chaotic. And I always found it very hard to express my creativity.
I was always hanging out with artists and I was always hanging out with musicians and I realized that I have a very good talent, which is coordination. I was able to project manage, see the pick picture and start putting things in places where a lot of artists didn't know how to do that. They were still totally fully chaotic.
So I actually went to school to study project management in art. Like, how do you actually do this in a really productive easy way? Kinda like find the easy way to do the fun things. And I still get to work with the really exciting things. My first job was at a record label and I got to work with some of my favorite bands.
And that was just absolutely amazing. I get to do exactly what I want, but I can input with skill that maybe they don't have. I can keep them a platform to be even better at what they're doing.
I don't really enjoy studying. So, yeah, I'm not really into like academic studies as something that I wanna do like long term, I really want to pick up skills and get inspiration and new tools.
And then I can go back to what I really like doing, which is practical topics working with real people. I found it always a bit complicated to sit in school and, work on a theoretical topics where I could be doing this in real world. It's more like additional skill sets. I've always preferred the internship part of studies as well, where you get to actually work in a company, work with real people on real projects.
I think that's way more giving to me. It's definitely my way of study.
Ling Yah: When I was looking through your profile, I thought it was so interesting. As you said earlier, you were helping to basically run concepts for meet artists, but you were also working at Microsoft. Then you were working in the world of startups for games.
And I wonder, how did you end up working in this gaming industry, cuz that's such a unique and I would say the perfect place to be, to do what you're doing right now.
Marja Konttinen: Yeah, that was amazing. My whole career has been this fun adventure where I like saying yes to opportunities and when that opportunity comes, I will definitely go for it.
And I do seek them out as well. Like I'm really open minded and ready to get excited and passionate about new topics. So I think gaming has been something that was with me since we've been kids. Nintendo was a big deal when we were really small, we were always playing. And then when the PC games came about, I was always curious about them.
I have a little brother who always played. Pretty early on, I was really much like a spectator sport person that I was watching him play. I loved watching the kids playing and they were playing counter strike and I'm like, go there, do this. This is really exciting. I actually didn't want to play myself anymore.
I just wanted to view and, and coordinate . I always played and I found that really exciting. And then I had this opportunity to go and work in a gaming company in Denmark. It was a translation job to start with, but I somehow managed to cancel the job by telling them how complicated language Finnish is.
And it's not gonna be something that you can automate through a tool because it's very, very special and it's not gonna be mathematical as a lot of the Anglo language is. I was there for two weeks explaining my case, then they stopped the project.
But they felt really bad that I actually canceled my own job so they gave me a job as a curatist. So I ended up curating Hitman, which was really amazing.
Like a dream come true and to actually work on a big game and to play full time. It was really, really fun.
I got to try it on PCs and consoles and my favorite memory in both great and bad was E three which was coming up and they wanted to show Hitman.
A demo was set up. These certain levels and these certain routes that they were gonna show. I was taking care of a couple of those levels and was playing pretty much for 30 hours in a row. I don't think I slept. It felt like it was night and day. And I playing because we had a really strict deadline and it was really like, wow, I'm in a very different world.
It was a bit too much . I realized that this is not something I want to do forever, but I realized that games industry is something exciting. And I definitely have skill sets that I would be able to input into that industry. And I started looking like proactively finding my role in that industry, but it didn't end up being in the AA games.
Even though I really enjoyed it, the mobile games industry was way more exciting for me. A couple years later when I entered that , I was with that industry for 12 years, pretty much.
Ling Yah: We've already talked about the mobile industry. What you mentioned earlier about Hitman, I noticed that this was at IDOs how you say it at the company, and you said a great way to get to know the game industry and how games are being made. And I wonder if you could give some insight, like, what were the main things you learned about the game industry, given that you were working in it?
Marja Konttinen: Yeah, there was so, so many things actually, but I think one of my favorite moments were obviously getting to know the team. Like the graphic designers, the animators, the programmers, and how they worked, cuz as a QA person, you need to also understand what bugs you're finding.
Is it a graphic go bug or is it some kind of coding bug or is there something else that you need to look at? So how do you file these bug? You're kind of like reverse engineering again as a QA test that these are the problem. These are the people who will fix them. So you are reporting always directly to them.
And they would come down sometimes to ask, how did that work? Like show me the bug. So it was a lot of collaboration as well and extremely welcoming. And The teams were super, super nice.
We got along really well. There was Christmas party and that was cool. One of the activities during the Christmas party was that we were watching some videos of game play videos from the actual players.
There was couple of really fun videos where they were able to run through the game in less than a couple minutes. That was just mind blowing for the game designers that they figured out like totally new ways of playing this game. That was really cool.
I'm starting to understand how you design games how the gamers will be playing it. And that might not be by design. They might find their own ways to do it.
Seeing the feedback that was bringing to their designers was really exciting because there were suddenly like interaction between the audience and the makers.
They were pretty excited and inspired by it as well, to think new ways of designing and new ways of getting through those levels.
Ling Yah: Will you say that it was more of a one way street that they as the developers, were observing the players and learning as opposed to the players being able to say, Hey, you are the designer. Let me tell you the person exactly how I feel.
Marja Konttinen: Yeah. This is long time ago.
There was certainly no Twitch streamers and stuff like that. It was really hard. We were watching YouTube videos, but it wasn't like there were YouTubers at this point yet. So there was very little that kind of interaction between the studios and the gamers.
Quite unlike what it is nowadays. Obviously nowadays we design games along with the community and the community is designing their own versions of the games. The whole industry has changed drastically. And that's really great.
But at that point, I think It was just really eye opening for me to understand that we should be listening to the gamers and how they are gonna be using these products because you cannot design them in a vacuum.
Ling Yah: You said earlier that you preferred the mobile version. and I wonder why you prefer that?
Marja Konttinen: I think I kind of burn the bridges with AA games just because it, was such a huge production and it felt like you are working on something for years before it's actually in the market and then seeing the mobile games where you were able to do something now, and it's immediately in effect.
That was really cool. But basically the fact that there was no mobile games industry at that point. So you got to start from zero and you could start completely new. There was no tools. You could work all of that out and in small teams without any rigid processes at that point.
Ling Yah: You obviously went to many different companies, you did many different jobs.
One particular role I wanted to pick up was you working at rovio entertainment in 2011, 2015. You were marketing director and from the interviews that you gave at the time, you said that you started with no marketing budget. So how did you manage? You're a marketing director with no marketing budget. But nothing is free!
Marja Konttinen: Yeah.
I guess that those are the good things in an industry that was in the making because it was very exciting for everybody. You would be able to work with partners that would see the opportunity. and The opportunity cost was there, but we didn't need to exchange any money. I think a lot of those organic partnerships are way more interesting and authentic because there's no money involved.
Nobody needs to pretend that they like your product.
They do because they want to work with you. So a lot of these partnerships, a lot of the collaborations we did were just friendliness. We became friends through those partnerships. They were useful for both of us.
I think marketing is very much about being creative in finding solutions that are useful for both. I give you something and you give me something and that's a win-win for all of us. Plus the users get something exciting about it as well. So that's I think the easiest way to think about it.
It's not advertising because you're not actually using money to put your message out there. You are marketing your product and showing your product in all kinds of different ways.
Ling Yah: You make it sound so easy, but some of the things you achieved was that you supported say Fox on their movies and DVDs, and you got a super bowl ad, which is normally impossible to get and also really expensive.
I heard in one interview, you said that it's very important to find brand fit for all these kind of partnerships, but that no one really knows what it is. It's a gut filling.
What does that mean? What does it look like? Are there examples so you can give of what this gut feeling looks like?
Marja Konttinen: Yeah, I actually keep speaking about this even nowadays.
One of the things that I really like in the industry is that when you have a good brand, when you have a really good mission, that is kind of like ingrained in you. You know what you're supposed to do.
You have that gut feeling like, Hmm, this is gonna work out. This is gonna be really good. You can smell it. And you can see it in the partners as well. They're as excited as you are.
So when you find that kind of electricity in the area, you're gonna be working on really fun projects. Those partners are rare, but those are gonna be amazing as well.
And we know that whatever we create is gonna be exciting for all the parties. That's really essential. It shouldn't be something that is forced because then it will feel like somebody made money out of this .
It has to be as exciting for the end consumer as well.
Ling Yah: One of the big projects I wanna talk about is 2012. You spearheaded the launch of angry bird space. And I learned that the very first call you made at Rovio was to NASA who ended up being a partner.
I would love to start by going, how did that partnership with NASA even come about?
Marja Konttinen: Yeah, it was, amazing. It was my first day at Rovio. I had this dream that I have to work there, so I just kept on going and ended up working there pretty soon after that. They had a huge backlog of emails and, and different kind of approaches. There had been some Twitter activity between the Angry birds account as well as NASA.
The smartphones of that time were way more advanced than the computers in the day when the moon missions were happening. So there had been some kind of like funny chats between the two Twitter accounts. I saw the backlog of crazy amounts of names and companies who wanted to work Rovio and angry birds.
This is really early on when the basic angry birds was just out. There was barely any other mobile games at that point, but you could see that, okay, this is gonna go crazy. This is gonna go really big one day.
I had the phone number to NASA and I called them. It was actually one of the nicest calls.
They want to make sure kids are excited about,
space, different kind of science topics. And we had a were very excited. And I think it's one of those best examples of partnerships where everything clicks . They have an educational purpose. They want to make sure kids are excited about space, different kind of science topics. And we had a IP that was very exciting to kids. but It was very easy to bake in educational topics in there.
My perspective is educational as well. I feel you can learn so much by having fun. If you have a game that is very easy to play, but it also has baked in some educational topics, you're gonna be taking all that in and you learned a lot.
So it was like we can do this. We're gonna be able to teach everybody about space by making a new game. It's fairly easy technically to switch the gravity systems.
We pretty much make that decision the same day after the NASA call. There was so many lucky incidents. but,
One of the Cosmonauts had taken a angry bird plush toy with them to space.
Some months earlier, we had access to the astronauts in the ISS that were willing to make an educational video for us about gravity and different kind of topics that you can only display in space. We were having email exchanges with the astronaut, don't pet it. He's a amazing educator as well as a very good astronaut.
He was able to create videos for us and we were just putting those together. and that ended up being our launch video. So something quite different to a usual mobile games launch video that tend to be very entertaining and casual.
And we went full on science.
Ling Yah: This kind of collaboration sort of changed the way that you function as a marketer.
Cuz you said that then you also spoke with lots of NASA astronauts and it inspire you to think and realize that the world is your oyster. And I wonder if it impacted you as a marketer yourself?
Marja Konttinen: Oh, absolutely. There's nothing that we cannot do. That's the fun thing. I think it's really important to think big and that was one of those big, big moments.
Like, okay, we don't have a budget, but we can still do the most amazing things cause you don't actually need money to do amazing things.
You need commitments and perseverance that you're gonna be just going through with really good ideas that people think that yeah, that is actually convincing. Let's do this.
As long as you can create that kind of mental attitude that this is totally doable. And I've been definitely taking that same stance going forward. We collaborated with CERN. Nobody would ever think that quantum physics is something that you can teach to kids in a casual game, but why not?
So it's been kinda like if you have a challenge, you switch that into a really amazing opportunity. That's something I really enjoy, troubleshooting and problem solving .
Ling Yah: It was also the first time that Rovio had everything available on launch day. You had animation toys, books, candy, everything more than Hollywood movies normally have.
What was the thought process behind creating all these things for launch itself?
Marja Konttinen: We had amazing team that was like golden years. We were all just totally on fire. We had a lot of really, really good personalities who felt now is the time to do something that nobody has done before and let's push ourselves big time on this one as well.
If the industry said you cannot do it, let's see if we can. All credit comes to the team who were able to pull a lot of strings and pull a lot of favors.
It was never about compromising the quality or making something halfway and make it more fun.
You sometimes have those ones in a lifetime opportunities that you have to seize. That project definitely was one of those.
Ling Yah: What would you say was the most challenging or difficult period of working in this startup world gaming?
Marja Konttinen: I think it's more of a personal challenge. You get so deep into it that it's all your life at that point. There was many, many opportunities to go to million events work with all the partners.
You have to prioritize and concentrate on and start focusing. That was something that I had hard time figuring out at that point because it was a bit too exciting. But then you do run out of steam at some point. So that's, that's a good learning of like, okay, now we focus.
Now we do the right things from here on. And that was really, really good as well. And I think I'm definitely on that learning curve still. Like, how do you pick the best projects that make the most sense and deliver the best results without a lot of excess energy wasting?
Ling Yah: The next part we're gonna be talking about all things web three, and one of the words that always comes up when you're doing any research about it is the work community and gamers, obviously community is the heart of what you're doing.
And I wonder just before we move into the web three world, just in the gaming world, since you were in it, how do you build community? What are some of the tips and tricks that really works in the industry?
Marja Konttinen: Hmm. I don't think you can actually build them.
You can foster the growth of our community, but they do find each others. And If you're able to provide them that place to find each others, they will and they will become very independent of you.
And I think that's really important, actually, it should be a totally independent sale of its own. You cannot, as a company, be totally involved in the community.
You can hear and you can listen and you can input and you can ask them questions, but they are kind of the owners of the IP in the end. They are the biggest fans, the biggest critics and they need to have a place to voice those opinions and also feel they have ownership on their IP.
And I think web three is exactly that. You actually can give them the ownership. In the earlier phase, you didn't really get to give them anything back. You could maybe do some competitions where they were able to win some swag. Like physical items were really lovely to send out to the biggest fans cause you would be able to identify them, but there was very little ownership in the end.
Games have always had that perspective where people will want to connect to each other. It's a social, activity in the end. So I think marketing happens in the best possible way where you don't need to do any marketing. The community does all the marketing for you because they will tell about their favourite product to the next person.
They will be able to invite them into your product, give them something in return as well. I think that is the ideal way of growing a game through your super fans, which is the community.
Ling Yah: So if you have this sort of inbuilt virality of people just sharing, what is the role of a marketer?
Marja Konttinen: Well, that's what I'm trying to think.
Is there need for me? Right now there seems to be. But then again, my um, current role with Decentraland is that I actually try to make myself totally redundant in the next coming years, because it is the role and the nature of the product. So Decentraland is, it is owned by its community, its own users.
I'm with the foundation, which is a nonprofit foundation representing real world topics: So kind of legal contracts and social media channels, things like that.
Ideally the world is able to understand what the DAO is in some years to come. And that the Dao is able to independently start running the marketing, the business development, the partnerships one day.
And that would mean that my role doesn't exist in the foundation. So what does that actually require for my role to move to the downside in the coming years? How can I actually step away from any kind of central decision making. One day maybe I'm not needed anymore.
And I would actually love to be a community member instead that can contribute to the project rather than represent the company on the foundation side.
Ling Yah: It's It's interesting that there is a need for a certain people to be in sort of quote unquote leadership positions. Cause there's one thing to have thousand voices.
Now you just go, I hear the thousand voices, but someone has to make that one decision to move forward.
Marja Konttinen: Yeah, maybe, but then again, maybe not.
I don't think we've tried the other option either. I'm sure there are better ways to do those decisions. And I think that's one of the key learnings for me.
in the last some years was that whatever I think looks amazing. The mass doesn't like that. So my aesthetic or my opinion on call to action might not actually be the most productive one. So when you do AP testing on assets, any kind of creative assets, you never can guess which actually will be performing better.
So you have to align your realization that whatever you think is cool might not be cool because of those who are actually using the product day to day, they don't have the same idea. My big ambition is that I can maybe lead towards really good ideas, but in the end, the execution should be also based on the communal vote, at least on the opinion.
And when we started working closer with user generate content in my previous job, I think that was really eyeopening that the videos, the content that the fans, that the creators of the platform were making, they were amazing. They were way cooler than something that I would outsource to a third party agency.
Because they know the product so well, they know what the camera angles, they know how to use it in such fun and creative ways that they are able to showcase a totally different product that I never even knew existed.
So in a way I would actually like to step away because I don't think my opinion is the best. I'm not the person to make the final decision on something that can be actually outsourced to the community.
Not always, but in most cases.
Ling Yah: So for those who haven't been into the decentraland Dao, how does it actually work? How are the proposals made? What kind of changes have you seen actually implemented in decentraland itself?
Marja Konttinen: Well, pretty much everything. The decentraland Dao is formulated for anybody who has ever interacted with any of the smart contracts.
So for example, they bought a wearable or land or their own name through the smart contracts. They get voting power through that. And voting power means that you actually get to be a decision maker, but you don't need to have voting power in order to make proposals. Anybody can go and do that.
And then those with voting power are able to import, ask questions or go and vote. So I've seen everything there. There's simple things like banning a word or adding something into the map is point of interest.
But there's also huge project, like one that we are working on right now.
The community decided that they would like to have a VR client. Something that would work with virtual reality glasses or Googles headset, I guess, is the official world. So that went through the Dao. The Dao decided that they would like to do this. And they gave a grant to one of the community member related agency.
They've been going through the Dao town halls once a month. I think they're there to show their progress and they actually showcasing the demo. So they are working in a very traditional way. They are actually working in a product. They do the milestone reviews, but they do it with the community. So the whole community is able to see this open development. Constantly give them feedback . They constantly have access to the file as well.
it's really different way of doing something rather than doing everything with a third party developer that has nothing to do with the product.
So they were able to pay the product development through the Dao proposal system, cuz they have grant treasury where you are able to also allocate money to different developments. So it can be really small things. It can be huge things. It's up to the community how they want to develop everything ahead.
This is what I really like. And I think This has changed the way I think about product development as well. I want to actually be an owner of my own products. For example, if I own something I paid for, I'd like to input into the product development from here. I'd like to say that I love this feature, but this feature not so much.
Can I talk to the product developer and say that I'd like to remove this one from the next one, because I'm a owner. I should have a say, right?
If you don't like something in decentraland you can go into the Dao forum and say that I don't like this one. I will propose this change and people can say, yeah, that's actually a great idea.
Let's make that happen. It's an open call to participate. Instead of passively exploring and watching, you can go and start doing and, and inputting.
After a while, you can start seeing where maybe the gaps are and maybe your spark particular skillset is able to provide into that gap. And you can make a drop out of that. This is what I want to do for a living in the future.
I think it's pretty exciting. It'll change the way of doing things online.
Ling Yah: Hey, everyone. Just interrupting this interview to briefly say that if you've been enjoying this episode so far and any other episode on So This Is My Why, I also ran a weekly newsletter featuring other interesting things and people I found over the course of the week. I share this in the newsletter in the hopes that everyone will become well, more rounded, interesting individuals.
So if you're interested in subscribing to the STIMY newsletter, just head over to the show notes at www.sothisismywhy.com/95. Now let's get back to this episode.
Are there concerns of maybe a number of bad players coming in and basically taking over this conversation? Are there safeguards to think about and put in place?
Marja Konttinen: Well, of course there's always that opportunity, but at the same time, there's a lot of the original OGs.
They are there to also guard the product so that it goes with the original mission. But of course somebody with a lot of money can always come in and start inputting. But that would actually require them to have a really a good action plan of what they want to change and how to start making their changes.
Ling Yah: Obviously what you're shared just now, the idea that a simple user anywhere in the world, if I buy something, I own this, I can input directly into how it's built. There's so much potential behind it. What are the challenges in you basically making yourself redundant as a market director and essentially what is the main challenges in removing yourself from the Dao and allowing the Dao to take over?
Marja Konttinen: Well, we need more diverse people in the Dao for this way of thinking. that they want to participate. Also from the marketing perspective we need more marketing specific people who are excited about the product, and they want to see the marketing changing maybe, or they have ideas on the marketing.
I love to see more of that and I don't think we are right there yet with the roadmap because it's still pretty early on. And a lot of the topics I see on the forum are mainly like development. So it's product engineering, it's different coding or different kind of content pieces. And very rarely that there's like marketing ideas because marketing kind of comes a bit later on.
It's supportive and there's so many different things you can do with marketing as well. You can do product marketing, future marketing, you can do social media marketing. You can do brand awareness marketing. There's like million layers of marketing as well.
I don't think I've seen a lot of that yet, but I'm hoping that as the dao grows, there's gonna be more marketing people coming in and finding their place in there.
Ling Yah: So for anyone who's starting to learn to find out more about virtual land, where can I buy, where can I go? They will obviously hear of decentralan, their sandbox, crypto voxels, Somnium, otherside. If someone was to come to you and say, why should I pick decentraland over everyone else, how would you answer that?
Marja Konttinen: For me, the idea of the decentralized community is most exciting one because it feels like a social experiment rather than a virtual world.
And I think the business model is exciting as well. There is no company behind it. There is no VCs behind it. It's owned by its own community and it's a long term investment in that they all want to see the product actually succeed. So it changes the way you develop a product.
I can input what can we envision in 10 years? What can I do in order to make this a success? It's a really different way of looking at the world.
I would actually want to go buy land as the first thing. I think that's like a step 10 in getting involved and engaged. You don't need to have ownership of anything. You can participate in these parties and see if you're interested in actually being a contributor, maybe designing some clothes.
All the tutorials are there. It's super easy. Like, okay, do I have some clothes that I have in mind that I want to make? Or maybe there's some buildings I could actually build?
It's something that I would say apple has. So Apple products have that ability to inspire you to be a bit more creative. That's exactly what decentraland does. like you deep in and you realize that I want to start making things.
Ling Yah: Do you think there is space for a place like the Decentraland? You work together, you create together versus the opposite spectrum, which is meta horizon worlds, which couldn't be more different. Do you think there is a space for both to exist?
Marja Konttinen: Yeah, absolutely. I don't think there's any reason why we wouldn't be together.
It's kinda like early days of the mobile games as well. It was very similar thing that we needed to figure out those building blocks and collaborate and figuring it out. Like nobody knows how this is gonna work out. What kind of business models will work, what kind of percentages we should be introducing to marketplaces. We're all gonna be trying out different things and we should be comparing notes. What makes sense? What kind of systems will work? What didn't work? What are the failures we can already share?
And I loved the community reaction to that, that both the spatial users, as well as the central and users were able to actually teleport to each other places and have parties together. and just introducing that opportunity of socializing across different metaverses was so fun. Definitely see this happening even more in the future.
And that's something that we've been thinking a lot about, like when we have Metaverse fashion week or Metaverse Art week, that actually means metaverse wide. It doesn't mean decent land. It should be happening everywhere else at the same time. And I would love to see the same dress in different versions in different metaverses because they all have their own specific visual style and different utilities.
So how can I actually start seeing this happening in a collaborative way? I've been actually in trying Mark Zuckerberg's comments on how he's seeing the metaverse developing. I think he has a strong opinion on the socializing as well as creator economy perspective. That it is creating new economic opportunities for people who have been maybe geofenced until now.
So you're able to work in a virtual environment. You don't need to go to office, or you don't need to live in a certain country to work.
That's a really good motivation . And I definitely gonna preempt those things.
Ling Yah: So just before we go into all the interesting events that happening in the Metaverse, I want to talk about the value of Virtual Land itself cuz anyone who's ever wanted to buy land would know the true value lies its scarcity.
Whereas virtual land it isn't constrained by the same kind of rules. So what is the true value of virtual land?
Marja Konttinen: I don't think there is anything to do with that. Land is just a plot, but you can fill it with all kinds of things and what you wanna fill it with is really good first step. But then it's just a piece of a bigger picture.
So who are your neighbors? How are you gonna be collaborating with your neighbors? And if you have a really nice neighbors, are you able to create a really nice district with them? Are you able to make like a mini society out of that where you're collaborating with all kinds of different landowners?
I think that's where the exciting part is. It's social work again. And I love talking about the burning man example. That is something that makes much more sense when you think about decentraland as a virtual burning man. That it is a confined space of people.
But it is what you do with the plot of land that matters and how you're contributing to the community again. So it's not cool that you have a house for yourself in Birmingham. What's the point of that? You actually wanna create a really amazing piece of art that invites everybody in. It is a communal experience that you want to meet the others that you want them to step in.
And you want to know your neighbor . So what's the input into the bigger picture? That's where I think the value is.
It's not just the plot itself. That's not valuable as such. It is your input on that plot.
Ling Yah: So I want to press in a little bit more before we move on. I understand the whole, it's about working together, having neighbors, collaborating. That's fantastic.
But then you look at say the numbers for instance, and across all the metaverse projects, 85% declined in terms of prices. And that's a tremendous drop. There are other people as well, who are saying we would rather purchase a tiled ceiling in the real world as opposed to own the property in the virtual world.
I wonder since you are working in the heart of all this, what is the sentiment like, do you think it's gonna pick up, it's gonna change? What do you see on your end?
Marja Konttinen: Yeah, it's a good question. I think that was a thing that people wanted to have value for those plots of land.
That was not originally the plan we were selling the plots for $25 a piece. The original idea was that if the cost is the same as buying a web domain, because it's kind of like your web domain. It just happens to be a virtual plot of land. So it was never really about the value of the land.
And that's something that you wanna trade. It was not about trading assets. It was building something and self-expression. So I don't think that opportunity has gone anywhere. The communal aspect of things. The bear market certainly has its challenges and we can definitely see that across everything.
It's the same for games as well. We're all seeing a decline in a lot of activity. oh, It's September now, but people actually have been outside socializing in the real world and that's totally fair enough.
But now it's a good time to stop building and looking at the future. What happens next? How can we do new things? Status quo is not good. We need to start building new things and new innovation.
Ling Yah: I wonder in terms of building things, could you give examples of people or companies who have done say average and those who have done really well and really utilized the full potential of what's on offer?
Marja Konttinen: I guess you'd like to hear about the brands. But from my perspective, I try to treat the brands the same as any community member, cuz I don't see any difference. They do different activities there.
Some of the landowners are private people, some of them are brands and some of them don't have anything there that's organized events.
And that's great. I think all of those are excellent. but I, I try to do a fair deal of working with the community members as well as the brands and, supporting all of them in equal manner.
It's not easy, but that's something that I find is important. Some of the communities that I see are doing amazing job. There's for example, museum district that wants to document things and they are working on really interesting projects that revive historical buildings, historical moments.
I think it's beautiful activation. They are putting together.
A lot of exhibitions as well. They have art museums and things like that in there.. I love the district mentality that you have a team and you can, express on that team. And you're actually constantly trying to give out something to the community.
Some of the communities that are really active. They're able to create amazing architecture or weekly parties that are introducing new users into the platform and showing them how it's done and giving them things.
I think this is like the best thing. ever that If you're a first time user and you go into a community, you always feel a bit awkward unless it's a really lovely and welcoming community that will give you the best clothes and you're ready to immediately press up in your best, coolest year.
Then of course there's a lot of really cool brands as well that are able to step away from their usual brand activations. That think outside that box of just creating a building, but actually creating activations for the community.
A lot of artists are able to do that. I think artists are excellent in thinking like, what can I give? I will give you an art experience, but also maybe there's some variables, so airdrops that I can give to the most engaged users. So there's a lot of these web three tokenomics and mechanics that brands are starting to use.
One of my favorite ones is actually female quotes and American network for professional women. I really loved what they were thinking when they built their headquarters in the central land, that it was not just having a building, but it was actually creating a more inclusive opportunity for anybody to participate in their content.
So whenever they have physical locations, they launches equality launches in places like the Canne film festival or the Davos world economic forum. These are very exclusive small events where not everybody gets to go. And there's so much fun going on in there. So they're streaming those panels and discussions into the headquarters in decentraland, which opens up the world for anybody from no matter where they are, they can stream that content to themselves as well.
And that makes it really welcoming and inclusive. That fits perfectly the female quality and mission. .
Ling Yah: You're also talking at quite a few events as well, where you would say, oh, actually this talk we are having is also been stream live on Decentraland, and your husband was also waiting there as well which I thought was brilliant.
Marja Konttinen: Yeah. It was really cool that my kids were wanted to see me in the Metsaverse. That was beautiful that we were able to also see each other in different dimensions.
So they were interviewing a lot of the community members, getting their opinions and quotes and displaying those as well. So it's really providing the platform for those who are the active people instead of creating like a PR hype.
Ling Yah: So, what you're saying is basically if I'm streaming live my conversation in person on the central land, you also have another team who was actually in Decentraland actively going around, talking to people. So they don't feel as though they're just watching.
Marja Konttinen: Yeah, there was a DJ in both places.
So there was a DJ in the virtual world as well as in the real world. The parties were happening in two places at the same time. That was so cool. We were able to see each other. That's creating mirrors in two different dimensions.
One of the other things that I really like right now that is happening is Snapp little, really fun activation. Really find that hilarious. They created this corner bodega and it's pretty psychedelic.
It's not something that you would expect. It could beat us the bottle and they could beat us doing their brand advertising, but they actually created a game where you are looking for different things through the journey in that shop and then you're able to enter a totally different dimension.
As you go through these different kind of quizzes, you are able to earn yourself couple of NFTs and you can wear those later on. So I think that was a really excellent execution of colorful, very Snapp, like, but also gamified experiences that are taking in consideration the environment and the web three mechanics that they can do.
It's kinda like a marketer's dream type of project, checking all the opportunities that you can do.
Ling Yah: I wanted to talk about what's happening right now. For instance Ryan Gosling's new movie grey man. He also has a land that's been rented for a month by Netflix.
Just to talk about it. And I wonder is this like a trend where people or brands are starting to rent land, just to see how it works before they decide to purchase? What's your perspective?
Marja Konttinen: Yeah, I think actually makes sense. They're trying different activations. So there are different landowners who are able to lease their land for a certain amount of time.
So you can basically have land for one day or for longer time. And this is a feature that we are also working on. Making it bit easier to get some space when you need it. And you don't need to have it for a long time. You don't need to do permanent decisions or permanent purchases, but you can actually work with different land owners .
But it's not just like recreating totally new activations. I loved the Grey man. One, I think it's really fun. And It was a good activation that prompted me to go and watch the movie because I couldn't figure out the questions in the maze. So I had to watch the movie and then go back to the game because I really wanted to get the mustache.
So I'm owner of the mustache NFT now, but it was a really clever, clever move of them. I've also seen fun activations where they're using like a rooftop terrace of an existing building. So you don't even need the whole building. Maybe you can do a party in the rooftop terrace. We did one for the PFF project where Paris Hilton was featuring.
So it can be actually renting a venue for day and then you can do your party and then it's different next day. There's a lot of different ways to do things without even being a landowner. I think that's a key. You don't need to put a lot of monetary commitment in order to do something fun.
Ling Yah: So what is the behind the scenes of throwing a virtual party? Cuz I've been behind the scenes of throwing events and you think about the caterers, number of people, how people are gonna arrive. Very, very different limitations to a virtual party. So what is it like running one, planning for it?
Marja Konttinen: I've done few now. The planning part is really fun because you get to think about like, okay, we're gonna do this for three hours. We're gonna get that time zone in. But then we need to do another one seven hours later because we need that time zone in. So you need to think of your global audience.
Also understanding how used are they in using PC and games? If you've never played any PC games, it might be a bit complicated. So how do you design for that? Do you need instructions?
Do you need to onboard your community that might have never been to decentraland before? So we'd be working really closely with community managers onboarding them so they can onboard their communities, making that flow a bit easier. And then also thinking like, do you wanna give your audience something? You want a t-shirt do you wanna give them POAP?
What are the mechanics that you reward your attendees and what are they supposed to do? Are they just there to hang out, watch some art, or are they watching music artists? How do we organize that? Make sure that they're there at the same time. Usually you don't need to worry too much about what happens at the party because they will take care of that.
But we're all kind of figuring this out as well. like what are these social experiences in the virtual world when we meet each other in a 3d form that we've never maybe met before, we've never seen each other's.
A lot of the communities that I work with are NFT communities. So they only know each other by name and suddenly they see each other in a 3d form. That's really exciting.
Ling Yah: You can plan as much as you want, things never go calling to plan.
What is the thing that people tend to underestimate or overlook when they're organized this kind of event? And then it happens and they go, oh, I should have thought about it, but I forgot or I didn't.
Marja Konttinen: Analytics. that's, something that everybody always forgets.
Do you actually have your analytics set up?
Do you want to know how many people came by? Kind of like setting expectations. How do you wanna follow up? It's pretty good to have because you wanna know, and then you can improve or you can assess the data. I think that's really important cuz you usually have a reason why you wanna organize these things.
And then one thing that I do like is that web three actually does allow you to make mistakes. You don't need to do everything perfect because it is, just human. It's fine to also fail or not do everything by the book. Even like minimum viable is really, really good.
I would always advise like do something really simple first and then you can see if it works out and you can start planning bigger things . Yeah. And then the good thing is that you can always follow up because you're able to engage with the community again and follow up and build on the experiences and learnings that you've collected in the earlier phase.
Ling Yah: So tagging on further on the idea analytics, how do people measure success? What are the metrics success cuz we are used to web two world which is how many tweets, how many likes, how many comments I imagine must be very, very different in the web three world.
Marja Konttinen: Yeah, I don't think we have anything perfect for that either because it's so different for all the different destinations that you can go into. Are you there just to watch something? Is it about the visiting or is it actually this time spent in the scene? Did you want people to interact with something?
What are the actual things that are happening in that specific location? I don't think there is any baseline yet. And that's also what I really try to tell to the different partners, and brands and community members as well. Test it out, set up your baseline and then see if that actually works and what your metrics might be.
Right now we're way too early for creating metrics that are comparable to web two. That's just not at all in the cards, but what is it that you might wanna do in the future? Maybe you want to start creating a community or engaging with their community.
That is a product development phase. Do you want to listen to them? Do you want give them ownership on topics? I'm working with a partner, long term plan is to actually engage with their own community in a way that they've never done before.
Social media is mainly communication, but they want to offer ownership to different projects, but they need to first identify those people who want to be part of the ownership program.
That might take six months, maybe nine months setting up those tools and different wallets that you might need. It's good to take your time with that.
Ling Yah: So what about companies who are listening to this conversation?
I think really fascinating. I would love to get involved. How do I even start? What's your advice for them?
Marja Konttinen: It's just hands on immediately. That's the only way to get to know this. There is no theory. There is no school. There's no classes you can do.
You have to log in and start figuring it out. Everybody's a newbie to start with and just be careful. Web Three It requires a lot of caution in general. So set up your wallets and make sure your passports are all well protected.
Go to events dot decentraland dot org and see what activities are happening. Go where the others are and ask questions. They're just so welcoming and they'll be onboarding you in a second.
Ling Yah: Having done so many things in your life at this point, do you feel like you have found your why?
Marja Konttinen: My why has always been to do something for the end user. It was really early on like working at the record label. I always thought about the listener working with games. I've always talked about the gamers and now I'm looking at the owners of the product. I'm even closer to them and it feels totally right. I'm definitely in the right place.
Ling Yah: And what kind of legacy do you wanna leave behind?
Marja Konttinen: I would love to do a few more educational programs where I really want to hear one day like some kids say like, they played something or they've experienced something that I had my hands on and that inspired them to do the right decisions when growing up. And they become amazing person or inspiring personality, and it all comes back to that one moment where I was able to help them be inspired. That's kind of what I would love to see.
Ling Yah: And what do you think are the most important qualities of a successful person?
Marja Konttinen: Open mind.
Always curious: open ears, open eyes.
Ling Yah: And where can people go to connect with you? Find out what you're doing. Follow you.
Marja Konttinen: Definitely LinkedIn. That would be the best place, because that is the least spammy portal of all the internet channels right now. I'm on LinkedIn and I like posting my learnings there.
That's my like study journal in a way. Like these are the things I have learned. I love sharing those with others and I love hearing other people's comments as well. So LinkedIn is a good spot to connect.
Ling Yah: And that was the end of episode 95.
The show notes and transcript can be found at www.sothisismywhy.com/95
and stay tuned for next Sunday because we will be meeting one of Malaysia's most popular bloggers, Mr. Stingy and Country Manager of Luno, to learn more about his journey. And his thoughts on the world of content creation and web three.
So do stick around and see you next Sunday.