Welcome to Episode 103!
STIMY Episode 103 features Nicole Levinson.
Nicole Levinson is the Chief Marketing Officer of Audo, the game changing career building destination powered by AI and gamification. She is on a mission to help change lives for today's young adults by creating the clearest motivating path to upskill and reskill. 
Nicole is globally-recognized for her marketing and communications expertise spanning over 20 years of building iconic brands with a focus on lifestyle, hospitality, beauty, fashion, spirits, arts and automotive. Nicole has led innovation and change for such iconic brands as Marriott, LVMH, BlackBerry, Mercedes Benz, Warner Bros., Diet Pepsi and Bacardi and brand work on Art Basel, Veuve Clicquot and various start-up businesses. 
Her expertise in digital marketing, traditional event marketing and public relations combined with years as a COO, allow her to tap into data and operational values that tell stories, bind teams together, create cult product status and drive top line growth. 
Nicole has served as the Senior Vice President of Brand Marketing and Partnerships for Playboy Club, New York, which included the oversight of the relaunch and repositioning of The Playboy Club during one of the most complex moments of the 20th Century, Me Too movement. Nicole successfully pivoted the Club to represent "Entertainment for ALL" versus the heritage of "Entertainment for Men" through very targeted communications, partnerships, events, digital and social marketing. With the advent of technology 20 years ago, Nicole's marketing approach has always been to seamlessly embrace technology to enhance the customer experience. She is the master of the creative tool box: Partnerships, Communications, Events and Influencer/Celebrity marketing. 
She has also held senior roles leading marketing, strategy and events as Senior Vice President of Brand Marketing and Partnerships for Cachet Hotels and Resorts, an Asian hospitality brand; Chief Operating Officer for Hospitality House; Senior Vice President Marketing and Business Development for Fitz & Co; Vice President of Marketing, North America for LVMH and; Senior Vice President of Marketing and Business Development for Harrison and Shriftman. 
Nicole also has a specialty in arts and culture having run Marketing and Business Development for both Sotheby's and Christies earlier in her career, bringing her deep relationships in the multi-million dollar art and auction communities which today are also focused on social impact. 
Nicole is a frequently invited speaker and panelist on brand building and female empowerment topics in career, advancement and mentorship. Recent engagements include Brand Innovator at Pepsi HQ, Columbia Business School's Women In Business and CMO Insider Summit in Naples, FL. 
PS:
Want to learn about more inspirational figures/initiatives to become the most interesting person in the room? 
Don't miss the next post by signing up for STIMY's weekly newsletter below!
Who is Nicole Levinson?
Nicole Levinson is the child of Holocaust grandparent survivors.
She also grew up wanting to study art – which she did! – even though everyone told her she won't make any money.
She began her career in Christie's, then Sotheby's, before pivoting into the world of PR with Elizabeth Harrison of H&S, who told her, "Take your panty hose off!" 🤣
They were hustlers. 
And Elizabeth was the House of Yes.
Because as Nicole learned: Most people in the room don't know either. So you've just gotta figure it out!
2:48 The child of Holocaust grandparent survivors & the link to Steven Spielberg

7:49 Betty Boop to Christie's

11:43 Death, divorce or debt

13:40 Why is Christie's better than Sotheby's? 😏

15:52 The profile of the top 1% clientele

19:28 Feeling lost & changing industries

20:31 Meeting Elizabeth Harrison & "take your panty hose off!"

23:47 Celebrity wrangling
Everybody was just fascinated that Playboy was coming back. That I was a woman that was speaking in favor of Playboy. I would start my speeches or talks and be like, "I'm Nicole Levinson, I'm the SVP of Playboy Club, New York. I started my career at Christie's." And the room would just sort of like stare at me and be like, how the hell did that happen?
Building a Non-Linear Career Path
But Nicole's journey didn't stop at H&S. 
Despite a fantastic boss & career growth, she wasn't working for 1 brand. 
She didn't have access to the P&Ls. The customer insights. The kind of data that she really wanted.
So she moved & became the VP of Marketing North America, LVMH, where she oversaw marketing & merchandising for MAKE UP FOREVER. 
Then became the Senior VP Brand Marketing & Partnerships, Playboy Club New York during the #metoo movement. Which definitely raised some eyebrows.
Along the way, she's also worked in the hospitality, fashion, spirits, arts and automotive industries.
And that variety is something Nicole considers to be her strength.
26:09 Moving to LVMH

29:00 LVMH's secret sauce

31:41 How do you ensure the founder story is front & centre?

33:06 What does "authenticity" look like?

35:28 The secret to staying humble

36:30 What drives Nicole

41:05 How Nicole ended up at Playboy New York during the #metoo movement

49:18 Finding editors to champion the brand

51:01 Fashion Week with Jeremy Scott of Moschino

52:02 The impact of the MET Gala on Playboy

57:05 What is audo?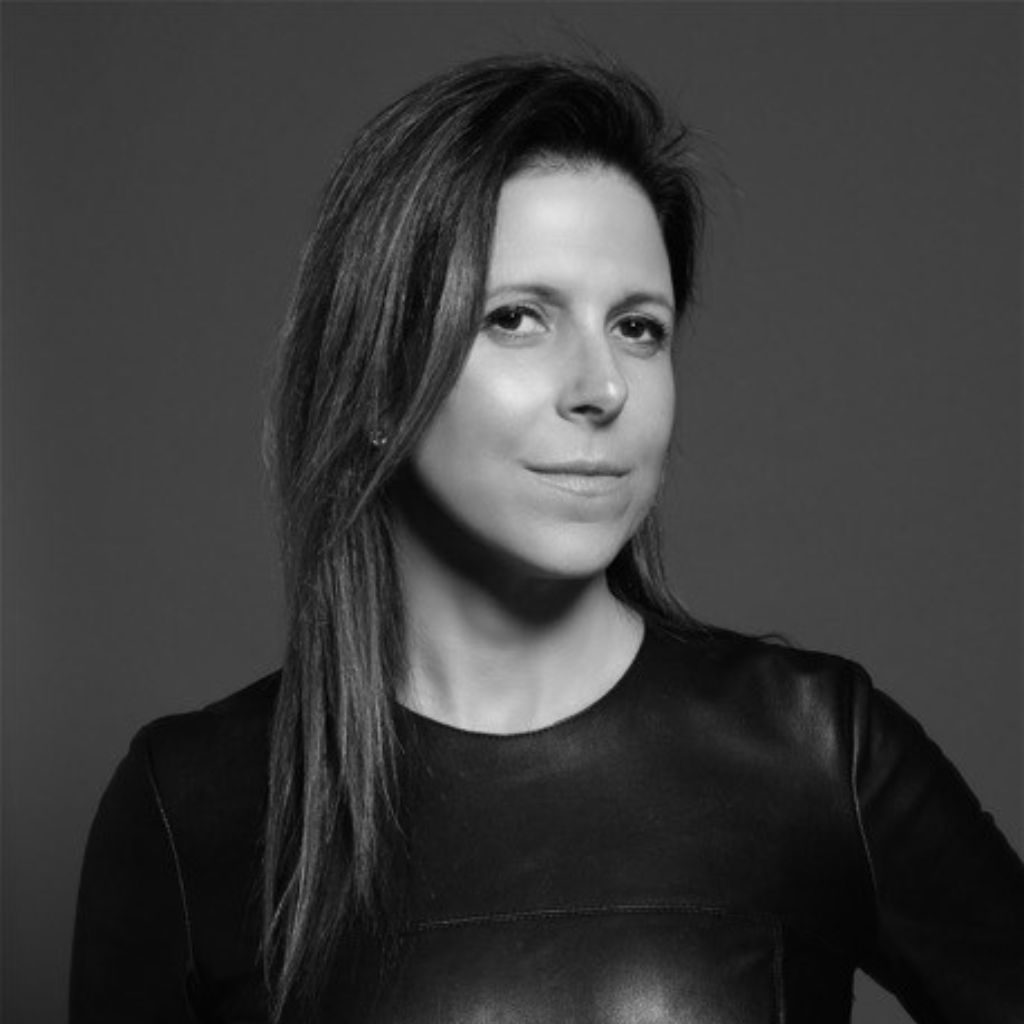 If you're looking for more inspirational stories, check out:
If you enjoyed this episode, you can: 
Leave a Review
If you enjoy listening to the podcast, we'd love for you to leave a review on iTunes / Apple Podcasts. The link works even if you aren't on an iPhone. 😉
Patreon
If you'd like to support STIMY as a patron, you can visit STIMY's Patreon page here. 
External Links
Some of the things we talked about in this STIMY Episode can be found below:
Nicole Levinson:

LinkedIn

 


Subscribe to the STIMY Podcast for alerts on future episodes at

Spotify

,

Apple Podcasts

,

Stitcher

&

RadioPublic

  

Leave a review on what you thought of this episode HERE or the comment section of this post below
Want to be a part of our exclusive private Facebook group & chat with our previous STIMY episode guests? CLICK HERE.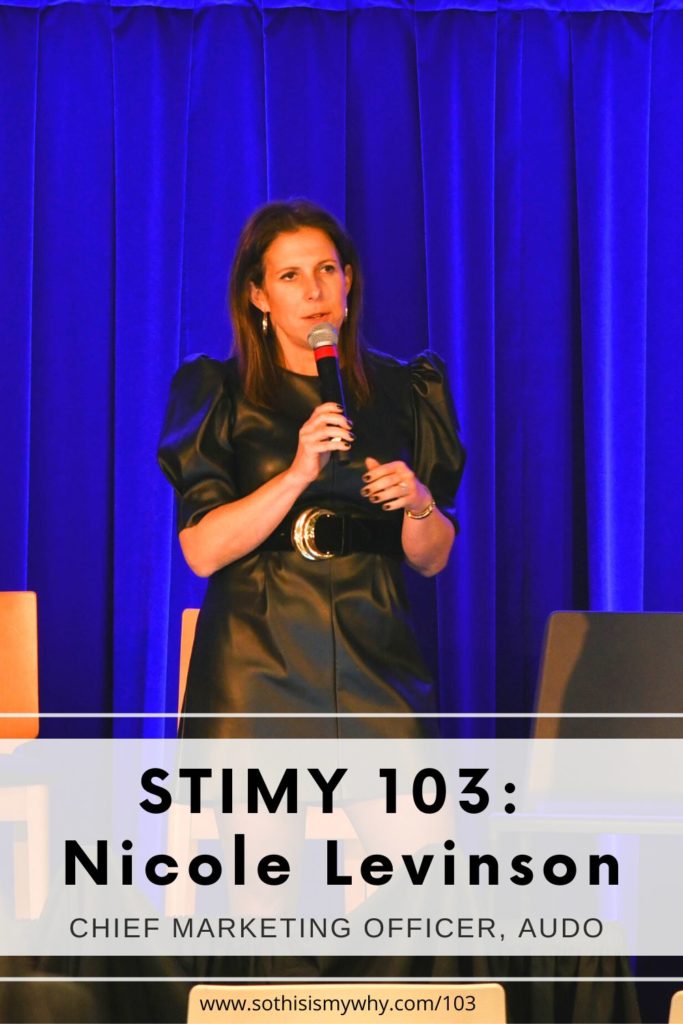 STIMY Ep 103: Nicole Levinson (Chief Marketing Officer, Audo & former Senior Vice President of Brand Marketing and Partnerships for Playboy Club, New York)
===
Nicole Levinson: Everybody was just fascinated that Playboy was coming back. That I was a woman that was speaking in favor of Playboy.
You know, I would start my speeches or talks and be like, I'm Nicole Levinson, I'm the SVP of Playboy Club, New York. I started my career at Christie's and the room would just sort of like stare at me, and be like, how the hell did that happen?
It was an incredible experience. There was one why we haven't spoken about in this podcast yet.
My own why.
Why I'm doing something I think appeared 2018.
And It appeared because of Playboy.
Ling Yah: Hey everyone!
Welcome to episode 103 of the So This Is My Why podcast. I'm your host and producer, Ling Yah. And before we start, a special thanks to Descript for sponsoring this episode.
Now Descript is an app that I use to edit my podcast, and frankly, without it, I wouldn't have STIMY. It takes several minutes to upload a two hour recording and have it transcribed.
And when I edit the transcription, not only am I editing the words, but when I remove or add them, the corresponding audio and video also gets amended as well. So it's kind of a one stop shop and it's really made it possible for me to run STIMY.
So if you have any audio or video editing's needs, I recommend checking Descript, and the link is in the show notes.
Now onto today's guest, Nicole Levinson.
She's the Chief Marketing Office of audo, but before that, she was the senior Vice President of brand marketing and partnerships for Playboy Club, New York, where she oversaw the relaunch and repositioning of the Playboy Club during the Me Too movement. And she was also among many other things, the former Vice Pit President of Marketing North America for L V M H.
Now, as you can probably tell, Nicole has had a rather unconventional and non-linear career path.
In this episode, we learned how Nicole found her why, going from art history where everyone told her that she would never make any money, to working at Christie's, where she learned how to handle her top 1% clientele, people like Lehmans and the Vanderbilts as well.
She then ended up working in hospitality, beauty, fashion, spirits arts, and the automotive industries.
We also spoke at length about her time at Playboy and how she turned it around.
Why those iconic bunny outfits are actually very empowering to the women that wear them, the impact that Playboy's collaboration with Jeremy Scott at the Met Gala had on the brand, and how she's doing at audo.
Nicole's had a truly fascinating career and there are so many gems to pick up.
So are you ready?
Let's go.
I learned that you are actually a child of Holocaust grandparent survivors. And I imagine that that kind of legacy must have really influenced your family and your environment growing up.
And I wonder what your child was like for you.
Nicole Levinson: That's a great question. I have a a cousin who actually is also a survivor and she turned it into a career analyzing post traumatic stress. How it's generational.
And I actually had never really thought about it. Yes, I was very aware that I came from a father who was born in a refugee camp after the war and then came to the US.
I never really spoke about it, thought about it really, like I said, until my cousin started to talk about traumatic P S T D that's passed down from generation to generation.
And I also started to, at the same time think about like what it meant to be Jewish. I never really thought about it much in my personal life up until probably my career, when I started to realize you know, I was working in bigger environments that were more, I would say multidimensional in terms of like race and religion and gender and sort of where I sat in the world, not just as like a woman and as a working woman, but also as a Jewish working woman.
I think that, knowing the stories that I know from my great uncle and my great aunts is really about perseverance and I think at work many years later you know, there were many challenges that I faced. Whether it was just bad management or situations and challenges in business that I didn't have the answer to where I was stressed out.
I think, at some really dark places in my life, I was able to kind of go back and be like, this is nothing compared to what my relatives have gone through.
It's not comparable, but it would sort of help to minimize the situations that I was in and feel very grateful for just having my health, having my freedom and just being able to operate in a world and, and be who I am.
So it just always brought me back, I think when I was really stressed out and made me just work harder.
Ling Yah: When I was interviewing another person, and he was also immigrant in the US, he basically was told when he was just entering a workforce by his dad, is Asian. Always looked down, never look a white person in the eye because that was basically the culture growing up.
I always have to bow down to this white, superior and I wo der with all these stories. Are there particular stories that your family shared that sort of stayed with you, that you don't mind sharing and somehow maybe subconsciously did influence the way that you perhaps held yourself before you became aware of them?
Nicole Levinson: You know, these stories I'm sure are so multilayered and actually my great uncle was recorded by Steven Spielberg. He's an incredible success story. They were in a work camp in Siberia. They were Jews from Poland. And after the war, a lot of the Jews went to Germany, cuz there were a lot of refugee camps.
And it was very safe there. Fast forward, he became one of, I would say, one of the most successful real estate businessmen in Frankfurt, if not in Germany. And you know, it all started after the war with he was stealing shoes and, and reselling them was the story.
It's again, it's so surreal, like coming from the background that I've had and all education and money to support like where I've gotten today. Just knowing the extremes of how somebody can really start from really nothing. Against all odds rise to be an incredible addition to society.
I mean, he ended up making a lot of money and building a lot of non-for-profits and really giving back. So it's something that unfortunately I've never been able to tell him that because he passed away many years ago. And he didn't speak English, but it always is a story that I'm always in awe of.
Like, just no words.
Ling Yah: I wanna talk about art because that's a huge part of your life, especially in the earlier part. And I wonder, were you always someone who was interested in the art? Cuz you end up doing an art of history in college.
Nicole Levinson: Yeah. If you told me in high school that I could study art in college, I would've never believed you.
Art was always fine art you know, taking a drawing class, a painting class, I didn't know, and this is back in like the late eighties, early nineties that you can make a career of art. But I always loved art. I was always drawing. I had many different skills.
I definitely liked sports. I was not into music. I loved sports, but I also loved sitting and drawing.
At a very young age. I remember seeing an old comic about Betty Boop.
I don't even know if in pop culture Betty Boop is relevant. And it's not like it was anything. There was no internet then. There were very few magazines. And for some reason I saw this pop culture image of Betty Boop. And I would just draw her over and over and over in many different scenarios.
Whether she was like lying at the beach or shopping or eating a meal at a restaurant. I still have them to this day.
I drew them on the back of these note cards that I would study with at school.
Ling Yah: How do you go from Betty Boop to Christie's for seven years?
Nicole Levinson: That's a great question.
So yeah, when I went to college, I went to a very liberal arts school called Vassar up in Poughkeepsie. And again, really had no idea that you can study art. Up until that moment I always kept sketchbooks. I was always drawing and definitely painting a lot as much as I could. But very hard to paint in New York City where I was growing up because small rooms and the fumes of the paint were overwhelming.
I saw that you could take an art history 1 0 1 and I remember sitting in that dark room watching the slides and just mesmerized looking at paintings and thinking about not just the art, but what was happening in that time socially and politically to shape that artist to create that visual and that narrative.
I hadn't thought about it for a very long time, but I think it was the seeds of a marketer's mind. At that time is just began, being hyper aware of what's going on in your surroundings and then taking those observations and expressing them in your own way.
One thing led to another. I ended up taking more classes and it became my major when I was a sophomore.
Ling Yah: Was it at that point when you decided that you wanted to the business side of the art world?
Nicole Levinson: No, I had no idea how I was gonna make money. Zero.
Ling Yah: Everyone told you that you couldn't make money, right? ?
Nicole Levinson: Oh, yeah. No, my parents, when I told them that I wanted to go into the art world the very first thing that they said to me was, Well, you know, what about starting being an art lawyer, you know, a lawyer for the arts?
And I was like, a what? You know, a lawyer? No. You know, even when I was at Christie's I started to hear a lot about something called restitution art, which going back to the Holocaust .Was something that I felt very strongly about in the art world. All of the art that were taken from Jews during World War ii.
And it was fascinating to me to read about these cases where
was taken and, and how a family was trying to retrieve it. But again, not something I wanted to make a career of.
Ling Yah: So what was it like, because you've written a LinkedIn post before and you said you had no advisors. No mentors, just your gut.
So how was your gut guiding you during those years?
Nicole Levinson: Well, how I made it to Christie's was, my parents purchase a few things from the auction world. So I was aware of what the auction world was through my parents. I also was very driven at a very young age to make money.
In today's day and age, and especially with what I'm doing now making money is about applying the skills that you're learning from more of like an academic way, you know, So like I'm learning digital marketing in college, I need to get a job in digital marketing.
But back in like the late eighties and early nineties if I wanted to make money when I was in college that was not even in the universe of ability. Like no one was gonna hire me for any skill. So I took a lot of I would say very basic jobs that I'm not sure kids today take.
You know, I worked at a pizzeria Uno. I worked at a bagel store called the Bagery. I worked at a record store called Tower Records to always make money.
And also I wanna note as well, like I grew up pretty middle class, if not upper middle class. It's not that my parents weren't giving me money or telling me that I needed to go make money.
I don't know where that came from, but I just wanted to make my own money. And so one summer I had found out that I could work at Christie's being something called a viewing lady, which probably, again today would be a very, not PC term. But what it was, it was standing in the jewelry displays and taking out hundreds of thousands of dollars worth of diamonds and emeralds to show clients.
And of course there were bodyguards around the room. But I was a viewing lady. I would take the jewelry out and show it to them. I was making maybe $500 for the whole week. But it was something just to get outta the house and make a few bucks.
Ling Yah: $500 for a student's really good .
Nicole Levinson: Yeah, I was psyched. I can't even imagine what I was buying for $500 cuz I was wearing like all vintage clothing at the time. I was very artsy walking around wearing berets. I don't know what I even did with that money. I know I didn't save it. I wasn't good at saving.
Ling Yah: I learned that in your seven years at Christie's, what you first end up doing was you were in this proposals department. What was that like writing all these proposals for all these major art collections?
Nicole Levinson: Actually I started off in estates and appraisals for the first two years.
At the time, again, Christie's was located on Park Avenue and the estates and appraisals was sort of like the sales team, I guess you would call it. But we were the ones who vetted all of the potential art collections that would come onto the auction. And art in those days would come to you in three ways.
It would be death, divorce, or debt. And it was very old school. We would read the obits and call, estate attorneys and I would be the liaison of trying to convince them to sell with Christie's over Sotheby's, which was at the time it was Coke, Pepsi. So that was the only other game in town.
And then once we get the business, I would disseminate the estate or the collection to all of the art specialists who then would appraise the art. It was a very admin role and realized after, I would say two years of being there, that there was no creativity.
There was a woman that I had befriended in another department who was telling me about how, as part of the process, she would write the business proposal that would actually go to the lawyer and try to convince them why they should sell.
Why Christie's over Sotheby's and in order to support the why, there was a lot of creative writing that wouldn't be part of the process in terms of like explaining why we sold Picassos better than Sotheby's, and why we can market it better to the buyers. Why we have those buyers of that particular work of art in our network.
And that was really I think that first moment where I was kind of faced with what, what, why meant at the time, But that was fascinating to me.
And As soon as I could, I left the estates and appraisals department and I went on to write proposals for Christie's for five years for some of, I would say the most important art collections at that time to come onto the market which was just incredibly surreal.
Ling Yah: My next question is pretty obvious. I have to ask the why. So why was Christies better than Sotheby's?
Nicole Levinson: Yeah.
I mean, again, I don't know. Coke and Pepsi, it's the taste. You can't taste Sotheby's or Christie's. It's a brand, you know. I think also it was the first time where I was really understanding what brand was. Christie's for me just felt more home.
Again, maybe it was because my parents, you know, that was where they bought a few items. Christie's was close to where I grew up. So I was very familiar with the original building, which I think it was the Age of Society and then the Age of Society ended up moving. I forget what's in that building now, but it just was on 59th and Park.
I passed it a million times. It just felt familiar to me. And it just felt something that had also a lot of heritage in my mind. Sotheby's at the time was this kind of, even though I had been around for as long it didn't really ground its brand in like the founder.
Like I don't know who Mr. Sotheby's was, but it was very clear with Christie's at a very young age when I started working there that it came from James Christie and the 18 hundreds. And I think that that idea of working for a Heritage brand was also part of the allure.
Ling Yah: And what is the process? Could you peel back the layers behind what is Christie's? Cuz it is a mysterious name. It's a place where hundreds of millions are sold and no one really knows what happens behind the scene.
Nicole Levinson: Right. Well, the art business has definitely evolved in over 25 years. I have a lot of great colleagues that are best friends that have come out of the auction world. And one who is just there up until recently.
We did a major deal together later in life where I partnered Christie's with a hotel brand. And there's another woman who used to work with me at another company who now is overseeing NFTs at Christie's. So it's been really interesting to just hear about the evolution of the art world and of the auction business.
But when I was there, it was very simple. It was a place to sell and buy art, furniture, jewelry, books. You can buy swords you can buy Japanese and Chinese art, although there wasn't a very big market at the time. And there were some things called private sales at the time which was more like, I would say the gallery business of just, taking in secondary art and selling it not to the public.
And that business really ended up exploding and taking over a lot of the auction business.
Ling Yah: You said that you really understood the profile of your typical luxury consumer. Their attitudes, their behaviors, and you took that knowledge of how they lived and incorporated it into their work.
I wonder if you could give sort of an idea of what that profile is and how did it influence the way that you did your work with them.
Nicole Levinson: Well, again, we're talking about luxury 25 years ago. The definition of luxury has also evolved and is very different now than what it was at that time.
But at that time, the art buyer also has evolved.
From a demographic standpoint, it was an older consumer. Most people who were in their twenties and thirties and even forties and fifties were not art collectors at the time. Um, Nor was their interest. I mean, I remember asking friends to go to a museum or telling friends about something called Art Basel, and none of them cared.
None of them wanted to go. And now it's like, Disney World. You know, everybody in Miami in December. But at the time it was really like 70, 80 year old people who had a lot of money and there weren't entrepreneurs. There was no Silicon Valley then.
It was just really old people who had come from moneyed families like the Lehmans and the Loaves and the Vanderbilts selling and buying more art as well as, I would say, new wealth in emerging areas at the time. Like the media industry. David Geffin was doing a lot of collecting. A lot of fashion designers were doing a lot of collecting like Versace and Bill Beas.
I'm just thinking of collections that were coming onto the market and a lot of corporate collections were selling and buying art. So everybody from like Seagrams and Eastman Kodak, I mean, a lot of older brands that we haven't heard of in a very long time. And museums were buying and selling art.
That has all changed. But I think that for me, understanding the luxury consumer was where I started. And I think it got to a point where eventually I wanted to understand a little bit more about what luxury consumers were buying and doing in their world, because I was trying to understand that from the art world side.
So someone who was buying art was staying at Mandarin Oriental, were at the Ritz, and they were traveling to Sam Ritz and they were eating at Harry's Chip Briyani.
We're talking about the 1%. I was just curious, like, okay, if I know this about them, how do I take that knowledge into spirit brands, hotel brands, fashion brands? And that's what led me to my next step.
Ling Yah: Your next immediate step was to go from Christie's to Sotheby's of all places.
Nicole Levinson: Yeah.
I actually was gonna mention, I was gonna go straight into Harrison Shifman, which was, I had to bring that up, the agency owned by Omnicom, which my dear, dear friend Elizabeth Harrison, who I think made a note in the comments section, . But yes, I owe a lot to Elizabeth. Yes, I did go to Sotheby's for a hot second.
And it was everything that I thought it was when I was at Christie's, which was not for me.
It was, you know what? I think it was also the first time I learned about that you could be really good at your job, but sometimes things are just not a culture fit. And I stuck it out there for about a year.
At that point, I was really just burnt out about around the auction world and the art world. I knew that I didn't wanna go to work for an art gallery or a museum. As I said, I was already starting to think about where I could go and what I could do.
And so yeah, it was a very brief moment and every deal I've ever brought and every big opportunity, I always go back to my colleagues at Christie's cuz they just did right by me.
Ling Yah: So I also learned through one of your posts that you said in the first seven years of your career, you didn't ask for help because you worry about being seen as a seak. You were a taker. And that once you change that help you leap from the art world to HNS, which is where we mentioned earlier. Elizabeth Harrison, who was co-founder as well.
Nicole Levinson: Shout out to Elizabeth Harrison, I owe everything to you. I know you wanna hear that. Really is an incredible person.
Ling Yah: How did that change come about?
Nicole Levinson: So I was really lost. I didn't know what I wanted to do. And, and like I said, again, we're going back to the late nineties, early two thousands.
And again, you know, I didn't have a mom who worked. I didn't really have a lot of friends that were in the same industry. I did not have any mentors from college. God bless them. I learned , a great amount about art history, but never how to make money. But I did have one friend who I'm very grateful to.
She actually was building her own business here in the States. it was a candy business called Dylan's Candy Bar. Dylan is the daughter of Ralph Lauren. And she is one of my best friends in the world. She's a sister to me.
I said to her, I don't know what I wanna do. And she said, Why don't you just talk to a bunch of PR agencies?
She had been working with a lot of PR agencies through Dylan's Candy Bar, and she was like, I think, you know, there's, there might be something there. You can work at an agency, you can see a lot of brands. You can meet a lot of people. And at the time I think, she is still very highly connected.
She basically set me up on like 10 meetings with every major PR agency in New York City and Elizabeth was one of them.
Ling Yah: There must have been something that stood out with that meeting with Elizabeth.
Nicole Levinson: There was, I don't know if it was the first meeting or the second meeting, or maybe when I was hired.
But she told me to take my panty hose off. I touch straight.
But you know, again, it shows the evolution of the work world. She was very straightforward. , she told me in her in the first meeting, she said, You know I need to do something other than pr. And I go, What, what kind of, what do you want? What are you talking about?
And she's like, There's something else out there, like maybe marketing. I need to tell. And she had all these great clients. At the time she had Mercedes-Benz and she was a small agency you know, maybe 10, 20 people at the time, but really incredible clients and an incredible what she called Rolodex.
Again, I we're both aging, I'm aging myself, but she really did. She had a great Rolodex with her partner Laura at the time of like uptown and downtown. And they were working with Mercedes and Juicy Couture, like when Paris Hilton was wearing, the tracksuit and getting shoes on sex in the city. She looked at me in the interview and she said, I know you can do this.
You're very smart. I need more smart people working for me. And literally I think I got the job because clearly I just heard that I was smart. I had never really done or driven, marketing to an agency, but that's what she needed. And from there, I just single handedly with her help and another woman who was there built out what we defined as the marketing offering.
Which again has changed since the late nineties, early two thousands.
Ling Yah: So what were some of the highlights? It sound like you had a lot adventures there.
Nicole Levinson: Oh my God, Elizabeth and I had incredible adventures. I learned in a lot of things working on the agency side. I learned a lot of things about the kind of companies and leaders I wanna work with.
I also learned a lot about business from Elizabeth. I usually call her the house of Yes.
We were always trying to pivot as a company. Like when the recession hit a lot of Beauty brands lost their money in business in 2007. So we were trying to figure out how to move the business into another vertical, which is very hard for agencies. You know, usually you're a beauty agency or a fashion agency which Elizabeth had built a beauty in fashion. There was some automotive, like I said, but hospitality in real estate was nonexistent.
And I just remember going into those first few meetings and them being like, Can you do this? Can you do that? And me looking at Elizabeth and being like, That's not in our scope of services, and Elizabeth just like kicking me under the table. She said yes. and you know, it taught me that no matter what you do or don't know, First of all, What I've learned also is most people in the room don't know either, and you just have to figure it out.
You just have to hustle and figure it out. Research, ask whatever you need to do to get the job done. And that, I have to say, is probably one of the most important lessons I learned from working with her and I've carried through even to today.
Ling Yah: What were some of the craziest hustles that you did?
Nicole Levinson: I remember when we were asked to name a hotel. Now there are branding and naming agencies. We said yes to that and that was pretty crazy. I mean, everything was new, you know, like when everybody wanted to do a popup, and we had never done a popup before, like, it was just, we figured it out.
Elizabeth had a lot of contacts in real estate, so we would talk to the contacts and we always just figured it out. Celebrity was also really big. If there was a celebrity that we wanted to work with, we somehow figured it out how to reach that celebrity.
I mean, there was nothing we couldn't.
Ling Yah: I suppose since you had to say celebrity, I have to ask how do you reach out to celebrity? I imagine it's change over time.
Nicole Levinson: Oh, that's change too. And the word celebrity is changed, but we did actually have somebody on staff who had a title called a director of celebrity Wrangling. Wrangling the wor was the word.
Ling Yah: That's a fantastic title.
Nicole Levinson: Yeah, exactly. You would wrangle people like, I don't know if you heard of them, like Umma Thurman and Julian Moore and Gwyneth Paltrow and, you know, Deborah Messing. These were big names back then.
But yeah, it's definitely changed. Essentially what he would do is he would just keep a bunch of gray goose and UGGS and at his desk and basically send them tons of free stuff in Blackberries, which was a huge brand for us when we were at h and s.
And everybody, no matter how rich or famous you were, always wanted that first Blackberry.
I don't even know if celebrity wrangling still, it must still exist. I mean it's an influencer now. That's the new celebrity.
Ling Yah: So I notice H and S, you spent almost seven years there and you decided to move on to LVMH. Was it hard to move on? Cuz it sounds like you had a great time there.
Nicole Levinson: I did. I don't know if I've ever shared with Elizabeth. There were many times where I thought I would go back. They actually had a lot of, they called them lifers, people that would just come and go.
Ling Yah: Elizabeth has to listen to this podcast now.
Nicole Levinson: Yeah. Come on, Elizabeth. I mean, I'm giving you major props here.
Yeah, I mean, it was incredible. What kept me actually going at h and s is Elizabeth as a manager, was always giving me ability to grow.
She was always letting me evolve. The other thing that was really great about h and s is that we were at the time owned by Omnicom. She's thus since sold back the company or bought back the company and taken it private. But, you know, as an Omnicom agency, Just the gateways just opened up.
I mean, here I was at this, niche, luxury boutique agency and catching with calls and say, you know, we're pitching Australia or like Bank of America called and they want a celebrity.
So we were able to start to speak to much bigger brands that would ever have considered us. And the other thing that it opened up is it did open up more mentors to me.
There were a lot of women leading catchum at the time. And I had a lot of access to more people, more talent. And one woman particularly who ended up being a mentor to me named Dale Bernstein, who now oversees an agency and that's won multiple awards called M Booth.
I think people don't stay, They say one because you bad bosses, but I think people also don't stay when you have an opportunity or a growth plan. had, I had both. I had a great boss and I had a great growth plan. What I didn't have is not working for one brand.
And I realized, like as I got more senior in marketing it was very hard to work on the agency side. I wanted more access to data. I wanted more access to information. But at the time, the agency relationship was very much like, you are the agency, why should you know my profits? Why should you know my pnl? Why should you know this information? They were very protective about customer insights.
Things that I know today, you know, leading a brand, particularly today as a CMO, is just insane to not be able to operate and be your best at. Again, as I would say, luck would have it, I was recruited to go to one of the beauty brands at LVMH called Makeup Forever.
Ling Yah: I learned that you said before that at LVMH they really love research, and that was one of the big things that you always did. You also said that it was very much a gut feeling as well. I wonder if you could elaborate on why it's a gut filling.
Nicole Levinson: Yeah, I mean with LVMH and Makeup forever specifically , this goes back to I wanted to do something also at a brand where I really believed in the product. The other thing that I learned working at h and s and when you're on the agency side is sometimes you don't have a choice what you work on.
And there were some brands that didn't have quality or necessarily a provenance that I related to. And you know, I would make a lot of noise for the brand. I can get somebody on the cover of Time Magazine or create an incredible partnership between like company. But again, if the product didn't live up to the reputation, all of my marketing would just fall flat.
And so I knew any move that I wanted to make, it had to be with a brand that I really believed in. Makeup forever, I actually had remembered the brand. It was actually in Barney's. And it was a small brand that had a a history of being started by a woman who actually was an artist. She was a body painter.
I was very attracted to the story about the fact that like there was that art element to it. It wasn't like other brands like Bobby or Laura where they had come from being just a makeup artist. I loved that. Danny Sands, who was the founder of Makeup Forever started to paint bodies in theater in Paris and was looking for makeup that would really adhere to the body and go through waterproof scenarios. So that art background really appealed to me.
And just LVMH, I mean, to be able to work in that ecosystem was just mind blowing. I had access to some of the greatest CEOs and CMOs just learning about how to build a heritage brand. I was selected of 5,000 people to be part of a program where it was called lvmh University.
It was taught by a really well known guy named Mark Ritson. He's a incredible, it's kind of like on Scott Galloway level. If you don't know him, definitely research him, but very entertaining. Also I would say rye but funny marketer who taught us about brand codes and how to build heritage brands and constantly reinvent them.
It was really one of the best decisions and I felt very lucky to have ended up there.
Ling Yah: So how do you reinvent a heritage brand?
Nicole Levinson: Can't tell you, it's the secret sauce of LVMH.
Ling Yah: Right. Alright.
Nicole Levinson: No, I'll tell you a little bit. You know what's funny too is um, I take even to this day meticulous notes. I write everything down which is good because sometimes my memory doesn't serve me well. I had a little notebook that I still have to this day, it looks like a moleskin and it has pages and pages and pages of notes of everything I learned at LVMH University.
In fact, I'm anxious now. Where is that book? I gotta go find it. I still refer to it every day. I think that particularly, working now as I am for startup and the tech world for brand has no heritage and very little aided and unaided awareness a lot of times. I think that strategy is different in many ways because of the nature of like the beast and just what's going on in terms of the digital ecosystem.
There's some really basic things I learned about heritage brands that are really critical in building startups that a lot of startup entrepreneurs and founders don't think about. And it's not because they're not smart, they just don't have the purview of working on brands that have been around for a hundred years.
But again, it really goes back to thinking about the founders story. First of all, being fortunate enough, I think LVMH specifically, and same with Remont have built brands that usually come from a family or an individual. And there's a really strong story of why they created it.
And what happens is that over years that why gets buried.
Different people take over the brand, they bring it into this direction, they zag to that direction. Companies make mistakes. Companies do things that they think are on brand, but they move away from the why.
Why did Mr. Louis Vuitton create a luggage?
Let's go back to that because at the end of the day, you know, when you start to think about the world of brands, it's gotten more chaotic, more competitive. It's harder to make noise. It's easier, yes, because we've got the internet and social, but it's become so crowded.
And so coming up with your story has to be very authentic. And a lot of people, again, forget about the why they created it, the initial spark of that idea. And I think that is something that I've been able to bring into my current role with my current CEO as just going back to that why and sticking to it. And it seems simple. It seems really simple.
Why wouldn't you remember a founder story? But it's amazing in the day to day of business how it just gets forgotten because there's too much focus on the product. Too much focus on HR drama. Too much focus on raising funds. But yeah, I think that to me was the secret sauce that I'll share with you from LVMH.
Ling Yah: So how do you make sure that the founder story remains front and center?
Nicole Levinson: Title aside, you can call it, see, whatever. For me it's like I need to see. I'm constantly seeing two things. I'm seeing the why always of the founder, and I'm seeing the why of the customer. That was the other thing that evolved.
I think, and I learned this at LVMH, there was a lot of focus on the why of the founder, but there wasn't a lot of focus at the time on the why of the customer. It was more like I am building this pocketbook. Come and get me. I'm LVMH like, I am building this lipstick. You're gonna love it because I makeup forever.
I think where LVMH has evolved as a brand is really considering their customers and thinking through and in luxury it's not just about the product, but understanding who you're making the product for and bringing them into the conversation. And that's why in the beginning, luxury wasn't on social media.
They were very much like the velvet rope. Now it's like, if they could get people into the factory seeing how something is built, like that's luxury these days. But I think, currently like I said, we're moving so fast in a startup at auto, it's hard to sometimes step back and remember like why we're doing what we're doing and who we're doing it for.
And what's their why? And I think my role is to bring together the why of the company and the why of our customer and make sure I'm always finding that middle ground and doing it in a way of course that is always authentic. In a way that is telling stories and sparking emotions because why is a very emotional topic versus the what.
Ling Yah: The word authentic is used all the time when people are talking about their stories. What does that actually look like? Is it the founder constantly reminding people, this is where I started. This is why I'm doing it and follow that journey along?
Nicole Levinson: I think so, you know, I've found with founders that some of them think that they're repeating themselves too much by telling that story.
And they said that they gotta drop it. And the thing with building a brand is there's always the audience that you tell that first story to. But if you're in acquisition mode people still wanna hear that story. They wanna connect with it. And even in retention note mode, they wanna follow you along your journey and understand why you continue to make the decisions that you're making.
So I think that that is a very important thing to always remind my founder. I mean, we're in the middle of doing a lot of press and you know, when I talk to my current ceo, his name's Milan Kordestani is just an incredible visionary young guy who had this vision to bridge the gap between skills and employment with the broken college system and just remembering and always bringing him back to that story for interviews.
We talk about other stories that come up, but for me it's really about making sure you have a very clear and a very concise, and a very consistent story that you tell over and over and over. Because we all know that, like I said, there're the new customers, there's the old customers and even the new customers sometimes forget.
You gotta keep reminding people of the why.
Ling Yah: It would make so much sense because I remember I interviewed Guy Kawasaki and he always shared same story.
Nicole Levinson: I love, I love him. If Guy ever heard this, I am so enamored by him and his humbleness. And he's special genius and the way he started your interview, he um, was just so humble and I was just like, No, you are all these things. Admit it.
Ling Yah: What is it about Guy Kawasaki that you are so in awe of?
Nicole Levinson: I think that when I look at people like who have just had, had such an incredible impact, worked at so many incredible brands themselves and been so high up at these brands, and when they're just so humble about it, it just makes it so approachable to listen and to feel like you can actually learn from someone.
And I do think sometimes some people get so successful and their story's so out of reach and I think Guy makes everybody feel like it's attainable. It's possible. That it's not something just to dream about. Like if you want it, go get it.
Ling Yah: What do you think is the secret to staying humble?
Nicole Levinson: That's hard. I see a lot of people with a lot of ego taking over and particularly I think with so many platforms and even podcasts , everybody has a platform to talk and there's a difference between I think bragging about what you did and talking about successes to inflate your own ego.
I don't know how to convey this, but I'm not you know, Steve Jobs. And I'm not Guy. I'm just a regular person who just tried to do my best and figure out my way. And I feel like if I could tell my story, like I said, just to change one life I'm so humbled by that.
I think that when you start telling your story just because you want likes or followers or whatever, this culture's becoming almost like this, you know, popularity contest of yester years. It's not gonna help.
I think you convey stories in a very different way when it's coming from a place where you really wanna help somebody.
If you're gonna do it, do it to help people not to kind of puff your own chest. And that's the way that we're really gonna help change lives here.
Ling Yah: Speaking of your story, you've had a very non-linear career progression. You've been going from many different places, and you said before that a lot of people didn't see this as an advantage.
I wonder what was driving you as you were going from one to the other to the other?
Nicole Levinson: What was driving me was definitely not looking at what other people were doing. Yes, I was not linear. I broke all the rules. You know, when I left lvmh, the recruiters wanted me to go back in beauty.
When I left agency, they wanted me to go back in agency. I've been vertical agnostic my whole life. Even though I was told that you need to build your career in one area. You know, you have to be spirit or you have to be hospitality or you have to be fashion.
And by actually going into other verticals, it was sort of looked down upon. I was not considered for a lot of jobs. I was told many times that they loved my lifestyle background.
I remember I was interviewing for like a gourmet grocer, believe it or not, but a very high end gourmet grocer. And they ended up taking somebody from like a competitor, even though they kept telling you over and over that I had the luxury lifestyle experience that they needed to take the brand to the next level.
I think I was just seen as a risk. And eventually I think the world shifted and realized that there started to be a lot of leaders at certain companies that were coming from different places. Actually, I remember at Christie's, they hired somebody from the music world one time. And I was like, Whoa, that's interesting.
I've also been very vocal about it. I've always said that it's not my Achilles heel. It's something that I actually feel is my advantage. And something that I feel like is what makes me tick. And what separates me from other people. But in a good way.
I think everybody else has good things to bring to the table. For me, it's very rewarding to see that the world has moved in that way. And it's now become I would say, much more appreciated. Actually something that's been recognized.
I think is really important today to talk to young adults about, because the pressure to have to stay in one lane is just a I would say fantasy of yester years. I think the more things that they try, the better. And I think that when you have a certain skill set, whether it's finance or marketing or even computer software development. If you're really good at what you do, you can bring it from industry to industry. Why?
Because if you go back to the why and the strategy and you understand the audience you're talking to and the why of your founder, you have the hard skills and then you can kind of bring it together from a strategy standpoint.
You gotta do the research. I can't just walk into education and career tech and think I'm gonna be an expert on education and career tech.
I gotta study the industry, but I use the same marketing skills that I've called since, you know, my days at H&S
Ling Yah: What has been the most effective way of researching a new industry as you're entering it?
Nicole Levinson: That's changed too. I mean, obviously you know, online is an incredible resource. I think before online existed it was really mostly just reading books, reading magazines, keeping your finger on the pulse.
You know, going back to my days not to bring it back up of Betty Boo. I think I've also always been and I haven't really acknowledged it a lot in this talk, but I've always been obsessed with pop culture. I've always been obsessed with tv, reality tv for whatever that's been worth watching the evolution of that.
Watching the evolution of comedy to now streaming and Netflix and Hulu. I know I've watched music I've stayed on top of fashion. I've stayed obviously on top of art. And I think just being able to go into whatever those areas are, whether it's online conferences, events. My network of people has been probably the way that I continue just to stay abreast of things and I'm just constantly trying to find new outlets where I can tap into audience insights.
Recently I've gone down a rabbit hole and in two new areas that I never went for information, but Reddit. I also have been obsessed with my new fun place for inspiration called Product Hunt.
So very tech. But again, you know, it's cool to read it because if I see someone doing something, yeah, a lot of it's AI and metaverse and project management and financial, you know, tech tools.
But every now and then there's something that is like, Fashion. And I'm like, Oh my God, that's brilliant. Cuz I remember when I was working with DVF or this brand like this would've been amazing at the time to In my head it's like this big like circuit board of just connecting things from all walks of life.
But doing it now through this incredible lens of like technology and everything that I'm learning day to day about gamification and ai. Which has been, you know, just incredible. Like I'm never stop learning, Never stop learning.
Ling Yah: I wanted to go back to 2018 when you were at Playboy and you were senior VP of brand marketing and partnerships.
I hear you talk about the why. It explains so much about the kind of research I was finding cuz when you were asked why do you join, what was it? You were always talking about the whys you were always talking about, I remember what Playboy was supposed to be and that was the story that I was bringing out as well.
And I would love to start by just basically saying, How did you end up at Playboy of all places? I mean, you were Christie's and then you were at LVMH and now Playboy.
Nicole Levinson: It's funny cuz I think around 2018 when I started to work at Playboy was when I started to, I guess get more speaking engagements and be covered by like media outlets.
I think again, everybody was just fascinated that Playboy was coming back. That I was a woman that was speaking in favor of Playboy.
You know, I would start my speeches or talks and be like, I'm Nicole Levinson, I'm, you know, the SVP of Playboy Club, New York. I started my career at Christie's and the room would just sort of like stare at me, and be like, how the hell did that happen?
Yeah. So through a real estate developer who was a good friend of mine he bought a license for Playboy, New York and wanted to bring the club back. There was a bigger expansion plan to bring the club back in many different markets. For Playboy, they were selling, as I said, to reinvent themselves beyond being a media brand as a relevant brand culture.
And one of the ways they wanted to do it was through hospitality and bringing the club back. So it was just an incredible opportunity because it's not like they sold us the license and we went on our way. I was very integrated with the Playboy team, with the ceo the head of licensing. The head of gaming, the head of fashion and the head of the Bunnies.
It was an incredible experience. There was one why we haven't spoken about in this podcast yet. my own why I'm talking about my bosses and my CEOs that I work with, and I'm talking about people, but A why I'm doing something I think appeared 2018.
And It appeared because of Playboy. Part of telling the story and reinventing the why was really going back to Hef as he was affectionately called by people a playboy and understanding his history with women specifically with L G B T community, with race.
Hef was a huge supporter of all of those outlier groups at the time, and I knew in bringing the club back, I was bringing it back just as like everything started to heat up with me too.
I knew immediately that I would be questioned in the media by colleagues, by friends, like, how are you supporting a brand that was seen by certain audiences as not being part of female empowerment?
Again, I believe that if I went back to the Why of the founder, you know, from ideas at LVMH and moved away all of the noise and the gossip and all the things that buried the brand from the girls next door, reality tv, and any of the dramas that had happened at Playboy and really went back to what Hef believed in and what he valued.
And, you know, showed those stories. Whether it was featuring the first black woman on a cover of a magazine, or whether it was marching for L G B T rights or whether it was having Sammy Davis Jr. show up at his penthouse, and perform even though South said that they were gonna cancel his TV show.
These are all stories that got buried over time that nobody really knew and instead it was just negative, negative, negative. At the time though, I realized that it was very empowering for me to start talking about women's rights, women's empowerment.
There were a lot of debates even with names like Gloria Steinem coming up. That women being nude was not being empowering. And what I realized is that We all want the same thing. Let's get to the bottom line.
There are women who do support Playboy. And so at the end of the day, whether or not you agree nudity is beautiful or an art form, or whether it was misogynistic, the end goal was to help females and be empowered.
Layered with that was the feeling that I was not only helping women, but the bunnies, which were seen as something that could also come off in the wrong way. These women, I was sitting and interviewing them, nurturing them, working with them. They all were telling me stories about how empowering it was to wear this costume.
That is one of the most recognized costumes in like history. It's actually in the Smithsonian Museum. It is a work of art. It is no different than what the Rockettes are wearing. It's no different than what the Moulin Rouge they're wearing, but yet it's Under such a microscope as a symbol of negativity.
But yet these women were or empowered when they would put on the bunny suit and then there were the hundreds of bunnies that would come and have reunions at the club and talk about how they were single moms that couldn't get jobs anywhere. And um, were so grateful for the ability to work, to earn a living and to feel like they were not waitresses.
They were like any sort of maitre d that's working a room in hospitality. They were hospitality experts without being given that name.
I felt very much in recognizing that I was helping women. It was the first time that I felt like I really want to keep doing something that's gonna make me feel good.
Why am I working? Why am I spending all my time away from my husband, my child, my friends, you know, God bless them because so many of them are always working. I never see you. Why am I doing all this? Why? And that really came, I think, ahead at Playboy. And so I am very grateful that I had that opportunity.
Ling Yah: You talked about when you were at LVMH, you learned the importance of brand codes and bunnies are very much the brand code of the playboy. What was the most effective way of ensuring that those stories were put out there and people were aware of it because there was so much negativity?
Nicole Levinson: Yeah, I mean, I think the media was hard at times. I was working with a very good PR agency at the time. Listen, there's freedom of speech. Everybody has the right to say anything about anyone and any brand and have any opinion.
You know, there were some writers who did come in and were very clear that they wanted to not have a productive conversation. They wanted to have an argument or they wanted to be right. They didn't want to hear the way we were repositioning the brand.
You know, we tried to work for the most part with writers who would embrace the story and, and tell it in a fairly objective way. There were also writers that sometimes would sneak in just like Gloria Steinem did back in the day and spew negativity.
So that was challenging from a crisis communication standpoint. I actually had dealt with some crisis communications in my past, but it was definitely the stakes were higher cuz you're dealing with, an iconic brand like Playboy and then you have to report it to the CEO of Playboy and talk about how we're gonna handle it together.
We're a licensed, but we at the time were, I would say part of the bigger brand empire that a lot of eyes were on. Yes, they were looking at Jeremy Scott's Moschino collaboration, but everybody loved his clothing. It was easier for the club and the bunny suit to come under fire.
But it was just a lot of collaboration. A lot of massaging and making sure that we were telling the story in the most compelling way. Going back to the history, going back to the values of Playboy. And I think today when I look at it, even though the club did end up closing I think as collateral damage of what had happened during Me Too. Playboy still is a very resilient brand and they continue, I think to evolve in other ways, whether it's cannabis or NFTs. There is a young generation.
First of all, there's nobody who is my age in their forties, fifties, sixties, seventies, eighties, who's not gonna look at me like what you worked at Playboy. But I think the new generation like Gen Z and millennials who didn't grow up knowing what Playboy was are very open to it still and do see it as a brand that is about uncompromising, breaking boundaries, challenging the status quo.
I think they've done a lot of great work with the L G B T community. A magazine that was everything, you know, all for men has now been for everyone. And really taken a stance more about freedom of expression, freedom of rights and I think it was a smart way that they moved in.
I'm proud to have been part of a little bit of that history.
Ling Yah: You mentioned about finding the right editors and I noticed that you got lots of publications in like the New York Post, which is the holy grail in Town and Country Architecture Digest. Yeah. I wonder how did you find editors who would champion your brand?
Cause that's such a crucial thing.
Nicole Levinson: You know, PR. Again, everything has changed and it really is working with an agency that has very good relationships. There's so many agencies that say that they do PR, but what they do is they either take a news release and they put it on the wire.
I can do that. Or they go through Cision and they find names and email editors like I could do that. What I'm really looking for is similar to how I got deals done, like big collaborations is who do you know, who do you trust? And it takes time to cultivate those relationships.
When I was interviewing agencies, I was just very careful to make sure they knew the editors and the writers and some of the contributors of some of the outlets, and that they really trusted them before they walked them into the club. But again, like I said, you know there was always a few that kind of fell through the cracks.
But again, I was always willing just to have a conversation and see where it goes. So I feel very lucky. Yeah, I mean, we, were actually on the cover of the Style section of the New York Times.
I think I've worked with brands and gotten them on the cover New York Times, three times in my life and that was one of those times and it was the Style section.
I was a huge fan of the style section at the time. It was fun to kind of again, look at not the controversial nature, but also how much Playboy had been appreciated from a stylistic standpoint. It was a tough balance.
But yeah, we got a lot of really good press from it. We were on page six once for a negative press hit, which was not fun. But you know, one day they love you, one day they don't love you. It's the nature of the beast.
Ling Yah: I imagine they loved you during the club lunch. During fashion week with Jeremy Scott.
Nicole Levinson: Yes, that I definitely got a lot of love in. I mean, who doesn't love Jeremy Scott? And what was really great is speaking about celebrities is, for a lot of events when I was at h and s, we had to pay celebrities to come to events and then we'd have US Weekly there to shoot it or we would set up on stage shots of celebrity.
We actually did two events with Jeremy Scott, but it was really the second one that got a lot of press. He came in with his good friends, gwen Stefani and Kate Perry. They didn't pay them to show up.
They were at the MET Gala. We were doing the Met Gala after party.
It was the night too that Katie Perry was like wearing this like really big hamburger costume. And there were all these social media like posts about, like, her, like picking the hamburger up to try to pee you know, during the MET Gala. So there was already a lot of buzz about her costume in particular.
And then when they showed up at the club, I mean it was just pandemonium and all of the Post Met gala press was just really incredible. So that was just definitely a night to remember as well.
Ling Yah: What was the impact from MET Gala? Was it just an influx of members coming in wanting to support and be a part playboy?
Nicole Levinson: I think that it was interesting to see who the brand resonated with. I had guys coming in who literally had been part of the club in the 1950s, and they'd bring their old key and their old card and show it to me. You know, They usually had like a cane or a walker and they were so proud of their card.
And then you'd have like my friends and people in my network that were supporting it. There were a lot of high profile people, part of the company at the time. So we were all bringing our networks in. I think that for me I wanted it to be a place that not just the fashion world embraced. Back in the day the club was the place where like Mick Jagger would come and the Beatles and all the big celebrities and thought leaders at the time.
And I did want to also from a culture standpoint, have it be a place where all of the product clubs are making this like today, whether it's Bond Street or so House or Spring Street. You know, the thought leaders in like tech fashion , cause again that those industries didn't exist.
It was mostly celebrity and singers at the time and actors, you know, Warren Baby showing up. I wanted it to be like just movers and shakers in all of the industries that were inspiring people. And that's really where I think we were moving towards. And that was the reason why I put together deals with fashion brands like Jeremy Scott Sino.
That's why I wanted to associate with the Met Gala. That's why I brought in panels. We even went back to Broadway and had like Broadway singers performance wanted to be just like a cultural hub where people can experience new things. And that was also partly inspired by the magazine that always just brought in.
You can say what, you can say, yes, there were the nude pictures, but it was always the place where you would read like essays by Salvador Dolly or Andy Warhol or Norman Mailer or Steinbeck. like You could always find interesting articles. And as much as people make fun of that, it really is true.
It legitimately was an incredible resource to pick the brains of thought leaders of that day.
Ling Yah: What I thought was fascinating is that of your membership, around 40 to 50% were female. Was that a surprise for you?
Nicole Levinson: It was. I think in general with any brand, it's very interesting to see who's gonna gravitate towards your brand.
Like, even today with audo.
You know, We're like, all right, this is gonna be our audience and it's gonna be all female and it's gonna be all women of this age. You build and you have a consumer in mind, and then you see who comes. But I think that that speaks to what we wanted to be.
I wanted it to be not just a place where it was a magazine for men, but I wanted to shift it more towards women. And I knew from Playboy internally corporate, that they were also, expanding into the L G B T community and making a big play there. But I wanted women to be a part of it.
And I think again, as much as Me Too had a effect and showed there were some people that didn't support the club, there were a lot of women who were just obsessed. And usually all of our female members at the time they were not stay home moms. Candidly, they were women who were CEOs and bps and entrepreneurs.
A lot of entrepreneurs running their companies And were looking at it as a place to entertain guests as well as a place just to network and build their business networks. And I think the fact that we had that big female contingency you know, there's certain KPIs of you measure success. To me that was a big measurement of success for sure.
Ling Yah: One final thing also on the female theme.
You had an all women team at Playboy. What was it like?
Nicole Levinson: I did. I did and they are both incredible friends. Actually I had more women, but I referenced two women in particular, women named Heather, who did my PR and a woman named Diana who I ended up taking from an incredible background of nightlife and entertainment from places like The Box and the House of Yes, in New York City.
I ended up hiring her later on to do experiential events at Playboy. And then for my role at Show Fields. If I could work with them again. We're always trying to figure it out. Actually, Heather and I are working on a speaker series with my current ceo, Milan, where we'll be talking all things entrepreneurship, alternative pathways, career readiness, but with a layer of culture.
Some entertainment, some music, maybe some comedy. I think the one thing that's really important to say is with my current ceo, you know, I'm not from the education. The ed tech and the career tech space. What I'm bringing to that space is all of my knowledge about lifestyle brands and how to make a brand that's typically very utilitarian and just serious, but bringing more culture into it so that there's more of like an emotional bond between people who embrace the brand and embrace learning.
And they don't just see it as something that they have to do as part of an institution and something that they have to do. But rather that there's a feeling towards auto and learning.
It's the same type of feeling you would feel like if you walked into Ralph Lauren or if you worked into like Supreme. Or if you worked into like h and m. That feeling of just pride of being part of a community and really feeling proud about who the brand is.
That's what I bring to Ed and career Tech from all of these brands that I've spoken about.
Ling Yah: Since we are on the topic of audo, what is AUDO
Nicole Levinson: Audo is a career building destination where you can learn skills for today's most desirable jobs.
So what that essentially means is that we are trying to help young adults figure out their way, figure out what they're passionate about. There unfortunately is not a lot of access to the skills that they need. So whether they're in college and taking classes or whether they decided to forego college. You need basic skills to get certain jobs today.
We're not saying we're training the lawyers to be the doctors of tomorrow. But there are some basic skills that you need if you wanna get into digital marketing or graphic design or computer software development. And we're launching other tracks like cyber security um, and video and music production.
And yes, you can go onto YouTube and try to find these skills for free, but it's still piecing things together and figuring it out. What we've done through AI is we've created a assessment called Audo Guide. It's basically the smartest career coach you'll ever meet. You bring to audo guide your skills, your personality and your current experience and you share that information with the audo guide.
It literally pumps out an exact path that you need to take to get from point A to point B. And once it gives you those skills from our best in class providers, from people like Coursera and Udemy and edX, you move on to a marketplace where you can actually monetize those skills.
So the idea of staying in a university for years and then working, or to my point, going back to my story, working in a pizza store or being a barista, you don't need to do that anymore. You can actually learn skills that are monetizable. Skill by skill and get pretty much, I would say into the work environment. That linearness of college is very old fashion.
Ling Yah: I haven't been able to try it cuz I notice in your website you need to get onto the wait list. So how soon can everyone join and try it out?
Nicole Levinson: You can go to audo.com and that's a u d o.com. Audo by the way is Latin, "to be bold". Again, wanna just to infuse the brand with a lot of emotion. Go to audo.com, sign up.
And We are as fast as we can, letting in as many people into beta. Everybody who's part of beta has just been incredible. The feedback we've gotten from initial users, I'll tell you one story as we wrap up.
We had one user who came to us. We give all of our users also one on one personal onboarding with our ceo which when you talk about customer acquisition, retention is unhear of.
It reminds me actually something in the luxury world where literally you would go into like Hermès and pick out your Birkin and see it being made. But in the startup world, literally every customer, every user is just so precious to us.
So he had a one-on-one onboarding uh, where he was teaching and guiding a young man who was three years into college, can't afford to go back his last year. And he thought he wanted to do graphic design. He ended up taking our audo guide and realizing that he might be better at digital marketing.
Now he is taking those courses and soon will be able to monetize those skills and hopefully be one of I would say, our first users to really show outcome. I think we were brought up to believe that sometimes you learn to learn and that there's a little innocence there.
Like I say, I go back to Vasser and where I went to high school was Dalton and it was like, I don't want to devalue the fun of learning, but I also believe that as you continue to learn, there are outcomes in ways that you need to apply learning in order to make a living and to live a fulfilled life.
And I think that if you wanna learn for learning's sake, you certainly can use the platform, but we are outcome based. If you wanna learn and find your passion and jump into the workforce and do something that is really relevant today, whether it's web three, the Metaverse coding there is a way to do.
There is a mentor, a smart coach named audo guide that could help you. And there is a path for you and nobody has to ever struggle again to figure out their way.
Like I said, if one person uses this technology and changes their life, I will consider my job well done. But I know we're gonna change hopefully thousands, if not millions. So..
Ling Yah: Do you feel like personally you're still trying to struggle to find your way through life? Or do you feel like you found your why?
Nicole Levinson: I definitely feel like I found my why for sure. I mean, I've never separated work really from my personal life. Maybe that was bad, maybe that was good.
But I feel like instead of going around and being like, Hey everybody, I work at Makeup forever, try this new lipstick. It's gonna change your life like we put on a red lipstick, it's gonna make you happy.
I feel like instead now I'm at the Apple store buying an iPhone from my son and hearing stories from kids that are like, I don't know, somehow when he is loading my son's iPhone he was telling me that he's been teaching himself coding. And I, all of a sudden was like acquiring a user there in the Apple store as my son was getting his first iPhone.
So it feels just more rewarding to me rather than tell somebody about like a lipstick or a car. To tell them about something that I know is really gonna change their lives and not just make them feel good. But don't get me wrong, I mean, I love a good red lipstick.
Ling Yah: What kind of legacy would you want to leave behind?
Nicole Levinson: Mostly the people I work with and my family and my friends. I think just somebody that is been very empathetic and will listen and do anything I can to help them and drop anything at any time to help someone.
I don't know, like I'm sure I could be a better marketer. I'm sure I can call my skills. Learn how to do TikToks better. I'm always on TikTok, like in my downtime, just scrolling and thinking about how can I be better? How do I make videos on myself? How do I do marketing better?
But I think for me it's not so much like did I knock it out of the park with marketing? Don't get me wrong, I feel very proud about the deals I've done and the brands I've worked on, and the amount of users we've accumulated at Audo.
But for me, it's really about did I help someone when they needed help?
Yesterday a woman called me she knows who this is as she's listening to this, but she had been in her career for herself also 25 years. She was sharing with me that she was lost. She didn't know where to go. She felt bad calling me in the middle of my day and asked me. I hadn't spoken to her maybe in six months.
And I got off that phone just feeling so happy that she, one, wanted to call me. And two, she was feeling a little sad that day. And I told her also that I've been there. I understand and that I will be there for her and gave her some advice and ideas of ways that she can pivot her career, create more relevancy.
That feeling just is priceless. That's how I wanna be remembered. Just helping and being there and being empathetic and loyal.
Ling Yah: What do you think are the most important qualities of a successful person?
Nicole Levinson: I think somebody who thinks of other people and not just themselves. You can't do it yourself.
And again, going back to egos, like I can't do it myself. I need to surround myself by incredible people that are also gonna inspire me, manage up to me. Teach me. I never wanna stop learning.
I think anybody who thinks that they know it all and that they can do it themselves are their own worst enemy.
That to me is the mark of what makes people successful. I think constantly listening to people. I shared this earlier.
My friend's father is Ralph Lauren probably one of the most successful iconic designers. When I sit with him, he would just listen to my ideas.
And I was like, Why is he listening to me? And I realized that for all his success and he is somebody who I really crossed path with who's quite iconic in the world. He was just a really good listener.
And that really stuck with me for many years. To listen to always be curious and to never think that you know, it all.
Ling Yah: Are there ways that you've found to allow you to be a better listener?
Nicole Levinson: Yeah. By telling myself to shut up. I like to talk.
It's very challenging. I do have to be very in touch with myself and just be like, be quiet. And sometimes when I'm so quiet, particularly on meetings now with my team there's still a little part of me that feels like they might feel like, Oh, Nicole doesn't have any ideas, or Nicole's bored.
I feel like being quiet sometimes is a bad thing. I'm trying to work on that. But I think being quiet and listening and letting other people talk is really important and I wanna do better at that.
Ling Yah: Just before we round up with a final question, Nicole, is there anything that people listening can help you with?
Nicole Levinson: I think just reaching out. Continuing to reach out.
You reached out over LinkedIn. I don't wanna be bombarded by SEO people all the time on LinkedIn um, selling me back links.
I really believe in the power of networking and the power of reaching out and the power of talking to as many people as possible.
I'm never like, I am Nicole and I'm the CMO and I don't need to talk to anyone. I will take calls. I will reach out to anyone that I think I could have a valuable conversation with.
Recently I reached out, actually there was a lot of layoffs at Peloton, for example, and I was looking for some talent. A lot of the conversations did not lead to jobs or filling positions that I wanted to but I've had some really good conversations.
I think there was a really good culture on LinkedIn around people who lost roles recently. And usually again, that was like taboo to talk about, but for me I was kind of like, Oh, this is like harvesting season. I can go after all these people. Great talent from these great companies.
So I've had a lot of good conversations and I do encourage anyone, whether it is LinkedIn, which always feels probably the most comfortable way to reach out or IG, which is where I'm probably more active.
I'm trying to build my TikTok. My videos might be a little laughable right now and perfunctory, but, yeah, I mean, reaching out over a LinkedIn to have a conversation.
Cuz you never know what's gonna happen. You never know what's gonna come from it. And I'm very open to talking to people and just learning.
So if there's anything they hear ever wanna talk about. Just don't call me about a back link. Just leave me alone about the backlink.
I hope that any of your listeners and I hope we stay in touch. If there's any way that I could help you in your career of podcasting, build the brand or expand I do believe everything's mutually beneficial.
It goes both ways. It should never be one person benefiting in a relationship. It has to go both ways. And I think also that is another gem of like successful people.
Like not just being like, Give me, give me, give me. How can I help you?
And I, Every time I'm on the phone, I try to end every conversation like, how can I help you as well?
Like, what can I do? How can I introduce you to someone? It's uh, yeah, a giving tree. It all goes back to Shell Silverstein.
Ling Yah: Thank you so much for that offer. And is there anything else you'd like to share that we haven't covered so far?
Nicole Levinson: No, I'm just really grateful for your time. I think your questions and the fact that you have a whole podcast around why is, is very timely.
What I will add to is I did read a book that really impacted and changed my life, and a lot of people do reference it. It sits on my nightstand.
It's Simon Sinek's book about why, and I read it on the beach. I think it was that first year of Covid and literally just highlights, underlining, page folds.
It just was like a religious experience reading the book for me.
All of this had been stirring and mulling, but I think that it really crystallized that why is something very important to ask.
I think his why of was very much like going back to companies and brands and why they do things.
But I think it also brought out a lot of feelings about my own personal why. How I will continue to make choices about the brands and the companies I work with. And how I really want to make sure that I am looking and deeply understanding consumers why as well cuz I think that that's always shifting.
Whether it's generations that have different why's or small segments that have different whys.
I think we as marketers could be better about figuring out that why, cuz it is constantly changing. You know, individuals wise, not just segments are always changing. So it's just a fascinating topic and thank you for bringing light to it.
Ling Yah: And that was the end of episode 103.
The show notes and transcript can be found at www.sothisismywhy.com/103.
If you haven't done so already, please do leave a rating and review for this podcast. It really helps STIMY to grow, and I read every single one of them.
And do stick around for next Sunday because it will be the last episode for So Is My Why for the year 2022. It'll be short, it'll be sweet because I'll be sharing some of my personal highlights in building STIMY, lessons learned, highlights from previous episodes, how the physical STIMY Hangouts have gone, what you can expect in 2023 and so much more.
So if you haven't done so already, do subscribe and see you next Sunday.