Welcome to Episode 133!
STIMY Episode 133 features Adlin Yusman.
Adlin Yusman, Managing Director of Endeavor Malaysia, will work for anyone he's hired.
A huge contrast to when he began his entrepreneurial journey with the mentality of, "I pay you a salary, you work for me and you do as I say."
Which, as you can imagine, created quite a lot of issues.
That said, Adlin has had an eventful life. One that's sprinkled with a generous serving of failures and spooky occurrences (e.g. receiving a 3am call from a female ghost?!).
He's founded several startups that failed, but managed to stay friends with his former employees and investors, who don't regret a single day of giving money to him.
So how did Adlin go from featuring a Maybach in the first edition of his luxury automobile publication 
➡️ Making major hiring mistakes (e.g. hiring a wimp) 
➡️ Hunting for 100 cockroaches
➡️ Raising USD 500k in 2 days 
➡️ Working at Endeavor Malaysia, where he helps the likes of Bryan Loo of Loob Holdings in the startup ecosystem?!
You'll have to listen to the latest STIMY episode to find out!
P/S: This episode is available on YouTube too!
PS:
Want to be the first to get the behind-the-scenes at STIMY & also the hacks that inspiring people use to create success on their terms? 
Don't miss the next post by signing up for STIMY's weekly newsletter below!
Who is Adlin Yusman?
Adlin had an eventful (+ entrepreneurial) childhood.
And we start our conversation with a spooky 3am call from… a female ghost?!
2:04 A 3am call from a female ghost?!

4:59 What "real success" has Adlin even gotten to be featured in the media?! 🤣

6:41 Studying economics

8:14 A fork in the road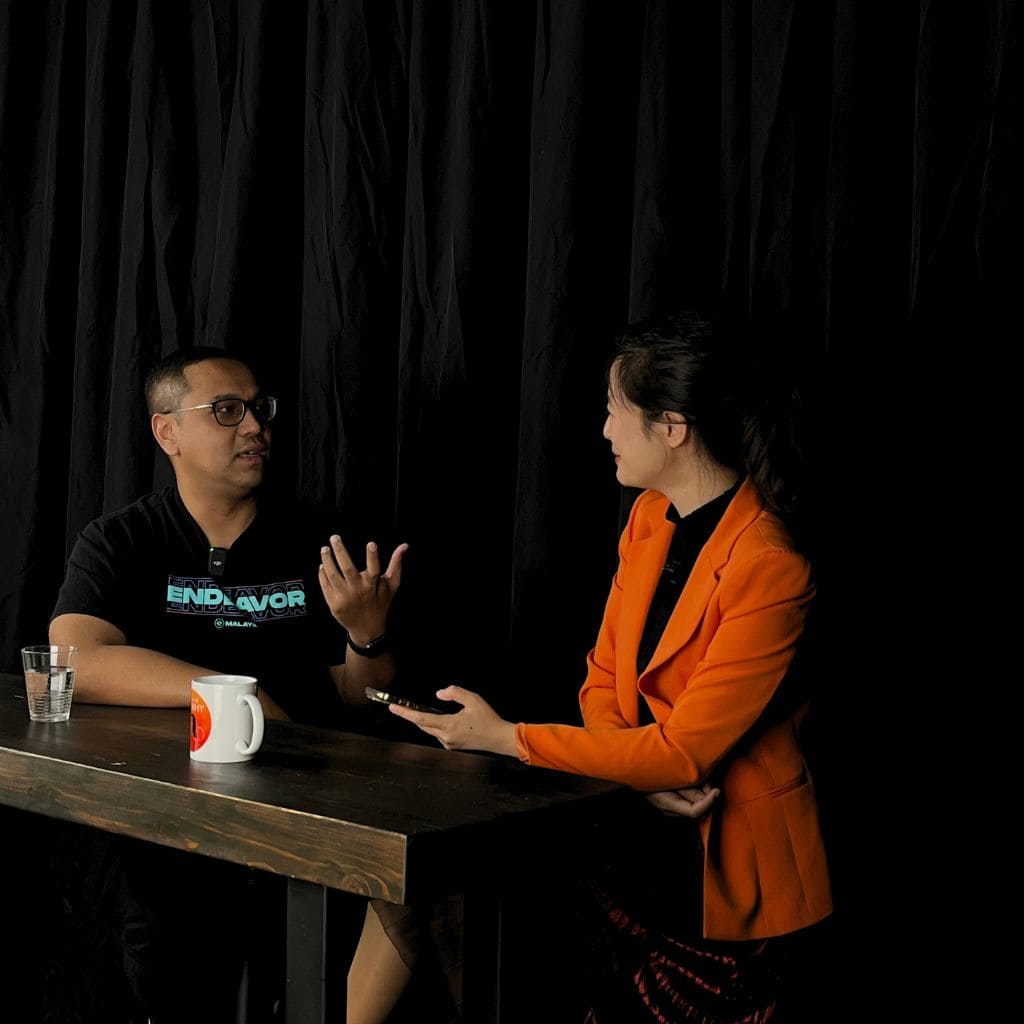 The Startup Life: From Failed Startups to Nurturing the Malaysian Ecosystem
Adlin has been dabbling in the startup ecosystem for a while. And he has the battle scars to show!
Including terrible hires (one brought a literal snake pit to the office), to finding 100 cockroaches for a customer and realising that their business model couldn't scale to how Adlin found the ability to share his failures openly.
And that his investors never regretted, even for one day, that they had ever taken a chance in him.
Now, Adlin is building the startup ecosystem in Malaysia as Managing Director of Endeavor Malaysia.
11:48 Launching his first luxury automobile publication

14:45 How Adlin sold himself

21:01 Being a good leader means learning to follow

22:51 The saddest moment of his life

25:21 Terrible hiring decision – by hiring a wimp

27:09 Why his startup collapsed

27:49 Working at Groupon & 8am meetings

31:07 Launching another startup

33:46 If it's easy, it must be a scam?!

40:05 Hitting RM15k revenue & 1,800 requests in 2 weeks

40:45 Finding 100 cockroaches

44:45 Big mistake

48:03 Deciding when to quit

49:20 Failure isn't a big thing, but…

52:53 Do you still struggle with sharing your failures?

53:43 Why Adlin's investors don't regret a single day of giving money to him

56:53 The best way to handle mass resignations and retrenchments

57:55 Endeavor's Local Selection Panels (LSPs)

1:00:18 What founders always fail at

1:02:09 You need a Big Vision

1:06:39 Helping Bryan Loo of Loob Holding (Tealive etc.)

1:09:05 You miss 100% of the shots you don't take

1:10:35 Advice for building your community

1:14:02 Who would Adlin work for?

1:15:42 Questions to ask to determine if someone has a shitty attitude!
If you're looking for more inspirational stories, check out:
If you enjoyed this episode, you can: 
Leave a Review
If you enjoy listening to the podcast, we'd love for you to leave a review on iTunes / Apple Podcasts. The link works even if you aren't on an iPhone.
Patreon
If you'd like to support STIMY as a patron, you can visit STIMY's Patreon page here. 
External Links
Some of the things we talked about in this STIMY Episode can be found below:
STIMY Ep 133: If It's Easy, It Must Be A Scam + Hunting for 100 Cockroaches?! | Adlin Yusman (Managing Director, Endeavor Malaysia)
===
Adlin Yusman: It's crazy. Which is why it's a completely inelastic business where it could either cost you 10 ringgit or 10, 000.
Yeah. We got a Malaysian request.
The guy wanted us to find 100 cockroaches. And we're like, is this a joke? Legit? Why do you want 100 cockroaches? Found out the guy works in a lab and he needs the cockroaches to do some tests. And we're like, well how the hell do we find 100 cockroaches, man? And I hate roaches, man. I'm not gonna do that.
So...
Ling Yah: So did you fulfill that request?
Adlin Yusman: I think we did.
Ling Yah: Hey STIMIES!
Welcome to episode 133 of the So This is My Why podcast.
I'm your host and producer Ling Yah, and before we start, I do have a small request for you. If you have been following STIMY for a while, could you please leave a rating and review on whatever platform you're listening to this on?
That can be Spotify, Apple Podcasts, or even YouTube. Every review and rating does help this podcast to grow, and without your help, no one else will ever be able to hear it. Now, on to today's guest, Adlin Yusman, Managing Director of Endeavor Malaysia, a non profit organization by entrepreneurs, for entrepreneurs.
Now, Adlin himself has a ton of epic stories and I'm pleased to say that he shares quite a few stories here that he's never shared elsewhere before.
Stories like receiving a 3 a. m. phone call from a female ghost when he was a teenager. Almost dying because of his bro code. How he managed to feature Maybach for the first issue of his nascent startup, paragon publishing.
How he managed to raise half a million dollars in two days, his experience in hiring and firing people, the importance of keeping your ego in check and so much more.
So if you're an entrepreneur or someone who's interested to know what it takes to survive in the startup world, then this is the episode for you. Are you ready?
Let's go. And that was the end of of
In the mid 90s, you received a 3am call from a girl who said, I'm outside your gate. My house is number 13, 14 / 56. What's the story behind that?
Adlin Yusman: So back then in the day, which I knew you read my Quora. So yeah, you should have told me that, Ling Yah,. Okay. I should have asked more questions, right. Okay. Okay. Right. So I like that. Pandai means smart.
Sorry for the global audiences.
I was 14, I was dating a girl.
So we wanted a phone in the room. I managed to finagle my mom to get me a phone in the room, so it was the whole cordless phone.
So I was like, okay, I'm going to put the phone down and we would buzz each other. But back then, you know, most people didn't have your own phone. So you had to go down and call, you know, you had one phone for everybody in the family. I was the only one lucky enough to have that, right?
But it was a phone that was connected. It's just cordless.
So at 3am, I got a call and I'm like, okay, I thought it was her, but she wouldn't be calling me at 3am because her parents would furious, right? Picks up the phone, and it was this random girl. Amazing voice, by the way. I'm like, wow, 3AM, wow. Not that I was cheating on you, by the way, right?
Because I had, hey, this is amazing sounding woman, or girl, on the phone. So my house, in Section 14, in PJ, some of you may know Section 14 has a very famous middle school, which is Sri Aman.
I was right up the hill, so the house is about maybe 40 meters up the hill. So I was thinking, maybe it's a girl from Sri Aman that I know.
It didn't hit my mind that it was 3 a. m. Because I thought, hey, a girl's calling me, I'm a guy, the guy's cool, man. Any girl calling me, I'm gonna be weeping out.
And then she says, hey, my house is number 60. I'm outside the gate, it's cold. Can you open the gate for me?
And I'm like, it was weird. Who are you? And then she's like, I'm your neighbor and I can't go into my house. Can you open the gate for me, right?
I'm like, okay.
Not everybody has mobile phones, by the way. So I don't know how she made the call. I assume it was a mobile phone.
I said, no. Which house are you in? She said number 13, 40/ 56, which is the road.
And I'm 16.
So I assumed 13 could be opposite because that's how it works in Malaysia, right.
And I said, okay. But then, goosebumps started coming up. Hey, okay. This is odd.
Hey, you know what? Why don't you try and call your parents? Said my parents aren't around. I mean, your parents aren't around?
Yeah, they're not around. Okay, you know what? Let me try and go down and open the gate. Lie lah, right? What am I going to think? Panicking there, right? Lied. Put the phone down. Tried to go to sleep, the phone kept ringing.
So I unplugged the power cable, and I went to sleep. Okay, so I still thought nothing of it.
I still thought maybe there's a cute chick living across my house. Score. So I asked my mom, like, hey, who's number 13? Is there a family living there? Because I'm not from in there. Because we just moved in a couple of years before.
She says, I don't know what's number 13. So as we got out of the house, I looked at the house in front.
It was 14A or 12A, right? Because nobody likes number 13 in Malaysia. And the house is devoid of anything. I think it's been abandoned for at least a couple of weeks, if not more. And I'm like, okay. That was my first moment that I got hit on by a ghost. Or my friend was pranking me. If you are, please tell me.
It's been 30 years now, wondering who called me that night. So thanks for starting with that, Ling Yah..
Ling Yah: Don't worry, I thought it was a very interesting story. Another story I picked up on Quora, which I love because it's from your dad. And I thought it was reflective, perhaps, of what your family is like.
Your dad said after you got a lot of appearance on the media, what are the real successes you have actually achieved to get so many interviews in the press? I'm so curious to know what you said.
Adlin Yusman: My dad is the funniest man alive, but he makes some of the best sarcastic comments. So that's one, but I will also start with this.
We've done businesses a lot together, right? So every time we show him a projection, or at least when I show him a projection, he says, okay, so you know, you've got profits and then you've got, you know, your cost and then, you know, whatever your projection.
He says, the only thing, and after many years of looking at all these projections, the only thing that's going to be accurate is your spending line.
Ling Yah: So he's the business magnet you mentioned too.
Adlin Yusman: So yeah, he's not the hardest man. I love him because of the fact that obviously he's my dad, but he's not the kind of person that would just be difficulty coaches in a sense. He tells you what it is and how it should be.
And he's very much old school. And we were talking about baby boomer generation. He's very much firmly in that baby boomer generation. And to him, it's like, how are you raising more money if you're not making money. I mean, to that generation, every dollar you make, if you keep 20 cents as profit, that's what you use to expand the business.
Ling Yah: So he the person who inspired you to do business yourself?
Adlin Yusman: Yeah, I guess in some ways, everybody wants to have someone that they look up to is one, but for me, I'm a competitive person. I want to beat, right? That's something that you, I guess, is a north star.
Say, Hey, look, I want to beat this person. Someone, it could be a brother, it could be a sister, it could be a mom, it could be a dad. And at least someone that you can say, look, at the very least, if I beat that person, I've achieved my first milestone.
Ling Yah: So the person you want to be is your dad. It isn't anyone else.
Adlin Yusman: Yeah, I think so, yeah. That's a psychological question I never even realized. Oh wow, I saved money on my psychiatrist, yeah, cool.
Ling Yah: Yeah, but you ended up doing economics. Was that something that your dad said, you must take a step and at least be educated before you start up this thing?
Adlin Yusman: Okay, so this is the unique thing, again, these nuggets of wisdom. I wanted to go to the best university in Australia.
At the time I was majoring in law, but siding on the business side. And My law lecturer told me, he says, look, if you want to practice law are you sure you're going to be able to sleep at night if you're representing someone that is guilty?
That never crossed my mind because I was only thinking about doing corporate law, right? He says, well, you know, it's something that you've got to think about. You could have someone who's doing something wrong on the corporate side, but you're defending it.
And I'm like, okay, that's a question I never asked myself, right? Because at that time, you're watching all these cool law firms like Alleymobile.
So then I said, okay, I'm not going to do that as much as I love it.
Then I decided to do more in business, and then when I go to Melbourne, time I met the guys from the University of Melbourne, and they said, look, why don't you do political science and economics? Because I think that would be more unique, rather than just doing generic business, you know?
And I said, okay, interesting. I like politics. I had a lot of friends who were in politics back then, still do now, and I thought, okay, but politics alone, what if I don't want to be a politician?
But my point is, I think economics was the semblance of sanity that I could justify to say I have a degree that potentially could get me a job.
Because I didn't want to be an analyst at that point in time. I don't think it was a very active environment back then because if you remember, Rewind 20 years ago. It was a single party system. I mean, there were other parties, but it was dominated by one.
Okay, I don't mind joining that, but I want to allow myself the opportunity to be able to be malleable, which I guess is fortunate now because I'm not a politician.
Not yet.
Ling Yah: say never. say not yet
Adlin Yusman: That's why I say not yet.
Ling Yah: Aged 21, fork in the road happened for you because you just finished your papers and you thought I was going to come back. What's the story behind that?
Adlin Yusman: Again, my dad likes to say this: I went to uni, but I didn't go to uni.
I spent most of my time just hanging out, doing random stuff and I scored my grades, right?
So There was this one lecturer who will remain nameless and subject too, because I don't want him to find out.
I barely went this class because the guy's boring, man. I will fall asleep half the time because the guy's this draggy old man.
So at the end of my last year, you know you got to submit and you got to quote and you know, citation and all that stuff. I citated one thing wrongly and he said I plagiarized the paper.
I don't know how it is in other countries, but in Australia, you either had to work for a couple of years and then reapply for a master's or you get accepted into an accelerated master's course. That means you score enough, you get accepted. I was accepted already, but because I was told that I plagiarized the paper, I had to re sit.
So I ended my exam in October. So I came back for summer because summer is the end of the year in Australia.
I got the news in December to say that I have to re sit. By doing that, I would have missed the accelerated masters because I had to go back in March and re sit the paper.
And then I would have to stay in Melbourne until the end of the year for me to do that master if I pass the paper, which I did.
So my dad was like, yes, but the problem is my dad's right. My dad said, I'm not going to pay you for nine months to stay in Melbourne to do nothing.
Come back. So that was the huge fork in the road. Right.
It was, at that point in time, something changed the course of my life. Because if I had stayed for the Accelerated Masters, I probably would have ended up working there for 15 years.
Ling Yah: But when you were locking up the door, you told everyone, I'll be back.
Yep. Why didn't you come back?
Adlin Yusman: I haven't been back since.
Ling Yah: Yeah, why not? What happened?
Adlin Yusman: Number one, visa at Australia is hard now because there's too many Malaysians overstaying. Guys come back.
Second, I came back, and because I graduated my dad say, you know a lot, go to work. You can do your master's later.
You know that whole idea, you're young, you're 21, you're saying you can always defer it to later, and later is now 20 years, literally, and I haven't gone back. I haven't gone back to Melbourne. I've gone to Sydney, but I haven't gone back to Melbourne.
I was telling myself, I want to go to Melbourne this year. I've been saying that for 20 years now. I have my visa, but I haven't had time because these people are keeping me busy, you know, the people behind the camera, really.
So I came back and I got offered to work in Accenture at the time. I didn't know what the heck consulting was really. It sounds like a bunch of people just talking to each other, really.
But I've always been a business guy. A businessman, not founder, not entrepreneur, because even when I was young, when I was six, seven years old, I was selling comic books to my friends.
And the reason why I stopped selling for a while is because I have an elder brother, who is one of the most prolific comic book collectors in Malaysia till today.
Back then , How comic books force young children or young preteens is to say, look, just put your book in my bag. The shop will have a bag, but every week when a comic book releases, whether it's Spiderman, Superman, Wonder Woman, they will put the book in the bag.
So his book in the bag became huge because we've got allowances, right? To the point that the store called my mom and said, your son owes this much money. And she's like, what's going on? Why are you spending this kind of money?
Then what got worse was there was this rule, don't sell stuff like this to families.
Because it's a collectible product. So if issue one of say, Ghost Rider or Spider Man, and I buy it for, say, 10 ringgit a month, and because it's sold out, and they're not going to do another printing, then it goes up to, say, 50 ringgit in a couple months. So I would sell it for 50 ringgit, because that's the market price, right?
So if I were to sell it to my cousin, and my cousin then says, I bought a 50 ringgit comic, and the mom says, it says here, 2. 99. Why did you overpay this? Who did you buy it from? You know, that's another sort of uncomfortable situation with family, dinners and lunches.
So I stopped for a while. I always like to buy and sell and trade stuff with my friends and family members. It's not the economy, the economy obviously excites me, but more of the fact that there was an inherent value in product that people think is junk.
Ling Yah: So why did you decide to launch your first luxury automobile?
Adlin Yusman: Oh, I love cars. Not when I was young. When I was young, I like comic books, I like trading cards, I like toys.
You know, the geeky kid who can't play football. I don't watch football at all. I don't know what to do. I just can't stand watching 10 men chasing after one ball. That's me, right?
I just don't get it.
Between the ages of 18 19, when I got my license, that was the time that this is really, really big automotive show that blew up in the UK called Poptier.
And this really, really well known and very incendiary presenter called Jeremy Clarkson. And I knew Clarkson because my eldest brother is a car fan.
When I visit him in the UK, he would watch this car show. He was watching and he was reviewing it in 1994, if I'm fine. It was the Ferrari F355 which was also incidentally in the movie The Rock, with Nicolas Cage and Sean Connery. Where he was crashing a brand spanking new yellow F355 Spider, which is a convertible, through the streets of, I don't know, San Francisco.
I remember the scene, and if you haven't watched it yet, watch it, because there's one scene that's legendary.
And the guy said, oh dude, you just crashed a Ferrari. It's not mine. Because he stole the car.
I'm like, okay, I love this car. I want this car.
My first magazine I bought when I was 14 had a Ferrari on the cover. And then when I started knowing cars, I fell in love with not just the car, but the brand, right? Because the brand is cool.
So when I came back to Malaysia I'm like, okay, there's a gap in the market. There are a lot of old automotive magazines, which is either Malaysian and the quality was okay, but they're not exactly the ones that the American, the English ones, you know?
Or you take up a franchise, and then you call it, A brand, say Top Gear, and you put Malaysia at the end of it, right?
And I said, we can do this also. Back then, magazines had their glossy cover. I didn't like glossy covers. I always liked that matte theme.
But to do a matte cover cost you more because you've got to print it as a gloss and then you wrap it in a matte wrapping. I didn't know better. I don't come from a publishing background. All I wanted was something that looked cool that I enjoyed doing. So I started that magazine with a bunch of random friends from college who also has zero experience in publishing.
I found the photographer through a random meet somewhere. He was taking photos They can be a photographer, and being amazing at it. And became a prolific photographer today.
And I launched the magazine on my birthday. It just happened that we was supposed to launch it in FEMP.
Ended up because we didn't know how to print, it came out in March: Issue 1, 2005.
I didn't know anyone, so how would I get cars? Because if you don't have cars, you don't have content. So I speak to friends who knew people who owned cars, and I will never forget this.
The guy who took a chance on us was the one running, at that time, Ferrari in Malaysia was run by a company called Nexcar run by a Singaporean, and they also owned Bentley. So at the time, Bentley was doing, I know it sounds a bit off, an affordable Bentley.
Because Bentleys at the time were 3, 4, 5 million Ringgit, and this was a 1.5million Ringgit Bentley. Affordable in the realm of Bentley.
And they gave the car to us to meet. So we had that on the cover, and we were thinking, what do we put on the back of the cover? Because we usually put ads. We don't have ads.
Why don't we do front of the cover, the front of the car, and at the back is the back of the car? So the front and the back of the magazine is the car.
And that was the magazine called Get a Car.
Ling Yah: How do you sell yourself?
Adlin Yusman: I knew one of the guys who was a general manager for the outlet, because I used to hang out there a lot.
And he says, okaylah, this young kid wants to try and, you know, make a dent in the universe, let's give him a shot. And but because Bentley was on my first issue, it subsequently got easier to get the other manufacturers to say, look, yeah, give him a try.
Ling Yah: Is that how you got Tan Sri Shamsuddin?
Adlin Yusman: Actually I got Shariman. Is he Datuk now? Sorry. . So Shariman, I think Datuk, so sorry if I got your title wrong, I'm just going to call you Shariman, because I know him as Shariman back then. Shaman, which is actually Shamsuddin's brother launched Sapora Auto in 2006, 2007.
Now if you rewind yourself back in early 2000, at that time the main dealer was Auto Bavaria. It still probably is Auto Bavaria today. But back then they were trying to give out the rights to open up into other states.
So Ipoh had one, and Johor one. And Sapora opened up Ingress.
So if you rewind yourself 20 years ago, Malaysia didn't have all these cool fancy cars from major manufacturers.
The high performance BMWs, which are called BMW M, or in Mercedes nomenclature it's AMG, or as the Germans pronounce it, AMG. They didn't have any M's, but when Sapora launched, they had M's. So I was like, oh, wow, I've never seen these cars.
And we're like, okay, this is super cool. And because of the magazine, we became fast friends. I love him. He's an amazing guy. I drove around the Sepang circuit with him and the car sort of died on me.
Sorry for that. Really. Not my fault. Car died. But my most distinct memory of Shariman was, it was a Sunday afternoon, 3 p. m. , And I was watching Formula One at the time. He calls me up and he says, hey bro, you want to go to Germany now? I'm like, okay, when? Tonight. Okay, but don't I have to pack?
Forget about packing man, just go. Let's go to Germany. Let's go and drive for the Nürburgring. So the Nürburgring Nordschleife, or known as the green L, is one of the most legendary circuits known to man. Because it is the longest circuit. One lap is like 15 20 minutes. And he says, let's go.
I'm 22 at the time. I still need to get my parents approval. Do I tell him that I gotta ask my parents, right?
I won't sound cool, right? And then he was like, no, let's go, let's go, I'll take care of it. Let's just fly and just enjoy the M drive.
So it was a bunch of owners and of course himself and some of his friends will go and then drive around the Nurburgring. That is actually organized by BMW M.
It's a dream come true, right? For some reason, I don't know why I didn't end up going, which is one of my most, I guess, missed moments of my life, because I've driven in most of the Formula One circuits in the world through my experience driving the magazine, except the actual Nordischleife, the main track.
Because when you run a car magazine, and still is today I think, they will send you around the world to drive and test these cars. In some of those fanciest hotels, they never fly you less than business class, you're treated like kings, right?
One of my favourite sessions was, I sat with the owner, as in the family of BMW, over dinner, I think in Lake Como. I'm like, Whoa, this is a dream! My magazine's not making money, but I can say I met the founder of BMW. Or at least one of the children of BMW, right? Yeah.
Ling Yah: Why did you say no?
Adlin Yusman: think my mom said
It was just before or after you almost died. Riding shotgun. Driving fast out of McD.
So that was when I was 18. Yeah. That was before I learned how to drive properly. It was just a young child with a fast car thinking that he's better than anybody else.
And that happened near Subang Parade. It was that turn off coming from SGMC, that medical center, there's a long straight road and a nice sharp turn into Subang Parade. I was driving with my friend and see, don't do this kids.
Back then in the day, your car won't 'ding' whenever you don't wear seatbelts. This is what, 99? 2001? 2000. So because the car doesn't annoy you for not wearing seatbelts, your friends will annoy you by saying, Hey, why are you wearing a seatbelt?
You don't trust my driving? So it becomes this weird thing that nobody wears seatbelts, right?
So then we were driving really quickly down that straight road, me and my friend. I remember this very, very clearly. I was trying to turn, I was driving really fast. It's what you call terminal understeer. Because the car is a front wheel driven car, not a rear wheel driven car.
As you turn the wheel, at full lock, the car just goes straight. So the car literally flew, and I swear to you, I was saved by a palm tree because I hit a palm tree.
And as I was flying, I thought I was done for because the car went up like this. So I saw the sky. I thought, oh. And everything moved in slow motion, right? Okay, I'm gonna die now. I'm hungry. That was the thing that crossed my mind. I want sausage McMuffin or something like that, right? Because it was a bit, it was a rage 32, 000.
I tell you, I guess it was meant to be. Because of the tree that I hit, it slowed down my velocity .
I would have then crossed to the other road . This road two lanes. Jumped into it. Now, I could have died in three ways.
I could have not hit the tree, crossed into the other lane, a car would have hit me. There would have been a frontal impact, and I wasn't wearing a seatbelt, therefore I could.
Second, because I wasn't wearing a seatbelt, I could have flown out anyway.
Thirdly, literally a car dropped nearly one and a half or two feet away from a spawn drain, which would have literally just crashed in there. Okay?
But that's not the best part. The best part is the funniest thing that happened. as the car landed on the ground, and there was smoke everywhere, I think the airbag deployed.
I panicked, and I just got out, because there was smoke, right? You're not gonna think, I just got out of the car, and just went out, leaving my friend.
I mean, at that point in time, not to be a bad friend, you should be more saving your own ass, right? And then suddenly I hear my friend yelling, holy shit, did he lose his leg or what?
He's calling my name. Bro, where are you bro? I'm like, I'm outside. Bro, I thought you got thrown out of the window. So he's like, are you okay? And I'm like, I'm fine. I had no scratches, nothing on me. And then he's like, oh, okay, I'm fine too.
You know the rear view mirror? The rear view mirror was stuck on his head.
He hit his head while the car was lying and he was stuck. He had six stitches.
Ling Yah: It's amazing for me that you went through something like that, which must have been traumatising. And you still love cars. You even did a magazine around cars.
Adlin Yusman: I think because I used to get into a lot of accidents when I was young.
I'm a clumsy guy, but even driving, I used to get into a lot of accidents. There was one time I said, look, I'm done driving. I think when I was 17, I told my mom and dad, I said, look, I don't want to drive anymore. Because I don't want to get into accidents. I mean, they're not major accidents.
It's just fender bender parking, you know, 'senget'. Then I'm like, I'm done with this. , I don't think I'm meant to drive, right? And they said, no, you keep on going. Keep denting the car because one day you'll be okay to drive properly. right?
Ever since then, I realized that all you need to do is if you're really bad at something, just get really good at it.
So because of the car magazine I went to racing school, and learn how to do better driving.
Ling Yah: It sounds very interesting, and I'm going back to Paragon Publishing as well.
When you started, it sounded as though I'm just interested in something, let's just find a bunch of friends, that's just do it, that's just figure it out, there's no plan.
But you're not held back by the fact that I still don't know anything about the industry, which I think most people are.
How did you figure out back then? How did you start?
Adlin Yusman: To me, I believe the less you know, the better, because then you just do it and worry about how you solve the problem later. Because a lot of us, we get into this, what is that line?
Analysis paralysis.
Oh, yeah. Yes. You know, you analyze, you analyze, you analyze, you analyze, and nothing happens. I hate that. I'm like, let's just shoot, from the hip and build the plane as you're flying it since I was young. Because you'll solve the problem.
I have supreme anxiety. I guess I don't have the best temper, I guess my team can attest to it. .
What I'm about to say was actually inspired by one of my team members in Paragon. Because at that point in time, I thought I knew everything. Again, alpha male, the mentality thing, you know, I own the company.
Therefore I pay you a salary. You work for me. You do as I say.
This guy came up to me and says, Hey man, if you're hiring us and I'm not trying to be difficult here, but if you're not going to listen to us, why hire?
At that time I got pissed, but then when I reflected upon it later. And that sort of built my persona as a better manager.
I think I wrote down Quora as well, is you can never be a good leader until you learn how to follow.
Because when I came back from Australia, the first thing I did was I started my own company. And so therefore I was already a boss.
Again, a lot of that mentality of , I pay you salary, you work lah.
I guess today, the generation alpha, right? They don't care about money anymore. It's about quality in life. And it took a while to understand this.
When I closed my first company, I had to work for someone.
Everybody around me was only talking about bonus stuff. Work hard, keep your KPIs, get bonus. They're doing it like drones.
Ling Yah: Just before you close down, you actually learn the importance of hiring.
Adlin Yusman: Oh, okay, that's my Quora one, yes.
Ling Yah: Yes, clearly I read through everything.
Adlin Yusman: I will share this clip with you, Chris, because this was about you. So, I love this guy. His name is Chris. He's got this amazing personality that everybody falls in love with. Also because he's devastatingly handsome, you know?
I'm jealous lah. So obviously he got the attention of all the fair ladies around the office. But he's horrible with time management. Because he parties every night, really, and I know that, he tells me. But because he's doing sales, I'm okay, right?
So you can go and see, the car guys, the ads guys, whenever you like it, because they're not exactly the ones that wake up in the morning.
People around him realized that I was giving him leeway to misbehave. Again, being my first time leader, I didn't know.
All I knew was, I like this guy, he can do sales, and people liked him, and we generally get along.
So imagine a guy who was never on time and then finally missing. Cause at that time I had three magazine already at the time. One of them was the contract I needed for one of the big GLC and he missed that meeting for the first issue of us launching that magazine and he was supposed to talk about ad revenue because we're supposed to share the revenue.
This is bad. I could talk about it, but I wanted him there because he's the one who's going out. So then the team called me. He said, look, Chris doesn't even give a shit when you are there, so this is what he's doing for your clients.
So can you imagine if from sleep, all your players and what is he thought and the clients are gonna convince to you?
But he can complain to the other magazines or the other media. Okay. Chat with him again, never firing anybody. Never even have the hard conversation. I said, Chris, what do we do now? You're never on time. Sometimes you disappear. You're uncontactable.
You know, I'm cool with you partying and all, but can you keep it to the weekends? Why do you have to party every day?
He said, yeah I you know. Yeah, okay, okay, okay. I think I'll do better. I said, so what do I do now? Right? I pushed it back. He said, no, no. Give me another chance. I'll prove myself to you.
I said, okay. Next meeting, don't be late. So next meeting, he was late again. And then the team was just with pitchforks. And I'm like, okay, Chris, let's have the hard conversation again.
So what do I do now? You're late when it's supposed to be on time for you. Cause you're bringing money. If ads don't come in, forget about the money.
So I said, dude, what am I going to do now? Clearly you can't help yourself. He says, we'll do this. I promise you tomorrow onwards, I'll be here at 9am every day. If I am late, I will fire myself.
And then the next day, the guy walks in at 12 o'clock.
Ling Yah: And he fired himself.
Adlin Yusman: He fired himself. But it was the saddest moment of my life at that point in terms of career, because I really liked the guy. He could do a good job. That's one of the balancing act you have to do as a manager, It's to manage people.
You know, the line they say, right. Manage people and the business will manage itself.
Ling Yah: Did it change your managerial style after Chris left?
Adlin Yusman: I got worse because apparently I brought in a guy who was a wimp. Everybody hated, who literally put a snake pit in the office.
He had a albino python which one day disappeared. It was somewhere in the office, which is another fun joke.
And I didn't know he was caustic.
I liked him too, right? So clearly I've got a bad judge of character, which I realized much later. The team was upset.
We did one very, very huge event at the end of that year, I think 2007, 2008, where we closed off a portion of Putrajaya and made it into a street circuit. I don't think anyone has ever done that before or since. But we brought in all of these manufacturers, we had Porsches, we had all these high end cars from the manufacturers and everybody could drive them, all the high end, well, clientele, because we were high end magazine, right?
We had to work throughout four days, so imagine doing a race event with 150 participants.
Intense heat, demanding sponsors, guys were paying money to get it done, right? And at the end of it, Maybe I wasn't being grateful enough, maybe I was not being cognizant that these are people who literally put blood, sweat and tears to make it work.
Because I would have outsourced him to what essentially would have been my COO, right? My number two. And they all hated him literally. Till today. At the end of that session, I gave them three days off.
And when they came back, I had 30 of them in the meeting waiting for me, resigning en mass.
They told me, look, we love the company, we love what we're doing, we're cool with you, but the fact that you chose this guy and choose to listen to him despite A, B, C, D, E, he has done, we don't agree.
Ling Yah: How did you react to that?
Adlin Yusman: I was angry, upset, worried about the deadline because we have a magazine to publish.
Ling Yah: So you couldn't stop them?
Adlin Yusman: I stopped I think 2 or 3 guys. We're still friends till today but I have to admit I didn't spend the time to understand them as people.
I see them as friends because we hang out, we chill out, but when it comes to work, I guess I become that taskmaster and it takes out the joy of work.
Ling Yah: Would you say that particular incident made it impossible for your company to continue?
Adlin Yusman: Yeah. I mean it wasn't impossible, but because of that, we had to slowly size down and then Double whammy, the 2008 financial crisis came.
When the 2008 financial crisis came, advertising spend just grinded to a halt.
Everybody was panicking, and smaller boutique media houses like ours would be the last on the totem pole to even get fans, because we don't have the eyeballs for it.
Nobody buys magazines. And because of that we realized, okay, look, we're gonna sort of downsize then there was a smaller media boutique that says, look, we'll take you out. And we said, okay.
Then the realization of What the hell do I do with my life now? Now I had to go and find work, really. I haven't worked for anyone in a while.
Ling Yah: So you end up in Groupon. What was it like going from being your boss to working for someone for a paycheck?
Adlin Yusman: At that time, I realized culture of Groupon was something that I found unique because here were a bunch of guys younger than me.
The culture of play hard, work hard, coupon, solid. . Like they were working hard, but they were also very, very professional in terms of the delivery as well.
I look at Joel, who was probably, what, 29, 28 at the time building a company that was doing, while I was there, 300 million a year.
Because Groupon was the biggest group buying site, obviously, but also one of the first progenitors of e commerce in Malaysia.
That was before your Lazada and Shopees of the world. And that was before anybody even trusted paying anything online, right?
So we had to create a new generation of buyers. I mean, other than the ones who study overseas and buy on Amazon. Yeah, we wouldn't do that. But the average Malaysian, till today, still has issues transacting online.
It's just this immense pleasure to have served in a company that everybody has a unified vision, goal, and is singularly driven to beat, you know, the traditional way of doing this.
Ling Yah: What were some of the trademark ways of beating everyone with that?
Adlin Yusman: You know Russell Thelus?
Came out of Groupon, it was probably in labelling and bringing stuff up in China at the time. And we were basically beating your big box floors. These are guys, you know, selling stuff out of their garage or bedroom. Selling millions a month to Malaysians. This is essentially us breaking the mold.
Not just Groupon as a platform, but the sellers. All of a sudden you as a person working a full-time job could be having a friend, buying, you know, 50 grand worth of pen drives. and making a hundred grand or whatever it was.
And we saw that you were creating a generation of entrepreneurs that never thought they could have been entrepreneurs, who today are real entrepreneurs.
Ling Yah: Some call it the Groupon DNA.
Adlin Yusman: Yeah.
Ling Yah: How would you describe that?
Adlin Yusman: So the Groupon Mafia, the Groupon DNA. So the ones that were there at that point in time, that's huge lightning.
Ling Yah: And Chin Chow was here as well working for Groupon.
Adlin Yusman: Chen Chow, me ,Joe, Rafik, who's now at Media Prima Anisha. Slim was in LinkedIn. There's a bunch of us proven and Nash became our co-founders in Demalas right ?
There were easily 20 to 30 people who then became their own entrepreneur in their own right because of Groupon. I guess you're inspired because you're saying, Hey, here's Joel and he's 28, 29 doing really well and you have gone through that journey with that person. person a 30 million ringgit a year business, Hey man, let's go
Ling Yah: Is that before Rafiq Razali? He was country GM at the time and he used to do the web app calls with you guys. Oh, yeah. Oh, it's a lot because apparently he said it was game changing that he would set the tone for everyone.
Adlin Yusman: I remember that, man. Eight o'clock in the morning. Okay, guys, what do you have to do?
Okay, local. What are you doing today? What are you selling today? What's your target? Okay, product. What are you doing today? Okay, travel. I was doing travel. What are you doing today? I don't think anybody wants to be in that call, Rafiq. I don't think you wanted to be in that call. But because it was a cadence, you would have set that early nine o'clock in the morning call and they're very nice to know.
Holy shit. The product team is doing better than me, you know, in terms of GME. I've got to change. And that was essentially a culture that we probably got from Rocket Internet.
Because when I started to join Rocket that was the same shit they were doing.
In the pandemic situation, it makes sense. But to basically do it daily means there's only so much you can do. If you're doing any e commerce business today, you should have a steering meeting at least once a week, in my opinion.
Ling Yah: At what point do you decide, I'm ready to start my own thing again?
Adlin Yusman: So if you rewind to 2014, 2015, Digital News Asia at the time was one of the main sites I would read, so shout out to Karam. So, there was an article that came out and I could be wrong here, Gauteng. com raised half a million dollars.
Ling Yah: The co founder of Kaodim was my senior. Jeff.
Adlin Yusman: Oh, Jeff. Wow, you guys lawyers, right? Wow, that's so interesting. Because I've tried to raise money through Creador. On and off, when I was in group work, we tried to do some cool stuff but we couldn't get the funding at the bank.
So then I said, okay, I want to do something like this.
At that time, there was what I thought was huge, startup in the U. S. called Magic which was doing an on demand, anything you wanted by SMS. So I'm like, I don't have a tech guy, SMS can work. Okay. So let me find a couple of co founders.
At that time, my co founder Nesh was in between jobs. And because he was in between jobs, he could be fully into this job. We came up with a lot of names, man.
We wanted to copy the name Magic because we think if we copy the name Magic, We can get funding easier because everybody's looking at comparables, right?
So we think about what to do and then we came up with a name go ck, which is magic in Malay. Then someone texted, bro, is this a bomoh service or what? Right? So we were like, okay, we're gonna change the name guys.
And then we're thinking, what are we doing? Okay, we're serving people who are actually lazy to go out. We're helping people solve a big problem because I don't want to go and wait in the bank for two hours for my ticket to be called. Or line up at nasi lemak at Bangsar.
There was no Grab delivery back then. Grab was MyTaxi. Just a taxi car service. There were on job guys who would dispatch riders, but they would dispatch only documents because they were working for companies.
GoJet. GoJet wasn't even there. I mean, I mean, there was GoGet. GoGet was there. Francesca was there. And we were thinking, we don't want to own the riders. I just want to be the frontline service, to be the America Express black concierge, but for affordable amount.
That was the idea. So we started off literally on my kitchen table, me and Nash. We didn't have a tech of our own to write, so we jigged up something from an SMS platform that we routed to a Samsung phone, which I think I still have, our original Samsung phone that we're replying text. And we're thinking, I wonder who will use this service?
How will you charge it? Again, shooting from the air, no idea what we're doing. Started with I think 20 grand or 30 grand , me and my dad's money, right? Thanks dad. So then we hired Nash for a bit, just to keep him. I think we started for about a week or two.
And then it blew up because he posted, if you need anything done, just text his number. And he posted it in the mummy's booth.
So mummy's a perfect customer persona, because if you're going through your pantang or your confinement period, you cannot go out. You're stuck. And if your husband is working, it makes it worse.
So they need a lot of stuff done.
Ling Yah: But they trusted you, this random person from nowhere?
Adlin Yusman: It was on the facebook group. We said, look, we'll get it done for you, you know. You're right, I didn't think about the trust issue at all. I don't know why it worked. Maybe Nash looks very friendly. Maybe if he put my face there, it wouldn't have gone so well.
It worked. One of the girls took the trust on us. I think it's also because she's my wife's friend. And she's prolific in that group. So because she said, guys, use this, they got me all these things. And then everybody started using us, right?
So at the end of the first month, we blew up.
Mainly just Nash who delivers, who picks up, who sorts out the orders, who were having like 10, 15 texts a day, which is a lot for one person to handle, right? And they will request.
Then we said, okay, this is time for us to probably look at raising money.
Where will we go?
I have no idea.
So I had a thought when another friend of mine was doing a laundry startup. A laundry on demand startup.
Back then everything was the Uber for something, right? So there was the Uber for laundry.
And then he went to Singapore and he wanted to do the same thing there. He met a Japanese investor who said he was looking for an Uber of laundry or an Uber of something.
It's Koichi's idea. Koichi, yeah. And he says, look, I don't want to lose this laundry stuff. I've got a friend doing an on demand startup in KL. You gotta talk to him. So he connected me to Koichi through LinkedIn. And I'm like, I don't know whether this is real because this is so easy.
You know, typical Malaysian mentality is everything must be hard. If it's easy, it's a scam, you know? So I'm like, okay, is this real?. Okay. He says, I want to come to KL . Can I meet you ? And I remember that very, very succinctly.
This is 2015 2014. This is before anybody has the chance to google term sheet, how do you look at valuation, nobody knows. So I only knew what I wanted to raise based on my projection. And I wanted to raise half a million ringgit because at that time, that was what Creador was giving out.
So I want to raise half a million ringgit to do this business. And I think that was more than enough because I had Nash and I think I'll add it to Morbets. Junior guys, cool. Just finish uni.
So here I was meeting Kouichi, showing him my projections with another one of my co founders at the time but he left. He's in Texas now.
He's Malaysian Chinese, spent most of his years in Texas, comes back with a weird twang that ain't Texan, nor American. So, pitch the idea saying in one half minute read it, Koichi looks at us and says, okay.
I will give you USD $500,000 I don't know, what do we do with $500,000 Like, our model didn't even have that.
And I'm like, so are you going to give us half a million U. S. now or how? Because I don't know, right? I don't know how a deal is done. He says, no, I will find other co investors and I will make sure that the round is half a million dollars with a valuation of two million US.
Okay who are you bringing? I will bring one super angel from Singapore, a Japanese guy. And I'll bring in Creador and I'm like, oh, but we went to Creador before. And they said, no, for a different startup we're doing. He said, no, no, don't worry. I'll help you because we have a co investment.
At the time, Creador was doing a co investment with a few foreign investors for equity because Creador is not known to take equity. They're known to give you grants.
So this is the first and only time, I think, they were doing equity investment at seed. So we were one of the few that got it.
We will do it. So give me your bank account.
When someone gives you U. S. dollar You need a US dollar denominated account. So he says, okay, nevermind, don't worry about it. The term sheet, later we do. I'll wire the money first. So I'm like, what? He wired the money faster than I could open the bank account.
We Googled the fastest to raise money based on Brace Wax because my nephew needed Brace Wax and Nash was to be my last rider. I really like the name. We call it Rajin Runner. So the person who's Rajin gonna run for you. But then my other founder, Poovan, changed it to something to do with you, assisting you as a ballet, which makes sense, but a bit too highbrow. Cause we were mainly at the time of Medellin.
And yeah, half a million dollars came in. I can share this publicly cause I literally just spoke to Koichi person two to three weeks ago on this.
The ringgit to USD was 3. 7 when we signed the firm sheet. But when the money came through a week later, the rate jumped to 4. 2.
When I had my first board meeting, and I only spent 30 grand a month because my firm was small, I mean, 20 grand a month, right?
Koichi was like, Why didn't you spend any money? I did! But we gained money from florex. He says, if you're not spending money then don't raise venture money. You need to use venture money to scale.
Again, I come from the mentality of I make a buck and I'll keep 20 cents to use to scale or to build a business.
That was my lesson learned in terms of how to build a business with dry powder. That means you're scaling it inorganic anyway, because you've got investment money.
Ling Yah: Hey STIMIES, just interrupting this episode to say that if you'd like to learn more about what it takes to run this podcast. as well as how you can share your personal story to the world, much like what I'm doing with STIMY Guests here, and also ensure that the kind of things that you're sharing the world will help you, achieve the goals that you want, whether it's to get a new job, to get more media opportunities, or even more clients, then do subscribe to the STIMY Newsletter.
You can find the subscription button at www.sothisismywhy.com/133. , which is the webpage for this episode.
Now.
Let's get back to this STIMY episode.
So before we talk about how you used the client money, Koichi, he had been working as a VC for two years. He says the fastest time that he actually signed up an entrepreneur. He agreed in two days.
I have to wonder what on earth you told him.
Adlin Yusman: I have no idea. I think because I came from Groupon and my co founders were all Groupon and they were the biggest tech company in Malaysia at the time. So of course, you've got that aura of these guys have done it. So if they've done it once, you know, you think that they can possibly replicate it .
Ling Yah: You must have seen him sit up and eyes sparkle when you say certain things, so it really resonates with him.
Adlin Yusman: I guess. But Koichi is a very good poker face. Until today, Koichi, I can't tell. These guys have met him, I have I've known him for what, 10 years now.
So Koichi invests in founders and these are the best seed founders. Because you're betting so early, you have to bet on the fact that these guys are the right guys to scale the business because they can be good entrepreneurs, but they're in the wrong.
And that's what most of the guys don't understand. Just because you fail the business doesn't make you a bad entrepreneur. It just makes you an entrepreneur that is in the bad business.
So, at that point in time, one is hedging the bet that, okay, these guys come from a tech company, they know how to scale, and Groupon scaled hyper fast.
These guys seem to know what they're talking about. And I think, ultimately, it's more of the personalities involved. Every one of us had different distinct personalities. Yep.
So, one was manning in Ops, which was Kugen. Another one was manning Marketing, which was Nash, and I was the Chief Everything Officer, whatever the guys didn't do, I would do.
And I think it's also because of the model. So most businesses are also looking at Me2 models. Now, I don't think everybody would do it in two days, but they would want to rush the investment because they don't want to lose out the fear of missing out as real in, in the, in the investment scene.
They want to get in early enough so that their valuations are much more reasonable for them so that they can get it.
Ling Yah: I wonder, again, you will be building something from scratch. I think pricing was a thing that it's difficult because every single thing that, with Siri, it ranged from getting coconuts, herky folds, and the most random things in the world.
And you say that you don't even know how much it's going to cost at the end, because a simple task might take a very long time. How did you even figure something out and get so many requests?
I saw somewhere, in your first month, you got 1, 800 requests, which is really, really fast.
And then 15K revenue in the first two weeks.
Adlin Yusman: Yeah. Some of the requests just getting something and then dropping it off which was why the volume of 1800 is there.
Ling Yah: It was not easy, it was something like, I want the best Nasi Lemak in my town. That takes time.
Adlin Yusman: It's crazy. Which is why it's a completely inelastic business where it could either cost you 10 ringgit or 10, 000.
Yeah. We got a Malaysian request.
The guy wanted us to find 100 cockroaches. And we're like, is this a joke? Legit? Why do you want 100 cockroaches? Found out the guy works in a lab and he needs the cockroaches to do some tests. And we're like, well how the hell do we find 100 cockroaches, man? And I hate roaches, man. I'm not gonna do that.
So...
Ling Yah: So did you fulfill that request?
Adlin Yusman: I think we did. The roaches was one.
Another one, the ring was my favorite. So it was a guy who was either proposing to his potential wife, or a guy was giving his wife a gift, which is a ring.
He was in London at the time. And it was a specific moment that he wanted to surprise her because she knows he's in London. So he told her, he says, can you buy this ring for me? We'll transfer you the money.
And we were charging, I think, a 10 percent fee or something to handle it. And then we surprised her at the door by giving the ring.
Ling Yah: Would you say that unique part of what you were offering is also the thing that caused you to not be able to scale so fast?
Because you can't scale it.
Adlin Yusman: Yeah, so because it's so bespoke, which incidentally became the spinoff for BIMALAS. The BIMALAS had a bespoke element, which was the high end one. Which I guess because of the fact that we couldn't finish the scale because we ran out of cash, that would have probably been the profit making one.
Bespoke means you should pay more. You could have someone says I want the rice from Mahbub, but I also want a cigarette on the way, and get me a cup of coffee from Coffee Bean. We'll charge you for all these three requests.
It doesn't scale up because there's a limit to what you think is fair for delivery. Yeah. Of course now, game over lah.
Back then we were charging 30 ringgit sometimes. Because no one was doing it. So how much would you pay for your rider to send your document? Probably 30 ringgit. So the mentality was there to pay that amount.
Now, no one's going to pay that amount. But back then we could. But we should have made more money by charging a fee, which we did, on the purchase price.
But the problem with that then it will remove the requests that were high end in nature.
At that time, IKEA didn't deliver and no one likes shopping in IKEA. Okay. The lines are long.
So they used us to buy IKEA and we had hundreds and thousands of IKEA orders, as in values. Not ordered orders because they didn't have IKEA online. But we couldn't charge them for the IKEA because if you're buying, you know, five, six grand worth of IKEA furniture, I'm not going to pay RM600.
But then it is time intensive. It requires you to have a truck because it's big. We have to deliver for you, right? So the model inherently is flawed, which is why I think no one has ever made it work.
Grab has been doing it because they are basically a transportation app first, which means they're less likely to find a bus.
Exactly. That's true. But you can find the best nasi lemak because they integrate commerce element to it, which ultimately is what we should have become if we hadn't grown in that manner.
Today, people still come up to me and say bro, I don't want to go and line up. You know, there was one guy who asked me this, he says, I have to go and do a stand in tomorrow for a wedding course, we have to stay for two days. Can I pay him to stand in to me?
I pay 2000 bucks. He wasn't there, money. Yeah, two grand. So that's the unique kind of services that a concierge can provide because it's high touch. I think that should remain a high touch business model.
Ling Yah: So, going back again, you were told by your board, you need to start spending. How did you figure out how to spend 500, 000 USD at the time?
Adlin Yusman: We knew that we had to hyperscale because Groupon, Rocket, they're known to launch one market every three, four months. Yeah.
They would put a launcher then the person would just go there. They launch the market and then they start and then they scale. So we said, let's do the same thing. But of course, being the hypercompetitive person I am, let's do it once every two months.
So we expanded Singapore two months later. We expanded to Philippines that I remember someone squatted on bemylast. co. ph, so everything routed to him and he was doing the same business.
We went to Indonesia, we went to Brunei, because no one goes to Brunei. Four countries that first year.
Ironically, Brunei was one of our best markets because you have the capacity to spend like Singapore would do, but they're not as discerning as Singaporean customers.
Singapore customers to pay $5 delivery and they complain. And if the food isn't warm, complain. It's a very tricky market to crack because the level of customer service is so high where if you mess up something, you might get a refund.
It just doesn't make any economic sense to function as a start up. If you're a legitimately sized, you know conglomerate, yeah, for sure. But for a start up, we lost a lot of money there.
Ling Yah: Would you say that Singapore offers was a
Adlin Yusman: It was a huge mistake because we rented a table for SGD4, 000. A table, because we couldn't afford an office space, or 3, 000, I can't remember.
It was a table like this, in an office. That, okay, funny enough, looks like this, the green wall, and, wow, it looks like this. Right? And we had four guys, five guys, we were burning a lot of cash at Singapore, and the volume of orders was just not there.
Ling Yah: So you should have focused on Malaysia?
Adlin Yusman: I should have just focused on Malaysia, and moved to Johor, Penang.
Because a lot of us think, oh, Malaysia is just only KL, or Klang Valley.
Ling Yah: But would your investors have been happy though?
Adlin Yusman: Ah, that's another question mark, but I think a lot of the investors today are more cognizant. That Malaysia is more than just Bangladesh, which I guess is more important because if you don't win your own home turf, don't even think about going to another market.
It's a whole other set of problems.
Ling Yah: But aren't you supposed to also have the lens of, okay, we need to also expand the regional market because it's not that big as compared to if you were in Indonesia, and that's why you should just focus on your country.
Adlin Yusman: You wouldn't expand to Indonesia if you're using your own money.
You would use your money to get profitability first, get comfortable with the operations here, and then say, look, maybe I'll put a portion of my money into another country. But because you're doing it at scale, and you need to scale and then gain more valuation and raise more money, then most entrepreneurs, including myself back then, were forced to scale.
Not because my investors forced me to scale, but it was the name of the game. For me to get better valuations, I've got to be in more than one country. A Malaysian only startup is just not sexy enough to affect global money.
Ling Yah: Would it have been better for you to just focus on Malaysia before raising more funds then?
Adlin Yusman: It definitely would have, but you got a little back in 2015. The infrastructure for on demand delivery just wasn't there. So I was working with Francesca.
So GoGet was my last mile really. Then I've got to pay for the delivery service. And then I've got to pay for, the customer service team that was essentially 24 hours a day to handle requests. Again, too ambitious. I had to acquire customers, which means I had to subsidize some deals.
So it was a massive burn to reach critical mass. So if the mass of users become big enough, then by the volume of orders, then I could finally see some level of break even. But to get there, you're just spending a lot of money.
So I raised another round.
We raised half a million dollars. Then we raised another half a million bridge round from some very interesting VC's room.
One of them is was led by an American VC, which has changed its name now. The most interesting one was a company called Dena. It's written Dena, but it's pronounced D N A, which is a huge public listed entity out of Japan.
Ling Yah: When was the first time you met them?
Adlin Yusman: I think so. Yeah. Yeah. Them and Phenox and R. I. M. U. Yeah.
Rimu didn't invest beyond us. They have a family office in Singapore.
DNA owns Nintendo. I don't know what they saw in us. But they liked the concept of, I guess, disrupting a market that needs disrupting. Yes, because it was, again, a nascent ecosystem with fully integrated delivery and demand.
I guess no one really, and no one being me and my team probably didn't want to look at is for us to be able to build our vision of being a completely integrated on demand concierge for an affordable price.
You need a hundred million dollar. But we didn't think about that. We're thinking we'll get there, we'll get there. Cut our burn and we'll get there.
So again, first time rodeo raising money, you know, we thought we're gonna get to the next round We always think that we're gonna get to the next round because there's always gonna be a gravy train and then winter finally hit so that was it.
Ling Yah: At what point did you realize that I need to get off this train?
Adlin Yusman: When we just literally just couldn't pay our bills, right? Because we had a 16, 17 man operation? It was huge. We cut off Singapore, I think, because we realized the burn was too high.
But Malaysia, to maintain the country itself, to have 24 hour customer service, because at that point in time, I think we had an on demand fleet of riders for ourselves because the demand was becoming a bit too intense.
So we couldn't work with a third party because they have their own deliveries to do as well, right? So they wouldn't prioritize us.
And that was costly because if I have guys on demand waiting for deliveries and then suddenly deliveries don't happen, I'm just paying them salaries for nothing, you know, not doing much.
I'm not getting revenue out of it. So I'm not sweating the asset. And that was freaking.
The model in and of itself is just too complex and too many potential failure points and variables which is why no one has literally solved that construction on demand until today.
Ling Yah: When you close a company down, there must be so many things that you have to manage. The funders, your own staff. Talk us through what it's like, because we often hear about, oh, a start up failed, but we don't hear about what that actually means for the funder going through that process and all the things you have to settle.
Adlin Yusman: I got to go back and work again. Where am I going to even begin? It's the same thing when I finished Paragon, right? What do I do now? No. 10 years old or however many years is that, right?
Ling Yah: You found a job in four months.
Adlin Yusman: Lucky enough, because the fact that DG at the time were looking to do their own corporate VC.
And they wanted to invest. And we were talking to them for a while, so they were like, Hey, you know what? You're a bunch of good guys. Why don't you join us? And keep on doing what you're doing in Digi. That was before DGX was launched.
So failure is not a bad thing.
Failure is definitely not a bad thing, but at the same time...
Everybody should stop and breathe because sometimes you're in denial and like they might, you know, move on. There are a number of founders out there who like, no, it's okay, I failed, move on.
And they don't even feel the remorse or at the very least the self reflection to say, hey, I screwed up, you know, I'm so ashamed now, my company goes down.
And what made it worse is because of the fact that because I was, Plastered everywhere on every single media at that point in time.
CNN got me. I was on Bloomberg. I was on all these. I'm like, Oh, I'm out. I'm rocking it, right? And then suddenly I'm dead. And I'm like, I don't want anyone to talk to me. No media coverage at all, right? Because the stigma of failure in Asia isn't the way it is in the U. S. Maybe now it's better. But back then, people just literally kicked you when you're down. Especially your competitor.
So Nash joined me in Digi. Poovan went to join one of the companies that was sort of picking up most of our employees. So, as the ship was sinking, he said, look, I'll go and join them as well to take care of my boys, because those were his guys, because he was taking care of Altrich.
I guess I was fortunate because had I joined a company that was going back to the whole rigmarole of nine for six and clock in clock out, I would have lost my mind because, I don't like that. I don't believe in that. Even the teams I need to date, I don't know when they're in the office, really. You know, Just get the job done, right?
But leaving and joining Digi, I was fortunate because the Digi culture at that point in time, and I think still is today, it's one of the best cultures in any Telco. Just come back new results, which is an output culture.
And I had a good time. And I think the person I met in Digi was also an amazing visionary who literally just bought his own startup in Pakistan last year. Was it this year? And raised money. Because he's got a founder mentality.
And he said, come in, let's just do a HR start up and make it work. And we did. And it was an amazing journey. It was my first time building a tech startup out of a huge conglomerate with so many layers of approvals and so many layers of global, Telenor was it, right? It was fun.
Ling Yah: I want to go back to that point of failure again. A lot of people face that all the time. How do you manage to get over that feeling of failure? Because you said before you had to reflect, it was very hard to go through. A lot of people never get out of it or they never really know the fast way to do it.
So what was your way? It sounds as though you just found a job, which just providing you lots of opportunities to do something and focus your mind on that. Was that the way for you?
Adlin Yusman: I mean, that was the result of probably being in denial. And I'm not gonna lie.
I think I never even considered the conversation of failure for a couple of years, really. And I think a lot of people don't put a lot of effort into this, which is why you don't hear a lot of failure stories. The first time I spoke about failing was with Cradle, with Nash in a formal setting. This is my second time.
I mean, I've spoke about failure, you know, in informal settings The stigma of seeing you scale too fast, you burn. And that sort of walk of shame, really, and to be honest, I don't think anyone really would have said it to my face, I mean, but it's more of the concern of, you know, being a typical Asian kid or Malaysian kid for that matter.
And whenever you fell in class, they laugh at you, you know, and that sort of PTSD moments sort of ingrained in your behavioral set, which is why I think it was very tricky for me to embrace failure and say, yeah, I failed.
I mean, I, , I, I know I failed, but to say, yeah, I failed and I'm now moving on to something else.
You're right. I just soldiered on and did something for a while until it hit me that I failed. And am I at peace with myself?
Ling Yah: So given that this is the second time you're talking about it, do you still struggle with sharing about failure?
Adlin Yusman: No, because I think where I'm sitting today in Endeavor, obviously, I would want everyone to share because, kudos to Tom. I didn't speak to Koichi for a while after I failed because I'm embarrassed, right?
You know, they gave money to us and we failed. So I'll start with Tom.
So Tom and I met him and I said, look, you know, I failed so many times and I don't know. But I don't want to get on the horse again, you know, because it's tough. It's a stigma. And then Tom says, hey man, how many founders out there hit it right on their first go?
The ones who fail, the reason why their success rate is so high is because they would have at least learned in the phase. And if they did it, then obviously they won't get any subsequent investments beyond that. But if they hit it right the second or third time, it's because they never stopped trying, right?
Ling Yah: Yeah. It's like the Instacart founder, he just exited but Instacart succeeded after 20 failures. Yeah.
Adlin Yusman: Prior. Overnight success after 20 failures, right? Because of the fact that you've learned every single time, but every single failure is painful because it's not just you failing, it's a bunch of guys you work with who failed.
I'm fortunate because everyone in Be My Last that I work with are still very close to me today, including, the ones who joined in three months before we closed.
Because of that moment with Tom, I flew down to Singapore for one of the events last year. And I met Koichi and I said, look, you know what, Koichi, I never said this to you formally, but I feel really, really horrible that we didn't make it work.
And I wish we did. And he said, look, I don't regret a single day we gave money to you. Because to him, despite us not making it work, it wasn't because we were not trying to make it work. We tried our best and failed versus yeah, because we didn't do enough.
Because there were other founders that do just the bare minimum and fail and then blames everybody else.
We never blame our investors. We never blame the market. We knew that we could have done better. Had we planned better. Had we known that this business requires an extensive amount of capital to grow. Had we understood this industry better.
Again, I mean, as I said, I like to shoot from the hip, right? But the truth is, even shooting from the hip, it is an industry that I have zero knowledge.
I'm not a logistics guy. It is, at the day, a logistics and a customer service or a BPO, right? Business Process Outsourcing. Two industries that I either do not enjoy very much because, it is a very, very manpower intensive space.
Ling Yah: You said earlier, something very interesting.
You're still friends with the people at Bemalas. How do you manage to do that especially given how you felt?
Adlin Yusman: So one of the guys, he's now in Food Market Hub, which is a huge, huge company out of Jaya One office. This guy used to work for me, and he used to manage my customer service team, a guy named Sherwin.
I love him. And he said he grew so much because of the fact that, as I said, you're flying the plane as you're building it. We were all learning it as we were doing it.
Trying to send deliveries, trying to manage customer service, trying to manage refunds, trying to manage credit card fraud, trying to manage different country nuances, handling firing, handling hiring.
And these are kids who are 21, 22, 23 year old. So going through this huge accelerated learning process. And for me and my co founders, we were learning this whole universe we were not exposed to, which is the investment side and what the investors will be looking for when they're looking at a valuable startup.
So you would think that if your GMV, your gross merchandise value, or your gross profit, you know, MO, was high enough and your net profit was still really, really poor, you could still raise money because it's the prospect, bro. And that was the whole WeWork, Uber, that whole American sort of unicorn story back then.
But when the winter happened in 2017, I can't , remember what year it was, at that time, WeWork was showing red, Uber was showing red, without any chance of it being green in the next 10 years.
All these kind of funding for growth startups no longer have the interest of the investors, right?
Because their fund life is only seven days.
Which I guess goes back to the fundamental rule of business. The problem is you're burning cash, you're not making money, and you're burning someone subsidize.
It's about having a pulse on the business, meaning knowing, at the very least, P& L. You don't need to be a damn good accountant, but you have P& L.
If you go out there selling 10 ringgit notes or five ringgit, you'll sell every one of them, which is essentially what startups are doing when you subsidize to acquire users, which is fine.
There is a time and place to do that. But if you keep doing it for years and years and years, when you're trying to turn a profit and turn the taps on, no one's going to pay you because it's so used to being compressed prices.
Ling Yah: So would you say, going back again to the question, how do you stay friends with all of your colleagues back then?
Is it because they all understood that we're all in this together? We're all figuring it out and there was always a chance that it would fail.
Adlin Yusman: I think what I learned from my first mass resignation in 2007 2008 was understanding that they are people and being genuine.
Cause in a world of corporate, it's always information symmetry. Your boss knows something, you don't know. But then how come your colleague knows. So in Bemalas and every subsequent businesses I've been in after, everybody knows what I know, short of everybody's salaries.
But how we are in terms of sales, how we are in terms of our runway, how we are in terms of fundraising, good or bad, you know.
So some people would argue and say, look, you don't want them to know if you're not raising money because this is going to stress them out because they don't know whether their paycheck is going to come in.
Well, my point is, I would rather you know that we are going through turbulent times because then if it does happen, not for lack of trying, we did our best versus saying, we're going to be fine. Nay, we're gonna raise 10 million and it doesn't happen.
You feel completely devastated, and worst of all, you won't even trust me.
Ling Yah: You're now in Endeavor.
Very different place now. 2015, you first heard of it through the local selection panel. What was it about the LSP that drew you?
Adlin Yusman: So I remember in the LSP, and you should, you should come to one. Ling Yah, please. We'll get you an invite.
These two people better get you an invite. Yeah, We have one every couple of months now. I remember that one. It was in CIMB Bank at the time. At the time Srinasir was still an active board member. He's very active now, again, but not as a board member, but as a mentor.
I wasn't at Endeavour yet. So I was invited by the MD of Endeavour at that time to experience what Endeavour is. And when I read up, Endeavour, I'm like, wow, that's one thing I don't have. Cause I have investors, but I don't have access to new growth. I don't have access to someone that could tell me how to do my business better.
Because all you're surrounded by are peers, who may or may not know what you do, or you may or may not want to share because you don't know what they're going to tell.
Or potential mentors that may actually be actual sharks who may have invested in your competitor, who may be looking at doing the same thing you are.
It's a cowboy. So when I stumbled upon Endeavor and on my left and my right, at the time was Vivi, Fanza. So Fashion Valley also was being, invited to view the LSP because they were in the running. What I didn't know was they've already gone through multiple reviews.
. So we didn't even meet any mentors. I'm like, what the hell? So I was very upset. I thought, okay, I know better, but turns out they knew better because I failed.
And I remember this clearly, there was an entrepreneur on the other side being grilled by a very, very prolific and most in demand mentor till today, which is Alzao. And he was grilling that guy.
And I was really, really impressed because for the first time, I get to see someone telling an entrepreneur what they need to share.
Maybe it's us as Asians or Malaysians, You're always told the sweet stuff.. And, and there he was decimating this entrepreneur, like telling him, no, this is, this business is not good. You don't know what you're talking about. You don't know your numbers. And I'm like, wow, this is like a firing squad, really.
But I liked it because, hey, who else would be able to give you a real world assessment of your business without any biases? just by looking at what you've done so far and where you're going, this is what I think your business is and this is where I think your business will end up.
I met Azhar many years later when I took up the role and I said, look, one of the main reasons I was super inspired beyond the fact that there's a massive and awesome global network, and most of entrepreneurs today in Endeavor will agree, that his sessions are always one of the most valuable, memorable, and talked about. Because he's always going to bruise you, because he's a contrarian viewpoint.
So his contrarian viewpoint will always make you go back and think, okay, shit, he's right. I got to make a change, which is what you need. It's a jumpstart.
Ling Yah: You must have gone through lots of LSPs by now. What are some of the things that you've noticed entrepreneurs always fail at and always getting grilled?
Adlin Yusman: Okay, so the main reason why entrepreneurs fail is because they don't tell a clear story. So that's another thing we realized we just don't storytell as well as, you know, our Western friends do, right? We just, we like to tell honest stories. We don't embellish.
We don't sexify things. We just say it as it
Ling Yah: is. Don't talk about it. We're getting a net uber of.
Adlin Yusman: I mean, if they were to do it, they would sound very disingenuous. Because they say, I'm going to build the next boomer, but they don't share the story of how they go. So when you hear all these sort of guys who are very, very, very well versed in pitching, they will tell a story that comes with a complete suite of how they're going to get it done.
Which is the full story, right? And this is not saying that we've got bad entrepreneurs. We've got amazing entrepreneurs. It's just that the ones that don't get through LSP and LSP is only one bar. You've got to go and get selected ISP, which is an international selection panel, which is even more tough because the panelists are global.
Is the fact that they just seem to lack clarity of purpose, right?
I'm doing this. Yes, I want to do this. I got the idea. So as someone asked you, okay, you've been doing this for 10 years. How are you going to scale 10x?
From the person who's on the other side, the entrepreneur, they'd be like, I may just answer it because you're asking me a question, but I don't want to go 10 x I'm happy I'm profitable, right?
And that, and that's fine, right? An entrepreneurs, entrepreneur, you don't have to grow 10 x if your business isn't 10 x a year business. There are businesses, there are, there are business that aren't.
If you're earning for 30, 40, 50 million ringgit a year and you're happy, who's to judge you, even you're doing a profitable business.
That in and of its sum is nothing to scoff at. You think it's easy building a profitable business?
It's bloody hard.
You don't have to be a tech entrepreneur raising, you know, millions of dollars. and To quote my chairman, Ramal says an entrepreneur is an entrepreneur.
And I like that statement. It sounds simple enough, but entrepreneur means it can come from anywhere, from any business.
Ling Yah: But to be an Endeavor entrepreneur, you need to have that big vision.
Adlin Yusman: Yes. To be an Endeavor entrepreneur, which is a title you are only bestowed upon once you pass the international selection panel, you have to have scale and multiply.
The reason is because Endeavor at a global level is creating essentially market movers. That is a movement that generates thousands of jobs that moves the GDP in multiple basis points a year, right? And to that, Endeavor's vision is to ensure that we do select entrepreneurs that can get us there.
And not us as in Endeavor, the country is there. In Malaysia we got Carsome, you know, Eric and JT, farmfresh, Lloyd. Obviously Fashion Valet, which is Vivi and Fadza. You've got the new ones that just passed last week, CapBay.
A billion ringgit in you know, what they've been doing is, it's insane, you know and PASS with Flying Colours online, no less.
Online is very hard to pass because you only see the panelists in that session. When you go for physical ISPs, you have three days.
You do a meet and greet, you meet the panelists, you spend time, you have dinner with them, you know, we will lobby the panelists to speak to them to make them understand the business better.
Your entrepreneurs will have more time to handle some tough questions before the panel.
But online, you meet the panelist for an hour, you're done, you move on to the next panelist. And if they don't understand your business and they don't ask you the questions to clarify, you're done.
And that's why virtual ISPs are really, really tricky for entrepreneurs to pass. And double tricky because it's usually New York and American time. So we start at 8pm and we end at 7am. They don't have to stay till late, but I think CapB stayed up till about 2am that day. Because their last panel was at 1am.
Amazing entrepreneurs. You know, shout out to you guys. Amazing carrying the flag of Malaysia. Endeavor, as a tip of the spear, we don't count our time in hours, as long as entrepreneurs need help. It's not just us in Malaysia, globally.
As I was telling you just before this session, you know, I met Salim Sakur of Sakur Brothers. He flew in for his business, but spent three hours to spend time with Melvin from RPG Commerce, which is an amazing business they do Montego bottles and all the cool stuff that you buy online.
I can't show you on camera, by the way, because I think I'll be censored. But yeah, cool stuff you do Mel. Give me some free pads, bro. And give her some, too.
And here's a man who's built Sako into a global, who doesn't look at the fact that I am a huge founder, CEO of a multi, you know, million dollar business.
He wants to sit down and spend time with entrepreneurs because he thinks that at the very least what he could do is to give his knowledge back.
Whether you listen is up to you, whether you execute is up to you, but I've given you the tools to do what I did to make my business a success. Whether you think my business is successful for you, again, it's subjective to you.
Melvin loves him. I love him. He is a legend. I mean, if you could all meet him, I would want my team to meet him. He is just this amazingly inspiring person.
I mean, he would turn the way you do business upside down, right? Like moving from online to offline when no one wants to move offline now, but now we are moving that trend.
He was doing it years before. He has an online presence, but that's probably just to show his website. And probably sell some stuff online.
But his main business has always been online, him and his brother. Which is why you're seeing a lot of these things happening now with our new sort of companies coming up.
Fashion Valet Group now has obviously offline stores and they're everywhere. The same goes for our PG& E.
I think I miss or we miss that simple feeling of going to a retail outlet, browsing through and then getting your products there and then, would you ever buy a luxury handbag online?
I mean, you will buy a luxury handbag. Maybe you saw it. If it's used. Yes. Yeah. Or if it's a used one, you want, you can't buy a broken handbag. You want to buy it. You, you buy it from somewhere like provenance if you had a choice. You can never walk in and buy Hermes and Bear.
You can never walk in and buy a Rolex Submariner or any of the sport watches. You may not have a choice.
But if all of us had choice, you would want to walk in and, I mean, let's look at video games, for example. Back then, as I said, I'm not a sports kid, right?
Video games, trading cards, comic books. You would walk in and then browse through all the games. And then, you know that feeling, that almost ASMR feeling of opening up that thing and it's that brand new smell .
Back then you probably have videotapes, Cassettes. And then moved on to CDs and then DVDs and then Blu rays and then now everything is digital.
Adlin Yusman: So, to what end really? How many cards do they have a CD player inside it? What do I do with my old CDs? I don't know.
I don't want to sell them because these are memorabilia to me, right? I bought the CD when, you know, I, had my first kiss or whatever, right? Now if an album comes out from your favorite artist, will you remember when you read it the first time on Spotify?
You won't. Because you'd have to line up and buy the CD.
No one lines up to buy iPhones anymore. And no one buys iPhones every year anymore. At one point in time, everybody needed a new iPhone. will I buy one? Maybe. But it's lost its shine.
People need to go back to physical spaces and enjoy the act of buying stuff you like.
Ling Yah: And one of the things that people like to buy here is bubble tea. Oh yeah. And I hear that you help Bryan a lot in just becoming an endeavor entrepreneur. I wonder if you could share a bit about that whole process.
Adlin Yusman: Bryan is a stunning founder. And not just for me, but from his families who actually said that at the end of it. And these were some of the guys from the U. S. and everybody else.
Bryan wants to build a generational business. He's fully self aware that he may not get to the vision of Tealive that he sees today in his lifetime.
He is building it for his kids. Wonderful kids, by the way. Cooked me a meal in, in Bali. And it's a matter of knowing, that , at least in my mind and everybody else in Endeavor, him reaching significant success. Tealives' what, a thousand stores now in Malaysia? He still is hungry for more.
He's always hungry to learn. Never too arrogant to take anyone's feedback. He's humble enough to say, look, yeah, you're right. I didn't see that.
He spends his weekends, his actual personal time, speaking to entrepreneurs outside of Endeavor, before Endeavor. He would do it willingly.
Whether you are a big founder, whether you're a person having an idea, you need to bounce an idea off of it, he will do it.
An entrepreneur like him comes very rarely. Not in the ability to just execute, but the ability to have that temerity and humbleness.
He checks his ego out of the door.
Every time he speaks to him and say, man, you did a good job, man. You, you scaled this. He will be the first to say, I didn't do it alone.
How many guys would actually go and say, I didn't do it alone? Very few. Because by the very nature of any business, you are the key man, and you're the key man because of the fact that you founded it, you're the CEO, you're, you know, whatever you may be.
And the press and the world will brand you as that person.
It is very hard for you not to drink that Kool Aid and say, Yes, I am this person, right? He's not that. And I think the fact that he's now scaling his business, his Philippines business, is going really well. And a very unique business as well, because Philippines is more of a BPO, you know, Manila is.
So it's more of late night. So people start spending more after 12, because, you know, they have shifts.
I'm just supremely privileged to have Bryan in the network because now other entrepreneurs will have a chance to speak and to learn how he made this. I mean, look, he could have easily raised the white flag and said, I'm done, when the whole Chatime fiasco came up, but he didn't.
He said, look, I'm going to hunker down and build this. Then he'll be the first to say again, you know, I come from a small town in Perlis.
If I can do it, you all can do it too, Right. And I think that's what people need to hear.
But I guess hearing it from a stage or seeing a YouTube video of him isn't the same as sitting in the space with him because his energy is infectious.
Ling Yah: What would you say keeps certain founders going instead of founders who just raise a white flag? Because you can never fail if you just keep going.
Adlin Yusman: I mean, as they say, you miss 100 percent of the shots you don't take, right? Yeah. Everybody goes through periods of despair, depression, intense sadness, especially because your business is never going to be like this all the time.
At best, it's like a heart attack within the group. It's who they surround themselves with. It could be their co founders. But more often than not, it is your support system. Which is why I think when I saw Endeavor in 2019, I needed that. Because I needed people outside of my guys who would obviously drink the Kool Aid with me.
We have to, right? Because if we don't drink the Kool Aid, the team will feel the despair. We have to put out a brave front, right?
Which is why that support center outside of your personal network.
I had an entrepreneur recently that was trying to get financing from one of the biggest banks in KL Malaysia and for some reason was having a problem with it and during one of his mentorship sessions, we had one of the persons who happened to sit on the board of that bank and she's not our mentor, she is our mentor now.
Adlin Yusman: For whatever reason, found out about it, helped it out, he got it. It sounds simple because, oh yeah, because you're Endeavorian, you know everybody and you get this done. But shouldn't everybody be given that chance?
I mean, even if you're not an entrepreneur, everyone's trying to build a legacy, right?
You're trying to leave a mark, leave a dent in the universe, right? And if it makes it just that little bit easier, why not?
Ling Yah: So what's your advice for people who are looking to build that community, but They don't even know where to start?
Adlin Yusman: Today, if you look at Malaysia, we have so many different parties involved in the ecosystem today that are all working towards a same singular vision, which is to build a better Malaysia.
So Cradle has another separate company within called My Startup which is doing exactly that and they're doing it all over the country now.
I was with them in Penang, they were in Kuching, they were, Sabah. They're going to states that usually get left behind because everybody talks about Klang valley. So this is entrepreneur at a national scale.
There are other, accelerators and seed investors that have come up over the past few years. So Penjana, which is an MOF entity is a a sovereign fund that then invests into a few general funders or VC firms that will then deploy capital different stages. That's for funding.
In terms of a network of entrepreneurs with like minded individuals, there's a huge Facebook group run by a guy, a friend of mine, Daniel.
Yup. Shout out to you, dad. And he's, he's always there. Daniel is always there to roll up his sleeves. So if you're not getting the advice you need or the shoulder to cry on, I think first and foremost, check your ego at the door. Everybody's going through what you're going through in some way, shape or form, maybe in different variations.
There's nothing to be ashamed of. Find the right crowd, and let them guide you back to where you need to go.
Ling Yah: Well, in terms of resources and guides on getting started, there is so much out there. The problem is which to start off with.
Adlin Yusman: Again, there's no one size fits all for this, because if you're doing a traditional non tech startup, there are many, many different resources for that.
So if you're trying to do a tech startup and you're not a tech co founder, then obviously you can obviously look at any of these message boards, or there's also a, a, I think a company that sort of matches you with a founders as well.
But obviously they're very selective too, right? So I'm not saying that's the only option, but you should give it a try.
And then there's obviously, as I mentioned earlier, the groups like Daniel's group.
So there are many other startup groups in Malaysia. But I think we've come to the point that we are mature enough now that we have structured programs. To not sound like a broken record here, obviously Google first. Depends on what you want to know. If you're too lazy to Google, chat GPT the hell out of it.
They'll give you the answer you need, right? One layer more lazy. You'll be surprised how many guys when they go up to me and say, man, you've been a good founder. And they come up to me and say, yeah, but I don't have an idea.
Here I'm thinking, say me at least, I have like a hundred ideas a week. And here's a person who I see has got the traits of a fantastic entrepreneur.
What are those traits?
Has grit, has the kind of ability to stand. To be able to find calm and win in the storm. And that makes a very good entrepreneur because when you found a company at the beginning, everything is against you. Markets against you. If your competitors, they're trying to kill you. Your investors are chasing you because you've got to show growth.
You're struggling to hire people because you're not going to be able to pay premiums. Your other guys are paying you today.
How do you stay calm?
The ability to, I guess, break down problems into solvable chunks, which sounds easy, but most people don't do it. And I think my favourite is they're not adding problems to the solution.
Which a lot of people are, right? It sounds very, very straightforward. But the last one is this, and this I'll, I'll quote a guy named Arif Naqvi, he ran, you know, he's, he's obviously a person who's completely, you know, polarizing because they either hate him or you love him.
Regardless of what you think of Abhraj, one of his most interesting statements was this, the only time work comes before success is in the dictionary. It's true, man. Just put your back into it.
Ling Yah: You once quoted Martin Zuckerberg, always hire someone you would work for in an alternate universe.
I wonder who you would work for.
Adlin Yusman: I think I will work for any one of the people I've hired.
I mean, I'll never work with any of them. Maybe one of them, though, because she's a bit strict with me. Even though, yeah, she tells me what to do most of the time. Actually, most of them tell me what to do, really. So I'm already working for them, but I hire based on that.
Because, to me, it's more of, Can I hang out with them and not talk about work for three days when we travel? And traveling is the one time you break the wall down. Because either you can't stand that person, Or you realize, hey, this, this person is someone I don't mind being friends with beyond, you know, the four walls of this office.
Ling Yah: Like the airplane test and...
Yeah, airplane test, right? Airplane test is okay because you can sleep. When you're stuck in a room, in the middle of whatever it was, you know, it's, it's, it's gonna be like insane. Because you know what happens with us, right?
You will put on a version of yourself when you're at work. Version of yourself when you're doing your, you know pitching or sales run. And then when you want to go home or when you're going home, you just want to just unwind and just say, you know, screw everybody else. I just want to decompress.
But when you're traveling with your colleagues, you can decompress except when you sleep, right?
Because your events go up to late nights and then your entertaining goes up to late nights. You've got to go and network and Endeavor is a global network, which means you've got to be networking with everybody around the world and put on that good show, right? And then when you go back to sort of your short Airbnb where together, you're not going to just go in and just, sleep.
And you're traveling in a car together and it's a whole bunch of stuff you realize, I don't mind working for them because you realize that, Hey, they've got the same DNA. So I don't hire any of them.
So what happens even in Endeavor today, I only sit at the point to interview the person last to see whether they are the right fit, because to me, attitude trumps aptitude any day.
You can teach them the skills they need to do, but if they've got a shitty attitude, ain't no amount of teaching will change that. Right, so which is why I think I'll work for any of it.
What kind of questions do you ask to find out about this attitude?
Adlin Yusman: One of my favourite questions which I think stumps them, I haven't done that recently is, tell me something that's not on your CV.
And then they usually get confused. But usually that brings out the best out of them.
And then the next question, and this is to be honest, not me, I take it from the guy who ran Sequoia, I forgot his name. The American guy.
So the first question is, tell me what's not on your CV, and the second one is, what else? So what else is the best one? So you want to see how smart a person is not just in terms of IQ, but in being on your feet. The average answer will be, what else is, what else is on the scene?
But the actual answer you're looking for is, what else is anything else?
I'm going to
Ling Yah: turn it on you then. What's not on your CV?
A lot.
Adlin Yusman: What else? A lot also.
Yeah, because, I don't really care about this anymore because I hate it when people say, Oh, why are you only at the job one year that you leave?
Just because a person leaves the job doesn't mean that the person is a bad worker. Yes, sometimes it could be, but more often than not, they might not just like the company.
And you know, you've got these millennials these days. They don't stay longer than three years anyway, right? And then they'll find something and they'll stay for five. It's the inverse, right?
Back then, our parents generation will stay for 10 years and then maybe another 10 years. And the last three years, one or two years, because they're retired, right?
That's the thing I
Ling Yah: want to bring up before we wrap up. I noticed that you have left many, many different jobs. Almost easily. Like, a lot of people struggle with even the idea of quitting now that I'm quitting. You don't seem to do that. What's the mentality?
Adlin Yusman: I get bored really easily.
And I've got a very short attention span. And because I read really quickly and I understand concepts really quickly, so the same thing happens at a job that I do. If I've done enough that I can do and I've made the impact that I can do. The question then comes as to, can I do more if I stay another three or four more years?
And if the answer is yes, I'll stay. If I don't contribute enough or my position in that company isn't impactful enough for me to drive the needle forward, I won't stay.
So it's always about what is the value I'm generating for myself? Obviously, you got to look for yourself first because you are your own person.
And then what impact are you generating for the company, for you to have left a mark big enough to say, shit, this guy did a great job.
So if I do think I can do something, I'll stay for as long as I can, or for as long as you'll have me.
I stay there at the pleasure of either the board, or in the case of West Wing, the president.
Ling Yah: What's next for you?
Adlin Yusman: Getting back on the saddle, I guess.
Right now, in Endeavour, I think there's a lot more work we can do, because I think if you look at what we've done in the past couple of years, thanks to my team, who've been amazing.
Wind behind my selfie. Always make me look good. Everywhere I go, everyone's like, oh, I see you on LinkedIn. I don't post any of that, which is why I stopped posting. I stopped posting on LinkedIn myself for a year now.
I stopped posting on Quora because otherwise it looks like I'm just doing my own horn.
So I don't post it. My team does, which is fair because it's not just about me. It's about the entrepreneur. I just happen to be in the photos, which I also don't want to be, but everyone knows about
Ling Yah: you. So for you, you were the conduit.
Adlin Yusman: Yes, I agree. But to me, I've always told the team, I always wanted the, the, the entrepreneurs shine because the entrepreneurs are the beacon that bring other entrepreneurs here.
When they're here, then let us do what we can to help grow your business. So what's next for me is obviously want Malaysia to be. The hub for investment, as it was when we were resuming.
Back then, we were always making a joke. You threw a stone, you found someone to raise half a million dollars. Today, there's not.
Until that job is done, I still got a bit more to do to see, can Malaysia be... Centrifugal point because you can get good talent here, cost of living is affordable, infrastructure is good, you can travel within, three hours anywhere, man.
So, why are we not the center of South-east Asia?
Ling Yah: Why do you think that's the reason?
Adlin Yusman: Why do you think because the government policies before this were a bit sort of wayward, right? So if you look at the current government, I think with Tesla coming in, it's a big deal, right? Because they removed that, local equity involvement, which bodes well.
Because then investors will say, look, I want to come in. I believe Malaysia is a good country, but I'm concerned about the ownership part of it. If we keep to this. It's going to be transformative, to the point that I think our diaspora that left will come back, like what we see in Greece.
Ling Yah: Adlin, thank you so much for your time here with me. I'd love to end all my interviews with the same question.
So the first is this. Do you feel like you've found your why?
Adlin Yusman: So what you didn't get from the interview is the fact that I went through a massive spiritual journey for the past three years, before the pandemic.
Because I realized that there was more to life than just living through it. Which is what I said at the very beginning in terms of a lot of people is born asleep, goes to work asleep, marries asleep, dies asleep.
Then I realized that very few people are actually awakened, not enlightened because that's another level and I'm not clearly that, but at least awakened enough to know that you have very many reasons why you're put on this planet and why you choose to take birth, not given birth, you take birth in this existence.
So my why, at the very least, I've known now because I've met quite a few sort of spiritual guides in the past. My why is not because I knew it, because I've heard it from four or five different people from different countries, really.
My purpose on this, at the very least, planet, is to help people as much as I can.
And I think it's ironic because the first time I said it, he's like, what? I'm an assistant? And then the guy said, no, think of yourself as a doctor. No one goes to a doctor when they're healthy. But when they're sick, only doctors can help.
When I realized that, it brought a lot more sort of value to what I do right now. And that's why I actually really enjoy being in the space. I want to help as much as I can. Entrepreneurs, because of the fact that I know the pain.
Because when I was failing, I had no lifeline. No one literally, gave their hand out . ... I mean, of course, the guys in Digi saved us, no doubt.
But as I was sinking, I had no lifeline.
Ling Yah: What kind of legacy do you want to leave behind?
Adlin Yusman: I want to leave a legacy from two sides, personal and professional.
I think from a professional side, a business that I guess, to quote Brian, that lasts generations. Because multi generational businesses, at least in Malaysia, is still few and far between. We've only got, at max, which I found out a couple of days ago during the event, I think three generations.
Which is still quite sizable really, but that's also because the first generation started in the 1900s and so on. So to leave a multigenerational business behind, that's one of my sort of professional goals.
I think a personal one would be, to impart in some ways the clarity that you should look up once in a while in life to find more people to realize that if you don't, life just passes you by.
To stop and literally breathe and experience rather than living life. We're rushing from one moment to the next. And I think to be able to have that spiritual side, so the professional and the personal spiritual side, is to be able to share this and my team will probably tell you this because we do our sessions off site and we sort of go into this mode where everybody cries, is to find more people that can then multiply this.
So multiply the professional side and multiply on the fact that we are enjoying an existence here together. Let's make it a little bit less painful for them.
Ling Yah: What do you think are the most important qualities of a successful person?
Adlin Yusman: Self awareness. One. Second is, not humbleness in the sense that I'm choosing to be humble, but inside they're not, but the actual, true nature of being humble and, that Malay saying that when the rice grows, the heavier it gets, the more it bows.
Like, you should realise that how many doors opened to get you here?
It didn't just you opening one door and you became someone. Everyone caught you there. And to remember that you stood on the shoulders of giants to get you to where you are. That's number two.
And number three, I guess, have that give back mentality.
That's what makes you successful. The moment I'm successful, or even if they don't think they're successful yet, it's never too late to say, look, I want to take the time to then share my horror or war stories with someone that may find inspiration from it.
Like what the Sacro Brothers guy told me, right?
Salim, I will tell you what I think I did right in my business, but if you don't listen, that's your choice. But I will do what I can to impart my knowledge. And that's not free. That's his actual life bank of experiences.
Ling Yah: Say are the biggest giants you've stood on?
Adlin Yusman: I mean, Joel, Rafiq, Chen Chao.
These are guys who are with me still today, right? That's in Groupon, for sure.
My parents, obviously. And Everyone who's a mentor, a board member in Endeavor, they're literally carrying me up, right?
Without them, that wouldn't be Endeavor it is today, right? Because they believe in the vision that the team and I have set to grow, how we select and support entrepreneurs here, and because they trusted the team completely a hundred percent, allowed us to get where we are today.
Allow us to select the best entrepreneurs and allow us to then support them to grow more.
So these guys are clearly guys who have made me very appreciative and very privileged to be here.
Ling Yah: And where can people go to find out more about what you're doing, what Endeavor is doing?
Adlin Yusman: So what I'm doing, you can go to my Instagram, that's my name. Don't go to my Quora, like what Ling Yah did, that's embarrassing.
I'll delete them all today, bye bye. Right? So my Instagram is my name. For Endeavor, we are on Instagram, we are on LinkedIn, and these are our most active platforms.
If you are an entrepreneur that's looking to reach out, we will speak to anyone, regardless of size, because no entrepreneur is too small or too big.
I sadly didn't
Ling Yah: find your blog, but. That was off camera, you know. Very sad about, but is there one story on that blog that we didn't get to cover that you don't mind sharing?
Adlin Yusman: think I covered the failure of Paragon in there. And I think when I read it back, I could actually feel the pain of that failure as it was yesterday.
The betrayal, you know? And I think if you read it, you'll read a younger version of me that felt like I was angry with the world and very little about me.
Like, screw everybody else, you don't know what the hell I had to go through and the angst of not knowing what I did for you all. I mean, that very selfish leader.
I was more of a boss and not a leader and that was a telling sign. I felt the pain. Because I remember that, okay, I remember that pain that was riding there and smashing the keyboard.
And then I realized, today, because I think I read that during the time that we did an offsite with the team and everybody was crying.
She was literally crying buckets, by the way, and I'm pointing to the lady on the right here. You can't see her because camera's pointing at us. Lucky, you know, for her.
To the point that we were crying because we were, at the very least, at that point in time, very at peace with all of us.
It's a completely 180 degree company to the ones that were crying because they were squeezed and everybody didn't like the way that they were worked to death. To actually enjoying what they do.
Ling Yah: You're not going to share the link, are you? Nope.
Adlin Yusman: Otherwise, they're going to share it with everybody.
Ling Yah: And that was the end of the episode 133. The show notes and transcript can be found at www.sothisismywhy.com/133. And did you know that this podcast also has a STIMY newsletter?
Just head over to show notes to subscribe where I share the behind the scenes of running this podcast and also storytelling techniques that you can use to build your own brand to share with the world.
I'm also going to be launching a course soon teaching you how to interview yourself to extract stories of your own life and career so that you can share it online and also in your career. If you're interested, you need to subscribe to this newsletter.
And again, if you've enjoyed this episode, please leave a rating and review. It really helps this podcast to grow and I'll see you next Sunday!