Welcome to Episode 119!
STIMY Episode 119 features Justin Byam Shaw.
Justin Byam Shaw is the Chairman of ESI Media.
He co-owns (alongside Evgeny Lebedev) the Evening Standard & the Independent, and also co-founded the Felix Project – one of the biggest food redistribution charities in the UK!
If you've ever been in London, you'll notice the Evening Standard lying around Tube stations. It's a 100% free quality newspaper and I'd always wondered – what does it take to run it? How do you manage to keep a newspaper free on such a scale?
Well today, Justin shares it all.
He takes us through his decision to:
🔥 Study classics at Oxford University – even when everyone told him it was good for nothing!
🔥 Pivot from advertising – when he realised he was terrible at it
🔥 Drop out of British Telecom within 1 week of finding a market gap to launch his own startup – at a time when it wasn't the "cool thing" to be a founder
🔥 Buy both the Evening Standard & the Independent (alongside the Lebedevs)
And also his thoughts on:
🤔 How George Osborne faired as Editor of the Evening Standard
🤔 How to turn around failing media companies
🤔 Launching the The i newspaper (within 7 months of acquiring the Independent!)
🤔 The rise of superstar journalists turned media personalities
🤔 The media publication he'd be most interested in taking over & what he'd do differently!
PS:
Want to be the first to get the behind-the-scenes at STIMY & also the hacks that inspiring people use to create success on their terms? 
Don't miss the next post by signing up for STIMY's weekly newsletter below!
Who is Justin Byam Shaw?
Justin was a very shy & nervous child.
He ended up studying Classics at Oxford, even though everyone told him that the degree was good for nothing. 
And stumbled into advertising, only to realise that he was terrible at it!
4.44 Studying "good for nothing" Classics at Oxford?!

7:18 Being bad at advertising

9:27 Moving to British Telecom when it'd just privatised
The great thing about being 26 is that you sort of think you can do anything. You don't think too much about the consequences of failure... I mean, it was kind of dumb because I had to remortgage my apartment and would've lost it.
Becoming an Entrepreneur
Clearly, Justin's career didn't end in advertising. 
A talent show kickstarted his entrepreneurial journey. 
And upon selling his very successful company, he started investing in other companies and learned a very important lesson about arrogance.
11:34 The talent show that kickstarted Justin's entrepreneurial journey

12:38 Remortgaging his apartment?!

15:32 Expanding to 12+ countries

19:39 The tipping point

20:54 Life after acquisition

22:34 Arrogance

26:59 Being ruthless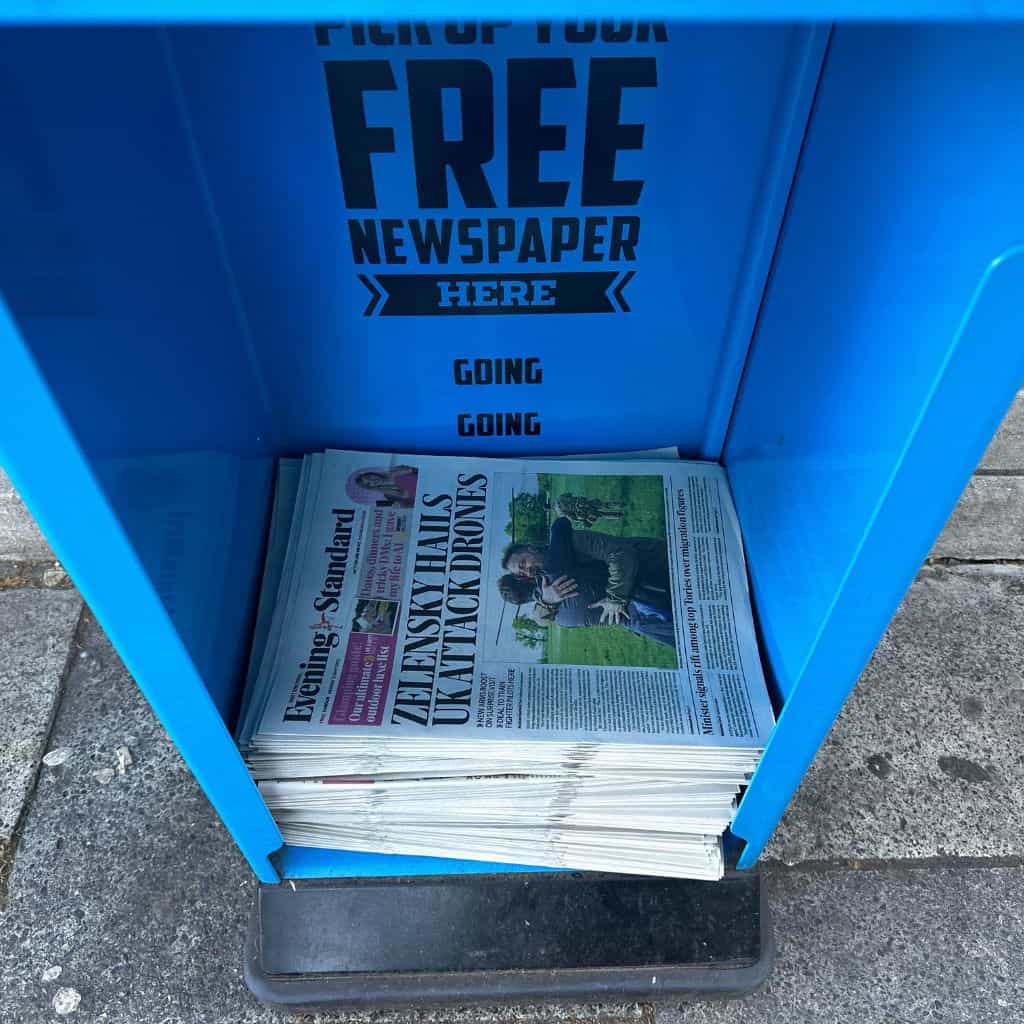 Becoming a Media Mogul
Justin has gone through extreme highs and lows. 
Some of his highs and biggest challenges include taking over newspapers that were failing at the time – the Evening Standard and the Independent – and making them profitable!
And also launching the Felix Project in honour of his late son.
29:00 Buying the Evening Standard

33:41 Launching The i in 7 months?!

36:38 Not going digital with the Evening Standard

38:58 Internal resistance

40:27 Appointing George Osborne as editor

45:14 What do media owners expect from their editors?

49:23 Journalists become media superstar personalities

51:59 Buzzfeed

53:05 If Justin could buy any newspaper publication, it'd be…

55:14 The Felix Project
If you're looking for more inspirational stories, check out:
If you enjoyed this episode, you can: 
Leave a Review
If you enjoy listening to the podcast, we'd love for you to leave a review on iTunes / Apple Podcasts. The link works even if you aren't on an iPhone.
Patreon
If you'd like to support STIMY as a patron, you can visit STIMY's Patreon page here. 
External Links
Some of the things we talked about in this STIMY Episode can be found below:
STIMY Ep 119: Justin Byam Shaw (Chairman, ESI Media; Co-Owner, The Evening Standard & the Independent; Co-Founder, The Felix Project)
Justin Byam Shaw: The great thing about being 26 is that you sort of think you can do anything. You don't think too much about the consequences of failure. I should have done. I mean, it was kind of dumb because I had to remortgage my apartment and would've lost it.
And in fact, the deal we did with our investors was the sort of deal that a boy band would do with a unscrupulous music producer if we hadn't paid them back at 18% interest rate within 18 months. They basically took control of the business and 99 times out of a hundred, they probably would've taken control of the business.
But everything went right for us.
Ling Yah: Hey STIMIES!
Welcome to episode 119 of the So This Is My Why podcast.
I'm your host and producer, Ling Yah and hello from Sunny London!
Now admittedly, we've been on an impromptu break. I left the legal industry last month and have been on a whirlwind travel trip, but that doesn't mean that STIMY has stagnated over that time.
Oh, no.
We have some pretty exciting guests coming on.
Three English law lords, including the former Lord Chief Justice and Lord President of the UK Supreme Court have agreed to come on as well as someone who was once considered by Forbes to be the seventh most powerful CMO in the world.
You can find out more by subscribing to STIMY's weekly newsletter at www.sothisismywhy.com/119, but these are stories for another day.
And I want to bring you back to today in this episode with Justin Byam Shaw.
Now, if you are in the UK and in the media landscape, you will know Justin.
He's the chairman of ESI Media, which owns the Evening Standard and the Independent, the founder of the Felix Project, and one of the most well-known and respected entrepreneurs in the country.
But did you know that Justin was an incredibly shy and nervous boy growing up? He ended up reading classics at Oxford, even though everyone told him that the subject was good for nothing. Then ended up in the world of advertising, which he found out he was very bad at.
But that didn't stop Justin.
He ended up moving to British Telecom, which had just been privatized, saw a gap in the market, and launched his first startup at a time where it wasn't the done thing to be a founder.
Later on, he went on and still does co-own and run two of the most well known media publications round the Evening Standard and the Independent.
So if you're interested in media, want to know what it takes to run and own these media publications, the thought process behind selecting editors like George Osborn the former chancellor of and how to pivot into the digital space. Then this is the episode for you.
So are you ready?
Let's go.
Hi, Justin. Thank you so much for joining me on this podcast today. I love to start all my interviews by going to the very beginning, and I just wonder what were you like as a child?
Justin Byam Shaw: Thank you for inviting me. That's a good question and it's not a question I've been asked in at least 20 years, I would say.
Ling Yah: Oh, wow. I'm glad to finally ask it.
Justin Byam Shaw: it was a good childhood. It was a generally happy home. But I was a very nervous child, very shy child. And I often wonder why that was. And I had various theories, including my sister not encouraging me, but causing me to step on a wasp nest which blinded me and sent me to hospital with 30 wasp stings when I was about six.
Ling Yah: Oh no, that must have been traumatizing.
Justin Byam Shaw: Well, I don't remember it, but I often wonder. But I was, as I say, a very shy and nervous boy. And I went to board at a private school when I was eight, and I still meet men today who say, oh yes, you were the most homesick boy we ever knew at school.
And there was no one who was more homesick than me. I loved home and my family, and I was brought up on the downs, which is a beautiful semi mountainous area on the mountainous area on the south coast of England. And went to our school locally and then went to Westminster school in London, which was a huge change at age 13 to have been brought up entirely in the country.
And then to go to a very liberal, sophisticated, urban metropolitan school in the mid 1970s was quite a cultural shock.
But I guess the other thing, like many people, my parents got divorced when I was a child and that had a big effect on me.
I think I was aged 11 at that time. So a sort of sensitive shy quite cautious little boy who was bright but not exceptionally so and went to a school which was very academic. And felt quite a lot of pressure cause of that. So that's a sort of very short summary of my childhood.
Ling Yah: Was there some kind of clarity in terms of what you wanted to do? Because you end up doing classics at Oxford and that's a very unusual choice, especially when everyone's telling you it's good for nothing.
Justin Byam Shaw: Well, a, it's absolutely not good for nothing. It's good for loans and stuff, even if I might have said the opposite of the part, but also it was a direct result of my parents' desire to send me to this extraordinarily academic school, Westminster, where we were fast tracked.
So rather than spending five years at a senior school, we spent four years, everything was speeded. And as a result, I did my GCSEs at 14, 15 rather than at 16. And therefore I had to choose my A levels at 14. Wow. So, effectively I had made the decision to reject English history, sciences, photography, languages, everything at the age of about 14, 15.
And so I chose the subjects that I was best at. Not the subjects that I enjoyed most which was Latin and Greek. And frankly, my university degree was pretty much set from that age, from the age of 14, 15, which is when I had to make the choice about my A Levels, which is kind of extraordinary when you think of really how education should work, that it should be much broader for longer.
It was extraordinarily specialised. I thought I was good at classics, but as I got older, I saw there were boys and girls who were much better than me. And when I got to Oxford even in my college there were eight classicists and I was very much the eighth, you know, very much the least able of the eight and that was huge pressure.
Ling Yah: I'm sure you're just being modest.
Justin Byam Shaw: Well, I'm not really, actually. I got appalling a-level results. I mean, a-level results, which was scarcely got me into the university . But those days were different. But what I learned at about the age of 21 was that I wasn't good at being taught by people talking.
I couldn't listen, I couldn't hear what they were saying. I couldn't take it in. Whereas by the age of 20, 21, I'd learned to read. And I found that that was the way to really teach myself and really enjoy Latin and Greek and particularly Roman and Greek history. So it was a slow process of teaching myself to learn and I realized that I've never really been very good in any sort of established structure.
I would never make a good chairman of a public company. I'd never be a good fellow of the union dorm at university. I've always much rather plant a tree, I suppose a small tree than climb a big tree. But I dunno where that slightly anti-establishment attitude came from.
But I've always felt it since I was a child.
Ling Yah: Do you feel like that's what pushed you to do advertising cuz it's just so fluid and uncertain and different?
Justin Byam Shaw: No, not, not at all. It was because at age 20, 21 when I was about to leave university I thought, what am I gonna do next?
And yeah I didn't really understand what banking involved or what law involved or what even really what medicine involved. Whereas I could watch ads on television and that seemed like something that I could understand. And I thought it looked like it might be quite well paid and might be quite exciting, and would be more creative than in fact it was.
And also I'm quite competitive and I could see it was difficult to get onto the graduate training schemes, and so applied for some advertising agencies and got a couple of jobs and was profoundly disappointed when I got there because A, I wasn't any good at it. And B, I absolutely hated it.
But looking back, I did learn quite a lot about the value of brands and branding and what that did for businesses.
Ling Yah: Why would you say that you were bad at it?
Justin Byam Shaw: I think I was immature and I think I've just got back to London and just wanted to have a good time and worked and seemed to feel like a priority.
Secondly, it seemed kinda a profoundly silly way to spend your life. I remember my first client was at Canada, and our copy line, our strap line at the time for the TV ads was flights so good, you won't want to get off. I remember thinking, it's just so crazy. I mean, you know, why would someone spend a career telling someone something that was sort of patently untrue?
And then I think there was a mineral water was another client. And I thought, you know, why would anyone want to pay for water in the first place. But b, decide on their water based on advertising. I soon haven't, but indeed they did. And that there could often be real value in advertising for creating a mass market that would, for instance, drive prices down because it was a mass market.
So, I learned there were benefits, but I wasn't any good and highlight of my week was going to, what was grandly called, the tele copying room to send a telecopy to our client, Air Canada, in Toronto. And of course, actually what I was doing was having a key to the fax room.
You probably don't even remember faxes, but they were how we all communicated in the mid 1980s.
Ling Yah: How did you end up going from O&M to British Telecom?
Justin Byam Shaw: Well, because it was indirectly a client. Yeah. I really liked the woman who was in charge there and who offered me a job and it seemed to me an opportunity to run something or do my own thing at 24 which was otherwise seemed to be a distant possibility, something that you did in your thirties or forties.
But British Telecom had recently been privatized. Yeah. It was a very, very unfashionable place to work or consider working at the time ,for people I knew from Oxford. But it gave me a huge freedom to have some financial but also day to day, in my case, marketing responsibility that I've never got in most big companies.
And that was cause it had just privatized. And they were saying, look, we have this huge communications infrastructure. How can we actually create new businesses that create sustainable incomes for us that are future proof off the back of that infrastructure. And people came up with some very good ideas and some wild and wacky ideas.
And I was in one of the sort of wackier parts of BT, but we were left alone.
This is the age before you could easily become an entrepreneur. It was really hard to start your own business.
Ling Yah: Why was that?
Justin Byam Shaw: Well, because the cheapness of technology has really enabled a whole new generation of entrepreneurs.
I guess we've come onto my first business, but we spent nearly all the money we raised on what was then I think about 250, 300,000 pounds worth of computing equipment, which would now cost, I dunno, a few hundred pounds.
So the capital barriers for starting those businesses were so huge, and plus, culturally no one really did it.
There were these big legendary figures like Richard Branson or Robert Maxwell or Alan Sugar that wanted hurdled, but they were really defined by their exceptionality rather than by something that anyone could do or might do. So both for cultural and reasons and economic reasons, very few people came onto us, and being at BT was the closest I thought I could get to it.
And it was an amazing experience.
Ling Yah: But funnily enough, you did end up becoming an entrepreneur and it was because of this talent show called Opportunity Knocks, right? How did that happen?
Justin Byam Shaw: Yes.
Yeah. Gosh I've told the story before, but the true version is that the guy who became my partner, we had been tasked with finding ways for media companies to generate telephone revenue.
And he had gone to see the producer of Opportunity Knocks and the producer of opportunity Knox had previously had a postcard whereby viewers would vote for the best.
Opportunity knocks is like Eurovision Song Contest and you would vote for Pop Idol or in programs and you'd vote by postcard.
I think they said they got about 300 postcards per episode. And my partner said, well, why don't you do it by telephone and have the votes logged by computer rather than by a person and see how that goes. And they did it. And the first week they got 300,000 calls to the program. Obviously they get far more now.
And we thought, wow, this is a business we could do. We know how this works. And so we left almost immediately and set up Legion, which was my first business.
Ling Yah: But weren't you worried because you already told us that it's so unusual for people to become entrepreneurs and you just decide to up and go just because of that one instance. That's really brave.
Justin Byam Shaw: It is, but the great thing about being 26 is that you sort of think you can do anything. You don't think too much about the consequences of failure. I should have done. I mean, it was kind of dumb because I had to remortgage my apartment and would've lost it.
And in fact, the deal we did with our investors was the sort of deal that a boy band would do with a unscrupulous music producer if we hadn't paid them back at 18% interest rate within 18 months. They basically took control of the business and 99 times out of a hundred, they probably would've taken control of the business.
But everything went right for us. We got taken seriously by a lot of UK media companies who allowed us to run similar applications for them. I remember our first year and this was 1986, I think. We turned over 7 million and made a million profit.
I've backed many, many, many businesses since then, but I've never, ever come across a business that made a million pounds profit in its first year.
Normally entrepreneurs, including me, present their investors with a business plan that shows the sort of huge hockey stick of significant losses for the past year. Yeah. And rising to astronomical profits from year two. Yes. Which never happened. It's always slower and flatter than you believe it's going to be.
But for once, and amazingly for me, my very first business, that wasn't the case. And we were incredibly driven. I remember us saying to each other, the business was like a relationship. It was like a person. And that we, you know, we sort of cared about it deeply and we recruited our friends.
There was, everybody was our age. That's very common now in tech companies. But it wasn't that at all. People were leaving big companies to join us and we all kind of believed in it. And cause it wasn't an established sector, there weren't rules and there weren't expectations of how we were meant to behave or perform.
And we are in that wonderful position of exceeding promises, which is also kind of really rare in a startup.
Ling Yah: What were some of what we would now call growth hacks that you were doing to allow you to achieve such immense success so quickly?
Justin Byam Shaw: Well, we understood that whatever we did, we had to be able to scale quickly and without friction.
So we didn't want to have a whole load of, I dunno, contractual barriers or tech barriers. I mean, that is now so commonplace that it sounds almost completely pointless thing to say, but pre-internet, there weren't ways you could easily scale businesses without spending a lot of extra money.
But this was kind of a prototype tech business, and we were piggybacking on the back of a enhanced BT comms network that allowed us to scale without having to invest a lot. So that's one. It's a good question actually.
Ling Yah: I mean, weren't you in 12 countries and you were just linking up with all the biggest media companies around the world?
Justin Byam Shaw: We were. So we had a successful formula and we basically went to every state owned phone company in Europe, pretty much, and every big broadcast and every big newspaper publisher.
And we would copy our formula exactly. We would provide exactly the same services in each country in exactly the same way. We'd script them in the same way. So we were doing racing results, competition, sports commentaries, horoscopes medical advice, all charged at a premium. And we varied very, very little, almost not at all from country to country.
And so, cause we were pretty much always the first into each country and in some cases we were persuading the state telco to introduce these services. We kind of got taken seriously, which again, In this day and age. So what?
A 27 year old entrepreneur going to meet a 50 year old chief executive of the Turkish telephone company?
Yeah. Wouldn't be a strange thing, but it really was then and we were often wildly out of our depth but that's sticking very rigidly to our formula. And just caring about the execution, rather about creativity, you know, developing new ideas was what worked for us. And also creating just much easier for your family.
And it's much easier, frankly, pre pandemic, but creating a real work ethic culture which is really hard to do now. I think maybe in, I dunno, Silicon Valley or New York. But certainly in the uk, that absolutely worked.
Cause culture for people whose only material reward is a salary and maybe a bonus.
It's not easy to do. And how we created that culture, I can't completely remember, but I know that we all socialized together and lots of stuff together and we all kind of got married at the same time, went to each other's weddings.
We were sort of in each other's lives even though it was an employer employee relationship to a certain extent. And they were a load of really great people and holding out for the best people. And ideally it's so much easier to employ people you know than people you're interviewing for the first time.
That was helpful. And we'd worked with a lot of them at BT.
Ling Yah: It sounds very much like the tech company minus the swimming pool and the pool table and all this stuff.
Justin Byam Shaw: I know, really frustrating that you say that because now people say, yeah, so what officer, of course that's what you. Do you know, we didn't know anyone who was doing anything like this and we were treated as being sort of slightly dodgy, slightly eccentric.
We dunno where, what they're doing. And in fact because I hadn't had a huge amount of business experience.
I'd been to London Business School for a four month program, and I'd had quite good marketing training at Ogilvie Mefa the advertising agency that I talked about earlier.
But I hadn't had a lot of management experience at all. And so what really helped us was, I think I mentioned the boss at BT who I can work for. She came back and was our chief executive and that was kind of super useful. And I became a slightly absurdly named chairman of 28.
You said 11, I think we were in 12 countries actually, you know, from South Africa to Australia, so all across Europe, it was becoming quite hard to manage personally with my lack management experience.
I guess that is an experience that many, many tech entrepreneurs now would be familiar with. And they're much better at recruiting into the gaps with experience management. Plus they've kind of got the capital to do it. That's the other thing I should say.
A lot of these tech companies that grow fast are very well funded. They're well capitalized, you know, they've got really solid loyal venture capital backers who will go through very serious fundraising with them and stick with them. We didn't have any of that. We just had this slightly odd golf club syndicate that started us.
And then all our growth came out of our own cashflow. So we never went back for funding to anyone after the first day.
That probably is a bit different from a lot of tech companies now. You know, they'll often be quite well supportive and capitalized.
But we were living a hand mouth existence for the first year and after that we were pretty strongly cash generative from then on.
Ling Yah: Was it difficult for you to decide, I'm going to sell this, or was there some kind of tipping point?
Justin Byam Shaw: There was a tipping point. I was only 33 when I sold it.
But I had what I would now recognize now as burnout, but I didn't know it at the time because I'd be sort of constantly on flights and rushing around and chasing my tail and working seven days a week. Every night, every evening. And it all became too much. And I'm not an incredibly physically robust person.
Oddly enough for an entrepreneur, which is what I then realized I was.
I didn't have one characteristic that nearly every entrepreneur has, which is exceptional energy. I had an exceptional lack of energy.
And so just wasn't able to keep up with the pace.
I really admire some of the young entrepreneurs now are just sort of staying with their businesses, growing it, retaining their passion over decades, not just years.
And that wasn't me. Plus I'm always interested in new things and sort of making things work. That's a large part of the fun. And sometimes when the business is established, it becomes less interesting.
And so maybe all of that caught out with me age 33 when I resold the business to a French media company called Matt Hash publisher l and lot of titles in France. That was the right thing for me to do then.
Ling Yah: When you exited, did you feel the sense of loss in the question of, well, what on earth do I do now?
You were only 33.
Justin Byam Shaw: I felt a huge sense of relief and a huge sense of loss at the same time. And thought, oh, well, another idea will come along in no time. I'll just take a few months off and start again at Christmas. That wasn't in fact for me. Uh, I was kind of completely exhausted by the process and realize that I probably wasn't going to start a business that I funded, managed, and sold myself.
I was more interested in starting the ideas and getting going and finding people, and. advising more than being the main person. That's been pretty much generally true of my investment career since then. I like to have the ideas and be involved in the starting of things.
Kind of quite engaged initially, but not so much thereafter. And that's what I then did gosh, for about the next 15 years. And probably was involved in the starting of about 15 businesses, of which I would say five failed.
Seven were moderate successes. And the other three were significant successes. Each one more than paid for all the others. That I guess is not uncommon for investment portfolio, but probably I would've had a greatest success rate if I had been running and done fewer things and it would be my business. And I'd shown absolutely same commitment and focus and dedication as I did to Legion. But that wasn't what I chose to do. And I did other things.
I co-founded the charity with a rather brilliant guy. A sports charity in the school. I supported him co-founding that and did that sort of thing.
Ling Yah: What were some of your biggest lessons? I mean, you had started so many companies to varying levels of success or failure as you said. What were some of the takeaways that you can now share looking back?
Justin Byam Shaw: A lot. Probably the first thing I learned was to be aware of arrogance. Cause the first business had been so successful so easily, I assumed that I had sort of midas touch and it took me a few years to realize that wasn't the case. And that I better not be said arrogant next time around.
I learned that, and this isn't particularly helpful, but it's true to other entrepreneurs. Timing is kind of everything.
You probably don't remember the dot com boom of 2000. I'm sure you don't, but actually the people who you remember from that time weren't the best entrepreneurs at all. They were lucky. They were people who were lucky in their timing.
Yeah. People like the last minute founders, it wasn't a great business. Still isn't. But their timing was brilliant for them. It It was amazing. So I learned that. I refined my investment through trial and error. And definitely error.
I refine my investment principles and I talked to you before about scalability. That's the thing I always look for in in a business that I'm thinking of investing in. Or it has to be something that can scale pretty frictionlessly.
Otherwise you come up against sort of national barriers or tech barriers and you can never really create a substantial business.
I learned the importance of people. Yeah.
I would rather back a really great management team than a really great idea. I did it with you both. But if I had a choice, it would be a really great management team because in my experiences, most new businesses don't quite turn out the way they're originally envisaged. And it's management team that can pivot that is good enough to pivot, but is probably the team that is gonna, but it is the business that is gonna succeed rather than the one that's the great idea.
I learned to not place a huge importance on innovation. If you look at some of the really, really successful tech companies, they absolutely weren't the first in their field. I think we can include in that Google, Amazon, Facebook. There was actually someone doing what they were doing to a reasonable level before them. But they were just better at it.
They executed better. They were better funded. Could be a variety of reasons, but innovation in itself, I'd always much rather be number two into a very new business, where the basic assumptions have been proven. And you think you can execute, implement better. Come up with a totally new idea that you think there's a market for, but you don't really know.
So even my first business, I knew there was a market. I knew that 300,000 viewers, rather than 300,000 postcard readers through 300,000 people had called in. You know, I knew that. So we didn't invent that to be fair to bt. They invented that business. So I learned not overvalue innovation. Whereas you'll often find with startup entrepreneurs, it's all about the idea.
It's all about this amazing idea, but actually the execution by a brilliant team is an implementation is more important of a non-original idea.
Ling Yah: Were there particular teams you came across that really just stood out for you?
Justin Byam Shaw: There have been.
Actually when I came into the evening standard, when we going bit, I thought the team that was in place there but hadn't really been allowed to fly under the previous ownership was a complementary to each other and very strong team that really understood what they were doing and how they would do it. That was a very strong team.
I think, I don't want to particularly name individuals cause that means excluding other individuals. Yeah. But, but yes, along, along the way there have been people that have really stood out.
And the thing is, with your generation, and excuse me , you may not agree with this, kinda, everyone thinks they could be an entrepreneur. But the truth is, very, very few people can be successful entrepreneurs. Cause It's relatively easy to get started. You can do it from your bedroom.
You can put up some sort tech business inexpensively. Everybody thinks, well, you know, I might try banking. If that doesn't work, I'll be an entrepreneur or consulting, and then I'll be an entrepreneur. That's just not how it works oddly enough. Entrepreneurs aren't so different from painters.
There aren't that many people who can paint or can play music. And actually there aren't that many people in my experience, who are really natural, natural entrepreneurs. It's sort of whole range of characteristics and abilities from being comfortable with living risk all the time.
Having I don't wanna say a borderline criminal personality, but someone who understands that you're always gonna have to cut corners when you don't have enough money and you don't have the resources of your competitors or staff. But I don't mean doing something illegal.
Ling Yah: Ruthless, I suppose.
Justin Byam Shaw: Yeah, be ruthless, but you're also gonna have to cut corners.
Mm. Cut corners legally all the time and be absolutely fixated on the goal and getting there. And the means well, you know, sometimes you do things that in hindsight you think maybe we shouldn't have done. So that sort of personality type.
Takes some real emotional resilience. Cause things very rarely go smoothly. And especially if you're an entrepreneur on your own, you need to be a pretty emotionally resilient person to cope with what can seem like sort of crushing rev reverses. You need to be incredibly quick to learn and to steal.
Pick up other people's ideas and adapt. You have to be a very flexible mindset. Oddly enough, you don't want to be a perfectionist. You know, you have to just get things done. You don't want things to be the very best they can. You want them to be good enough.
Don't let the best be the enemy of the good. Mm-hmm.
Ling Yah: Come up with an MVP and put it out.
Justin Byam Shaw: Yeah. Yeah. That seems to be a maximum of most really good entrepreneurs. And you have to really understand and be prepared to make that time commitment. Lots of people think they can just sort of fit it in, can be a sort of lifestyle thing around other things they do. And, and it's probably true that the web has enabled that to a certain extent. Some people can now run those sort of businesses, but if you really want to fly you, you can't, you can't do it that way.
So those are just some of the characteristics and qualities of a good entrepreneur. That make them pretty rare. That's not to say people who aren't entrepreneurs won't start a business and it might be quite successful. It might be very successful because of their timing. They might be able to sell out when they're still losing money and somebody else thinks they can do better with it.
But when interest rates are high as they were when I launched and you are borrowing money and you don't have a lot of time, and you don't have lots of people who are prepared to back you and you don't have a huge, huge number of staff to delegate things to.
Then you need all those qualities and more and flexibility is, is higher.
Ling Yah: Obviously you had seen so many different people actually executing rather than you having to be in the trenches. How did you end up deciding that now's the time.
I'm gonna start with London Evening Standard.
Justin Byam Shaw: Well, it was kind of serendipitous because my great friend from university, a guy called Jody Greg who was editing Tatler magazine and he used to say to me, I really want to edit a national newspaper. And at that point that seemed like kinda an impossible dream.
And I remember joking with him that he'd have to find somebody who wanted to buy a national newspaper and also someone who wants to sell one. And that was not likely to happen. I can't remember how much later it was, whether it was a year later or nine months later, he called me out one day and said, you know what?
I found someone who wants to buy a national newspaper and someone who I think wants to sell one. And it's the evening standard. Although not actually national cause it's London only, it's sort of quasi national newspaper. He is an incredibly resourceful man and determined and clever. And he was right.
But what he didn't have, he'd been a journalist for his life. He wasn't a business person. And so he didn't know how to transact this deal. How to get it from a willing buyer and a willing seller to an actual deal. So he said, would I help him do this? Get involved? So through that I met the Lebedev family, Alexander, Evgeny, who bought the newspaper, and he got on really well with them, especially Evgeny, who's a great friend.
And I decided yeah, I'll do this but I need to be a shareholder. And, that happened. And then a year later the independent came for sale. I say came for sale, but actually the Independent was launched rather brilliant idea by John Smith and two colleagues in 1986 as a sort of non-politically aligned newspaper, which was unusual in Britain.
Truly independent. But from 1986 until we bought it in 2010. What's that? 24 years. It had lost money every single year except for one. So no one except possibly the founder, made any money outta it. Had been passed around various owners, media companies, and eventually when it got to us. They couldn't give it away.
So they didn't give it away. They paid quite a lot of money for us to take it, and I kind of knew that the writing was on the wall for the independent as a newspaper because it was the smallest player in a market that was really imploding. And that's really not a position you want to be in. Smallest player in the contracting market.
And I think when we took it over, it had 70,000 readers, which is absolutely tiny by UK newspaper standards. But, but it had a fantastic brand that people knew and understood what it stood for all around the world. In fact, in many parts of the world, All they knew of the independent was its website as it was at that time.
So the deal that I did with the Lebedevs was that I co-owned the digital business video, but not the newspaper because I could kind of see what was gonna happen and indeed what happens six years, five years later when the independent closed. And we did everything possible to try and keep the independent open, including, and I'm proud and the team there to take huge credit for this, we launched what was still the only successful, enduring, profitable daily national newspaper in the UK the last 50 years, 60 years.
And that's the eye newspaper, which you may have seen, and the idea behind the eye, and it was a kind of genius idea from a guy called Andy Mullins who'd worked in FMCG sector, I think for Mars. And he said, why don't we create a brand extension? And what we were doing is using almost all our existing fixed cost infrastructure of general, primarily editorial cost to put out a second newspaper, which was a cut down version.
It was a concise compendion version of the same thing. It was at a much lower price. It could be read in 20 minutes, half an hour. It cost just 20 pence. So much, much cheaper than the independent. So was called a line extension in FMCG line or brand extension FMCG terms.
I remember the day we launched it. The owner of an other newspaper company sending me a very aggressive email saying, you know, you are something mad. You are not gonna do 14, 15,000 copies. And he bet me his quite expensive car that we wouldn't do.
We did 250,000 copy sales, which was extraordinary. And it's one of the things I'm most proud of. Certainly in the last 15 years.
Ling Yah: I thought what was fascinating for me when I was looking into I newspaper is that you actually launched the seven months of the acquisition.
I mean, the behind the scenes must have been absolutely mad. What was it like?
Justin Byam Shaw: It's really funny you say that. I was saying exactly that to Evgeny last night about another project that we're working on. I said, you realize how quickly we turned that around and we put out, I think three different dummies.
We took it to research groups. We took it to a couple of a friendlier ad agency to get their input. you know. We got through a huge amount of work in a very short space of time. And the thing worked and this is pretty rare, exactly as planned.
Cause all these things don't work exactly as planned. And we didn't get to two 50 circulation straight away, but we got there pretty, pretty soon after that. And I think when we launched, we had about six to eight dedicated journalists on a national newspaper type that was, selling almost as much as the Guardian newspaper on a daily basis.
I mean, it was pretty, pretty astonishing. But it's not the thing that I'm most proud of. And that's definitely the digital independent.
Ling Yah: I was reading this article that Stefano Hatfield had written, he was the editorial director and he was saying how the new medium of social media play a huge part in its success. Is that right?
Justin Byam Shaw: Are you talking about the I newspaper or
Ling Yah: Yes, the I newspaper. And there was like booming sales after your first TV ad as well, in January of 2011.
Justin Byam Shaw: I'm not sure we agreed with him at the time.
I'm not sure. I think in a rather old fashioned way, we thought, oh, this looks a bit like a Homepage, our front page.
It's compact, it's tabloid, it's a slightly odd shape.
The way we've designed it, it looks like a homepage. This is the sort of thing people will share. But actually the subsequent research showed that our growth was initially viral.
It was such good value and lots of people suddenly didn't have time to spend an hour reading a newspaper. If you have a commute to work of 45 minutes and you're on the tube, say for 25 minutes and you can read the whole newspaper. That was kind of cool. You know, they could read the whole thing. It was kind of bite size.
But did social media drive it? I'm not sure that it did the second ad campaign. No, the ad campaign was, was pretty, pretty successful. Mm-hmm. But I don't think subsequent research showed that it was social driven in the way that the independent digital business was socially driven.
I don't think that was true of our ad. I think it was exactly the right product for the right time. A time when people were starting to wonder about why they were spending one pound plus a day on a newspaper that they were only reading part of. And perhaps there were even some environmental concerns about the amount of newsprint that was stacking up at home.
And this was a short, concise tabloid, often as small as 32 pages daily paper. I think that was probably more the sort of zeitgeist secret of a success.
Ling Yah: Did you not feel as you were looking at the success of I that maybe the London evening standard should adopt the same approach as well? I mean, now obviously it's move more digital, but before, did you not feel that that big of a move should have also been implemented?
Justin Byam Shaw: Well, we went the opposite direction with the Evening Standard When the Lebedevs bought it, it was losing 19, nearly 20 million pounds a year in that year. And we realized that in fact, London in the afternoon couldn't really support a quality paid newspaper with the journalism that we wanted to have that it could be a very cheap paper put together off the wires, you know, of the various press agent, media agencies.
But that's not the paper that they wanted. And that to have a paper of some quality was expensive and therefore was there the market in London to support it at 50 p. And the problem was that it was being sold in about thousand, 2000 1500 outlets around the M five area. Sending a van down to give a news agent three copies of the evening standard, of which they will sell two 50 pence. That's not a very efficient business model.
I mean, it was kind of originally a pre-Victorian business model, and it hadn't really changed. You were going off stone at 11 o'clock, 10 o'clock, it was getting printed somewhere else, north London. It was then being sent by vans through busy London streets to these 1500 places all around the M 25 that might only sell one copy.
That's kind of not a business model really for the 21st century.
So we went in the opposite direction here because it's remember, I was national and the standard is London only. We have to be relevant to advertising agencies. We want to be an alternative to buying a big outdoor site, big outdoor campaign.
We want to provide them with a sort of mass one hit upmarket of an audience on a single issue. And therefore our circulation needs to be much higher. We're not gonna be able to do that with a paid title. You know, even if we increase the circulation by a hundred percent, we weren't gonna be able to do that.
So it would be better to actually create a free newspaper. And there was obviously the model of metro around Europe as a successful model. A free newspaper that had that immediate mass up market audience for advertisers. So that's what we did.
Ling Yah: Was there a lot of internal resistance to that because suddenly you have really high fixed costs as well since you're printing so much more.
Justin Byam Shaw: We did. It was a, In terms of short term cash drain, it was quite scary. Initially there was some resistance from a media agencies to trade with us at the higher recall that we were asking, because of course the audience was so much bigger.
I mean, it was six times nearly the size that we were asking. A lot, lot more for for our patron, for instance. And there was a standoff for some months.
So the advertising revenue wasn't coming through and this hugely increased cost base and a reduced revenue. So it was a difficult time, but eventually the agencies did embrace it, and it worked. And that was extremely success.
You know, that was a very successful and profitable model, which was horribly disrupted by Covid. A London commuter newspaper will always struggle when there aren't any commuters. And of course, post covid, there are no longer the same number of of commuters.
I won't say more than it's time for the written Evening standard to reinvent itself once again which you'll shortly see.
Ling Yah: Hey everyone, just a gentle reminder that STIMY episodes like this one are now open to sponsorships, and this is one of the spots that you can get. To be honest, STIMY is not gonna accept everyone because we want to make sure that your mission aligns with the interest of the STIMY community.
So yes, dear listeners, I'm putting you first, but if you're interested, please do drop an email at [email protected], and let's start chatting. All right, now let's get back to this episodes
I want to speak briefly about March, 2017. George Osborne, who was the former Chancellor of the Exchequer. He became the editor of London Evening Standard. I heard you say before that when Evgeny told you that this was on his mind, you said, you must be joking.
So I wonder if you could share a bit about that period and how did he change your mind?
Justin Byam Shaw: Well, actually, it doesn't reflect well on me cuz it shows how conservatively minded I was. But I sort of thought, why would you appoint someone who's never been a journalist to be the editor of a serious newspaper.
And this looked like a sort of PR gambit or maybe something done to get credibility at Westminster, but not to build a serious newspaper. But what I hadn't really understood was, one, George is an incredibly bright and talented person.
And second well, which I guess a lot of the world does know, but I haven't really realized that before. I, I knew him. But secondly, this was someone who had been at the sort of nexus of mainstream political news for over 10 years. So really understood about why stories arise, why they endure, even how you get rid of them. You know, he understood this. He understood what thought people understood.
And also, which I hadn't expected was that he just wasn't grand. I just thought, how can you go from being the second most important politician in the country for a relatively long period of time, very close and relied upon by the Prime Minister to being the editor of a London newspaper and not being kind of rather grand and wanting a massive budget and to do things your way. rather than the way.
But actually he was really kind of interested in how things worked and he was incredibly respectful of longstanding, really professional, more junior journalists and learning from them and delegating and working with them. He was incredibly collegiate. And that wasn't his public reputation, such as I knew. Hadn't really understood that, that he'd be someone who would be so adaptable and flexible and so good at working with people unlike him and from very different backgrounds.
But, you know, he really was. When I made those remarks to Evgeny, I had, I was sort of naturally biased against him, perhaps partially politically as well. And that was kind of prejudiced. I now have kind of a hugely high impression him.
He's frankly the prime minister, but sounds a bit creepy to say. He's the conservative prime minister that we should have had. But we were never gonna have for various reasons.
Ling Yah: Full credit to you that you completely changed your mind as well.
Justin Byam Shaw: No full credit to Evgeny, actually. He was a stubborn bugger. You know, he's got something in his mind as he believes, you know, he'll, you're stuck with it. And he was right.
I remember the day that the announcement happened and that was quite closely managed. I remember nice good journalist who actually called me up and said, well this is such a stupid move. I mean really why are you doing this?
I remember being rather pleased with my response. I remember saying to him, David, do you think today that this is a less interesting place to work for journalists at the Evening Standard or more interesting place for them to work? And therefore, why are you saying what you're saying? And actually it was a more interesting place for them to work and George made it so. I'm not gonna take any credit for changing my mind. Not that Evgeny would've listened to me anyway.
Ling Yah: What do you think makes a good editorial person? Because you had George then after you had Emily Sheffield, she came from Vogue.
So very different backgrounds. You have seen lots of different editors.
Justin Byam Shaw: That's a really interesting question to ask proper journalists, but I'm not one of those. But from my viewpoint, I think what makes a great editor is a whole range of different skills which often don't go together.
So yes, you have to be a good instinctive journalist. A good, you know, brilliant sense of news. But you also have to be a fantastic manager of people. People have to really want to go the extra mile for you. They had to really believe in you and all that.
You know, you can be a really great journalist and have absolutely no ability there whatsoever.
And then very often especially in the uk, you need to be able to form a viable working relationship with a person who is probably quite odd and often removed from reality and that is a proprietor.
It's not that you're talking to them every day or they're telling you what to do. But you do need to be able to get on with them and, understand the sort of paper that they want however much you'll exercise your own editorial independence. And that is where a lot of really brilliant editor candidates fall down.
Cuz they don't have, I wouldn't say social skills, but they don't have the ability to plug into a proprietor who they will have a working relationship with, who is a very different environment. Lives in a very different world. And if you think about the UK media, a lot of it is proprietor earned and you know, individual proprietary. Whether directly through a company, family trust or whatever, you know, the large part of the UK media has always worked like that. And so that's, a third skill.
Ling Yah: You are one of the proprietors. So I wonder for those who are editors or are journalists, what does an owner expect or look for?
Justin Byam Shaw: I think it depends on the title. Yeah. And I'm really proud of what the independent, all we look for is independent. So occasionally we've been pretty hostile for shareholder interest and I'm always really proud of that.
I always think an incredible badge of honor. I can remember when there was some interest in our ownership by DCMS in the UK. We were able to say, look, you know, don't judge us on our constitution or what people said. Just judge us on our record. Go and look at our reporting and then tell us if you think we are in any way politically influenced or influenced by shareholder interests.
Because I really don't believe in any material sense we are. And so I haven't really answered your question except the context of where I definitely am an owner. And I'm probably of the shareholders, I'm the person who's closest to the editorial team and the management team.
But uh, giving them the confidence ,to run the stories that they want to run. Not feel they have to look over their shoulder. I think is about the extent to give them the confidence and the mission of the title.
Very different from other media companies I know. I know that.
Ling Yah: What do you think it would take from media companies to succeed moving forward? Because there's so much change going on right now.
Justin Byam Shaw: Slightly depends on your definition of media here, but I'm going to choose to define it as the more traditional media that you'd be familiar with.
I think what's really interesting is to see how varied, evolving, succeeding models are. You have The Times that was kind of, I always thought, a commercial basket case that has now developed a pretty compelling subscription proposition. I admit I'm a subscriber and I think you know, it's a great paper.
And The FT also obviously depends on its subscription model. Then you've got The Mail, Mail online is succeeding on massive audience volume and is purely ad supported. And then you've got the guardian, which to me is probably the most interesting of the three, which is neither of those two things.
In fact probably will be struggling to continue. I hope I'm not doing a disservice, but probably struggling to continue if they haven't discovered this magical open sesame of reader contributions, which were very, very significant part of their income, and I imagine pretty high margin as well. Which is where they invite readers neither to donate nor to subscribe, but to contribute to their mission of investigative journalism or campaigning, or general holding of people to account.
It always slightly amuses me that when they do that, they say, you know, we don't have a billionaire owner like others, but of course they do have a billionaire owner. They have the Scotch trust. In fact, they're more secure than pretty much any of us.
So that's slight duplicity apart, I do admire the fact that they have used what's unique to them and created a sustainable growing business model around reader contributions. Now, who would've thought that a few years ago?
So that's off to them for doing that.
Not really answering your question except to say people are discovering different ways to prosper and thrive. In the case of the independent, since we went digital only in 2016, we've been profitable every year. We've grown our revenue by 20% plus every year.
We're growing like crazy. And unlike those other three business models, I told you, we don't rely on any one thing. We have some subscription and we have some reliance on advertising. We have a very strong licensing business. We have a growing good e-commerce business.
We've learned not to be dependent on any one thing, and it looks like we're going to grow again 20% this year when many media businesses might be contracting. That's huge testament to our management team led by Zach Leonard and Christian who have been with the business ever since I started.
And that continuity and loyalty of really good people has been completely instrumental in our success.
Ling Yah: There's a trend of all these journalists who become sort of like personality superstars of their own. They go out, they start their own newsletter, their own mini empire.
What do you think about that? It feels as though if I was the one who's in charge of a newspaper, I'm losing all these great resources and they are going out and starting competing new sources for readers. I mean, a reader can only read so many news in a day.
Justin Byam Shaw: Yeah, that's a really good question, a really interesting point.
And I'd say watch this space because the thing about our sector is it constantly evolves and changes. Yeah. I think it's quite possible a number of these people will find that their personal brand is just not enough over time and that they might be fashionable for a while or relevance, but don't continue to be so.
And then there are others like Mar for instance, Martin seven. Expert who has climbed a brilliant niche for himself. And clearly that is a sustainable business model. You wonder whether and how, I suspect it will, but how it sort of survives and evolves beyond him. You gonna want to stay with it forever beyond that sort of culture of personality that he's built around it.
And you certainly wonder that about a lot of the personality driven media models. How sustainable they're gonna be long term, but you know, who knows? It's hard to tell.
But we'll, we'll see. What do you think?
Ling Yah: I think you're definitely right. I mean, for a personality to survive, they have to expand beyond just a newsletter.
So they, in essence become their own new media company itself. They can start by themselves, grow, but at some point they're gonna start hiring people. They're gonna start branching. They started gonna start having different verticals and eventually they will probably try to aim to become the very entity that they left in the first place.
That's the only way can survive.
Justin Byam Shaw: That's a good observation. Yeah. You may well be right.
Ling Yah: I was speaking to the managing editor of the Morning Brew, which is a very popular US-based business newsletter. It's got, I believe at this point, four to 5 million readers. And I asked him that question as well and he said that, I'm actually not concerned because these people are just a one person and they cannot compete with us, with our team of a hundred people.
We just have resources that one person doesn't have and so we can last the long run.
Justin Byam Shaw: Yes. Although I suppose your counter to that might be that there's so many of these individuals that Yeah. Together, although they, they wouldn't necessarily, they wouldn't collaborate, but together they might start to take advertising dollars away from mainstream media.
Yeah, we haven't seen that. We absolutely haven't seen that happen. And a lot of our growth has been social media driven. We find this quite a symbiotic relationship often.
Ling Yah: Why do you think it hasn't happened with you when it's clearly happened with Buzzfeed?
They're losing people all the time because their own stars have established a 3 million followership on YouTube.
Justin Byam Shaw: I suppose I don't really know what is the point of buzzfeed, I suppose? What is it? What is about for you to the boat from, you've had to forget. It's sort of a really unfortunate name. Why Buzzfeed?
If you look at the independent, we have an Indian service, we have Hispanic service, and we have Arabic and Farsi and versions. You can see why someone might say in Trump's America, I'm just giving a some example.
I'm interested to see the internationalist liberal view of this news story. I'm interested in this. You know, that's the sort of person I am. And that's my home. I'm interested for their take and that's where I want go and get my news.
I can't really see why someone would say I'm a buzzfeed person. Obviously it has been a very successful business in the past and it's innovated brilliantly in a number of ways and I could well myself and be quite wrong, but I don't quite see its reason for being in a way would times or the financial, Guardian.
Ling Yah: That's fair. If you could purchase any newspaper publication, what would it be and why?
Justin Byam Shaw: I'll very parochial and I'll talk about UK cuz I know it best. Although the ones I admire most are probably not in the UK, but probably the one that I would know reasonably well would be probably the FT because it is an extraordinary brand. I personally not convinced that the journalism is what it was and matches the amazing power of the quality of the brand.
I think it's slightly coasting on its brand, but I think it has still so much potential. It's got in theory, Bloomberg sat at its heels and others will do so. All great empires and ages rise and fall but it is the most extraordinary brand and if you're a chief executive anywhere, the paper you care about is the FT and that's pretty unique. And it goes beyond the UK.
It's a economic business paper of record and that's a pretty cool thing to still say in 2023. But I think it could make so much more of its extraordinary brand.
Ling Yah: What would you do if you were to take over and do differently?
Justin Byam Shaw: Well, it's not particularly my history or my expertise. I would be a bit wary about saying this for my own businesses. I really would be investing in the FTs journalism and it's editorial. I don't understand it well because I've never worked there.
I know people who do work there and had friends have been in management there, so I would be making the reality match , what did they say? Make the sausage match the sizzle a bit more. I make the reality match the kind of claim.
The FT was one of our clients at O&M when I started in advertising and I remember the campaign, the strap strapline that our agency provides for them then was,"No FT, no comment".
I think that the FT is in danger of people thinking actually, do they really know as much as we think they do? Or is this really the authority that it once was.
So I would invest in the journalism for sure. To make my position more secure at the FT I would be looking at how can I brand extend this line extend this wonderful brand in the way that they don't really do.
So those really the two things that I would prioritize.
Ling Yah: That's fair.
And before we wrap up, I wanted to also talk about the Felix project. And I wonder how did the Felix project come about in the first place? What is it for the benefit of those who aren't in the UK?
Justin Byam Shaw: So the Felix project in terms of the number of organizations that directly supports, I think is the largest food distributor in the uk.
It is a surplus food charity, which basically connects this huge scandalous glut of wasted food by the food sector that is going to landfill and anaerobic digestion. It connects that with thousands of charities supporting people who don't have enough food to eat or don't have the right food to eat in the uk.
And so it's a sort of truly entrepreneurial idea of putting two things together. I launched it in 2016, the charity, in memory of my son who died of meningitis. And not because he was passionate about either thing, although he loved food. Yeah. And he was a extraordinarily compassionate boy.
But because I wanted to do something that would have real traction and could scale and grow quickly. Some of the things we've talked about already on this podcast, and it has kind of exceeded my expectations in terms of its scale. We provide food to a thousand charities and schools every week.
We collect from 500 different suppliers from supermarkets, wholesalers, farms, restaurants, catering companies. We have four depots around London. We have our own social kitchen in East London, which is one of the largest social kitchens in Europe now, which takes this food that would otherwise end up in landfill and makes huge number, 5,000, really great quality meals a day.
And this year in total, we will rescue and distribute the equivalent of about 35 million meals. That's 35 million meals in London and in the southeast. And we can only do that because we've harnessed the power of volunteers.
We have 2,700 volunteers who work in our depots, supporting our staff there. Who drive our vans. Who deliver the food by foot, by bicycle, by electric van.
We need 50 vans around London. And if you live in London, you probably see 'em, one of our green vans. So it's without doubt the thing that in my life that I'm most proud of.
Ling Yah: You make it sound so easy to scale to such an extent, but I'm sure it wasn't. I noticed as well in 2019 you were distributing like 6 million. And during Covid, end of 20 20, you had to quadruple the number of meals that were being served. what kind of effort was going on behind the scenes to allow this to,
Justin Byam Shaw: it was completely crazy, but yeah. But from our point of view, two things came together to the benefit of the people we served.
The first, well, the first was demand skyrocketed because, you may not be familiar with the social benefit system in the uk, but when you sign on for Universal Credit, it takes a while for you to actually be recognized and paid.
And suddenly at the beginning of the covid epidemic or lockdown, people were being laid off in pretty large numbers cause you're working in the catering industry, for instance. And there was McKinsey, the management consultancy who had done pro bono work for us for the last five years, estimated that the demand for the meals in London alone was well over a hundred million meals.
Supply was at that stage total about 15 million.
So demands skyrocketed, but at the very same time, a large number of things got canceled. So if you are an events company or a big sporting stadium and you'd pre-ordered all this food, all this stuff. They had nowhere to go. So we were being hooked up to all these amazing sources of food, like Richard Caring's restaurant group or Tottenham Hotspur Football Club spurs Football Club who were sending us large amounts of food.
And at the same time there was massively increased demand. So our growth absolutely skyrocketed. It was a very difficult time. While the rest of the country was being told to stay at home, we were trying to encourage our volunteers, amazing volunteers, to take personal and courageous, personal risks, to go out and sort and collect and deliver this food during lockdown.
So amazing public spiritedness of those people. Huge increase in supply from suppliers whose ordinary business had been interrupted and massive increase demand all happened at the same time. And so in fact, the following year, we hardly grow at all.
And now we're starting to grow again fast.
The scale of the charity is astonishing. And I was, slightly immodest of me to say that his majesty of the king came to visit us at the end of last month in our East London Depot.
Ling Yah: Yeah. It was his first time unveiling a fridge, wasn't it? And it entered the record.
Justin Byam Shaw: Yeah, yeah. He personally made a donation, which is kind of quite an exceptional thing for British Monarch.
A very unusual thing.
He told us that what we were doing was quite remarkable. And the funny thing is, for the first time in my life, about something that I'm involved with, I would agree with him while quickly saying that the remarkable people are those 2,700 volunteers and the really extraordinary leadership team we have at the Phoenix led by a lady called Charlotte Hill. Quite exceptional team.
And they and her predecessor, mark Curtin, who was running the charity during the pandemic deserve so much more credit than they have had for this quite extraordinary growth and success. Much more probably entrepreneur is always massively optimistic. I think everything they start is gonna be a huge success, but this is the first time in my life that something was actually bigger than I thought it would be.
And I probably wouldn't have said that had we been doing this podcast six months ago.
Just continues to grow and that's great. Great to see.
Ling Yah: What do you think is the secret to success? Because even in Malaysia as well, I mean , it's not easy to run a charity because first you have to find the right supplies.
You have to find the right volunteers. Even for us finding the right people to give these things to. So in our instance, it was giving free phones to families with kids who didn't have access to. It's really hard. I mean like we were trying to verify and we were asking them, send us your identity card.
And they had an address that said behind the mosque and look at it and went, is that really an address? And it turns out it actually is. So it's all these things that came out. There was an issue.
Justin Byam Shaw: Yeah. Well I think I said to you earlier in the podcast that one of the key things I've learned about entrepreneurship is the ability for frictionless scale.
And I realized very early on that we were not gonna be able to grow first if we were trying to give this food directly to the end user. because that's kind of a slow game and difficult and complicated. But we could be a kind of B2B operator and there were all frontline, brilliant frontline organizations.
I think I mentioned that we supply bars into them every week that are already doing this. You know, they were the people who need support. They need support to do what they do best. And if we can cut or eliminate their food bill, we're playing our part in them doing what they do best.
And it's their job to get the food to the end user, not ours after all. If they're a local frontline charity operating in Stratham, they know where the people are who need this food and how to get it to them. We just need to get it to them as a middleman. So that ability to scale is really what's allowed us to grow so fast.
And also to collaborate with both big supermarket chains and also the National charity fair share who we partner with, who supplies a lot of our food. What you are talking about sounds really difficult.
When I've tried to do it, all sorts of weird things have happened. Like I found that we've created a secondary market and the person that you think you're giving it to behind the cinema or whoever you said behind the car, is actually selling on this really amazing food to, you know, to whoever. And that's not really where we want to be. We respect the service that our suppliers are doing to us by making sure that we look after this food and get it to the right people and that we refrigerate it properly and observe food protocol and all that sort of stuff.
I didn't feel we could do it, doing it the way you're talking about.
Ling Yah: Justin, it has been such a pleasure to have this interview with you. I wonder you've had such an extraordinary life. You've done so many different things. You have been in advertising to essentially, running your own media company when it wasn't actually the done thing to do. To getting into the media industry and also obviously with Felix Project.
Do you feel like throughout this entire journey you have found your why?
Justin Byam Shaw: Yeah, to a large part. I think that, yes, in so far as I don't feel, I'm still looking for a why which I think I probably have been most of my life. I've done everything I wanted to now. I love the idea behind your podcast.
And I feel that large part, I have found my why. Yes.
Ling Yah: And what kind of legacy do you wanna leave behind?
Justin Byam Shaw: Oh, I don't want to leave a legacy. I love the fact that Felix's name will endure. Yeah. And will outlast my own. That's worthwhile. But I don't feel the need of a legacy otherwise.
Ling Yah: And what do you think are the most important qualities for successful person?
Justin Byam Shaw: Focus.
Hunger.
The needs. We didn't really talk about that. The need to prove yourself either to yourself or to somebody. In my case the need to be truly independent of, it's funny, I ended up owning a company called Independent .
To be truly independent of anyone in material terms.
No, no, I never wanted to be rich. That wasn't what drove me, but to be truly independent. So the desire to prove yourself, the focus, the kind of relentless energy directed towards your goal and absolute clarity about what it is you're trying to do.
Not a very good answer to your question. Multiple, multiple answers.
Ling Yah: No, I love it.
There's no wrong answer. And where can people go to essentially support you finding out what you're doing?
Justin Byam Shaw: Well, I'd love them to go and have a look at the Felix project website. Yep. It's kind of cool that if you just put the word Felix in now, you don't get directed to the cat food.
First on the search page is us most likely, depending on where you are, I suppose a more meaningful result. Yeah, I hope so. Well, not for cat owners, but for me. But, in the uk certainly, I think that's where I'd love you to take a look and see if you support what we're doing and maybe feel that there's some way that you could be involved, whether as a volunteer, you have food for us or even you can donate to us in some other way with money or your time or your advice.
That would be cool and really nice.
Ling Yah: And I'll add the links, the show notes as well, so people can just go and just click through.
Justin Byam Shaw: Ah, thank you. Yeah, of course. Thank you.
Ling Yah: And is there anything else you'd like to share that we haven't covered so far, justin?
Justin Byam Shaw: No. I think you've been brilliant.
You know, you've asked me all, all the questions I would've asked myself.
I'm being very,
Ling Yah: and there's the questions that no one's asked you for 20 years.
Justin Byam Shaw: You have, you've asked me at least two questions that I've never been asked before, so congratulations on that. And I love your podcast. So well done on that.
Ling Yah: And that was the end of episode 119. The show notes and transcript can be found at www.sothisismywhy.com/119.
In case you missed it, STIMY also has a weekly newsletter which you can sign up for at the show notes.
You'll hear more about the behind the scenes of running this podcast, as well as my journey since leaving law, upcoming events and guests, and also what it takes to build a successful career or even a second career on top of that.
So just check out the show notes at www.sothisismywhy.com/119 to subscribe.
And do stick around for next Sunday because we'll be meeting the most decorated US winter Olympian in history.
He's an eight time medalist at the Winter Olympics and won the US National Championship title whooping 12 times. He was known for his psychotic obsession, and we talk about sacrifice and dark side of obsession, the great divorce when he decided it was time to step away from his sport and how he has reinvented himself, then.
It's a fantastic episode that can apply to anyone listening, and I can't wait to share it with you. So if you haven't done so already, do subscribe to STIMY and see you next Sunday.