Welcome to Episode 80!
Our guest for STIMY Episode 80 is Ee Ling Lim.
Ee Ling Lim is the Executive Director of Global Programs at 500 Global, overseeing the strategic development and implementation of programs for 500's network of startups all over the world. In her role, she also advises governments, corporations, and foundations in designing and developing startup ecosystems and innovation programs. Prior to 500 Global, Ee Ling was an Investment Banker with Bank of America Merrill Lynch and CIMB Investment Bank, executing M&A, equity and debt capital market transactions in Southeast Asia.
Ee Ling is also the Co-Founder and CEO of Smarter Me, a K-12 edutech startup headquartered in Singapore, that equips primary and secondary school students with the skillset, mindset, and heartset to define their own success and happiness in the future. Through digital technology and entrepreneurship education, students develop mastery in problem-solving, critical-thinking, collaboration, and creativity. She also hosts Young Founders Summit Asia, a leading startup program in Asia that provides aspiring teenage founders with workshops and mentorship to launch impact-based startups.  
Ee Ling is an active judge, speaker, and mentor for startup programs and competitions across Asia Pacific, and is particularly passionate about youth entrepreneurship, impact-based entrepreneurship, and women-led businesses. She is also recognized as Singapore's 100 Women in Tech by the Infocomm Media Development Authority, SG Innovate, SG Women in Tech and Singapore Computer Society, and was named as one of the Top 10 Female Founders by Asia Tech Podcast's The Pitchdeck Asia Power Rankings.
PS:
Want to learn about new guests & more fun and inspirational figures/initiatives happening around the world? 
Then use the form below to sign up for STIMY's weekly newsletter!
You don't want to miss out!!
Who is Ee Ling Lim?
Ee Ling grew up in Singapore and she shares how her dad was her role model and hero, while her mum wasn't someone she quite aspired to be.
And also how she took the first leap into entrepreneurship.
3:13 Setting up her own preschool

4:43 Founding her first startup

7:49 The problem that Smarter Me is trying to solve

10:23 Determining the curriculum

12:08 Are children too young to learn about entrepreneurship?
I always thought like, there's just no way I'm an entrepreneur, because I was like the librarian, treasurer, class president, so on and so forth.
Smarter Me & Young Founders Summit Asia
Ee Ling shares why for some reason, she was never comfortable with calling herself an entrepreneur. And why that perception, as well as how it affected the way she worked as a founder. 
14:49 Why Ee Ling wasn't comfortable with calling herself an entrepreneur

17:10 Sharing her struggles with her girls

18:43 Young Founders Summit Asia

19:56 Organising the inaugural summit

28:53 What the youth care about most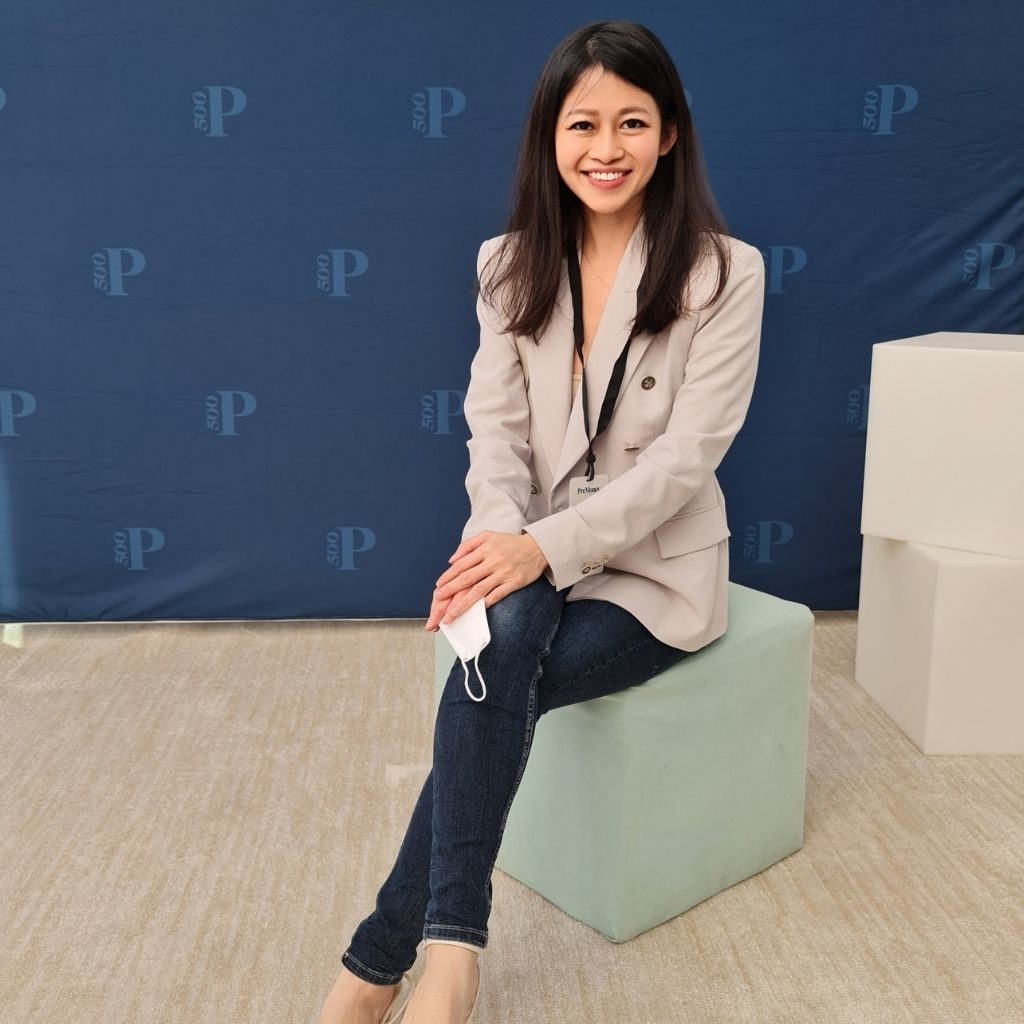 Web 3.0 & Being a Good Leader
Given that it's the Year 2022, we can't not talk about Web 3.0!
Ee Ling shares her plans for launching a DAO and what it takes to be a good leader.
30:30 Launching an NFT project with a DAO element

33:22 Managing the community

35:09 How funds in a DAO are managed

36:14 Biggest challenges

37:39 Why kids were writing off NFTs/DAOs

39:29 How to bring people from the Web 2.0 to Web 3.0 world

40:51 Great DAOs to look at

42:23 Being the Executive Director of Global Programs at 500 Global

44:17 Main elements of a successful accelerator

45:23 How founders can make full use of accelerators

46:46 Going virtual

49:17 Having "People & Intention" as her 2022 driving words

52:40 How to be a good leader & lead others
If you're looking for more inspirational stories, check out:
If you enjoyed this episode with Ee Ling, you can: 
Leave a Review
If you enjoy listening to the podcast, we'd love for you to leave a review on iTunes / Apple Podcasts. The link works even if you aren't on an iPhone. 😉
Patreon
If you'd like to support STIMY as a patron, you can visit STIMY's patron page here. 
External Links
Some of the things we talked about in this STIMY Episode can be found below:
Ep 80: Ee Ling Lim |
Executive Director of Global Programs, 500 Global & Co-Founder of Smarter Me + Young Leaders Summit Asia
===
Ee Ling Lim: You know, interestingly enough growing up, I always thought of myself more as book smart. Like I said, I was a straight a student apart from Chinese. And I always thought was book smart, not street smart. And the reason why was because I always thought that in order to counted as street smart, those would be the people with charisma, with quick communication skills, who weren't afraid to just build stuff, defied the rules.
I always thought like, there's just no way I'm an entrepreneur, because I was like the librarian, treasurer, class president, so on and so forth.
The wake up call honestly, came to me from one of the mentors that I was having dinner with at 500. We were talking about what we do. And one of my coworkers actually said like, oh, she also runs a startup. She's a founder herself.
And this mentor said like, oh wow. I was like, no, no, no, I'm not an entrepreneur. I'm an educator.
And the mentor told, me, you have to own it. You are a founder, you're an entrepreneur. I don't know what notion you had your mind, but don't be afraid to actually own that term.
Ling Yah: Hey, everyone!
Welcome to episode 80 of the, so there's my why podcast? I'm your host and producer, Ling Yah, and today's guest is Lim Ee Ling.
Ee Ling is the executive director of global programs at 500 global overseeing the development and implementation of programs for 500 startups all over the world.
She's also the co-founder and CEO of Smarter Me. A K-12 eductech startup headquartered in Singapore and hosts the Young Founders Summit Asia, which is a leading startup program in Asia that provides the aspiring teenage founders with workshops and mentorship to launch impact based startups.
In this episode, we spoke a lot about Ee Ling's personal journey as an entrepreneur, including why for the longest time, she never considered herself an entrepreneur and how that perception changed and how she shares her struggles with her own very young daughters, including having to fire people.
We also delved into the topic of youth entrepreneurship, whether the children are too young to learn about entrepreneurship, what they care about right now and setting up a DAO.
And if you've been following this podcast and enjoy what you've been hearing, I would love if you to go to the platform where you're listening to this on and leave a rating and review. Every review really helps us podcast to grow.
Now, are you ready?
Let's go.
I wonder what will your parents like. Were they both your role models?
What was your childhood like growing up?
Ee Ling Lim: My mom was a teacher, so she's retired now and my dad was in insurance. Growing both of them were working most of the time. And I think I always looked up to my dad a lot more then my mom. I feel bad saying this. but you know, She has always complained about that as well.
The running joke in the family is that, she always says that I didn't look up to her because she was a teacher when I was growing up. But look where I am now also an educator.
Whereas I think my dad was always, you know, the one who felt more worldly, he'll come back and share everything about the news. I would learn a lot more about the outside world from him. I think that's why kind of shaped my view that he was always the hero.
Ling Yah: So when you say your mom said that you didn't really look up to her because she was a teacher, was that true? Because when you young, when you decided I want to retire and set up my own preschool, so that is a form of teaching as well.
Ee Ling Lim: Yeah, it's funny because maybe as a young person, I just never really tied the two together, right? When I was in college, I was teaching on the Sundays, in the temple teaching, really young kids, five, six year olds.
Those are the cutest age. And then I also did part-time work at the art and craft store where I taught people how to use the equipment in order to create their own art and craft. And , I started realizing that I really like little kids and I always thought that, yeah, when I retire one day, I'm going to set up a preschool focusing on arts and crafts.
At the same time, I guess maybe what my mom did and you know, she taught additional math in school. Probably just felt a little bit too academic and boring and not cool to me.
Ling Yah: How did you end up doing finance? Was it because of your dad?
Ee Ling Lim: Yeah. You know, like all Asian parents, right. I think mine was especially so also because my mom was a teacher.
So growing up, you have to do well in school because otherwise people will think badly of me as a teacher, right. As a teacher, how can my daughter not do well in school? So I've always been like pretty much except for Chinese, right, a straight A student. What I discovered was that going through high school and college, I never really liked the sciences as much.
And so I'm still a little bit indecisive around that. And my dad just told me that, well, you know what, finance is where the money is. So if you don't know what you really like go to finance then.
Ling Yah: That's a fantastically practical way of thinking about it. So you end up being an investment banker for almost 10 years.
So what was that tipping point when you decided to leave that really stable job behind and jump into the startup while with your husband?
Ee Ling Lim: Even when I was in banking itself, I think I started working on the startup for about six months and maybe talking a little bit about how it even started, right?
In investment banking, most of us start off as generalists. And then as we progress within the bank itself, we start focusing on specific sectors. So my sectors were actually consumer retail and healthcare.
I found myself during that period of time doing two things, number one, that was when a few e-commerce companies started out in Southeast Asia and they were looking to raise funds.
We helped a couple of such start ups one in Singapore, one in Indonesia, raise funds, do an M and A, and that started getting really exciting for me.
They're really old school corporates and conglomerates, right. And telling them about this wave of technology that was going to come, I can still remember the first page.
The first page will have this page that talks about how Airbnb is a unicorn, worth over $1 billion and doesn't own any real estate, Uber is worth more than $1 and doesn't own any cars. And we would take all that as first page and going to all this consumer retail companies and telling them that they should start looking at online strategy as well.
And I remember an experienece where I was in the Philippines, actually presenting this to one of the largest pharmaceutical chain. And they look at that first page and they asked what is Airbnb.
So that always stuck in my mind, but I think that was really what sparked my interest in technology and the changes that was really coming about.
Also speaking to all these founders that we had helped fund raise, right. And the passion that I saw in them felt so different from, I think the normal corporate folks that I've been dealing with in banking. So that was what I guess made me think, how can I add value to this world?
Doing what I'm doing now, am I adding value to anyone: to myself, to others around me. I started really thinking, oh, is there something else at this point I want to do. And they always say the best time to start a company was yesterday and the next best time is now.
And I also figured at the time I was young enough such that, if not now, then when. So again, that's when education came back into my life and I decided to then take the plunge and leave banking and go start my start-up.
Ling Yah: Were you worried that you were going to do something that was so difficult, that you had no idea whether it will succeed with your partner?
What were those early days like?
Ee Ling Lim: Right now you get an abundance of resources, right? I mean, before you even leave and start a startup itself, you can do this part-time, you can go join part time incubator. Hopefully more startup founders would already know how to go and access all these free resources online.
And there are a lot of really, really good resources and platforms out there. That you can really do this and try and test your market out before taking the plunge.
Back then I did not do that. I'm sure there were a lot smarter founders as well, but I did not. I just decided that, well, if I really care so much about building this education platform, I'm just going to quit and do it full-time and let's see how it goes.
There was like a fear, but again, it came back to the thinking that if not now, then when. Will I really be happy being where I was at a time in banking. Doing well, but just constantly questioning myself, what impact and what value am I bringing?
Ling Yah: So this education platform is called Smarter Me, which you started in October, 2016, launched in 2017 and you're still running it.
So what is it actually addressing? What's the problem that you were looking to solve?
Ee Ling Lim: When we first started out it was a little bit different. It was actually a marketplace for curated classes. That's not academic. The concept there is every individual, every child is different. What kind of passion, what kind of interests, what kind of power that they have is all different.
And yet when you think of dance, it's still ballet. When you think of music it's still piano, right? But there are so many different opportunities out there. And also the other thing would be, different kids learn differently. They learn through different coaching methods, different teaching methods.
So the original concept smarter me was actually a marketplace to curate all the different instructors and learning opportunities for all those kids. But about a year plus in, we realized that that model wasn't quite scalable and t hat's when we changed and pivoted into being a content provider instead.
The content is still similar which is helping kids discover themselves, Equipping them with the skillset, and mindset and heartset so that they can define their own version of happiness and success in the future. Really all about helping them discover and the way that we decide to do that is by focusing on the four Cs one R.
We want kids to grow up, having creativity skills, critical thinking, communication, collaboration, and resilience. We then thought about how do we impart this, right? How do we help kids discover and train all this skillset and mindset?
We decided that we're going to focus on a few pillars, including robotics and entrepreneurship. That's kind of like a mouthful, but I hope that kind of makes sense as to how we were thinking about it.
Ling Yah: Would you say the curriculum was a little bit inspired by your two girls as well? Because I remember you saying that one was letting to poker, another loves World of Warcraft.
And so that is very, very different, but very, very relevant for kids as well.
Ee Ling Lim: My older girl now she's kind of figuring out what she wants to study in college, but she's always been more on the, I would say creative side. She's also in law, but back then, right. Or really around the time, creativity and just creating stuff. And she's just naturally an optimist. She thinks that everything is possible. She wants to try different stuff.
My younger daughter has always been into gaming from a young age. I remember she went to school she joined a robotics club and then she came back. She was like, mommy, I'm the only girl in that class.
And she did think about whether or not she wanted to stay in that. I asked her, right. I was like so does that bother you? She say, nah, I like it so I'm going to stay. I think that kind of sparked the understanding or the thought in our mind that really the world has changed so much, but the education system hasn't changed enough.
Ling Yah: And how did you come about thinking what kind of curriculum that you give all these children? Because it makes me think of Lily, who I just interviewed and she also ran the educational platform and she went through many, many iterations and she realized that you have to tap into their interest in order for them to really connect and be involved in these lessons.
Ee Ling Lim: Yeah. So how we did that was really to provide them with real world challenges that they solve, right. So even when we teach about robotics itself, there's a challenge as to what they're supposed to build the robot to do? How are they supposed to code it, what to do with it?
So the challenges that are provided to them are actually real world issues. Like for example, one of the very first projects that we had was based off a real concept where the SCDF was trying to figure out what kind of robots can actually go underneath the doors, for example, and be able to scan inside the house in the case of a fire to try and detect people still in the house without needing to break down the door.
So that was a challenge we issued to the students as well, right? Can you build a robot that's low enough? You know, assuming that it can go into the door, how would the robot move around with the sensors? How would it stop and detect humans who are lying there in the house, so on and so forth. Same thing with the games as well.
So the games that we get them to design will be based on something that they're interested in. And then lastly, you know, entrepreneurship too, we always start off with, well, what is an area that you care about? So in fact, even in that entrepreneurship course, we achieved added that in a curriculum called the Wayfinder.
This is actually developed at Stanford D school. I actually went attend the course and got my myself accredicted. This is all about the high school students find themselves.
So we incorporate that into entrepreneurship because the key thing is that, you know, you only can really solve a problem that you truly care about, right?
Why is it that you care so much about this problem that you want to solve it?
Ling Yah: Weren't you ask by a lot of people that aren't these kids too young to learn about entrepreneurship? How do you respond to that? How was the response in reality?
Ee Ling Lim: I think I'll give you a real example. I think when I started the answer's probably different, but nowadays I can tell concretely, what our impact has been, I think, and how we've seen these kids grow.
There is currently a 16 year old girl in Hong Kong. She first joined young founders summit in 2018. So our very first iteration itself. I think that was her first exposure to entrepreneurship. At that time, she just thought it was interesting. She was curious about it. She came, attended it.
And since then she's actually launched three other startups, all different, but her first startup after young founder summit itself was called rebook.
So it's in Hong Kong. It's basically a secondhand bookstore reselling kids' books. And it's all about circular economy because when you sell your second hand kid books, what you gain in return is credits that you can use then redeem other secondhand books in the store itself. So all about generating a circular economy.
The second, I think she then started. And she and her rest of their team came back and joined young founder summit again last year. It's called eco green.
This is a platform that showcases all the sustainability brands, you know, shops, restaurants in Hong Kong. So it's a one-stop platform for people to actually find brands that they want to support because it's has a sustainable cost.
She also launched a podcast called never too early. So really, really amazing her right at age 16, that's just one example. And when she first joined us, she was twelve, thirteen years old.
The key thing we are trying to see is how many kids can we impact to make them believe and enable them to believe that they can create change that they want to see.
The future world is one that they are going to inherit. And if they see issues with, the environment with how we are treating food, for example, knowing that they have the power to create that change, they have the power to come up with the solutions and to really take action. I think that's what we want kids to realize that they can actually do it.
And so when we look at the impact, I think for us, it's really how many kids have we opened their minds to this concept?
As long as they continue doing something, whatever it is, that's success to us.
Ling Yah: It feels as though these kids, because they were exposed to this idea of entrepreneurship so young, they're more inclined to launching their own thing.
Cause as you were speaking, it reminded me of this guest I had called Hillary yip. And she was known as the youngest child entrepreneur. She was age 11. And when I interviewed her, I thought there was no difference between interviewing her and interviewing any CEO who's doing it for 30, 40 years because she was so well-spoken she knew every part of a company and she was still a young teenager.
Ee Ling Lim: I first heard her speak on stage in one of the conferences in Hong Kong.
Ling Yah: Oh, that's amazing. And I also read separately that you said when you started Smarter Me, you yourself weren't comfortable calling yourself an entrepreneur. Why was that and did that change over time?
Ee Ling Lim: You know, interestingly enough growing up, I always thought of myself more as book smart. Like I said, I was a straight a student apart from Chinese. And I always thought was book smart, not street smart. And the reason why was because I always thought that in order to counted as street smart, those would be the people with charisma, with quick communication skills, who weren't afraid to just build stuff, defied the rules.
So because of that, I always thought like, there's just no way I'm an entrepreneur, because I was like the librarian, treasurer, class president, so on and so forth felt like I think I bucketed myself into that category too.
And because of that, I think I never fully embraced being an entrepreneur, because in my mind I had a view of what an entrepreneur looks like. And no surprise that they would be like the Steve jobs, the Elon Musk, visionary, big thing that's out there. And I just felt like I was more of an executioner.
The wake up call honestly, came to me from one of the mentors that I was having dinner with at 500. While we were having dinner, we were talking about what is that we do. And one of my coworkers actually said like, oh, she also runs a startup. She's a founder herself.
And this mentor said like, oh wow. I was like, no, no, no, I'm not an entrepreneur. I'm an educator.
And the mentor told, me, you have to own it, right. You are a founder, you're an entrepreneur. I don't know what notion you had your mind, but don't be afraid to actually own that term.
Ling Yah: And was it difficult for you to own that term? Did you feel that there was a difference in the way that you approached Smarter M e and later YFES?
Ee Ling Lim: Yeah. I think now I'm much more comfortable calling myself a founder and entrepreneur. And also comes with a deeper understanding of myself, perhaps that in my inherent personality, I tend to have this preconceived notion of what I think success is.
And if you don't live up to that, then you can call yourself, you know, that certain term itself. But also then coming to terms with like, Hey, I am a founder and entrepreneur in my own way, in my own sphere. And I have my own sense of strength and sets of strengths. And that may not look like what another founder has.
My husband is a founder of his own company right now, and he and I also completely different in styles and approaches. I think we are all a work in progress. I definitely am. So to say that I never have a day where I don't struggle with terms and titles would be a lie. I think there are times when I still have to remind myself.
Ling Yah: And one of those struggles you've mentioned before is having to fire people. And you said that you even share those kinds of challenges with your two girls. So how did you broach that kind of conversation with them? How did it affect them?
Ee Ling Lim: With our girls, I think the approach has always been honesty.
And sometimes I do question as well when is honesty too much, when is transparency too much. But I want to have a different relationship with them. Again, growing up, I don't think I'm really close with my mom. And sometimes I look at other people's relationships. I think that like, that would be nice to have and because my dad passed away when I was still in college.
So really my mom is all that I have. And my brother, of course. But with these two girls, I then felt that like I wanted a different type of relationship where they can feel comfortable saying anything to me and know that I wouldn't be judging them.
Same thing as well, I should also be sharing the same things with them and knowing that it's all part of life. I also really believe and hope that when they see the struggles that I go through and my husband goes through that they now know that this is part and parcel of life and that I have similar fears. I have similar struggles, similar challenges, and it's really how we respond to it that makes a difference.
think the decision to really be so open as suppose as because my younger daughter is afraid of trying new things. Like I said, you know, my older one is like really positive, right?
She's like gung ho game to try every single thing. My younger one is it's a little bit more timid, so she's reluctant to step out of a comfort zone and that's really sparked by a fear of failing. So her biggest fear is that how will people perceive her if she fails. So that's why I felt it was even more important for me to share my own failures with her.
Ling Yah: So you run Smarter me. But you also have another thing you run, which is Young Founders S ummit. What's the story behind that?
Ee Ling Lim: In running Smarter Me, we had a curriculum director who had years ago been approached by these two individuals who was looking to set up a STEM academy in Singapore.
He was connected to him on, I think, social media again, thereafter. And he saw that these guys had started something called founder's bootcamp. It basically is a competition for high school students to pitch and to get funding.
He asked me like, would you be interested to speak with them given you know, where we're going with smarter me? I said of course. We connect up and they said, you know what, the Demo Day is happening in LA why don't you guys come?
So I flew there, watched and was totally blown away. Smarter Me had been running for a couple of years and so I had also pitched at events myself and had been to tech conferences and seeing how adults pitched. And these 15, 16 year olds pitching in LA, they were remarkable.
And I just thought, Hey, if kids in the U S can do this, what's to say that kids in Asia can't right? And we should have that platform for kids in Asia as well to showcase creative thinking skills, that solutioning skills.
And that's when we approached the two founders and asked them, Hey, can we partner and also run the equivalent in Singapore?
Yeah. So that was really the start of Young Founders Summit in 2018.
Ling Yah: And what was it like organizing the inaugural summit?
Ee Ling Lim: That was really, really exciting. It was in 2018. Kept it simple. So it was really like a call for application. I actually did a couple of road shows back then.
So it was pretty fun because the concept was so new. So I was at Stanford American international school. Thankfully we had a teacher that was really fond of the idea. I was presenting and running like design thinking workshops and hackathons with this grade four, five, sixers. I also went over to Jakarta a couple of schools there, did this talk that this little hackathon, or like design thinking workshop for them.
And then they all started submitting the applications and we held the finals. We call it the summit there. So we held a summit in Singapore. We also had great partners in the form of Facebook and they hosted us.
So the kids managed to come, did the semifinals at Facebook office in Singapore, and then the finals in time for the Americans.
We had students flying in from I think Malaysia, indonesia, India, so very Asean focused. So that was the first year. And then the second year we actually did it in Beijing.
Ling Yah: A common comment that people say is that in the west, the kids are a lot more extroverted.
They are a lot more used to going on stage. And in Asia, we are a lot less asked for our opinions and it's a lot harder for us to present ourselves. Do you find that reflective in terms of the people participating? Were the kids gaining more confidence as you held more of these summits?
Ee Ling Lim: Yeah, I think at the start, it was definitely true.
We also ran a lot of design thinking workshops at events that was held for example, by IMDA in Singapore. I remember vividly, there was this design thinking workshop that I did. And the challenge statements was really, really simple to make it relatable to these middle school students to our primary school students.
The question was, what is the problem with going to school from the time you wake up, arrive at school, leave school, and then what kind of solutions can we come up with? And there was a boy who was, I think, eight years old and he didn't participate. He said, I can't think of any problems. So I said, oh, really? You know, do you like waking up at 7:00 AM in the morning?
And he says, no, I hate it. I wish school was that later. So I said, that's the problem and how can we solve that? Right. And so that was really a moment that struck me in that at such an early age, what is our education system doing? How are we already stifling that problem solving skills in our kids' mind?
On the other hand, we also had, you know, kids who would say like, the problem's from mum, my mum can't wake up. So I'm going to create this bed that will shake and with water pouring down at her so she would make that right.
So at the start, I would say that sadly, we see a lot more interest coming from the international schools with the international students itself, but I'm really, really happy that having done this for four years in the last year itself, we saw so many more, you know, local Singaporean school students and Malaysian school students, not in international school concepts who have actually joined the program.
And in fact they are sometimes also one of the more excited and gung ho ones as well.
Ling Yah: In your fourth submit, you even had the youngest founder who is 12 years old. So I wonder having run so many of these summits, what are the standup moments by you so far?
Ee Ling Lim: love this, right. In fact twelve Isn't the youngest. Last year we had a twelve year old, but three years ago in Beijing, I think our youngest was she's 10 years old. There was a 10 and a 12 year old pair of sisters, and the problem that they were trying to solve, essentially people forgetting to take their medication.
They came up with two things. One was the app that would prompt people to think medications. The other would be a case that has a sensor that's also connected to the app so that you can detect if you're picking up pill or not.
We actually matched them with mentors as they do their market validation itself.
One day we get a call from the mentor saying I can't work with these two girls. They are not listening to me. We've been having this ongoing debate and we just can't resolve it. I'm done. We panicked looked into it. Looking through, you know, how they were communicating and the key moment of this already aware, they were disagreeing upon was 10 Samsung.
So total addressable market and serviceable obtainable market, right?
The mentor was saying that they were double counting the online offline market. And the girls were saying that, no, we're not double counting because two different products. We looked into it and I realized that the girls were right.
That reminded me of humility, and the importance of learning and the growth mindset that anyone is capable. The earlier we equip them with just all these concepts. They can grasp it. I know Earlier on, you're asking the question are they too young, right?
They're really never too young. Um, So that's one real stand-up moment for me. The other one would have to be, you know, apart from Hong Kong that I mentioned earlier. One of our students from India got the princess Diana award for creating an Uber for recycling.
Another student of ours from Philippines. He went on to establish something called Young Founders Summit Philippines edition and then a sandbox edition, right? So he ran his own Young Founders Summit national program in the Philippines, got his own sets of sponsors from the city government and they invited me over to be a judge. So I think that was really heart warming to see them take action themselves.
Ling Yah: And I wonder , because as I was looking at the curriculum, and this is based off an interview I had with Esther Wojcicki, she runs Tract. And Tract is run such that the children are creating lessons on topics they love for their own peers as well.
Have you thought about that? What are your thoughts of kids teaching kids?
Ee Ling Lim: It's interesting you brought that up because just a couple of days ago, my younger daughter was telling me that mommy, you know, like last year I started losing a little bit of interest in coding and I realized that it's not because I lost interest it's because I do really didn't like the way that the online lessons were being taught because of COVID.
So she started learning it online. But this year she's joined back coding programming class and the teachers are actually high school students. So they're grade 10, grade 11 students who're teaching her. She's like, the way that they teach it's so clear that they are so passionate about it makes me excited as well.
So I think there's definitely value in having peers on the most similar age actually teach each other.
This year with young founder's summit, one of the ways we're planning to scale it is to establish country chapters. We've had a few young founder's summit alumni already put up their hand to be country directors.
And with that are going to run their own chapters in their schools, in their cities. And I think that's where we will be able to see the peer drawing other peers in kind of concept. The other thing we've also heard feedback from past participants is that sometimes they feel that the mentors, because the mentors are so experienced and are really experts, they can also then be a little bit intimidating, right.
So the mentors then would feel a little bit like a teachers students concept and don't even dare to question or, you know, negotiate deliverables. So sometimes the panel talks that we have, the ones that they, the students find most, most interesting are the ones where it's like youngest closest in the age gap itself.
So I think right now we have tried to put in some of this into our programming, right? Getting slightly younger mentors, slightly younger speakers as well to come and share their stories with the founders.
Ling Yah: I love the fact that you talked about the expansion and about the country chapters.
Is that the way that people who are listening, who want their kids to be exposed to this kind of teaching to get involved? How do they reach out to you and basically have something that other than just studying rote?
Ee Ling Lim: Yeah. So I think, Earlier you mentioned track riding. That's really one great one. We also have like holiday programs.
That's one way that they can also be involved. But yeah, young founders summit will continue to run this year. We usually open for applications in July. So you can head over to our website now and put your email and your name in, the notification form, so you'll be notified when applications are open.
I think one key thing to remember as parents though, is that our kids are going to be leaving our dreams. So as much as you think, wherever the world is going, it's providing them with the outlet, the opportunity to understand that there are alternative options out there, but never really forcing them into one path.
We also have had students in the past where we had doubts on the creation. I would, this actually created by the kids themselves. Or who's actually guiding and teaching them at the back. Guiding and teaching from the parents are fine.
In Beijing, we actually saw right before the pitch itself kids were testing their prototype because they had built a real prototype and some of the prototype felt like it wasn't working and the moms swoops in to fix it.
That's when we realized that, okay, maybe this one, not sure whether it's more of the kids who really are interested in, or is it a parent who imposing? Yeah, so I didn't want to always just encourage this, like how much of your mind is open, but let's not impose.
Two years ago, there was an amazing team from Singapore, a group of four boys, a gamified education platform, right. They were one of the top teams in the finals . They were accepted into the incubation boot camp which we hold after the demo day. During the incubation boot camp period, one of the boys dropped out.
So I reached out to him to try and find out, you know, is there anything wrong? What can we do? What happened during the process? He wrote me a really long email to say that, you know, he really loved the process, but what he discovered about himself is that he really likes facts, numbers, analysis.
But he doesn't like uncertainty. So whenever they had to go and interview people and someone suggest different things and they had to try out different marketing strategies he would get really flustered and uncomfortable, much more comfortable with data. And so he felt that maybe what that means is that I really just want to do more science and engineering kind of work, and I should be focusing on those kinds of competitions. Not entrepreneurship.
So to me, that is also really an example of damn going through the process and then realizing, and being more self-aware by themselves
Ling Yah: Because you are with so many of these youth all the time What do you think that our youth are thinking about and caring about the most?
Ee Ling Lim: I would say that my answers will be a little bit biased because there is a self selection process, right?
People who join young fathers summit generally, already care a lot more about sustainability. But there are two things. Firstly, youth in general, they care a lot about friendship, belonging. That's a very common thing that I don't think changes with time.
Right now, the question is whether or not they have access to more self-awareness tool to help them realize how they fit in this world itself and how they don't have to always fit in. They can embrace their own differences and their own strengths. That's the one key difference, but generally the same thing they all care about is still really belonging and friendship.
But of course, in terms of like the youth that we interact with through young founders summit, it is very sustainability focused.
On Bailey's podcast there was one girl, she's doing that kind of education work. We have others who are creating to enable youth to give back to the community.
It could be like a volunteering platform where all the high school, middle school students sign up to be volunteers, and then they get allocated to different kinds of charities to help out.
The other thing I would say a lot of them definitely care a lot about environmental sustainability, about how the planet is not going to be able to sustain, you know, 10 billion population about the future of food and how we need to look at alternative 3d printing, alternative protein, so on .
I think that's the other thing, you're all thinking about the future of what, right? Because college is still very much on their mind and on their parents' mind. So college and the future of jobs, what does it mean for them and how will they live in that future world of a remote working And jobs.
Ling Yah: So you said that, the word friendship or something that they were looking for, is that what sparked the idea? And I've heard, you've mentioned this before that you're thinking of doing this NFT project with a DAO element?
What does all that, but what can you share so far?
Ee Ling Lim: I think that's not so much about friendship, but a decentralized way of funding. With these kids and the whole angle of young founders summit, I think it's two things that we're trying to bring together.
What we've realized for young founders summit is that the gen Z really, really care about sustainability, whether it's environmental sustainability, human sustainability, social sustainability, and economic sustainability, right.
This actually happened really organically. When we first started young founders summit, we did not have a sector focus, but every year we look at the applications that come in and the problems that these kids were surfacing. It was always related to all these areas. And not because ESG is a buzzword, but because they really care about that.
So that's how we started going to that direction: youth and sustainability. Now where we want to take it next is: one, funding, but secondly, ongoing mentorship.
We've got a great platform and a great community of mentors who are eager to help guide and coach these kids on your journey.
And we also have a community of people who do care about sustainability and believes that tech can be used to do good. But if you look at today's world of funding, it's really all controlled by the rich or by centralized organizations, right? Whether it's VCs or PEs.
In this new space itself, I think we see DAO as an opportunity to give power back to the people. You don't have to wait until you are a super high net worth individual, accredited investor in order to be able to support a project that you like.
And I think we see that in two ways. it can be simple. It can be people coming together: pulling money to contribute to projects that they are really passionate about and they can then have a stake in the process and in the success itself.
Maybe not financial gains at this point, but it could be creative opportunity. It could be mentoring, community collaboration. You've had a lot of speakers in your podcast now, right. But for anyone listening, who is still not quite sure what a dao is, I would define it will be an online community that shares one bank account and where everyone gets to vote and decide on how those funds are used.
That is diversity.
Diversity in two forms.
Diversity number one appeals to the ones who are financially driven, risk takers. If you believe in something, you can actually back a project that you like. You don't have to wait for a lot of other people.
The second diversity would be for the impact and making a different kind of group of people. If you really want to make an impact, you want to find a project that you believe will create economic or educational equality, You are not limited just the charity organizations out there that you go into giving.sg and look for something to donate to. You can now also fund this early stage startups itself.
So I think what we're really trying to see is really giving you a power to be able to fund support projects that they like at a much, much smaller scale, and also be part of this community where they can continue contributing to both sustainability and to the youth.
Ling Yah: It sounds like the kind of people you're targeting to release this DAO to would be the kids who will be directly impacted, the parents who will be very vested and as also those who are just generally interested in this mission.
But they're also very, very different. And how would you think about managing this kind of a community from say a 10 year old to a 60 year old who's never been to Singapore, but is interested in your mission?
Ee Ling Lim: I think that's two separate things. The DAO and the NFT project are really more of a funding and support system, networks, community, mentorship kind of pool, right? So the people that we're trying to attract would be, number one, millennials and boomers who are entrepreneurs now and they wish that they had a mentor when they were younger. Or maybe they had a mentor that when they were younger and now they want to be a mentor to the next generation.
It could be people who just feel the education system needs changed and they want to contribute to it. Or people who believe in sustainability and know that yeah, sure there might not be a lot of commercialized solutions out there right now but these youth could be approaching it in an entirely different way and with my backing, I can actually support and see it happen.
There's one group of people who are just interested in the NFT space, for example, and are looking at something with a social cost or utility. A cause that they can stand behind.
So that's what they're looking for in that group itself. The students, the participants that will continue remaining on the young founders summit. So while we will have interactions between the two groups itself right, as a mentor and mentee. But the students themselves will be focused on building up those solutions that get funded by the DAO.
So we see that as two separate communities with very different targeted approaches in which we help them grow and scale, and occasionally them coming together in a safe environment.
Our country directors will also airdrop some NFTs so that they also build ownership into it.
Ling Yah: And you've talked about your fundraising. How would those funds be managed in a DAO? How will the decision making be done?
Ee Ling Lim: How we're thinking about it right now is, we will have an investment committee. One that is selected based on really the experience in sustainability tag and also as a mentor itself.
Now this group will actually periodically from the whole young founder's summit who will be able to select because they've actually mentored the students themselves.
So they can also then pass on a little bit of opinion on which are the backable startups. They will then prepare this whole pool of 10 to 20 shortlisted ones and present all this as a proposal to all the other members of the task.
So now as an NFT holder, you then have a token which grants you with voting rights. You can then vote on, you know, out of this 20, which are the start-ups that you want to fund. You can also actually have a vote into how much you want to allocate into each of these startups itself.
So we have a funnel process, two stage process. The first one is actually through shortlisting because otherwise we're going to see in a hundreds of applications, but then when it comes to actually deciding which one you want to fund, that then lies in the hands of the NFT holders.
Ling Yah: It does sound very similar to Lily's own DAO for WOW Pixies. What do you feel are the biggest challenges you're facing now to launching this?
Ee Ling Lim: Biggest challenges to launching this? I think would have to be a lot of the people that we believe will be supporters of this might still live in a web 2 world. So I think one of the challenges would be understanding that there are still a lot of potential partners who live in a web 2 world. How do we bring them along with us on this journey of learning together right and into the web 3 world as well.
That's one.
The second one is just being more conscious about not only targeting the people who are currently already in the web 3 world. There also two different groups there, right.
One who are really active traders and looking to profit from buying and trading the NFTs. and The other ones are like, oh, there because they really believe in that.
But as much as we hear about web 3 and NFTs, this is really still such a small percentage of the whole investing world. Not the whole population. For us, it's like, how do we educate? How do we make it more digestible and understandable.
Not just for the funders, but with the students too. I had a call with six girls from Japan last week. They were our alumni from young founders summit.
I talk to them about this NFT project and asking them about their views. And one very, very jarring note was that, you know, at the age of 15, 16 , they were already writing it off because they did not understand it. So how do we bring people together on this journey, and educating and learning together.
Ling Yah: It's so interesting that you say that these young kids of all people are writing it off. Is that across the board? What have you found the reactions to be among the kids?
Ee Ling Lim: Diversity and inclusion has been a very big thing and close to my heart.
So when running young founders summit, we've always paid very close attention to female representation in our speakers, in our mentors and our judges, and also in our participants as well.
Last year, I was really, really happy because this had nothing to do with selection criteria and organically 55% of our teams in the final either have a female CEO or have a female in a co-founding team.
So hearing this from the six girls made me feel that there is more that we can do and there's more that we need to do. Being open to learning and being educated in a way that's digestible to them I think that's something that we can play a role in.
They can just, for example, like NFTs, the one that really made me feel so included is actually a network called BFF. So blockchain friends forever. I thought that that webinar that they did just having that one segment where they share all the different acronyms and what it meant was already really illuminating because otherwise women, girls would be listening to why me and like wondering what is this? And not being able to then catch up.
Ling Yah: Yeah. There's so many hashtags, H O D L. And I look at it and go, what, what does that mean? And why you always saying GM?
When you said about how people probably are living web two and very hard to bring them to web three, I resonated with that so much.
Have you found a way that's effective in bringing people into that journey? Because I feel as though, at least from my experience, until you cross that bridge, then you don't understand and you're fully divorced from it, but once you enter that world, it's just a black hole and you cannot go back from it. So have you seen that way of bridging that gap?
Ee Ling Lim: I think we also have to first focus our attention on who we are trying to capture and bring over together.
So for example I believe that one way to bring those who are passionate about sustainability is by gradually showing them projects, which have a sustainability angle to it.
One of our objectives is to help people transition over and just dabble in it and understand and just learn about it a little bit more, right?
So how do you increase the comfort level and risk-taking. It would be when there is a utility or there's a social cost behind this itself.
So if I'm owning it, I know that I'm now part of a community that is going to use this funds to flow back into sustainability tech. So what if the price doesn't go up? So what if the floor price goes down? I know that the funds are being put to good cause. I think that's like a first step that we are trying to do with that transition.
The second one, which is trying to just make it more digestible from an educational point of view. I think that's what we're trying to experiment with. How do we make it easy to understand? It is a group of people sharing one bank account, and voting on how to deploy money from that bank account.
Ling Yah: Have you seen any examples of DAOs in the space that you really admire and why?
Ee Ling Lim: There's so many out there and again, right. I'm still really just learning every day, I'm just discovering new stuff, right. So I suppose a little, um...
Ling Yah: everyone I speak to when they ask, when did you start there?
We'll say, oh, January two months ago. So I think it's completely normal.
Ee Ling Lim: Yeah. That's what I tell my co-founders, right. If you think I'm ahead of you, don't worry. I'm probably ahead of you just by a few weeks. Very easy to catch up.
Because of the field that I'm in, I think I'm naturally a little bit more inclined to what's the ones that are trying to disrupt the VC structure.
One really young girl from an accelerator NFT space sets up Angel Alliance to invest in women entrepreneurs- combining startup founders with women founders. So the dao actually determines the projects that they want to provide grants to.
The other one, will be Orange DAO, which is set up by the YC alumni.
Another one is Klima DAO. Their aim is sustainability, to increase the price of carbon credits so that corporates will find it more expensive to offset carbon and eventually find that they should really just reduce carbon emissions.
Ling Yah: What do you think of that combination of having a DAO but also a social cause, for instance, you said that DAO that's focused on just investing in women. But at the same time, the decision on who to invest is actually by a random group of 2000 people that doesn't necessarily mean they can make the best choice and you would want the best women-led projects to succeed and they might not necessarily happen in a DAO.
Ee Ling Lim: That's probably why they have this toolkit system, right, where the shortlisting is handled by a group of people who actually do have experience in evaluating projects, evaluating startups, shortlisting, those proposals, doing as much due diligence as they can, then showcasing this proposals that's been shortlisted to the larger community and then make a decision from there.
Ling Yah: Speaking of startups and funding, you also have another job as if running two companies weren't enough.
You are actually part of 500 Global. Can you share with us how you got involved with them and what you do?
Ee Ling Lim: I currently am the executive director of global programs at 500 Global, which is one of the world's leading venture capital firm. 500 global has invested over 2,500 companies in over 70 plus countries.
We have about 44, 45 unicorns in our portfolio and 125 sunicorns.
What we believe at 500 is that founders need capital, but they also require networks and ecosystems and support.
So we actually do have a progress team, which run accelerated programs globally for startups. I would say three different stages or four different stages.
The first stage would be at the incubation stage. We call it ignition, in markets which are really, really nascent and early. For example, Cambodia. We run an ignition program really just help aspiring founders who still have their day jobs come together on the weekends, and try and build something and eventually launch a startup.
Then we have our flagship, which is a seed accelerated program. Typically for pre-seed and seed stages all around the world. We have lots of accelerators like these from San Francisco to Saudi Arabia, to Japan and Taiwan, right.
Then we have the growth boot camps, which are more for like Series A startups, because the challenges that the founders face are different it's around scaling, around hiring and retention.
Uh, so at the very last stage is for founders who are looking to expand their businesses overseas, we also have market access programs to help them do that. The power of 500 is that we are so global. We have networks everywhere that we can really help startups go to market into new countries.
My role today is I lead the global programs team overseeing this programs globally.
Ling Yah: As I was doing my research, I learned that even from the very beginning, accelerators are the lifeblood of 500. And that's how you get your deal flow. I wonder from your experience running all these programs, what are the main components that allows accelerators to succeed?
Ee Ling Lim: Okay. So speaking for my own, right.
I think the most important thing of course is that if an accelerator is being used as a source of deal flow, and that's how we started out, right. Then it's obviously being able to attract founders who are of quality. And the key thing there is like, what is the value add that you're providing to a founder?
So very similar to the question of every startup, what problem are you solving? What value are you providing?
What is our superpower? What can we provide the founders that a lot of other accelerators cannot. And secondly, really, really going down to the drawing board, understanding from all the founders.
We still do surveys with our founders to understand where are you right now? What help do you need? Do you need mentorship? Do you need networks with other founders?
Do you need networks and connections with corporates in order to expand? Do you need help hiring? What kind of help do you need and then how can an accelerator actually provide that?
There's also been a lot of talks obviously around the accelerator model. Is it outdated? Do we still need that? And I think help and support will always be there, but we need to make sure that we are always improving and iterating on that to make sure we deliver the utmost value to founders.
Ling Yah: How do you think for founders who are going to the accelerator, what can they do or should they do to make the most out of it?
Ee Ling Lim: I always tell founders to not under estimate the network of mentors that they get access to because mentors will also open up doors to other opportunities.
And secondly, networking with other founders itself.
We've had founders, for example, during the COVID period, they were in Singapore, they came in from Italy and that's basically working almost 24 7 because of the time zone difference, right. In the daytime in Singapore, they were going through the programming after that they were handling their business itself.
And with that much pressure on you, it's very hard to find time to network with other founders. So maximize the network effect.
Ling Yah: How can they maximize the network effect? I think a lot of people, when they're think of networking they go, oh well, I can go and talk to them, but how do I continue that conversation? turn into something meaningful?
Ee Ling Lim: Maybe therein lies the problem. If you're thinking that every single connection I form right now has to have a purpose or what I'm trying to extract from it, you're already narrowing that mindset.
We fall into that same trap as well. Perhaps the beauty is that everyone can be someone who you may help. They may help you. Be intentional with your time.
and all that when you're juggling all this. The biggest takeaway that's founders get will be when they actually put in that time, getting to know other founders.
Giving help not expecting anything in return as of right now
Ling Yah: I also heard from your previous interviews that you said that you were one of the first to run your accelerator virtually just before the pandemic really unleashed itself on the world. What was it like to just suddenly transition to virtual?
Ee Ling Lim: Yeah, I think at the start of 2020, we were the first to actually run our demo day virtually. A lot of people then look at that as an example. We were in fact in Singapore, there was that very batch. It was a market access program. We were bringing international startups into Singapore to expand within Southeast Asia. They were here for about two months and then the lockdown happened.
We had to transition that online. I think the key thing is really experimentation. It's not just going on zoom.
But also then realizing that number one, we have to look at the tools. but Number two, we now have to really look at the schedule as well. How to make sure that participants and the founders themselves were still engaged.
We all know that being online means that your attention isn't always fully there. Your email, your slack, things are going to come in. How do you stay focused? How to mentors actually run that lessons differently? I think that was the key thing we had to drill in to our members and work with them on tailoring their content, because it's different from when you are in one room itself and you're engaging with them, but everyone's attention is on you.
Now online, you can't just go online and deliver your lecture. The Pomodoro technique, right. We actually worked with some mentors to share with them how you would split up your one hour. So 15 minutes of lecture, five minutes of check-in and another 10 minutes of lecture, 15 minutes of group work in a breakout room.
And then how will you close it as well to do a sense check? You know, we use things like the 5, 4, 3, 2, 1, how you get things as what did you wish you learned more of? What do you still wonder about after this? So really being more intentional and intentional around how we construct and shape that curriculum and that one hour itself.
Ling Yah: And do you feel that moving forward, you will be adopting more of a hybrid option?
Ee Ling Lim: Again, I'm not sure if this selection bias, because obviously most people are 500 and also our founders are creating the in-person interaction and to just be dead, like on the ground again.
Goes without saying that you can do a lot of pre-meetings and pre-sales and connections online, but the deals and the relationships get formed in person.
So with that, I think the answer is yes, we are going to be seeing a hybrid model where a lot of pre-work the more one way educational stuff and prep stuff will be done online. But when it comes to networking, when it comes to partnerships being caused, or that will then kind of happen in person.
Ling Yah: And then when I was doing my research again, I noticed that you love to have driving words.
So in 2021, it's grow, self-acceptance and impact. And this year it's people and intention. Firstly, how did the idea of having driving words come about and how did you come up with those particular words?
Ee Ling Lim: Okay. So I'm generally a very goal checklist kind of person, right? I'm a type three structured type thing. The anagram concept structured kind.
I started having these driving words maybe a couple of years ago. So I do have a journaling practice. And every year I experiment a little bit different formats and all that. Having driving words to me really sets the tone of my focus, right?
It really drives and reminds me of the areas I want to focus on this year. And everything else that I do should be aligned with this driving words itself.
So like you mentioned, I think my values and my years of last year were around integrity growth. Right? Integrity in growth is still my core values itself.
This year I selected people and being intentional, I think for a few reasons. So with people itself, one quote that has always struck me, comes from Maya Angelou.
She really says that people don't remember what you said or what you did, but people will always remember how you made them feel.
And in a leadership role itself, I am constantly reminding myself that true leadership doesn't come from authority. It comes from influence. It comes from being able to carry people along.
And I really want my team to feel heard, feel valued, feel appreciated, feel supported, right. That I really see them and I value each and every one of them. And we're going to make it together. We're all going to make it right.
So I put the word people as my driving word of this year, because my goals can come and go and goals are very tangible and all that. But I want to make sure that I remember that whatever it is that I'm doing is aligned with people.
Whenever I set new goals as well, or new commitments come and ask for my time and energy, it's also about is this in line? Is this going to support my people?
And am I making enough time and spending enough energy right and nurturing this relationship. So it's really a wonderful reminder for me. Okay. So that's one.
Intentionality , few years ago I listen to a podcast by Jay Shetty. And one thing really struck me at that point in time which is he said that you will always be able to find time, but energy is what you need to learn how to manage.
And that's entirely true. Jay's a type three. I am pretty much driven and ruled by my calendar. It's as though I can't see an empty calendar. So if it's empty, I will start fitting in meetings.
will always be able to find time to fit something in. But what I sometimes forget is that things that aren't actually aligned with my values and my focus could drain my energy, such that when it comes to things that really really matter, I may no longer have energy for it.
The second thing is intentionality around everything that I do, how I respond, things that I do and things that I see. What is the intention behind all of this?
Also, this is another thing that I really, really like right from Victor Frankl, he says that between stimulus and response, there is a pause. There is a space and in that space lies our power to choose our response.
And in that response lies our growth. So I'm always reminding myself not to react and to respond and being intentional around how I respond.
Ling Yah: I just love the depth of thought that you have put into those two particular words. One thing once that to pick up when you were talking about people, you talked about being a leader and I wonder, do you have any practical tips just in terms of how you can be a good leader and lead people?
Ee Ling Lim: I think there are lots of leadership tools, techniques that you can actually implement in daily, weekly calls. I mean, they're a little concrete stuff right, of how to achieve, create a good culture. How do you make sure that your people get your time? Things like doing skip level one-on-ones for example, And also for example, during every call, with the check-in having things like emotional culture workshop something I ran as well.
Sometimes I worry that I come off like too fuzzy and soft. I'm always asking people to do like reflections and goal-setting.
So we actually have a practice where every quarter, we do a reflection on last quarter. We usually do that monthly. We now done it quarterly, right. Making sure everyone holds each other accountable and checking in as well.
But I think what's important to stay here isn't really the tools that you can use because you can Google all of that.
One message that had shaped so much and has such a big influence on me was this book by Keith Ferazzi and the book title is "Leading without authority". I heard it on a podcast and then I read the book.
It came to me at the time when I was feeling very, very frustrated with a flat organization structure.
I was in banking all my life and in banking, it is very structured, same in law, right? You do analyst for three years, you become an associate for three years.
Maybe for three years And then director. Your path is pretty much set. Progression is set. And then when I became a startup founder, I was right at the top. Right? So no issues with hierarchy there, obviously not from my point of view.
When I joined 500, it was a very flat organization, but we were growing.
So there was a need for structure and hierarchy at some level, but there wasn't. I started getting really, really confused about myself and my role in the organization and feeling a little bit frustrated. And again, that comes from my personality too, because as I found out, I needed to know like what my role was and what my title was and how can I serve in that role and capacity.
So I was driving myself crazy. And then I heard this podcast which is Leading without Authourity. And he said that really it is influence, not your title, not your authority that makes you a leader. It is your personal qualities and your practices. Are you generous as a team member? Are you vulnerable with your team?
Do you celebrate? Do you practice gratitude and the big question of like, who is on your team? Knowing that I think really shifted my mindset. And made me feel that, you know what, ultimately I'll do whatever I can in order to make people feel like they are part of a team. They are part of my team, not a team that I run, but really part of like my circle.
And let's just build a really good culture here of appreciation and valuing each other.
Don't wait until you get that title to try and enact changes that you want to in that you really can do things.
And not all organizations embrace that, but if your organization does, please do that, or if not, no harm trying as well. So lead without authority.
Ling Yah: That's fantastic. And as you mentioned, you love checklists. Is there anything on your checklist that people listening can help you with?
Ee Ling Lim: Not necessarily, but I would definitely ask people who are intrigued by youth entrepreneurship, by sustainability tech, by NFTs and DAOs and believing that whatever state you are right now can and want to be part of this community, do reach out to me. And then you'll help me with my check-list later on.
Ling Yah: Fantastic.
And so I love to end all my interviews with these questions. So the first is this, do you feel that you have found your why?
Ee Ling Lim: Yeah. I think my why is really, very strong, which is creating impact especially with youth and the girls.
Ling Yah: And what kind of legacy do you wanna leave behind?
Ee Ling Lim: The legacy I really want to leave behind is kids again. Kids and youth feeling empowered, feeling that they can create the change that they want to see in this world.
And that there is always someone believing in them that they can do it.
Ling Yah: And what do you think are the most important qualities of a successful person?
Ee Ling Lim: Well, I guess that really depends on how you define success, right? So to me, success is really defined as self awareness.
Being comfortable with who you are, your power, your strength, your flow states, and all of that, and how you fit in and how you contribute back to this world.
As long as you're able to find that place for yourself and be fully comfortable and embracing that, that to me, success and happiness.
Ling Yah: And where can people go to find out more about you? And more about Smarter me, your summit, everything.
Ee Ling Lim: LinkedIn is probably one that sounds so Web2 now that I talk about it, but my web 3 channels will come up.
Ling Yah: Yeah. You would just be like, just buy an NFT in order to talk to me.
Ee Ling Lim: Yeah.
Discord. I'll be in Twitter and Discord. That's basically it. But as of right now, Instagram and LinkedIn, probably
Ling Yah: And that was the end of episode 80.
The show notes and transcript can be found at www.sothisismywhy.com/80
Smarter Me and Ee Ling are also now on Twitter. So head over to the show notes and check them out.
And also if you want to stay tuned to the other interesting news, updates, initiatives, and persons, particularly in the Web 3 space, don't forget to subscribe to the weekly newsletter for this podcast. The newsletter subscription link is available at the show notes.
And stay tuned for next Sunday, because we will be meeting another inspiring NFT founder.
She's one of the most established founders in the space and has a technical background, And she's had quite an interesting journey.
From growing up in Japan and learning to be a software engineer, despite first applying to be in the sales department, to making her way over to the states, to found a hugely successful NFT project that seeks to bring crypto to the masses with cute, anime inspired stories and collaborations with links to NAS Academy, by in Nuseir of Nas Daily and Zeneca - a leading thought leader in an empty space and so much more.
So stick around. This is where the journey is only just beginning and there's so much to learn.
And if you haven't done so already subscribe to this podcast and see you next Sunday.