Welcome to Episode 82!
Our guest for STIMY Episode 82 is Jamilia Grier.
Jamilia Grier is a Founder & CEO of ByteBao, a legal and business consulting firm specializing in supporting Web3 companies and projects.  Originally from Connecticut, she is also a serial expat and attorney, having lived in China, Singapore, and now Dubai. She speaks frequently about the intersection of legal compliance and innovation in the Web3 space.
PS:
Want to learn about new guests & more fun and inspirational figures/initiatives happening around the world? 
Then use the form below to sign up for STIMY's weekly newsletter!
You don't want to miss out!!
The Law Around NFTs & DAOs
Ever been curious about the law surrounding NFTs & DAOs?
Unlike other STIMY episodes, we dive straight into the nitty gritty legal details. 
6:55 What are NFTs?

8:26 IPRs in NFTs 

9:44 Where does copyright subsist?

11:32 Copyright in a high drop NFT project?

13:58 What happens if there is no licensing agreement?

15:16 Any legal recourse for NFT holders?

16:44 Effectiveness of DMCAs

18:44 How can you mitigate the scope of your liabilities?

19:41 Liability for copyright infringement if your NFT infringes the original owner's IP rights?

20:45 Are NFTs a type of security?

25:45 Would you face greater regulation from the SEC if your NFT has a social purpose?

27:55 Hearing about WOW Pixies

28:37 The role of a lawyer in a DAO

29:35 What is a DAO?

30:53 Why DAOs aren't a decentralised VC

32:58 Incorporating Web2 legal structures for a DAO

37:51 Legal documentations for a DAO

41:27 Giveaways

44:14 Airdrop issues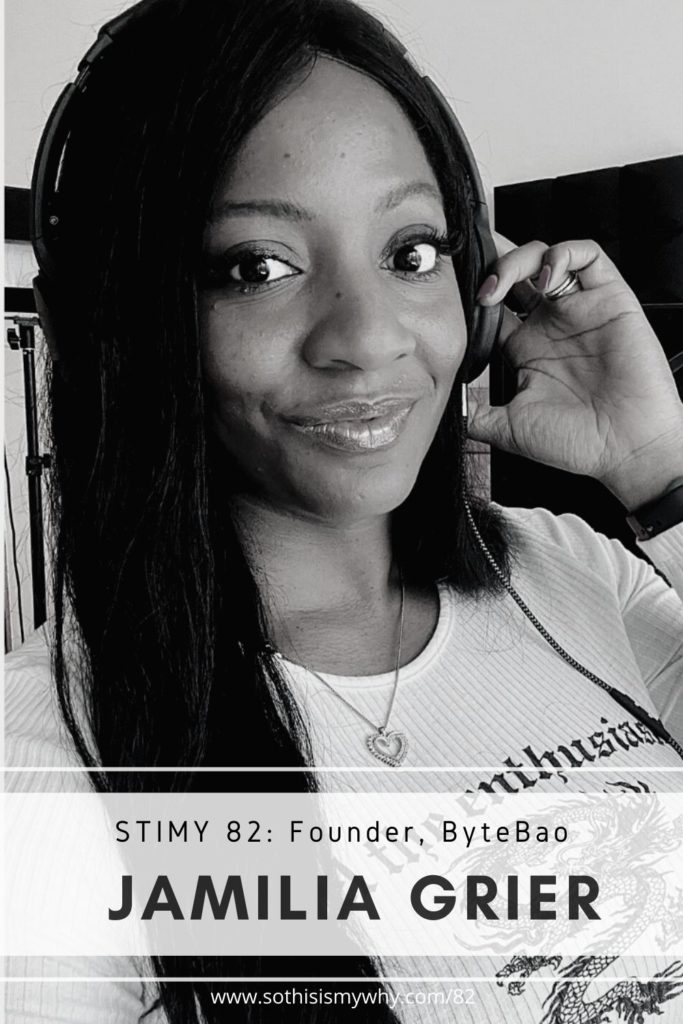 If you're looking for more inspirational stories, check out:
If you enjoyed this episode with Jamilia, you can: 
Leave a Review
If you enjoy listening to the podcast, we'd love for you to leave a review on iTunes / Apple Podcasts. The link works even if you aren't on an iPhone. 😉
Patreon
If you'd like to support STIMY as a patron, you can visit STIMY's patron page here. 
External Links
Some of the things we talked about in this STIMY Episode can be found below:
Ep 82: The Law Around NFTs & DAOs | Jamilia Grier (Founder, ByteBao)
===
Jamilia Grier: Some projects when you own an NFT, you own the right to obviously to buy and sell, to transfer it to somebody else. With other projects, when you own an NFT, you are able to do whatever you want to with that particular image that's on the NFT. So you can create a clothing line, you can create a hat or t-shirt, you can use it for commercial purposes.
You can start your whole entire company based upon that image and have it be sort of a logo or a brand mark, and that's within the rights of your purchase of the NFT. So it really depends on the NFT collections.
Some NFT collections do not want their users to do that. And so that's why it's so important to look at the terms and terms of use when you buy the NFT and also to talk to other holders, to understand, you know, talk to the community to say, how are you using yours or what's the benefit?
Then you'll understand how to use it.
Ling Yah: Hey everyone!
Welcome to episode 82 of the So This Is My Why podcast.
I'm your host and producer, Ling Yah and today's guest is a web 3 lawyer, Jamilia Grier. Now Jamilia runs her own law firm. It has number of what the clients including WOW Pixies by Lily Wu. You may recall Lily sharing her story on this podcast as a two time seven figure entrepreneur on episode 77.
So if you haven't listened to the podcast yet, please do, because we will be referencing WOW Pixies quite a lot here.
Now this episode is going to be little bit different from the normal ones, because I decide to let the nerdy lawyer in me have a loose reign and we dive right into things like does copyright subsist in NFTs.
How do you know the rights that you have as NFT holder? Are they considered a type of security? Why isn't a DAO a decentralized VC? And what legal documents do you need if you intend to set up a DAO.
All that and more in this episode.
So do stick around for a listen. And a shoutout to Lily for connecting us.
Before we jump into it, in case you don't already know, this podcast has a weekly newsletter where I highlight other inspiring figures and initiatives that I don't get to cover in this podcast. So if you're interested to know what's happening around the world, and I do try to source for things that you wouldn't find typically in an institutionalized media outlet, then don't forget to head to the show notes for this episode and subscribe.
Now, are you ready?
Let's go.
I learned in my research that you grew up in Kentucky, then you end up working in China, Singapore, and now you're in Dubai. So how did that all happen?
Jamilia Grier: Yes. So I grew up in small town, Connecticut. Probably same as Kentucky in terms of being a small town. I had no connections. I was really first to graduate from college in my family.
I knew I wanted to do something international and I had no idea what I just recall having this thought in my mind of, you're gonna laugh at this being on an airplane in business class with a nice bag and nice shoes.
That's all I knew that I wanted. I didn't know anything else. I just kind of levitated towards that in terms of the type of things that I did.
Ling Yah: I noticed in your background that you specialize in data privacy, so what is your legal expertise?
Jamilia Grier: Yes. So my legal expertise, it's been a transition, I guess like most attorneys kind of started in one practice and then spanned across a whole bunch. I'd categorize it as like international business transactions and regulatory compliance. And then the common theme in all of that has been tech and data.
So anything that involves data flows, data transfers, fare data is being housed, data sovereignty, data, ethics, all that is stuff that I've worked on. And it's really cool because the practice evolves with technology. So as technology changes, then you know, you start to learn more things about what's happening in the technology world and the practice evolves too.
Ling Yah: And one could argue that technology has never evolved so fast as right now.
So how did you first get into the Web three space?
Jamilia Grier: It's so funny. Last year I was working at the standard chartered bank , and I was working in data privacy. Towards the summer of that, it just dawned on me that there are so many cool things going on outside of the bank, nothing on Standard Chartered, props out to SUV.
But I wanted to really get involved in it. I wanted it to be more in the front of cutting edge technology and things that have an impact, particularly for women. And so I started my own legal consulting firm, which is ByteBao. And I thought I was just going to do data privacy work.
I'm like, oh, you know, I know all of these companies that need this work done. I'm just going to pitch directly to them and it's going to be all data privacy and it's going to be great. Then I realized that the people that were coming to me actually had different types of technology and it was totally new and I thought, oh, I've got to start, you know, studying and up-skilling.
So I took some courses online. I did some reading. I had actually known about blockchain technology since probably around 2015 where I myself wanted to do a startup for trade transactions for chemicals.
So I knew about the technology with blockchain, but the things that people were coming to me with such as NFTs are totally different. So that's how I got involved. I put myself out there as a data attorney and then the types of clients that were coming to me were mostly from the web 3 space.
Ling Yah: It's so funny for me that NFT founders will be coming to you, a data privacy lawyer.
Was there a reason why, because it's actually two totally different things?
Jamilia Grier: I think most people in the space recognize that at the end of the day, it is data and it has that connection with technology and that the asset as a digital asset is comprised of data.
And I think their concerns are definitely very different than your traditional data privacy work, worrying about protecting people's personal information. It's very different. It kind of dovetails nicely with the field.
Ling Yah: What kind of clients, if you're able to share, were you starting to get because it's a very unusual breed and purpose compared to if you're in a law firm. The kind of clients that you get would be very, very different.
So who are you coming through your door?
Jamilia Grier: So first off was definitely just individuals, people that wanted to do projects. I have a great idea. I want to do this. But I need some contracts in place. So whenever somebody has an idea about starting an NFT collection, well, you need to have an artist, right?
If you're not the artist, then you will work with an artist. And so there should be a contract in place to talk about how that relationship will work. And then what stems from that is intellectual property rights. So we'll work on that. And so it was definitely firstly, just individuals, not really teams or companies that were coming to.
Ling Yah: So I want to go back a little because we're going to just assume people listening here are thinking maybe of going to start their own NFT collection, or they might want to invest in the FT collection.
So in your own words, what are NFTs?
Jamilia Grier: NFTs are digital assets. I think that is the foundation point.
And I really think from there it's tough to put it in a basket. It really is because innovation is moving so quickly and the way that NFTs are being used today is not the way that NFTs were being used six months ago.
When you think of use cases, you think of, NFT as a piece of art, that's the most common use case and people will purchase an NFT because they have some sort of connection with what it stands for, with what the mission is of the NFT collection and they're drawn to that.
And then the industry started to add additional value onto that. Well, not only do you identify with the mission, we're going to give you something else. Maybe you can use this NFT as a ticket to our event, And then what's even more interesting now is that, well, people are so in love with the artwork for NFTs, that you have NFTs that you can actually change and reiterate.
And you as an owner can change what your NFT looks like and still own it. And you can even make a clothing line off of an NFT that you have, and you own all the intellectual property rights associated with that. So it is a digital asset. It comes in many different shapes and forms. I like to start with the foundation of a digital asset, it can be creative and it really is based upon what the entrepreneur wants it to be or what the company wants it to be. It follows suit.
Ling Yah: So when we talk about digital assets, we actually talking about this thing called a smart contract that's minted onto the platform. So the smart contract then links you to that particular artwork. When I was first looking at this, I just thought, the first thing that comes up in conversations is, oh, when you own the NFT, you own the IP rights. But what kind of IP are we actually commonly looking at when it comes to NFTs?
Jamilia Grier: Ah, yes. It really does vary. Some projects when you own an NFT, you own the right to obviously to buy and sell, to transfer it to somebody else. With other projects, when you own an NFT, you are able to do whatever you want to with that particular image that's on the NFT. So you can create a clothing line, you can create a hat or t-shirt, you can use it for commercial purposes.
You can start your whole entire company based upon that image and have it be sort of a logo or a brand mark, and that's within the rights of your purchase of the NFT. So it really depends on the NFT collections.
Some NFT collections do not want their users to do that. And so that's why it's so important to look at the terms and terms of use when you buy the NFT and also to talk to other holders, to understand, you know, talk to the community to say, how are you using yours or what's the benefit?
Then you'll understand how to use it.
Ling Yah: Before we go into those terms, because I'm an IP lawyer myself, the first thing that came up was okay, what kind of copyright is it? Is the copyright in the smart contract, is the copyright in the artwork when you're buying the NFT, because what I'm buying is the contract itself, not the artwork. So there might be some who might even argue and say, there is no copyright. And I wonder what your thoughts are.
Jamilia Grier: Uh, yes. When I think of the smart contract, I really think of the code that allows the execution of the transfer on particular terms. So if the smart contract says, you give me a certain value, then I pass this digital asset to you, then that's great.
Now, if there are additional conditions in the smart contract, which would govern the IP then I would say that those are actually governing the transaction, but the issue is that most smart contracts don't really say much about IP at all.
You'd have to revert to the terms of use with the purchase, which is outside of the smart contract, which really is for the two parties to indicate what it is. And it's usually the seller that has the rights or is the one setting the terms of the, of the agreement. So once again, in that case, it goes back to the seller.
The problem that we get into is that, before these novel legal issues started popping up, sellers didn't clearly indicate what the terms of sale was. It was at best, ambiguous and, people just assumed that they had a certain rights, which they didn't.
So now people are being much more careful. There are discussions around IP licensing. There are discussions around Daos carve-outs. We'll talk a little bit about that, about what can, and can't be controlled in a dao. I think it's the evolution of the industry. It is people understanding and having more intent behind what it is that they're building.
Ling Yah: Do you think it's feasible that if I was to come in and go against an NFT founder, and I would say you don't actually have copyright in the first place so you can't even claim that there is some kind of copyright usability. So for instance, with a high drop. There's 5,000 NFTs. When I look at the 5,000, the only minimal variations between the 5,000.
So for any copyright to subsist, you need substantial skill, labor, and effort, I don't think there's much of any of that. So could I argue and say that, yes, you might say that that's 5,000 NFT can do all these things, but actually there is no copyright in the first place.
Jamilia Grier: Uh,
That's really interesting argument.
You know, I really think that once we start seeing more of these cases come through, you'll probably see a variance in different states and different jurisdictions as well as to how these cases land. I think it's a good argument, but I also think someone could also say like, yes, it is 5,000. But the core trait is this particular bunny rabbit or this particular animal. We created that. That's ours. Right?
There are so many variables with it and we need to teach founders about that. They should definitely be aware that there is grey area in the creations, and they should be protecting themselves and have plans and strategies about how to protect what it is that they're creating.
Ling Yah: So if I'm a founder and I'm worried that someone might come in argue that you didn't put enough effort into it. Does that mean that if I want to do a high collection of 5,000, each of the 5,000 needs to be sufficiently different from the other, rather than just changing the hair color, adding one earring and the others, two earrings. There needs to be a lot more effort involved do you think?
Jamilia Grier: I would say go back to the terms and terms of use and the terms and conditions. I mean, outside of filing for some sort of IP protection in whatever jurisdiction that you think is the best one to file in, the next best thing is for them to have at least some understanding with the consumers or the people who are purchasing their NFTs to say, this is what will allow you to do.
This is what is ours that we're claiming that you can't do anything with. And this is what is yours. Cause that clear delineation can be used to protect you in other situations. So if you're in the practice of clearly maintaining these 5,000 sorts of images or likeness for your NFT collection and somebody else uses it , say no, no, no, right?
This is how we operate. And as you can see from our terms and conditions, this is clearly ours, even though you haven't filed, at least you have something else to fall back on.
Ling Yah: I've noticed that as you mentioned earlier as well, not all NFT collections have terms and conditions. Sometimes just silence. And it's probably because they didn't get legal advice in the first place.
So for those who are silent on licensing rights, what rights do subsist?
Jamilia Grier: That's a tough question. It really depends also on where they are and the markets that they're in. You know, in some countries, things are really the wild, wild west. And even if you do file in some countries, you still have people who violate copyright and all sorts of infringement things that happen.
So I think it really depends, if you don't have terms and conditions or terms of use for your NFT collection, I would definitely say, go back and think about putting in place. Communicating it and socializing it to your committee. Putting it on your roadmap, put it all over the place, wear a t-shirt that says it, whatever you can do.
But just make sure that you have it in place.
Ling Yah: Although I suppose you could also say if you don't know anything, the safest route is just use it in personal the non-commercial use and no one can really go after you because at least in the UK and Commonwealth countries, there is a fair use policy.
I'm not sure if it is the same, the US as well.
Jamilia Grier: I haven't really seen so much of it on, on the NFT side, in the application in the U S yeah. But that may just be for me because my practice is more focused on the governance part and the contractual part.
Ling Yah: And what about the enforcements? Because you see lots of scams and rug pulls all the time. And for instance, one of the big scams would be an NFT is minted by say Cryptochicks and you find that actually it's not the original artist. So what can the NFT holders do?
Jamilia Grier: Yeah, those are very unfortunate and difficult situations. And for holders, when you have a digital asset, the most important thing is the value of that asset. Whether it is the value that is attached to it like that additional value added on like maybe its entrance into a club or something like that, or it is the you know, just the concrete value of the asset.
If it's an IP issue the holders have to fall back on the terms and conditions . There's also been a couple of cases over the past few months where holders had some issue with the platforms they were using on opensea where they received an email and were told to do something and they followed the instructions and they lost their NFTs.
Or there was some sort of glitch on the platform and something else happened. There are two separate cases. So you get into this very complicated circle where NFT founders or collections, people who have issued or minted NFTs, and you have platforms that host them and then you have holders.
And it's kind of like that meme with Spider-Man the two Spiderman pointing at each other where everyone's pointing at each other. And so I think there's a bit of evolution and the NFT industry that has to happen there.
Ling Yah: I notice that a lot of people who, when they see these instances of NFT being put out that isn't actually belonging to them, they tend to issue DMCA, take down notices.
How effective are those?
Jamilia Grier: Okay. So you're talking about a notice that you've sent to opensea. Okay. I've actually done one of those myself.
it's not fast, it's not instantaneous. The only thing that I've noticed is that there is a mark on the NFT that says suspected suspicious activity. And you're right. It could be sold in other ways, it's still on the blockchain. It's still exists. It still has some kind of value to it.
So that goes back to, who really has liability in the case of an NFT been stolen, being sold again. And you just get into a whole bunch of questions in terms of royalties that are received from stolen NFTs, what should happen to them? There really has to be a lot more thought into how to protect consumers in the space.
And my hope as part is like the data privacy side and like, you know, look dabbled a little bit in cybersecurity is that there are more innovations that come up in web 3 to protect consumers. And then I think it, it will just make the space so much more comfortable.
Ling Yah: This is why it feels often that Web 3 is like the wild, wild west.
There is no clear way of doing something to ensure that you get your money back if you've invested in something that isn't actually genuine. Speaking of liability, can you go against opensea for offering these NFTs in the first place? Or is there just no way for me as a NFT holder to get any legal recourse.
Jamilia Grier: Little shout out to opensea's lawyer who drafted their terms. They are iron clad.
There really is no hole that I have found in that to really be able to say, I have a claim against you. And then the question becomes, and this is probably a consumer protection question, is that right?
Can you really contract away all of your liability in a transaction where you are the host, you're the platform that's hosting these NFTs. And I think that issue has to be litigated.
Ling Yah: And so if I am going to the space for the first time, I want to buy NFT, I'm aware there are all these issues potentially that might hit me, what can I do to mitigate the potential scope of liability?
Jamilia Grier: Well, I think first of all, I would say don't be afraid because we are very early in this web three journey and you have to explore, you have to learn.
There's no easy way around it. There's some things that you can do to protect yourself in terms of cybersecurity. Like using cold wallet instead of not having a wallet at all.
But in terms of liability I think the best thing that you can do is to really understand the community before you join because purchasing an NFT is kind of like joining a family in some ways for some collections, right?
It depends on what NFT you purchase. Understanding the values of the founders and the core team and understanding well, if something happens to my NFT, will they help me? Right. I think that's a question that many consumers might have.
Ling Yah: And what if going slightly back again to the whole I putting out NFT that doesn't belong to me.
What if I, in good faith bought this NFT and I'm told for instance, like a crypto punk license, I can monetize up to a hundred thousand and I've done that. And then I find that it actually doesn't belong to the original artists.
Am I liable for copyright infringement? Do I have to give back my hundred thousand dollars? What is it like right now?
Jamilia Grier: Um, I think there's a lot of things that would come up to in that scenario. Firstly, you have to go back to the terms of use of that NFT that you purchased. And I also think when you say you didn't know, right, there probably would be an inquiry as to how did you not know?
And these things normally come up in the case of litigation, because I assume that in a case like that, definitely the parties would want to take it to court. There probably wouldn't be a email that settled everything. So there'd be a bit of fact finding and discovery. And it also depends on the lawyers involved and how well they're educated in the space to set up.
But in terms of what the law says I think that we're still also, once again, we're still in the phases of trying to understand where certain laws are align in terms of liability.
Ling Yah: Are NFTs securities?
Jamilia Grier: I didn't know, you're going to hit me with this class.
It's going to link back to WOW Pixies.
No, I don't think NFTs are securities for the most part. I've seen a lot of really innovative, really creative ways to use NFTs and tokens where one could argue, oh, this is being used as a security or it's being used as an investment contract.
I think there's still a lot of discussion that has to happen around that. But no, I think for the most part, most NFTs are not securities. When you start to get into situations of, you know, people talk about fractionalized NFTs, I dare say that word.
VC DAOs, investment DAOs and all of these other really innovative and cool things, but they kind of teeter and border on the line of does this fall within the domain of something that's a security or not.
You could argue either way and I think what really has to happen. We're trying to open the circle in ByteBao to include law firms, lawyers, innovators to educate all parties on the technology and to examine whether the law actually fits this technology.
No one has ever really asked that question. It's like, oh, well, if you apply this old law from before there was internet to this web 3 technology, then this is bad. Let's go back and look at the old law and see if we can modify, can we change.
You know, there have been some revisions and some suggestions about revisions to the SEC, the securities and exchange commission regulations, which are really just including one or two words in the definition section.
I really think that we need to do a bit more thinking in terms of creating new laws that are fit for purpose.
Ling Yah: Why would you say that NFTs are not securities? Cause I was looking at the howey test and it seems to hit all the requirements. It is an investment of money, it is a comment of price, you do expect profits and it is based off the efforts of other people. especially in a dao right.
So why would you say that it's not security because it seems to me like there's a strong case for it, even though of course this is just speculation. It's not been determined yet.
Jamilia Grier: Right. So the third point of the howey test, which is, is there a reasonable expectation of return on investment by third parties?
I think in many NFT communities there's not. I think the motivation behind many NFT holders is some other benefit. And I'll give you an example of that.
It's Meta angels. I recently borrowed a angel after we had the Twitter space. We talked about HUG, we talked about, I mean, the angel lab that byte values is working with.
Ling Yah: Yeah, it's funny. Cause I just interviewed Debbie Soon and then she got through Web 3 because she put a wish in the Meta angel wishing well.
Jamilia Grier: love it. And I'm, I'm actually sitting on the outside of the wishing, well, like, oh my gosh, I'm going to make a wish and I'm waiting to make the wish.
Anyway so that's a situation. That's an NFT collection that has sold out very quickly and there are none that are for sale on opensea as of yesterday when I checked.
It has nothing to do with the price. It has to do with the indirect value. The value which is people helping people, which is, I want this NFT so that when I'm in need of help in real life or in my personal life or my career life, I can ask somebody and somebody will reach out and help me.
you can't really put a price tag on that. And so there are many NFT collections that have this really strong social cause. Like when I'm working with clients, I always say, go back to your social cause what is your social mission? What do people hope to get out of this that has nothing to do with an investment?
There's another NFT collection that I think is a really good example of this. Although I think they haven't minted yet. It's called rhino Savannah. And for those of you that are listening, please don't go out and like, oh, Jamilia said, you know, shopping, like add all these to your wallet. I'm just giving samples.
Yeah. Not investment or legal advice. But their, their mission is to save endangered rhinos. And they've partnered with a number of charities and animal protection you know organizations to do that. And, you know, in discussions and like, this is just really cool. Like you could literally have a server on your discord that says name this baby baby rhino.
Right. And people get involved in their name. Like that's cool. It has nothing to do with like the price of the NFT going up or down. It's just that people like baby rhinos.
So going back to the question about whether NFTs are securities. I think that when an NFT collection stays on course and they focus on the social mission and purpose, which really is the, the overarching theme of Bitcoin and why we're so interested in this technology, because it is about creating community and helping people and decentralization.
I think that is what really keeps NFT collection safe and on the course.
Ling Yah: I love that so many NFT collections do actually have a social purpose so that save the rhino is an amazing example. But for these collections who do have a social aspect, would they potentially face additional regulation and scrutiny from say the SEC?
Jamilia Grier: I, I wouldn't really think so. And I think, you know, when you also look at that third prong of the Howey test, the whole return on investment, there's like other factors and considerations that would determine whether or not there is that expectation.
So one of the things I really love being a compliance person is have you marketed this as something that, oh, buy this NFT, you're going to get 10 X or 50 X. Those are the things that we should not be doing. Okay. I'll just tell clients straight off the bat, don't try to market your NFT as the next rocket or anything because you want to steer very clear of those sorts of communications.
Ling Yah: What if I'm selling a play to earn NFT and you do very clearly want to get investments and returns. Is it different for them?
Jamilia Grier: Well, I like this argument. Part of that earn is your labor, but it's actually your play or your learn turn, right.
It's not solely the third party that is doing something it's you. So you can also make the argument, well, this is not me relying on a third party to do something. This is me sitting at my computer on my phone, playing this game and I'm getting money.
But then the second part of that is, is there an additional, you know, return on investment from marketing or other pieces and then it gets a little bit blurry. Is this a 60, 40, or an 80 20, or, how much of this return is based upon your playing the game.
Ling Yah: I think the argument would lean even deeper because I'm thinking of a game I'm starting to play called Aaavegotchi. It's basically play to earn, but there's also an additional element of where if you're not playing it, you can put it out and lend to other people and do your own profit sharing.
So while you're sleeping, they will be making money. They might earn 70% and 30% comes to you automatically. So it sounds like those would definitely be security.
Jamilia Grier: I'm going to say either way on that, but I think it does lean a little bit more. The scale is going a little bit more on that. Yeah.
Ling Yah: So we are talking about all these because I first heard of you through Lily who founded WOW Pixies and you basically advice them.
So how did you firstly hear about WOW pixies?
Jamilia Grier: Yes. I really like women led projects or projects that help women led projects. It was doing a little bit of research. I actually came across Lilly on LinkedIn. If you can imagine I know people are listening, probably like that old fashioned platform
Don't sleep on LinkedIn people, okay. It has a lot of really good benefit to it. And I messaged her and I was like, yeah, just so you know, these are the things you should think about. Just wondering how are you guys doing? And she was like, oh my gosh, how did you know we needed to talk to an attorney.
And then we just had a call and we clicked, which I asked making is very important. And yeah, it just, just took off from there. Really a great, great team there, you know, Lily, Mark, Lawrence, the whole team.
Ling Yah: And what is your role at WOW Pixies? What does being a lawyer to NFT collection look like?
Jamilia Grier: We have like a core set of things that we focus on. Number one is the governance of the dao. And so there've been some communications and documentation that we pulled together. So just kind of inform the community of what's going on, what should you expect? How should we interact?
And then there's a bit more documentation around process like proposals. Whenever a proposal was put up for vote, how do you do that? What's the form that you fill out? What are the considerations that everyone should take into play before the vote? You know, just kind of firming it up a bit.
The web 3 space is sometimes very informal, but I think people like to know how things are done generally. So having a bit of that documentation provides security for the community. They know what to expect. We kind of just roll with the punches as issues come up.
There's a lot of third party documentation, bringing on artists, how do we interact and help out the workstation leads? That sort of documentation.
Ling Yah: So before we dive too deeply, what is a dao?
Jamilia Grier: A dao is a decentralized autonomous organization. I like to think of it as like an amoeba. It's moving in a direction and there's no head, right.
It is moving in a direction which is a core, common mission or goal, but there's no CEO. It is driven by consensus. It's driven by the community and the members through voting.
Ling Yah: What kinds of daos have you seen so far? What's available out there?
Jamilia Grier: I've come across some daos that are so interesting.
There's one dao that I think is pretty cool. It's called the people's dao. The people's ecosystem. It's based in the U S, I believe out of Nevada and they are about marijuana use. So this dao, they're not a client of mine but I, I have had some conversations with them.
So what they do is that you actually purchase it, purchase a token to get into the DAO or you pay a fee to get into the DAO.
Once you're in, there are a number of projects that you can review to vote upon to see whether or not you want to invest in. And these projects are marijuana companies. In many states in the U S marijuana is now legalized.
Of course there's a lot of regulations around it. But they regularly review companies to see whether or not there is a dao, want to invest in.
Ling Yah: I was speaking to Lily and she was explaining what WOW Pixies.
And I asked her, is it not a decentralized VC? And she went, no, it's not. Why is it not decentralized VC?
Jamilia Grier: Like I said, I think when you look at the main purpose of a Dao, that really is what should define it.
And with WOW Pixies, it sort of has evolved. It went from being at its core function an NFT collection. Then you look at the roadmap, then it was focused on investing in women led NFT projects. Now we've kind of expanded a bit you know, we're also sweeping the floor on other NFT collections and that's one of our ways that we give back.
And then we're thinking about other ways to kind of broaden the scope. So back to the whole argument of the core mission is what define the Dao. I think if you were to say to Lily there's a project and it's not an NFT collection, it's not a Dao. It's basically just women artists and we want to help them. How do we do that?
I think that wouldn't be something that's out of scope just because it's not a investment per se. If it were a situation where they only invest in, they only look at or play the role of like a VC.
I think it's so broad at this point that their real mission is promoting women in the space. And they do that in so many ways that it's hard to kind of put them in that VC Dao space. And that's a good lawyerly argument and I'm going to stick to it.
Ling Yah: Going back to the whole security thing, if I've decided that my NFT is a type of security, what is the legal significance behind that?
Jamilia Grier: Being a security means that There are some reporting and disclosure requirements. I'm just speaking for the U S in terms of the SEC.
There are some approvals that you have to get as well. A business that wants to be fast and wants to be agile and progress very quickly, that's the reason that most don't want to be classified as a security. There's also a lot more fees involved and it's more expensive to meet those reporting and disclosure requirements, as opposed to, I'm not classified.
I'm not a security. I'm not operating in that space. I don't have to do it. I can be faster, save costs, cut costs and all those other benefits that come along with it.
Ling Yah: I think it's quite clear given all the interviews I had with people in the NFTs space that is impossible for you to establish a web 3 organization without implementing some kind of web 2 legal structure to it.
I noticed with WOW pixies, you helped to incorporate pixie's world in Singapore. And I wonder what the thought processes behind, how do you set up a DAO in the Web two world?
Jamilia Grier: I love that you asked this question. Yes, there has always been this thought that if you're operating in web three, then in real life, IRL bricks and mortal mortar, don't apply. Web 2 bye.
No, that's not true. You're creating value. You have to protect it. Whether you're creating an incorporation in whatever country you choose to you'd have to think about tax. You have to think about all the things that a regular company would, because at the end of the day, you're creating a company.
with daos I think that is more so a governance means. I would rather treat it as that, unless you're going to say I'm going to go to one of these more exotic places where I'm going to register my DAO, like Marshall Islands or Wyoming.
But outside of that, you should have a legal entity to formulate how this Dao will interact with the rest of the world because what happened if someone sued your dao?
Ling Yah: What are the benefits of incorporating your DAO in Singapore, say versus Wyoming, which has its own Wyoming DAO law? I think it's the only one in the world right now. What are the benefits? How do you think about where to incorporate?
Jamilia Grier: No shade to Wyoming. I don't want to say anything bad. Maybe I'm old school. Feel a bit more comfortable with the known of how to navigate in a legal entity that we know and simply attach it or having association with the Dao that's in Web 3.
So when you start talking about I've registered my Dao, or I've created a LAO, a limited liability autonomous organization, I think there still remains a lot to be seen with how a LAO would operate or Sue a corporation or an LLC or something like that. And maybe it's happened.
Maybe I just don't know, but I think, you know, at least for purposes of being conservative and understanding and what to expect. It's probably a bit better to go with the devil that, you know, and then that you don't, maybe in five years it will change. I mean, Hey, in the web three space, everything is fast.
So maybe in two years it will change.
Ling Yah: So if I choose to incorporate in Singapore, what are the benefits I'll get? Is it a better tax rates or what do I get if I choose to be based in Singapore?
Jamilia Grier: Okay. So for Singapore, Lily is actually the main factor for our choosing Singapore. We had two founders that were in the U S and then one that's in Singapore and my company is also registered in Singapore.
So that's the reason that we went with Singapore in that situation. I think Lily's also like quite hands-on with the administrative and the paperwork sense. So she was able to quickly just kind of, you know, get that done. I'd say that was probably more of a determining factor than the pros and cons.
Ling Yah: If neither of my founders are in Singapore and I want to think of where to incorporate around the world, then where should I go? What do they offer?
Jamilia Grier: So I am going to give a shout out for where I am right now, which is Dubai.
Broadly in terms of being a crypto hub, Dubai is really trying to establish a framework for crypto entities to operate in. There was an announcement last month about Barra, which is the virtual assets regulatory authority, which will be set up here and similar to the conversation that we had a few minutes ago.
This is an example of a jurisdiction that is saying our old laws don't apply. Let's create new. Now I can't speak to how good those new ones are because they haven't really come down yet, but maybe I'll come back six months and let you know how things are.
I'd say Dubai is one place that people look at in terms of setting up anything that's crypto based, not necessarily Dao although there are a few Daos in Dubai but it's, definitely becoming a hub for web 3, for sure.
And then there's been some conversations about people that look at Switzerland. To be honest with you, I think that is just a mindset of, I want to be in a jurisdiction where it's a little bit further away from things, and maybe I have a bit more flexibility and Malta as well.
I really don't operate too much in Switzerland and Malta. Generally in Singapore, US and Dubai.
Ling Yah: What would be the good legal structures to consider in setting up a Dao?
Jamilia Grier: I wouldn't really go simple. I've heard people come with me and say, we were told we should do a tiered and LLC is contracting with the Dao. I would keep it simple. have a corporation that owns an LLC.
And I'd say there's always room to grow. So at the bare bones, what you probably want to have is a corporation and at best some Daos have a foundation.
If they're strictly thinking about charities, then they choose to have a foundation or a trust or a charity like a 5 0 1 C3, something like that, or just a corporation. I think you really don't have to go into too much of a tiered approach unless there's some special consideration on your mind.
Ling Yah: in terms of thinking about if I'm setting a Dao and the kind of documentation I need to put in place, what are the considerations?
What would that look like?
Jamilia Grier: Yes. So if you don't remember anything else from this podcast, the two letters that you need to think of T's and C's: terms and conditions. You want to have those laid out. I kind of look at documentation inward facing and outward facing.
So you have your documentation, which is inward facing, which impacts your core team. So if you and two other people set up a Dao, you'll have a legal entity, but what is your founders' agreement? What's your relationship like your other founders. Is it 30, 30, 30 or 33, 33, 33?
I'm a lawyer, not a mathematician. You know, how, how does that actually look? And anything else that you want to decide on with them.
Then I would be sure to set up your outward facing documentation, which is your communications to your community. And that's the whole governance piece. And then underneath that you have, you know, bits and pieces process and other things that you want to have in place for sure.
So for outward facing communication, what are the main factors that I should definitely have?
Please don't forget privacy policies. We posted an article a few weeks ago about privacy and web 3. Because web 3 is so exciting and new and interesting that the world kind of just took off and forgot about some of the fundamental privacy concerns and regulations that are in place to protect consumers.
For example , there's been a lot of discussion around sharing wallet addresses in a server. Like, Hey, just drop your wallet address in here. And we'll let you know if you, got chosen.
And so there becomes a question of, well, if I drop my wallet address, are you going to see that I have 100 eth? And then you're going to try to hack my wallet? In addition to a privacy policy, just having a good strategy about how you're going to manage all the information that your community passes to you.
Ling Yah: So what would be a good strategy?
Jamilia Grier: As much as I have some concerns about discord and its security features, there are some good sides. The emoji function I think is pretty cool to be able to use that as an opt in.
So if we want to collect some information about our community, you could have an opt-in function where you say, if you want to answer this question, you could do this emoji happy face or not a sad face. You can play with it and then use that.
So I think that's one way to kind of operationalize privacy within a discord server. You just gave me a topic for my next article, how to operationalize data, privacy, discord server. Wow.
You're welcome.
Ling Yah: Daos by nature, without having set up a Web 2 structure, they are not able to contract with other companies in the web 2 space. So how do you think through these and how do you decide who the authorized signatories are?
Because it's a flat hierarchy and everyone has that decision making power all you have to do just transfer your special token to someone else. And you're out of that top hierarchy that allows you to make these decisions or to shortlist that's an investment proposals.
Jamilia Grier: So this is going to sound very snarky, but all of my Dao clients have legal entities.
And it's specifically for that purpose. So how people without legal entities to it, I really don't know. I think it's a very gray area.
Will you say that all members of a Dao would be open to potential unlimited personal liability?
Ooh. I personally would not want to you know, have unlimited personal liability as a member of a Dao. And I think that's another really good reason that the legal entity should exist.
Ling Yah: But if there's no legal entity, then there could be potential unlimited liability.
Jamilia Grier: Theoretically yes or theoretically it could be an argument where, well, Hey, who created this Dao?
Ling Yah: And I was, I noticed that in all these Daos, these NFT collections there are lots of giveaways that seem to be based on luck. And it immediately make me think of gaming laws and gaming, at least in Malaysia, is illegal if it's just based purely on luck.
So I'm just wondering what your thoughts are.
Jamilia Grier: Yes. I like that we're having this nerdy legal vibe.
No, it's awesome. I actually had a client that asked me.
They said, Hey, we want to do a giveaway, but we want to make sure we're not violating state laws. They're US-based. We went through the state law. There are laws that govern this just like in Malaysia. And unfortunately I think a lot of NFT collections don't really have counseling place, or maybe it's not cost-effective for them to pay attention to those.
Ling Yah: So this is definitely a red flag and the only reason all these giveaways are taking place because the law and regulators haven't caught up yet. But you need to start thinking about it
Jamilia Grier: People should think about it. And I think that's another good point too, because think of all of the activity that's happening in the NFT space.
If I were a regulator or law enforcement or a state's attorney, I wouldn't be able to target them all.
Ling Yah: And what other potential risks do you think that NFT holders should think about? Or founders as well, that we haven't covered so far.
Jamilia Grier: I would say just be careful of your personal information. I mean, I'm a very public profile because at some point I realized like, look either I'm going to just create my own online information or it's just going to be whatever, whatever it is. but most people, some people don't want anything about them online.
And I think if you're in this space and you're in a server and you're saying, hi, I'm green apple 1, 2, 4. And you know, you really don't want to be known. Your Twitter is just a avatar of your NFT. You should understand that you're actually creating a lot of data and you're creating a window into what you do and what you say.
Ling Yah: So would you say that giving you my Ethereum wallet address constitute personal data? Or does it need to be, for instance, a wallet with a lot of all these different collections that give you an idea of exactly who I am, what I like, maybe eventually I could put out my certificate or graduation from some university and you would know exactly who I am. At the moment it's just a bunch of numbers and randomly generated.
Jamilia Grier: Yeah. I think it would be a tough case. You'd have a tough time building a personal profile or persona about you based just simply on the transactions that you have. I know that there are some websites out there that, you enter in an address and it will show you.
Oh. Until more institutions start accepting cryptocurrency then you'll have a limited window. But once McDonald's starts taking crypto payments, you're done, you're done. People are going to be like, Hey, I know you had that big Mac last week. There will be no hiding it, none.
Ling Yah: We normally talk about how we don't want spam and so you don't want to give your email addresses to companies in the future.
It could be that you don't want them to get your wallet addresses because they'll be air dropping all this promos to the accompanies and you'll be permanently advertising this company in your wallet. So maybe that would be an issue that personal data protection laws can come in place and protect me from.
Jamilia Grier: Yes. You're absolutely right. I mean, that's another reason that we need more tools in this space. We need more people who understand cybersecurity, understand data protection, but they also understand Web 3, so they can create something to better protect consumers.
Ling Yah: So being lawyers, I'm afraid our talk has been quite doom and gloom. So is there anything that's very positive? What can we look forward to that you're excited about in the web 3 space?
Jamilia Grier: I'm excited about a lot.
I think one thing that I'm very excited about is the ongoing conversation between the industry and the lawmakers. I think there has to be more of it. Because there is this argument that some regulations are too harsh and they stifle innovation.
And I think that really stems from a lack of information, a lack of education about how technology works. one of the missions of byte bow is to really create an ecosystem where those conversations can be held and that information sharing can happen. And we, we look to start with lawyers and innovators, companies, professionals. We are in some talks with law schools to help, as students come up.
Cause if you can imagine, think about your core classes for law school, right. I was telling my husband this the other day, you've got criminal law, you've got SIF pro you've got, constitutional law. I mean, how that's the U S one?
Ling Yah: I used to have EU law and that's definitely out of it for the UK.
Jamilia Grier: Right! We have so many core courses that we don't use, but yet a new asset class has been created. We should have courses about this asset class, because you have real estate, you have to, take real estate law.
Ling Yah: Yes, we did have to. Property law.
Jamilia Grier: Property law. Yes. But that's an asset class. So you should have digital assets law.
So people who have listened to this, they want to get in touch with you learn more about Web 3 from the legal aspect, where can they go to find you?
I'm on Twitter quite a bit. My Twitter handle is nomad queen 2. And you can also just, you know, stop by the Bytebao website. It's bytebao.io and drop a note in there and we're always present .
Ling Yah: Is there anything else you'd like to share that we haven't covered so far?
Jamilia Grier: I would? Say if anyone's listening and they're really interested about, jumping into a career in web 3, check out our web three bootcamp it's coming up. It's starting May 6.
It has a heavy legal focus, but we've opened it up to non-attorneys as well, too. So if you're interested, check it out, you have a chance to learn for the first four weeks with courses and small group discussion. And in the next eight weeks, we get matched up with a startup with an actual web 3 startup, which is pretty cool.
Ling Yah: And that was the end of episode 82.
The show notes can be found at www.sothisismywhy.com/82 and stay tuned for next Sunday, because we were meeting an entrepreneur, and ex Google employee who's built one of the most successful podcasts around and use it to build his own career, including getting in to charity water. We nerd about all things podcasts and creator economy so if that's your speed, don't forget to subscribe and see you next Sunday.