Welcome to Episode 44!
Our guest for STIMY Episode 44 is Joe Sidek.  
Best Known as director of the George Town Festival, Joe Sidek has established himself as one of Malaysia's strong advocates for the arts.

Before taking up the position of festival director, Joe Sidek played major roles in various forms of art expression – from event management, art curator-ship, restaurant ownership and even costume design. A lesser known fact about Joe is that he still runs his family–owned textile chemical factory, Chemdyes Sdn Bhd.
With his industrialist background, entrepreneurial nature and his visionary passion for the arts, it is no surprise that 8 years after his appointment as festival director of GTF in 2010, the festival has grown incrementally ever since. Alongside GTF in 2018, Joe also directed the 3-year-old Rainforest Fringe Festival in Kuching, having founded the festival in 2017. He also helmed the Butterworth Fringe Festival for 3 years (2015–2017) and earlier in 2014, he brought Tropfest, the world's largest short film festival to Southeast Asia and showcased the inaugural Tropfest South East Asia in Penang.
He has been invited to speak regionally and internationally in cities like Brisbane, Taipei,  Seoul, New York, Salzburg, Hong Kong, Jakarta, Chiang Mai, Seoul, Gwangju, Shanghai, Adelaide, Yokohama and Malta among others about his role in placemaking, advocacy of the arts and about Penang.
He is 2020-2022 chairman of Federation of Asian Cultural Promotion, an industry expert on the industry panel of Malaysian federal agency for the arts and culture, Cultural Economy Development Agency (CENDANA), and chairman of Penang Arts Council.
PS:
Want to learn about new guests & more fun and inspirational figures/initiatives happening around the world?
Then use the form below to sign up for STIMY's weekly newsletter!
You don't want to miss out!!
Who is Joe Sidek?
Joe was born in Johor and moved to Penang in 1968, where he has been for the past 54 years. And he shares what his childhood was like & why Penang and the Penangites mean so much to him!
1:52: Joe has noble blood!

3:18: Moving to Penang

3:42: Why Joe thinks Penangites are "arrogant, confident, and proud of who they are"

4:36: Wanting to do art in London & John Galliano

5:45: Not wanting to return home

6:50: His relationship with his dad

10:37: Taking over the family business
I just liked everything from music colors, to fashion, to fabrics, to plants. And then you find slots for it in your head. Now I feel that the best job is being a festival director because you can put it all in projects and you get people to do different things. So it is being able to rehash what you think you like or music or sound, and to work with people in it. So it's a dream job.
Becoming a Festival Director
It's not easy being a festival director! And it wasn't always a smooth journey for Joe Sidek, as he shares in this STIMY episode. 
11:35: Why Joe's first festival in 2001 failed

14:33: Becoming the festival director of the George Town Festival 

17:02: Getting help from the Penang Chief Minister

19:15: Why Joe brings in not just local, but also international artists

21:48: How Ernest Zacharevic got involved in the George Town Festival (resulting in the subsequent street art boom!)

24:01: Gentrification & over-commercialisation

24:54: GTF's student and community tickets project

31:49: Finding historical, old & meaningful places to stage GTF

32:41: The biggest challenges of a festival director

35:50: Artists that have adapted well to COVID/virtual world

37:50: How artists can build their personal brand & stand out 

42:21: How to become a festival director

49:45: Where artists can find their community
If you're looking for more inspirational stories of people coming to faith, check out:
Yulia Brodskaya

: Russian paper artist who's worked for the Guardian, Oprah, Wimbledon, Issey Miyake etc.
Lim Pui Wan aka "Picoworm": Miniature artist who was featured in Ryan Reynold's special Snapchat series
Alena Murang: Sarawakian sape player, visual artist & heritage advocate 

Saw Teong Hin

– Director, Producer & Writer (most known for directing Puteri Gunung Ledang & Hai Ki Xin Lor)

Tan Kheng Hua

– Singaporean actress & director most known for her roles as Margaret Phua in Phua Chu Kang & Kerry Chu in Crazy Rich Asians

Morgan Then

– Sarawakian half of Australian electronic duo, Slumberjack, who've received 2 ARIA Gold Records & had their 2nd EP debut at No. 1 on i Tune Australia's electronic chart

Benjamin Von Wong

– Photographer/social artivist who's generated over 100 million organic views with his work in the social impact space

Red Hong Yi

– Artist who paints without a paintbrush. Clients include Google, Facebook, Nespresso & Jackie Chan. Her artwork was recently featured on TIME Magazine's 26 April 2021 special issue on climate change & TIMEPieces (TIME's new NFT community initiative)
If you enjoyed this episode with Joe Sidek, you can: 
Leave a Review
If you enjoy listening to the podcast, we'd love for you to leave a review on iTunes / Apple Podcasts. The link works even if you aren't on an iPhone. 😉
Send an Audio Message
I'd love to include more listener comments & thoughts into future STIMY episodes! If you have any thoughts to share, a person you'd like me to invite, or a question you'd like answered, send an audio file / voice note to [email protected]
External Links
Some of the things we talked about in this STIMY Episode can be found below: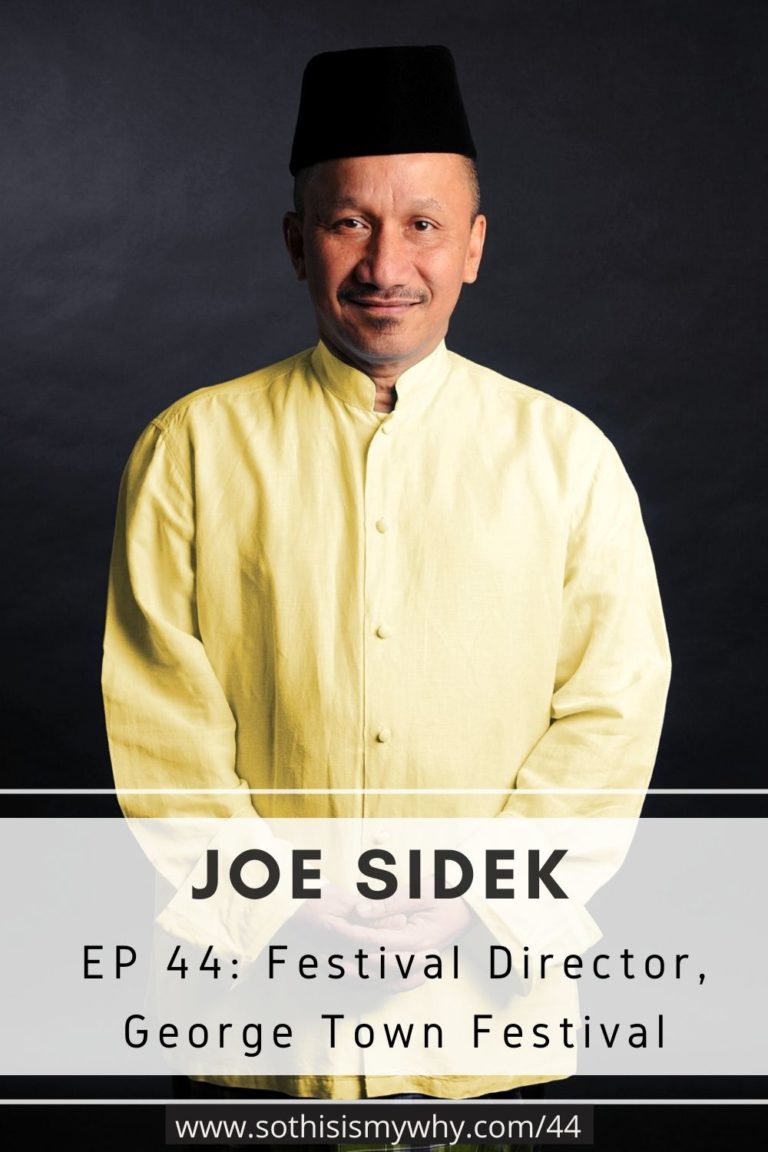 Ep 44: Joe Sidek - Festival Director, George Town Festival
Ling Yah: I think you used to own angels at home and your dad fought with you.
Joe Sidek: How did you, I told you that I had this father son syndrome, right. Cat on a hot tin roof. So I love my father dearly. And one day my father came to my house, my apartment, and there were a lot of angels. I collected angels. So he asked me to get rid of it.
He's a good Muslim. And I said, no, they are just like lamp shades. I don't pray to these things. And that was the only time in my life that I went against my late father. And he shouted at me, this it's all going to be a Christian, then all that.
And I knew I hurt him, because as a father, as a Muslim father, he wanted the best for me and his fear was I wouldn't go to heaven because I collected angels and that's why he was protecting me.
But I was angry because I think He didn't understand. But now I realize why he was angry because he loved me. He wanted to protect me.
I still collect angels. I do believe in angels. I believe the universe sends you angels and if you don't look out, you're going to miss them.
Ling Yah: Hey everyone. Welcome to episode 44 of the So This Is My Why podcast. I'm your host and producer Ling Yah, and today's guest is Joe Sidek. One of Malaysia's strongest advocate for the arts and culture and most known for his long standing tenure as the festival director for Georgetown festival.
As well as for the Butterworth Fringe Festival and In this episode, we cover his childhood, the many things that he did leading up to becoming a festival director, as well as the intricacies of pulling together many extraordinary arts and culture performances from all over the country and region.
So are you ready?
Let's go.
I want to start out with a fun fact I found out about you. Apparently you have noble blood.
Joe Sidek: Oh God. How did you know that? I mean, where did you find that it's not written in any way.
Oh God. I mean, I only know of this cause when I was going to go to university, my father produced a little piece of paper that said I was related to Datuk Kelana from Sungai Uchong. And that's how he got to Malay college. It's as noble as you can get with the Malays.
That was a piece of paper that I wish I have today, but it's gone, you know. But yeah, we are related.
I mean, I won't say I'm a noble blood. My mother's a commoner. So there goes my noble blood.
Ling Yah: But your dad certainly lived a sort of noble life, right. He went to a special school with all these other classmates with their own servants and he could recite Shakespeare.
Joe Sidek: Oh, my God. You've done a lot of work. This is like, thank you.
You know, not many people know this.
Y ou know, Kheng's husband and I sat and talked about a project called Four Kings. My father did go to Malay College and he went to school with Kings or would be Kings then. But he comes from a small village and poor, and he was a little bit embarrassed. The fact that he had to wear a red jacket or my grandfather would bring bananas to the gate.
And whereas everybody else was in Rolls Royce or Bentleys and drivers. So although we were nobel, we were not that rich.
I was born in Johor 58. 62, 63. I was in Kuala Lumpur.
66, seven, we were in Ipoh.
68. I came to Penang. That gives my age, straight away. So I've been here for 54 years.
Ling Yah: And what was it like moving to P nine for the first time? Do you remember
Joe Sidek: Yeah, I was teased at school because my Malay accent was very Southern Malay. Very polite, very gracious and and all that.
So I was always teased at school, but I like coming to Penang. My parents love Penang. Hence why they settle on here. He's from Negri. But I think I I've loved benign. I don't see anywhere else in t he world that I would call home for this moment.
Ling Yah: What was it about Penang and the Penangites that you love so much?
I mean, I read an article where you described real Penangites are arrogant, confident and proud of who they are.
Joe Sidek: Oh my God, you really you've done your homework. But uh, yeah, they're rude and arrogant, opinionated. But they love this Island. It belongs to them. And the "we" i s such an important word here because it is a village. It's really a village.
And I recently did a project and I'm just so proud that this village came together. So I think Penang people take ownership of land. Um, I believe even people in Sarawak is the same. In the whole of Malaysia. Sarawakians, Penangites, and Sabahans take ownership of land and pride.
Ling Yah: And were you shy as a child?
Joe Sidek: I'm still shy. People don't know this, but there's always a ying and yang. It's true. I'm painfully shy and I sometimes at parties. That's why I told you, Kheng had to hold my hand and I'm terrified of public speaking. I'm learning it. I'm learning how to grasp it because it's my work. So it's like, you just have to live to get better, but I'm shy.
I'm shy. It's a dual personality somewhere. You're both shy and people think I'm an extrovert. I'm not, I'm quite shy.
Ling Yah: So you spend your youth in Penang, then you went to London levels and then you ended up doing town and country planning at Manchester university. Right?
Joe Sidek: My father wanted me to be a smart, clever young man. And he had a job waiting for me in Penang. So after my a levels he wanted me to do town planning. And so there was either Manchester or Dundy and then sounded crossly cold. And so I went to Manchester.
Ling Yah: But you wanted to do art in London, right?
Joe Sidek: Yeah. Yeah. I went to the same school as John Galliano. We used to same art class. I don't know. You may not know John Galliano, but he was such a big name maybe 10 years ago.
We used to go partying and he was like, brilliant. there were five of us that, wanted to go to St. Martins.
And I was the best art student in the class because the teacher used my work to show off everyone. And one year after I left, Galliano came to me in a bar and said, , they use your work to teach us.
But my father didn't want me to go to art school. So I hated him for a long while, but I realized why he didn't want me to go to the art school.
Ling Yah: So after you finished your degree, did you feel like you wanted to stay back?
Joe Sidek: I didn't come into home. I didn't. Okay. This is the first time I'm making a real public announcement. I didn't finish my degree. I failed one paper and I had to resit. And the professors and all wrote to me and persuaded me to reset.
And I just couldn't bring myself to do it.
I finished those three years. If I had sat for that one paper, I would have got my town planning cert. But no, I didn't. I just disappeared.
I decided I was going to stay on . I lived off milk bottles, ice and tomato ketchup. I lost touch with my family. That really upset my parents, but I wanted to see on, but after one year I decided that I had to come back, , because my father sent a telegram to my sister in Finland and I still remember my sister at that time, there was no handphones or whatever.
But telegram read, please tell Joe to come home. We love him. Oh my God. I'm going to be so emotional. For years, I kept the telegram, because I think we all grew up with this Freudian baggage of father's love or mother's love. And that certainly was one of the first pivotal point of me thinking my father did love me.
Ling Yah: As I understand your dad was always critical of you, right? He never had nice things to say, and it was always a difficult relationship..
Joe Sidek: How did you know all this? This is not public knowledge. My father was very critical. And I remember one time me asking him why can't you just one day just say, well done. And this is after my first big show where I had Nora Mizuki and Aishah Ali who, 20 years later, I think wrote a glowing thing.
And all, he said, Oh, I would have done different. And then he did say like, why should I praise you so that you get big headed? I carried this for maybe 30, 40 years that he never ever said nice things, except one year before he died. Okay, I will be so emotional. One year before he died, I was looking after him.
He had a stroke, we were walking to the swing and he said to me, I never made my money or my fortune till I was in my fifties. I know you will make it.
Ling Yah: I mean, that was significant because before that you had done so many, many, many different things that you came back, you were a landscape gardener, baby long, boom, boom, club. So many things.
Joe Sidek: Yeah. But I tell you, I think secretly he really admired me. And longest time I had this film in my head that was going to be called rain trees on Brook road. Route road is this old street in Penang with rain trees.
And I imagined this film. I saw scene where I would be driving back from the airport and my father had died and it was waiting and I go through his things and I find my letters. and I've, I've been carrying that images for so many years of my life. And then when my father died, I actually found a whole stack of letters that he had kept.
I had imagined this in a film script in my head. And in those days they were aerograms that we used to write. And there was a whole stack of me, very angry. Aerograms from, I was in San Francisco and I would write to him daily. It was a love, hate letter. It was like, how can you do this to me? Why didn't you do that?
But at the same time saying, I love him so much. And the old man kept these letters.
I'm a big one on I don't know whether you noticed so-called, cat on the hot tin roof just tenancy ability. I mean, I feel it's so much represents my relationship with my father or late father, that it was love that could never be told or love that you cannot say.
So it's like, you don't talk about it, but you know that he loves you, you know,, and she knows he loves you and you think he does love you, but he does. So now it's 62. I think my father did love me very, very much.
That realization came, I think, around in your forties when your dad had a stroke. But I wonder, , prior to that, do you have some kind of idea of what you wanted do?
Like how did these very different jobs come about?
It's not so different. I think I'm lucky in my life I have a photographic memory. I filed up everything in my head. Names and songs and articles and melodies and images. And I remember there was a film that I saw called Les Eu Font de paradi but children of paradise and years later, I turned it into a title of a fashion shot, , so, or how D and as a child, I would just find out images and things, and then you go through life and then it comes up again, , the secret gardens. Every project I do now, actually comes from years of me filing up in my memory bank.
Things. That's why I keep telling all this people who want to be creative, start filing, start building your memory bank. That is your source of information. That's the source of your inspiration.
Ling Yah: it sounds like you loved all kinds of arts and you were just naturally drawn to it.
Joe Sidek: I don't know. Yeah. I would say that I just liked everything from music colors, to fashion, to fabrics, to plants. And then you find slots for it in your head. Now I feel that the best job is being a festival director because you can put it all in projects, , and you get people to do different things.
So it is being able to rehash what you think you like or music or sound, and to work with people in it. So it's a dream job.
Ling Yah: So before you became a festival director, so you actually took over your dad's position as the CIM dice syndrome Redhat. So you were working in textile chemicals for the first time.
There must have been a shock.
Joe Sidek: Yeah. I remember like my father died, we had this big family meeting. I have an elder brother and mother said, no Joe. You have to do it. Then I said, no, I don't want, I want to do the arts, me being stupid and naive and young. No, no, no. I want to do the arts.
I don't want to. And I remember crying because I felt so pressured. And then my mom said that my father wanted me to do it. And so I'm glad I did actually actually made a man out of me. I think being disciplined into going to a factory in the middle of nowhere where it's gray and dull and dusty. People work, that's accompanied and there's factory workers in this production shop. I'm still working there although I'm not physically there everyday.
I think that taught me a lot about human relations, , and my, Chinese Almanac guy said that I needed water in my element. So, and I think that's the reason why I'm so suited to that job because it's chemicals. So hence I never left that job.
Ling Yah: So around 2001, so you did your first festival that failed.
Can you share a bit about that experience?
Joe Sidek: Oh my God.
I've never spoken again publicly about this, you know? I was asked to do a festival by the authorities and then what I didn't know was they already decided what was going to be like. So me with my grand ideas didn't gel. And I remember being so ashamed and embarrassed and out of my depths. And I had a poster of that festival somewhere, , and it was to remind me of my failure.
Like, , I designed this way. I thought it was a nice poster, but I couldn't put it all together. So this is not public knowledge that I failed miserably as a festival director in my first year.
Ling Yah: When you say fail, was it by your own standards or by other
Joe Sidek: By anyone's standards..
By everyone standard, but anyone and everyone standard, I just failed. The big time, really big time.
Ling Yah: Wow. And so after that in 2008, 7th of July, that's when Malacca and Georgetown were jointly inscribed as UNESCO world heritage site. And I believe 2008, 2009, they asked you to come on board and help to run a one day celebration festival.
Joe Sidek: I was asked and I was given I think it was eight days the first one. They said, let's do a celebration.
Can you think of something?
And I pulled together a show called musical journey of Penang. And I, called every. Singer that I know who's old, who sang before I'm retired rock Malay bands to opera singer. And I remember having Shafina singing Tangela Tanaka for me, , with a 40 choir all rehearsed in eight days and that just last week I rehash and revived Tanjung Tenaga and it's something that I will treasure, you know, , it's to soccer, but I got Tan Sri Ahmad Marukan's permission to change to Tanjung Penaga which is the old name for Georgetown. I mean, I carry this love for certain things.
Ling Yah: I mean, it seems so incredible I brought all these people together in eight days. That's not easy to find these people and get them to free their slot at the same time to do
that thing.
Joe Sidek: I don't know how I did it. Honestly. I really don't know. I fell out with a famous singer because was supposed to do it. The arrangement for music. She wanted to charge me 10,000 for an arrangement. I thought it was crazy, , anyway, and then I got person who helped me until today, and I remember.
I had this vision of a backdrop and it was like 30, 40 feet high. So I sketched this, got the carpenters to do it, and we did the scaffolding and the day of the show, the rains and winds came. I remember climbing up holding on and it was what eight. volunteers all holding on for dear life, hoping that the prop didn't fall down.
And I remember telling myself that I will leave the country and never come back because it was so dangerous, but this is something I obviously I'm fearless. I just need things done and I will do it, you know. That was like, wow, it's crazy. I mean, I was what, 30 feet high, because I wanted to have a backdrop of Georgetown and it also had a town hall in city hall.
So I had these people, I can't even remember. I think it was printed backdrops of Pinang because I see it and I wanted. I'm one of those crazy people that if I want something, I will just have to have it.
At all costs, I have to have it.
Ling Yah: So 2010 is when the Georgetown festival was the first time they wanted it. How did you get involved? I think there was a proposal that was called?
Joe Sidek: Wow. Okay. They called for proposal. There were three groups that send in proposal. There were three cultural groups.
I think the Penang Chinese Old Clan and there was an art Alliance and I think Penang Heritage Trust, all sending proposals, but that was six weeks before the actual festival and the state had a budget of 400,000 and then everybody pulled out.
And then Datuk Seri Maimuna, who was then the GTW head asked me whether I could do something, , and I remember saying this, I said, I've got an idea for a series of events. You don't because it's still embarrassing to call it a festival because it's just a series of events. And I think we did it in six weeks and a budget of 400,000.
And surprisingly, you mentioned Teong Hin, right, is a good friend. And I remember I had heard that there wasn't that need to do it. So I, before that six weeks, I think maybe two months, or maybe just slightly above two months, I hinted to him that if I did do it, he come on board. But I think we did the work in six weeks in half of the budget, went into his show.
How on earth did I ever do a festival, my first festival getting money not going to jail. And it was incredible six weeks in a festival.
Ling Yah: That was the thing that amazed me, that you had to plan for an entire month. And you only have 200,000 after you took away that 200,000 for that play itself.
Joe Sidek: I think what I did was I just listed anything interesting that was happening.
and obviously this, you have to have friends. I remember Teong Hin was one. I remember Glen Gui. I hardly knew him, but I said, could you show your film and another friend who dances for the Beijing opera? And I said, would you come?
So I made phone calls to people that I knew. until today I can tell you that.
I think one of the biggest most important thing is Goodwill. That people would do something because they like you, or they support the arts. I think it's a very important factor in the arts center.
Ling Yah: I suppose a lot of people listening would realize that, gosh, you have friends everywhere. How do you even get to know them such that you can pull them onto this event?
Joe Sidek: Somebody shared with me and he says this is the manager of Akram Khan. Which is a very famous dance company in London. This is one of the most unusual thing about Georgetown festival was he said, you were always with people. You always sat down with everyone and you talked to everyone.
It wasn't a transection where I come to perform and I leave. So I make a point to try to meet everyone. And you become connected in spirit. It's like a camaraderie of friendship because you're working together, ? And I think that carries a lot of weight. It's like me and cake and I'm forever grateful to King John him, , because they were there when I needed them.
Ling Yah: And I believe the chief minister also said, call me if you need any help
Joe Sidek: Yes. the man really behind the festival is actually YB Lim Guan Eng because he knew that it was only 400,000 and he said, if you need anything, call me. And I must say in the nine years that I worked under him, he did respond to my phone calls and very fast.
And he actually became my patron. And I think it would never be the same again anywhere. Nowhere in Malaysia at least was anyone ever given the freedom to curate like I did. He was backing me. I mean, everything was audited. I had to give reports and all that, but he never said no.
There was a show once.
And I remember recently, somebody told me a story about the last George Town festival, how the state walked out from a performance, right, by Aida Redza , who's a dancer. And I said, well, the foot lights in and they have not pre-warned the State.
I brought in a show called a hundred percent.
I went to see the chief minister and said, look, this is a hundred people on stage that will actually respond to the question. And you may respond to questions about you being corrupted, or you doing this or you're doing wrong, or they don't like the state. And how are you with that? ? And he was man enough to say, go ahead.
And I think the show would have never happened anywhere else in Malaysia. So for that, I'm very grateful. He was supporting the arts without that major censorship thing. I'm very, very grateful.
Ling Yah: You had that tremendous support and I think you also did lots of research.
You were looking at the Singapore festival, you were looking at Johor and Malacca. What were the different elements that you were drawing out then to put into Georgetown festival?
Joe Sidek: I think like we discussed earlier, whenever I do something, I do homework. And before me was the Johor international festival. There's the Malacca festival. There was also a festival in Kuala Lumpur done by JKKN. That was called an international festival.
I studied this first cause they were locals. And then I studied Singapore and There was a festival called the sun festival in Singapore. That actually would have been two years older than us.
There were three years old. I was really naive and I remember the press conference saying we're going to beat the sun festival. And this is an ING-backed festival that had Sharon Stone and Berlin Philharmonic and all that. But I just felt as if it didn't have a strong narrative, no storytelling, just big names and money.
And I felt that Penang hasn't gotten money, but Penang was going to tell a story. We're going to tell our story. Our city will be the canvas. And we will tell our story. And I think it worked in that respect.
Ling Yah: And I think what's beautiful is that you feature a lot of local artists, but you're also drawing the international artists as well.
So what's the thought process behind bringing these international artists?
Joe Sidek: I was accused of not supporting the local artists for many, many years. Almost every year, there will be a question or somebody would complain to the press or complete the Guan Eng. A never ending stream of the locals think that I did not support the local thing.
And I always gave the same answer that I don't support an act that is local or foreign. I support it because it's good. I don't want to be pushed into a criteria of I must have 10% Malaysia, 20% Chinese, 18% white, 9% German. I just picked what I thought was suitable about storytelling and reason why I brought in some of the international shows was actually do educate and expose locals that this is how you get big.
There's one particular director that I brought in three times. Royston Adele. He did manganese seduction. He did the kitchen and he did Mangenaya classroom. I felt that he is one of the best examples of how do you put traditional art on a contemporary stage for contemporary audience and his works have traveled and it's been in Lincoln center.
It's open in Melbourne festival. I want the Malaysian cultural practitioners to look at that as a benchmark, but I feel not many Malaysian cultural practitioners saw that.
Ling Yah: Why do you think they've failed to recognize it?
Joe Sidek: I don't know. I mean, I'm very grateful to this young two young men who run a data group called Terry and the cause, and they would come up every show and is it makes crazy why people in KL wouldn't come up and see these real, really big international shows, right.
That plays in Sadler Wells and all that. And I thought, yeah, why do people come? If I'm a dancer, I would come and see. And we had the university science here with data and, data masters and performing arts masters. And yet the students didn't come. And as soon tickets were at 25 ringgit. So why would you come to see what shows have traveled the world?
So I don't know in that respect, I feel, , and I think it's because culturally, our people are not ready. We'd have to slowly go back to the drawing board and feed them maybe smaller amounts, , I don't know. And I'm learning and I'm going back to the drawing board and relooking reimagining, where I failed.
Ling Yah: I mean, you mentioned RM 25, but I believe that you always try to make around 80% of the entire thing free because you want more locals to come and experience everything that the festival has.
Joe Sidek: no, it wasn't 80% free. There was a certain percentage of the shows that were free and public because I felt that the public had not ready for, and it would be too elitist to have like 8,000 ringgit shows and all that. So we tried to do a balance. I feel, I think that's one of my weak points I feel in the formula.
So I'm back my second shot of how to make it work.
Ling Yah: So 2011 is when Ernest Zacharevic. And how did you first come to hear about Ernest? Because you then got him, commissioned him to do a series of art pieces for the next GTF in 2012?
Joe Sidek: No, actually he came to me, he was already in benign. He did a wall actually just down the road from my office, a huge wall that nobody took any notice.
He came to the office with this very interesting proposal of what I felt was very relevant.
Interesting. And he did a lot of homework. He picked right walls. he did storytelling on walls and it was just magical for him and for the festival. I'm very grateful that he came and I think it's been Probably the most number of eyeballs we've ever had. But the sad thing about it is that everybody uses that as a benchmark and it's mural, mural, mural.
Like I just wish the younger artists would look at other mediums. Look at what's happening now with NFTs and digital art or whatever, rather than just be one dimensional with murals. I'm glad it's giving a lot of mural artists work though, everywhere in Malaysia and our every small city. Taiping and Kampar. and I think it's good because artists are getting work, but I'd like M alaysians to think out of the box. not copy. Be ahead of the curve lead the curve, change the curve as opposed to just follow.
And I think we are very creative here in Malaysia, but because we've been taught to cut, copy and paste, because the cikgu says cut copy. So they all do that.
And I think, I mean, this thing about being brave and being different is where we will be different from the other art centers in the region.
Ling Yah: But back in that day, you know, when Ernest first came on, mural art wasn't a big thing, right? It was something that was quite new and that's when it exploded.
Joe Sidek: Yeah,
I think it was just timely.
I mean, you know, it must be this task for him and me that it exploded There's also another parallel, wire mash sculptures that the state had the competition. I think it's called marking Georgetown, which was also very, very interesting, but obviously under publicized or people don't write too much about it.
They just focus on the mural, but that came out almost the same time that actually made storytelling on the walls as a canvas. So wherever you go to Georgetown, you also see that it's like a living canvas. It's like a living museum. You see the stories as it is in old houses. And although it's gentrified in a lot of ways, there's still a lot of the old that makes it still very charming.
Ling Yah: How do you balance? I mean, that's one of the big criticisms, right? You have all these tourists come that's gentrification, over commercialization, but you still need that flow of traffic to come in and support the local community.
Joe Sidek: I think I would fight against numbers. I feel it's a wrong thing to look at numbers. Major cities like Boracay and Venice have learned that numbers kill the city.
So then they have shut down. when people just look at millions of thousands of tourists coming in they're not value added. So I liked the idea of Bhutan where people pay 500 us premium. And the measure of success in Bhutan is happiness. , I kind of like how the world's going that way I hope.
So there must be a measure of quality and balance as opposed to just numbers, numbers, numbers, but it's like now, like you get influencers, just get members and people that are just milking out rubbish, really. It's scary that the world's becoming Kardashians.
Ling Yah: But apart from all that, there's also the more meaningful parts.
Like one of the things I loved was 2012, you started the student and community tickets project. How did that come about?
Joe Sidek: To allow people with less privilege. And I think I have got to soft spots, single mothers and children or orphans. I think comes from my father. So we've always had like 10% of all show tickets being given to slightly different abled people. I love the time I read it, I'm going to use that. It says definitely able to people, I suppose, a book.
So every show we get people to donate and we convert the $25 tickets to do community tickets. , so people who are poor artists, students, people who can afford shows people from homes all folks. And I remember one time in our like Y I do festival that two occasions. Wonder what's the showed called Gala.
It was by a very famous French choreographer and he put 20 people on stage. And the 20 people were definitely able people, people who were individuals fat, thin people in a wheelchair. And then we had invited some children from home and they want to wheelchair.
And then halfway through the show, this boy in the wheelchair got up and started screaming and going like that, ? And I thought, when I got, get the boy out, he's uncomfortable. He wants to go out and all that. But after the show, the teacher said, my God, the boy was so happy.
And another show was the show called Manganaya seduction. And I remember that year, we lost a lot of money and Norelle who owns Ponton, said to me, Joe people like you, if you put a collection box out there, people will give you money. ? So we put out a box and I was going to lose 300,000.
I remember that. And we didn't collect 300,000, but what moved me was one of the boys from an Indian orphanage, Took out a dollar 50 and put it in the jar. And when I asked him, why did you do that? He said, my teacher said you don't have money.
And this is after you've written to big, big names, CEOs, that don't give you anything. This eight year old boy, however old he was, gave you all his money, you know?
So that's why I do festivals.
The joy that you bring to people and maybe one day, one of his boys will be a dancer, producer, film, makeup, or just a happy person.
Ling Yah: There was one of my favorite stories and I thought it was so encouraging because you had shared how for the past five years
Joe Sidek: I mean, my, PR people at my office always says, don't talk about that because it gets you very emotional, ?
And it's embarrassing because you're supposed to be this hard festival director and, it's how do you, just melt. When I ever I think about that, it just sends me into this really emotional space of how meaningful my work is. And I made that one boy happy.
Ling Yah: Was this the guy that make you go, this is what I want to do because the first few years you were trying to figure it out and just hold a festival, hold a festival.
Right. And eventually. You made the realization,
Joe Sidek: even, even, nine years, it will still hold the festival, holds a festival, just finish it, do it. But when I reflect and look back why I do the festival, it will be this really, really, it's not the big people that you meet. It's the small people that really moved me.
Like I did a festival in Butterworth and this couple came up to me and asked to take a picture with me. And I felt like a rock star, , like, wow, do you want to take a picture with me? And then it's the middle of nowhere. And I said, how did you know about? And she said, Oh, we stumbled upon it. Last year, we came back this year and that's when you start to feel really good, but real people really appreciate your work and they didn't have to be nice to me.
They didn't know who I was or I didn't, I didn't know who they were. They didn't have to say nice things, but that's what moves me most when people, I don't know, patches
Ling Yah: do peoples normally stop you in the streets?
Joe Sidek: Sometimes, sometimes I get a kick out a bit because , it's like me wanting to be mother Teresa.
there's a side of me that must teach her when people do that makes you feel justified that you are a good person.
Ling Yah: You mentioned the Butterworth fringe festival, which is like a 20 minute ferry ride away. And it's quite similar to George Town as well, right.
So was it an interesting challenge for you all to hold it together?
Joe Sidek: It was an interesting challenge. It was a real challenge because the place that we were bringing these festivals to was really in the middle of nowhere, it wasn't an attractive space, but it's, I put it down to something that I enjoyed doing.
It was a challenge. I might not want to do it again. it was interesting. I liked it.
Ling Yah: And one of the things I want to bring out was Hai Ki Xin Lor because I talked to Teong Hin about this. It is his semi-auto biography. And it was because of that performance at George Town that he even managed to make into a film.
And it's just really so incredible to see the impact. So what was it like from your perspective, just getting Teong Hin to come in and host this performance?
Joe Sidek: Teong Hin's a friend. And he did Emily for me in the first year, and then I think two or three years later, he did see lot. I think he's incredibly talented and I know of this film that he's been wanting to do, ?
And then I remember we talked about this and I said, why don't you put it into a play? and I think he was trying to find funding for the film. And I'm glad he did the play because I think everybody that walked away from that play cried. It was bad moving. And this was like hot sweltering. Khoo Kong See. See People were sitting on benches, but it was such a moving show.
And I think that's probably, to me, one of his best work, , even better than the film. It was so moving. I remember cried and I remember see people crying as they came out of the thing, , I thought, wow, this is so moving, you know.
I kind of like gospel songs and I think he finished with amazing grace, , and it's such a moving song, , and it was just the on point song to use at the very last bit in a clever,
Ling Yah: I thought it was beautiful as well that just before that there was a giant storm and everything was torn up and they were panicking to put it altogether.
Joe Sidek: The night before it was pouring with rain. Dress rehearsal, it was pouring with rain and backstage shows, puddles and umbrellas and all that. And , I've always believed that I'm very lucky that the whole nine years of Georgetown festival, we never had the rain. We used Not which doctors they call it.
I can't remember. It had to be clever Woodford and Ivy. I consulted the same, man. He sits he's died since, but he always held the rain away. Weather consultant.
Ling Yah: And I believe Kheng also help co-produced these two houses. What was that like?.
Joe Sidek: Yeah. Two houses came from me talking to Kheng's, husband Ngu Beng We talked about when I was younger.
I used to go to this old house that is this character who was very much like Quentin crisp. I don't know whether you're not going to be crispy. He did was very famous as the first English poofter. And he went to American was celebrate that because he never does it. He was witty clever. And John Hurt, a film called the naked civil servant.
And used to go to this house and this person would hold court. And I would hear the stories of the rich people in Penang, the rich families. And I'll often wonder wouldn't it be wonderful to put it in a play. So then along came you bang. So he did two houses it's centered around the stories of two families.
And then I think a few years later, he did a pull at the Eastern Oriental, also produced by King and King. I think 2012, I think did something called number seven at the blue mansion. That's my relationship with Kay. , like she was always there with great ideas.
Ling Yah: That's incredible. And I mean, like blue mentioned is such a historical place as well in Penang. And I think that's what you always look for. Something that's historical and meaningful. You get the cafes involved as well. So what is your thought process in finding all these unusual places to host these events?
Joe Sidek: it's because Penang hasn't got huge performing halls and swanky galleries.
but we have really nice spaces raw places, beautiful historical buildings. Where the world would you be given the two houses as a huge mansion. The owners gave it to us for one month and put aside a BBC production a for free, , so only in Penang would own us, give you houses or buildings or streets or walls without the price tag. Only in Penang.
That's why I said, how can I not love the people up in this village or the people or the government here? It is a very different. Yeah than anywhere else.
Ling Yah: So there's that amazing thing of how the community comes and supports you? What are the big challenges that you face that people you feel don't normally see if you're going to host these things for them?
Joe Sidek: Money. Money's always been the challenge. It costs a lot of money to run and put big productions. I'm still thinking out arrows and knives for my back because villages tends to be backstabbing small mindedness. But I think if you listen to what Jesus said, , forgive them Lord for did not know. The times that they threw knives at me is because they didn't know.
So I am now working with people with the very people, that two nights at me, because I feel it, , they don't know that's why the two nights at me, , so that, that was challenging when people don't know and they just attack or they hit you or, and they don't take the trouble to find out, , I am quite a nice person, I think, , but they just blindly accused me of not supporting local because they don't come to me.
They don't talk to me. Yeah. think it's also because it's a two way thing. It's a lack of communication on both parts. I'm now learning that I also have to learn to open up more maybe, or talk in a different language or open my eyes a bit more enjoying this whole year has been looking at local, local, local, , because you can't travel, you can't look global and you start to appreciate and think what could you do with things around you?
And it's an exciting challenge, a challenge in a good way, not challenging in a negative way, but challenging a very positive and productive way.
Ling Yah: So how has it been with COVID coming down impact? I mean like your work is very much meeting in person.
Joe Sidek: It was very hard because come 2020, I didn't have a project.
I had three staff and we had no projects for the whole year. I had to let go of one. I kept two. It's just been really, really hard. but it's not anything special. I think other people would have had just as hard or you to have the, , so it's, an industry that you think your industry is hard to hit, but what about people who own hotels or the fact that lost his job, , so everybody had it had, so I think that no one is special here.
That's why I feel sometimes the arts community keeps saying the government should do something. The government needs to feed fathers that have five children first, rather than artists. I think, I don't know, but I think it is the me culture is very wrong where it's always about me, me, me, me.
if you're a performer in America, there are no grants. You have to go out there and be away and money find your own shows and find your own music careers.
Here we think, Oh, there's money. We'll do the project. There's no money, no project today. There goes the missing thing, , which I feel missing here, that it is hard work.
you need to put in the blood, sweat and tears.
Ling Yah: Do you think that Kobe has changed the art community in an irreversible manner?
Joe Sidek: I hope so. I really, really sincerely hope so. I hope people realize that if you are producing bad work and you didn't get any help in your work, didn't get pulled up.
the help is just for you to survive, not for you to continue doing bad work. So that's the danger of this, survival grants that CENDANA is getting out and all that. And people mistake it for, oh, I'm good as, why am I getting this grant? The government was just giving these grants to help you survive.
But I think we all should internalize and see that if we couldn't survive the COVID on statistic merit, then maybe we will not good in the first place. ? So I think it's a time that people should reflect and use the COVID S testing kit that you have to be good, , and you have to be even better when you come out of COVID.
Ling Yah: I'm sure you're keeping the pals on what all the artists are doing as well so do you have any practical examples of people that you see who have adapted really well that people can look to them, be inspired by.
Joe Sidek: I give this example regionally that's a theater company called wild rice with Ivan Heng
yeah. And their 20 year old company. And when everybody went going online, everybody said, Oh, let's just go online. We go online. And at that time it was like, April, may, June, right? The whole world was going online. And why would anybody pay any attention to your show? Because there's no brand loyalty. And then you get New York metropolitan opera and settles Wells, and Cirque du Soleil giving free shows.
So why would people pay 50, bring it to see your shows? So that's the same benchmark that I'm asking people now build your brand, have brand loyalty. So that, and I have a strong story wild rice they were having. And I was very impressed. They had a gala ball online gala ball that is all tickets for 1000, 20,000.
And 10,000 I think, or table 10,000, a table 25,000. And I thought, my God, they built such good brand loyalty. And whenever they stream their live shows, they had a lot of eyeballs from 35 countries because their shows were good because they built the brand because they have a story, , and I think people need to really benchmark yourself.
Like how good are you really? Or are we just doing a combo? , without naming names, I oldest look and ask, what was that all about? And I wonder whether these people who ran these events or festivals, as I said, question, how many people. Your festival was about, Was there anybody outside your circle of friends or outside Malaysia that picked up on that testable?
, so these are like questions. Like I recently stepped out of the benign museum board because I felt we failed as museum directors. We failed because we didn't do good work. So I'm always continuously putting my own report card. And I think people should have a report card and really know whether you feel and if you did, and you did feel, it's fine failing that change and, not think that you would write, , it's easy to compare now, especially you can switch on nine and you can compare yourself with the world, , and you really can sit there and look at my God that's global standard.
And am I really that good?
Ling Yah: And you mentioned building brand name. How does one do that? When everyone's going on? Like everyone is doing something. How do you stand out?
Joe Sidek: Having your own story. Not copied. Be original, use a material that you own or you make, or you create quirky titles have good imagery because people remember good images, have your own stamp.
And it's something that I think I'm a monster to work for because I have graphic designers who work for me. And if I don't like a blue, they have to change it like 28 times until the right blue. And so you get artists that will cry because this is a monster. But I tell them, I say, it's not about me.
It's your work. And end of the day, the public's going to see your work and get the name as an artist. And you should take pride in that. And I always use this, like I'm 62 years old, the last catch should be mine and we can fight and argue. And I like, people to argue with me and they don't agree with my taste, but I said the last one just got, trust me.
Because if I say, no, I think we stick to what I said in the first place. You just have to trust me because I am 62. And I think the images that I have been well received, ? So that's the only thing that I'm really stickler images and collaterals and aesthetics. I'm a stickler for that. If I want to set the blue, it has to be that blue, , or a yellow or the texture.
Ling Yah: Has there been any particular artists where, , you gave that critique and it really took it on board and really became so much better than what he was before.
Joe Sidek: There is one Malay artist who I am a big fan of. He's very popular here, but I rejected his work twice. And because he's a cartoonist He's an illustrator and I rejected it because it didn't do anything for me.
? And about a year ago we sat down for coffee and he told me, he said, I wrote to Matt magazine and they gave me the same answers as you did that. I wasn't good enough. My work wasn't this and it, and we become very good friends. I like to say, you know.
And I've always told him, I said, forget about the Malaysian book of records.
So the longest days or coffee, art, or whatever, they just all gimmicks. , you want to stand out in the world. You want to be able to say your work stands out. And it's hard because I'm insecure.
Like I told you, I'm why, right? For many, many years when I was invited overseas or to ask to speak I felt really nervous and it's very daunting when you meet Singaporeans wearing black Issey Miyaki and they know their work really well, and they can expound about art or data.
And you don't, you just know like what moves you? And you're not that knowledgeable, but the arts, and for many years I felt, I would say small. I just felt very uncomfortable until the likes of Kheng and people that I know overseas that tell me, God, Joel, you're doing great work. , you don't have to feel any way intimidated by any of these people.
I was intimidated by , you spent six years in a circuit and you just got thrown into this festival circuit and you're finding your footing and you really don't know a lot of things. I still don't. , and sometimes I used to think that I was a bit of a con man, because I don't know stuff.
I just know what I like. And that's very basic because I'm not knowledgeable. I'm not knowledgeable about music or theatre or art. I just know, I cannot remember. I don't know some of these famous names or whatever, but I just know what I like. , that's a human side, which I think has given me strength. And I always tell people, well, don't be like me and feel intimidated.
Just be yourself, , and base your human person.
Ling Yah: I mean like you said, you don't know much, but I think a lot of people suffer from imposter syndrome. Do you think it's because of that genuine deep in your core love for the arts that just kept you going and drove you to just always, give your best.
Joe Sidek: Yes. I just love it. I love to be exposed. I love learning. I love seeing new things and everyday I stumble upon things that gives me inspiration to create, , like I'm working on a music video when I was 17 or 16 or 15, there was this famous Indian actress called Zena, Amanda. And she started in a movie called I can't remember what it's called.
I think it was called . The song was don't marry dog and it's been in my head for 40 years. So I hope maybe in June they'll come out, , that's my bucket list.
Ling Yah: Before June, you actually just finished the open weekend in Penang. How has that? Cause he was mentoring 2020, right. And then COVID hit.
Joe Sidek: Yeah.
What happened was a group of friends Alison who runs Norelle, who runs China house, but Nadia who runs Campbell hotel, friends asked me like, can you do something? And also we had the first meeting and I invited everybody to just voice out. And there was a lot of, I would say resentment, people wanted to do things, but they just don't know what to do.
And I think this is saying everybody wants to sail the ship or their boats, but they need a captain. I was thrown into this and I believe that you need to have an Armada that doesn't matter whether you're a boat or a ship or it, but you need to sail together. And sometimes you need a captain to bring all the people together.
I feel as I'm lucky that have that, I would say gift the ability.
Ling Yah: So for those who want to become festival directors like yourself, what's your advice?
Joe Sidek: Learn. Make coffee for festival directors. Be a slave. Pick up the trash. And I did. I make coffee for people. It's nothing like learning and you cannot, like, I had one staff who worked for me for two years.
He was my protege, my blue eyed boy that I gave him a big show. And it was something like six or $800,000 show. And after the whole festival, he brooded and said that, Oh, I got all the credit when he did all the work. And after two years he thought he was going to be a festival director.
And I was very upset actually. It hurt me because I never get anyone else before him that sort of budget to run and he wasn't successful. And yet I didn't take it out on him. I took the project. Wasn't good. But I think people need to understand, you need to pay your dues. You need to be an apprentice.
You need to learn. I'm 62. I told you I fail as a festival director. 2001. Was it? Yeah. That's what, 20 years ago when I was 40, I failed big time, , so young kids now must learn that they need to do the apprenticeship. You did start come out being a festival director some Catlin. Some are probably very good.
And their first goal, I had to learn and I think I wasn't good even with Georgetown festival because there looking back that a lot of little weak holes, I would call it little weak pieces where, because I was just drawn into it and rash nine years, I didn't have time to reflect. So I think it was a good thing that I didn't continue doing the festival that stopped me in a way to reflect.
And now I think the best is yet to come.
Ling Yah: So having done the reflection, what do you think you would do differently moving forward?
Joe Sidek: I have this project in my head harboring for four years that my father used to quit rubbing a cargo to me when I was eight years old. And I thought, what is this man telling me this thing?
And I never knew what it meant. , that the last four years I've been studying this thing about ageism, , like who we are, what's our history and what is our pride. And I suddenly realized that. Even as a festival director, I was wrong. I put the Western psyche above our Asian psyche. We put the white man's idea of culture ahead of us when India, China, Malaysia, and, Cambodians.
We have historically thousands of years of culture. And yet when we look at art and culture, we put the Western man's psyche up before us. So I'm working on a project, an idea, which is still inside me called Best of All Asia. Because I feel like if you ask people about West Asia, a lot of people cannot tell you what's the demarcation of West Asia and who's in Asia and what is Asia?
And when you look at it, we were civilized 2000 years ago, we were trading elephants, India, right? So for 2000 years, Malaysia was the home or the platform portrayed. And why can't we now take resume that set the stage for trading in culture because we got good Muslim brothers in West Asia that would feel comfortable with us.
We have truly Asia, we have Chinese and Indians. We could bring in the big boys from China, the big boys in India as a neutral platform. So that's my, big wish. my last big project, which is the festival of Asia for Asia.
Ling Yah: I think what's interesting as well, I remember reading a while back that we also don't have much literature on our history as, but a lot of it was shared verbally and you really have to go and really research and meet the people who are living that life.
Hopefully who still remember.
Joe Sidek: I think it's just that at the last 20 years, culture has been dumbed down, but you throw out now I'm really against the idea of Citra Warna. It's a dumbing down of culture. And I think the cultural appetite is become dumb.
Like he thinks that Raja Lawak and it's a, he ha ha culture thing, , more fabulous Masi Queens carnival like thing. But you look at how us being in Penang, we have Thaipusam. We have hungry ghost. That's culture, that's tradition. We have traditional Malay rituals, , there's beautiful traditional fabrics rituals performances, but we need to be relevant because if you don't then the kids don't like it.
I keep telling people why don't you do Borea with red because Borea is social commentary or those days. And if you put red there, it's social commentary, but find a middle ground where you introduce red warrior, , and then it will make itself cultural, relevant culture evolve to what was mainstay culture became pop pop became culture, you know, ,
Ling Yah: What's interesting. And I think it happens a lot throughout Malaysia as well, is that you have all these amazing people doing their trade, which they have probably inherited generation after generation. They're probably the last one because the younger kids don't want to do it anymore.
It's not cool. It doesn't end up money, but how do you keep that alive? Because I don't think this 60, 70 year old uncles who want to learn how to rap to draw the younger crowd.
Joe Sidek: No, it's the younger ones that need to Okay. Say for instance, the beaded, that shoe, right? It's very hard. It takes you like six weeks to build a shoe or something like that.
, how do you really make it relevant? That's a difficult question, but the beauty of it, that's not fake. So I think if people put a price to beauty, a price to tradition, then handwork can come back in.
You look at the Japanese, how they learn. 40 50 years to be a master. , you don't become a master if you learn the trade, like the Chinese too.
But now people just want to do it fast. So finesse of the world is gone, , so I feel as if we have to, and it is there, it's just around us and I'm beginning to feel it, my God, I was blinded to, I am now doing research. I'm playing on much to the older people who, say in back at DVN, we've got second prize and people who dance, people who wrote beautiful things, I'm hoping to give them or put them, or at least to archive them, , like the contribution to the arts and benign, , and I think they were there before us, and there's a lot to learn from the past.
So
Ling Yah: it sounds very much like to ensure that the person or that rich culture is preserved. We all have a part to play. We have to go out. Learn it be aware.
Joe Sidek: Sometimes preserved is an old fashioned word because putting it in. I think we have to come up with a sexier way to preserve, I think we have to find a sexier word about culture has to be reinvented or something because in order for it to survive in its old form, it has to be repackaged. That's why I worshiped Royston Abdal because he was so clever in putting Sophie musicians in red box that reminded him of red light district in Amsterdam.
And that visually it was so entrancing that, and yet the form was traditional Sophie musicians. So for me, that's clever. That's a packaging. You don't change the art form. You change the packaging the way it's been presented so that I think it's, an art. If we can find a new way to present.
Something in a contemporary way, because it's a contemporary audience that's out there, , because it's very hard for my young, that it's heavy for young people to understand it. So I think people need to relook at how I don't have the answers. I hope I will get to be able to play around with it for another 10 years.
Ling Yah: So for those listening, what do you think is the best way for people to support the arts?
Joe Sidek: Buy tickets. I mean if you think that you don't enjoy the arts, buy tickets for the young ones. Buy tickets for your nephews, nieces, or your children, because it's important for them to be exposed.
If you buy now at 30, don't like the ads and forget about you. We don't want to change. You start changing the 12 and 13 year olds. Cause they're going to take over the world. And I said, support a friend. Who's doing the arts. It's not easy. , buy tickets, buy tickets, buy tickets, buy tickets, give, lend, loan load, help, assess, do what you can because there are a lot of people can support the artists in the system by giving, , paying 15 wrinkles or 20, we'll get four tickets.
But artists also must realize it's not charity. If you do bad shows and people pick that, hearing it once. Twice the third time, they will never go into an actual again. And you've just jeopardized every other performing group out there so bad. I have to go home.
Ling Yah: And for artists, I imagined that having a community around them to bounce ideas off each other is so important.
So if you are just starting out, you don't know anyone who's in the arts, what's the best way to go around and find like-minded people.
Joe Sidek: Go to club house. I mean, it's so easy now in the old days, you couldn't. You couldn't be into a space because you had to travel. Now look at club house, look at chat rooms, look at spaces, look at webinars and zoom webinars.
It is so easy for people to have access to creative people now where we never did. I mean, look at your podcast. There's hundreds of podcasts of very interesting people out there. Webinars and zooms and zoom webinars and talks and Clubhouse is an interesting thing. I am so inspired because I see young Malaysians, especially young Malays who are liberal and yet religious.
They can quote all the Hadith for a moment, I was really disheartened by how militia is going. I felt, oh God, are we ever going to come out of this positive? And then I met this malaise online and there are architects that designers they're clever, knowledgeable well-read, and they can quote the Koran and the habeas.
And yet they are liberal, , and I think my God, our countries with hope, I'm like the old man in the room, but I can tell you it's really inspiring when you see good Malays out there wanting to change the country in a good way.
Ling Yah: I'm very glad that we're ending on such a positive note.
So I normally love to end all of my interviews with these questions. For the first one it's, do you feel like you have found your why?
Joe Sidek: Yes. At least on track.
Ling Yah: And what kind of legacy do you want to leave behind?
Joe Sidek: I'm a good son and I make people happy.
Ling Yah: What do you think are the most important qualities of a successful person?
Joe Sidek: A good person, a meaningful person. I think these two words are very important, meaningful and good. So what if you're a festival director if you are not a good person or meaningful person. So you just being creative, but what's the value of creativity.
It doesn't help people make people happy, , it can be eyebrow. It challenges people to think, but at some point it must be good there, , there must be a piece of jigsaw that says good.
Ling Yah: And where can people go to connect with you, find out what you're doing, support everything
Joe Sidek: I'm on Facebook, I'm on Instagram. It's either me, Joe Sidek or Penang arts council, which is my new passion because I feel as if it's not about you and me. It's the power of we that can change the world. And as council is a registered body, it's a nonprofit body and it's not an I word, it's a we word, ?
So I decided to focus on that, to build this platform that it's going to be about a collective it's about the weeds of the world, ,
Ling Yah: And I think you're also on Clubhouse as well, so they can find you there.
Joe Sidek: Yeah. Well, I go in and then I'm getting a bit bored of it, but I still go in.
Ling Yah: Is there anything else you'd like to share that we haven't covered yet?
Joe Sidek: Two things. One is no anger, no ego and no fear. Good things. Don't last, neither does bad things.
Ling Yah: And that was the end of episode 44.
For the show notes and transcript, head over to www.sothisismywhy.com/44 Alongsid e like a link to subscribe to this podcast. Weekly newsletter. Featuring all kinds of inspiring and interesting things I've found over the course of the week.
And stay tuned for next Sunday, because we'll be meeting one of Malaysia's finest, miniature artists, who recently shared her art with Ryan Reynolds AKA Deadpool on his Snapchat episode.
We cover everything, including how she first discovered miniature art at the age of 14, why she loves it so much and the steps she took to make it into a full-time career.
Want to learn more?
See you next Sunday.