Welcome to Episode 21!
Our guest for STIMY Episode 21 is Saw Teong Hin.
Saw Teong Hin is an award-winning, Malaysian director, producer and screenwriter for film, TV and theatre and was Louis Vuitton Malaysia's Generation Next (2003), was Tatler's 100 People You Must Know In Asia (2006), received the CHT Essence Art Award (2009), was August Man, Men Of The Year (2017) and was Chinese Film Association Malaysia Leading Film Industry Person (2018). 
He is best known for his directorial debut of "Puteri Gunung Ledang" (2004) – the first Malaysian submission for the Academy Awards and the first Malaysian film invited to the Venice International Film Festival. And his production company, Real Films, provided production support for Ang Lee's "Lust: Caution", produced the Sudirman-tribute musical film, "Hoore! Hoore!" (2012) and the Penang Hokkien film "You Mean The World To Me"(2017).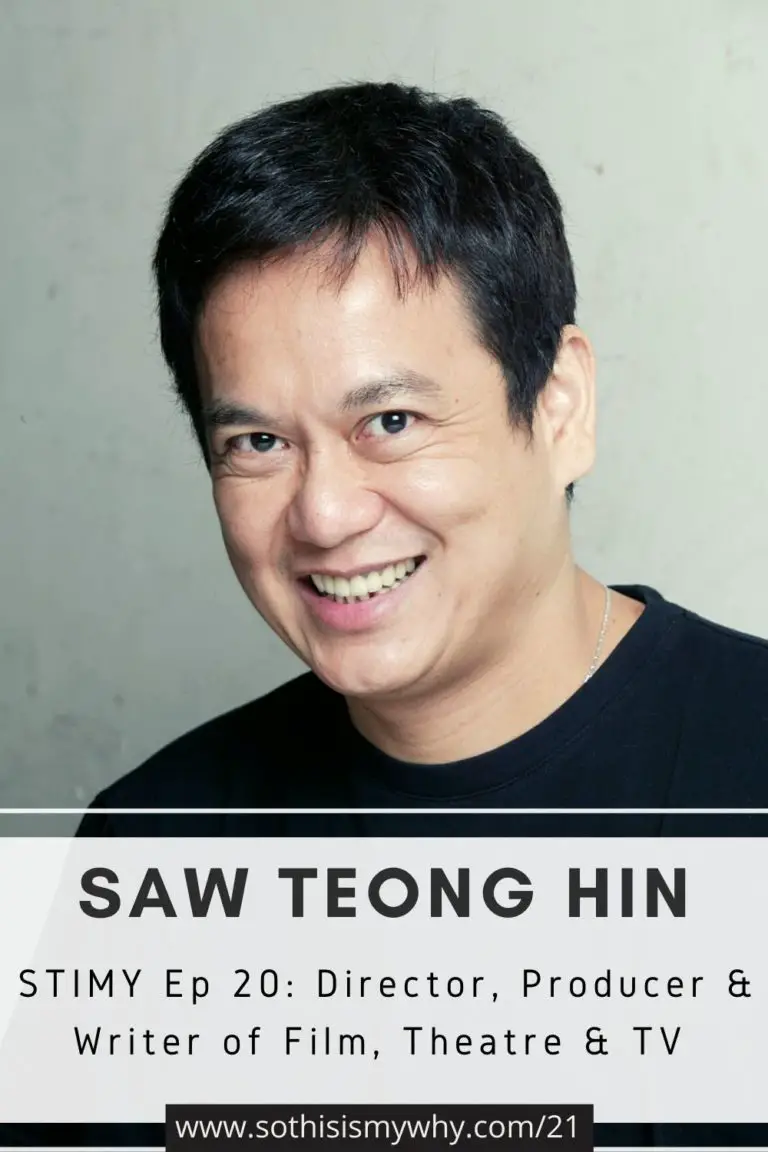 Who is Saw Teong Hin?
Born in Georgetown, Penang in 1962, Teong grew up the youngest son of six siblings. He later obtained a scholarship to study double physics and mathematics at the National University of Singapore; the first of his generation to head to university. 
However, he never graduated. 
Teong Hin's parents were incredibly understanding and encouraged him to return as after he was kicked out of NUS, but the shame of what had happened meant that he couldn't do so.
That's why I didn't go back to Penang. When I told them they were so nice about it, it just made me feel worse.
Moving to Kuala Lumpur
Teong Hin started off couch-surfing among his friends, before landing a model gig for Shell. 
We then discussed:
How he ended up as a production assistant to Joe Hasham;

Learned the ropes as a production assistant before rising to become a producer in 3 months; and

Set up his own company and made a name for himself in the TV commercial and music video (e.g. KRU "Fanatik") world.
Puteri Gunung Ledang
What really allowed Teong Hin to enter the public eye was with his directorial debut of "Puteri Gunung Ledang" in 2004. But it was hardly an easy journey.
We discussed:
How boredom pushed Teong Hin to spend the next 2 years trying to break into the film industry as a director – but failed;

How he was on the verge of quitting when a phone call with Tiara Jacquelina changed everything;

Why he changed the direction of the Puteri Gunung Ledang script into that of a love story at 2am;

The pushback he received for being chosen as the director of one of Malaysia's largest film productions to date at the time;

What it was like directing the Puteri Gunung Ledang film;

His experience at the Venice Film Festival (hint: Johnny Depp & Tom Cruise!); 

Why the success of Puteri Gunung Ledang

backfired

on him; and

How Mi Fang (Astro at the time) & a feng shui master changed his fortunes!
You Mean the World to Me (Hai Ki Xin Lor)
In 2009, Teong Hin began writing a semi-autobiography of his life. A script that was written as a tribute to his now-deceased mother. 
An apology if you like. A little belated, but all the same, I think it needs to be stated that I misunderstood her. That was the most important thing.
Teong Hin faced a lot of pushback, with many asking why he would be willing to air his dirty laundry. But Teong Hin persevered and we discussed:
Why Hai Ki Xin Lor first debuted as a stage performance during the Georgetown Festival;

The storm that threw everything into chaos on the eve of the performance;

The reception he received from viewers & also family members;

What it was like filming the silver screen version of Hai Ki Xin Lor; 

The impact that the film had on moviegoers;

Whether he would've still proceeded to create the film version if his family had been strongly opposed to its production;

Whether Teong Hin found his "voice" with Hai Ki Xin Lor;

Whether he would do anything differently
Other Things We Talked About
Being the creative director for the opening (19 Aug) & closing ceremonies of the 2017 Southeast Asian Games;

Impact of COVID on his life and career;

The challenges of creating a regional film directing career; 

Whether it's important to move to other locations to obtain "better" career opportunities; and

Teong Hin's advice for those seeking to break into the industry. 
If you're looking for more inspirational stories, check out:
Kyne Santos (aka OnlineKyne): Viral TikToker who is both a drag queen and a mathematician; appeared in Canada's Drag Race
Nigel Stanislaus: Celebrity makeup artist who's worked with the likes of Gigi & Bella Hadid, Tina Turner, Michael Buble & Suki Waterhouse; judge on Asia's Next Top Model & Australia's Next Top Model
Karl Mak: Co-Founder of Hepmil Media Group (SGAG, MGAG, PGAG) on building a meme business empire in Asia
Red Hong Yi: Artist who paints without a paintbrush. Past clients include Google, Facebook & Nespresso. Her artwork was recently featured on TIME Magazine's 26 April special issue on climate change & TIMEPieces (TIME's new NFT community initiative)

Freda Liu

: Business radio host of BFM 89.9 in Malaysia, Author & Emcee

Chye Neo Chong

: First female MD of IBM Malaysia

Hillary Yip

– An inspiring 15-year-old CEO & Founder of MinorMynas, an educational platform that connects children with each other. A company she founded at the age of 10 despite also facing intense bullying in school. Hillary is a true testament that you can achieve

anything

you want regardless of age & adversity! 
If you enjoyed this episode with Teong Hin, you can: 
Leave a Review
If you enjoy listening to the podcast, we'd love for you to leave a review on iTunes / Apple Podcasts. The link works even if you aren't on an iPhone. 😉
Send an Audio Message
I'd love to include more listener comments & thoughts into future STIMY episodes! If you have any thoughts to share, a person you'd like me to invite, or a question you'd like answered, send an audio file / voice note to [email protected]
External Links
Some of the things we talked about in this STIMY Episode can be found below:
Subscribe to the STIMY Podcast for alerts on future episodes at Spotify, Apple Podcasts, Stitcher & RadioPublic  
Leave a review on what you thought of this episode HERE or the comment section of this post below
Want to be a part of our exclusive private Facebook group & chat with our previous STIMY episode guests? CLICK HERE.
PS:
If you want to get an alert about upcoming episodes & be the first to know about freshly booked guests, subscribe to the newsletter below!
I'm constantly sending out information about guests & also asking for questions from my subscribers. 
You don't want to miss out!!
Ep 20: Saw Teong Hin - Malaysian Director, Producer & Writer (Film, Television, Theatre)
Saw Teong Hin: So I was interviewing staff, because we haven't got the building, the building is being renovated and all that. So I would call these people who applied for the job and I'll meet them at Pizza Hut or at the coffee shop. I didn't know what this meant. Years later, they told me.
They conferred with each other, eh, this guy for real or not? I'm almost their age and I'm like a fly by night and meeting them at a coffee shop. I don't even have a real office. They said dunno lah, we try, we try. I mean, it all came together.
Ling Yah: Hey everyone. Welcome to episode 21 of the So This Is My Why podcast. I'm your host & producer, Ling Yah, and today's guest is Saw Tiong Hin.
Tiong Hin is a Malaysian director best known for directing Puteri Gunung Ledang. The first Malaysian film to be selected for the Venice film festival and long listed for the Academy Awards.
He has also written, produced and directed a semi-autobiographical stage play and film called you mean the world to me or Hai Ki Xin Lor.
I was so appreciative of how open Teong Hin was with his life. Of what it was like growing up in Georgetown, Penang, the contentious relationship he had with his mother - who he always thought when he was young, never loved him enough.
And with one of his older brothers who was a little touched. And how has that really influenced him throughout his life. His journey from becoming a production assistant to making commercial TV efforts to music videos, to spending two whole years trying, but failing, to get a chance to prove himself as a film director until one day Tiara King came calling - literally! - With a script for Puteri Gunung Ledang.
If you've ever wondered what it takes to make it in the Malaysian film industry. The ups and downs and behind the scenes chaos and what it was like being creative director off the opening and closing ceremonies at the SEA Games, then this is the episode for you.
Are you ready?
Let's go.
And as I understand it, it started for you in Penang, where you grew up in Georgetown, along this road called Victoria street, known as Hai Ki Xin Lor. And I would love to know, in the 1960s, what was it like in that area?
Cause I understand it was like a Chinese traders neighborhood. So what was it like back then?
Saw Teong Hin: Just some context, Hai Ki Xin Lor, Victoria street, it's actually parallel to realty. Like one street away from the main shipping, railway, all the goods arrive and all that. My great grandparents and my grandparents were in the business of trading. Meaning there's coconut plantations and things like that. And so they had to send things, I guess, to and from places. And so they stationed themselves at Hai Ki Xin Lor.
Where I grew up, actually, the house is an ancestral home. There are two units joined together.
It's kind of like Cafe China house, you know, in Penang. It's really long. But I like Chinahouse because we had two units joined together. I mean, to be honest, when you grow up, your world is only that big. I didn't know any differently.
I wasn't very adventurous as a kid, pretty much home and school, home and school, home and school and weekends, my dad would take me to a movie. For me then that was the world . I didn't know about the UK. I didn't know about America or anything, you know. I didn't even know about the other side of the Island.
I didn't even know about the beaches and all that until my teenage years and going to school, then there's all these school outings and things like that. Long story short, I was pretty happy in that world, I didn't expect anything else.
Ling Yah: And I think you were the youngest of six siblings, right. And there's like an eight year gap between you and the next one. Everyone else is one, two years. So you're a bit of a like unexpected. Child coming. And your dad doted on you, unlike your other siblings?
Saw Teong Hin: Yeah, I mean, my brothers and sisters have always taken pains to tell me how lucky and privileged I am, because to be honest, I was the only child born after my father went bankrupt.
So I guess maybe that kind of changed him as a person or something, or he had more time on his hands and he could look after me, pamper me a bit. I mean, they also tell me I'm the only child that my dad never hits, in discipline, you know, in the good old days, I mean, nobody thinks twice about whacking their kids when their kids are out of line.
It just comes with the terms, you know. You do that, you get whacked.
He used to take me to the cinema every Sunday . Every Sunday, we will go and see a movie or two. Sometimes we will see the morning show and then we watch an afternoon show to follow up. And that is my biggest memory of growing up, taking the bus with you and going to the different cinemas and watching Chinese films and English films. And. I mean, we sometimes even wanted Tamil films, Hindi films.
Ling Yah: Were there subtitles then as well?
Saw Teong Hin: When you're young, you just look at the thing and sometimes you just cry. And sometimes you'd just laugh. I remember the two Hindi films very clearly. One was the very famous one, and that was Hati Merah Satu.
Ling Yah: What was it that left such a big impression on you?
Saw Teong Hin: I dunno, I just cried a lot. They were very sad.
I still have the ability to be really affected by things . I mean, although I'm in the business of creating this parallel fake reality, somehow I managed to sell myself that experience even now, and I get quite excited and I get to get moved and can take places. It still holds some magic for me.
Ling Yah: And I wonder - you mentioned poverty earlier, because as I understand both your mom and your dad, they were matched made. They never met each other until they were married. And both of them came from like quite well off families before they got married right until this bankruptcy. So did you ever feel that tension between them?
That was something that came up a lot as a child.
Saw Teong Hin: Erm, I think they were quite good at hiding most of it. I mean, of course some things you sense something is wrong, but you don't really know. And also as a child, you've done that concept of rich or poor. You just like, okay, this is what I'm having for dinner, you just expect every school mate at home will be having about the same meal. You don't know comparison, you have no comparison.
What I've found out since was that a lot of it had to do with my dad's pride . And that was because my mom's family still had a bit of money, but he didn't want any help from them. So that was kind of a source of tension.
But to my mom's credit, I mean, she kinda stood by his side through all this when in modern circumstances, she wouldn't have stayed. But in those days, I guess the belief system was different So, stand by through thick and thin. That sort of thing.
Ling Yah: And your mom was a homemaker, right? So was she one of the most prominent figures in your life when you were a child? What was she like?
Saw Teong Hin: She was. And what was pretty amazing about her is that I guess you can see the effort to be more cheerful, but to be buoyant not get her down. And she did all sorts of things.
I mean, when looking for money she would sometimes cook fried noodles and sell outside the house.
Oh, of course the money.
when times are really bad, I remember he used to sell clothes as bundles. So you go into a shop and you'd be weighing how many kgs that is or how many pounds that is, and then they pay you for it. So. She kind of tried her best I guess. Did everything she could to see through, let's put it that way.
Ling Yah: And you guys had fun as well. There was like one scene. I remember in the movie you made later of your life where the mom is dancing with Sunny a lot. So was that something that you did as a child?
Saw Teong Hin: Yeah, actually, I'm glad you brought that up because that point in the movie is really important to me.
Because the whole movie before that is all misery. Woe is me woe is me, you know. I wanted at the end to have the joyful thing, because I wanted to acknowledge that it is how we remember things. It's how we choose to remember things. So if you wanted to dwell on the bad, of course, there'll be some shit. But if you want to dwell on the good as well, there's also good stuff.
I mean, I was dancing. I mean, those are really really great moments that kind of like, if you don't bring it back at the end of the film, it would be so unfair to everyone.
For those who
Ling Yah: are listening, who doesn't understand your backstory to contrast that with you explaining why it was that this dancing in the story was so significant for you, because you had the bit of a contentious relationship with your mom as well, right? Because of your sibling? Could you share a bit about that?
Saw Teong Hin: Actually, it was only 12 years ago, only in my mid forties or late forties, did I understand what my mother was trying to do. I mean as a child there is always resentment and then in a family of six, it's always a little bit competitive. And since I have my father's full attention and love, I thought why can't I get my mother?
Ling Yah: You're the golden boy.
Saw Teong Hin: Yeah so, I mean, my silly little head you think, "Why is she so hard on me and why is she so nice to my other brother and difficult? Let's put it that way, you know?
So I never couldn't get my head around it until a conversation I had with my sister. And she kind of said that, well, He needs more help.
My brother was mentally challenged a little bit, so, I just resented it. The circumstances that created without trying to understand how difficult it must be for him as well. Also I didn't try to understand why my mother would devote so much of her time to him, looking after him. I mean, because all parents will help the weakest link.
Ling Yah: Yeah. I remember there was a, the line saying that, you know, if no one loves him, then who will?
Saw Teong Hin: Yeah. I'm his mom. If I don't love you, who will? Yeah.
And also the tagline of the film is pretty in that it is pretty telling. It says the hardest people to love are the ones who need it the most.
Mental illness on my mother's side, because one of my uncles is also a little bit touched and so on and so on.
So I guess that's also living with that, knowing that as a mother, knowing that perhaps it came from you. I guess she felt a stronger compulsion to help the afflicted son.
Ling Yah: To the point where that I think, you know, family is trying to put him in that institution to help him, right. And she resisted saying, no, I want to look after him off.
Saw Teong Hin: Actually, she then was one thing she would not even talk about because the presence of somebody like that, regardless of the reason, is very disruptive for the rest of the family. So, I mean, naturally the rest of the family and whoever's lives are disrupted And rightly or wrongly. I'm not saying it's the right way to go but like why is it affecting me so Becky all the time.
Almost a palpable tension every time he's around and it's not something easy to live with in your own home and to be tense all the time. It's not easy. But regardless of the objections, she wouldn't even consider.
It was only until she died that we acted on it because nobody else could keep him in check or kind of be able to talk to him or reach out to him. So, it was unfortunate, but necessary.
Ling Yah: And I wonder with all this that was going at home, how did it affect you, for instance, in school. Were you like an outgoing person or were you more withdrawn?
Saw Teong Hin: it was really weird. I remember myself as being a quiet kid. And then a friend of mine went to see the film and he said you were never quiet. You were a chatterbox. Never quiet
That can't be right. But you see what I mean? The duality and different perspective. I remember myself as quite withdrawn and not approving. But clearly, I've been reminded I'm not.
Ling Yah: What are the most important friendships if you were from then.
Saw Teong Hin: I made a friend in school from like, Standard 2. 8 years old.
We were in the same class all the way I think Form five? I think he dropped out of school in Form 4. He left school to go and study, I think hotel management. It's strange. I mean this bond, this friendship that we formed when we were young, even as adults, we had a huge gap where we didn't see each other.
You still kinda like click the same way as when we So that was really important. And also what was maybe important about that friendship for me is that this is one person. He wasn't a good student in school. He dropped out, not because he was the best, but he knew at a very early age, what he wanted.
17, 18 years, all I just wanted to go and dance. Or listen to music or hang out with friends. And this guy who already knew what he wanted and he acted on it.
At that time he left school, I can still remember the reaction. Everybody thought, wow, this is a bad idea.
You don't even have MCE or did he get his MCE? I don't think he did. And he went to Switzerland. Where our parents keep telling us you'd better study so you have a degree to fall back on and all that.
But for this guy that actually got off the plane without a parachute, I mean, nowadays, once you in a restaurant, In fact, in the filming of this movie, in the movie, that's the best friend who is bald, right? W e shot that in my friend's house but-
Just like that lah, yeah.
Ling Yah: That's wonderful. And I think you also had this friendship with the orientation queen.
Saw Teong Hin: Yeah. We're still very good friends, actually.
I mean, it was one of those strange fits because she was the popular girl and everybody was, and I was the studious nerd and somehow she just saw something in me and we just clicked and we became friends.
She was formative for me.
In what sense?
At that time, I had all these Coca Cola glasses, and I had really thick lenses and everything. She kind of made me go and work part time to save up enough money to make contact lenses.
And she kind of taught me how to, because my mother used to buy my shirts and pants, until I was quite old.
I mean, I'm not by no stretch a fashion plate, but to at least dress more my age. I was wearing what my mother was giving me and kind of like proper.
Ling Yah: And you guys were going like disco dancing together as well, right?
Saw Teong Hin: Yeah, yeah. Yeah. And she used to ride a motorbike and I don't have a motorbike or anything, She'd come to my house and pick me up and then take me to go dancing.
I remember my mum said, who's that? Like a girl coming on a motorbike to pick you up? She is married already and I'm godfather to the son, but we're still great friends.
Ling Yah: And I think she's also the reason you went to Singapore, right? In 1982.
Saw Teong Hin: Yeah. Basically because the family couldn't afford it, so she kind of like prodded me along. The uncles were still well off, but not my dad. Why don't you just ask them
I kind of went to ask and then she made me apply for a scholarship. I could afford to go.
And Singapore kind of like opened my eyes to a different world. A real world, if you like,
Ling Yah: Cause this would be your first time leaving family, right?
Saw Teong Hin: Yeah. Correct. For the first time I was living away from home and you just take so much for granted. Toilet paper lah, tissue lah, your laundry you have to do yourself like. I mean, things you don't even think about like oh, I don't have a mirror. You learn to fend for yourself, lah. You learn to be independent .
I mean, because I was quite tempted by my dad at home and also to some degree, my mum, this was initially a shock but very thrilling at the same time. Because you're not answerable to anyone.
You can do anything you want.
Ling Yah: And so you were at National university of Singapore, doing double physics and math. And what do you remember of that course?
Saw Teong Hin: To be honest, I remember it quite clearly in the sense that I kinda went mad. I ran a bit wild because it was my first time away from home and everything is so fun and shiny and new and all this.
So I kind of completely immersed myself in a good time. Hanging with friends and dancing and drinking and things like that. And then I only attended the minimum amount of tutorials and workshops so that you can sit for your exams, because if you don't meet the minimum criteria, you're not allowed to sit for the exams.
Unbeknownst to my parents, I was just not applying myself, the way they would like me to, but, it came to a point when I attended a lecture that some of my fellow coursemates thought I was a super senior, I mean, you have graduated and then they come back to observe so that they can be because you know, they have never seen me.
And also in Singapore, I stayed in the hostel, on campus hostel. And I have learned from some friends since that I'm taught as a lesson to the freshmen. So, I mean eventually in the National University of Singapore, I failed .
During orientation, the seniors will be like, don't be like Saw Teong Hin. Messed up and got thrown out. Oh dear.
Ling Yah: So did tell your parents that you got thrown out of uni? Cause you were the first in the friend family to have gone to uni as well.
Saw Teong Hin: I had to tell them of course. That's why I didn't go back to Penang. When I told them they were so nice about it, it just made me feel worse.
They just say, Oh, you try your best. Just come home. So I did the cowardly thing and I came to KL, even though I didn't know, at that point, I didn't know anyone in KL.
Ling Yah: It didn't cross your mind to like maybe stay on in Singapore and try to find something there.
Saw Teong Hin: I couldn't. Yeah, you're not allowed to and also at that time it was 86 when I came home. There was also a recession in Singapore, At that point. I remember people who graduated who couldn't find work are allowed to break their bond, and come back.
Having failed, there was nothing holding me back and you're not allowed to stay on because Singapore has this very interesting social programming, if you're a graduate from or even if you didn't live here. But if you're not, maybe not.
Ling Yah: So you came to KL in 1986. Was that your first time in the city? How did you find your accommodation? Like, what was it like in those first few weeks?
Saw Teong Hin: I kind of got one or two contacts from some hostel mates in Singapore who came from KL.
And then I got hold of some Penang schoolmates from most of KL to work. So, I called them up and said, Hey, I'm here. I need a place to stay, can I stay with you? I did couch surfing.
I would stay like two nights at one person's house and then another person's another two nights, and then kinda move around. When you're young you don't think anything about these things? Okay. What is situation? Okay, I'm going to do this. There's no long term planning and more importantly there is not embarrassment. If they don't want to help it i'll say no lah. Okay then you will look for somebody who will help.
Ling Yah: What was the plan in terms of jobs though? How were you supporting yourself?
Saw Teong Hin: I don't know. I mean, I was getting quite desperate because, I think I had only about like RM 10 or something like that in my pocket but also one of the people I met in Singapore gave me a contact for a lady in a production company, I didn't really know what it meant because the main production is so far away from your reality you never think about it.
My friends helped me by feeding me. But I mean, 10 bucks don't go very far, even in those days. And so I called up the contact that I was given .This lady, asked me to go in to see her.
She didn't have anything, but she thought I was interesting enough to put in a TV commercial. So she said, RM 800. I said hey ok we're on. For somebody who with less than 10 bucks in his pocket, RM800 is a lot a lot of money, you know?
So I did that
Ling Yah: What were you supposed to be doing?
Saw Teong Hin: No no actually it was for Shell. Shell motobike oil. I was supposed to be a biker. So I was in the helmet and only at the time I could go down. I mean, you mean you wear a helmet so the stunt people can do all the stuff. Right?
Ling Yah: You enjoyed it and decided to do more of this?
Saw Teong Hin: I enjoyed it. I mean, honestly, I was shit. I was bad because I was so nervous. The director kept telling me you have to calm down. You have to calm down.
You didn't know what to do and feel so awkward being the focus of attention. Everything is just done around you, you know? So that was new to me, but I thought the process was interesting, intriguing because of everything I know.
And so I decided maybe I should go into advertising or film production. So I looked in the yellow pages. I came across advertising, it was one of the first things. Actually I was looking for film production, but I saw advertising first. So I called the agencies one by one and nobody would see me.
Ling Yah: Was it because you didn't have the experience?
Saw Teong Hin: I mean, I was cold calling to be honest. I mean, they didn't know me from Adam, so I just cold called and said hey erm, I am looking for a job you know, is there anything? They said no. And that's it.
Cold calling even now it's frowned upon. But I called Ogilvy & Mather. Ogilvy & Mather I asked for the producer and I was put in touch with Faridah Merican. She is the grand dame of advertising and she was also newsreader at the time, which I didn't know.
And she was the head of audio visual at Ogilvy. And she asked me to go in and I went in and she said, okay, I like you, but I don't have a job. But, I know somebody does, who is looking for someone, you know. So she put me in touch with Joe Hasham who is now her husband.
So I ran to see Joe and I can still remember very clearly because sometimes they'll remind me about it. So at the interview I was on why she liked how you?
I said because I'm good. And I got the job. It turns out that I was quite natural at it. I mean, I was a production assistant and production assistant, you do everything . make coffee, you sweep the floor, you carry the lights, you do the casting, source the location. Because last time it's not specialized like now when you watch a movie or TV commercial production, and there's a casting department, there's a location, there's wardrobe and makeup and all. last time you would do everything.
So I was lucky to come into the business at that point, because by going through all the departments, you learn everything. You learn how the camera works, how long it takes to turn things around. I remember casting on the streets. You will go out on the streets. And you will look out for nice looking people and behave when you want to be an actor? You'll be surprised how many people said yes.
Ling Yah: So that must have been fun going out and asking people if you want to be a talent.
Saw Teong Hin: Looking back, it is really fun. I mean, the whole thing was really, really good because it was a complete learning experience. I remember having to take 3 modes of transport to get to work.
Ling Yah: Wow.
Saw Teong Hin: Yeah, because I was crashing with a friend in Bandar Mayan in PJ and the office was right in town, near the general hospital.
So it was 2 changes of bus One right in the house, do the first box and then do get the box. And you don't think about it. When you're young you back. Okay. This is what I have to do to get there. I'll do it.
That means I've got to wake up at six. Okay. And then when you finish, when you go back the same way. It was really really interesting for me.
Joel was very kind to me and very quickly he promoted me and I, so I think in 3 months I became a producer .
Ling Yah: What's the difference between like an assistant and-
Saw Teong Hin: Because as a production assistant you wait for the cue from the producer. The producer said go look for a location and you go and find a wardrobe for this story.
And then you run around and reinstalled it. But as the producer, you are the one who set the direction. You can come once a month, whether it will be. But I mean, I was a producer in name, but I was still doing the work myself. So, because the company got very busy, so the producer was working on this.
I stepped away from her and I operate it on my own project for the director. And part of the beauty was that because I didn't know the rules I went into it blind, you know what I mean, I didn't know that that's the way of doing this and all that. So I ran to like Mun Lon. Mun Long was a very famous department, you know, in those days.
So I went there and I said I want to post for a TV commercial and they said okay. Then I'll reach their conference room and have the director come to the conference room and review the clothes there. And in those days it's unheard of. You usually go and buy things and then take it home with you, back to the office and show, you know, I mean, because you don't know the rules, You just do things that you feel is right. We've become active in the beta, it's only because I didn't know the rules.
Ling Yah: It's so wonderful that Joe gave you that freedom to just do it in your own way.
Saw Teong Hin: Yeah. I was really lucky because in those days, nothing is so structured. everything's kind of free and easier. I'm just kind of like almost living from the office.
I didn't resent it at all. Ijust wanted to be there, something to do and get some money every month, you know.
What about that process? You were a producer and then you end up setting up your own production house, right? Which has offices like Malaysia, Singapore, Indonesia.
There is a gap there. I was a producer and I worked with Joel Hashim's company. I did quite a lot of big commercials, TV commercials, and all that, I think I was there for like two years. And then very soon, the kind of industry started to know about you about me lah so, I got a job with an advertising agency.
And I decided just to get up to the challenge and I was handling Salem and Metrojaya And those are the biggest revenue for . So it was a huge responsibility so it was very exciting. And then I was poached by a second advertising agency and I quickly jumped for the extra money that was offered.
I did some things in Tokyo and all that and all that, but I decided that maybe advertising is not for me. I was beginning to think that I missed production. Then I was offered a job in post production. Post production is where you do the colour grading and the special effects and all that.
It's interesting. I don't know anything about post production, so I joined them and I was sent down to Singapore. I was posted there for 3 months for training. It was an Australian company based in Singapore. So I trained . and then I came back and I set up the Malaysia company for them. It was really funny. I was 28 I think and I set up a company and I got a tax rebate from my MIDA and everything. So they said huh you got all this?
I said yeah you need oh, right? You need a tax rebate because you're bringing in things from Australia!
It was really, really fun for me. That was a great learning experience. And then one of my colleagues in post production actually wanted to be a director.
And, he knew that I also did a post production company. I was a manager and producer. I set it up. and he said, why don't we set up our own company?
And I thought, yeah, it should be a company. And then, we had a lot of successes so very quickly we expanded and everything. And. It came to a point when I got bored. I mean, 3 years into it I got bored and I said I wanted to give up the business.
You've been doing this for like 13 years by now, right. So there's been quite a long.
Yeah. Something like that. Yeah. Correct. And so he said to me, why don't you direct? You love to tell me what to do.
I said hmm Okay. I'll try it. Because, I thought music videos would be interesting to do. So I called up EMI. I didn't know anyone there and say, Hey, I'm a film director. I want to do a music video, do you have anything I can do? Okay. Can we redo. Can you come in and see us?
So I went in to see them. then they gave me the two projects - KRU, you know.
I mean, the budget was, I mean, I dare to say was 50,000 and by sizing standards, 50,000 nothing in those days, close to a million, a few hundred thousand minimum So I thought oh that's very little, but I didn't say anything.
I said, okay, because I'm in the business, I have my own company, and we have all these suppliers we can lean on to help you. So I called everybody and he agreed and everyone and KRU Fanatik kind of launched me. I won like every award in Malaysia. And it was also sent by MTV, to represent Malaysia in New York.
Little did I know that 50,000 was actually a lot of money because in music videos, in those days, you used to do things for 1000, 2000.
Ling Yah: How can you do anything with that?
Saw Teong Hin: That's why you have them walking in a park and you have like, them walking by the beach all the time, you know what I mean?
Not, nothing against the other directors who did that, but I mean, circumstances are such that they had only so much to work with so they did what they could.
What I'm trying to say here, that I was lucky without even knowing it got such a huge budget. And I thought it was so little.
But yeah. Then I went on to direct a lot of music videos and I cannot say that my friends, my supplies, my friends did me a favor so I said, okay, I'm going to stop doing it. and I was doing TV commercials at the same time. and then my business partner and I joined another company to direct TV commercials as well.
And I got bored, Actually the boredom is kind of to do with what I was doing or, maybe to do it myself. I didn't know. I've always wanted to make a movie, but because you're kept quite busy shooting TV commercials, every month you'll be shooting like, maybe 2, 3 TV commercials at the time, so you have very little time to think or stop to work on the screen or something.
So I just like to give myself the time. So I stopped, year 2000, TV commercials completely, and I wanted to devote myself to film. And seeing the success I had on calling their advertising agencies and then getting a job and then calling the recording company and getting a job, you know that, so I kind of did the same.
I called up all the movie production houses and nobody would pick up except for 2 people.
Othman Hasham and Emah Fatimah. They're the two who agreed to meet with me, they were very nice, very nice to me. but there was very little they could do to help me. It's a different universe because my other experience I had in the short form, I thought that it would be an easy leap into the long form. Little did I realize it's a completely different universe.
So I tried and I tried and I tried and it got nowhere. So then my mother passed away. And then obviously, my money is depleting. You know I have not worked for two years, And then I decided, I have to stop. I have to go back into TV commercials because some of the people that knew me in the TV, commercial world, Kind of offered to set up businesses with me you know., they say, Hey, come back.Come back and we do this together and all that.
Then I decided that, okay. getting a bit scary, my situation. So I might go back. So that night I slept late in the night, my phone rang. It's a film producer friend from mainland Hong Kong. He's the producer, Daniel Yoo, he's the producer for Andy Lau at that point..
And he said, Oh, Andy has agreed to invest in your film. So I said, okay. And then I have enough,
I woke up, I thought, is this real? Did I dream this? I called him and said, Hey, did you call me last night?
He said yeah, I did. I called you and I told you the good news and you're just like, not very excit d and just hung up.
So while I was at a point when I wanted to go back and do advertising, I got the call that brought me back from the brink. So we explored working together. Eventually the Hong Kong thing didn't work out, but it delivered me away from going back to advertising.
So I went on went on went on, it kept me going for another while. I think it kept me going for another nine months then I felt I cannot really cannot continue it because my resources are depleting like crazy
Then I called Hasham who actually helped me formulate some proposals and things like that. I remember it was Puasa month, so I called him and said, hey can I start buka puasa with you? He said cann?
So I went to meet him in town. It was at the Reneissance Hotel, if I'm not mistaken. I was on the way to town. I got a call from Tiara. Tiara called me and she said, Hey, what are you doing? I say, I'm on the way for dinner because I was in a bad mood already. I felt down and sorry for myself.
And she said, no, no, no cancel your dinner and come and meet with me. I said, no lah, cannot lah, but she was quite persistent. So I said, okay, after dinner I call you, maybe after dinner we meet. So I went down, met Hasham. Told him going back to advertising and thank you for helping me and all that. Then I was just driving back home. My phone rang again. It was Tiara again.
So I answered. I said Hey, hi, how are you? She said where are you? I said I'm at the traffic light just before my apartment So I think we meet another time. Then she said, Oh, very good. I'm at the cafe next to your apartment. Can you come and swing by?
What to do ah, she was already at the cafe. So I turned around and went to meet her at the cafe.
When I went, it was her, Mohammad Khalid and Dominique Tee. I didn't know what she wanted to do. I really didn't know as a movie friend, I just knew her from the party days. Growing up dancing and so I sat down. I still didn't know. I mean, I was so distracted by my own misery. Then we were just having a drink and she said, what do you think Puteri Gunung Ledang? And I said, oh I think it's a stupid story.
Ling Yah: You didn't hold back.
Saw Teong Hin: She said why why, why do you say that? I said, because you never know why she turned down the king. And you don't know what happened to her.
You know, what kind of story is that if you don't know the ending, then she said, Oh, I want to make a Puteri Gunung Ledang movie. Oh dear, too late.
And as it turns out mohammad was the script and Dominique Hee was the producer.
So she said anyway, here's a copy of the script. Why didn't you have a look at it and tell us what you think. Fuck. But anyway, it's truly what I believe. It's truly what I believe at the time so I stated it lah.
I took this script, I read it that night and as I was reading it, it was written as an action thing.
Mohammad did a great job modernising it, lah. Although it was a period drama and has a long lot of fighting. So as I read it, I felt that the heart of the story was somewhere else. So that night itself, I think I finished reading something at 3am and was writing out my thoughts-
Ling Yah: Your treatment of the script.
Saw Teong Hin: Yeah. Correct I wrote until 4am. 2 hours over. I remember.
Ling Yah: Was it completely different from what Mohammad came up with?
Saw Teong Hin: I focused on the love story. So I stuck the line and then I went to sleep. Next morning, quite early in the morning, I think nine something.
I got a phone call from Dominique to say, Hey, you faxed Tiara this morning.
I said yeah I did. That's how I felt. He said, very brave ah you. Yeah that's how I felt so I put it down.
He said oh you're very lucky. She loves the treatment. I said oh? Then you're on.
I mean, In principle,I'm on lah and she stopped looking for a director because they were preparing to meet with directors. So I got on board and then started developing it in the direction that I saw it, you know?
Ling Yah: How long was that whole development process to like beginning to shoot
Saw Teong Hin: two years.
Ling Yah: Wow.
Saw Teong Hin: About a year, a year plus, because she was quite thorough as well. I mean, the production we wanted to do research, we went to Yogjakatar to stay at the actual palace, met with the actual palace people to see what their daily routine is like.
Ling Yah: Because she wants to know how to act like a princess as well.
Saw Teong Hin: Yeah. What their discipline is like.
They lead empty lives. I mean from the outside looking in, everyday they wake up to do prayers. To practice dance. But actually it's all a form of discipline on to prepare them for their role and stay focused on that
Ling Yah: Were you doing something on the side as you were developing this?
Saw Teong Hin: Nope.
Ling Yah: How else were you supporting yourself then?
Saw Teong Hin: Tiara and Dominique were very kind and gave me a small stipend. A small retainer over that period.
Ling Yah: Wow. So you basically put all your eggs in this one basket.
Saw Teong Hin: Only egg only basket.
Ling Yah: Did you face any pushback? Because this is like a Malay film and you're like a Chinese and you've never directed a film before.
Saw Teong Hin: I mean, I wasn't going to do details, but they were very clear unhappy people. I started going out with Tiara and Tan Sri. And they introduced me to this very famous person and this very famous person said to them, with me standing there, I reached out my hand to shake his hand and he didn't even take my hand.
He said point blank to Tiara and Datuk, you're making a huge mistake. Yeah. If you give it to me, I'll make sure you have a great film, with him you're making a huge mistake. So I was quite taken aback. I have quite an objective view about it, because this thing is shaping up to be the biggest film ever for Malaysia .
They're not at that point. These are people who have been in the industry for a long time. And here is this unknown, gets this break. I expect them to rejoice for me? You know what I mean, or not?
I mean, the reality is there will be resentment. I was not blind to that, lah. I mean I wish he could have been nicer, more pleasant, but I'm also not totally surprised.
Ling Yah: You said it was shaping up to be one of the biggest. So was the budget a lot higher than normal?
Saw Teong Hin: Actually it just took on a life of its own. Also you are not aware of the protocol. You don't have any fear in you because I've never made a film before so you climb a mountain and we will shoot it on the mountain.
Okay.
We shoot it in the sea, okay. Honestly a lot of my decisions were practical because we don't have an indoor pool or studio that can create a sea or a ship. And our set building skills are very limited, because at that point, we have stopped making studio films for a long time. And then we shot in 2002 the last video film, like on a scale of a many, many years since we did a historical set piece, you know?
Ling Yah: And you guys were building palaces and harbours as well, right?.
Saw Teong Hin: So it was very interesting. honestly to the producers' credit, they really wanted to do something that Malaysia can be brought off. And that won't embarrass us at the international film festival. It was always very clear from the beginning.
That's what we want to achieve. So they also put their money where their mouth is. So, I mean, my things came like, okay, if we do this it is going to cost this much. So the budget grew. I can still remember at the end when we were cutting the offline of it.
We had an internal viewing, you know. At that point, you already decided that the music score is going to synthesize this because he's not going to save money.
We didn't do symphonies. And then at the end of the thing, Tan Sri said, how much would that symphonic score cost? We said about one point something million more. And he said, let's do it. He loved it so much that he was willing to, okay. The popular belief. Contrary to popular belief, it's not my fault, the budget, the producer. I might give them their due because they really believed in what's going on.
And they really stood by and supported it completely.
Ling Yah: Do you have any particular memories of filming that really stood up for you and had like a personal impact on you?
Saw Teong Hin: The first day.
The first day shooting in Kenya, we were heading to the Island in the middle of the lake to shoot. And we weren in like I don't know how many boats and all his things and on the Island, were these barges and this crane. As I approached it I thought, wow, this,
they need to see it. And I bought a hundred over crew, some days over 200 something. So it's huge but I mean, the way I got through it was that I just focused on what I had to do and trusted that everybody would be doing it because we already had all of these discussions and meetings and then everything would have been then of course, invariably, it happens in some way or another lah
Ling Yah: So in the end, it ended up getting played at Venice film festival and was the first Malaysian film to be long listed for Academy awards.
So, how does that normally happen? Do you submit your film for these?
Saw Teong Hin: You have to be something anytime by an official body in Malaysia. And so until that point, nobody has formed that official body to do the submission.
Because. of the film itself and because of the producers of the film, they felt that this time we did something maybe.
And so FINAS got together a team to form a submission body to say, declare that this film is representing your country and things like that. it was a real eye opener for all of us, because none of us had ever been to an international film festival and the amount of work and the machinery involved to actually get going is immense.
I mean, we kind of knew when we landed in LA that we are not going to make it. At that time, we didn't know, we are not on the short list yet. But when we arrived, we saw bilboards of all the other films and they have special pullouts. In the LA times on the Sunday edition, they have booklets and all that. All beautifully done. And I guess, months of preparation for this. We kind of a day, let's do it. Let's put it on the show. Oh my God, this is what it takes.
I mean we got a lot of mileage out of it ourselves. I mean, we were interviewed on television morning shows, and kindly invited to a lot of things, but we were in awe of the process. Go ahead. Wow, which means so much more, you know, I mean the film is one aspect of this.
Ling Yah: Wow. And what was it like going to the Venice film festival?
Saw Teong Hin: Unreal. That it was just outer body experience.
You kind of like stunned into disbelief as well.
When you arrive there, the protocol in Venice is that you are made to wait in the holding area and then they call you, you jump on the boat and you'll be announced when you're right in the jetty in front of the venue.
So we were a bit late, for some reason.
And so Johnny Depp went before us. And then it was us and then it was Tom Cruise.
It's like your own movie magazine just came alive and everybody is there. I mean, of course we cannot get near them you know but to be able to see them live. You go, like it was such a thrill. I mean, for me lah.
And then when we got to the HQ of Venice, the main stage and to honour each one who comes, they will flag. And then we were close to tears. I mean, I must say we were close to tears,
Ling Yah: So after that, were you able to make a lot of connections where you will be able to do international collaborations?
Saw Teong Hin: Not really. I came back and I spent two years going around to all the different festivals in San Francisco. Commonwealth, Manchester went into, can't even remember where and he's one of the hobbyist that was spent traveling for the film. and then I realized at the end of it, Oh my god. I haven't done any writing project, I had better sit down and prepare something.
And then that took another year, I think.
Ling Yah: And was this the period where Mi Fang came in?
Saw Teong Hin: Not yet. She came in 2010. After the high of Puteri Gunung Ledang, I made another film and it was really not successful. It was all around experience for everyone involved, not just me.
I tried to do something, but it didn't work out.
Ling Yah: What'd you think was the main reason?
Saw Teong Hin: I wanted to do a black comedy. In the end, the people involved decided that they want me to do a black comedy and decided to sell it as a romantic comedy. It didn't work because it was designed to be a black comedy.
Then nothing was happening, for one. And then kind of got a little bit depressed, kind of like stuck in a rut, you know, more like, Oh, I don't know what to do next. it wasn't like the offers were pouring in. So.
Ling Yah: That's so strange though, I would've thought after the high of put your good on lay down, that everyone would want to jump on you because you were winning all these awards. You had done things. No other Malaysian film had achieved.
Saw Teong Hin: Actually the things that came from Puteri Gunung Ledang for everyone was that I was too big.
I was too big. the things I do cost too much for them. It worked against me. because there's a certain scale that Malaysia used to, the appetite for investment in film is on a certain level. And there is this film that is so many more times above that level, that everybody was quite reticent about approaching me.
So that's what happened. Even the ones who wanted to do a drama didn't really realize how much it's going to cost.
Ling Yah: So how much would it normally cost then for a period of drama?
Saw Teong Hin: Okay. In recent years and so, how you cost things like around there.
When you do a period drama, you have to find an isolated location. And you have to build everything from scratch and everybody you see in there has to be style, and their wardrobe has to be made. The shoes that we need and everything you see about them to be created So it sucks up much more money than you expect and that's even to achieve the basics.
I mean, we haven't even done like a Gladiator or anything like that and this is ready at this scale. But if you look at how things are done in game of Thrones one episode is USD 15 million. One episode, and they're not coming anywhere near it to give them a first season, it was 4 million per episode.
Ling Yah: So you're doing all these things, you are stuck in the rut, then what happened?
Saw Teong Hin: I got this call from Mi Fang. Mi Fang whom I met when she was at Astro. At that point, when she called me, she was a partner at Red Films. So she called me, she's like hey how are you? I say I'm okay. Hey, do you mind if I bring a feng shui man to your house?
This is odd.
I asked him, why do you think? I mean, I appreciate her for her candour. She was completely, just seems that you should be doing better, but, you don't seem to be doing well, So I think maybe you might need your feng shui checked. I mean, I wasn't doing well so my first question was, how much is this going to cost?
She said no, no, it's on me. So I said, ok.
And then she sent the fengshui person over, and the advice for me was to move out from where I was living immediately. You say, no, you can't be here. You will go nowhere in this apartment where I was staying.
Ling Yah: Because the location, everything was bad, or I think,
Saw Teong Hin: Yeah. He said my front door was in my conflict area and my wealth sector is my toilet.
And you know in an apartment you cannot move things. Your front door you cannot move, your toilet you cannot move. So he said, there's no way I can fix this for you. And of course he was a big problem because moving, you know, you have to be able to find the houses, look for the rental every month So that was another issue.
B ut Mi Fang and Lena kindly agreed to advance me some money to enable me to move. And then I will work on their next project for them to offset the cost. And I did that and I managed to find a place back in Bangsar. and then everything started to pick up.
Maybe my situation was so dire that anything was up. Any which way would be up for me. And, yeah, I caught a couple of things going and then got back on my feet
I think you were like directing
Ling Yah: TV series and movies and a stage musicals
Saw Teong Hin: Correct. So, I did two TV series for them.
I did one uncompensated for Astro first, and then I did branded content series for Cornetto And then, same time a friend of mine had been named Joe Sidek, he became the festival director for Georgetown Film Festival. And so he called me and he said hey, do you want to do something?
Coz it was his first time doing a film festival and I've never done a film festival before. I wanted to do Emily of Emerald Hill.
In the story Emily is like a child, a woman. And then as an old lady. So I wanted to do this Emily, which is a famous monologue, right? But I want to do it with 3 of the most famous Emilys, playing the young one, playing the middle, the lady and then playing the old one.
We're going to do this Emily over three nights and every three nights, that combination changes the lady who plays the young girl and will play the old lady the next night. And will play the middle lady on the 3rd night. And they all switched.
So I managed to speak to Pui Tin and Feng Yi and Sui Lin in Singapore. The three famous Emilys. And they all agreed. It took up a big partner of Joe's budget, but I mean, he was very gungho, very supportive and he was very excited about it.
But I can still remember what Pui Tin said to me. She said Tiong Hin, I will never do this switching again. And she was very serious and she sat me down and she said, I don't believe I agreed to do this for you, but I know for sure now I will never give it to you. I think why, because you said, you know, we all know the text inside out, right?
Because you know, we have all playedEmily many times before but when I split it into young, middle and old, and then switch the roles every night, they don't know at which point do they stop. You have to really focus on what the other person is saying.
And then you get, Oh, no, is my cue to go on. So she said do you know how big a headache I have every night?
I'm grateful that they did it. And they did it beautifully.
Ling Yah: So in 2014 is Hai Ki Xin Lor. And actually this script you wrote all the way back. I understand in 2009, And you wrote it as a film, right? So something like an autobiographical story of your life when you were growing up and it's something very dear to you.
Can you share, what was the inspiration behind you starting to write this?
Saw Teong Hin: Actually, it was for a FINAS writing workshop.
So we were supposed to write a piece and then bring it to share and workshop it lah.
Coz there are other writers there. I felt that after the disappointment of the second film, I felt that I wanted to do some things that are meaningful to myself. So I wrote like what I'm saying, write what, you know, I always wanted to write the story about coming to terms with my family. So I sat and wrote it. It kind of wrote itself pretty quickly.
There was a surplus of material actually.
So there's so much of our day that I had to spend t o edit.
The first round writing was three days because it's from a lived experience so we kind of know it. You don't have to create anything. So I presented it. And the reaction to the script was mixed . That's great. I also shared this good with a couple of those friends and strongly encouraged not to make it.
Ling Yah: Oh wow. How come?
Saw Teong Hin: They said it won't look good on you. But to me it wasn't the point of my looking good or not; it's more for me to get it off my chest. And also like I always say in my interviews before it should be a tribute to my mum.
An apology if you like. A little belated, but all the same, I think it needs to be stated that I misunderstood her. That was the most important thing. But even at the workshop, some of the reaction was aren't you embarrassed to wash your own dirty laundry, you know, in public? Laundry. I mean I don't look at it that way. I mean, it's part and parcel I'm not going to say that I come from an immaculate background or anything like that.
Ling Yah: And had you already shared this script with your family at the time? Did they know you were doing this?
Saw Teong Hin: I didn't. Not yet. It was only at the play when I was staging the play that I invited them to the place.
Ling Yah: So that was the first time they heard about it.
Saw Teong Hin: Yeah they first heard about it at the play. Two of my sisters turned up.,
But it's very interesting their reaction. One of the sisters said, I don't sound like that.
Ling Yah: The journey to getting that onto the stage where there were a lot of trials, right? I understand the Eve before the performance, there was this huge thunderstorm. Really cause problems.
Saw Teong Hin: I didn't take the easy way, like for example, just to go back to Silat and in 2012, we did it outdoors in Fort Cornwallis in the open air with a gamelan orchestra and performers.
So every night you are shitting bricks. Oh please don't rain because there's no contingency is that you're really out David rains. The whole thing is just washed out. But thank God we made it through. The reason why I'm so particular about that is because the Georgetown Festival was created to celebrate the Georgetown Penang listing in the World Heritage Site.
So I want to do events at World Heritage Sites. like, let's say for example, what that means Fort Cornwallis was a World Heritage Site and the third one is Ku kong Si which is also obviously a World Heritage site.
But then it means taking a certain amount of risk lah. Let me, I've been lucky that Joe Sidek really believed in what I wanted to do and supported it completely and took the risk on me. Honestly if the investor or producer don't or like PGL and all that. If they don't believe in the idea, you'll go nowhere at all.
You can think the most brilliant things, but without that trust or support or belief, it will not happen.
Ling Yah: So what was it that if you don't mind sharing the story behind before the stage performance? Cause he was quite a big deal.
Saw Teong Hin: I mean, even when the rehab process was fought for me, because writing is one thing.
It was already quite unsettling for me. Copious amounts of tears were shed as I was writing it. But when you are rehearsing it, seeing these people be that character, doing things coming alive was really difficult for me
Actors were very, very good about it. Even the people, the production team around me were good. Supported me as much as they do.
And then the night before the rehearsal, it started to rain really heavily as we were putting up the things. And then. Lightning struck on the roof of Ku kongSi, you know the carvings with all the reliefs on it. Struck the stone carving, the stone carving cam, crashing down, broke the windscreen of one of the cars and cut one of the technicians putting up the stage.
And not only that because the wind and the rain was so strong, we put up a screen.
I don't know if you saw the production whre the projection is on the screen before the action starts. The screen crank came, crashing down and we have only just started our lighting cues. That means, we haven't even done a walk through. I mean, they made the position and we haven't even finished that one walk through, but I had to call it off because we have to fix the stage and send people to hospital.
And it was raining so heavily. We cannot continue.
The next day was the day of the performance, right? The performance is at 730.
So we all stood by after lunch, because we were still fixing everything, they didn't finish fixing anything.
Until six o'clock or something Sunday, no way we could have a rehearsal because you already have to do makeup and get ready, go to do your wardrobe.
The audio has never been tested and the lighting. They kind of do on their own agak agak and so I thought, I'm gonna die like a dog.
I'm going to really die like a dog.
Then the show started. It was magical. Even if I say so myself, I mean, there have been some very kind reviews on it that have been very very kind and full of praise, but it's magic. It was the best performance ever. I guess, because everybody might be on an edge. And nobody wants to fuck up.
Adrenaline pumping.
The technical guy, the sound guy, you know, can you imagine not testing? Anything could have gone wrong you know. And also on the first night, we were due to start at 7.30. And then before we started, we were reminded that I've done it until around 7.40 So we had to wait for the azan. it was magical.
Because here in the darkened space outdoors with a stage and, ancestral, place and it's just a small light and then you hear the azan and then after that, the show starts.
Ling Yah: And what was your feeling, seeing this come to life in front of you for the first time?
Saw Teong Hin: I think we had four nights performance. All 4 nights I wept.
The first night was especially heavy because of the pressure, but also watching it come to light, this cannot help, but get sucked into this. Can you imagine I've been carrying around that baggage for over 40, 50 years?
It's crazy.
Ling Yah: Because you're doing this as a tribute to your mom, right. Did you feel that release from you when you saw that?
Saw Teong Hin: Yeah, I feel like less of a monster because my hatred for my brother was really not nice. I mean, I really resented him and I was completely wrong and unsympathetic. But I mean, one of the nicest things was one of my cousins came to watch the film.
He said I was so afraid that you would be unfair, but you were not. that was something I strived for because it's not a vendetta. It's not for me to shame anyone, it's just to try and tell it as and honestly. And you know, memory's not the most reliable thing.
Ling Yah: Do you feel that you would have done it because there was opposition. Would you have still done it if your family had been very strongly opposed to having your story shown?
Saw Teong Hin: I think I would not. It's just something I needed to do, but I mean, what's interesting is I wanted to shoot in the flat my sister lived in and she said yes initially, but I think a week before shooting should change her mindset said no. I mean, I kind of understand that and I kind of respect that and loved for another place lah.
Ling Yah: So going back to this stage play, the reception as I understand it was that very, very good. Was it something that surprised you that people really connected with it? And you gave free passes to those who live 1km within Hai Ki Xin Lor, is that all right.
Saw Teong Hin: Only on the first night, because with a play you're disrupting their life and the noise level and all that. Georgetown Festival decided to do the one show. This was like a thank you to them. The response was beyond my expectation, best reviews of my career.
Ling Yah: And I think after the success of those four days, people were willing to fund you to do the film version.
Saw Teong Hin: Actually, because when you read the story on the page, it's all doom and gloom, but when you see it performed, there's a certain sense of redemption involved.
Ling Yah: And it was also the first Penang Hokkien film as well. So that was like, wow, something different.
Saw Teong Hin: That was another problem in the film. When I was trying to get money for the film, I had a couple of instances where I could have got it funded but provided I changed it to Mandarin. Because it's about my family. I just couldn't Imagine them speaking Mandarin, you know. To me it'd be so weird and I couldn't get my head around it. I didn't do anything stuck to my guns.
Ling Yah: So you got the funding and then you started preparing the set, I think at the end of 2015, in terms of the cast and the production team, was it very difficult for you to identify people for those roles?
Saw Teong Hin: Actually, my initial impulse was to use all the same cast from the play.
But in film, there were different requirements because film is a much bigger investment and so the producers needed some more famous names. I mean to the credit of the costume I went up on the day to tell them that some of you wouldn't be in the film.
I forgot to say something about the play. The play the first night was shocking. When the first night finished, it was so so silent. Not a single applause.
And you go like, huh? Then through my tears I realised what happened here? But everybody was so engaged that they just sat.
It's quite a gut punch as well.
And then the applause stated, and then it went crazy. There were people who couldn't even move from their seats. And then there were these two sisters, very young, mid to late 20s. And the security guard had to help them walk out because they just couldn't get up. They were crying so much. I mean it's not nice of me to laugh but-
Ling Yah: The impact was there.
Saw Teong Hin: Never think, never think that it will affect somebody so much. I've been told lah. By all the people that everybody cried. Not one person not cried.
Ling Yah: No it's emotional. like I was watching the behind the scenes and I almost cried just watching the behind the scenes, not even the film.
It's something that's so raw. You can identify with it.
Saw Teong Hin: Yeah. Theatre and film have a way of amplifying truth. You know, there's something in there that when you watch. So how, how you engage in some things and you are not engaged. Is it just good acting or is there some truth?
I'm not the expert, but I believe that we all have a built in bullshit detector, you know, you need your life, you look at somebody and somebody is telling you something and you are thinking oh this person is lying.
You know what I mean? It's a reflex that you act, you almost don't think about it.
Ling Yah: I understand you started shooting 1st January, 2016, and you walked on and it was the set of your childhood home, right? So what was it like seeing it before you again?
Saw Teong Hin: Unreal as well, the art department did such a good job. They had some descriptions from me and they did some set drawings and then I said, okay, it's more than that, that whatever. But then they recreated and it was so real.
I was really unsettled by it & when you see the rehearsal, it's even worse.
You are living the memory again.
Ling Yah: Yeah. Cause you gave quite a lot of details to them right down to the little bits and pieces of where everything should be placed.
Saw Teong Hin: They were an excellent team. The whole production team,
Ling Yah: And what was it like directing the actors & actresses. I was watching all these interviews saying that at the end of shoots, you guys were all crying together cause it was so emotional. And the other thing, one of them say I've never cried with my director after doing a piece of it,
Saw Teong Hin: She said, you're the first director that cries before me. Which is true. I get really engaged.
Ling Yah: What was the thing that stood out for you the most in the entire filming?
Saw Teong Hin: We were saved from the brink of disaster so many times on the shoot. I couldn't get to my school. And I was just talking to a friend who said, why don't you take my son's school? My son's school is very pretty.
and then I was looking for a warehouse to be like the studio where you shoot. And he said, Hey, he owns the cinema, you know, the MC cinema, so he said, what don't you use my cinema?
Okay.
I mean it became even more resonant, it being shot in a cinema which was in the story when my mum and I used to go and watch a movie.
When shot in the cinema and we did the set and everything. And then night before the shoot, there was a flood, somebody forgot to turn off the tap. The whole studio was flooded.
So I got an early call from my co-producer and he said to me, hey there's a flood, but we are managing it. So we managed to drain the water.
And luckily it didn't damage the set. But what was fantastic about the day because before we went in to rehearse, and it was really dusty. And then because of the flood, it was clean and all that.
So something good came out of it although it felt very much like a disaster at the time, you know. For the record, the support or the production team was pretty amazing. Everybody kind of helped me out, my DOP Chris Doyle, my first lady and my co-producer, everybody ran the extra mile.
Ling Yah: Hai Ki Xin Lor was released to critical acclaim. How did your family feel?
Saw Teong Hin: I think the most used adjective was brave or courage.
I don't feel brave or courageous. It just felt that it was necessary that I do it. There's nothing else but that. A necessity on my part.
Ling Yah: And I read as well, you were doing this film because you want it to find your true voice, identity as a filmmaker. Do you feel that that happened as well?
Saw Teong Hin: Okay. I mean, I would say it's closest to my true voice, but I've also come to the realization that there's no such thing as a true, true voice, because you're relying on a camera man. You're relying on, Director. You're relying on an editor. there's so many elements of it that have other people's contributions.
It's close to my voice. But after the experience of making Hai Ki Xin Lor, I realized that maybe it doesn't truly exist unless you edit everything yourself, unless you shoot it yourself. You know, the expression of it will always have some interpretation.
Ling Yah: Is it possible to define what your true voice if you will.
Saw Teong Hin: I think to some degree I'm sentimental. I'm largely sentimental and optimistic, but in all the work I do, there's always someone who dies.
Skay, I didn't come to this observation all by myself. Somebody told me, do you realise in all your films, somebody dies?
Ling Yah: Because he makes the people who are alive more precious, I suppose
Saw Teong Hin: it kind of escalates things, puts things into focus.
And there's also the underlying theme of love - maybe parental love or maybe romantic love or what. There's always a belief in the purity of love.
Ling Yah: Looking back, is there anything that you would want to redo?
Saw Teong Hin: I think it's quite safe to say no director is happy a hundred percent of anything that they've done.
And I would safely say that no, But at the same time, would I do anything differently? My answer would be no.
At every point I did the best I could. sometimes the best you can is great. Sometimes the best you can is not so great. So you just have to live with it.
Ling Yah: And I noticed that with the release of this film, there was also the love campaign that was launched by Astro featuring five families. I thought that was very, very special that it wasn't just your story, but other people's stories as well, including a mother with a child who had mental challenges as well.
Saw Teong Hin: Correct, yeah. You see, that's what a lot of people failed to see when they read the script. It's not just about the money. It's about the situation that we all invariably find ourselves in to some degree or other. Every family is the same. There's a lot of love, and there is also a lot of the resentment. At various points when somebody asked you, how do you feel about mother?
Oh I hate that. Oh, I love it. You know what I mean, right?
It's not that you're lying, that's what makes it so special. How are brothers and sisters so close to each other aside from growing up together. I mean, a lot of brothers and sisters, although they grow up in the same house, they grow separately. They don't really do everything together, except eat meals together.
And yet there's this really strong bond that ties us? I guess because you see every aspect of them. You've come to expect even the not so nice, not too pleasant aspects, that is the basis for a stronger love.
Ling Yah: So this film was released in 2017 and that year, you were also doing the South East Asia games, you were the creative director.
How did that come about? Because you were doing the opening and the closing ceremony.
Saw Teong Hin: Yeah. And the Paralympics as well.
I've been a tremendously lucky person. Growing up, watching cinema, I never imagined I'd be involved in any way because it was so far from my reality.
And for me to end up being a director and rather successful one in the sense that I can sustain myself based on what I do is already a really big gift.
It took me by surprise because I was making my 3rd film which was called Oleh-Oleh, which is a musical tribute to Sudirman
I contacted Sudirman's manager before that, Dawangi. and told him I'm making a film about my, that. And then he said to me, Actually you don't have to get any clearance from me because the rights to the songs are owned by EMI and all that.
No, no, no. And that was 6 years before the SEA Games, That was the only contact we had. So thank you very much. And then 2 016, he called me. and he said, Hey, T iong Hin, want to have a drink?
Sure. I don't know what's going on.
So I had a drink and then he said, would you be interested in doing the seat game? I say, yeah. I say, it's a pitch. Would you be interested in the pitch with us? So I said, yeah.
We were given a very short time to come up with this thing, I think two weeks or three weeks. So I locked myself in there and did all my research and came up with a concept for it and detailed it out. Presented it to them first internally and they loved it.
And then we presented it to the ministry and they loved it and then we were surprisingly appointed because these things are usually done way before It was 3rd quarter 2016 that we pitched.
Ling Yah: Wow. And the SEA games was like the following August, What was the experience of doing that? It's wildly different from a film.
Saw Teong Hin: It is wildly different. I mean, the creative process is the same, but you're dealing with a cast of thousands. There were 2000 people involved in the show.
Again, you've got to trust. You've got to trust that everybody will do their bit. You've got to trust that people wouldn't let you down.
If you go ahead and worry, you can not worry about 3000 people, 4000 people. Is that person going to get enough sleep as a person, is that person going to break up or come on time?
You cannot, you just trust. Trust that okay, everyone, we are doing this, do you want to do this right? Yes. I've got no great advice or anything, but I operate on the belief that everybody wants to do their best. So you just share your vision. Of course there were some things that we challenged.
Some people ask you why, and you explain the best you can. And then you actually rely on them, That's the only way you can get the results.
Ling Yah: And do you feel like being involved in the sea games had a big impact on your career after that? What was your plan after?
Saw Teong Hin: There was some interest, like for events and all that from out of the country I ran from the pitch, but it didn't happen. A couple of other things that we've been talking about locally as well. They wanted to take the show and go on the road.
So a lot of interesting possibilities that haven't made it yet. So maybe the time is not right.
Ling Yah: Because it is 2020, how has COVID impacted you and your industry?
Saw Teong Hin: I think nobody saw it coming. I don't think anybody was prepared for it.
I mean, our industry is h and to mouth for the most part. I'll be very honest about it and it's not the most lucrative industry. So for many industry practitioners it is a really, really bad time. you can only try lah. Every time you get an opportunity, you give it your best shot and you don't know what will happen.
You
Ling Yah: And we talked about this a little bit off air before we started recording, which is the question whether you tried to work outside of Malaysia.
I wonder if you could share a bit about the realities of working here in your industry.
Saw Teong Hin: Yeah. I've always wanted to have an international, if not a regional career. Just to see what it's like, Because in terms of Malaysia kind of like done a lot of the things that I wanted to do.
I want to see what's out there. How did people do it differently? How do they do it bigger, how do they do it better? I made some headway to some degree. China in particular, but it never really panned out for me. I'm still trying. It's not that I've given up, you know, so I don't know. It might be better in the future.
Ling Yah: Why do you think is the biggest issue?
Saw Teong Hin: I'm not big enough. Not known internationally but neither am I known regionally.
Ling Yah: But how do you make yourself known? Like, you need the chance.
Saw Teong Hin: Correct. You need that one break. The same as Puteri Gunung Ledang. I need that one break and I haven't gotten that one yet.
I don't know, I will keep knocking on the door.
Ling Yah: Do you feel it is important to move to those locations, cause I was interviewing some musicians and they said, I would've never made it this big if I stayed in Malaysia.
Saw Teong Hin: There's some truth in it, but it depends on where you're at.
If I were 30 years younger or even 20 years ago, I would do that. Where I am right now. I'm kind of handcuffed or a comfort zone. I don't want to destabilise up completely and then keep on. job searching at my age.
I would like the terms to be a little bit more encouraging, I don't know whether it'll happen or not. Not that I'm spoiled, but the thing is that as important as it is. I'm not gonna uproot myself completely and put myself through the grind and crawl on broken glass to get it. Not anymore. So maybe that makes me less competitive. I don't know, but this is the frame I'm in at the moment.
Ling Yah: And for those who are just beginning to enter the industry, what would your advice be for them?
Saw Teong Hin: Anywhere you are actually the key is determination. Honestly, I've been in the industry for over 30 years and I've seen much better than people that me not make it.
You have to really stay focused and you have to really want it. That's why it may, maybe my not wanting it so badly, it might hurt me. You have to give up a lot to stick to it. I mean, I remember back in the days, even as successful as I was in TV commercials, you can see your other friends doing so well and having cars and having houses and everything.
Not that they are the most important thing to me, I mean, that's the measure. So you've got to go out there and be kind of artistic black sheep. Oh, he's the one in the arts. Okay. Thank you.
But you take it, you take it because that's what I chose. I see it out there. I'm not going to complain about it .
Ling Yah: So all this time, you have never felt your love for the industry diminish in any way or become jaded?
Saw Teong Hin: Myself.
It's a constant struggle to not be jaded. It's so easy to fall back on bitterness and blame everybody else for every circumstances. A lot of times, it's you as well. You've got to take responsibility for it. Sliding doors, right? Whether you choose to do this and not, to return the call one day earlier or one day later, it changes things.
Ling Yah: Well, Tiong Hin, thank you so much for spending so much time with me. I normally end with these questions. So the first one is, do you feel that you have found your, why
Saw Teong Hin: It seems to be shifting. Every time I find my priorities change, so I don't know. Every time, I think I found my, why something happens and then you realize that maybe you haven't found it. So, I don't have an easy answer.
Ling Yah: And what kind of legacy do you want to leave behind?
Saw Teong Hin: That I tried my best every time.
Ling Yah: And what do you think are the most important qualities a person should have to succeed as you have in your field?
Saw Teong Hin: I think sincerity. I mean, determination is a given but determination will get you even further than talent, to be honest. I have seen many more talented people in the industry who have not had the opportunities that I did.
They're more talented, but I'm luckier. So don't let it get to you. Success or failure, you know, it's all temporary. Just enjoying the moment, stay in the moment and do the best you can.
That said, the work itself is a reward. Anything else is a bonus.
Ling Yah: And where can people go to connect with you and find out what you're doing and support? I
Saw Teong Hin: I think the easiest is on Facebook. I'm actually on Instagram as well, but I'm not really.
Ling Yah: At least you have Instagram.
Saw Teong Hin: Yeah yeah yeah I'm not that old. But Facebook is the easiest to get me, and to see what I'm up to. Just Saw Teong Hin.
Ling Yah: I will put all the links in the show notes so people can find it. And is there anything else that you would like to share or talk about that we haven't covered yet?
Saw Teong Hin: I have this favorite phrase I use: surrender to serendipity . The universe wants what's best for you.
Go with the flow and something that happens to you that may feel like a disaster might actually be a silver lining.
Ling Yah: And that was the end of episode 21.
The show notes can be found at www.sothisismywhy.com/21 which includes the transcript and links to everything we just talked about.
If you want to hang out, we also have a private Facebook group to keep the conversation going. And some of our previous podcast guests will also be showing up for a limited time to answer any of your burning questions. To join, just head over to Facebook and look for so this is my why.
And stay tuned for episode 22, which drops next Sunday, because we'll be meeting a Sarawakian sape player who is making waves in the local international scene for her playing. And the mission of keeping the indigenous cultures and heritage alive through song, dance and so much more.
If you want to know more about the Malaysia indigenous culture, just subscribe to So This Is my Why - available on any of your favorite podcast listening platforms, including Apple podcasts and Spotify - to get alerts for when this episode is released.
See you next Sunday!