Welcome to Episode 5!
Being in a quartet is like being in a marriage, says Milena Pajaro-van de Stadt, violist and founding member of the world-renowned award-winning Dover Quartet and our guest for Episode 5 of the So This Is My Why Podcast. 
Now, I like to think that I know a thing or two about growing up in a musical family: my mother was a piano teacher who taught both my sister and me, and I grew up loving the violin and once considered going pro with the instrument. But Milena takes it to a whole other level!
As with all STIMY podcast interviews, we dive deep into her background and her musical journey from childhood to the Curtis Institute of Music to the founding of the Dover Quartet & how COVID-19 has impacted her.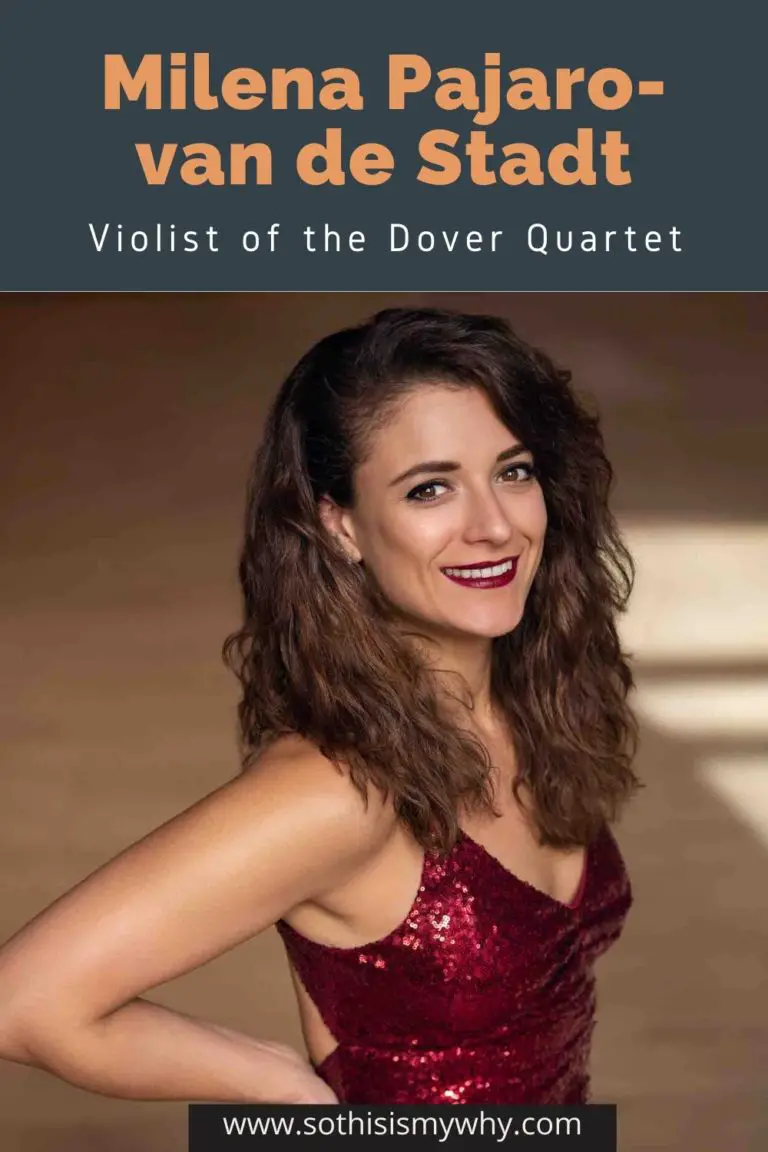 Who is Milena Pajaro-van de Stadt?
Holding dual citizenship in the US and the Netherlands, Milena considers herself to have grown up "a little bit of everywhere" including in Oxford (UK), Baltimore, and Jacksonville. 
Her father taught her the piano before, feeling fed up with the instrument, she chose the violin as her next musical endeavor. An instrument she picked up after hearing a musician busk on the streets of Oxford. 
At the age of 10 years old, having moved back to Jacksonville by then, she picked up the trombone and also (eagerly!) volunteered to play the viola when her younger brother wanted to form a quartet. 
We explore all that including a pivotal moment in the summer of 2005, where she met and learned from Michael Klotz, violist of Amernet Quartet & her first viola teacher, at the Bowdoin International Music Festival. A meeting that resulted in her "sudden immersion in the viola world".
Curtis Institute of Music
We also discuss the considerations she had in place when applying for music schools and how she dropped all other applications the moment she got into her dream school – the Curtis Institute of Music!
There, she studied with the likes of Michael Tree (of the Guarneri Quartet) & Roberto Diaz (President & CEO of the Curtis Institute of Music).
It was also at Curtis that the members of what would be the Dover Quartet came together – not unlike the tentative start of a budding relationship! They bonded so well, one of their teachers, Shmuel Ashkenasi (Vermeer Quartet) asked them, "Have you considered getting married (to each other)?" because you're always together.
To which Milena said:
We could not have been more giddy than when he said that to us because we had looked up to him so much and he notoriously is one of the most demanding coaches we've ever had. And so to get that kind of encouragement from someone we looked up to… I think that definitely had a huge thing to do with our morale and decision to be kind of brave enough to commit to one another.
From there, they decided to show "commitment" to each other (as in any relationship!) by attending the graduate residency program at Rice University's Shepherd School of Music as a quartet. 
Realities of Life As a String Quartet Member
The life of a string quartet member is so very unique & some of the things we explore include: 
What is your schedule like in a string quartet? How often are you on the road?

What was it like participating in competitions (e.g. Fischoff Competition) and in particular, your memories of those incredible wins at the Banff Competition 2013 which launched the Dover Quartet into the spotlight?

Importance of competitions to the careers of string quartets

Ways of dealing with disagreements between quartet members, particularly in musical interpretations of pieces

Managing personal space while on the road;

Staying in touch with loved ones while on the road 

Collaborations with other musicians & how that comes about

Giving live performances versus making studio recordings;

The role of social media & the power of collaborations – e.g. with Avi Avital, Edgar Meyer, Ray Chen, Roomful of Teeth & the Brooklyn Duo; 

The Importance of public speaking as a means of connecting with the audience;

Dealing with concert reviews

Giving back to the community through

Music For Food

; and

"Balancing" a solo career with being in a quartet.
String Instruments
As the instrument itself is so important to a musician, we talk about:
The two violas she plays on & their different purposes

Modern v old instruments – which is better? Does it even matter?

How do you choose your violin?

Are violins with an unknown maker a good investment? 

Impact of COVID-19 on her personal life & the life of the Dover Quartet
Role of Parents in a Child's Education
For parents with young kids or those thinking of pursuing music, we also deal with questions on:
Should

all

children be exposed to music / have music lessons?

How should parents handle children who don't want to practice, especially if they want to just quit after trying it for a short while?

At what age should a child learn a musical instrument?

What should people looking to pursue music think about & do?
If you're looking for more inspirational stories, check out:
If you enjoyed this episode, you can: 
Leave a Review
If you enjoy listening to the podcast, we'd love for you to leave a review on iTunes / Apple Podcasts. The link works even if you aren't on an iPhone. 😉
Send an Audio Message
I'd love to include more listener comments & thoughts into future STIMY episodes! If you have any thoughts to share, a person you'd like me to invite, or a question you'd like answered, send an audio file / voice note to [email protected]
External Links
Special Thanks
Special thanks to Roy Cox for images used in this episode. 
Official Bio of the Dover Quartet
Official Bio of the Dover Quartet
from the Dover Quartet Website
The phenomenal Dover Quartet catapulted to international stardom following a stunning sweep of the 2013 Banff Competition, at which they won every prize. Named the Cleveland Quartet Award-winner, and honored with the coveted Avery Fisher Career Grant, the Dover has become one of the most in-demand ensembles in the world. The Quartet's rise from up-and-coming young ensemble to occupying a spot at the top of their field has been "practically meteoric" (Strings). With its burnished warmth, incisive rhythms, and natural phrasing, the Quartet's distinctive sound has helped confirm its status as "the young American string quartet of the moment" (New Yorker). The Quartet serves as the quartet-in-residence for the Bienen School of Music at Northwestern University, Chamber Music Northwest, Artosphere, the Amelia Island Chamber Music Festival, and Peoples' Symphony in New York, and was recently named the first-ever quartet-in-residence for the Kennedy Center. 
In 2018-19 the Dover Quartet performs more than a hundred concerts around North America, including performances at the Kennedy Center, San Francisco Performances, the Philadelphia Chamber Music Society, Spivey Hall, Boston's Celebrity Series, the Chamber Music Society of Detroit, and Carnegie Hall. In addition, the Dover's season features tours of Hong Kong, Europe, and Australia, collaborations with Emanuel Ax, Inon Barnatan, Peter Serkin, Anthony McGill, and Roomful of Teeth, and premieres of new works by Caroline Shaw and Matan Porat. The Quartet was thrilled to be invited by the maverick filmmaker and cultural icon David Lynch to be featured at his Los Angeles Festival of Disruption. 
Cedille Records released the Quartet's sophomore album, entitled Voices of Defiance: 1943, 1944, 1945 in October 2017. The recording takes listeners on a powerful journey through works written during World War II by Viktor Ullmann, Dimitri Shostakovich, and Simon Laks. The 2016-17 season saw the release of its all-Mozart debut recording on the Cedille label, a nod to the 1965 debut album of the Guarneri Quartet, whose founding violist, the late Michael Tree, joined the Dover Quartet on the recording. 
In addition, the group has participated in three complete Beethoven quartet cycles, including the University at Buffalo's famous "Slee Cycle" – which has presented annual Beethoven quartet cycles since 1955 and has featured the likes of the Budapest, Guarneri, and Cleveland Quartets – and will record the cycle over the next three seasons. The group's world-class collaborators have included pianists Anne-Marie McDermott, Emanuel Ax, Marc-André Hamelin, Jean-Yves Thibaudet, Peter Serkin, and Jon Kimura Parker; violists Roberto Díaz and Cynthia Phelps; bassist Edgar Meyer; and the Pacifica and Escher Quartets.
In the spring of 2016, the Dover Quartet was recognized with the Hunt Family Award, one of the inaugural Lincoln Center Emerging Artist Awards, and in past years has taken top prizes at the Fischoff Competition and the Wigmore Hall International String Quartet Competition. All four Quartet members are consummate solo artists: first violinist Joel Link took first prize at the Menuhin Competition; violinist Bryan Lee and violist Milena Pajaro-van de Stadt have appeared as soloists with the Philadelphia Orchestra and Tokyo Philharmonic, respectively; and cellist Camden Shaw released a solo album debut on the Unipheye Music label. As Strad observes, "With their exceptional interpretative maturity, tonal refinement, and taut ensemble," the Dover Quartet is "pulling away from their peers."
Hailed as "the next Guarneri Quartet" (Chicago Tribune), the Dover Quartet draws from the lineage of that distinguished ensemble, as well that of the Cleveland and Vermeer Quartets; its members studied at the Curtis Institute of Music and Rice University's Shepherd School of Music, where they were mentored extensively by Shmuel Ashkenasi, James Dunham, Norman Fischer, Kenneth Goldsmith, Joseph Silverstein, Arnold Steinhardt, Michael Tree, and Peter Wiley. It was at Curtis that the Quartet first formed, and its name pays tribute toDover Beach by fellow Curtis alumnus Samuel Barber. The group has since returned for residencies to Rice in 2011-13, and to Curtis, where it became the conservatory's first Quartet-in-Residence, in 2013-14. In addition, in 2015 the Dover was appointed the first Resident Ensemble of Peoples' Symphony Concerts in the 116-year history of New York City's oldest concert series.
The Dover Quartet is dedicated to sharing its music with under-served communities and is actively involved with Music for Food, an initiative enabling musicians to raise resources and awareness in the fight against hunger.
The Dover Quartet plays on the following instruments:
Joel Link: Jean-Baptiste Vuillaume, Paris circa 1857, on loan by Desirée Ruhstrat
Bryan Lee: Riccardo Antoniazzi, Milan 1904
Milena Pajaro-van de Stadt: Michele Deconet, Venice, 1780, the 'Kroyt,' generously on loan from the grandson of Boris Kroyt of the Budapest Quartet
Camden Shaw: Frank Ravatin, France, 2010
Ep 5: Milena Pajaro-van de Stadt - Violist of the Dover Quartet
Milena Stadt: But the two schools I applied to on viola, Juilliard and Curtis, it just so happened that Curtis was my first audition and it was like a pipe dream.
If I got in there, nothing else would matter. And I found out I got into Curtis before anywhere else.
It was like my whole life suddenly crystallized in front of me, like I'm going to be a musician and I'm going to be a violist.
And this is what I'm going for.
Ling Yah: Hey everyone. Welcome to episode five of the So This Is My Why podcast.
I'm your host & producer, Ling Yah, and today's guest is Milena Pajaro-van de Stadt, who is a violist and the founding member of the Dover Quartet.
The Dover Quartet is one of the most in-demand ensembles in the world, and the music you hear is a snippet called Voices of Defiance and featured in their second Cedille Records.
In today's episode, Milena is going to take us into her world. Of what it was like growing up "a little bit of everywhere", the founding of the Dover Quartet and what it's really like living in this rarefied world. Big hint: being in a quartet is not unlike being in a marriage with three other persons.
We also talk about some things to consider if you're a parent wanting to expose your child to the world of music. For instance, how early can they start taking lessons and what should you do if they refuse to practice?
As well as things to consider if you want to be a professional musician.
We cover a lot of ground, which is why today's episode is a little lengthy, but I think it's a great one.
Now I don't want to keep you waiting so are you ready?
Let's go.
Hi, Milena. Thank you so much for appearing on the podcast. It's such a pleasure to have you with me.
Milena Stadt: Thank you. It is a pleasure to be here.
Ling Yah: You are a violist with the Dover Quarter and it's doing such incredible work in the few years that it's been together.
And I really wanted to just go backwards and see where you came from, because I understand that you have dual citizenship with the States and The Netherlands, but you also grew up everywhere and you learn lots of different instruments when you were really young.
So could you explain your background and what it was like growing up?
Milena Stadt: Sure. My parents, they met in undergrad. It was my mom's first time in the US, she's a Dutch citizen, but she was actually born in Brazil and lived in Argentina and in Rome and in Holland. Um, but it was officially.
A Dutch citizen. So thanks to her, not getting an American citizenship for a very long time, my siblings and I all were lucky enough to get dual citizenship with the Netherlands. Um, and my dad actually grew up on long Island in New York.
Ling Yah: And understand that you were really young when you were first exposed to music and it was through your dad when you were four?
Milena Stadt: Yeah. My dad was always a very avid pianist. He went into medicine and he's a cardiothoracic surgeon, but he also plays piano and is very passionate about music in general. so he was the first one to give me any kind of music lesson when I was very, very young and like a typical stubborn little kid.
At some point I told him I needed to play something that he couldn't teach me.
They let me choose an instrument. They just thought that having music in my life would be a source of enrichment, really, and help me feel like a more fulfilled and well rounded person in general.
So they just encouraged me to play music of any kind and, at this point I think when I was about four and a half years old, my family was living in Oxford England because my dad, who was doing a residency at Johns Hopkins had a Fulbright at Oxford and that was where I think my mom and I were walking down a street or a park or something in Oxford.
And I saw a violinist out with their case, open busking out in the street. And I told my mom. That's the one I want to play. So they got me a little violin. They were incredibly supportive.
Ling Yah: Was it like a quarter violin? The really cute ones.
Milena Stadt: It was a 1/16th.
Ling Yah: Oh, wow.
Milena Stadt: And my mom still has it, it's so small. It's so tiny.
Ling Yah: It wasn't like a reason why you said that's the instrument. Did you feel that it was calling to you in some way?
Milena Stadt: Maybe it was. I think the sound was very unique to my ears and just the quality, the personality of the sound. I have been so used to hearing the piano where once you hit the note, the sound doesn't really change much except for decay. And I think I was very fascinated by the ability of the violin to sustain and hearing the vibrato and just kind of that stringy wooden type of sound. It was just something I really liked about it.
Ling Yah: And was that the first time that you ever even knew a violin existed?
Milena Stadt: I guess so, I don't remember it.
Ling Yah: So you got your one 16th, tiny little violin, and then you started with the violin in the Suzuki program.
And how was that? Because you didn't stick with just the violin.
Milena Stadt: Well, it was really fun. and I remember doing group classes, I think. So when I started, I was about four and a half years old and I remember, that actually got me thinking about it.
That's when I realized I really liked low notes because my teacher had me name all of my strings after my friends, you know, E A D G on the violin. And so I had a string called Emily, the string called Alison. And they asked me which one was my favorite string. And my favorite string was Julia, which is Julia with a G. Italian friend back then named Julia.
And so I named my G three after her. And that was my favorite string cause I just really liked the low sound, I guess I thought there's something about the extra depth on the low end of the instrument that was very satisfying to me. So already from a young age, the kind of more Alto register was calling to me.
Ling Yah: But then you really went for that alto register because you went and learned the cello when you were in fifth grade.
Milena Stadt: Yeah, yeah. Then at that point we were back in Baltimore again, my dad was still at Johns Hopkins. There was a school orchestra that started in fourth or fifth grade.
And I had been playing violin at that point for so many years longer than any of the kids at the school, because they were all just starting instruments so I wanted to not only have the experience of getting to start something from scratch, like everyone else around me was doing, but I just loved the idea of finding a new voice.
Having played piano and violin up until then, playing cello for fun in that school orchestra was where I really think my hobby of trying instruments began and just how satisfying it was to get different sounds. I remember I once bought an Irish tin whistle and a little book of tin whistle tunes and tried to learn those tunes, the sound was so different.
And then once when I was in sixth grade, so I was about 10 years old, we moved to Jacksonville, Florida, and I joined the band because there was no orchestra program. I started playing trombone and one of the reasons was because I wanted to play something lower.
Another reason is that the trombone in a C and I didn't want to have to transpose because I had really practiced hard to learn perfect pitch by then.
And another reason was I thought the slide would be really fun and it kind of reminded me of playing a string instrument in the sense that you don't have frets on a violin.
You know, you don't have these little stopping points and yup. And the trombone was kind of similar to that. You could just glyphs up and down the instrument.
Ling Yah: And sound cool
Milena Stadt: And sound cool.
Ling Yah: That's amazing. You said something earlier. You said that you learned the perfect pitch.
I feel like that's a big discussion like can you learn perfect pitch? I thought that was something you just kind of had in you.
Milena Stadt: Well, so I think personally, most people probably can learn it. And I think if we were as little tiny children, if we were taught the different pitches, the way that we're taught to memorize our colors, I think so many more people would realize that they have perfect pitch then people think.
Ling Yah: But do you feel like sometimes perfect pitch might be a bit of an issue? Cause like with the strings it's like, if you play in a certain key, the way that you place your finger on a certain note shifts slightly and goes slightly more minus more major, do you feel that is like an impediment or that's not an issue at all?
Milena Stadt: Well, I think especially when I was younger, so to kind of go back and say, why did I say I learned perfect pitch? My mom was one singing, twinkle twinkle little star or something. She was singing the song and I had been playing it on the violin. I was really young and I told her she was singing it wrong.
And then I sang it to her in a different key. And she went to my violin teacher and said, why is she doing that? I'm thinking wrong, right? And then the teacher said, Oh, she must have perfect pitch. She must be associating it with the way the key she plays it on the violin. So she wants you to sing it in that same key.
My homework assignment was every time I was near a piano, I had to try to sing middle C and then play it to see if I was close. And I wasn't always right. I was kind of guessing, I was trying to remember what it sounded like. And I kept on singing middle C and then playing until I could memorize what that one note sounded like.
And once I had middle C. Then my next exercise was people would play a note and I'd have to figure it out by counting up or down from middle C, because that was the one note that I knew. And after a while of doing these exercises, eventually to me, it felt like I had just finally memorized all the notes.
Now I don't have to think about it. I hear a note. I know which note it is, but I really do think that it took some time practice because it was there. I knew I could tell the notes apart, but I hadn't memorized which one was which yet. And then I had to practice it and figure it out.
I know there was a year of my life where I was really practicing it every day and then I kind of stopped practicing it because I realized it was just becoming second nature.
Ling Yah: For a lot of kids, Practice is a big issue, like practice to be honest really isn't fun. So was it something that your parents are pushing you or you just really wanted to? Cause he was just drawn by the sound.
Milena Stadt: It went in phases for me.
The most I ever wanted to practice and was there ever anyone who was excited about practicing? I was still pretty young and it was because I was going to a music camp for the first time. And I was so excited to play with the other students there, you know, play music with them and be in group classes and things like that. So I got really excited and I would practice the music for my camp every morning.
But for the majority of growing up, I did not love practicing. I loved playing through pieces because that's the whole thing that got me into music in general,, was just the idea that you can feel things by just things that you're hearing just by sounds. And so I just loved playing through pieces and whatever piece I liked if I wanted to play through and I wouldn't want to work on it.
I wouldn't want to, you know, drill things or do exercises let alone scales. Oh my gosh, I didn't want to do that. But if I didn't practice, my parents would just tell me, you know, at this point, you don't have to do it if you don't want to, but if you don't want to practice, we're not going to pay for lessons.
So you have to make a decision because it's not worth it. It's a waste of money and it's a waste of time if you're just going to go to lessons and not practice. And so the idea of not being able to have my lessons and not be able to keep playing was enough to keep me practicing, even though I didn't really like to say-
Ling Yah: I don't know anyone who has ever said they loved practice.
Milena Stadt: Especially not as a kid.
Once I went to college, then I started to really appreciate practice. Cause I started to find that satisfaction of improvement and, and notice when things felt really good the more consistently I practiced the better I felt.
Kind of like if you get into a good rhythm of exercising every day, then your body starts to feel better and you kind of want to always have that good feeling.
Kind of similar to that. I started to really appreciate practice once I was I don't know, 18, 19 years old, something like that.
Ling Yah: So there were two things you talked about I would love to tease out. And you said that your parents were saying, if you don't practice, it's a waste of money and time.
And that's something that I was quite interested in because you're learning so many different instruments.
The instrument itself is so expensive let alone the lessons. Were you learning everything at one go, or were you just like learning one or two at a time? What was it like?
Milena Stadt: Well, mostly I would say was kind of at one go because aside from, you know, kind of dropping piano for a couple years around age four and a half five, when I was seven, my violin teacher had me start taking piano lessons, because it was so beneficial to, not only just ear training, reading clefs and, uh, being a more well rounded musician. So I started taking piano lessons and for a long time, I was taking violin and piano lessons equally seriously every week.
Um, and once I started taking trombone lessons around age 11 or 12, I started learning trombone at 10, but I think my lesson started a little bit later when I realized how much I love it.
There was a period of time where I had three different instrument lessons a week. And, my mom who, did work before all four of us were born, ended up being a full time mom who happened to have to drive us all to different instrument lessons and sports practices and whatnot, you know, ballet, soccer, tennis, violin cello for one of my brothers guitar for the other brother, violin for my sister. Um, she was just full time carting us around so that we could experience all these different things.
Ling Yah: You basically grew up in a musical family. Do you guys ever play together as like a mini quartet?
Milena Stadt: We have played together. Yeah, we did play together for fun growing up and actually when I was in middle school, high school age, I had a trio with one of my brothers who played cello back then. He actually just graduated with a computational mathematics degree.
And then our neighbor, a really, really close friend of ours, his name is Owen Broder, and he's a saxophone player and actually played at my wedding and made an arrangement of the song. I walked down the aisle to, but Owen also used to play piano. And so Owen and my brother and I had a piano trio for several years. Just really fun.
Nowadays, my sister, who is getting a master's degree in Viola at Peabody conservatory and did her undergrad on violin. Um, she and I will play together for fun. Anytime we're home together.
Ling Yah: Wow. That is so incredible. It must be so fun to have a sibling that you know, is always going to be there so you'd have an accompaniment.
Milena Stadt: It's really fun. I was so excited when she told me she wanted to switch to Viola cause I felt like she was joining my team.
She and I will trade around. Like sometimes one of us will play violin or the other one will play violin, you know? And you can play any type of Dubose and you know, our dad still plays piano so we can join him to the band.
And my guitarist brother is now a singer songwriter, great voice and writes beautiful songs. And sometimes he'll tell my sister and I some backup parts he wants for his songs and we'll play along with him while he sings and plays guitar. So it's pretty fun.
Ling Yah: You said that you guys were playing with your sister. You would switch between the viewer and the violin, and I kind of tried the violin at one point, I realized that strangely enough, the fingers and everything's the same, but at the same time, it was quite different as well. And I couldn't read any notes.
Like, was it easy for you to switch between these two instruments? Because quite the same, like the Viola is known as the violin with the extended C string, but at the same time they're quite different.
Milena Stadt: Yeah, when I first started switching between the two, it was always easier to go back to the violin after playing Viola, because I felt like I could do anything, especially with the left hand, I felt like I could just fly around the instrument.
I could reach all the double stops and everything that used to seem. Impossible to me on violin suddenly was made to seem possible once I was getting more used to playing Viola because everything was just much more of a stretch.
The big difference aside from that, which still holds true with the left hand, I really love playing violin after, after I'm playing a lot of Viola, but the bow arm I found going from Viola to violin has become very tricky for me.
I feel like I have all this extra space for my right elbow when I play the violin, because everything is so much closer to me. And I find that I'm just so much more use now to drawing a slower bow and kind of a deeper sound and all the stuff that I've worked really, really hard on with my first Viola teacher, so that I wouldn't quote, unquote, sound like a violin is playing the Viola, but-
Ling Yah: I've heard people say that, but what does that really mean?
Milena Stadt: You know, I think people might mean different things when they say it. But the first thing that comes to my mind is usually if someone says, Oh, they, you know, they sound like a violin is when they play viola.
I think it's something about the sound production. I think it's having like maybe a faster bow and a potentially thinner sound as a result. Um, I think usually if someone says that that's what they're referring to, but people might just mean that the person sounds really virtuosic.
Ling Yah: So it's not necessarily a bad thing to be turned that way.
Milena Stadt: No, I think it's just, you know, different ways of trying to describe differences in sound and production, things like that.
Ling Yah: And is it actually, I know we're going a little off tangent, but is it rare to kind of specialize in both? I think Zuckerman is the only person that kind of comes to mind-
Milena Stadt: It's less rare than it used to be. I know a good amount of people who have started being more equal with both, but it's still pretty, pretty rare.
Ling Yah: Okay. So you mentioned earlier that you were first exposed to the Viola world through a teacher. I assume that's Michael Klotz
Milena Stadt: I was at a music festival in Maine. Bowdoin international music festival. And I had been going there for a few years already on violin.
One of my violin teachers from high school, his name was Sergei Schwartz. The other one, Melissa Barrett was and still is in the Jacksonville symphony. Um, but Sergei Schwartz used to teach at Bowdoin every summer. I think he still does.
I followed him there to study with him the summer after I started playing Viola for fun, which I started playing for fun so that my brother and I, this kind of goes back to our old subject, so that we could play together because when we were in the same high school and there was no orchestra program, uh, we thought, why not make a chamber group of the few string players there happened to be at the school?
So two violinist sisters and then the two of us got a quartet together. And I asked if I could please be the one who got to try Viola because I loved trying new instruments. So that's how that happened.
I brought my Viola to Bowdoing in the summer for fun.
They had this chamber music placement audition at Bowdoing and where you go in and you play a piece and then they write your audition and try to match you up with students who are at a similar age or similar level or whatever, so that they feel that your chamber groups will be compatible.
And so I went in and I did my chamber music audition on violin. And then I went back in, brought the Viola and I played the exact same Bach movement that I had just played on violin on the Viola one sit down.
Ling Yah: And what kind of reaction did you get from that?
Milena Stadt: Well, Michael Klotz, who was on the viola faculty there at the time came up to me and said, Hey, who's your Viola teacher?
I'm really curious. And I said, I don't have a viola teacher. And he said, well, you can play for me anytime if you want. I feel like you have a lot of potential on this instrument. Do you like it? I said, yeah, I love it. It's so fun. That's why I brought it here to play chamber music with.
And so I started, you know, he was very kind, he just generously offered me lessons, and I started playing for him and he got me super excited about the Viola. Um, I had already totally fallen in love with it in just playing in the quartet because I love the role that the viola had in the quartet. I loved how whenever the Viola had something important to say in terms of like a soloistic line or something, it always had a very unique and distinct emotional flavor to it.
It always sounded really soulful to me. And I love the fact that I got to kind of do a little bit of everything playing Viola. Like you get to be the baseline. Sometimes you get to be the really interesting harmonies or coloristic or atmospheric things, and then you also get solos. And when they happen, they feel more meaningful than just kind of sitting on top of the whole time, which is what I used to do when I play violin.
Ling Yah: So you were working with Michael and he was basically giving you all these different repertoires and you got to perform as well with other people, I presume
Milena Stadt: And then when I went back home, which was Jacksonville, Florida, I continued to take lessons with him cause he was in Miami, still is in Miami.
And my other violin teacher, Sergey Schwartz was in Boca, Raton, not too far from Miami. He's not there anymore. Now he's in Columbus, Georgia. But the weekends were just crazy for me by the end of high school, because on Friday after school, I would either fly or drive to Miami with my mom, which would have been a short flight or about a four and a half to five hour drive.
And then I'd have a lesson late at night with Michael Klotz on the Viola. And then the next day we'd go to Boca Raton and I'd have a violin lesson with Sarah Jew, which was Saturday. Then we go home and then on Sunday I get up early to go spend the whole day at youth orchestra where I played trombone in one of the orchestras and then violin and the other one.
Ling Yah: Wow.
Milena Stadt: So weekends were just- by the end of my high school career - they were just jammed packed with instrument things like youth symphony lessons, sometimes chamber music, rehearsals, things like that. It was just the whole weekend was just devoted to music.
Ling Yah: But how do you find that balance for playing on this different instruments, but also giving enough time to practice and improve on each one.
And was it a struggle for you?
Milena Stadt: I think it was maybe a little bit of a struggle, but the thing that made it easier was actually prioritizing. And I mean, I always saw violin as my primary instrument and then piano and then trombone. So let's say I practice two hours of violin. Maybe I practice an hour of piano and 30 minutes of trombone.
As long as I was being consistent, I was still going to be getting better at them. Um, but I, I couldn't just do an equal amount with everything. And when I started playing Viola, that was another thing my mom pointed out to me. She said, me, Milena, your, your violin case is closed a lot more often now than your viola case.
Is there something you want to tell me?
Ling Yah: She is very observant . And what was your answer to her question at the time?
Milena Stadt: was like, I don't know. I just think it's more fun to play. I just find it more fun. I don't really know what to say. And I remember when Michael Klotz suggested that I audition on viola two schools, I hadn't really considered it because I just assumed that violin was the instrument I played, but that was my primary instrument.
It didn't really occur to me. And when he suggested it, it sounded so awesome. Like, it sounded so exciting. I was like, wait, you mean, I can just play Viola? Like, that's a thing I can do?
And then I got really emotional because I had always associated myself primarily with being a violinist. And it was kind of like having an identity crisis in a little way.
I remember the day I told my mom, I think I'm a violist and not a violinist anymore. I remember I cried.
Ling Yah: How did your mom react though? Was she like it's okay. Don't worry about it.
Milena Stadt: Yeah, no, she was very supportive and she thought it was great that I had found something that I loved so much that I knew it was the right decision to, you know, move on from basically what I had been doing my whole life up until then.
Ling Yah: Yeah. What's really interesting is that you applied to schools where you could double major, but your dream conservatoires, you used the violin. But I would have thought from our conversation, it was pretty clear even to your mom, that the viola was your love. So how did you come up to that decision?
Milena Stadt: Even though I knew I really loved the viola. It was still just a really tough idea, not to audition places on violin. Like that had been my life up until like that last year, basically I was a violinist and I just, I couldn't really wrap my mind around just not even applying as a violinist, other things, plus having done it my whole life. I still thought I'm probably better at violin, the Viola anyway, so I definitely have a better shot with it. So I thought I should have auditioned for things on violin.
And the reason I did the double major was that I wasn't even, um, by that point in school, I wasn't even sure whether music was my passionate hobby or whether it was what I was going to devote my life to.
Yeah. which is interesting considering how much of it I did
Ling Yah: were there anything else that you could have possibly done? Like any that you thought you would be doing?
Milena Stadt: Well there were different things. I was interested in different times in my life. At one point I was, I had a real affinity for, well, for instance, I loved animals and I thought, you know what? I could totally be either some kind of a veterinarian or zookeeper or something where I get to be outdoors and working with animals, like all day long, that sounds like heaven.
And then, you know, there was a period of time where I thought maybe history or literature. I was a total bookworm and growing up, if I wasn't practicing, I was usually walking around the house, reading a book.
So I wanted to, I guess the thing was I wanted to do was keep my options open. And that's why I applied to some schools for double majors.
But the two schools I applied to on Viola, Juilliard and Curtis, it just so happened that Curtis was my first audition and I also just , it was like a pipe dream.
If I got in there, nothing else would matter. And I found out I got into Curtis before anywhere else. And actually before I even auditioned for any of the schools I had applied to on violin. And when I found out I took it as a sign from the universe that maybe I really did have a shot at just devoting my life to this instrument that I had kind of recently come to totally fall in love with.
So the first actual repertoire I could play on, I knew on Viola was the Curtis audition list that I had worked on that year with Michael Klotz. And, yeah, then at that point on, when I heard back from Curtis, it was like my whole life suddenly crystallized in front of me, like I'm going to be a musician and I'm going to be a violist.
And this is what I'm going for.
Ling Yah: Amazing. Why was Curtis your fantasy dream school? Was it because of the teacher there?
Milena Stadt: It was a combination of not only the teacher I would be studying.
The teachers I was studying with actually Roberto Diaz and Michael tree from the Guarneri Quartet, which is also an incredible dream come true to study with him, having figured out what you know, in conjunction with starting the Viola, how much I loved string quartet in general, and that I wanted to be in a quartet. So it was a mixture of the faculty and also just the reputation of the school. It was kind of magical to me.
I mean, I grew up listening to Hillary Hahn and I know she was a Curtis graduate. And there were so many people coming from Curtis who I just idolized that it seemed like a very magical place.
Ling Yah: Give us a snapshot of what life was like at Curtis.
Milena Stadt: It really felt like the Hogwarts of the music world. It felt like we were in a magical place with an incredible rich history and that we were connected to, you know, all of our musical heroes from the past. And just walking through that old building and looking- there's a hallway on the third floor of the main Curtis building with just tons of these old photos of all the graduating classes.
And you look at the photos and you see Leonard Bernstein in the graduating class, and then you move down and there's like Hillary Hahn or Lang Lang. All these historical figures up there, and the Guarneri quartet members.
It just really did feel magical on such a small school that it felt and still feels like a family, having come from there and I have all very warm and fuzzy and kind of magical memories of my time at Curtis
Ling Yah: Is Curtis alumni network strong? So you get Leonard Bernstein and Hillary Hahn coming back when you were a student and they would perform, you get to meet them.
Milena Stadt: Yes, absolutely. Yeah. Hilary Hahn played with the orchestra, at Curtis while I was in the Curtis orchestra several times.
Ling Yah: Amazing.
Milena Stadt: And yeah, it was just, it was very cool.
Ling Yah: And at Curtis, what really happened was that in 2008 you founded the Dover quartet with some of your friends. Can you tell us how that happened?
Milena Stadt: Yeah, well , As, you know, when I first started playing Viola, I fell in love with it playing in a quartet with my brother and two friends of ours. And when I went to Curtis, I mean, actually one of my favorite things about playing music for my whole life was the social aspect of it and how intimately close it felt like it brought you to the people you were playing with.
So at Curtis I had this goal to find like a dream quartet to play with and immediately when I entered Curtis there was a cellist who, um, we had kind of been told about one another by random teachers.
And, um, this is Cam and Sean, he's the cellist of the Dover quartet now, but he and I started playing together our very first year at Curtis. And I remember we actually had the chamber group that was the youngest chamber group at the school. I was the oldest one in the group and I was 17.
Then we had Camden who was 16. And then we had a violinist, Maya Cabessa, who I think at that time was 14. The other violinist in the group was 15 and the piano was also Maya might've been 13 actually. And the pianos, I think we were between the ages of 13 and 17 played Schuman's piano quintet.
It was the first piece I played at Curtis. It was so much fun and Camden and I especially just felt this kind of click. And we just started playing together in all sorts of different groups with different combinations, different violinists, mostly playing quartets with different pairs of violinists.
And one of the first groups I ever heard perform from the students at Curtis while I was there was this quartet that just so happened to have Joel and Brian, also both now in the Dover quartet as their violinist and the violas and cellos, actually the cellos of that group is my husband. Now I remember hearing that group play at one of the first student recitals I ever went to and they played a Mozart quartet and I thought they sounded so beautiful.
And just so fantastic. I was so electrified by their concert. And I thought to myself, I need to find this. I need a quartet that's this good. That'd be the most satisfying thing.
And so I think for a few years, Camden and I were really just admiring Joel and Brian's little team from afar. And it just so happened that a few years in, that quartet was looking like it was kind of gonna you know, casually disband because they're lower strings.
My husband Brook and the violist, Phil, the two of them were a year older and they were getting ready to graduate. And meanwhile, Camden and I had kind of like shuffled between different pairs of violinists, which was really fun. And we kind of felt like in a way we were half of a quartet that we just haven't found yet.
And, one day , the school was having a. Second Viennese project. And they asked Camden and I if we would want to participate in it. And in the meantime we had actually approached Joel and Brian about reading together at some point, and we thought, Hey, maybe this could be like the perfect first thing to do and see what it's like.
So the first piece that we rehearsed and worked on as a quartet was Alban Berg String Quartet Opus three. She's very, very tricky to put together and not your typical first piece for a quartet , but in a way it really brought us close quickly. And I remember the first time we even read together just for fun.
Before we started working on the Berg piece, there was just this kind of also, again, it's just some kind of like aha moment or click where it just felt like, Oh, this is so satisfying. We have to keep playing together. And, um, pretty soon after we did that first concert with the Berg, we all gingerly approached one another with what we call the relationship talk.
So, you know, like if you're dating someone in school, You have to have the talk about how serious it is at some point. One person might think it's just, you know, you're going to be dating while you're in school. And then when you graduate you kind of part ways and kind of like a fling and the other person might think you're going to get married.
So it's important to talk about it. And we had that talk, but for the quartet, and we said, we were all really excited about how it felt to play together. And maybe should we consider possibly playing together for longer term than just while we were in school. And it seemed like everyone was on the same page.
We were all very excited about it. And we started, you know, applying to competitions, putting our name out, trying to get gigs and one way to stay together and actually the way that I think was our biggest Mark of commitment to one another was applying in lieu of doing our own thing for master's degrees and whatnot.
We applied as a group to the string quartet, graduate residency program at Rice University. There are only a few schools that have those programs to begin with and we wanted a chance to go somewhere together as a group, have an environment to just focus on being in quartet and Rice was really amazing for that. Incredibly supportive.
I think it was actually a really important thing that we moved somewhere together as well and have that kind of experience of not only the decision of commitment to one another, but what is it like to kind of devote your life to being in this four way string quartet marriage.
Ling Yah: Yeah. I love that you were saying marriage. I was getting to that. I read that one of your coaches in Curtis, Shmuel, he actually asked you guys have you considered getting married?
Milena Stadt: Yes, that was the most, we were, we could not have been more giddy than when he said that us cause we had looked up to him so much and he notoriously is one of the most demanding coaches we've ever had.
And so to get that kind of encouragement from someone we looked up to, like that was just. I mean, I think that definitely had a huge thing to do with our morale and decision to be kind of brave enough to commit to one another. I mean, at the beginning of the career, we applied to so many things that we got waitlisted from or didn't get, or we would get to the finals of an audition for a management and then not get it.
And there were so many, like when I think back on it, there were so many times where we could have kind of let ourselves get discouraged. So many times. It took years to get actual concerts and stuff like that. But I think definitely his endorsement was a big motivational factor for us and we really believed in ourselves.
So we just kept on trying for years.
Ling Yah: So is it normal for people to apply like say they wanted to be a quartet to apply for a graduate school the way that you did?
Milena Stadt: I mean, nowadays it's definitely- in the last few years has been much more common. I think that there are some great quartets we have to thank for making people feel like the quartet career is even an option.
Like for instance, the Guarneri quartet, the Emerson quartet, Takash quartet, Juilliard quartet, like these quartets that everyone starts to look up to while they're in school and think, wow, that sounds like such a satisfying life. So I think there are a lot more than there used to be. Absolutely for sure.
And some schools that have those core tech programs include aside from rice, include Colorado university in Boulder, the University of Texas in Austin, New England conservatory, Julliard. Yeah, so it's definitely become much more popular and sought after.
Ling Yah: And I was just wondering what does- cause you mentioned it briefly, like the career of a quartet looks like because it's not like a typical white collar where you know exactly like maybe in three years you will advance and advance, but it seems a bit like a wide open space for a quartet.
So what does it normally look like?
Milena Stadt: It really depends. I mean, I know that we're - as far as I know - for the last few years, we've been kind of exceptionally busy.
Since we won the Banff competition 2013, which was the same year we graduated from Rice, that first year we had 140, 150 concerts that year.
And that doesn't include all the days of travel. Cause you don't just travel on the day of the concert. Usually there's a day before or a day after. And so for the last six, seven years, we've been on the road close to 250 days a year, just traveling from place to place around the world.
Playing concerts and just being on tour. So for us, it's been, that's been what our life looks like. It's so individual for quartets, but I mean, just to put it simply most quartets have something kind of similar to that, where you're just on the road all the time, going from show to show. Because you're not like an orchestra, you can't be just based in one place.
You don't play in the same hall every night. In order to make living, you have to just keep on traveling but some quartets also have full time residencies at schools. Usually those happen kind of later in the career, but that helps to kind of create more of a balance of having a home life, but also touring.
And some quartets will do a lot of things online and it's really a malleable career, but it's typically one where you don't get to be home very often.
Ling Yah: So there are two things that you mentioned that I want to tease out, one was the band competition. In every single bio, I read that we always talk about how that you won the special award in 2013 and it sounded like it was something that was unexpected, was it?
Milena Stadt: It was completely surreal. It was definitely one of the happiest memories of my life. I mean, it was a really intense, but also beautiful environment. Being at Banff. You have 10 quartets that get selected from around the world every three years to come to the competition.
You play. About five full quartets throughout the course of the competition, maybe six. I can't remember exactly, but , it's a lot of performing, I mean, you get lots and lots of time performing for the judges and the audience there. It's a very familial environment, I think, partially because it's all quartets.
And so personality wise, the vibe of the competition is very different than something like a solo violin competition or something like that.
The whole circumstance at the competition , the campus of the art center at Banff is just gorgeous, the facilities, they feed you very well. The food is fantastic.
It's just, the whole environment was one that puts you in a place to be able to really do your best. It was just a really positive environment, regardless of whether or not you were going to get the prize, but to be standing there on that stage and have them announce each special prize and keep saying Dover Quartet over and over was just like , I don't even know.
I remember by the end of it, my body was buzzing and I felt like I couldn't really form coherent sentences. I was too excited
Ling Yah: Was that like your first major competition as a quartet since coming together.
Milena Stadt: Yeah, in a way it was, although we did win the first prize at the Fischoff Competition three years before that in 2010. I would say for all of us, that was the first really, really exciting victory for the quartet was that Fischoff win.
And that was hilarious because we, at that time, we were all students obviously we're students at Curtis. The first competition we'd ever done as a quartet, we're trying to save money. You know, as I said, we were students, we didn't have any job. And during the Fischoff competition, all four of us were sharing one hotel room. So our room was basically like one big mattress cause it only had room for all the beds that were in it.
Joel, our first violin is actually back then they were, they were switching, but he's now the official first violinist and Brian's the second violinist. But Joel, at the time of fish off, he was sick.
By the end of the competition, all of us were sick because we were all living in the same-
Ling Yah: You really were married to each other.
Milena Stadt: Yeah. We each had our own rooms, so that was nice.
Ling Yah: And would you say that competitions are like a very crucial element for a quartet to grow?
Milena Stadt: Well, um, yes and no, I would say it is absolutely possible to make a career without doing competitions, but they really do help.
And there's something to be said for the experience of performing at a competition. I think we learned a new way of really trying to connect with an audience when we were at Banff, because we just kept talking. It was much less. I mean, obviously people want to prepare their parts and play the notes perfectly and all of that stuff.
But when we were at Banff, I remember we had so many more discussions about how can we take this moment, like this one musical moment to its utmost potential of like emotional clarity. Like how can we just make this as magical as possible or as intense or as sad or whatever. We talked about all of those things.
When we were advanced in a, in a way where it was like our lives depended on being able to communicate the emotion of the music. And I think that experience of the competition really changed our lives as a quartet in terms of performing. Because after that, we became so busy. We were performing week after week after , really like day to day, we were performing like almost every day and sometimes you're playing the same piece, you know, like 60 times in a season.
So had that experience at Banff kind of taught us that even if you think, you know, a piece like the back of your hand, there's always space for spontaneity. There's always living in the moment and trying to communicate something new. And that was definitely an invaluable thing to learn, which I don't know whether we would have had that kind of quick realization of it had we not been in such an intense environment as a competition? I think it would have absolutely come, but the competition was like a good jumpstart for something like that.
Ling Yah: You obviously have a lot of coaches and teachers. And how do they input into you guys as a quartet? Do they say, I think you should play louder or I think you should bring out this melody more.
Like, what is their input?
Milena Stadt: It totally depends on the teacher. Um, and all of those types of things are true. Some coaches are very practically minded and will literally say things like that. Like, I don't hear enough first violin here, you guys are too loud or, you know, the second violin needs to be clearer here and you guys need to be more mellow or whatever, and just be very cut and dry like that.
The beauty of it is being able to get a balance of all of those things. But other coaches we played forward would say, Oh, it feels like can just be more free or can you guys be happier? Or, you know, we'd have coach just dance around the room while we were playing. And we would just respond to whatever their energy was.
So it really ran the gamut.
Ling Yah: So do you really think that learning from people like Michael tree who was playing in the Guarneri Quartet, like that is what really influenced the way that you guys played? Cause the Chicago Tribune actually caught you guys the next Guarneri Quartet. It's incredible.
Milena Stadt: That was, yeah, that was incredibly flattering. And. Totally made that happen. That was amazing. Such a sweet thing to say cause the Guarneris are our heroes.
Um, yeah. Being able to study with Michael Tree and also have coachings with him as a quartet was incredibly inspiring, especially because he was one of the most warm hearted twinkle in the eye, sweet, just caring people I've ever met. And to see someone like that in the career that I was pursuing, uh, it was just incredibly inspiring.
Ling Yah: And you talked about the whole you gather as a quartet and you discuss how to make it more magical. And I imagine that sometimes the decisions might get a little heated because music is really subjective at the end of the day.
How do you guys work out and reach this interpretation that you all agree?
Milena Stadt: That is a great question. Cause it is really hard. And when you're having discussions in quartet, it always feels personal because it is personal to you. Like you're arguing about or discussing how you feel inside and your deep emotions or your, you know, attachments to things in music. And so it really it's so easy for it to feel personal.
And we did, I mean, there were plenty of moments of tension, especially in the earlier years. I think we've been together for long enough. It's kind of like any relationship where you have these moments of tension or you feel like you're fighting in a rehearsal or something.
And let's say that the quartet is two years old and it's like a person being two years old, like a little kid falls down and hurts their knee. They cry for like 20 minutes about it, but then that same person, when they're 12 years old, if they fall, hit their knee, they just brush it off and keep walking.
And it's very similar to that. You start to realize. You're all in the same boat, everyone really deep down once the same thing, which is to just have a really great experience connecting with the audience and with one another. And the whole reason we're playing with one another in the first place is that we love each other's playing and respect each other's musicianship.
So, um, as long as we can understand that baseline, even though it's no fun to be arguing or whatever in rehearsal, it doesn't really get to us. I think it's much easier to let go and to have this just basis of mutual respect.
But I know there are plenty of horror stories about cortex blowing up and I just don't, that's not going to happen to us because we're also all very sensitive.
So we talk it out when things get too tense.
Ling Yah: That's a really good tip. Just talk it out.
Milena Stadt: Yeah. Yeah. You know, like any relationship, like a marriage, like any marriage.
Ling Yah: So you alluded to this earlier, like you guys went for your first Fischer competition and you guys were staying one room and I imagined that being on the road all the time, there is just no privacy.
How do you kind of manage to create that little personal space while on the road?
Milena Stadt: Yeah, that's also a great question. So nowadays, when we're on the road and we're staying in the same hotel, we will always ask just in case if it's possible to be on different floors and a lot of people will hear that and think, Whoa, are you guys mad at each other? Like, what's going on? Why are you, why do you want to be on separate floors?
And you think about it, like you said, you know, people need their privacy. Imagine working at a nine to five office job. And at the end of every day, you and all of your colleagues from the office have to go to the same apartment building and all live next door to each other.
If you couldn't even imagine that that would just be overkill and you wouldn't have any semblance of your own private life. So that's the reason, I mean, it's nice to be- if you're having to stay in a hotel, it's nice to feel like you have your own space. You're not hearing someone practice your quartet music all night long, and then either feeling guilty that you're not practicing or just feeling annoyed that you have to hear that music when it's finally time to just do something else. Cause you've been rehearsing all day or performing all week or something. It's just nice to, as much as you can, try to find those opportunities for personal space.
And, you know, at the beginning of the quartet, we used to hang out together all the time. We called it quartet, bonding time. And I think we are bonded now. And nowadays we almost never hang out because we see so much of each other, but it feels nice to go and have your own sacred, personal, alone time with either just yourself or your other loved ones.
Ling Yah: You were on the road and you said like 250 days in a year. Physically it must have been so draining. How do you even get yourself up to fit in all the different repertoires and practice and just having your own personal space?
Milena Stadt: One thing that I did notice once we got that busy, was that the priorities totally shifted. Um, and it used to be at the beginning of quartet, it was, you know, first things, first rehearsal we had to make sure we always rehearsed a lot. Second thing was making sure to always practice our instruments.
Third thing was maybe getting enough to eat that day. And then the last thing would be, if we slept enough.
By the time we were touring full time, it was pretty much exactly the opposite. The first, most important thing was getting enough sleep. So if it meant not rehearsing, we would not rehearse. We would probably prioritize sleeping.
Not only does that help us play better because our bodies can function better, but also get along better. Then the second most important thing was being well-nourished and getting to eat food. That was also important. Then third was personal practice. And that was really interesting. So the entire thing just completely flipped.
Where personal practice became we've been playing together for so long. And so often those more important for us to really feel in shape on our instruments then to say, have a couple hours of rehearsal.
So we would probably prioritize having an hour or two of personal practice and then maybe an hour of quartet rehearsal rather than the other way around so that everyone felt rested and in touch with their own playing and able to do what we need to do when we play concerts, which is just , respond to each other on the spot and feel.
Comfortable and have mental clarity. So it was really interesting that those things changed. But I think just being able to prioritize them the right way, it's not like we're stopping to rehearse. I mean, we were still rehearsing every day, but just realizing what the threshold is and being able to respect people's different amount, different necessities, you know, some of us need a lot more sleep than others and being able to respect that and let go of maybe an extra half hour of rehearsal here and there. It's just really beneficial.
Ling Yah: Yeah. It sounds like you guys have basically done all the really hard work before and then you just went off and he basically likes to try and make sure that you were keeping yourself in the best shape possible. Was it like this shift in priorities? Was it something that came naturally just kind of fell in? You realize that this is just what I need more?
Or was it like in school, people are already saying, this is the kind of thing you need to be looking out for.
Milena Stadt: I think it was something that we learned as we went. Cause I remember having plenty of really exhausted rehearsals that were probably more detrimental than helpful.
So I think we, as the group, were together, as we were touring the first couple of years of touring, especially I think we just started to learn those things. And there were, you know, there were some really tough moments and really low moments where I think , is this really what I want to do?
Cause it's exhausting. It's so brutal. And you know, all of us kept coming back to it and figuring out our different needs and thresholds, it's always a balancing act. I wouldn't say we have it down perfectly now, but I would say that nowadays it's just, we have so much more mutual understanding and there's so many fewer low points and there used to be because we're just kind of learning as we go and finding the right balance.
Ling Yah: Yeah. And how do you manage to stay in touch with all your other close ones and family like your husband for instance. He's in a different quality and he's not on the road with you and you're always on the road. How do you manage to make sure that you keep that strong relationship?
Milena Stadt: Actually one funny thing is I noticed that because we travel so much.
I get to see people who I normally wouldn't see because I'm traveling to where they live. So that's kind of cool. But on the other hand, when it comes to close friendships and relationships, like for instance, my husband and I, that is tricky. And actually he wasn't in a quartet for the first few years that we were together while I was in the Dover quartet, but when he joined the Escher quartet , we noticed that we had to plan out when we would see each other, at least six months in advance.
And we started making a rule. Like we can't go longer than two weeks apart, or three weeks apart, we had to, it started out as two weeks. And then as both of our groups got busier and busier, we kind of stretched it to three weeks.
And we just try to look ahead to make sure that if there's a long stretch where either one of us or both of us is traveling, we'd see if there's any way we can even just meet up for a day or two days or something to keep some relative consistency of seeing one another. So yeah, that's been tricky.
Last summer we had a 45 day stretch where we couldn't see each other, except for 16 hours, he came and stopped on a layover to spend the night and then have breakfast with me and then he had to leave. So yeah, it's tricky. I mean, actually that I know we haven't gotten onto the subject yet, but the biggest silver lining of the entire pandemic is the fact that I get to be with my husband.
Ling Yah: Yeah. Probably like more than you ever thought was possible
Milena Stadt: More than we have ever been together in the entirety of our relationship. We've never spent this many consecutive days together in our lives,
Ling Yah: but was that like a shock? Was it difficult? Or was it just natural?
Milena Stadt: At first, I have, to be honest, it was, it was tricky for both of us cause we just weren't used to it, but we talked about it a lot and I mean, now we're on how many months has it been?
I mean, I think the lockdown started in early to mid March and now we're in May, the last month, this past month has been really, really nice. I think he and I have figured out that we can find a rhythm together, which we've never had an opportunity to even venture into before. It's always been a couple of days here.
A couple of days there, may be a couple of weeks here and there, if it's the holidays or the summer, like if we have a summer vacation or something. So the most we've spent together have been maybe two weeks or something.
Ling Yah: Do you think it's going to be a lot harder for you when the lockdown is lifted and you're not going to be seeing each other that much anymore?
Milena Stadt: I'm curious about it because I am really used to getting to see him every single day. And I really love that, but, you know, I think one thing that will actually be good coming out of all of this is that we've been able to just communicate much more regularly. And I think that we will be able to continue that.
Whereas when we were traveling all the time, sometimes it was just like, man, I just don't feel like being on the phone. I'm tired from traveling. I'm tired from performing and all this stuff. And it was tough. And now I feel like we had such consistent time together every single day that it would just be weird if we didn't talk a lot every day.
And I think in that way, it'll just be a nice thing for the future when we have to be busy and have to be traveling to just have that comfort of always wanting to be in communication. So yeah, I'm excited for that.
Ling Yah: That's amazing. Well, there is a small silver lining after all. So I was looking like you guys have performed so many, many concerts in 2018, 19, you were all over North America and Kennedy Center in Carnegie hall. You also went to Hong Kong, Europe, Australia.
Of all of these many, many, many concerts, is there any particular one that stands out?
Milena Stadt: I mean, there are so many, everything stands out for a different reason. going to Hong Kong was amazing and unique.
I think most of us had never been there before, and it was really an adventure. so that really sticks out to me.
The festival was fantastic. We met some people that now we know are going to be lifetime friends with. Going to Australia was amazing. None of us had ever been there before actually maybe Camden had, I'm not sure, but the rest of us hadn't and we got to go to Tasmania and play there.
We got to go to a wildlife sanctuary where we could feed and pet kangaroos.
I mean, personally I absolutely adore hiking is one of my favorite things. Just being out in nature is my favorite form of exercise and that. I should say is a very, very, very, very closely followed by yoga, which is something that I've gotten very, very into and totally changed my whole mentality on patients with my practice and all of that. But anyway, so when we go to places where I can go hiking, for instance, again, Tasmania, we have the most stunning hike there.
We actually have some really cool hikes in Hawaii. We went to play concerts in Hawaii before that was really special. That was like, almost felt like a paid vacation to just fly to Hawaii. Get to go to the beach, go to the lava beach, go on a hike. Also play a concert, you know, a couple of concerts.
And then we have places we go play. For instance, there's the festival we've been going to for the last 10 years in Fayetteville, Arkansas called Artosphere where it's the one place a year, the quartet is playing in a full orchestra where the principals of the string section.
This festival Artosphere is like, it's a highlight for me, just in terms of getting to see these dear, dear friends and play in an orchestra, which is a completely different experience being part of something that much larger than just your part it's exhilarating. And I'm so glad that we get a chance to do that once a year.
Ling Yah: And I think collaboration is kind of a thing that you guys do. I think recently at the Laguna Beach Music Fest, where you played with Ray Chen as well. Are collaborations a common thing and how do they normally come about?
Milena Stadt: They are pretty common. I would say obviously, I mean, the majority of our concerts are just quartet concerts, but we do a lot of collaboration and they come about in different ways sometimes it's because we're at a festival and there are a lot of different artists at that festival at the same time.
And the presenter wants to kind of mix and match the artists and, and keep things fresh and exciting for the audience. And it's always a new and exciting experience to hear different artists who you are familiar with separately, collaborating with one another. So that is one way, another way is just literally, because we are dying to play with somebody and we tell our manager, they tell their manager and we make it happen.
Create a tour like for instance, Edgar Meyer or, Avi Avital or-
well, actually some of them started out as festival created collaborations. Those two are some examples of that. We started by playing with them at a festival. We loved playing together. We wanted to do it again. And so we just made it happen.
There was a group that we've admired from afar for a long time, and they're called Roomful of teeth and it's an acapella group of incredible singers. Wow. and we also have several living composers, friends whose music we love. And so sometimes we will do something like what we did with Roomful of teeth, which is collaborating with a festival to get a commission from a composer for us to be able to collaborate with another artist that we want to play with.
A lot of moving parts, but it's really satisfying when it all comes together.
Ling Yah: Is there still a certain collaboration that you guys really want to, but you haven't managed to do yet?
Milena Stadt: Ooh, that's a good question. Oh, well, I mean, there, there are tons of people we want to play with who we haven't gotten to play.
But, yeah, that's kind of a hard question to answer because there are just, I would say that, that those possibilities are kind of endless. Yeah. Yeah. That's true.
Ling Yah: That's an exciting thing. And you mentioned the fact that you were picking up yoga and I mentioned that's part of you trying to stay healthy.
What other tips do you have to stay healthy while you're traveling all the time and living in hotels?
Milena Stadt: Yeah. Well, I would say one thing that I, one of the hardest things for me in terms of staying healthy while traveling, it's not just the idea of eating out, but it's when you're, always meeting new people and part of the job is the post concert socialization, whether it's with the presenter, whether it's with the donors, the audience members that have reception, you know, all of those things.
And it can be hard to turn down certain things like, for instance, let's say you go to a town where their specialty is, you know, double fried deep fried Oreos
Ling Yah: You don't want to say no to that.
Milena Stadt: Yeah, not that there's a time. That necessarily, that is their specialty, but you get the gist of what I'm getting at, which is that you don't want to turn it down. You're like, when am I ever going to be here? I'm only here once a year. I have to try it. If you go to town after town, after town and the locals are saying, you have to try this, you know, you can really guilt yourself into getting pretty unhealthy.
And so for me, the thing I had to do was just create boundaries and rules for myself. And the easiest one for me was just to say, you know what? I know a lot of people do this, but I'm just going to stop eating after concerts and not eating late has really helped me stay healthy. And I actually do like having food before a concert.
I don't like playing on an empty stomach. I'm kind of in the minority there. A lot of people don't like to eat before they play, but I do. So it worked out for me and my, my damage control on tour is. Try not to eat late. And if I, if I'm going to eat late, then maybe don't have drinks because it'll just compound the damage and then I'll feel even worse the next morning.
So just kind of creating guidelines for myself, but to get back to the original question you asked where you included, mentioning my love for yoga that has also totally helped because it's something that I can do everywhere that I am. Whether it's find a class. A local class or just do it in my hotel room.
It can always be there for me. I can always keep that regularity with it and keep a feeling of, of balance and looseness and relaxation in my body and strength, especially when it comes to like spinal strength, which is super important when you spend your life performing, sitting down which is not that great for your back.
So that's been so helpful for me, not just the limitations I put on my, I don't want to say limitations , but the style boundaries for, you know, the, how I eat when I'm on tour.
Cause that is a really tricky one to come to a good balance with. But, being able to have like a consistent. Physical thing, to keep my body healthy, you know, when I can't go hiking everywhere I go, you can't even go running everywhere. You go, depending on the weather, where your hotel is or things like that.
So, yeah, yoga aside from just the mental philosophy of yoga and the patients that comes with it, which has totally translated into my practice and made it to a positive experience in general, just the simple physical benefits of it have been wonderful.
Ling Yah: So there's so many things that you have to consider.
Nowadays social media is such a huge thing. And I was wondering , how big a role has it played for the Dover quartet?
Milena Stadt: Oh, that's a good question.
I think it's been pretty great for us, in terms of connecting with audiences in different parts of the world, especially and being able to post our videos online and get new fans and new followers.
I think it's been a very connecting factor and it's also helped us to kind of get in touch with younger generations, which aren't always as highly represented at the concerts that we play at. So I think it's been really great.
Ling Yah: How do you think people are finding you? Unless they are really into the quartet, well, they probably don't know where to even start.
Milena Stadt: Yeah, that's true. I mean, I think part of it is just kind of the way that social media and social networking works in general, which is just kind of, you're connected by a person, you know, a next person, the next person, and just kind of happens by networking.
But another thing that we have done, which has really, really helped broaden our audience is we've done online collaborations. So this ties into the earlier part of our conversation, but one of the big online collaborations we've done has been with a group called Brooklyn Duo, husband and wife, cello and piano.
Amazing people. Fantastic. You won't actually, the husband is also in a cello rock band called Break of reality that my husband has played with many times.
They have a massive online following. This duo, this husband and wife group, Brooklyn Duo, where they do all sorts of different arrangements and covers of all sorts of different genres of music, including pop music, rock music, classical music.
And they have such a big following. And now they've started a new channel called Brooklyn Classical, where they'll get their classical music colleagues and friends to record something. So we've recorded a few things with them. some Dvorak and Smetna, some Beethoven. And then we'll do a pop collaboration with them where we've done Imogen Heap and Adele, and we've done Bohemian Rhapsody by Queen.
And we're totally connecting our two separate audiences when we do that. And it's been amazing. We've actually played at conscious before where young people have come up to us afterwards saying I came to your concert, because I heard you're a video of Bohemian Rhapsody with Brooklyn Duo.
I'm a huge fan of Brooklyn Duo. And then I saw you were going to come to my town and I had to come meet you. So that has been super helpful with getting more views on our different social media venues like Instagram, Facebook. YouTube.
Ling Yah: Do you feel like that is the future where we are all going to or does classical still have a place?
Milena Stadt: Yeah, I think that the problem with classical music, like as a concept, is that people think they need to know something and people actually don't realize that they already love classical music because people watch movies. People love movie soundtrack, the majority of movie soundtrack, that's classical music.
And people don't even really think about it. And then they think, Oh, if I go to a concert, I need to know, you know, something about the music or it's kind of like an unattainable thing for me, or it's too intellectual or something like that.
And it's just so ironic that there's this whole stigma about it, especially if you consider for instance, going to an art museum or something I would say much less often.
Does someone feel like they can't go to a museum because they didn't study art. I think you just go, you are fascinated by what the paintings or sculptures look like. You don't judge your reaction on it, nor should you, and you just experience it for what it is to you. And I think that we just need to figure out a way to get the masses to understand that that's the same thing with classical music.
It's completely personal, has nothing to do with what you know, or don't know or what you've studied or not studied. And it's, I mean, it's been written by humans for hundreds and hundreds of years, so clearly, we're all connected to it.
Ling Yah: I saw some videos on your feeds and you would go to schools and you sit on stage and explain where you guys are from.
So is that the way of drawing people in and getting people interested in the quarter and also the classical world?
Milena Stadt: Yeah, I think so. I think just, you know, talking human to human and expressing why you're passionate about something is a great way to get other people connected to it who otherwise might not really know.
And I actually, I. No, we haven't hit on this subject yet, but when we're performing something that we find has also just really helped, not only change the way that we perform for audiences and communicate with audiences, but also the way that they respond and the way that it seems , they're connecting back to us and reciprocating that is just speaking from the stage and not just playing a concert by going out, play the music and then leaving, but actually just talking a little bit about either the pieces that we're playing and why we love those pieces. Composers.
Maybe just about ourselves, even just saying how nice it is to be in whatever town you're in is breaking a barrier and having that connection there has really made a huge difference. And we can't even imagine now playing a concert without saying something to the audience at some point in the program.
Ling Yah: For some musicians, they always get stage fright and it kind of never goes away. So is that something that's an issue for you and does it heighten and when you have to actually speak or are you just completely used to it by now?
Milena Stadt: Um, it actually goes up and down for me.
I'm pretty comfortable with it. I'm usually very comfortable with it. I think if I'm extra tired and I feel like I'm not going to be thinking as clearly as I wish I were, then I'll get a little nervous because I don't want to stumble over my words or something, but I think with a lot of practice doing it, it's become pretty comfortable in there. Two of us in the group who will probably speak the most Camden and I
Ling Yah: I've noticed.
Milena Stadt: Camden probably even more than me nowadays, but yeah, we're both really, really comfortable with it and have enough practice. I think it's just, if I've spoken to the audience for three nights in a row, then the fourth one is, you know, even more comfortable, even more easy.
If I don't speak to an audience and Camden's speaking and I don't speak for like a couple of weeks. Then the first time I speak, I might be a little bit jittery, but it goes away pretty quickly.
Ling Yah: Interesting. And I think let's talk about finances cause that's a big deal. So I can't imagine that it's very cheap.
Like, do you have to get donors and sponsors , but how does it work in terms of finances?
Milena Stadt: Well, I mean, we get paid by the fees from our concerts and you know, where we teach, which right now is at Northwestern university. And we have a lot of expenses as a quartet. I mean, the travel expenses alone are just incredibly huge.
So far, we've been lucky enough to have enough concerts and be busy enough that we're sustaining ourselves with our performance career pretty much.
Ling Yah: And you guys have also done recordings as well.That was awarded the blue moon award. How was the whole recording experience? Is it very different from performing live on stage?
Milena Stadt: Oh, absolutely. Actually that's the thing. When we're recording, we're always trying to remind ourselves. To forget that we're recording and to just emote, like we're performing for a live audience, but it's hard. And then the longer of a day you have recording like hours and hours, then the more you can kind of get sucked into the too and analytical side of things and kind of lose the freshness.
And so if you keep reminding ourselves and giving ourselves pep talks, and I mean, it is really tricky, but I think after so many years now are recording. We're getting better and better about it.
And one thing that has been huge, at least for me, is being able to let go when I'm recording and to just, and I don't just mean lletike go , emotions wise, but I mean, let go of tiny things that happen because it's so much more satisfying, at least to us, it's so much more important for recording to say something than to be perfect.
And that has been something that we're getting better and better at, I think.
Ling Yah: Yeah. And how important are reviews? Cause you always get those that accompany them and sometimes they might be rather, you might feel unfairly critical. How do you handle those?
Milena Stadt: Well, I think reviews, you know, it's funny because we really care the most about what each other thinks of our playing and we're always, you know, disagreeing about things constantly. And we realize how subjective our world can really be with music.
So. I think when we have a good review, it's really nice to hear, but we shouldn't take too much stock in it because it's still subjective and we have a bad review. It's annoying to hear, but then you also shouldn't take too much stock in it because it's subjective.
So I think there's a healthy balance. Like I think we can allow ourselves to enjoy a positive review, but always know that it's really more about how we're feeling about whether we're doing our best and expressing the music.
Ling Yah: Yeah, I think that'd beyond just giving concerts, you're also giving back to the underserved communities like music for food. Could you share what you guys are doing and how it's impacting the society?
Milena Stadt: Well, , Kim Kashkashian , a great violist, who teaches at New England conservatory. She started this entire organization because she was trying to bring awareness of the hunger problem in just their neighborhood in Boston.
And she's gradually over the years, been able to been able to expand it, where so many musicians are able to give back to their own communities by playing concerts, either to raise funds or by donating a concert fee from a concert, they play to a local food bank, wherever they're from and this, and this way, musicians feel as though music, which is such a nourishing part of our own lives, even just emotionally and psychologically, is able to literally nourish people who are in desperate need of food.
And one of the ones that my quartet did, that was just so gratifying to be able to do is we donated a fee of ours to a local church food bank here in Philadelphia, which is our hometown. And they were able to purchase a brand new refrigerator so that when people come and need food or need a food, they have lots of fresh food for them. And it was really gratifying to be able to do something like that for our community and to connect ourselves more to our home in that way, rather than just being a group who kind of jumps around the world and plays shows.
Ling Yah: And I understand that all of you are consummate soloists, like Joel Links won the first prize in Menuhin.
And you won first prize in the Lionel Tertis International Viola Competition. So how do you balance, like clearly you are so incredibly involved in the quartet, but you also have the solo career. How do you balance both?
Milena Stadt: Well, balance is kind of a strong word because to be honest, it's really quartet first.
And it is really just running all of our lives. But you know, when we get a chance to, we all try our best to carve out the projects here and there to do by ourselves and to self enrich and kind of branch out so that when we come back to the quartet, we do have more to bring to the table and more to offer and have had these other experiences.
So, like for instance, actually just a few months ago, I was lucky enough to get to play Mozart. Sonja comes through town with an orchestra , and with the great violinist Robin Ballinger. And that was just so gratifying. And it's kind of similar to how I was saying about what a satisfying thing it is for us to get to play in the orchestra every year at Artosphere.
It's a similar experience where there's a facet of music making that we get to tap into when we do these solo projects, but there, I mean, It's just the nature of the beast that we're so busy with quartet. We don't get that much time to do the solo thing. We do them when we can and it's really gratifying.
Ling Yah: And we've talked so much about, you know, you playing and going around, but we haven't talked about your actual instrument itself. So I understand that you have two different instruments, the 1780 Michelle Deonet, and also the 2004 copy of the Primrose Amati.
Can you kind of explain like why would you even have two different violas and what do they bring and when do you choose to play them?
Milena Stadt: Well, the copy of the Primrose Amati is the viola that I got while I was studying at Curtis. And it's a fantastic modern instrument and has served me so well throughout the course of my career.
And I was very happy playing on it. And one day I got an email from the grandson of Boris Croix from the Budapest quartet. He was the violist of the Budapest quartet, his grandson, Tony Grant happens to be a professor at Rice University where the quartet studied in Houston where we've performed now several times, for the Houston friends of chamber music.
And Tony said that his grandfather's Viola belongs to the family and they love to have it continuously played on and that the current person who was playing on it was getting ready to purchase an instrument of her own. So she was giving them notice and returning the Viola that they were loaning to her.
And he asked if I'd be interested in playing it. And it's just such a rare opportunity to have the chance to play on a fine old instrument like that. Those instruments that have lived for so many hundreds of years have sort of subtleties in the sound that you can find and draw out that teach you about things of your, about your own plane that you might not already know.
and it's just a really wonderful experience so I could not pass it up. And that instrument is gorgeous. Not to mention how. Incredible. It is to know that it was in one of the greatest corporate texts of all time, the Buddhist, Budapest quartet.
So I have been playing on that although I will tell you now that I am in the process of actually purchasing an instrument for myself, such a nice, old, gorgeous sounding Russian school Viola, the maker's unknown.
I believe it's from the early 18th century if I'm not mistaken.
Ling Yah: I'm so fascinated with this because I spent like the past decade just trying to look for my violin and I finally found it and it's just such a process. Cause there's always that tension, firstly, do you want a new violin that's commissioned for you or an old violin? There's pros and cons.
And I was just wondering, what are your views on that?
Cause with an old violin especially if you go to Southeast Asia, it's incredibly humid. It's very sensitive. But then some people would say that, you know, it gives a better sound. Other people will say that a modern violin sounds just as good and you can't help the difference.
I was just wondering what you think about that.
Milena Stadt: Yeah. I honestly, I think it depends from instrument to instrument and it's true. A lot of modern instruments can be. Can be stable or more stable, uh, when it comes to changing weather and whatnot, but it also can happen the other way around. I totally had that, especially with the quartet.
Where we've all been kind of trying out different instruments and sometimes we're being loaned instruments are playing on our own instruments and we've all had completely varied experiences depending on where we go. Depending on the weather, there are definitely pros and cons to modern instruments and older instruments.
And there are so many modern instruments that you really wouldn't know the difference when you hear them, because they're just so fantastic. And there are people living today making brand new instruments that are just the highest caliber .
Ling Yah: And you have to wait for five years just to get one. So what is the most important thing when you were looking to purchase this viola .What was the deciding factor?
Milena Stadt: Uh, for me, it was the sound, the personality of the sound and the quality of it that I could tell. And actually I was playing it for Roberto Diaz a lot because he lived Curtis right here in Philly.
I was going down to Curtis to the little recital hall and just playing different violas for his comments and feedback. And I mean, he's got incredible experience with this and not to mention praise on one of the finest instruments. There is the Primrose Amati, and having his insight and also getting used to the way that different instruments respond to my playing and under my ear, I was able to see what instrument actually was making a sound that would project in a hall in a really unique way and have a lot of character in the sound.
And that is less about being loud and more about having an interest in the sound, which is just so great for a quartet, because counter-intuitively with a quartet in general, you really don't want to blend.
You really want to have a unique sound from each instrument so that you can hear everything that's going on at all times, because quartet music is just so intricate and so conversational that having a lot of character in the sound is even more important than having a loud sound or a mellow sound or something like that.
Ling Yah: Yeah. I mean, normally when you're trying to decide on a violin, I imagine it's quite a long process, as you said, the sound changes depending on where you are and you won't also want people to listen. And then you also want to listen to people playing, how long was that process between you first meeting it and then deciding, okay, I want to purchase it.
Milena Stadt: Well, um, let's see. I first tried the instrument in January and then I took it with me on tour with the quartet all the way till the end of February. And by the end of that tour, I knew.
Ling Yah: And was it a concern for you that the maker is unknown? Cause I know that it kind of affects your resale value if you ever think about it.
So is it something that concerns you or it doesn't matter? It's just the sound.
Milena Stadt: I mean, to me, the quality of this instrument, the way that it sounds , it should be worth millions more than the asking price. So to me, it's an absolute steal. And that's the most important thing. And actually part of the reason that it is this affordable to me is the fact that the makers are unknown.
So who knows maybe while over the course of my owning it, someone will. Miraculously figure out who made it and then the value will skyrocket and then I'm super lucky. But the one thing about instruments, even regardless of whether or not, you know, the maker is that the value is not fluctuating. It's always appreciating.
I mean, unless you destroy the instrument and like break it or something
Ling Yah: That would be really bad.
Milena Stadt: That's the beauty of, of investing in instruments. Actually. it's one of the safest investments that you could make.
Ling Yah: And so you mentioned earlier that you went on tour from January to February, and I imagine you stopped because of this crazy COVID-19. So I was just wondering , how has it impacted your life and the life of the quartet?
Milena Stadt: Oh yeah. I mean, it's been strange.
At first we suddenly were faced with all this time to finally rest, Which is kind of funny, but it's been tough. I mean, we've lost work for the foreseeable future and every week there's a new thing that gets canceled.
So financially it's definitely scary.
I'm so lucky to be living here in quarantine with my husband and for the last two months, his brother, my brother-in-law, who's a violinist. So the three of us have been playing string trios. We've been live streaming them. We've been doing fundraisers, we've even done a couple of real live stream concerts for which we've gotten some fees that presenters are trying, everyone's just really rallying together to try to sustain the industry, however we possibly can.
And so I'm just, I'm lucky that I've been in this situation where I can still make some live music and still make some fees here and there. And you know, we're still sustaining ourselves for now.
Ling Yah: Yeah. But what's the future like for the quartet? Cause it's not like you can sit really far from each other and hope to be able to perform as well as you have.
Milena Stadt: It's so true.
Well we have been chatting a lot and we are talking about different things we can do, but hopefully whenever there's at least an opportunity for us to safely be in a group of four. I'm not expecting any large groups to be allowed anywhere but maybe in the next few months, if we're able to have it be safe, just the four of us who we've all been incredibly careful also during time, just completely isolated in our respective homes.
Then I think we might be able to also start doing things like live streaming and creating content for things online, things like that. So we'll see maybe doing recordings and stuff like that. Yeah.
Ling Yah: Do you think that livestream is here to stay regardless of what happens in the future?
Milena Stadt: I think so.
Yeah, absolutely. I think everything's just going to be different on the other side of all of this and in good ways and in tricky ways. But I think that people are really finding ways to adapt and I definitely get the sense that everyone misses live music. So I'm not worried that there won't be concerts.
Ling Yah: Thank you so much for spending so much time. I'm going to just wrap it up with two quick questions, which is, firstly, there are a lot of my listeners who are actually young parents with young kids and I just wanted to know , what would your advice be for these kinds of parents?
Because really you guys grew up in really, really musical families, but that's not always the case for everyone. So would you advise these parents to like, definitely send your kids to an instrument class and it should be the piano because it's the most flexible, like what is your advice?
Milena Stadt: Oh, I would absolutely say music like, there is nothing negative about adding music to your child's life. And so I would say that would just be such an incredible opportunity for any child, but not necessarily having to be piano. I mean, I know it can be actually hard to have a piano in the home. And that's not cheap either.
I would say any kind of musical instruction and musical exposure is just going to be wonderful for any child. And that's going to be a part of their lives forever, whether or not they decide to do it professionally or to even play an instrument, just having the appreciation for an understanding of music is just a huge thing that we can be grateful for and humanity it's really, I mean, music and art and that type of creativity is what sets us apart the most from any other creature.
Ling Yah: And how would you advise parents when they are facing kids who don't want to practice? But I mean like lots of people now around my age and they are all saying, Oh my gosh, I wish my parents had pushed me. Cause I only learned it for one year and I dropped it. But then this regret comes like 20 years too late.
So it's that tension of, should the parents push their kids no matter what, no matter how angry they are. Cause they would be so thankfully later, that's what my mom did for me with the piano. But it's like- it doesn't work out for everyone.
Milena Stadt: So yeah, I would say up to a certain point, I think if the kid has resisted it for a very long time, then maybe there's an alternate way for musical appreciation too. Maybe it doesn't need to be through playing instruments, but I would say to try to stick with it for a few years, I think anybody who's had that kind of foundation is only grateful for it.
I don't think anybody has grown up after their parents made them practice an instrument for a few years and wished that they had it. I think that's 0% of people.
Ling Yah: And what about the age in which a child should start? Because you have some , especially in Asia, everyone's like, how young can they be before we start . They're three years old, can they start? Four years old, can they start?
Milena Stadt: Oh, my gosh. I think it's almost never too young. My brother, for instance, he started getting interested in cello and kind of playing on a little toy or cello or something like that from the age of like two and a half.
And he was playing a tiny little cello by the time he was three and a half. So I really, I don't think you're ever too young. I mean, obviously there are going to be some limitations when you're that young, but why not? If your kid's interested in it, especially if there's any sign of interest, then why not start super young?
Ling Yah: What about the people who know that they want to pursue music and they're looking to take it further. What is your big advice for them?
Milena Stadt: It would be two parts. The first is just patience and non judgmental views of yourself when you're practicing and to treat a practice session very much like, I mean, this is, what's the whole yoga thing for me.
You have in your mind what you're going for and we keep chipping away to get closer to that. And it's never going to be perfect. And you're always going to be raising your expectations and raising your standards and that's the beauty of it. So develop a positive relationship with your practice, the way that you would develop a positive relationship with a person it's not always going to be perfectly harmonious.
But it's always worth putting in the care and the effort and not getting angry about it.
And I just wish people had reminded me to be patient with myself because I would get frustrated with myself too easily.
And I know so many years of my, especially my younger years, I would just kind of impatiently move on because I didn't understand the gratification of being patient with myself like I do now. The other thing I was going to say, people who want to go into music, maybe write down one sentence about why you love music or something.
And if you're ever feeling discouraged, or if you're ever losing patience with yourself, if you're ever getting jaded, or even if you're a professional musician playing concert after concert and not realizing whether or not you're enjoying it, go back to that original reason why you wanted to do it in the first place.
And just find a way to remind yourself about that. For me, it's if I'm getting especially frustrated or jaded or whatever, tired, just incredibly tired from lots of concerts. It's just doing what I used to do when I was little and practicing by playing through things for fun and just playing whatever piece sounds fun to me at that moment.
And it kind of puts me back in touch with my curiosity and excitement for music in the first place. So I would say, just find a way to remind yourself what that is.
Ling Yah: Yeah. So patience and why.
Thank you so much for that second point. Cause it brings me perfectly to the final part. Firstly, do you feel that your phone, your why?
Milena Stadt: Oh, your why? Yeah. Oh, that is a great question. You know, I think that my why or a person's why can continuously develop and surprise them. Like I there's things about playing music that are absolutely my why right now, for instance, connecting to people, just feeling like a deeper level of communication that doesn't require any words.
And, for instance, during this pandemic, I've been going outside with my husband and brother-in-law onto our little porch, our little deck, and we've just been playing music outside for the neighbors as they walk by and people will stop and listen. And it's just been so incredibly gratifying and that's something just even those tiny little moments of one person walking by and say, oh, that's like my favorite song or someone from our neighborhood wrote me on Facebook and said, you had no idea, but I was crying because I couldn't spend this Easter with my family. And that is the exact song that was played when I was, you know, walking down the aisle or something like that. And just hearing these like tiny but powerful moments, even with an individual person. It just makes it all so worth it because it feels like we're just connecting to humanity.
And I might not have said that. I don't know, five years ago. It might've just been, I just love music because it's expressing deep emotions within me that I'm not able to express in words. Now it's become, this is how I can connect to people. This is how I feel like we're all in this together in this world.
And I'm sure that there will be more WHYs that pop up later in my life as well.
Ling Yah: And the second question of what are you hopes for the future or your legacy?
Milena Stadt: Well, I just hope that this beautiful tradition continues to grow and connect more widely and feel like it's a part of life that we just can't do without for everyone, because for me, it's been an absolute utmost companion throughout my entire life.
And I think that everyone deserves to have that kind of relationship with it, whether they're a performer or just a listener.
Ling Yah: And finally, in your opinion, what do you think are the most important qualities needed to succeed as you have,
Milena Stadt: Hmm. I think respect for others in our field is incredibly important.
And. Also just respect for, and love and care for the music. I mean, that goes without saying, but it's very important just to keep it on the high standard and kind of like almost the pedestal that we like to have it on because it's so gratifying.
Ling Yah: Well, thank you so much for that now.
You've been so generous with your time and just giving us a really, really deep insight into life as a quartet. What is the best way for people to reach out to you, follow you and see what you and Dover Quartet up to?
Milena Stadt: Dover quartet is on Facebook and Instagram.
if you're trying to get in touch with the quartet, probably messaging us on one of those is the easiest, but we also have our website www.doverquartet.com. And there's a place in the website to send us emails as well. I'm also on instagram and Facebook personally but those would probably be the easiest
Ling Yah: and I will insert the links to all that in the show notes so people can just easily go to that page and just click and find you guys. Thank you so much Milena for your time. I really appreciate it.
Milena Stadt: Thank you. Nice chatting with you.
Ling Yah: And that's the end of episode five.
The show notes for this episode can be found at www.sothisismywhy.com/5
What was your big takeaway? Let me know either on the show notes post or on Apple podcast, and don't forget to hit subscribe button for your favorite podcast hosting platform if you want to know when the next episode is coming up, because in episode six, we meet the South African dancer with the Royal Ballet in London, which is the premier ballet company in the UK and one which our guests,well, never expected to get in.
In that episode, we will learn about her background, the incredible sacrifices made by herself and the entire family just to prepare for the entrance exams and what it's really like being a dancer among the creme de la creme and how she balances all that with her faith and her family.
It's going to be a really good one. So see you next time.